I first noticed bucket and faucet planters at a high-end garden shop while on a shopping trip years ago. As charming as it was, though, the price was a little steep. I had a sneaking suspicion, however, that I could recreate the same look with a galvanized bucket and an antique brass faucet. I just needed to find the right pieces for my soon-to-be rustic planter / metal planter.
So, I kept my eyes peeled for the right elements during my various Junkin' Journey road trips. And sure enough, I found exactly what I was looking for.
This post contains affiliate links for your crafting convenience. As an Amazon Affiliate, I earn from qualifying purchases.
Building a Rustic Planter or Porch Planter
After much searching (which is always fun!), I finally found the pieces I needed for my metal planter: a galvanized bucket and an antique brass faucet.
Here, let me show you close-up photos of each one so that you can see just how fabulous they are. The galvanized bucket (complete with its red handle) is an old USDA bucket- isn't that cool?
The antique brass faucet is a great piece of vintage hardware. I'm not sure if it came from a kitchen or bathroom, but you can't beat that porcelain handle.
Now, to complete my rustic planter, I needed a couple of elements from the hardware store: pipe and a pipe nipple.
I attached the antique brass faucet to the pipe courtesy of the pipe nipple. Then, I stuck the whole thing in the soil (no welding, no glue).
Now I just needed to hit the nursery and pick up my flowers of choice and some potting soil!
Primitive Home Decor with a Rustic Planter / Porch Planter
I decided to go with Portulaca…or moss roses…because I've always, always loved them. And I figured they would spread out nicely in the galvanized bucket.
First, I placed some gravel in the bottom of the bucket before adding the soil. Then I just transplanted a few portulaca plants from their plastic planters. Now all I had to do was be patient and wait for the moss roses to fill in and spread out…
Talk about spreading out! Apparently, portulaca REALLY like a metal planter…or maybe they liked the antique brass faucet. Who knows?!
All I know is that my porch planter looked fabulous.
So fabulous, in fact, that it ended up shrouding the faucet!
I've been using my faucet planter for years- once the portulaca have time to get comfy and settle in, they do wonderfully well in their rustic planter.
And before you ask, no, I didn't drill drainage holes in the bucket. I couldn't bring myself to do it and year after year, the portulaca flourish!
So what do you think? I know I'm biased, but I think this one is WAY cuter than the pre-fab ones…and it really has the look of primitive home decor that I just love. And come autumn, it's easy to dismantle and all the parts store within the galvanized bucket- perfect!
If you love upcycled planters, then you might really enjoy this collection of repurposed garden planters here for even more inspiration!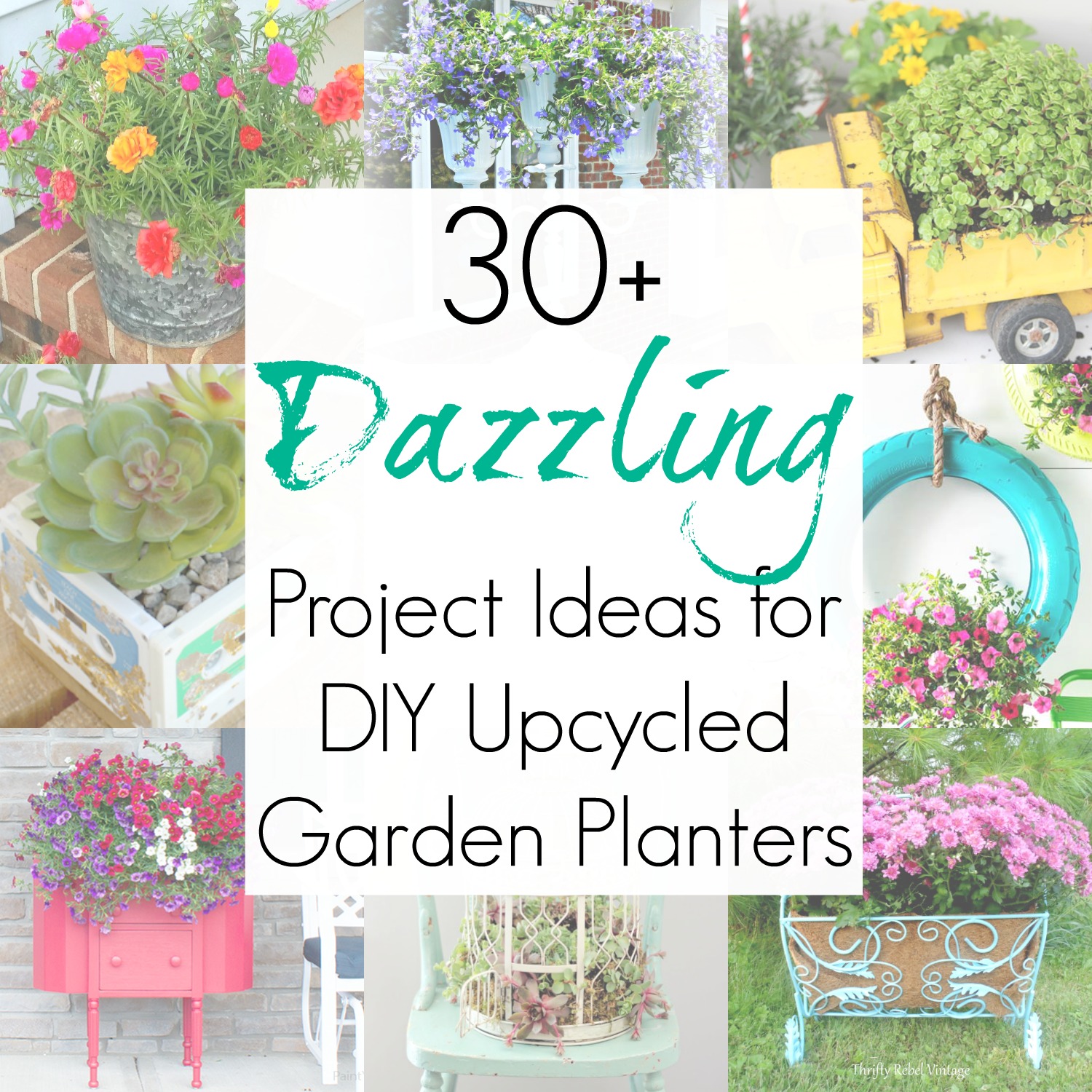 Craft on!
S
Want to be notified when I publish my next upcycling project tutorial?
Subscribe to Blog via Email
Join me on Social Media: