Vintage buttons are such a fun and easy thing to collect, aren't they? Perhaps especially the rhinestone buttons. And after collecting a handful of them, I decided to show a few of them off in the form of a DIY charm bracelet. Admittedly, I actually prefer vintage rhinestone ANYTHING over real diamonds, so this was right up my alley.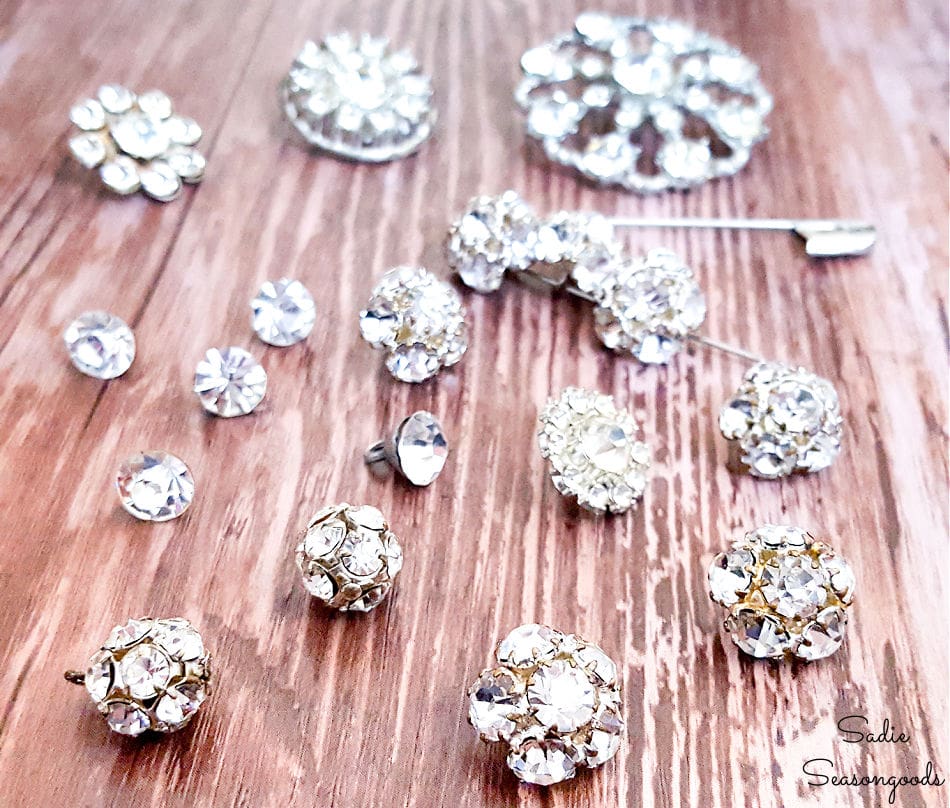 The common denominator (other than rhinestones, of course) is that they were all shank buttons. And that's important for this form of button jewelry!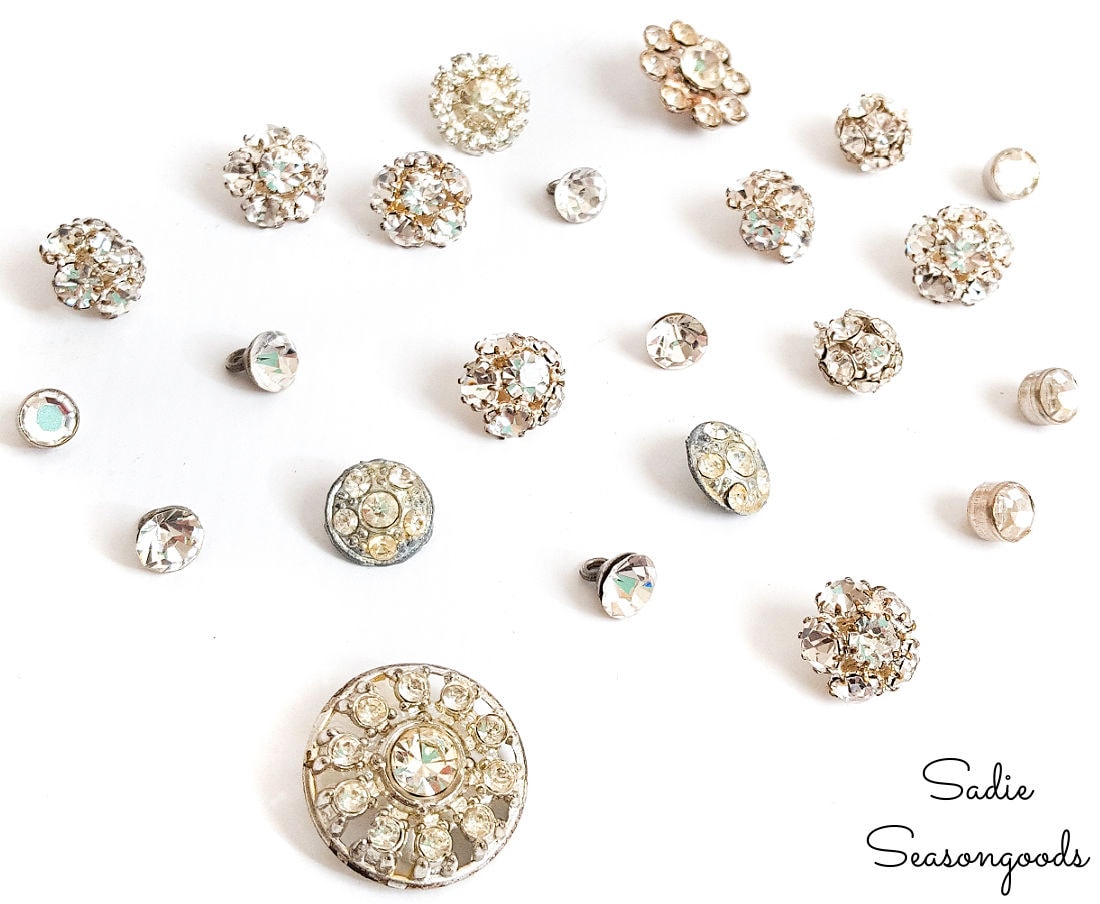 To create my own DIY charm bracelet, I just needed a few other jewelry making supplies from the craft store. Once I had everything in hand, I was ready to work on my jewelry making project!
This post contains affiliate links for your crafting convenience. As an Amazon Affiliate, I earn from qualifying purchases. All blue, bold, and underlined text is a clickable link, either to a product or to a related post.
Crafting with Vintage Buttons
A quick note before we get started. I found many of my vintage rhinestone buttons on Etsy. Just in case you have trouble finding them at your local antiques mall!
First, I needed to re-size the linked chain I planned on using for my DIY charm bracelet. My wrist is seriously the only dainty body part I have, so I relished in this rare moment of needing a smaller size!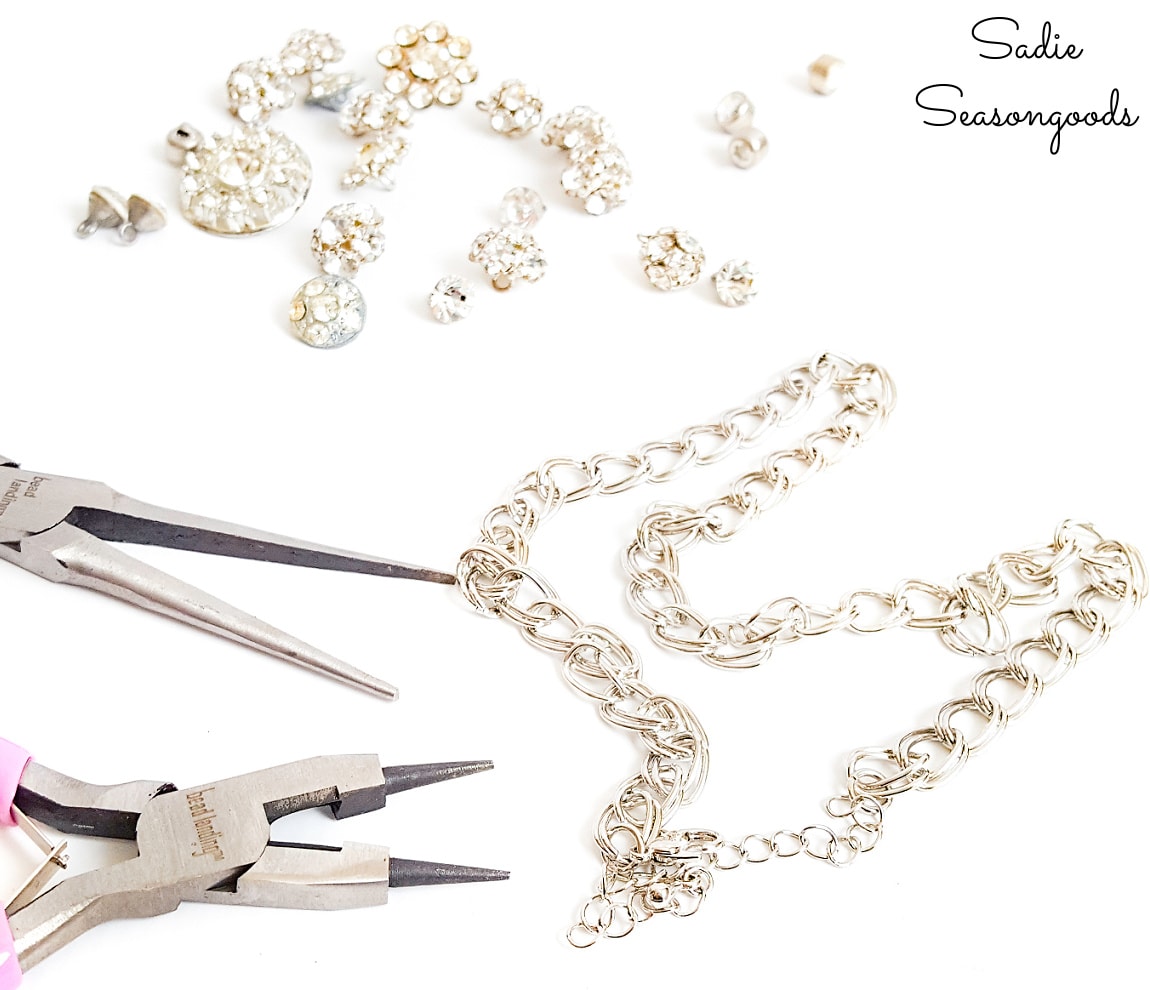 To do so, I grabbed my jewelry pliers to remove a few links. Once I figured out a good size, I added a clasp.
The chain came with a lobster claw clasp, but I am just not that coordinated. So, I swapped it out with a strong magnetic clasp, but any clasp would do.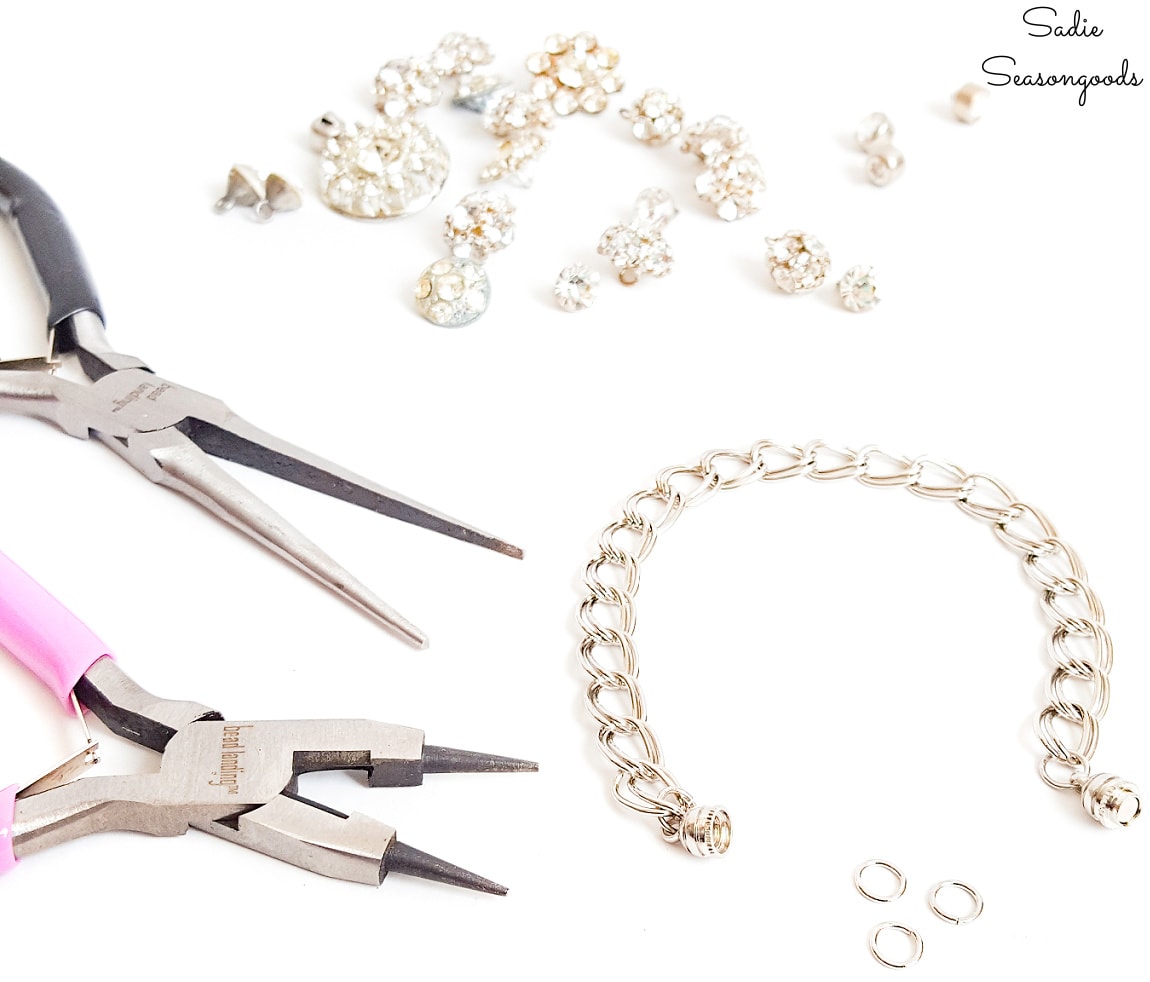 Next, I needed to attach the rhinestone buttons to the bracelet chain! First, I stretched out my chain and started lining up the vintage buttons. I arranged and re-arranged them until I was pleased with their order/spacing.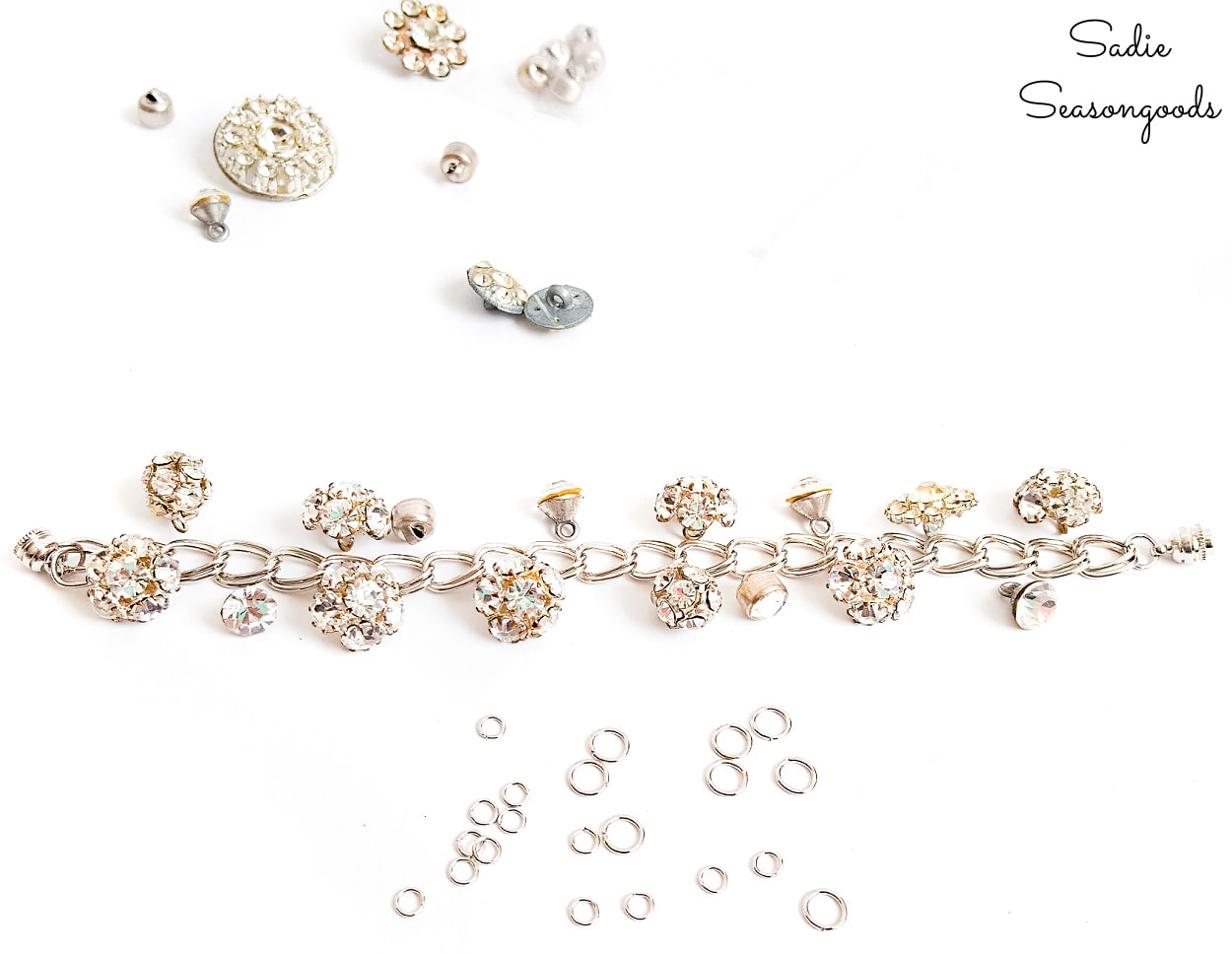 Attaching the Vintage Buttons to a DIY Charm Bracelet
I used a variety of sizes of jump rings for this step. For instance, I paired up smaller jump rings with the smaller buttons, and so forth. T
hen, I simply opened up jump rings, slipped on a vintage button, and closed the ring around a loop on my chain.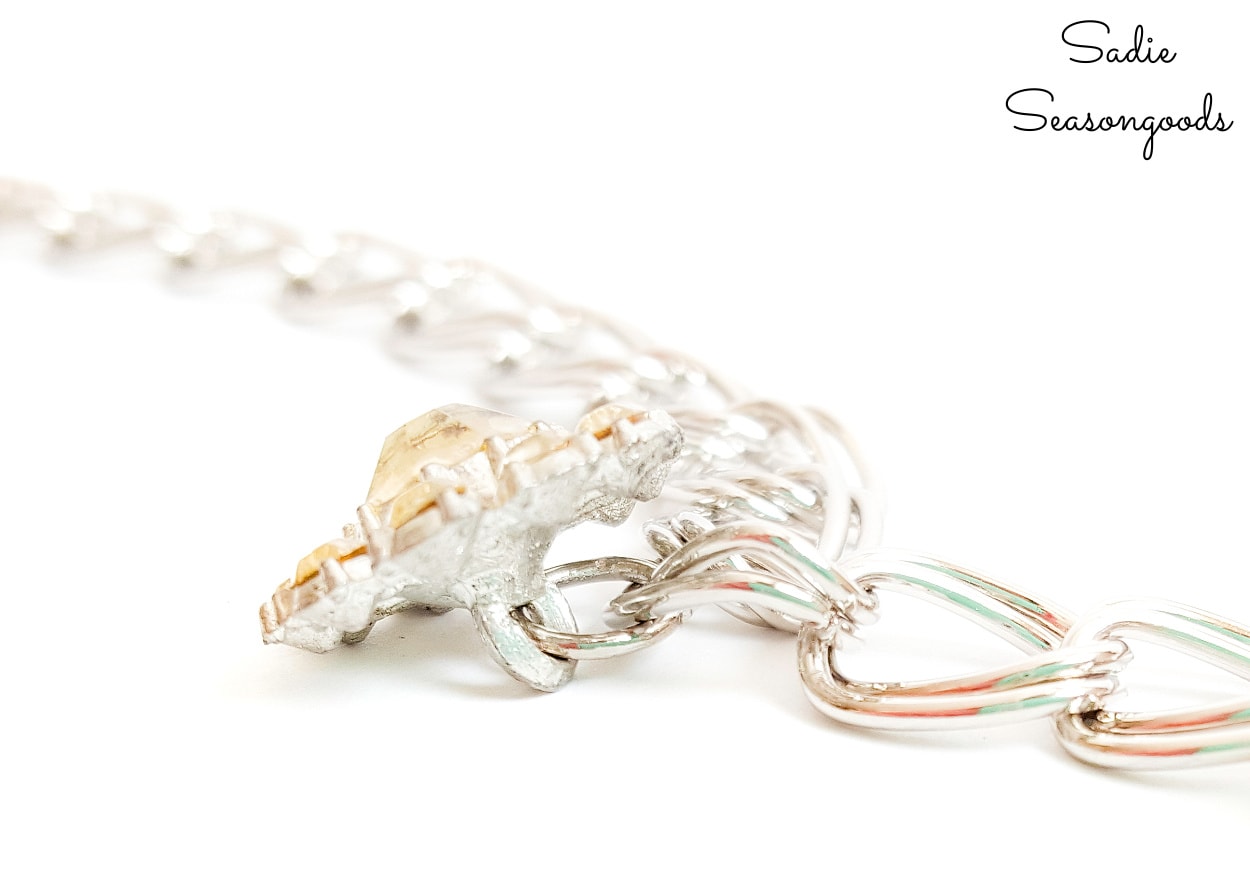 I mean seriously- making a DIY charm bracelet with rhinestone buttons is just that simple! I'm kind of embarrassed at how simple this is…it probably didn't warrant a blog post!
Finally, after attaching many of the rhinestone buttons to my DIY charm bracelet, I stretched it out for a final look.
I tried to space them out fairly evenly, and closed the jump rings around either side of the bracelet chain.

And that was it, my DIY charm bracelet was all done! And seriously, pretty darn gorgeous, if I do say so myself.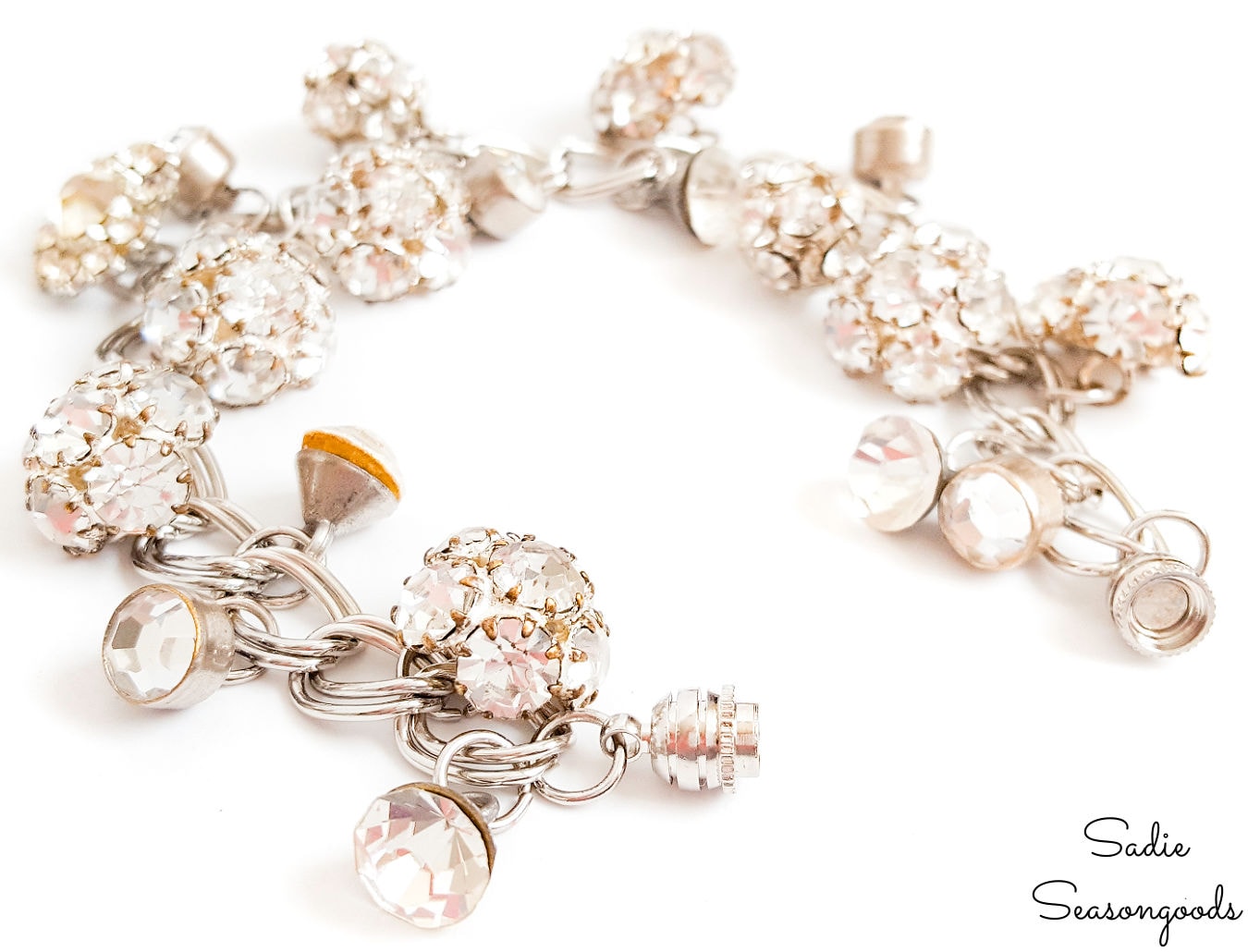 DIY Charm Bracelet with Rhinestone Buttons
I love the flash that vintage buttons have. Honestly, this DIY charm bracelet is better than ANYTHING in a mall jewelry store, as far as I'm concerned.
And it literally took no time at all to make. Maybe 30 minutes from start to finish?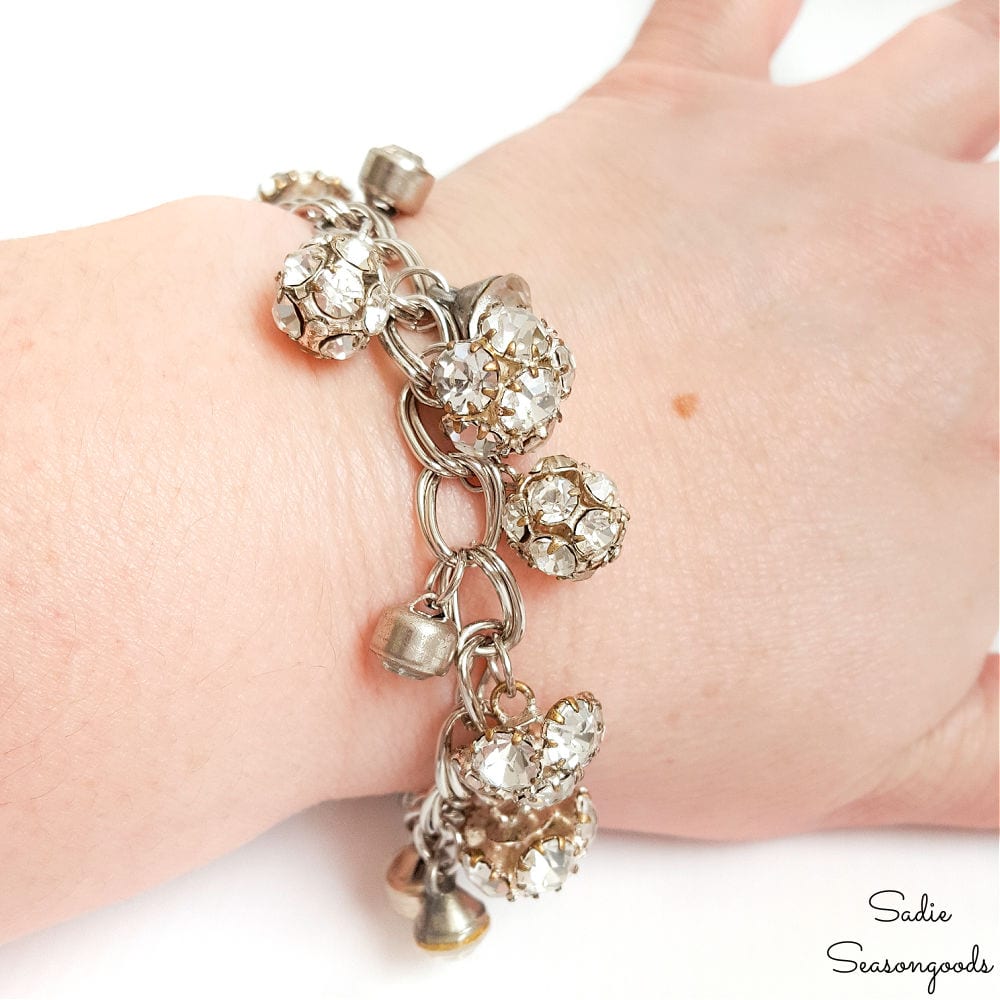 And now my mind is going in all kinds of directions for button jewelry. I wonder what other kinds of rhinestone buttons I could find.
Because I might just need another DIY charm bracelet, or possibly a coordinating necklace.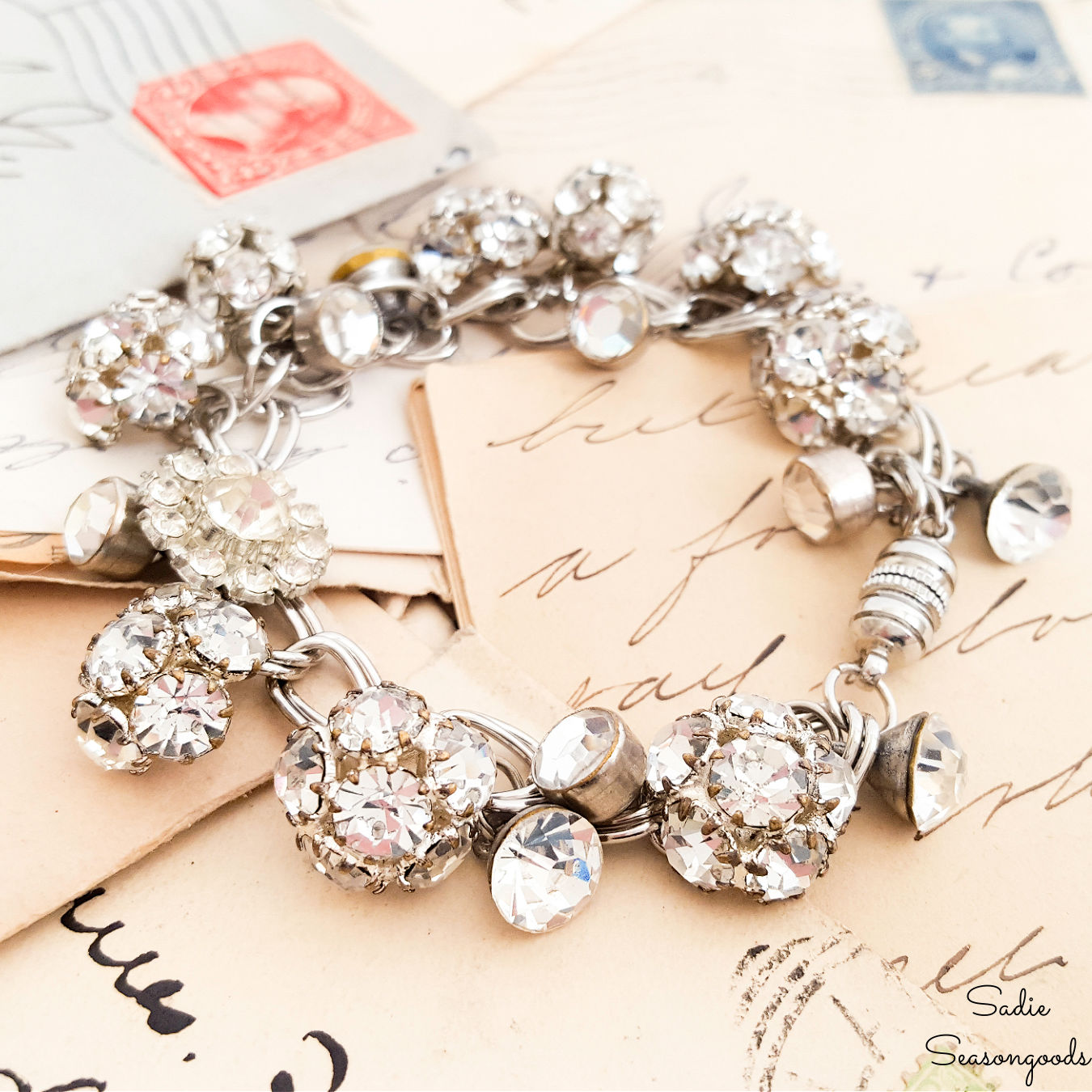 Honestly, though, wouldn't this be perfect for a bride to wear as wedding jewelry? Something old (buttons), something new (the bracelet), something borrowed (if the buttons came from a family member). And if you add a blue charm or button, something blue!
And if you enjoyed this upcycling idea for a DIY charm bracelet, then you'll love this coin jewelry idea with metal buttons!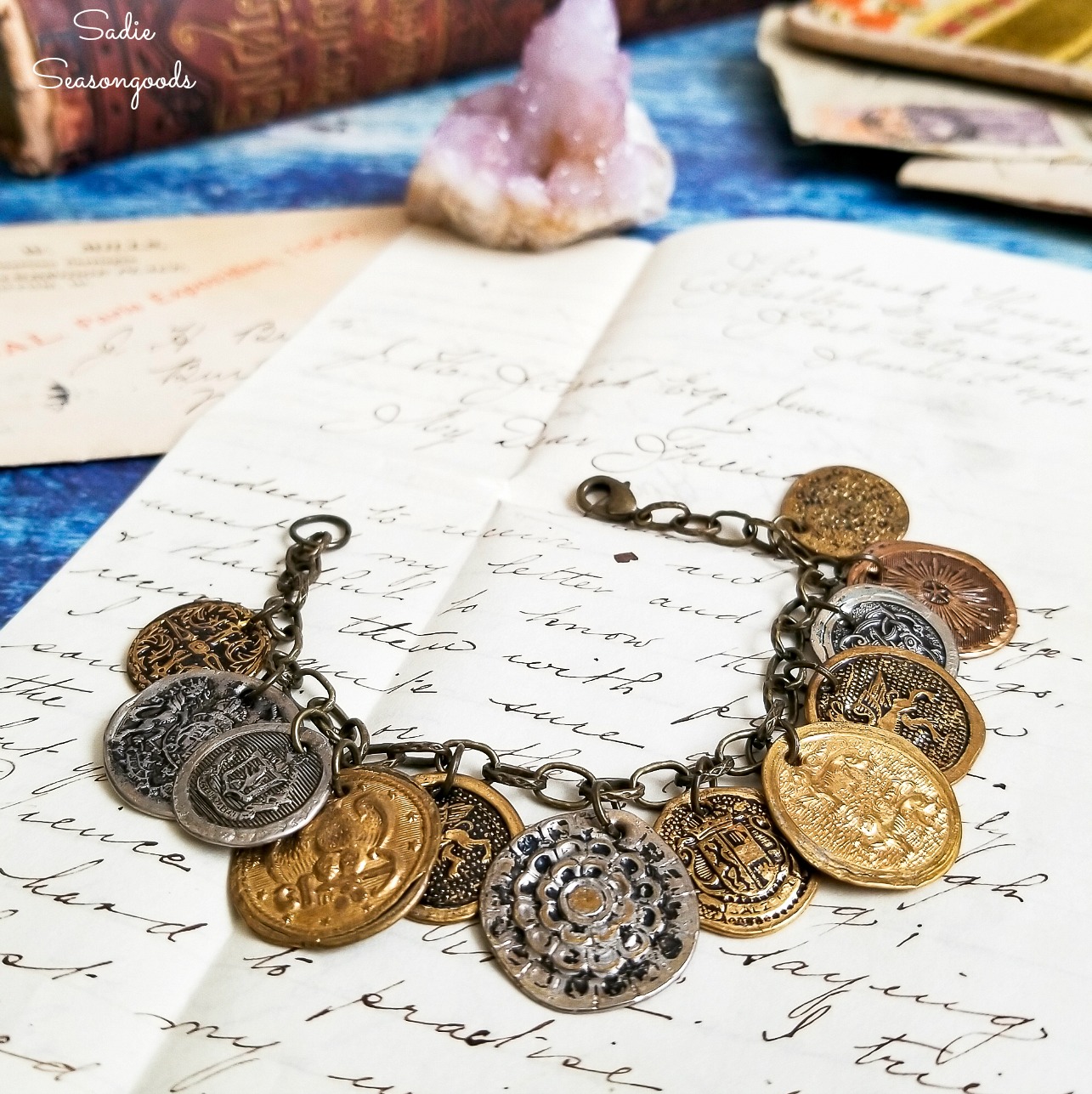 Not only that, be sure to check out my latest book, as well! It contains several flannel jewelry projects in it, as well as other flannel accessories, too.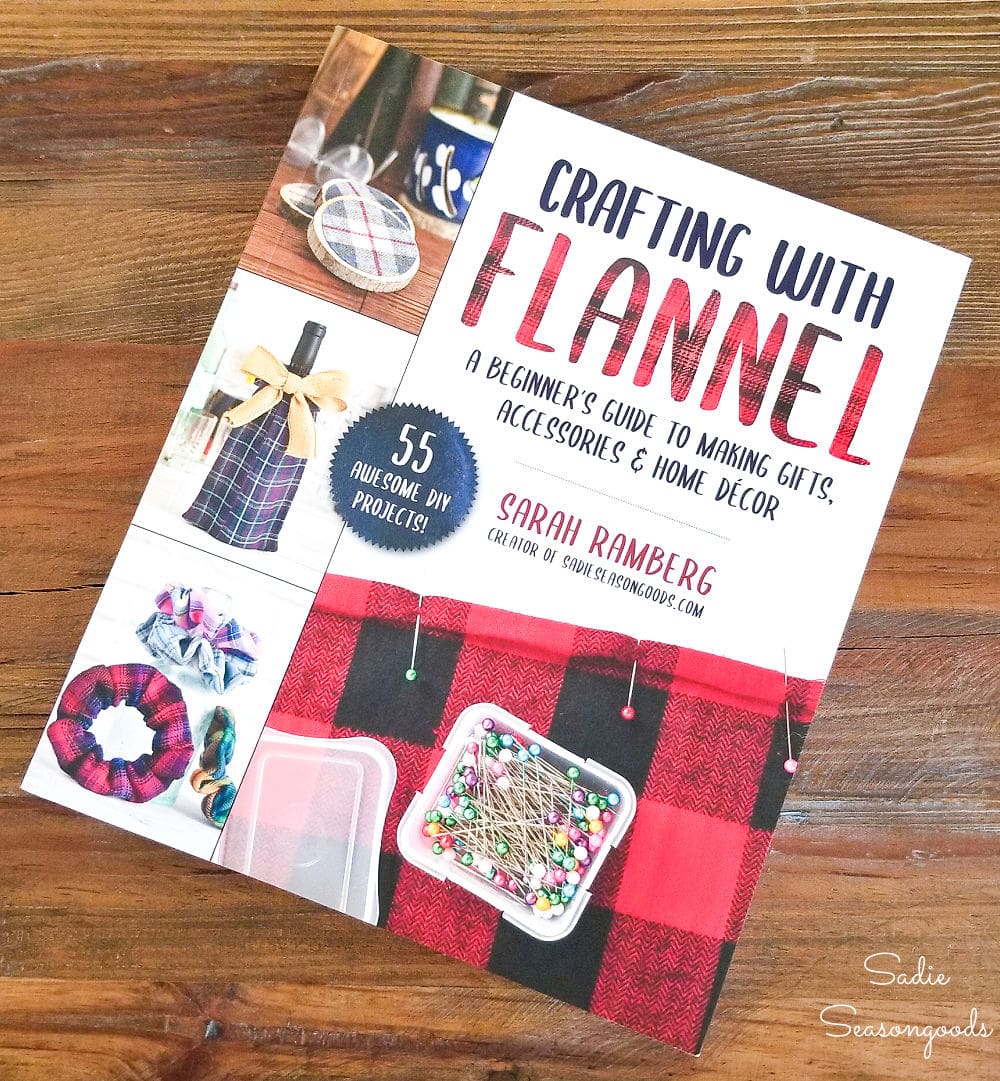 Craft on!
S
Join me on Social Media:

PIN ME!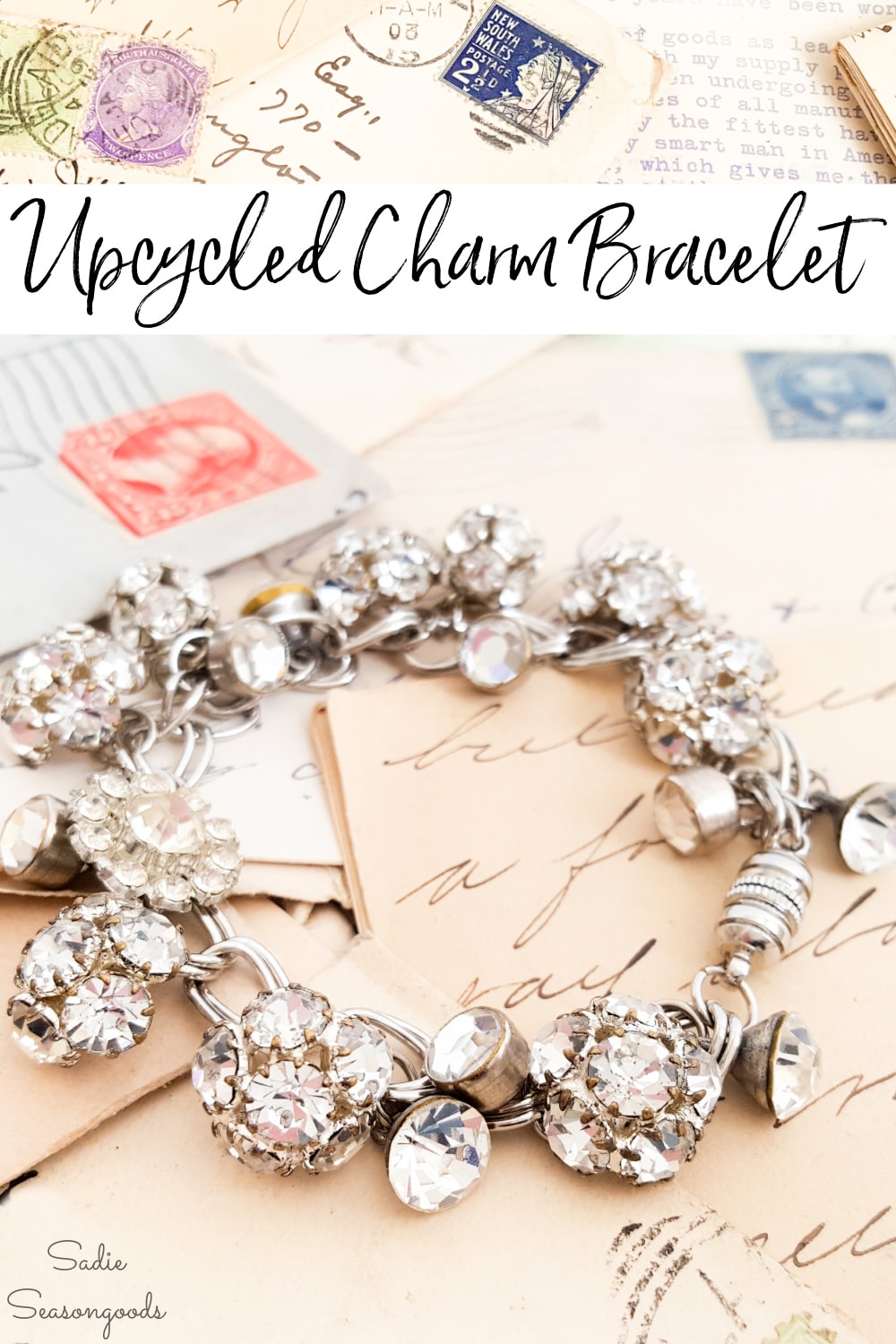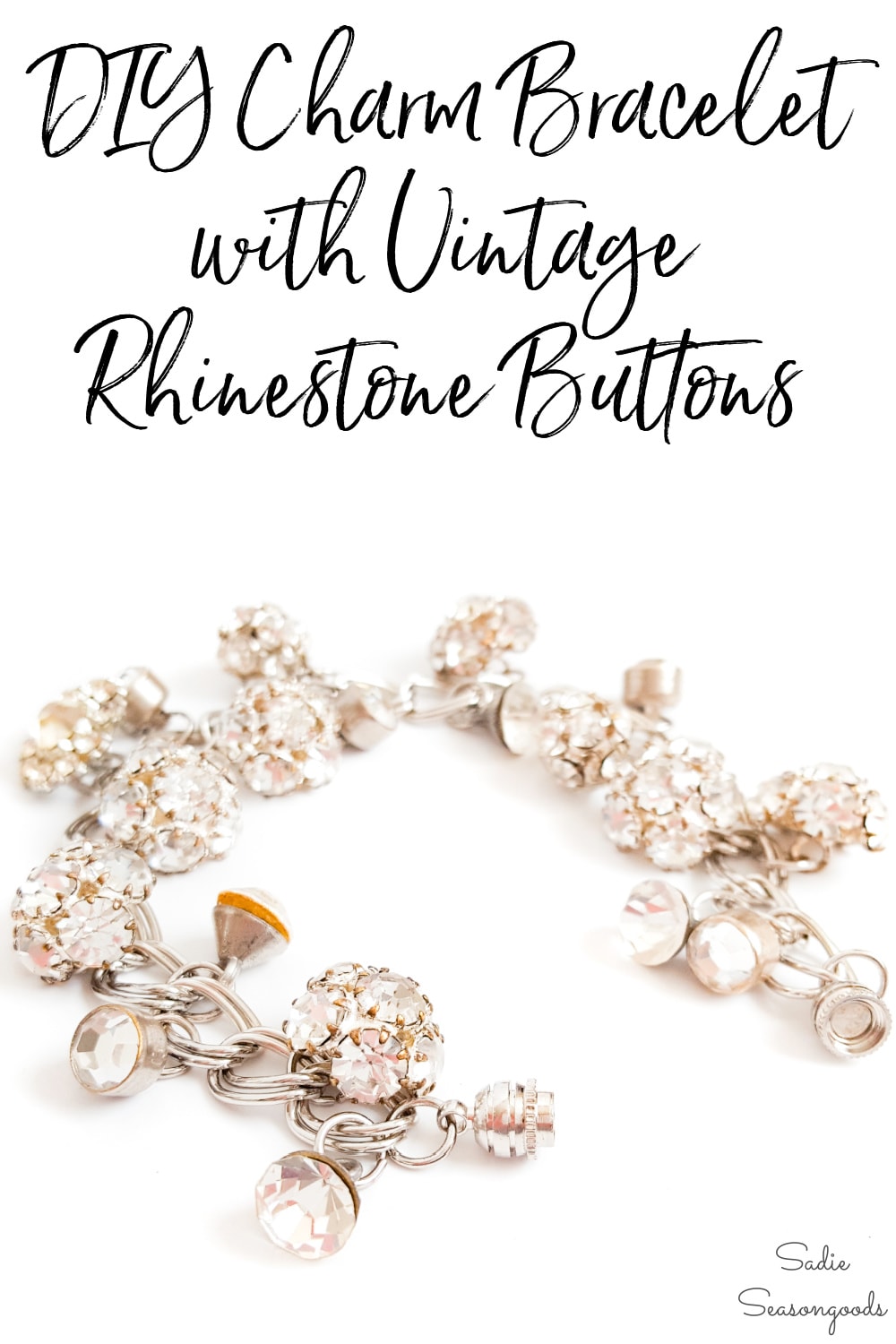 Sarah Ramberg is the owner of Sadie Seasongoods, a website that celebrates all things secondhand. From upcycling ideas and thrifted decor to vintage-centric travel itineraries, Sadie Seasongoods is a one-stop shop for anyone who loves thrifting and approachable repurposing ideas. Sarah is also the author of "Crafting with Flannel" and has been featured in numerous media outlets and magazines.