When I found these vintage pulleys at an antiques store in, I knew right away they were meant to be used in jewelry making. I had a vision in my mind of a steampunk necklace, but I wasn't sure if I could actually make it happen.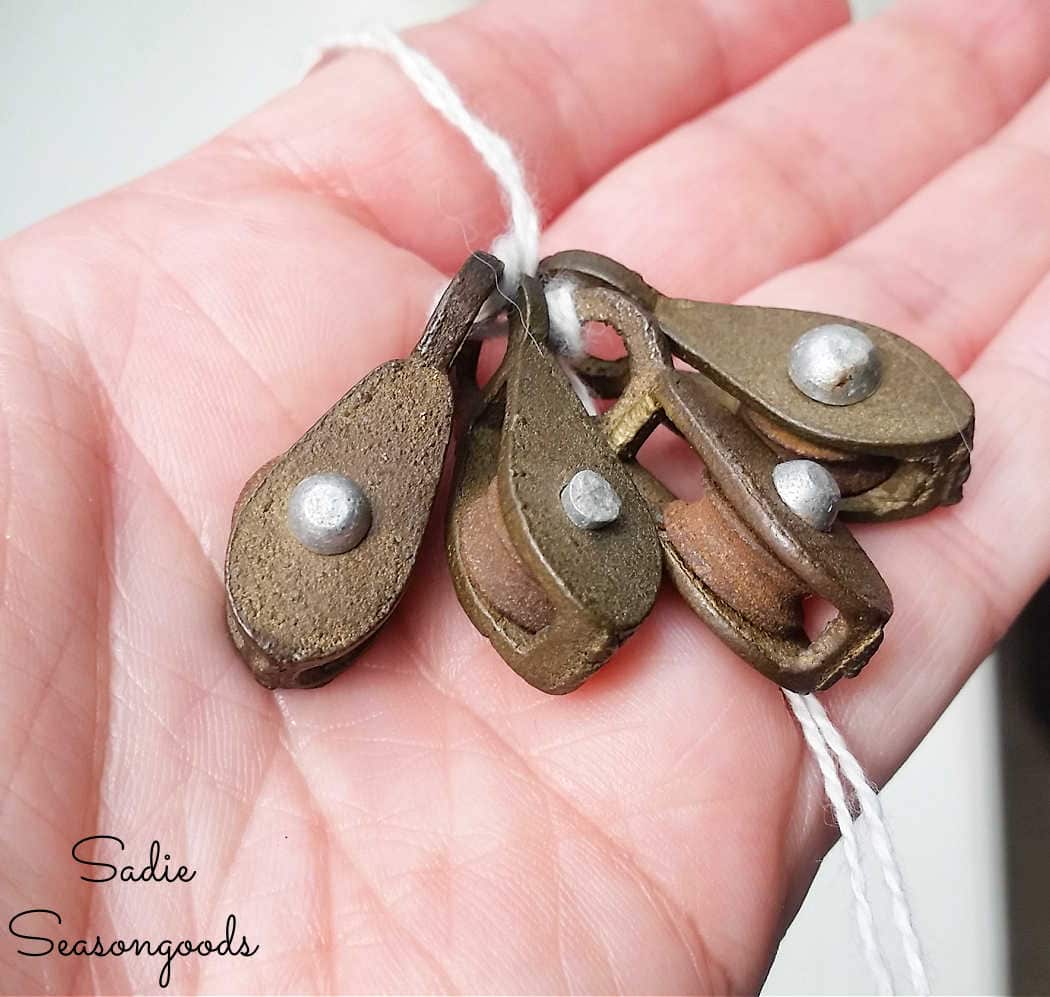 Aren't they the cutest, though? And as tiny as can be- here's a nickel for reference. The question is, what on Earth were these small pulleys used for originally?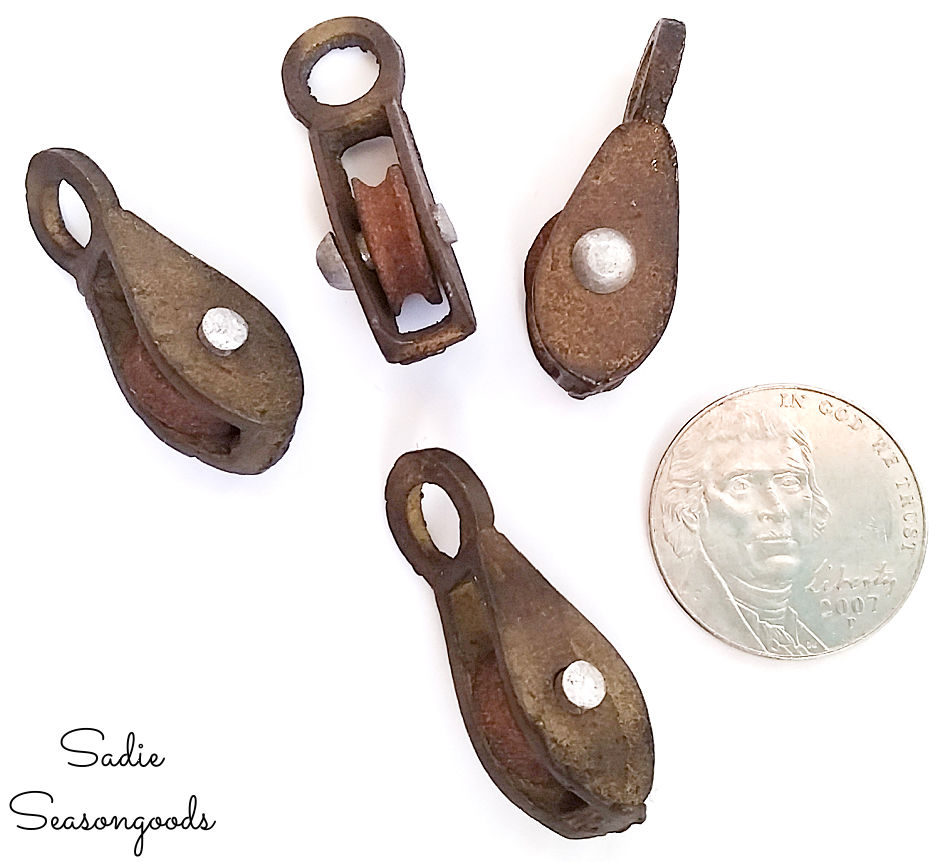 Regardless, they were the perfect size to make a steampunk necklace or an industrial pendant. On a dainty, unassuming scale!
This post contains affiliate links for your crafting convenience. As an Amazon Affiliate, I earn from qualifying purchases. All blue, bold, and underlined text is a clickable link, either to a product or to a related post.
Jewelry-Making with Vintage Pulleys
Over the past few years, I've amassed a nice collection of broken jewelry. And many of the pieces are orphans- single earrings, a broken watch, etc. So, I decided to pair these orphans with my vintage pulleys for this upcycled jewelry project.
First things first, I gathered the daintiest chain I had and strung a bit over the small pulley.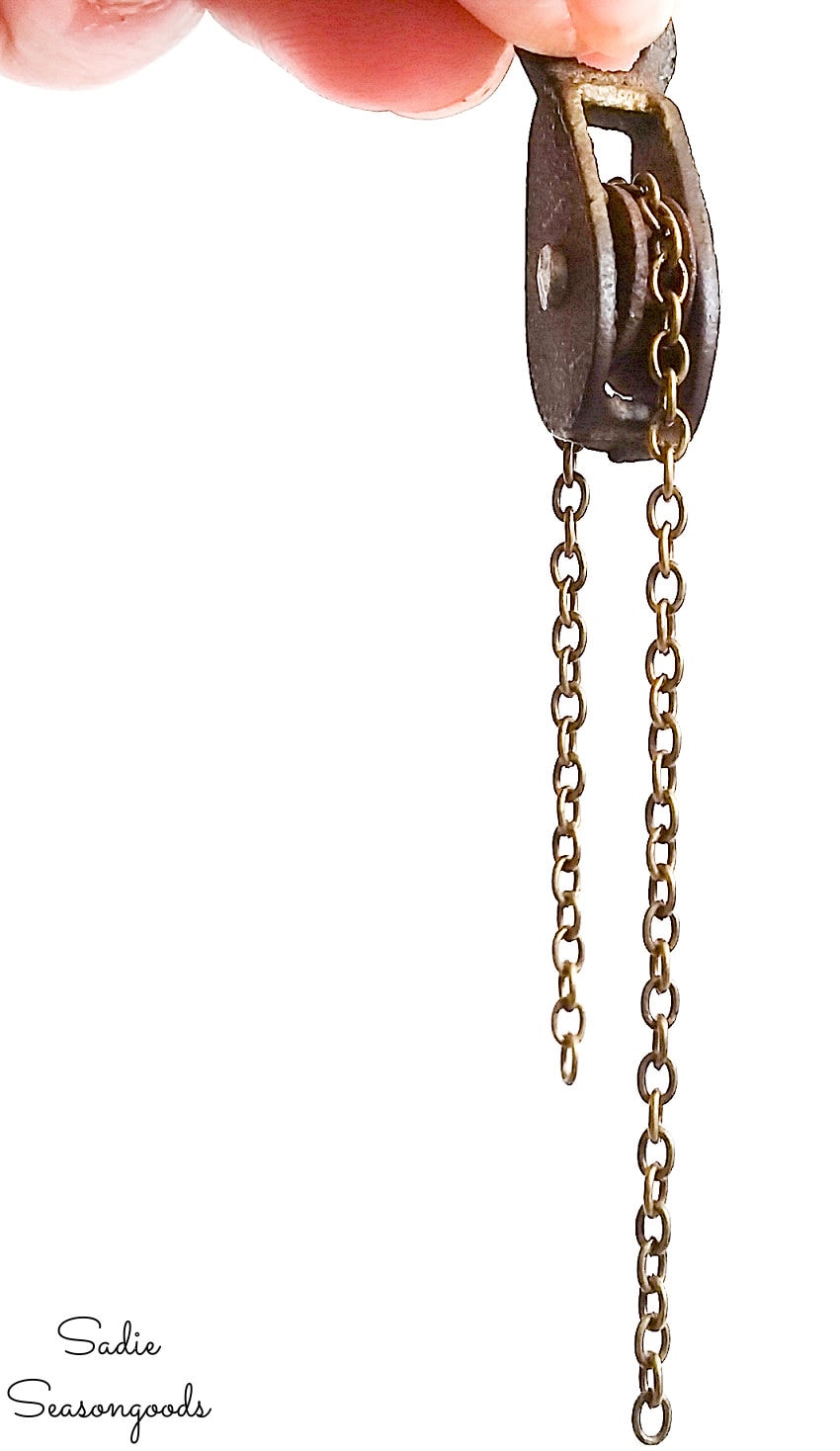 Next, I carefully disassembled a single chandelier crystal and attached the smaller half to one end of my chain.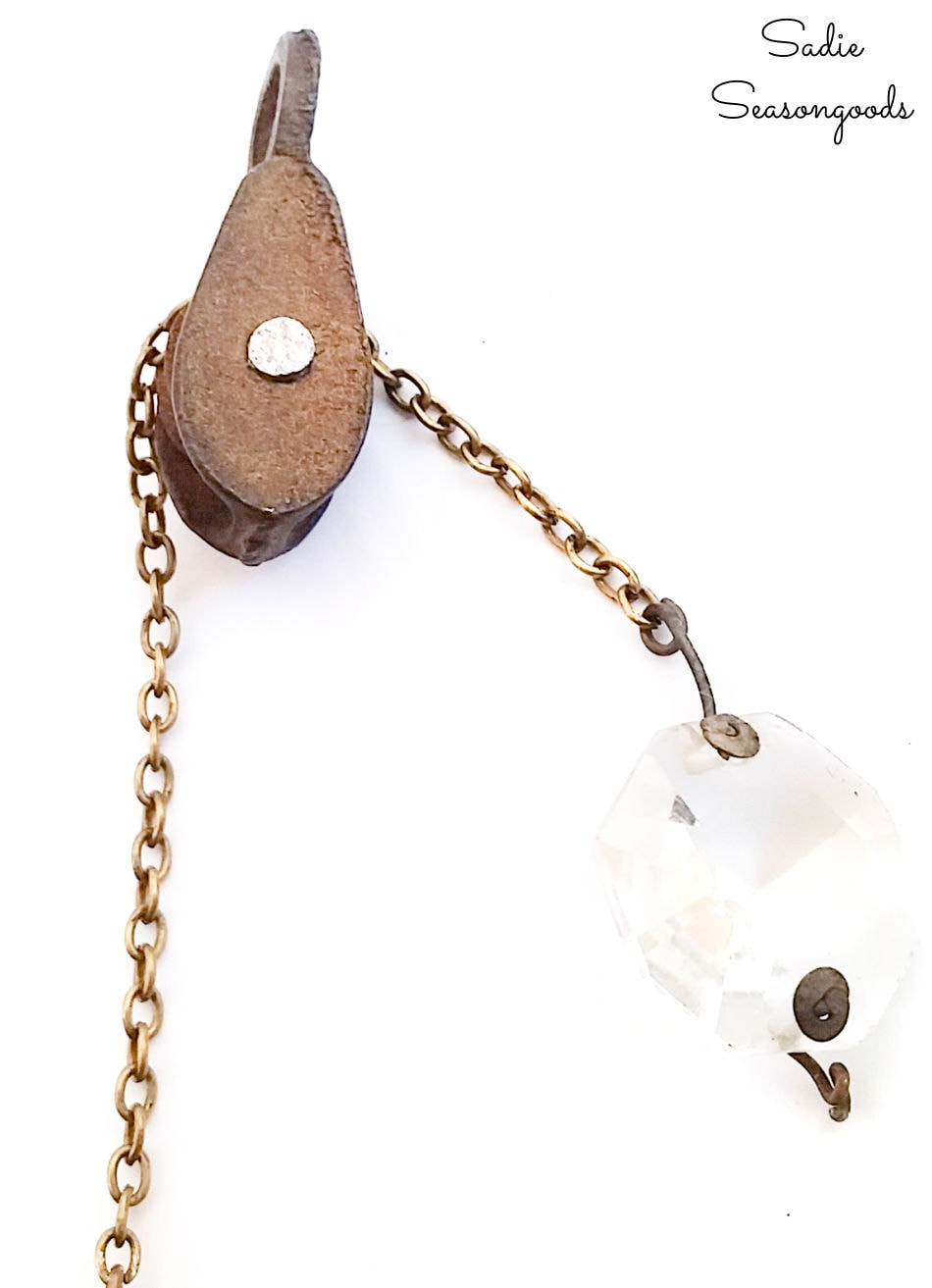 Next, I added a few glass beads from a broken Italian rosary (using jeweler's pliers) to the other end of my pulley chain.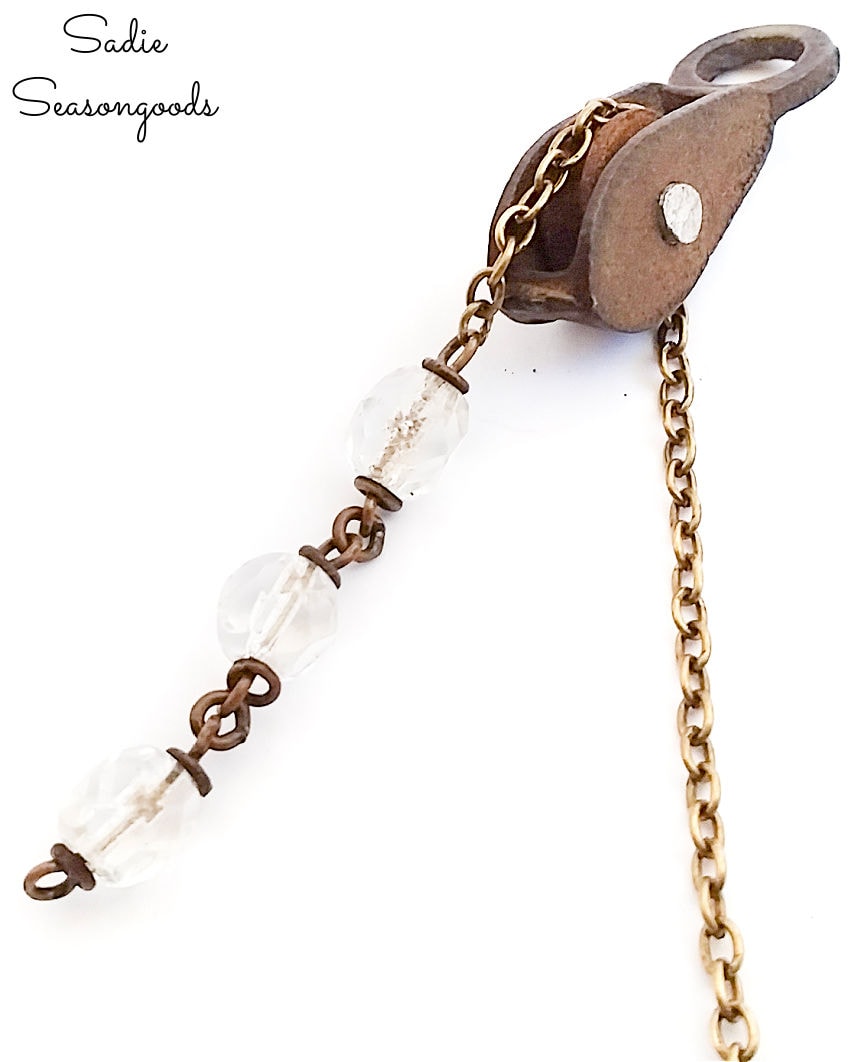 And that was it! A whimsical and unique pendant necklace in just a few minutes.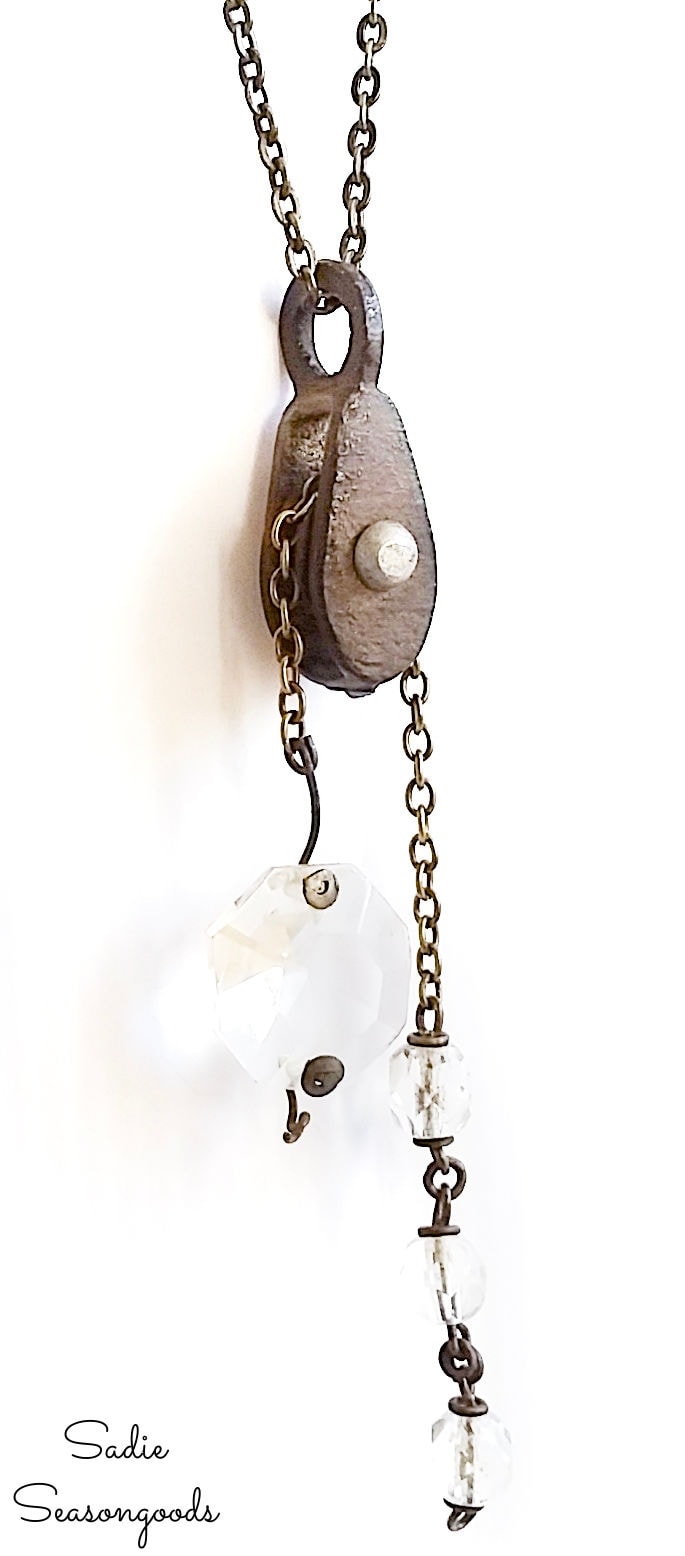 Because the two ends aren't equal weight, I can/will add a drop of glue at the top of the pulley wheel to hold the dangly bits in place.
Since I had 4 lovely pulleys, I decided to modify my approach ever so slightly on the next one. I had picked up a broken ladies wristwatch at a local Salvation Army recently and wanted to refashion it into a new piece of jewelry.
So, instead of hanging two different bits from the pulley, I simply looped some dainty chain around the pulley wheel, and threaded it through the watch face before closing the chain.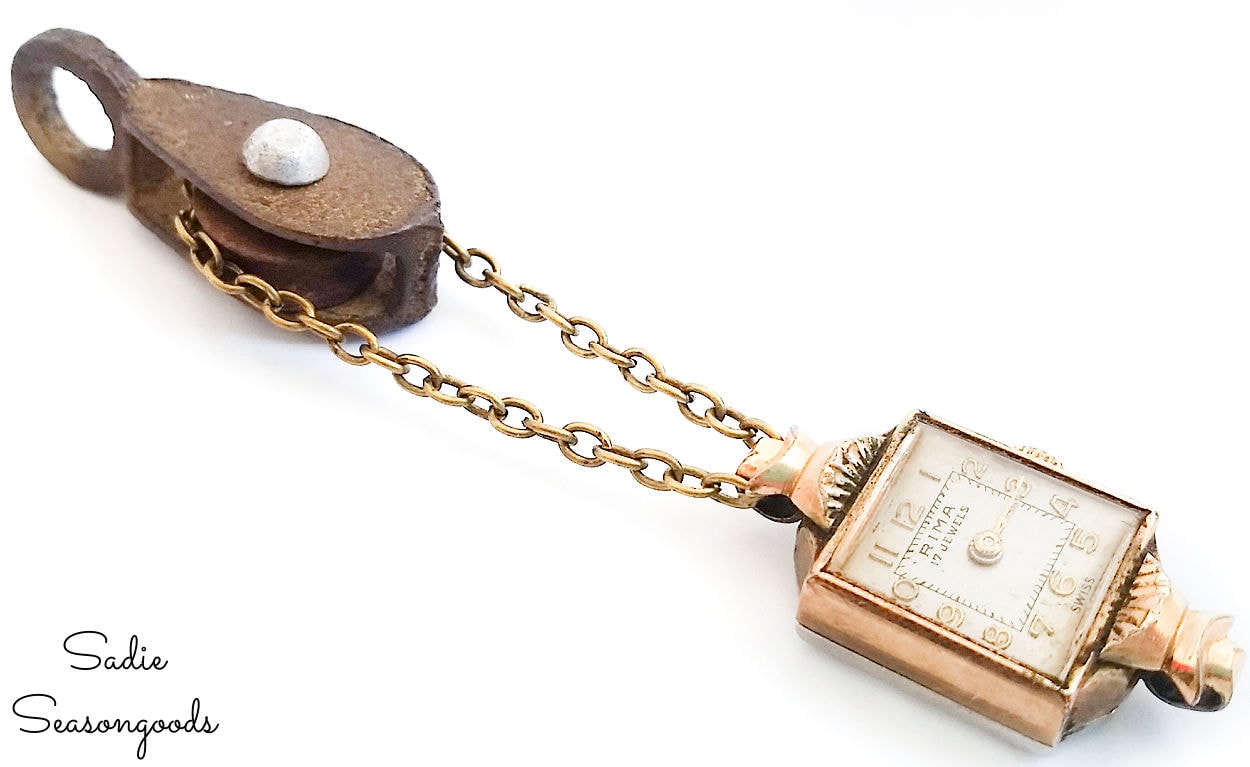 I might love this steampunk necklace even more than the first one!
Steampunk Necklace from a Vintage Pulley
Who am I kidding? I love them both! And such a fun way to repurpose bits of broken jewelry with those vintage pulleys.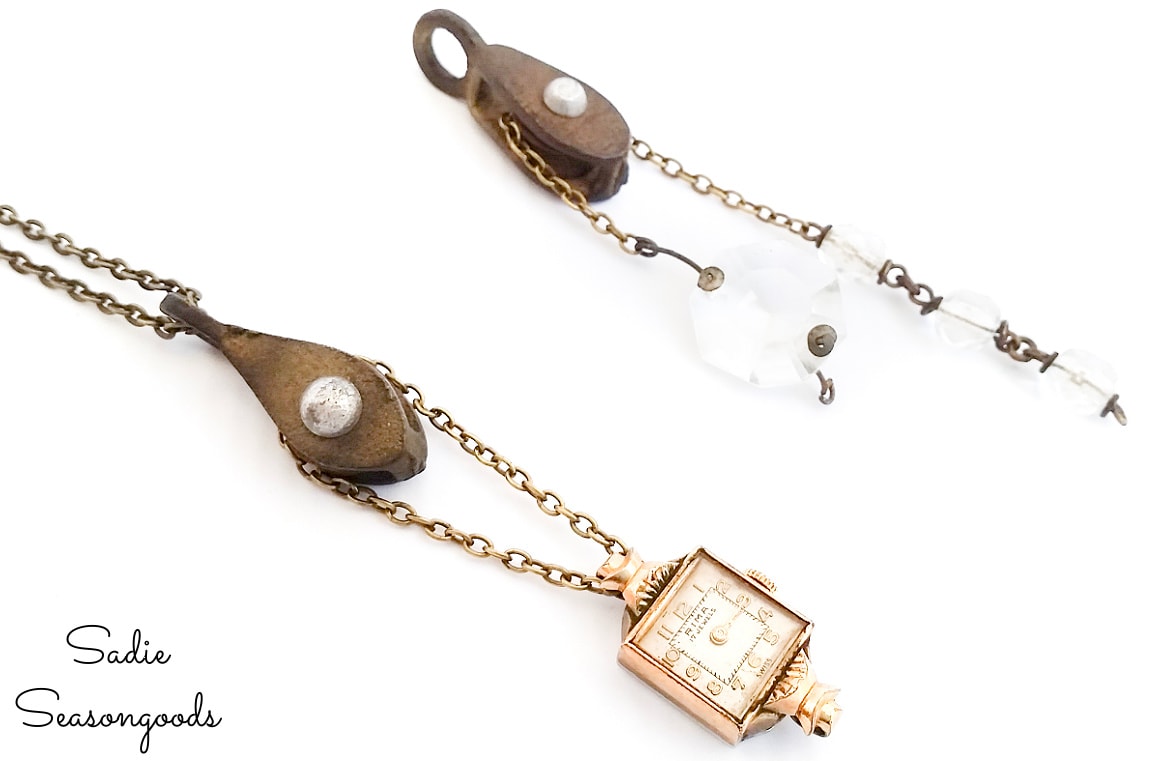 I made more pulley pendants for my Etsy shop, but they sold out immediately! This one featured a large pearl bead.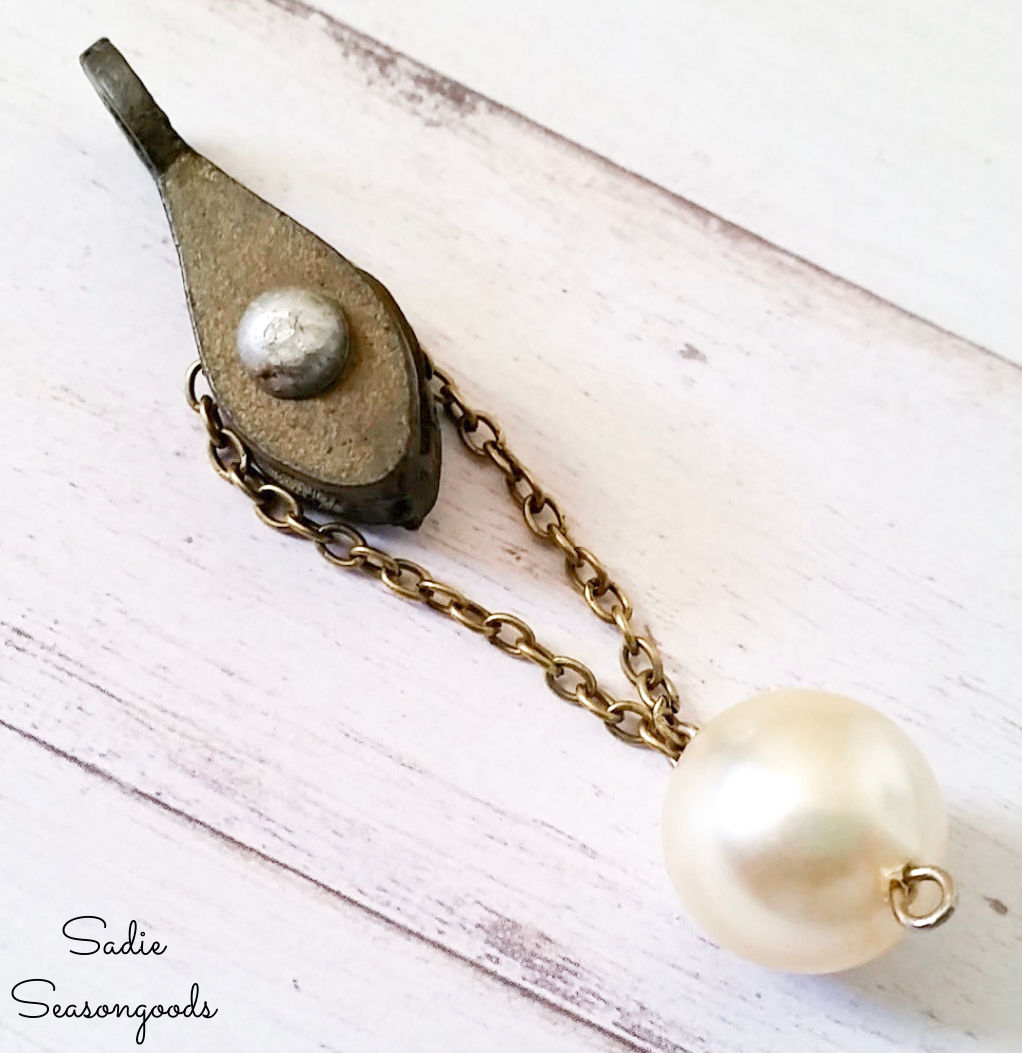 And this one used a single earring that had featured a dangling pair of aurora borealis beads. So fun, right?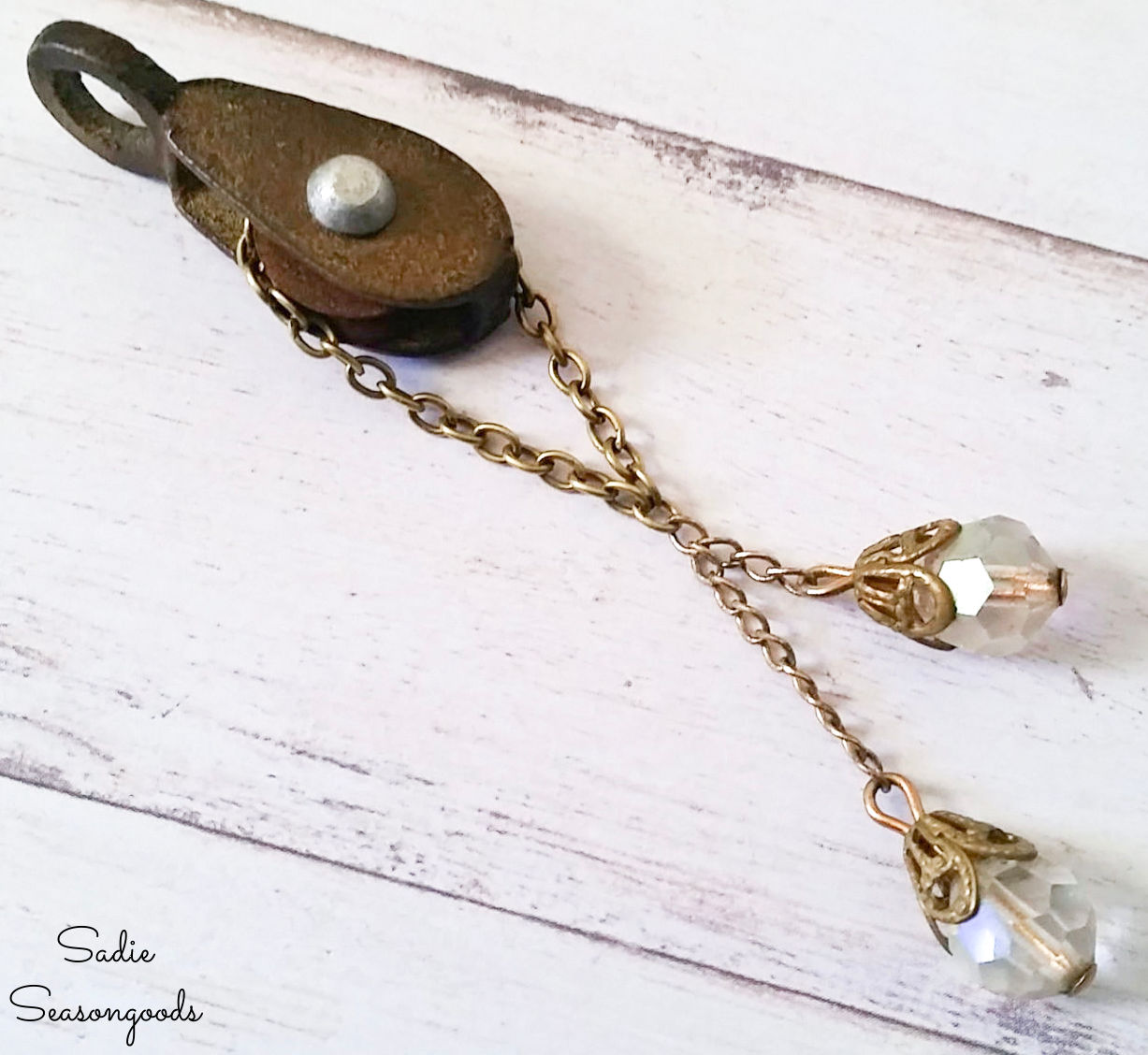 I'm just glad I kept this steampunk necklace from the bunch that I made! It's a favorite go-to necklace in my collection.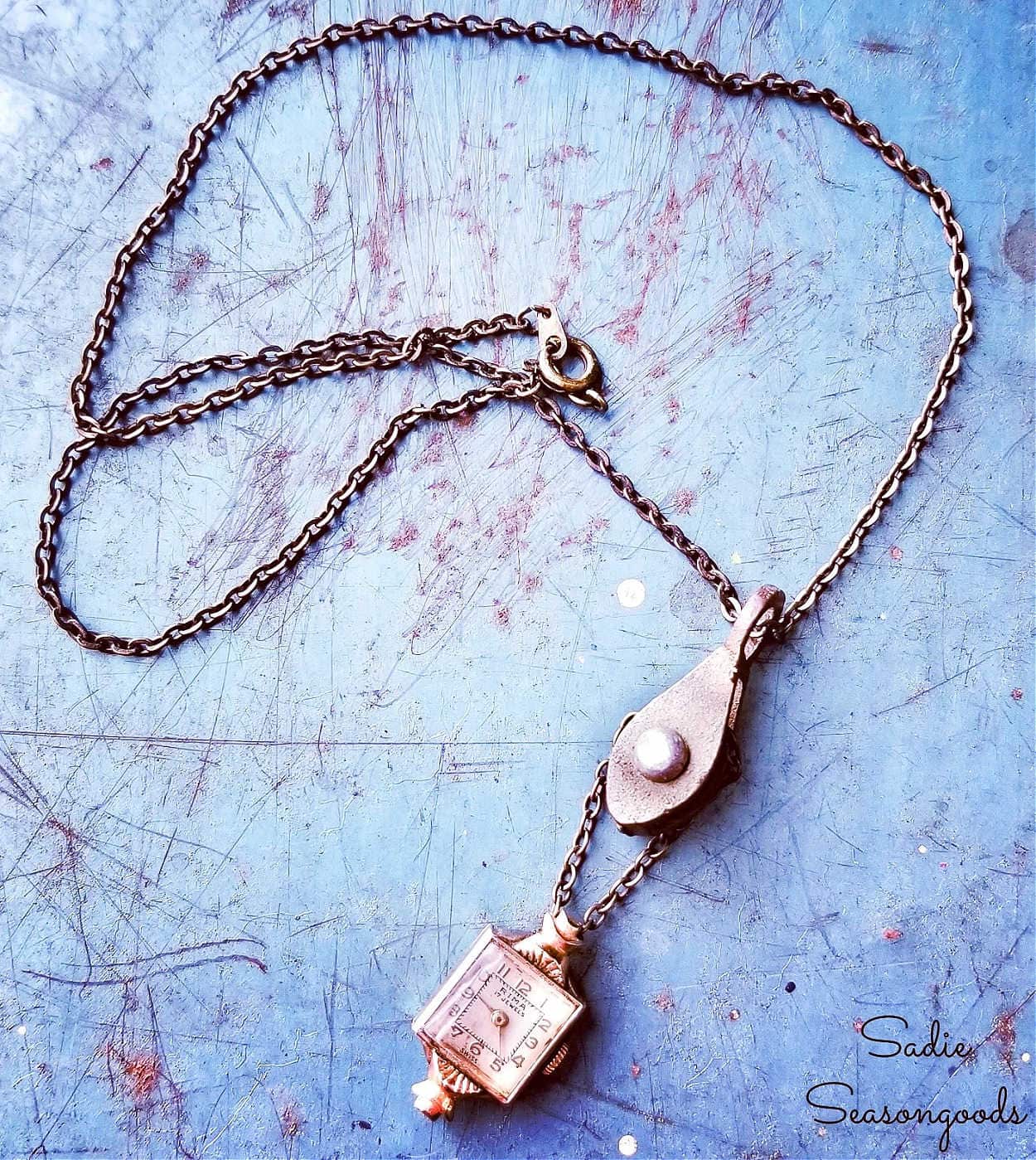 If you enjoyed this upcycling idea for jewelry, then you may also enjoy this entire collection of upcycled jewelry ideas, as well!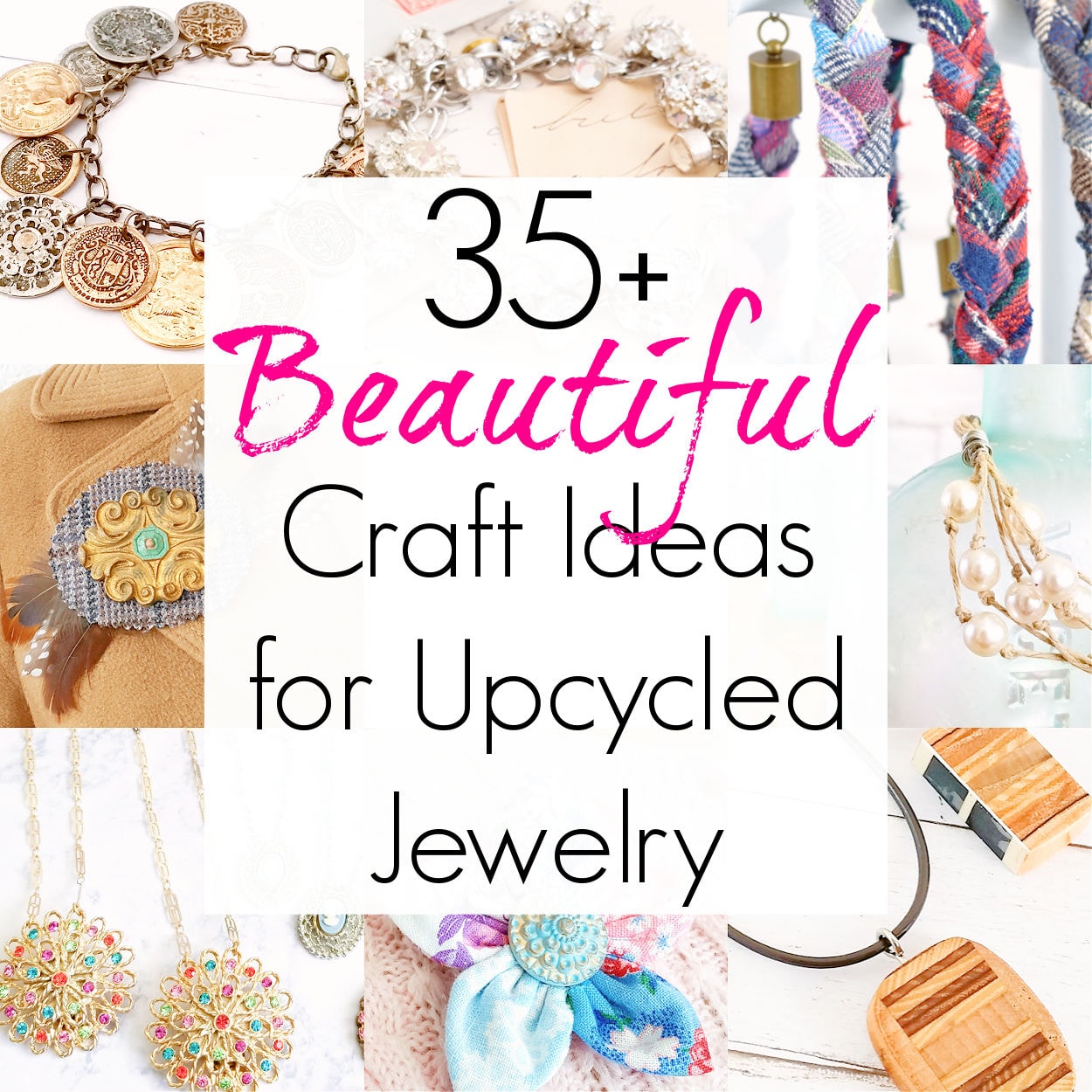 Craft on!
S
Want to be notified when I publish my next upcycling project tutorial?
Subscribe to Blog via Email
Join me on Social Media:



PIN ME!