I've always admired old window frames at antiques shops and architectural salvage stores. I didn't pull the trigger for a while, though, because they were often too big or too expensive. When I finally found the right old window frame for me, I couldn't wait to bring it home and make some window pane decor.

At first I thought I would use it to display vintage postcards…but that all changed when I found an Etsy shop that sold some GORGEOUS circa-1918 unused flower seed packets. Note- even though this blog post is from 2014, the same Etsy shop STILL has some of these seed packets available as of March 2019.
Aren't they stunning? I knew they were meant to become Flower Art when paired up with my old window frame. So, I bought six different seed packets and went to work on upcycling them into window pane decor for some Spring decorating. This post contains affiliate links for your crafting convenience.
Creating Flower Art on an Old Window Frame
I didn't want to affix the packets to the old window frame directly and ruin the backs with glue. My mind drifted back to my mother's old scrap book (that her mother had put together) and the black photo corners that held all the photos in place. When I'd ask who was in each photo, my mom would gently pull the photo from the corners and check the back for information…
At the time, I couldn't find them in stores! So I went on Etsy and purchased a pack of vintage photo corners and hoped they would still work. In the years since this blog post was published, I am pleased to find that they are now sold online here!
Before working on the display, I wiped down the old window frame, preserving as much of the chippy paint as possible, and used a little Windex on the glass. Let me tell you- it was filthy!
And I had to chuckle to myself at the paint job, particularly on what would have been the exterior side- globby and drippy, with paint smudges on the glass. Perhaps it was last painted by an exhausted farmer who just didn't give a darn about painting his windows? Or maybe a it was painted by a young child that didn't really know what he was doing…either way, it was fun to daydream about.
Either way, the old window frame was as clean as it was going to get and I could get to work on my idea for window pane decor with the vintage seed packets!
Now, I suppose I could have measured everything here, but eh, I didn't have the patience! So, this part came together quickly. I centered each packet on the pane as best I could, and then used photo corners on opposite ends to hold it in place.
After that, I simply added the remaining two photo corners to the other corners and that was it! Each little seed packet was attached to the old window frame without in a secure but non-permanent fashion.
Window Pane Decor and Flower Art
And then, voilà! Window pane decor that showcases Spring flowers with my vintage seed packets. Perfect for Spring decorating and the quickest Flower Art that you can imagine!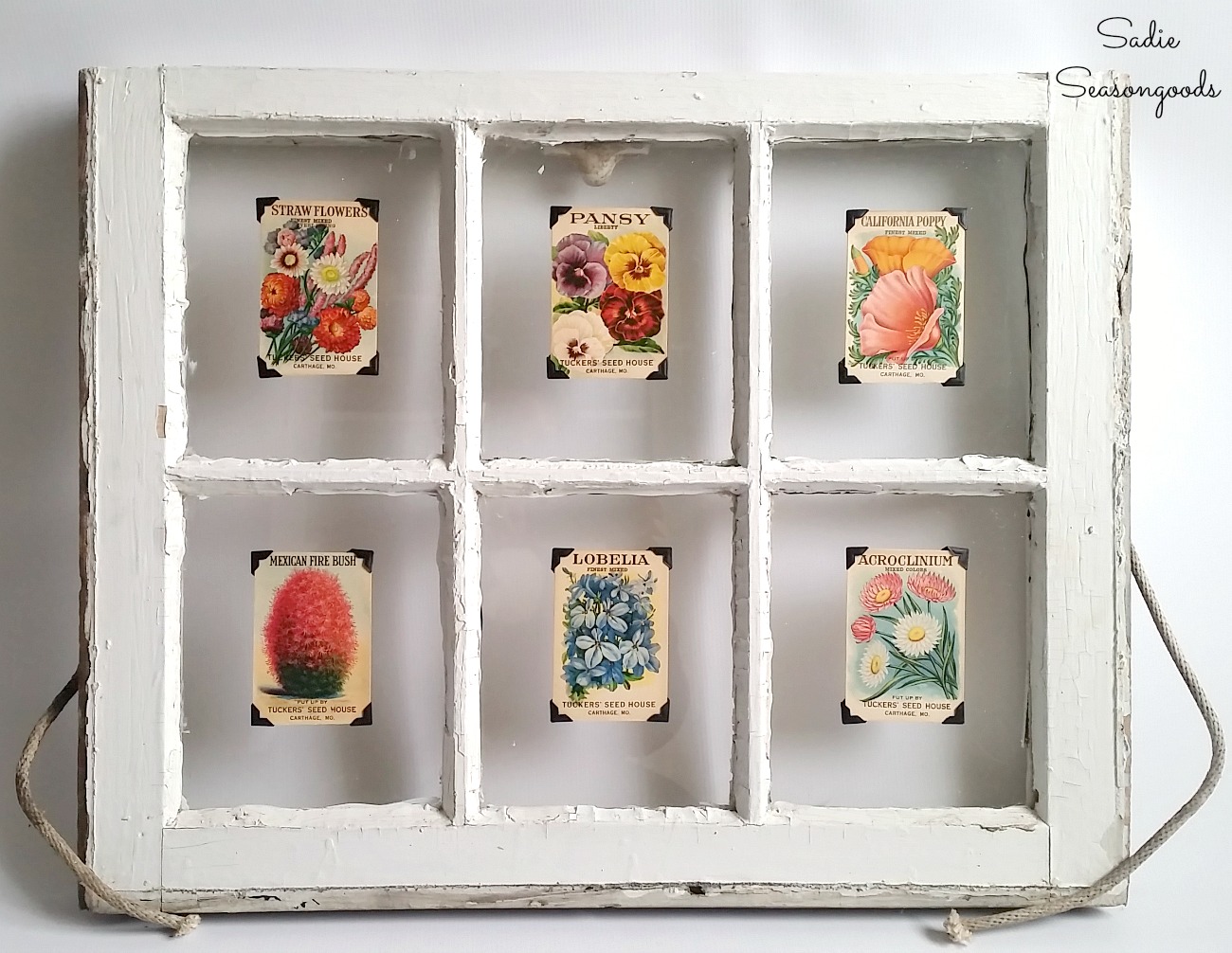 Isn't that just charming? I can't wait to build around it to welcome Spring into our home.
Speaking of decorating for Spring, please check out this comprehensive collection of upcycling ideas for Spring home decor! You will find all kinds of inspiration here…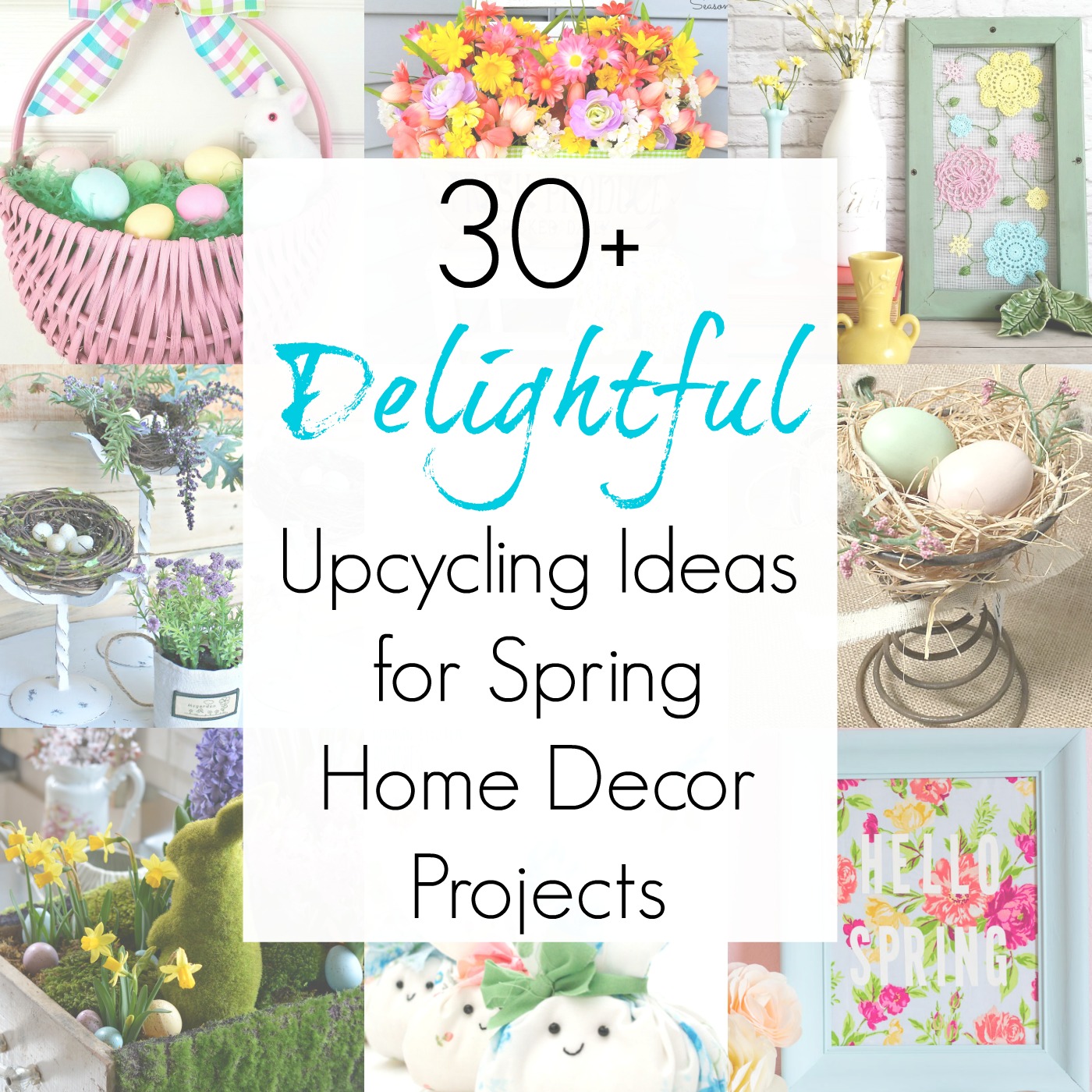 Craft on!
S
Want to be notified when I publish my next upcycling project tutorial?
Subscribe to Blog via Email
Join me on Social Media: