A few weeks back, the Mister and I were traveling through the North Georgia mountains on a little weekend getaway. And surprise, surprise- we stopped and shopped at a couple of secondhand stores along the way. And with the vintage-junk angels singing above, I came across an old quilt at a Habitat ReStore…well, actually TWO old quilts.
I didn't *need* both of them…and I spent a lot of time hemming and hawing, deciding what to do. Buy them both? Buy just one?
In the end, I ended up with only one in my arms- the one on the left with its pretty country stars.
Now. Let's just get something out of the way before I continue. I'm going to upcycle this quilt– and some folks may consider that a sacrilege. It's threadbare and tattered beyond repair in some places…but if you can't bear to see it repurposed, then you may want to stop reading right now.
I feel like a news anchor warning viewers of graphic footage ahead! But I promise you, the only graphic things in this post are the pretty pictures in the end!
Here's a little taste of what I mean- this quilt was loved, LOVED but whomever slept in the twin bed it covered, all those generations ago.
I knew right away what I wanted to do with a piece of this quilt- showcase it in a vintage window, like a big, chippy picture frame. AND I already had the perfect window in mind.
After spreading out my quilt, I was tasked with two things: Find a pretty design to showcase behind the glass, AND waste as little quilt as possible. So I settled on this corner and got to work. This post contains affiliate links for your crafting convenience.
With my window centered over the section I wanted to use, I trimmed away the excess quilt- setting it aside for future projects. Then, using painter's tape (like this kind), I added a bubble of tape at each corner between the wood and the quilt- to keep it in place.
Now, with the front of my window facing the floor, I could secure the quilt to the frame with hammer and nails. Because this was a fairly delicate procedure, I used dainty wire nails and my silly (but super handy) craft hammer. Ever so carefully, I tapped nails through the quilt into the outer frame of the window- pulling it snug but not stretched out- and removing my painter's tape bubbles as I went along.
With my quilt piece securely attached to the window, I simply needed to trim off the excess- I used my rotary cutter and scissors to finish the job.
And then it was done! It turned out perfectly- and will truly be a showstopping piece of home décor.
If you enjoyed this upcycling idea for a cutter quilt, then you'll love the potholder project that I made from another section of it!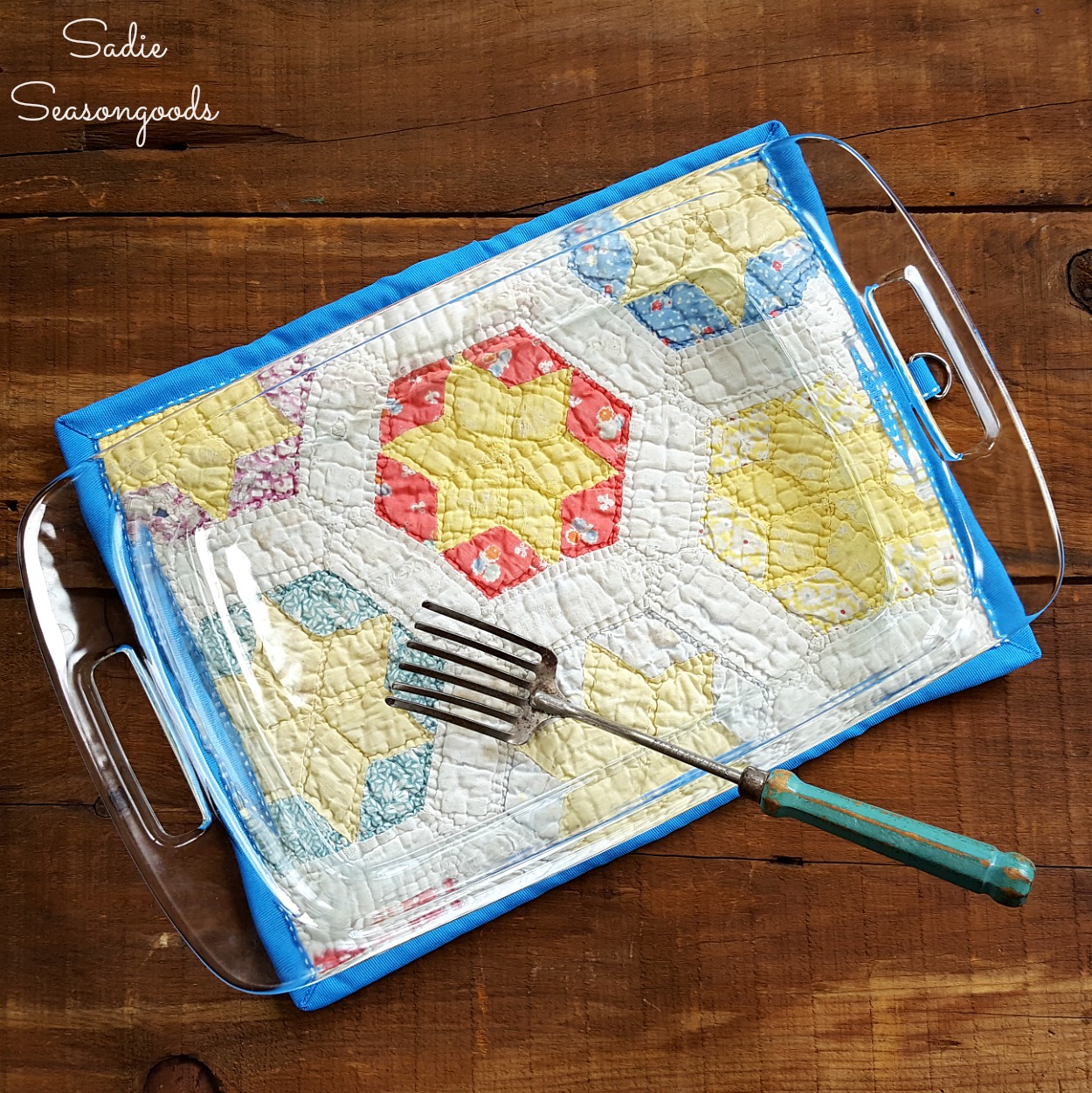 Craft on!
S
Want to be notified when I publish my next upcycling project tutorial?
Subscribe to Blog via Email
Join me on Social Media: