Ok- I will fully admit that this is a truly zany idea of mine! There I was at the thrift store, looking for inspiration on the shelves. I was going to move aside this grill fork when it dawned on me that the barbecue fork could BE the inspiration I was looking for. What if I transformed it as part of some DIY garden signs? In other words, what if I used it as a stake instead of for steak?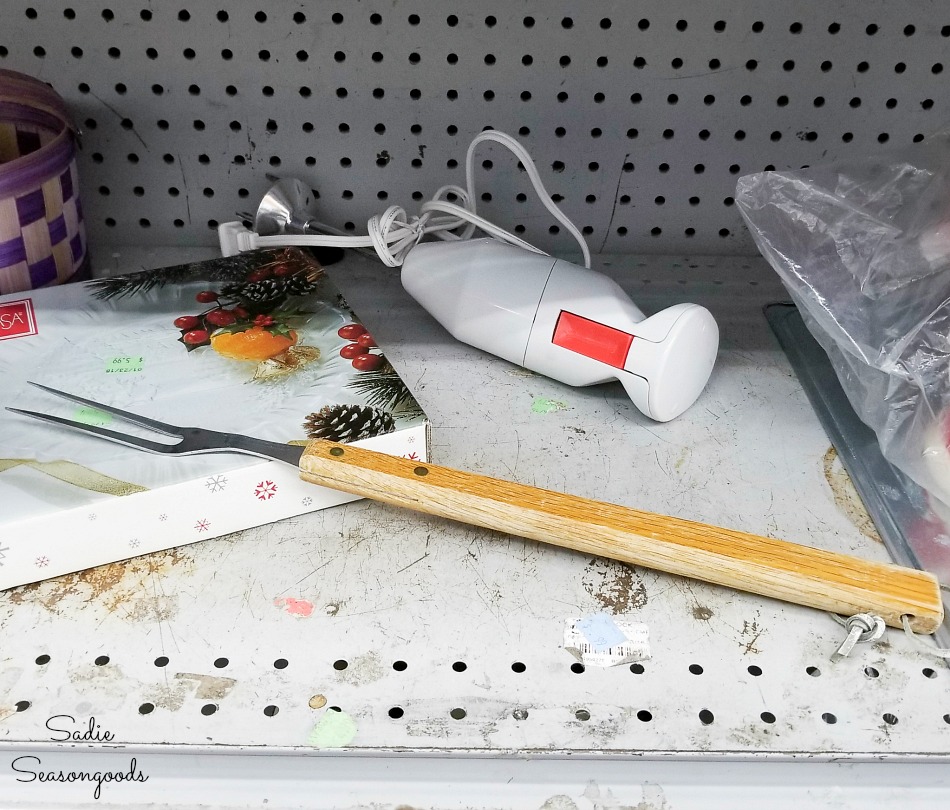 I bought it, filed the idea away, and then it was as if the universe was listening. Because I started seeing the exact same BBQ fork at nearly every thrift I visited! Apparently, this zany idea was something I was meant to attempt.
To bring my idea to life, I needed something to act as little signs. And thrift store cheese boards were the perfect size to go with each grill fork!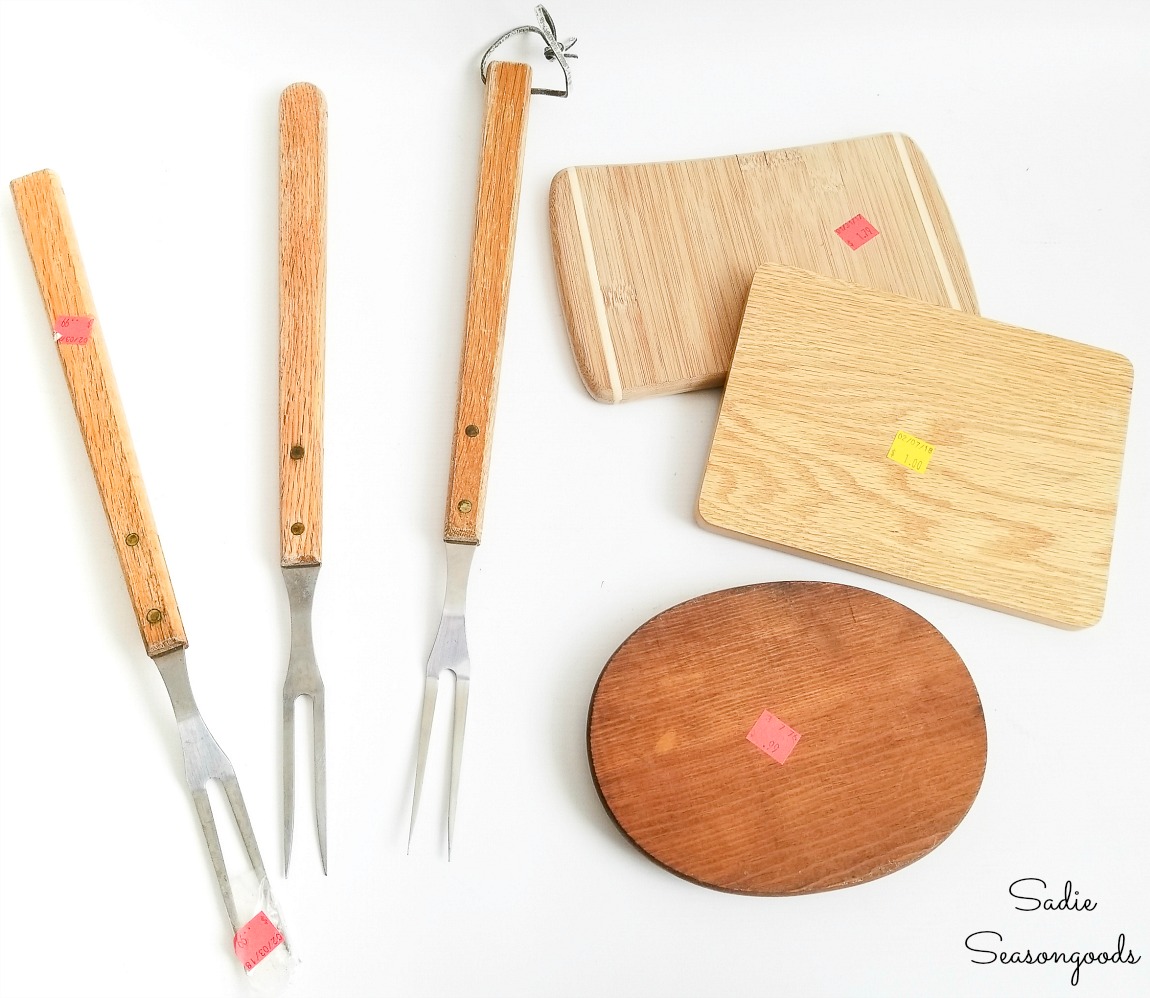 This post contains affiliate links for your crafting convenience. As an Amazon Affiliate, I earn from qualifying purchases. All blue, bold, and underlined text is a clickable link, either to a product or to a related post.
Grill Forks as Stakes for Yard and Garden Signs
Once I had the basics lined up to build my barbecue fork signs, I simply had to decide what to put on the signs. I definitely wanted to create a new address sign, but I also wanted whimsical signs that served no purpose other than being cute.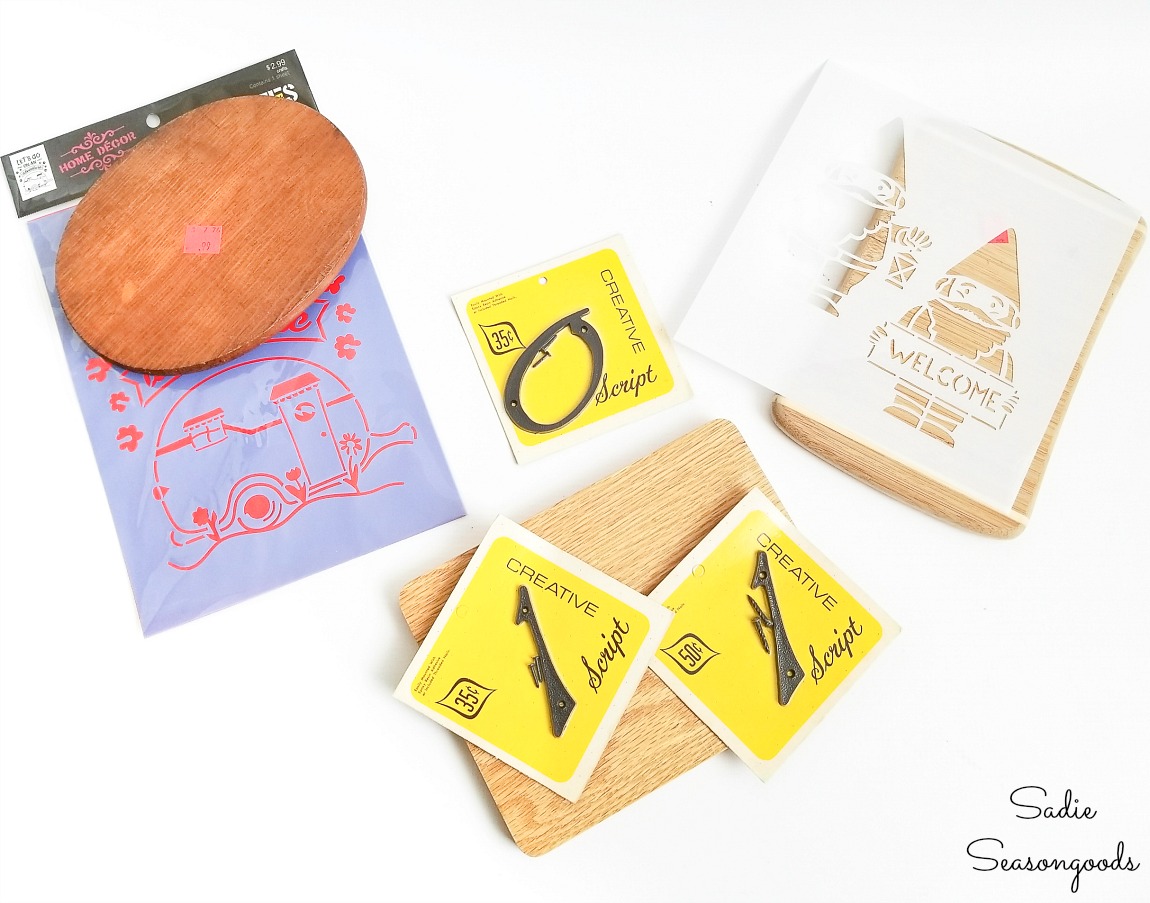 Then I got to work, starting with the address sign.
First, I painted both the BBQ fork and the cheese board in the same shade of blue. It wasn't the exact same shade as our house, but it was pretty darn close.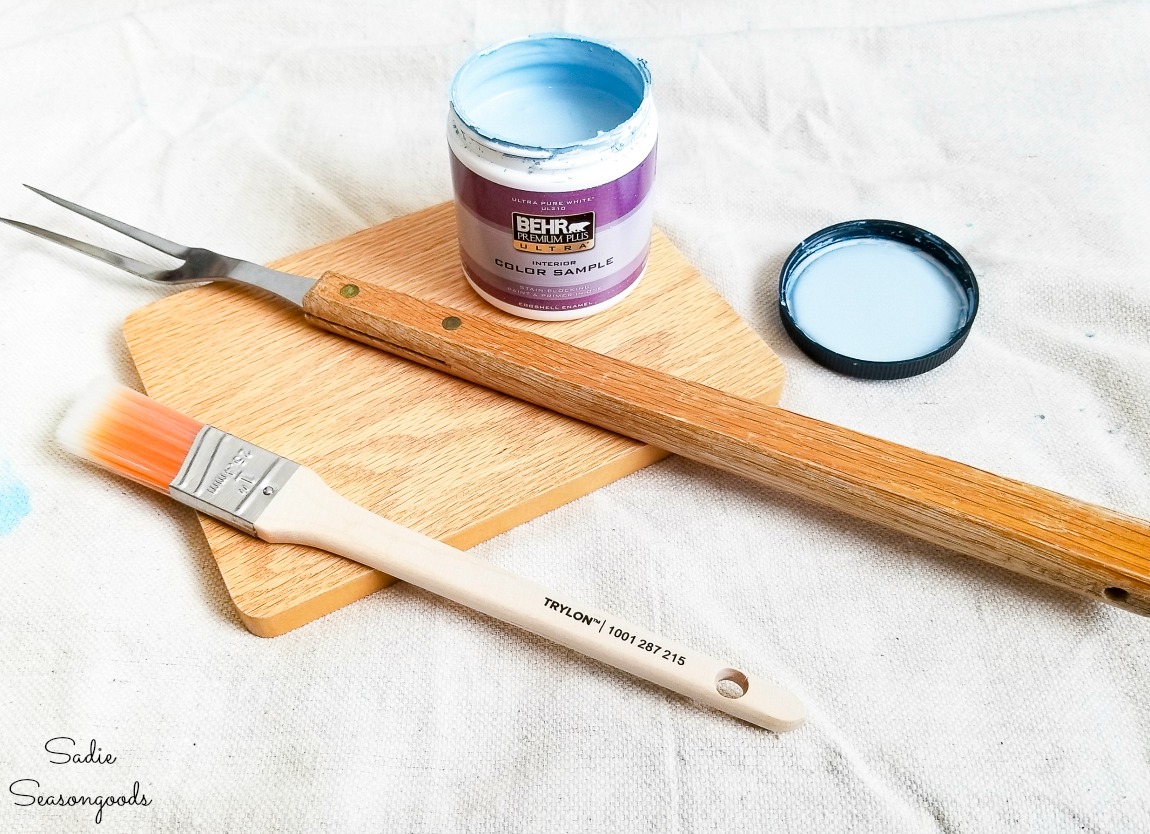 After the paint had dried, I sprayed the grill fork and the wooden cheese board with matte topcoat to weather-proof it.
Then, I attached the house numbers to the center of the cheese board.
They're new-old-stock vintage! I found them on Etsy.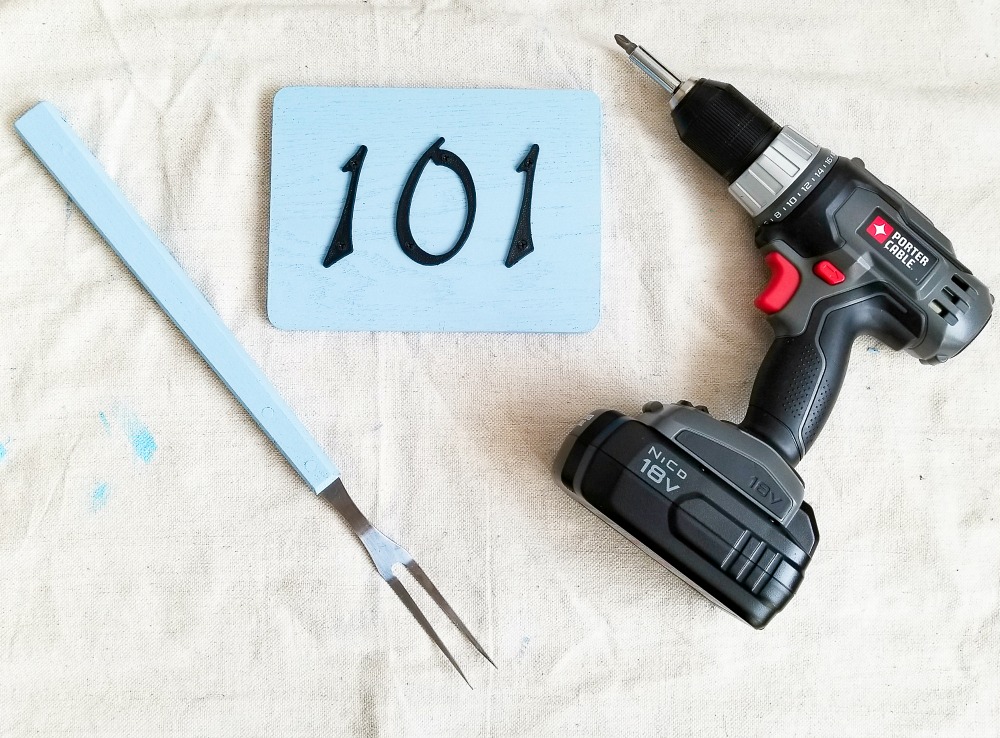 Then, I used a single wood screw to attach the sign to the BBQ fork, carefully drilling pilot holes in each piece to avoid wood splitting.
Once it was securely fastened, I touched some paint onto the screw head to help it blend in.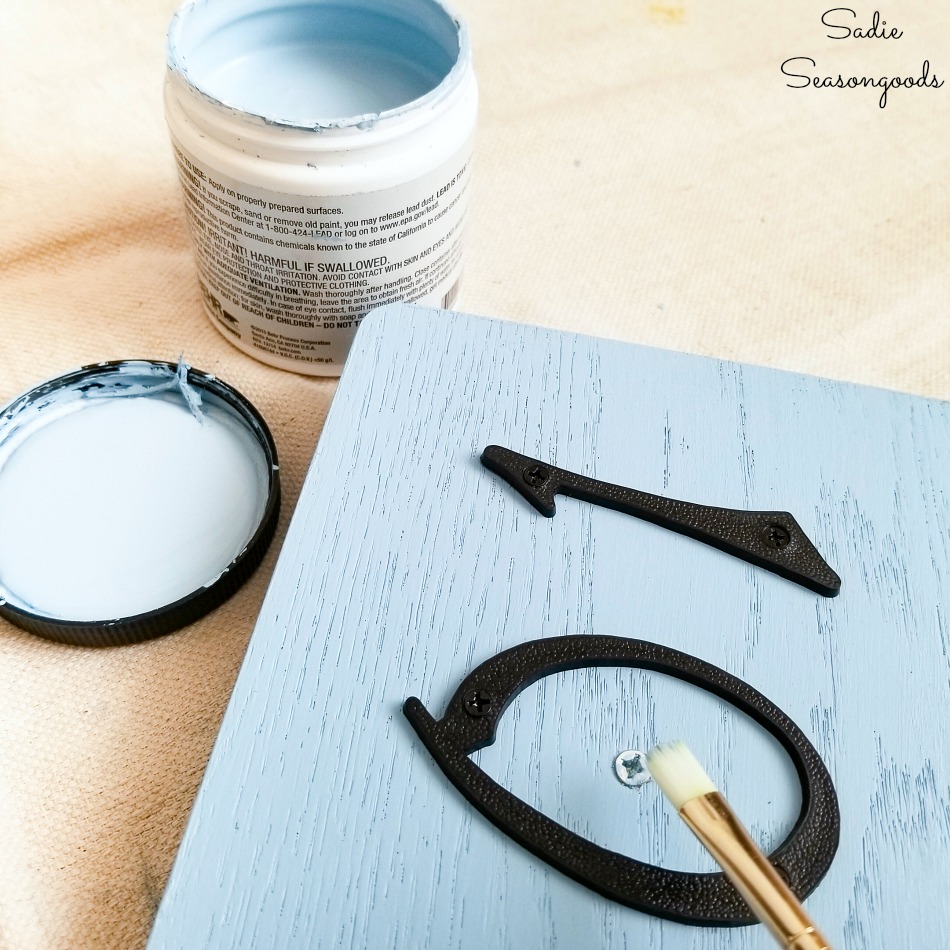 And that was it. A perfect little address sign on a cheese board with a grill fork as the sign stake!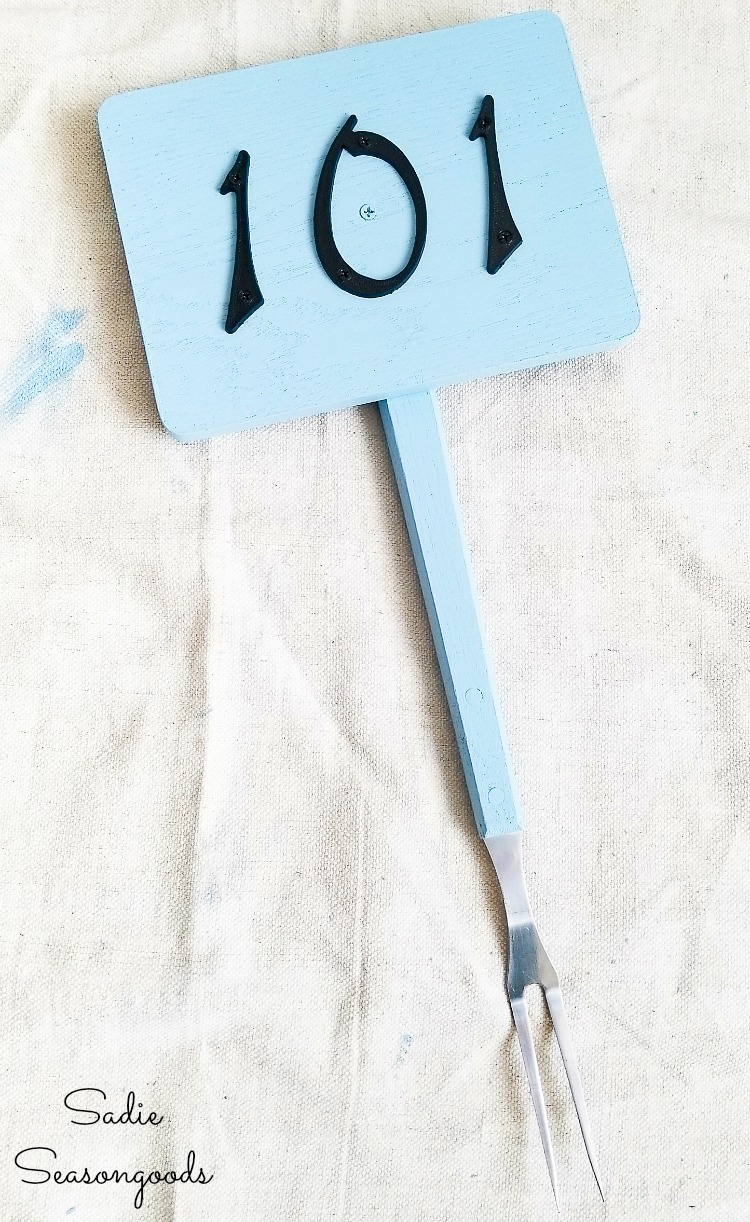 All that was left to do was brush on a top coat to the wooden portion of the grill fork and sign. That would waterproof it so that it could safely live outside!
DIY Garden Signs from Grill Forks
I created a second sign right away, this one for whimsy.
I still have materials for yet another wooden garden sign, but I'm happy with these two for the time being. Aren't they cute?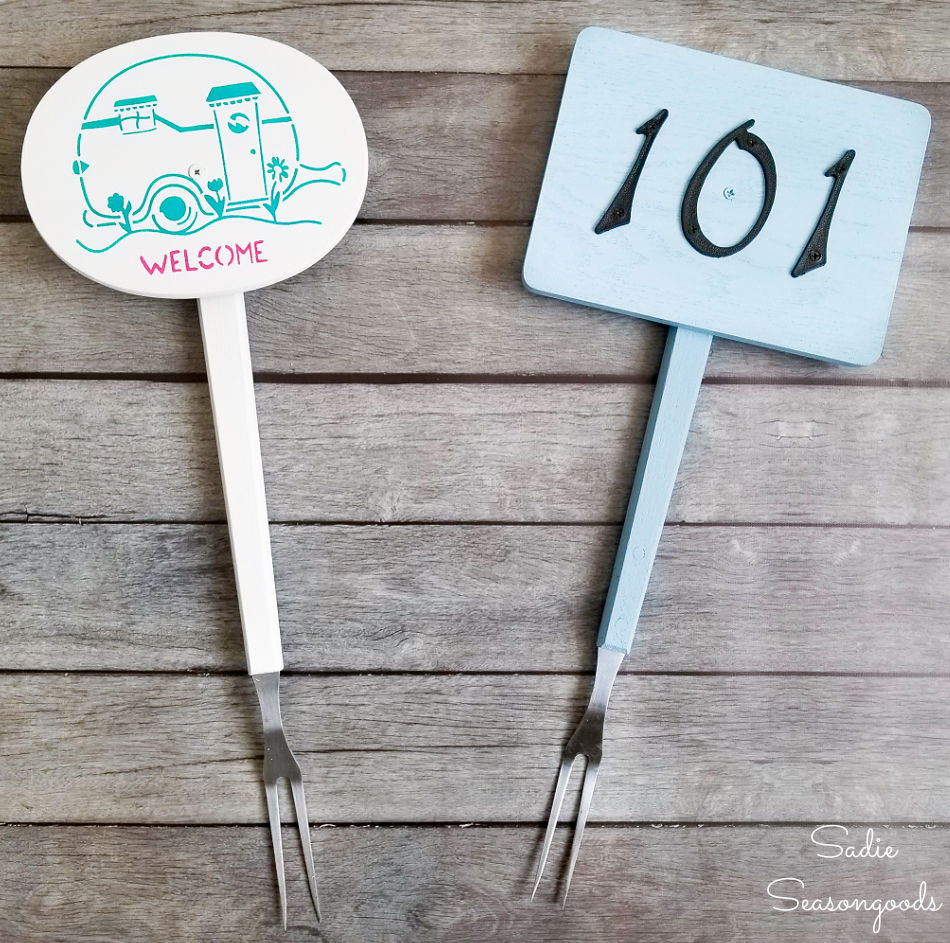 But now for the real test…would they stick in the ground easily? Would they seem solid and secure?
And I'm happy to the report that the answer is a resounding YES! The grill fork was PERFECT as a sign stake for my DIY garden signs.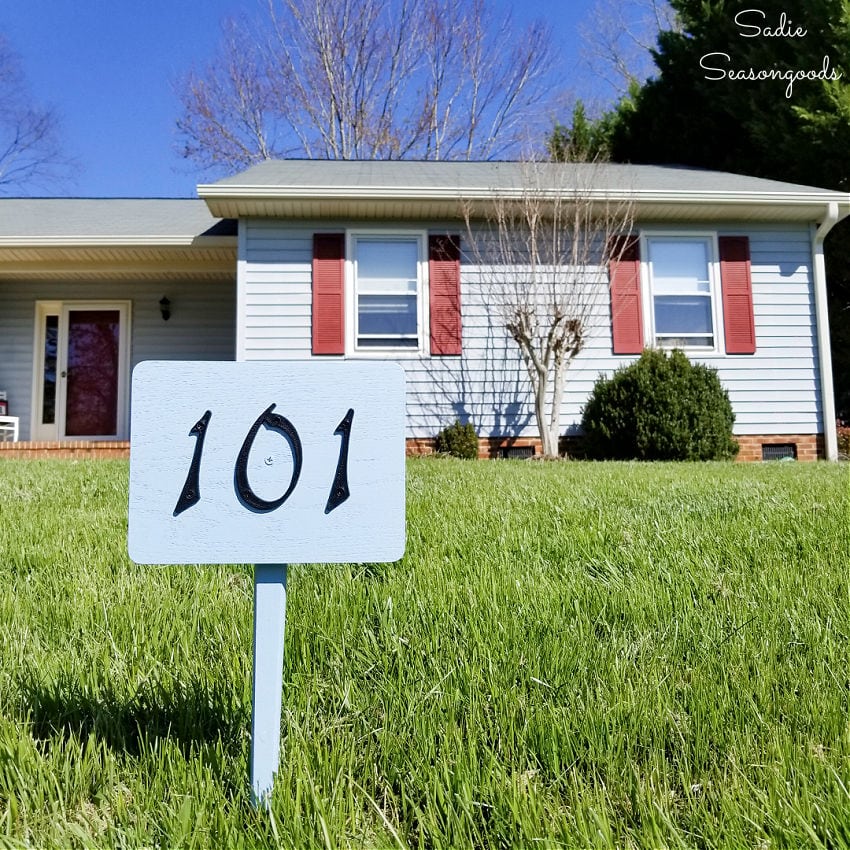 Now, truthfully, it had rained a day or two before I put them outside. But they went in the ground with no effort at all, were easy to adjust, and weren't top heavy whatsoever (which I was worried about).
So, as long as your wooden cheese board (or scrap wood) isn't too large or heavy, these will work out brilliantly. So keep an eye out for a BBQ fork or two the next time you go thrifting!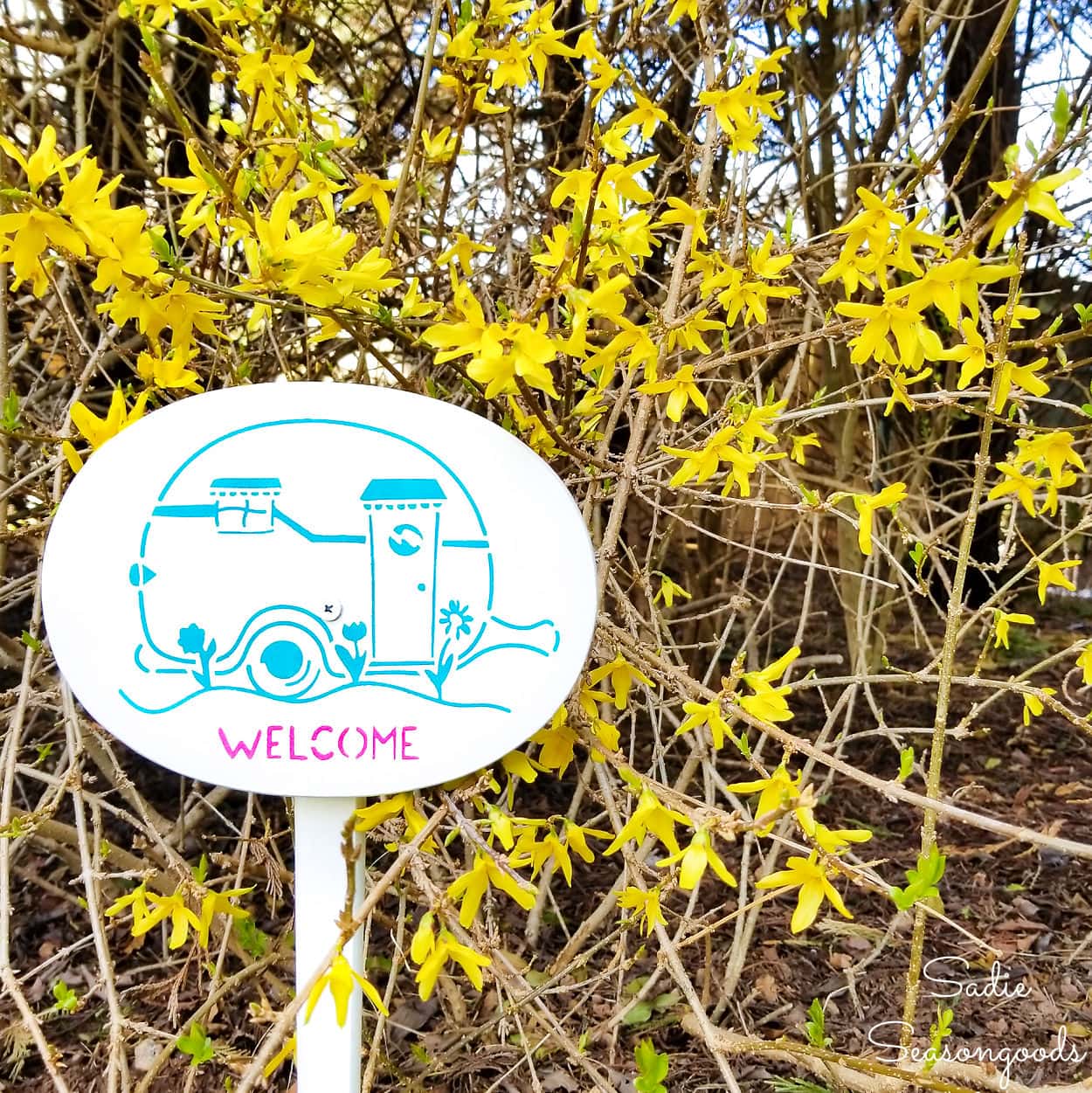 Gotta love it when a zany idea turns into something quite awesome. I honestly couldn't be happier with how they look AND how well they work as DIY garden signs.
And if you liked this upcycling idea for a grill fork as a sign stake, then you'll also love this collection of ideas for upcycled garden decor!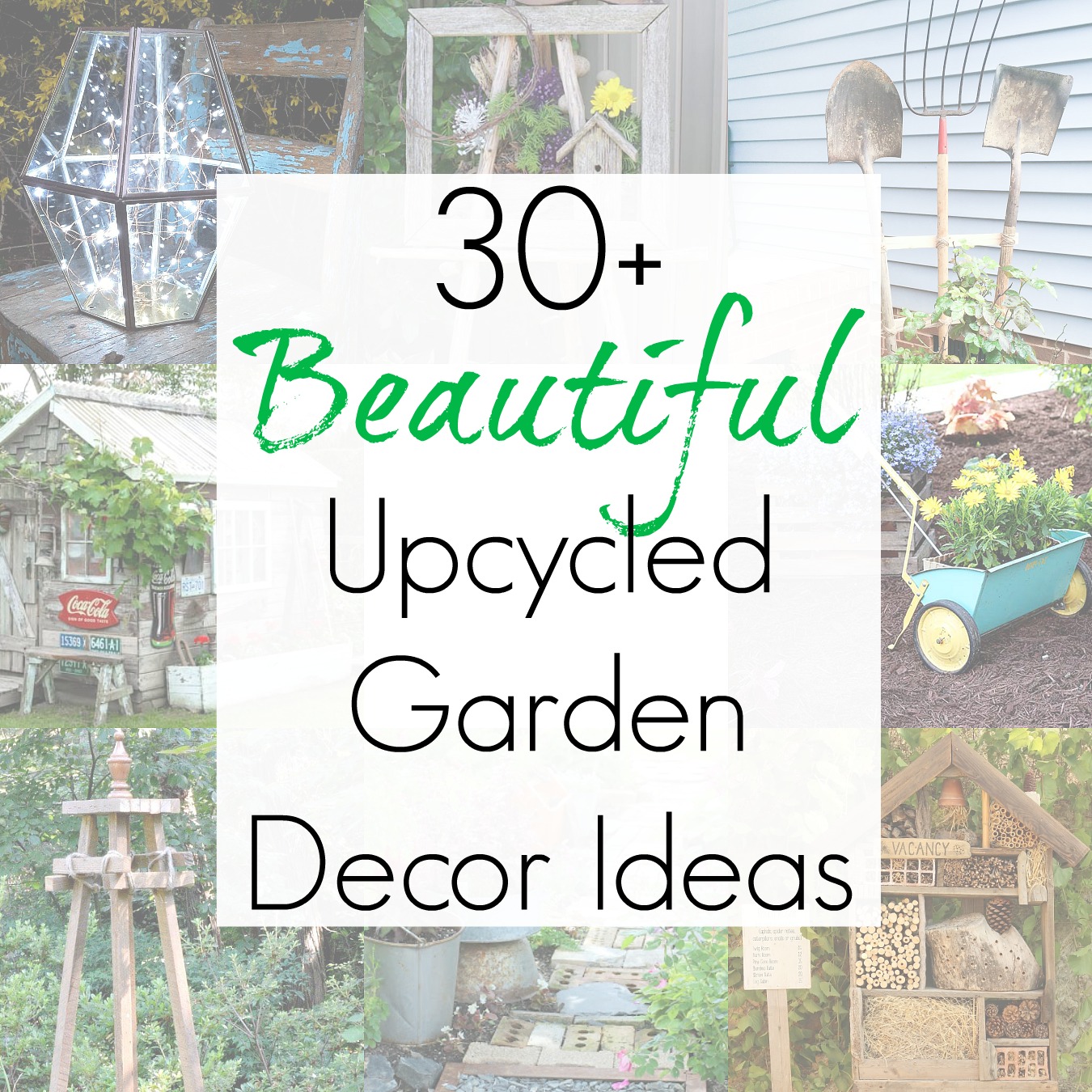 Craft on!
S
Want to be notified when I publish my next upcycling project tutorial?
Subscribe to Blog via Email
Join me on Social Media:
PIN ME!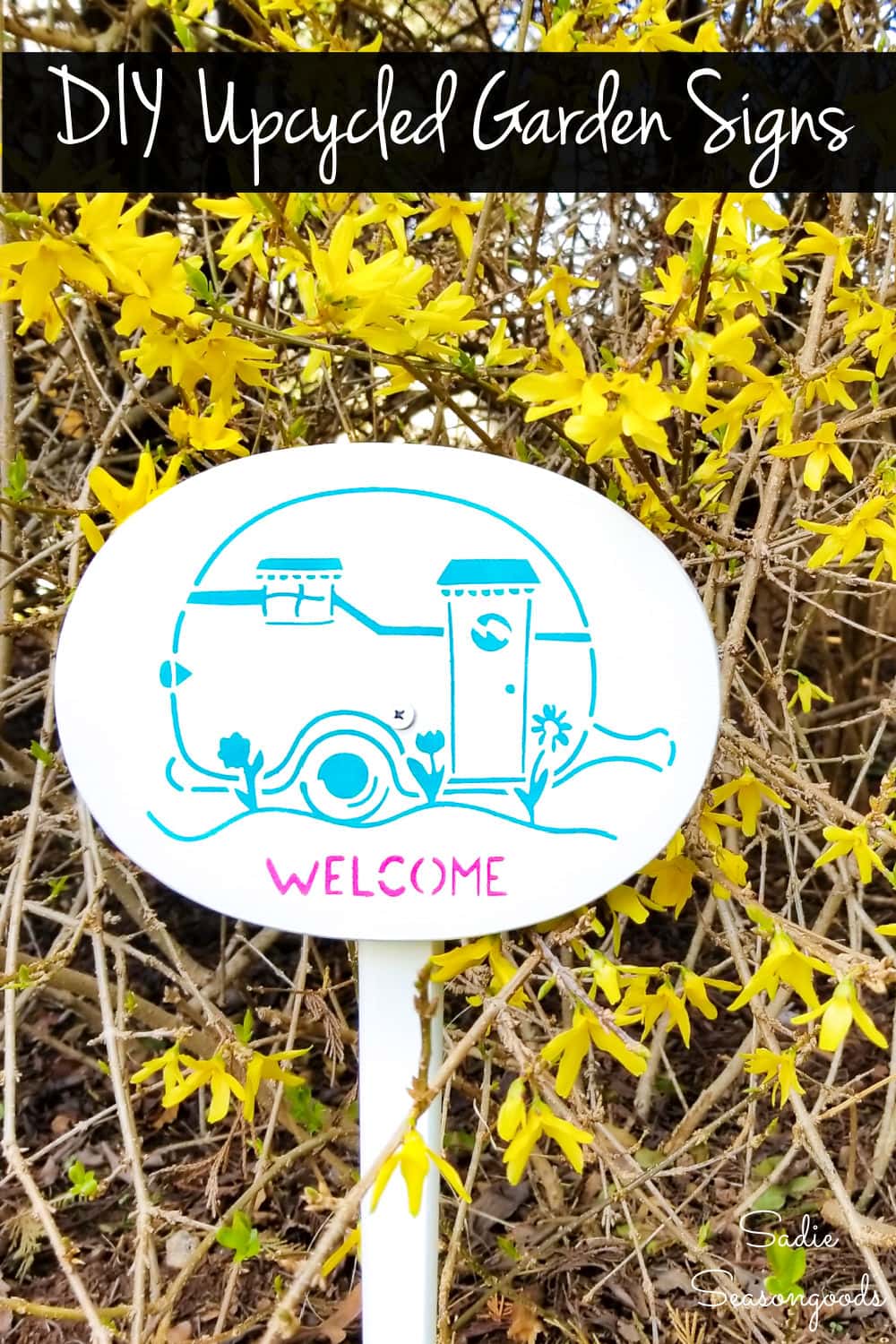 Sarah Ramberg is the owner of Sadie Seasongoods, a website that celebrates all things secondhand. From upcycling ideas and thrifted decor to vintage-centric travel itineraries, Sadie Seasongoods is a one-stop shop for anyone who loves thrifting and approachable repurposing ideas. Sarah is also the author of "Crafting with Flannel" and has been featured in numerous media outlets and magazines.