When I published my latest "Thrift the Look" adventure, I mentioned a project from my earliest blogging days. It involved painting a brass lamp, but wasn't very popular at the time. So, I removed the tutorial from my blog, but kept the painted lamp. And when I floated the idea of republishing the tutorial, the positive response was overwhelming!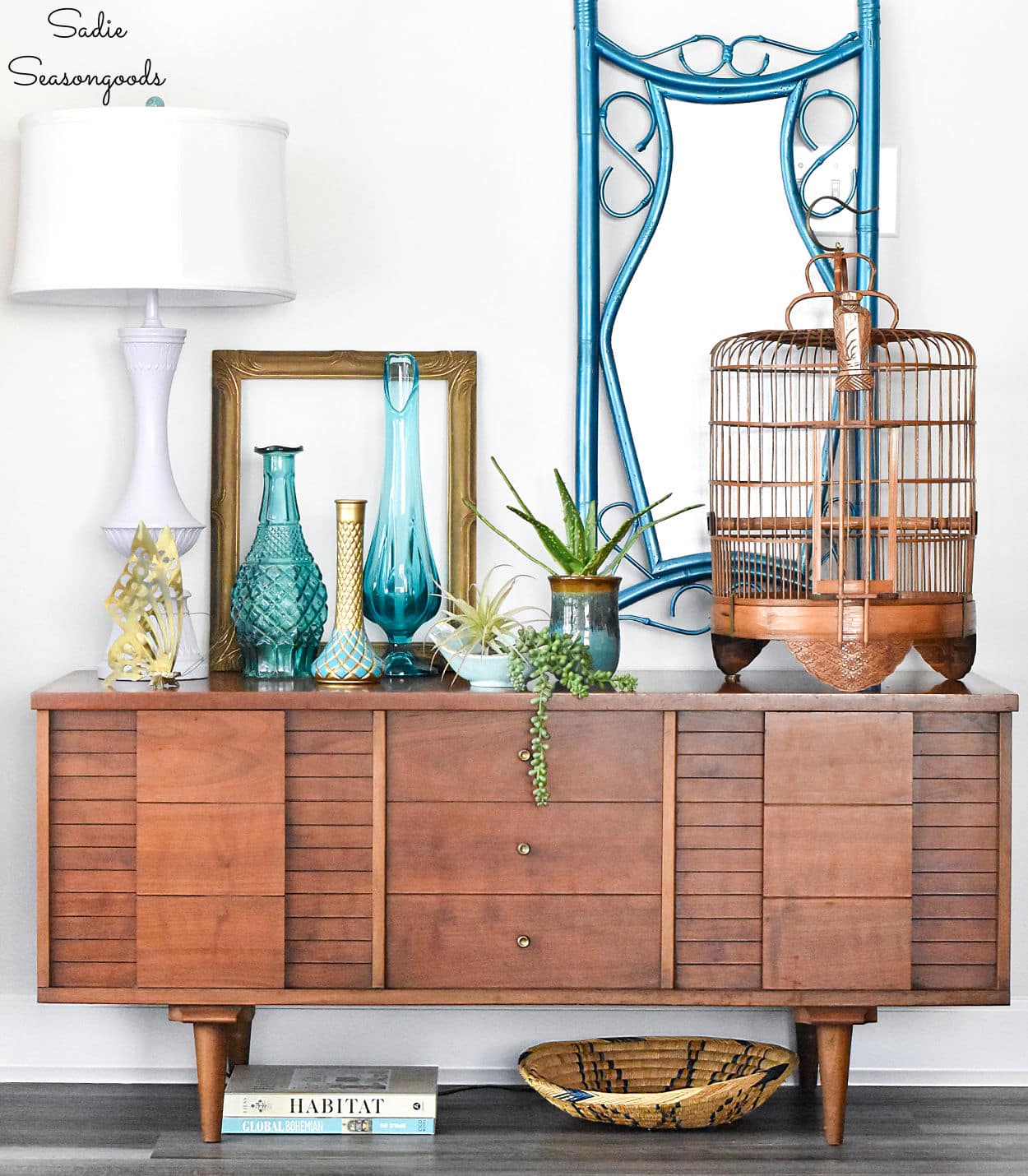 I actually remember buying the lamp quite clearly. We still lived in Greenville, SC at the time and a local thrift shop was moving to a new location. Everything was half off, so I nabbed this curvy beauty for $2.25.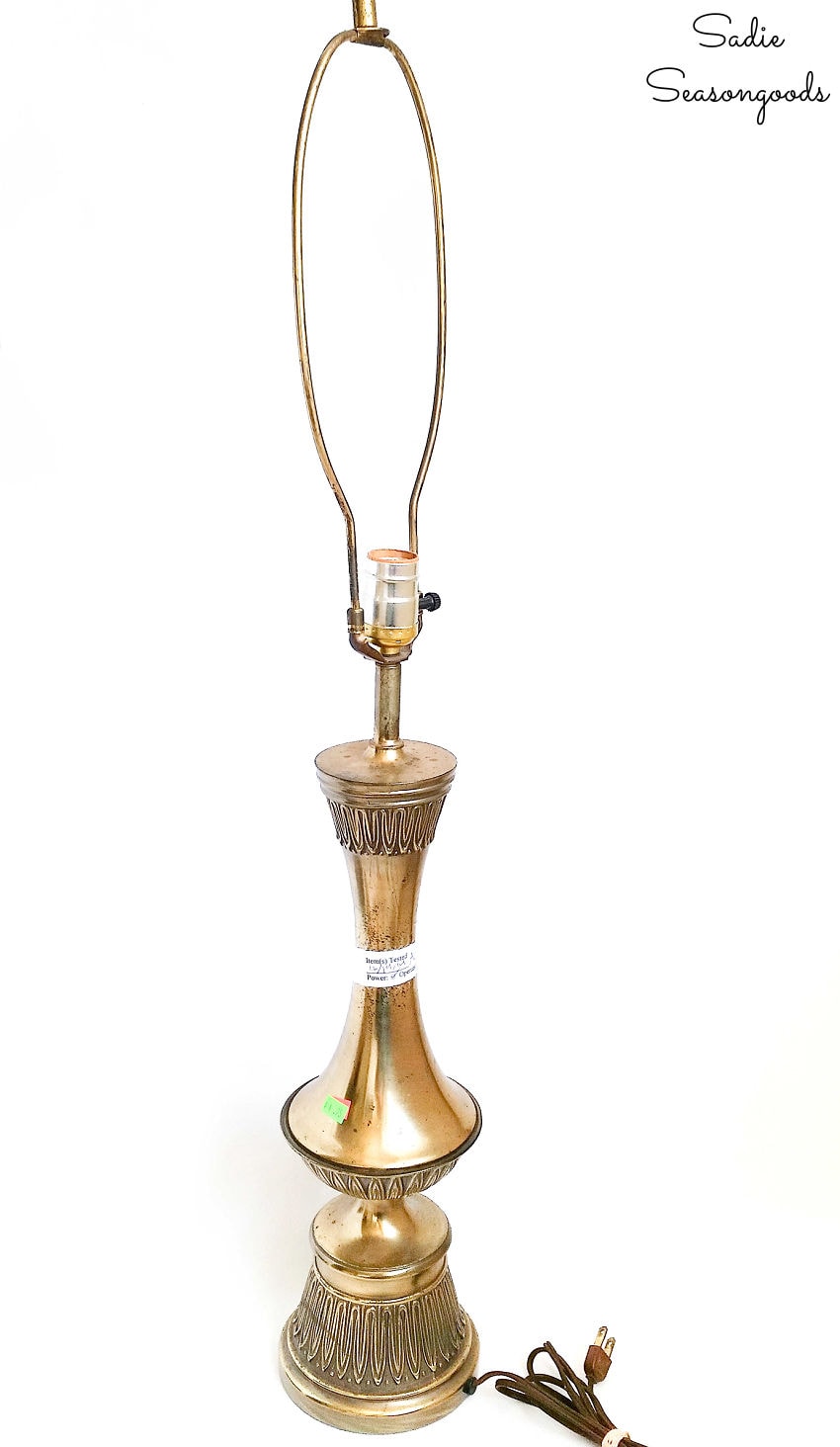 And even though I've grown to become a fan of vintage brass these days, I didn't love SO MUCH BRASSINESS in one piece.
So, I decided to paint it to better suit our tastes. There are, admittedly, several steps to this project- which was part of the reason I removed the original tutorial from my blog. I had thinner skin back then and fell victim to a few complaints.
But over 8 years have passed, and it still looks perfect, so… here we are, re-publishing the tutorial.
This post contains affiliate links for your crafting convenience. As an Amazon Affiliate, I earn from qualifying purchases. All blue, bold, and underlined text is a clickable link, either to a product or to a related post.
Makeover on a Vintage Brass Lamp
First, I had to prep the vintage brass lamp for painting. This involved wiping it down, of course, but then I needed to cover some of the important electrical elements.
The lamp worked perfectly after all, and we weren't going to rewire it.
First, I opted to use tin foil instead of painter's tape. I had a lot of ground to cover, so to speak, and was running low on tape.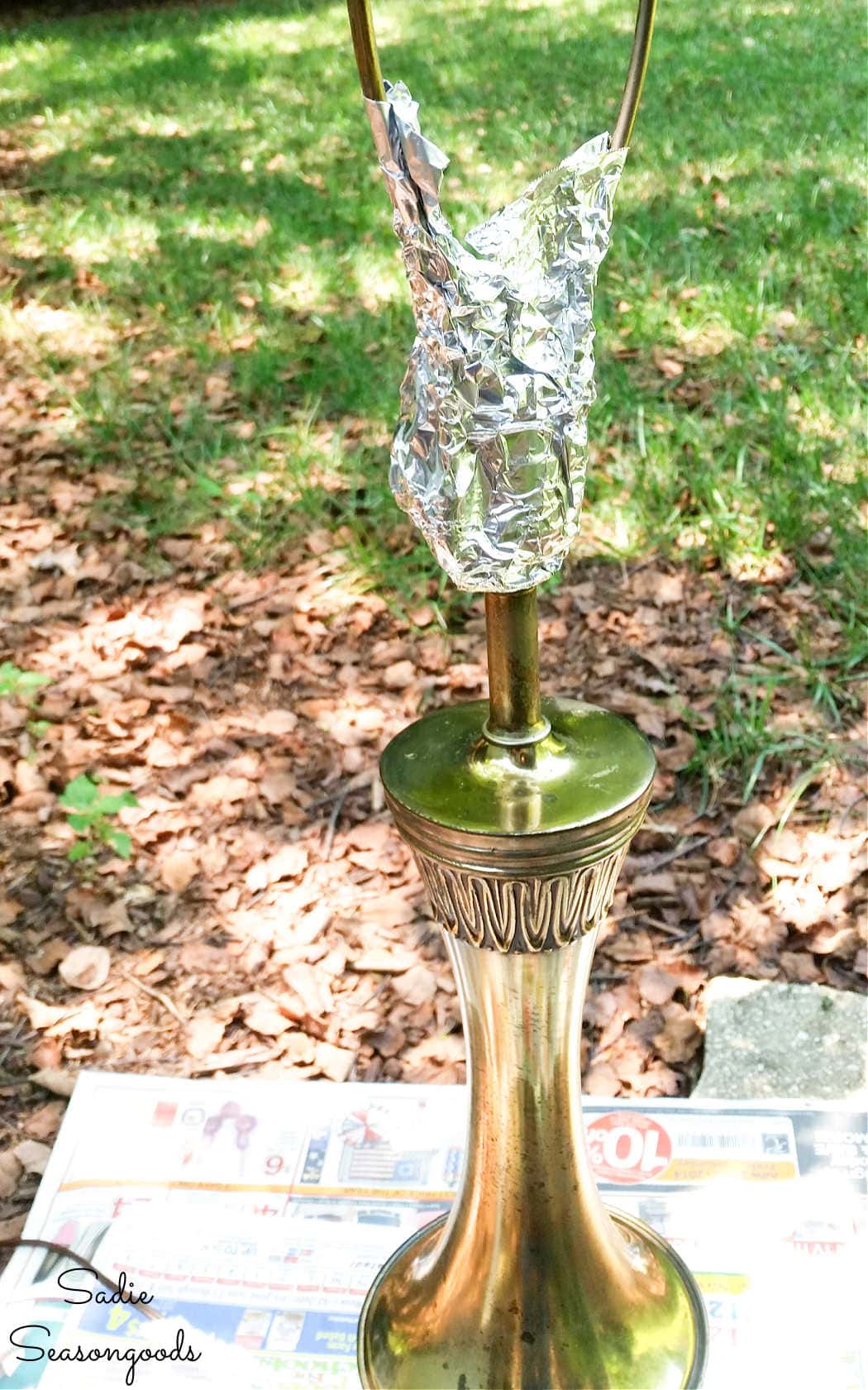 Which meant I wrapped the socket and the plug- to keep them from getting covered during the process. I did my best to cover them as thoroughly as I deemed necessary and crimped the foil around all the nooks, crannies, and curves.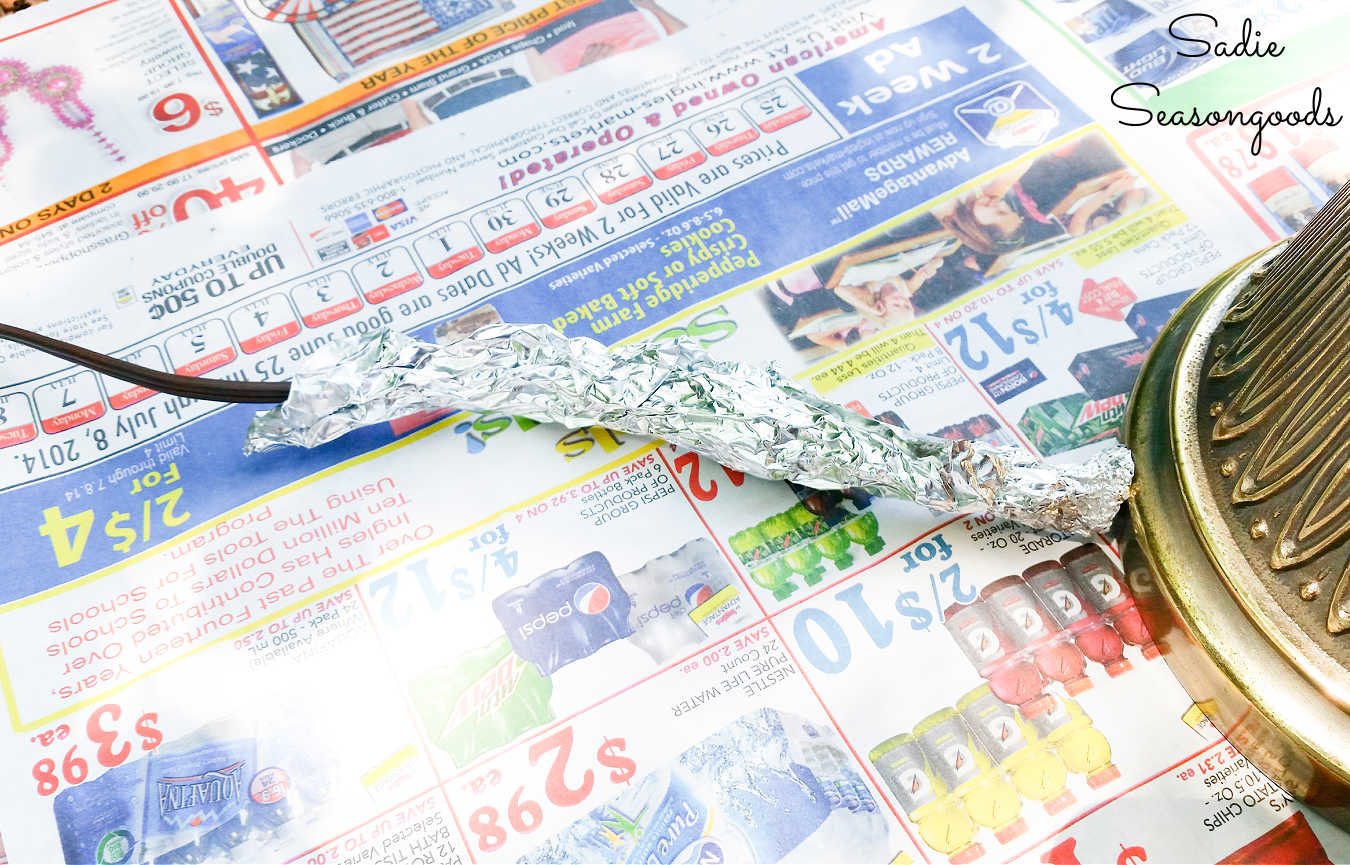 Next, I used special metal primer in order to get the paint to stick. Much of the lamp was shiny and smooth, which all but guaranteed me some painting frustration.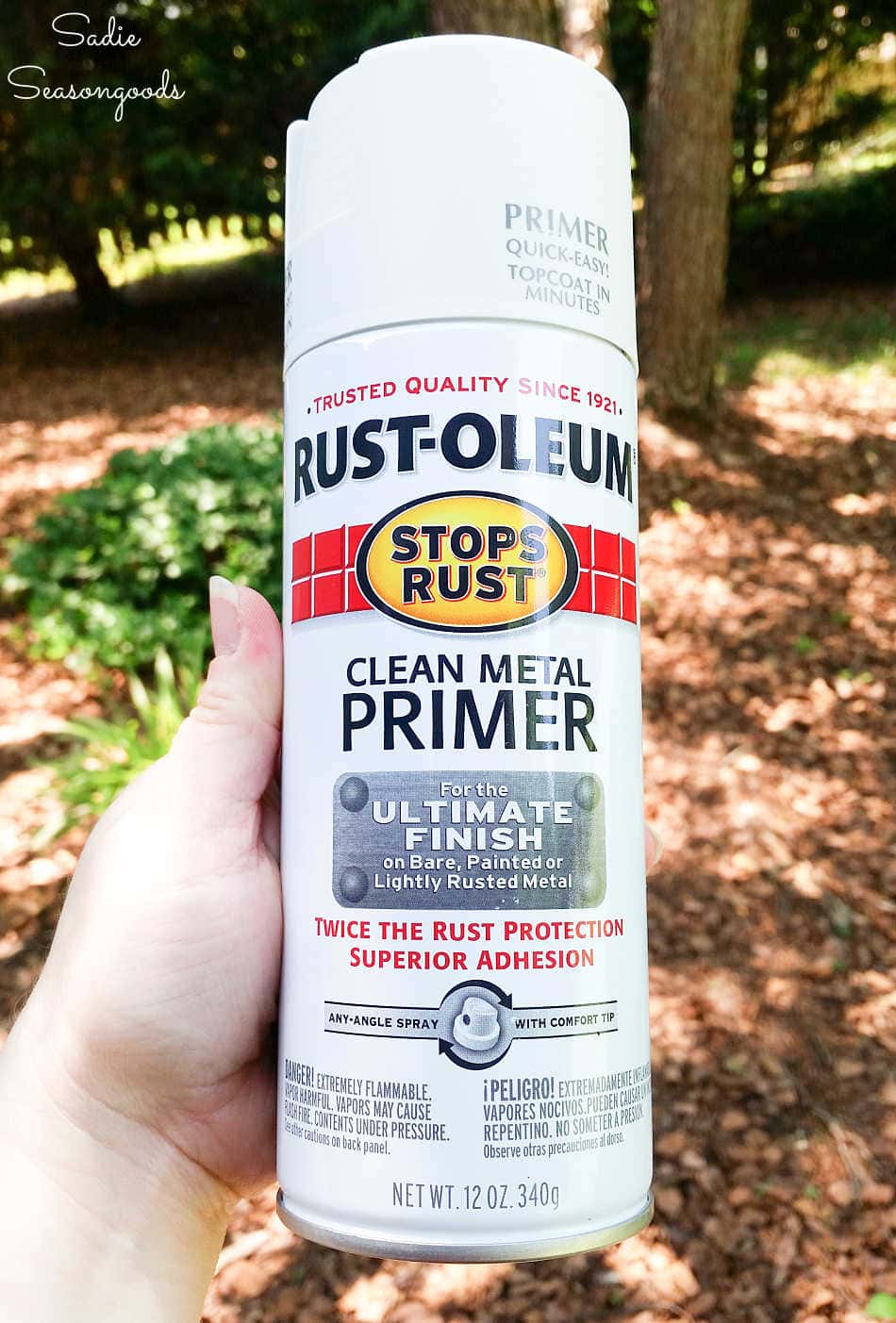 I gave the lamp two light coats of the primer (which is great stuff, by the way) and let it dry overnight.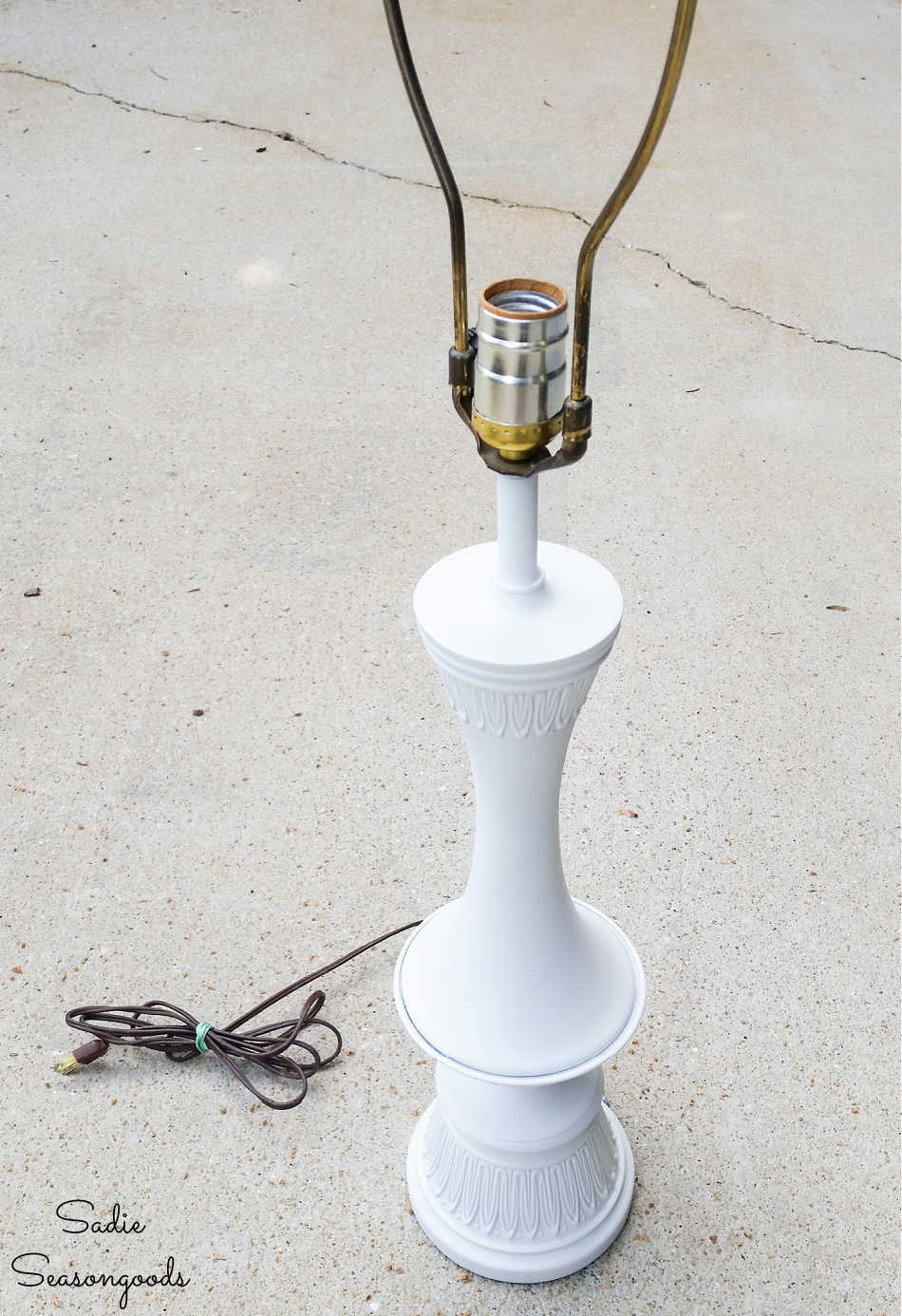 Then, I carefully brush-painted the lamp in a pretty shade of lilac. Sure, I could have spray painted the color, but I honestly couldn't find the hue I was looking for in spray paint.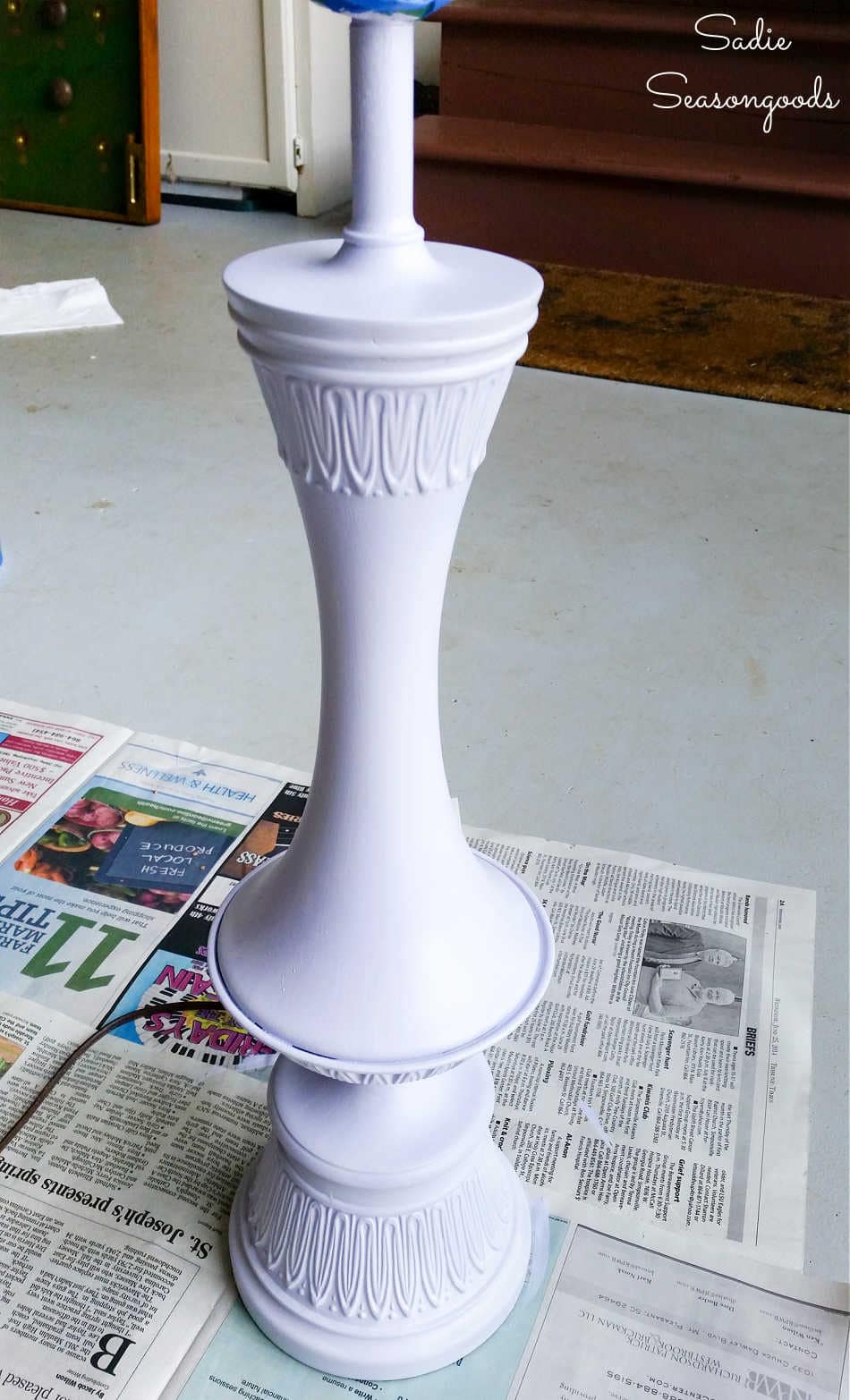 Unfortunately, I don't recall the actual name of the lilac paint. I remember everything else about the project except for that one detail!
Lastly, to protect the paint job, I gave it a coat of crystal clear enamel. This is my favorite top coat for glossy or satin finishes. It just holds up SO well.
Painting a Brass Lamp
To complete the look, I removed the original harp (fourteen inches, y'all- FOURTEEN!) and brought my painted lamp to a locally-owned lamp store for a shade-fitting.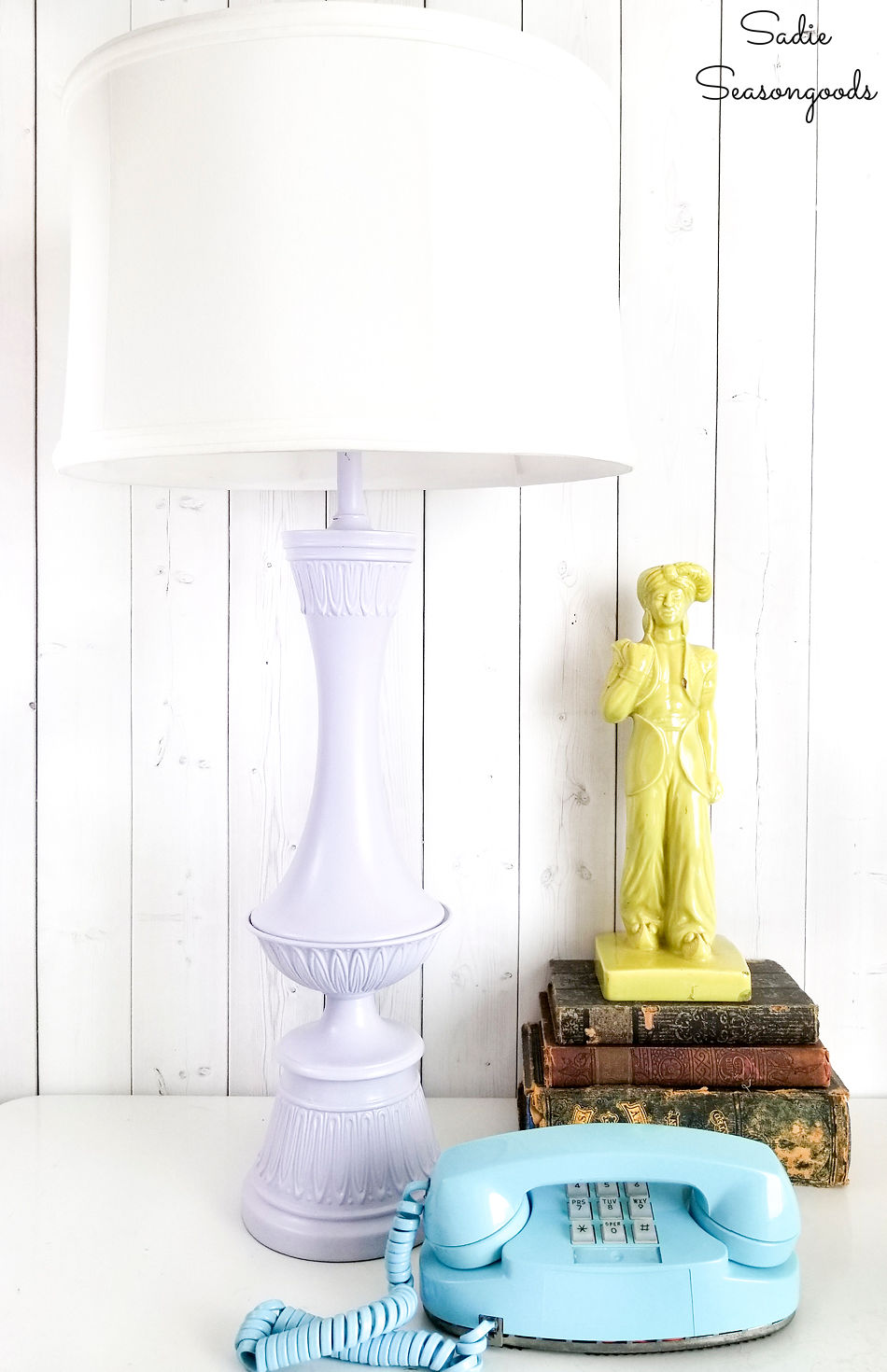 I looked and looked for the right shade at thrift stores and always came up empty-handed. So, I spent WAY MORE on the shade than I did the lamp. But it's silky and gorgeous and professionally sized to the lamp itself.
I really do love how the lamp turned out. Worth every step I took to transform it, and it's been a trusty member of our household since 2014.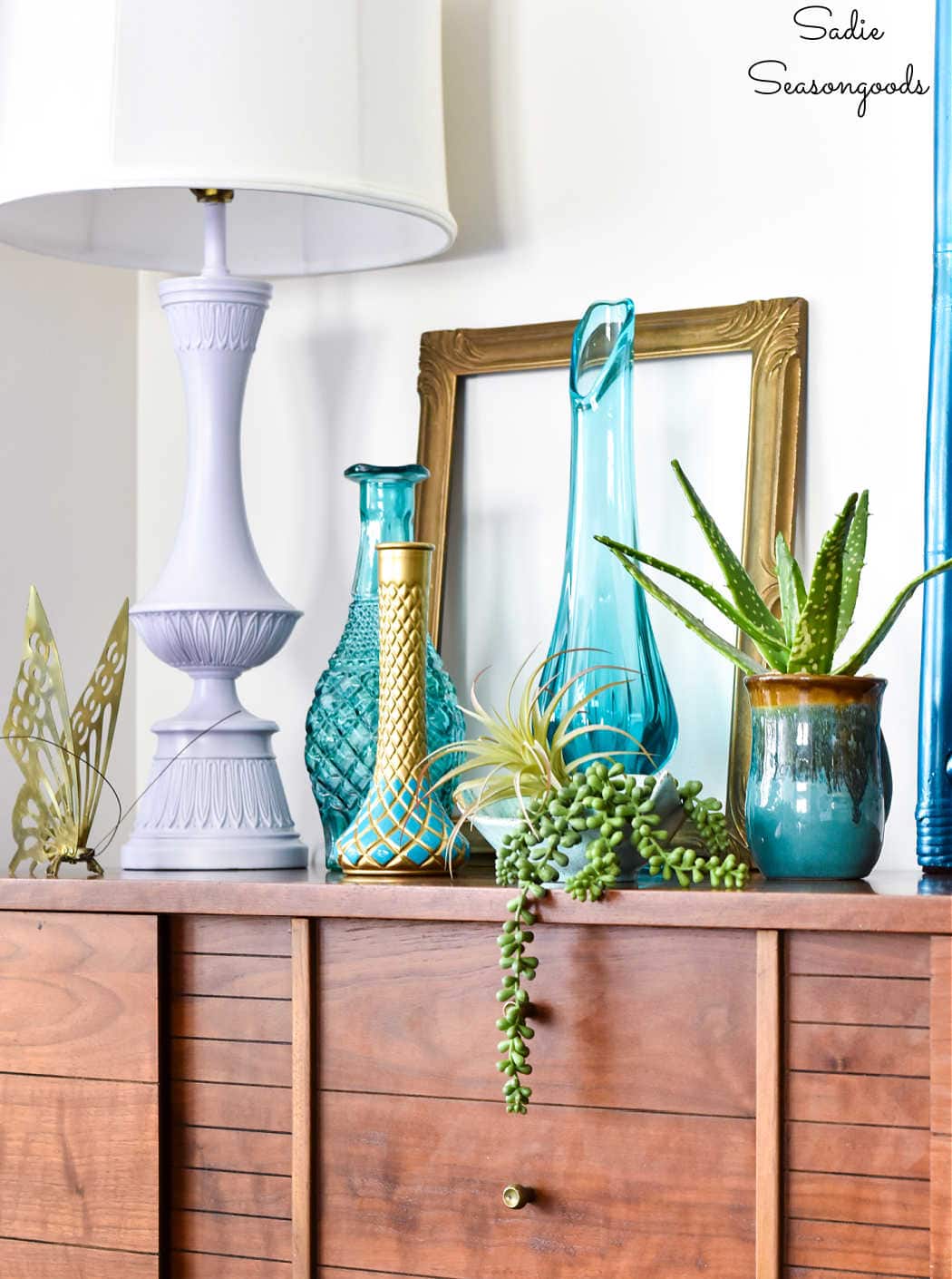 So, do you think you'll be testing out this process of painting a brass lamp? I still see them at thrift stores quite a bit- maybe not for $2.25 anymore, but that was just a lucky day.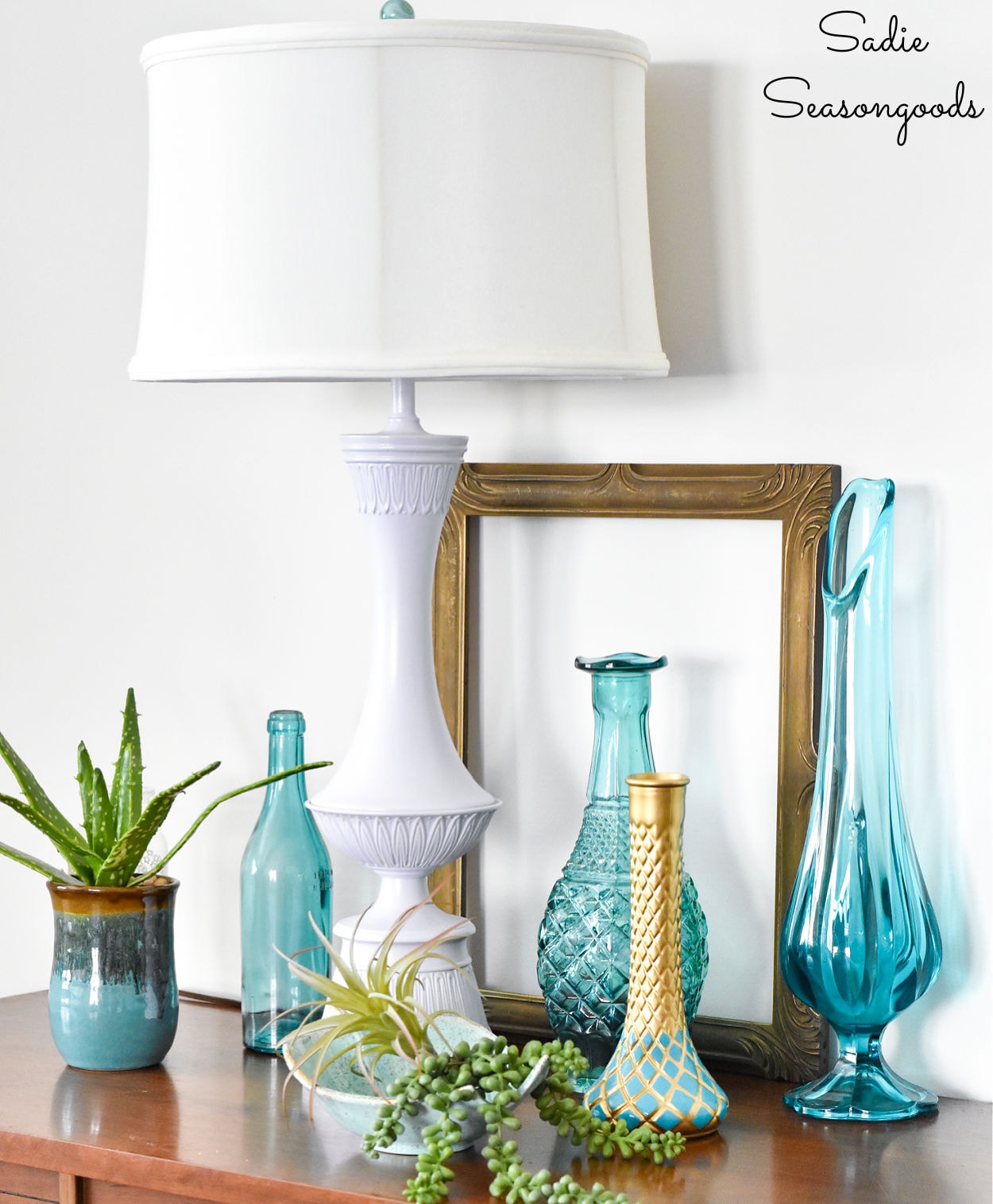 Thank you for encouraging me to re-publish this blog post. I try not to do that too often, as I always want my posts to be fresh and innovative. But, I do make exceptions from time to time!
And if you enjoyed this makeover process of painting a brass lamp, you may also enjoy these other repurpose projects, too. All of them involve lamps or lampshades!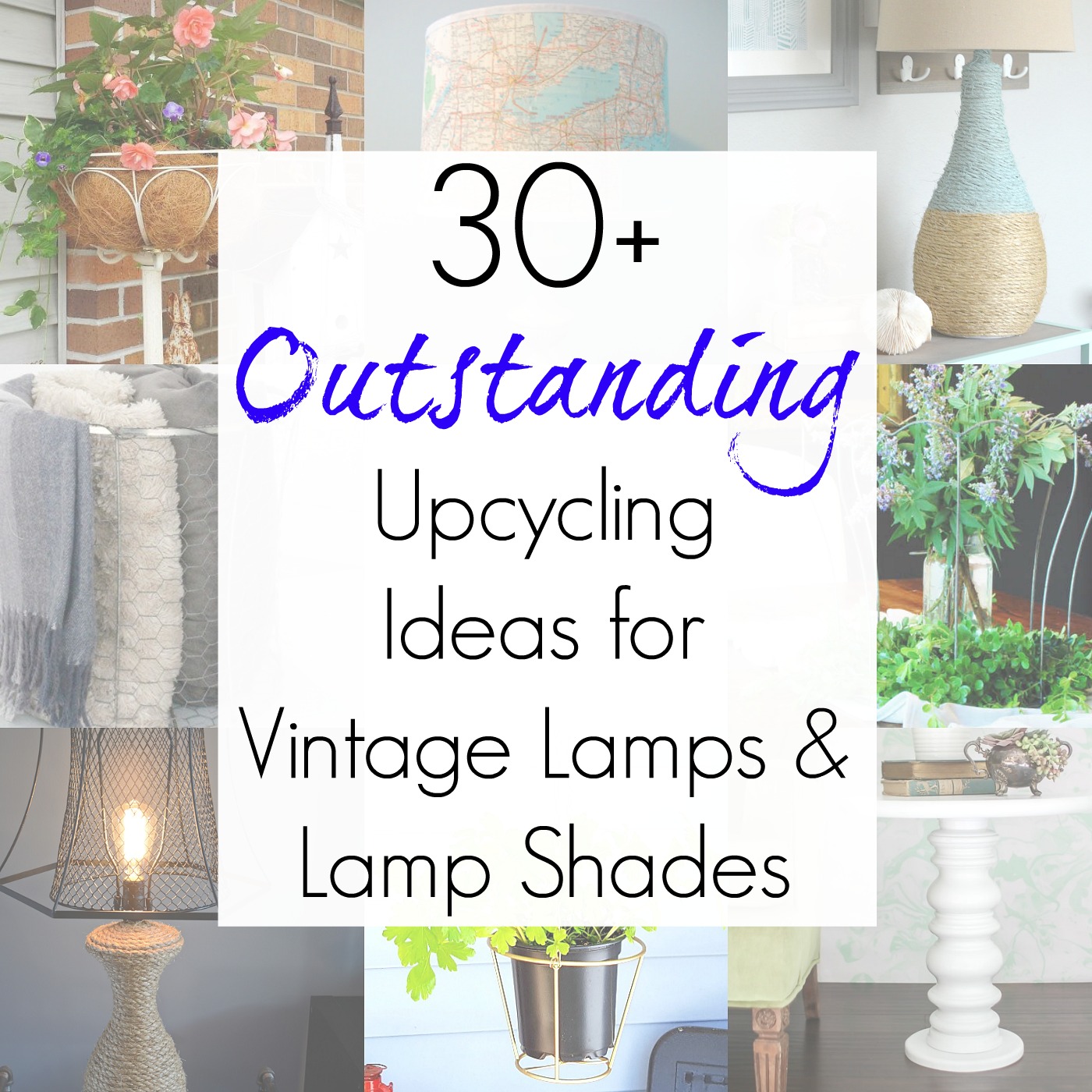 Craft on!
S
Want to be notified when I publish my next upcycling project tutorial?
Subscribe to Blog via Email
Join me on Social Media:

PIN ME!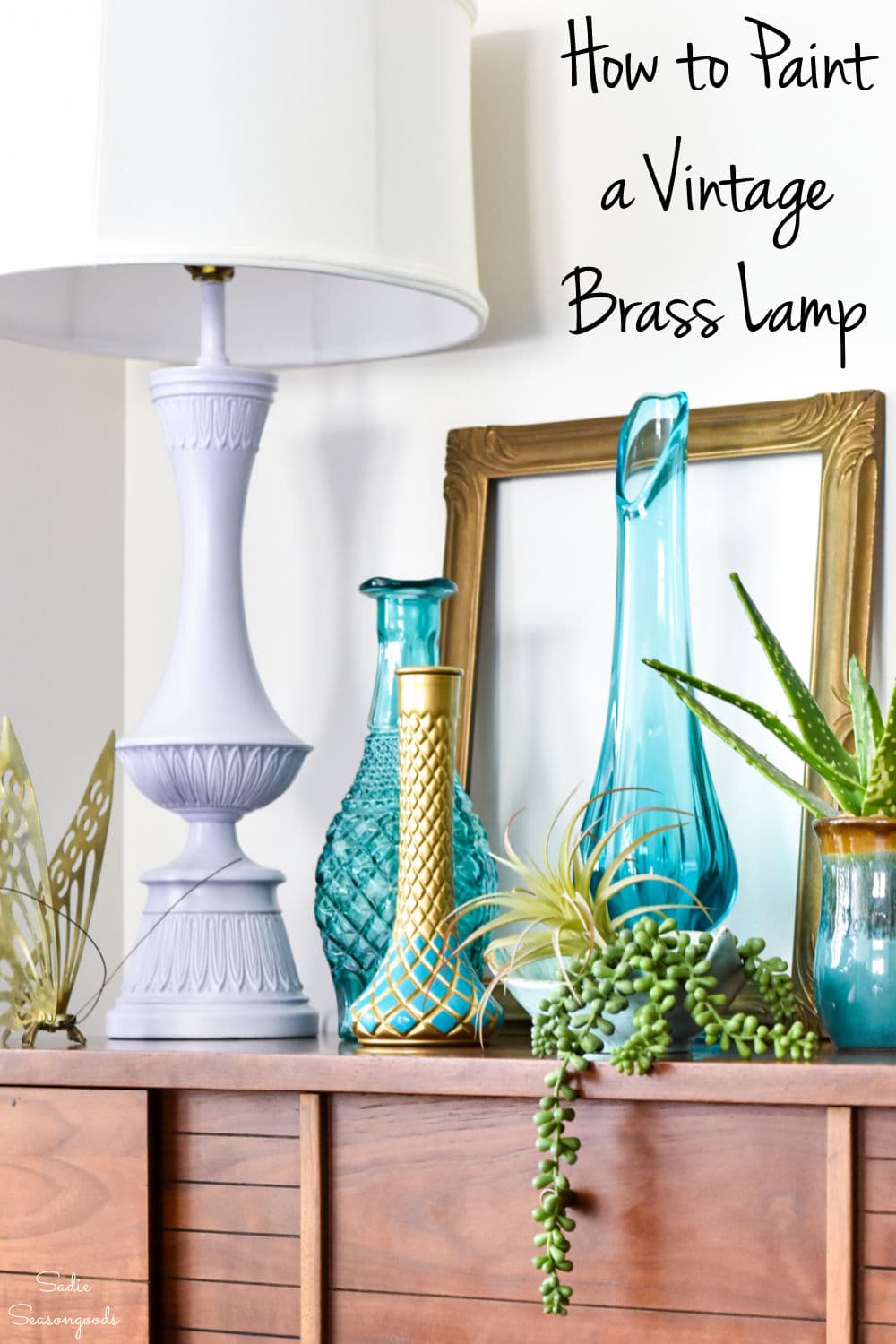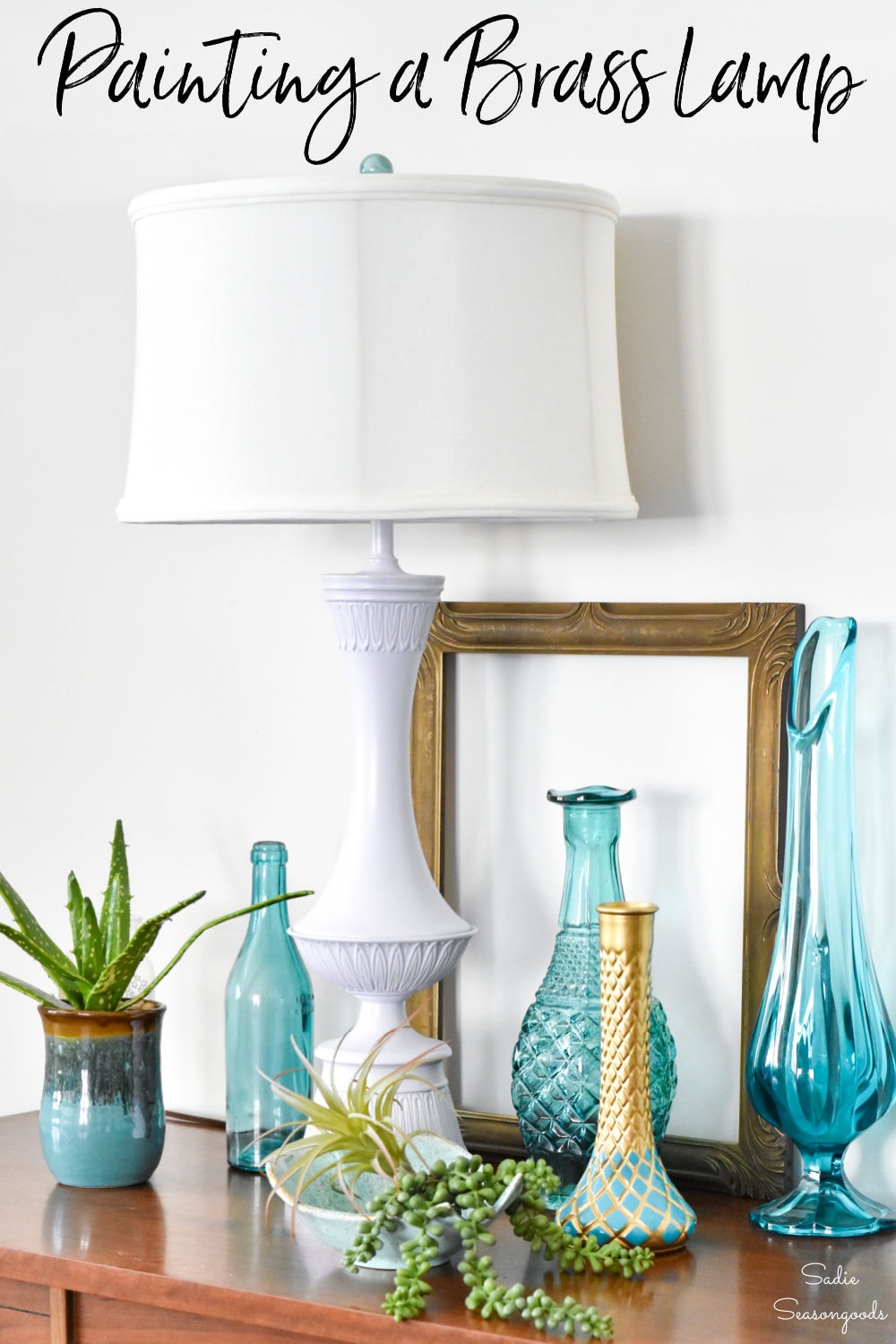 Sarah Ramberg is the owner of Sadie Seasongoods, a website that celebrates all things secondhand. From upcycling ideas and thrifted decor to vintage-centric travel itineraries, Sadie Seasongoods is a one-stop shop for anyone who loves thrifting and approachable repurposing ideas. Sarah is also the author of "Crafting with Flannel" and has been featured in numerous media outlets and magazines.