I can't believe it's been nearly two years since my last "Thrift the Look" challenge, but indeed it has! As you can imagine, ongoing crises have limited our thrifting time. But I'm SO EXCITED to share with you my latest version: Eclectic Decor. And since you may recall the new decor talk from my recent house post, I specifically focused on mid century eclectic decor.
My blogging friends and I had wanted to do an Eclectic Decor challenge for a while, since that home decorating style really speaks to us. It's full of personality and mixes elements from different eras and different styles.
For my inspiration photo, I selected this photo of a mid century modern credenza that was styled with a sublime array of green and blue elements.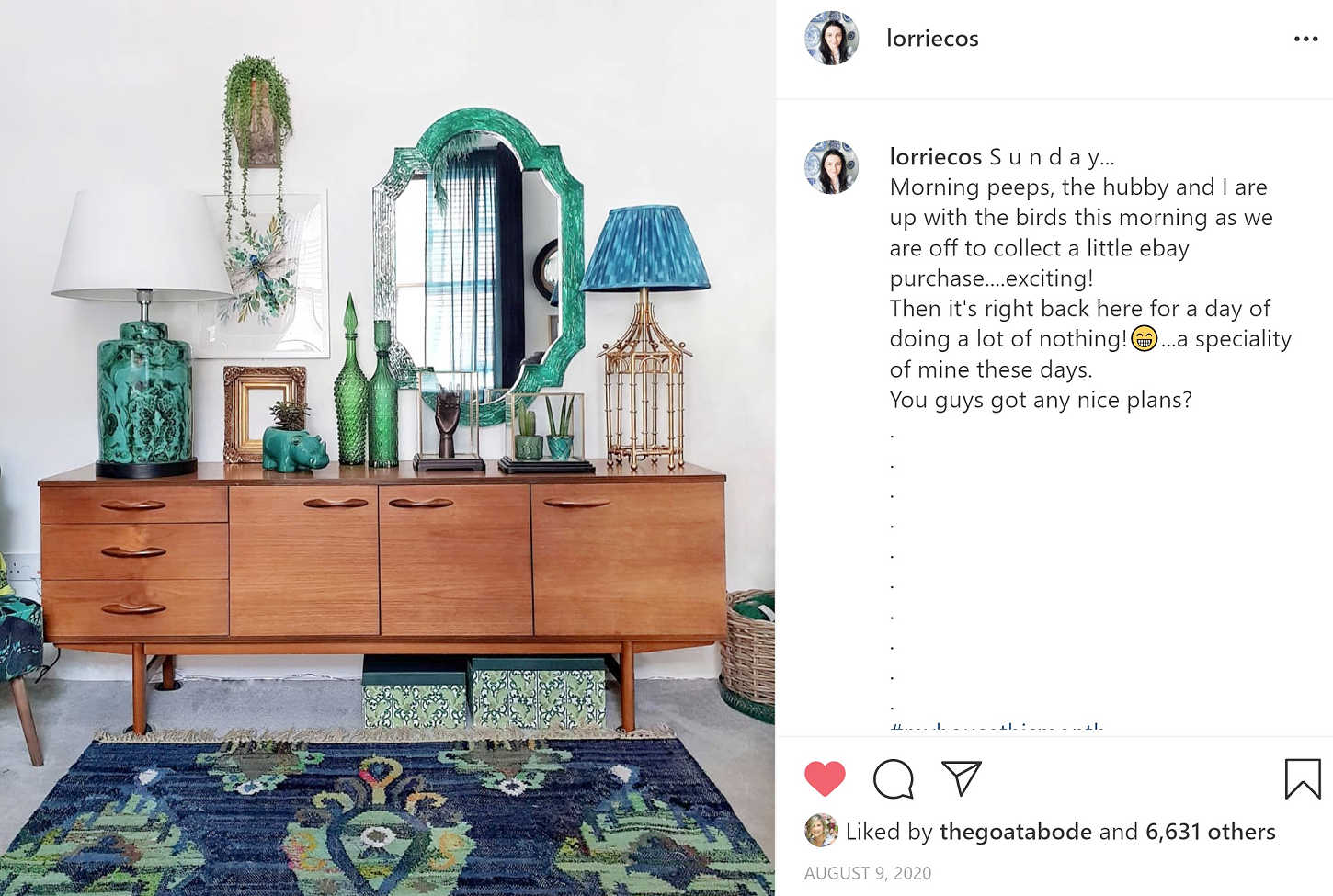 It just hit all the vignette sweet spots- my favorite colors, a wide array of thriftable treasures, all arranged on a piece of mid century furniture.
Because, as it turned out, my husband and I had recently purchased this Lane cedar chest from an antiques mall. Talk about meant to be, right?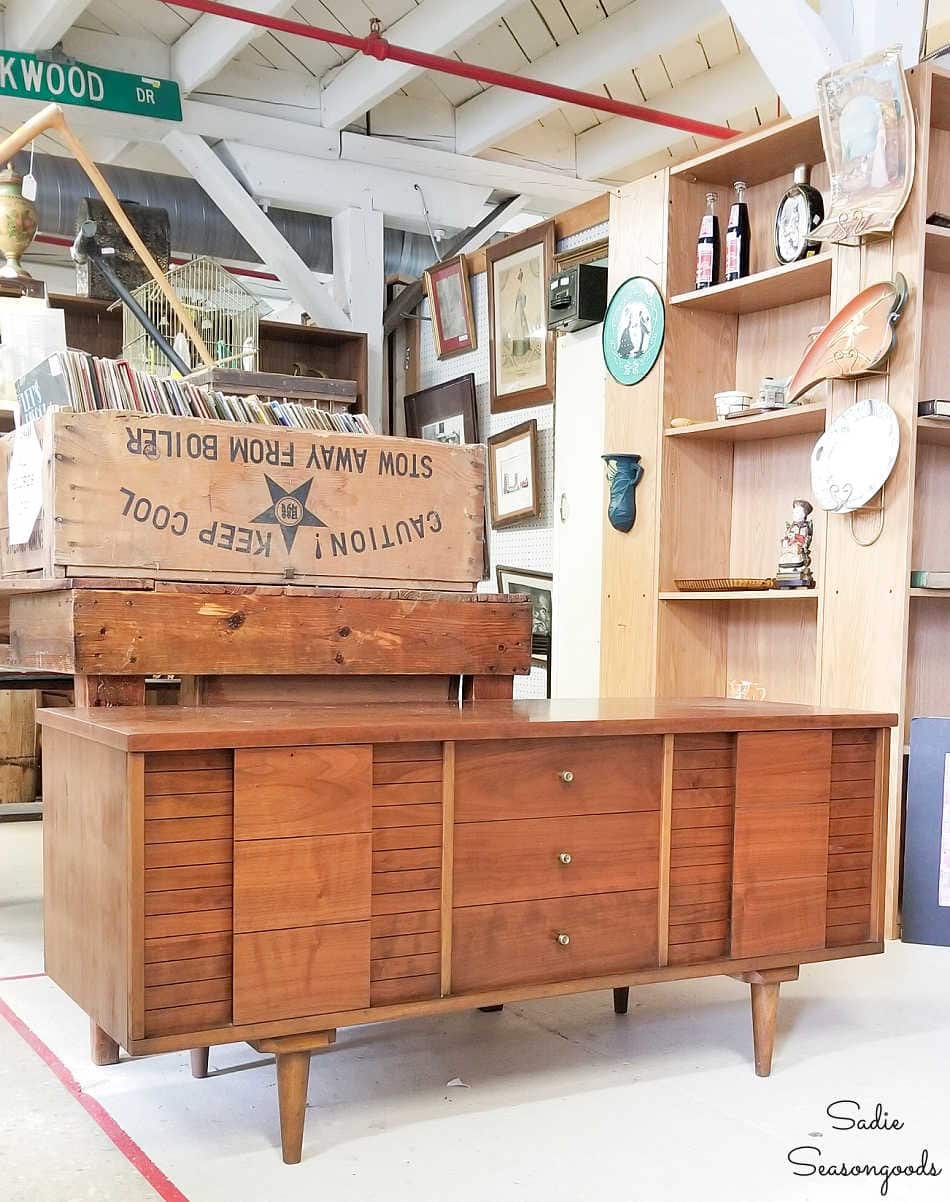 So, I saved the inspiration photo to my phone and mentally listed out what I needed. A lamp or two; something resembling a bird cage; blue and green glass vases; a large metallic-framed mirror; and mid century dishes or planters for some greenery.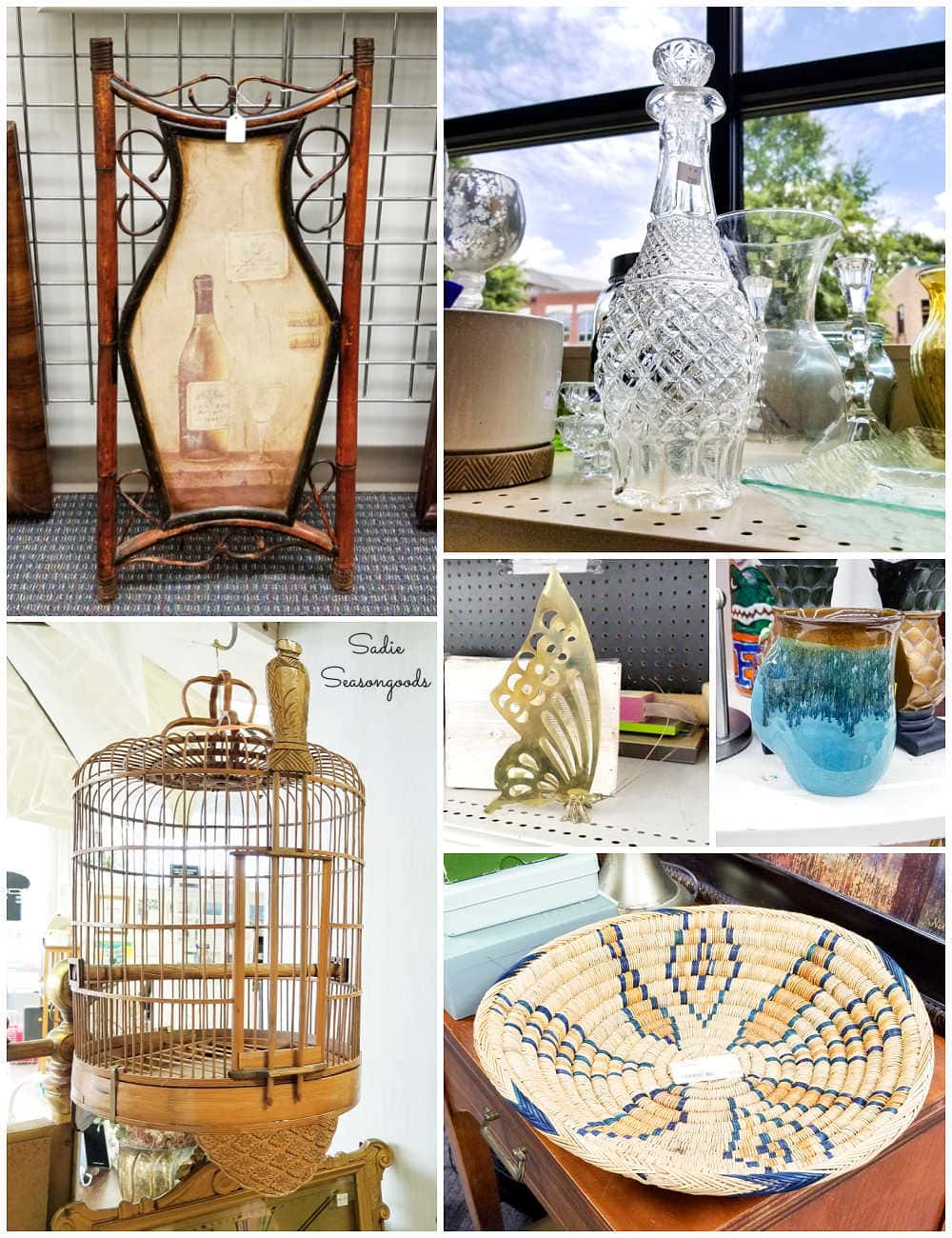 And, of course, there'd be some upcycling needed to complete my thrifted version. So, let me show you how I put together my thrifted and otherwise secondhand version of mid century eclectic decor!
This post contains affiliate links for your crafting convenience. As an Amazon Affiliate, I earn from qualifying purchases. All blue, bold, and underlined text is a clickable link, either to a product or to a related post.
Upcycling Some Mid Century Eclectic Decor
Even though I have plenty of blue and green bottles in my collection, I didn't have any of those famous empoli bottles that are popular in MCM decor.
But I DID find an inexpensive pressed clear glass decanter at Goodwill. AND I already had several bottles of stained glass spray paint…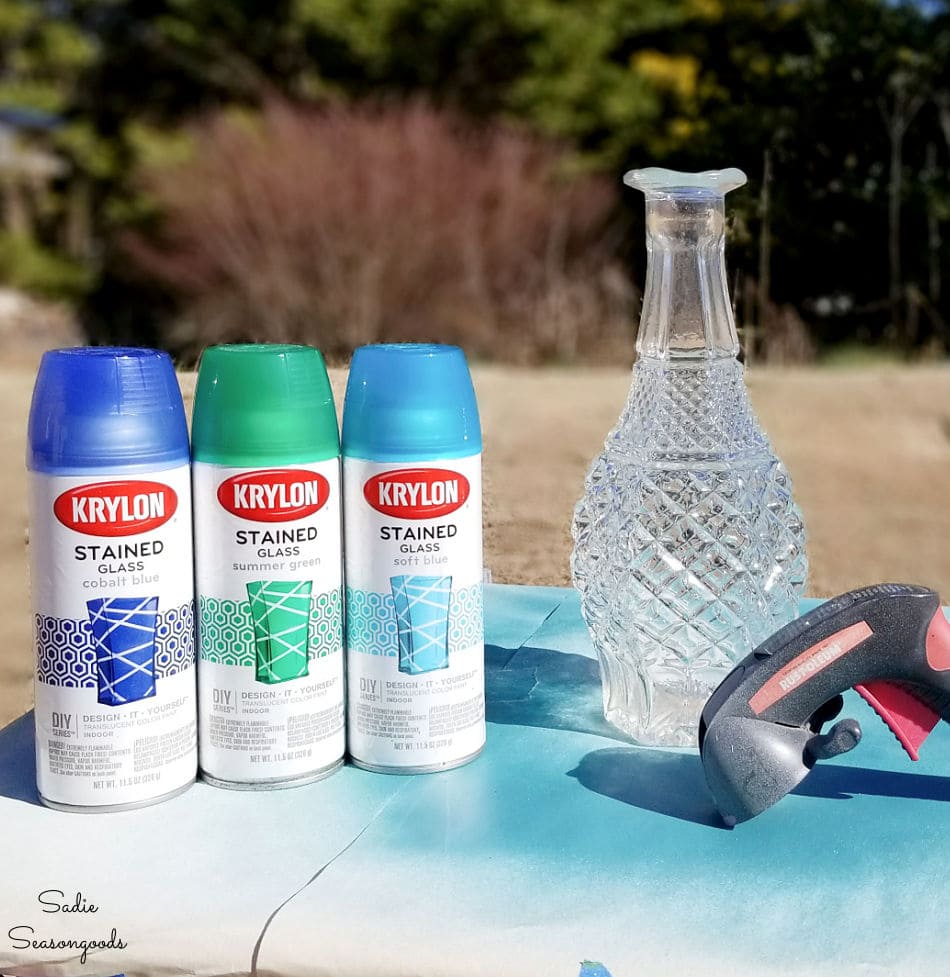 Layering thin coats of the three colors resulted in a gorgeous shade of teal! I just love playing with these paints because they never disappoint.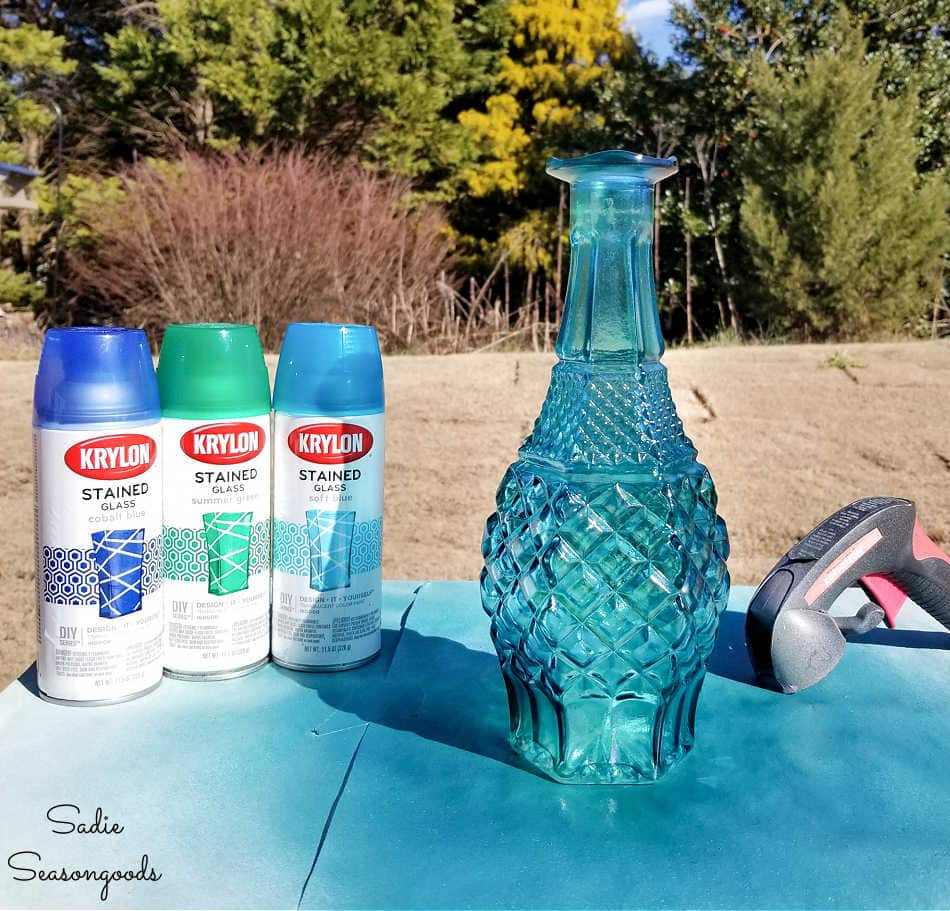 I also never did find any lamps that were both gorgeous AND affordable- at least for this rendition of Thrift the Look.
But. But.
I *had* given a makeover to a vintage brass lamp in the early days of my blog. I took the post down because it wasn't very popular. But I still had the lamp, so…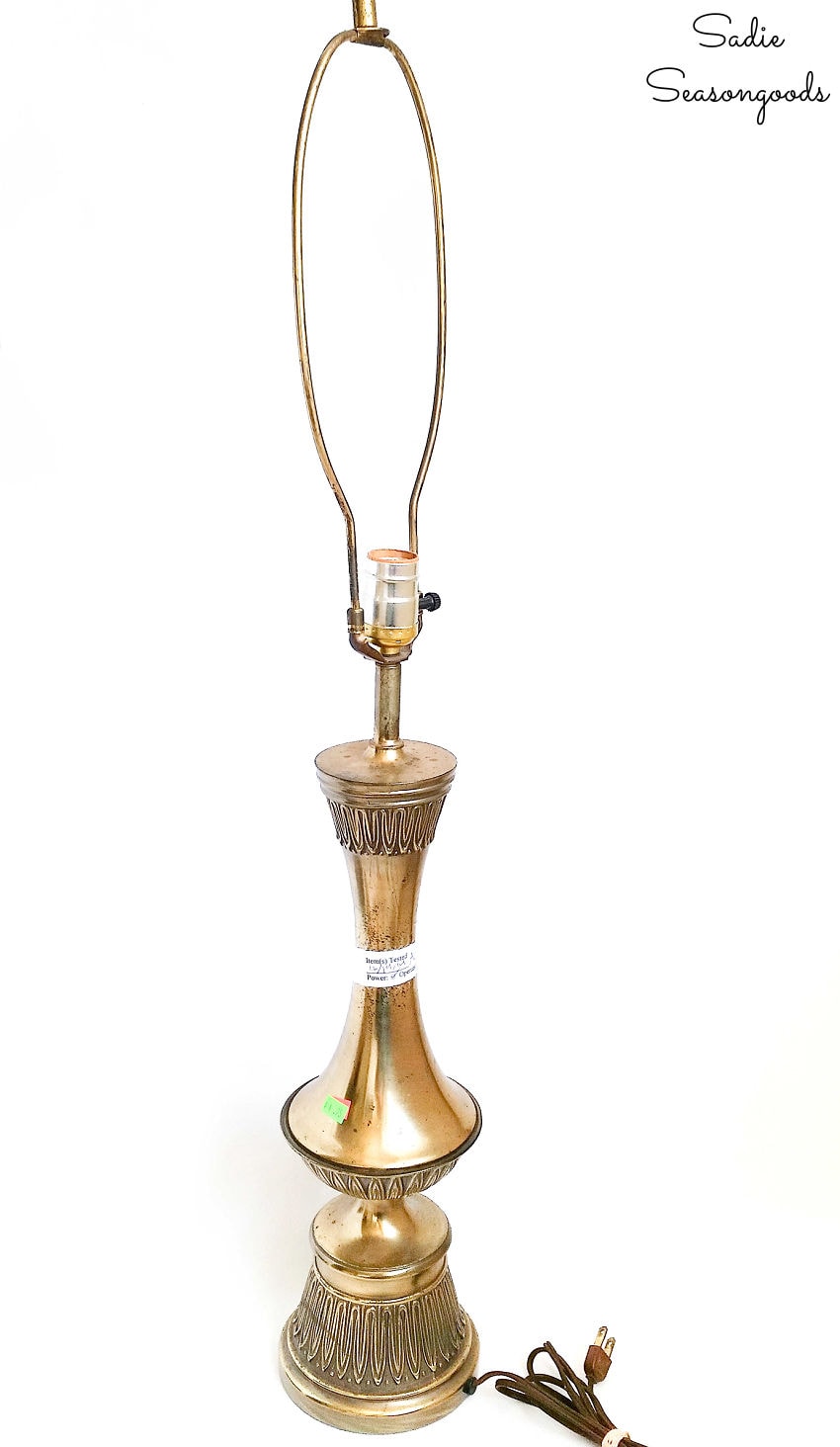 I probably shouldn't have taken the post down. But folks didn't seem to like all the steps I took to ensure a fool proof paint job on metal.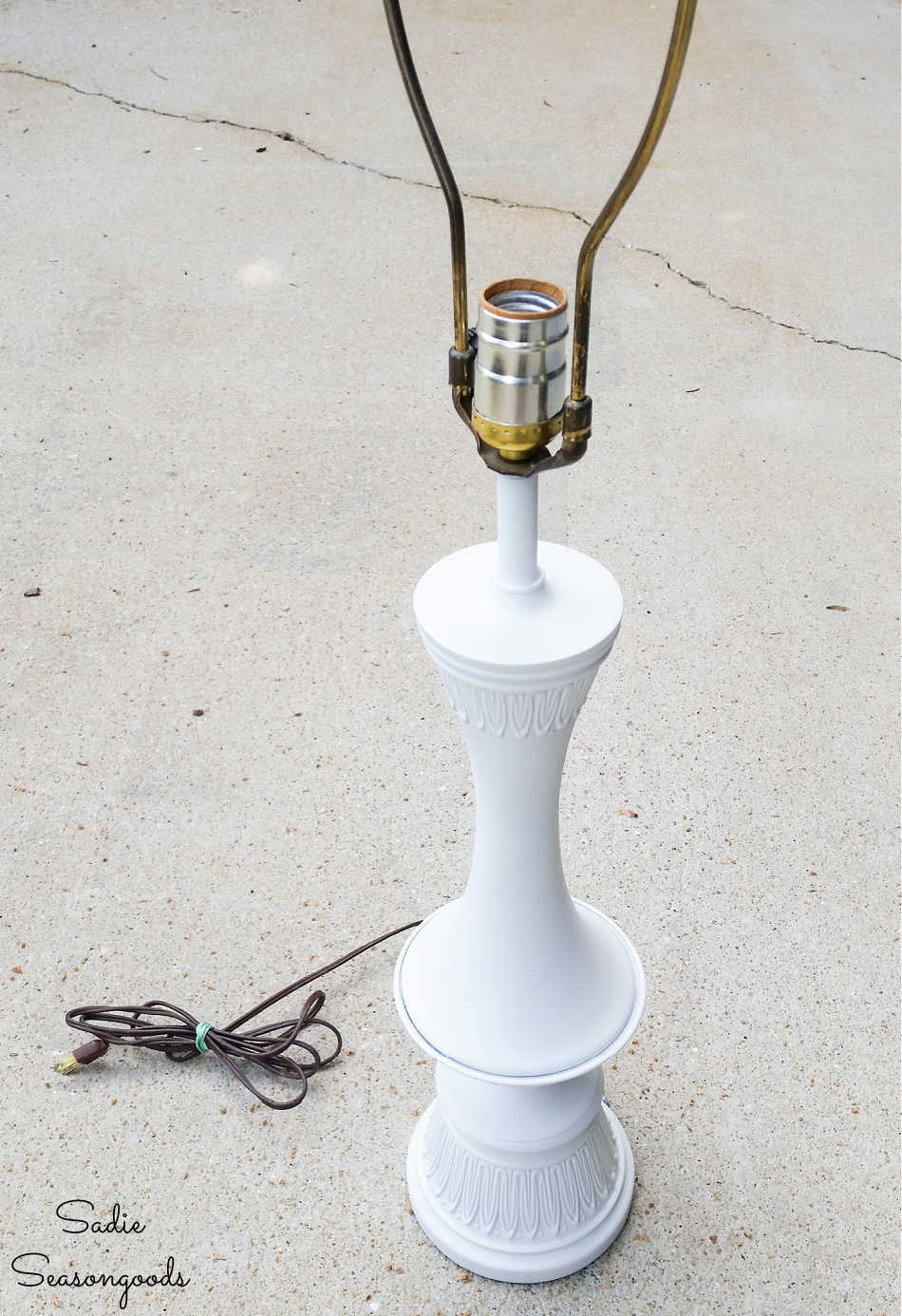 But maybe I'll re-do the blog post and re-publish it because the joke's on them: eight years later, the lamp is still in perfect upcycled shape. No nicks, no flaws.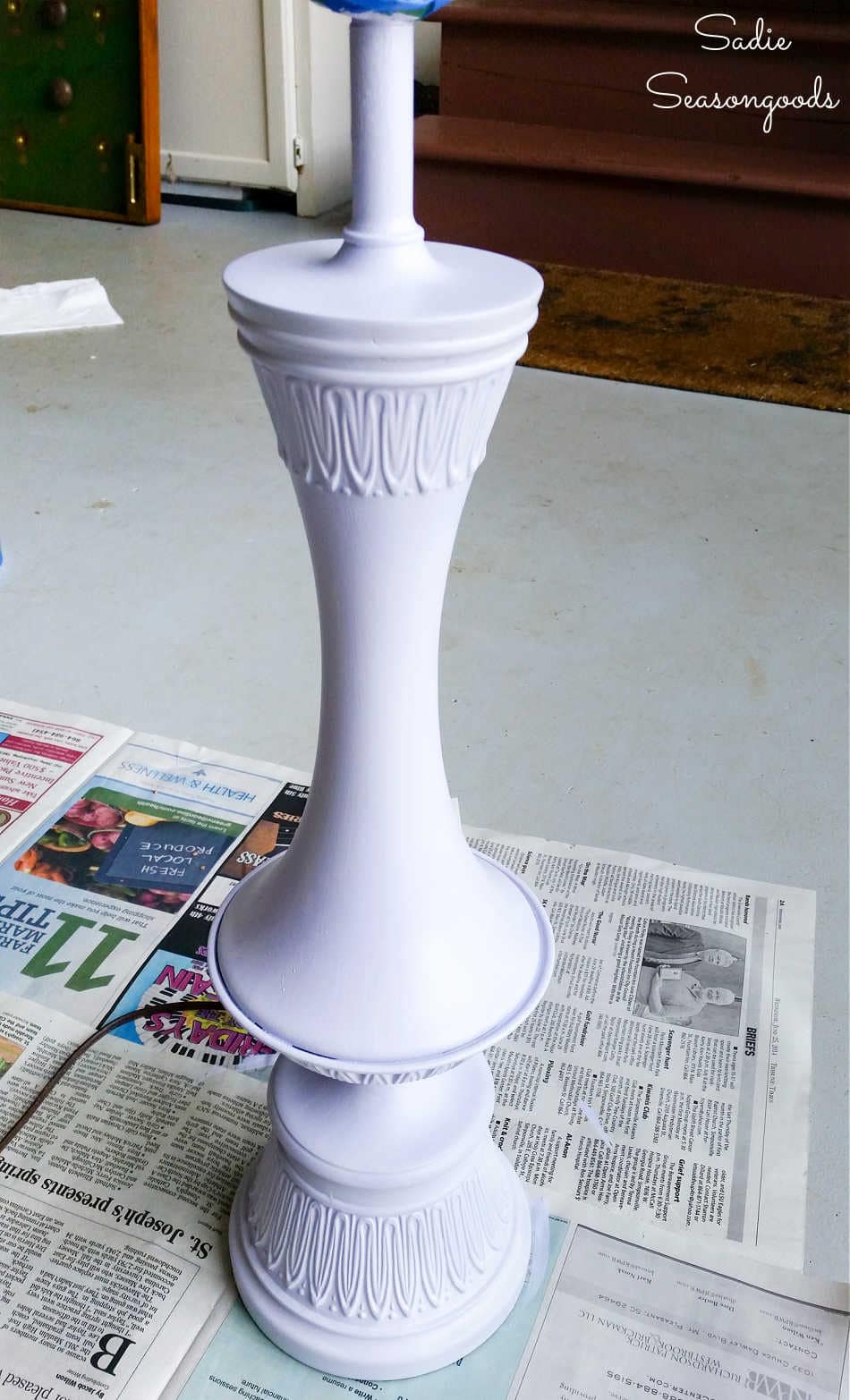 I also painted the bamboo framed wine print that you saw in the collage photo earlier. It's a fake mirror, with a turquoise metallic frame and silver-painted surface.
Once I'd gathered all of my treasures and projects, I pulled up the inspiration photo again and sketched out my plan to recreate it. Ready to see my version of this mid century eclectic decor?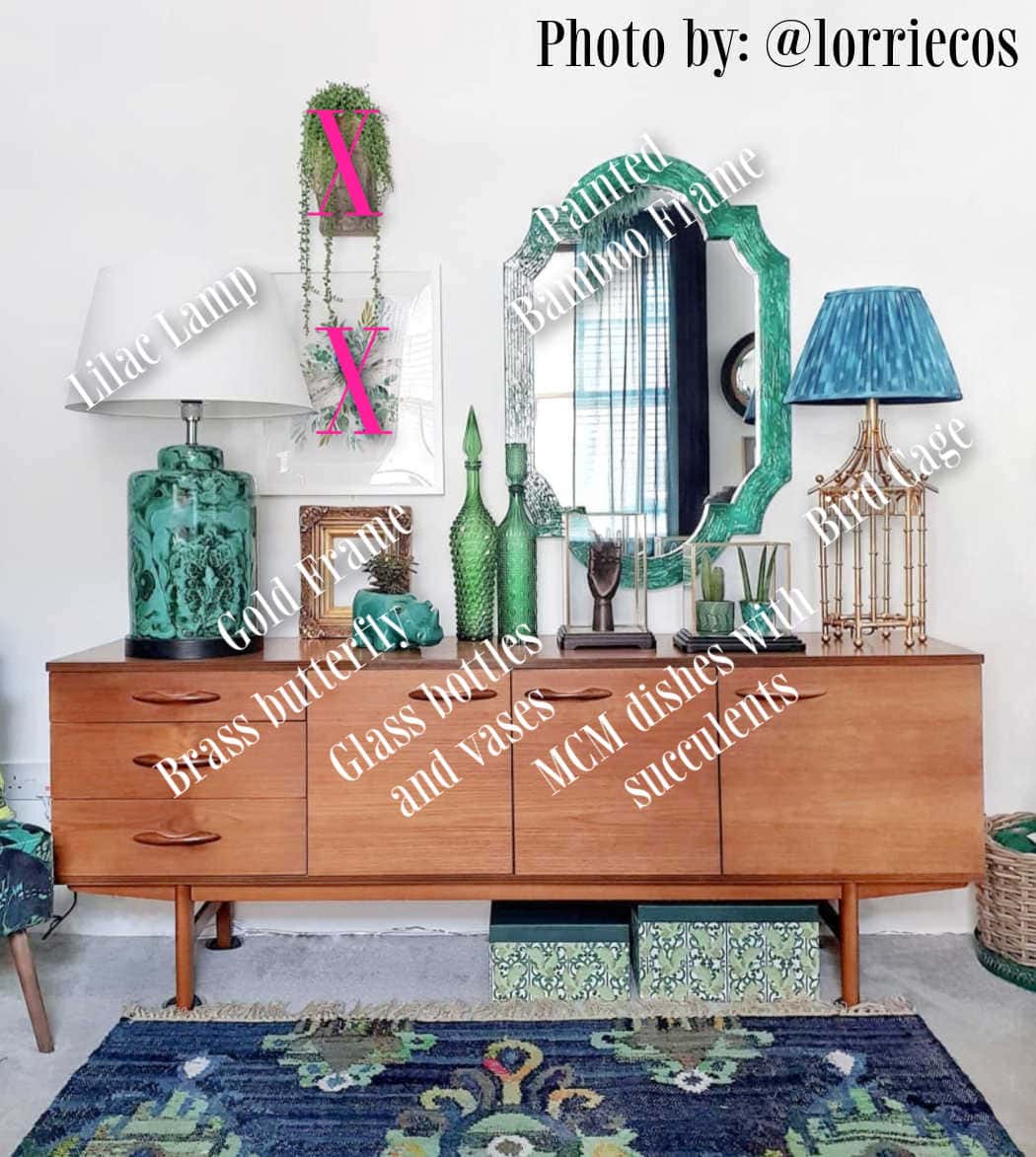 Mid Century Eclectic Decor from the Thrift Store
I arranged, re-arranged, added and removed elements until I was happy. Not just happy, though- THRILLED!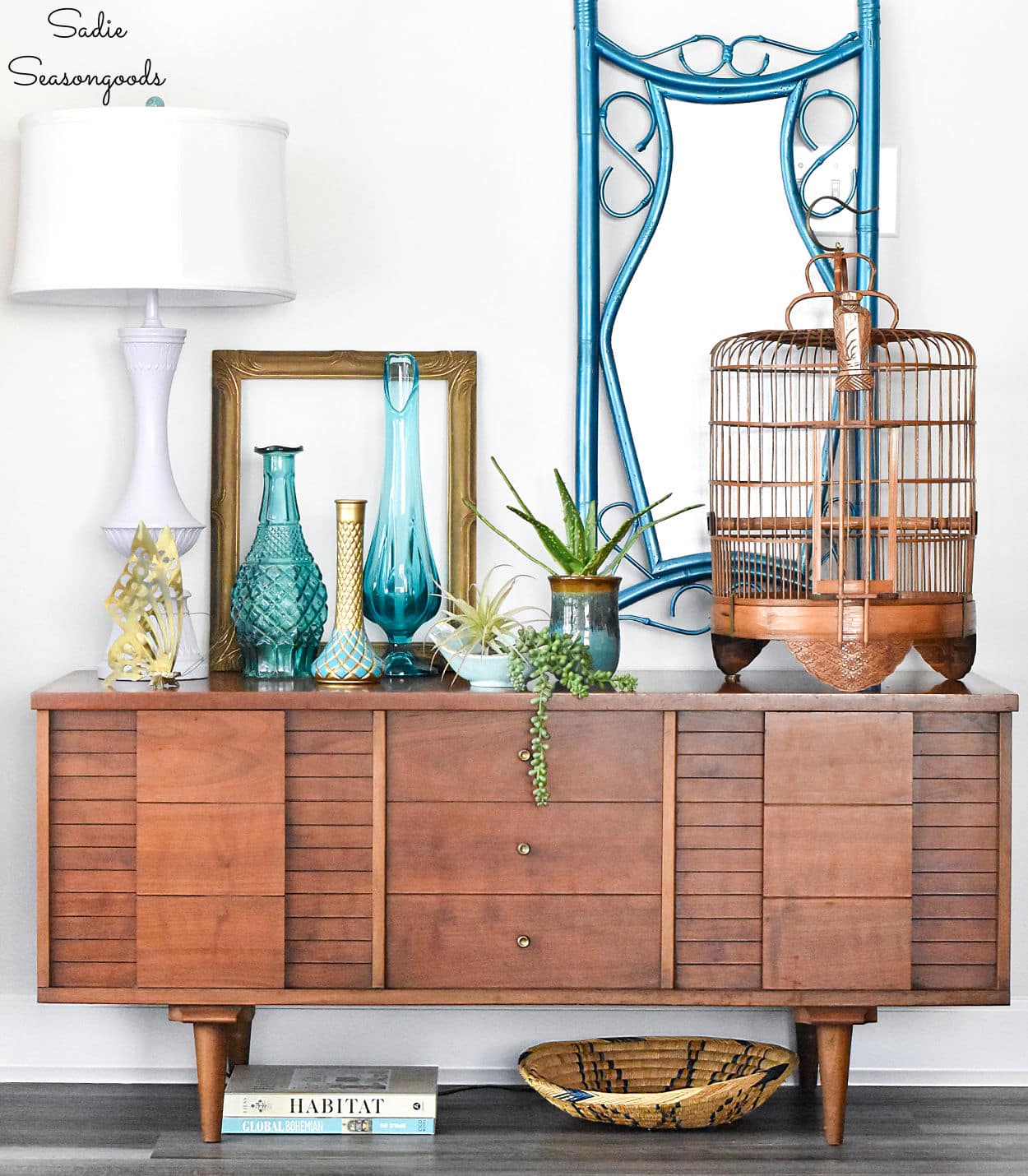 Seriously, I am IN LOVE with this arrangement. I bought the blue swung vase from this FAB mid century shop; the aqua and gold dish from this favorite Instagram seller; and you may recognize that gold vase from an old blog post?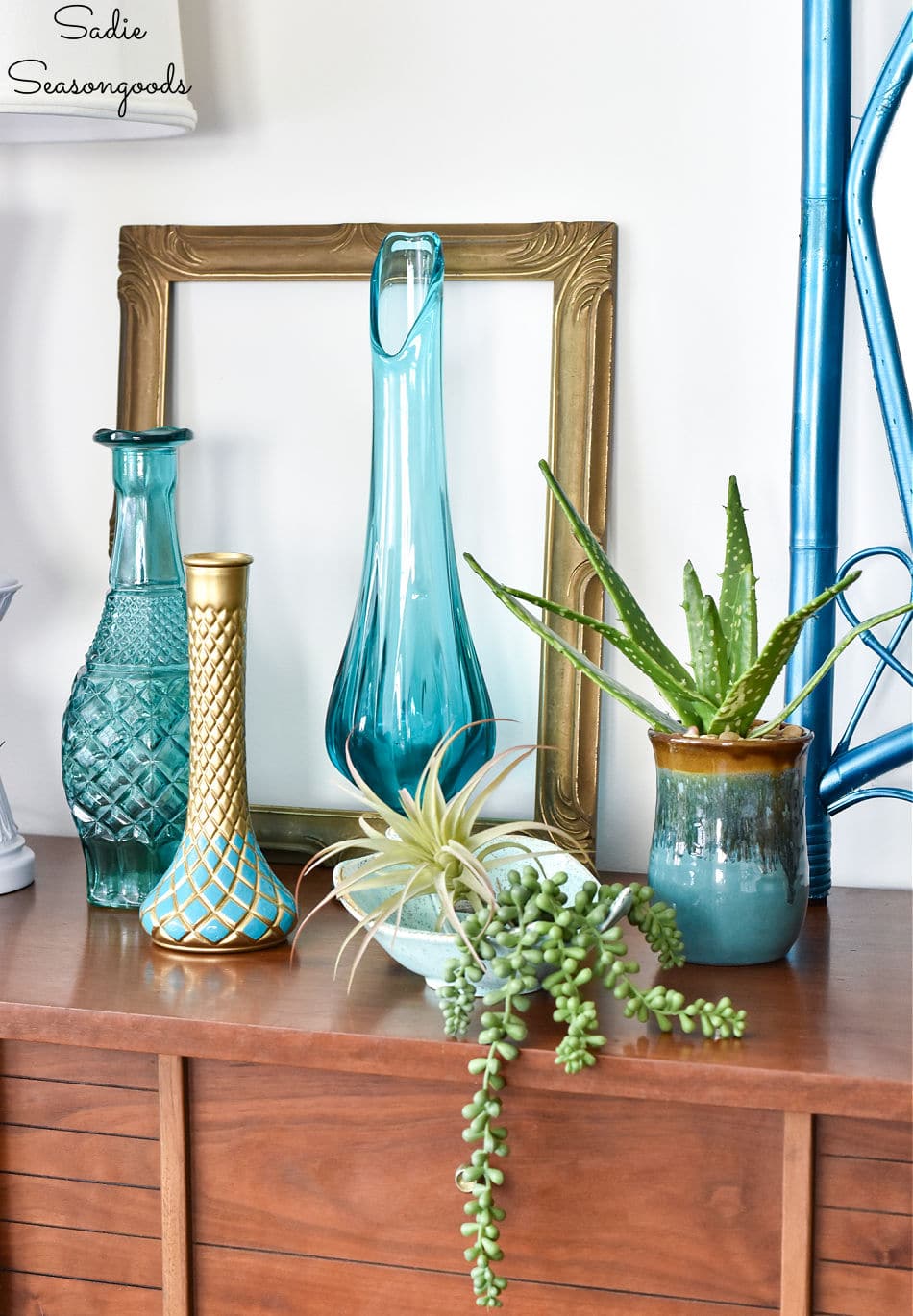 The gold frame was thrifted years ago, and the bird cage and brass butterfly were thrifted here in Charlotte. And that pottery is actually a handwarmer mug that I found at Habitat ReStore. It seemed perfect as a planter for my faux aloe plant.
All in all, I think I came incredibly close to the inspiration photo!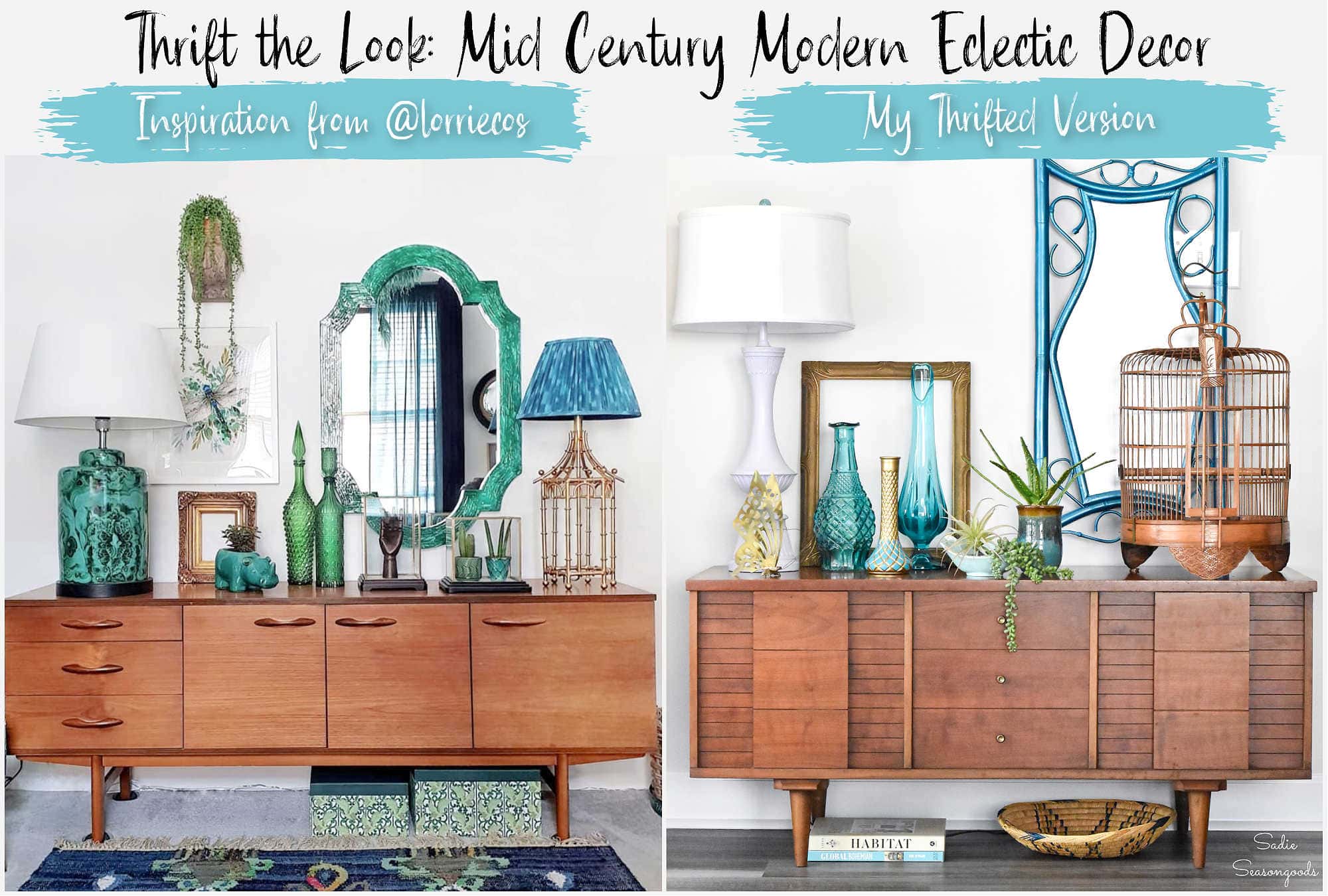 Here's a better shop of the vintage brass lamp that I painted as a newbie blogger. What do you think- should I republish that old blog post?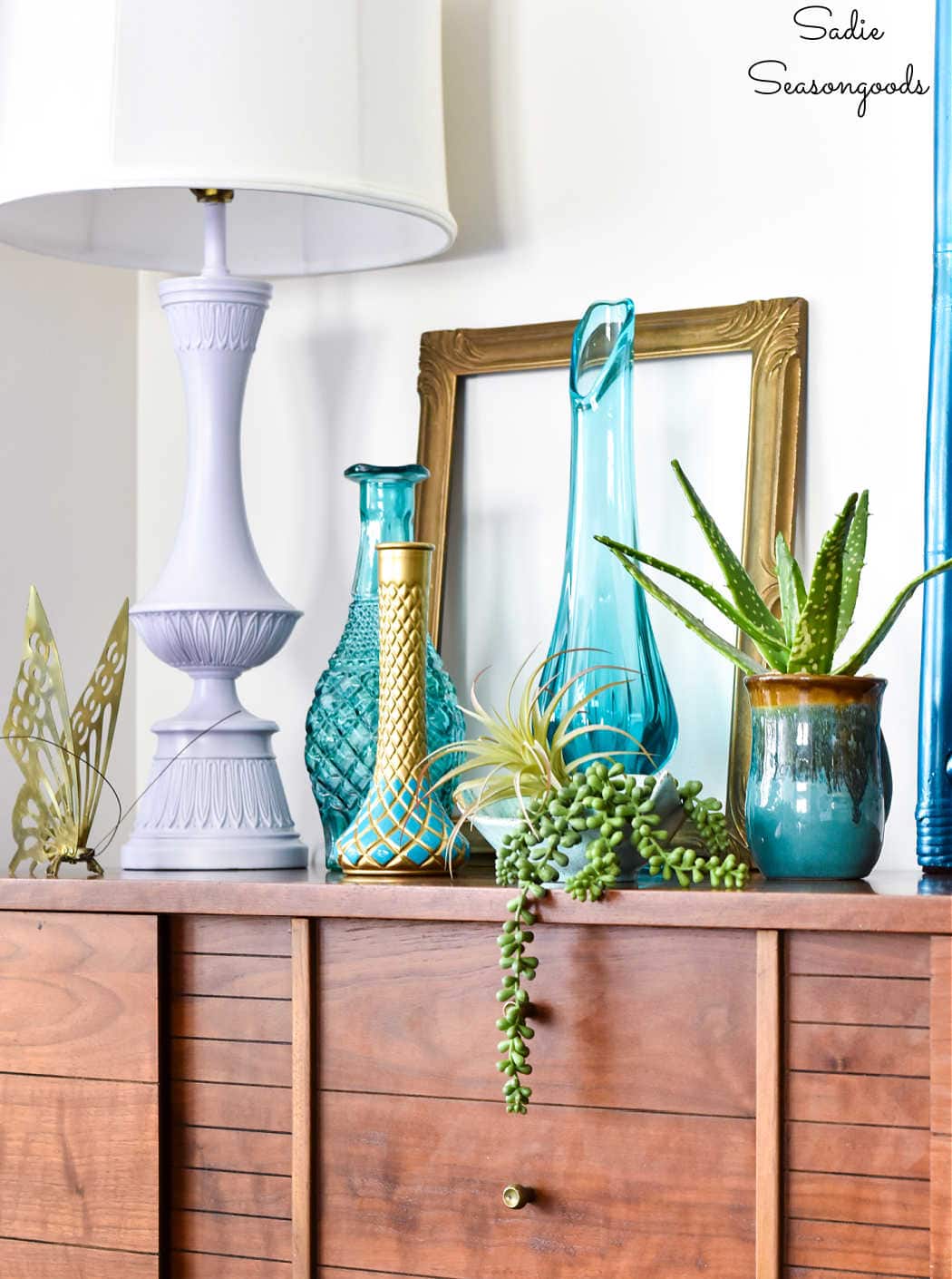 It may not have been the perfect color, but the shape fit in to the mid century eclectic look that I was going for!
*****
And, as per usual, some of my blogging friends (aka, the Creative Vintage Darlings on Facebook), also took on their own versions of Thrift the Look: Eclectic Decor. I hope you'll check out their ideas, as well.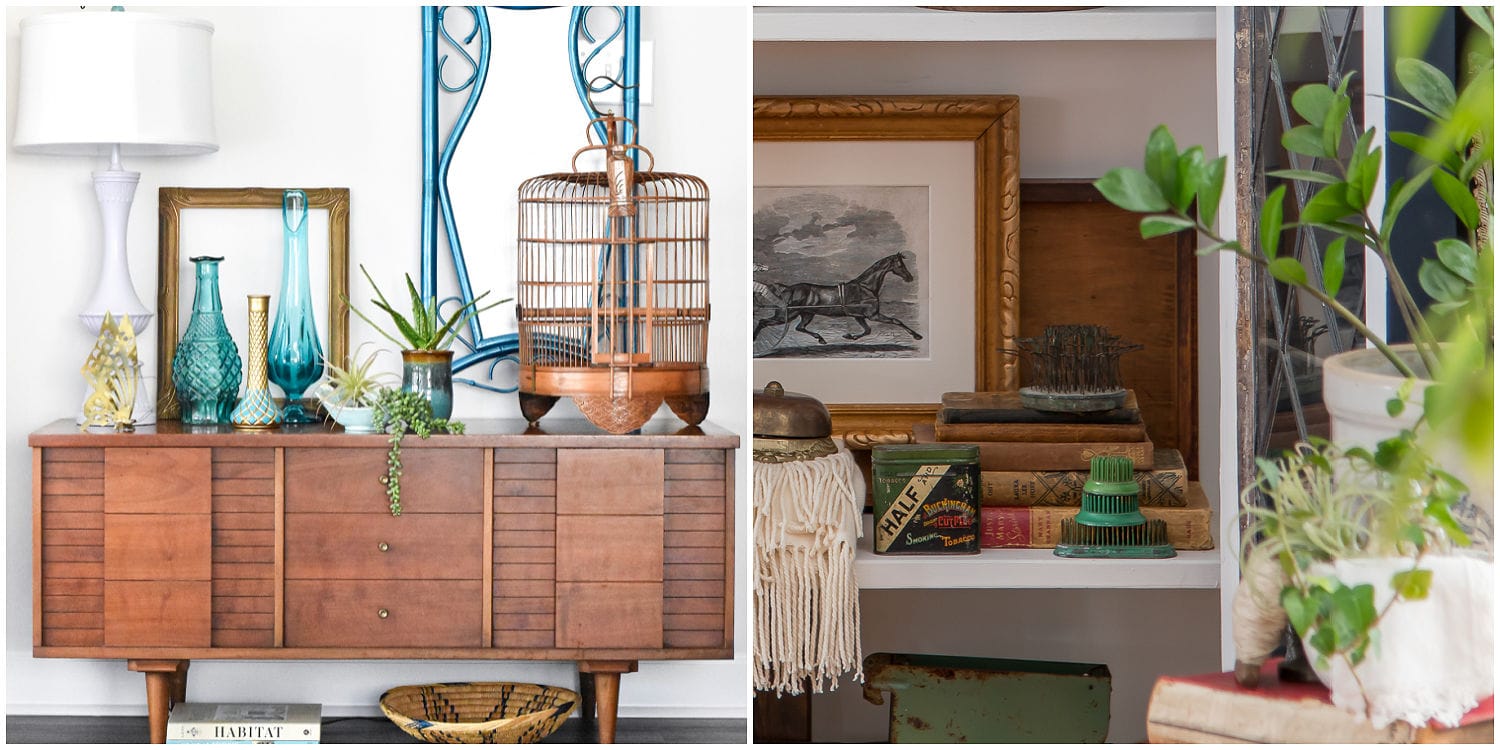 Sadie Seasongoods | Vin'yet Etc.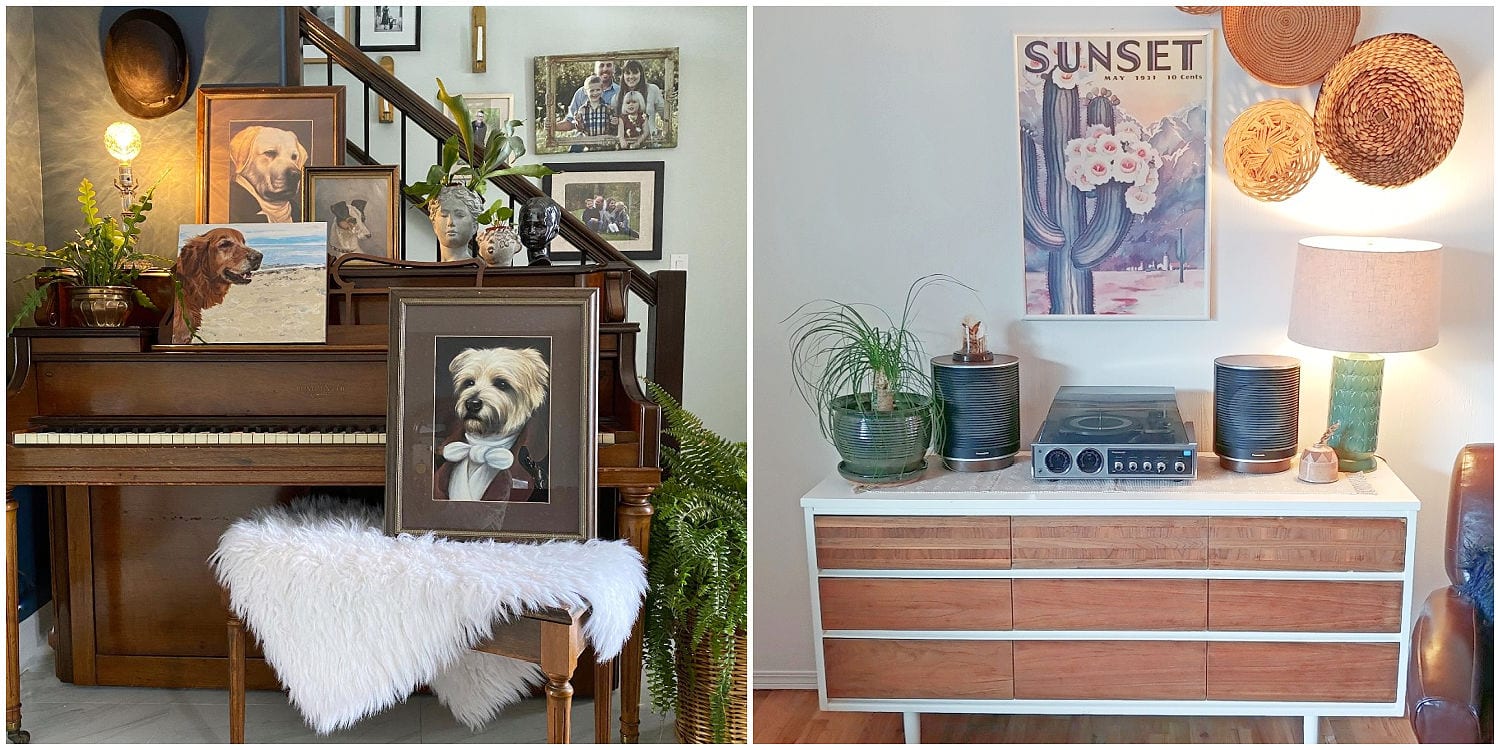 One House 2 Barns | Little Vintage Cottage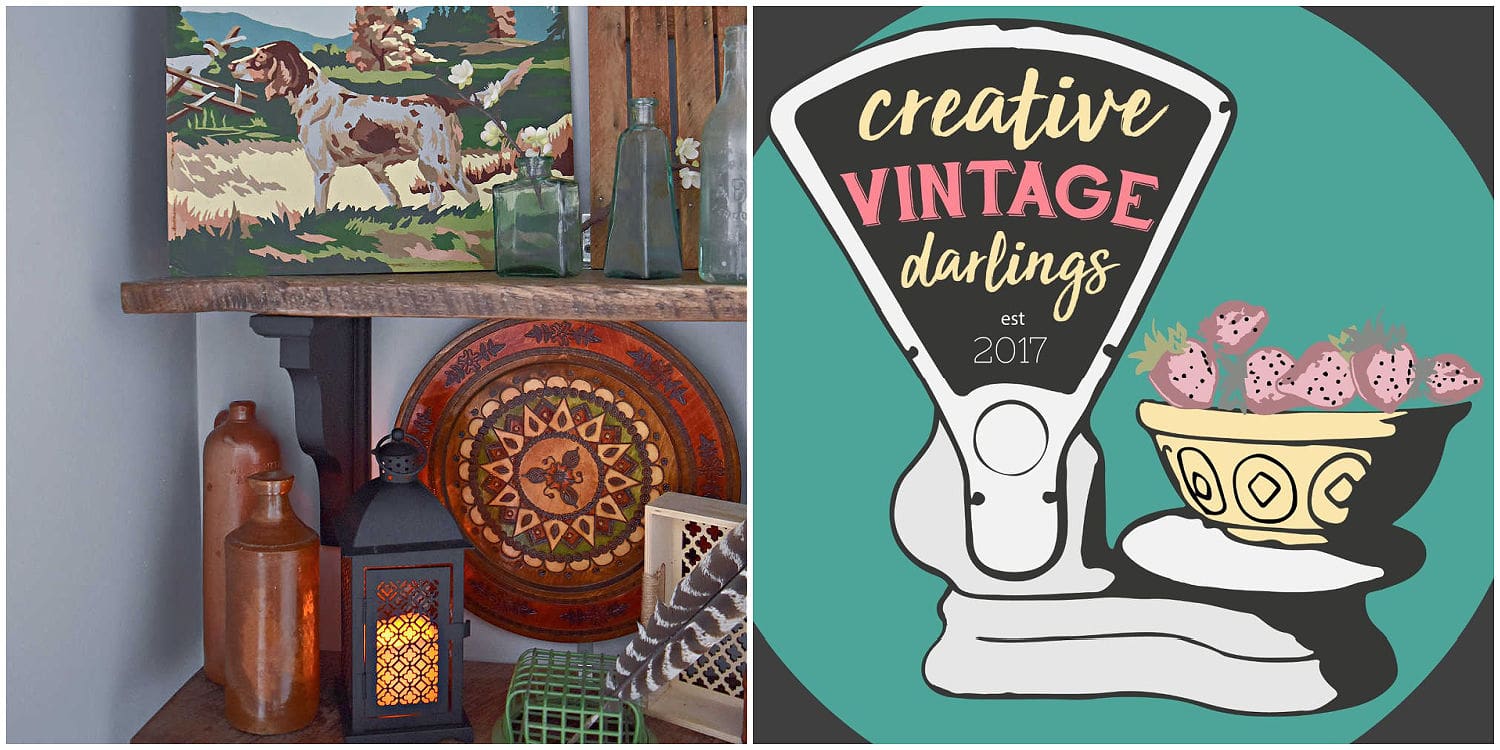 Lora Bloomquist | Join "Creative Vintage Darlings" on Facebook!
Thank you SO MUCH for reading along on my latest Thrift the Look Challenge. So far, we've done variations of the following styles:
Which always begs the question: Which decor style would you like us to do next?
Curious about the Lane cedar chest that I used in this challenge, as well as the other furniture we've been thrifting for our new home? I've compiled a huge collection featuring all the thrift store furniture, art, and decor that we've purchased so far!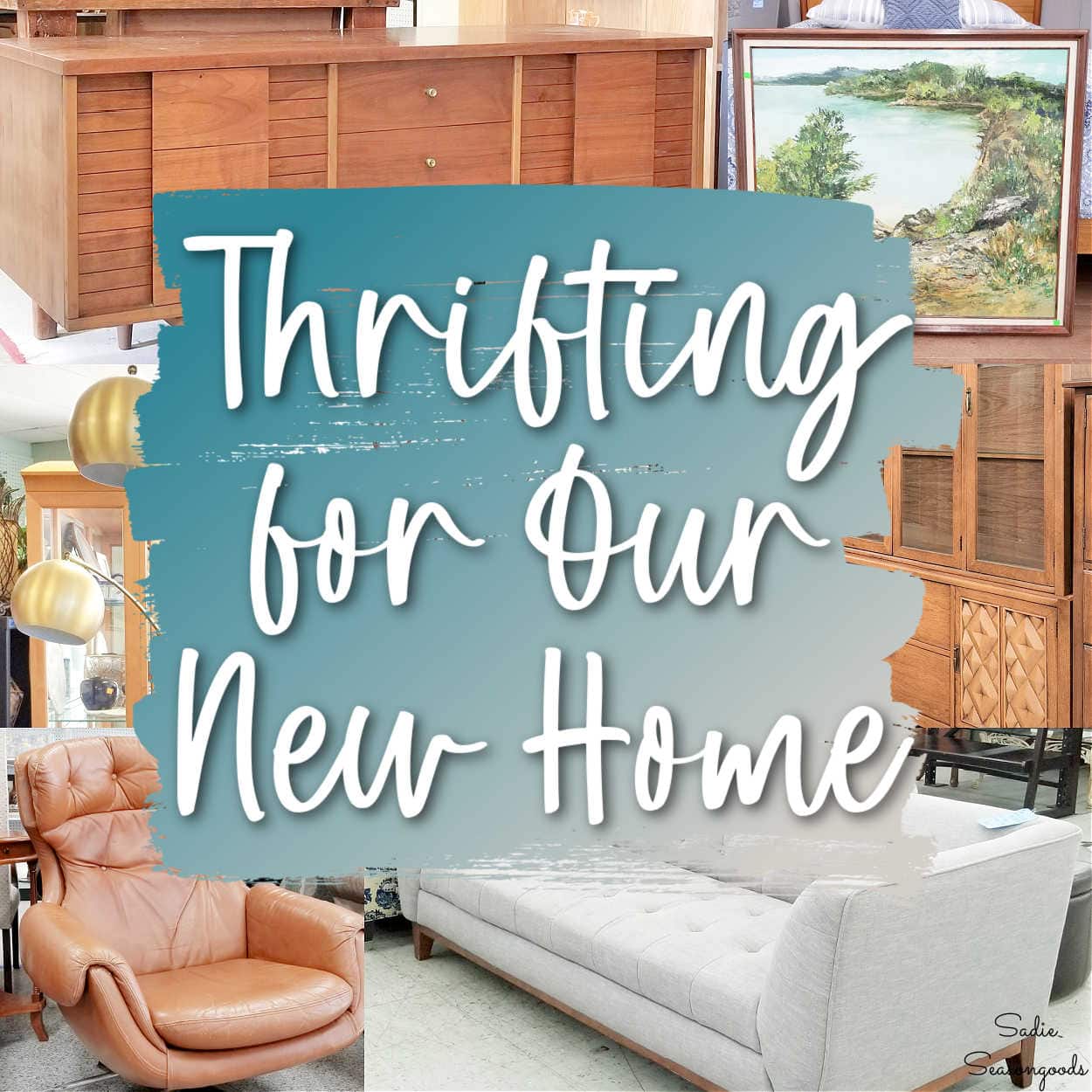 Craft on!
S
Want to be notified when I publish my next upcycling project tutorial?
Subscribe to Blog via Email
Join me on Social Media:

PIN ME!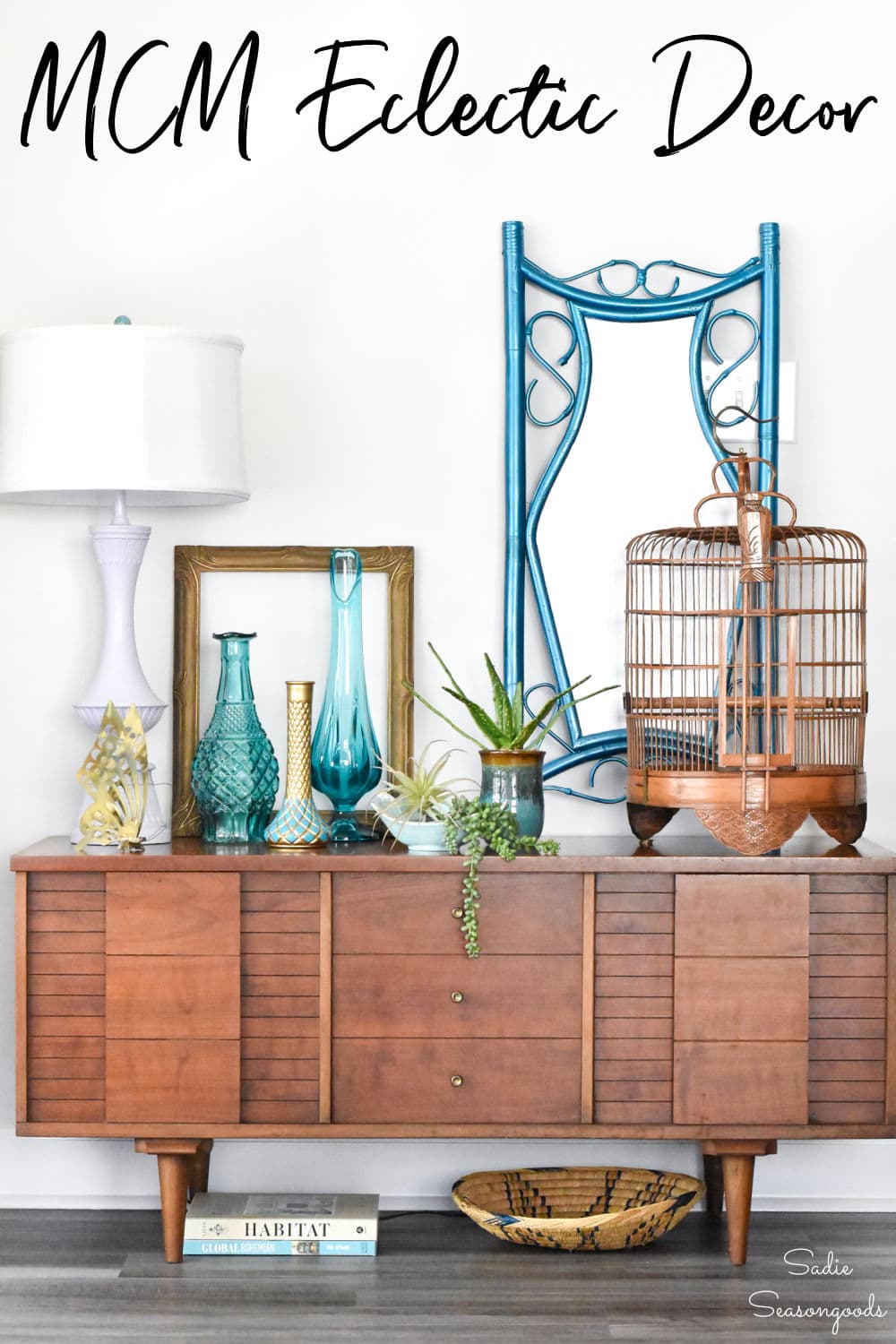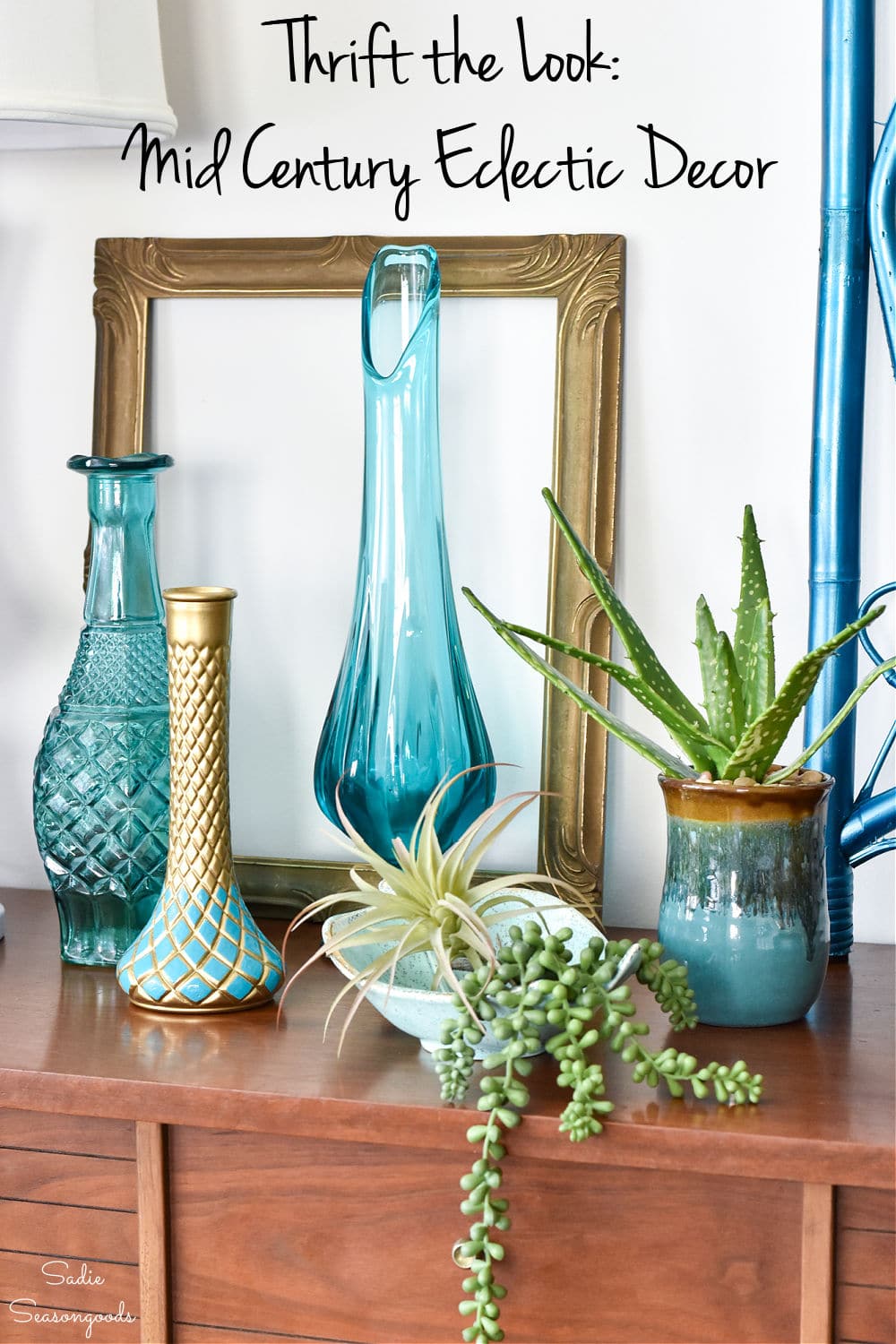 Sarah Ramberg is the owner of Sadie Seasongoods, a website that celebrates all things secondhand. From upcycling ideas and thrifted decor to vintage-centric travel itineraries, Sadie Seasongoods is a one-stop shop for anyone who loves thrifting and approachable repurposing ideas. Sarah is also the author of "Crafting with Flannel" and has been featured in numerous media outlets and magazines.