Once upon a time, I headed out to my local Habitat ReStore. They had arranged several random items outside, and one in particular caught my eye. It looked like it was perhaps a garden urn (but I wasn't entirely sure). Either way, it was held together with caution tape and I wondered if I could transform it into a cast iron umbrella stand.
Well, at least an umbrella stand that LOOKED like it was made of cast or wrought iron…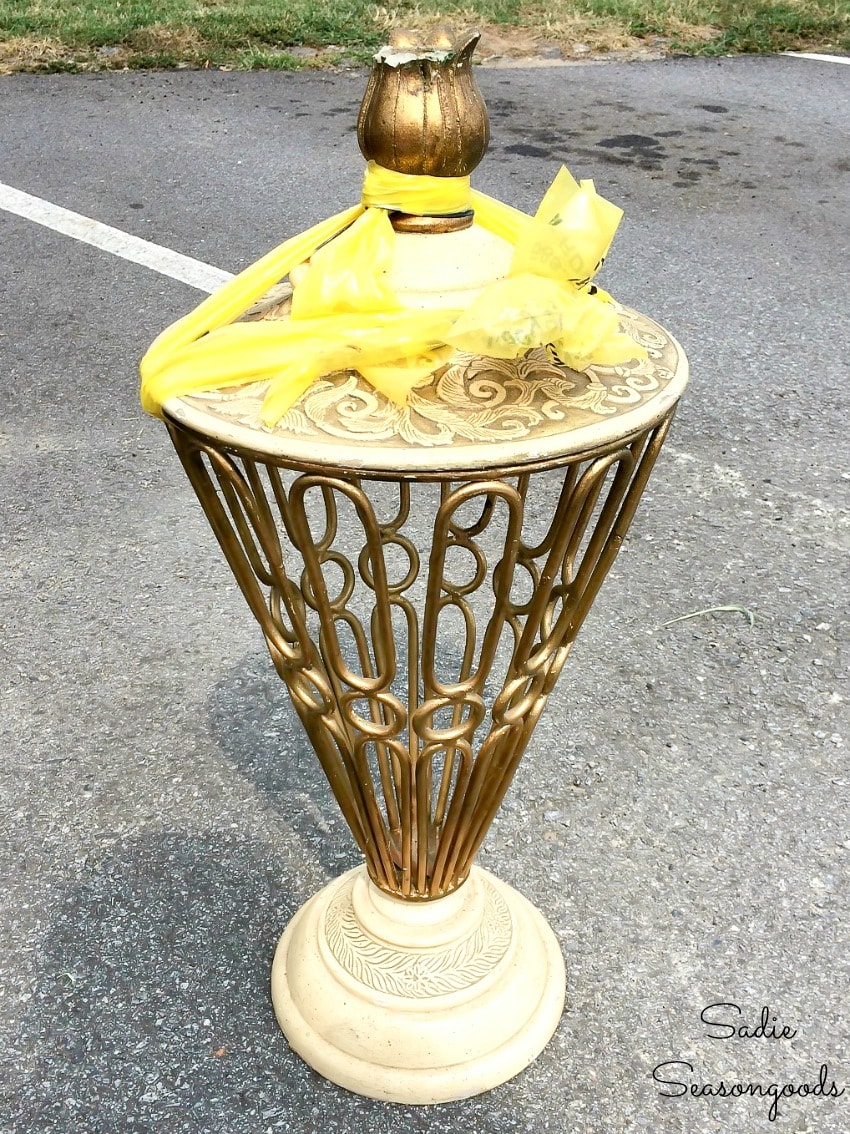 Upon further inspection, I realized that the top part was a lid (partially broken) and the caution tape was being used to keep the lid from coming off. Whether it was an outdoor urn or not, it was the perfect piece to upcycle, either way.
This post contains affiliate links for your crafting convenience. As an Amazon affiliate, I earn from qualifying purchases. All blue, bold, and underlined text is a clickable link, either to a product or to a related blog post.
Upcycling an Outdoor Urn to Look Like Faux Wrought Iron
I removed (and tossed) the broken lid and caution tape to better study the garden urn.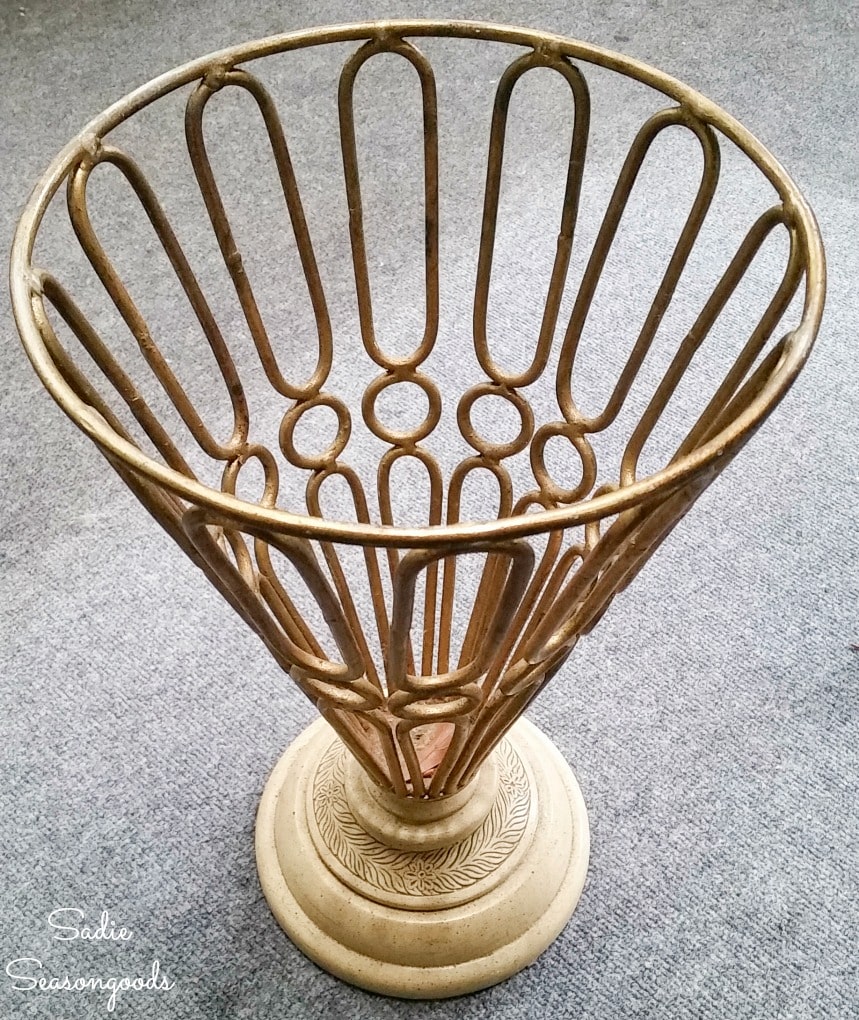 And let me tell you…that sucker was FILTHY. Like caked-on-crud level filthy.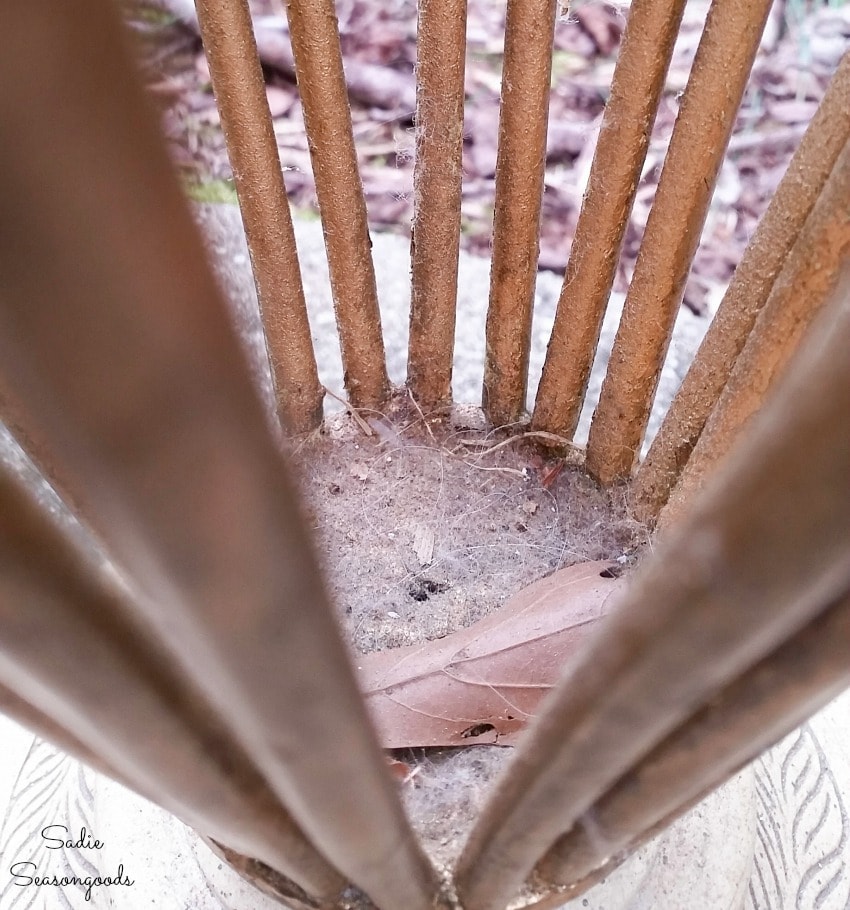 First I removed what I could by hand and with the help of some compressed air.
Next, I finished the job with a thorough hosing down.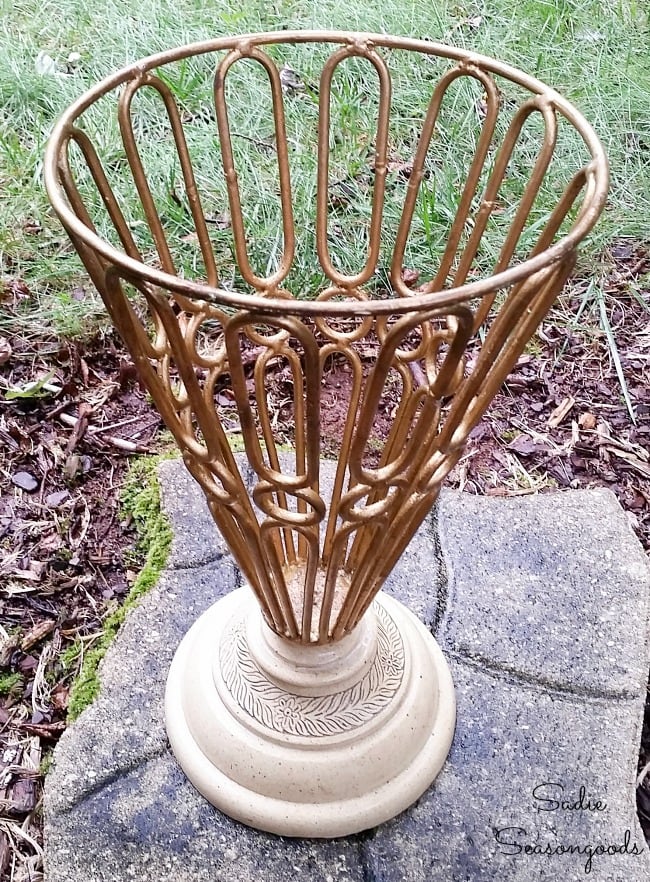 Never in my life had I wanted a power washer more. Because that's almost how bad the grime was!
Next, I turned my attention to truly transforming it into a cast iron umbrella stand!
I originally thought I would brush on some black paint that I already had at home.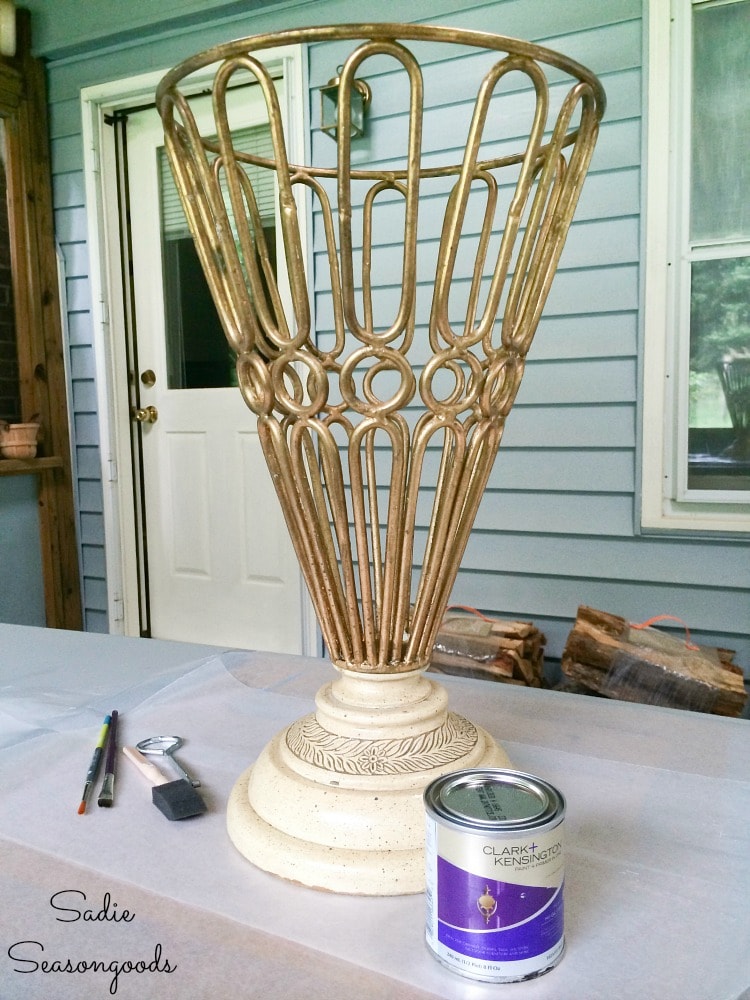 But, I wasn't thrilled with the results. The depth of the black was great, but the finish was too shiny for my tastes.
So, I grabbed some black spray paint and covered the entire garden urn.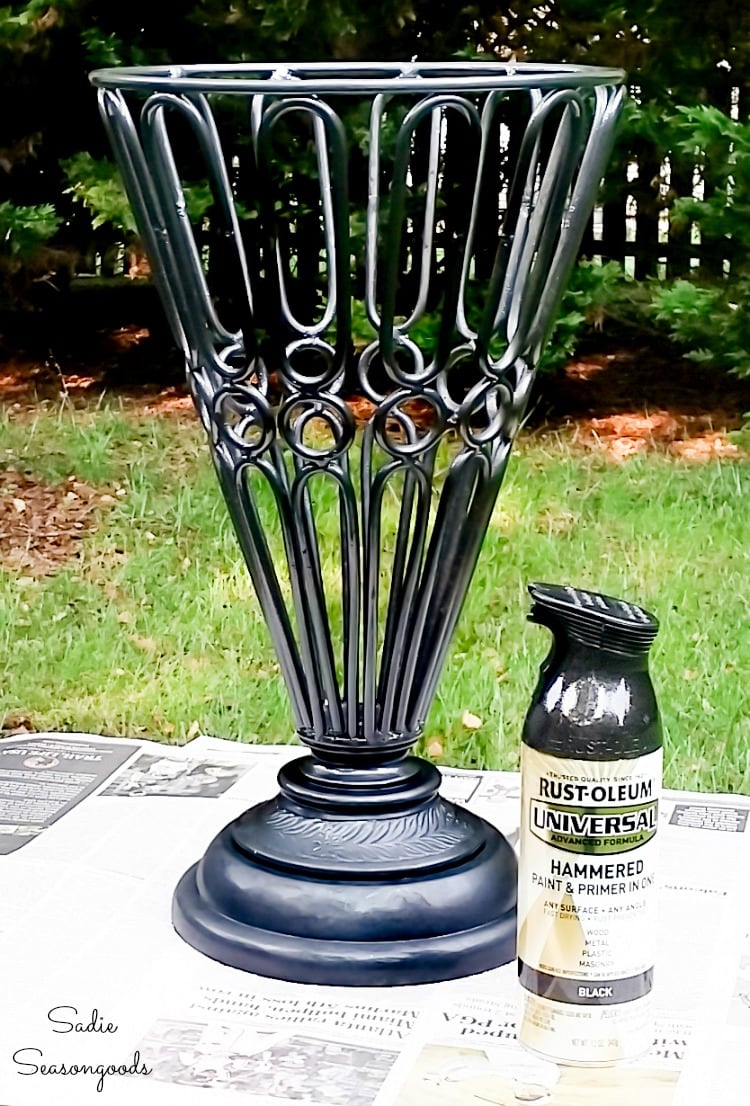 Much better! And much closer to the look of faux wrought iron.
Lastly, I sprayed it with a semi-gloss top coat to protect the paint. My cast iron umbrella stand was going to be living outside on the covered porch, after all…
Cast Iron Umbrella Stand by Upcycling a Garden Urn
And just like that, the makeover was complete. What a simple, but stunning transformation, eh?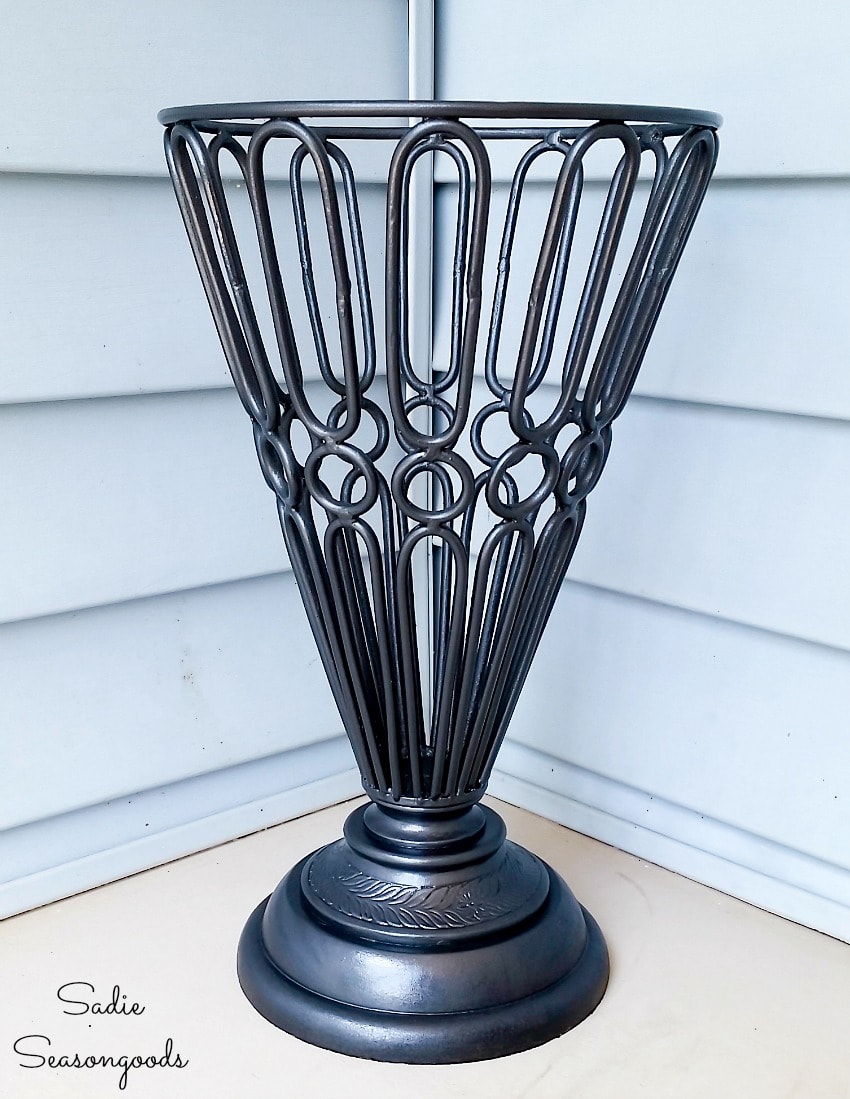 Sure, it may not be an authentic cast iron umbrella stand, but I'm thrilled with the results nonetheless.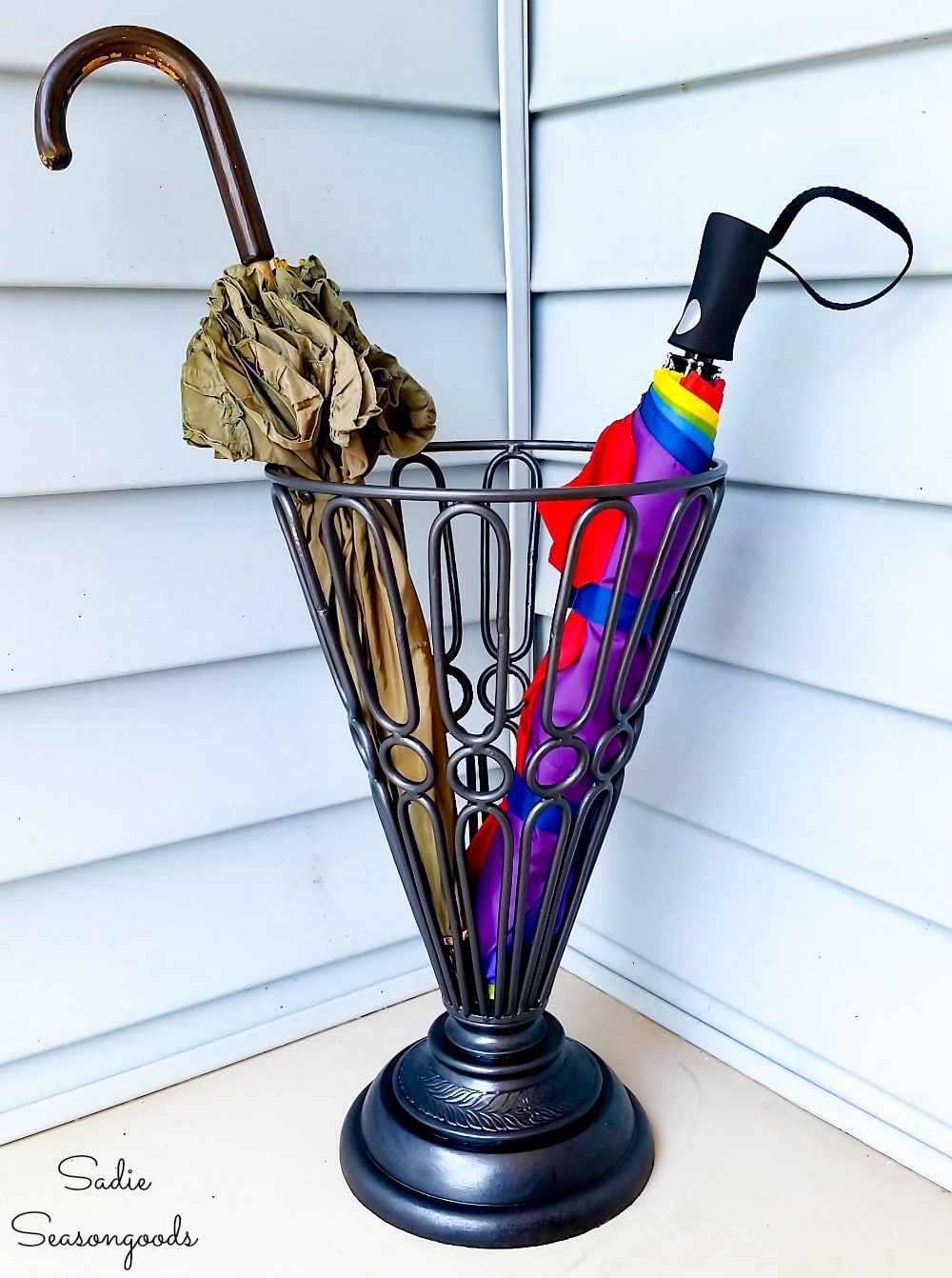 Plus, it only cost me a few dollars and is a LOT less heavy than the real thing.
If you enjoyed this upcycling idea for a cast iron umbrella stand, then you'll love this industrial side table that I made from VHS storage drawers!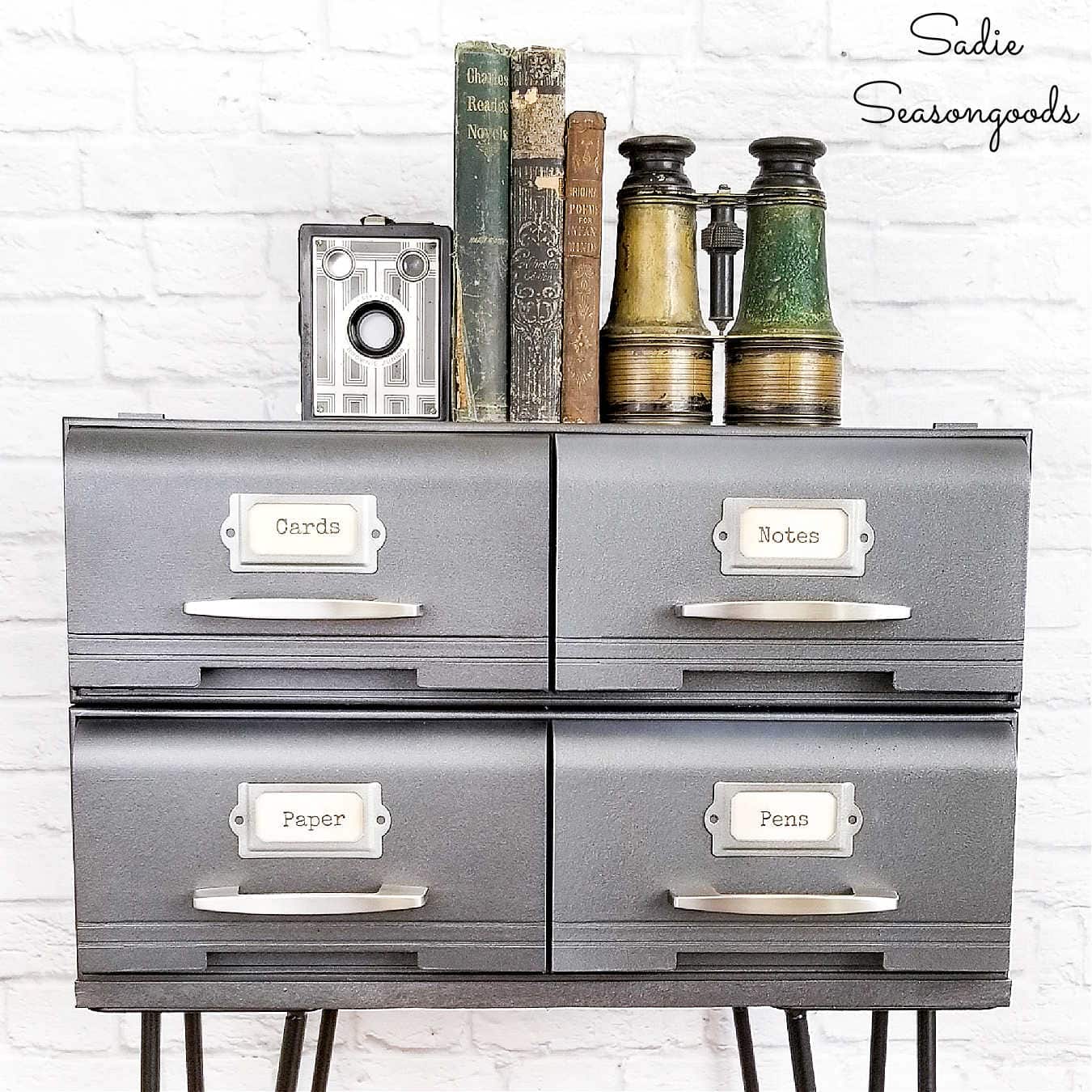 Craft on!
S
Join me on Social Media:

PIN ME!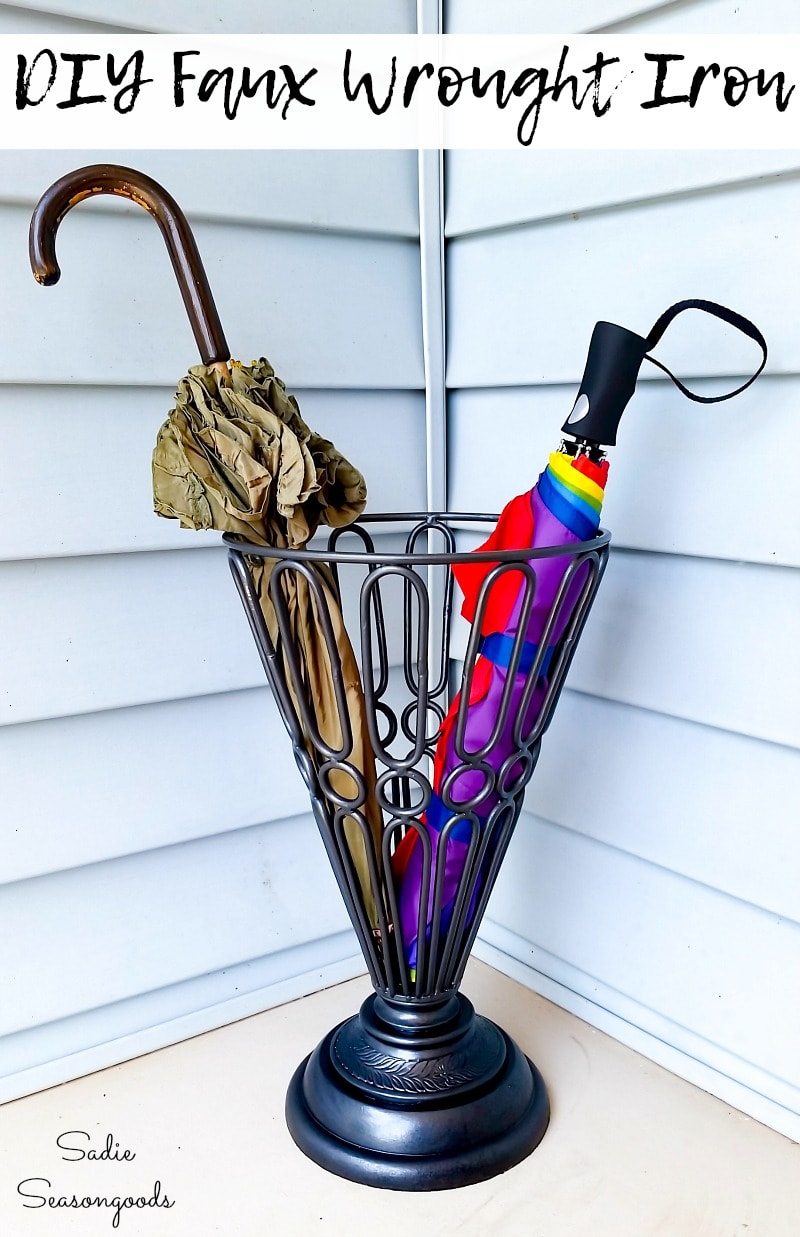 Sarah Ramberg is the owner of Sadie Seasongoods, a website that celebrates all things secondhand. From upcycling ideas and thrifted decor to vintage-centric travel itineraries, Sadie Seasongoods is a one-stop shop for anyone who loves thrifting and approachable repurposing ideas. Sarah is also the author of "Crafting with Flannel" and has been featured in numerous media outlets and magazines.