I can't be 100% certain, as I've not visited EVERY thrift store across the globe. But I'm 99% certain that every thrift has VHS Storage or VHS tape drawers on their shelves. Cassette tape storage cases, too; they're positively everywhere! So, I decided I needed to upcycle them into something COMPLETELY unexpected. My idea? An industrial side table that kinda-sorta looked like a metal card catalog.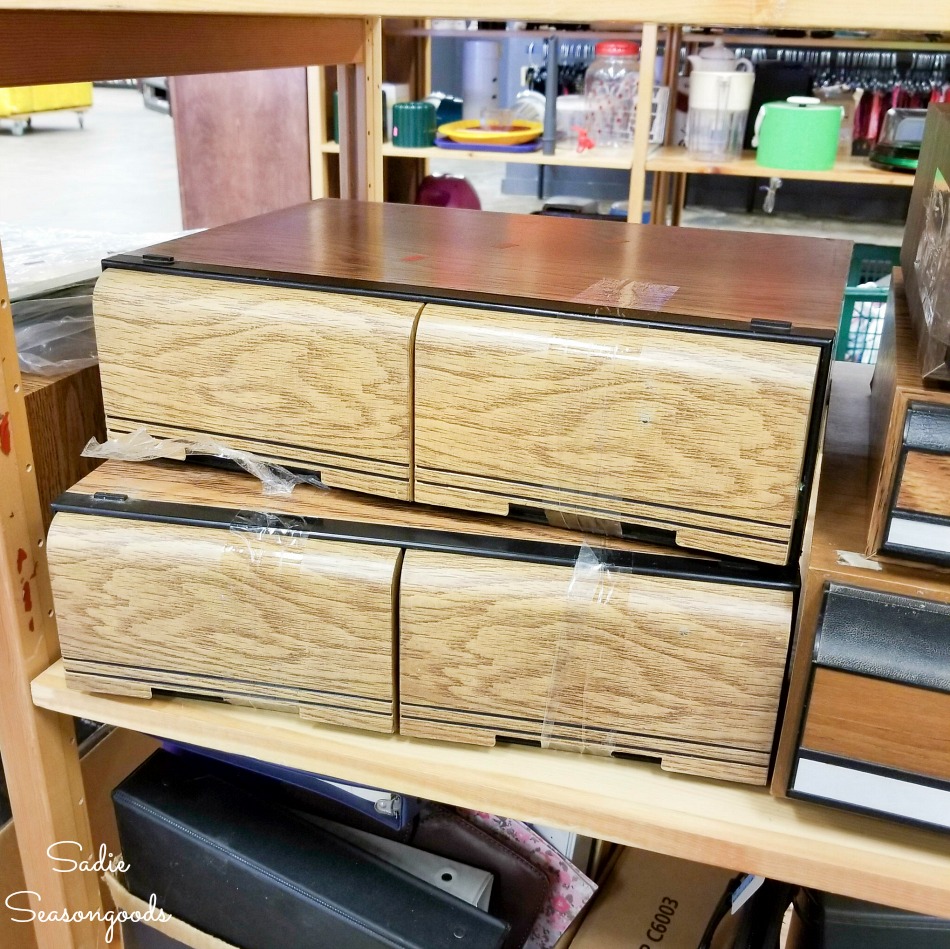 They stacked together perfectly and I just KNEW they could be transformed into something that looked like a metal card catalog.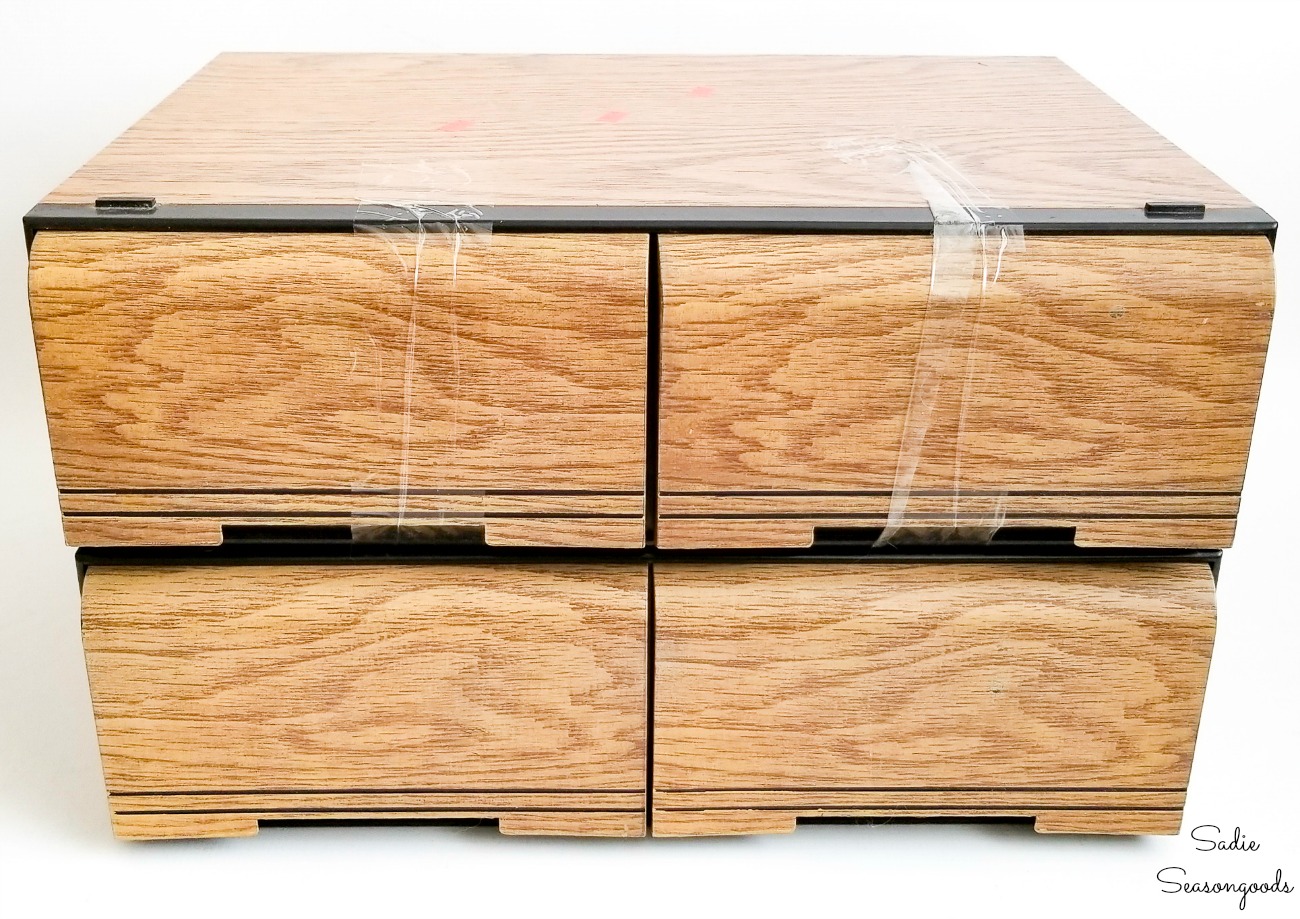 NOW, fair warning. this is going to be a longer tutorial than my norm. Not because it's a difficult project, but simply because there are more steps than my average project requires.
But please stay with me- I assure you that it's worth it!
There are basically three main components to this industrial side table: (1) the base, (2) the cases, and (3) the drawers.
This post contains affiliate links for your crafting convenience. As an Amazon Affiliate, I earn from qualifying purchases. All blue, bold, and underlined text is a clickable link, either to a product or to a related post.
Building the Base of an Industrial Side Table
So, let's get right to it, starting with the base.
Why do I need a base? Because if I'm building an end table, I need it to be sturdy and I need real wood to attach table legs to.
Because the VHS storage cases were stack-able, I used a piece of scrap plywood and traced the bottom of one of my cases on the wood.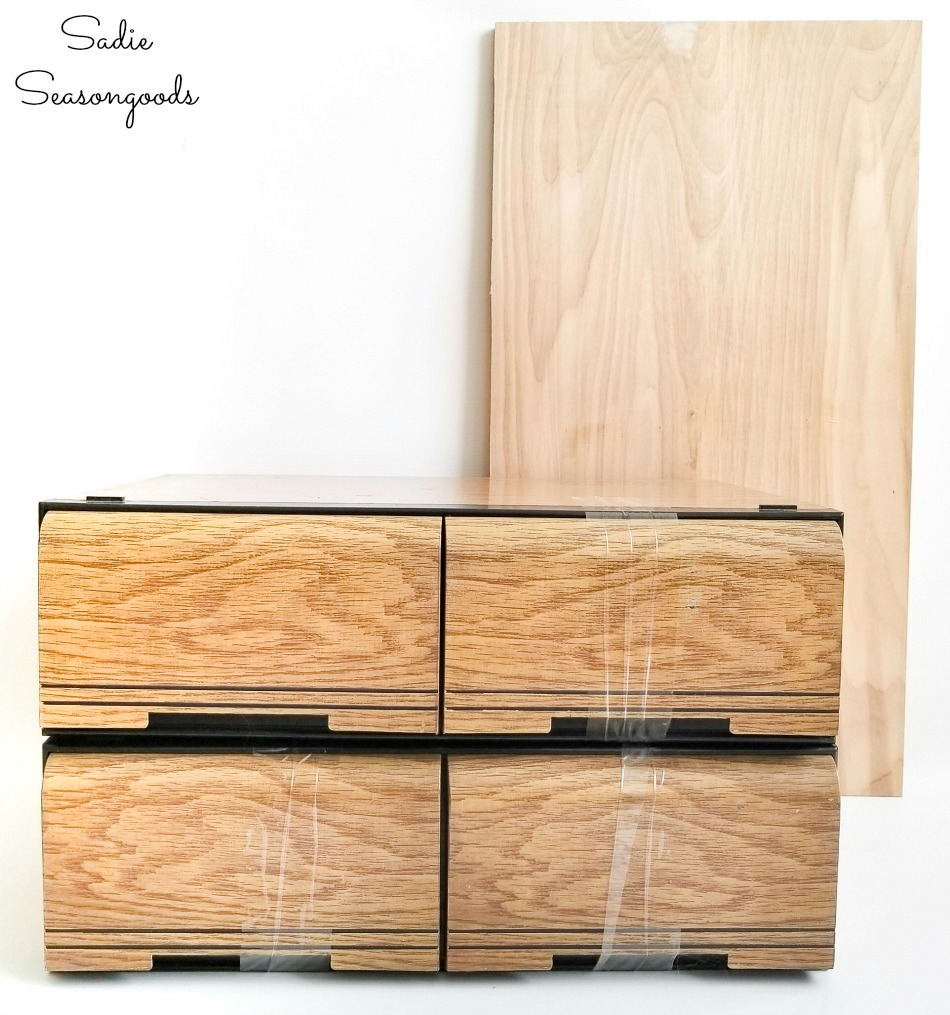 After cutting it out with our jigsaw and sanding down the edges, I wanted to cover up the edges before painting them.
Why? Because oak plywood is comprised of three layers, and each layer takes on paint differently. I didn't want those striations to show through!
Thanks to a fellow blogging friend, Anika's DIY Life, I learned about edge banding tape! I had never heard of it before, but it's super easy to use.
Think of it like iron-on wood tape.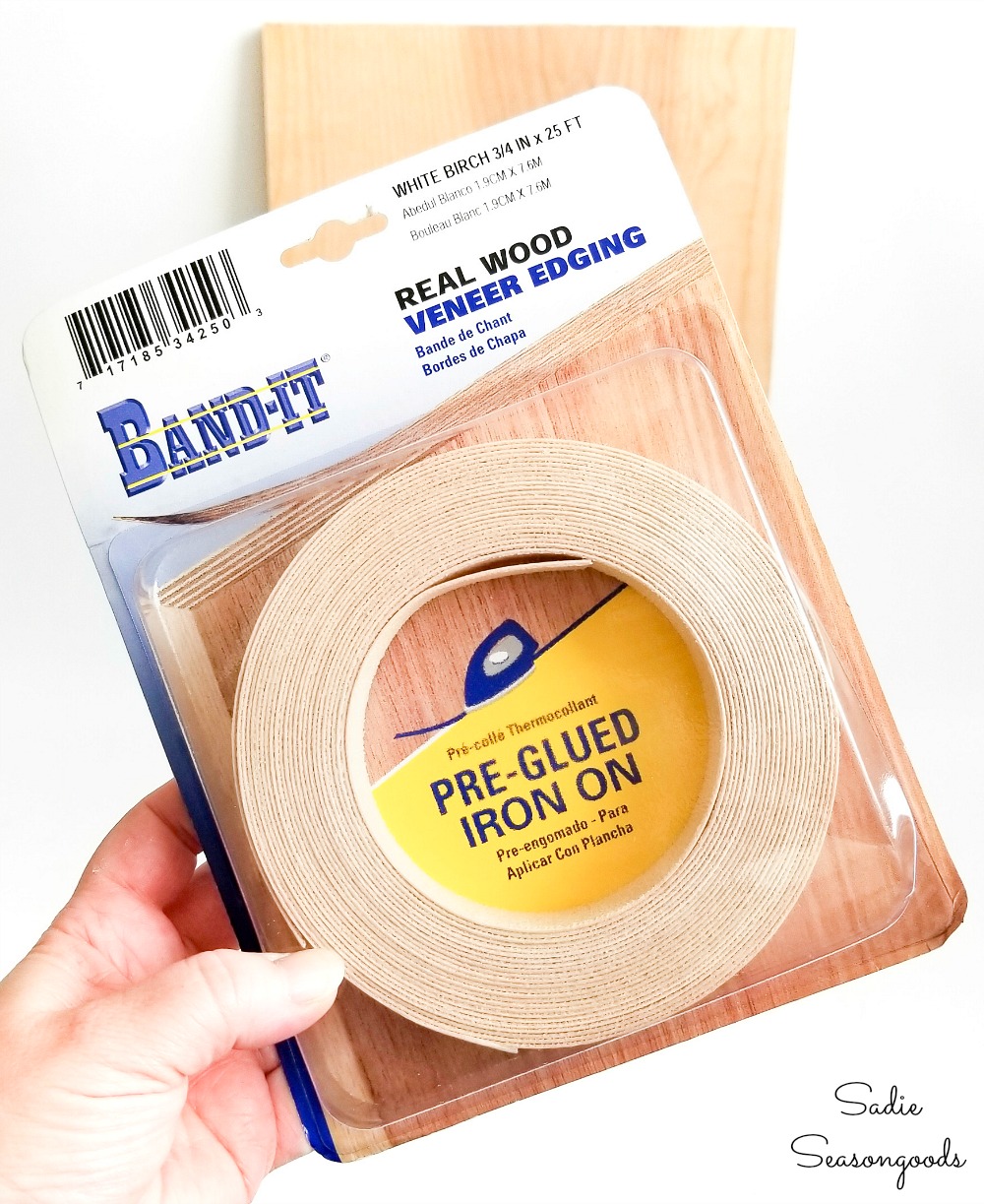 I unrolled some edge banding tape, walked my entire piece of plywood along it, and snipped off what I needed with my beloved multi-media shears.
Then, just as the directions on the package stated, I used my iron to press and seal it along the edges of the plywood.
It was SO EASY and looked fabulous when I was done!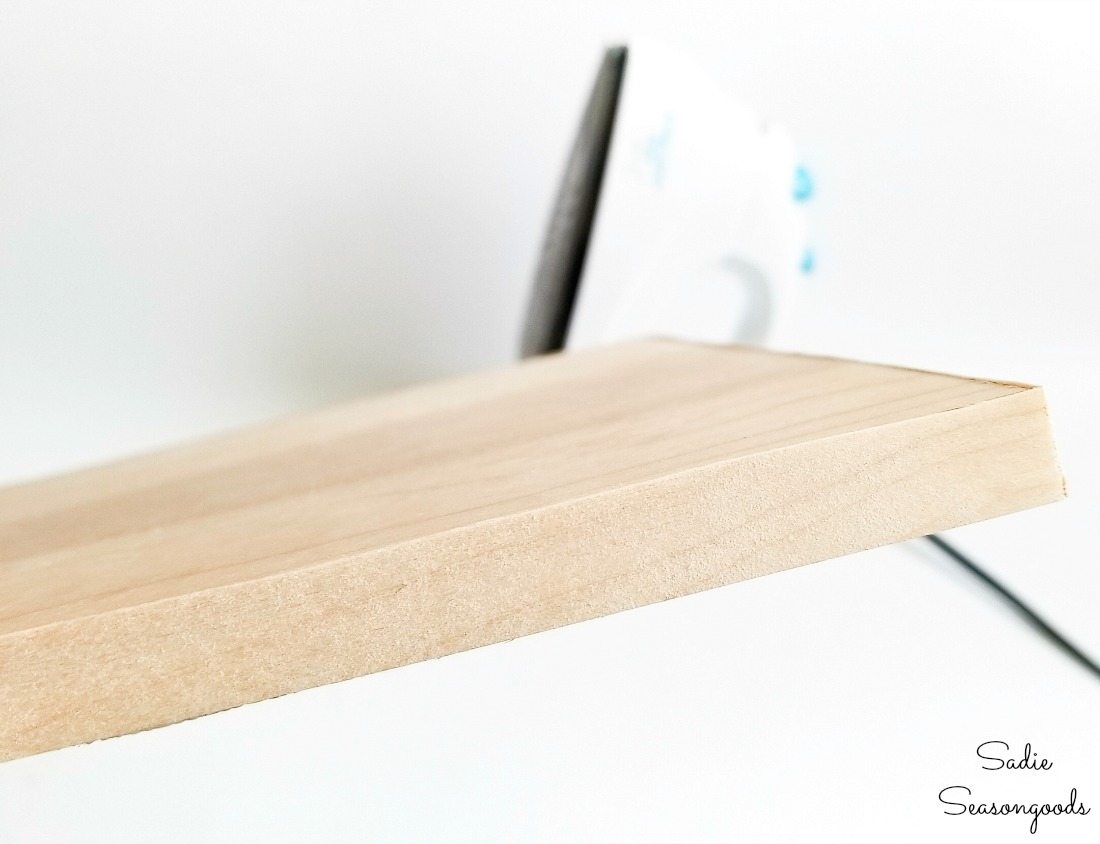 The base of my industrial side table was ready to be spray painted. But let's set it aside and talk about Component # 2: The Cases.
Upcycling the VHS Storage to Look like a Metal Card Catalog
First, I needed to do a little prep work on the VHS storage before painting.
And all that I did was sand down the bottom of my top case and the top of my bottom case because I needed to permanently glue them together. And a little bit of sanding just roughs up the finish and helps the wood glue get a better hold.
After applying wood glue and stacking them together, I used some of my heaviest books to add weight while I let the glue set overnight.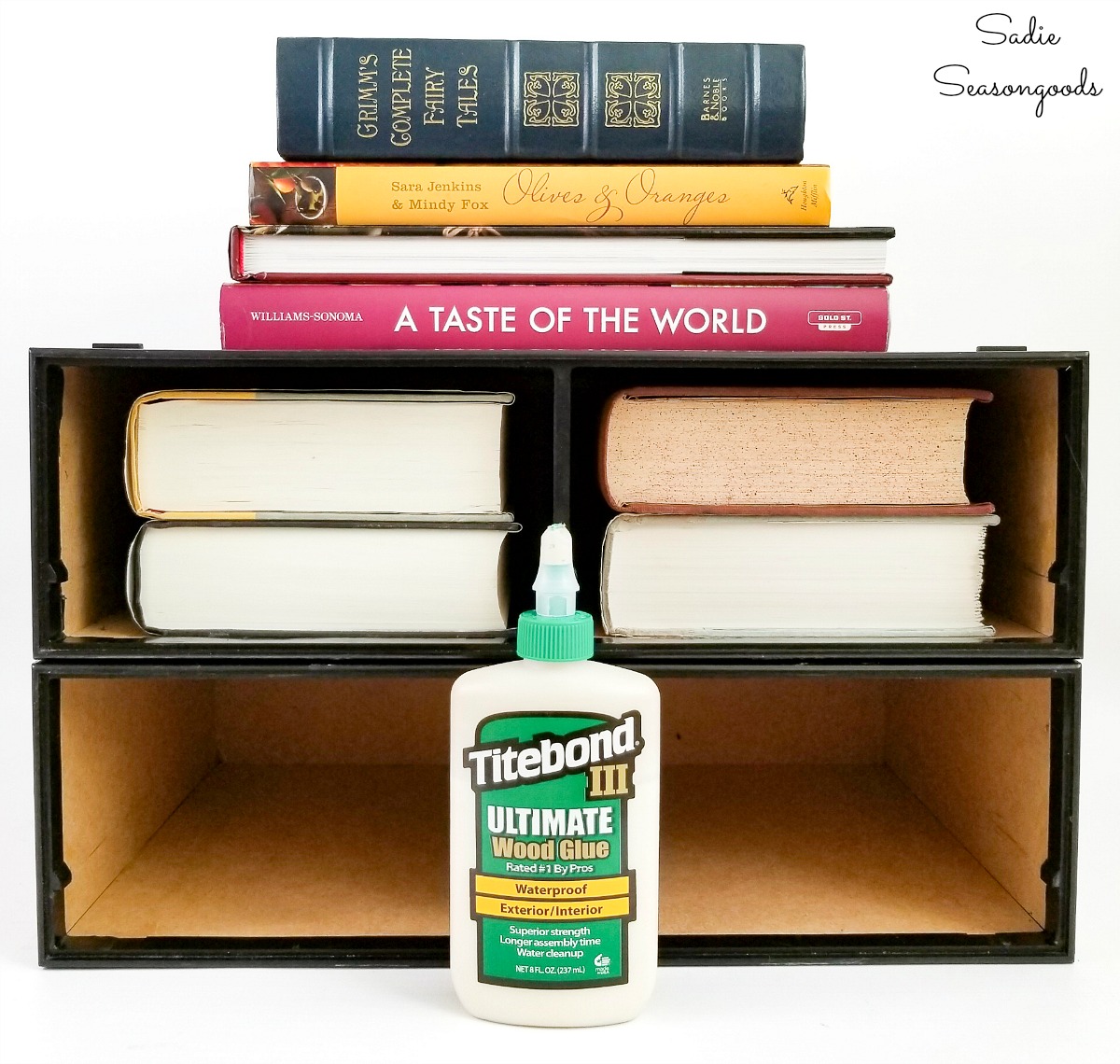 Once the VHS storage cases were fused together, I could finally start spray painting everything.
First, I started with a gray primer, just to allow the spray paint I used to apply evenly later on.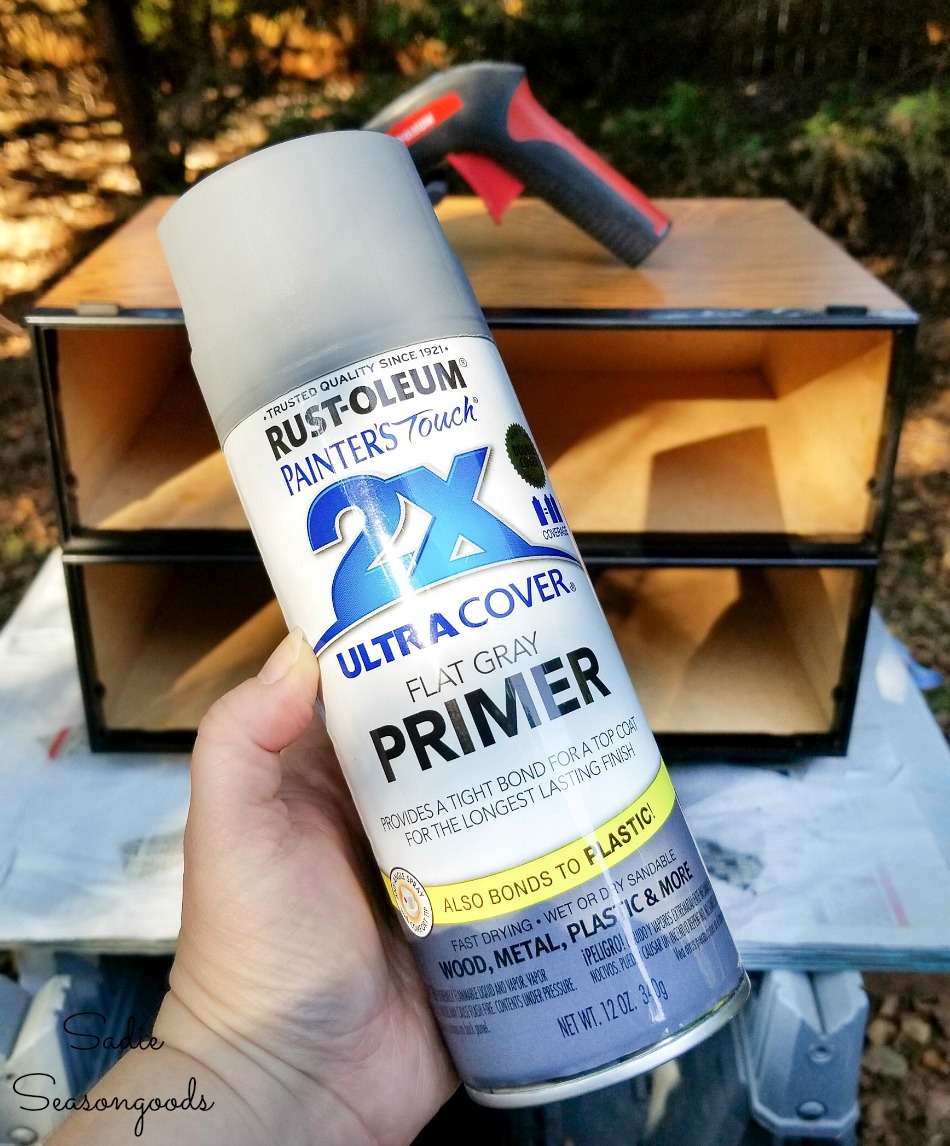 Next, I used this spray paint for my industrial "metal" look– it's one of my favorites!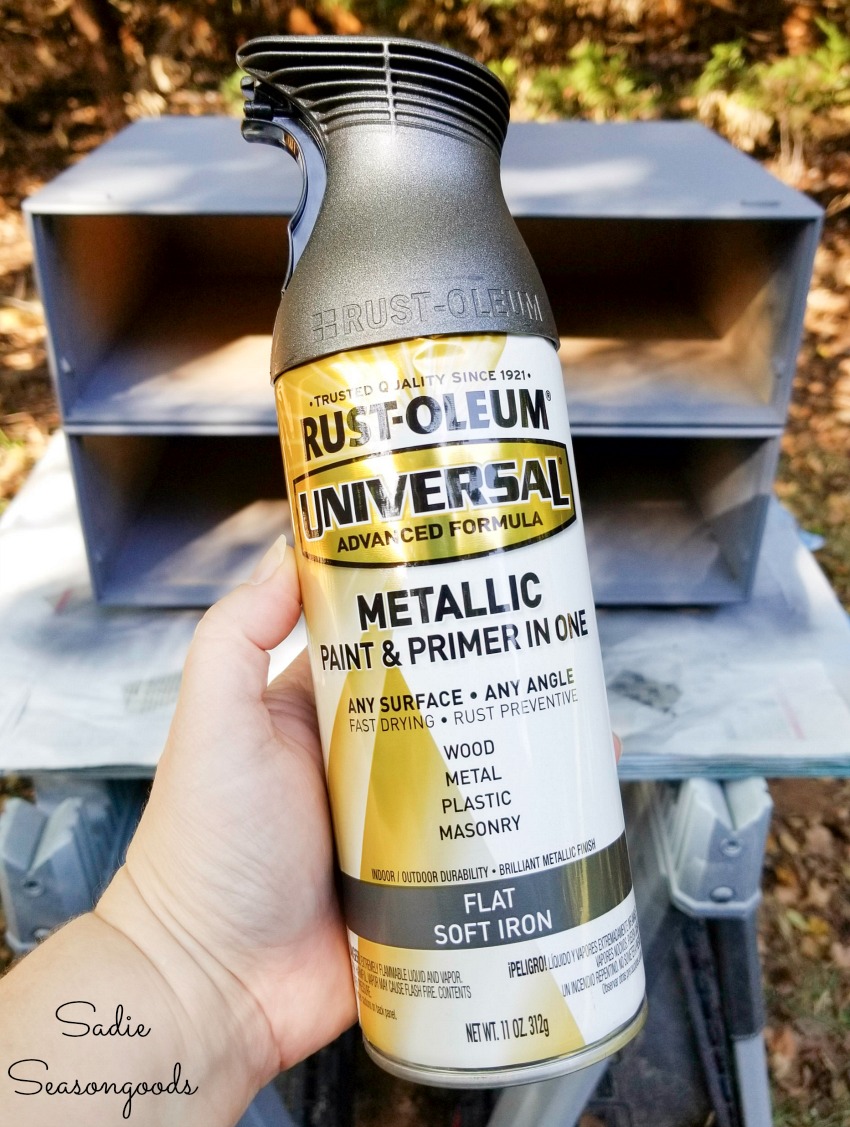 I also used the same spray painting on the plywood base, starting with the grey primer first. One everything had dried on the base and the cases, I brushed on some matte topcoat to protect the finish.
Now I needed to get the wood glue out again and attach my painted plywood base to the bottom of my VHS storage cases.
Once again, I used heavy books to add weight while it set overnight.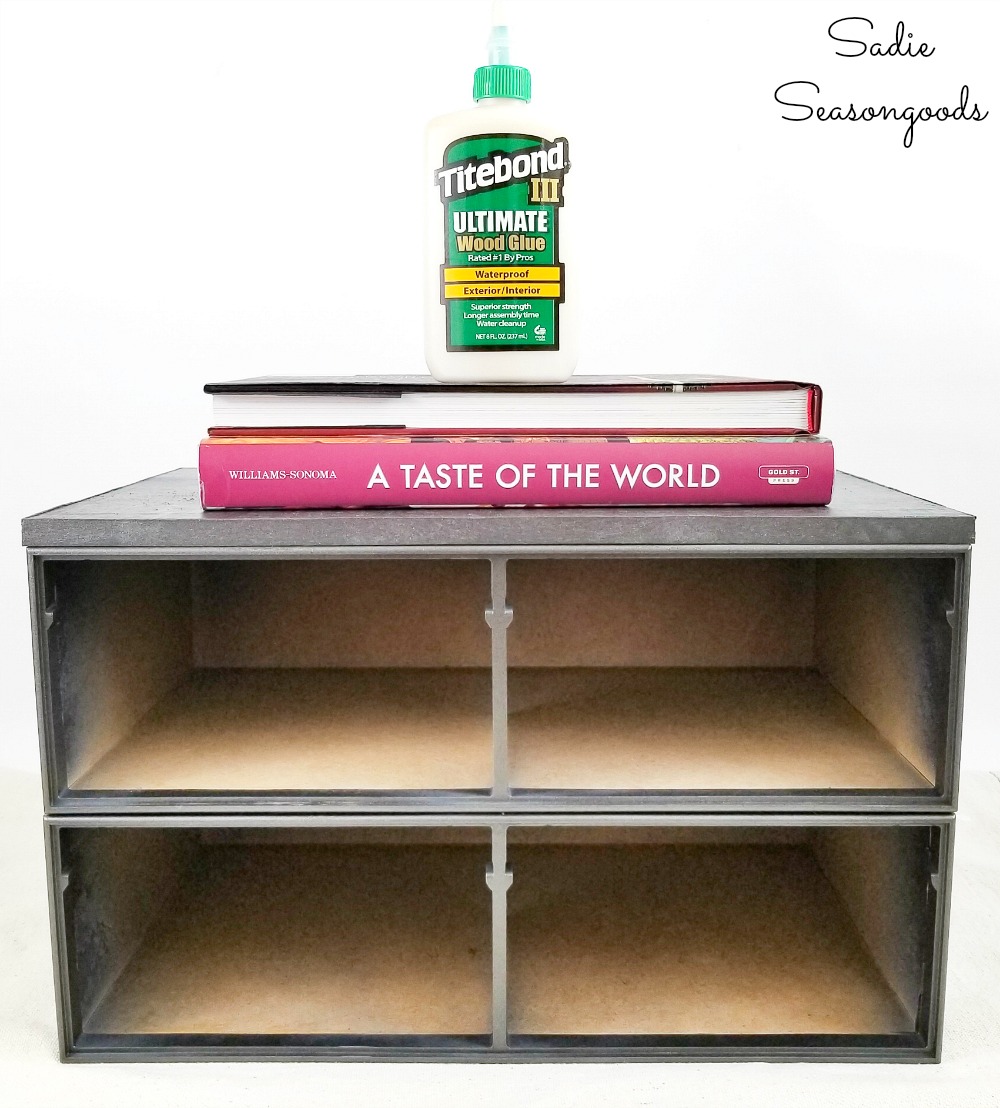 Quick note, I have the entire piece upside-down while it dried so that the weight of the books was directly on the wood base.
After the base and tape storage cases had been fused together, I screwed hairpin legs into the corners of the plywood (these are the exact ones I ordered).
I made sure to use shorter screws that didn't pierce the cases.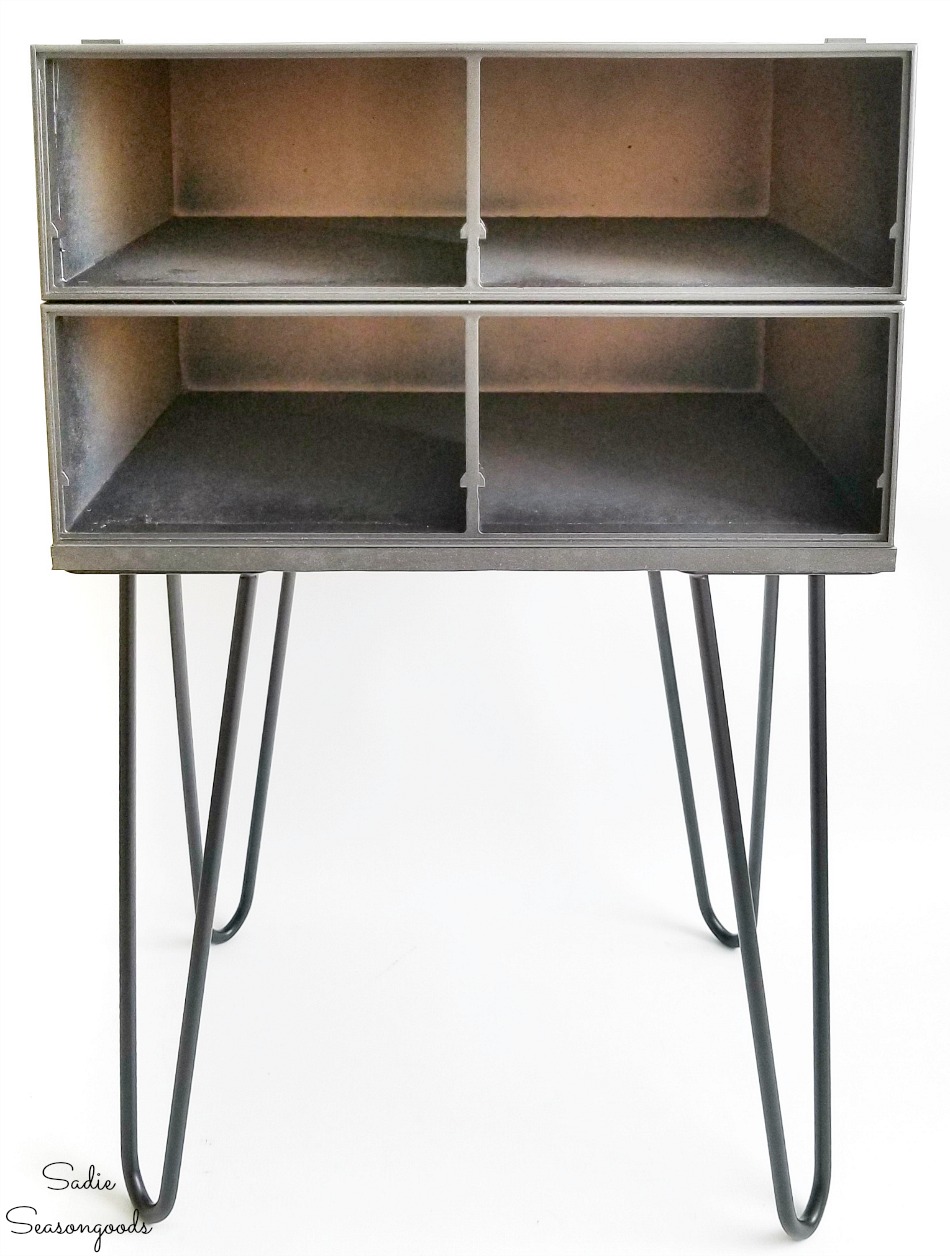 The industrial side table was coming along brilliantly! Now it was time to work on the drawers so I could finish everything up.
Drawers for a Metal Card Catalog or Industrial Side Table
My plan with the drawers was to add some file-cabinet-looking handles to each one.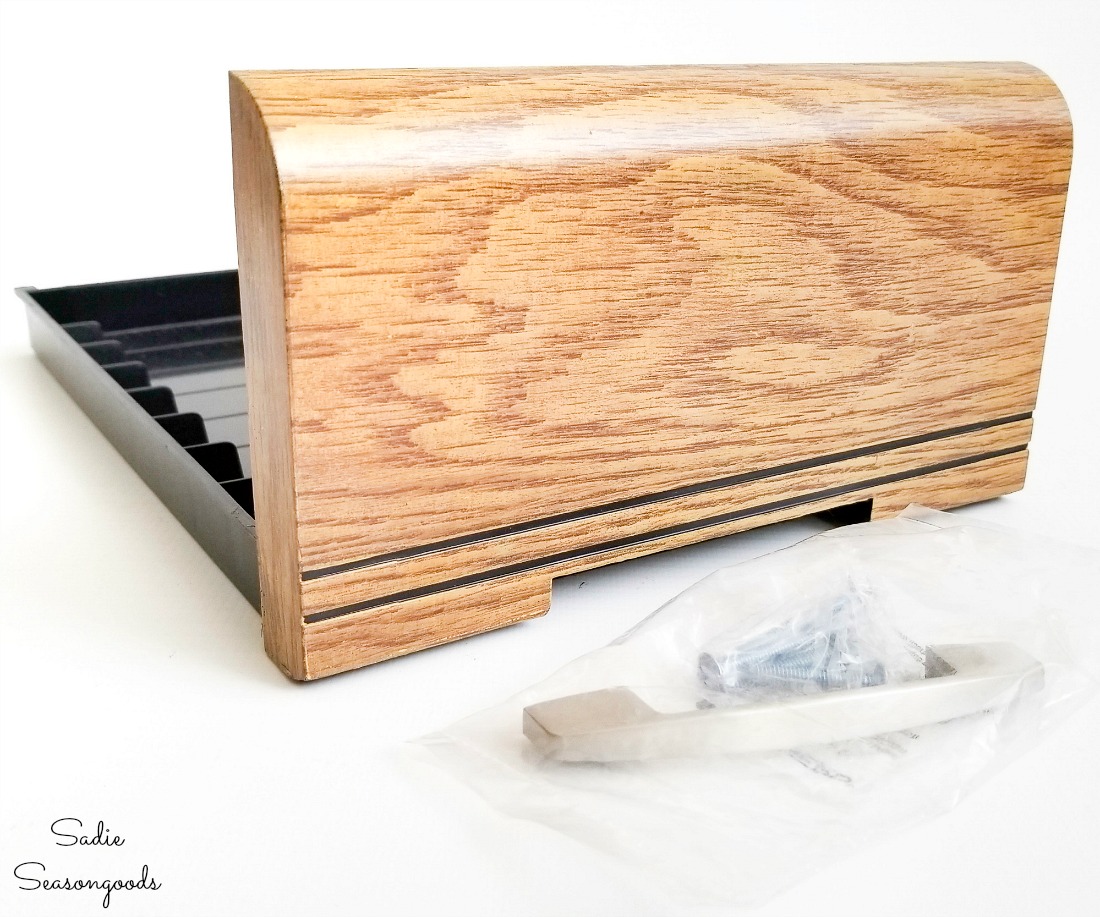 But first, I needed to pre-drill the holes before painting, just so I didn't scratch up the painted finish
I bought some very basic drawer handles and measured out placement for the drill holes on each drawer.
I temporarily attached them just to make sure they worked and set the handles aside.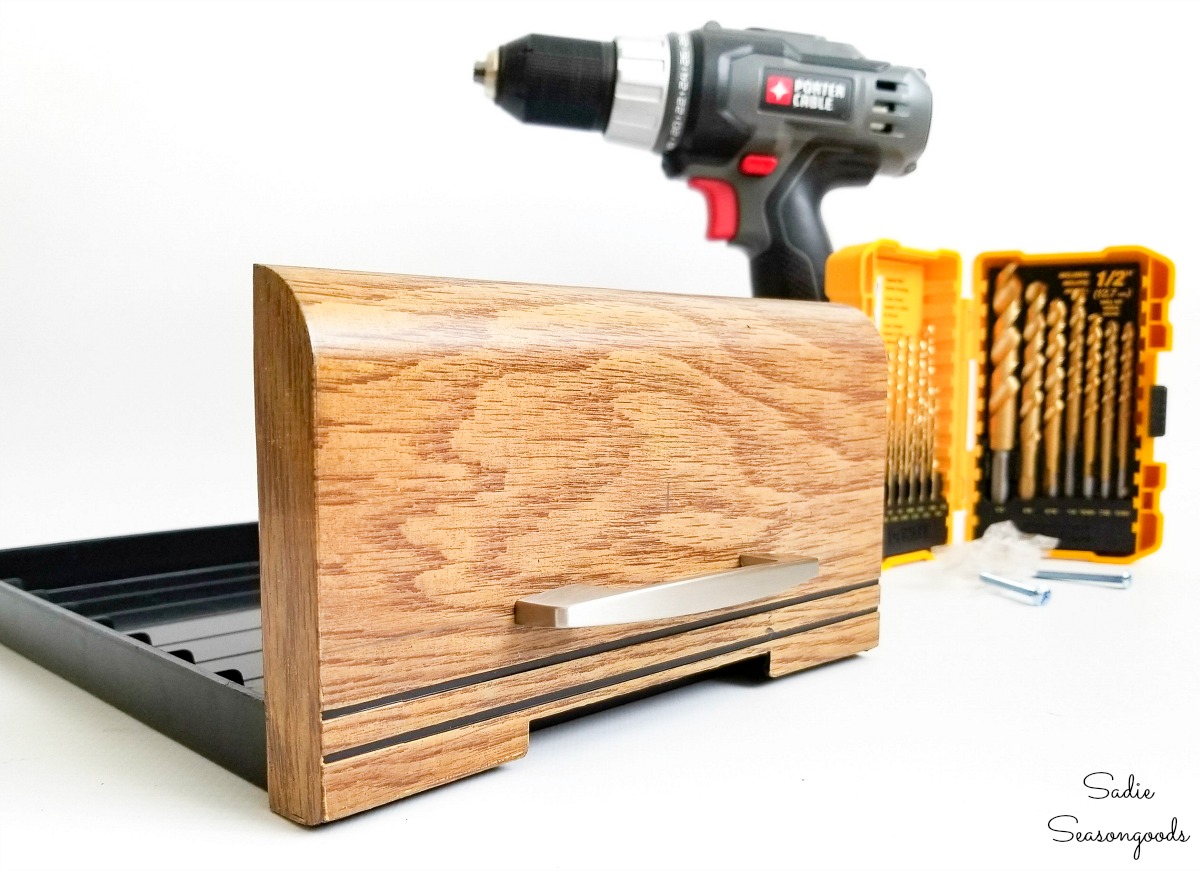 Like I had done with the plywood base and VHS storage cases, I painted the drawer fronts with grey primer and metallic spray paint. I also brushed on a clear matte topcoat afterwards.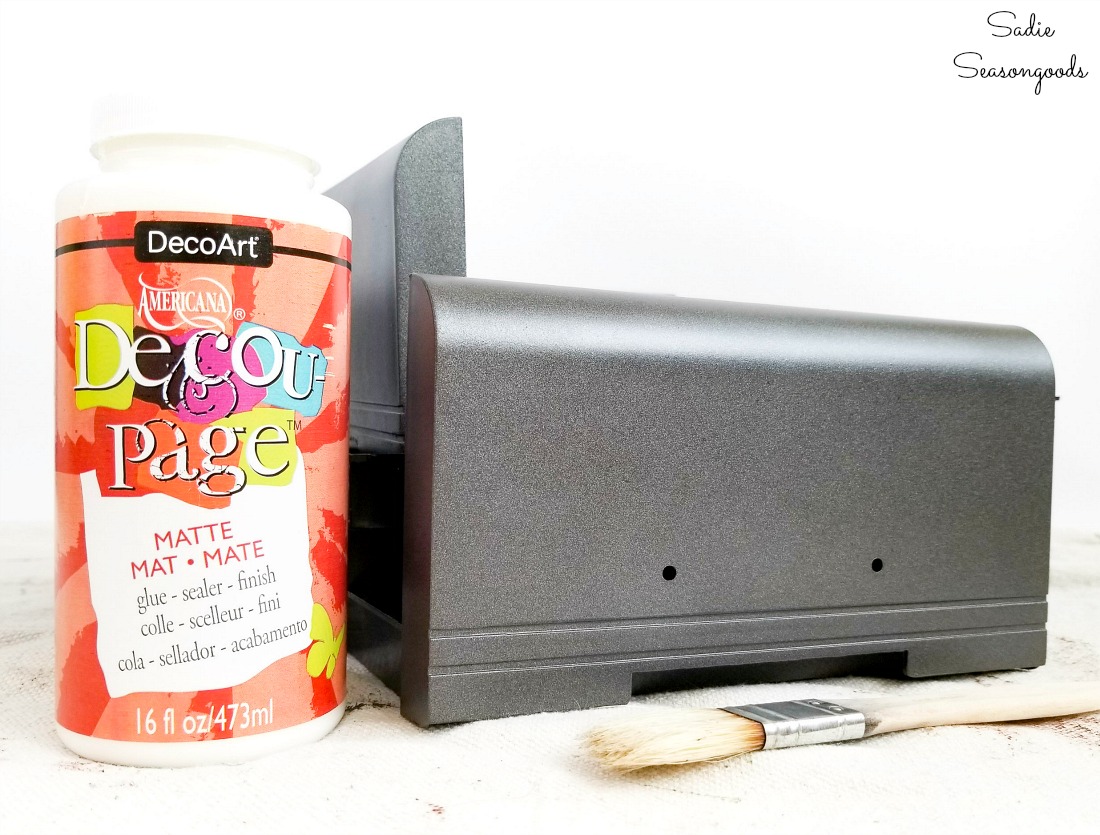 Then, I re-attached the drawer handles to each drawer front.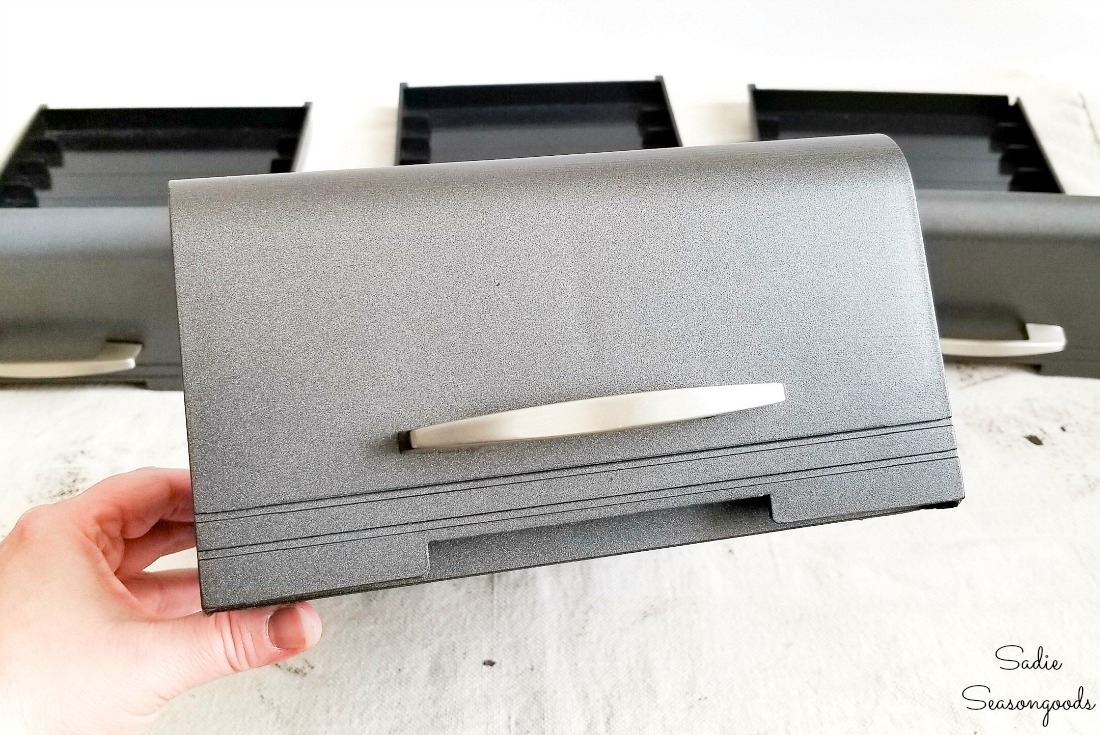 And just like that, all the components of the industrial side table from VHS storage were done and ready to be assembled together!
Industrial Side Table from VHS Storage
I glued on some label holders (which I spray painted with brushed nickel to match the handles) to each drawer front and slid them back into the case.
AND THERE IT IS- my very own metal card catalog or industrial side table!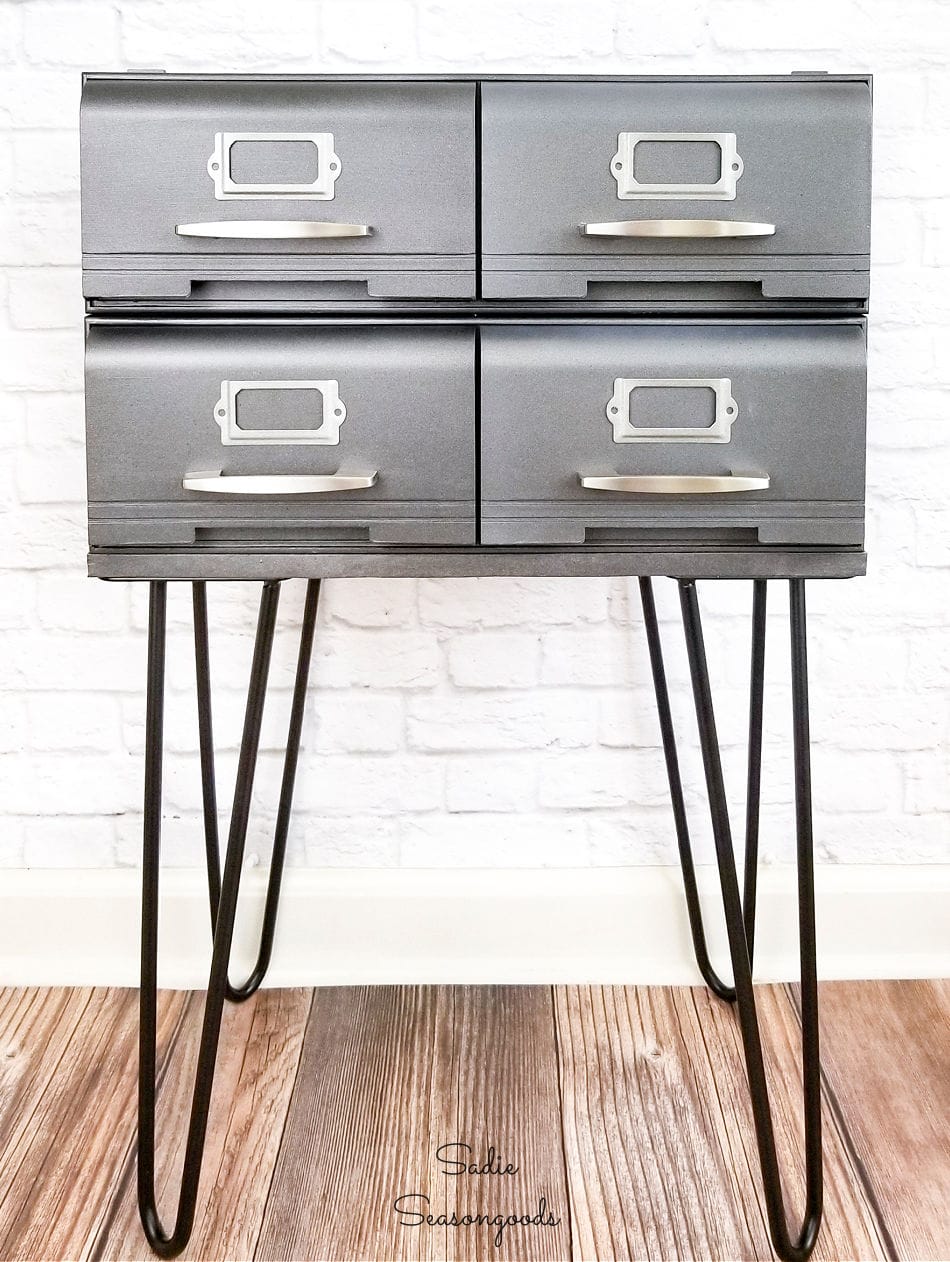 Isn't that amazing? Would you even know that this industrial end table started out as VHS storage cases?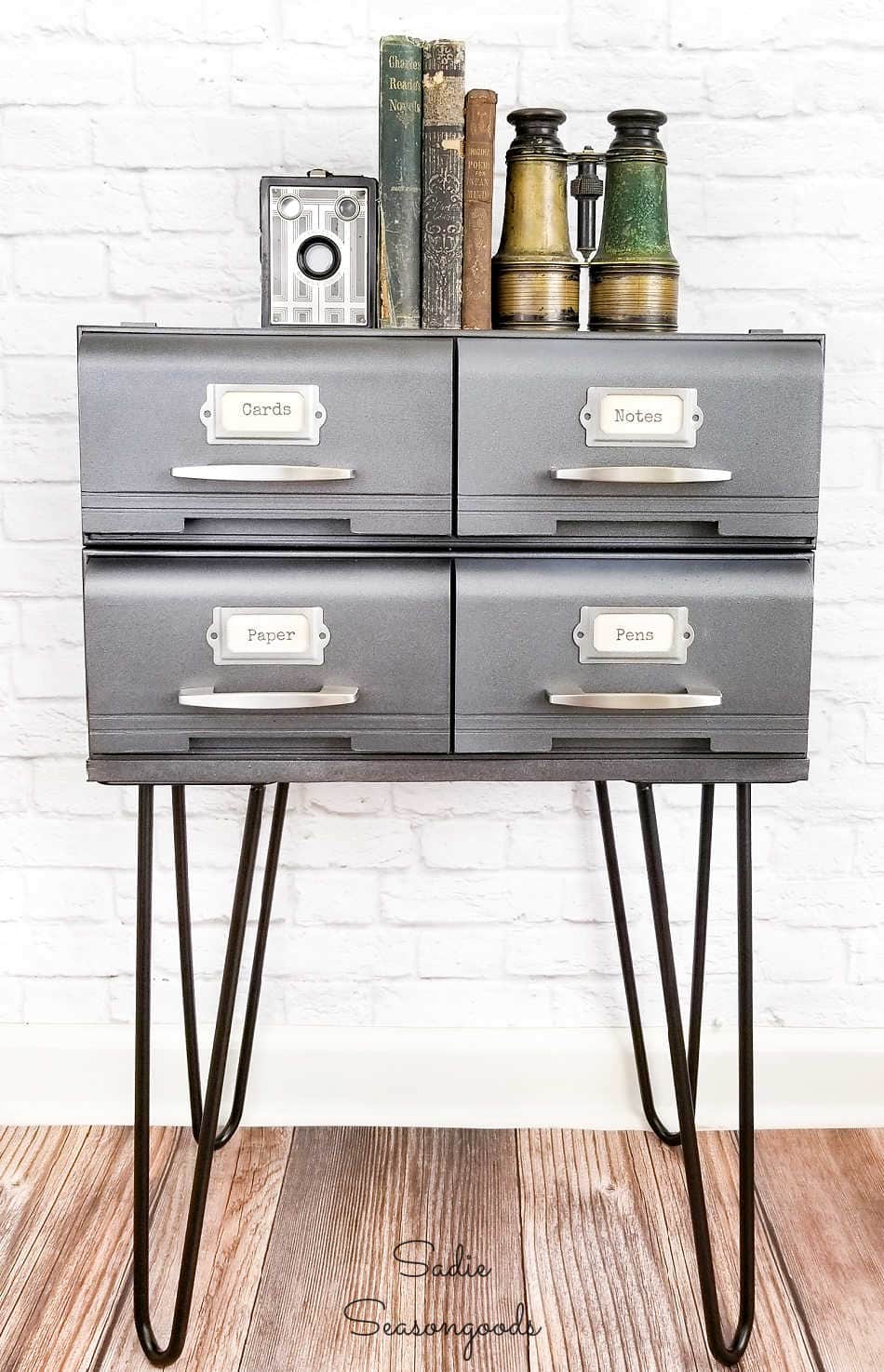 I just love it when my crazy visions become a reality…and in this case, even better looking than I could have imagined.
Wondering how I'll actually use my industrial side table? I will either purchase or construct perfectly sized drawer organizer boxes and glue them to the inside of each drawer. That way, I'll be able to store odds and ends inside of it, without issue.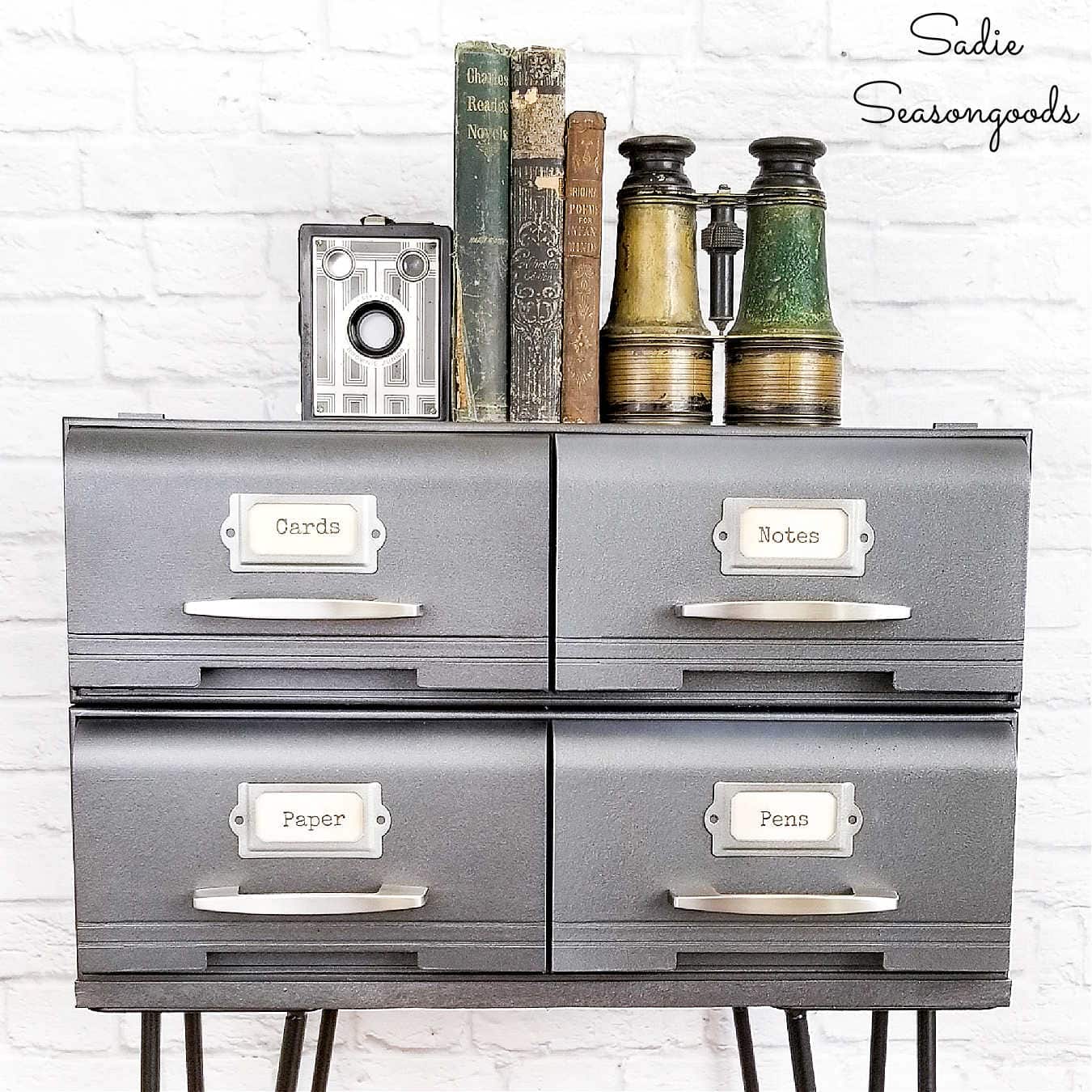 So, what do you think? Will you look at outdated VHS storage cases differently now?
If you enjoyed this upcycling project for DIY industrial furniture, then you'll love this rotating hardware bin that I made from another thrift store find!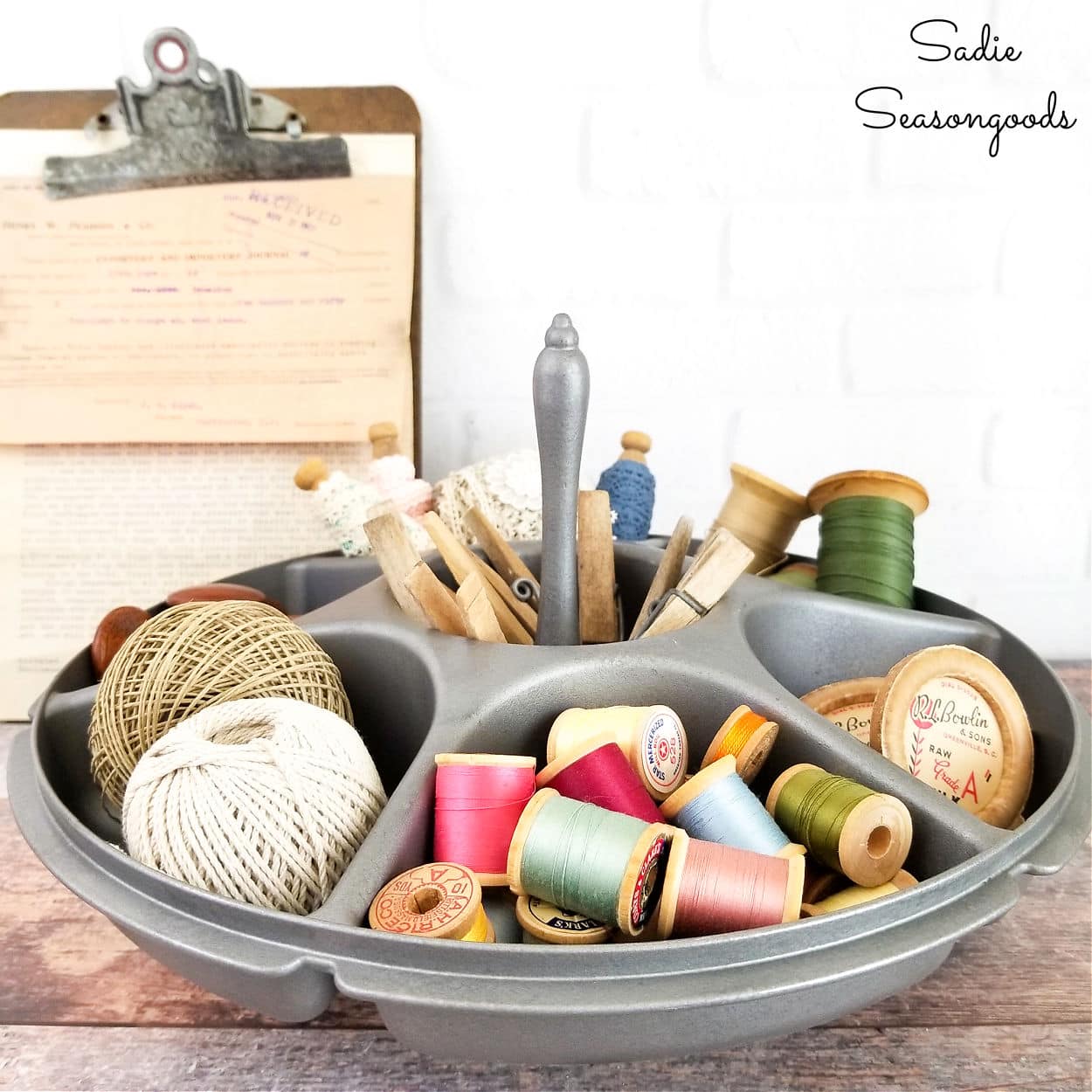 Craft on!
S
Want to be notified when I publish my next upcycling project tutorial?
Subscribe to Blog via Email
Join me on Social Media:

PIN ME!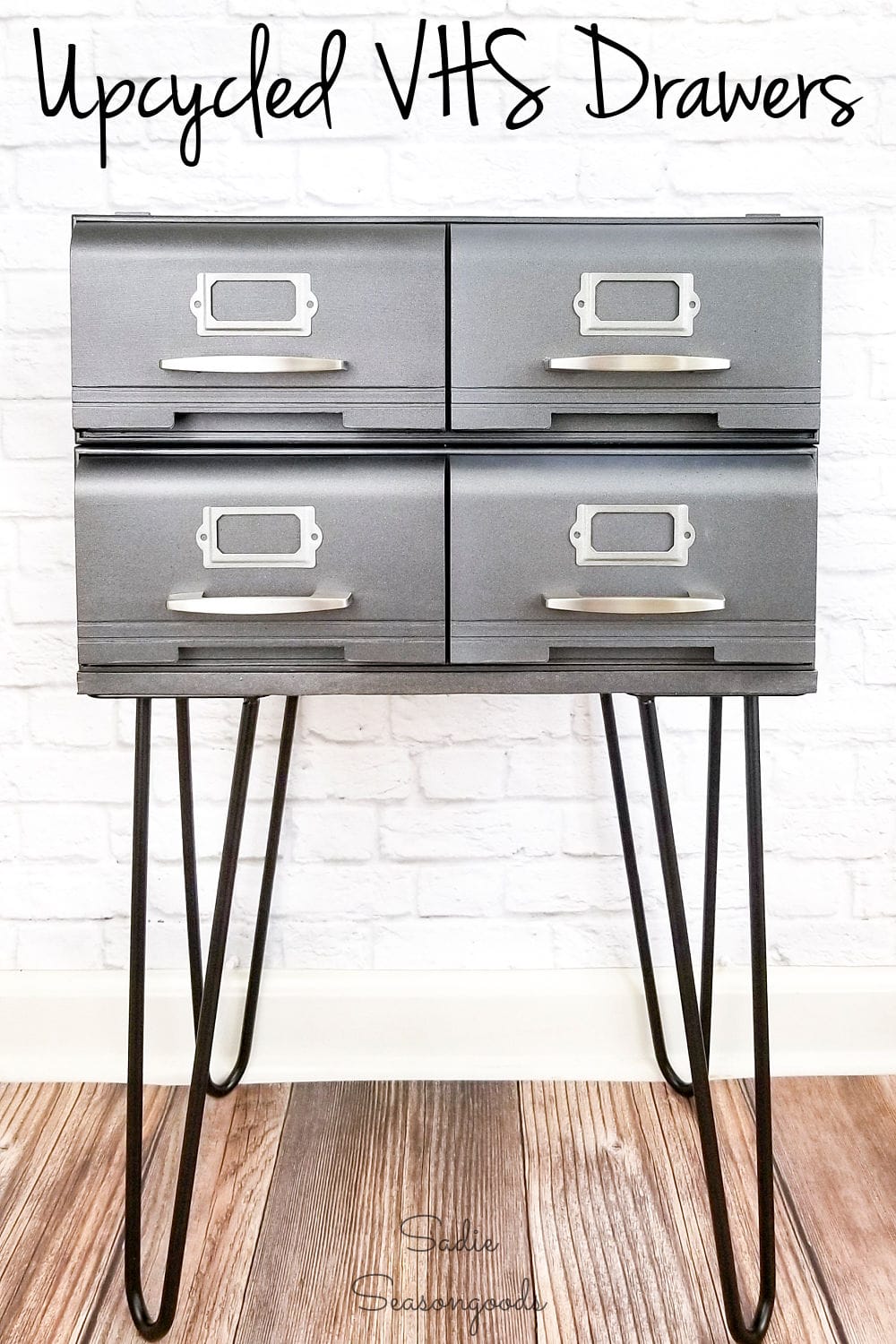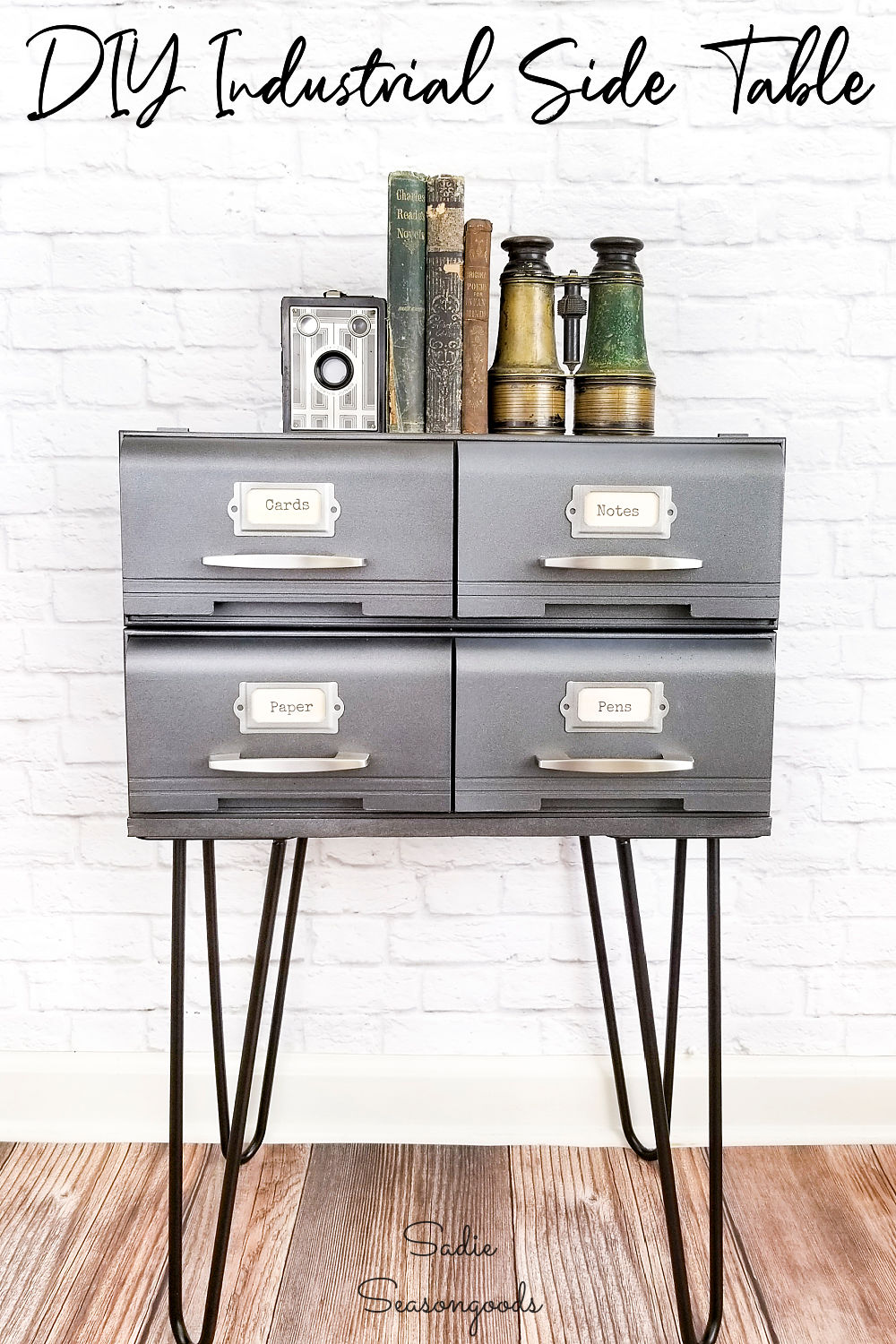 Sarah Ramberg is the owner of Sadie Seasongoods, a website that celebrates all things secondhand. From upcycling ideas and thrifted decor to vintage-centric travel itineraries, Sadie Seasongoods is a one-stop shop for anyone who loves thrifting and approachable repurposing ideas. Sarah is also the author of "Crafting with Flannel" and has been featured in numerous media outlets and magazines.