Boho decor (or Bohemian decor, gypsy decor) is hot and trendy right now. From bright colors to purposeful clutter (or maximalism), it feels, in many ways, to be a direct response to the neutral, pale palette of modern farmhouse. In this "Thrift the Look" challenge, my blogging friends and I decided to take on modern Bohemian style – and I am SO EXCITED to share it with you.
Unlike previous Thrift the Look challenges, the Creative Vintage Darlings (as we're known on Facebook) each selected a different photo of Boho decor to replicate using thrift store finds and minimal DIY/upcycling.
I selected a gorgeous vignette by Justina Blakeney, who is the Bohemian decorating goddess behind The Jungalow.
To recreate this vignette, I mentally divided the items that I could thrift and/or the items that I would upcycle. This post contains affiliate links for your crafting convenience. As an Amazon Associate, I earn from qualifying purchases.
Thrift the Look: Boho Decor
Over the course of a few months, I collected modern Bohemian items such as a flower pot / vase, some natural stone elements, a wall basket, and something "green".
Why something green? Because I wasn't about to invest a lot of money in houseplants that I would inevitably fail to keep alive. And houseplants are a HUGE element of boho decor…so my touches of green would need to come from other objects.
Now onto some upcycling the fill in the gaps. Because I didn't actually have a wonderful old cabinet filled with folded blankets and quilts, I decided to combine the stack of books with the folded blankets. First, I thrifted some vintage encyclopedias…
I painted each cover and spine in bright colors – nothing fancy, about two coats of paint each.
A variety of colors was used to symbolize the fabrics in the cabinet. I have a LOT of latex paint samples from previous projects or the "Oops" bin, and they were perfect for this.
They were well on their way to becoming decorative books for Boho decor! Because they'd be stacked together, spines forward, I decided to decorate them using recycled ribbon made from old Saris! (I got these on Etsy.)
Coordinating ribbon swatches were decoupaged on the spines and that was it! Now I had a stack of decorative books that were perfect my boho room decor / gypsy decor vignette.
Ready to see how I put everything together in my Thrift the Look photo?
Boho Decor from the Thrift Store
With the photo from The Jungalow in your mind, here is my take on Ms. Blakeney's delicious modern Bohemian style.
What do you think? Did I come close to replicating her Boho decor with my thrifted / upcycled version?
I will be 100% honest with you – I am positively THRILLED with this challenge and have been officially bitten by the Boho bug. So, expect to see more boho room decor upcycling projects from me in the future.
If you look closely, there's another Boho upcycling project lurking in my photos…and you can check it out here!
*****
And of course, make sure you visit the other bloggers who are thrifting their own boho room decor vignettes. Just click on their blog name(s) to be magically transported to their blog posts.
Sadie Seasongoods      |         Vin'yet, Etc.       |        One House, 2 Barns

Itsy Bits and Pieces       |    Lora B. Create & Ponder       |     Audrey Would
*****
How about a final side-by-side comparison before I wrap this up? I really did have the most fun with this boho decor challenge…
If you enjoyed this post about finding modern bohemian decor at the thrift store, then you'll love my idea for transforming antique bottles into modern boho decor!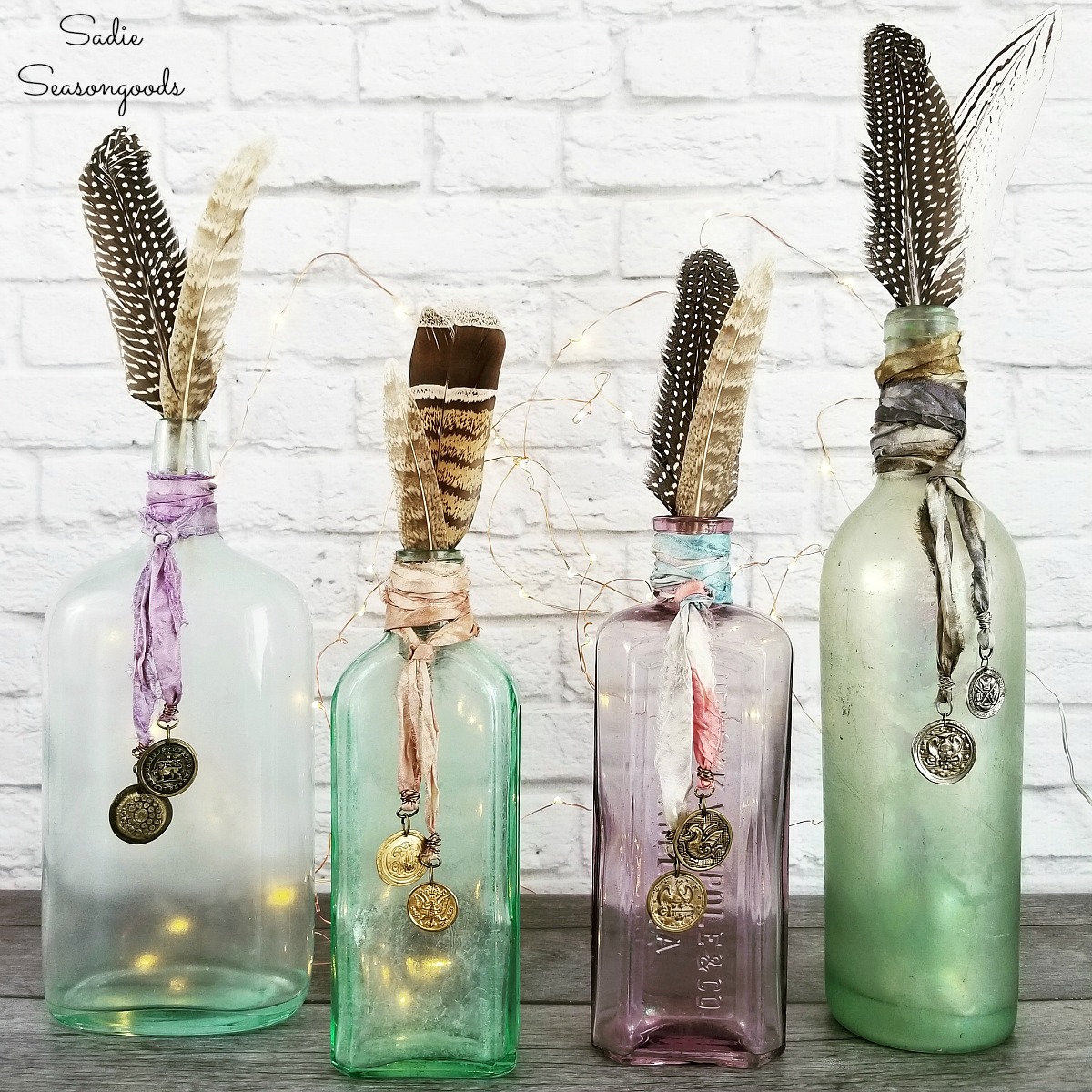 Craft on!
S
Want to be notified when I publish my next upcycling project tutorial?
Subscribe to Blog via Email
Join me on Social Media: