I recently went on a thrifting adventure in Spartanburg, SC- a town not too far from where I live (and where I was recently interviewed for their local paper!). And let me tell you, the thrifting angels were singing from above. I found future project after future project, driving home with a car load of fun finds. And one of those finds was a condiment caddy that seemed destined to become a planter for mini succulents.
The small stainless steel bowls seemed like they would be perfect as succulent pots.
My plan was to transform the condiment caddy into a farmhouse planter by painting the stainless steel bowls and the wooden carrier. Then, it would be ready for small succulents to be planted inside!
This post contains affiliate links for your crafting convenience. As an Amazon Affiliate, I earn from qualifying purchases.
Upcycling a Condiment Caddy into a Farmhouse Planter
First, I started with the small stainless steel bowls that would ultimately be used as succulent pots. For their makeover, I decided to give them the weathered look of galvanized steel.
Painting the stainless steel bowls resulted in a muted, textured silver that was much more pleasing to the eye. And it definitely had more a modern farmhouse style to it, too.
Next, I turned my attention to the condiment caddy. I used spray chalk paint in white to freshen up the wooden carrier.
Next, I distressed the edges with some flexible sand paper. I LOVE this sandpaper when I'm distressing anything round, like the handle on the condiment caddy.
Next, I turned my attention back to the stainless steel bowls. It was time to transform them into succulent pots!
Stainless Steel Bowls as Succulent Pots
In order to (hopefully) improve my brown thumb, I punched small holes in each stainless steel bowl as drainage for the mini succulents.
There were several layers that I wanted to add to my succulent pots. Keeping succulents alive has been a struggle for me in the past, so I really wanted to do this right!
First, I started out with with small circles of screen mesh. I cut them out using my heavy duty shears and placed one circle in the bottom of each bowl.
The screen mesh would help keep soil from seeping through the drainage holes.
Next, I added a layer of gravel over the circles of screen mesh.
And bonus! I used the screen mesh that was left over from my doily display projects and gravel left over from my Ireland Jar! I love using up craft supplies in multiple projects!
NOW I could transplant the small succulents into the stainless steel bowls.
After hearing that Vermiculite was great for succulents, I used it as potting soil in the condiment caddy.
Last but not least, I needed to top the Vermiculite to keep it from blowing away (it's extremely lightweight).
Regular gravel was too large, so I used aquarium gravel or aquarium pebbles, which was much daintier in size.
Condiment Caddy as a Farmhouse Planter for Mini Succulents
With that, the transformation was complete. The condiment caddy was now a farmhouse planter for mini succulents!
And if you're over succulents, any type of small indoor plant would likely work!
The condiment holder worked perfectly as succulent pots. Plus, it's easy to move around from room to room, sun and shade.
**Update**: I have kept one of the mini succulents alive for a couple of years now! She grew big enough to require a larger pot, so I transplanted her into a vintage McCoy planter.
If you enjoyed this upcycling idea for an indoor planter, you will love this project for cactus decor or faux cactus. You will not BELIEVE what I upcycled to make them!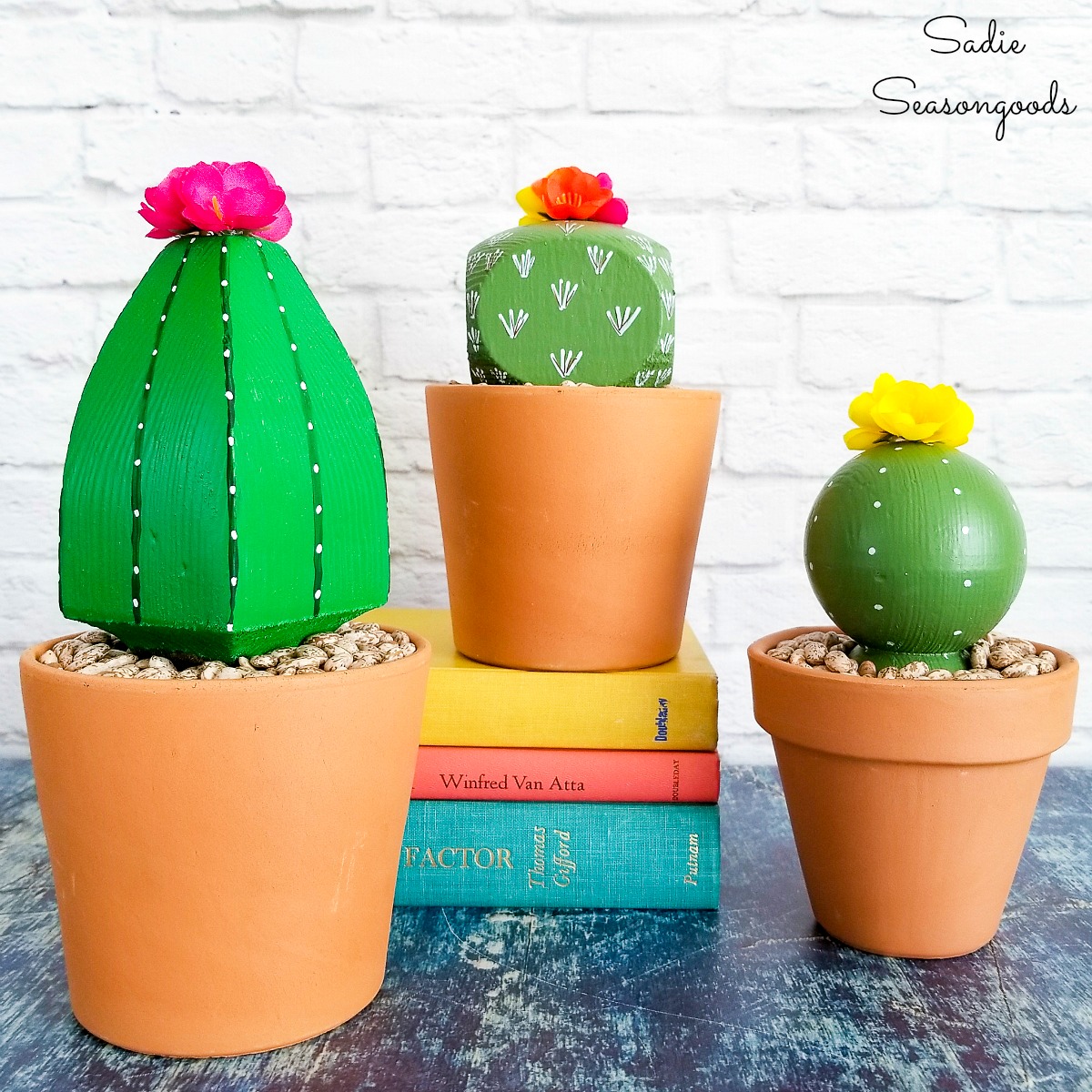 Craft on!
S
Want to be notified when I publish my next upcycling project tutorial?
Subscribe to Blog via Email
Join me on Social Media: