Several years ago, I stumbled across this small decorative sled at a thrift store. Though it was slightly bigger than your typical wreath, I still planned to use it as one. It languished in our garage for a while and even survived the pre-move purge. But, I've FINALLY transformed it into Christmas sled decor for our front door.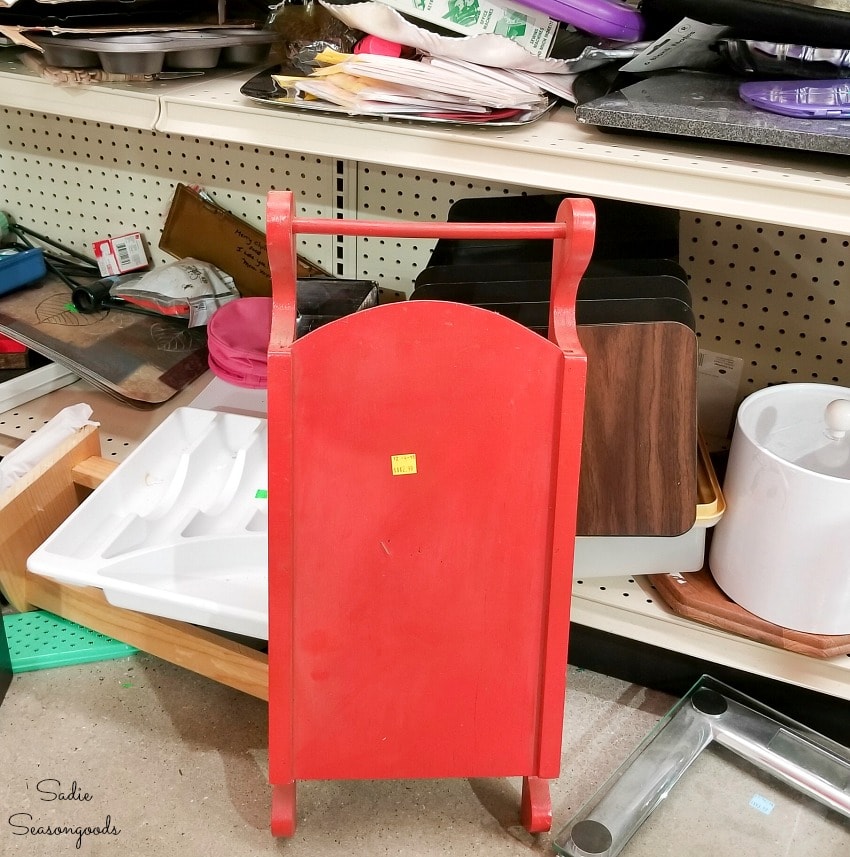 It took me a while to develop a vision for it. After bringing it inside to clean up, I also realized it was more tomato-red than cherry-red.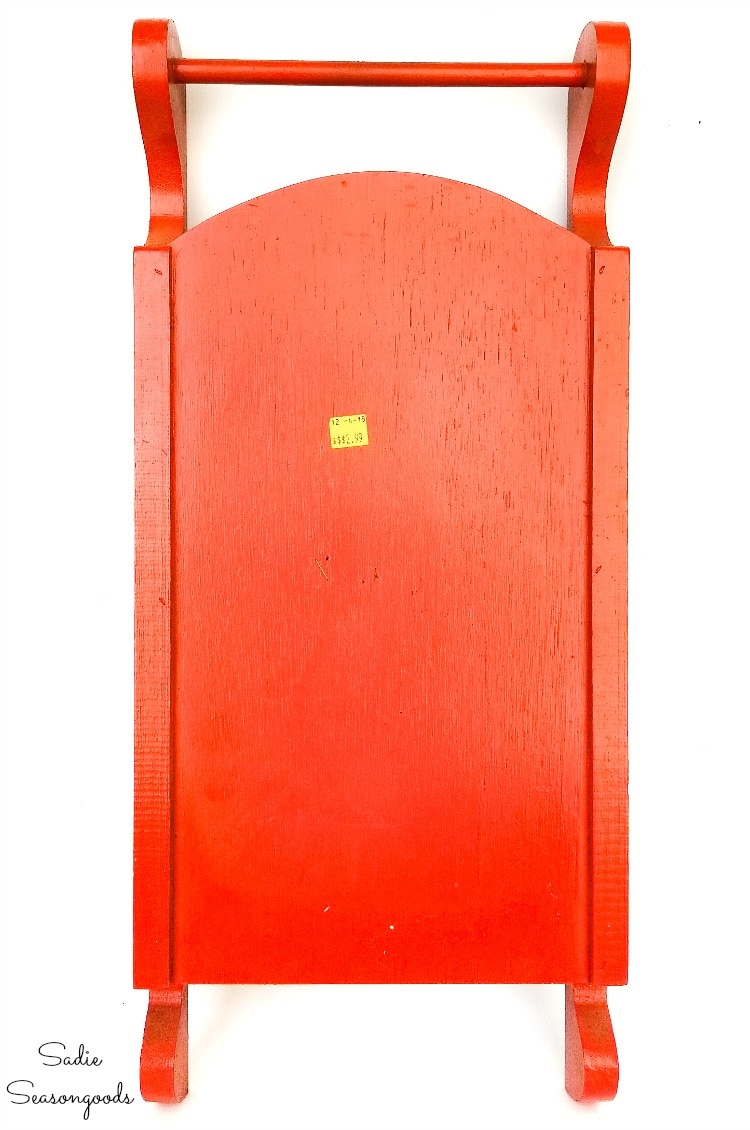 Obviously not a problem, but still a surprise.
Anyway, my vision involved pairing it with little ice skates. But where, oh where, would I find baby ice skates that would work well with it?
The answer would start with vintage baby shoes.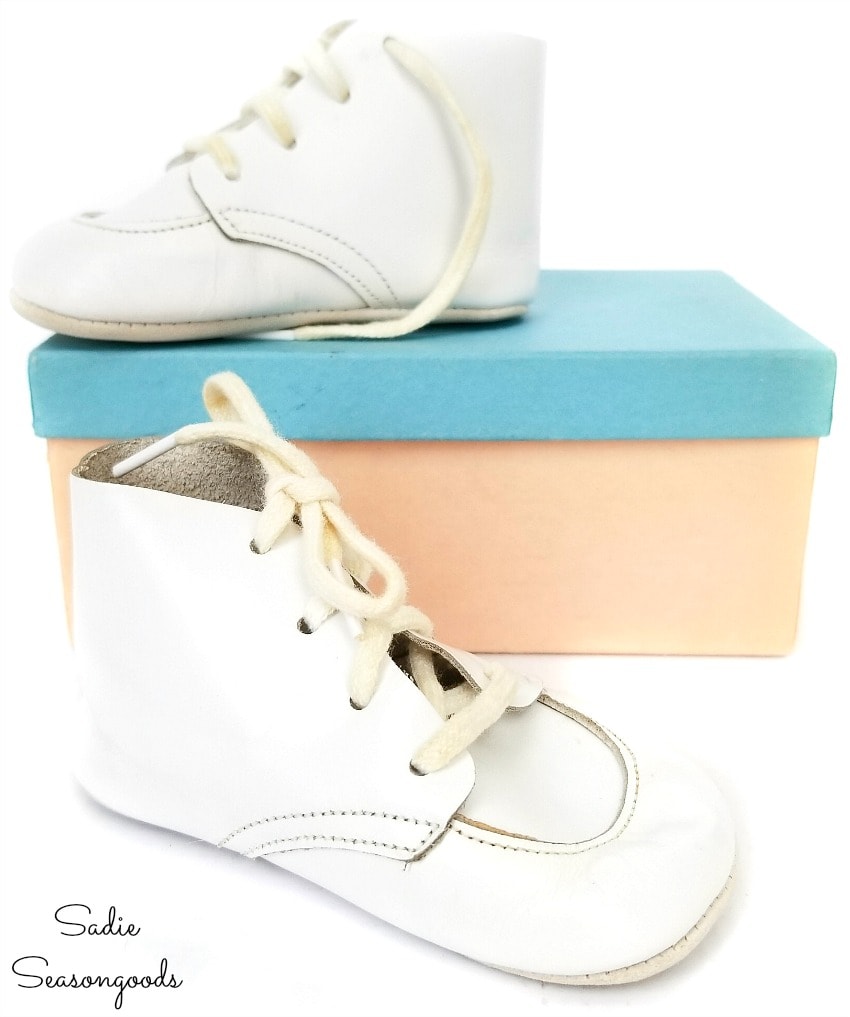 Still with me? Ok, let's get to it!
This post contains affiliate links for your crafting convenience. As an Amazon Affiliate, I earn from qualifying purchases. All blue, bold, and underlined text is a clickable link, either to a product or to a related post.
From Vintage Baby Shoes to Baby Ice Skates
All I needed to do to the baby shoes was add some sort of "blade". Not metal, of course, but something like heavy duty cardboard or rigid-but-cuttable plastic.
First, though, I needed to sketch out the blade shape. I used some real ice skates as a template and a paper bag from our recycling bin to do so.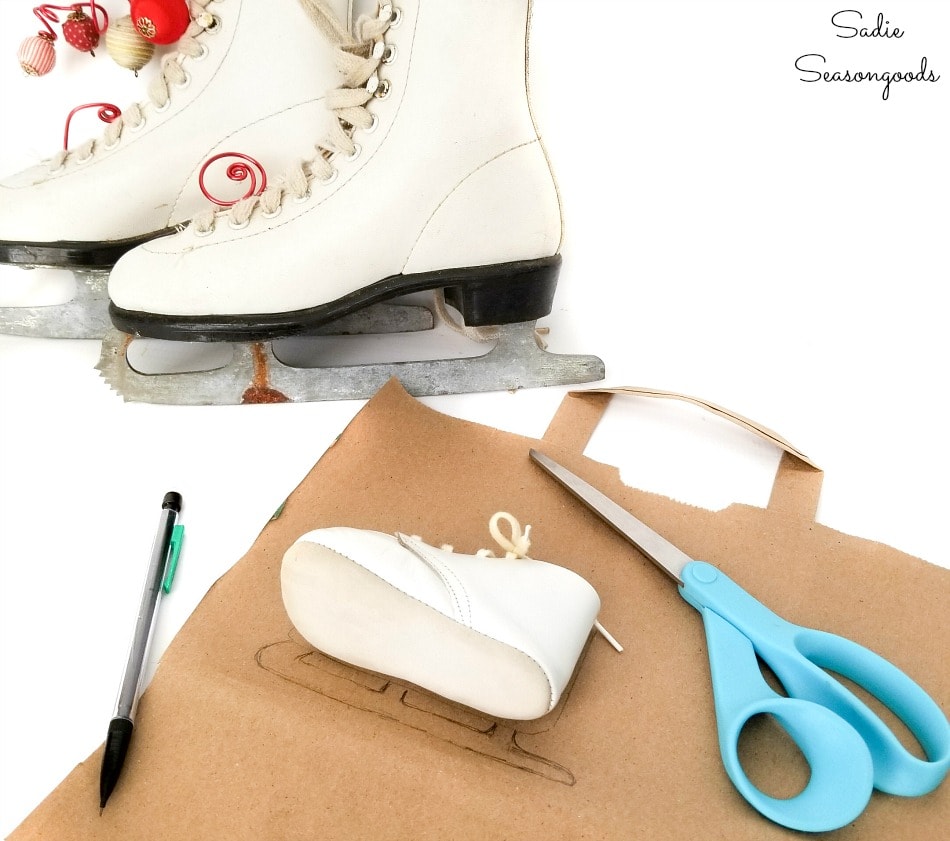 After cutting out the paper blade pattern, I scrounged around for the right blade material. And I settled on a plastic DVD case from our donation pile!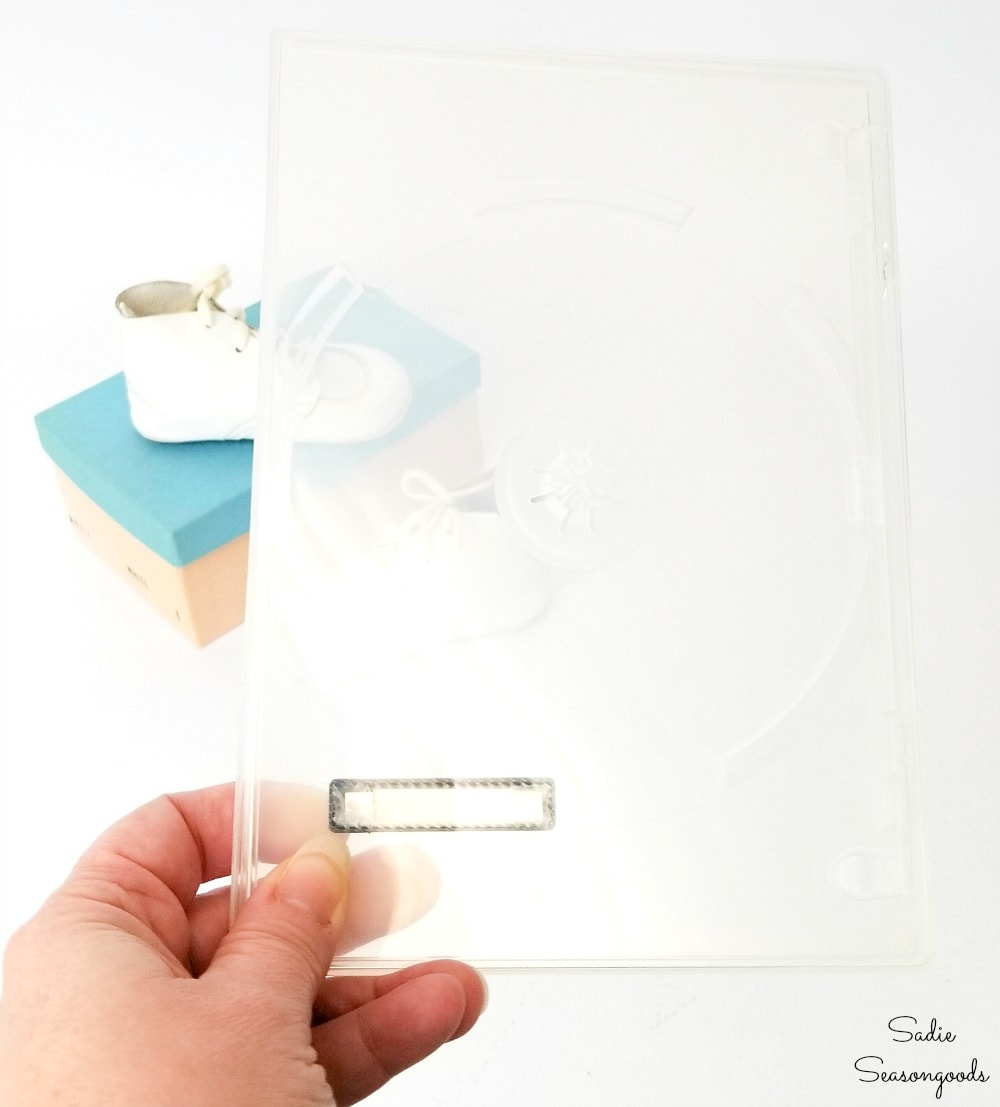 Next, I cut the DVD case in half with my heavy duty craft shears, and traced the blade pattern on the plastic.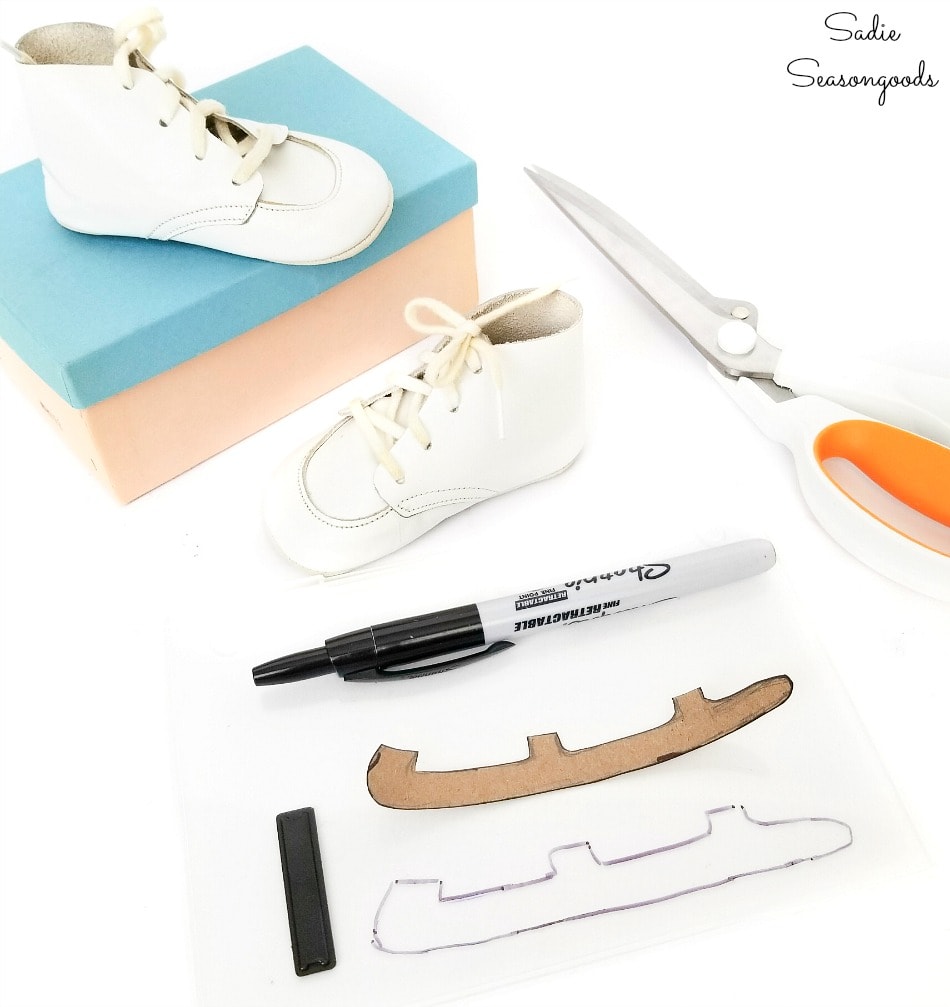 Then, I simply cut out the blades for my baby ice skates!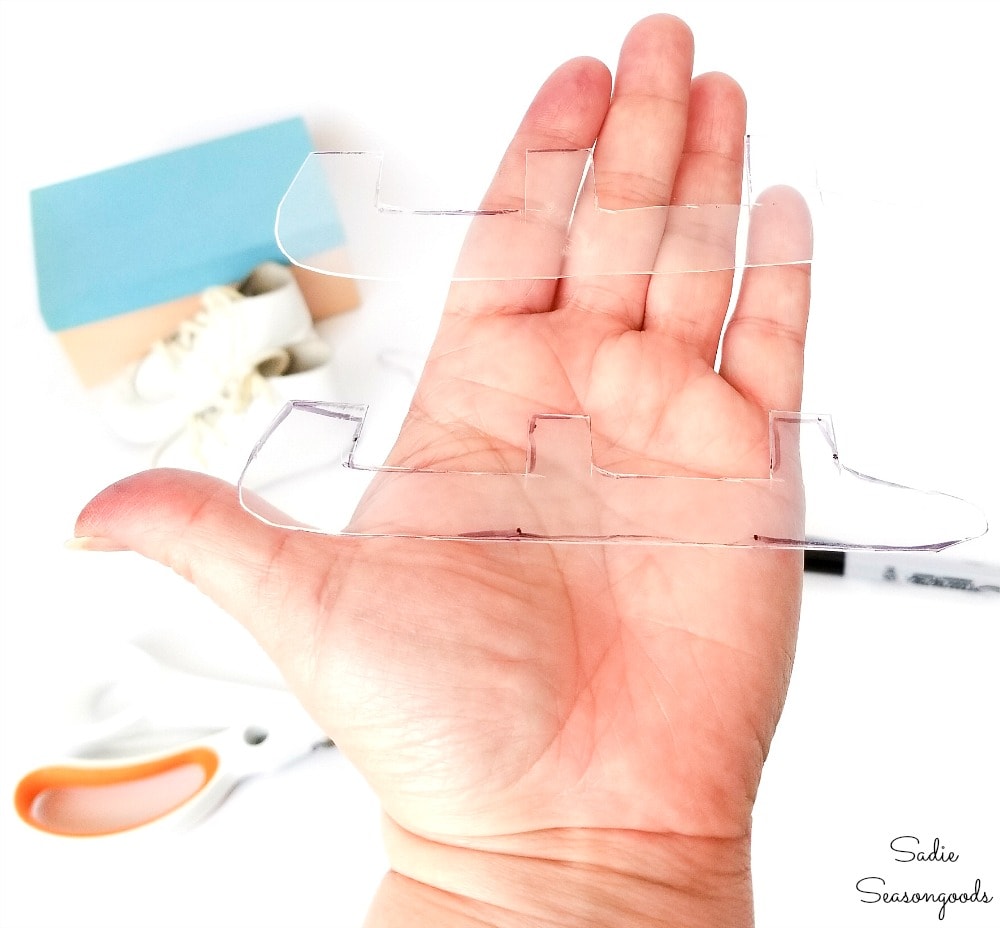 They needed to be silver, of course, so I headed outside to spray paint them.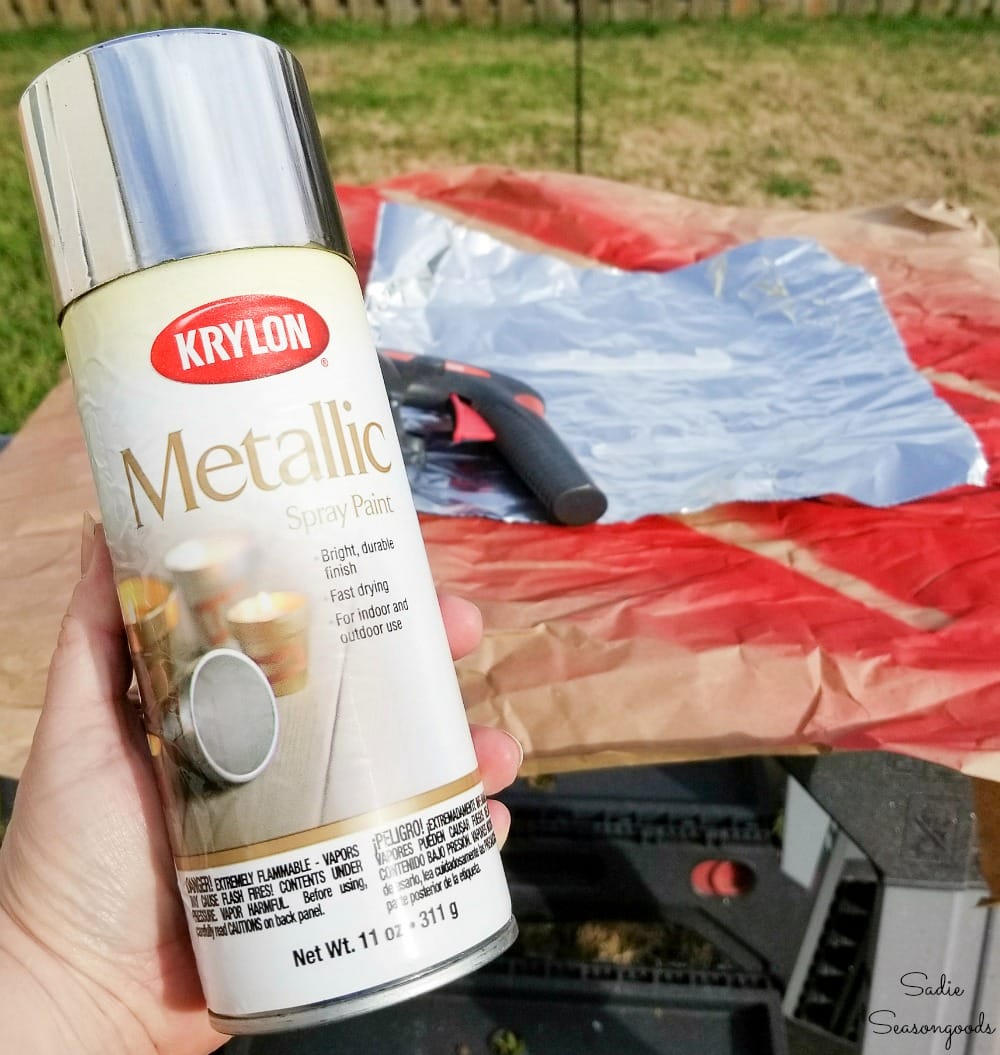 Assembling the Christmas Sled Decor
Once the blades for the baby ice skates had been painted, they were ready to attach to the soles of the baby shoes.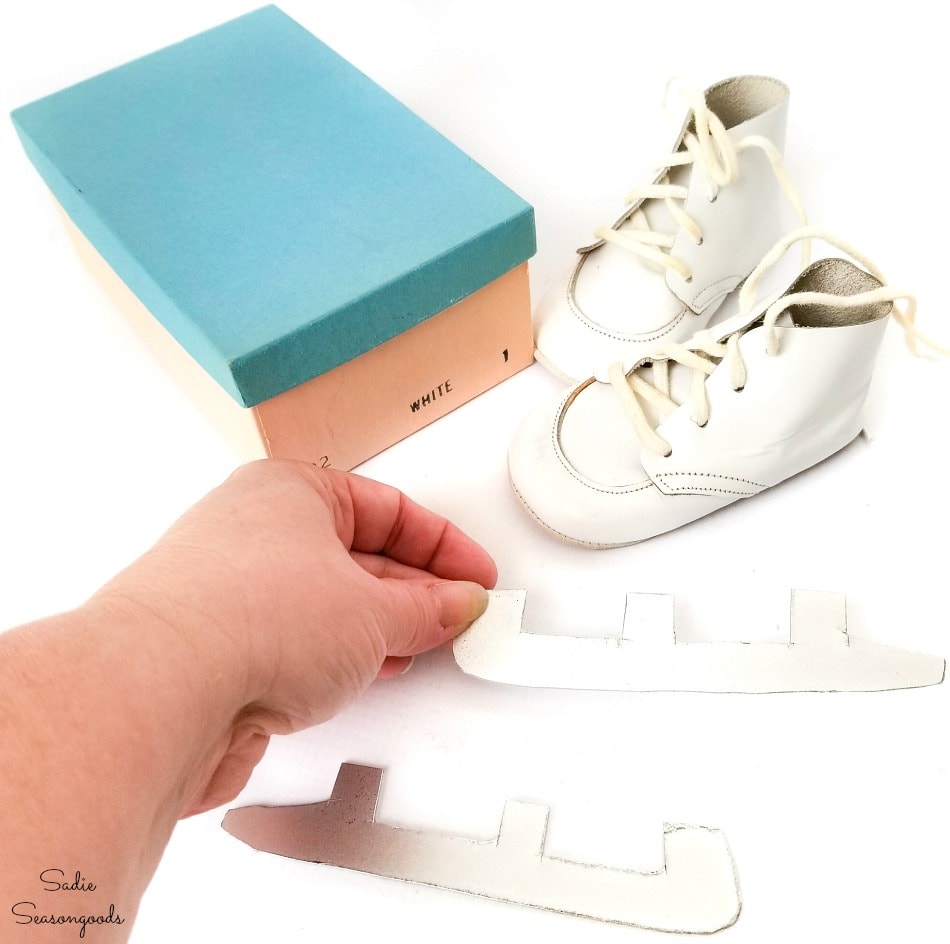 I used my hot glue gun to do that initially, but I shored up the attachment with a little super glue. Just to be sure!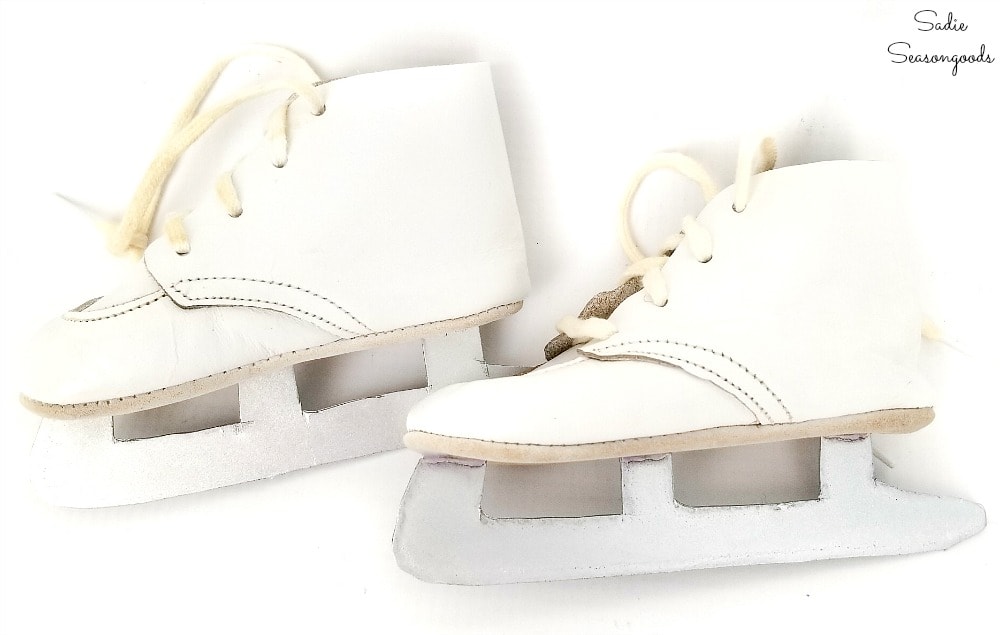 Next, I turned my attention back to the decorative sled. I decided that a brighter shade of red would be preferable, and I already had a can of paint in the garage!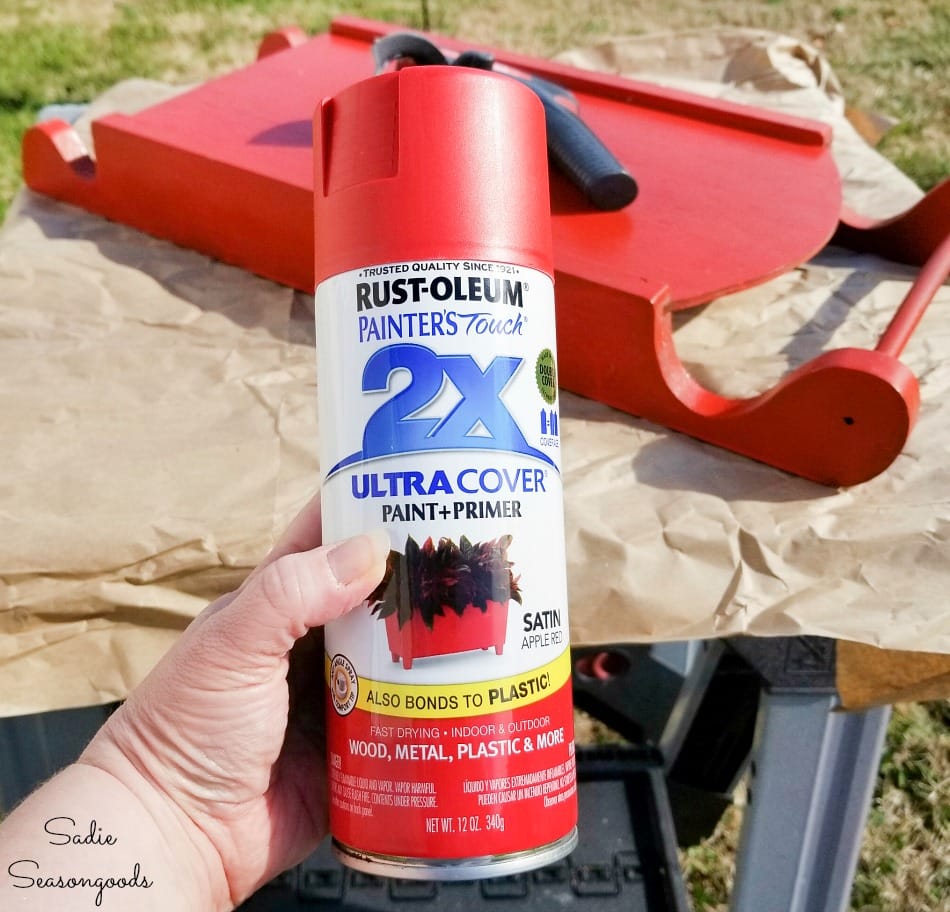 When the red paint had dried thoroughly, it was time to assemble my Christmas sled decor!
I started by screwing in a cup hook near the top where I hung a small wreath (purchased from Michaels).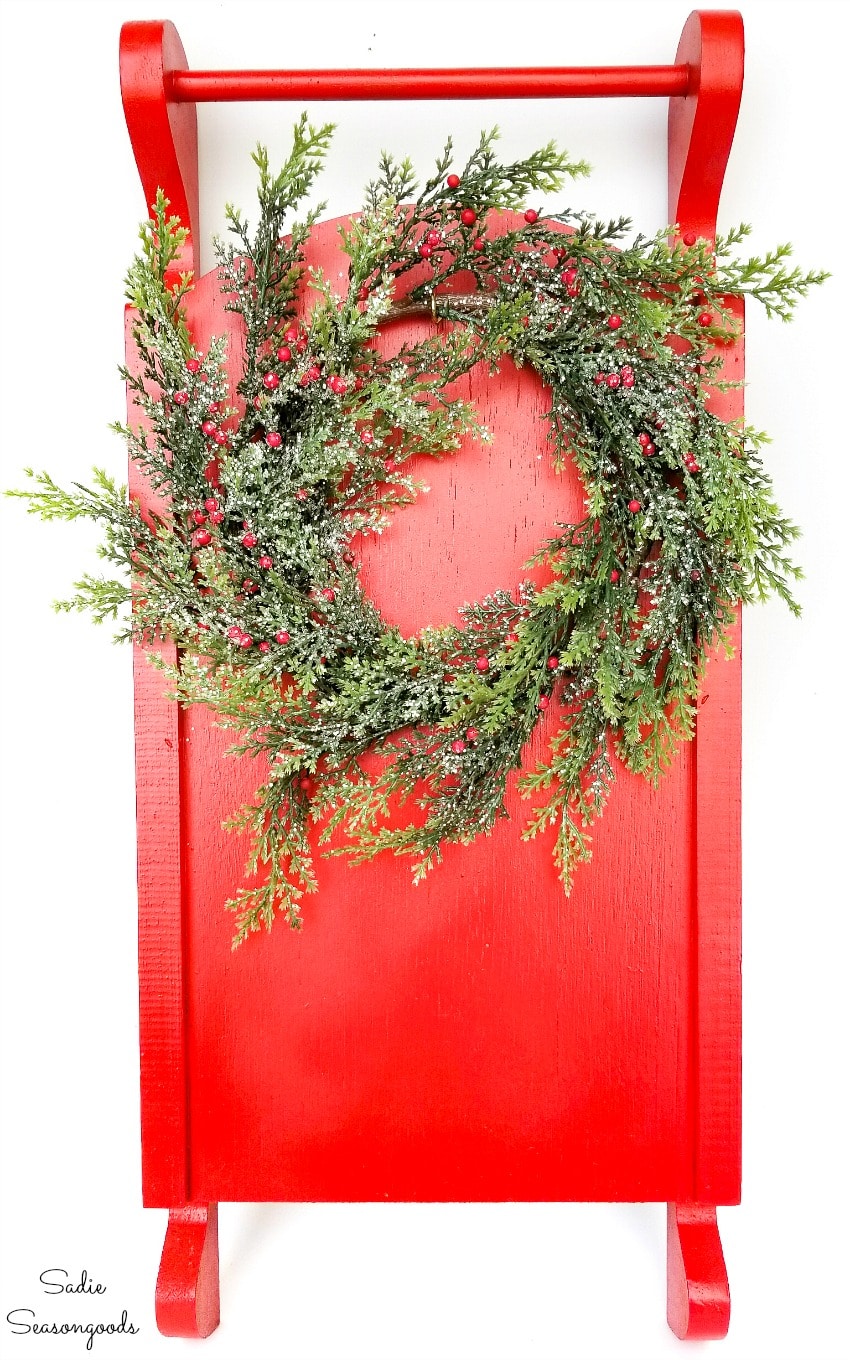 Then, I stitched the shoelaces of each baby ice skate together and looped them (individually) over the bottom of the wreath.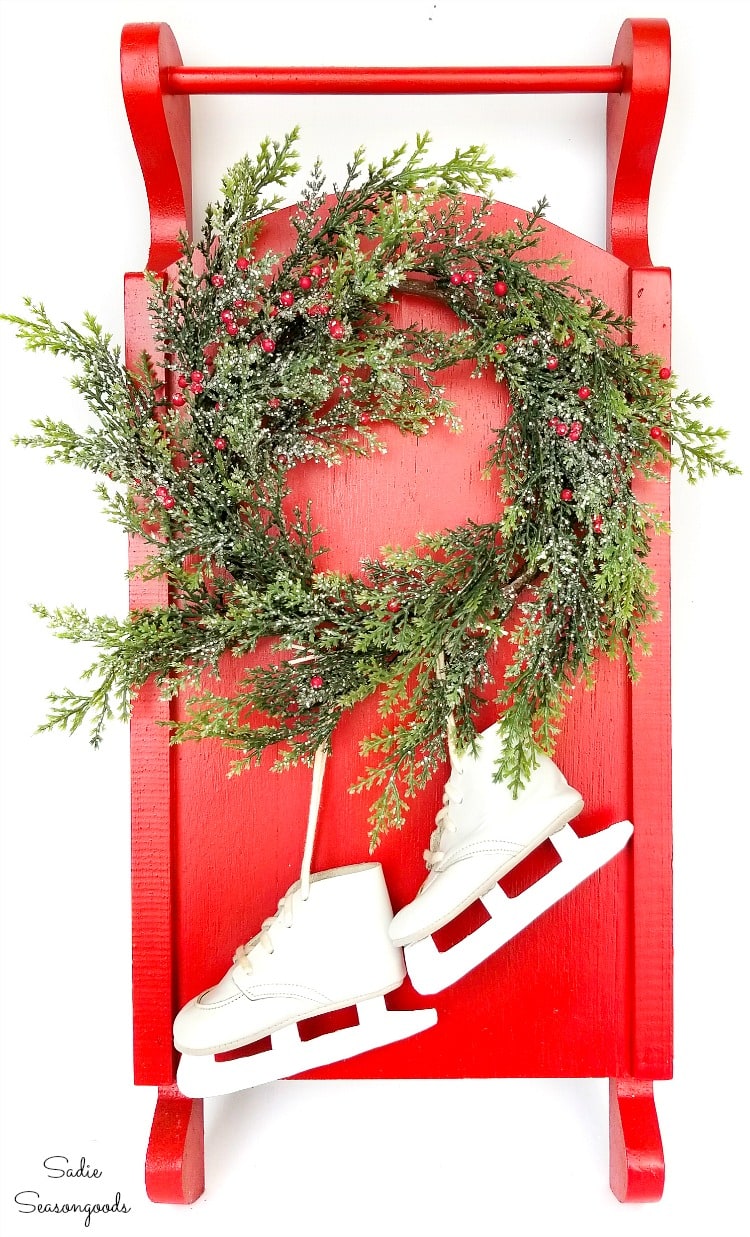 Stitching the laces together prevented a noticeable knot from showing through the greenery!
And let me tell you, it was nearly perfect and I ALMOST stopped there.
Christmas Sled Decor with Baby Ice Skates
Lastly, I topped off the entire thing with a bow made from Christmas craft ribbon!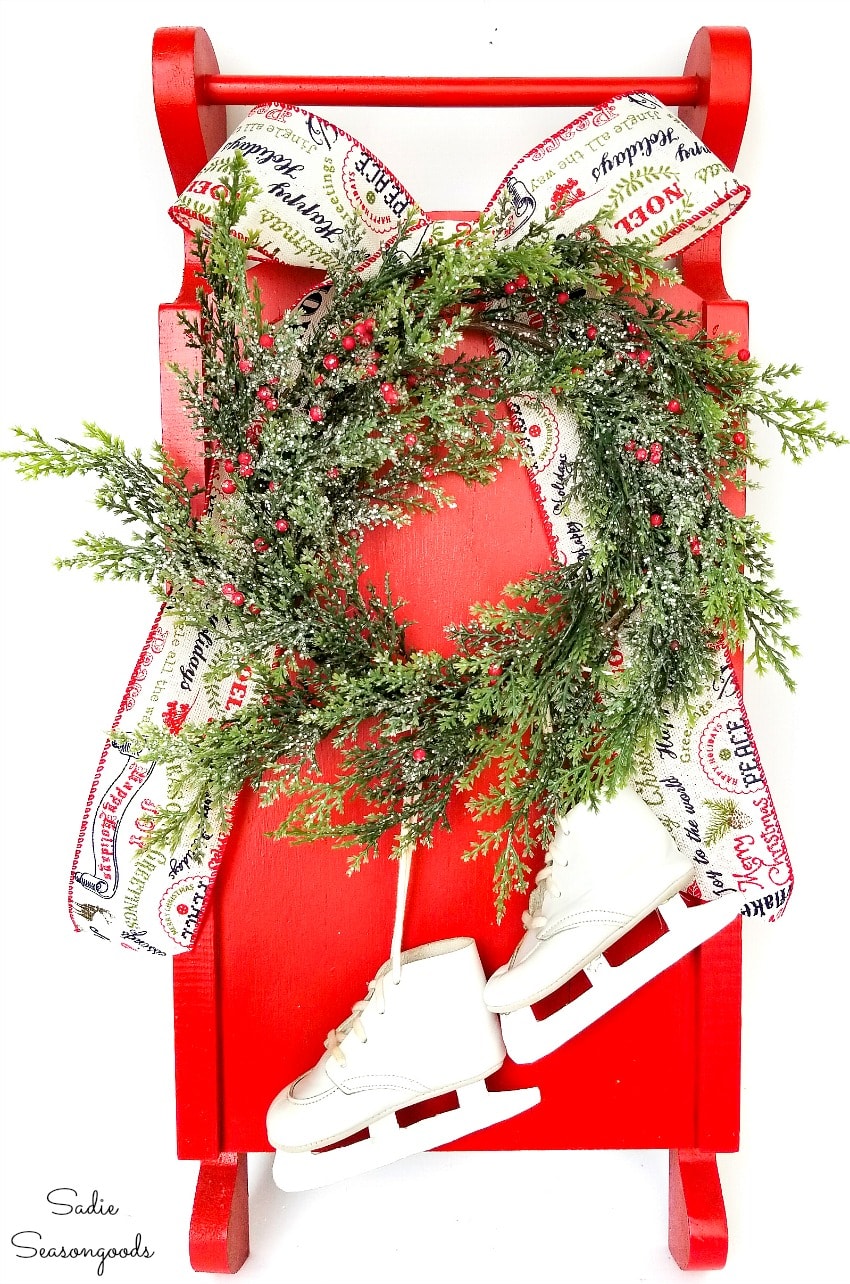 Tell me that is not the CUTEST Christmas sled decor that you've ever seen. The vintage baby shoes as little ice skates worked out BRILLIANTLY.
And on our shiny black front door?
Gorgeous. The entire "wreath" just POPS against the black.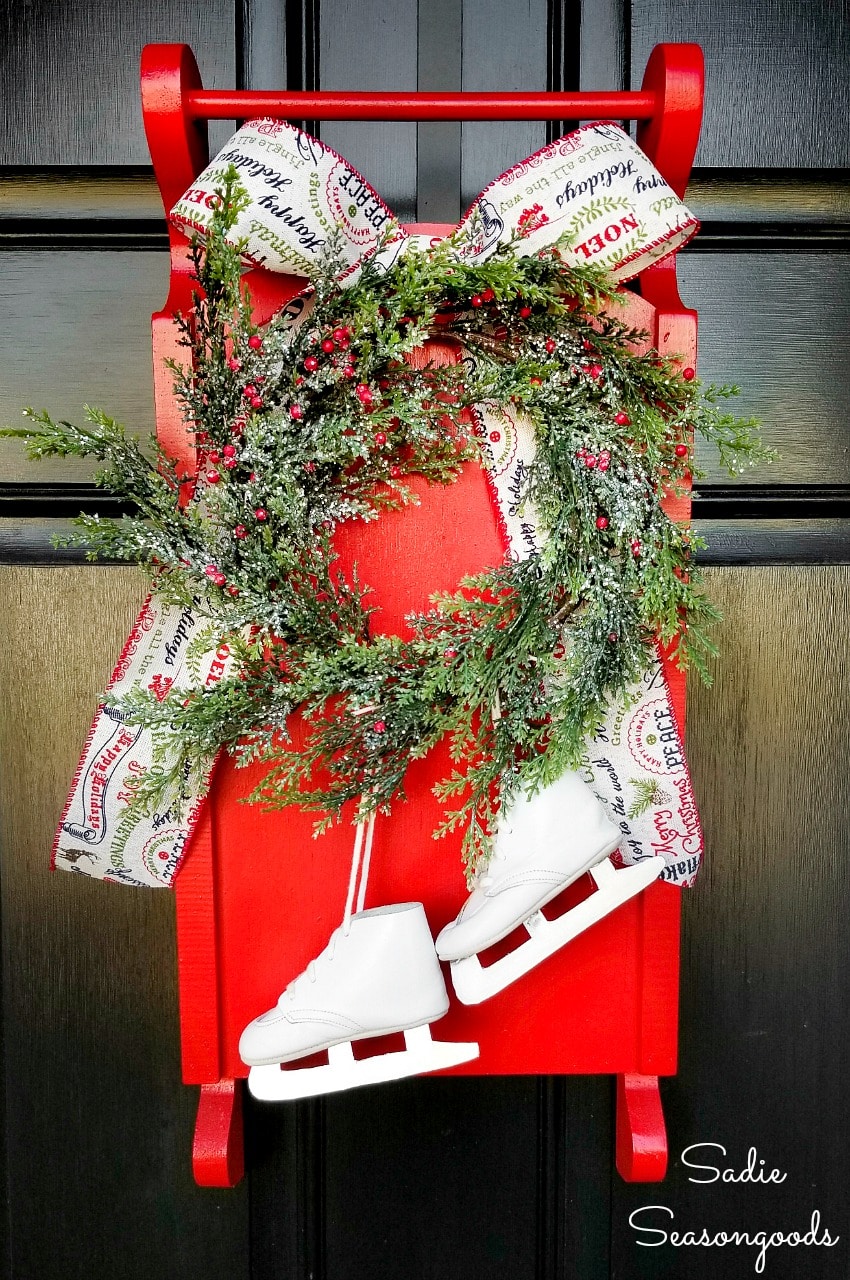 I absolutely love it! I mean, I've loved ALL the Christmas wreaths I've made over the years. But this one has quickly slid into the top #1 spot in my heart!
I'm sure it's the baby ice skates. You know how I feel about mini things…
Speaking of which, if you enjoyed this upcycling idea for Christmas sled decor with baby ice skates, then you may also enjoy this mini ice skating scene, as well!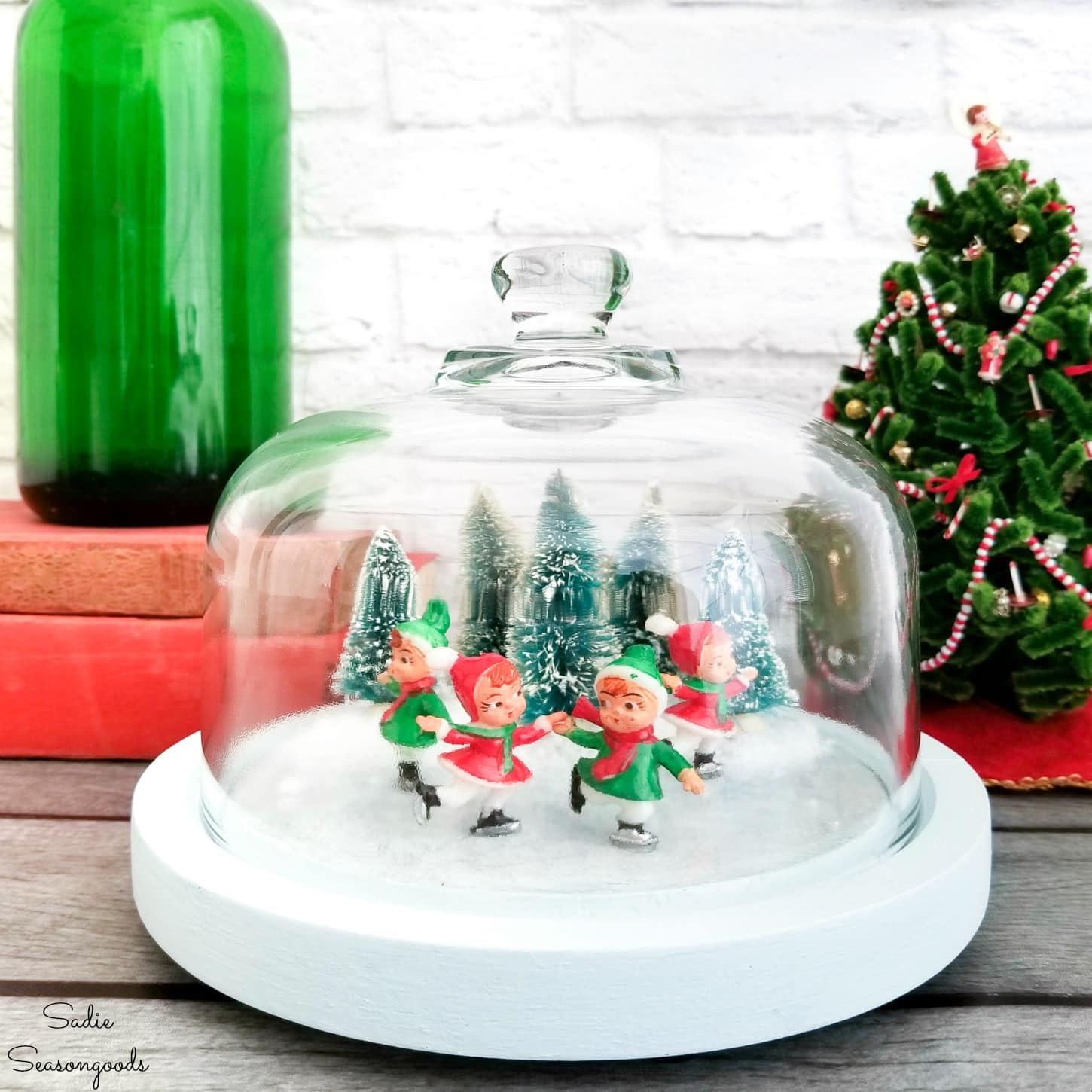 Craft on!
S
Join me on Social Media:

PIN ME!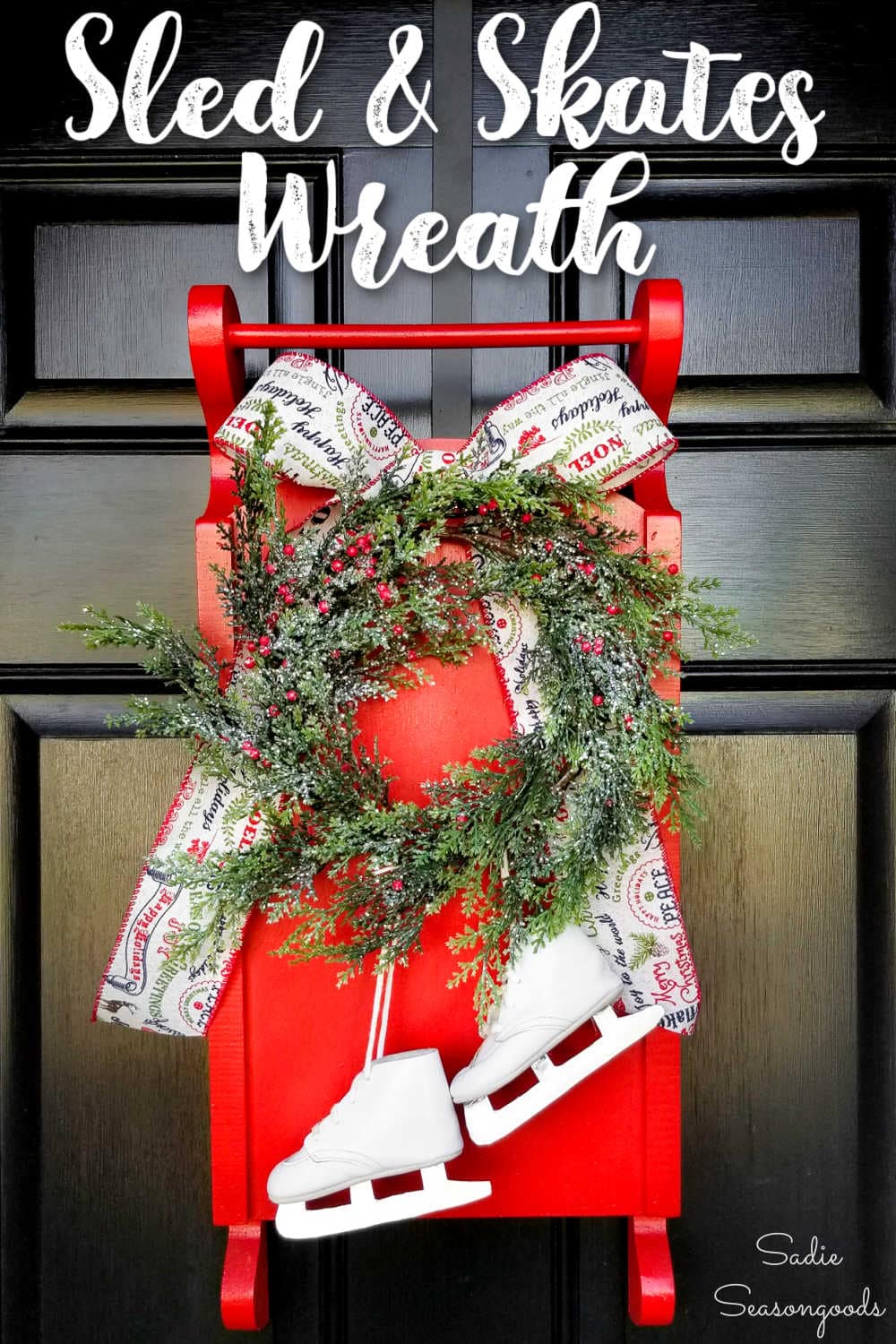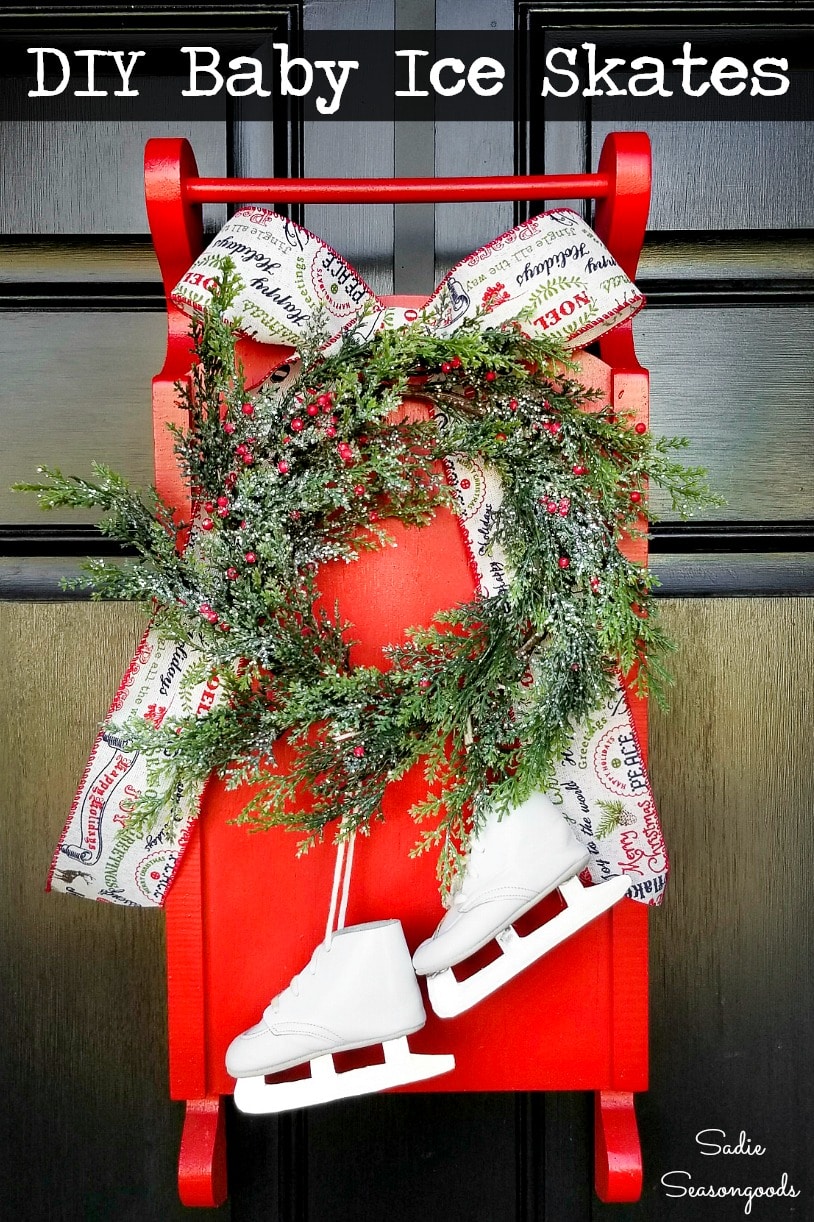 Sarah Ramberg is the owner of Sadie Seasongoods, a website that celebrates all things secondhand. From upcycling ideas and thrifted decor to vintage-centric travel itineraries, Sadie Seasongoods is a one-stop shop for anyone who loves thrifting and approachable repurposing ideas. Sarah is also the author of "Crafting with Flannel" and has been featured in numerous media outlets and magazines.