To this day, some of my favorite Christmas decorations include my waterless snowglobes. I am a total sucker for anything miniature. Which means that vintage Christmas in miniature is kind of a double whammy for my heart. And when I spotted this cheese dome at the thrift store, I knew it was destined for a similar idea.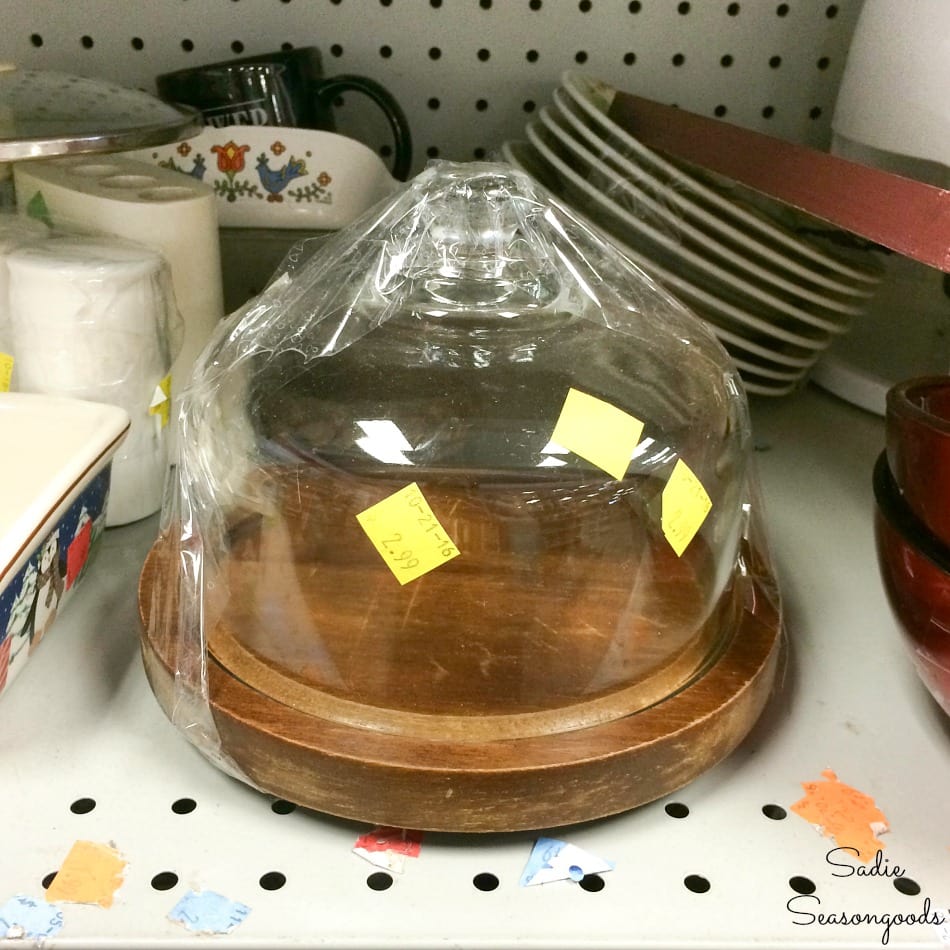 I thought long and hard about what kind of Christmas scene or winter scene to recreate.
And while a traditional "deer & trees" scene would have been cute, it wasn't all that unique. And you know me- I gotta be different!
So I drew inspiration from favorite childhood memories of winters up in Chicagoland- ice skating on a frozen pond! And I found the perfect vintage figurines to work with!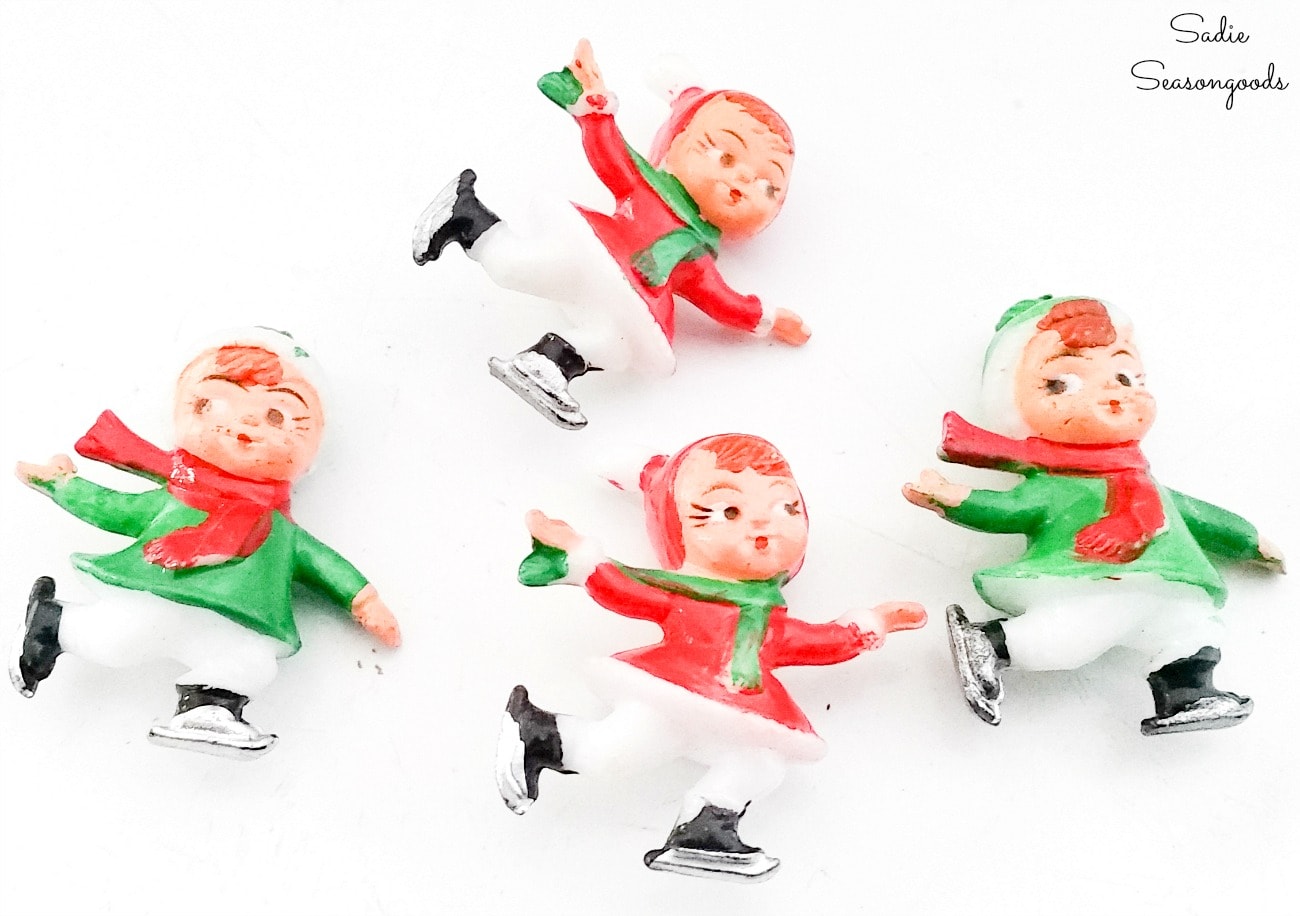 Those along with a baggie of vintage bottle brush trees and I was all set to begin creating a winter Christmas scene!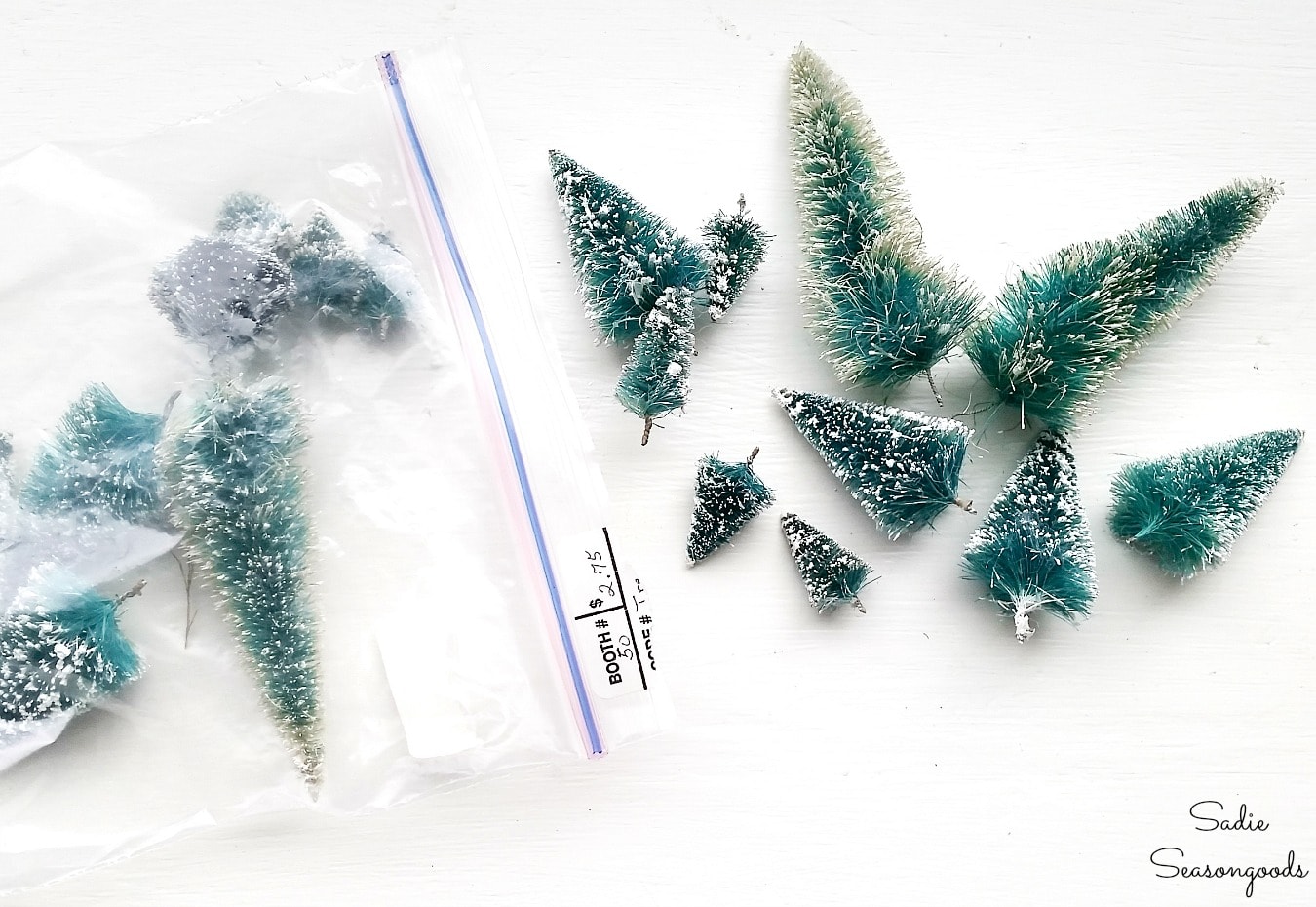 This post contains affiliate links for your crafting convenience. As an Amazon Affiliate, I earn from qualifying purchases. All blue, bold, and underlined text is a clickable link, either to a product or to a related post.
Creating an Ice Skating Pond on the Base of a Cheese Dome
My first task was to turn the wooden base of the cheese dome into ice, so-to-speak. I had NO IDEA how I'd achieve this. The surface of a frozen pond is swirly, cloudy, with bubbles and streaks in white, silver, and blue.
So, in other words, gorgeously complicated.
First, I painted the entire base a polar sky blue.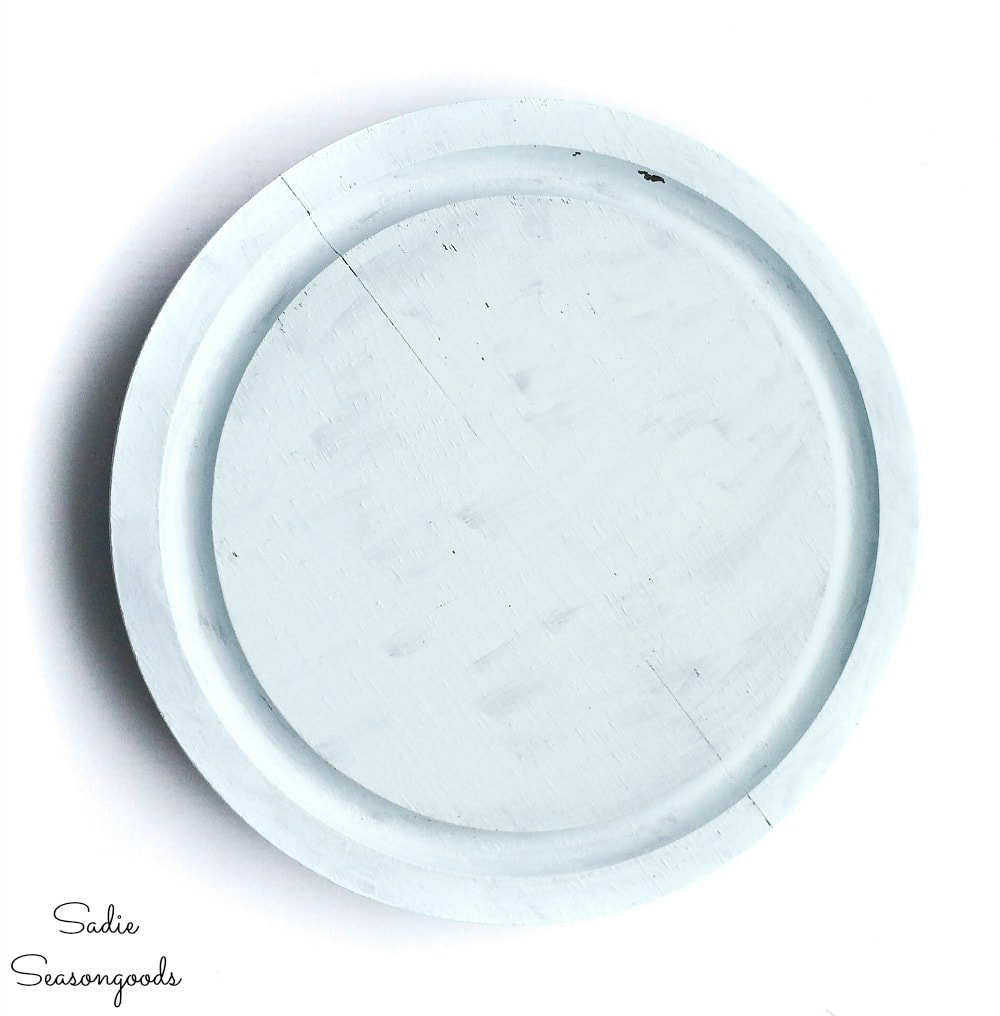 I legitimately used leftover paint from when we painted our master bedroom for this!
I also didn't focus too much on the center of the base of the cheese dome. It was more important that the sides of the base and the outermost perimeter were nicely opaque.
Next, I drizzled a few drops of silver craft paint on the center circle. Then, I used a wadded up paper towel to swirl the paint across the blue paint.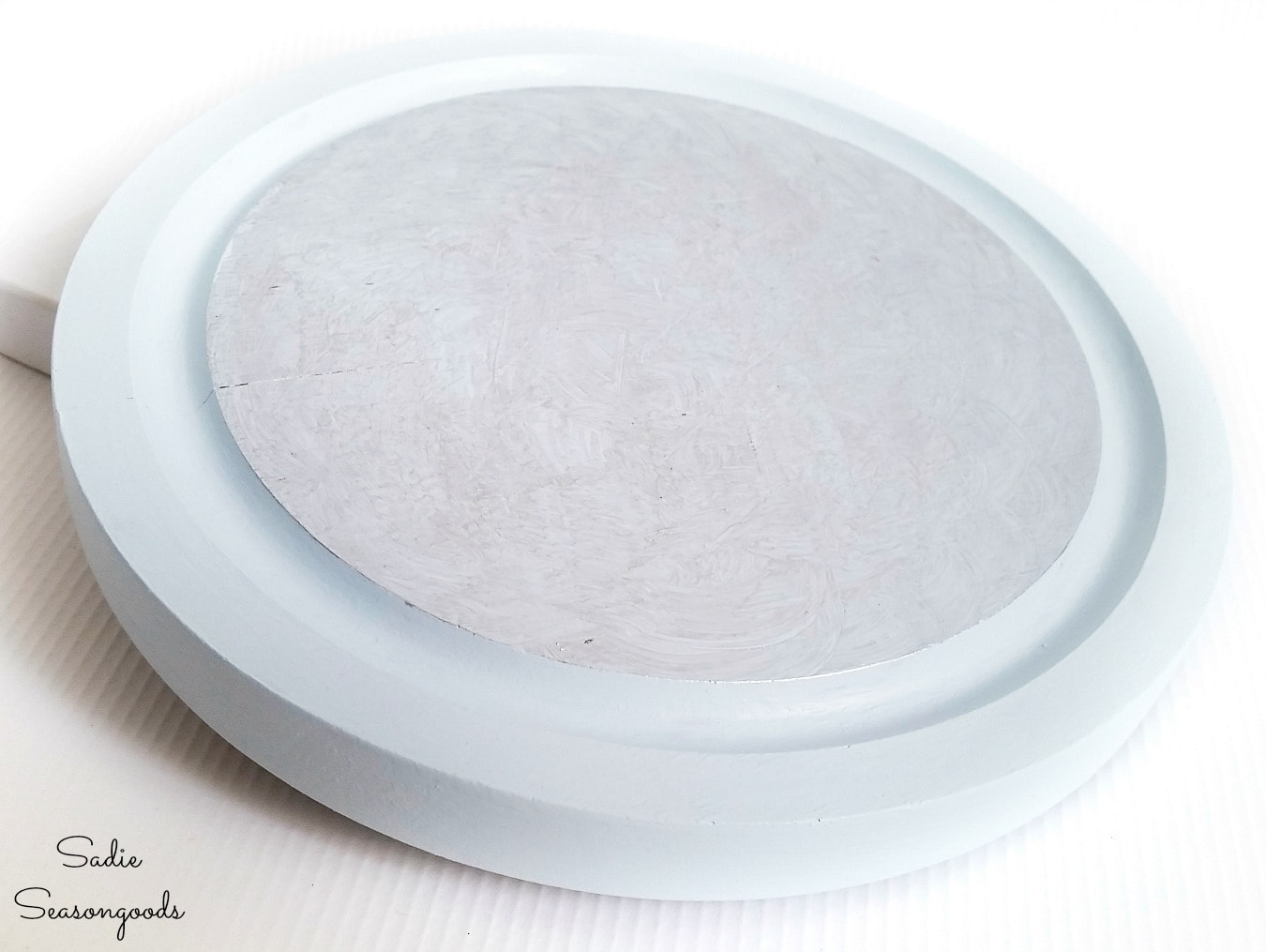 It was difficult to photograph- but that's the idea! However, I wasn't done.
To lighten up the swirly silver, I used the same paper towel technique with a few drops of white craft paint. I loved how it looked, but I added one more detail to the base of the cheese dome.
Using my thumbnail through the paper towel, I added streaks through the nearly-dried paint. Like scars on the frozen pond from ice skating blades!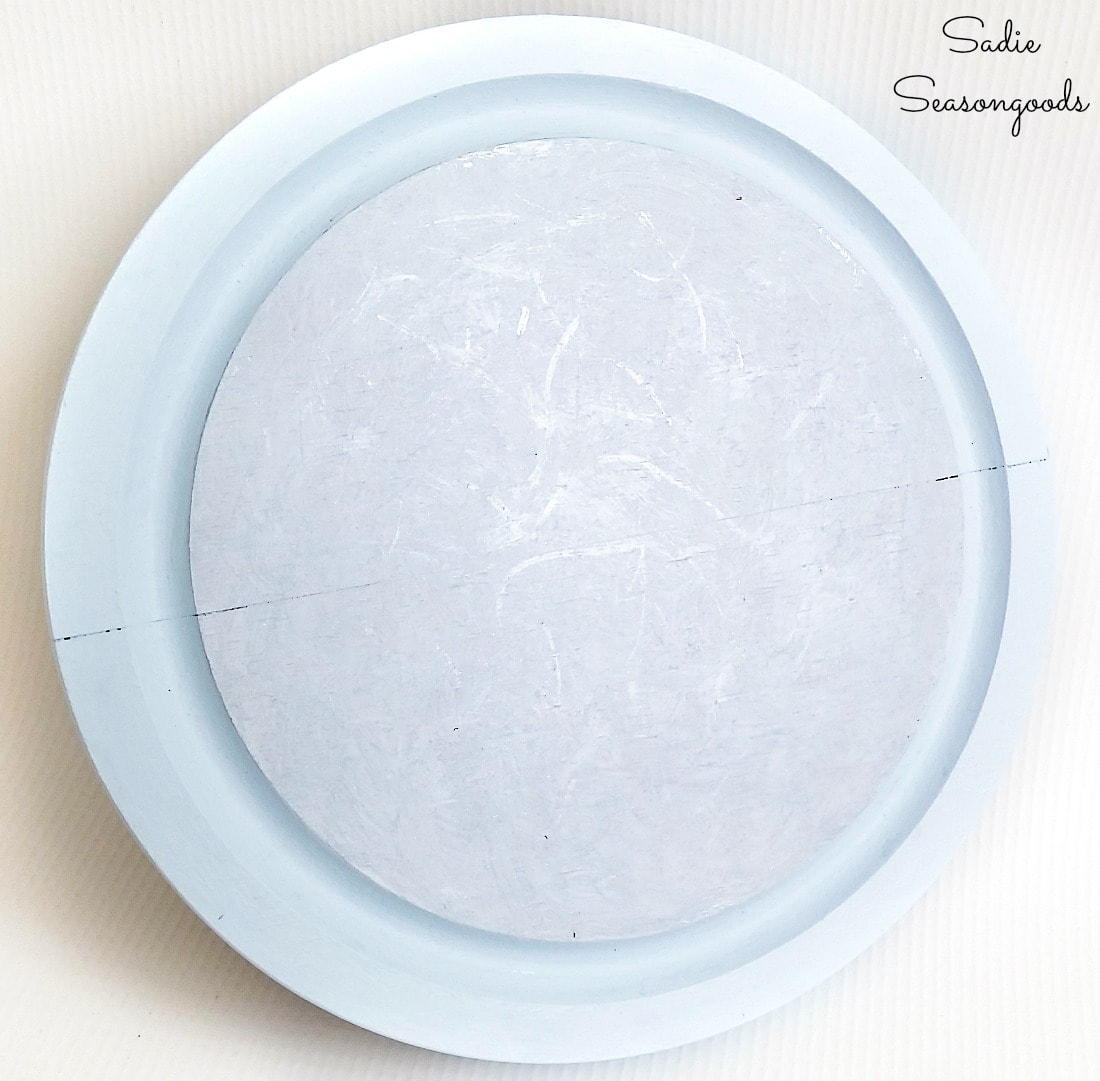 Again, I couldn't photograph the end result well. But it's pretty darn cool in person, I promise!
Creating a Winter Christmas Scene
Next, it was time to add a few of my vintage bottle brush Christmas trees along one side of the base of the cheese dome.
But if you recall from above, they didn't have bases. Just a sharp, pointy wire.
I thought about base options but ended up using air-dry clay to create bases for the bottle brush Christmas trees. Not only was it white (like snow), but I could mold it so that the trees sat flat on the base of the cheese dome.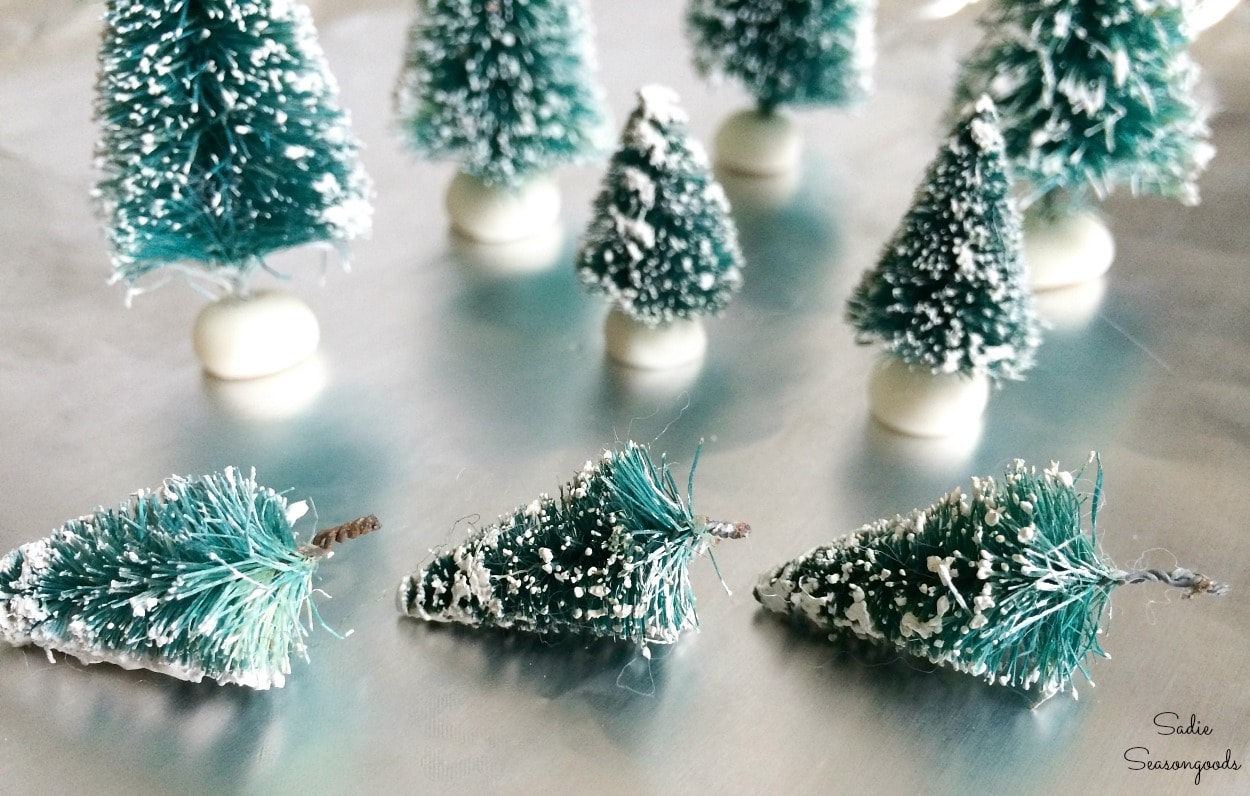 I let the air dry bases dry over night. Now I could begin to assemble my little scene under the glass cheese dome!
First, I used my hot glue gun to attach the bottle brush Christmas trees to one side of the ice skating pond.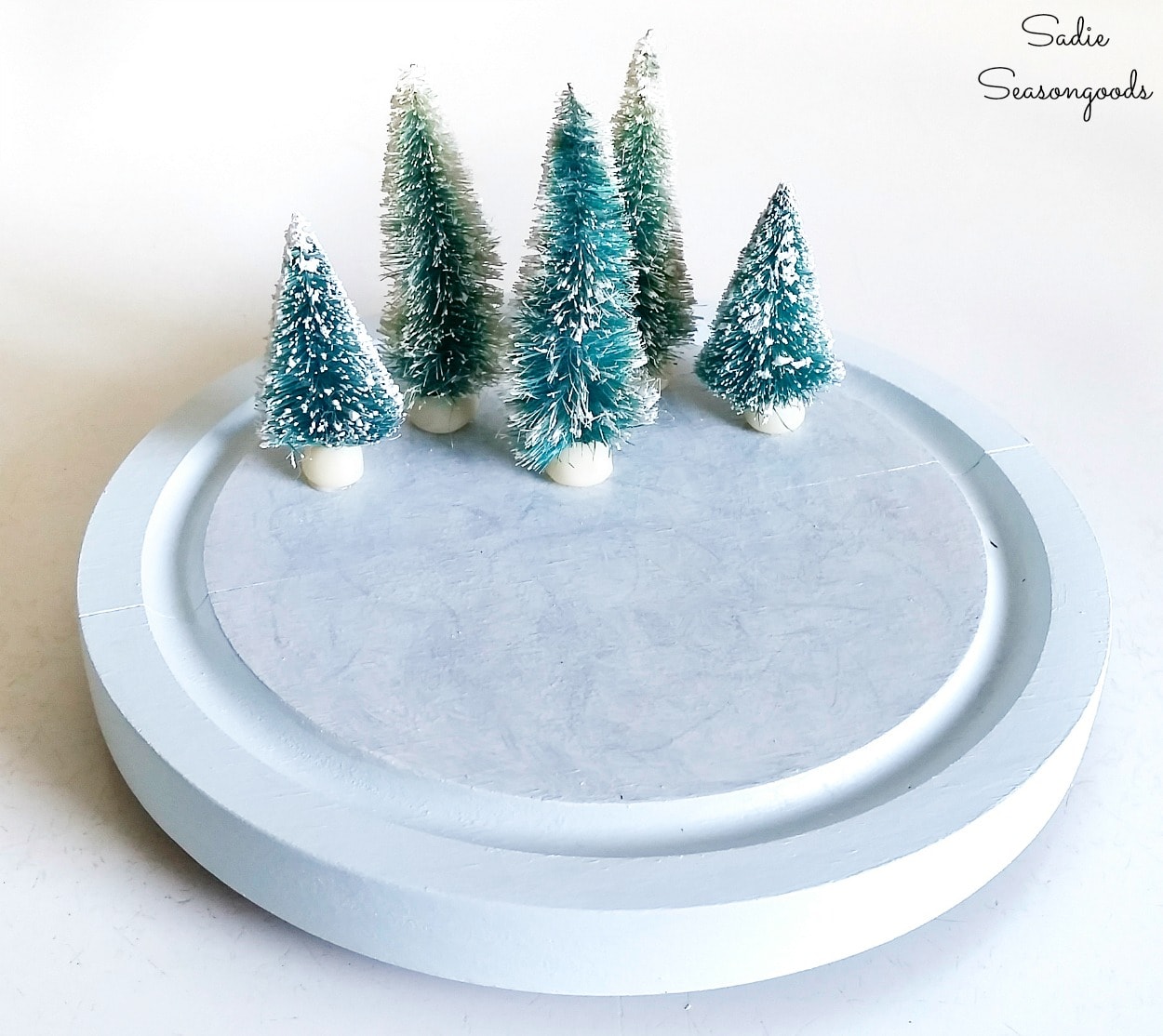 Next, I added the little ice skaters to the frozen pond.
And I know, the scale isn't perfect (they're nearly as the bottle brush trees). But, I really didn't care! This winter Christmas scene was going to be adorable either way.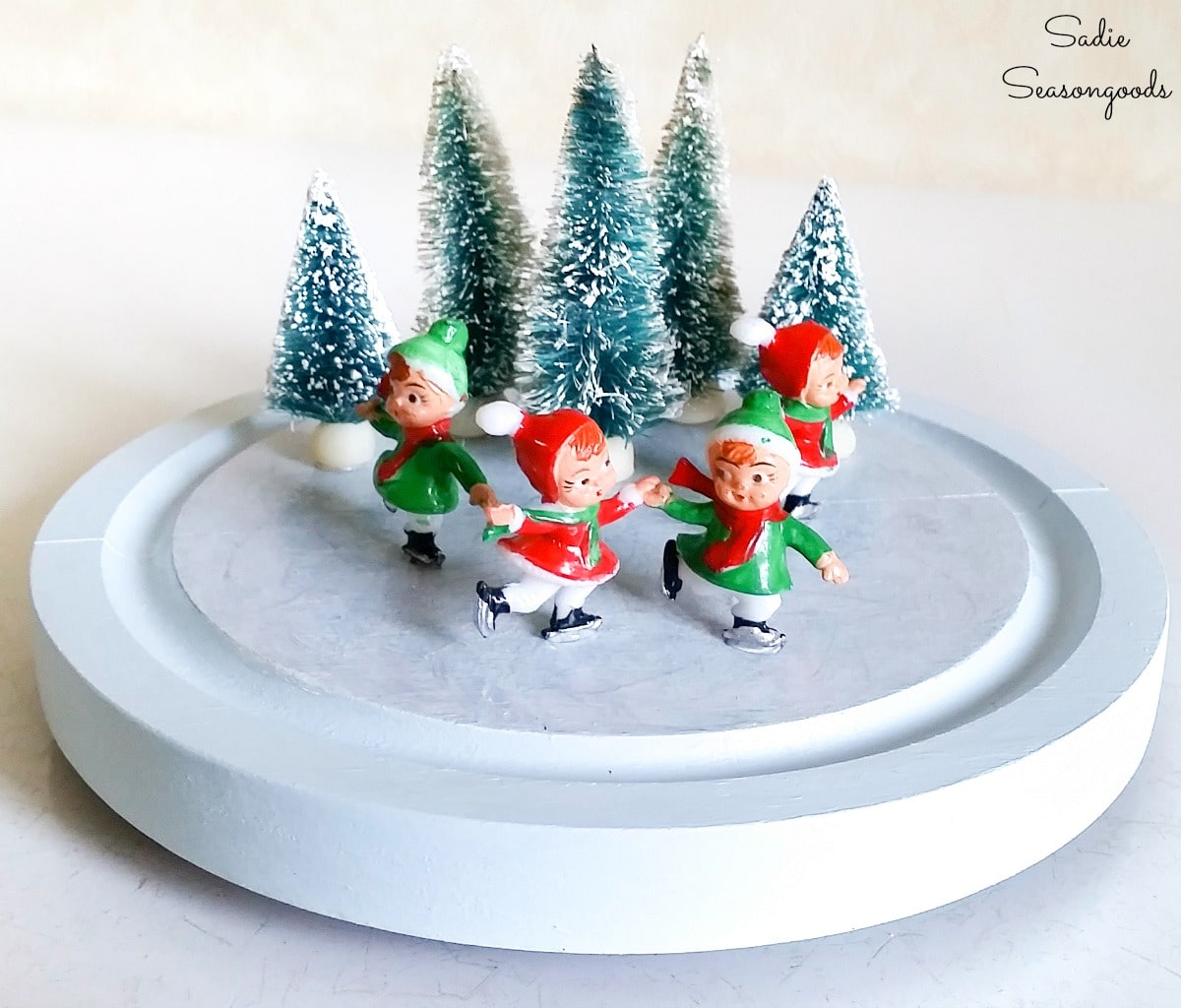 All that was left to do was pile up some faux snow around the tree bases and replace the lid!
Winter Christmas Scene under a Cheese Dome
And just like that, I had an adorable little winter Christmas scene under a cheese dome. Like a DIY Christmas village or something!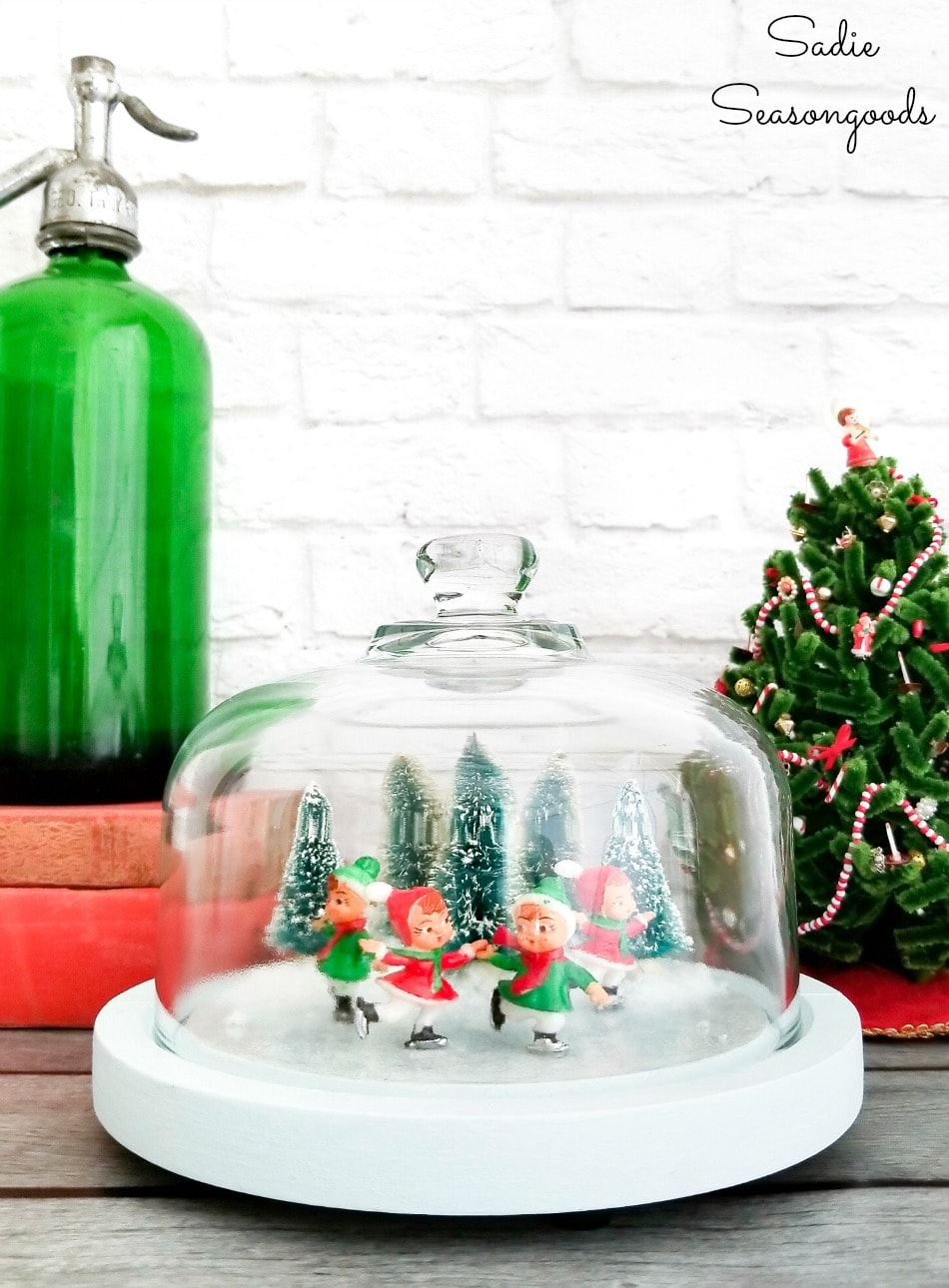 Of course a winter scene with trees and deer would be cute! And OF COURSE a little red pick up truck bringing home a Christmas tree would be cute.
But I love that I went in an unexpected direction with my cheese dome. A frozen ice skating pond in miniature is just as adorable, if you ask me.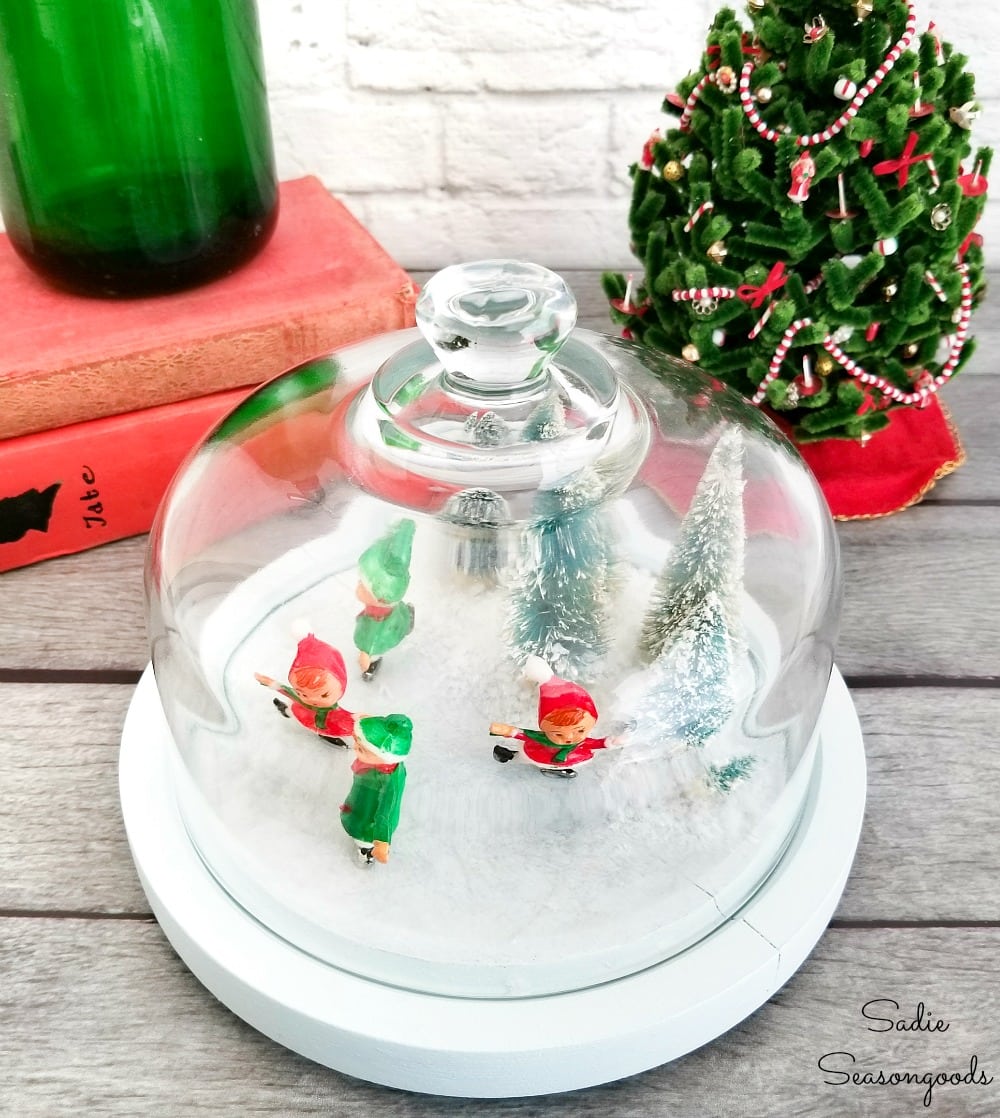 Now, I may have to hunt down another cheese dome (or two) for other, more traditional winter Christmas scenes. But for now, I'm pleased as can be with my version!
And if you enjoyed this upcycling idea for Christmas decor, then you may also be interested in these candy cane decorations for Christmas porch decor, too!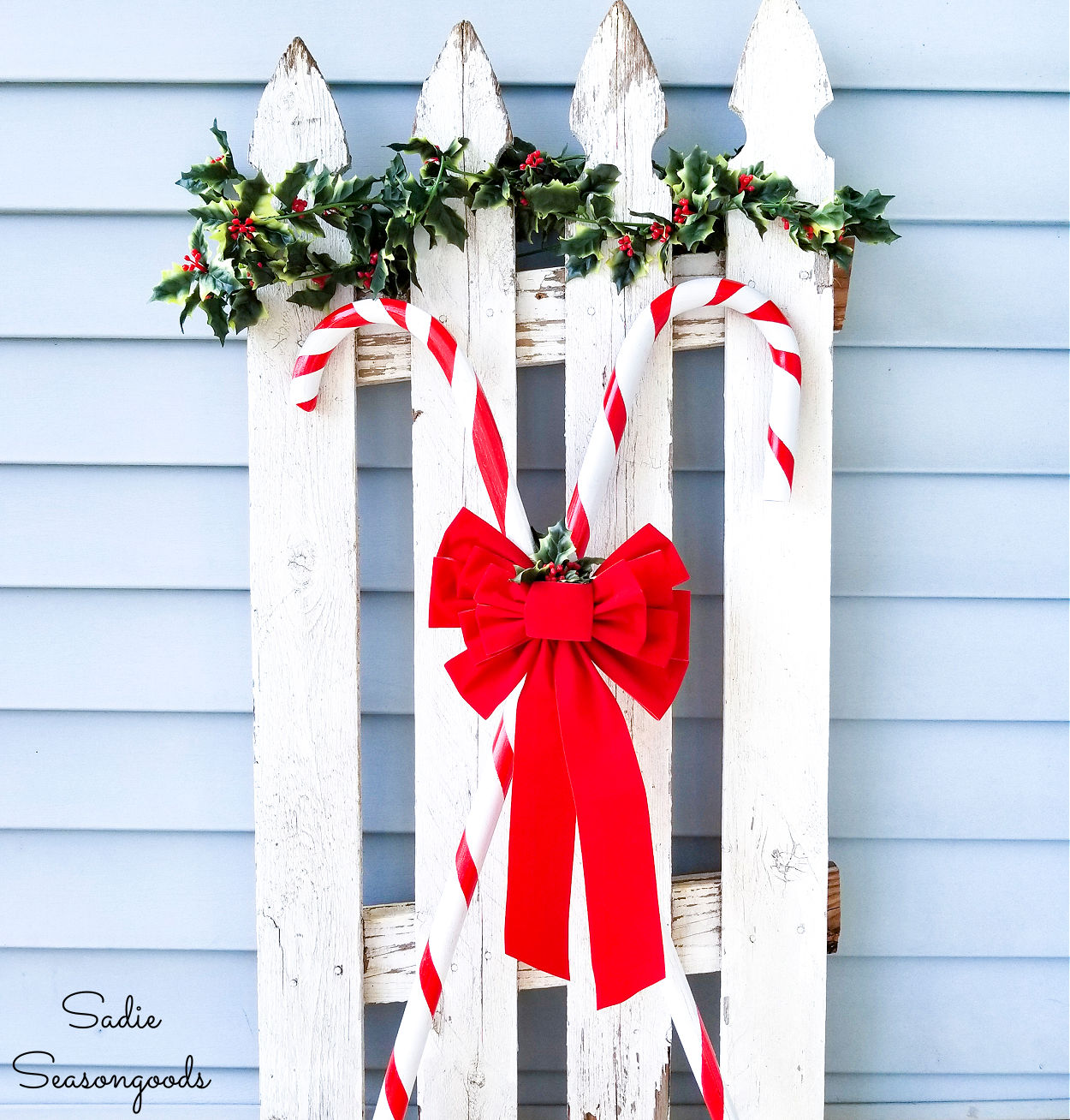 Also, did you know that my book, "Crafting with Flannel", contains an entire chapter on Christmas projects? You can purchase it online from Amazon, Target, Barnes & Noble, and Walmart!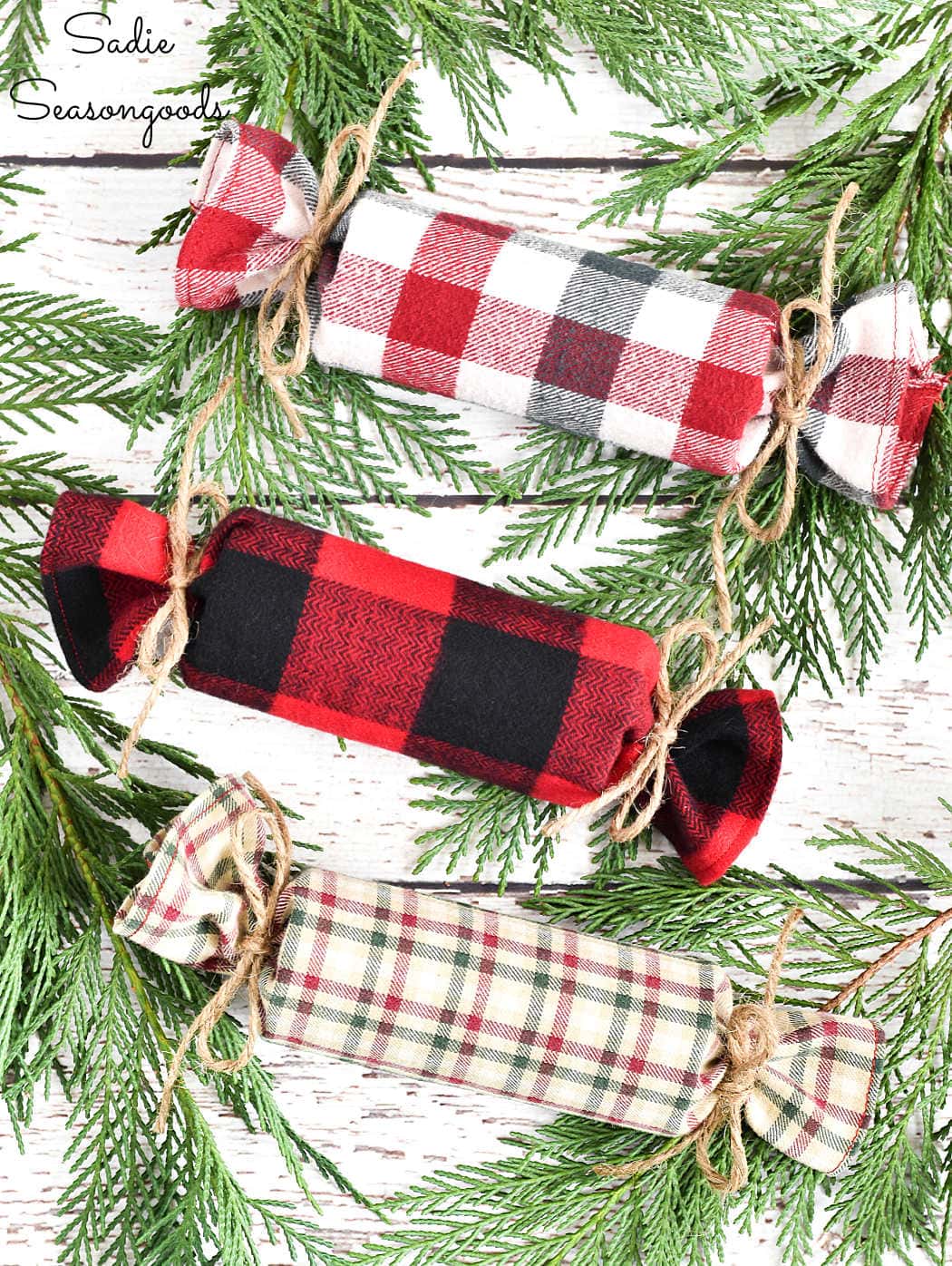 Craft on!
S
Join me on Social Media:

PIN ME!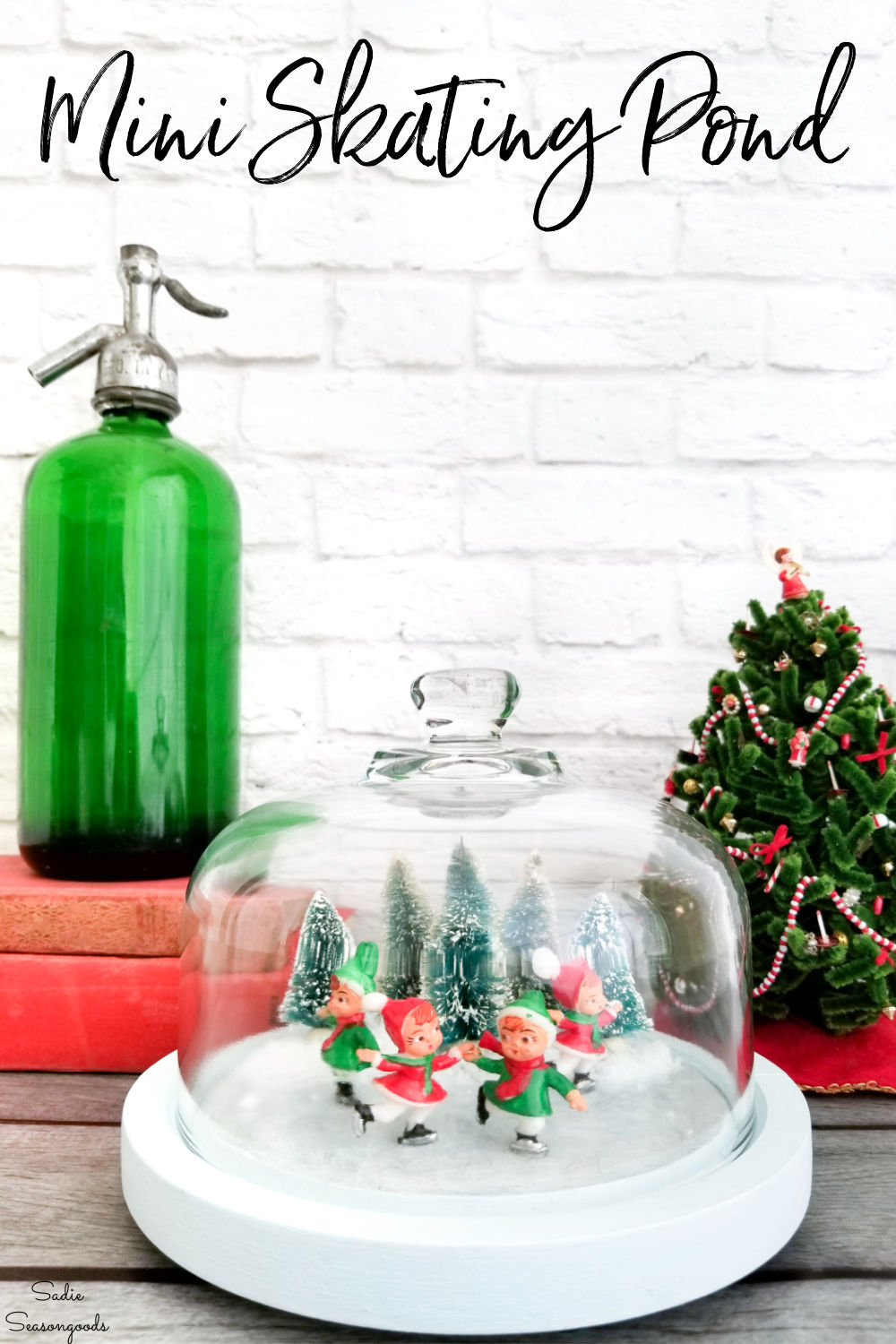 Sarah Ramberg is the owner of Sadie Seasongoods, a website that celebrates all things secondhand. From upcycling ideas and thrifted decor to vintage-centric travel itineraries, Sadie Seasongoods is a one-stop shop for anyone who loves thrifting and approachable repurposing ideas. Sarah is also the author of "Crafting with Flannel" and has been featured in numerous media outlets and magazines.