Christmas and plaid go hand-in-hand, so it's really no surprise that there are a lot of tartan-inspired holiday decor projects out there. From Buffalo check to red and green patterns, there are plenty of Christmas plaid ideas to incorporate into your decorating plans. And if upcycling items from the thrift store is your cup of tea, then this collection of plaid projects is definitely for you.
Christmas Plaid Ornament
Humdrum plastic ball ornaments aren't really all that special- and plenty of them end up at thrift stores after the holiday season. But they're ideal for embellishing into Christmas plaid ornaments with this simple craft idea: wrapping them in flannel and decorating with woodland bits!
The tutorial for this project can be found in my book, "Crafting with Flannel", by Sarah Ramberg.
Decorative Cooler
If you remember the iconic Skotch Kooler from a few decades ago, then you might understand the inspiration behind this upcycle. A plain red cooler from the thrift store got a festive plaid makeover (similar to Skotch) to incorporate with other Christmas plaid elements for a fun, rustic display.
Christmas Tree Collar
Christmas tree collars have become "the thing" these days and this upcycled version adds a little plaid to the trend. Would you believe that this DIY tree collar started off as an old lampshade?
Fabric Christmas Crackers
Christmas crackers are a fun little surprise to add to your dinner parties or for wrapping smaller gifts. And while these don't have the traditional "pop", they are doubly-repurposed: using old flannel shirts as the fabric and cardboard tubes from paper towels or gift wrap.
The tutorial for this project can also be found in my book, "Crafting with Flannel", by Sarah Ramberg.
Mini Plaid Cooler Ornaments
Speaking of vintage Skotch Koolers, then you may know that there are doll-sized versions floating around that you could use on your tree. But they are quite costly and incredibly hard to find. So, this version is upcycled from a wooden thread spool and VASTLY less expensive.
Patchwork Plaid Wreath
One of the coziest wreaths you can make for the winter holidays is one that involves plaid flannel shirts like this. The red and green make it Christmas-y, but you could just as easily focus on blue, white, and green for a winter version, as well.
Christmas Plaid Door Hanger
If a round wreath isn't catching your eye during the holidays, then maybe a quirkier door hanger is in order instead. And what goes better with Christmas than a plaid bag upcycled to hold greenery sprigs and red berries on your front door?
Christmas Mantel Gift Decor
They may look like lovely wrapped gifts, but unfortunately, they're just decorative and perfect for your Christmas mantel. The secret to these wrapped plaid present decor? Thrift store picture frames!
Buffalo Check Candy Canes
Who says candy canes have to be striped? Buffalo plaid fabric is the perfect thing to wrap decorative candy canes for a fun plaid touch in your decor.
Christmas Plaid Star Ornaments
Plaid shirts- flannel or otherwise- are ripe for repurposing into Christmas projects, and these star ornaments are no exception. If you look closely, you might be able to guess which part of the shirt(s) provided those plaid points!
The tutorial for this project can also be found in my book, "Crafting with Flannel", by Sarah Ramberg.
Christmas Plaid Card Box
If you're anything like me, you keep a few Christmas cards each year- cherished memories from loved ones or just really adorable cards you can't bear to toss. So, a storage box like this (upcycled from a thrift store find) is the perfect thing for storing them year after year.
Reusable Gift Tags
If you're looking to cut down on waste during the holidays, this is a small but significant way to do it. Reusable gift tags are an easy swap, utilizing chalkboard tags from a craft store and a little plaid backing, courtesy of flannel fabric from secondhand shirts.
Christmas Plaid Door Decor
A vintage clothespin bag or peg bag wouldn't normally scream "Christmas wreath". Unless, of course, it was already plaid! Then it's the perfect thing to repurpose into a Christmas plaid door hanger during the holidays.
Christmas Card Display
A thrifted cork board is pretty uninspired-looking, as-is. But a simple makeover with paint and plaid flannel fabric transforms it into a festive display for your favorite Christmas cards each year.
Christmas Signs
Cabinet doors are inexpensive resources for all sorts of upcycle projects, particularly decorative signs. And thanks to some buffalo check stencils that are available, they can be transformed into wonderfully festive plaid decor for the holiday season.
Gift Wrap Ribbon
Another way to cut down on holiday waste is using fabric ribbon on gifts. And, of course, plaid fabric is an excellent choice and can be easily made by cutting fabric strips. No sewing skills are needed, either.
Christmas Plaid Projects to Upcycle and Make
Have you been inspired to create some Christmas plaid projects yourself this season? There are so many ways to go about it- from door decor, to ornaments, and even to the wrapped gifts underneath your tree. Happy crafting to you and may you have a holiday season filled with tartan trimmings.
Craft on!
S
Join me on Social Media:

PIN ME!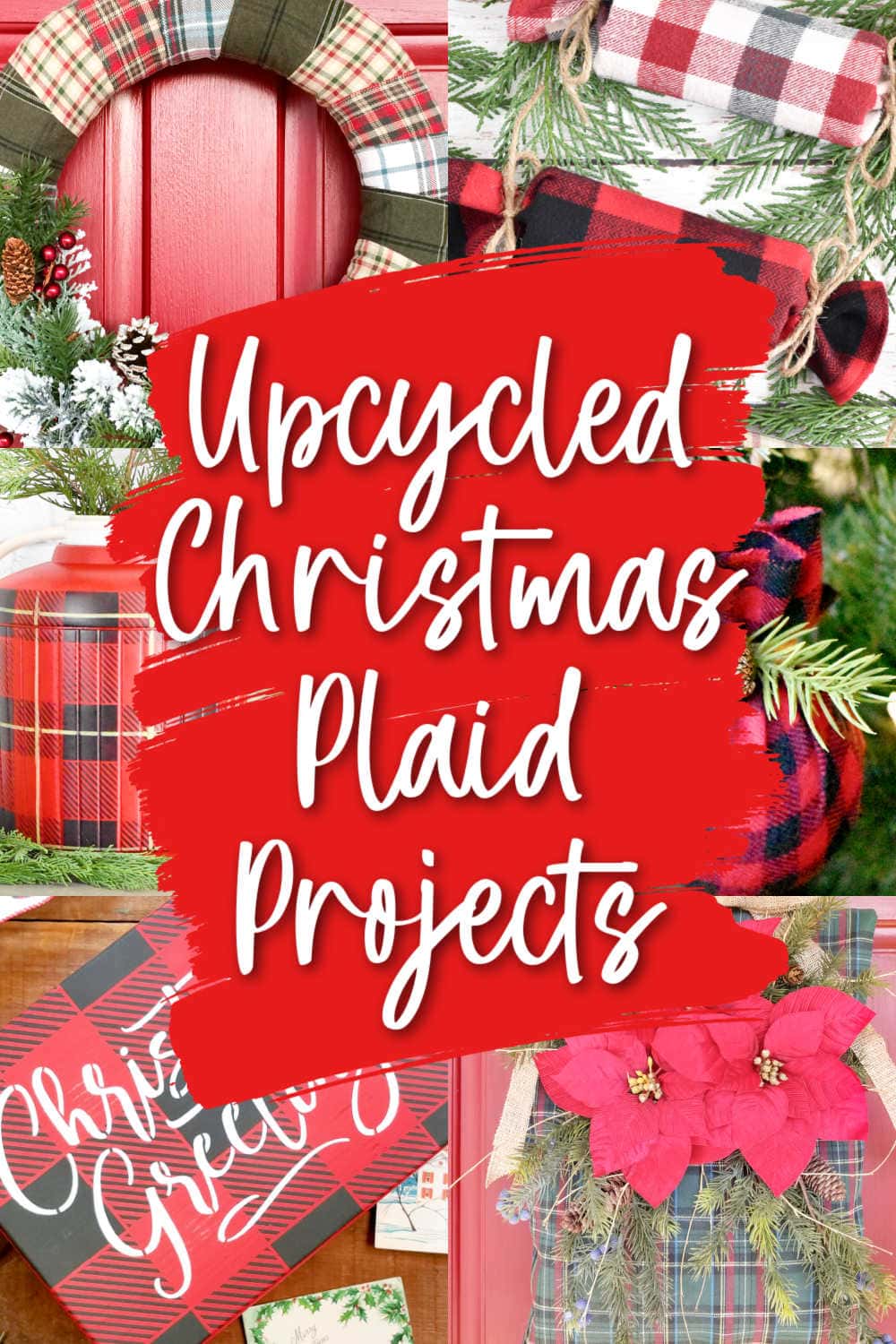 Sarah Ramberg is the owner of Sadie Seasongoods, a website that celebrates all things secondhand. From upcycling ideas and thrifted decor to vintage-centric travel itineraries, Sadie Seasongoods is a one-stop shop for anyone who loves thrifting and approachable repurposing ideas. Sarah is also the author of "Crafting with Flannel" and has been featured in numerous media outlets and magazines.