Last year, I brought you a super simple, last minute Halloween project that took no time at all to create- remember these creepers? Well, I'm doing it again this year with a new super simple project. This time, some Christmas window candles will get a reboot…as scary Halloween decorations or vintage Halloween decorations.
You know the kind of window candles I'm talking about, right? They are ALWAYS in the Christmas section at thrift stores.
I'm pretty sure it's a thrift store requirement to have these Christmas window candles on their shelves. And in any number of versions (singles, triples, etc.). And there are often "candle lamps" at thrift stores, too!
With my Freaky-Friday-holiday project in mind, I gathered a handful of electric window candles for my upcycling idea. This post contains affiliate links for your crafting convenience. As an Amazon Associate, I earn from qualifying purchases.
Transforming the Window Candles into Spooky Halloween Decor
You won't believe how easy it is to transform the Christmas window candles (and candle lamps) into scary Halloween decorations. First, I grabbed my hot glue gun and "enhanced" the look of melted wax near the light bulb socket.
You can practice on a stick from the backyard first, just to get your technique down.
Pro tip #1– the way you hold your window candle when adding hot glue is important, to keep it looking realistic! I found that holding the glue gun almost upside down under the candle (held at an angle) did the best job. I also angled the candle as the glue hardened to get realistic, dimensional "drips"…sometimes waving it back and forth as the glue dried. Also…depending on the number of candles you have, make sure you have a handful of glue sticks. I went through about 3 or 4 sticks for my candles.
Next, I carefully balled up some painters tape and stuck a small wad into the socket of each of my Christmas window candles. I also wrapped the end of the cord and plug. Why? Because I was going to spray paint them black and didn't want to ruin the electrical components.
But if you don't plan on plugging them in or they just don't work anymore, then this probably isn't a big deal.
Then, I gathered some flame bulbs from various Etsy shops- some of them worked, some of them didn't, but that was ok! I really just liked how they looked in the daylight…and against the pitch black paint on my Christmas window candles.
My original plan was to just use classic orange Christmas light bulbs in my electric window candles. But these flame bulbs were SO MUCH BETTER.
Vintage Halloween Decorations from Christmas Window Candles
Finally, I was done! My vintage Halloween decorations from window candles were complete.
Pro tip #2– You can spray paint the electric cord on your candles black, too, but I found this to be more difficult than it's worth. Simply wrap your cords (or part of your cords…whichever portion may be visible in your display)…with electrical tape to help them disappear!
Now I was ready to create spooky Halloween vignettes with my Christmas window candles…
And nothing says spooky to me like my DIY "poison bottles" and a few faux creepy crawlies. Combined with my vintage Halloween decorations, they make for a perfectly eerie Halloween display!
See? Isn't that so simple? And a great way to reuse those Christmas window candles in a fun new way…for a totally different holiday!
If you enjoyed this upcycling idea for scary Halloween decorations, then you will LOVE these Halloween figurines / demon figurines, as well!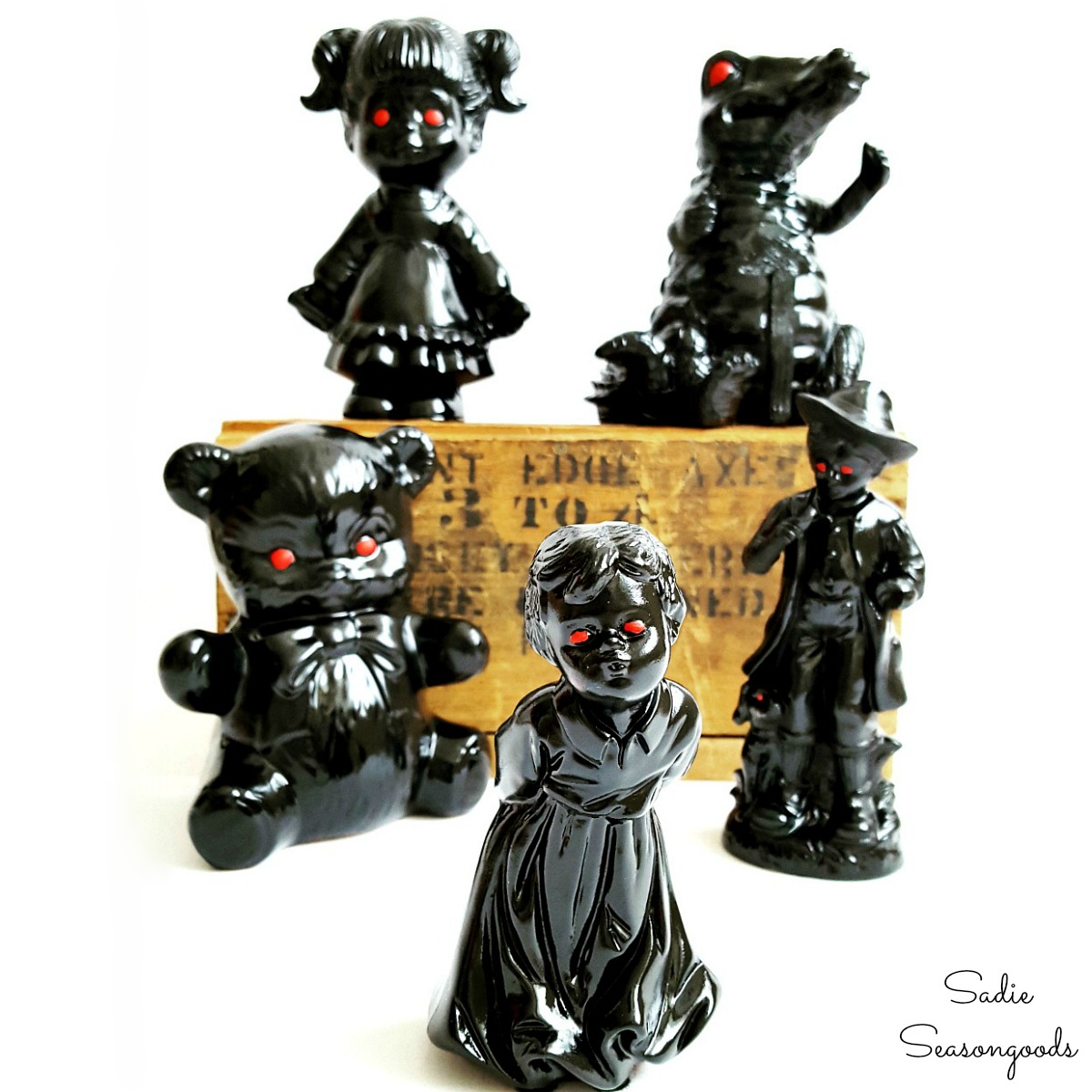 And for a little less scary decor, these bandana pumpkins are as cute as it gets – and easy to make, too!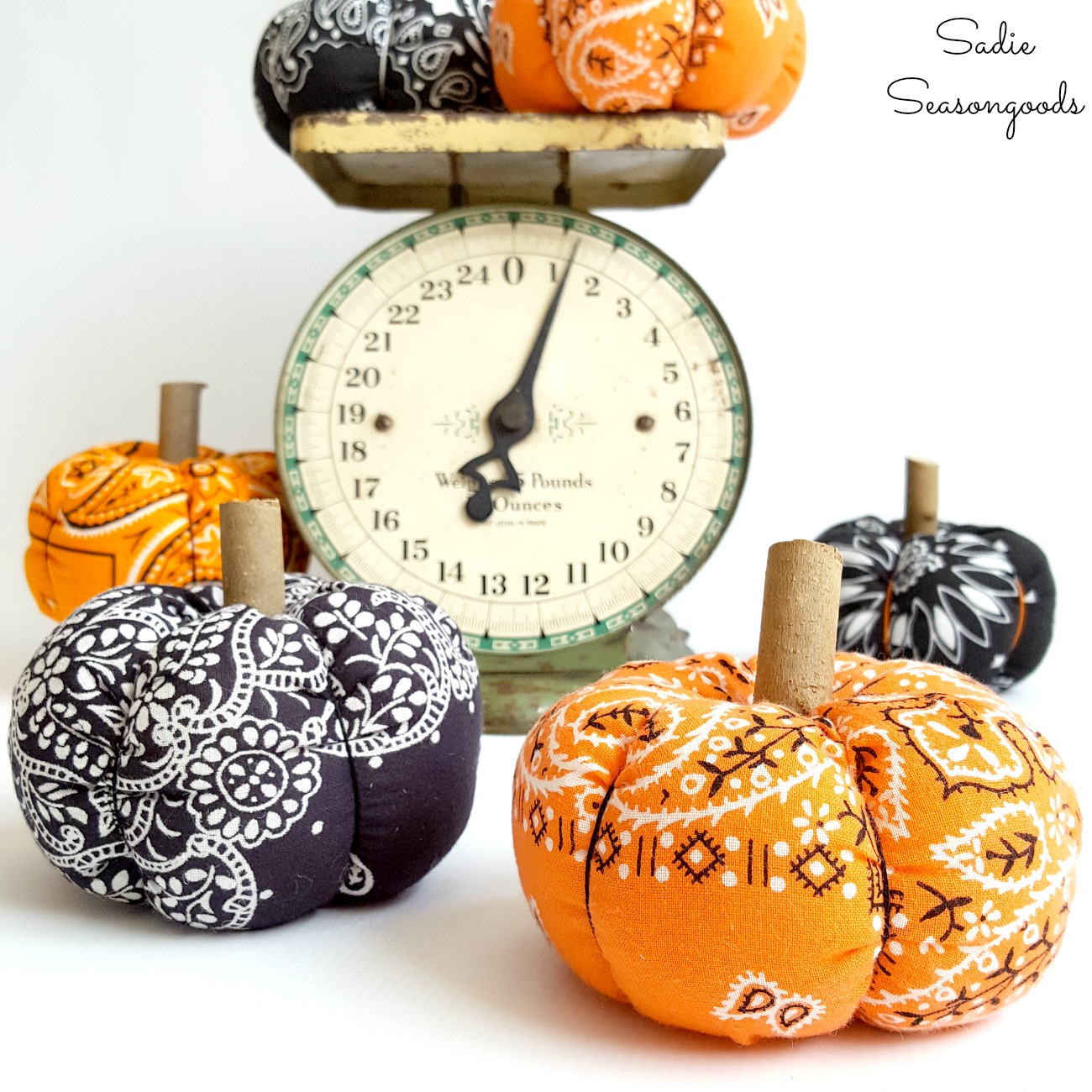 Craft on!
S
Want to be notified when I publish my next upcycling project tutorial?
Subscribe to Blog via Email
Join me on Social Media: