After making these vintage bandana bowl covers, I couldn't stop myself from snapping up vintage bandanas wherever I went. Over the years, I've collected them in all the colors of the rainbow, including plenty in orange and black. So I decided to teach myself how to make fabric pumpkins out of bandana fabric. I have a sneaking suspicion that bandana pumpkins are just going to be ADORABLE – what do you think?
*****
Video Tutorial
*****
Now, these easy, low-sew fabric pumpkins are not a new idea and are all over the internet. In fact, I believe Martha Stewart might be the originator of the idea. Either way, let's find out what a fabric pumpkin looks like made from bandana fabric.
This post contains affiliate links for your crafting convenience. As an Amazon Associate, I earn from qualifying purchases.
How to Make Fabric Pumpkins / Bandana Pumpkins
To create a bandana pumpkin for primitive Halloween decor, I needed a piece of bandana fabric that was twice as long as it was wide (14" x 7", 13" x 6.5"…etc.).
So I cut out my bandana rectangle, trying to capture as much bandana pattern as possible.
Next, I folded the rectangle of bandana fabric over on itself, short ends together and "good" sides of the fabric facing together (on the inside). Then, I stitched along those short edges on my sewing machine so that it formed a fabric tube/cylinder.
After that was done, I ran a wide running stitch along one edge of the fabric, all the way around the "tube".
I know it still doesn't look anything like a bandana pumpkin yet, but bear with me!
Next, I gathered the fabric by pulling the thread tightly (but not pulling the knotted end through). After it was cinched, I pushed my needle through the ruffled fabric a few times before knotting off the end.
You're fabric tube is now a fabric pouch or bag! I turned my Halloween bandana my right-side-out
Then, I stuffed it positively FULL with fiberfill. Then, once again, I ran a wide running stitch along the raw edge. My bandana pumpkin was coming together!
Primitive Halloween Decor with a Bandana Pumpkin
I gathered the bandana fabric like I had before, tucking the fiberfill in and stitched the opening closed before knotting off the thread.
Now came the fun part – turning my bandana sphere into a bandana pumpkin! I needed to add "ridges" and gathered some embroidery floss and a doll needle for this step.
First, I pulled a long strand of floss (triple-knotted at one end) through the center and pushed it back into my bandana pumpkin at the top.
I pushed the doll needle all the way through the other puckered end and pulled the floss super tight, squishing the fabric pumpkin. I did this over and over again, pulling super tight, to create ridges.
I'm telling ya, the doll needle made this SO much easier than an embroidery needle…I tried it with an embroidery needle and nearly lost it inside my bandana pumpkin!
After pulling my floss through about 6 or 7 times around the fabric pumpkin, I knotted off the floss (while pulled tight). And there it was…a little fabric pumpkin that was very much indeed a bandana pumpkin.
To finish off my bandana pumpkin, I just needed a stem. And while you weren't looking, I made a several more fabric pumpkins from my Halloween bandana collection!
But back to the stems – I wanted a rustic look to complement the bandana pumpkins. So, I grabbed some sticks from the yard. Can I check "yard work" off my to-do list now?
I lopped off 1" and 1½" stick stems and hot-glued them to the center of each bandana pumpkin. So easy and the sticks had the perfect look for primitive Halloween decor or country decor!
And that was it! I had a whole collection of bandana pumpkins for my Halloween decor. I mean, DOES IT GET ANY CUTER THAN THIS?
Aren't they adorable?? I think the bandana fabric is just divine, and you can get at least two fabric pumpkins out of each Halloween bandana. That makes this a really affordable Halloween craft project, as well.
Now I can fill a bowl or small vintage crate with my bandana pumpkins and they'll look wonderful for autumn and Halloween!
If you enjoyed this upcycling idea for Halloween decor, then you'll also love my Trick-or-Treat stand made from a vintage sewing bucket!
Don't forget to check out these faux rust jack-o-lanterns from candy buckets, too!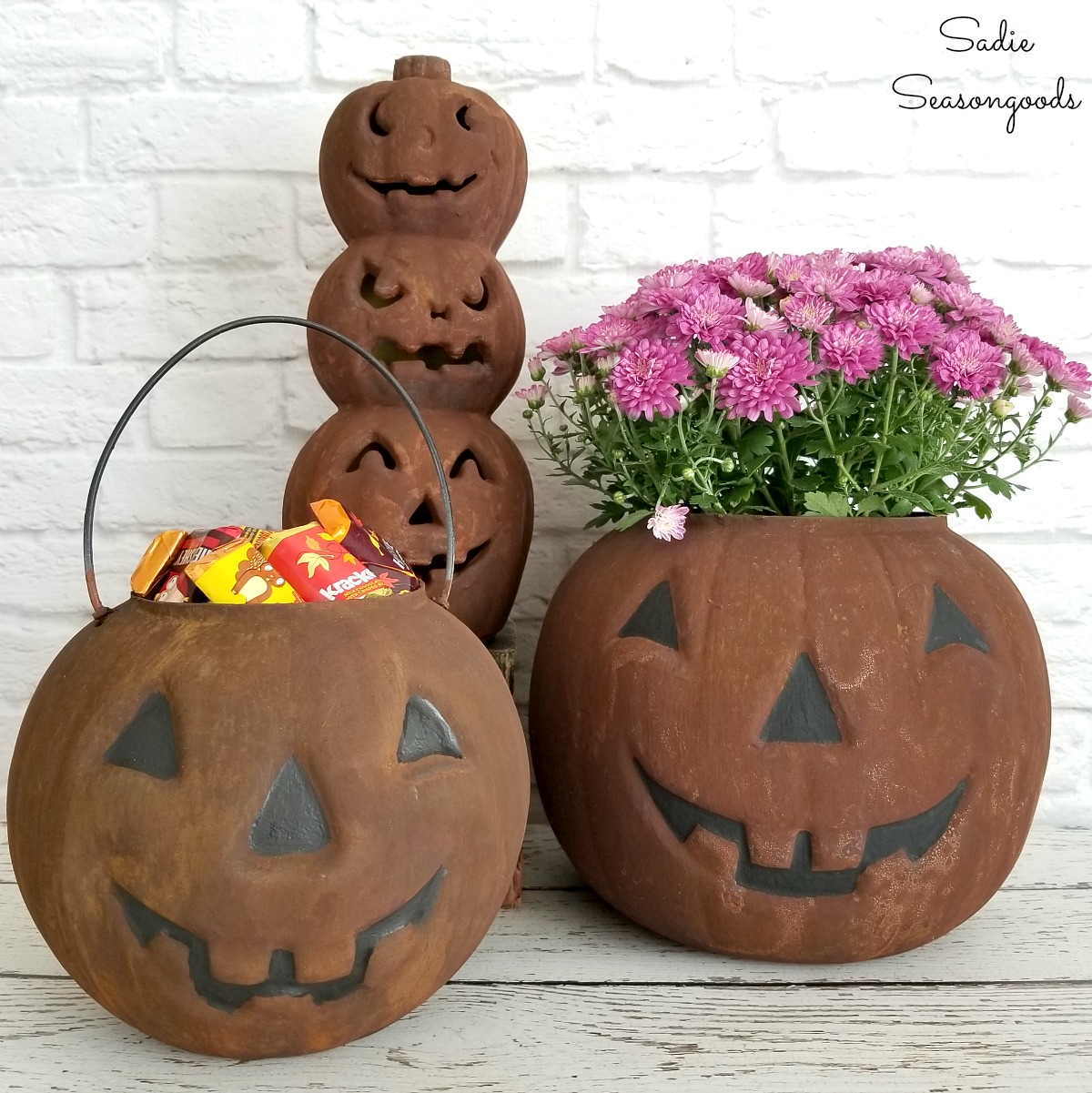 Craft on!
S
Want to be notified when I publish my next upcycling project tutorial?
Subscribe to Blog via Email
Join me on Social Media: