Florist vases are a staple at most thrift stores, aren't they? On one of my thrifting excursions (many, many months ago), I came across a shelf that was exploding with them. And for whatever reason, I started wondering if they could be painted to look like a Cloisonne vase.
And by "look like", I mean abstractly…using specific colors that are typical in Cloisonne (gold and jewel tones).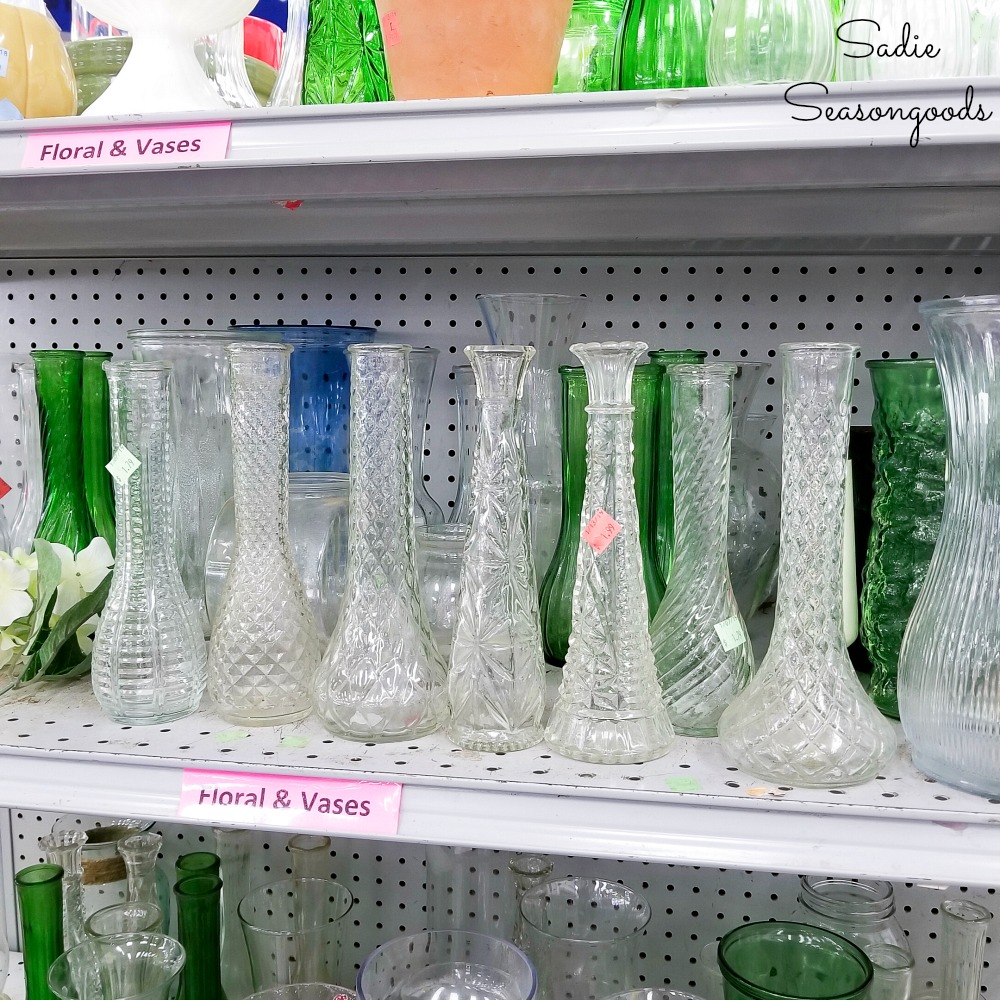 Of course, real Cloisonne is a true art form: metal objects that have been decorated precisely with wires and filled in with enamel paint. Obviously, I was working with pressed glass so it would never be the same.
So, maybe I might end up with something that looked more like the "I Dream of Jeannie" Bottle or a genie bottle in general. Either way, I was definitely curious about it…
Anyway, I was home…I had the vases…with plenty of paint…and tons of time to kill. It was worth experimenting with, right?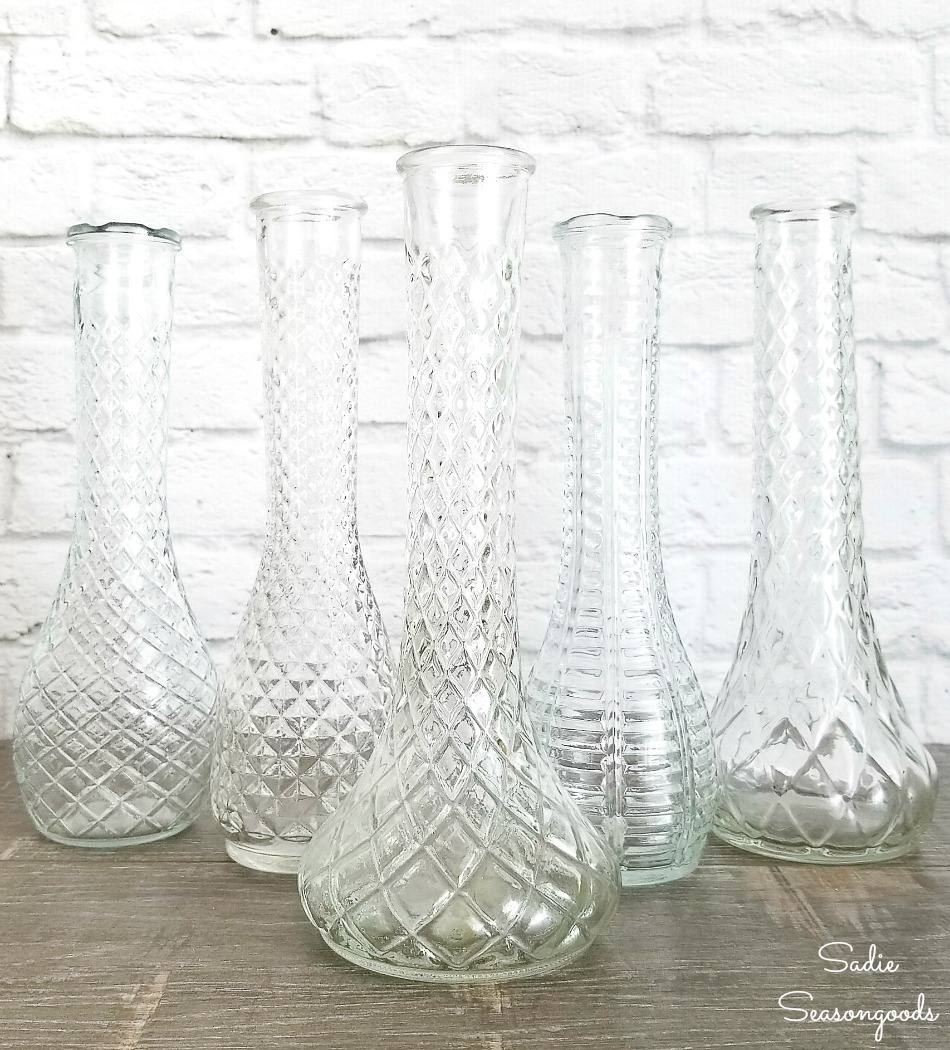 This post contains affiliate links for your crafting convenience. As an Amazon Affiliate, I earn from qualifying purchases. All blue, bold, and underlined text is a clickable link, either to a product or to a related post.
Preparing the Florist Vases for a Makeover
First things first, I gathered the clear glass vases and set up shop outside to spray paint them gold.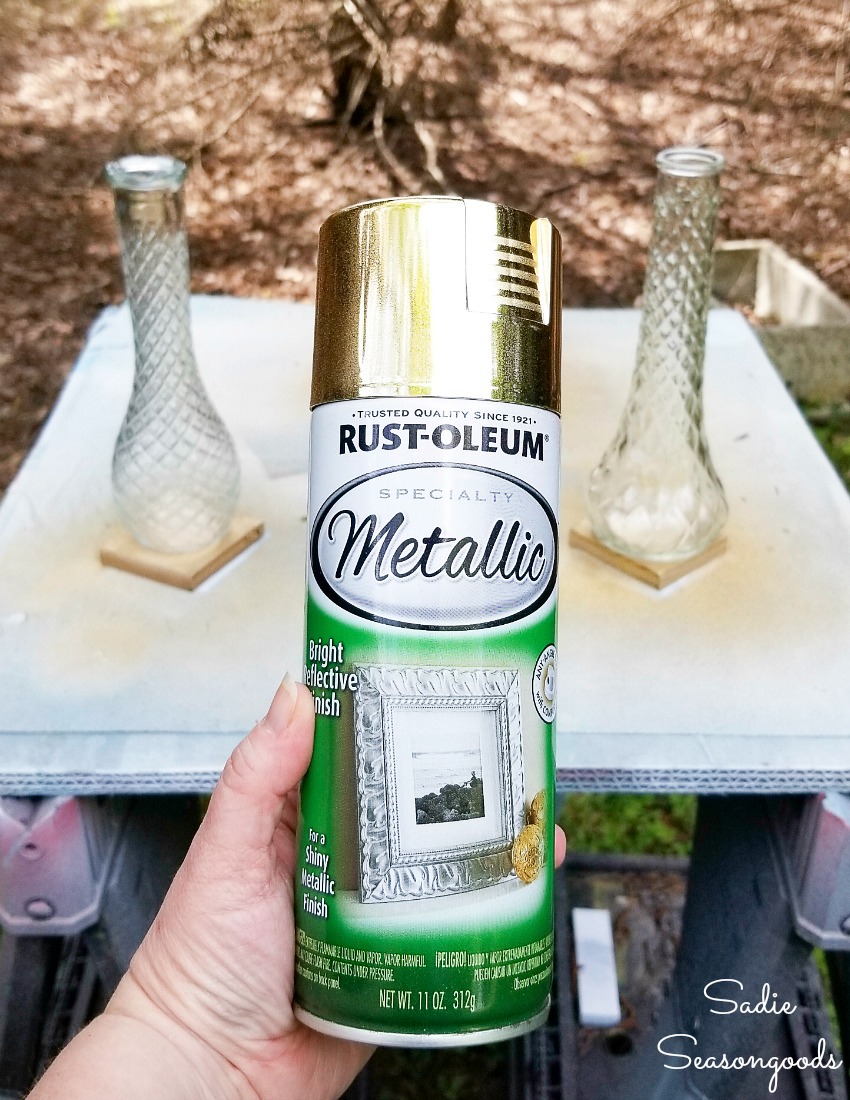 A gold background would give me the "metal" look of a Cloisonne vase.
After a couple of light coats, I made sure every nook and cranny of the pressed glass was now an opaque gold. Then, I set them aside to allow the gold spray paint to dry and set thoroughly.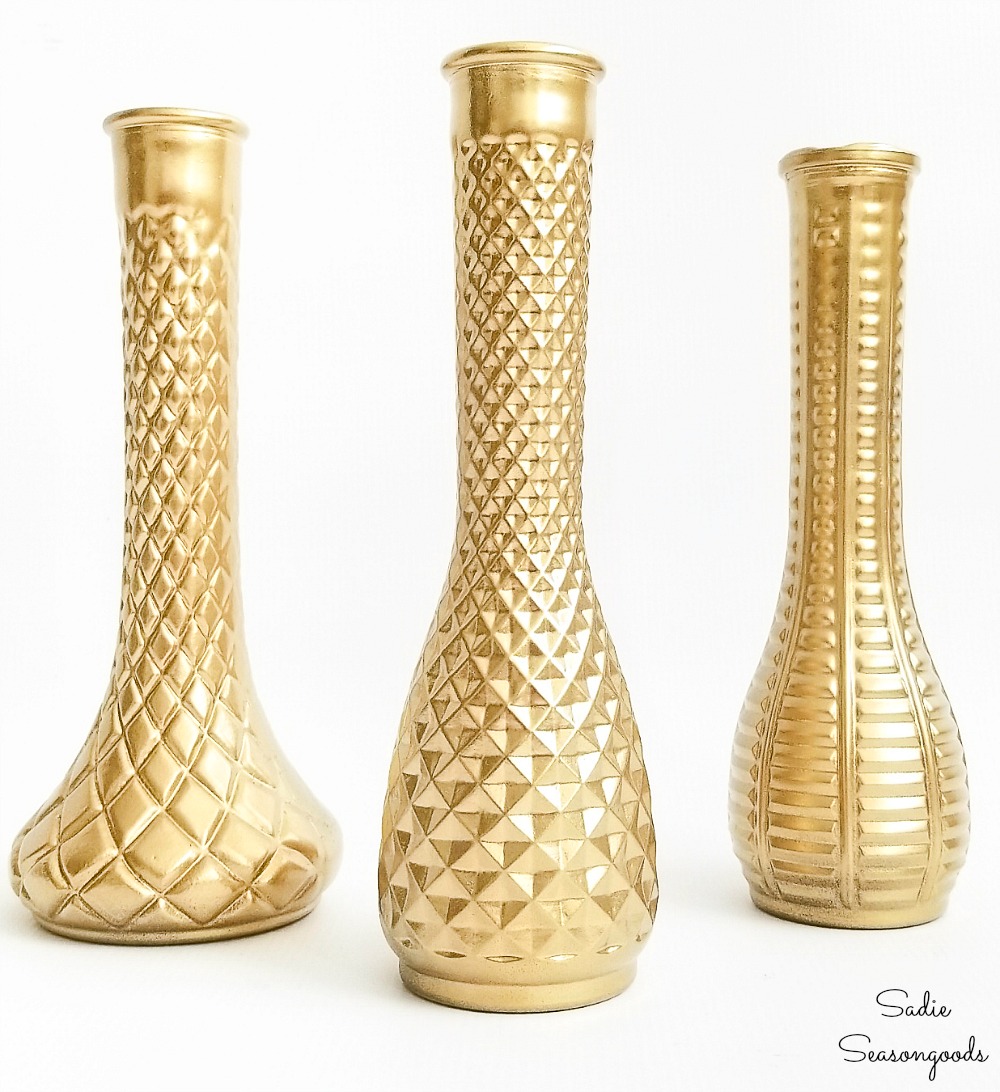 Next, I focused on the "enamel" part of a Cloisonne vase.
I wouldn't actually use enamel paint, of course. But rather acrylic craft paint in a rich hue and some dainty craft paint brushes.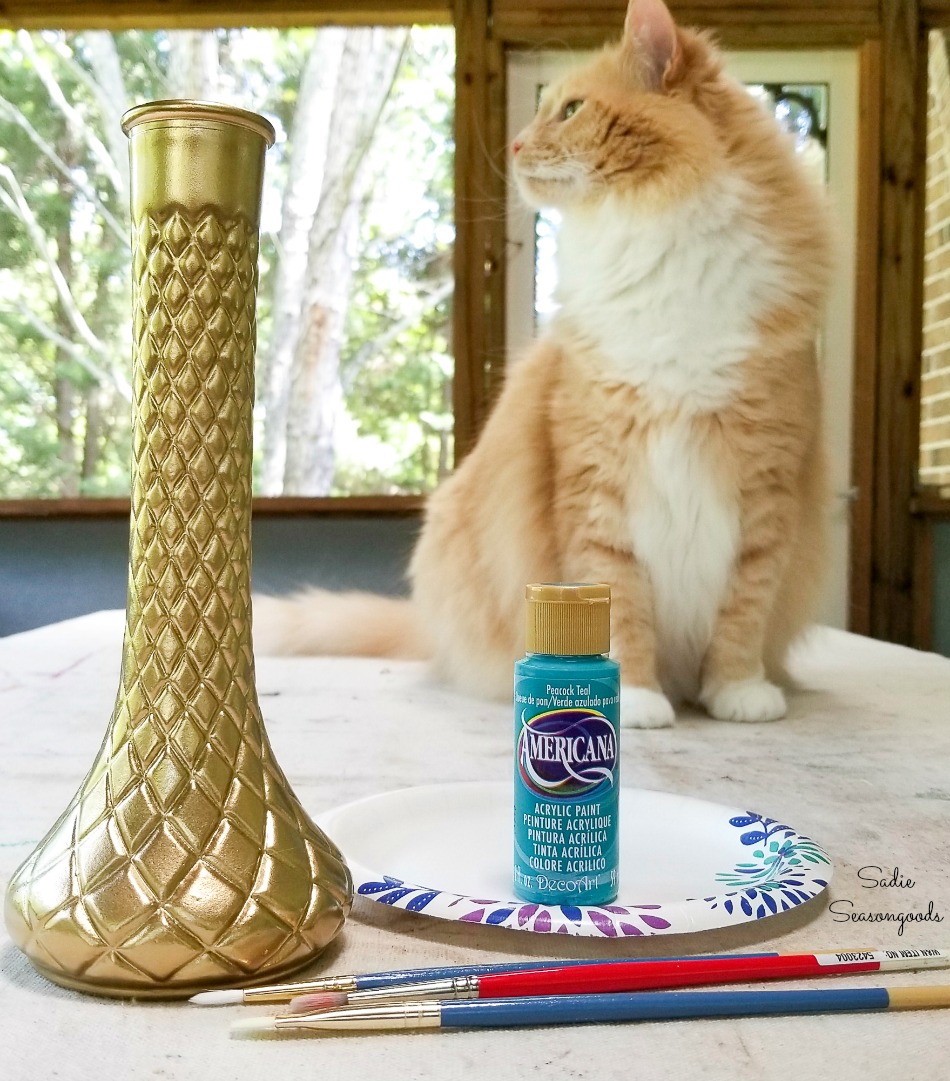 I squeezed out some craft paint and let it sit in the open air for a few minutes to thicken up. Then, I used a small, square-tipped flat paint brush to transfer the paint onto the shapes of the florist vases.
In other words, I didn't really brush it on but rather "paddled" it on. Does that make sense?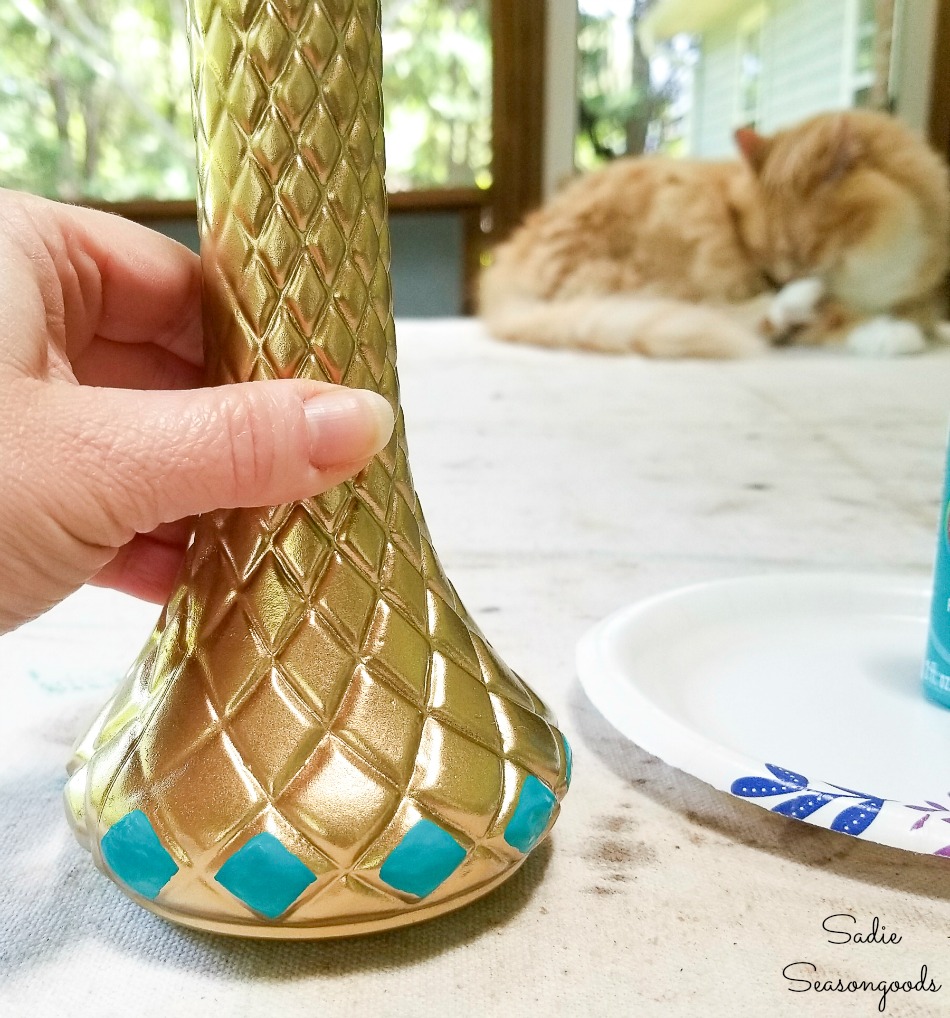 The goal was to "fill in" the shapes of the pressed glass with rich, opaque paint coverage without showing any brush strokes or unevenness.
Getting the Look of a Cloisonne Vase
For this particular vase, I only painted part of the design. The diamonds got pretty small and I didn't have super dainty brushes to accommodate that.
But I kind of liked it like that. A much more modern take on a Cloisonne vase.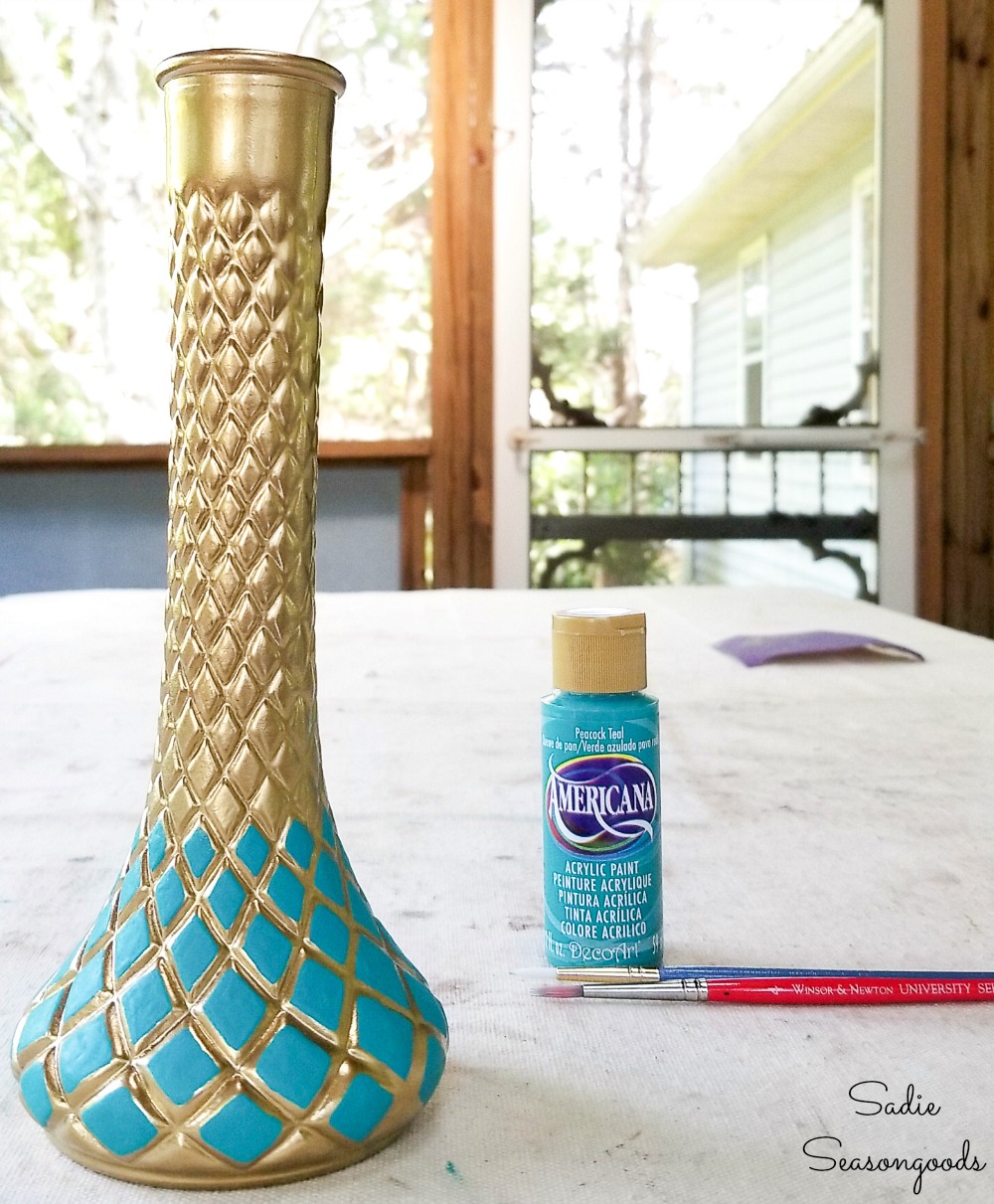 And since acrylic craft paint typically has a matte finish, I headed back outside to give my Cloisonne vase a glossy topcoat.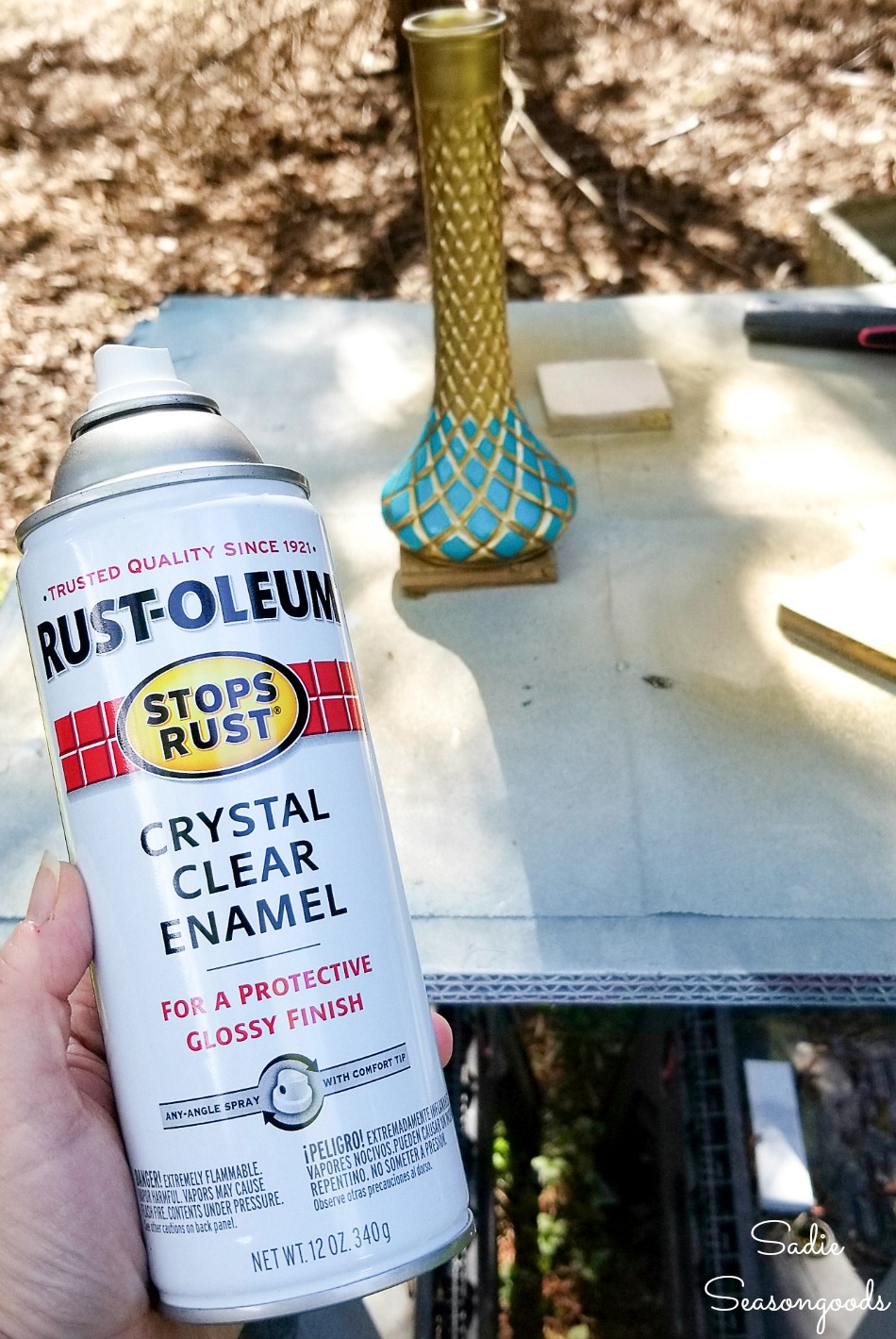 While that vase dried, I went back to the other florist vases that I had spray painted gold. I played around with different ways to add color to them.
One vase had diamond-shaped dimples across the entire thing, almost like the giant ball at EPCOT. To give it the Cloisonne treatment, I dipped paint brush handles in paint to "fill in" the dimples.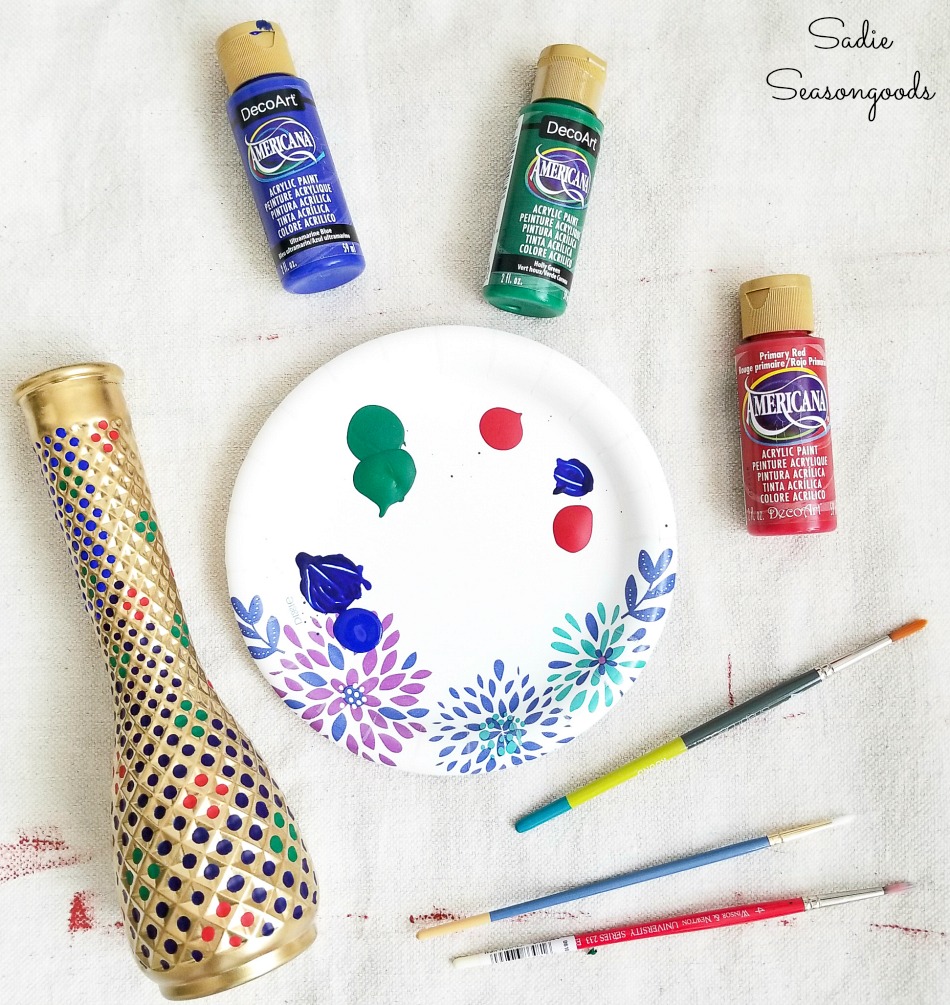 And this vase had ridges that required the straightest of lines.
And, well, I'm just not that talented with a paint brush!
So, I used some glass paint markers in alternating colors to fill in the ridges.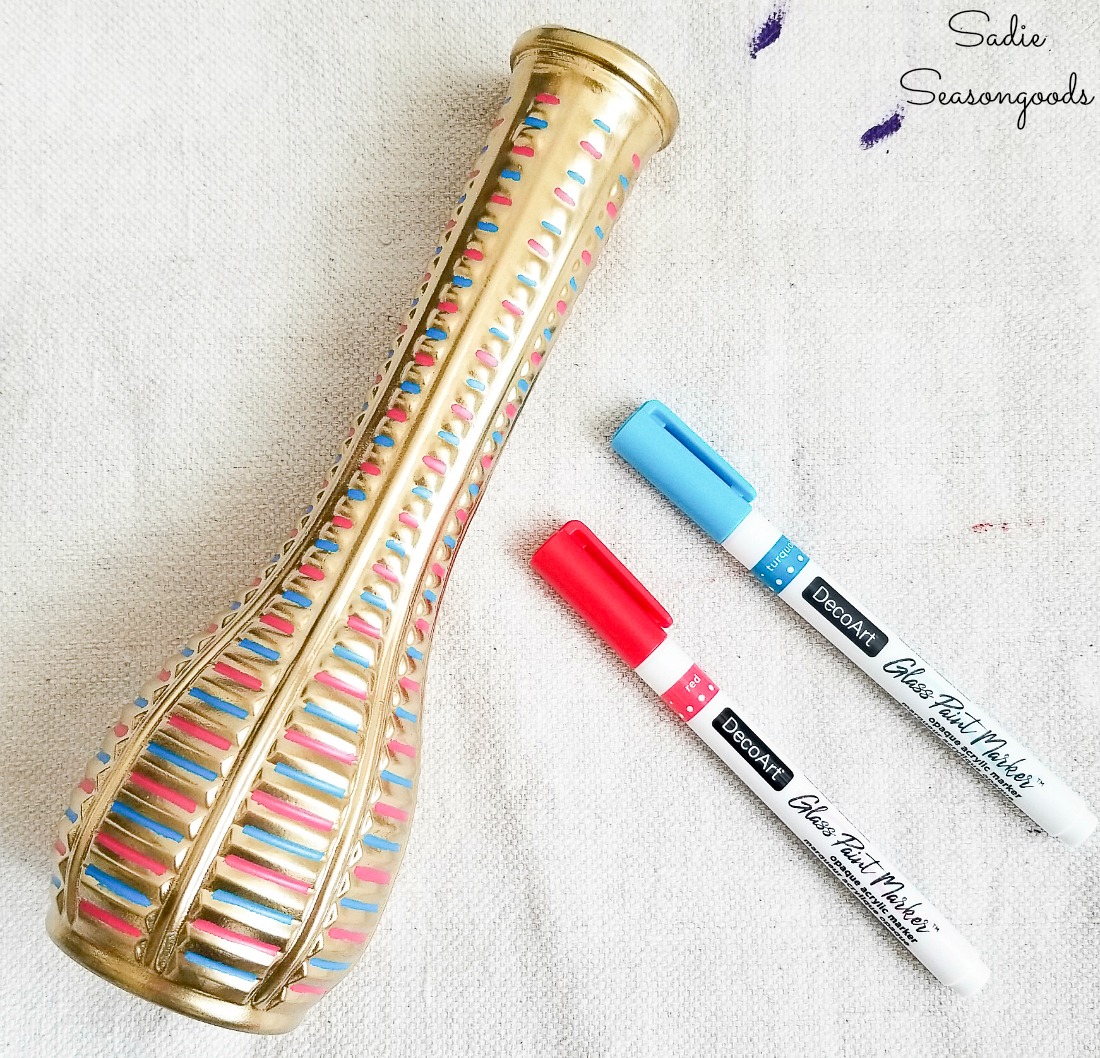 Finally, I used the same glossy topcoat to finish them off!
Faking a Cloisonne Vase for Eclectic Home Decor
And while they don't sport the intricate patterns of a real Cloisonne vase, they ended up with a very intriguing and exotic look!
They kind of reminded me of a souvenir from an exciting trip overseas.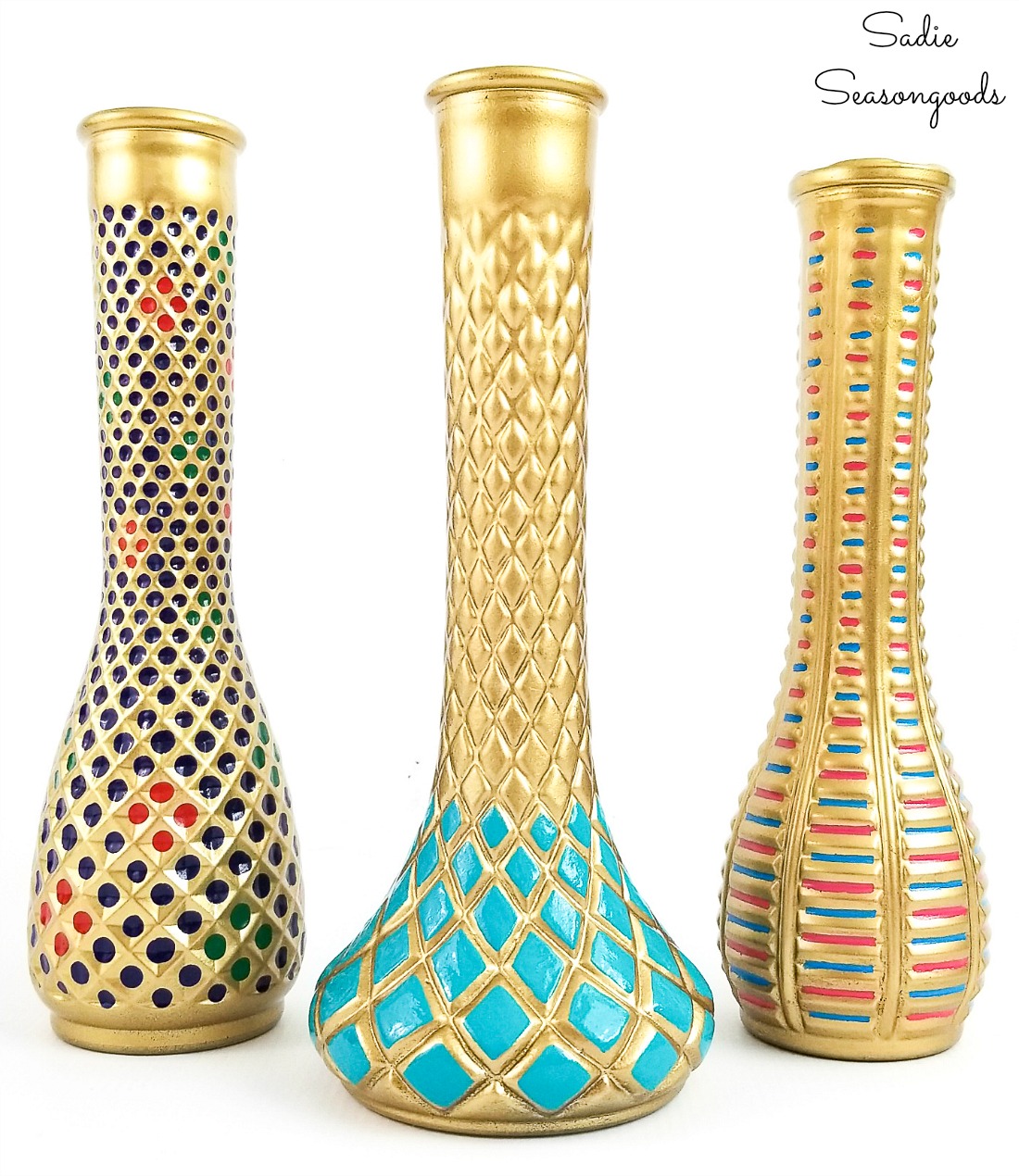 I LOVE them. I love how they look exotic and globally inspired. But they're simply florist vases from the thrift store.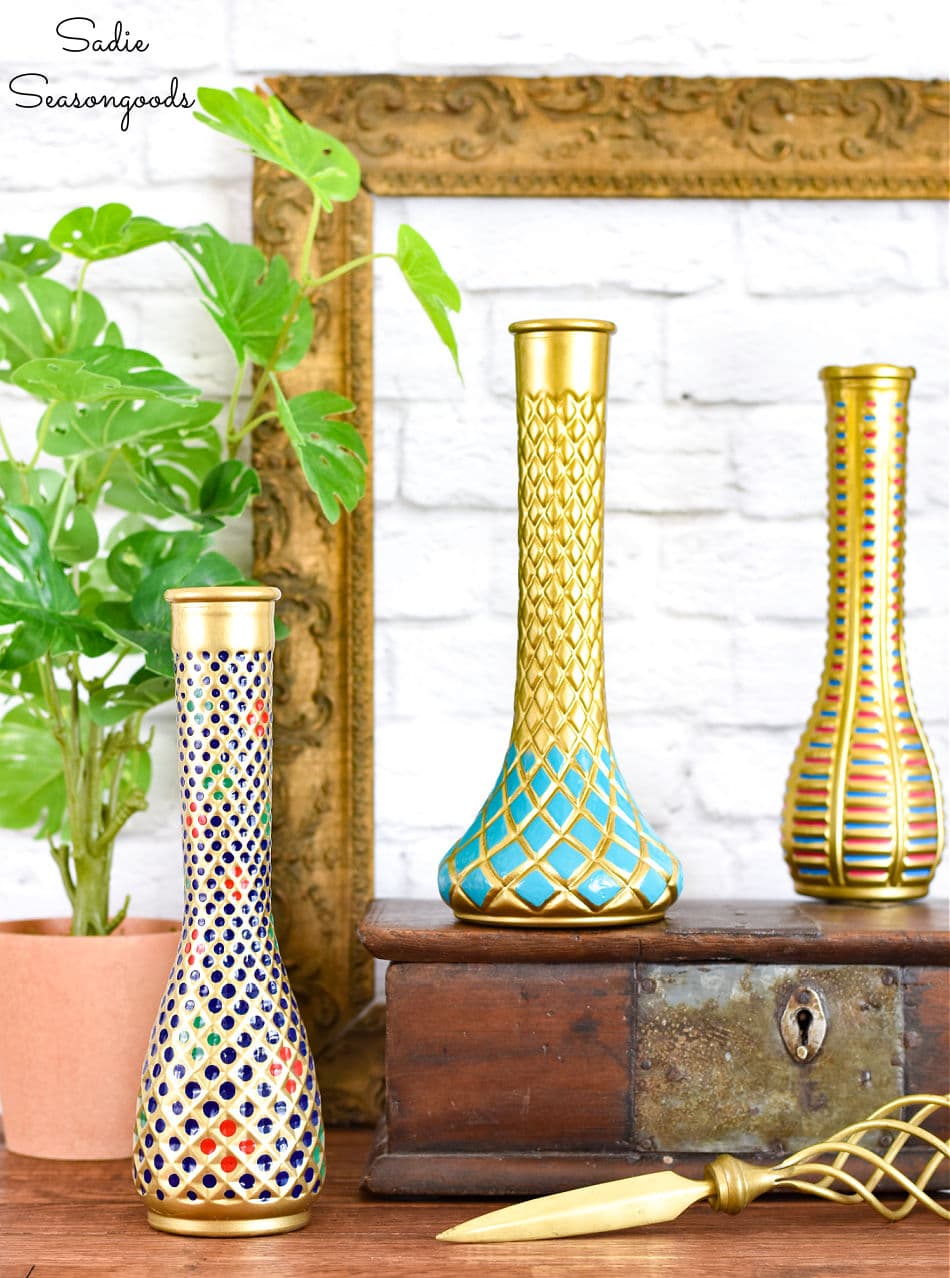 *****
AND hurrah! Today is Thrift Store Decor Day, so check out what my upcycling friends have been up to.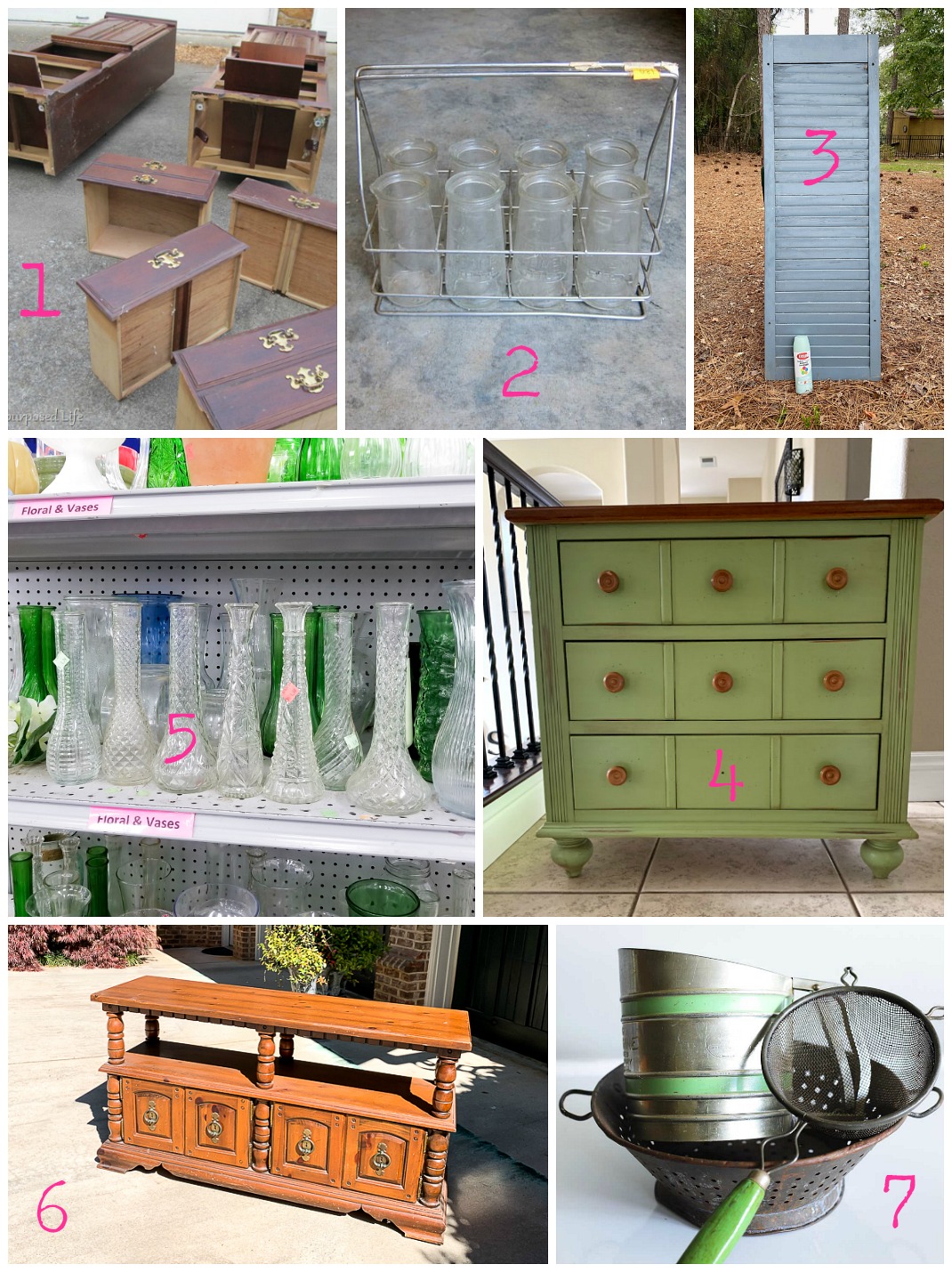 1. Bookcase Makeover – My Repurposed Life
2. Urine Specimen Bottle Display – Petticoat Junktion
3. Shutter Shelf DIY – Refresh Restyle
4. Nightstand Makeover – My Uncommon Slice of Suburbia
5. Florist Vase Makeover Inspired by Cloisonne – Sadie Seasongoods
6. TV Console Makeover – Our Southern Home
7. Repurposed Kitchen Tools as Planters – House of Hawthornes
*****
What do you think of this makeover inspired by a Cloisonne vase? It's definitely a change of pace for me, that's for sure!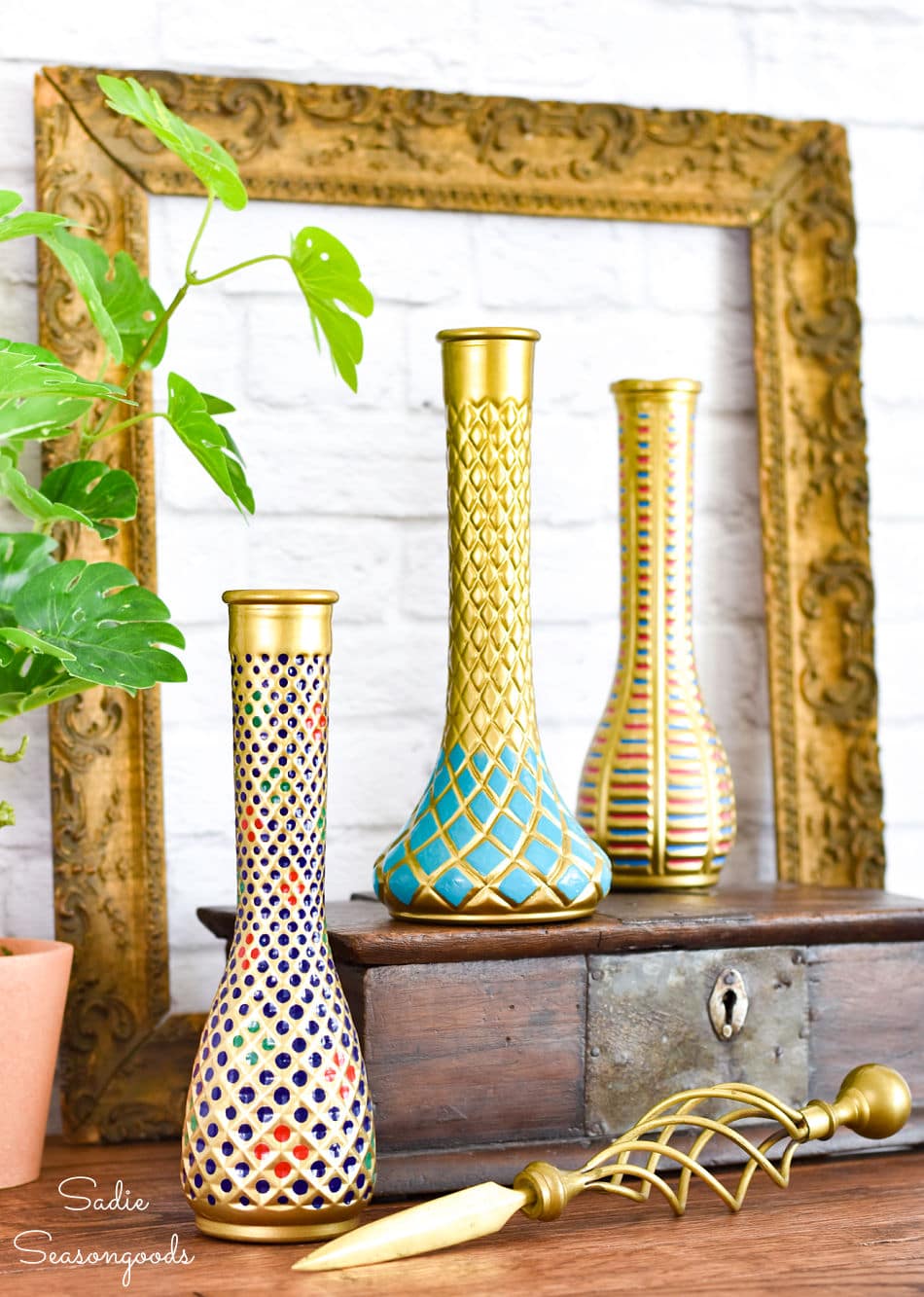 I'm also excited to announce that my first book is now available! If you enjoy upcycling clothing and simple sewing projects, then you will love my book on flannel crafts!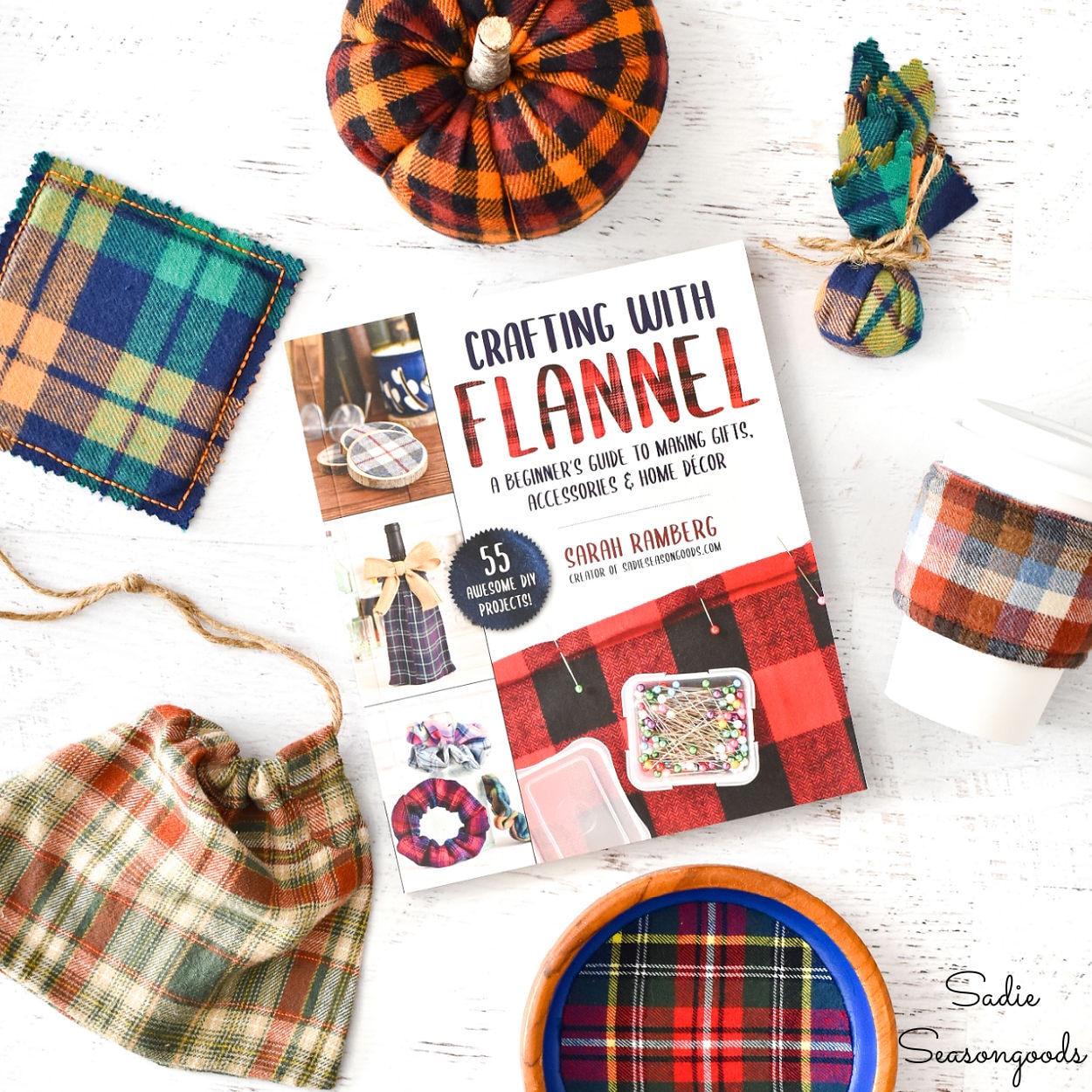 If you enjoyed this upcycling idea for exotic or eclectic home decor, then you may also be interested in this boho style basket wall decor, as well!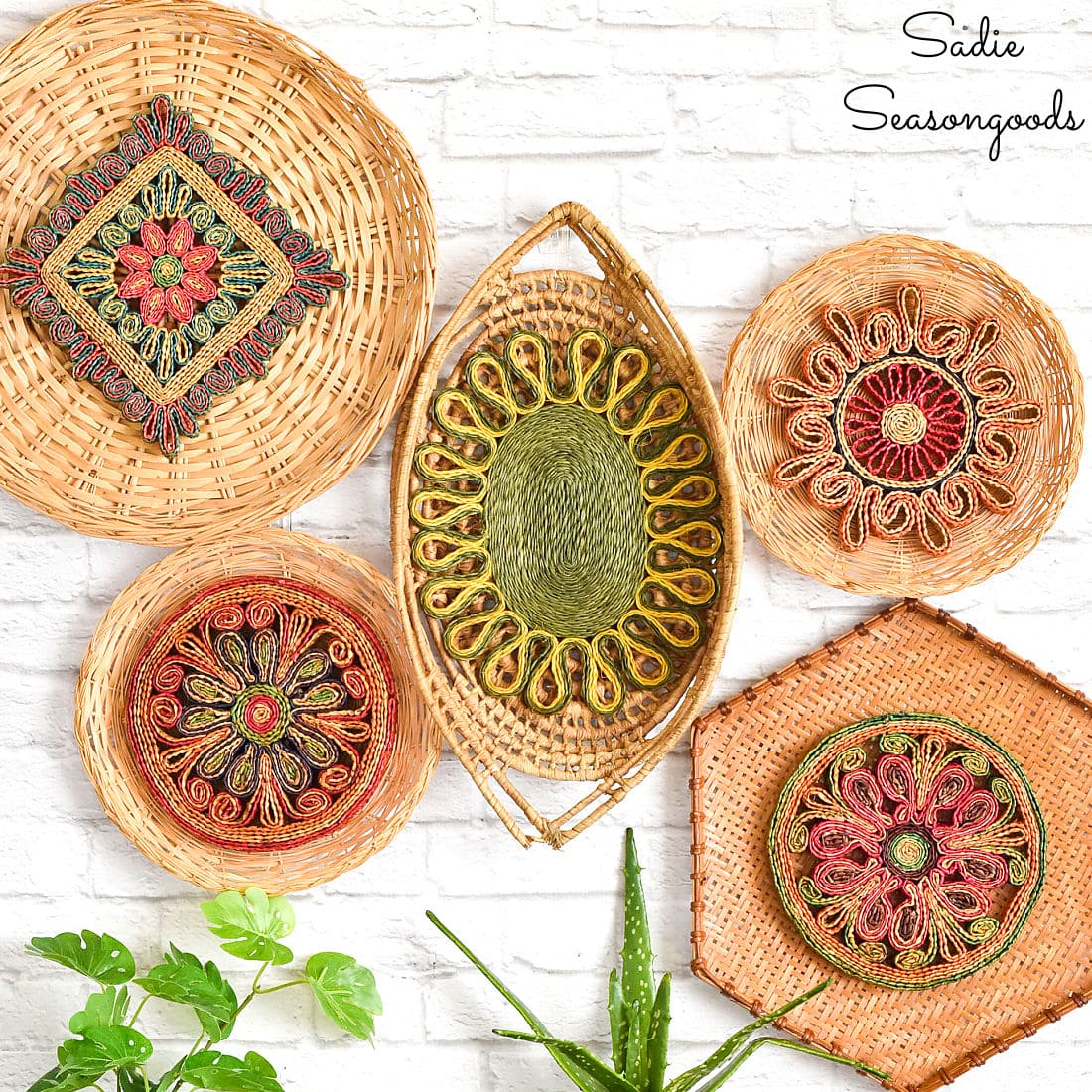 Craft on!
S
Want to be notified when I publish my next upcycling project tutorial?
Subscribe to Blog via Email
Join me on Social Media:

PIN ME!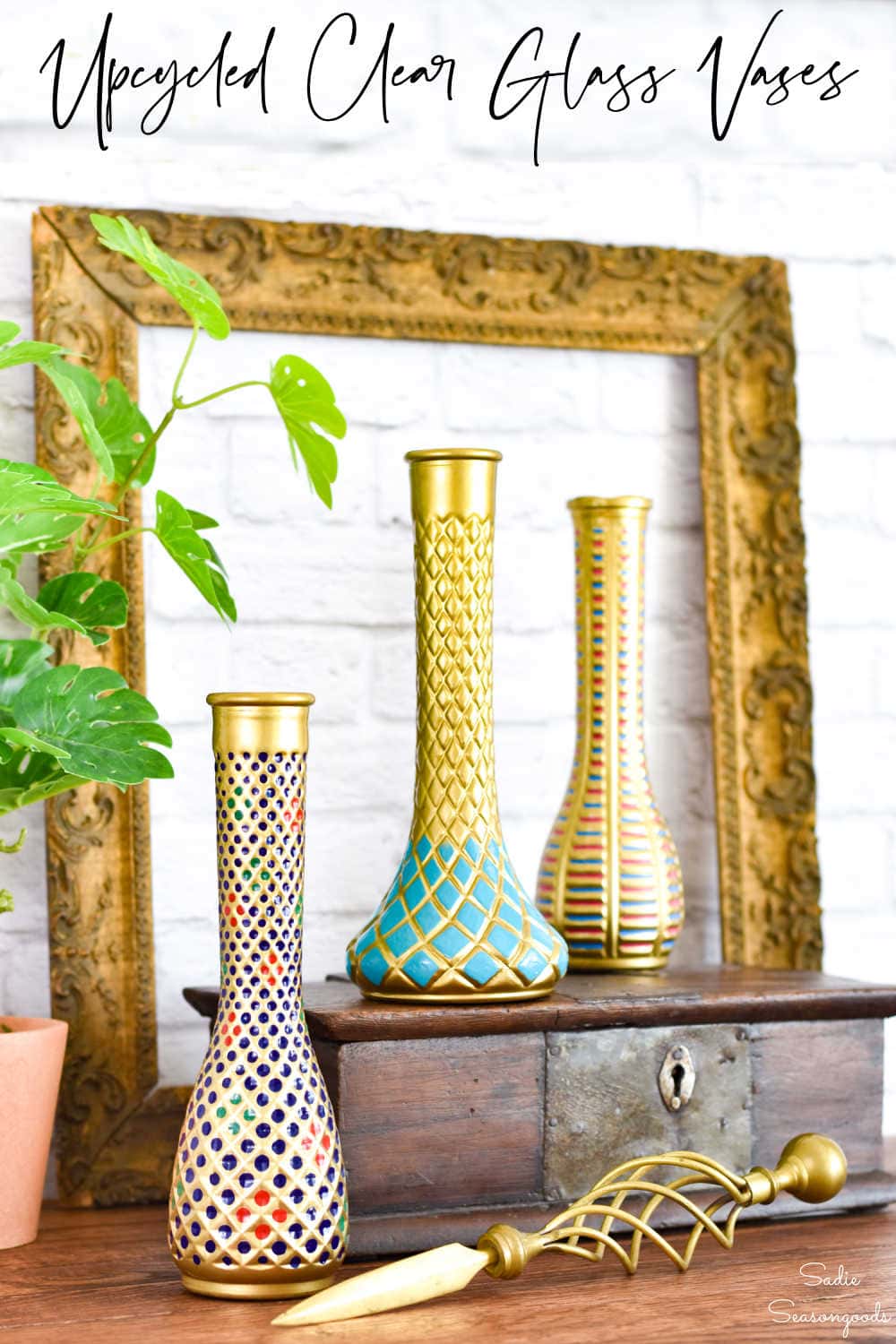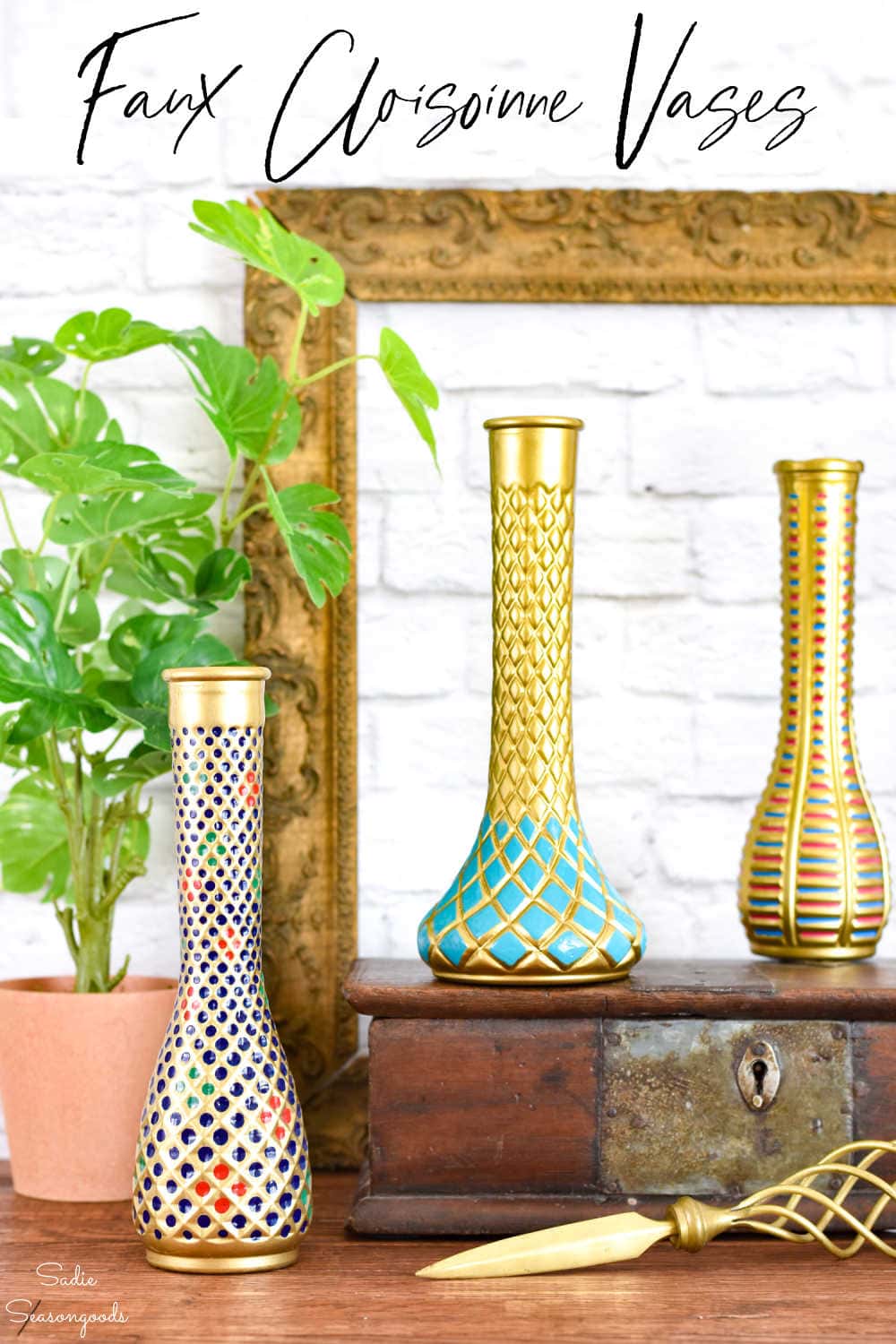 Sarah Ramberg is the owner of Sadie Seasongoods, a website that celebrates all things secondhand. From upcycling ideas and thrifted decor to vintage-centric travel itineraries, Sadie Seasongoods is a one-stop shop for anyone who loves thrifting and approachable repurposing ideas. Sarah is also the author of "Crafting with Flannel" and has been featured in numerous media outlets and magazines.