My husband doesn't always drink whiskey, but when he does, he often looks for one in a pretty bottle that I might like. This one (and the label) caught his eye, and when he finished it, I set the bottle aside to transform it into a mid-century modern vase.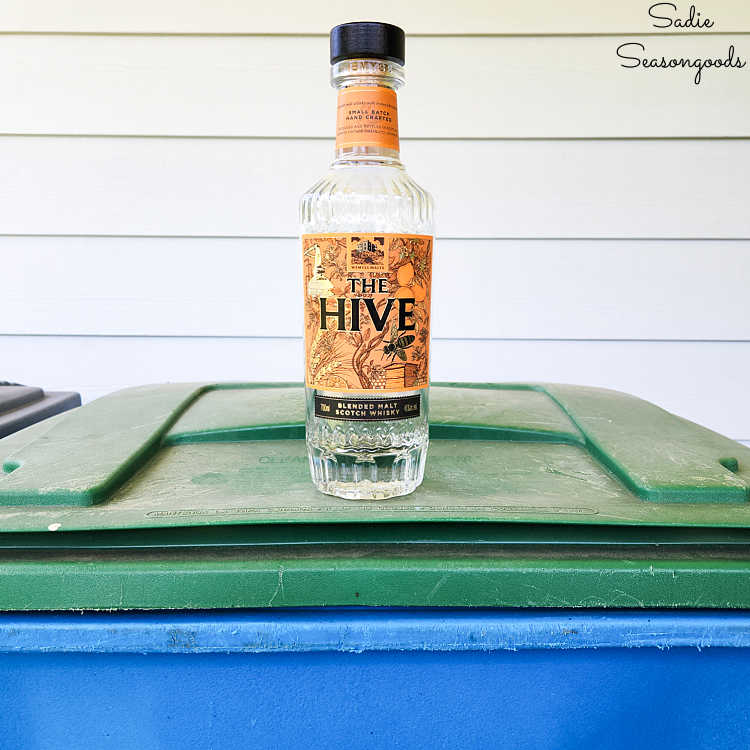 And yes, you're right. I *have* upcycled bourbon/whiskey bottles before based on their shape. I still love how they turned out, but it was clearly a seasonal project.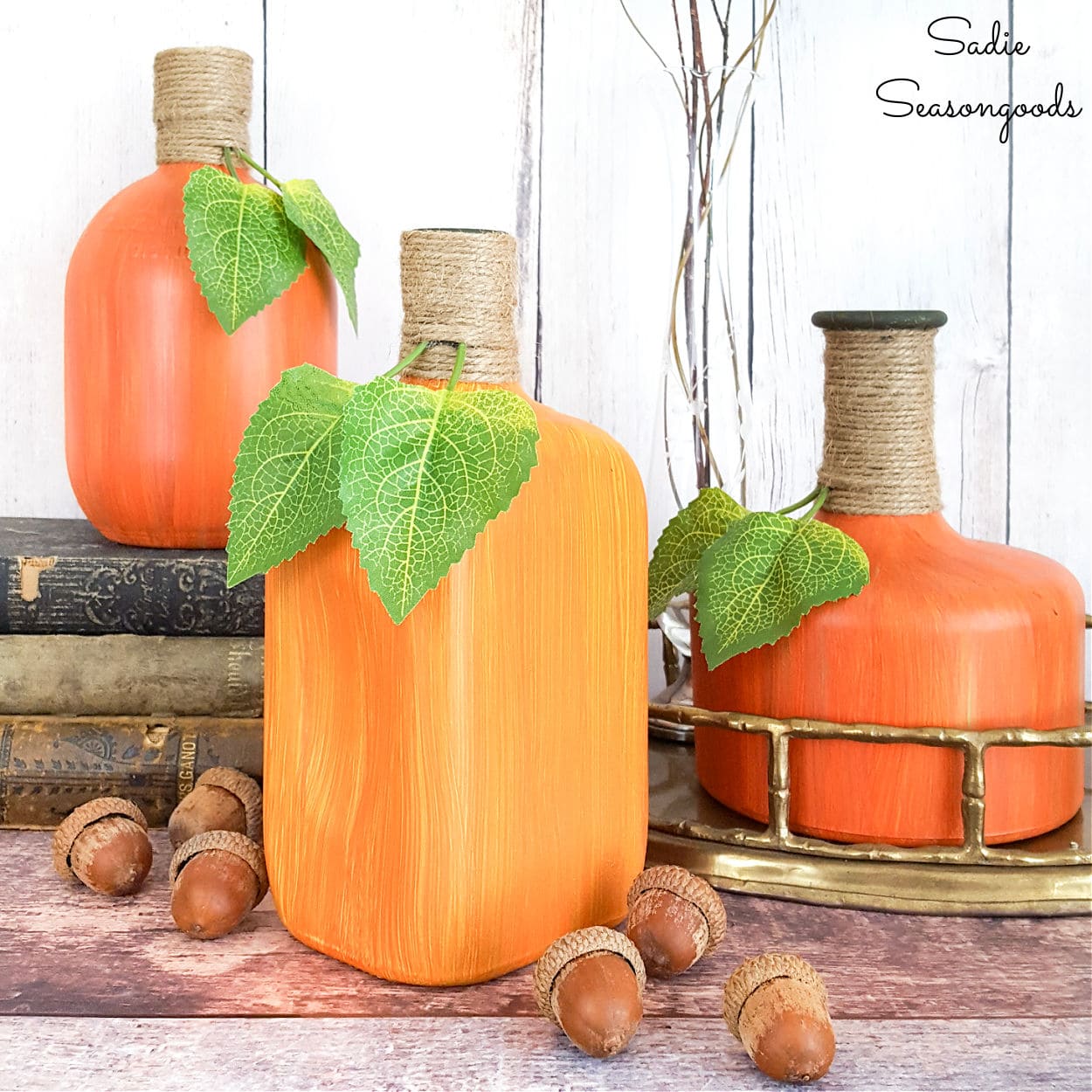 This time, however, I planned on creating something that could be used or displayed year-round. And something that would work well in our eclectic, mid-century modern-inspired decor. PLUS, I planned to try a craft supply that I haven't worked with before, which is always exciting (for me, at least).
This post contains affiliate links for your crafting convenience. As an Amazon Affiliate, I earn from qualifying purchases. All blue, bold, and underlined text is a clickable link to a product or a related post.
Tinting a Clear Glass Bottle
First, I faced the dreaded process of removing the labels. I figured this would be a tedious process involving standing at the sink, a lot of running water, and picking away the disintegrating paper.
But boy was I wrong! I tested a corner of the label with a fingernail first to see what I might be dealing with when a miracle occurred.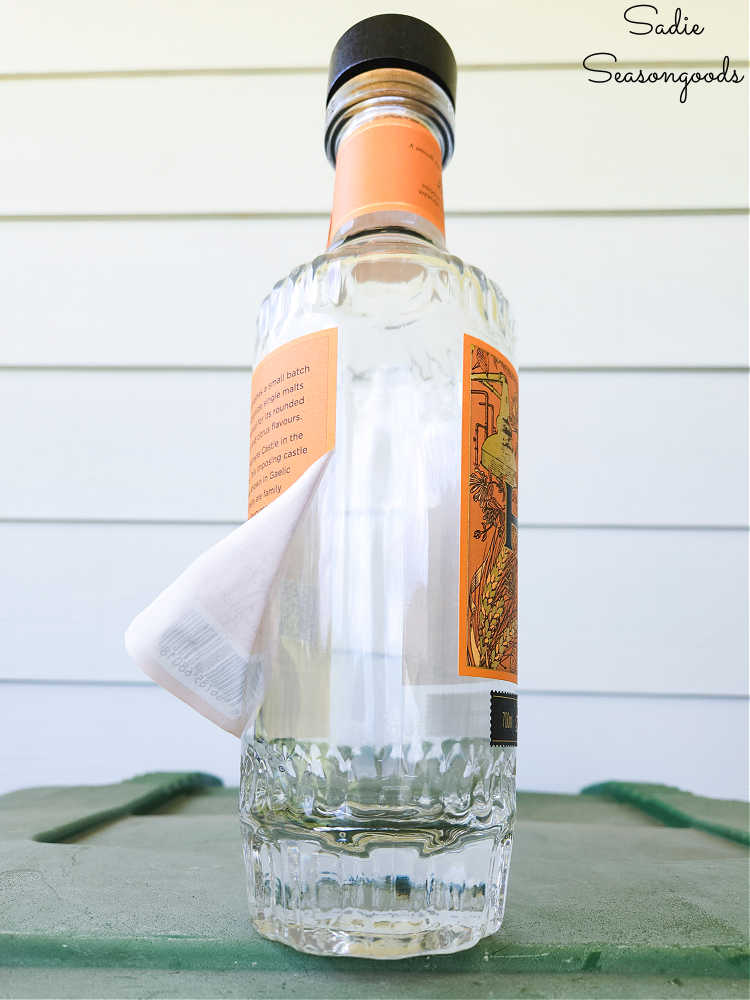 It. Peeled. Right. Off. Little to no effort was needed- I didn't try to rip it off; I still took my time and peeled gently.
But within moments, I had removed EVERYTHING and there was zero trace of anything sticky. As if the bottle had been label-free from the start.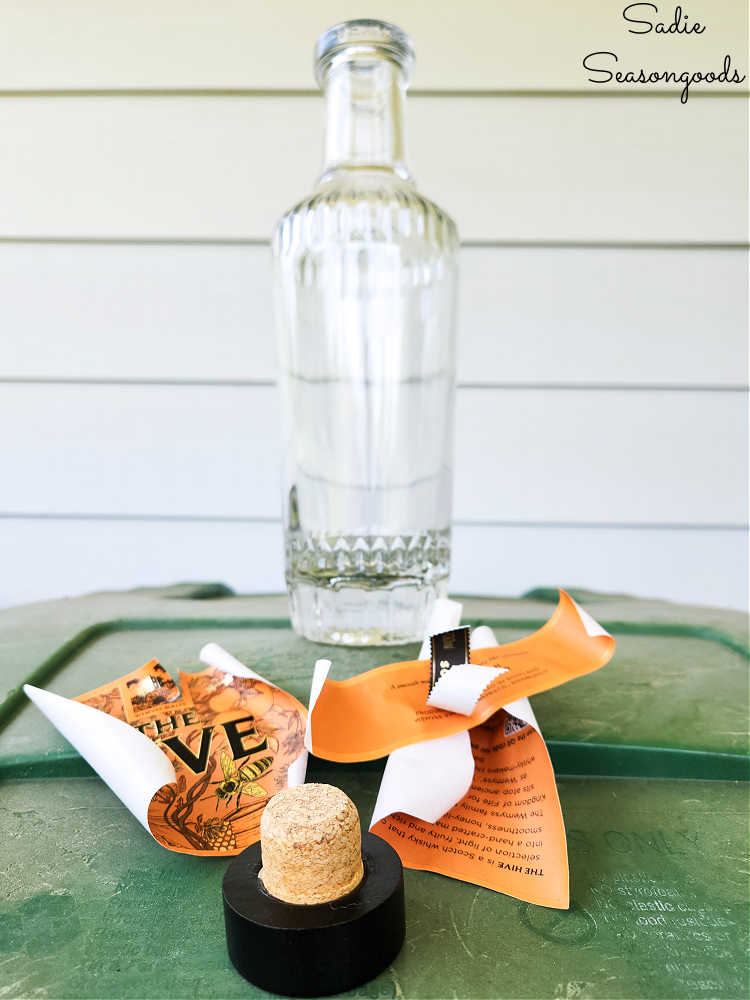 Can you believe it? Sheer dumb luck- but what a magical experience for a crafter like me!
Anyway, back to the project. Next, I decided that I wanted to tint it blue. You might recall the cobalt-colored swung vase I bought in this post. I knew I couldn't replicate that intense color 100%, but the vintage vase would serve as my inspiration nonetheless.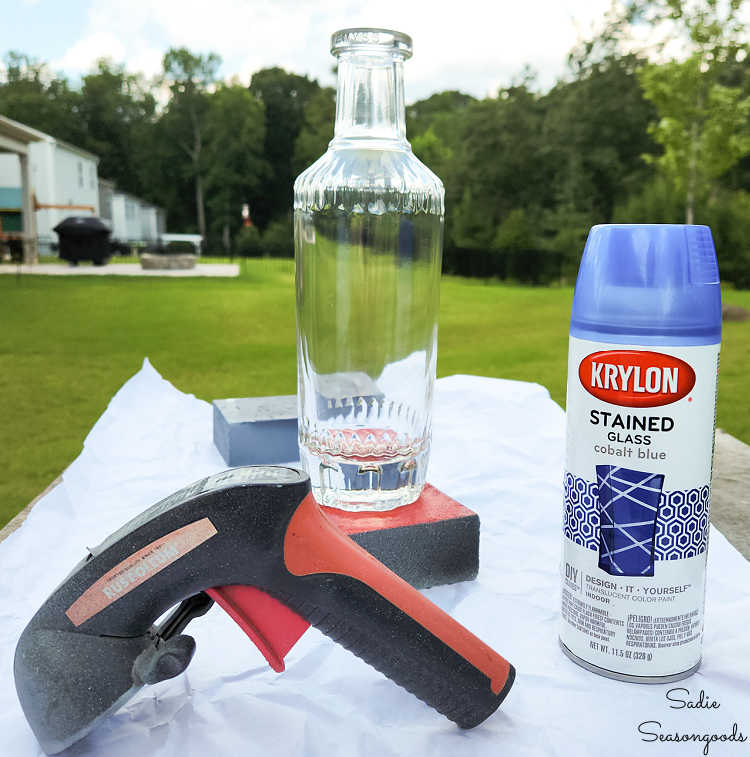 I've used this stained glass spray paint on several projects, most recently on this pressed glass decanter. But this time, I was using the blue paint alone (or so I thought).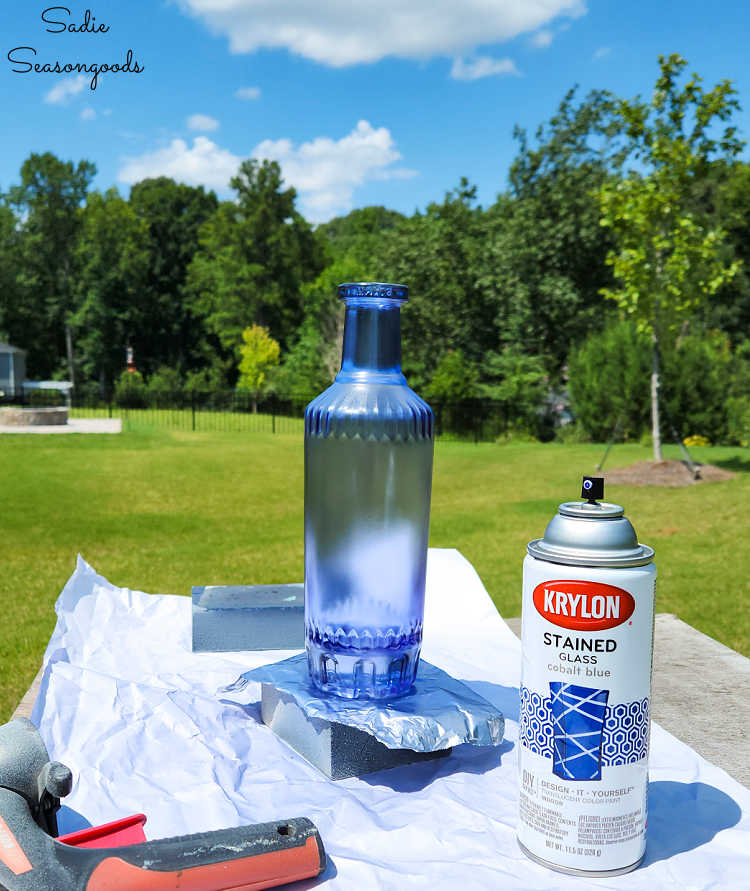 Per usual, I applied numerous light coats (only waiting 10-15 minutes in between each one). But since it was taking on a purple hue, I mixed in a few coats of the Soft Blue shade.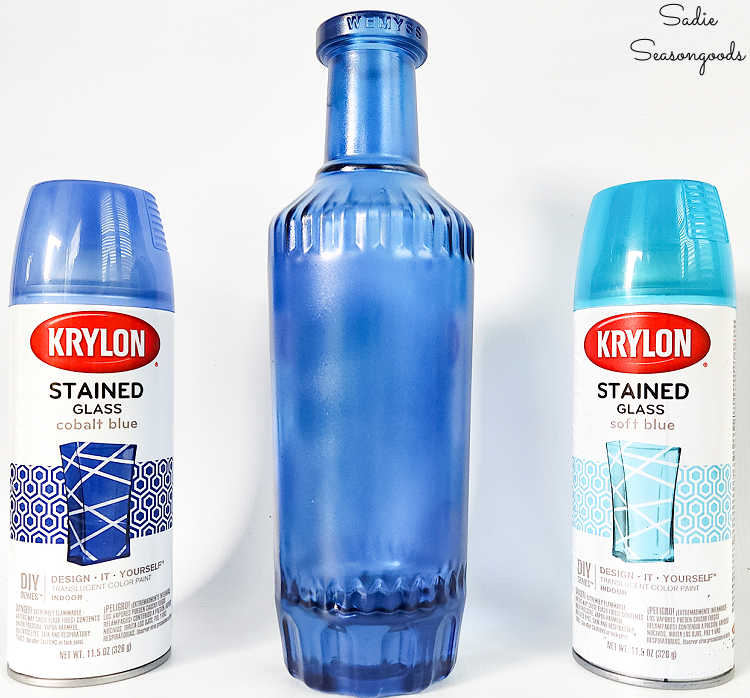 Then, it was time to turn it into a mid-century modern vase with a little embellishment.
Decals for a Mid-Century Modern Vase
Next, I needed to add shapes or designs in a mid-century modern style to achieve the right look. But stenciling (normally my go-to for other MCM projects), was out of the question.
So, I decided to try some vinyl decals from this Etsy shop! After all, I figured it was high time I tried my hand at some decals/transfers on a project.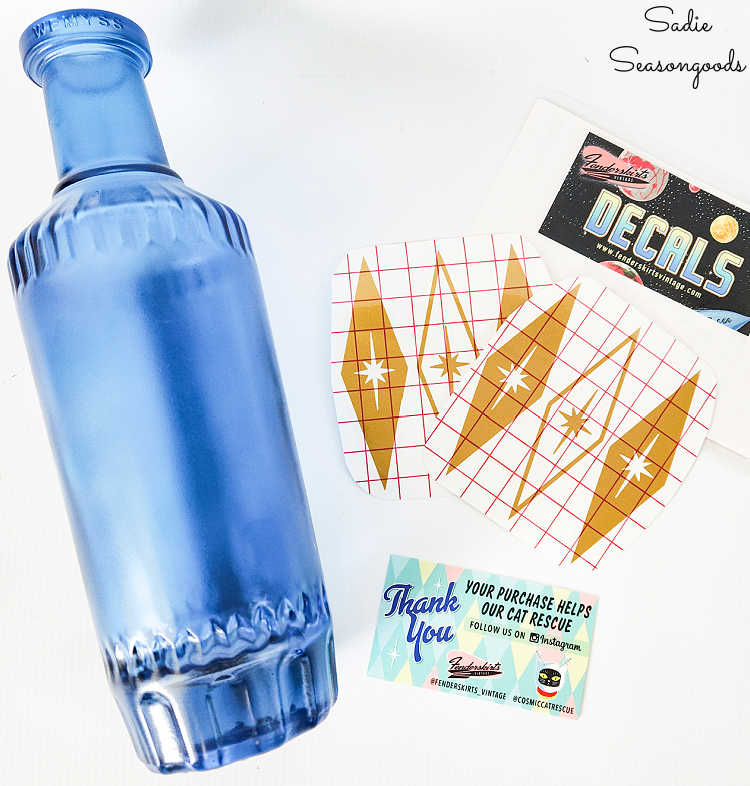 The instructions were very clear and straightforward. I'd purposefully ordered a specific size and color in this decal (they have many variations available).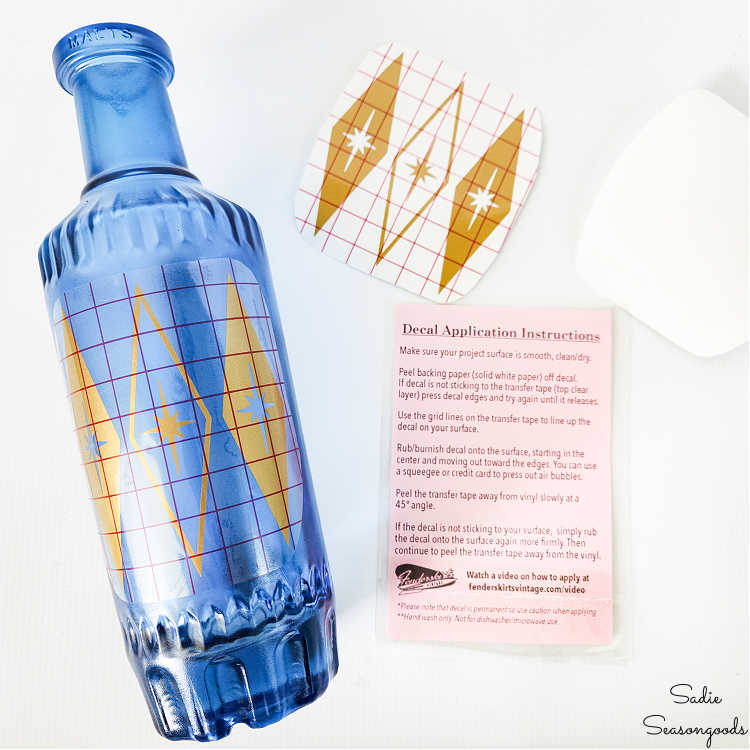 After I applied it to the bottle and rubbed it with a credit card, it looked like this once I carefully peeled the backing off. In other words, perfect!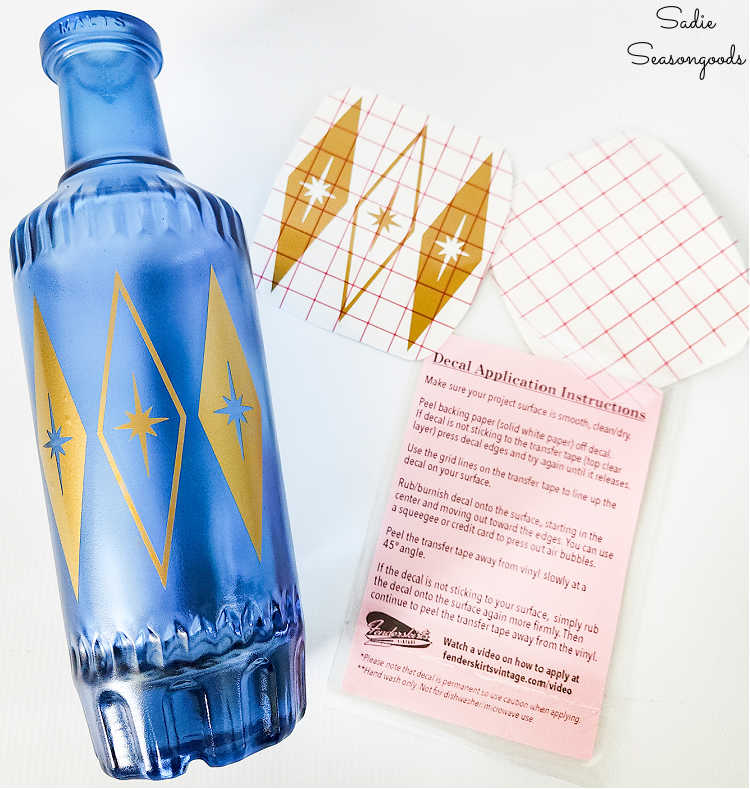 What a relief!! I couldn't believe how clean and gorgeous it looked. Since the Etsy shop sent two sets of decals, I did the same thing to the other side.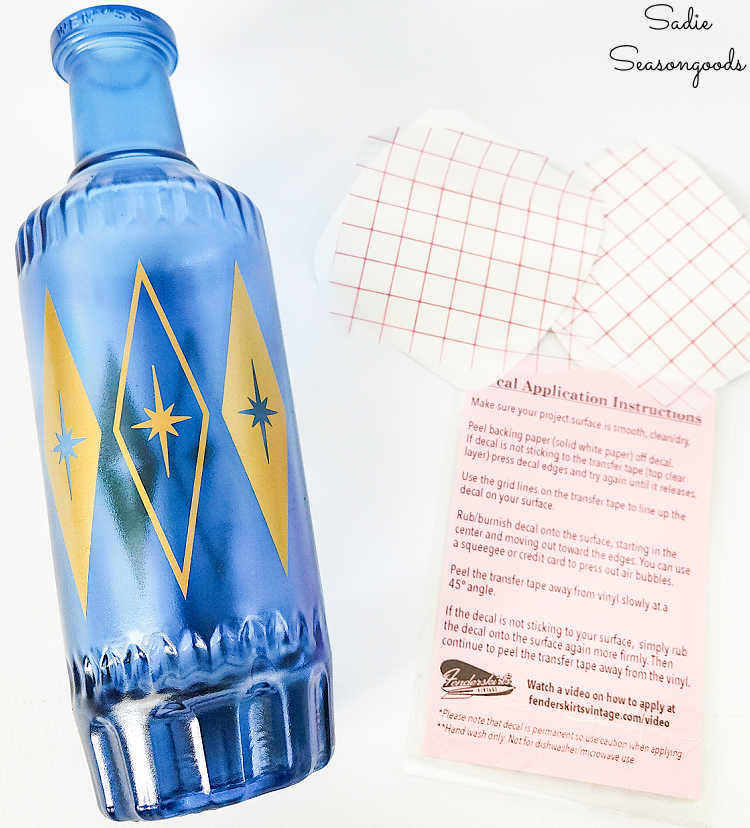 Admittedly, the bottle must have rolled a little because the front and back decals weren't perfectly lined up if I looked through the bottle. But that was definitely user error- I'd recommend these decals to anyone!
Now, I had a gorgeous mid-century modern vase (or decorative bottle) from something destined for our recycle bin!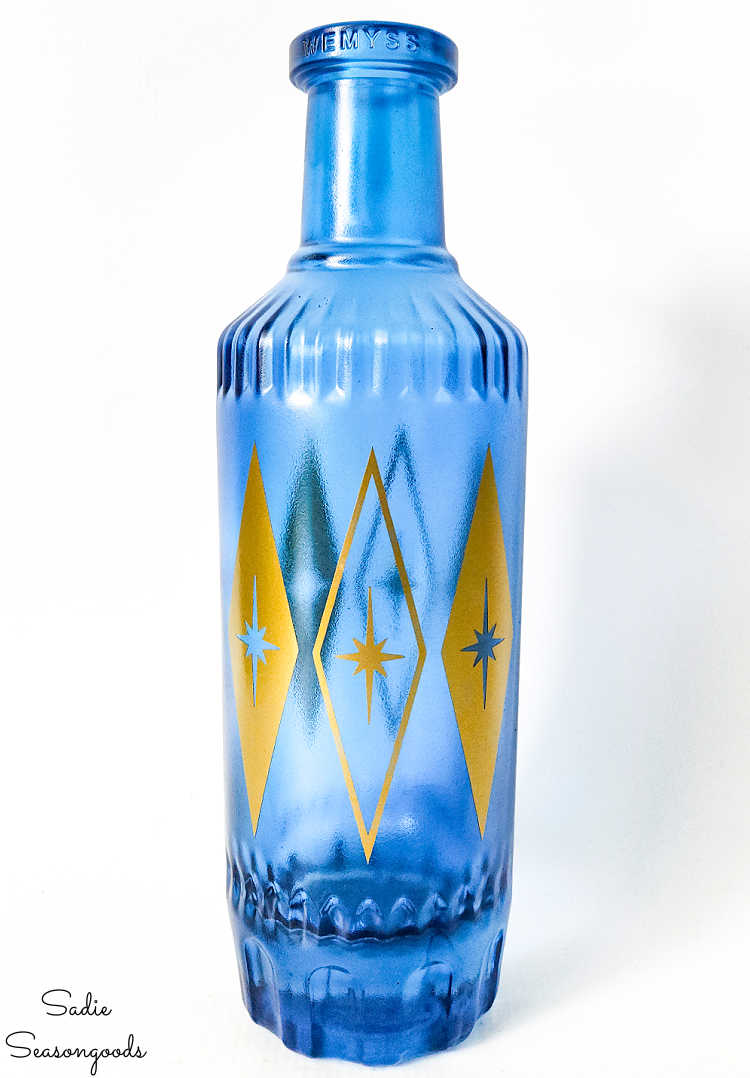 Mid-Century Modern Vase from a Whiskey Bottle
I honestly couldn't be happier with the final result. And while the color isn't quite as vibrant as the vintage swung vase, it holds its own just fine.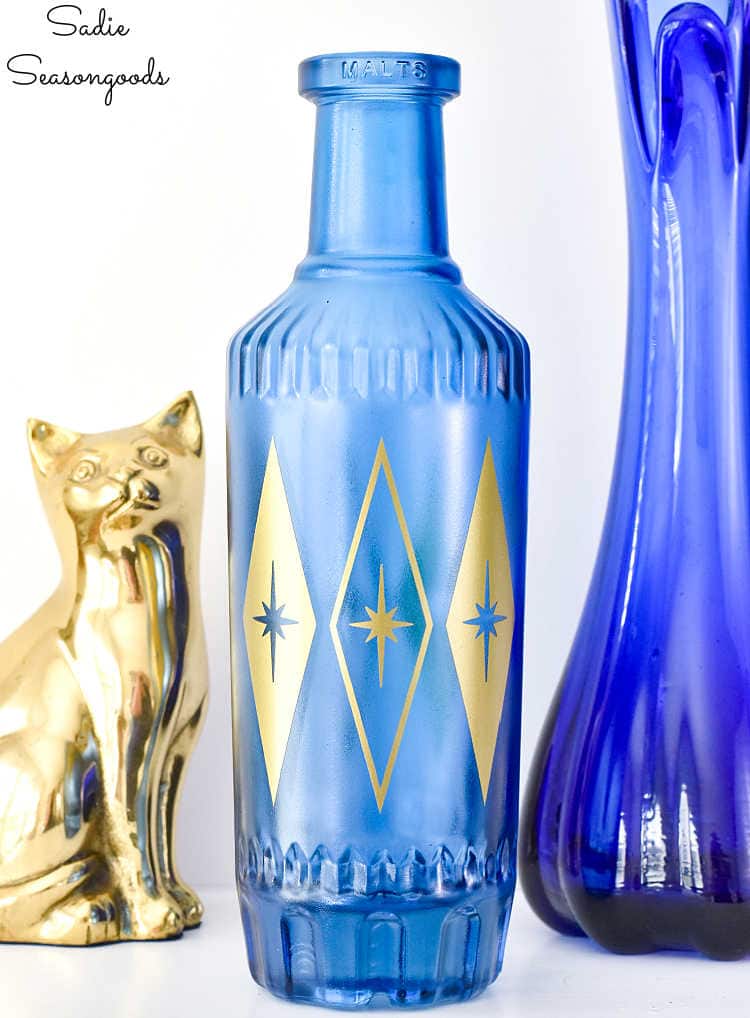 And these mid-century modern decals are a fabulous discovery for me. I think there will be all sorts of applications for these in the future!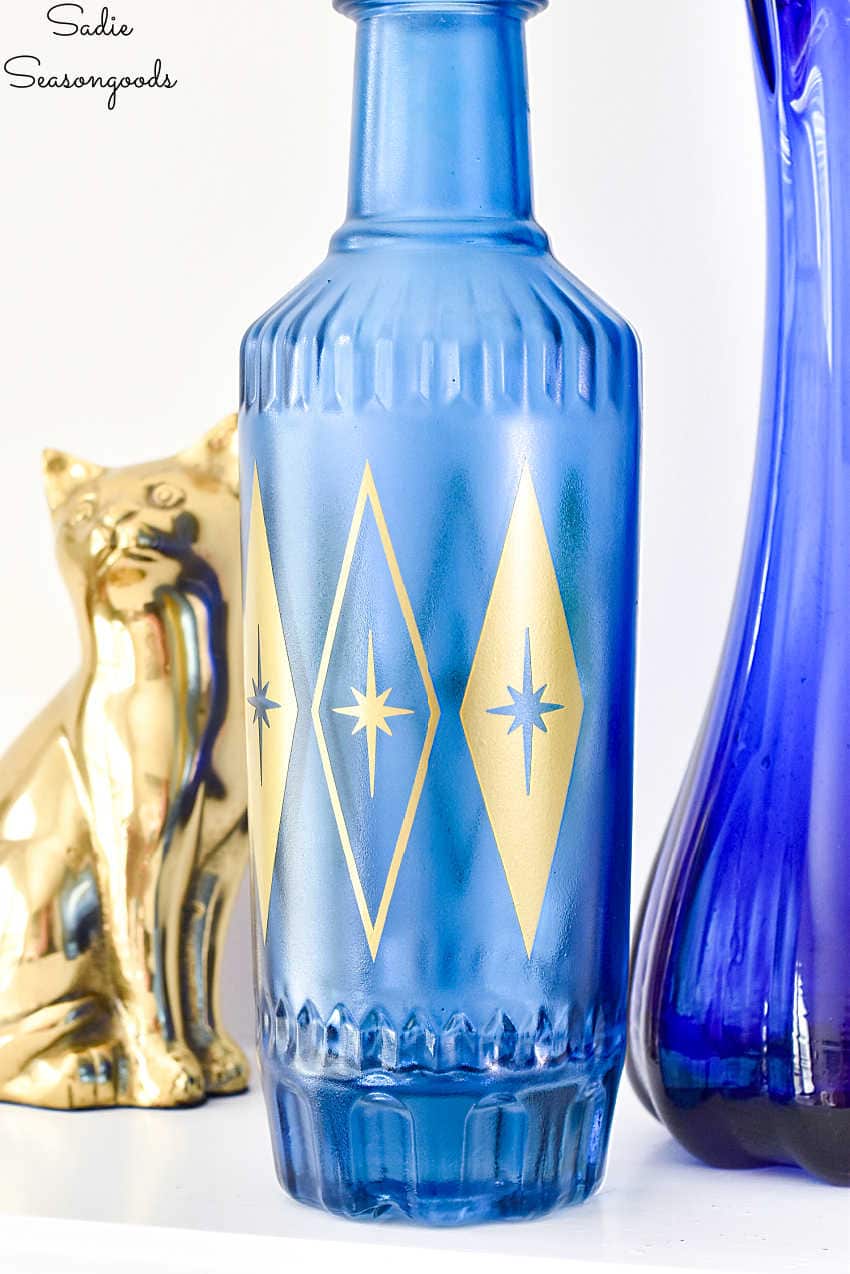 PLUS- this Etsy shop uses its sales to help support this cat rescue organization. I mean, talk about kismet for an MCM and cat-loving person like myself.
I hope you found this project inspirational- whether it's to try tinting something you were tossing in the bin or trying out these vinyl decals. This mid-century modern vase will join some of the other dark blue & gold projects I've already made, such as this coffee canister planter.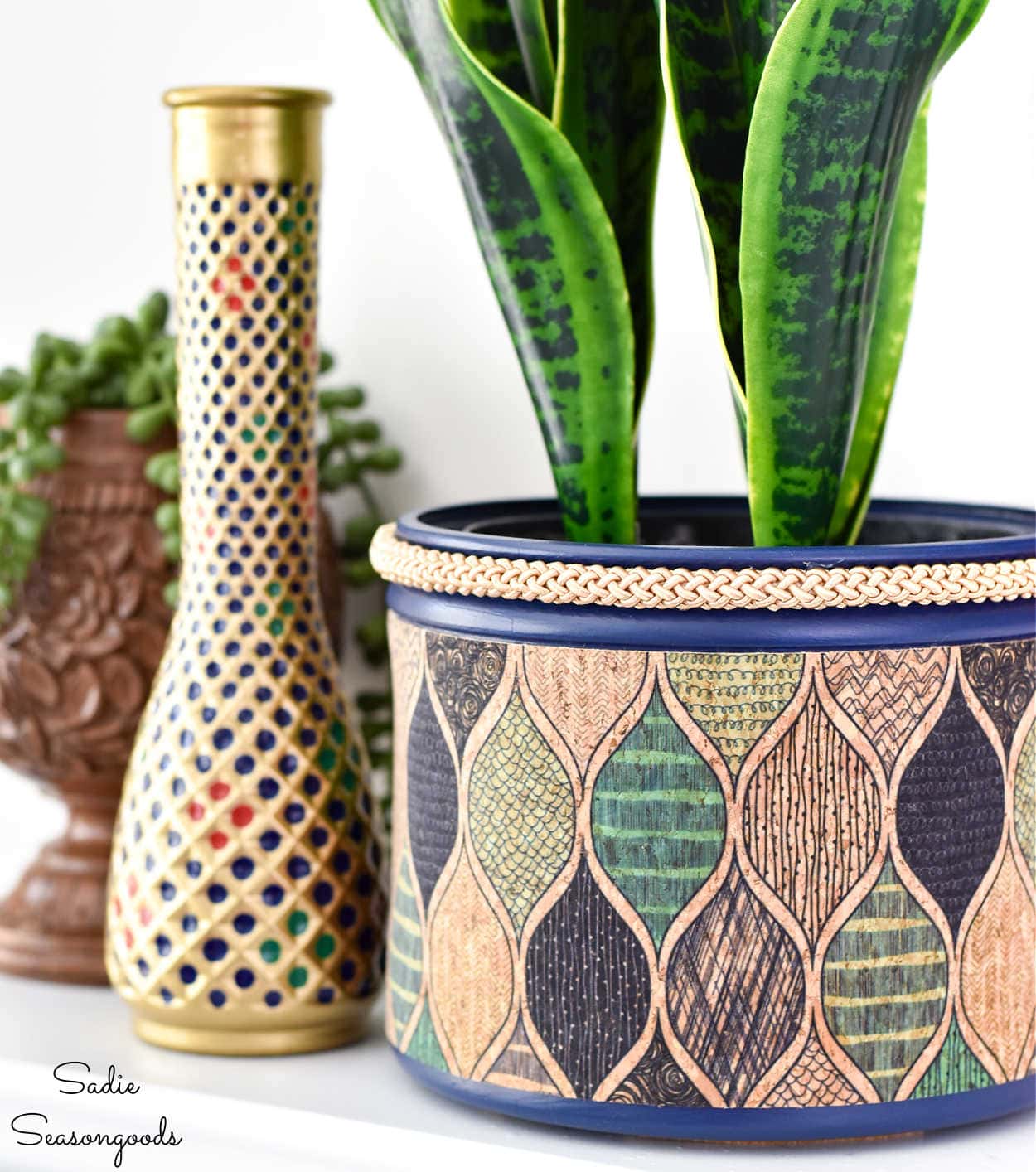 And for some additional inspiration, you may also be interested in this post about crafts from the recycling bin!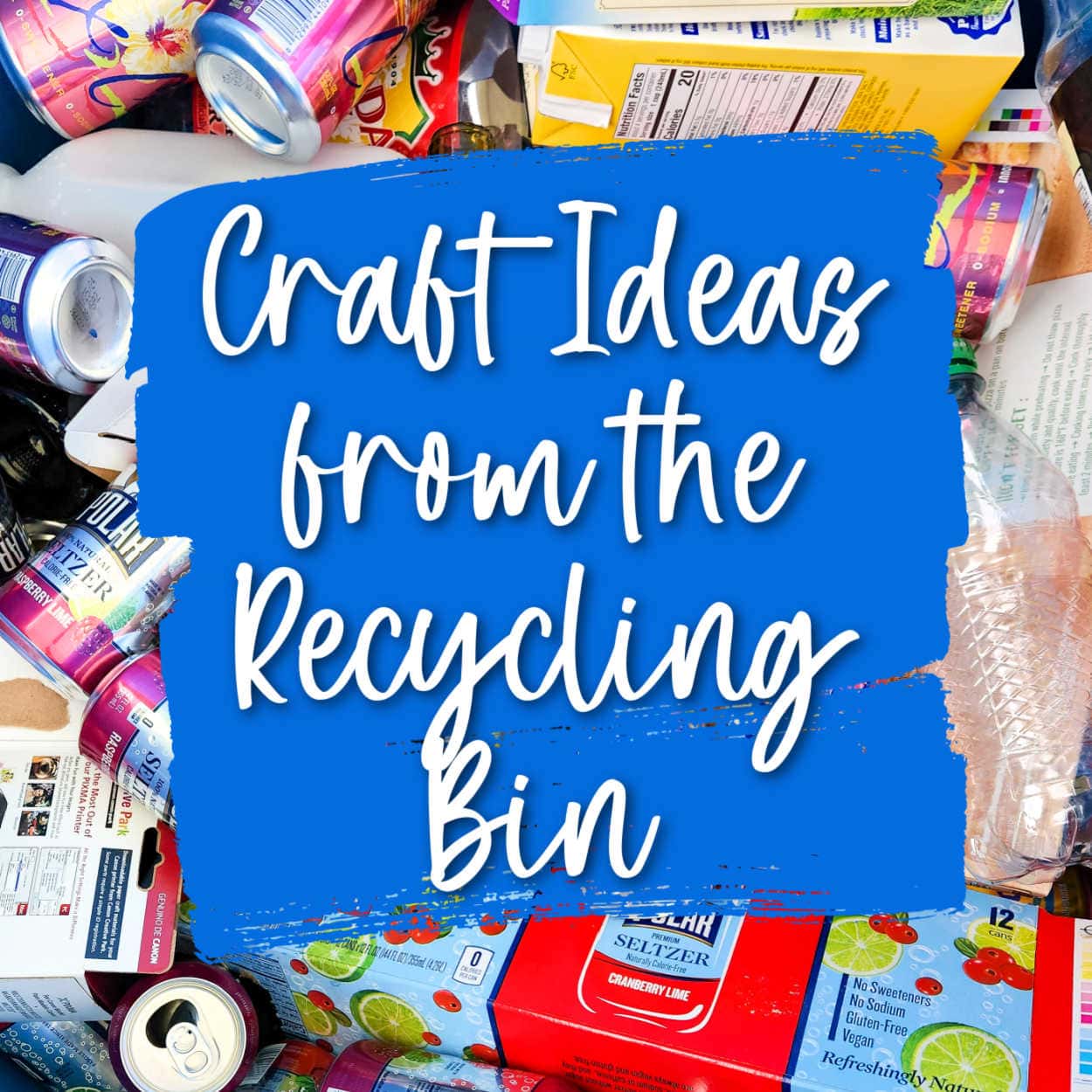 Craft on!
S
Want to be notified when I publish my next upcycling project tutorial?
Subscribe to Blog via Email
Join me on Social Media:

PIN ME!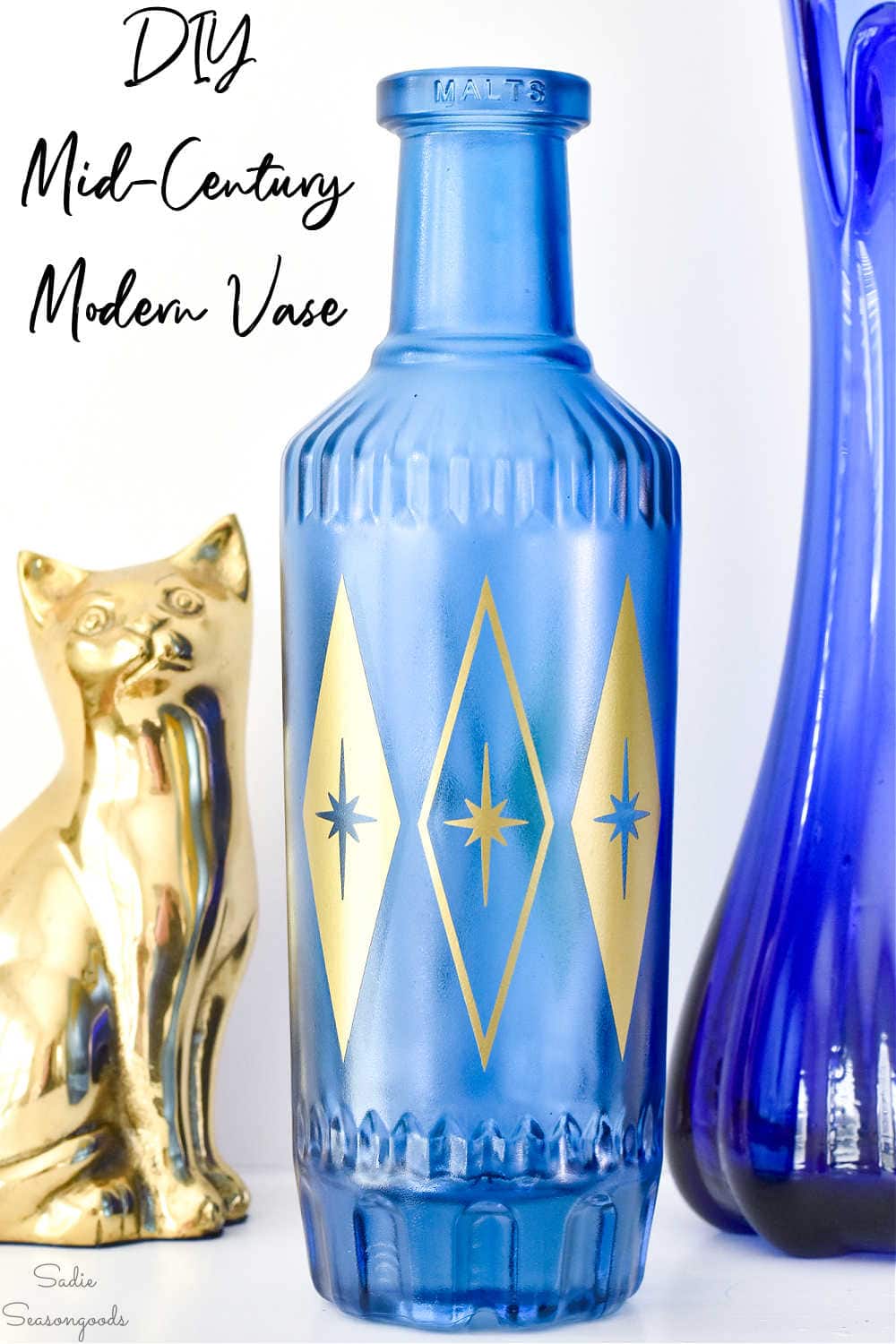 Sarah Ramberg is the owner of Sadie Seasongoods, a website that celebrates all things secondhand. From upcycling ideas and thrifted decor to vintage-centric travel itineraries, Sadie Seasongoods is a one-stop shop for anyone who loves thrifting and approachable repurposing ideas. Sarah is also the author of "Crafting with Flannel" and has been featured in numerous media outlets and magazines.