Up until 2009, I'd always lived near a shoreline- half my life along the shores of Lake Michigan, and half my life bouncing between the Gulf and the Atlantic in Florida. My fondest beach memories are those of the windswept, deserted beaches in Southwest Michigan that were filled with beach glass and pieces of driftwood. And to celebrate those memories, I decided to make a driftwood wreath for our front door this summer.
But first, I needed driftwood pieces to create my vision!
After searching online, I found several shops on Etsy that had driftwood for sale. These are the pieces I purchased- smooth and varied just enough to keep the wreath unique and purposefully imperfect.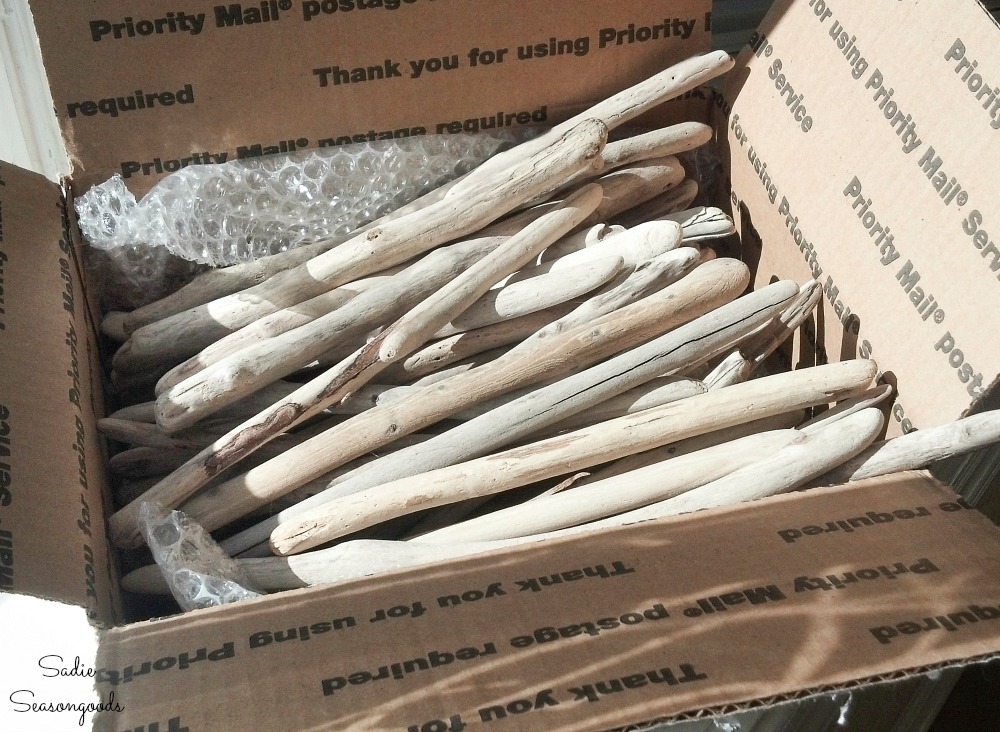 Now I could get to work on my drift wood wreath!
This post contains affiliate links for your crafting convenience. As an Amazon Affiliate, I earn from qualifying purchases. All blue, bold, and underlined text is a clickable link, either to a product or to a related post.
Crafting with Driftwood to Make a Beach Wreath
First, I needed to create a wreath form, of sorts, from cardboard. After grabbing an old moving box from our garage, I used an 11″ dinner plate to trace out a circle.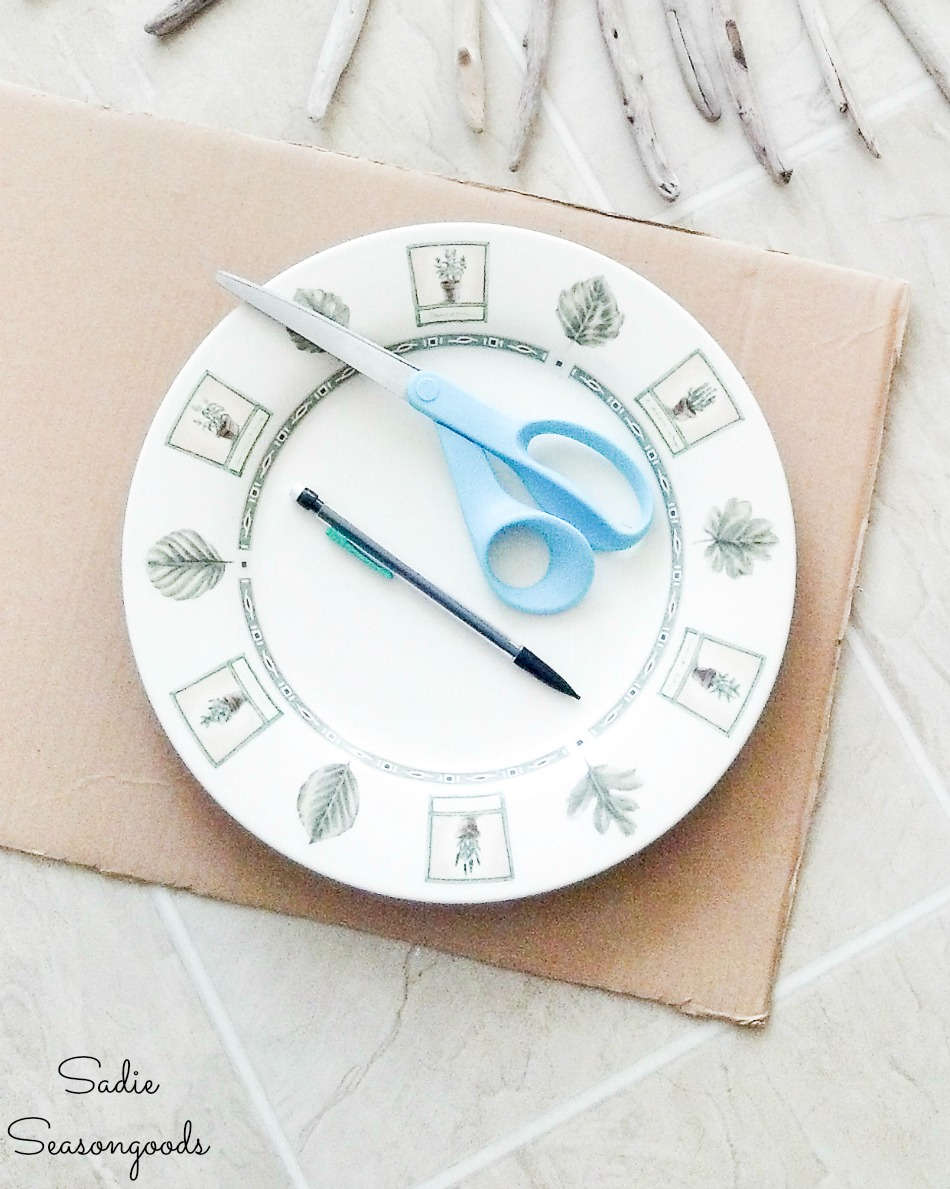 Then, I carefully cut out my 11-inch circle of cardboard. I used some crafting scissors, but you could also use a sharp X-acto knife or something similar, too.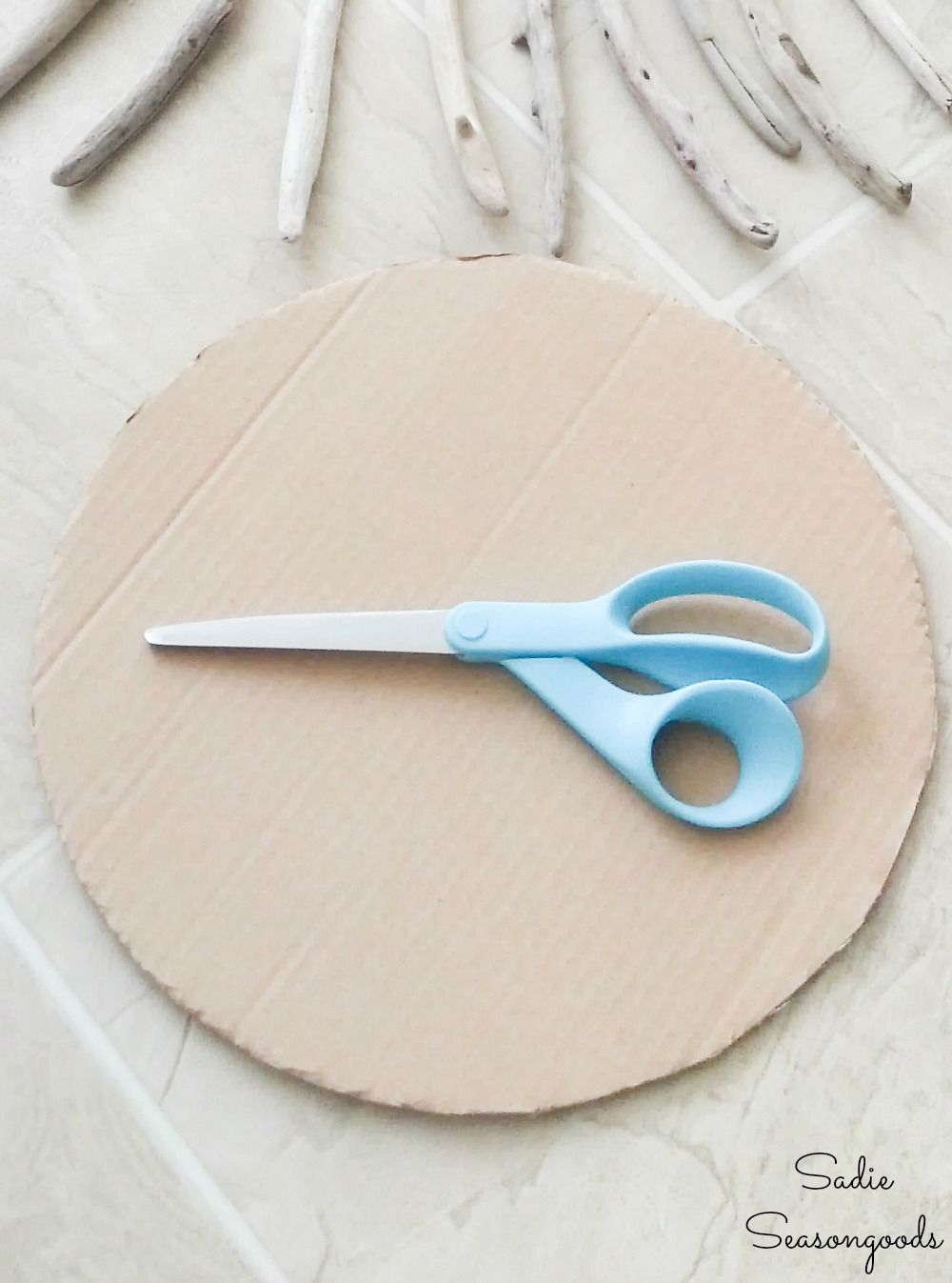 Next, I traced a smaller, just-shy-of-eight-inches plate in the center of my 11" circle.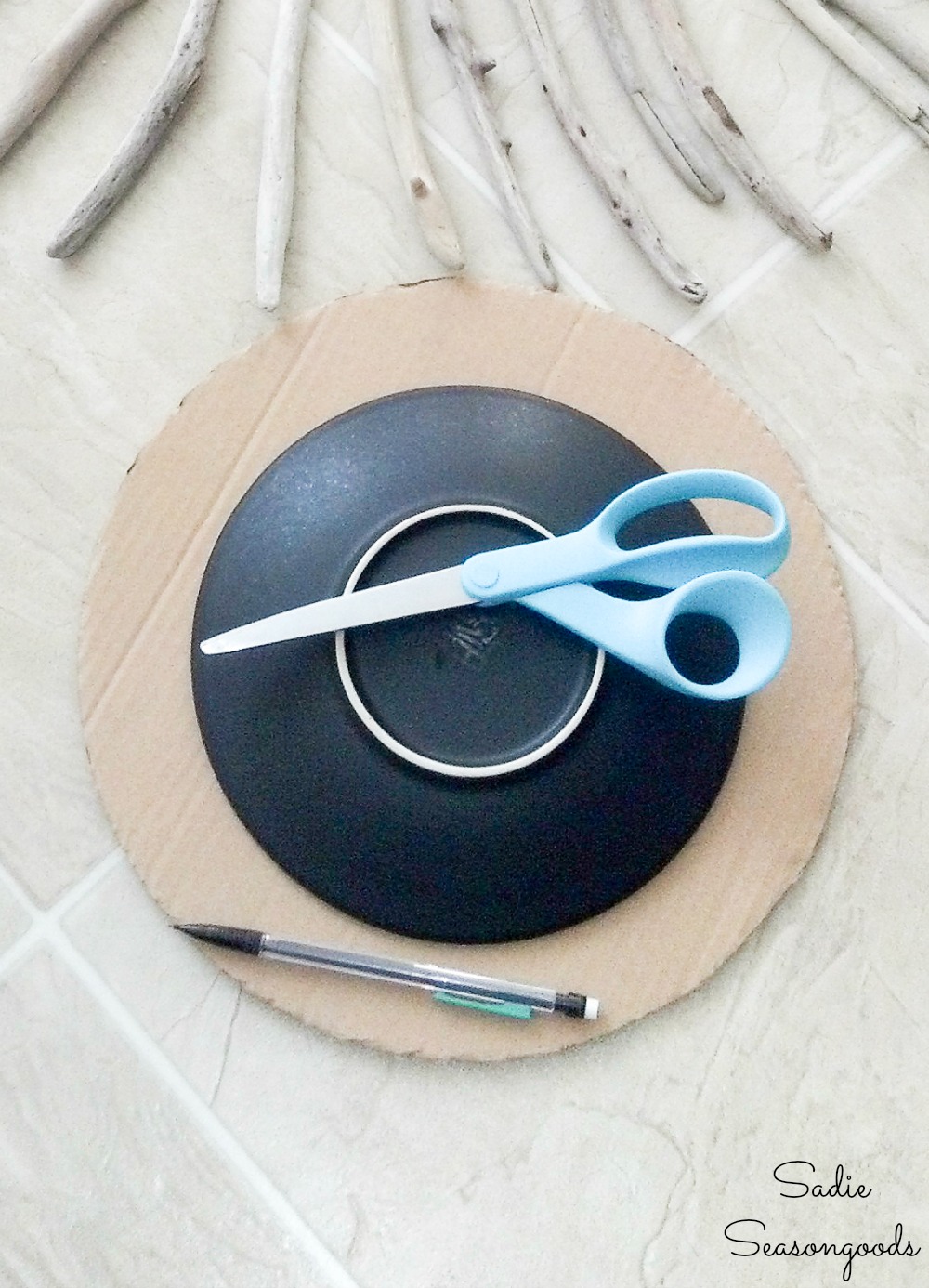 Next, I removed it CAREFULLY with a box cutter so that I was left with a flat, round ring of cardboard.
This would be the base that I could adhere my driftwood pieces to in order to create a sunburst pattern for a driftwood wreath!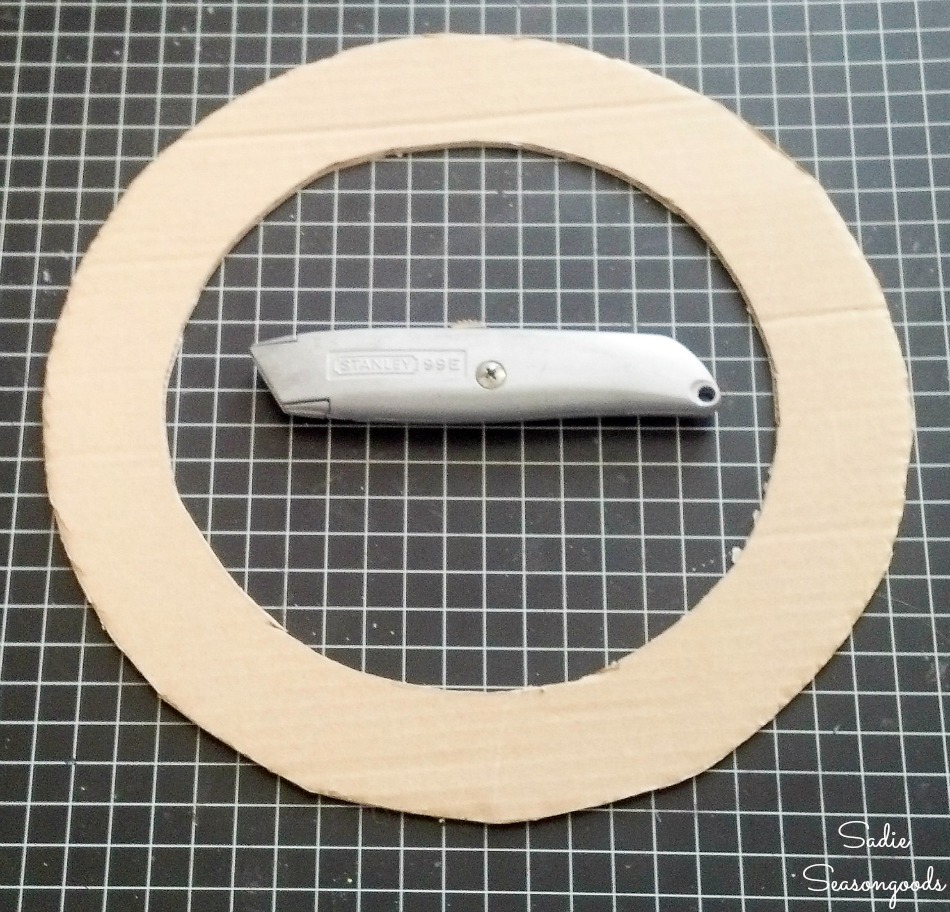 Updated craft tip: a floral craft ring would be a fabulous (and sturdier) substitute for cardboard! Remember how I used one of those for my windmill decor project?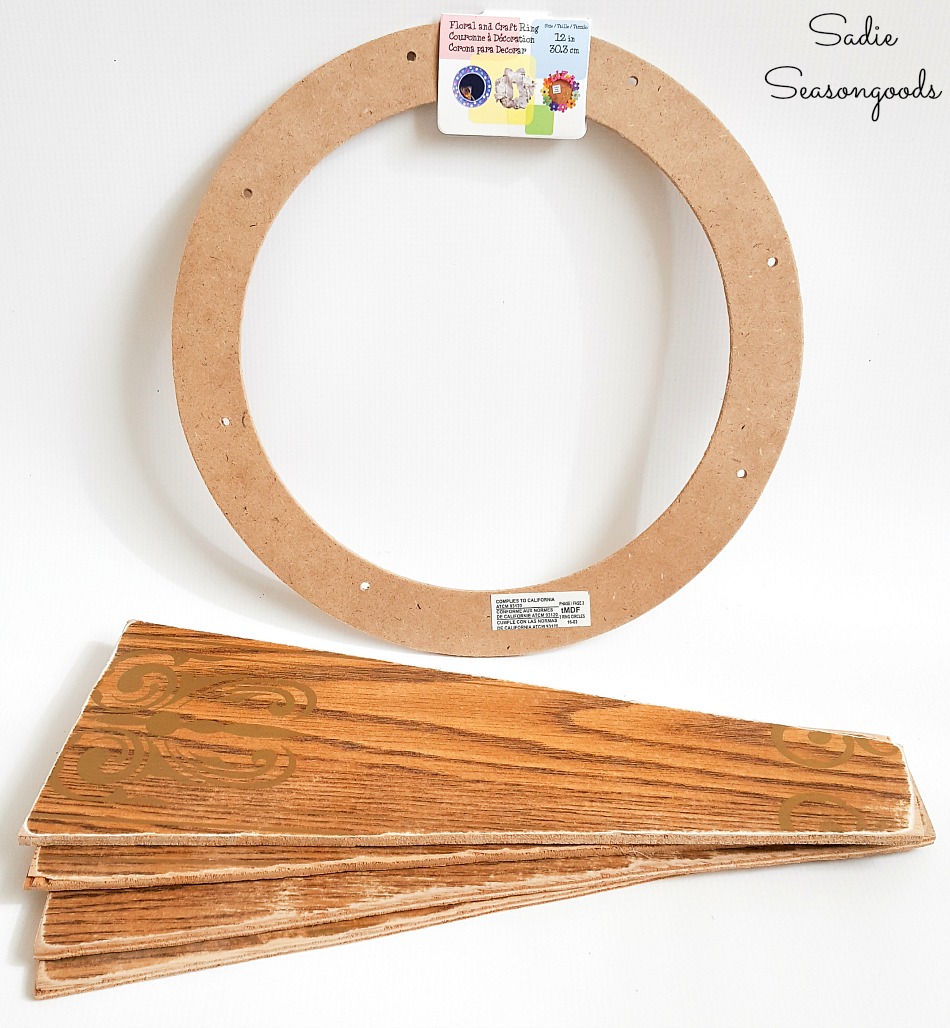 Finishing Up a Driftwood Wreath for Summer Decor
Just to make sure I still loved how it looked, I started adding the driftwood pieces to the cardboard ring. No gluing in place yet, just checking the design.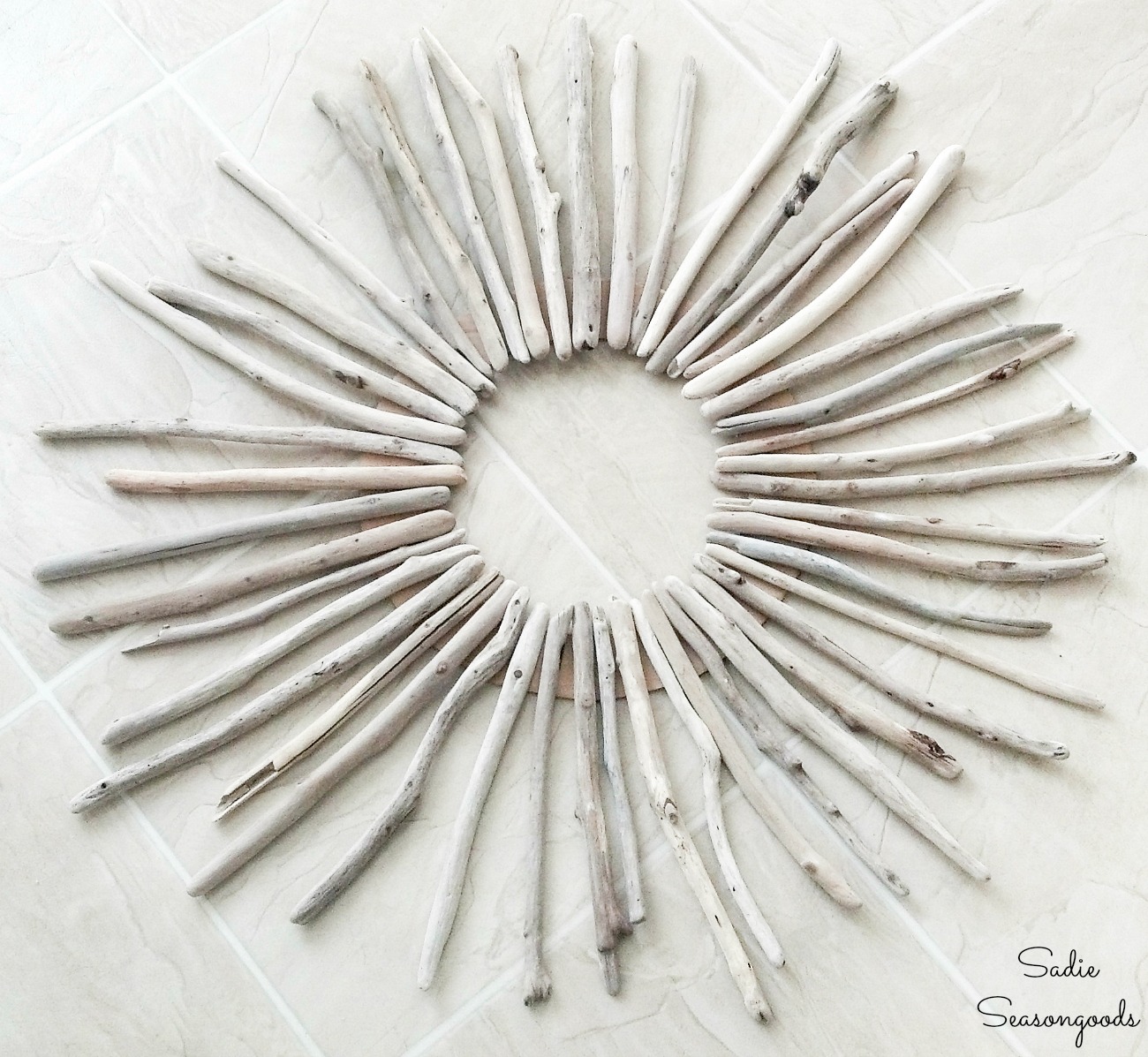 I'm glad I took this step, though, because I realized something.
I could see snippets of the cardboard through the pieces of driftwood. And I didn't want to see ANY cardboard at all!
So, because our front door is a scarlet red, I did a quick paint job on the ring.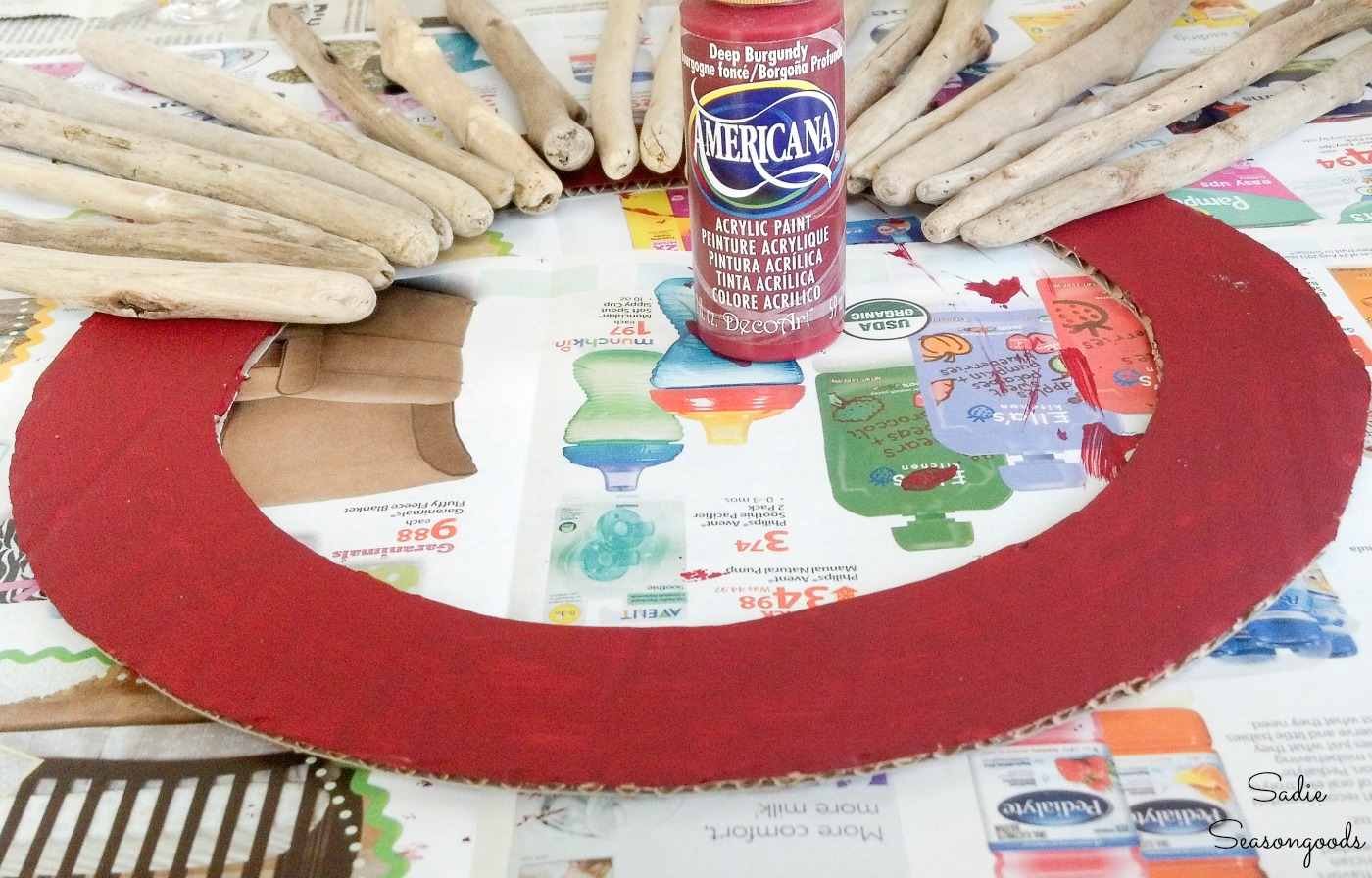 I feel like checking the driftwood sunburst design and realizing cardboard was showing through was like a wreathmaker's version of "measure twice, cut once"! Because it saved me an awful lot of heartache.!
After arranging the driftwood on the ring exactly as I desired, I hot glued them in place.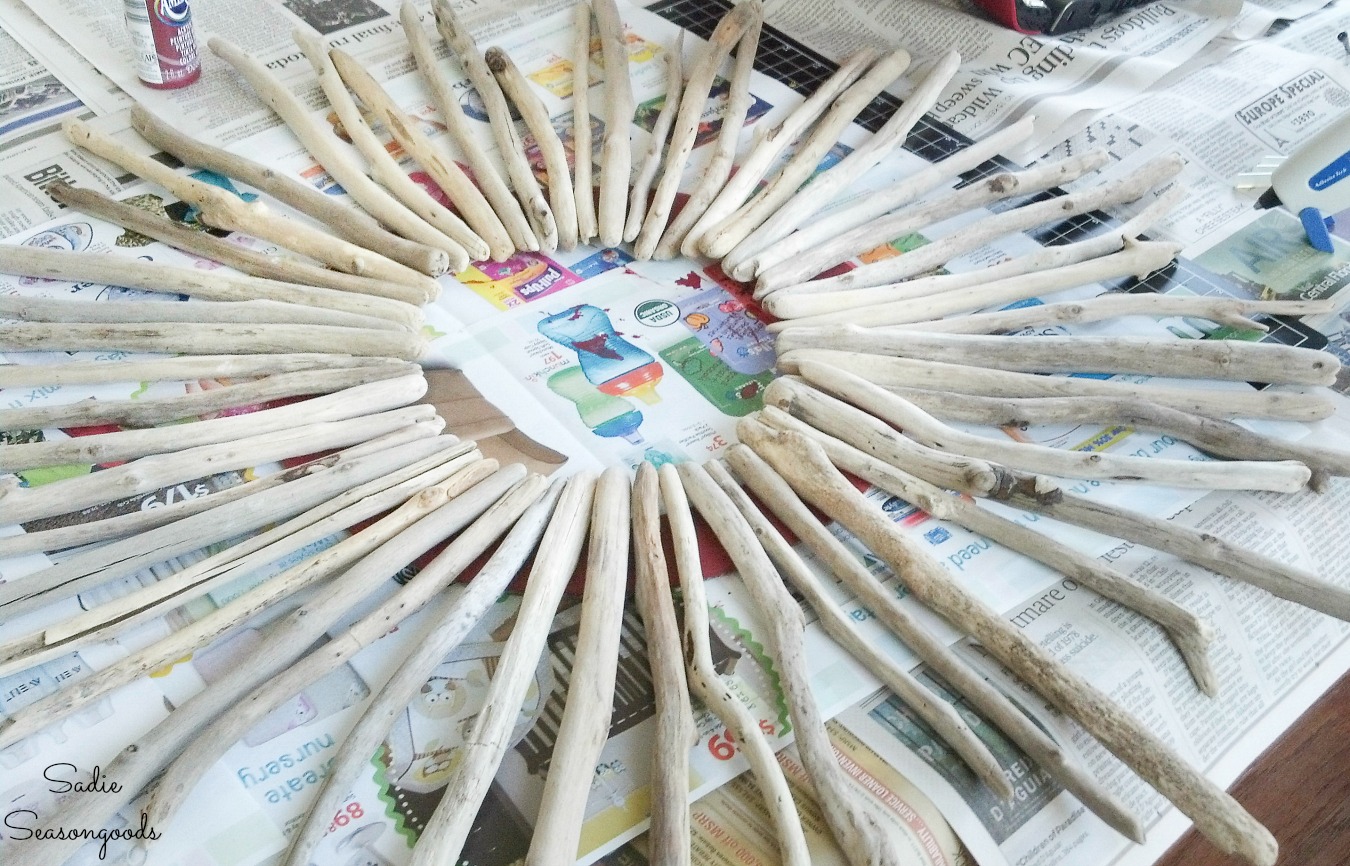 And just like that, my driftwood wreath was done!
Driftwood Wreath for Coastal Decor this Summer
Finally, I tied a loop of jute twine around the ring and hung it on our front door!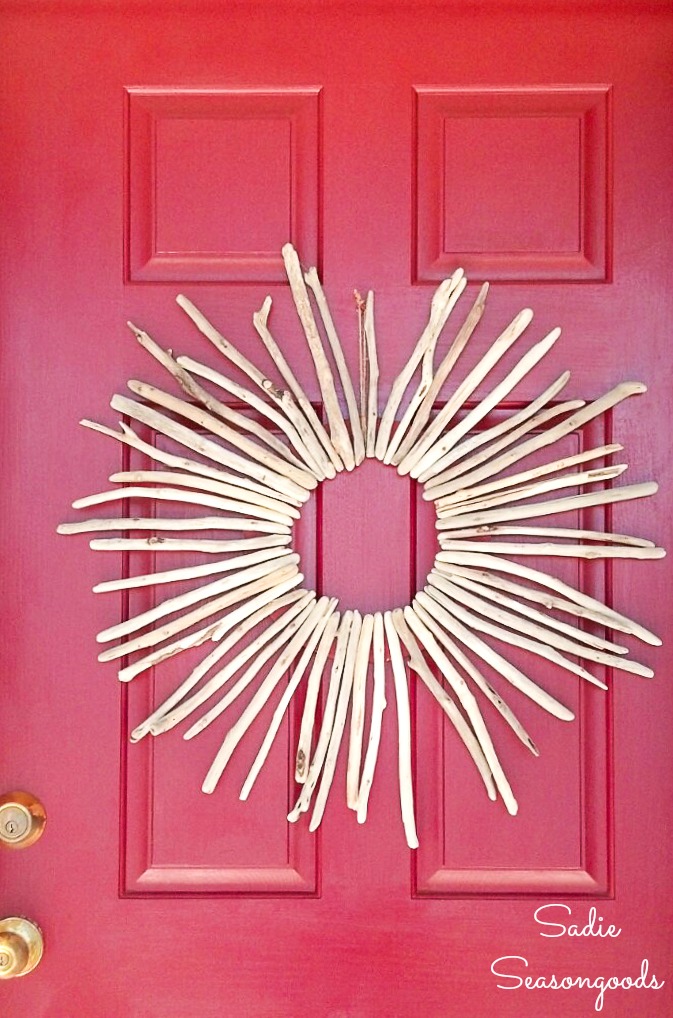 I love how it makes quite a statement, even though driftwood is so neutral and muted in color. The sunburst pattern has an extra dose of sunny summer to it, don't you think?
And if you enjoyed this upcycling idea for a summer craft, then you'll love my beach jars that hold summer vacation memories, as well!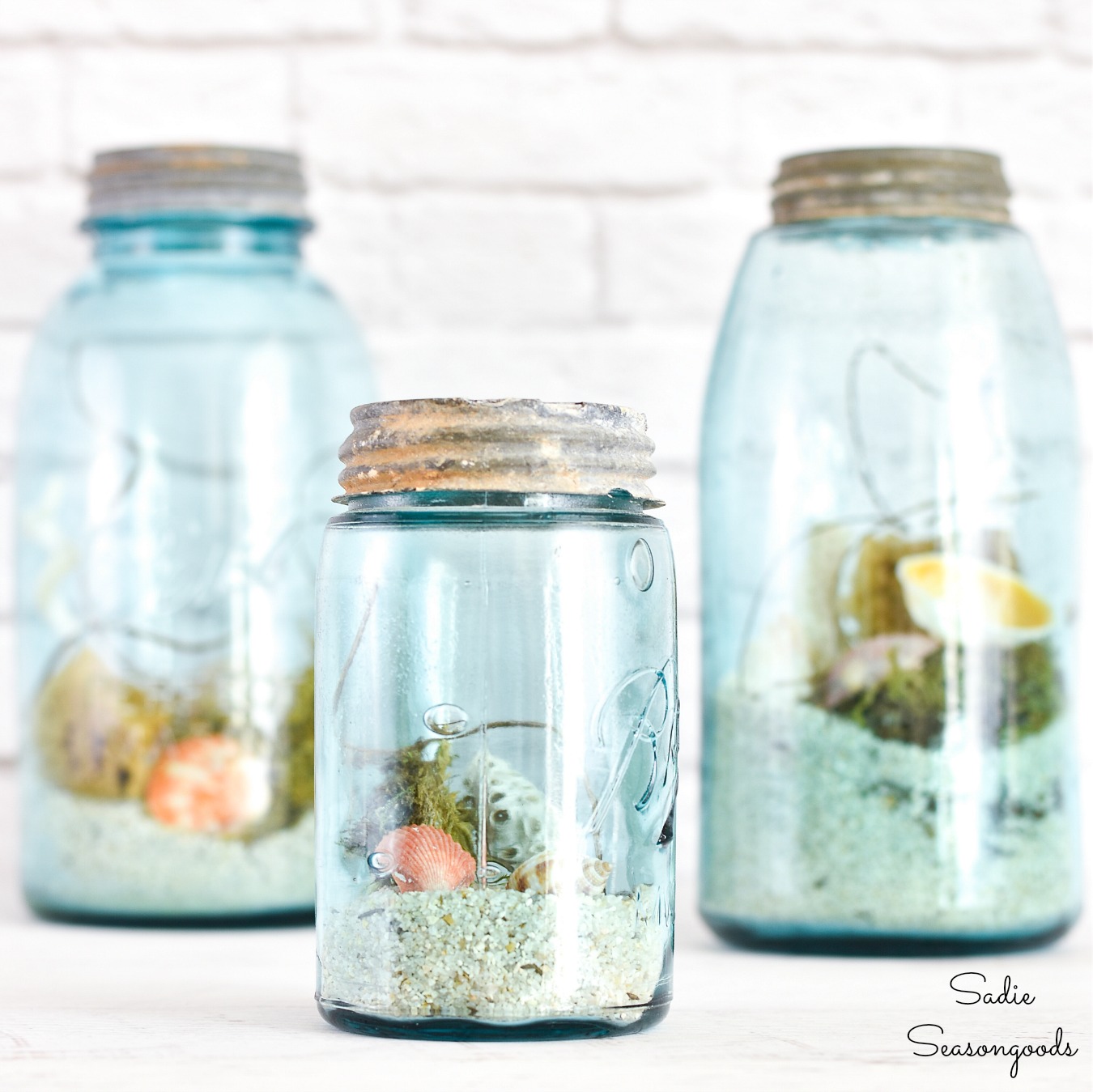 Craft on!
S
Join me on Social Media:

PIN ME!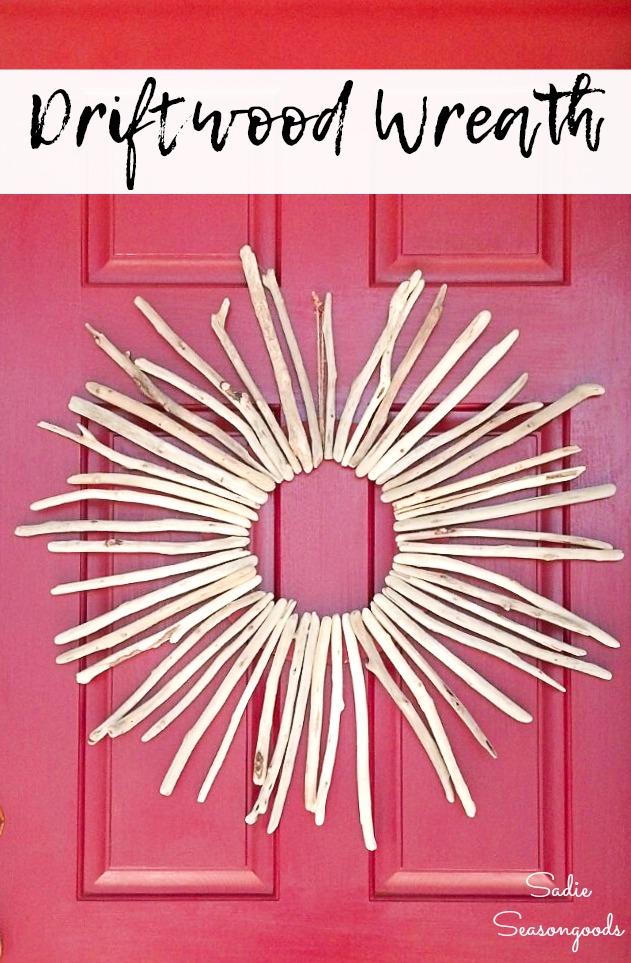 Sarah Ramberg is the owner of Sadie Seasongoods, a website that celebrates all things secondhand. From upcycling ideas and thrifted decor to vintage-centric travel itineraries, Sadie Seasongoods is a one-stop shop for anyone who loves thrifting and approachable repurposing ideas. Sarah is also the author of "Crafting with Flannel" and has been featured in numerous media outlets and magazines.