Over the years, I've procured several vintage mason jars – particularly those with air bubbles inside the glass. I'm such a sucker for old aqua jars with their vibrant color and crusty zinc lids. So, I decided to upcycle a few of my own into DIY beach decor using treasures from past beach vacations.

Between the brilliant turquoise color and the bubbles in the glass, these vintage jars remind me of being underwater.
And whether the urban legend about #13 jars is true or not, I've got one of those, too.
To create my Beach Jars, I just gathered a few beach-y elements to start layering them in! This post contains affiliate links for your crafting convenience.
Filling Vintage Mason Jars with Ocean Decor (Seashells, Sand, Etc.)
First, I added a little craft sand to the bottom of each jar. Of course, real beach sand would be even better (like I used in my Message in a Bottle project). But craft sand worked for me since it was all I had at the time.
And if you don't have vintage aqua mason jars, you can certainly use the new versions for this project!
Then, I placed shells that I'd collected over the years- I am a marine biologist on paper, after all.
Since I love wild, windswept beaches, I added other coastal elements, as well. I thought reindeer moss would work well as mock seaweed…
Natural sponges or sea sponges (the small kind used for craft painting) were added to my DIY beach decor, as well.
And last but not least, I added a few springs of curled dried grasses. I thought they had a nice "sand dune" element for my vintage jars filled with ocean decor.
Helpful hint – Kitchen tongs came in handy, but something even smaller (like a retractable olive grabber) would be even better! Using tongs allowed me to carefully place the shells and other ocean bits inside the vintage jars.
DIY Beach Decor / Ocean Decor in Vintage Mason Jars
When I was finished, I had whimsical pieces that perfectly captured a serene walk on the beach or dive under the waves.
As you can see, I gravitated towards my orange shells which added a fun pop of color inside the DIY beach decor.
They are indeed lovely on their own, but also make a striking statement as a group.
Either way, this DIY beach decor / tropical decor is about as easy as it gets! No paint, no glue – just vintage jars and treasures from your last beach vacation!
I'm sure a few of these will end up on my summer mantelscape, and will likely be scattered throughout the house once the A/C kicks on and I smell of sunblock.
If you enjoyed this upcycling idea for coastal decor, then you'll love this wine bottle craft for beachy, summer decor!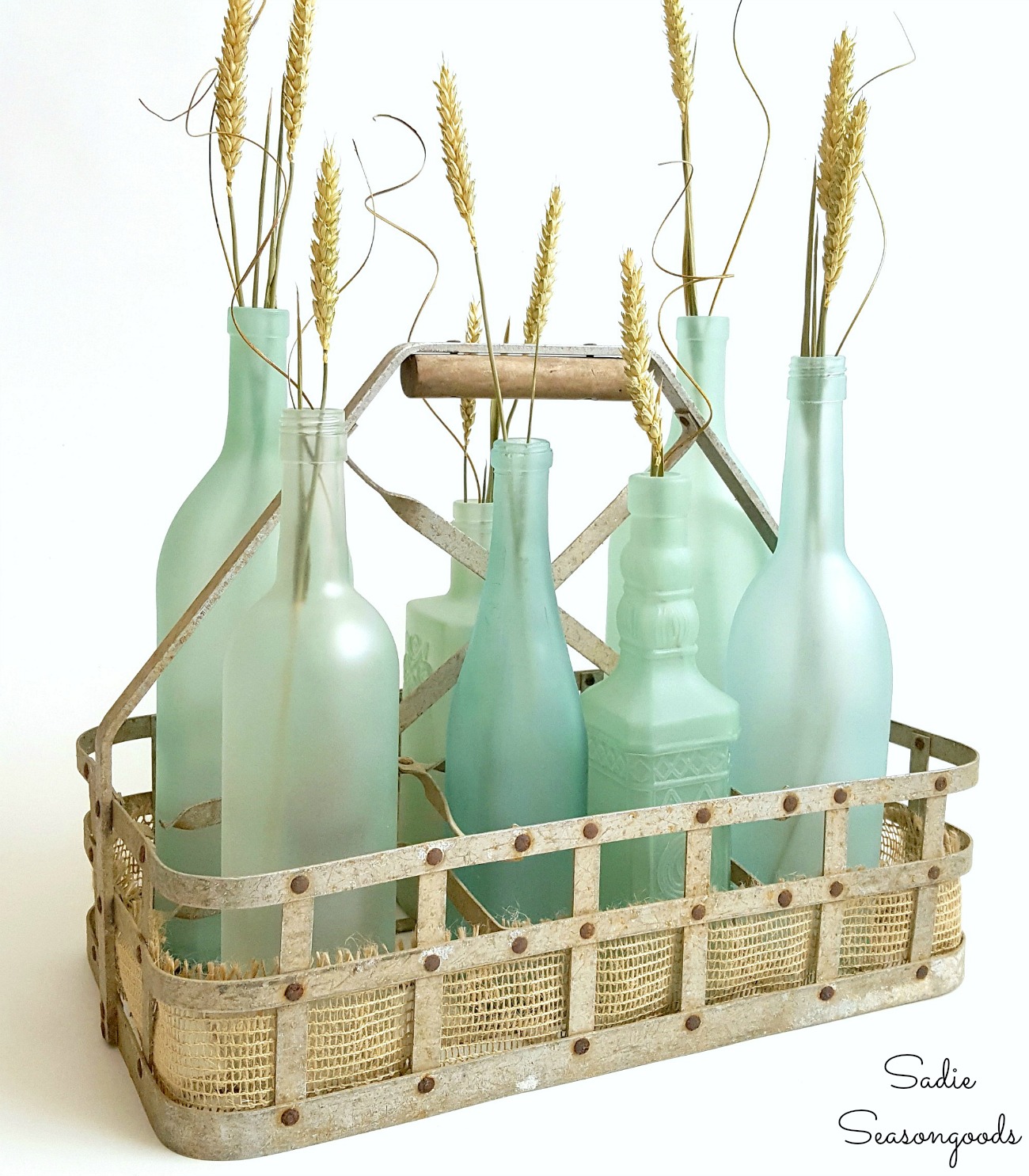 Craft on!
S
Want to be notified when I publish my next upcycling project tutorial?
Subscribe to Blog via Email
Join me on Social Media: