Mr. Seasongoods and I are slowly (and I mean SLOWLY) giving our home office a face lift. The first order of business was replacing the outdated squeaky ceiling fan. And when we did so, I saved the ceiling fan blades for a project- of course! I had this idea for transforming them into windmill decor or a half windmill wall decor.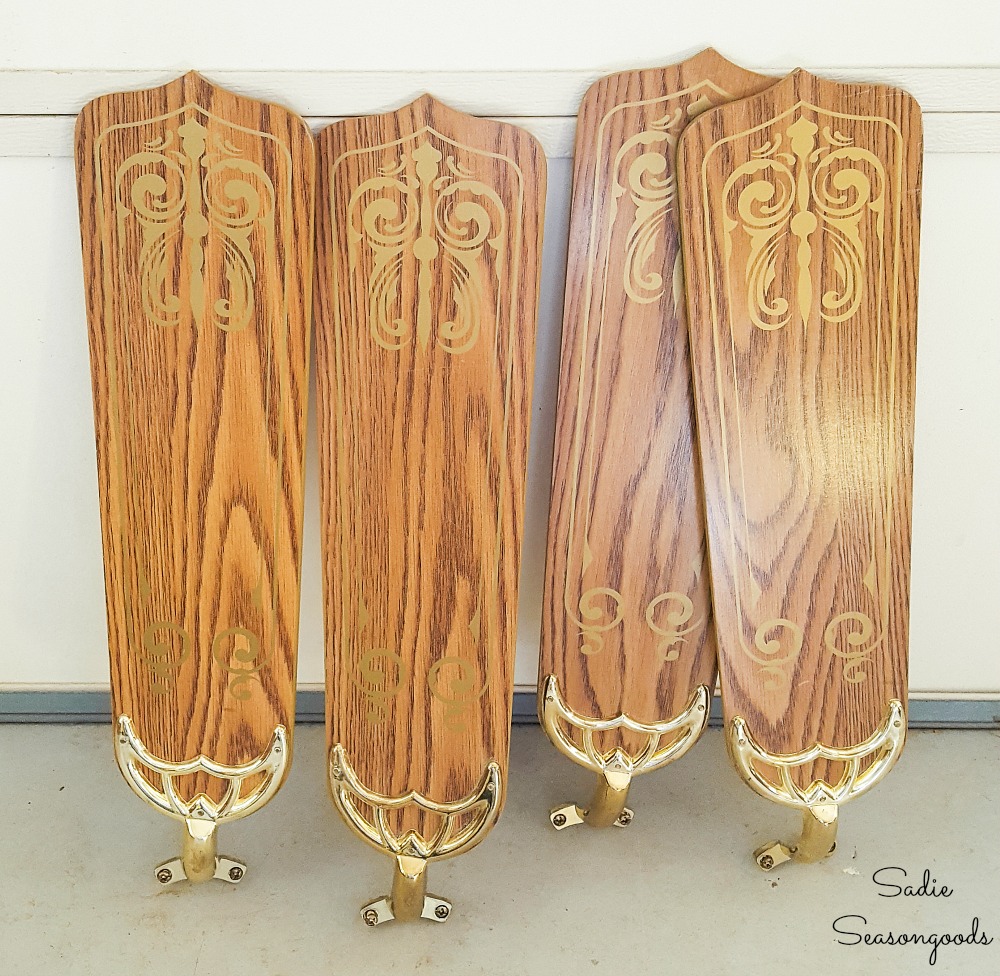 My crazy idea stemmed from the show Fixer Upper, which many of you are likely familiar with. Joanna Gaines (one of the main stars) would periodically use salvaged windmills in her farmhouse decor.
And I *do* love me some farmhouse decor, ESPECIALLY if its upcycled!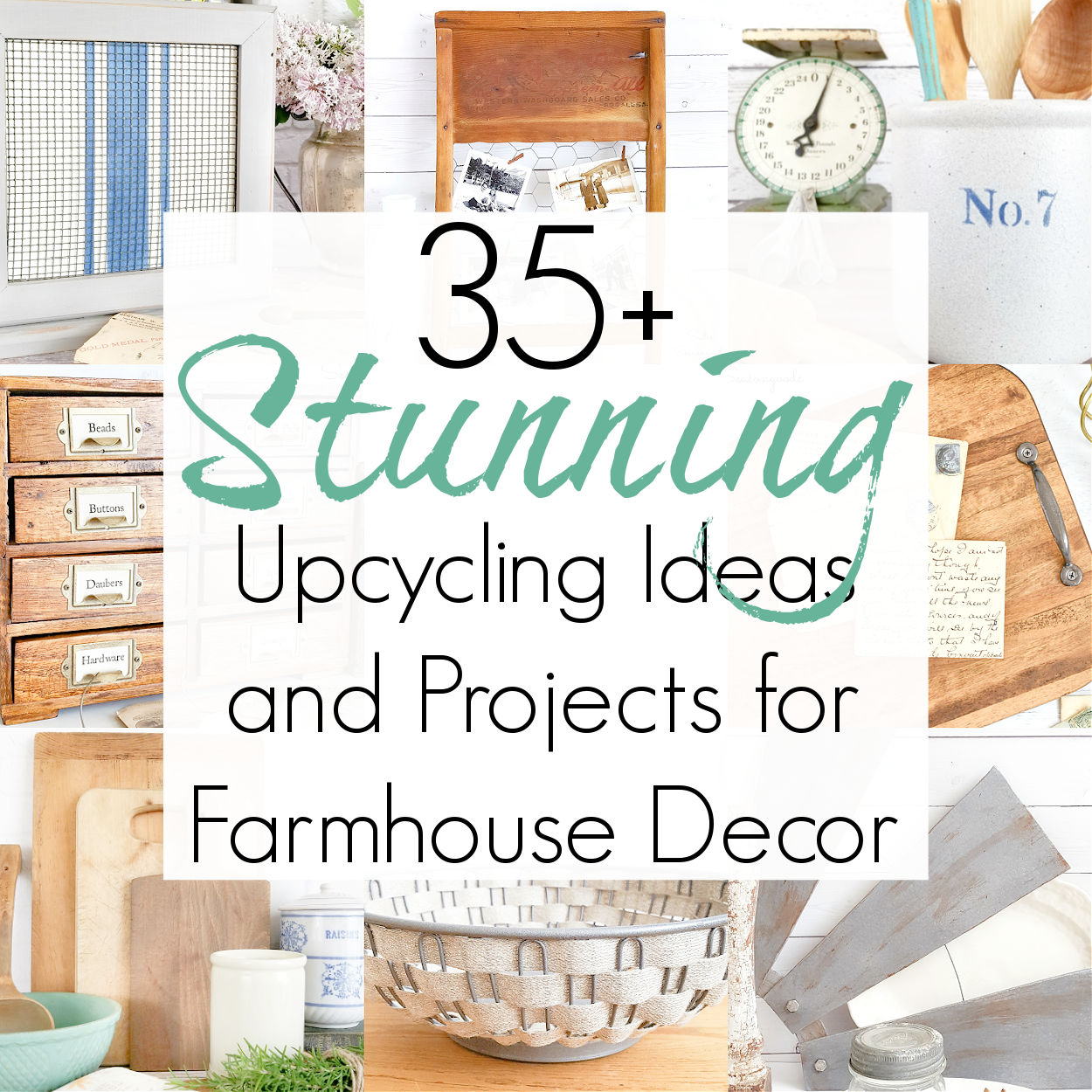 But then I looked them up online, they were OUTRAGEOUSLY priced. And also- HUGE. I have a small budget and a small house, but what if I could upcycle these fan blades into windmill wall decor?
Crazy idea? Or just crazy enough to work? Let's find out…
This post contains affiliate links for your crafting convenience. As an Amazon Associate, I earn from qualifying purchases. All blue, bold, and underlined text is a clickable link, either to a product or to a related post.
Designing the Windmill Decor with Fan Blades
First, I removed the connecting hardware from my blades and wiped them down. We needed to cut them into a more angular windmill blade shape, but I needed to create a template first.
A template would help me ensure that each piece of my windmill decor would be consistent. So, I grabbed some scrap cardboard and a marker.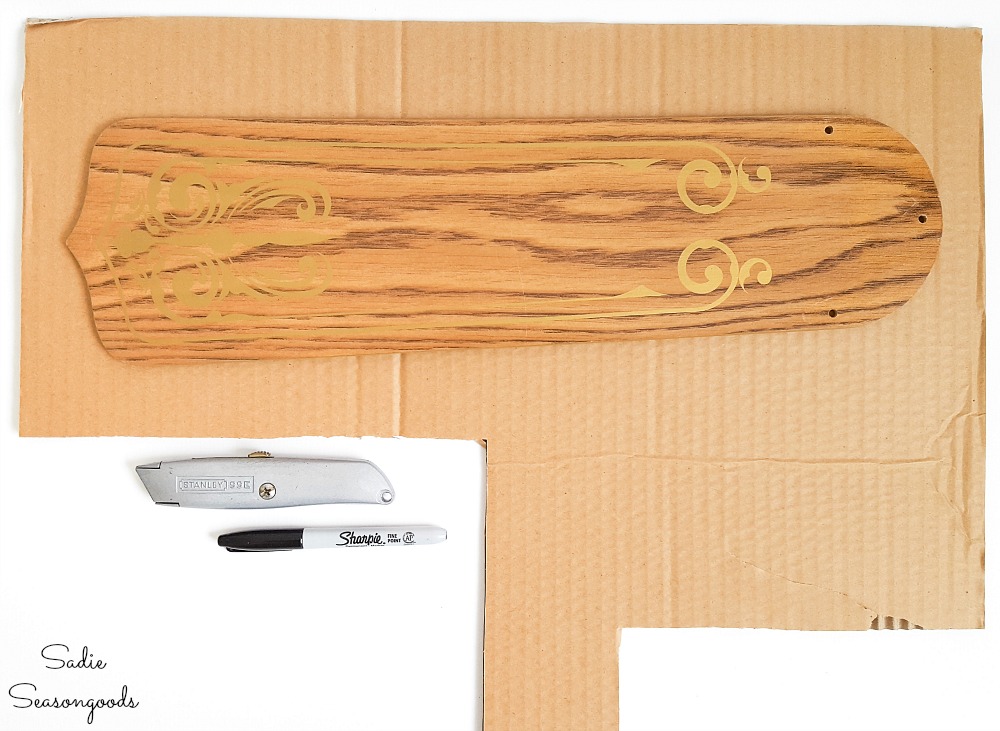 I traced the ceiling fan blade on the cardboard, and then sketched out the windmill blade shape inside my tracing.
See the inner portion of my drawing without any writing? That's going to be my template.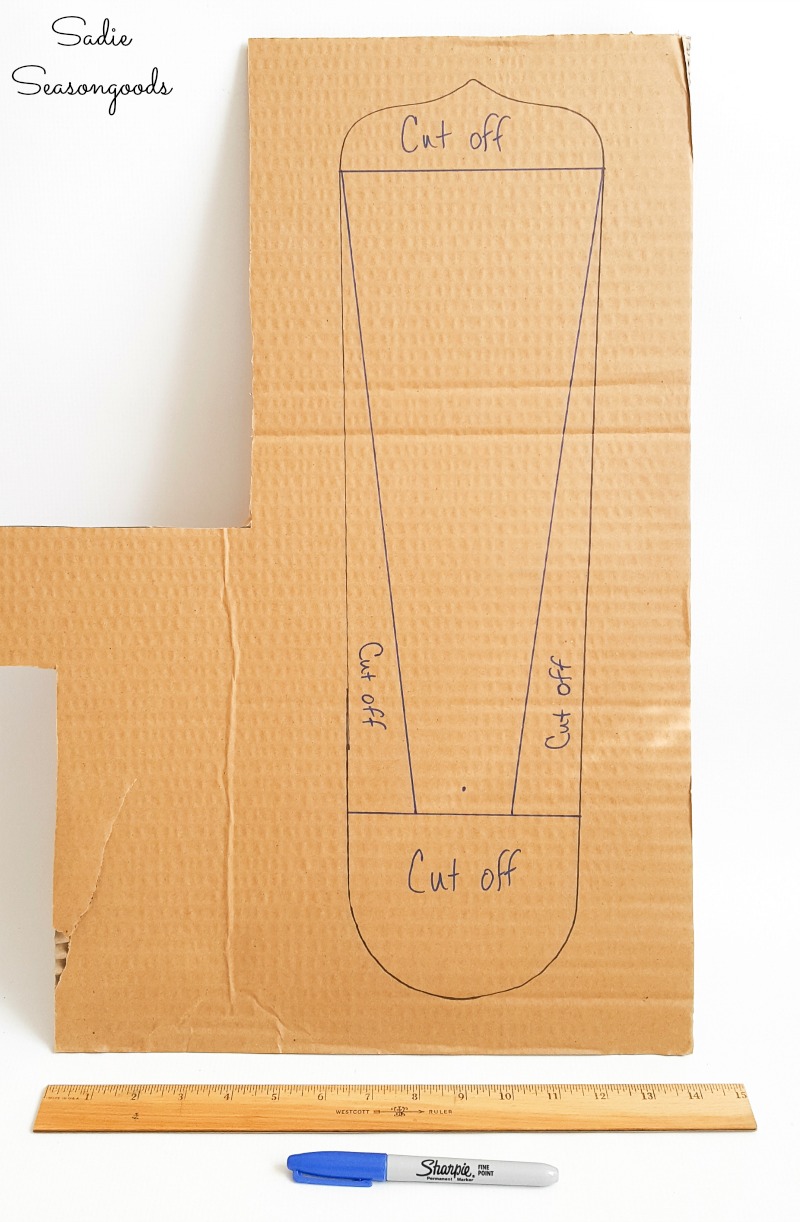 With rotary cutter in hand, I cut out my template on my largest craft mat. Just like that, I had a blade template for windmill wall decor.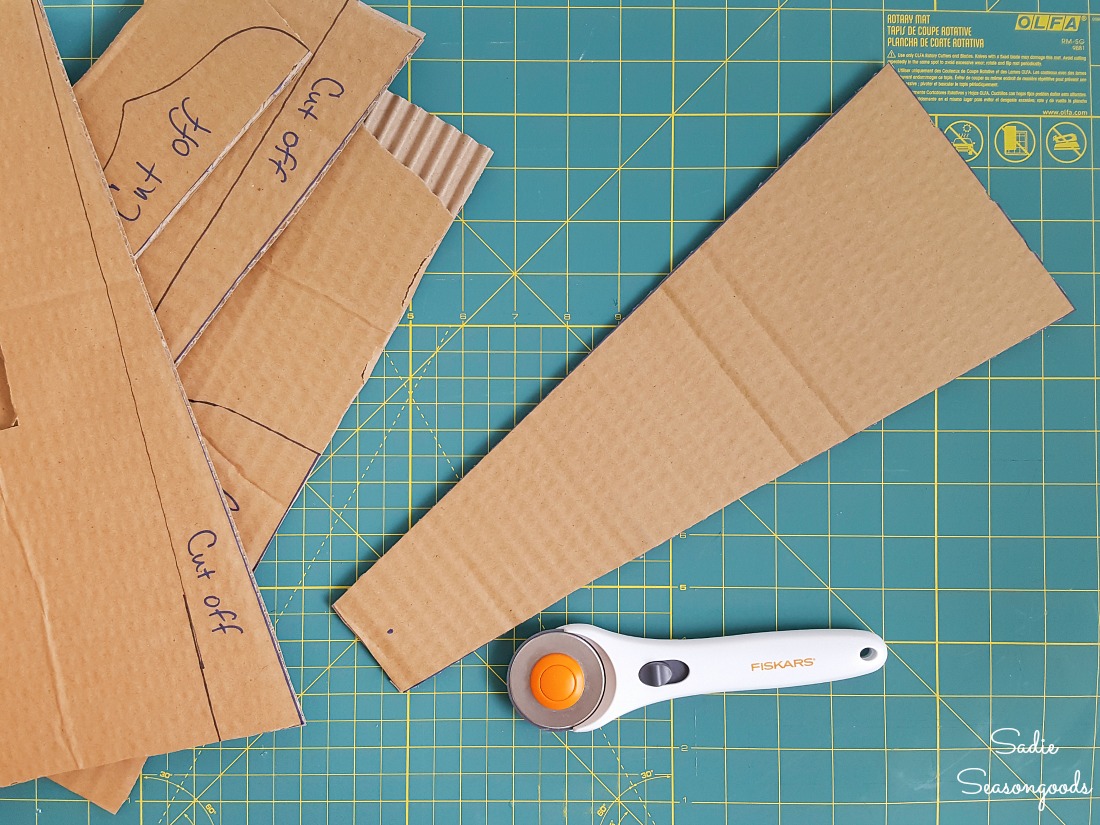 Next, I taped the template to each ceiling fan blade and traced it out.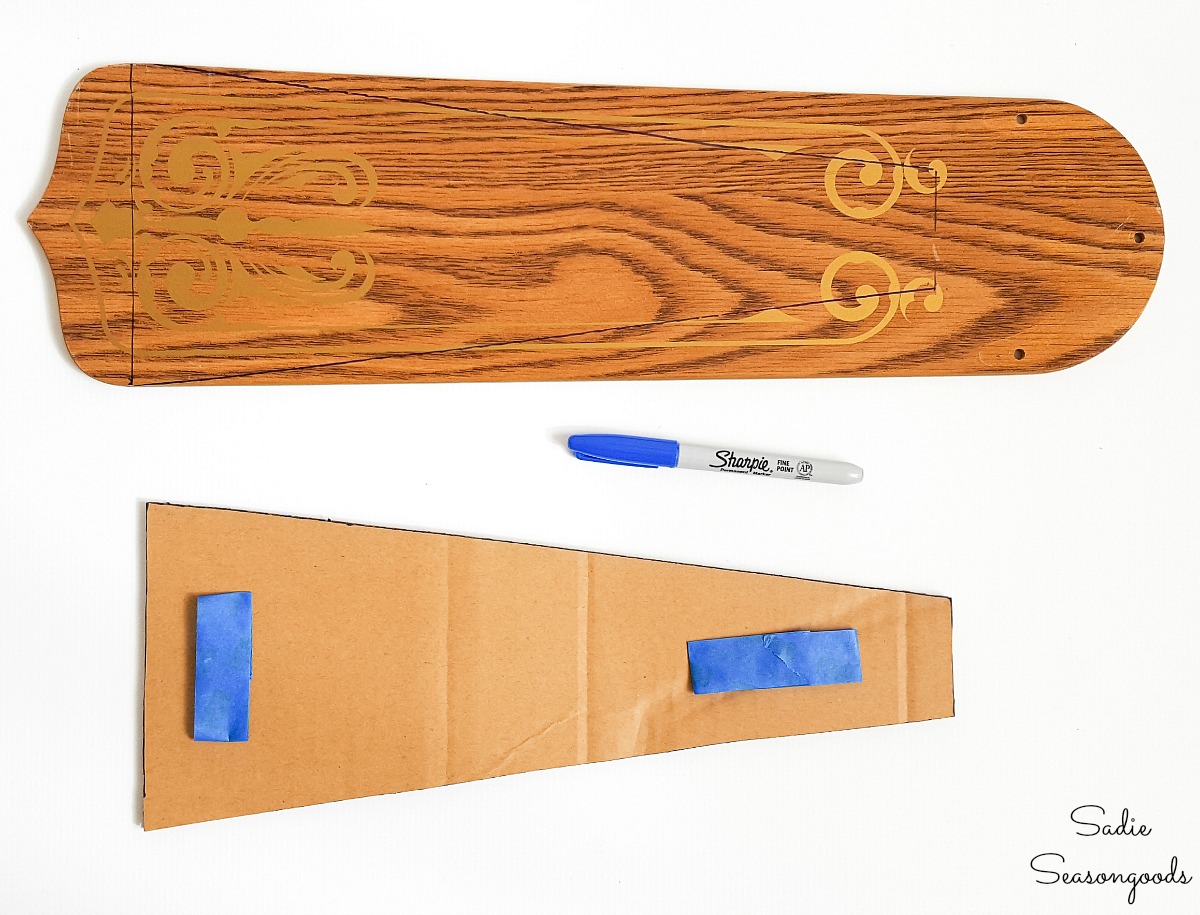 Galvanized Spray Paint and the Rust Effect for Windmill Wall Decor
While Mr. Seasongoods cut out and sanded down each windmill blade, I nabbed a medium-sized floral craft ring.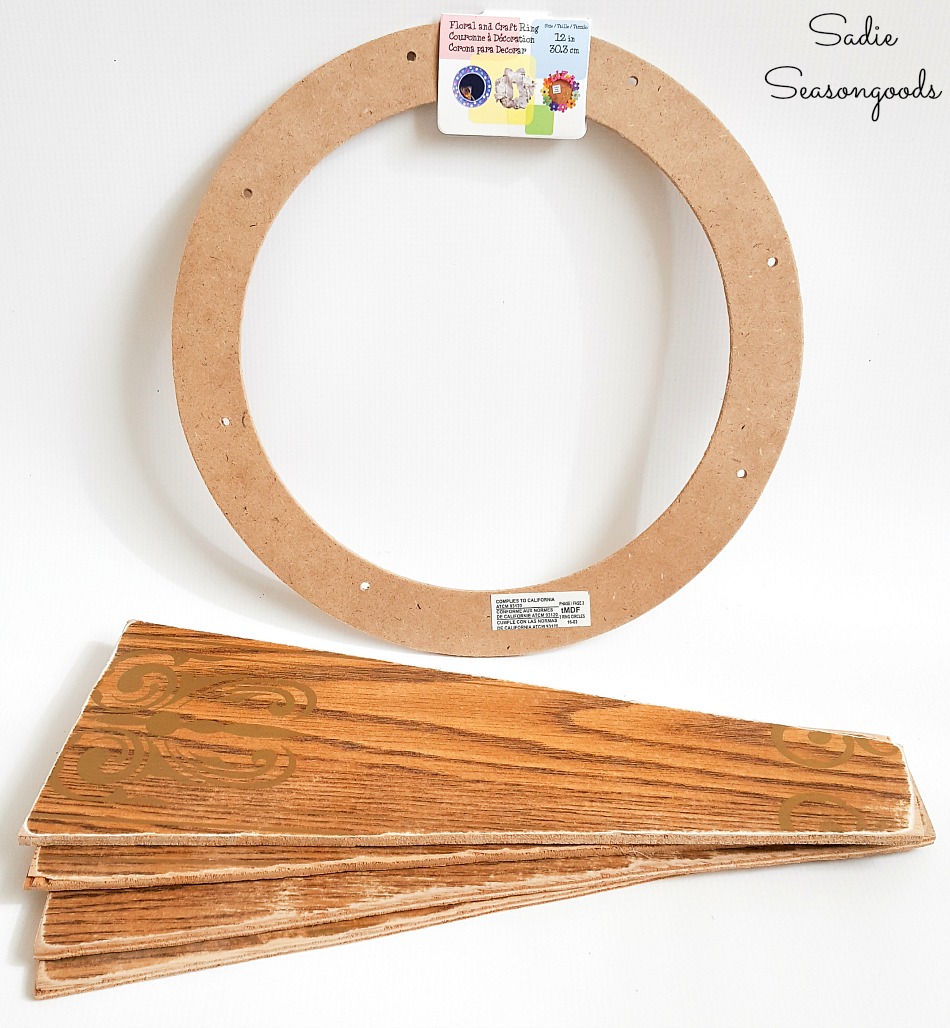 Still with me? Good- things are about to really take shape now!
After purchasing some large, industrial-looking nuts and bolts, we drilled corresponding holes through each blade and a portion (one quarter) of the floral craft ring.
Now, it was time to transform them all into metal with some amazing spray paint…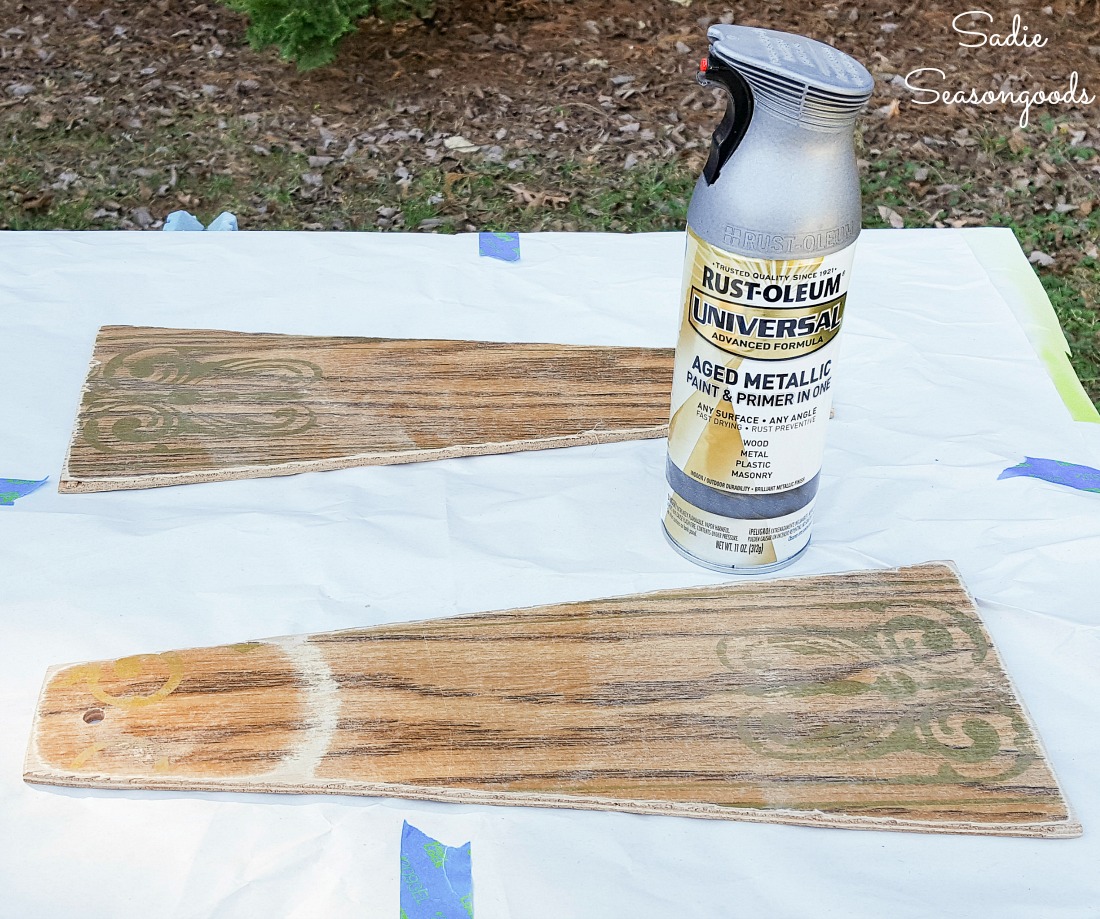 Are you ready for this?
Right before my eyes, I had the perfect blades for my windmill decor. They looked JUST like weathered metal or galvanized steel.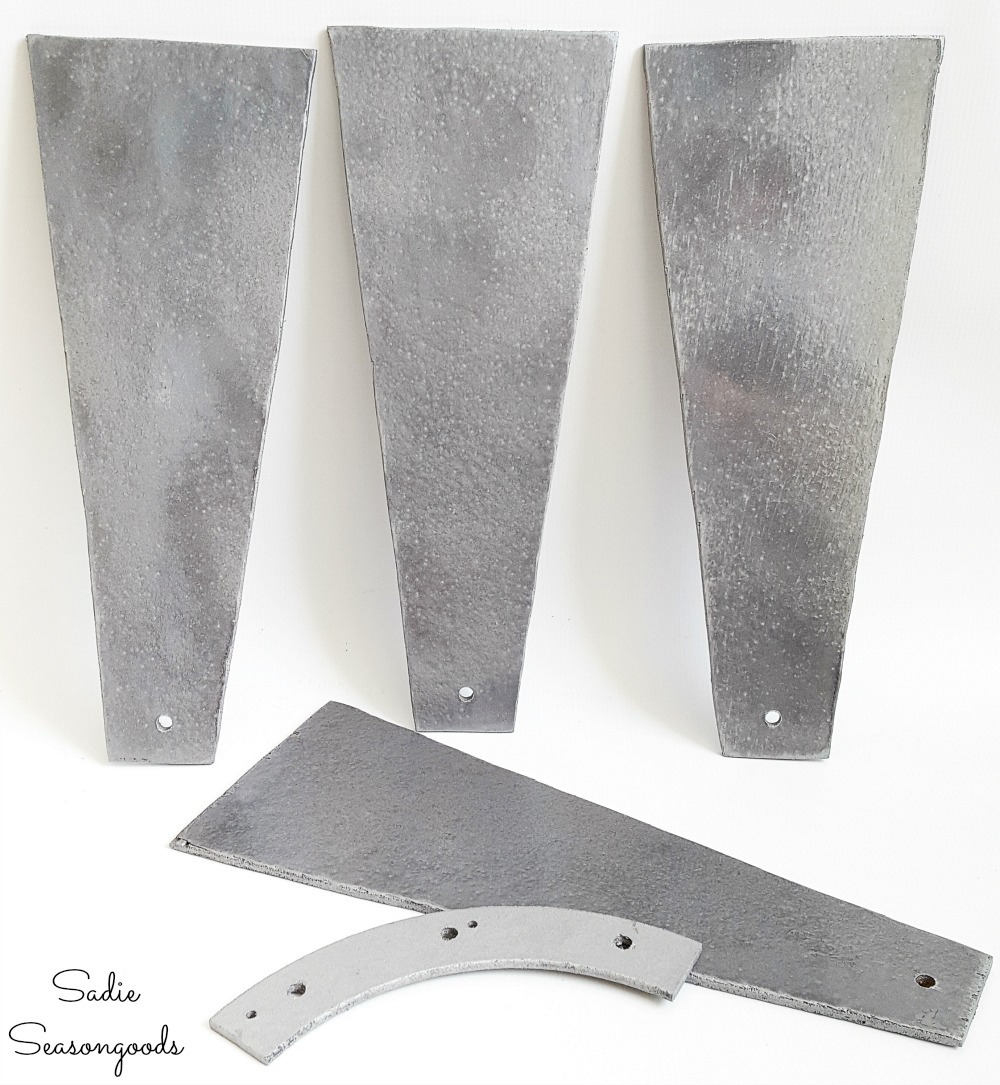 I wanted to add just a touch of rust effect to the windmill decor, but I wasn't quite sure how to do it.
First, I used one of the windmill blades as a guinea pig. When I was happy with it, I rubbed some rust color paint onto each blade using a cloth rag.
When that dried, I gave the blades a quick coat of matte sealant, to protect the rust effect and to tone down the shine from the galvanized spray paint.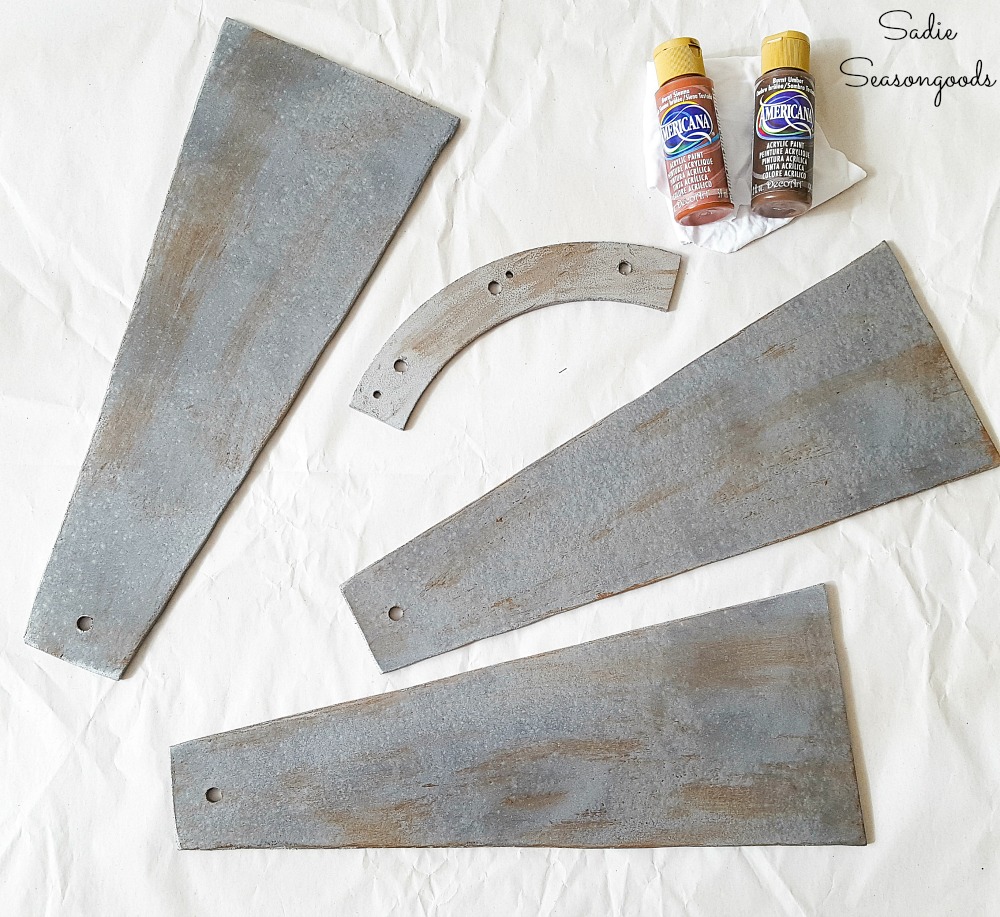 Now that I had painted all the components of the windmill wall decor, it was finally assembly time!
Windmill Decor from Ceiling Fan Blades
First, I bolted the blades to the quarter round of craft ring. Starting to look like a DIY windmill, isn't it?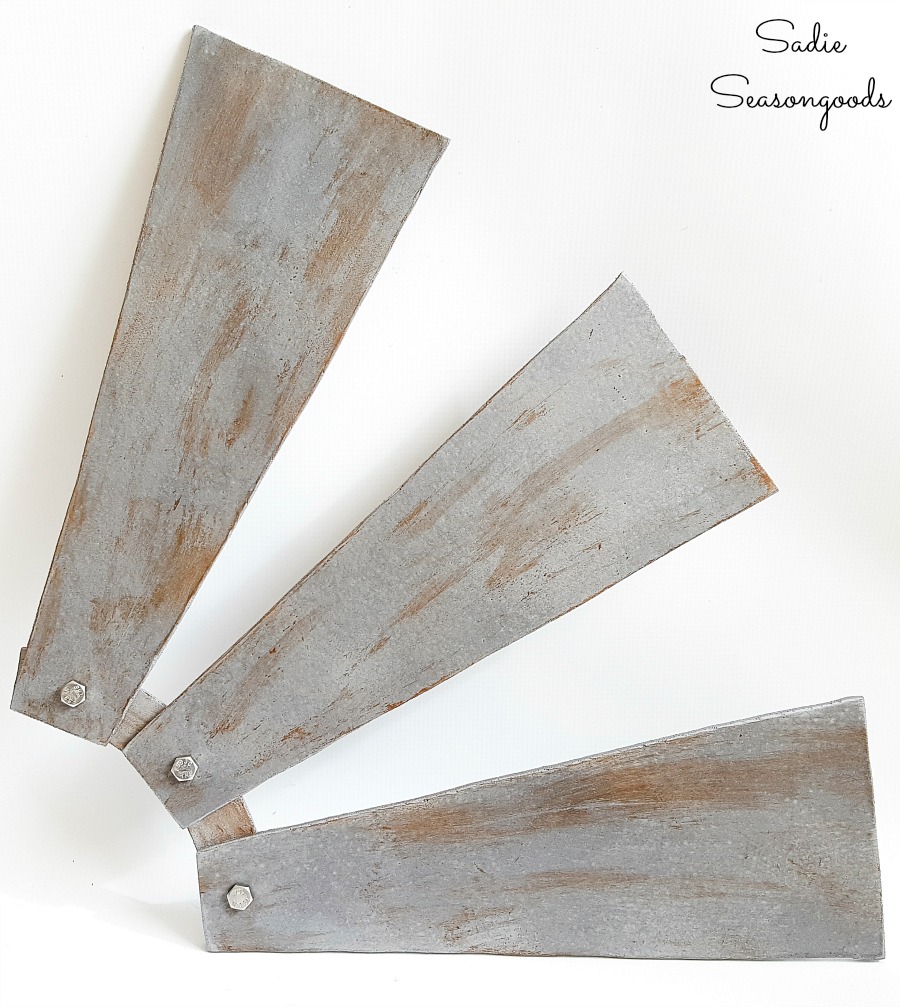 Next, I hot-glued a piece of wire behind the three blades I used. It's a minor detail, but all the real windmills have that stabilizing wire.
And I wanted mine to look as authentic as possible.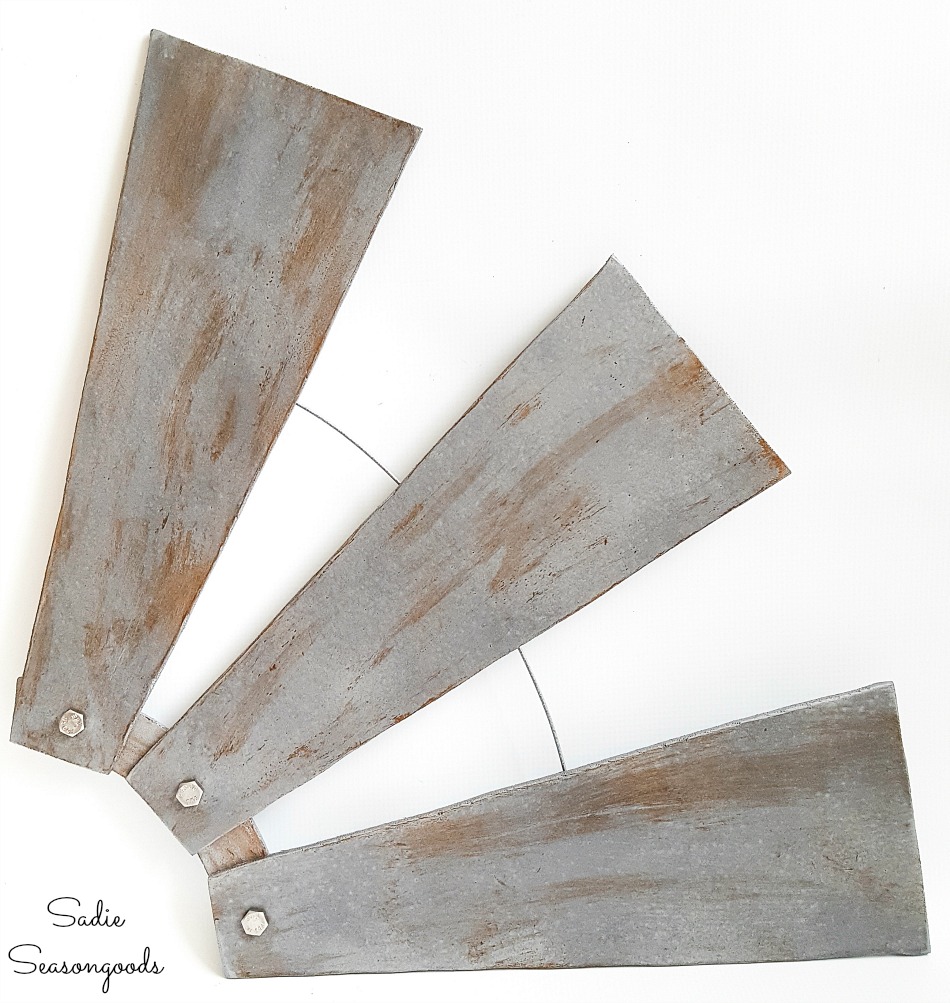 And that, my friends, was it! The windmill decor was done and ready to be used to decorate my home!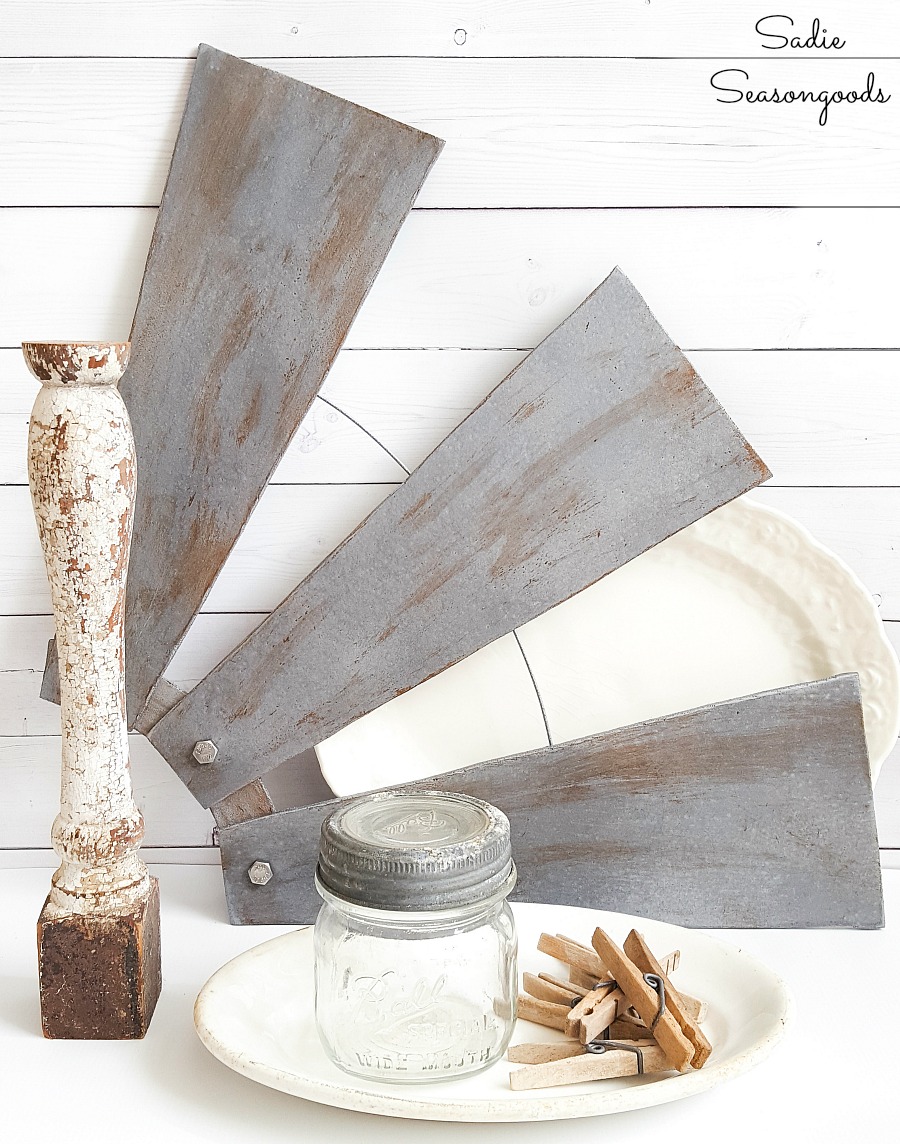 If Joanna Gaines sees this, I hope she doesn't get mad that I made this windmill wall decor for just a few dollars! Talk about cheap farmhouse decor!
I'm also excited to announce that my first book is now available! If you enjoy upcycling clothing and simple sewing projects, then you will love my book on flannel crafts!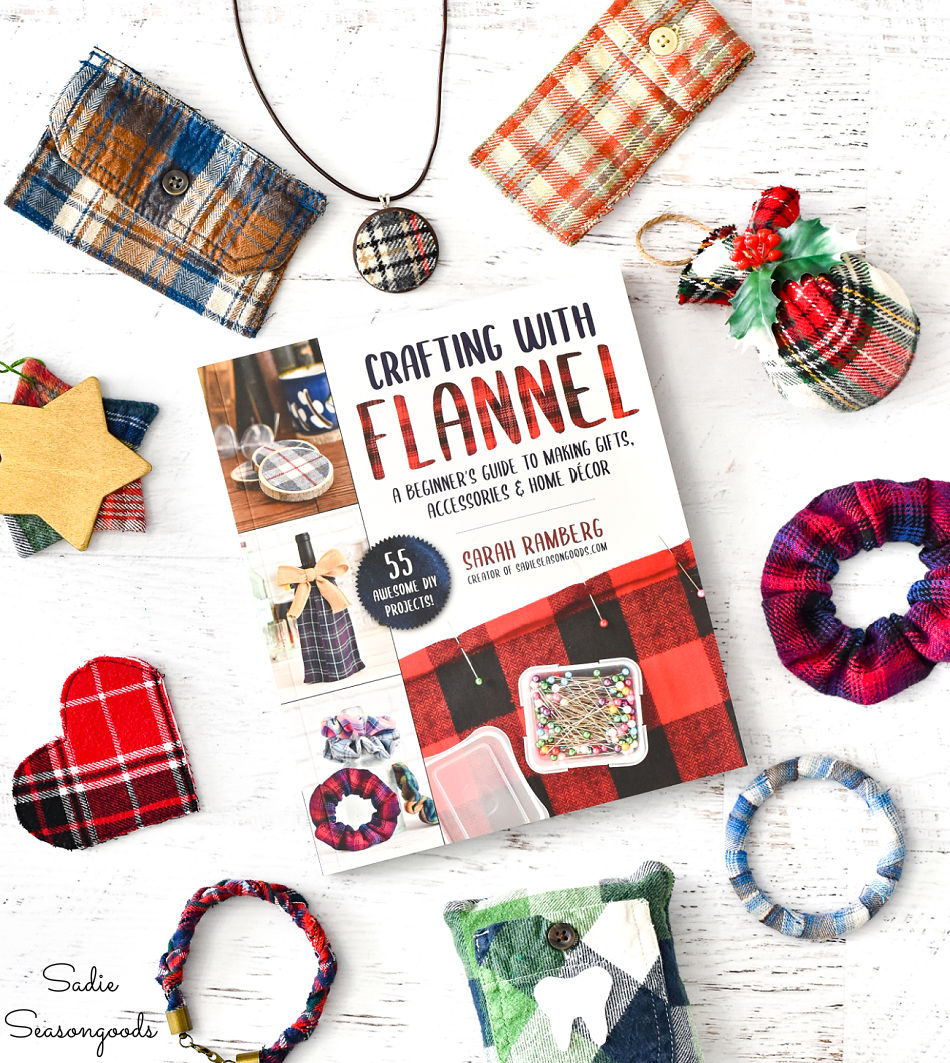 And if you enjoyed this upcycling idea for vintage farmhouse decor, then you'll love this idea for displaying doilies in a vintage window frame!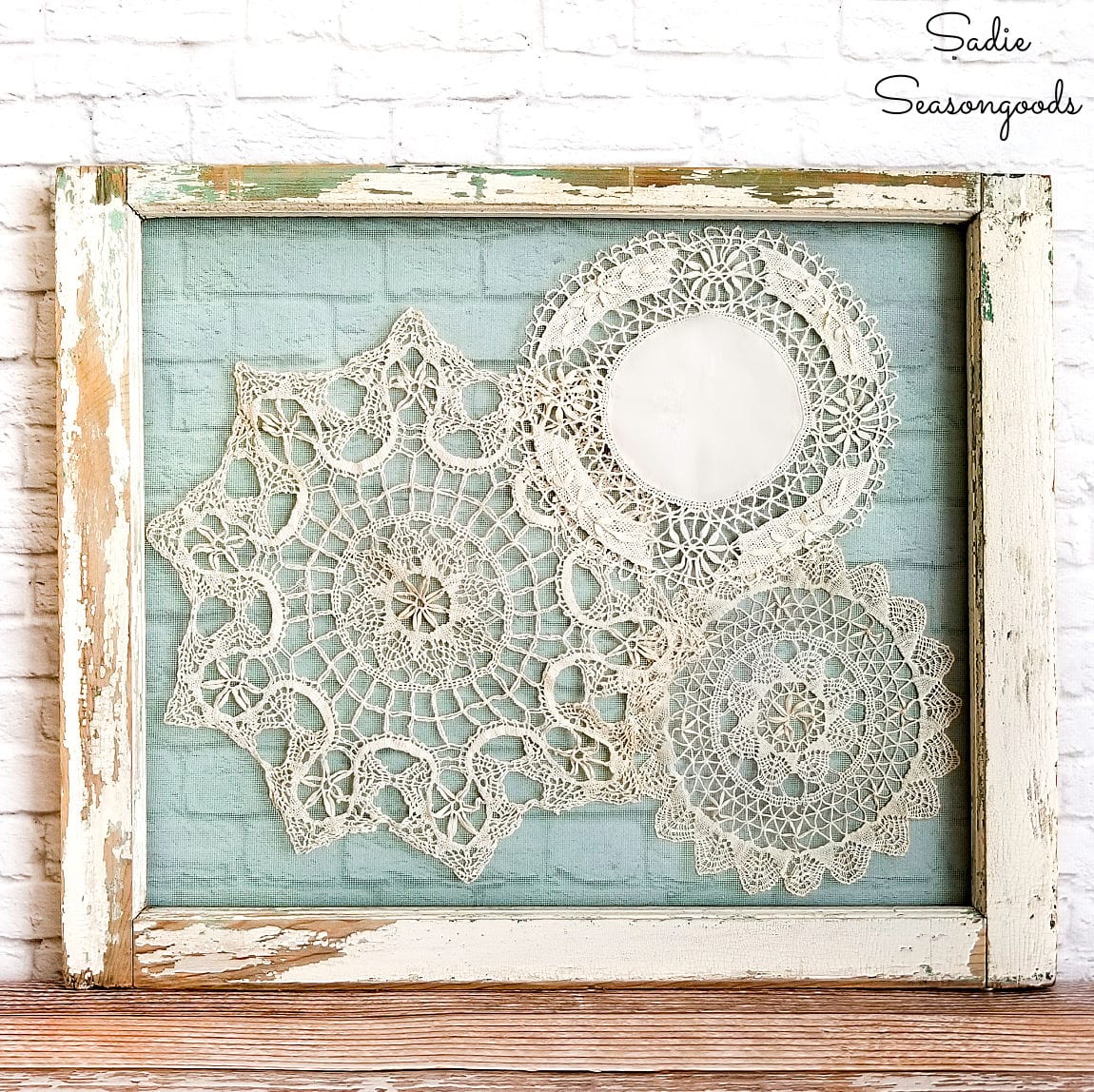 Craft on!
S
Join me on Social Media:

PIN ME!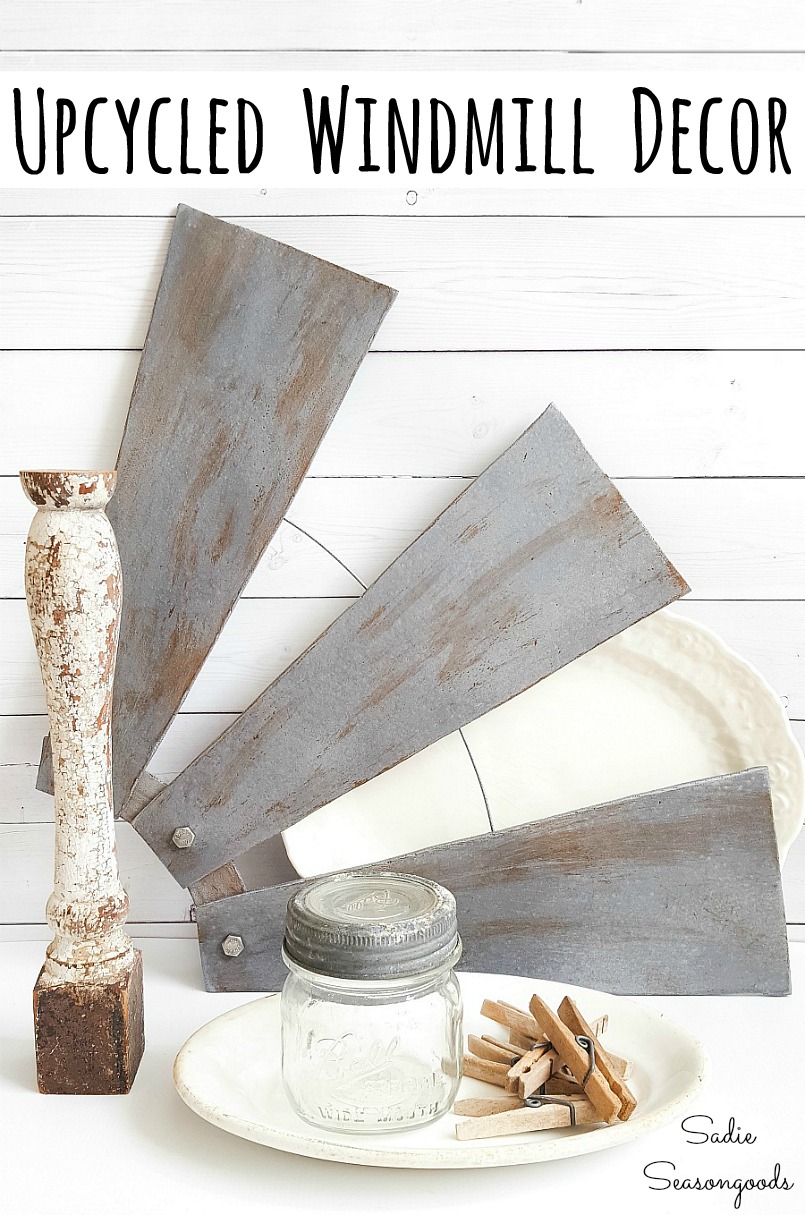 This project is for decor purposes only. Please do not alter any active/in-use/working ceiling fans per this tutorial. The owner of this blog is not responsible or liable for size, shape, angles, or functionality of existing ceiling fans. This tutorial is solely limited to non-use ceiling fan blades that are not electrically connected.
Sarah Ramberg is the owner of Sadie Seasongoods, a website that celebrates all things secondhand. From upcycling ideas and thrifted decor to vintage-centric travel itineraries, Sadie Seasongoods is a one-stop shop for anyone who loves thrifting and approachable repurposing ideas. Sarah is also the author of "Crafting with Flannel" and has been featured in numerous media outlets and magazines.