Ahh, the embroidery hoop- often associated with cross stitch and other needlepoint crafts. But embroidery hoops have a TON of potential, many of which have nothing to do with a needle and thread. Here are some unique and fabulous upcycles you can make with embroidery hoops to get you inspired.
Spooky Silhouettes
How about upcycling a few hoops into Halloween silhouettes for any of your favorite creepy characters? And they appear to "float" inside their hoop frames, too- thanks to another thrifted find. What a fun seasonal craft to make!
Industrial Orbs
Decorative orbs are a fun element to add in home decor, particularly if you lean towards a vintage or industrial style home. And you can make your own orbs like this with a handful of embroidery hoops.
Unbreakable Suncatchers
These sun catchers and window deterrents look pretty hanging in your largest picture windows, and won't break if they come tumbling down. But they have a secret job to do as well: altering the reflection that can cause collisions between songbirds and clean glass windows. Talk about a double duty DIY!
Gift Card Ornament
Adding partially overlapping swatches of fabric to an embroidery hoop creates a small pocket. A small pocket which is simply perfect for holding a gift card! So, come holiday season, file this idea away if gift cards are on a loved one's wish list.
I never put this project tutorial on my blog- should I do it this year?
Round Shelves from Embroidery Hoops
How cool are these round shelves that are made from stacks of embroidery hoops? They have a great modern-vintage look and are the perfect thing to make if you end up with a bunch of hoops in the same size. And because the hoops are made of wood, they're easy to paint if you want to personalize the look even further.
Succulent Planter
Similar to the industrial orb, this open-air succulent terrarium is made from embroidery hoops for a modern-boho look that is SO on trend right now. What a fabulous pop of color and greenery this is- and a perfect way to use those faux succulents from craft stores.
Funky Pumpkins
One of the best things about embroidery hoops is that you can craft with them in ways that have NOTHING to do with embroidery. And these fall pumpkins are a perfect example of that!
Cottagecore Wall Decor
Doilies and embroidery hoops might be things you find in Grandma's attic, and they go together hand-in-hand. When married together, they become a quick and simple way to get that cottagecore look that is so on-trend these days.
DIY Drum Shade
Want to make a hanging drum shade for a ceiling light? Then a pair of embroidery hoops might just be the ticket! Especially if you need a drum shade in a peculiar or hard to find size.
Halloween Spider Web
Let's face it- a lot of Grandma's doilies (AND embroidery hoops) end up at thrift stores. But you can upcycle her hard work into Halloween crafts like a fun spider web to hang on the wall.
Embroidery Hoops for Wreaths
Extra large embroidery hoops are a wonderful craft supply to create door wreaths with. There are lots of ways to do this, but showcasing some fabulous seasonal fabric is one of the most simple and straightforward ways to do this.
Hanging Bags
Talk about a handy project! These DIY hanging bags would be perfect in a dorm room or other smaller space to hold any number of things- craft supplies, socks, even paper recycling!
Embroidered Sweater Upcycle
At the end of the day, there's nothing wrong with using those hoops for, well…embroidery! In this case, a thrift store sweater in bright orange was the perfect canvas for some Halloween embroidery.
This, too, is an old project of mine where I didn't upload the tutorial on my blog. Should I add it or no?
Have Fun with Embroidery Hoops!
These hoops are easy to find at thrift stores and have so much possibility when it comes to upcycling ideas. Paint 'em, stack 'em, fill 'em with fabric- there's no end in site for all the craft projects you can make with them!
Craft on!
S
Join me on Social Media:

PIN ME!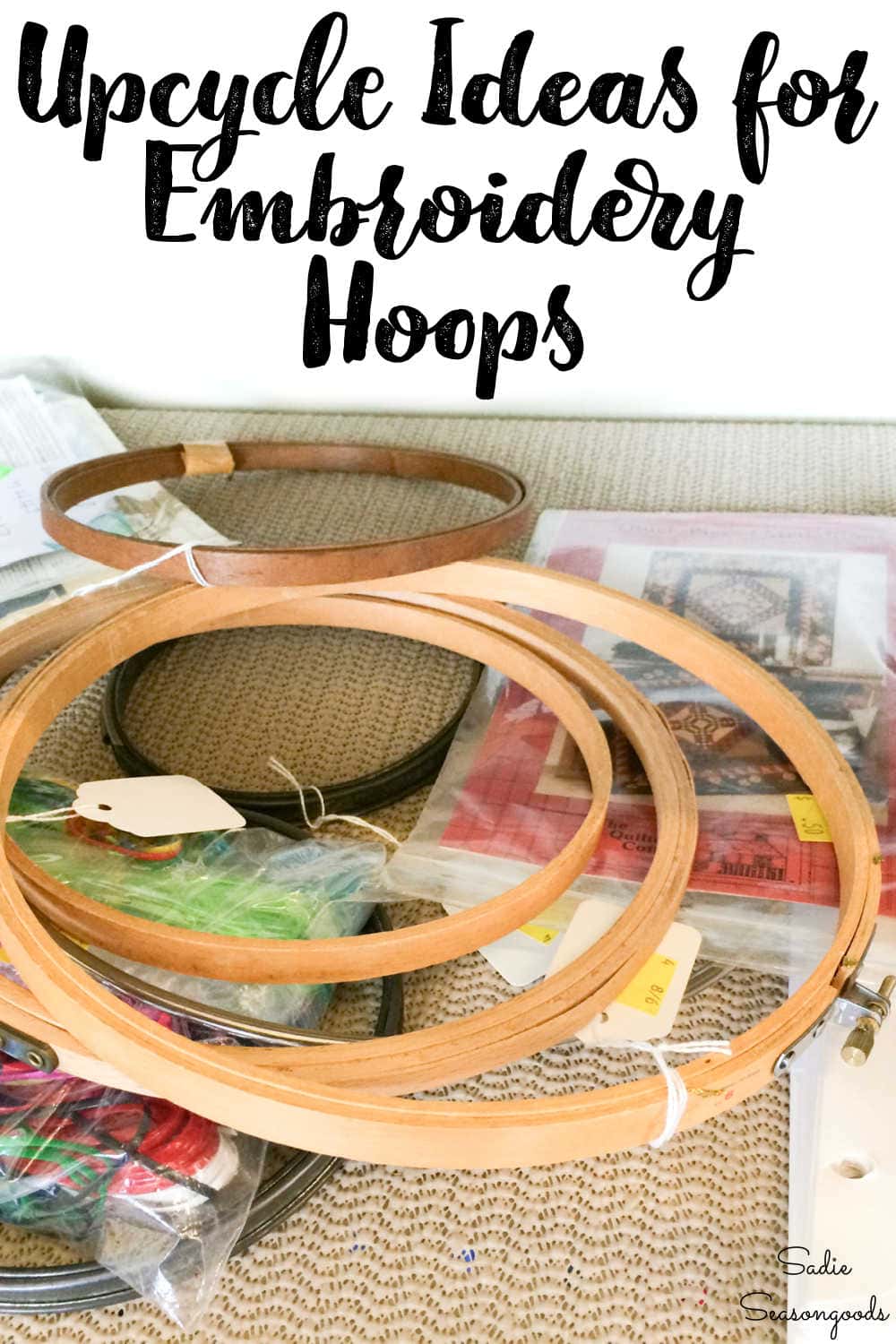 Sarah Ramberg is the owner of Sadie Seasongoods, a website that celebrates all things secondhand. From upcycling ideas and thrifted decor to vintage-centric travel itineraries, Sadie Seasongoods is a one-stop shop for anyone who loves thrifting and approachable repurposing ideas. Sarah is also the author of "Crafting with Flannel" and has been featured in numerous media outlets and magazines.