While I've upcycled embroidery hoops in the past, I'd never made a wreath with one. That is, until I spotted a large embroidery hoop at Goodwill. It just *looked* like a giant ornament to me. And I wondered if I could fill it with Christmas wreath material to look like an oversized ornament wreath.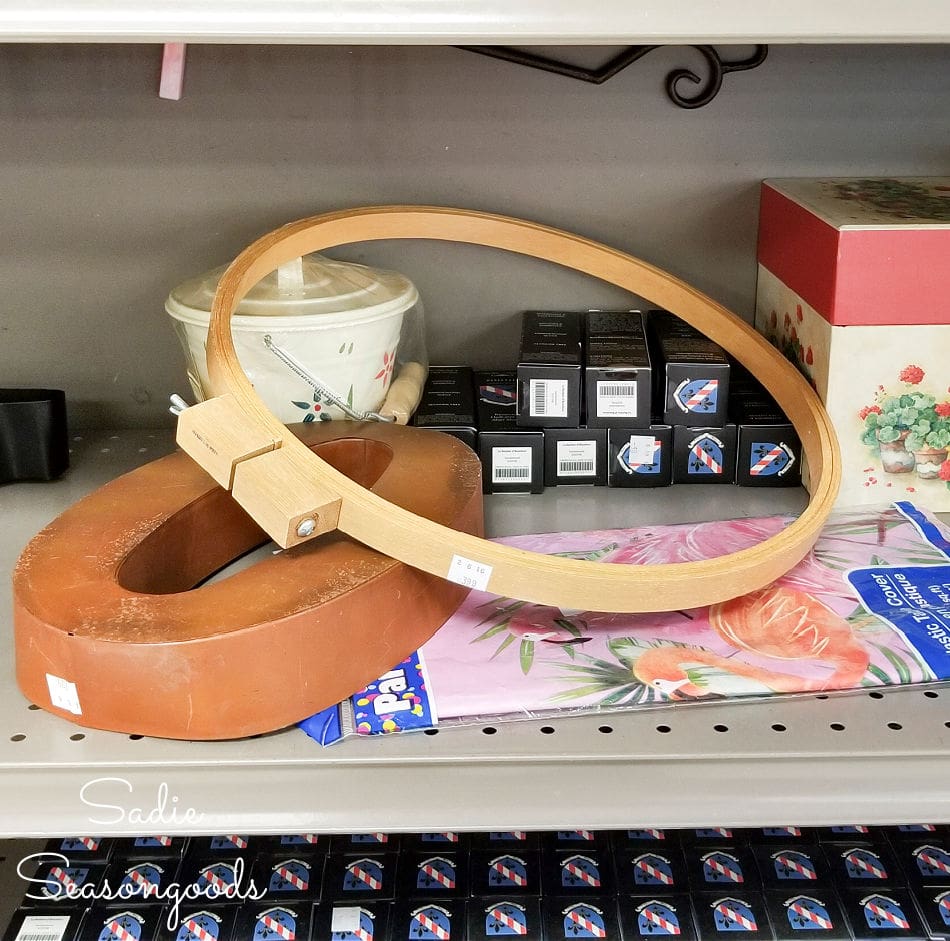 I'm not crazy, right? The top looks like an ornament cap and the rest of it is round…just like a traditional ornament ball.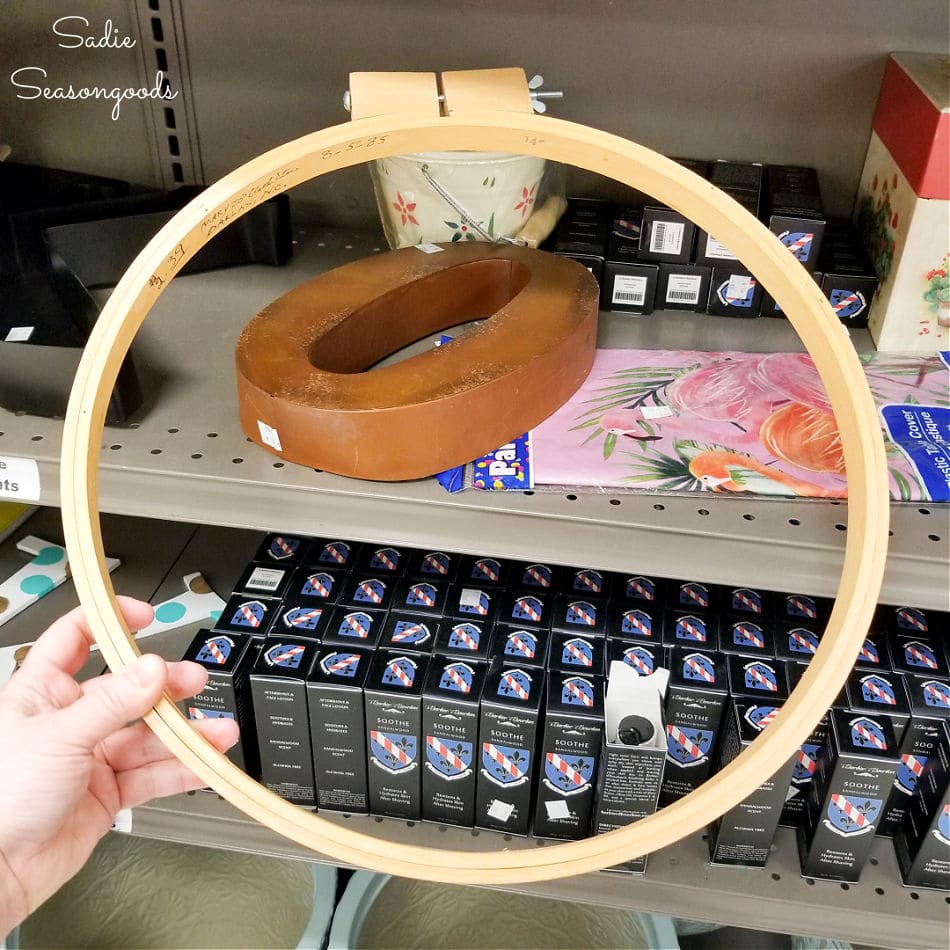 So, into the cart it went and here were are today, transforming it into a Christmas hoop wreath.
This post contains affiliate links for your crafting convenience. As an Amazon Affiliate, I earn from qualifying purchases. All blue, bold, and underlined text is a clickable link, either to a product or to a related post.
From a Large Embroidery Hoop to a Giant Christmas Ornament
Because I wanted to really capitalize on the whole "ornament" look, I needed some Christmas wreath material that was right on target.
And I found the perfect fabric on Etsy. Retro graphics with an ornament theme!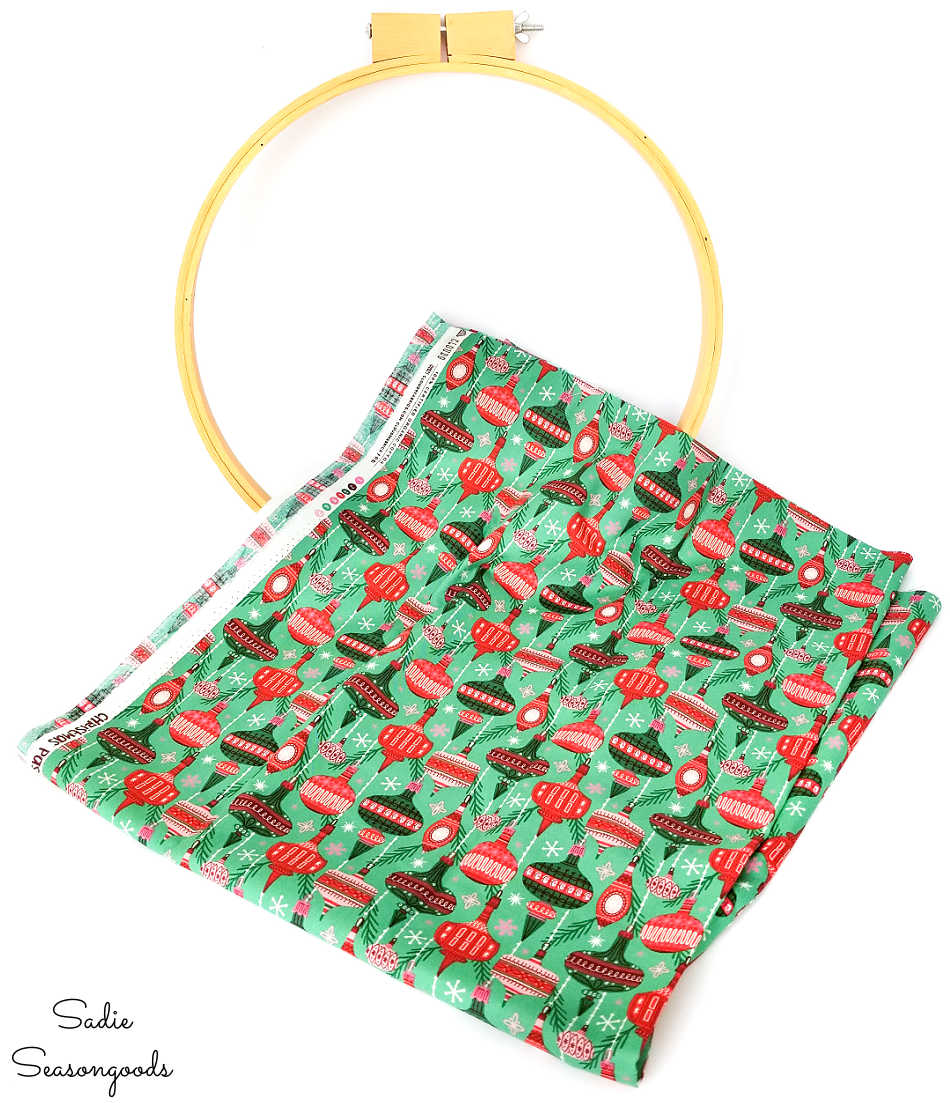 But first, I needed to paint the large embroidery hoop to look like an ornament. So, I very carefully taped the tension screw that would become the "ornament cap".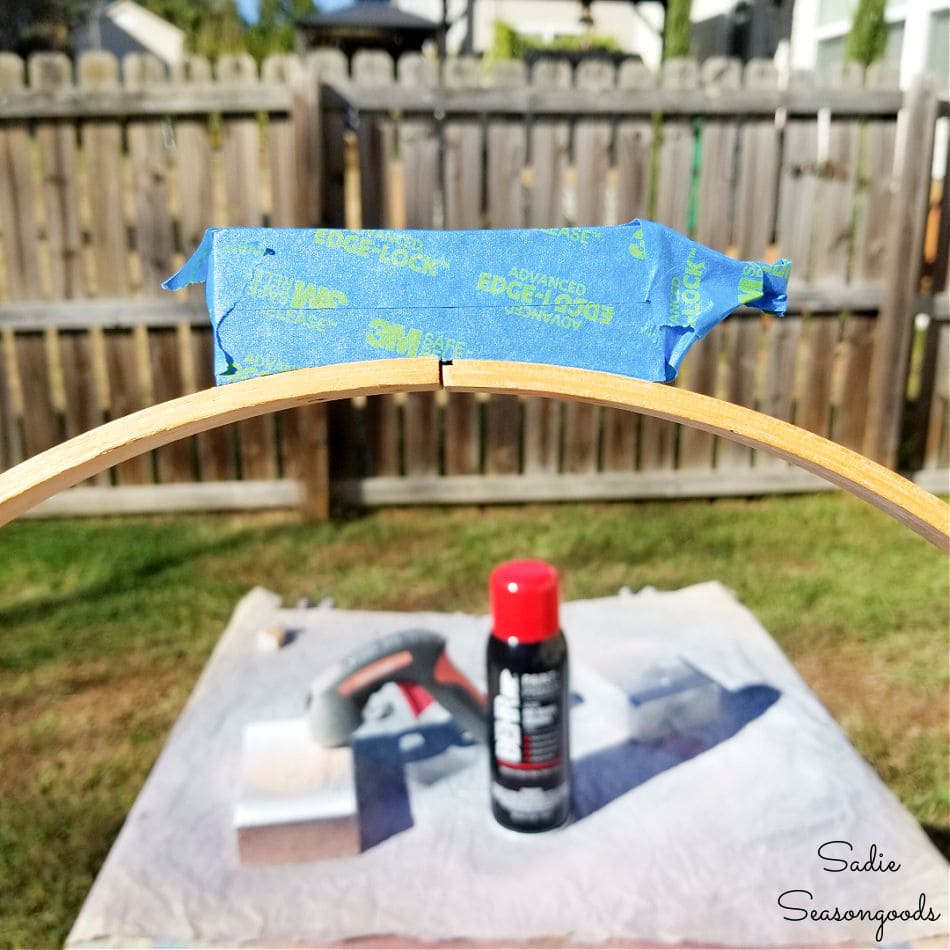 Once that was completely taped off, I grabbed a can of glossy red spray paint (leftover from this cabinet door project). Then, I carefully painted the outer hoop red.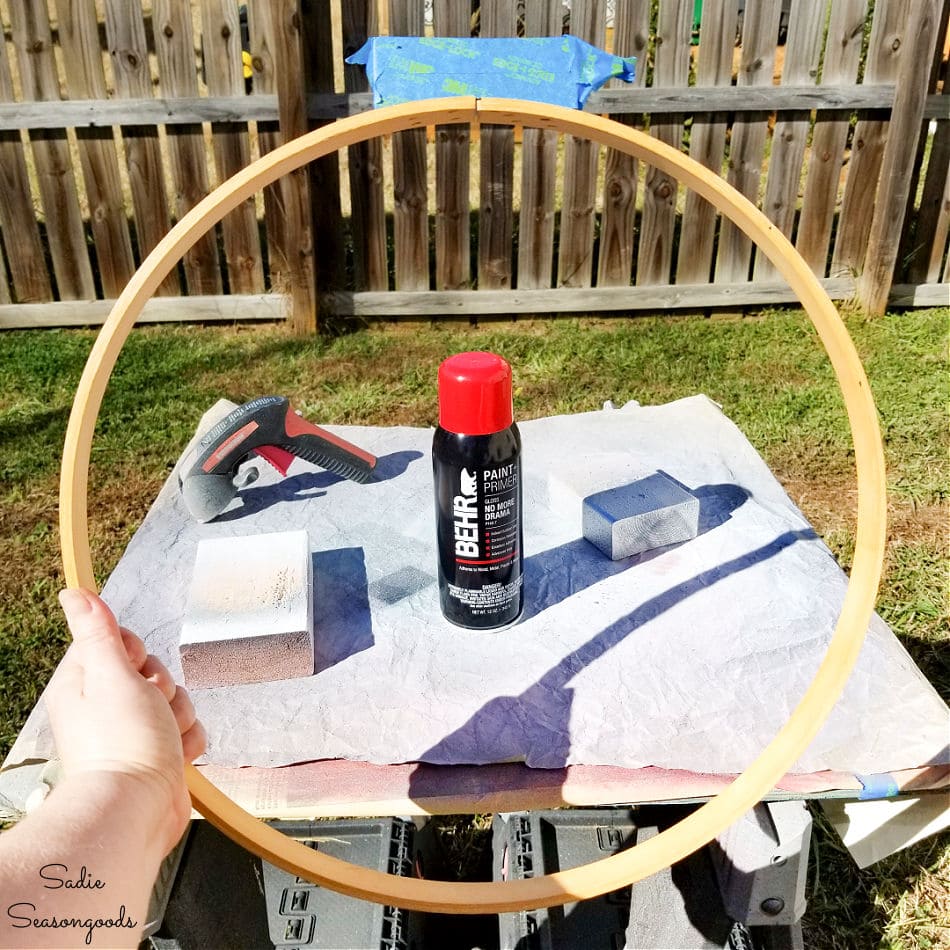 Just the outer hoop needed a coat of paint. Since the inner hoop wouldn't be visible, I simply left it alone.
Once the red paint dried, I brought the outer hoop inside and grabbed some silver craft paint and brushes.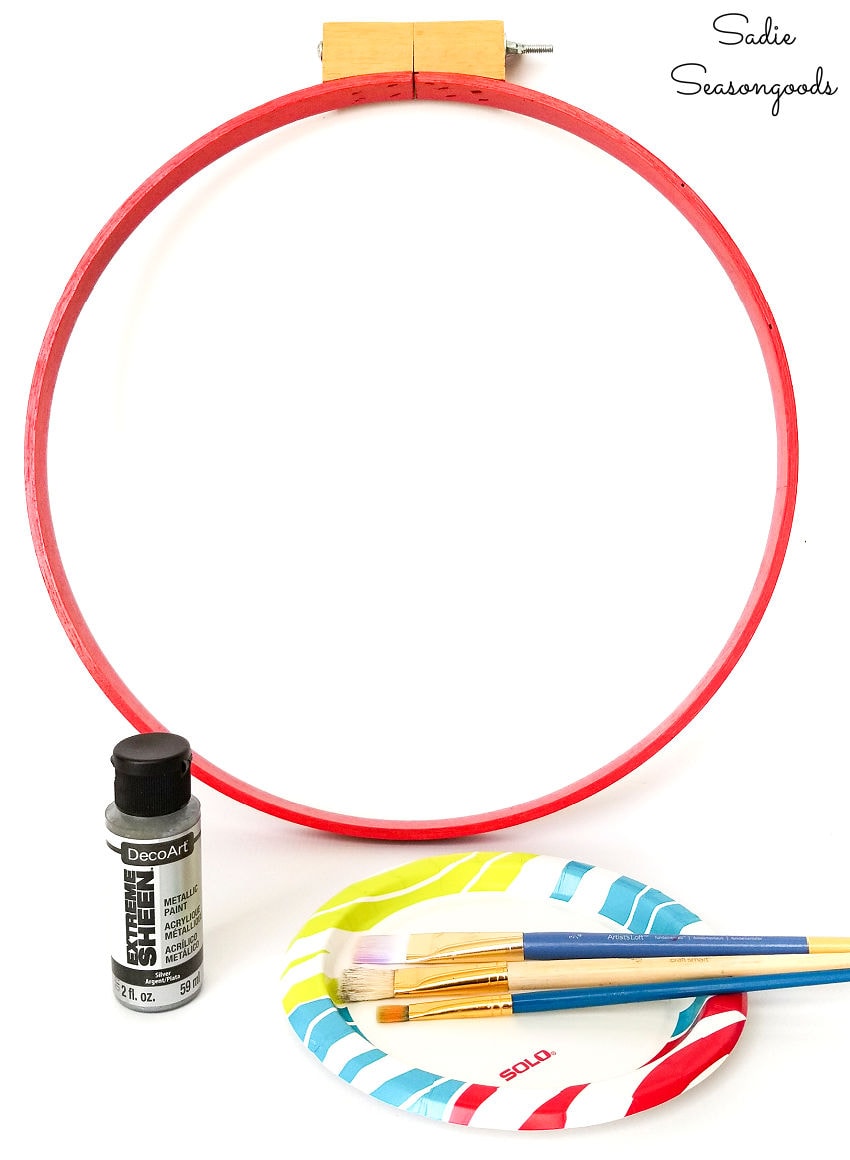 This way, I could paint the "cap" by hand to carefully avoid overlapping on the red hoop or the tension screw.
Finishing with the Christmas Wreath Material
And just like that, I had a giant Christmas ornament. Or, at least the outline of one!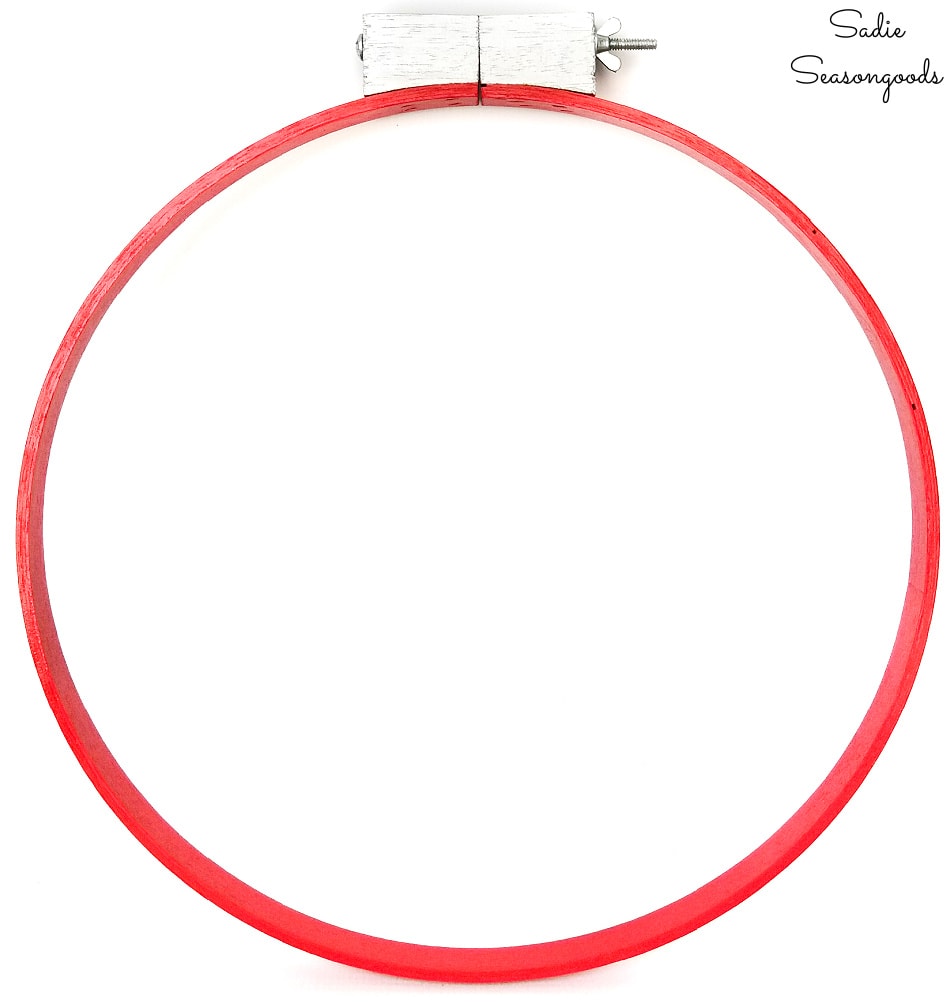 Now I just needed to fill it with my Christmas wreath material. First, I cut out a square of material that was a couple of inches larger than my red outer hoop.
After ironing it, I laid it over the (naked) inner hoop and carefully placed the painted outer hoop (with loosened tension screw) over the covered inner hoop.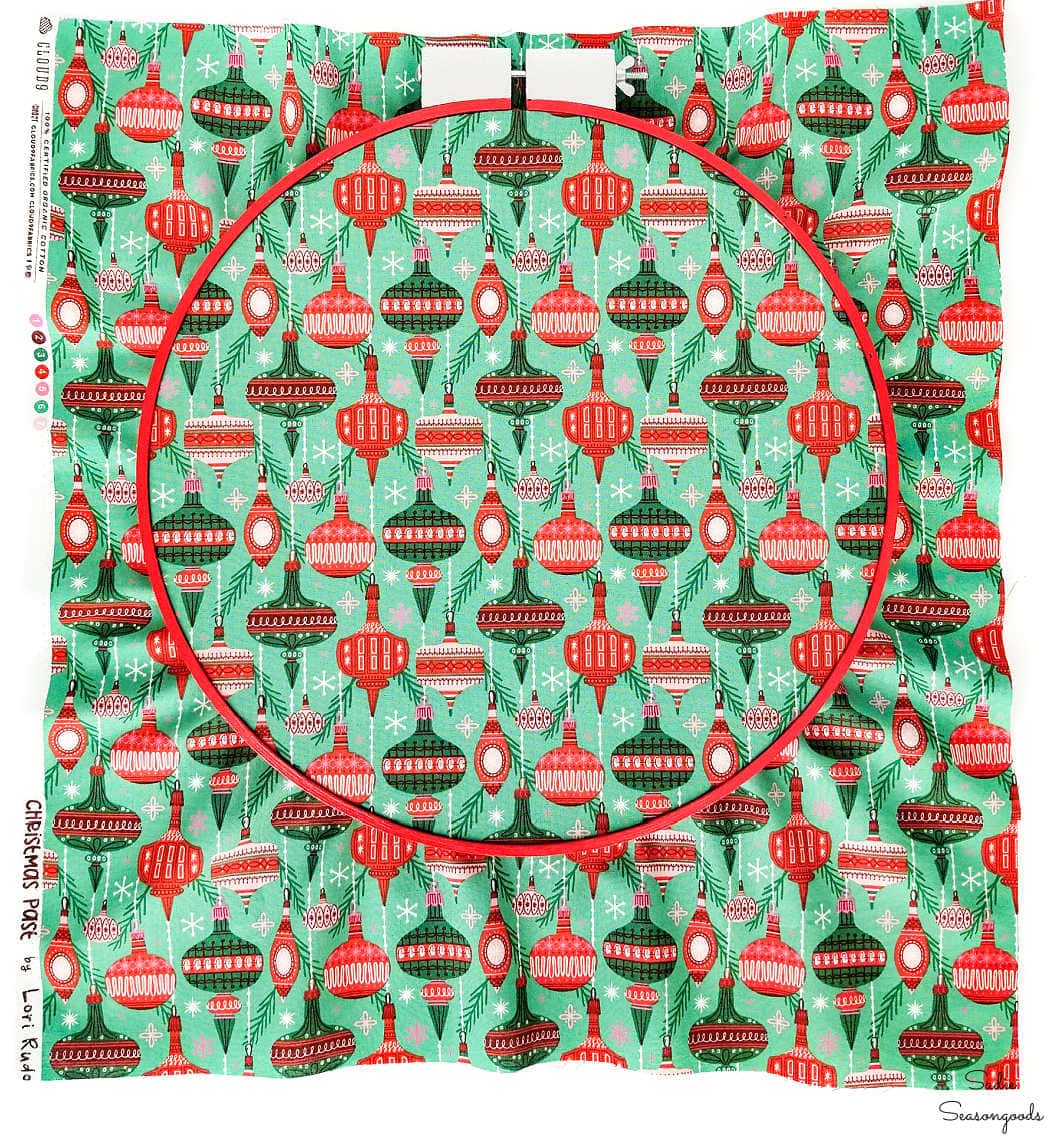 Thankfully, with this Christmas wreath material, I was able to line up an ornament's lines with the tension screw portion of the hoop. That made it very easy for me to ensure that the fabric was perfectly in line with my "ornament" hoop.
Next, I tightened the tension screw, tugged the material carefully to ensure it was evenly taut, and tightened the screw. Then, I trimmed the excess fabric around the back side.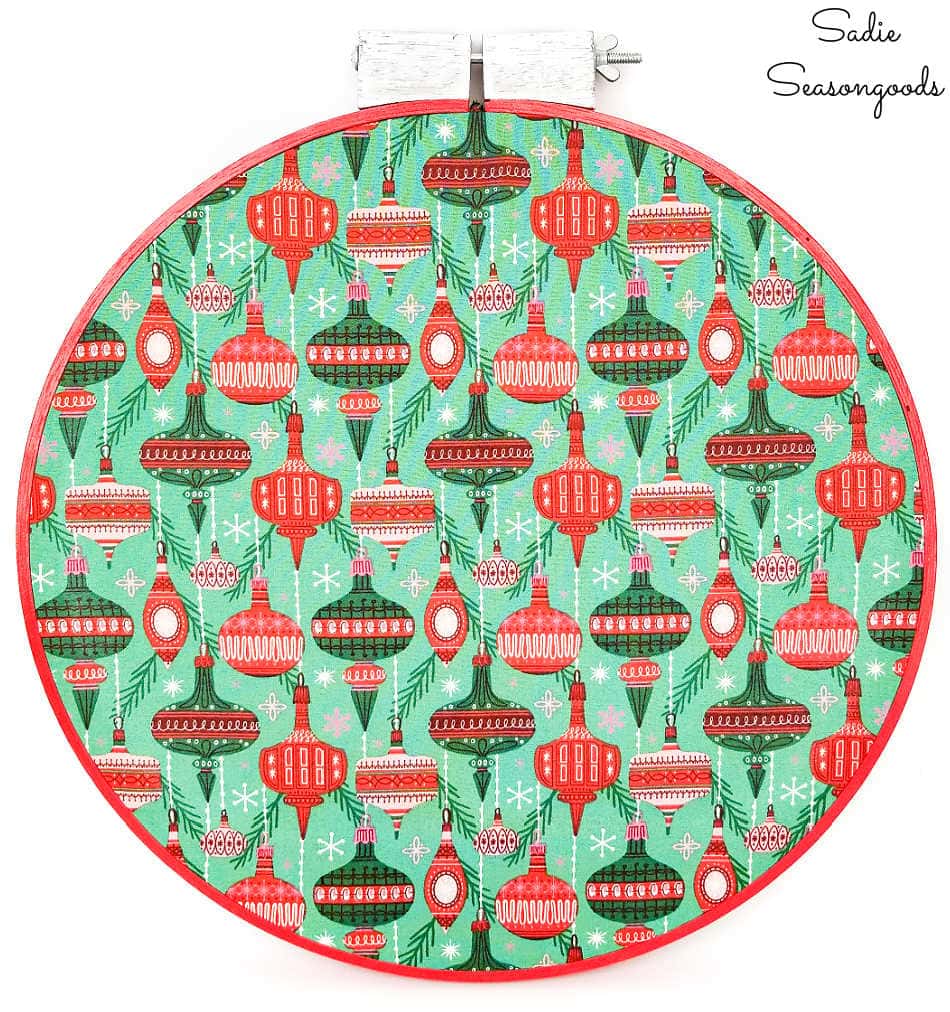 Before finishing up my Christmas hoop wreath, I brushed the raw edges of the wreath material with Mod Podge to limit fraying on the back side.
Lastly, I added a silver bow under the "ornament cap" (attached with hot glue) and looped some narrow silver ribbon through the tension screw.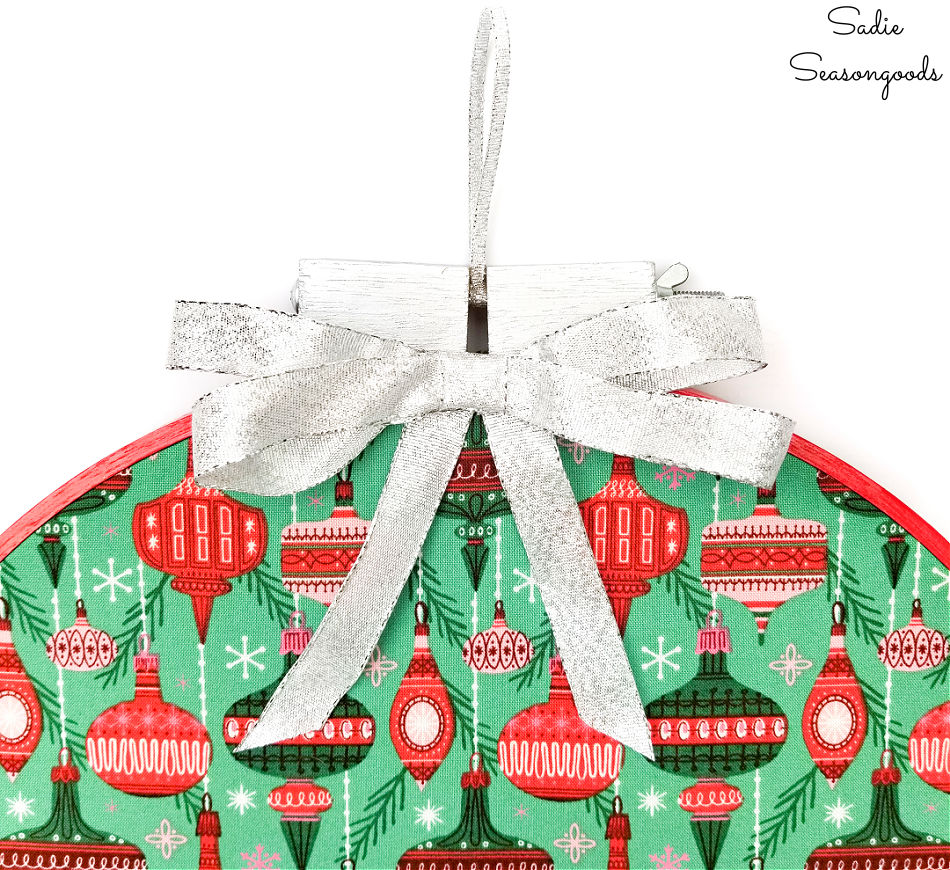 Embroidery Hoop Craft with Christmas Wreath Material
And that was it! My embroidery hoop had become a giant Christmas ornament and front door wreath.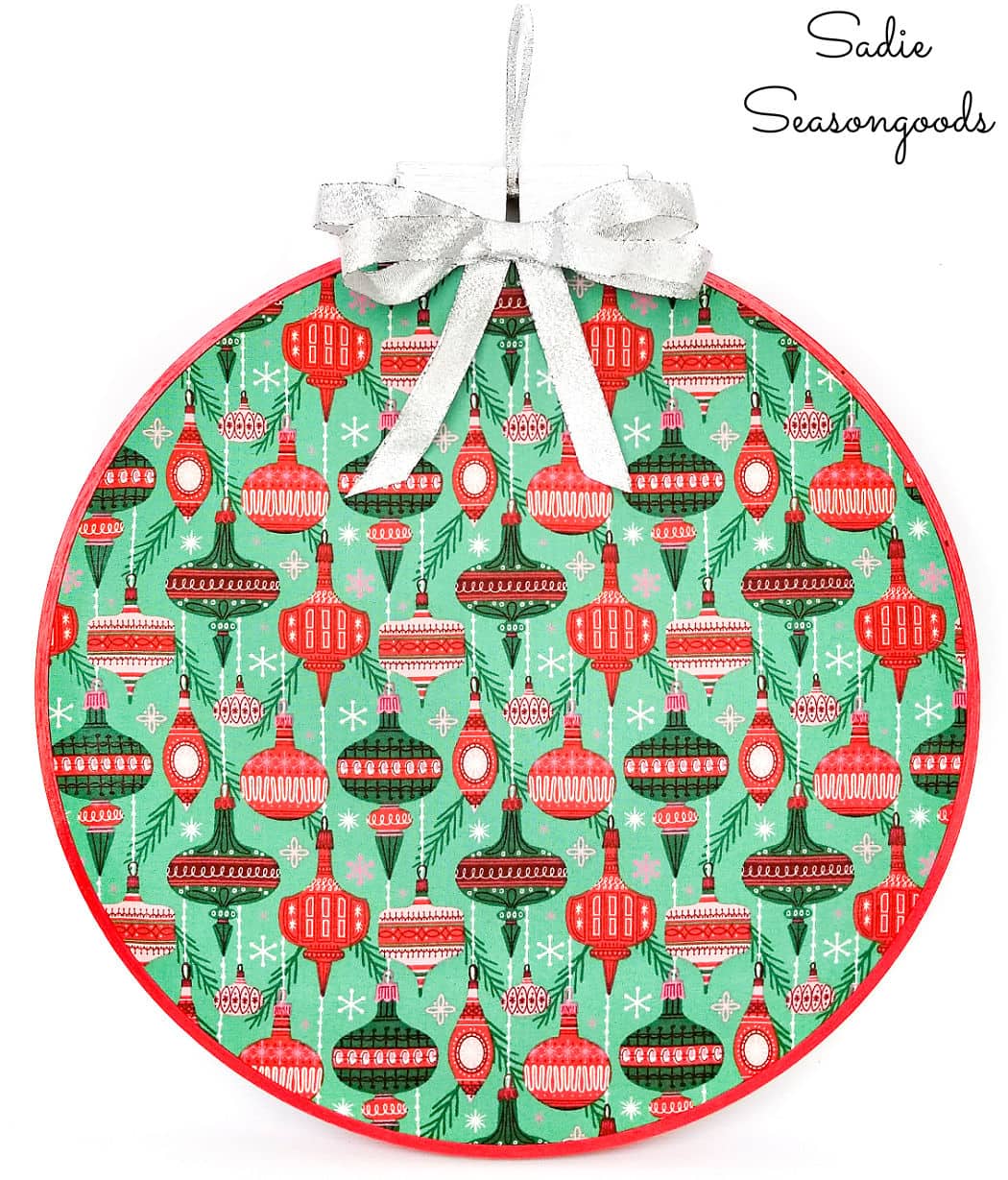 It's certainly simpler and has less bravado than some of my Christmas wreaths from the past, but I love it nonetheless. Besides, I just needed to see if my idea would work out!
And it did.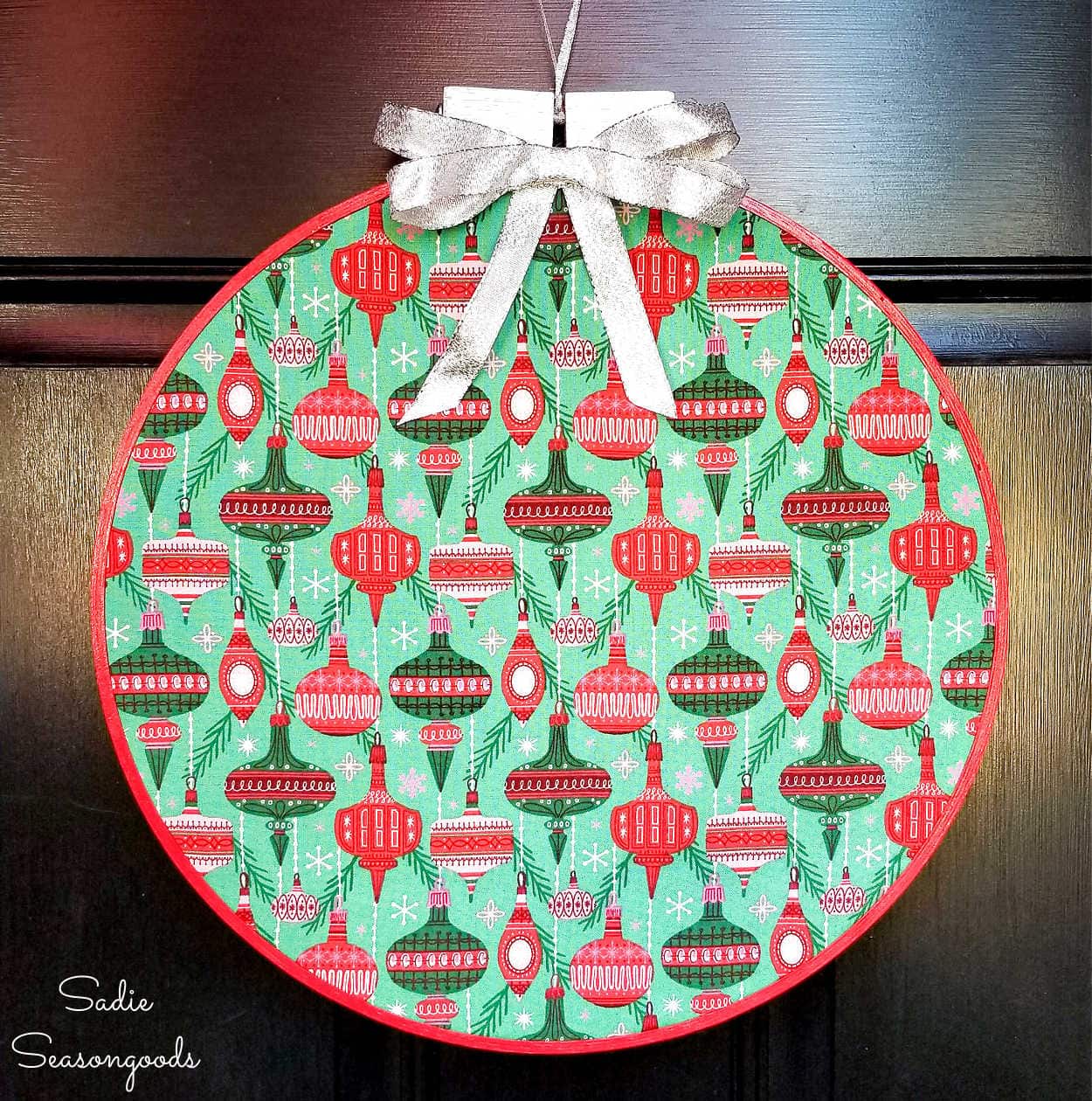 Truthfully, too, it doesn't have to be a wreath! I could totally see hanging a series of these inside. Maybe swapping out other wall decor for these oversized ornaments for the season?
Either way, I LOVED working on a new embroidery hoop craft for a change. It's been a few years since my previous one!
And if you enjoyed this upcycled Christmas wreath idea, then you may also like this flannel version, as well!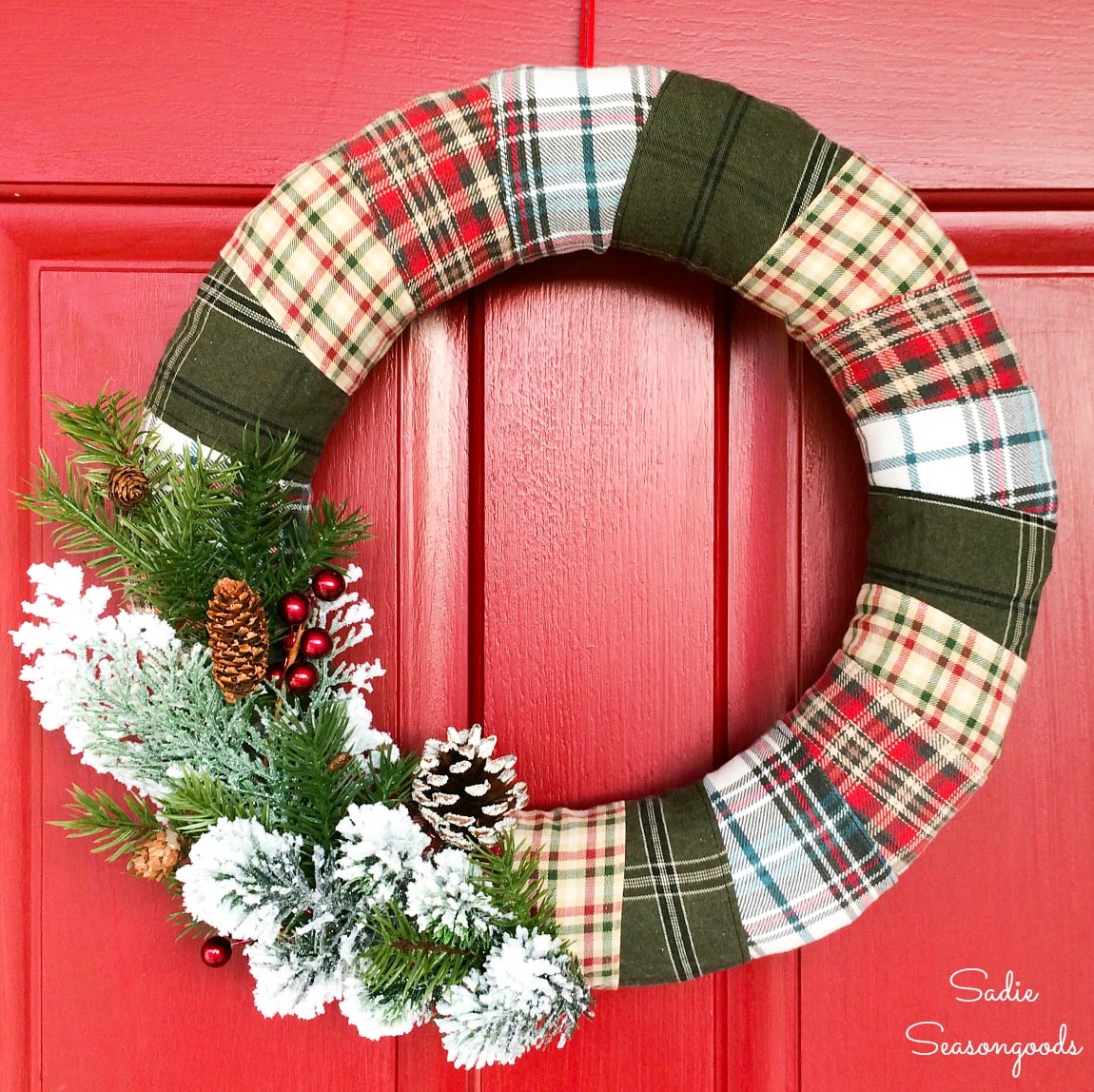 Flannel IS what I'm known for, after all! Also, my book is currently sold out from Target! But it's still available to purchase online from Amazon, Barnes & Noble, and Walmart.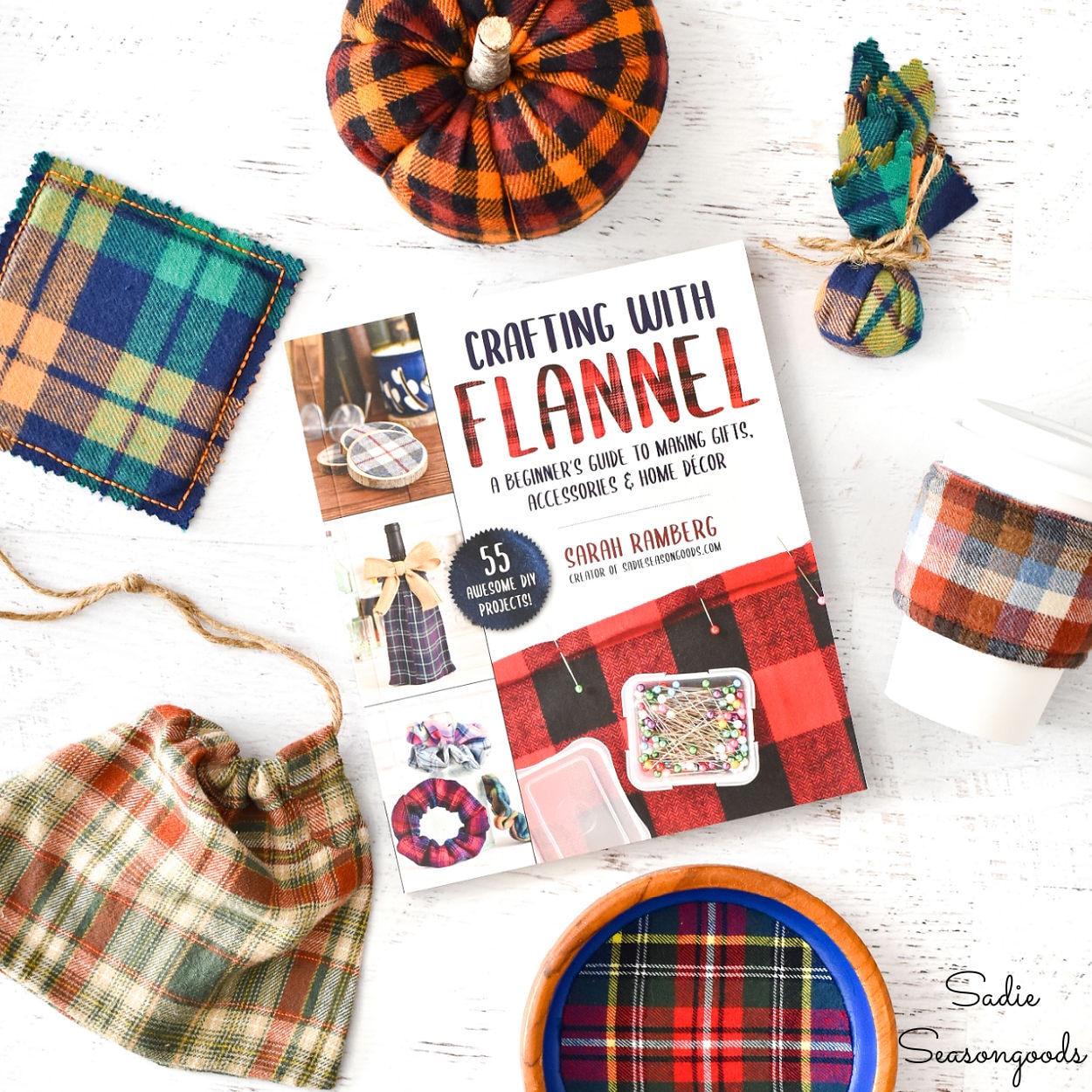 Craft on!
S
Want to be notified when I publish my next upcycling project tutorial?
Subscribe to Blog via Email
Join me on Social Media:

PIN ME!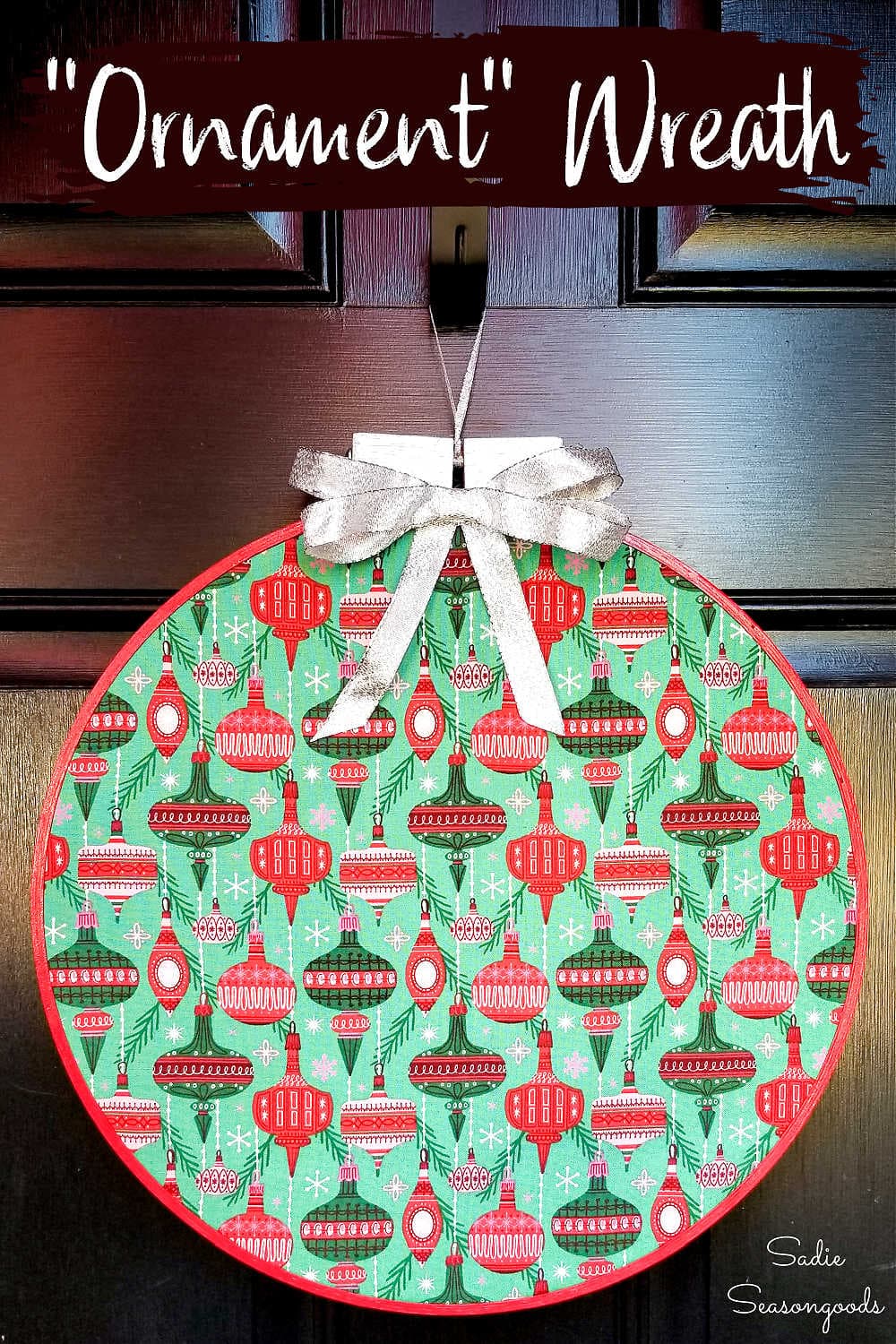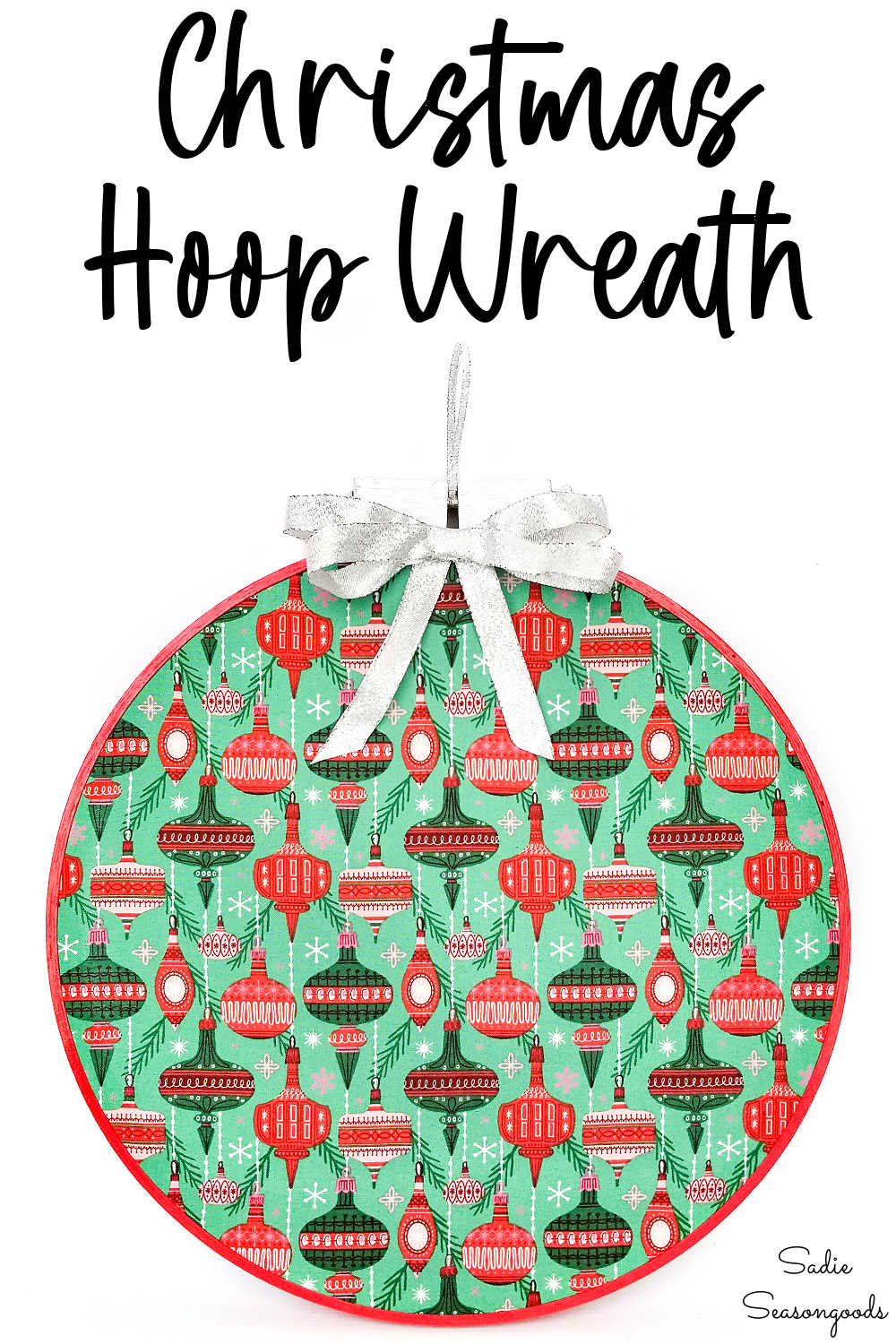 Sarah Ramberg is the owner of Sadie Seasongoods, a website that celebrates all things secondhand. From upcycling ideas and thrifted decor to vintage-centric travel itineraries, Sadie Seasongoods is a one-stop shop for anyone who loves thrifting and approachable repurposing ideas. Sarah is also the author of "Crafting with Flannel" and has been featured in numerous media outlets and magazines.