While perusing an estate sale on half-price day, I came across this old floor lamp that was positively gorgeous. The wiring was shot but it was otherwise in well-loved but decent shape. But didn't care about the electrical issues, though. I knew right away it would become a solar floor lamp that I could use as backyard decor!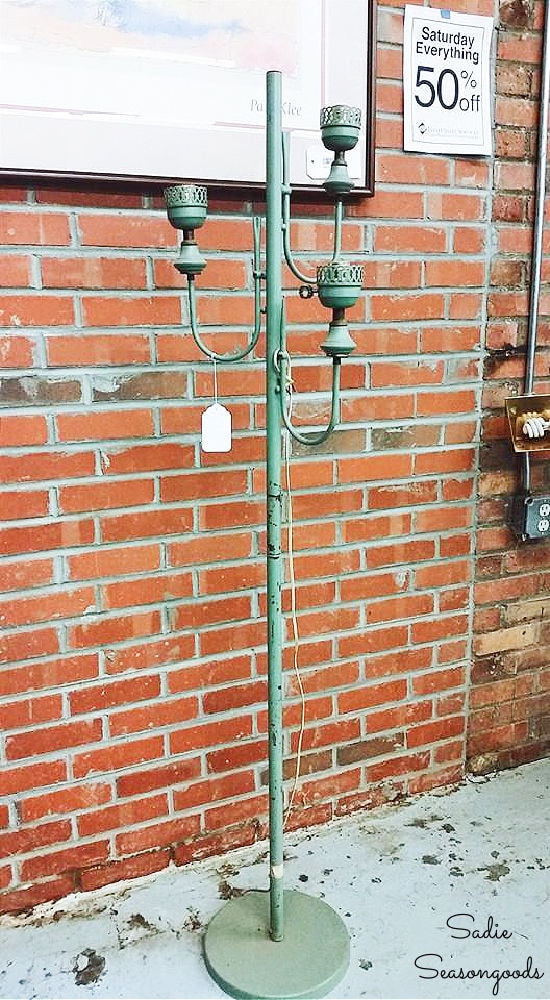 I went to the hardware store and purchased three solar path lights or solar driveway lights. And this is what I planned on doing with them: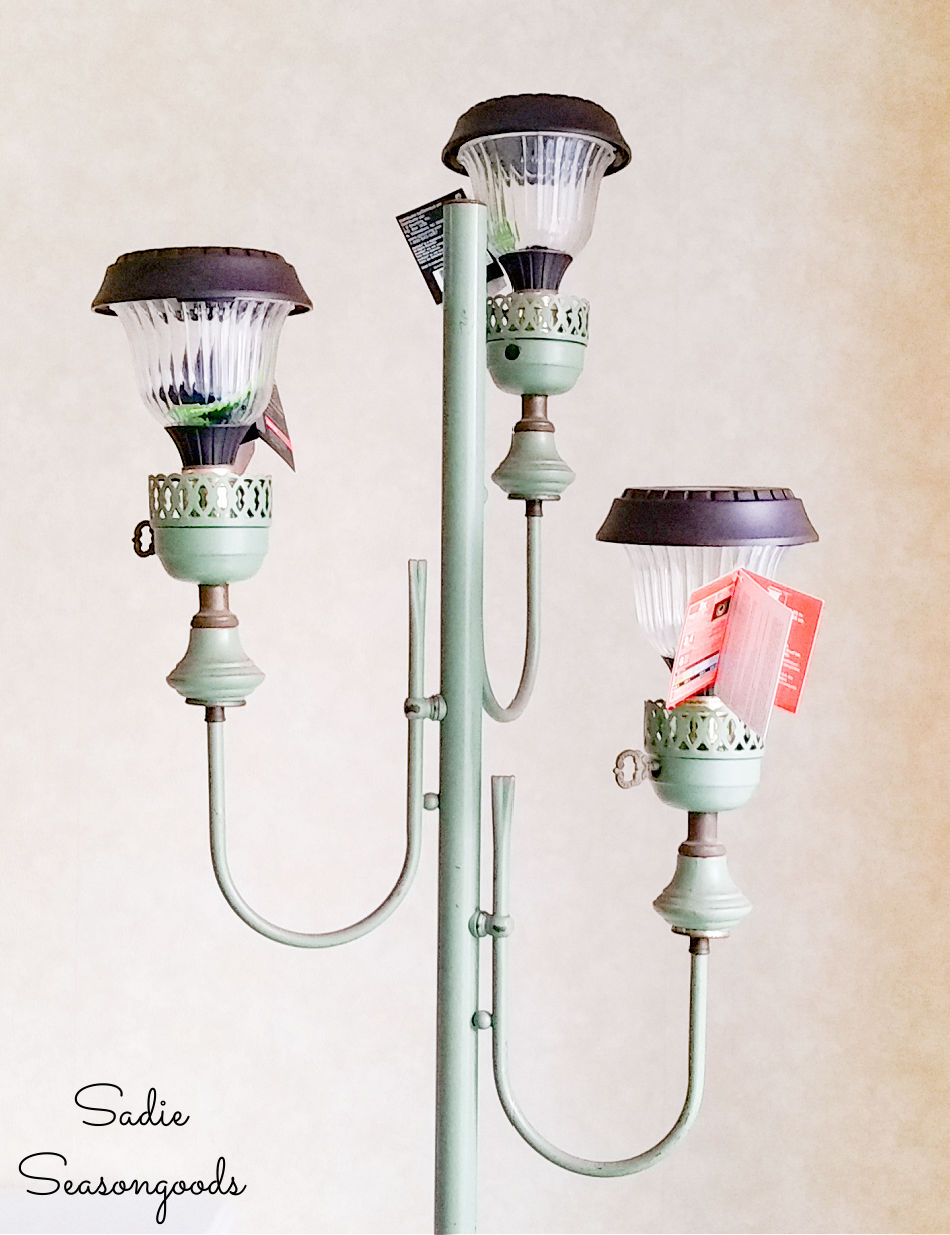 But, before I could outfit the old floor lamp with solar lights, there was some clean up and de-wiring that needed to happen first.
This post contains affiliate links for your crafting convenience. As an Amazon Affiliate, I earn from qualifying purchases. All blue, bold, and underlined text is a clickable link, either to a product or to a related post.
Upcycling an Old Floor Lamp
First, I needed to remove the old wiring, which was no easy feat given the curvy lamp frame. Sure, I could snip it off and leave it, but it felt like a safer move just to remove it all.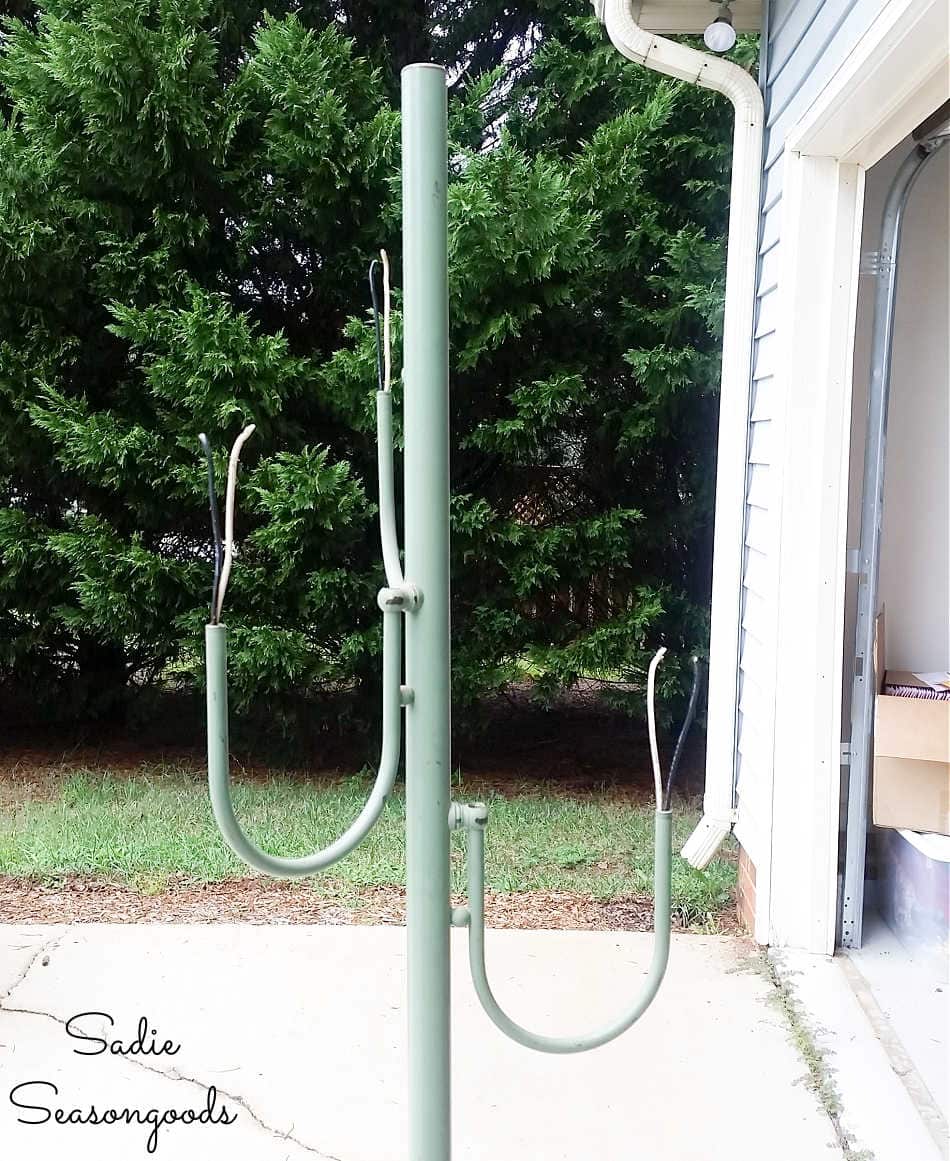 But, with some tools and determination, I was able to pull all the wiring and sockets out without damaging the lamp.
Then, I turned my attention to the sockets and the decorate cups that held them, and…
This is what several decades of NOT dusting adequately looks like. YIKES!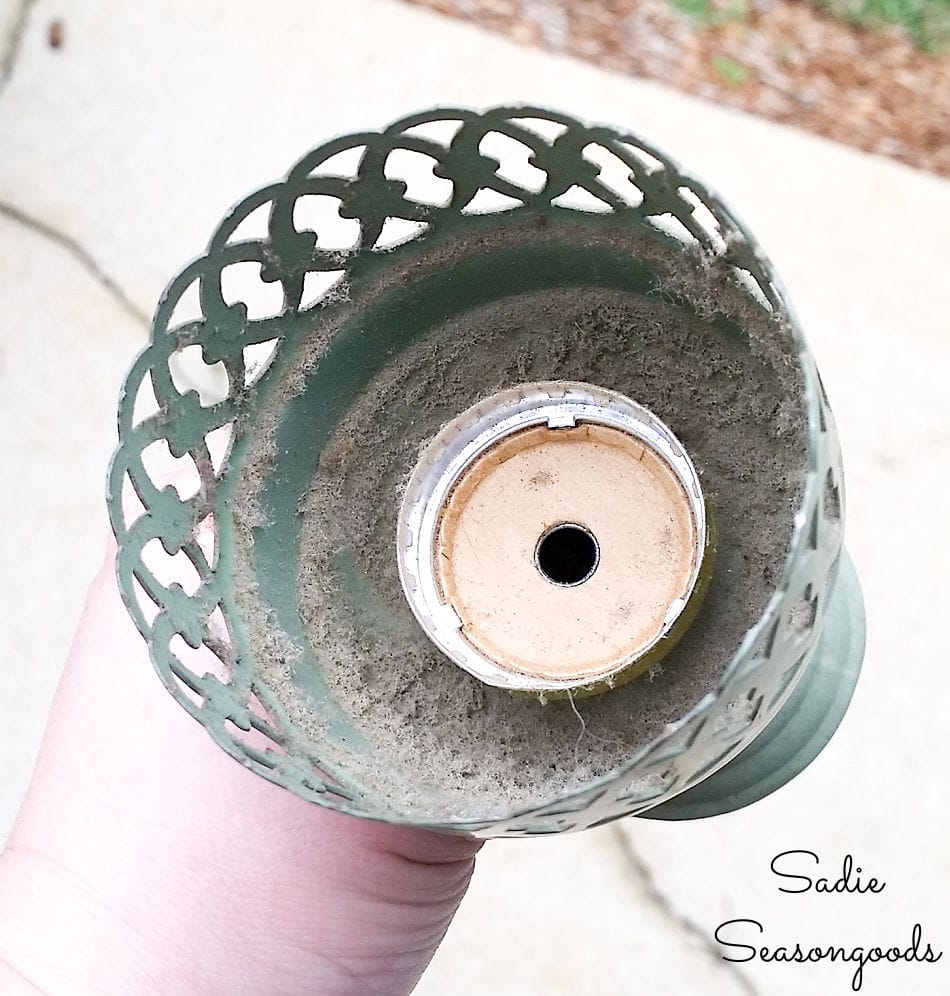 It was like a dust-sweater in there!
Canned air to the rescue. It blew the dusty chunks out of the socket cups in no time.
When everything was said and done, everything but the main lamp base had been taken apart and/or removed.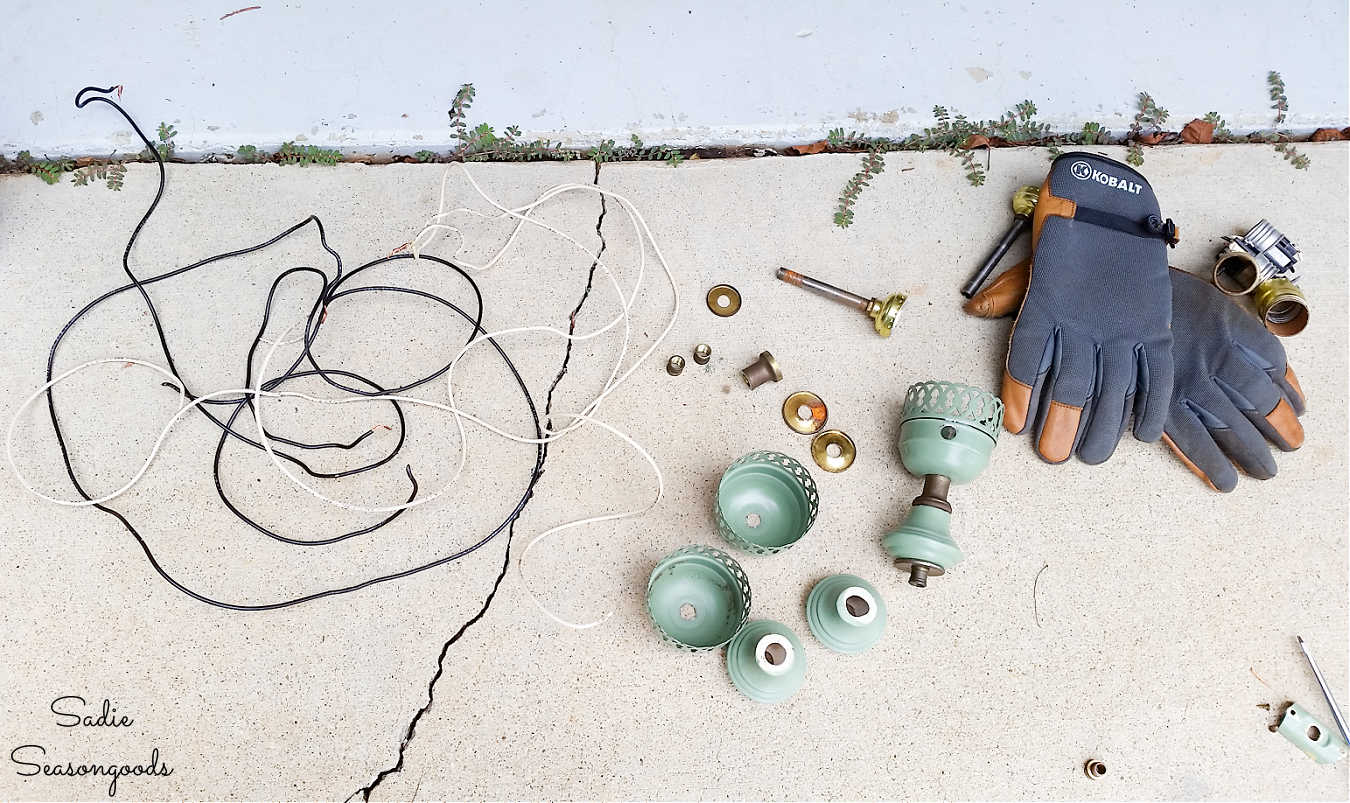 Next, I wiped everything down, and the old floor lamp was suddenly far more green than grey! In the end, though, the only original electrical parts I kept were the metal socket shells.
Why? Because those small solar lights were a perfect fit inside them.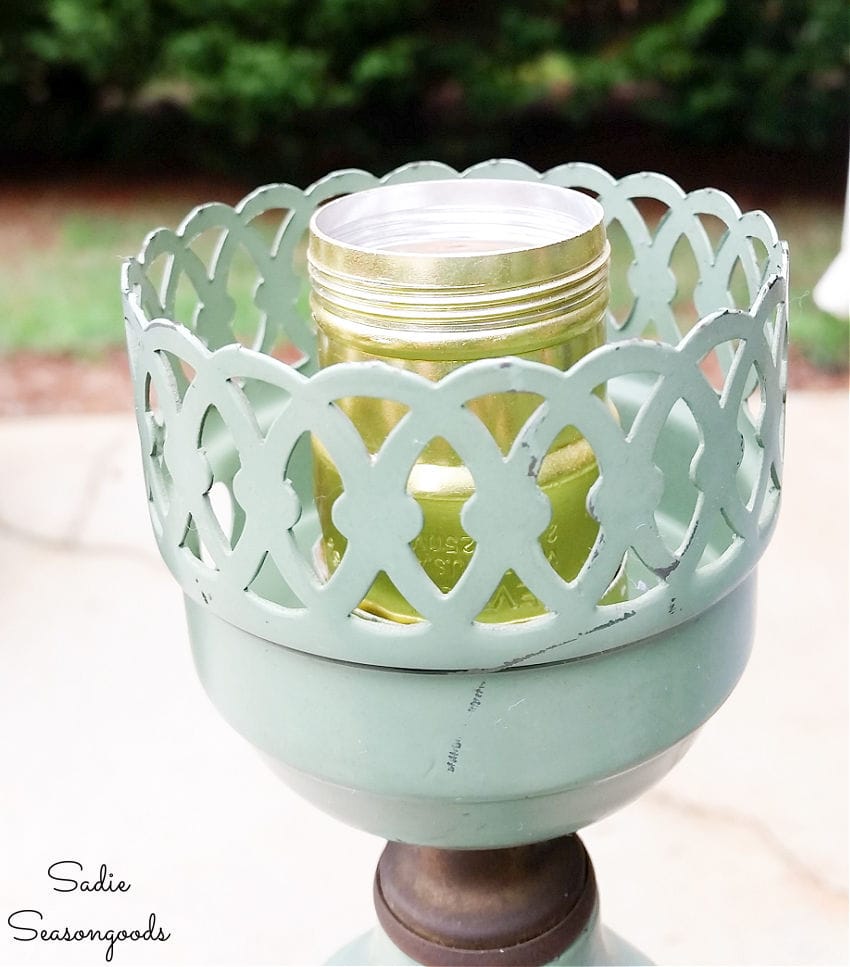 So, I replaced the socket cups back on the floor lamp.
Adding Solar Path Lights to a Solar Floor Lamp
Because I wasn't going to paint my solar floor lamp, I wanted the solar lights to blend in. I also didn't need the stakes that they were screwed into.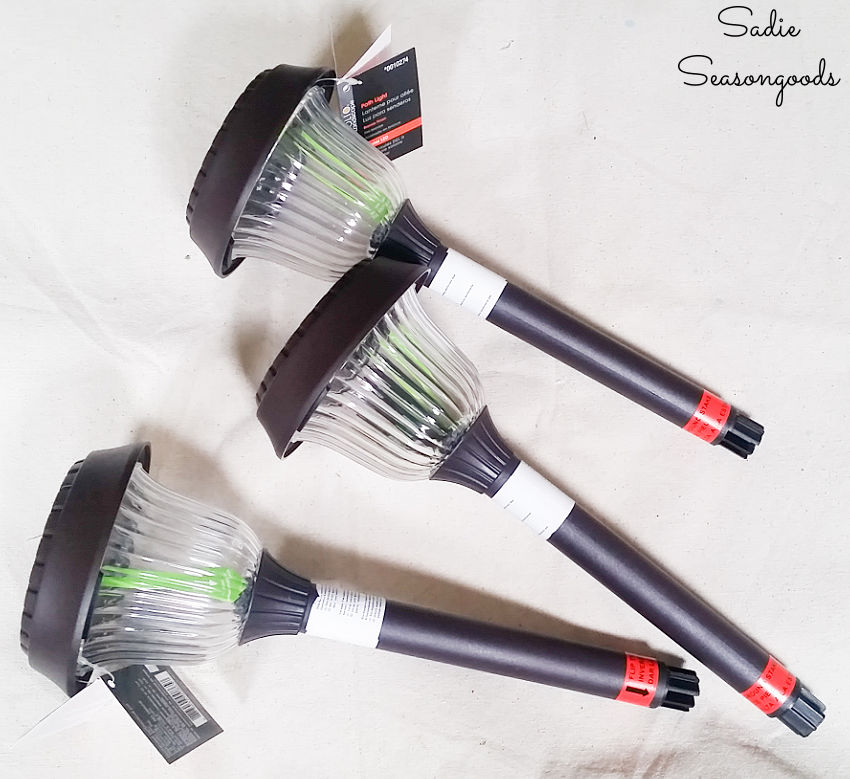 Thankfully, I found a pretty close match in spray paint color. Next, I carefully covered the solar cells with painter's tape before spray painting them.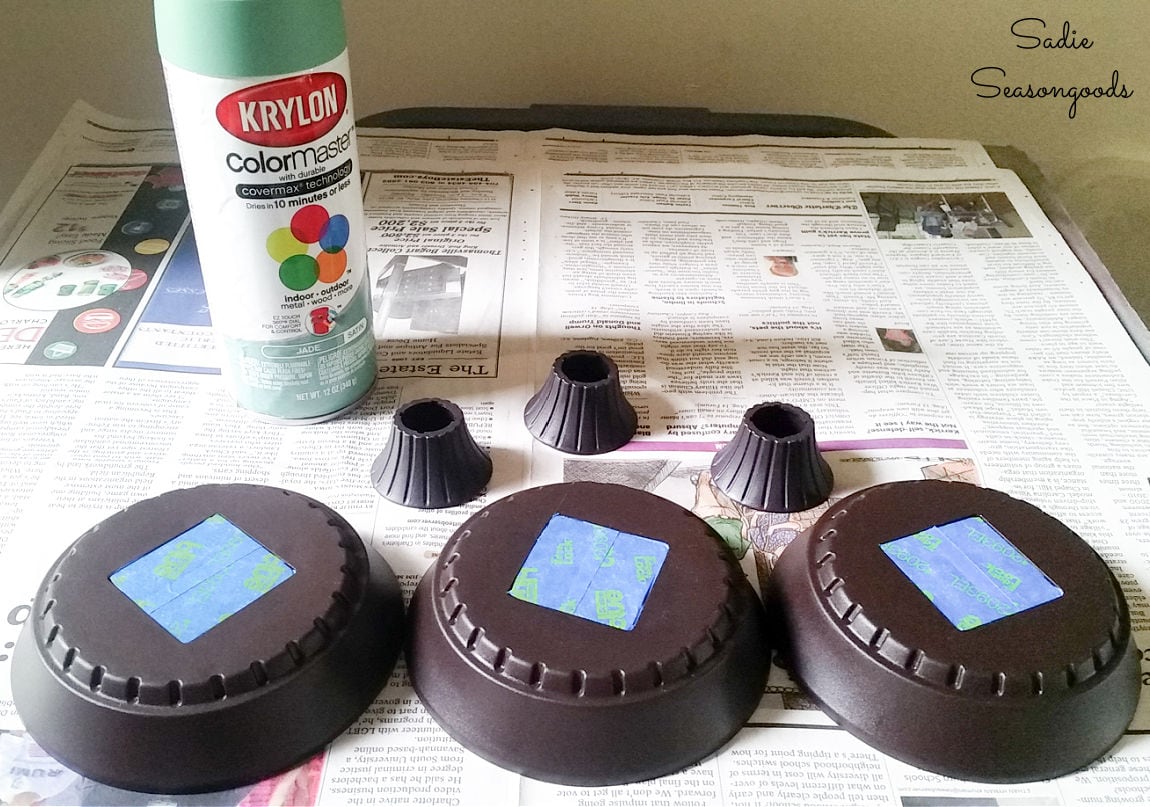 See what I mean? A pretty close match to the color of the old floor lamp.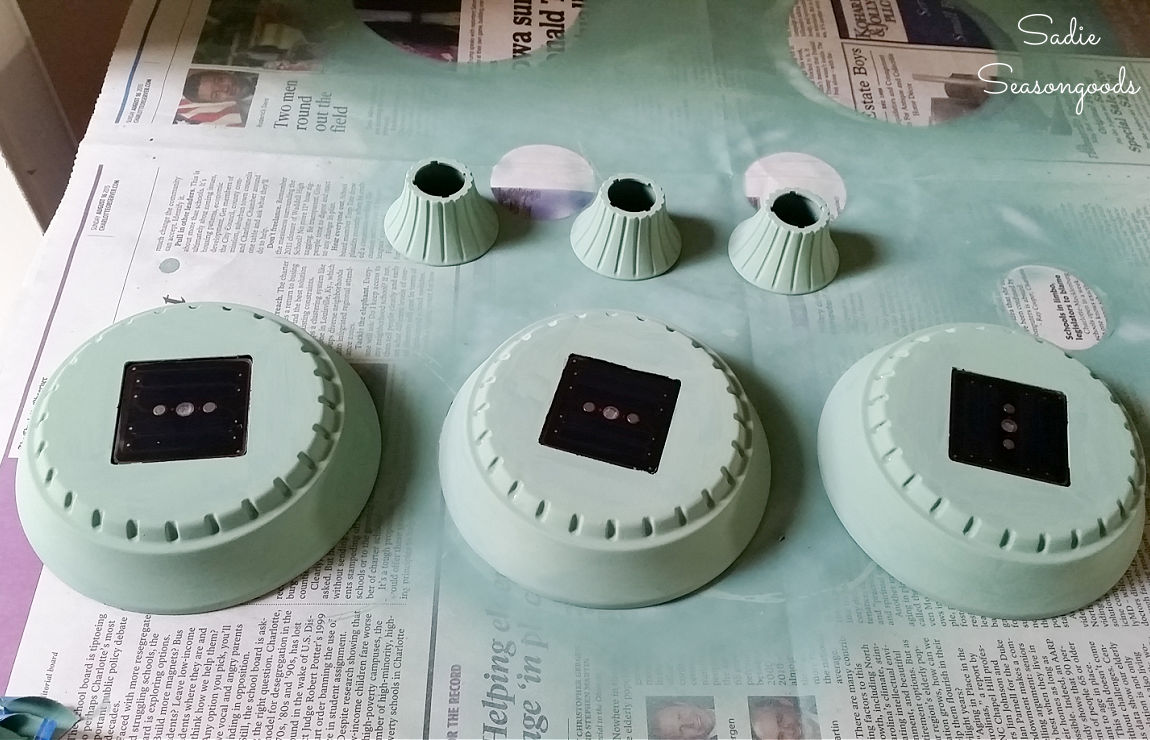 After the paint dried, I re-assembled the solar path lights so that I could add them to my solar floor lamp!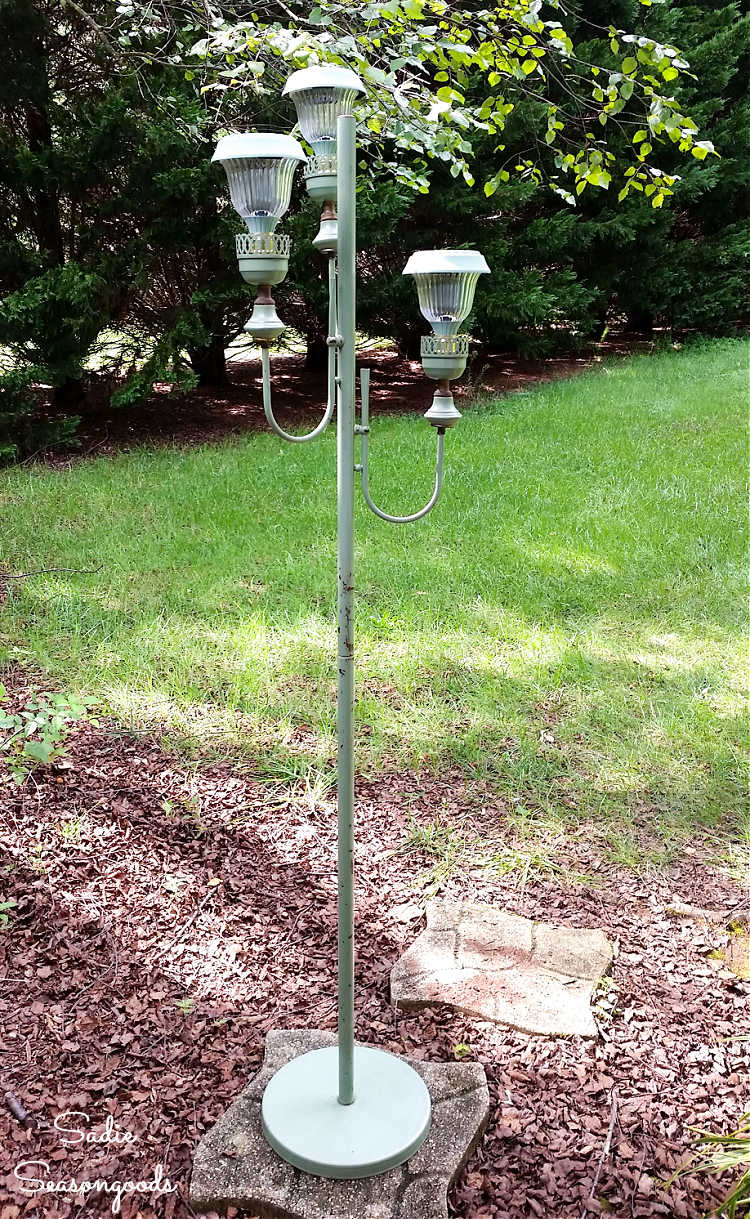 The painted solar lights look like they were ALWAYS meant to go with this old floor lamp, don't they? Painting them made a HUGE difference.
Solar Floor Lamp for Outdoor Decor
Finally, I left the lamp out all day to charge the solar lights. And then…
MAGIC.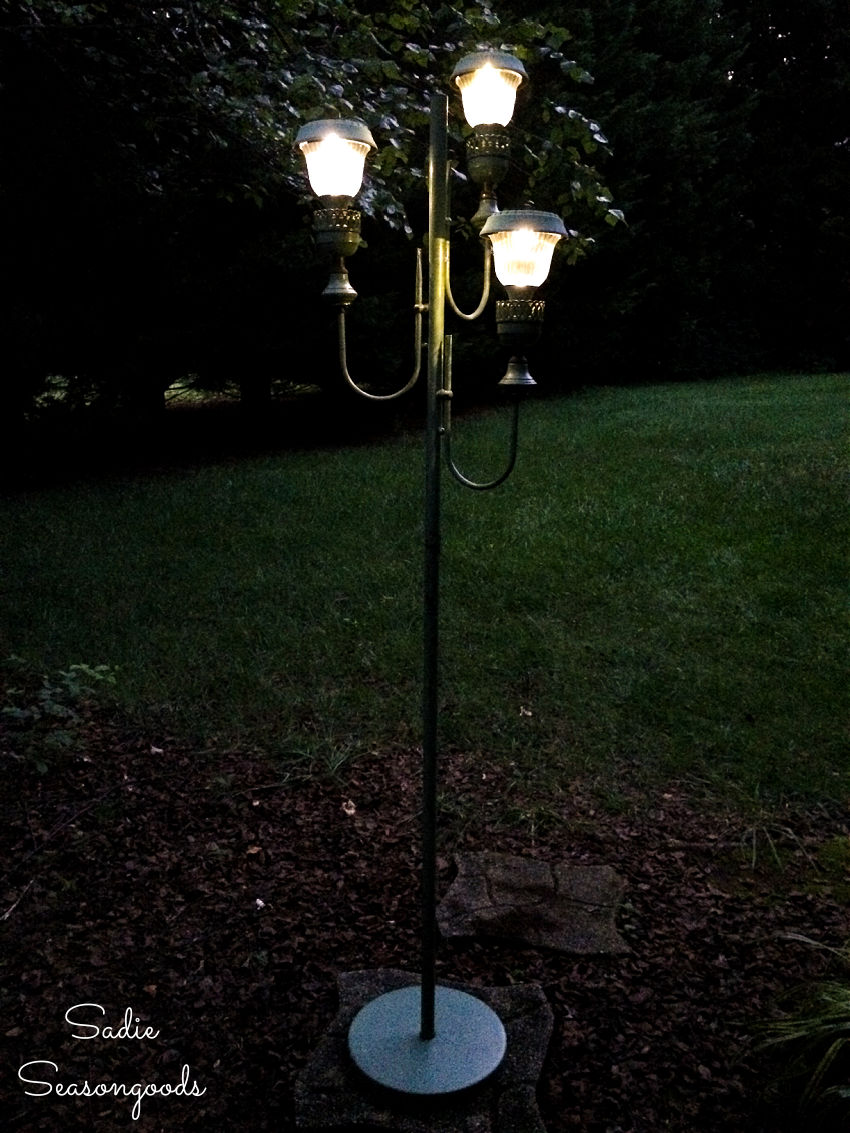 Let me tell you, it was EXCRUCIATING to wait for night to arrive! All I wanted to do was see my solar floor lamp in action.
Thankfully, though, it was worth the wait.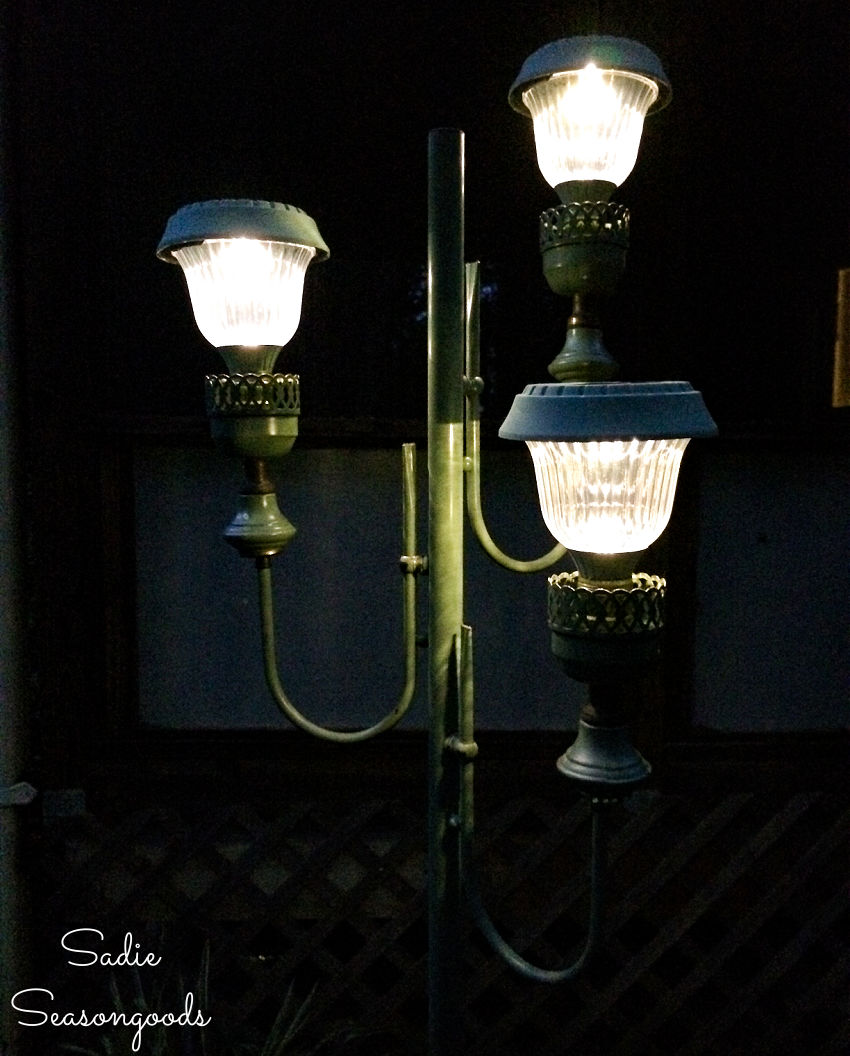 Like A Midsummer's Night Dream come to life in my backyard. Or a street light in a fairy world. It was…sublime…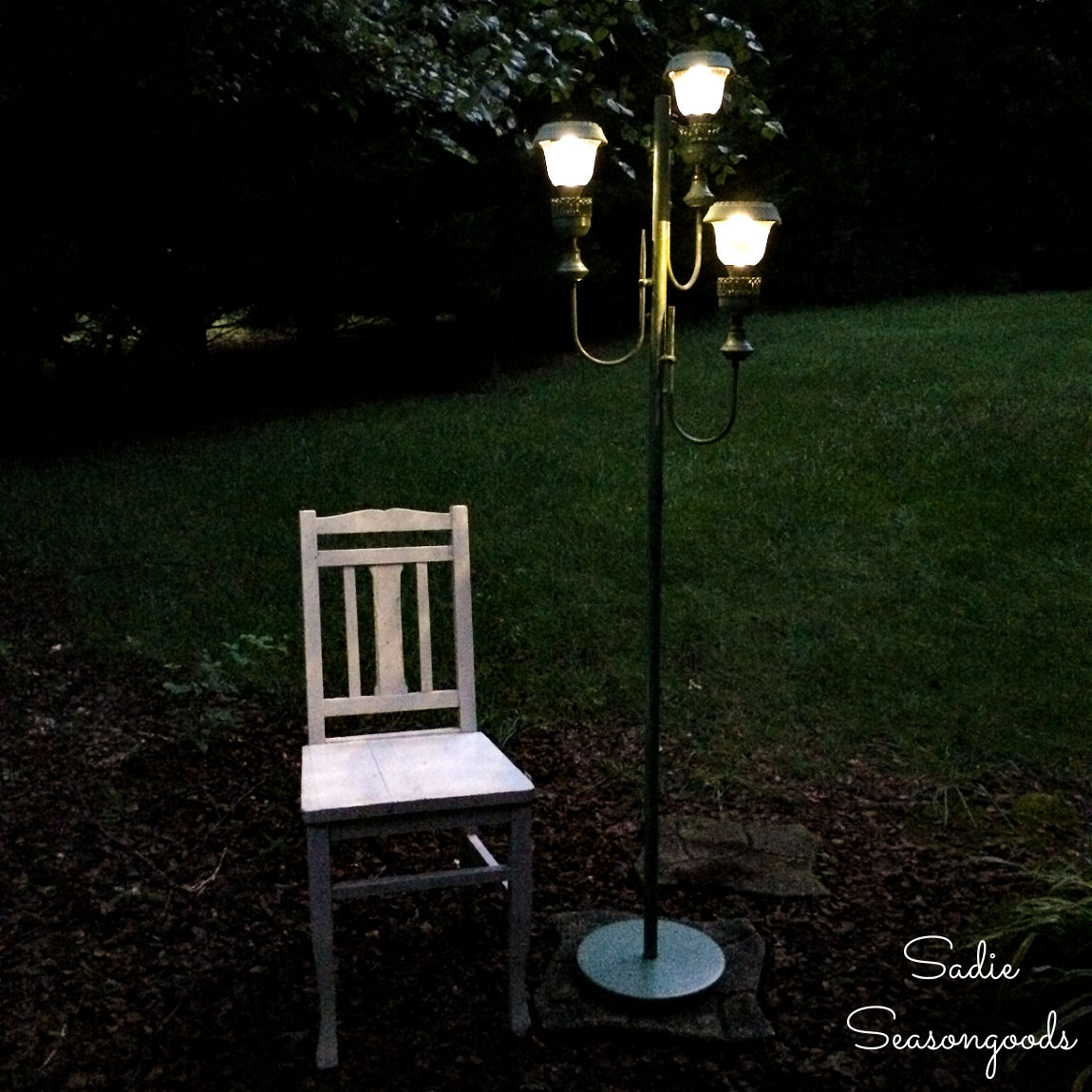 And since the solar lights aren't attached permanently to the lamp, I could still re-wire it if the desire strikes. But I don't know, I'm pretty taken by these solar lights.
Once the weather cools down and the mosquitoes die off, there will be wine drinking and moon-gazing to do under the magical glow…
If you enjoyed this upcycling idea for a solar floor lamp, then you may also be interested in how I made this firefly lantern, as well!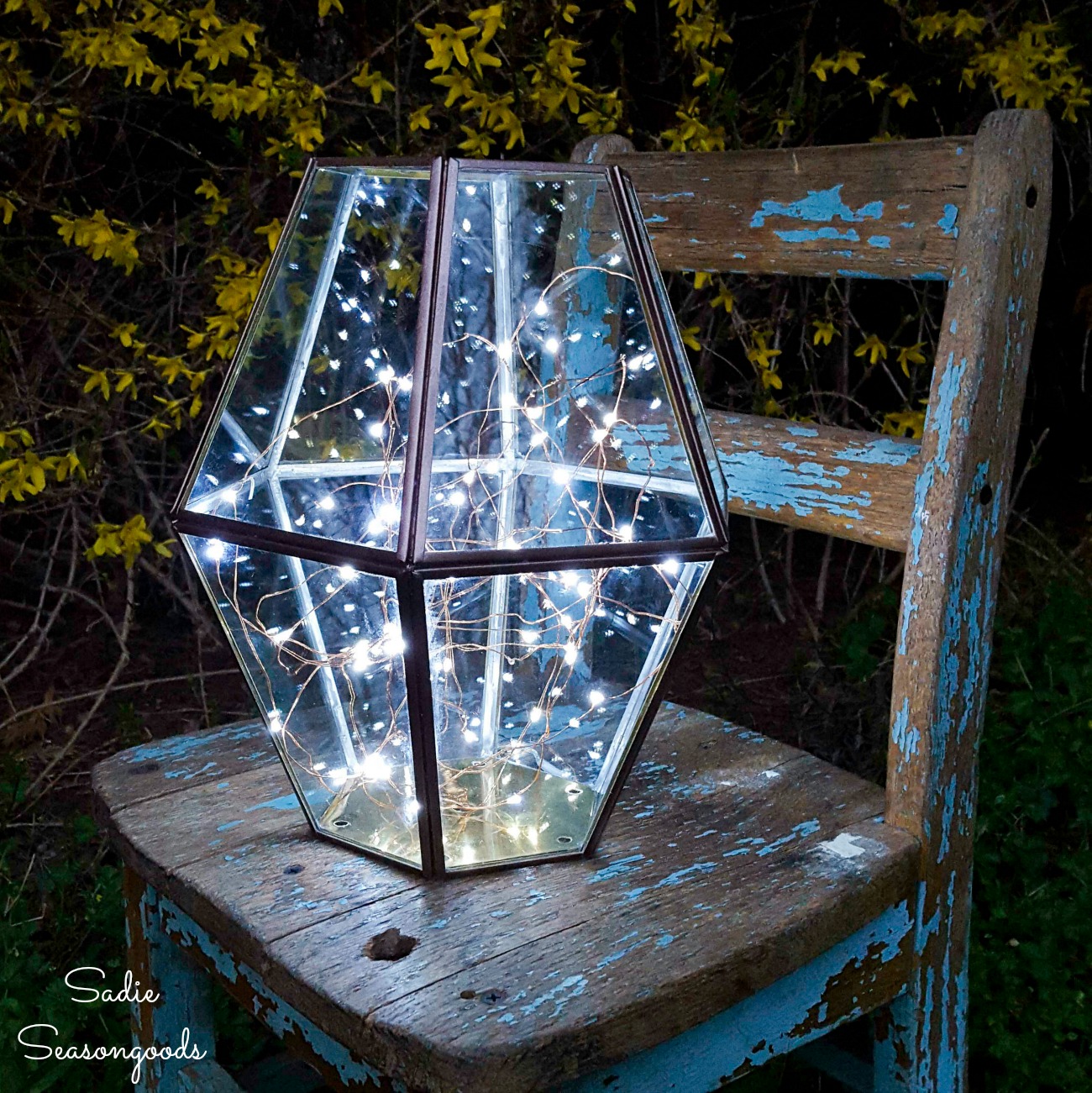 Craft on!
S
Join me on Social Media:

PIN ME!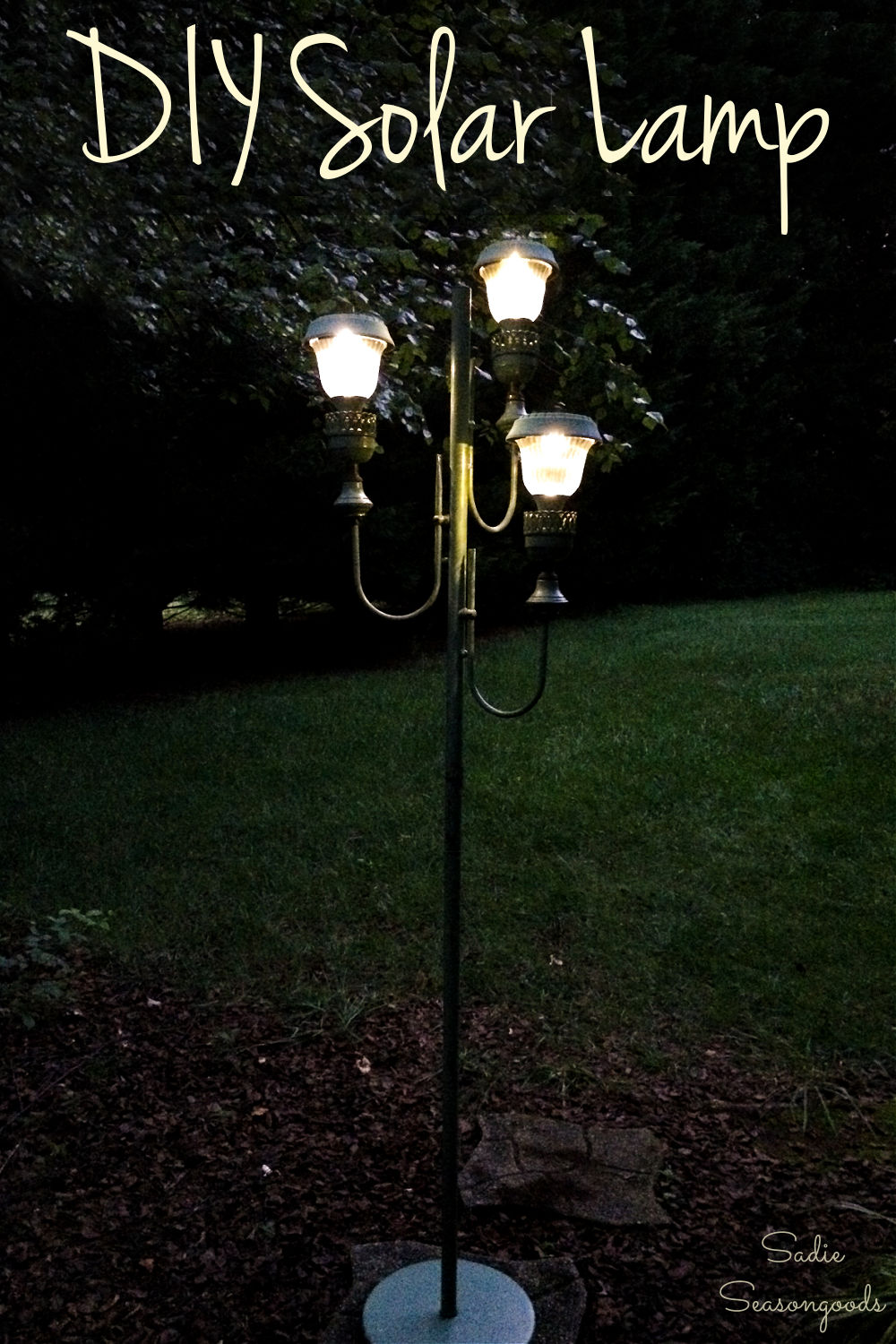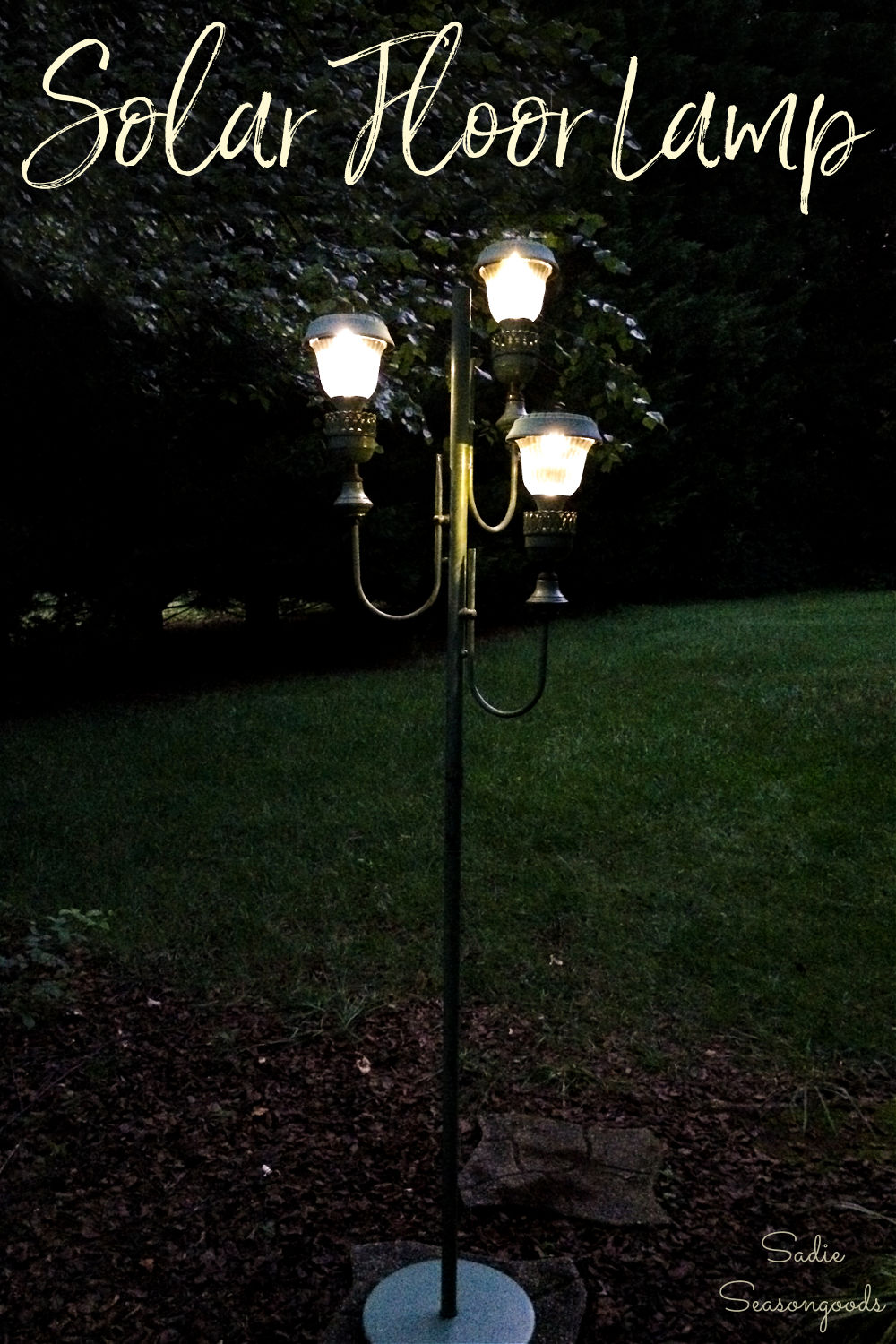 Sarah Ramberg is the owner of Sadie Seasongoods, a website that celebrates all things secondhand. From upcycling ideas and thrifted decor to vintage-centric travel itineraries, Sadie Seasongoods is a one-stop shop for anyone who loves thrifting and approachable repurposing ideas. Sarah is also the author of "Crafting with Flannel" and has been featured in numerous media outlets and magazines.