This project started out when I thrifted some vintage garden tools for a Halloween project. Well, try as I might, the spooky project was a failure. I let the dust of my frustration settle before going back to the drawing board. With the old garden tools already in hand, I just needed a new idea! Eventually, I settled on the idea of building a DIY garden trellis that would be both decorative and functional.

First, I found this old garden spade.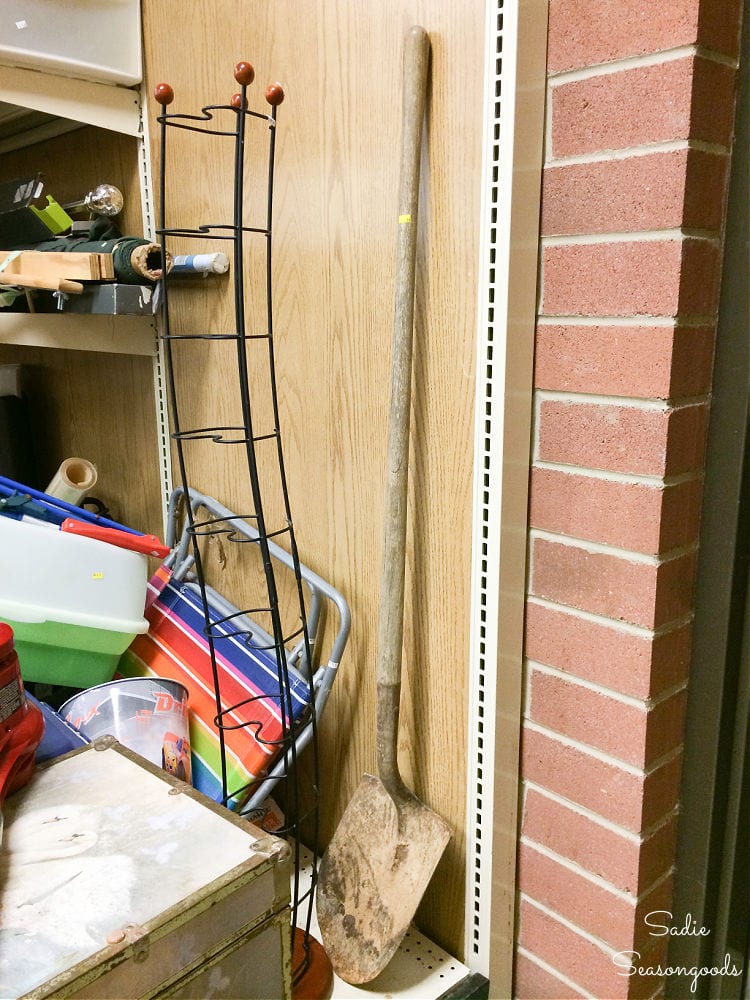 And then I found several more vintage garden tools at another thrift. Talk about a thrift store thrift score!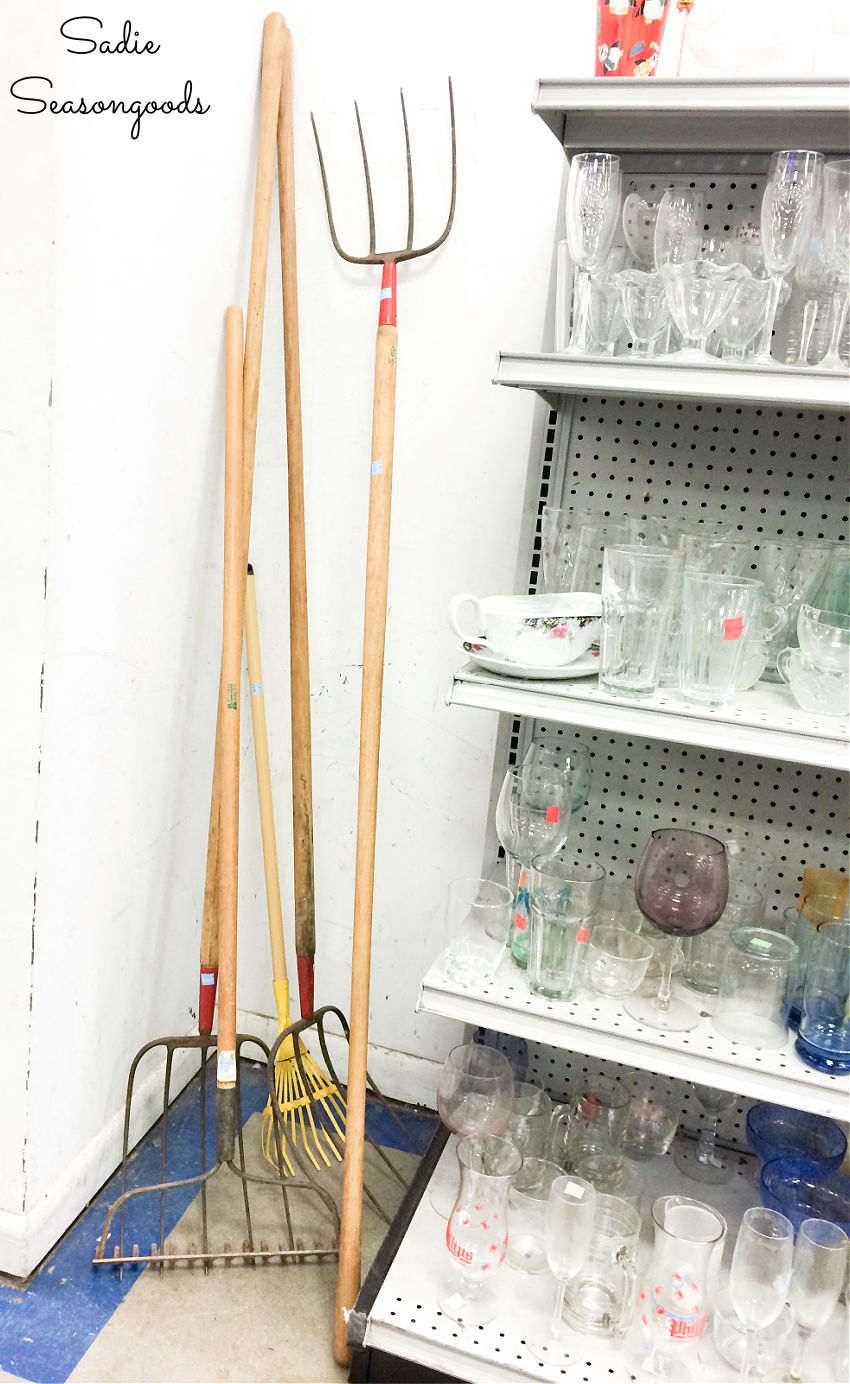 My garden trellis idea seemed simple enough. I had the old tools and I just needed to connect them together and stick in the ground, right?
This post contains affiliate links for your crafting convenience. As an Amazon Affiliate, I earn from qualifying purchases. All blue, bold, and underlined text is a clickable link, either to a product or to a related post.
Prepping the Vintage Garden Tools
Now that I had the vintage garden tools in hand, I needed some scrap wood. The scrap would become the cross slats that would both connect the tools and provide more surface area for plants to climb onto.
First, I headed to Habitat ReStore for some wood trim that would do the job and cost me very little.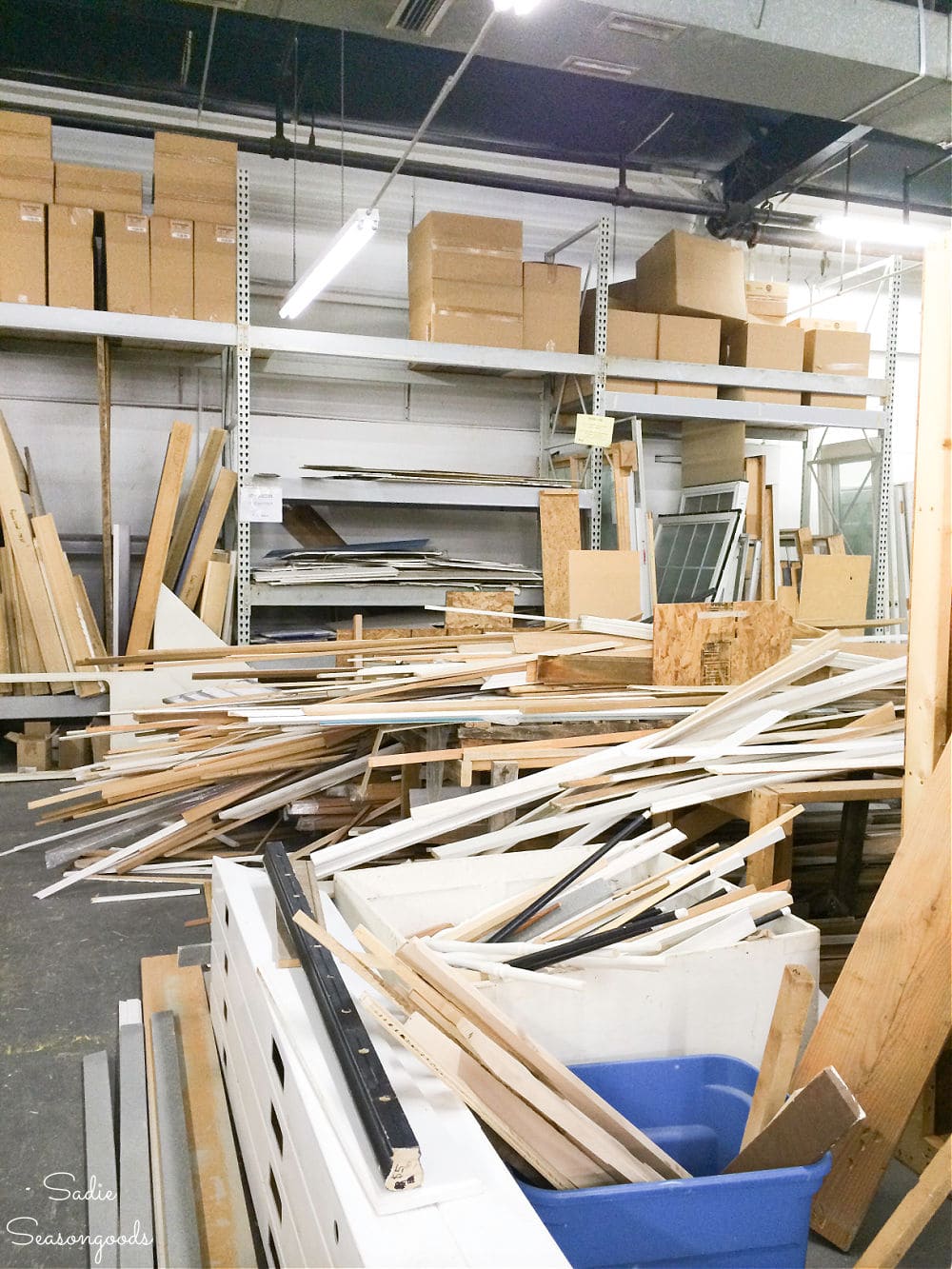 Then, before actually building the garden trellis, I needed to taper the handles of the garden tools first.
Tapered like a stake, which would make them easier to insert into the soil. So, we used our vintage draw knife to achieve this.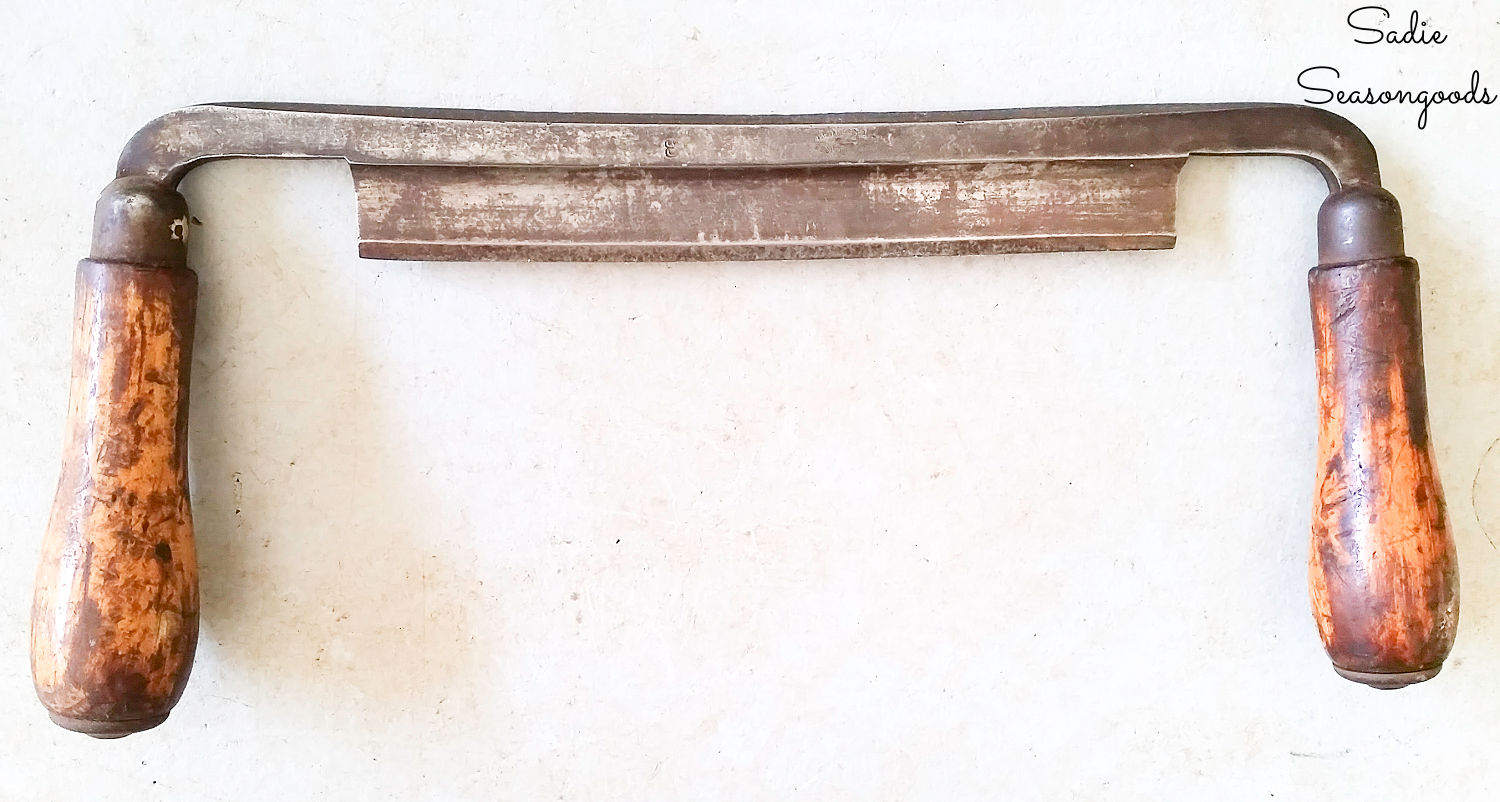 We used it to shave off the ends of each handle, just enough to be more stake-like (a chisel would work, too).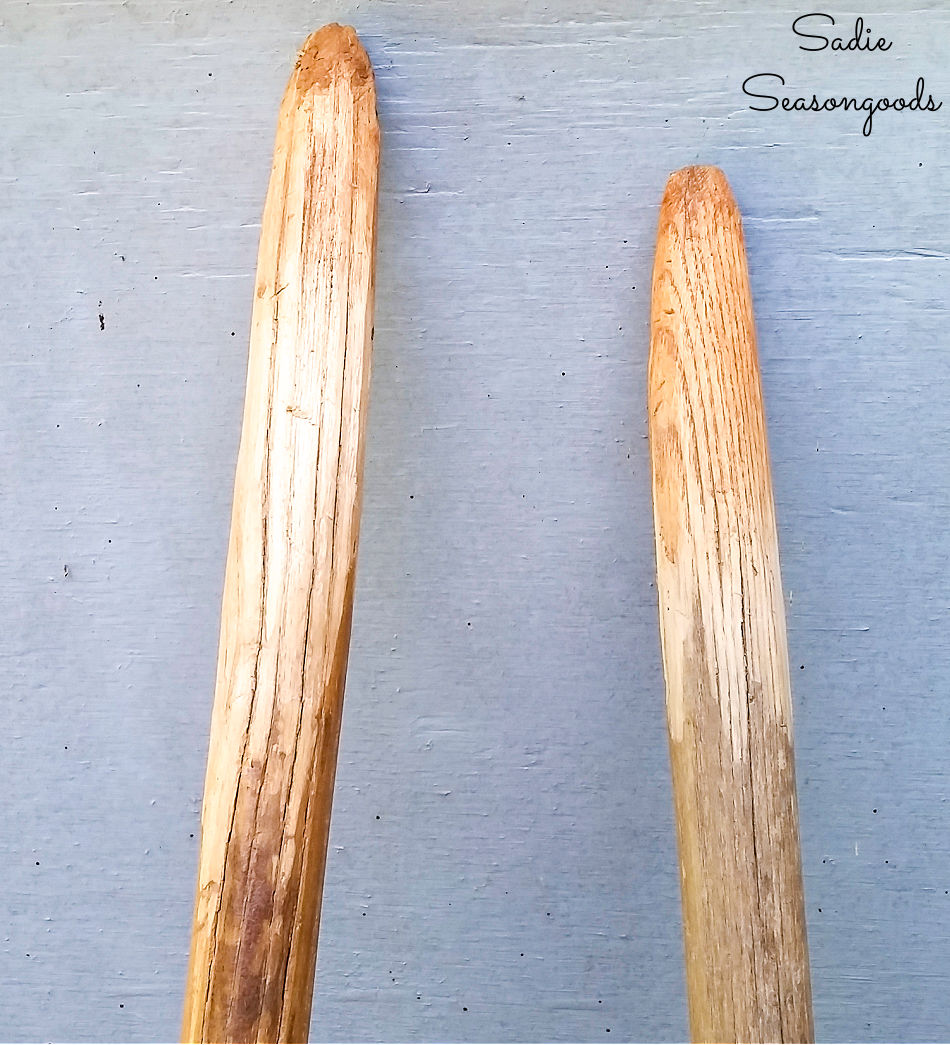 Now, all we needed to do was attach our wood trim to the backs of our farm tools like to create the DIY garden trellis!
Building a DIY Garden Trellis
First, we laid everything on the ground and arranged the garden tools in the V-shape of a trellis. We then laid the scrap wood over the handles and determined that three cross slats would be ideal.
From there, we then cut down the scrap would to size and sanded off the ends. I also sprayed the handles and cross slats with a matte top coat to waterproof everything. Now we could begin attaching everything!
First, we attached the longest cross slat to the back of our "center" garden tool by slowly drilling pilot holes before securing with a screw.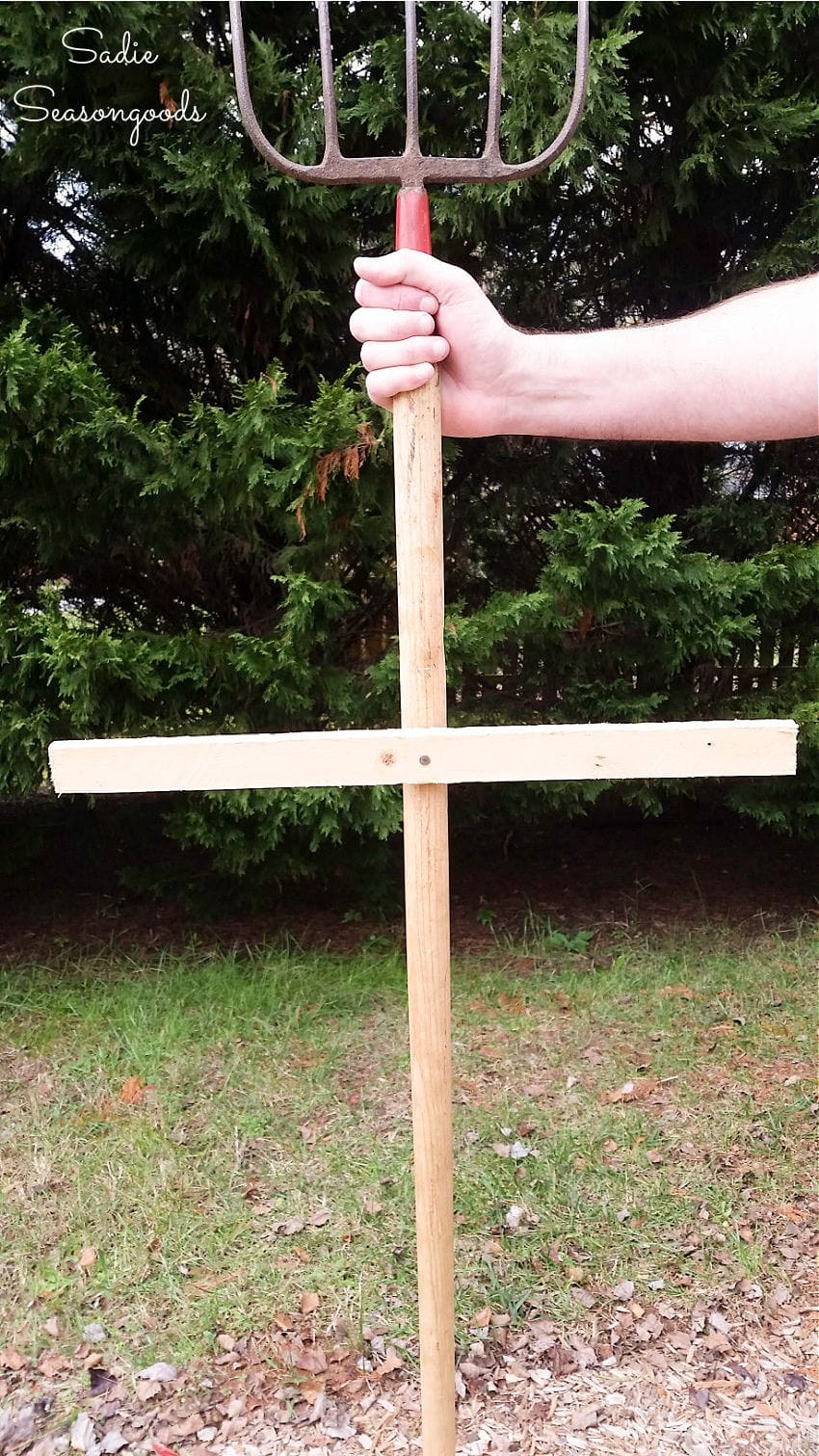 After doing the same thing to the other two vintage garden tools, I wrapped jute twine around each connection/joint, as tightly as possible. I also liked how it looked on my DIY garden trellis.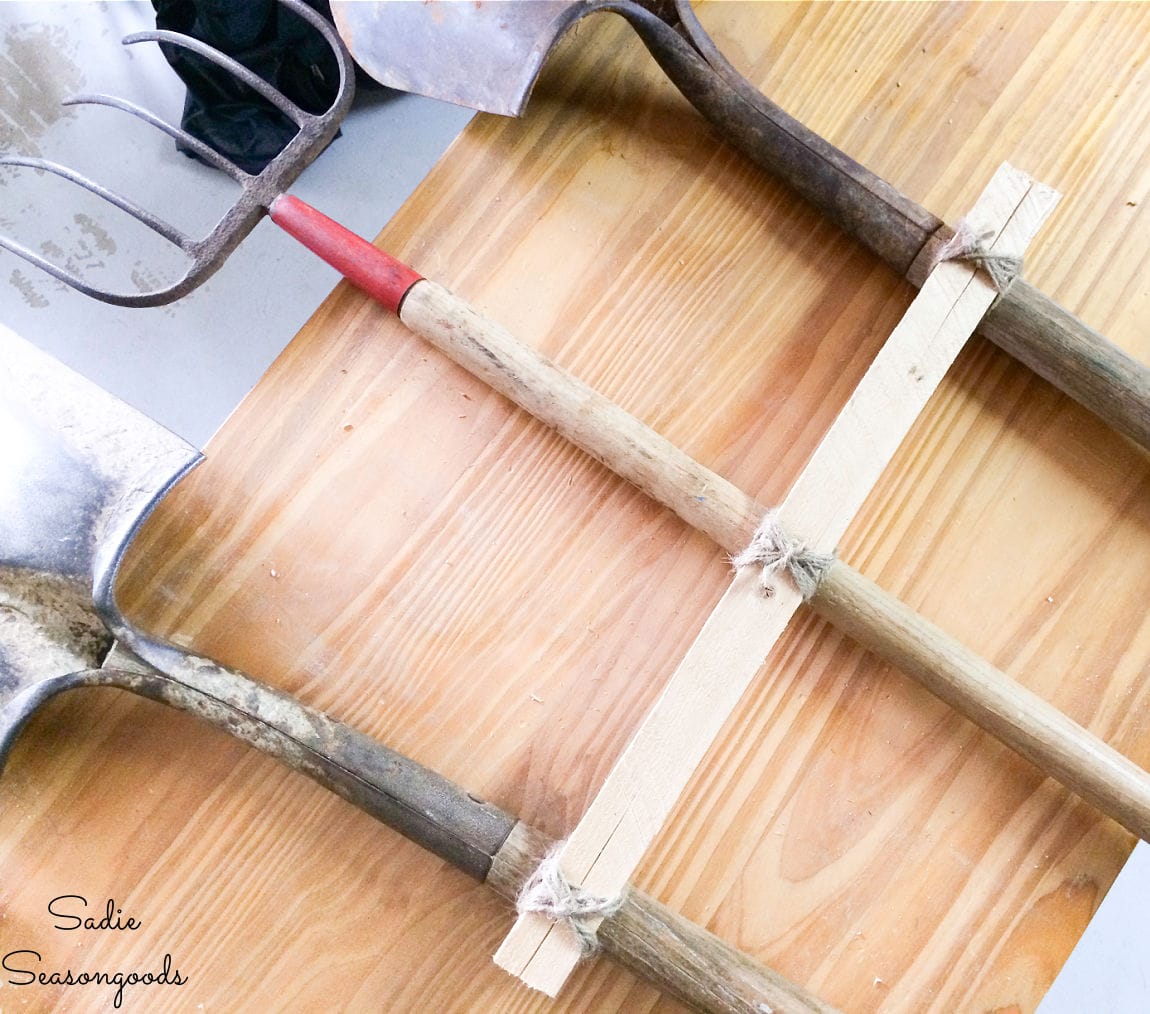 From there, I simply screwed in the remaining slats, working my way down the handles of the vintage garden tools. And I finished each connection with the jute twine, just for fun!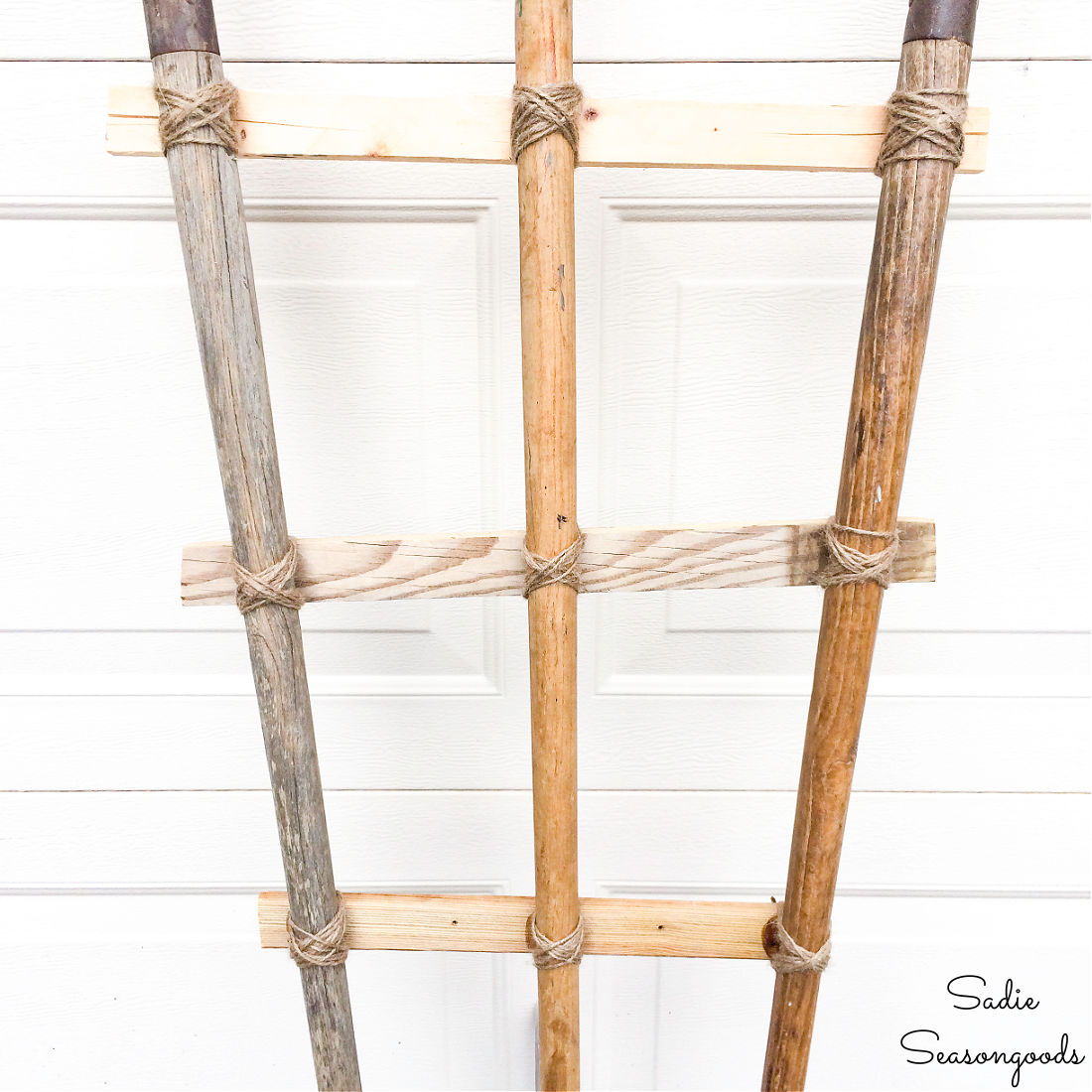 And that was that! My decorative trellis made from old garden tools was done and ready to be placed outside!
DIY Garden Trellis from Vintage Garden Tools
Isn't that great? What a fun way to repurpose those vintage garden tools.
And yes, the tool "stake" in the center is much longer than the others, which was done on purpose. It will act like a tap root on a tree, and the side "stakes" will act like training wheels. I highly recommend this tip!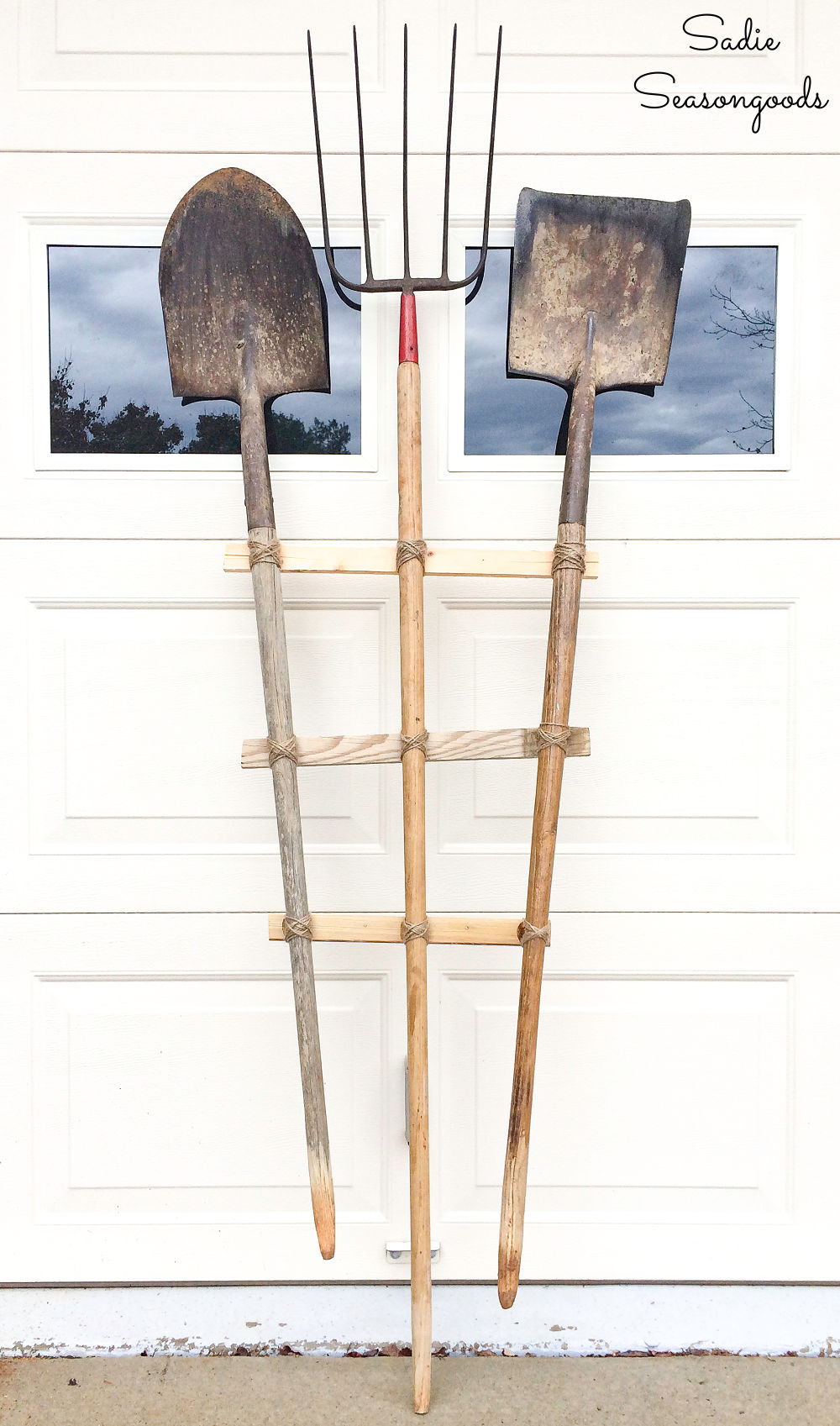 The big test- sticking the garden trellis in the ground! But ta-da, it worked like a charm (at least in our rain-drenched soil).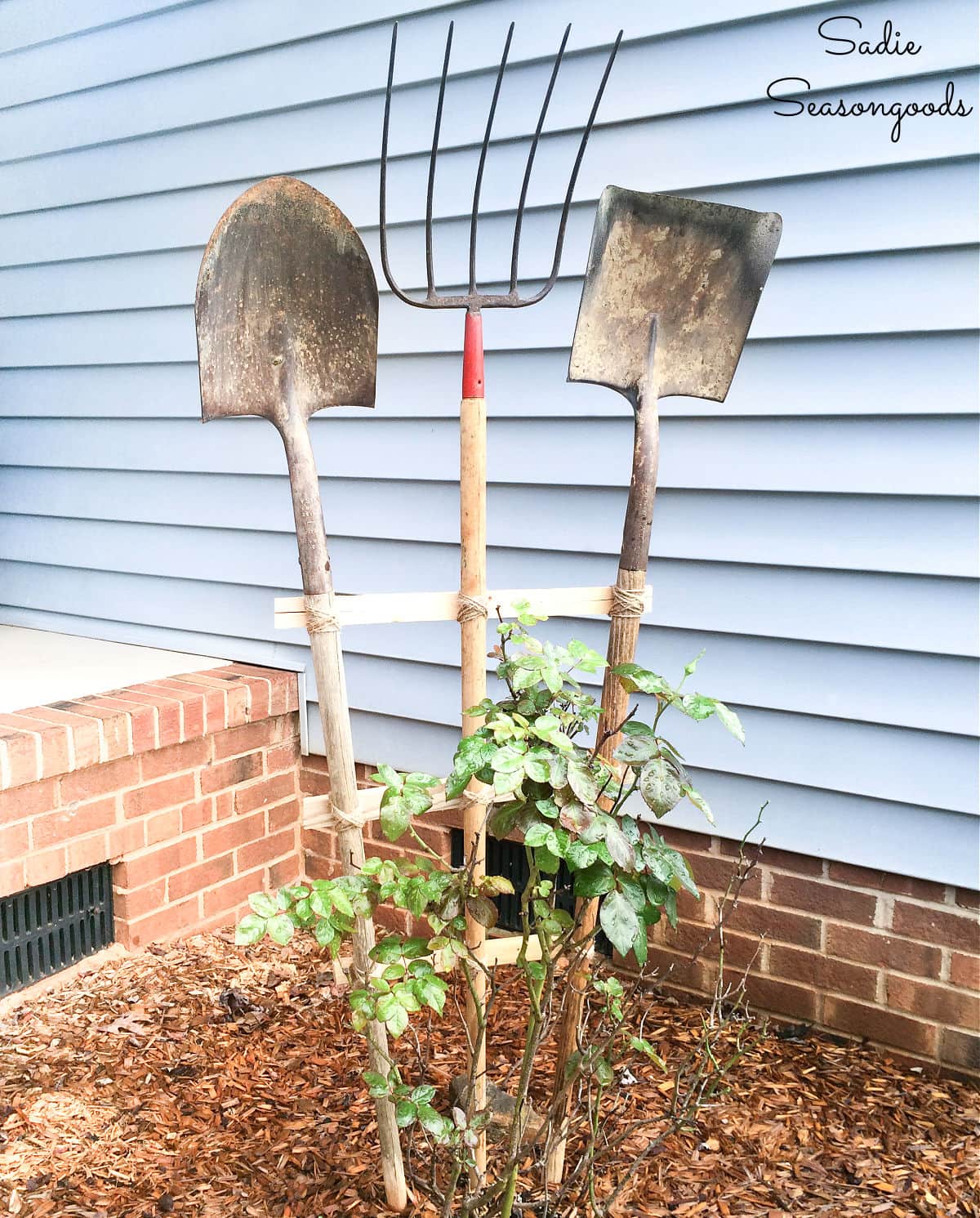 I love that it acts as primitive decor and garden art, but still functions as a DIY garden trellis for whatever plant we place it by. And the farm tools that we used like a garden spade and garden fork were really perfect for it.
And you can almost ALWAYS find those lurking in the corners of thrift stores.
If you enjoyed this upcycling idea for a DIY garden trellis as garden decor, then you may also be interested in something else that is both decorative and functional. Such as this mosaic stepping stone that has a wonderful secret beneath it!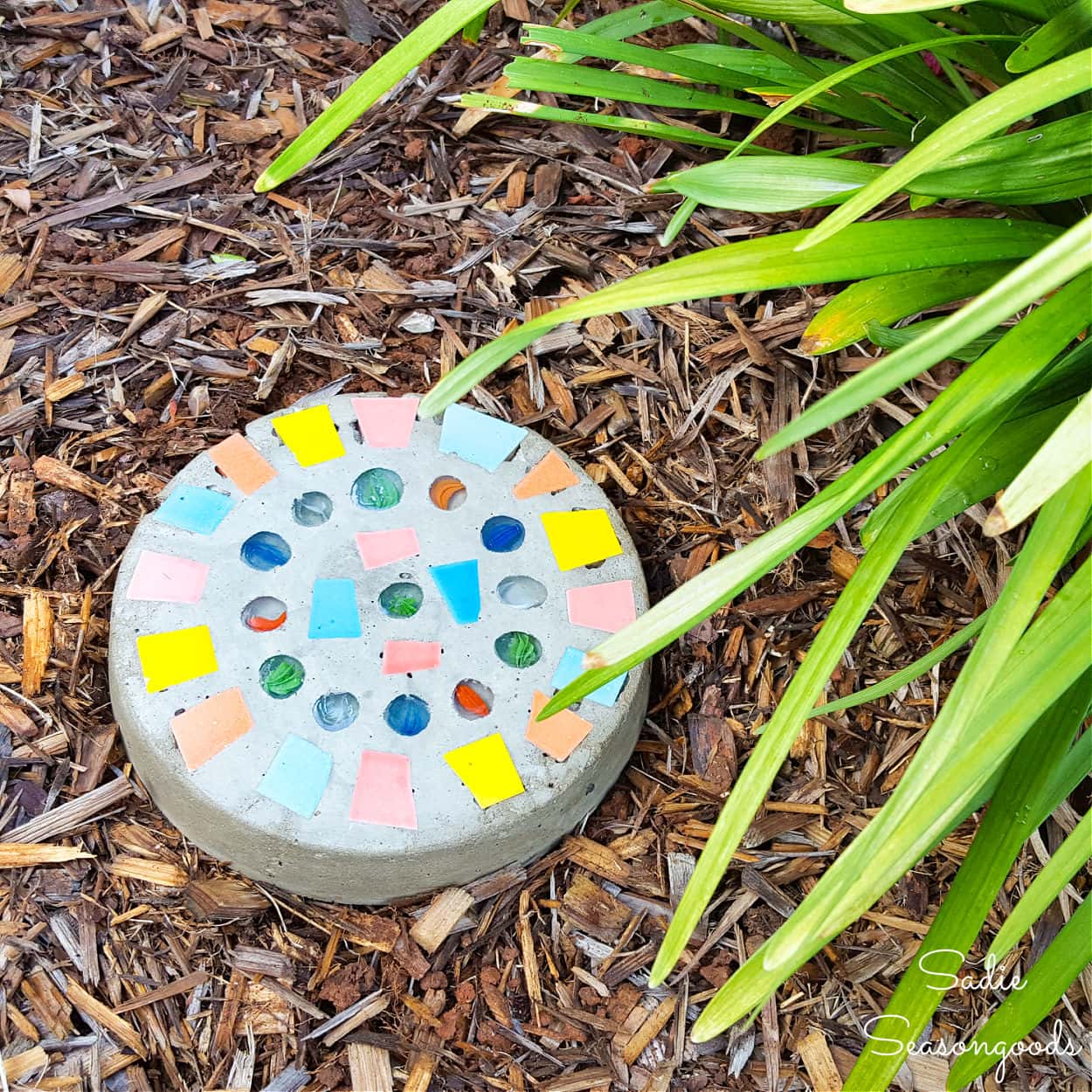 Craft on!
S
Join me on Social Media:

PIN ME!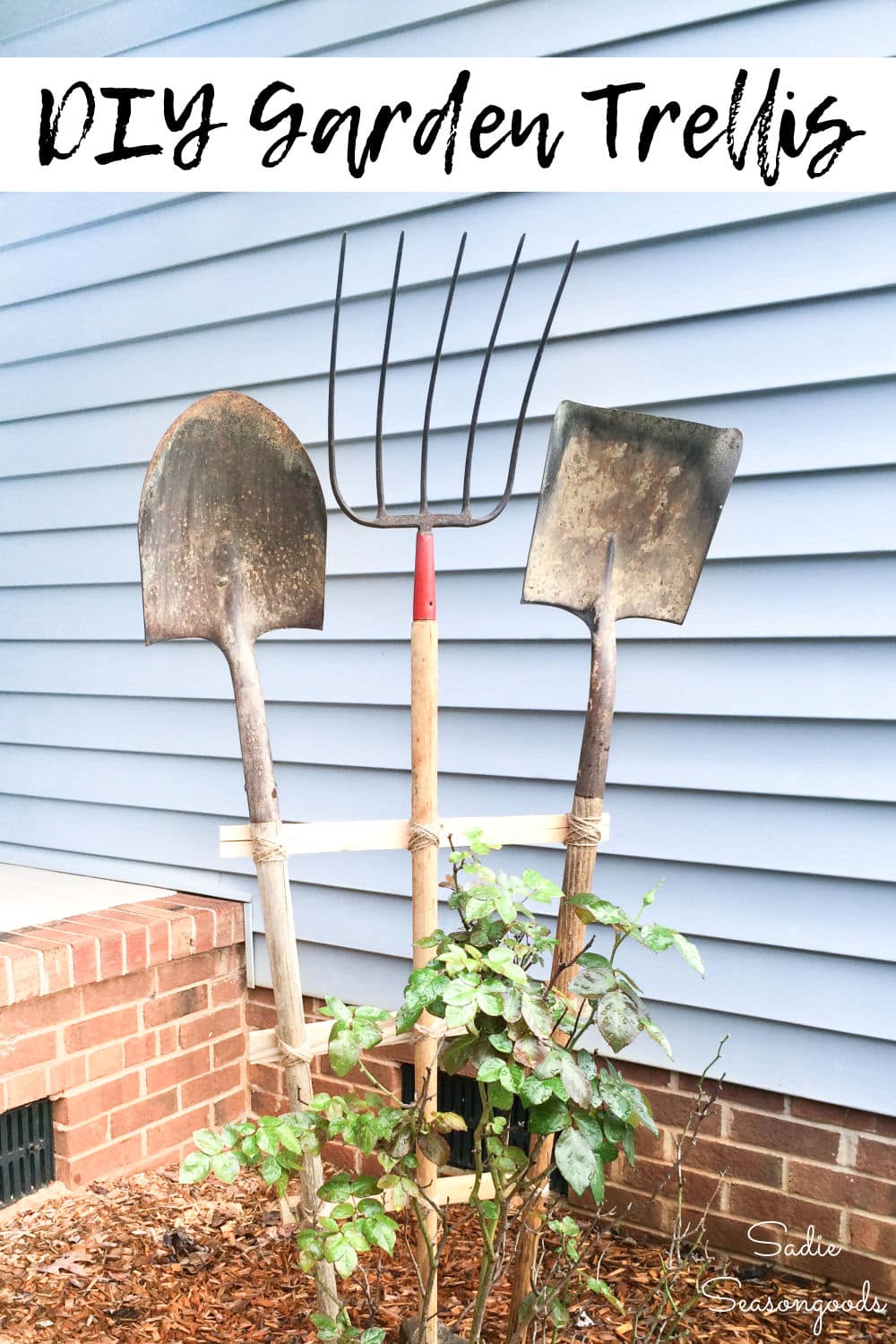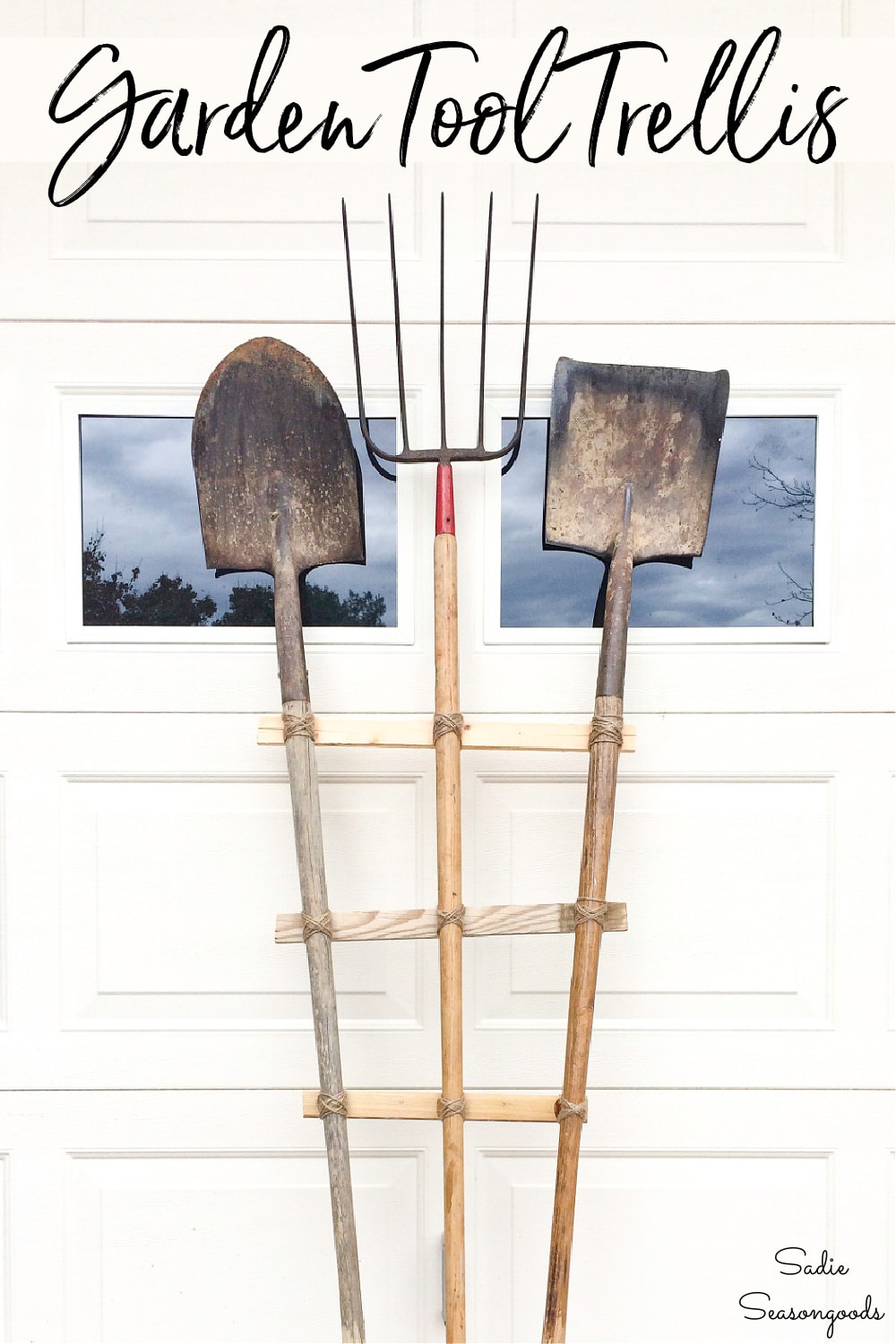 Sarah Ramberg is the owner of Sadie Seasongoods, a website that celebrates all things secondhand. From upcycling ideas and thrifted decor to vintage-centric travel itineraries, Sadie Seasongoods is a one-stop shop for anyone who loves thrifting and approachable repurposing ideas. Sarah is also the author of "Crafting with Flannel" and has been featured in numerous media outlets and magazines.