I don't exactly know why, but when I think of anything horse-related, I imagine it in an autumn setting. I can't really explain why this is, and maybe it makes no sense…but when I think of horses, I think of plaid blankets, leather accessories, and crisp Fall air. So, when I spotted these horse brass at a thrift store, I decided they were destined to be used in an autumn project.
I held them in my palm for a moment, running my hands over the smooth glowing metal, transferring their weight from hand to hand, an idea came to mind.
All in all, I ended up with six of them- each horse brass different from the next. My upcycling idea for them? Tablecloth weights or tablecloth clips – perfect for outdoor fall decor or parties when the wind kicks up! This post contains affiliate links for your crafting convenience.
Upcycling Horse Brass into Tablecloth Weights / Tablecloth Clips
I have a confession- this is a SERIOUSLY easy project and possibly doesn't even warrant a blog post! But I put one together nonetheless…my idea literally takes only a few minutes to make and doesn't affect or alter the horse brass in any way.
To make them, I needed some pinch clips. After searching online, I finally found the perfect ones in a similar antiqued brass/bronze color.
They're actually curtain rings, but I knew that with a little reconfiguration, they would work wonderfully with the horse brass.
First, I used a couple of pairs of pliers to carefully remove the pinch clips from the curtain rings.
Then, with pliers still in hand, I twisted the "s-hook" 90 degrees, so that I could slip the horse brass on it. That way, when it's clipped on a tablecloth, the horse brass won't be facing sideways.
Does that make sense? If you try this at home, you'll understand what I mean.
Here's another view of the pinch clips and the S hook – as you can see, it rotates 90 degrees in the center of the hook.
Since each horse brass was different in size and weight distribution, I sometimes used two pinch clips or just a single one.  Two pinch clips would keep the horse brasses from sliding to a cockeyed position.
Ultimately, though, that was it! That's the entire project – and the horse brass isn't permanently altered or affected in any way!
Tablecloth Weights from Horse Brass for Outdoor Fall Decor
I did the same thing over and over again until all my horse brasses had been upcycled into tablecloth weights / tablecloth clips.
Such an easy upcycling idea, and the tablecloth weights will keep wind from flapping your tablecloth outdoors. They may be a little unnecessary for indoor tables, but they'd still work as horse decor or country decor, as well.
The fun part is you could do this with any medal collection you have- perhaps from running, cycling, or even music competitions. It's a great way to repurpose them without being permanent or destructive!
If you enjoyed this upcycling idea for autumn decor / country decor, then you may also enjoy this Buffalo check decor on an upcycled wooden tray, as well!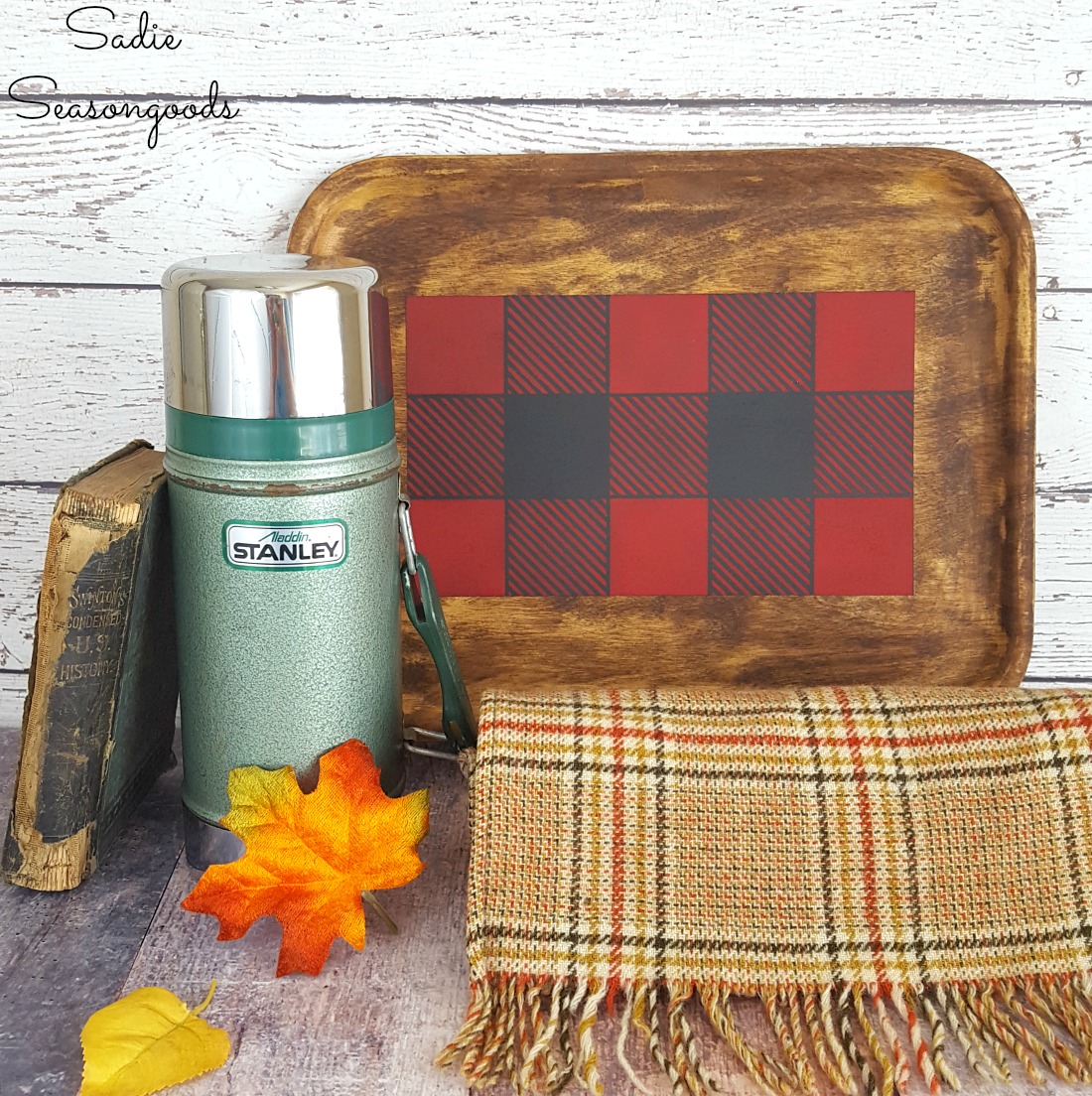 Craft on!
S
Want to be notified when I publish my next upcycling project tutorial?
Subscribe to Blog via Email
Join me on Social Media: