Two facts you should know about me: (1) I love old books, and (2) I love miniature ANYTHING. My bibliophile tendencies date way back…in fact, I'm pretty sure it's a genetic affliction. And now that I think about it, my obsessions with all things dainty is just as genetic. So, why not combine these two loves into some upcycled jewelry in the form of a book necklace?
Seeing this idea on House Revivals sent me into a crafting frenzy, and I knew I could tweak and modify it to my personal style from my stash of materials. Because as we all know, I like using things I already have!
I had already purchased a decrepit old book from the thrift store for a whopping $0.25. It was so dusty and neglected, like the runt of a paperbound litter, that I bought it without any plan in mind.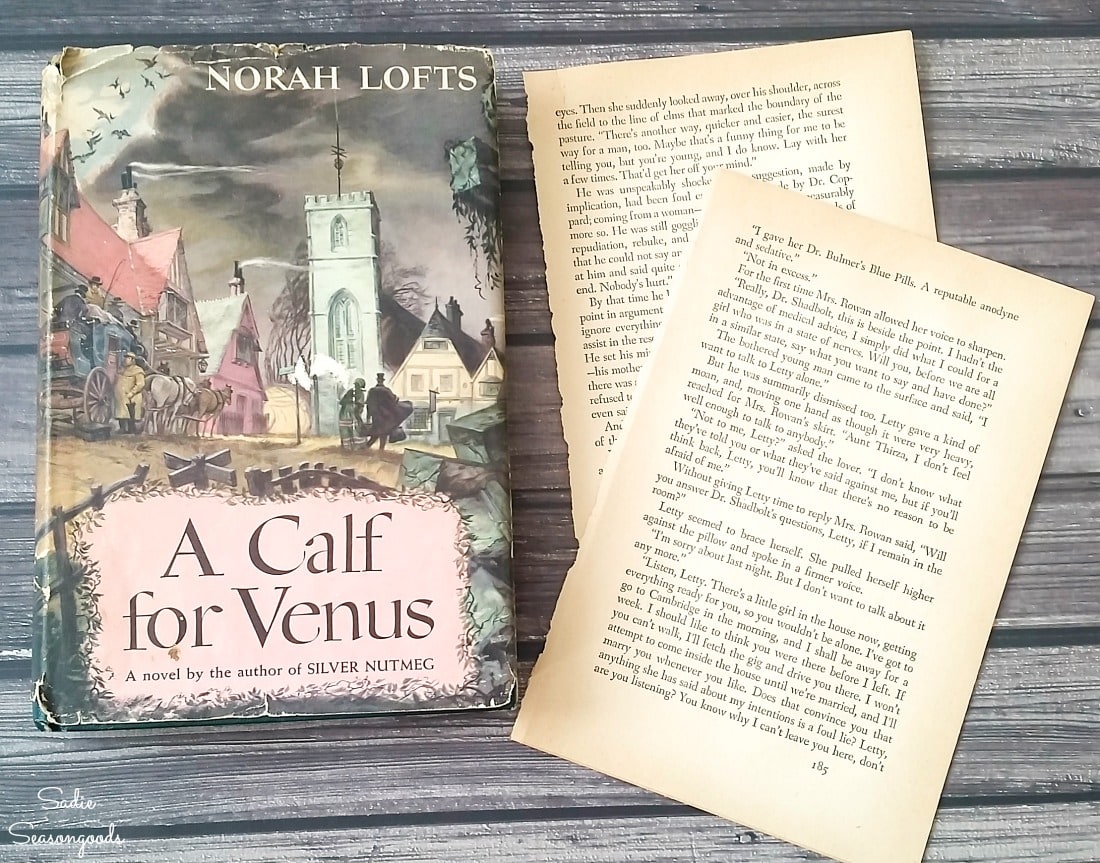 I also had purchased a bag of leather scraps from a craft store. The bag contained plenty of scraps from tanners, in various shapes, sizes, and textures.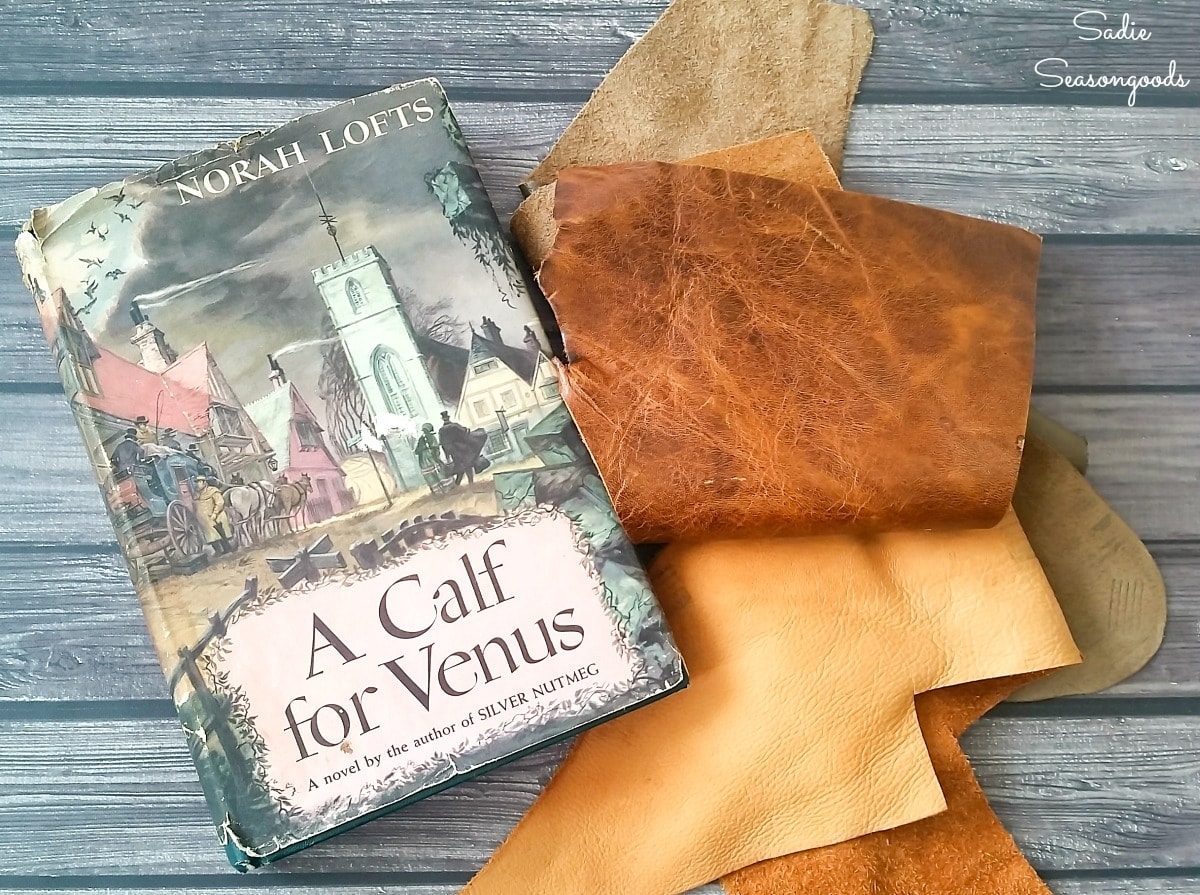 And with these supplies in hand, I was ready to make some book jewelry!
This post contains affiliate links for your crafting convenience. As an Amazon Affiliate, I earn from qualifying purchases. All blue, bold, and underlined text is a clickable link, either to a product or to a related post.
Old Book Pages for Crafts
My old thrifted book was perfect for this project. The old book pages had yellowed and some were already falling out of the spine. Plus, the paper itself was SO crumbly that tearing it was dangerously easy.
In fact, I'm pretty sure you could no longer read this book without destroying it the process.
To start creating my book necklace, I first folded and tore off the blank margins.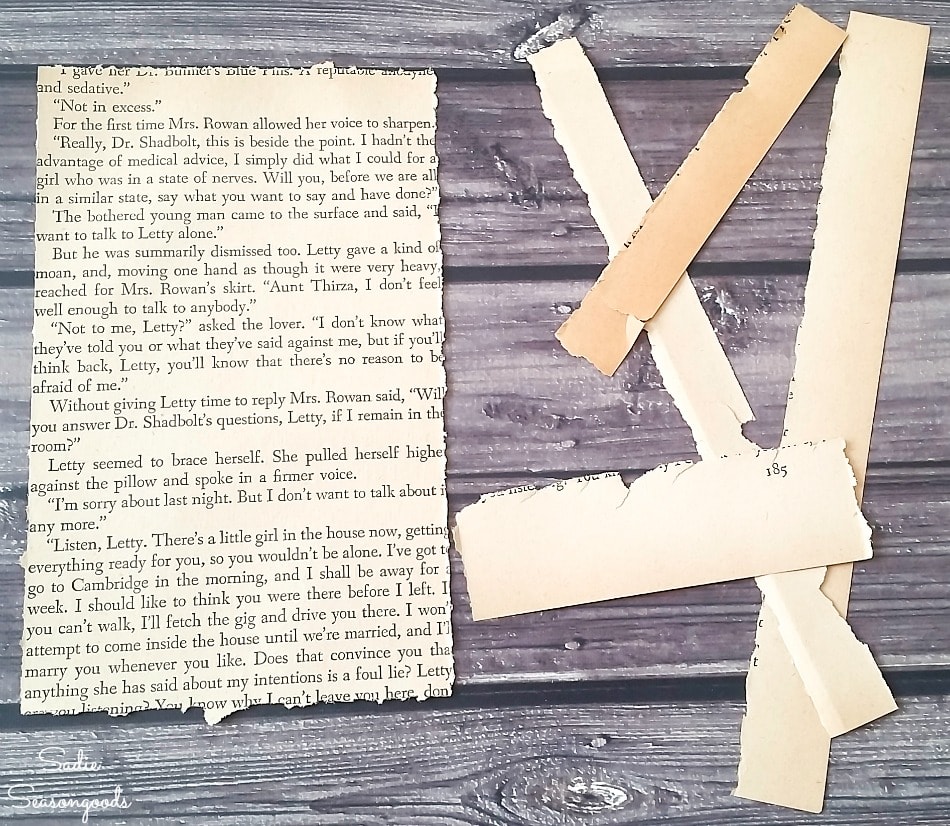 Next, I simply tore the old book pages into thin strips, each approximately the same width. I tore them to the size I imagined my book necklace to be (roughly 1" wide).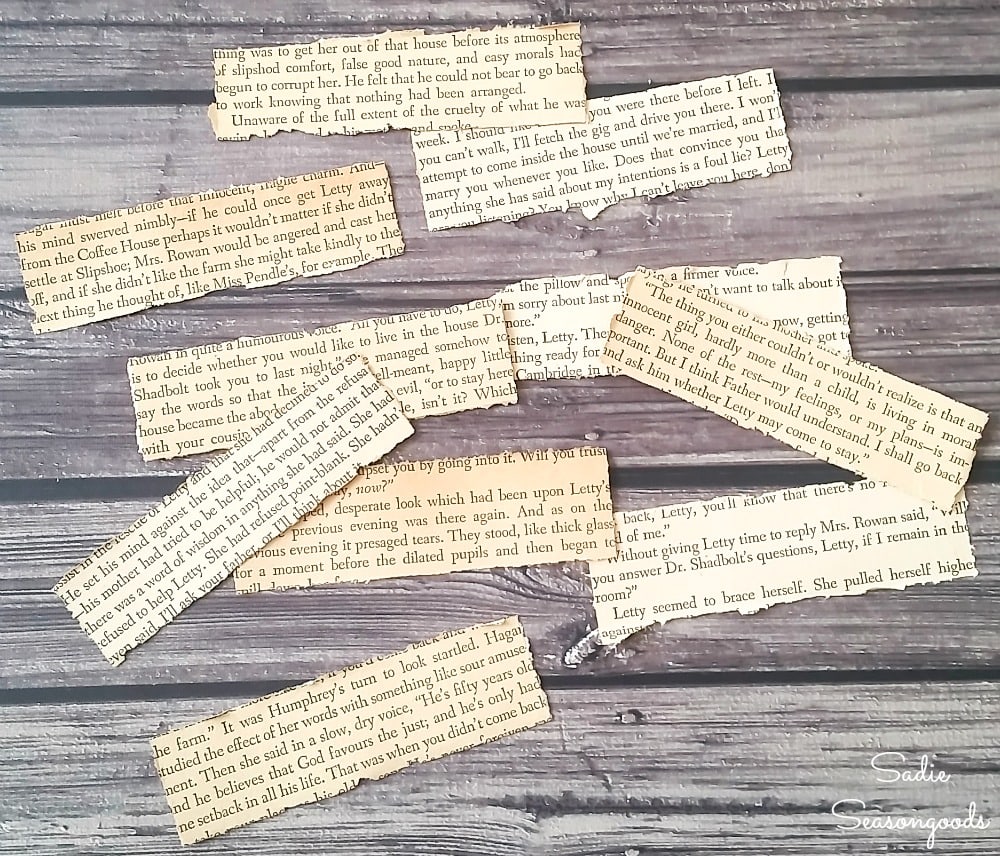 Each strip was then folded like a book, with the extra portion of the strip torn off.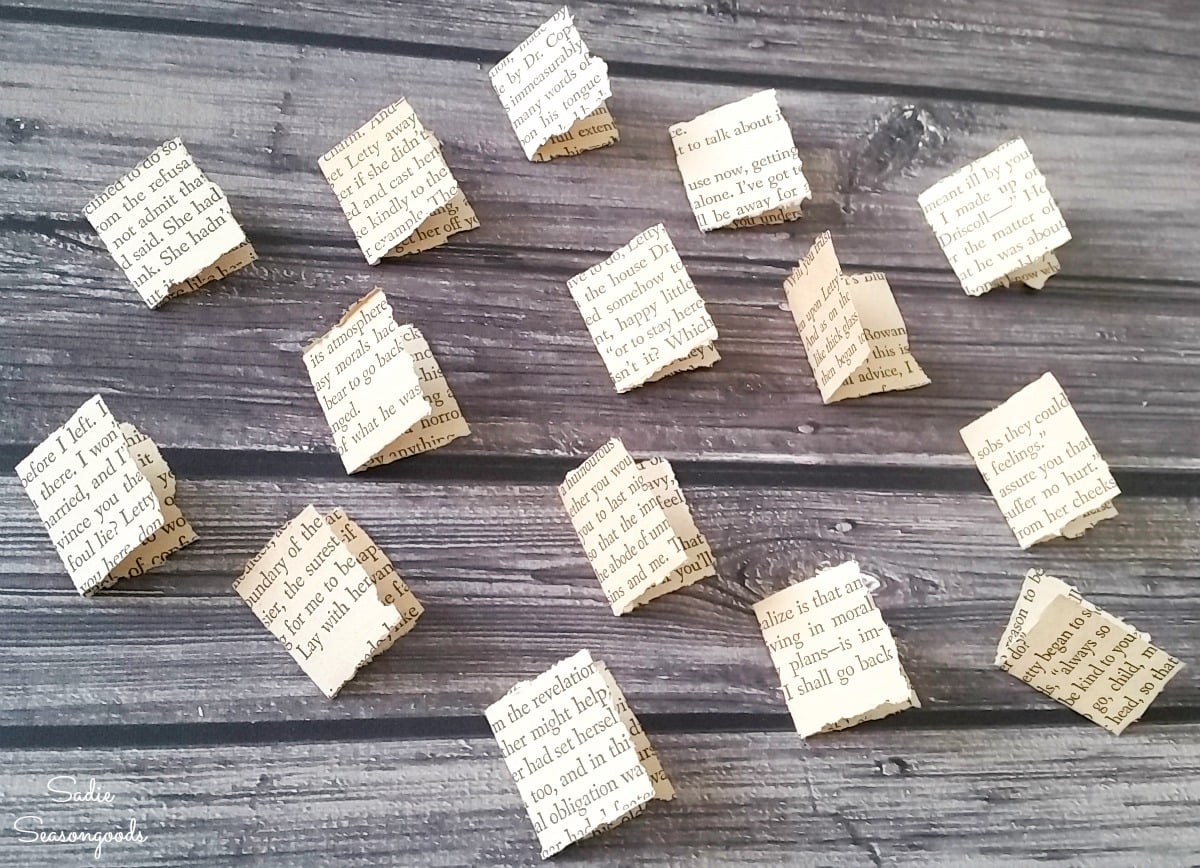 I stacked a few of my folded pages together and punched a small hole towards the top in the middle of the fold. I used a 1/8″ hole punch to do this.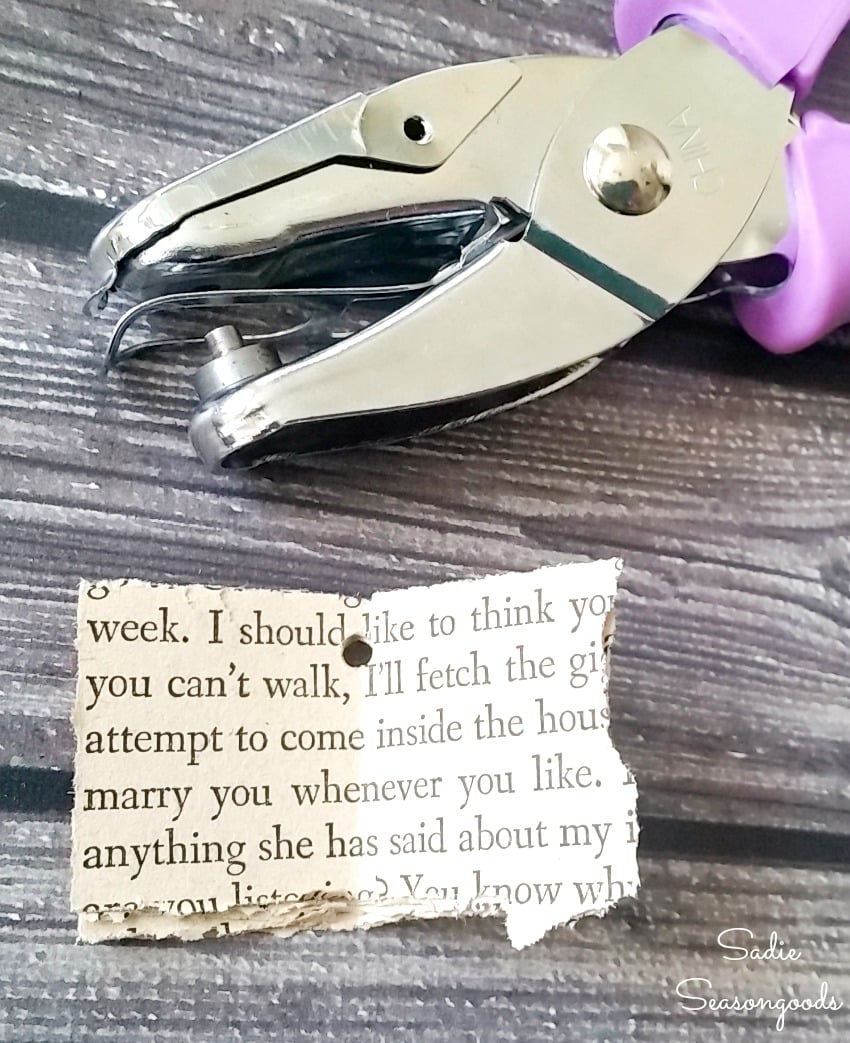 When all pages were punched, I placed one on my leather to figure out how much "cover" my book necklace would need.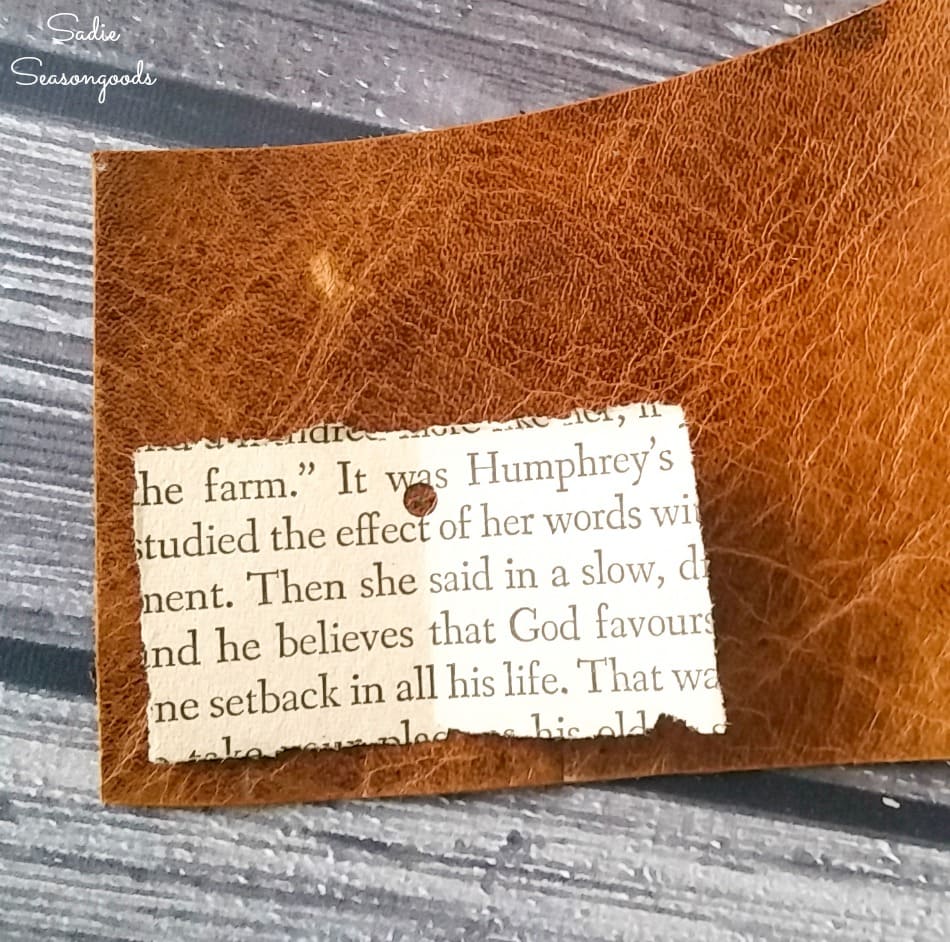 Creating a Book Necklace
Next, I trimmed the leather scrap to size with my multi-media craft shears.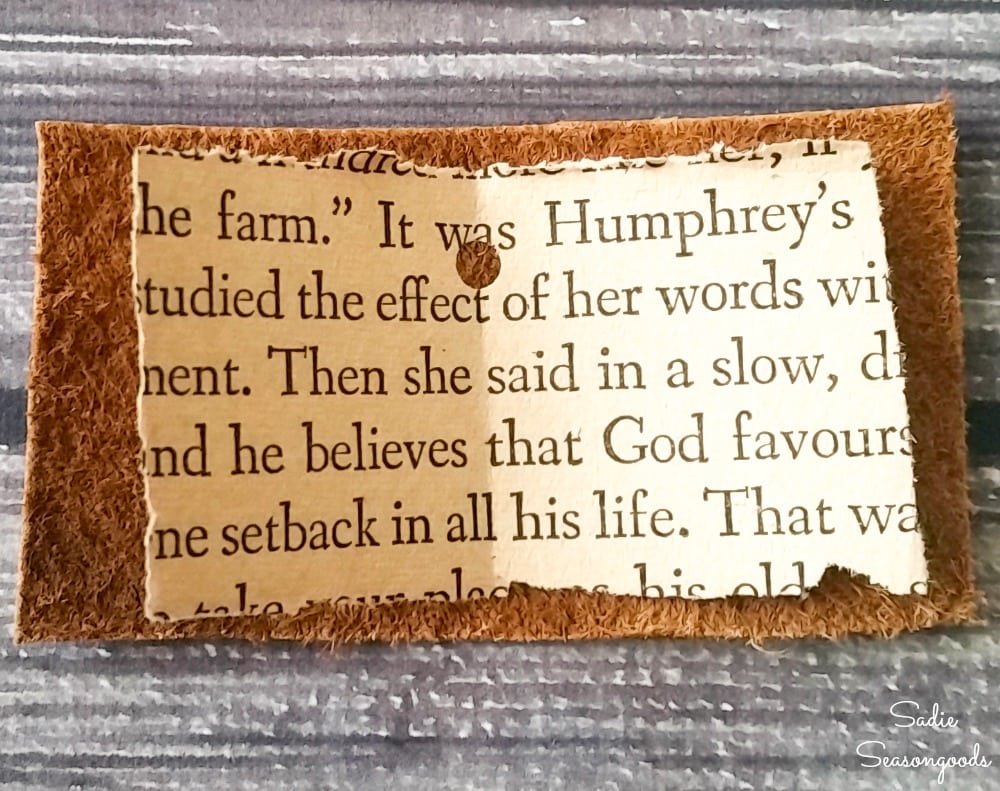 Now it was time to start constructing my mini book! First, I lined up one of the pages and marked where the hole should go in the leather. I punched a hole through it and threaded a jump ring through it.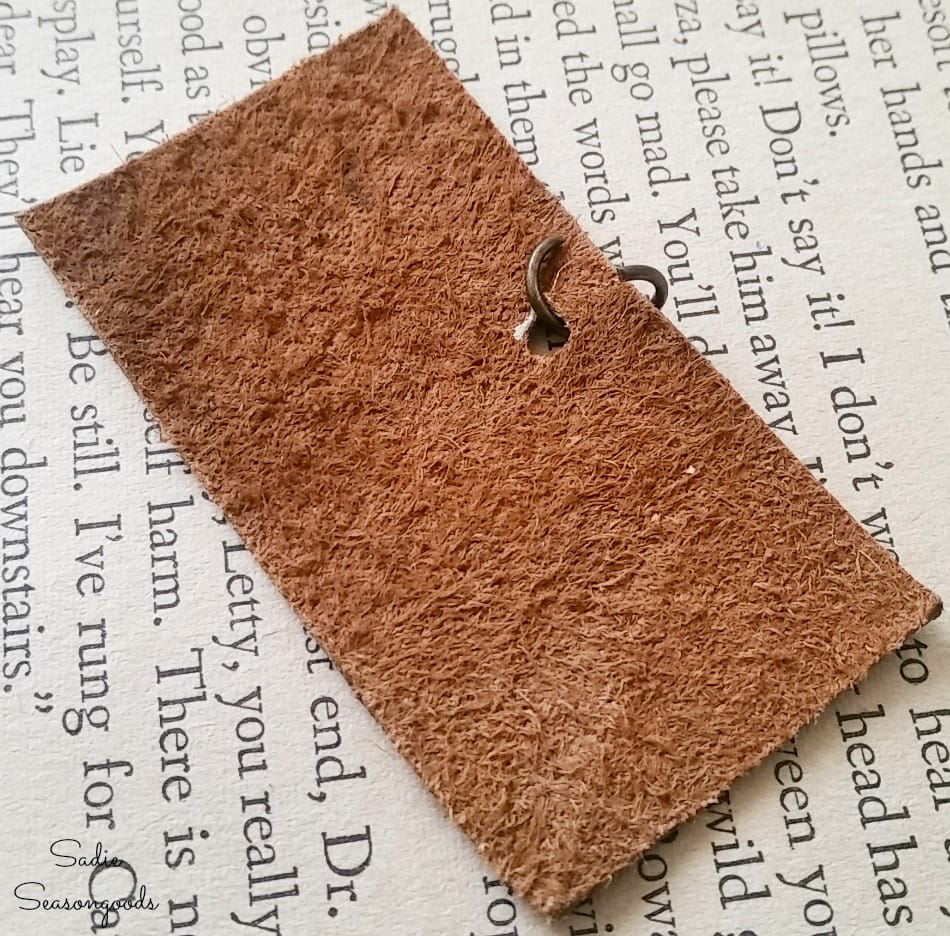 Directly under the punched hole in the leather, I added a few teensy drops of craft glue. Then I threaded one folded book page through the jump ring, pressing along the fold to make sure it connected to the glue-on-leather.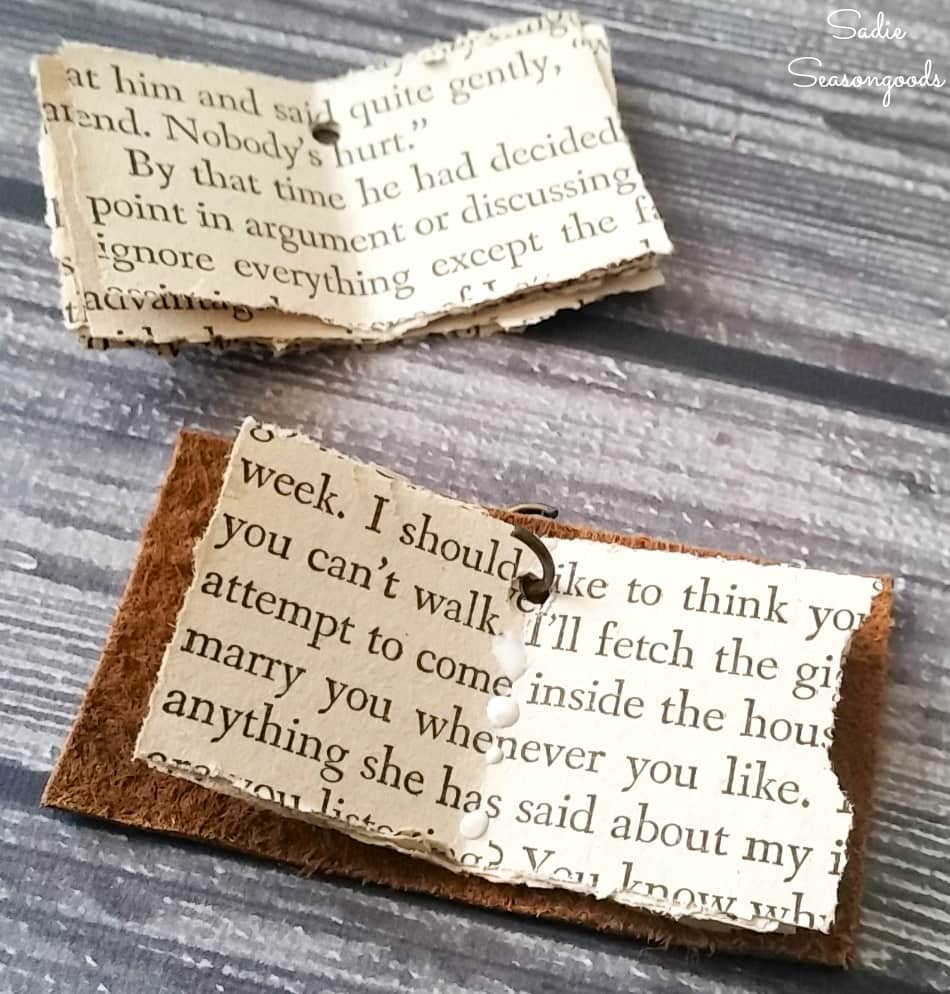 I also added small smear of glue to the outside of each of the book pages and pressed them to the insides of each leather half.
Following that first page, I simply added tiny beads of glue to the fold of paper (already threaded through the jump ring) and added one page after another, until I had glued and threaded each of my pages.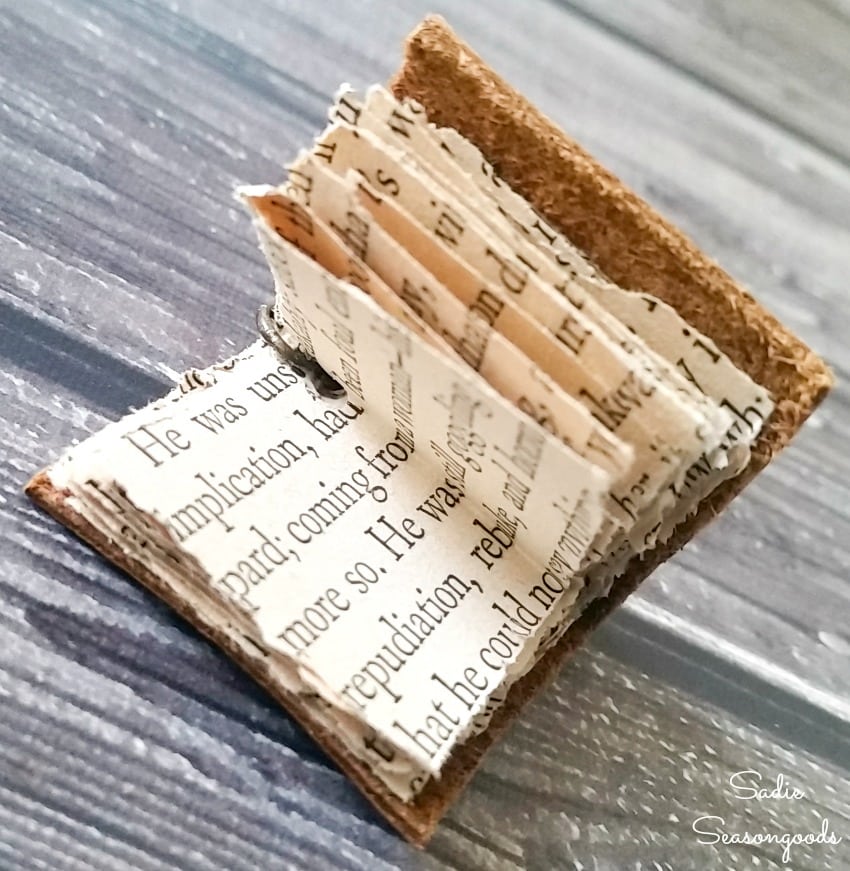 Lastly, I closed the jump ring (with jeweler's pliers) and gently opened my book necklace to the very center (where the jump ring was visible) and glued those pages together. This basically sealed in the jump ring.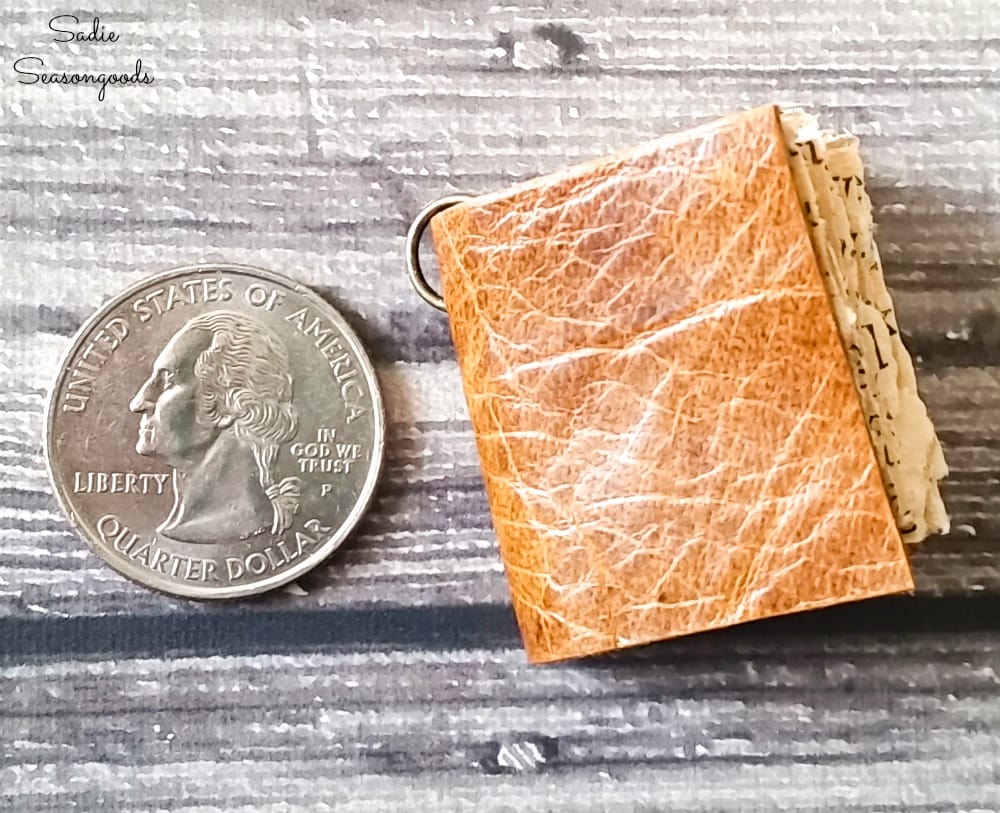 I then glued a few random pages together to achieve my desired "open book" level. I wanted my pendant to be mostly shut, but fanned just enough to seem bookish.
Book Necklace from Old Book Pages
After all was said and done, I rounded off my book cover corners just a hair and strung my book necklace on a chain.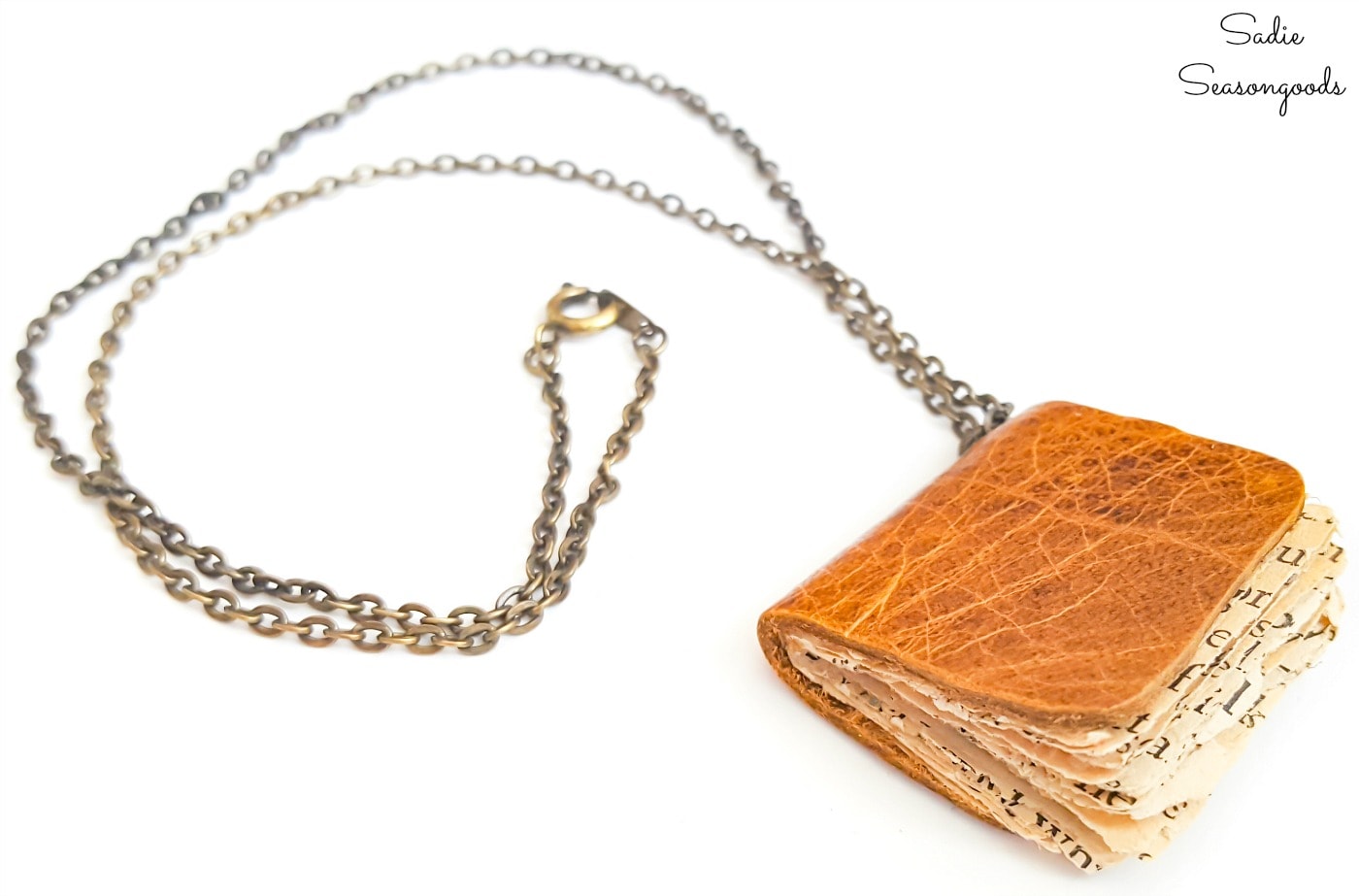 Have mercy. I mean, HOW CUTE IS THAT?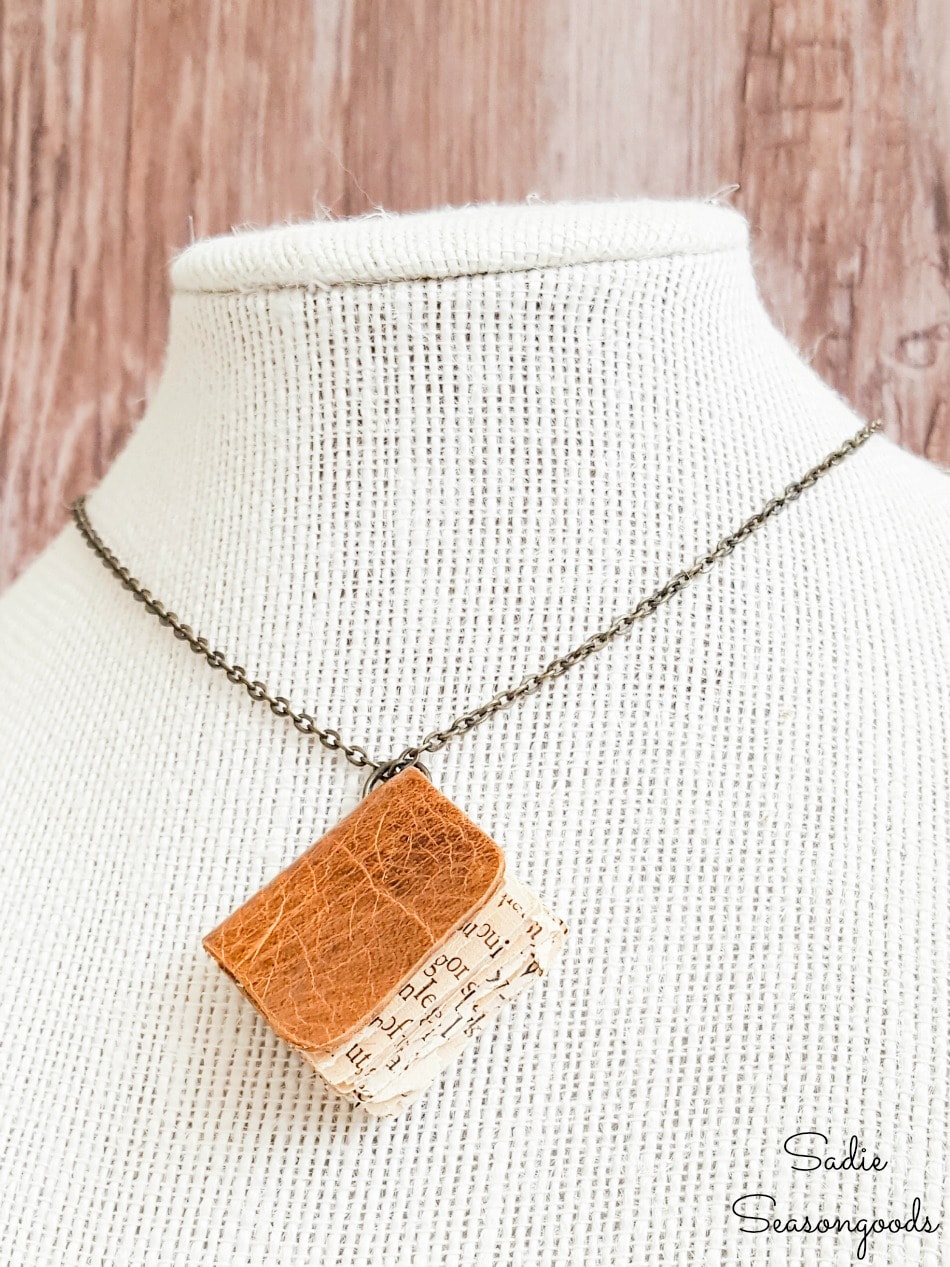 Cuteness overload!
Speaking of books, though…
I'm also excited to announce that my first book is now available! If you enjoy upcycling clothing and simple sewing projects, then you will love my book on flannel crafts!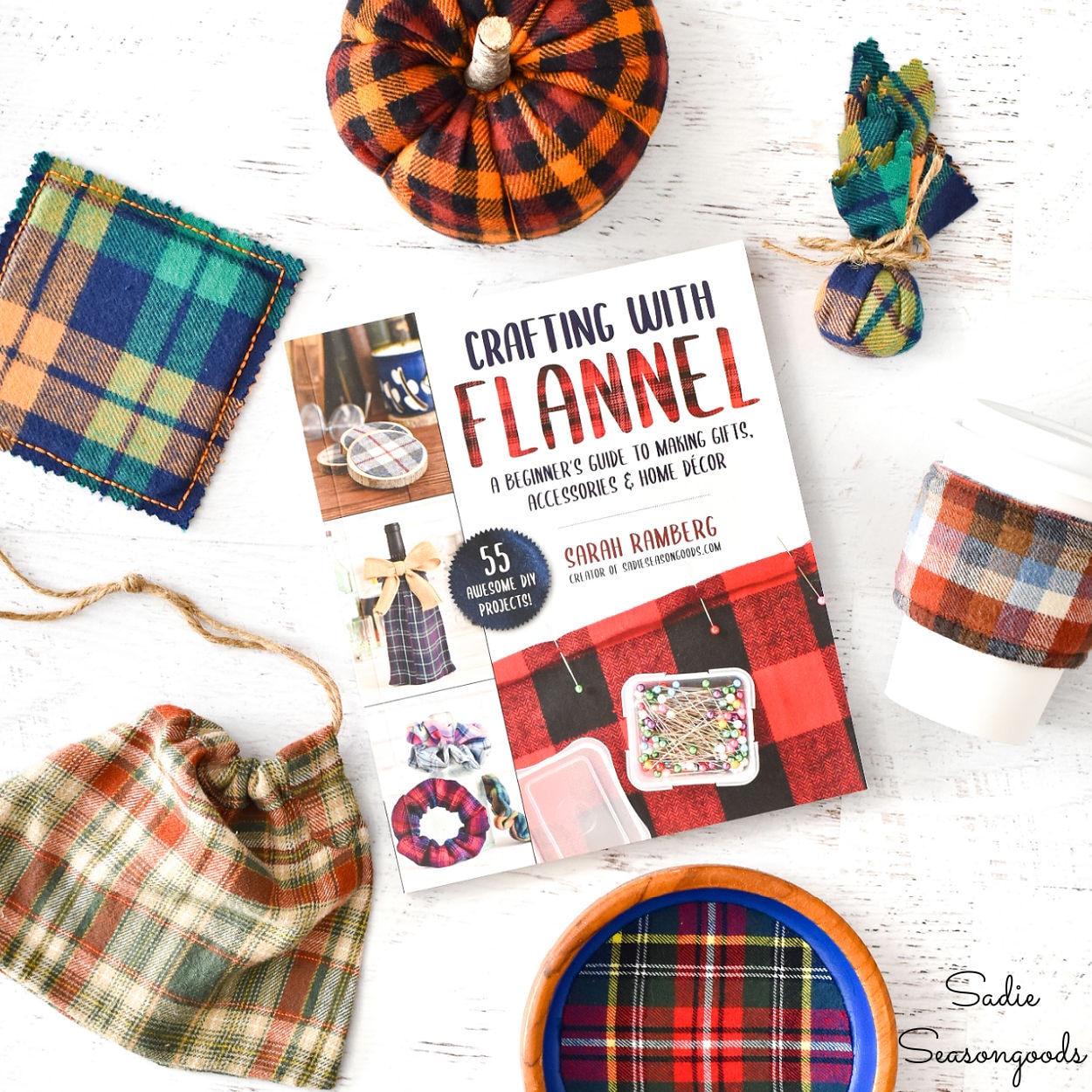 And if you want more DIY Repurposed Jewelry project ideas, I have gathered them all in a single post here!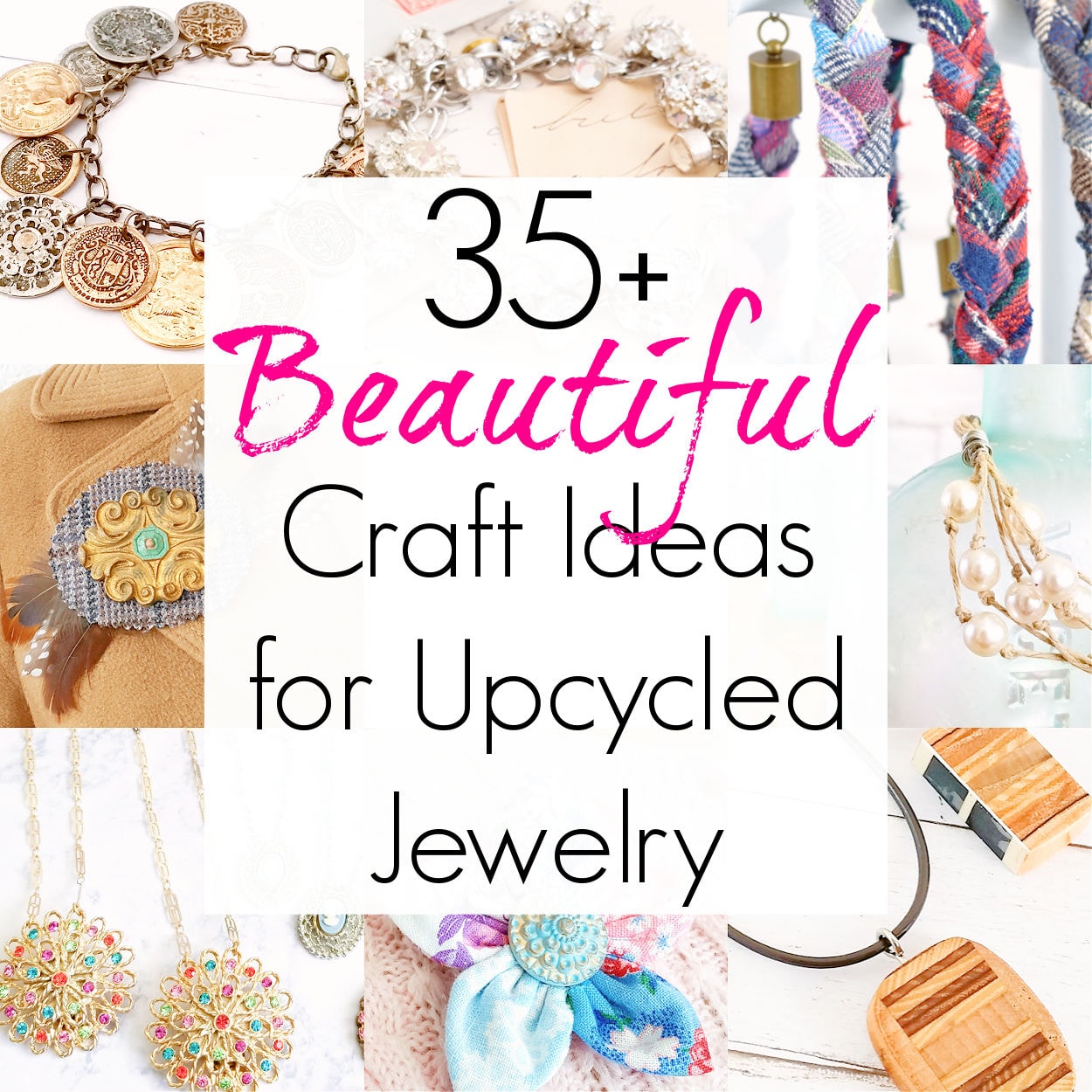 Craft on!
S
Want to be notified when I publish my next upcycling project tutorial?
Subscribe to Blog via Email
Join me on Social Media:


PIN ME!