Many years ago, I found some vintage curtain tie backs at a Country Living Fair in Atlanta, GA. I had plans to turn one into a Christmas necklace and I published the tutorial here on the blog. But no one really saw it- it was the earliest days of my blog, after all. So, I've decided to republish the project because, well, it'll basically be new to everyone…nearly nine years later!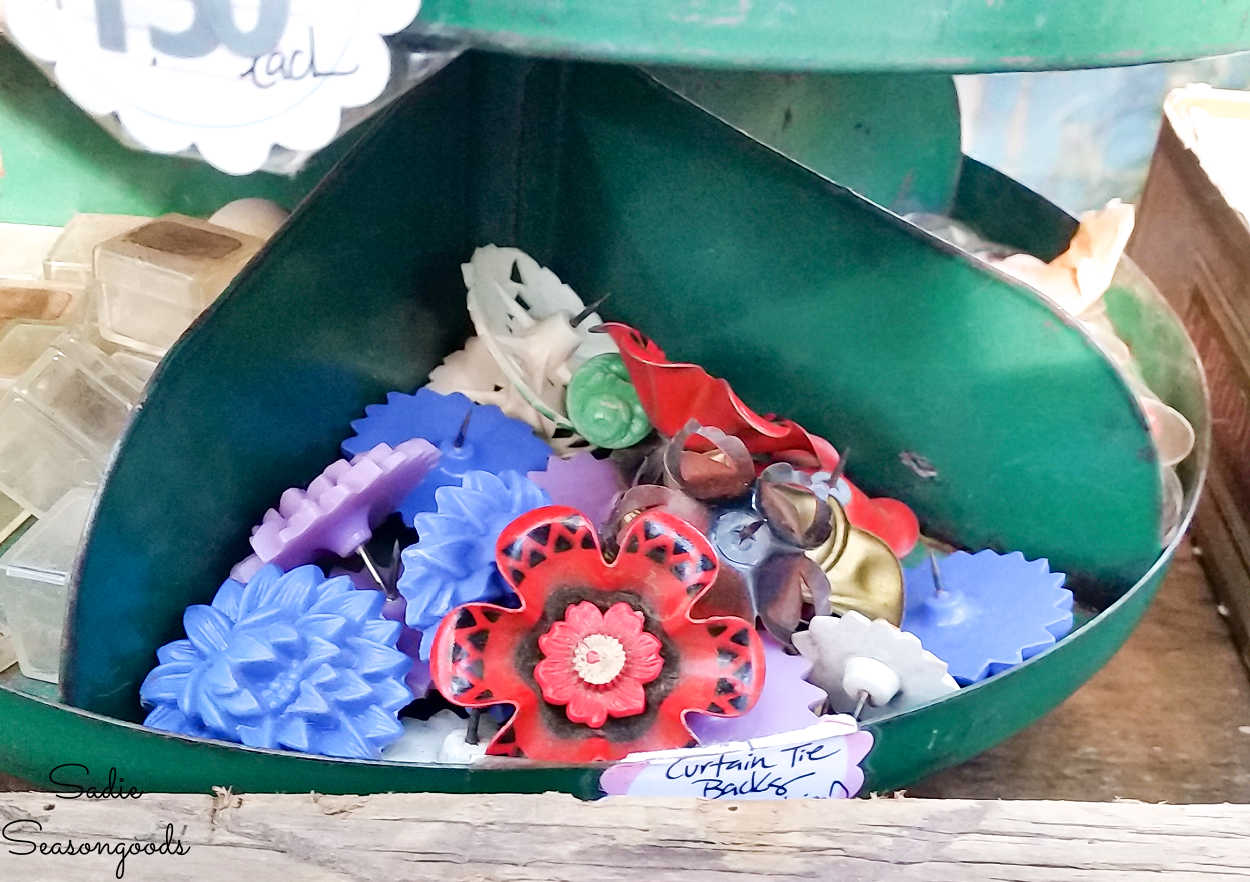 I actually used to create lots of jewelry projects! But I haven't published a new upcycled jewelry idea since 2020- so I was overdue to add one and this older project was especially timely, given the season.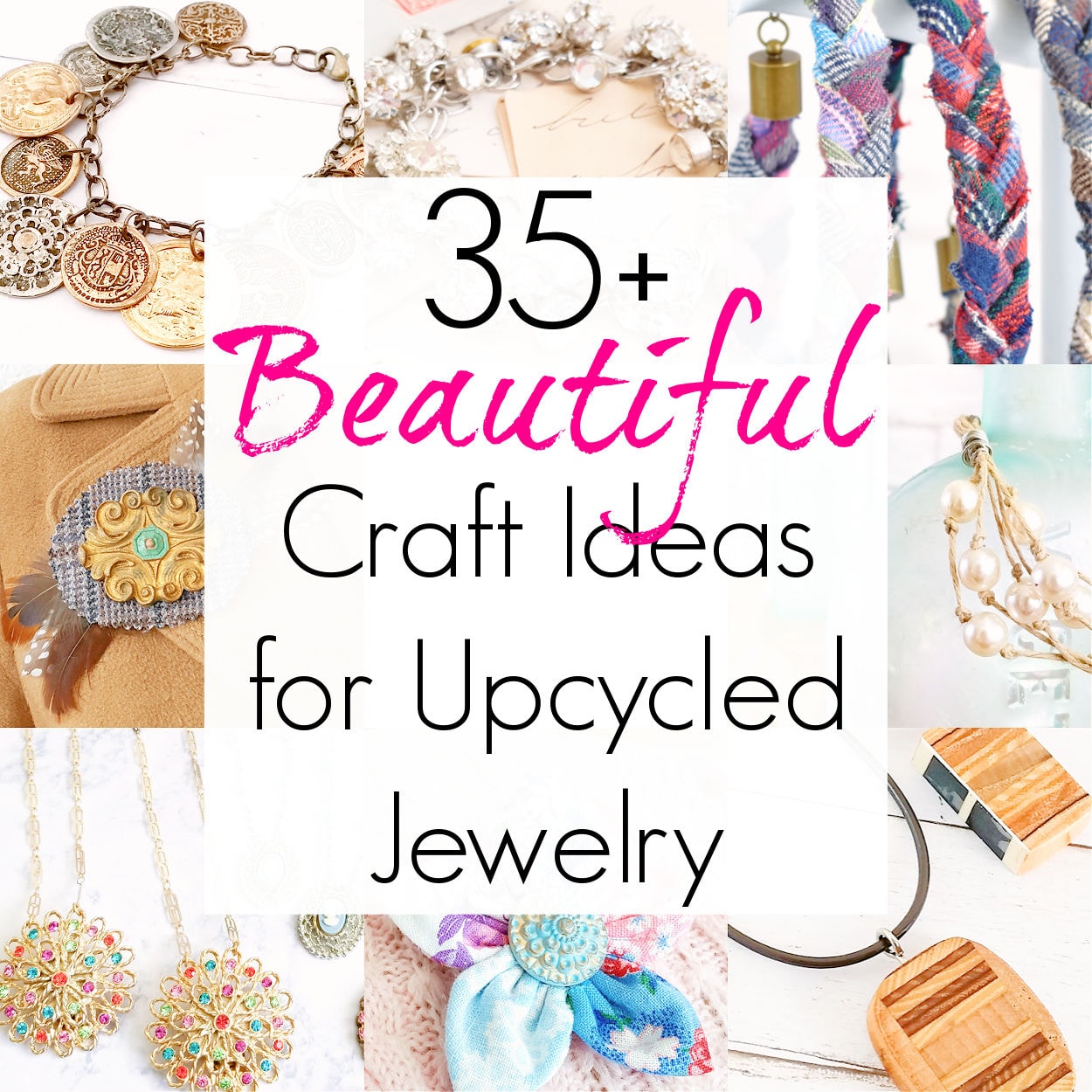 Anyway, back to the vintage curtain tie backs. They'd be relatively easy to upcycle into a pendant for a Christmas necklace, so let's get right to it.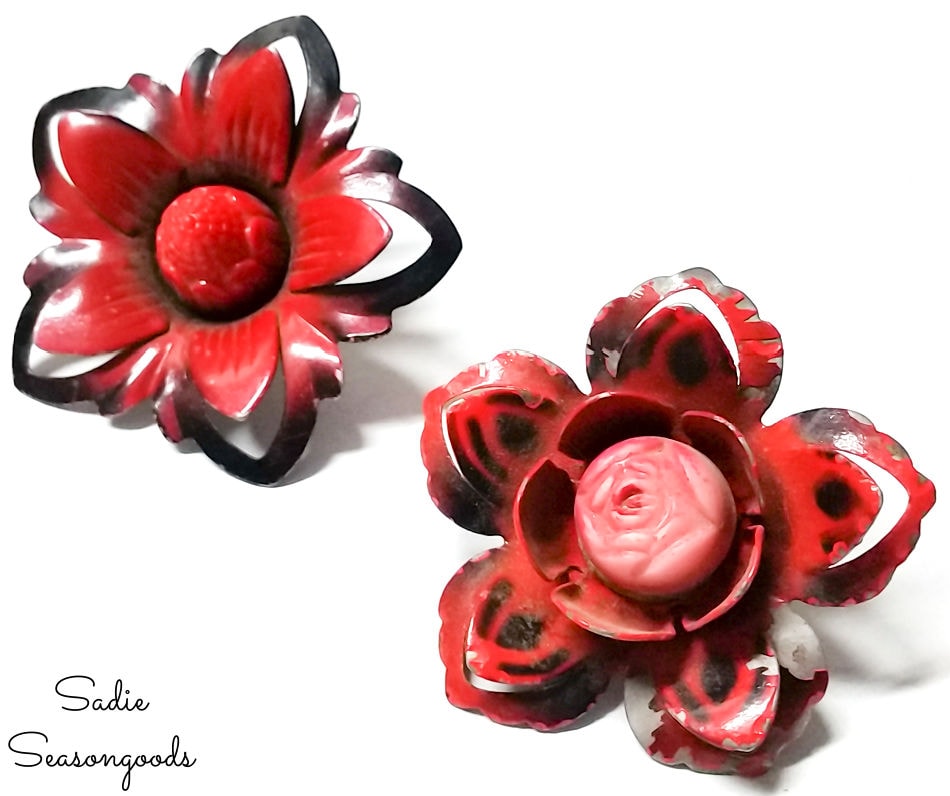 This post contains affiliate links for your crafting convenience. As an Amazon Associate, I earn from qualifying purchases. All blue, bold, and underlined text is a clickable link, either to a product or to a related post.
Making a Pendant for a Christmas Necklace
If you know anything about an old curtain tie back, then you know they are, in essence, a pin. With a large tack on the back.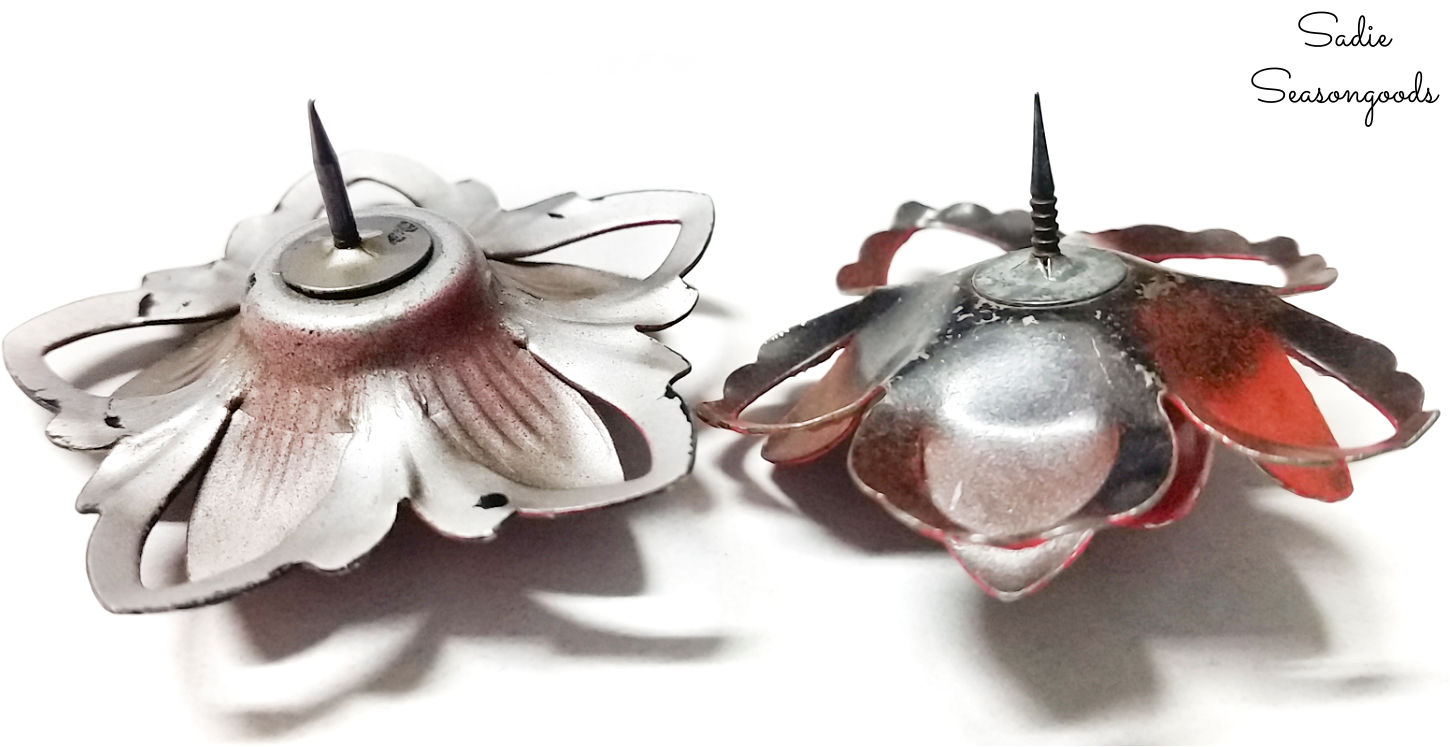 OBVIOUSLY that had to go! No one wants that point anywhere near their body.
So, first, I had to remove the tack. I did so by snipping it off at the base with our wire cutters. Then, Jon smoothed out the backs of the curtain tie backs with our Dremel tool just to ensure it was as smooth and clean as possible.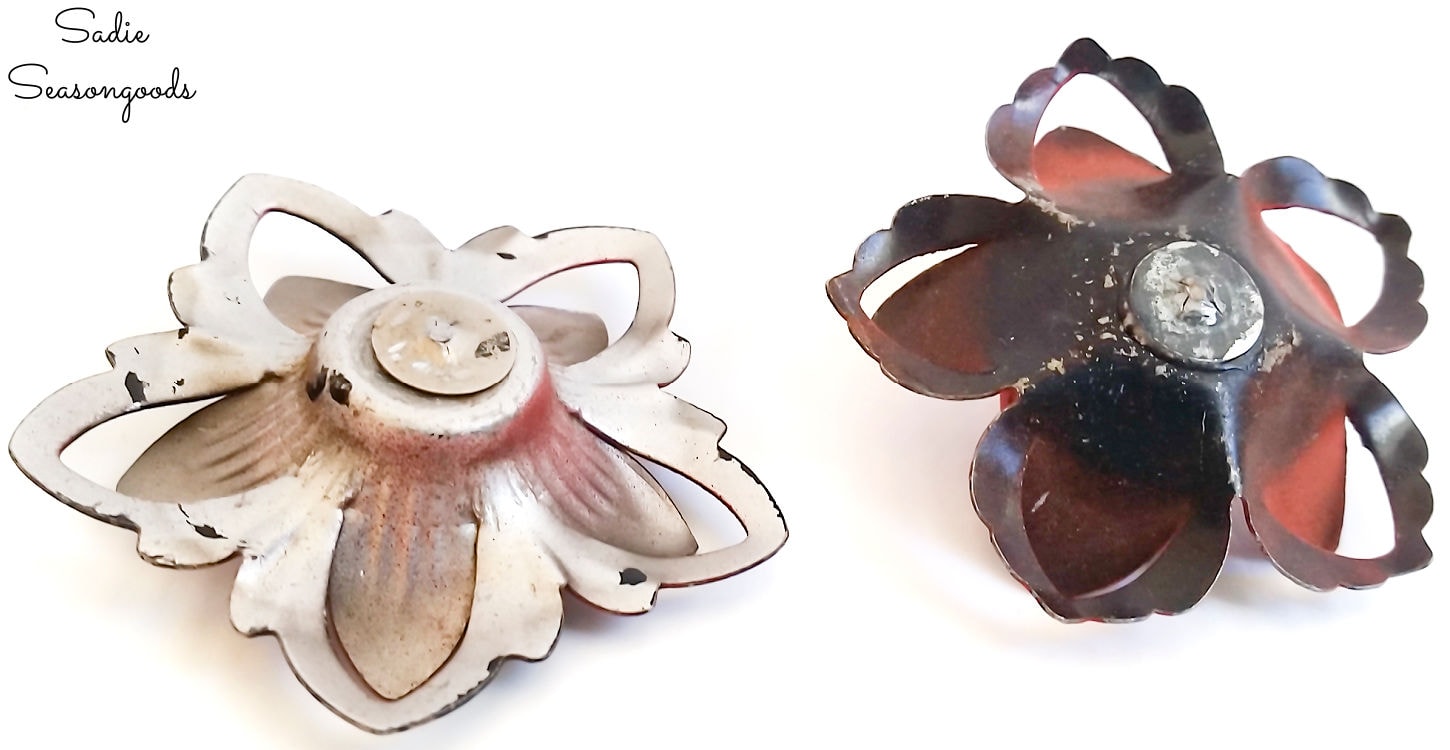 Next, I decided to ensure that the backs would be soft and smooth against my collarbone, so I decided to glue small buttons on the back centers.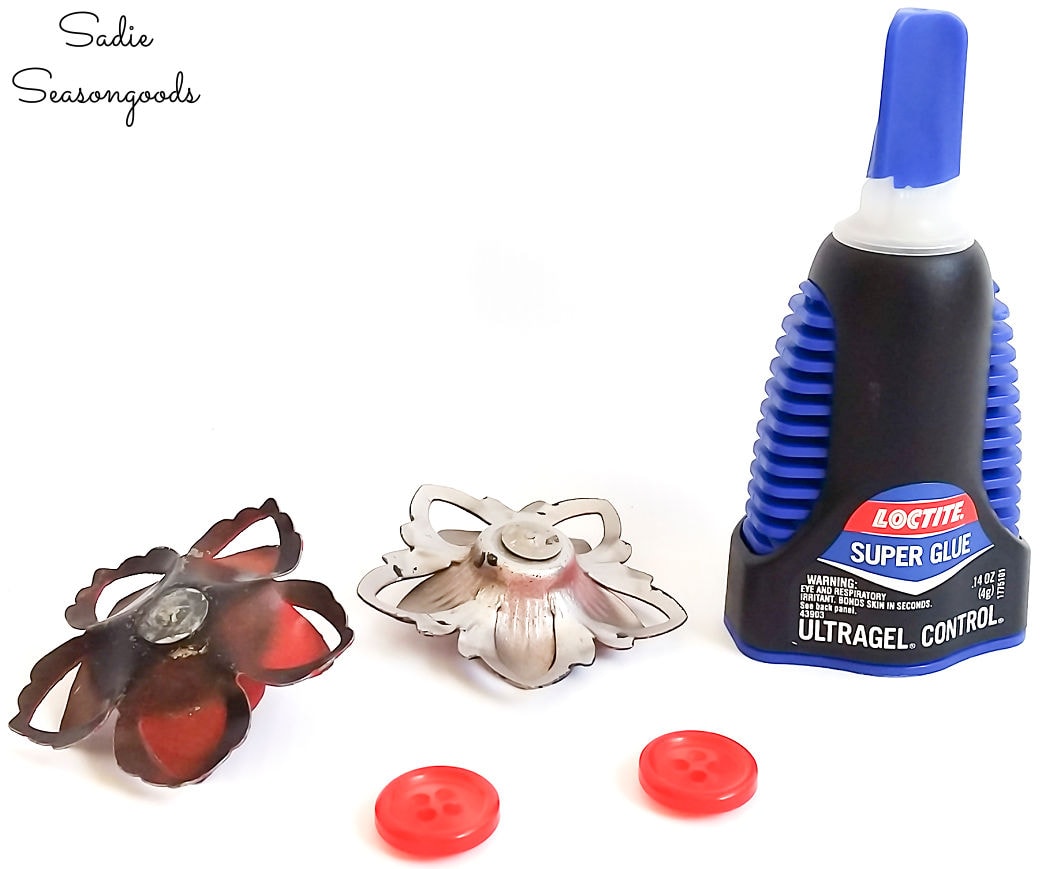 At the time, I did so because I had a huge stash of old buttons and this was an easy way to use a couple of them. But if I could go back and do this project again, I'd use a small circle of thin leather or even felt. Just something thinner than the plastic buttons.
As the glue dried, I then needed to make the necklace part! Luckily, I'd found this long glass bead necklace at a thrift store all those years ago, too. I thought that the green glass beads and burnished gold chain would work perfectly for a Christmas necklace!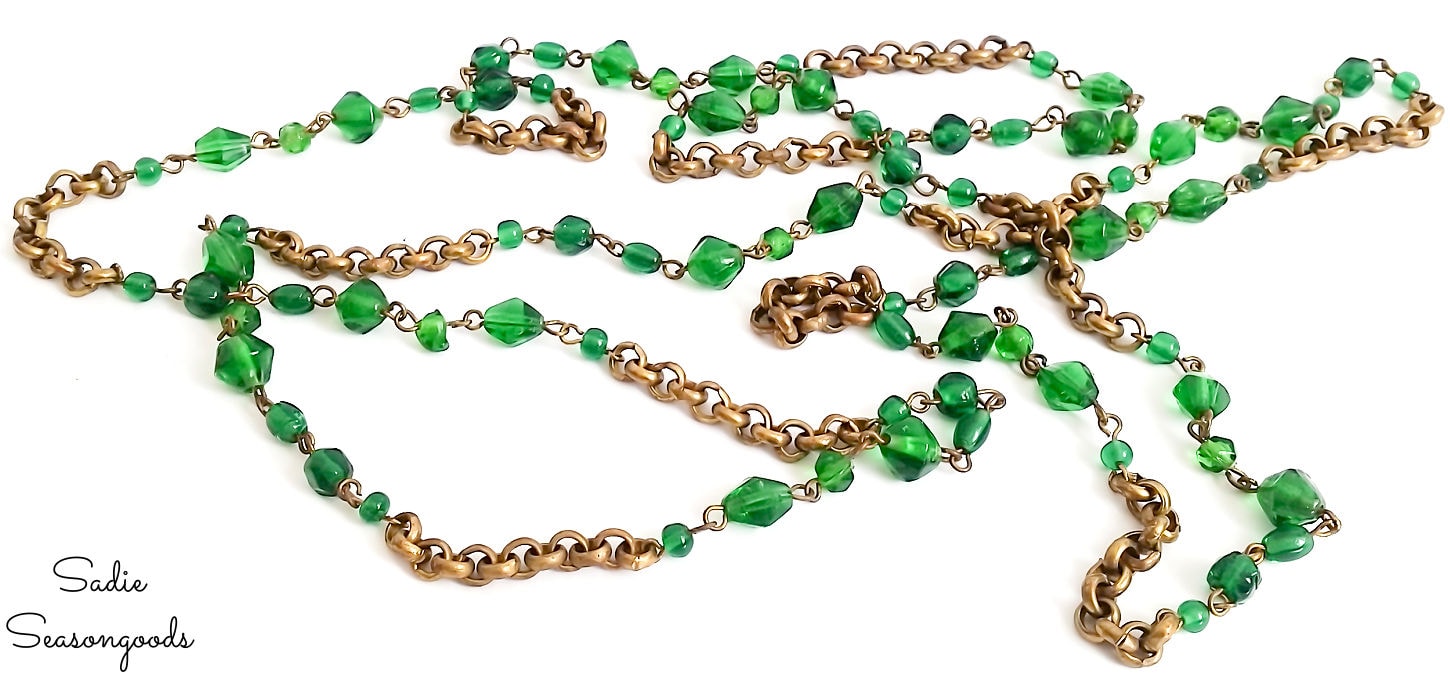 So, I gathered my set of jewelry pliers, as well as some brass-colored jump rings and a matching lobster claw clasp.
Using my jewelry pliers, I removed two lengths of beaded chain from the necklace that were the same length. I then attached them each to a "petal" on the vintage curtain tie back with jump rings. Lastly, I added each half of the lobster claw clasp the back ends of the chain (also with jump rings) and that was it!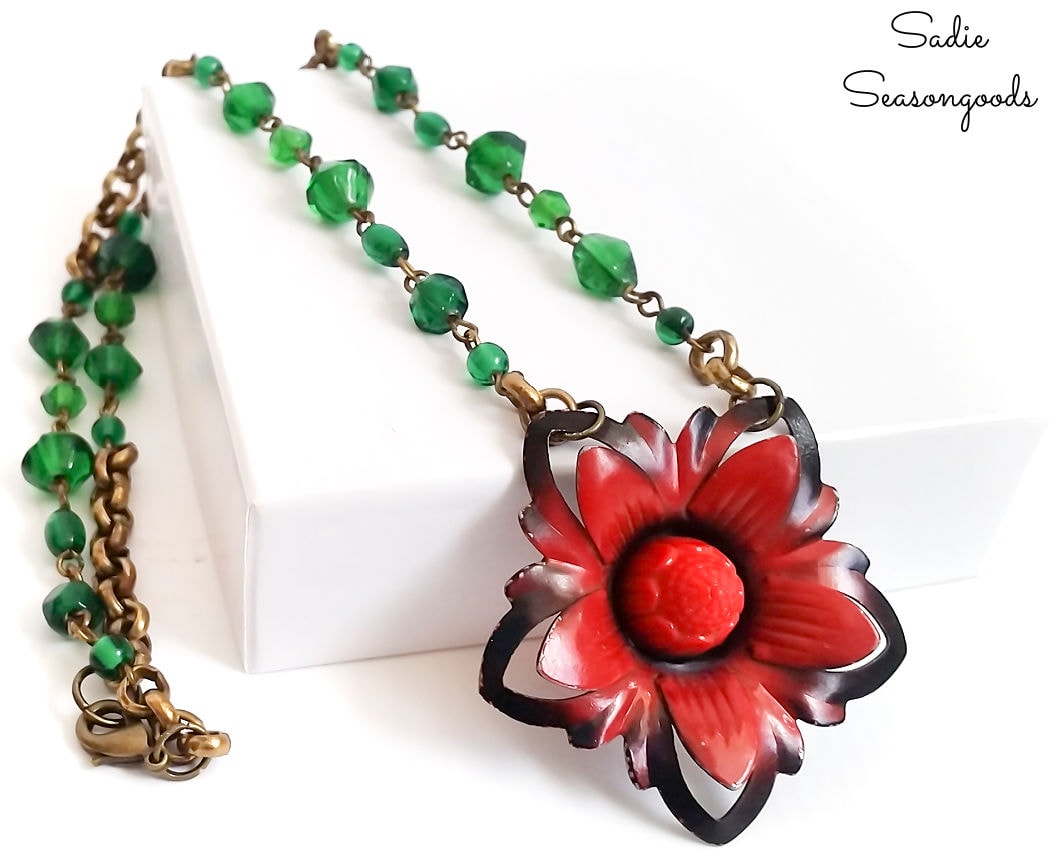 Would you look at that? My idea for upcycling a vintage curtain tie back had worked out perfectly, and now I had a Christmas necklace to wear at holiday parties!
Christmas Necklace from Vintage Curtain Tie Backs
Isn't it pretty? It looks a little like a poinsettia if you don't look too closely! But either way, I just adore my "new" Christmas necklace that will be perfect to wear at parties and dinners.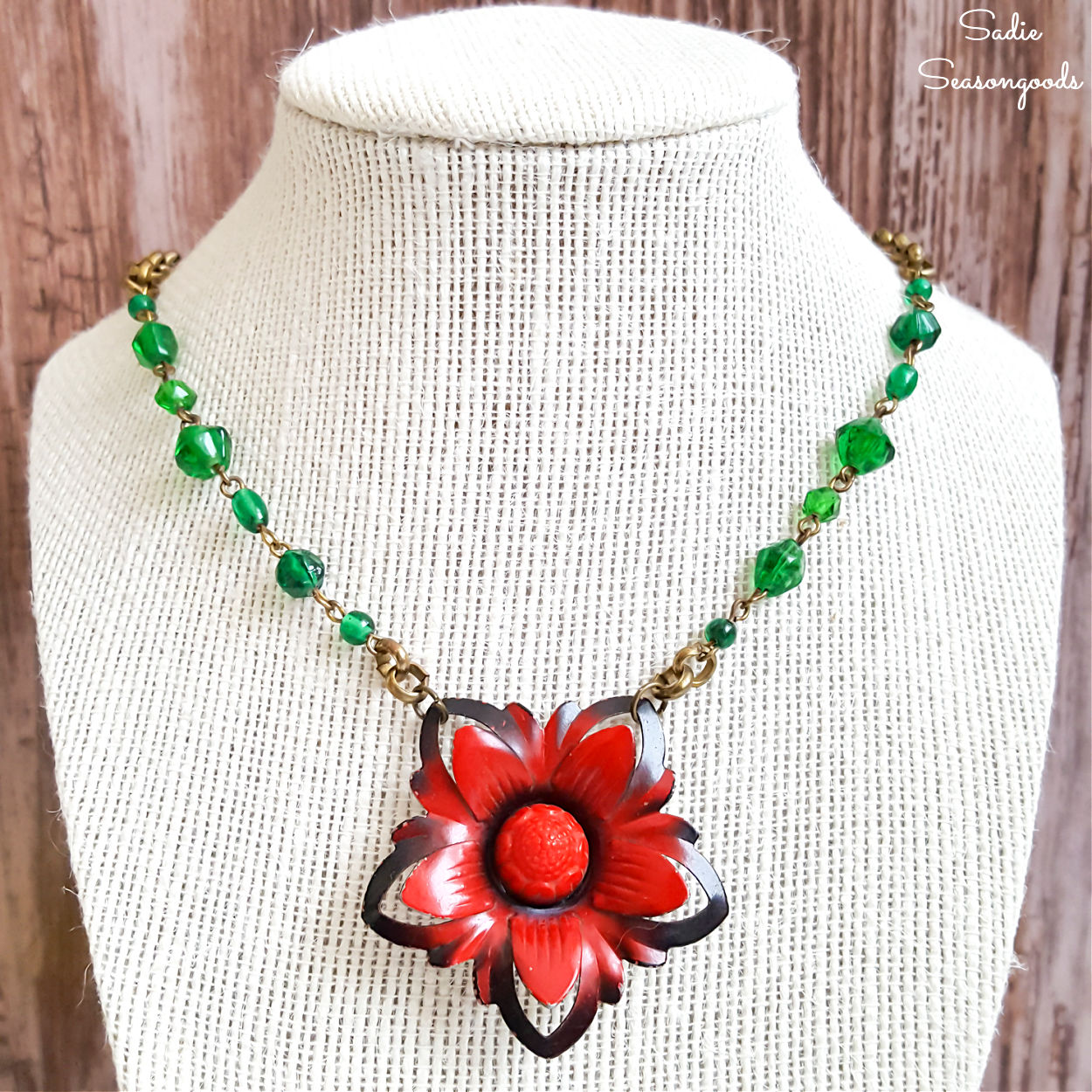 I love that it's not cloyingly Christmas, if you know what I mean! Not hokey or silly- just Christmasy enough to wear this holiday season. And it honestly was so easy to piece together once I had the right parts.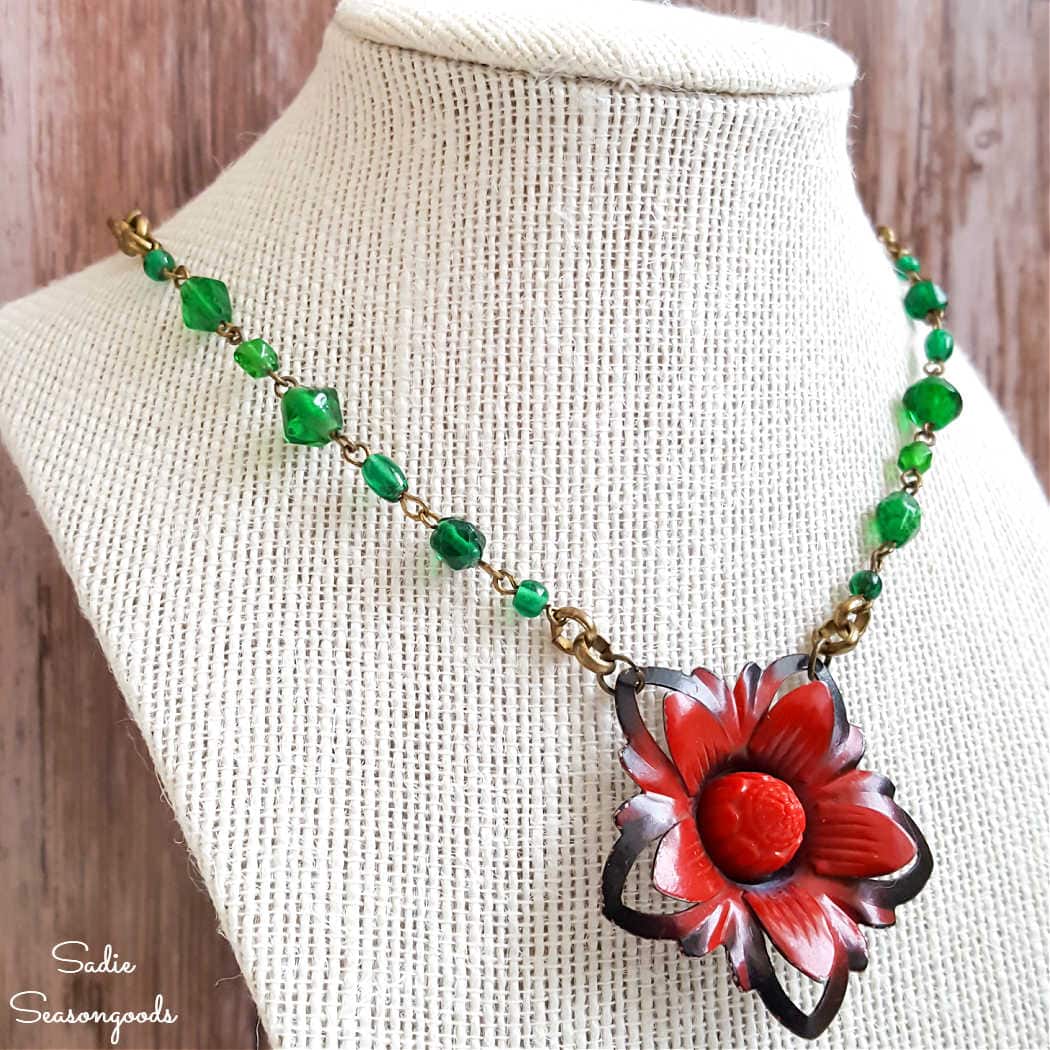 Thank you for indulging me while I republish an old and long-forgotten project! I try not to do that too often, but there are quite a few projects in the Sadie archives that very few of you have seen!
And I also have a couple of other Christmas projects that repurpose vintage jewelry, too. First, there were these coaster ornaments that I made…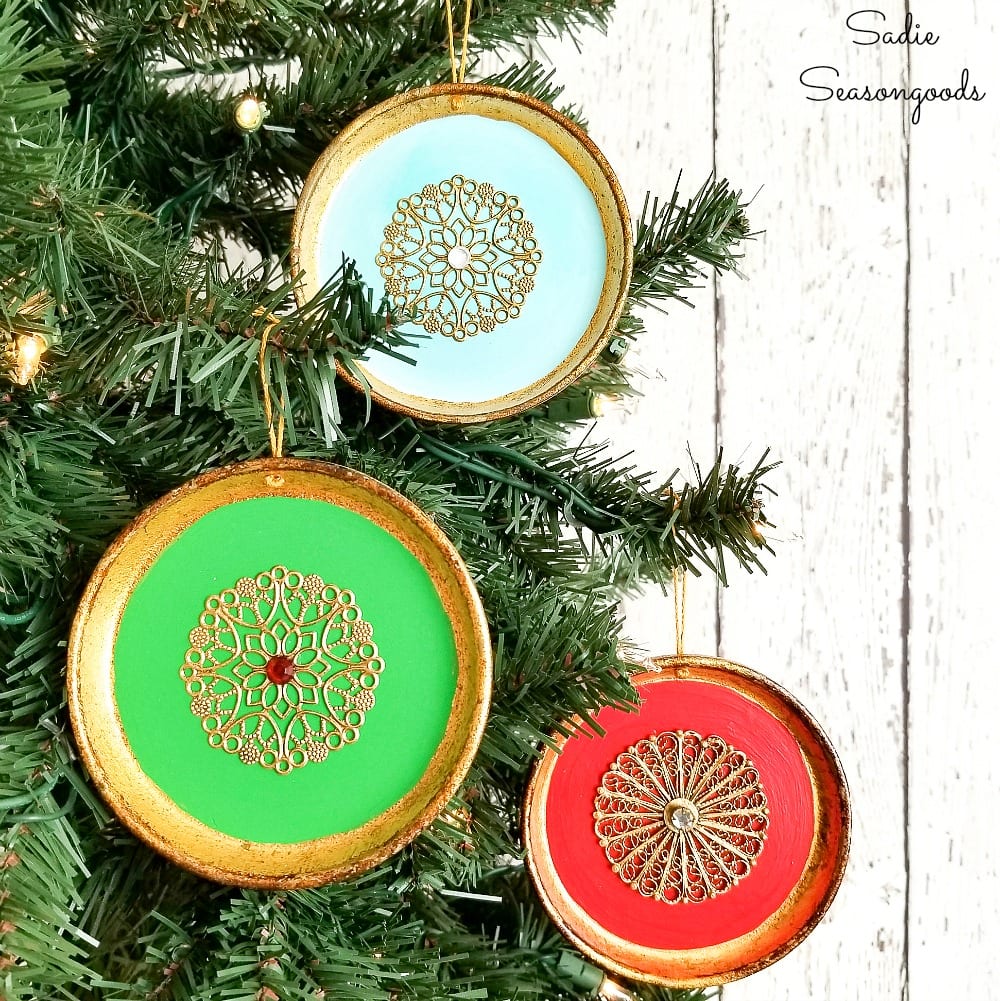 And these wooden snowflake ornaments that I made from old clothespins, as well!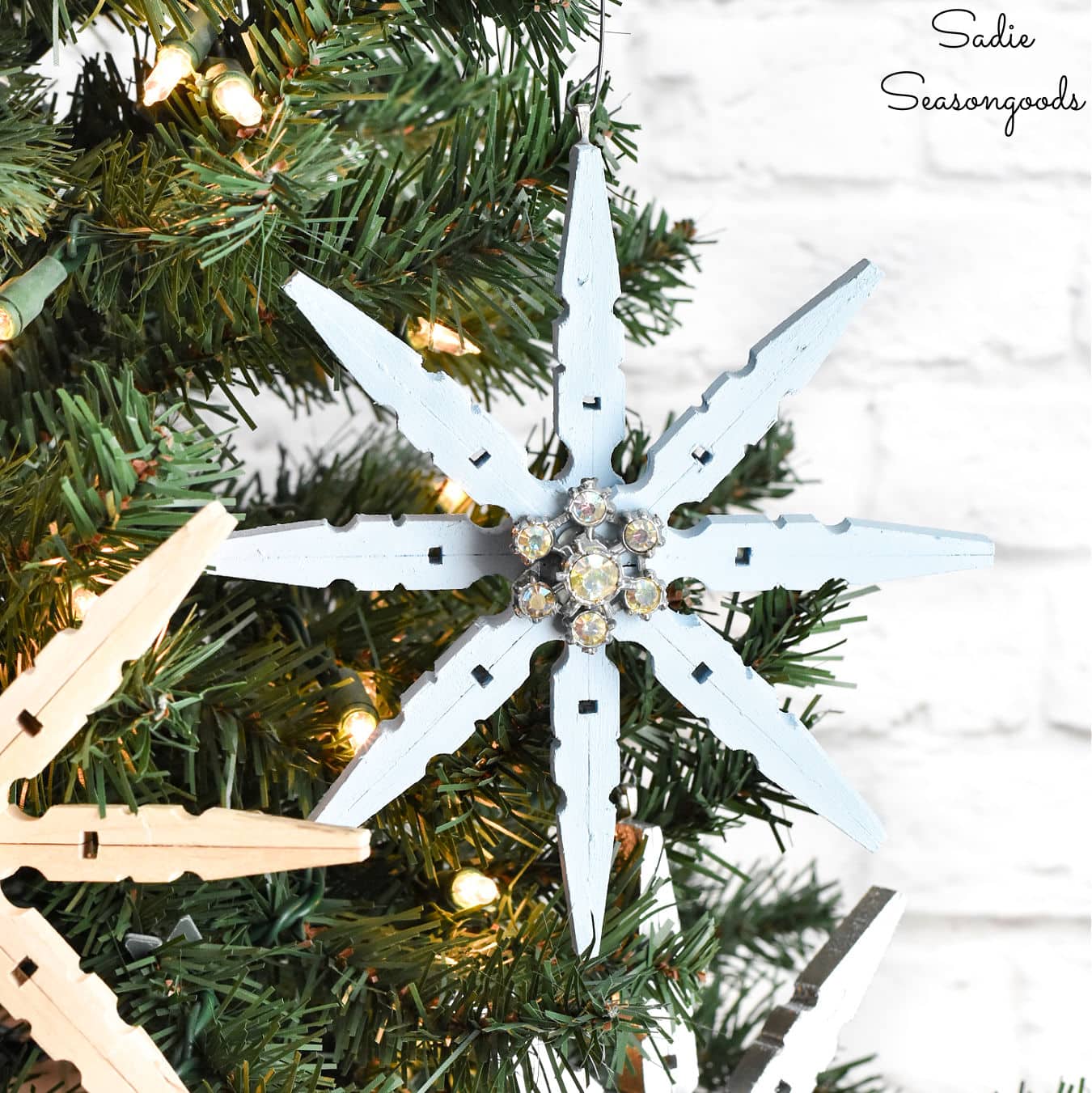 Craft on!
S
Want to be notified when I publish my next upcycling project tutorial?
Subscribe to Blog via Email
Join me on Social Media:

PIN ME!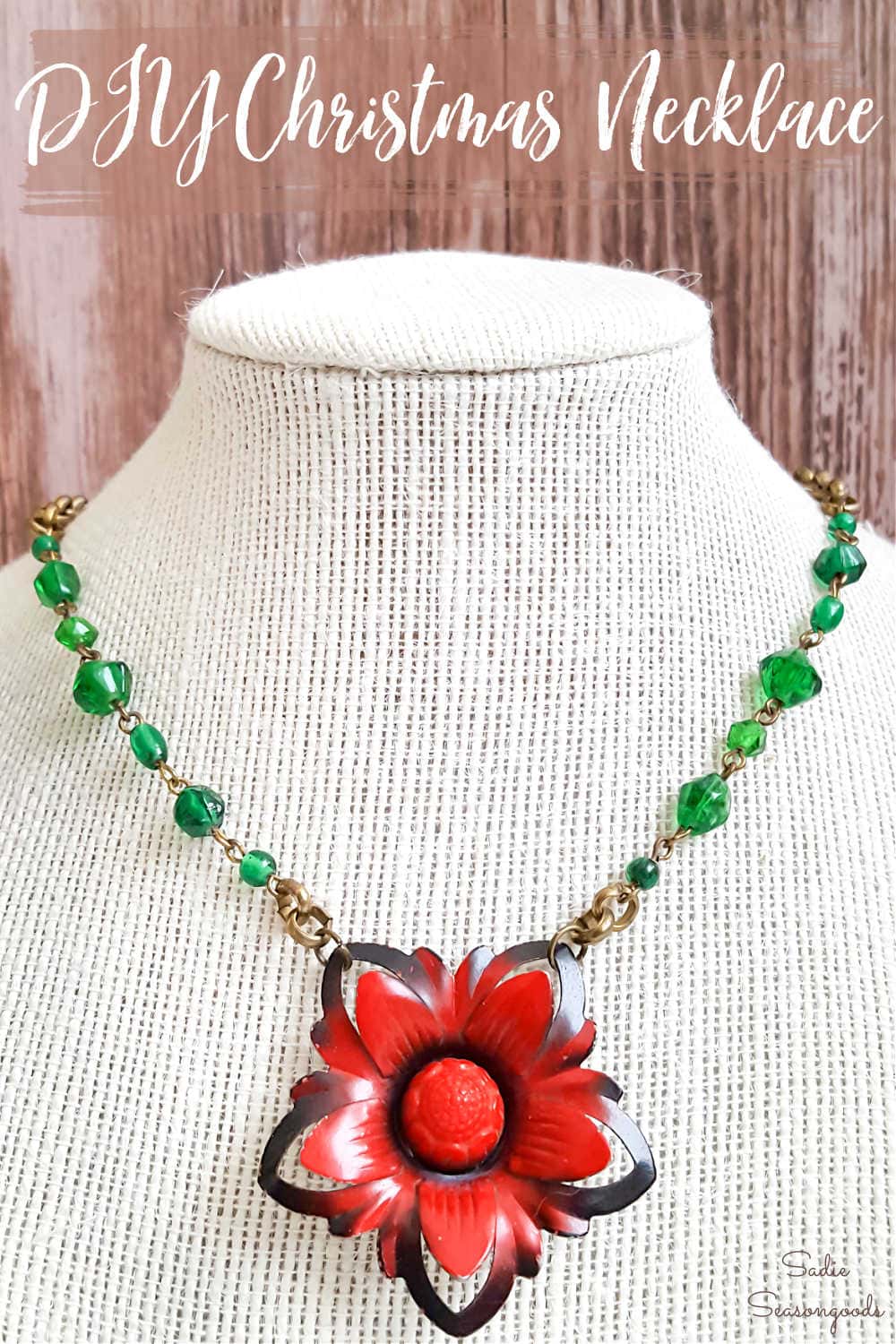 Sarah Ramberg is the owner of Sadie Seasongoods, a website that celebrates all things secondhand. From upcycling ideas and thrifted decor to vintage-centric travel itineraries, Sadie Seasongoods is a one-stop shop for anyone who loves thrifting and approachable repurposing ideas. Sarah is also the author of "Crafting with Flannel" and has been featured in numerous media outlets and magazines.