Funny, but true, story about this project- it all started out when I found this apple-shaped wooden tray at the thrift store. It was May…Spring was on my mind…so I told myself I'd make a cute apple project in the Fall. I see Monkey Pod Wood all the time but never know what to do with them – but this one was just too cute a shape to pass up.
Well…that never happened…because I completely forgot I had it! That is, until I found a SECOND tray (also made from Monkey Pod wood) and decided that BOTH of them could be easily transformed into decorative pumpkins.
All I needed to do was paint them, wax them, and add some sort of "greenery". This post contains affiliate links for your crafting convenience.
Making Fall Decor from Monkey Pod Wood / Monkey Wood
First, I grabbed some orange chalk paint (this brand comes in small bottles, perfect for non-furniture upcyclers like me!) and gave them a quick pumpkin-inspired makeover.
No fancy techniques required – just an old fashioned paint job with a cheap-o craft paint brush.
Once the orange chalk paint was dry, I buffed on some wood wax. I have Annie Sloan- which I LOVE- but there are other options available, like this one.
I used a large round brush to swirl the wood wax on the monkey pod wood. Then, I used a clean, lint-free cloth to buff until the finish was no longer tacky to the touch.
Now they were nice and satiny smooth with just a hint of shine!
Seriously, y'all…from start to finish, this project took me just a couple of hours to do! The orange chalk paint dried in a hot second, and while the wood wax takes several days to FULLY harden, it goes on and buffs off really quickly. So, this is a great last minute fall project if you happen to find some monkey pod wood in pumpkin-esque shapes!
But I felt like my decorative pumpkins needed a little more embellishment…
To add a touch of rustic greenery, I used some wide burlap ribbon in a pea green (similar to this one) and some jute twine.
Decorative Pumpkins from Monkey Pod Wood for Fall Decor
The burlap ribbon was wired, but I didn't need that aspect…so I snipped out a long piece between the wires (using my favorite mixed media scissors), and tied it around the handles of the monkey wood. Then, I layered on a knotted piece of jute twine over the burlap ribbon.
I didn't glue the "greenery" to the handles (or should I say "stems"?), but I did use a drop of hot glue here and there to get the jute to lay more nicely over the ribbon at the knot.
And you know what? I love them! I mean, I have special affection in my heart for any project that is this easy to do…but these decorative pumpkins from Monkey Pod wood are as cute as can be.
I can use them as rustic fall decor, or as serving trays for wrapped Halloween candy, etc.
These decorative pumpkins would also look nice as part of a Fall Mantel, too. Either way, I'll never pass up any monkey wood that kind of – sort of resembles a pumpkin shape ever again!
Ok- that's *3* pumpkin projects this year…I probably need to quit while I'm ahead, right? But I just couldn't resist squeezing one more in.
If you enjoyed this upcycling idea for decorative pumpkins, then you will love this cake dome that looks like a pumpkin, too. Can you guess what I upcycled to make it?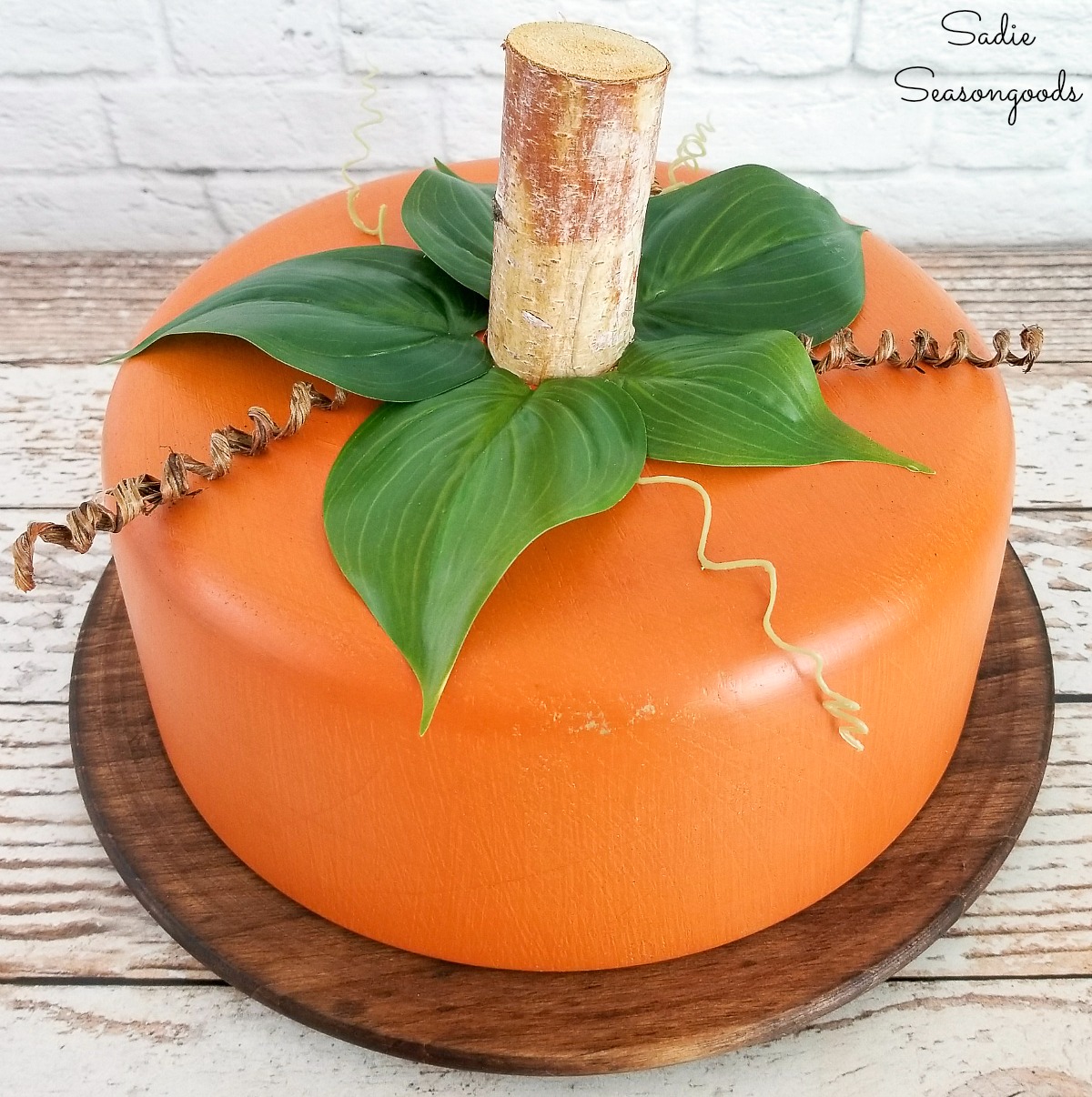 Craft on!
S
Want to be notified when I publish my next upcycling project tutorial?
Subscribe to Blog via Email
Join me on Social Media: