After our junkin' journey trip to Louisville, we came home with several interesting bottles of bourbon. And normally, that wouldn't be a big deal…but as you may recall, we can no longer recycle glass in our county. So, I'm once again tasked with coming up with ways to recycle glass into projects. And this time, I decided to transform them into decorative gourds to use as autumn decor.
I promise you it's not a crazy upcycling idea! Because, as fate would happen to be, several of the remaining liquor bottles had shapes that reminded me of pumpkins and gourds.
*****
*****
This post contains affiliate links for your crafting convenience. As an Amazon Associate, I earn from qualifying purchases.
How to Paint Glass Jars and Bottles to Look Like Decorative Gourds
Even though I'm a spray-paint-kind-of-gal, I really wanted to hand paint my pumpkins and gourds. Why? Because I had a painting technique that I wanted to try out, and only hand painting would suffice.
But I know how aggravating it can be to work paint glass with acrylic paints. So, I took an important first step- and sprayed them with white primer first (after removing the labels, of course).
Once the primer had dried, my bottles were ready to be hand painted with basic craft paint. I assembled a collection of different orange paints (and a light green one that isn't shown), as well as some cheap crafting paint brushes, too.
Also, I grabbed a paper plate for painting – you'll see why in a moment.
I had this idea that I could slightly swirl two or three colors in order to get striations of color, like on real gourds. Note that I said swirl…not mix…the various paint colors. It's an important distinction to make here!
First, I squeezed out dollops of paint in various colors so that the edges touched. Then, I used toothpicks to pull the paint into each other, like a spiderweb effect. Then, I carefully dipped my paint brush into the swirl and brushed it on the glass bottles in long, even strokes.
And you know what? It worked like a charm.
Even though I planned on wrapping the bottle necks with jute twine, but went ahead and preemptively painted them a dark green/brown. JUST IN CASE the jute didn't cover it completely…
To finish up the decorative gourds, I wound the jute twine around the dark green neck using my hot glue gun to hold the twine in place.
Next, I scavenged some leaves from a floral stem that had "veiny" leaves, like those found on pumpkin and gourd vines.  I hot glued them in place and continued to wrap with twine.
Decorative Gourds for Autumn Decor / Harvest Decor by Painting Glass Jars or Bottles
When all was said and done, the first of my decorative gourds / pumpkin decor was completed! And I absolutely LOVED how it turned out.
Don't they look terrific? It really pays to hand paint them to get those subtle, but important, striations of color. Just like real pumpkins and gourds!
I think we may go shopping for a few more stout-shaped glass bottles so I can make more using green and yellow paints…to look more like gourds than pumpkins. But I'll definitely be incorporating these into my autumn decor / harvest decor from here on out.
And if you enjoyed this upcycling idea for pumpkin decor, then you'll love these decorative pumpkins made from monkey pod wood / monkey wood!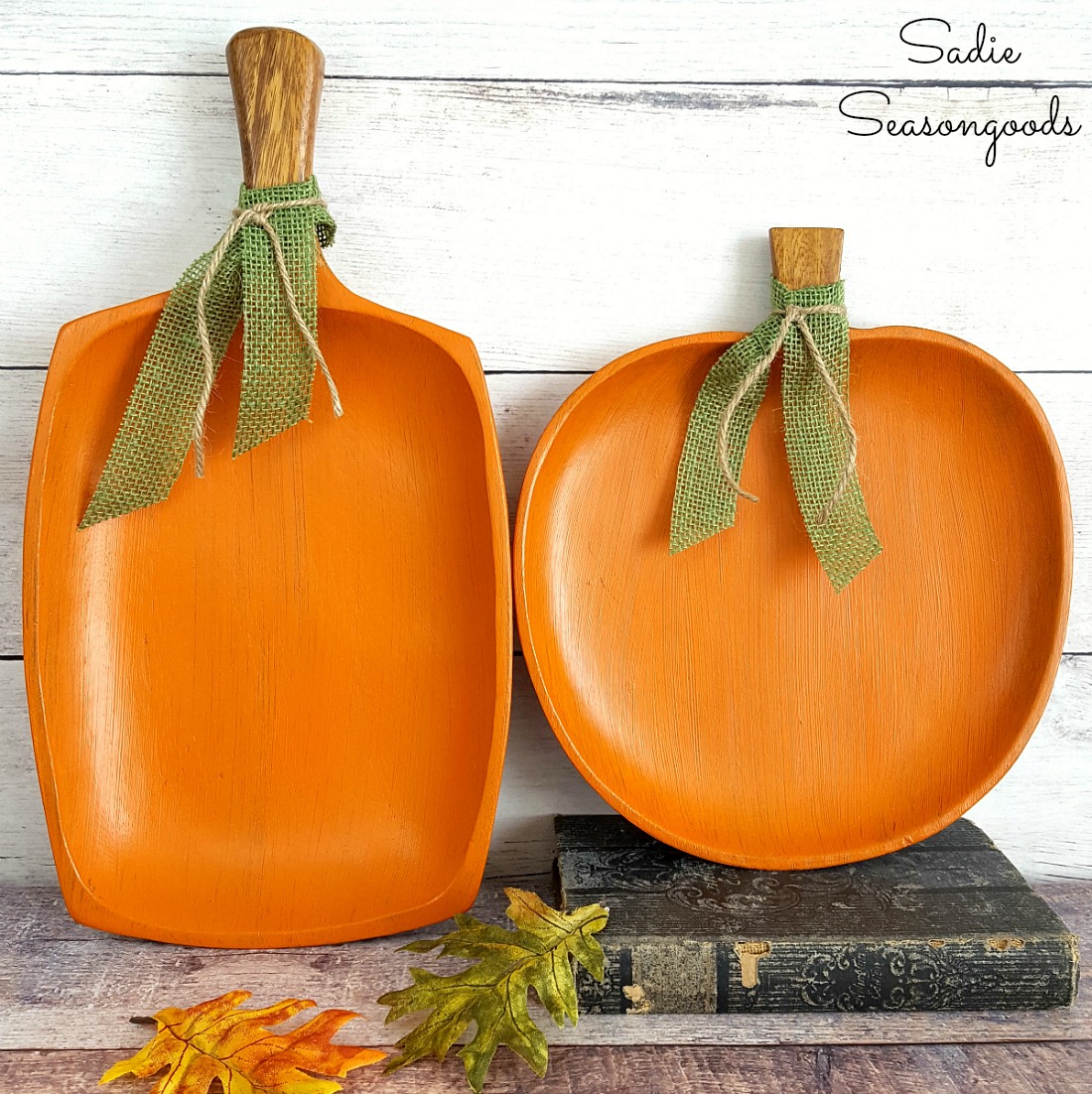 Craft on!
S
Want to be notified when I publish my next upcycling project tutorial?
Subscribe to Blog via Email
Join me on Social Media: