Normally, I never post anything "personal". It's always a tutorial, themed collection of ideas, or a thrift store decor post. But with the new year upon us, I thought I'd take a breather from the norm and talk about our new house.
So, if you want to grab a cup of coffee or tea, we can just relax and chat for a change. How does that sound?
And why am I sharing our new home with you? Well, it serves as Ground Zero for all things blog- my office, my workshop, and my studio. The blog was a big factor in selecting a house since I need certain things to make this business work. Which means that anyone who reads my blog spends a lot of time in my home, so-to-speak.
Most of 2021 was dedicated to the pursuit of buying a home in the Charlotte, NC area. And what a time in history to be buying a home- yeesh! But, we lucked out with new construction in a town just outside of Charlotte.
And we got to observe and check in on the entire process, from graded soil to turn-key home!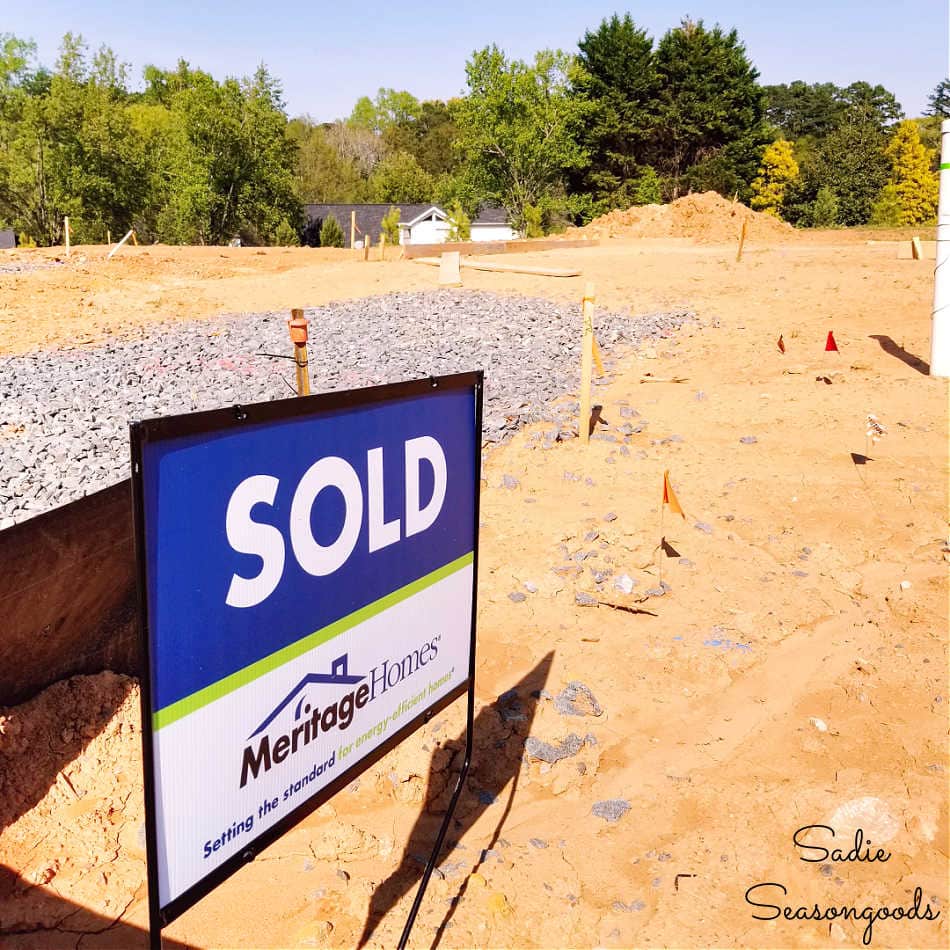 With our new house came the desire to re-furnish and re-style. Neither of us loved the vintage farmhouse look anymore (our previous style), instead gravitating towards an eclectic mid century style.
So, of course I've been thrifting and secondhand shopping with that in mind all year long!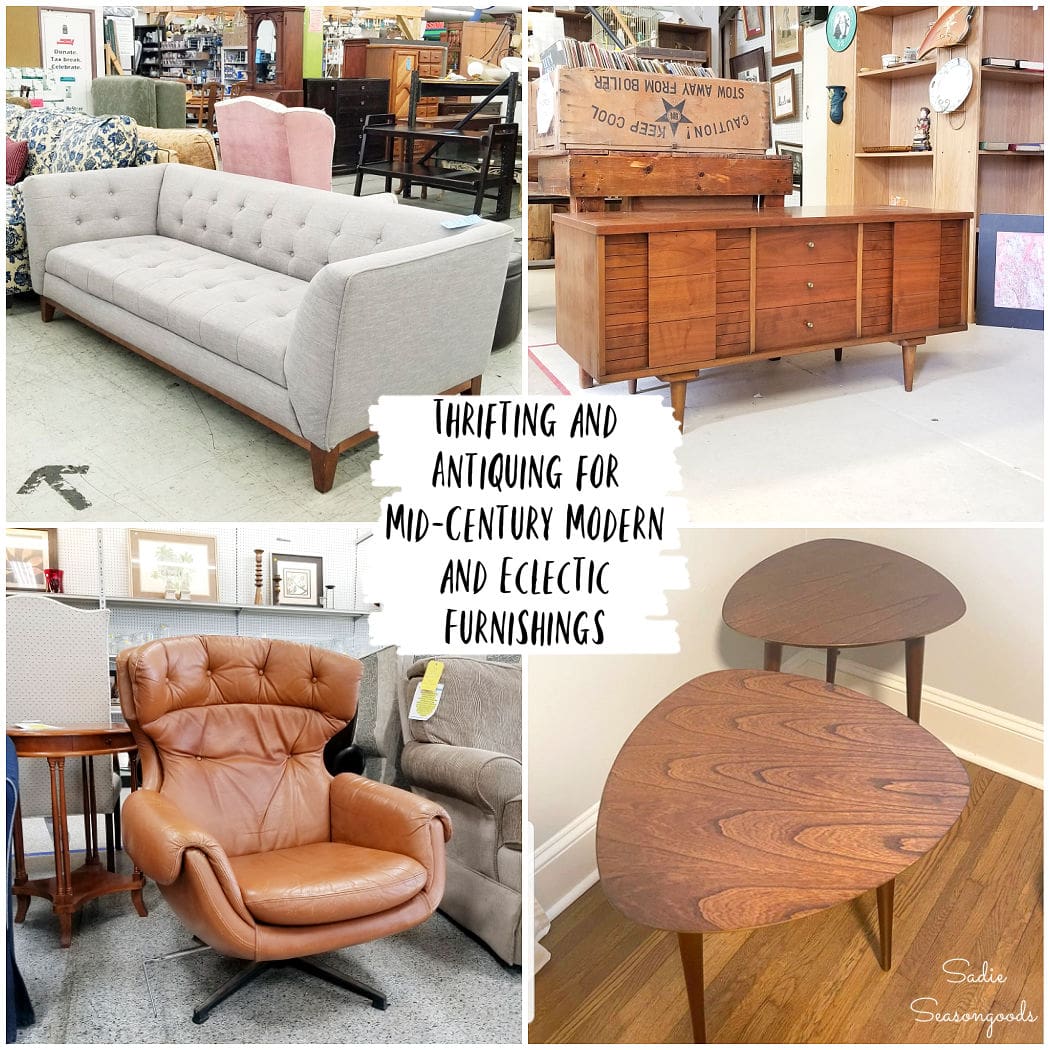 I'm excited to show you the building process and the final product. Because from here on out, any new projects I create will take place here or be inspired by our revamped decor!
This post may contain affiliate links for your shopping convenience. As an Amazon Affiliate, I earn from qualifying purchases.
Construction of the New House
When I tell you we checked on the progress of the house constantly last year, I am NOT exaggerating. It was so fun to see fresh progress nearly every time we went by.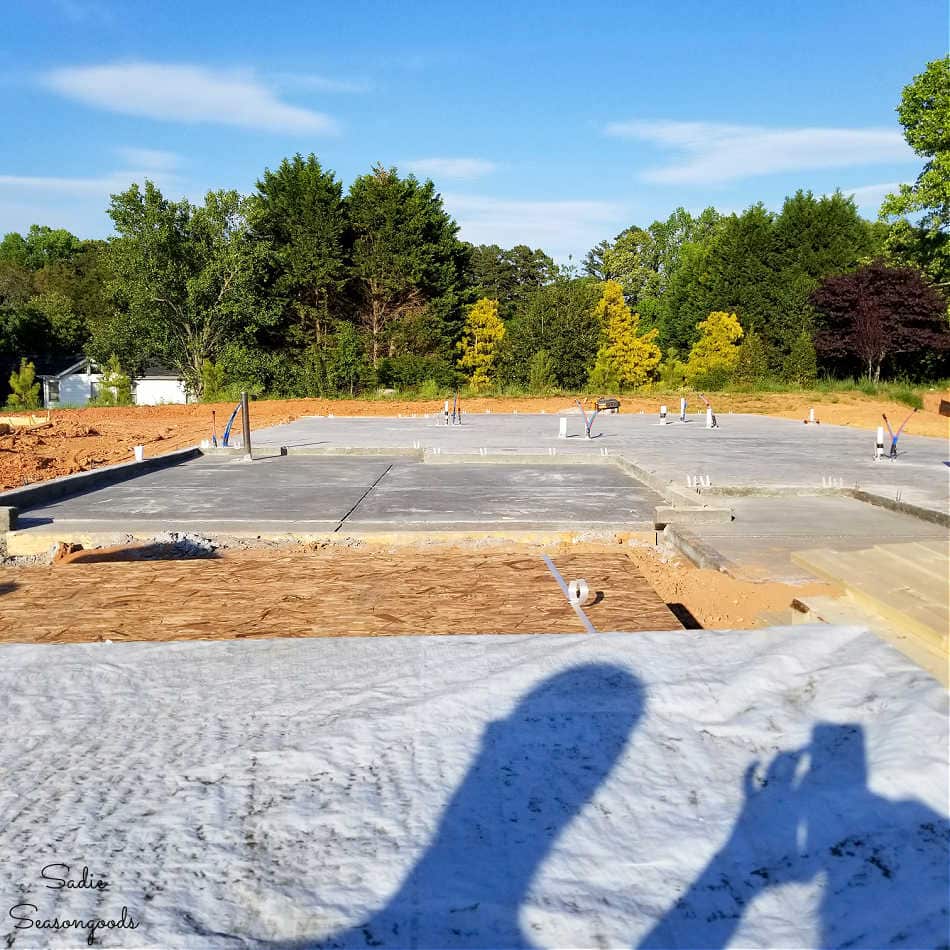 We lucked out by finding a corner lot at the back of the development. So, those trees and shrubs you see beyond the fresh slab? You'll see them again and again in the coming years whenever I take photos of spray painting projects in our backyard!
Neither of us wanted to deal with a two-story house. We'd rented one when we first moved to Charlotte in 2020 and ended up hating to deal with two floors.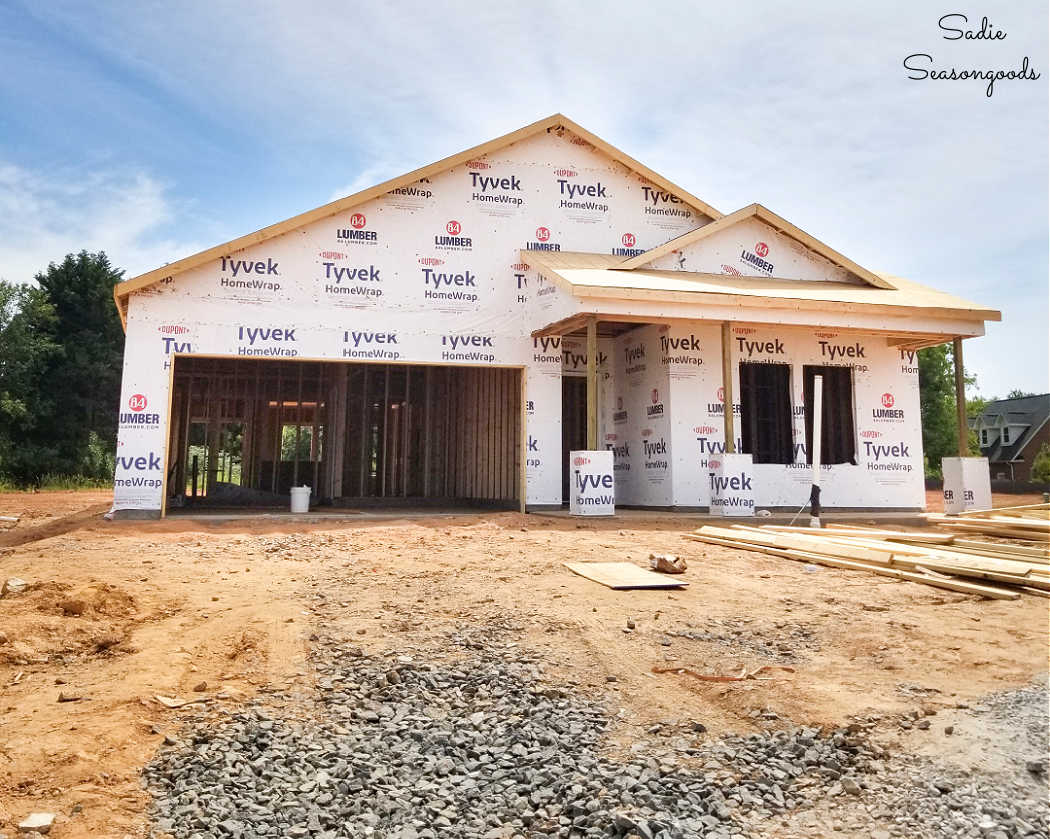 But, even though it's a ranch style home, it's large enough to comfortably house the two of us AND my business. And Cottonball, of course, but he's not nearly as picky about space.
It's not huge by any stretch! It's actually 2,100 square feet with lots of storage for all of my craft supplies and photo "props" (i.e., bottles and vintage things you see in my project photos).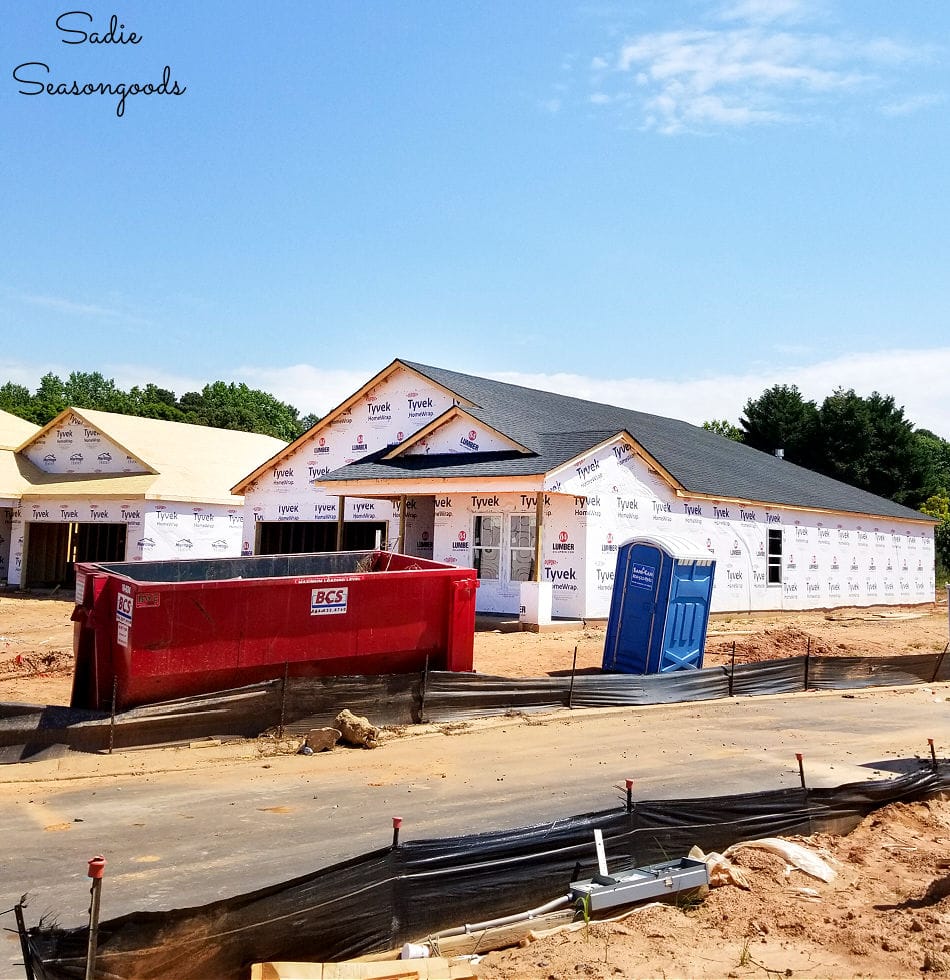 Someday, I'll forget that there was once a severely tilted porta-potty on our property. I mean, yikes- can you even imagine the fear of that tipping over while you're inside??
ANYWAY.
Once the house was ready for drywall, we brought in a third-party inspector to make sure the frame and slab were good to go. This was what the house looked like for that first inspection.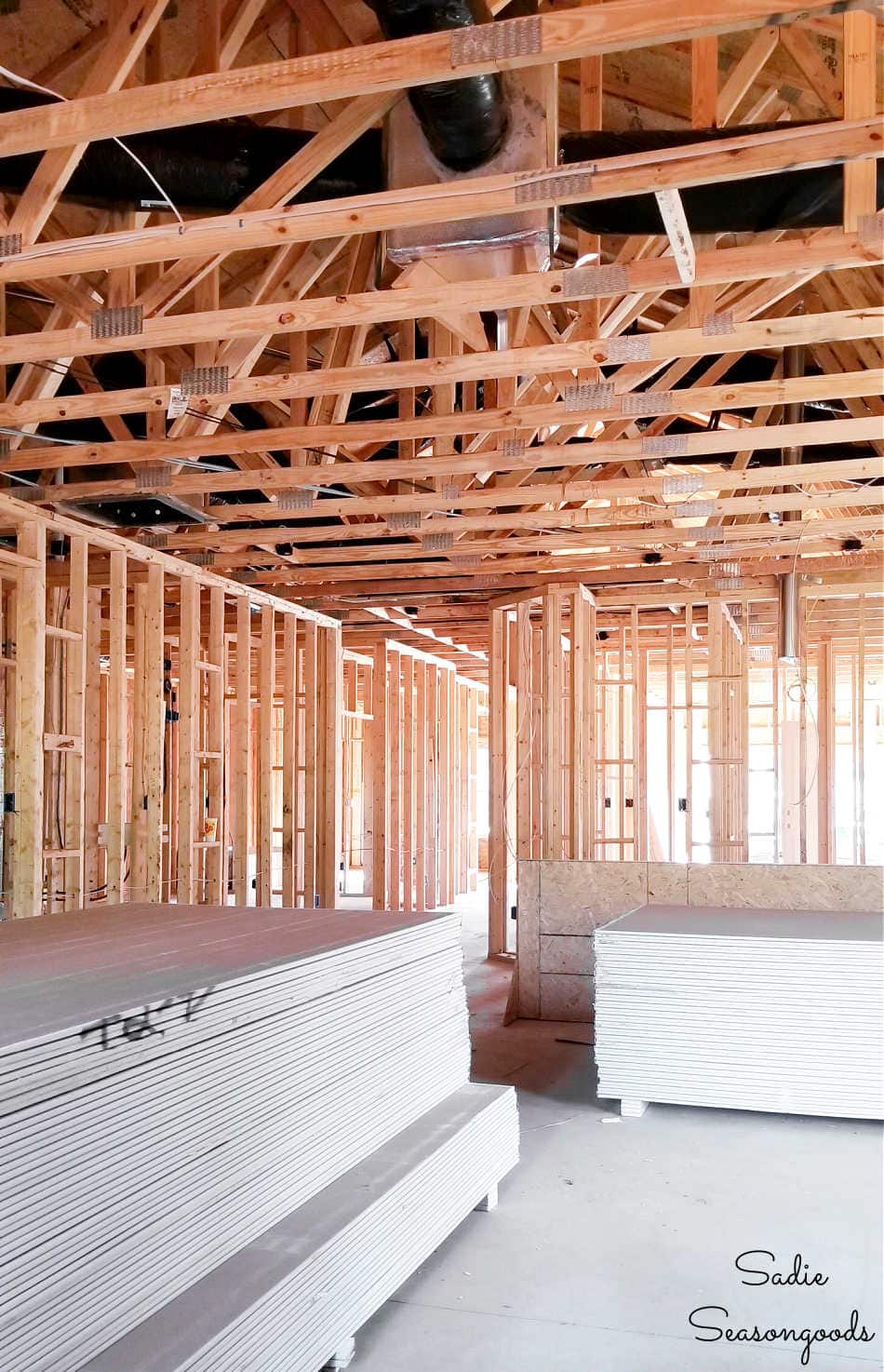 Finishing the Build
After that, the house was fully insulated and drywalled. It FINALLY started to look like an actual house and not just a construction site!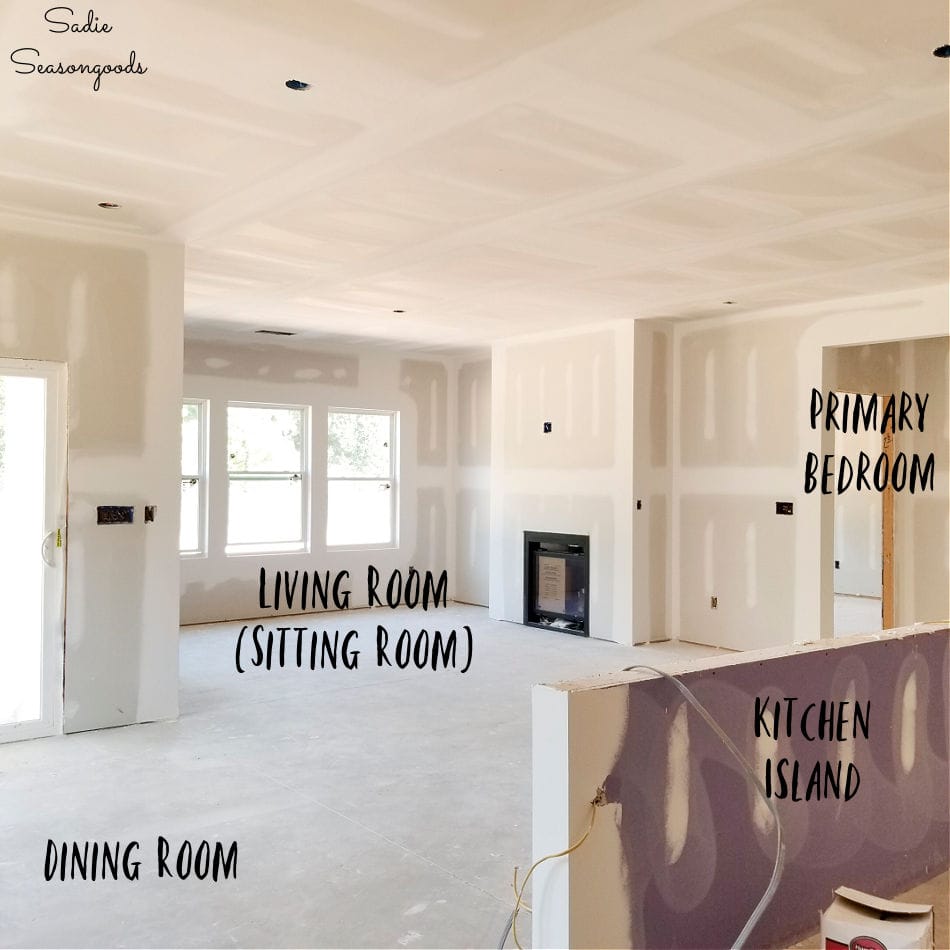 As the interior of the house was coming together and getting initial coats of paint, the exterior stonework was underway.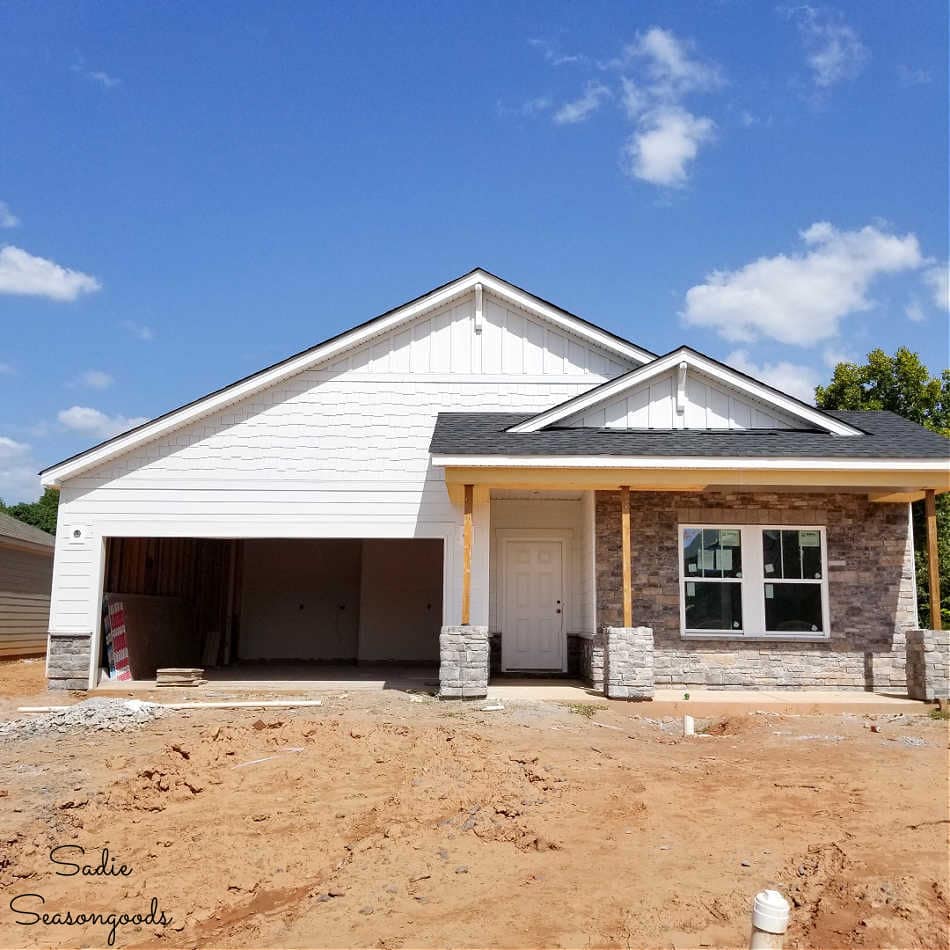 I love the stone facade so much and can't wait to create planters and other yard projects for the front of the house!
Once the cabinets were installed, we knew the end was in sight. For our builder, that was the telltale sign that everything was falling into place.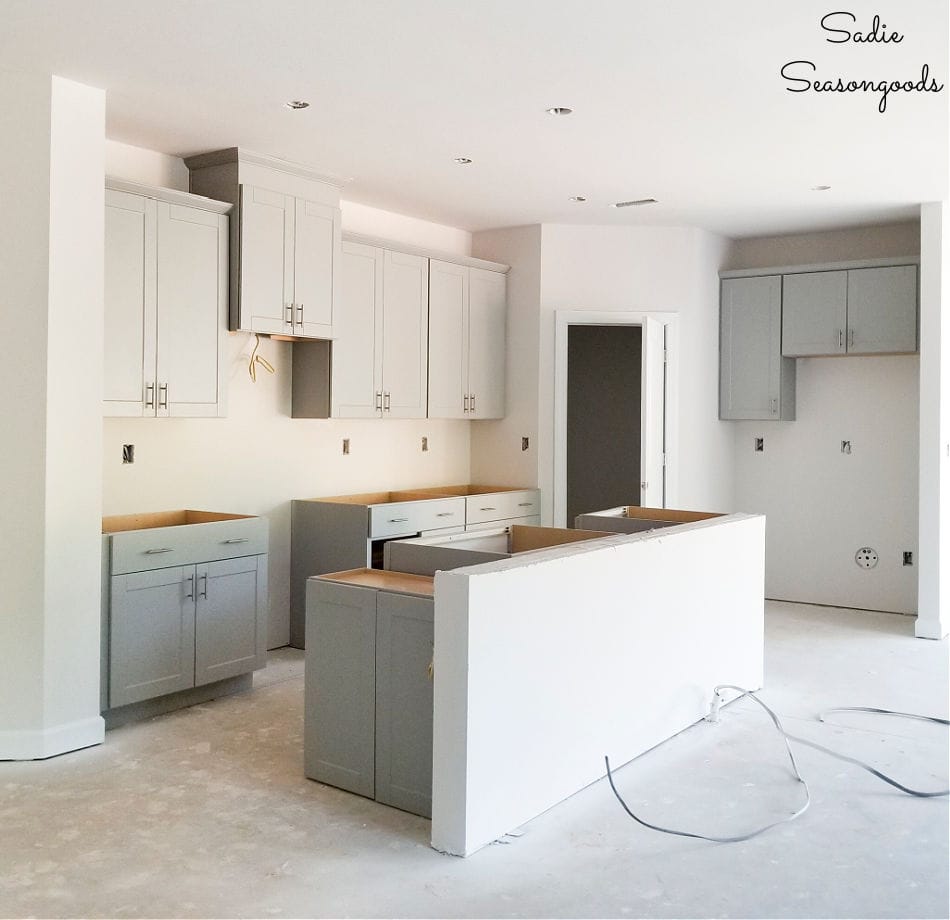 Following a second third-party inspection (to ensure that our electric, gas, and water was working perfectly, etc.), we closed on the house just before Thanksgiving.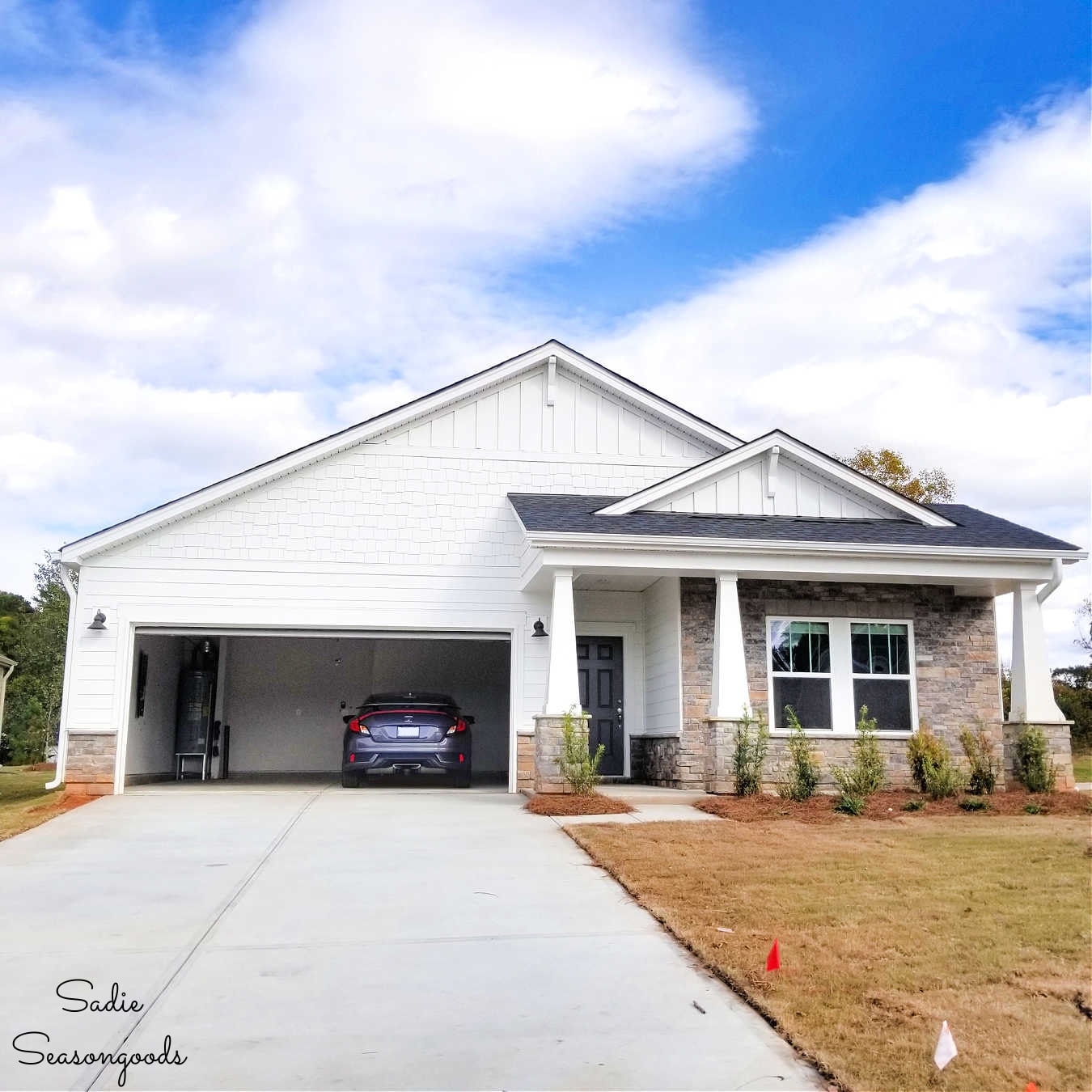 Welcome to Our New House!
Now that you've seen the construction process, I'd love to show you the inside! I also wanted to share that I didn't pick out the color combinations or surfaces. Each house in our neighborhood is theoretically a "spec" house and home owners don't choose paint colors or finishes.
But the cool-toned grey and white interior design is just the canvas we wanted for our mid-mod decor plans. And it also photographs really well for future projects!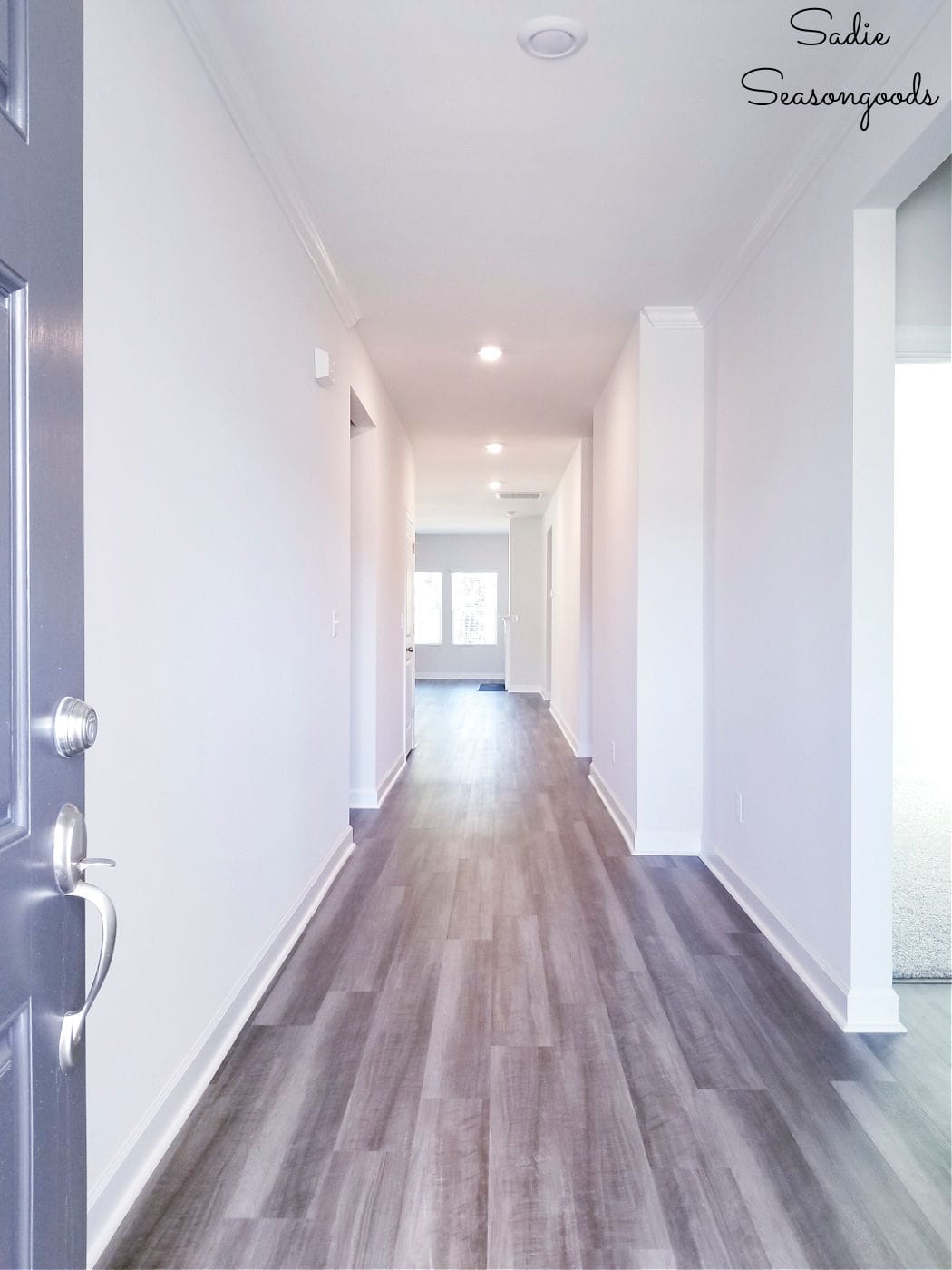 Effectively, the house has: three bedrooms (one primary, which is ours, and a Jack-and-Jill set that will both be used as home offices); one "flex" room which will be our TV room/den; open kitchen; dining room; living room (which will be used for lots of final project photos, I'm sure); and a laundry room, powder room, and assorted closets.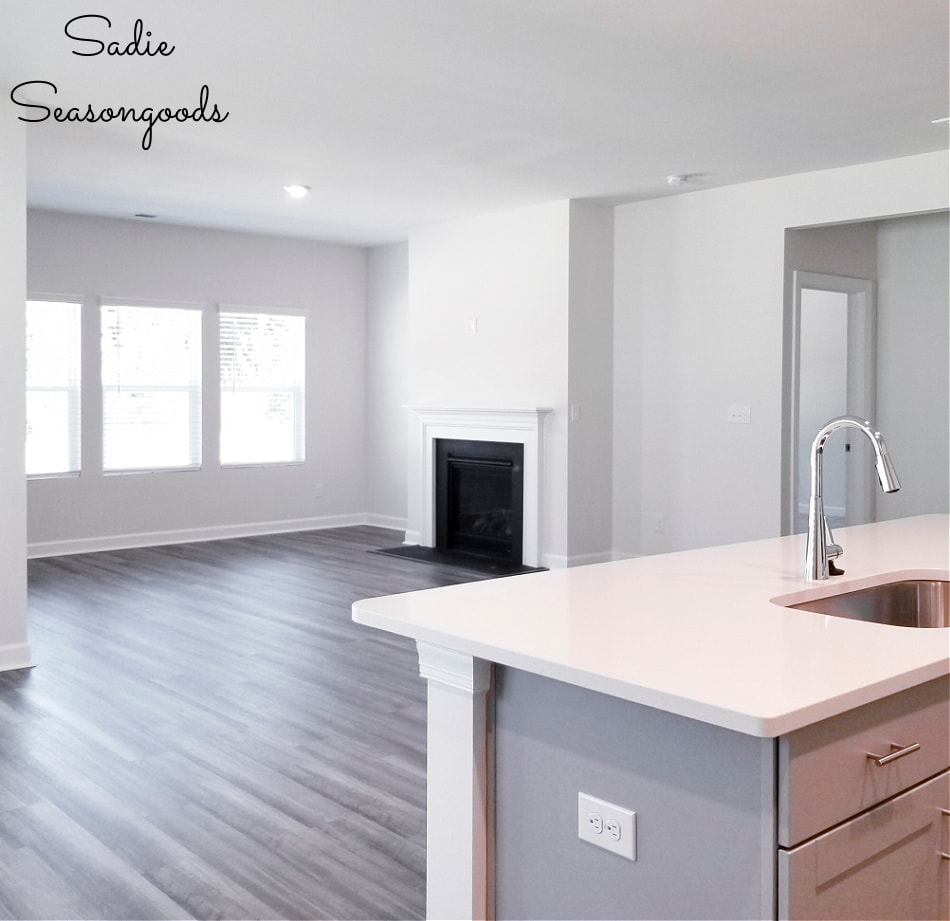 The floors are a weathered grey (PERFECT for overhead or flat lay photos); all cabinets and tile are light grey; counters are white quartz; and the walls are a cool cream color ("City Loft" by Sherwin Williams).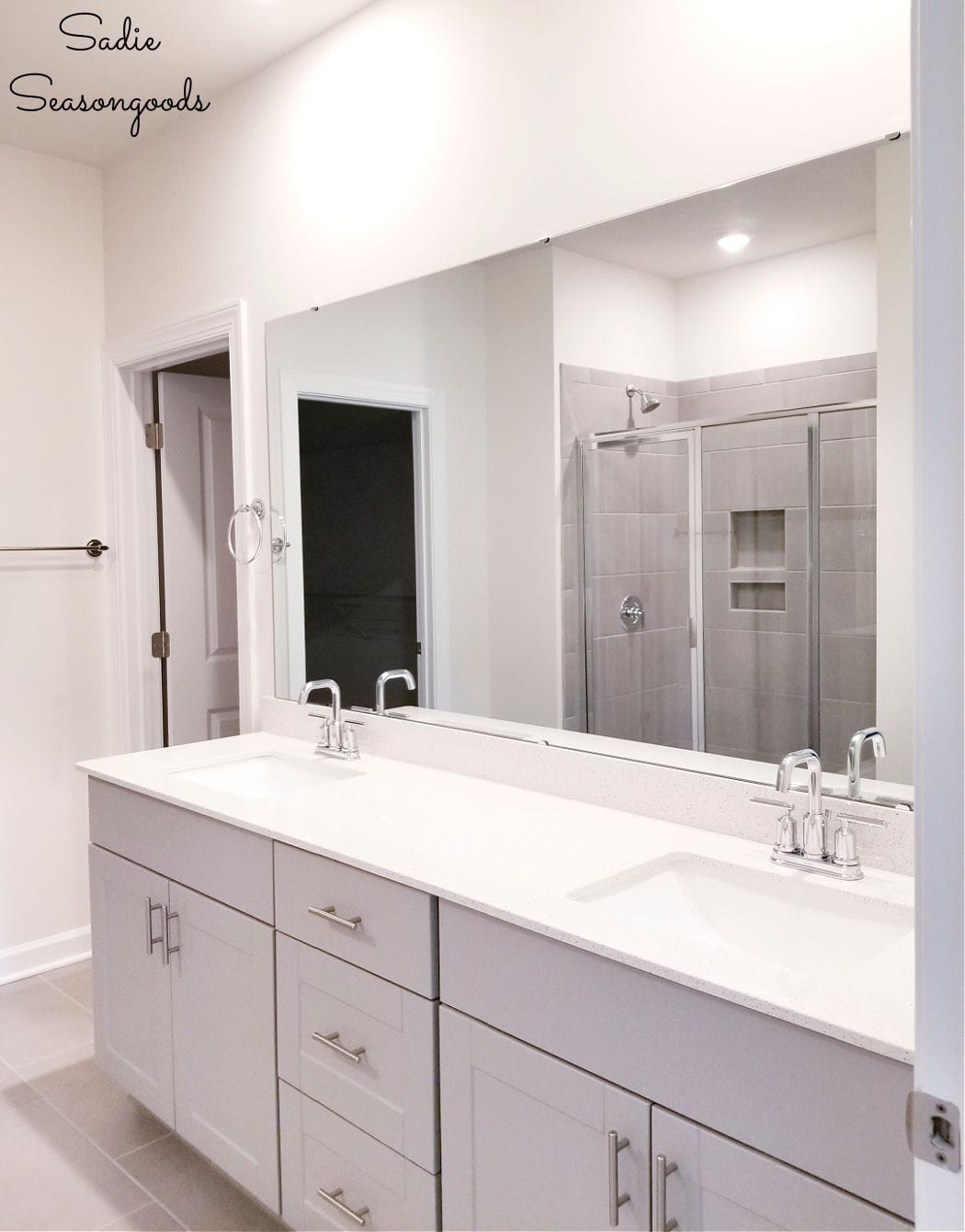 Plus, the kitchen has a huge island which will be perfect if I ever pull the trigger on doing overhead DIY videos! I never had the proper set up for that before.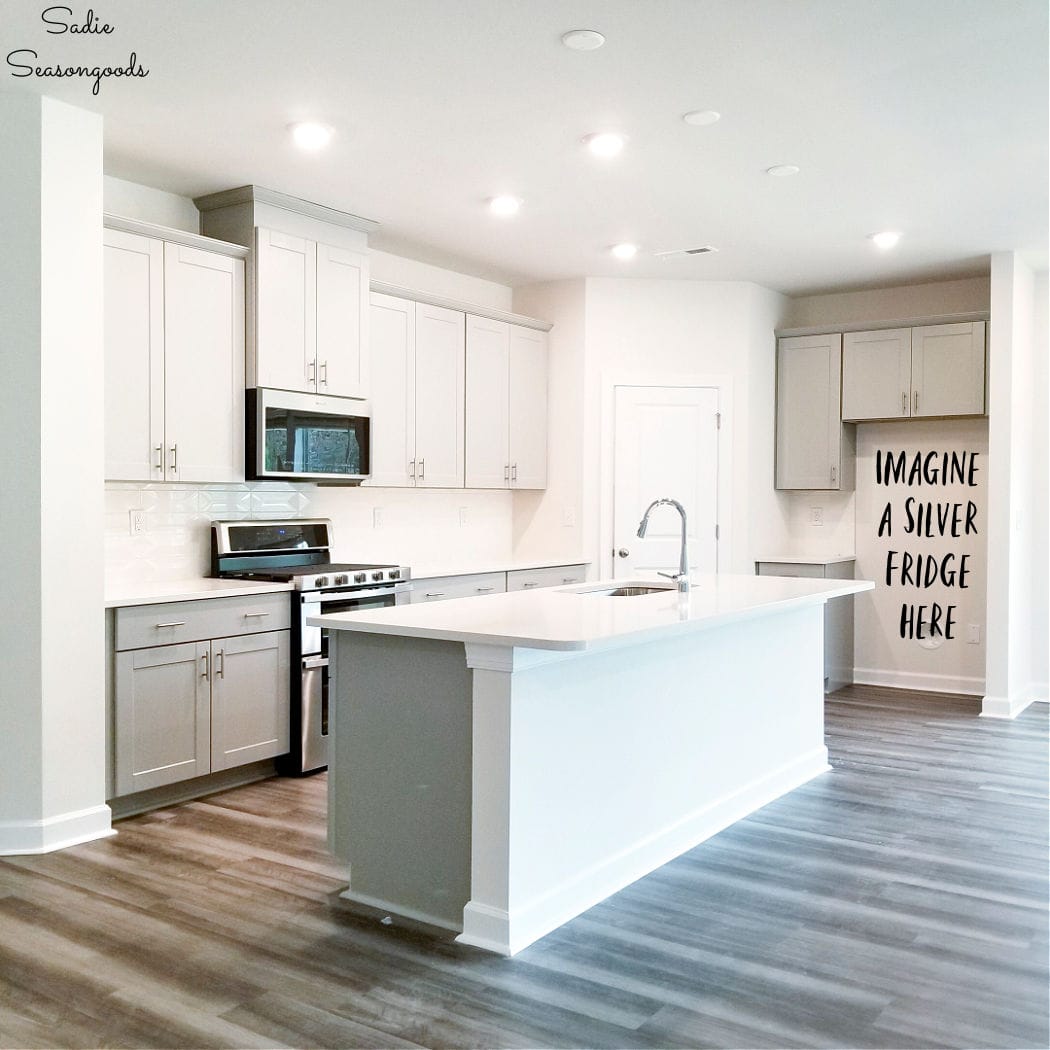 The living room will be the decor "star" of the show, so-to-speak. I've been wanting a sitting room (without a TV!) for a long time- both for having friends over and as a photography space.
So, all of the furniture I hinted at in the beginning of this post will be in the living room. I still have a few pieces to find, but I'm not rushing it. Curating a secondhand home (even with a few new pieces thrown in) takes time and patience!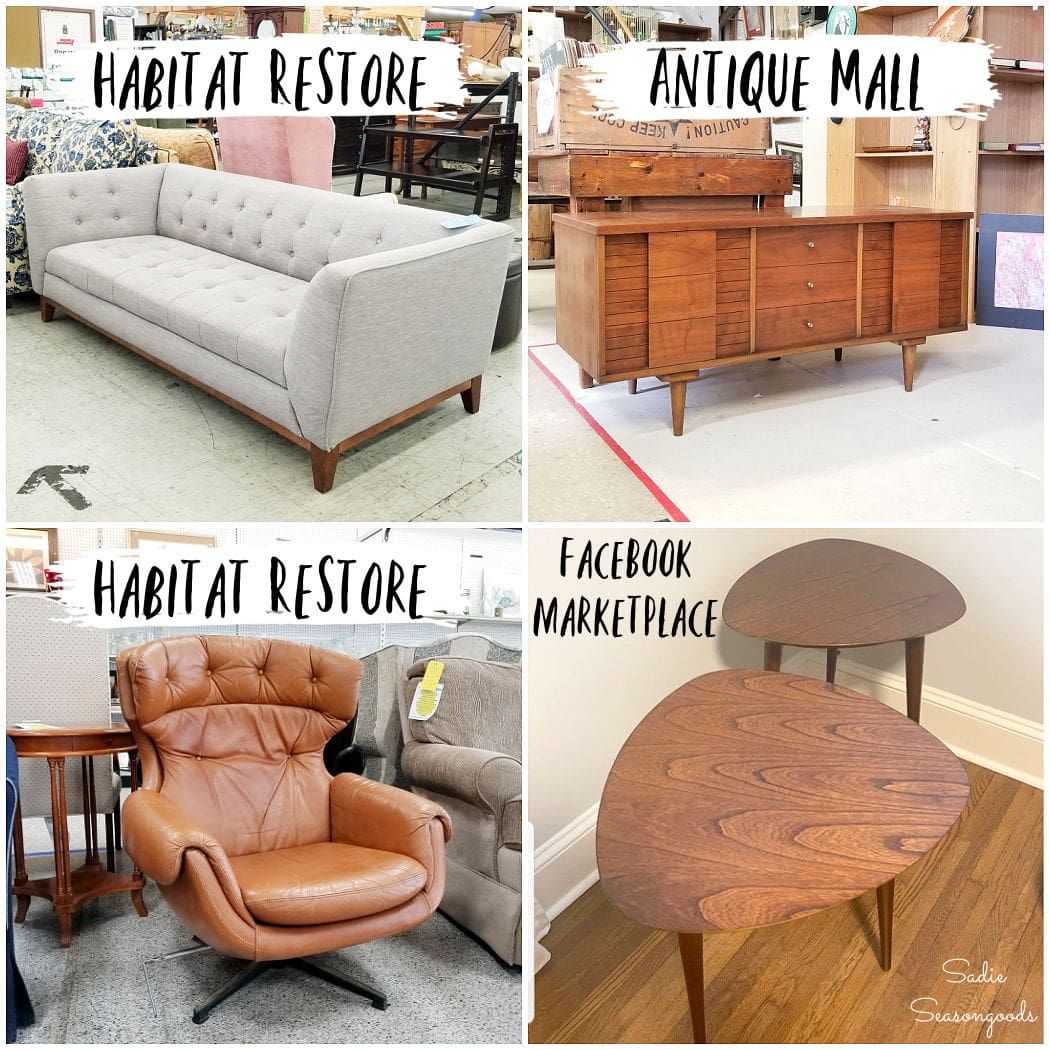 I plan on doing a full living room "tour" post when I've found everything I want/need. But until then, I hope you enjoy a few small sneak peek photos AND this thrifting post that I just published recently.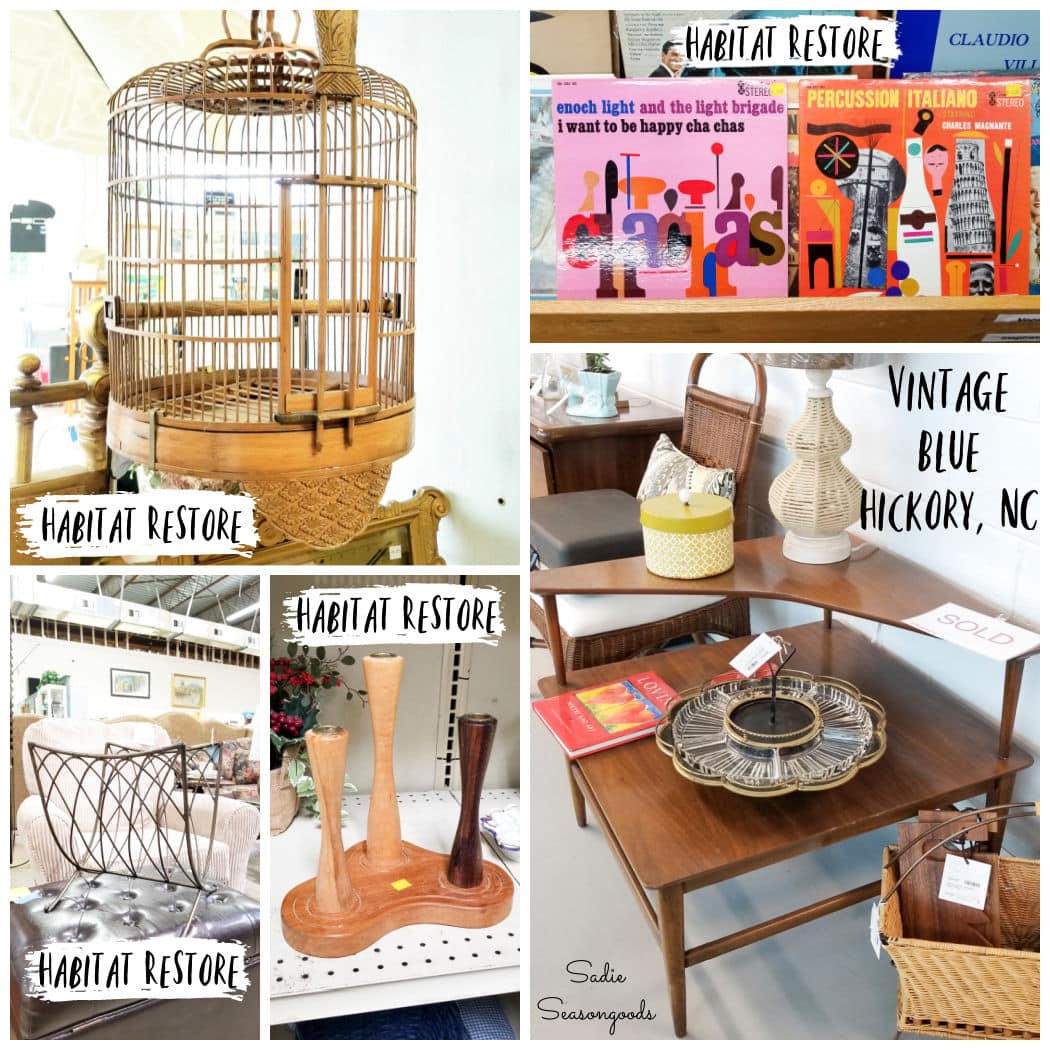 I hope you've enjoyed this (very brief) departure from my normal blog post. Whether you realize it or not, if you spend any time reading my blog, then you spend quite a bit of time in my home! And for the first time in my eight years of blogging, I have a home that is bright, easy to photograph, and chosen with the blogging life in mind.
Thank you for spending a bit of your day with me! I promise to bring you new upcycling projects soon.
Craft on!
S
Want to be notified when I publish my next upcycling project tutorial?
Subscribe to Blog via Email
Join me on Social Media:
Sarah Ramberg is the owner of Sadie Seasongoods, a website that celebrates all things secondhand. From upcycling ideas and thrifted decor to vintage-centric travel itineraries, Sadie Seasongoods is a one-stop shop for anyone who loves thrifting and approachable repurposing ideas. Sarah is also the author of "Crafting with Flannel" and has been featured in numerous media outlets and magazines.