Can you believe that we're well into December already? The countdown to Christmas is officially ON! And while I love the holidays, I know how wasteful they can be. So, when I found this selection of sewing pattern paper or vintage sewing patterns at Goodwill, I had a thought. Could I use the pattern paper as Christmas gift wrap?
I've done project posts on "thrifty gifts" before…but what about thrifty gift wrap? In other words… Thrift Wrap.
And with farmhouse Christmas or rustic Christmas decor all the rage, I figured that the neutral colors of sewing pattern paper would fit right in. As I played around with the vintage sewing patterns, I ended up with THREE Christmas gift wrap ideas.
This post contains affiliate links for your crafting convenience. As an Amazon Affiliate, I earn from qualifying purchases.
Sewing Pattern Paper as Christmas Gift Wrap for Christmas Crackers
My first upcycling idea for the sewing pattern paper was to make some Christmas crackers. To make them, I gathered some cardboard tubes (from paper towel rolls, etc.) and a few sheets of pattern paper.
I also nabbed some red and white baker's twine, which would add just a touch of festive color to the Christmas gift wrap.
I cut out a rectangle of pattern paper, rolled my cardboard tube in it, and twisted ends of the tissue that went past the end of the tube.
Kind of like the wrapper from a piece of hard candy.
Finally, I used the red and white baker's twine to tie off the ends before trimming off excess sewing pattern paper.
And that was it – my first Christmas gift wrap idea with vintage sewing patterns was done!
Of course, they won't "pop" when you open them (like a real Christmas cracker). But this idea for Christmas gift wrap with sewing pattern paper is perfect for small trinket gifts or stocking stuffers!
Christmas Gift Wrap for under a Farmhouse Christmas Tree
Next, I decided to use a plain brown gift bag with the sewing pattern paper. To do this, I gathered a rubber stamp (a Christmas tree, in my case- but anything Christmas-y would do) and white ink.
In retrospect, I should have selected a different color of stamping pad – brown, dark green, or black.
I stamped trees across the kraft paper gift bag – the possibilities for decorating these is endless!
After the ink dried, I used the sewing pattern paper and plain white tissue to stuff it with. With a little green burlap bow at the handle, I was all set.
I love how it turned out – it was the perfect Christmas gift wrap for a farmhouse Christmas or rustic Christmas.
And last but not least, my final idea for using the sewing pattern paper as Christmas gift wrap. I simply wrapped cardboard boxes with a layer or two of the pattern paper, finishing with festive ribbons and bows.
My boxes were already brown/beige, which worked well under the sewing pattern paper. Other colors may require a double layer of pattern paper, but you'll get plenty of it in a single packet- so no worries there!
Christmas Gift Wrap for a Rustic Christmas with Sewing Pattern Paper
And just like that, I had three different ways to use the sewing pattern paper as Christmas gift wrap!
Each one was different – but wonderful – and simply perfect to place under a farmhouse Christmas tree.
And here's a bonus idea for eco-friendly Christmas gift wrap: Use a reusable grocery tote bag into a festive gift bag!
Especially if your supermarket offers holiday-themed market bags at Christmas time.
It is truly a gift within a gift…cheaper than the paper gift bags, and reusable all year long!
If you enjoyed these upcycling ideas for a farmhouse Christmas, then you'll love this front porch Christmas decoration with a wooden sled!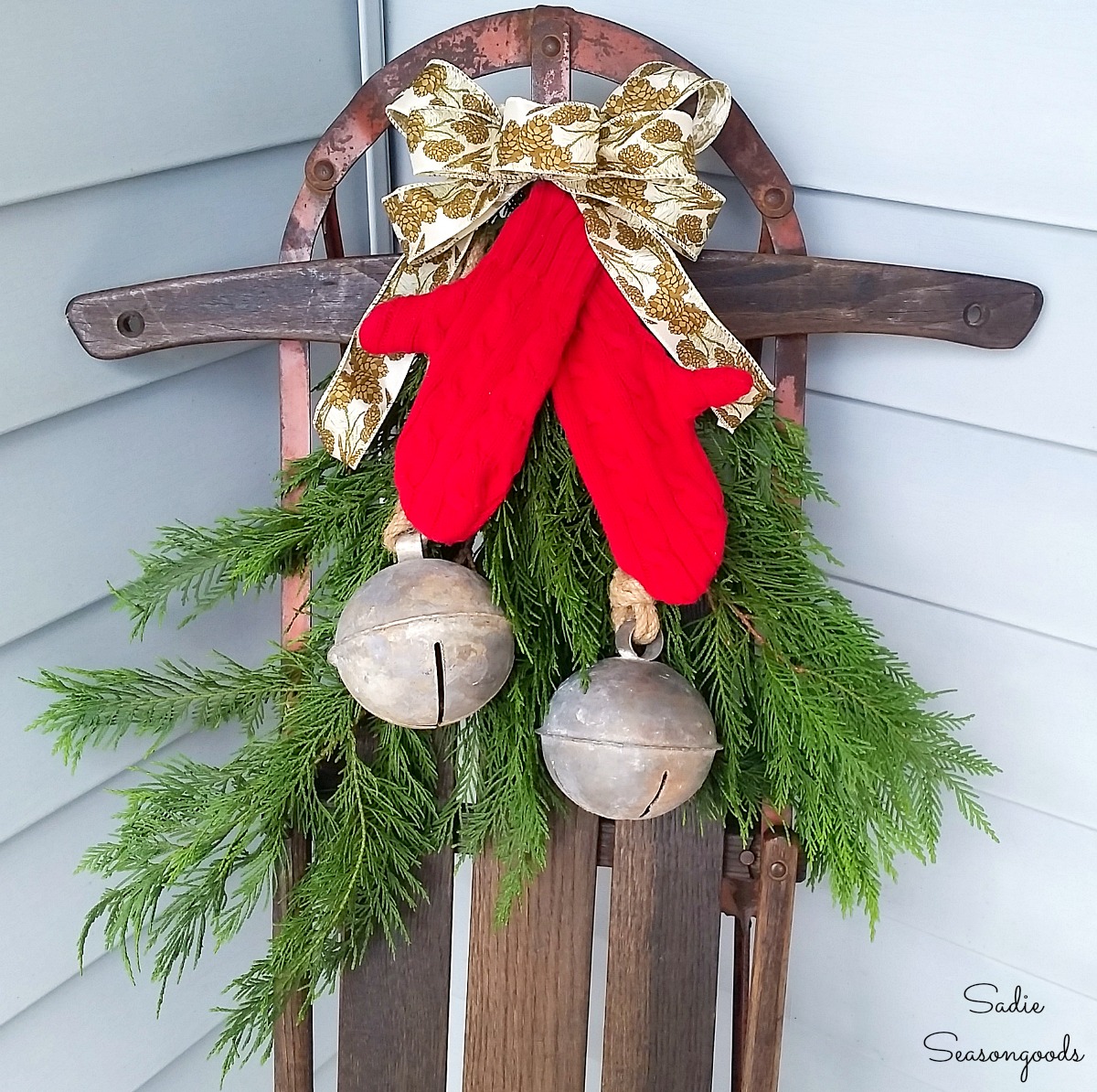 Craft on!
S
Want to be notified when I publish my next upcycling project tutorial?
Subscribe to Blog via Email
Join me on Social Media: