The countdown to Christmas is officially ON! And while I love the holidays, I know how wasteful they can be. So, when I found this selection of vintage sewing patterns at Goodwill, I had a thought. Could I use them as sustainable gift wrapping?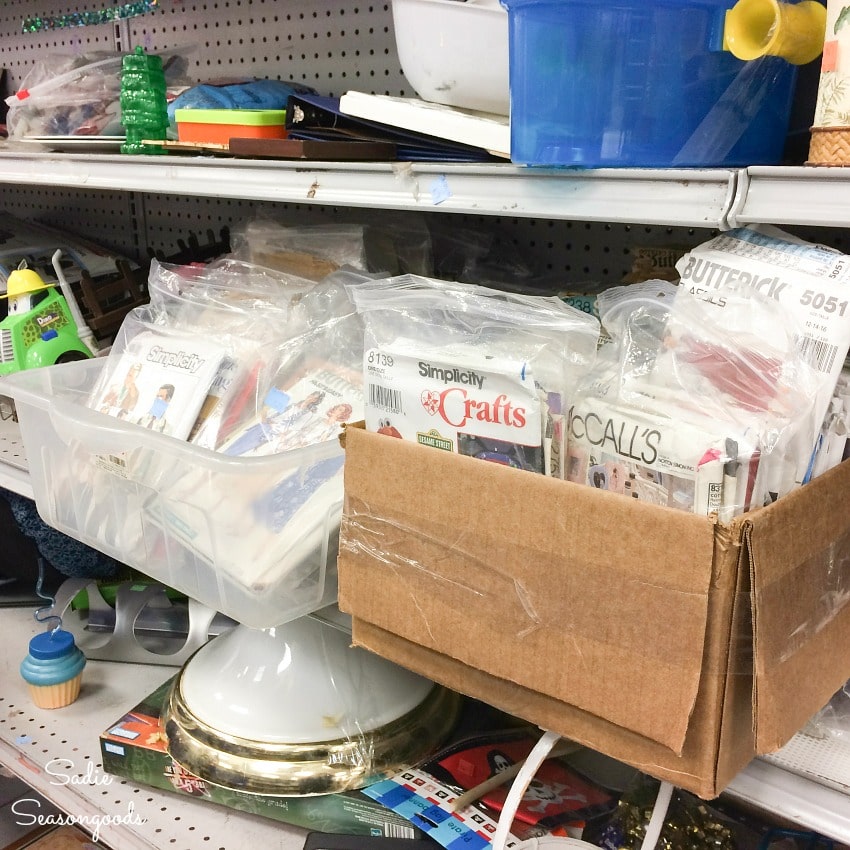 I've done project posts on "thrifty gifts" before…but what about thrifty gift wrap? In other words- Thrift Wrap.
As I played around with the vintage sewing patterns, I ended up with THREE ideas for sustainable gift wrapping using them.
AND I realized that I had another eco-friendly gift wrap idea lurking around, as well. With a reusable shopping bag!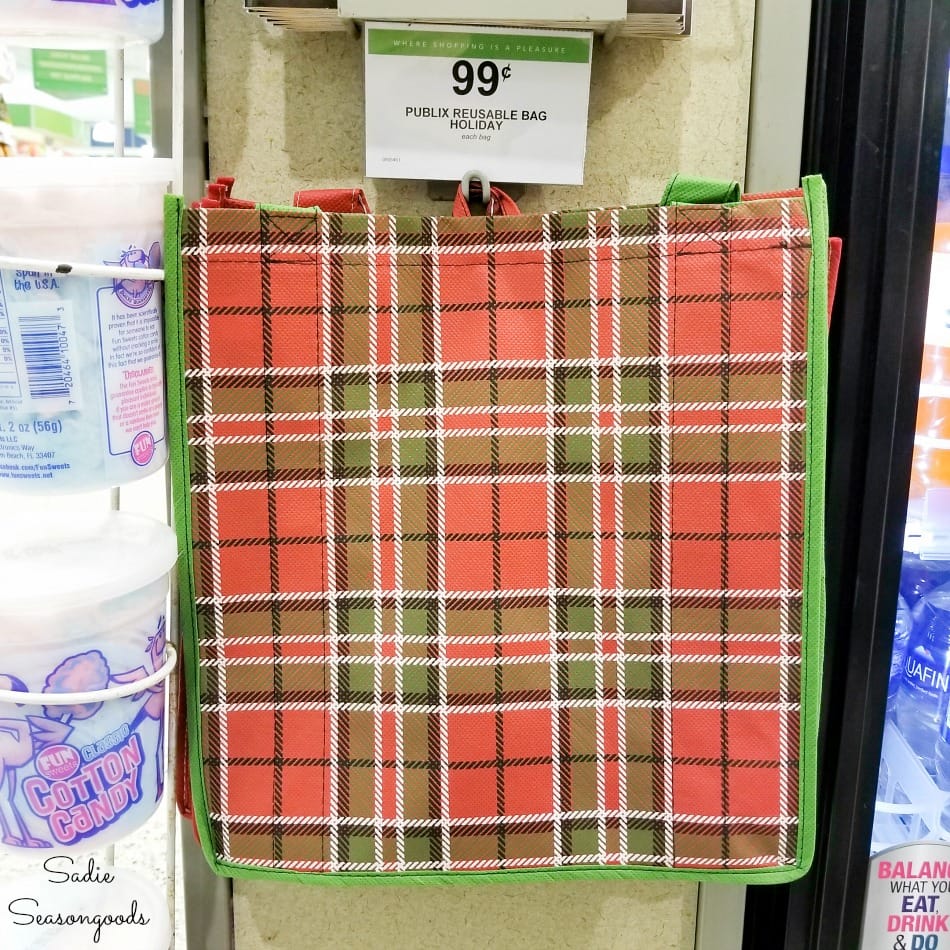 This post contains affiliate links for your crafting convenience. As an Amazon Affiliate, I earn from qualifying purchases. All blue, bold, and underlined text is a clickable link, either to a product or to a related post.
Ideas for Sustainable Gift Wrapping
My first upcycling idea for the vintage sewing patterns was to make some eco friendly Christmas crackers.
First, I gathered some cardboard tubes (from paper towel rolls, etc.) and a few sheets of pattern paper.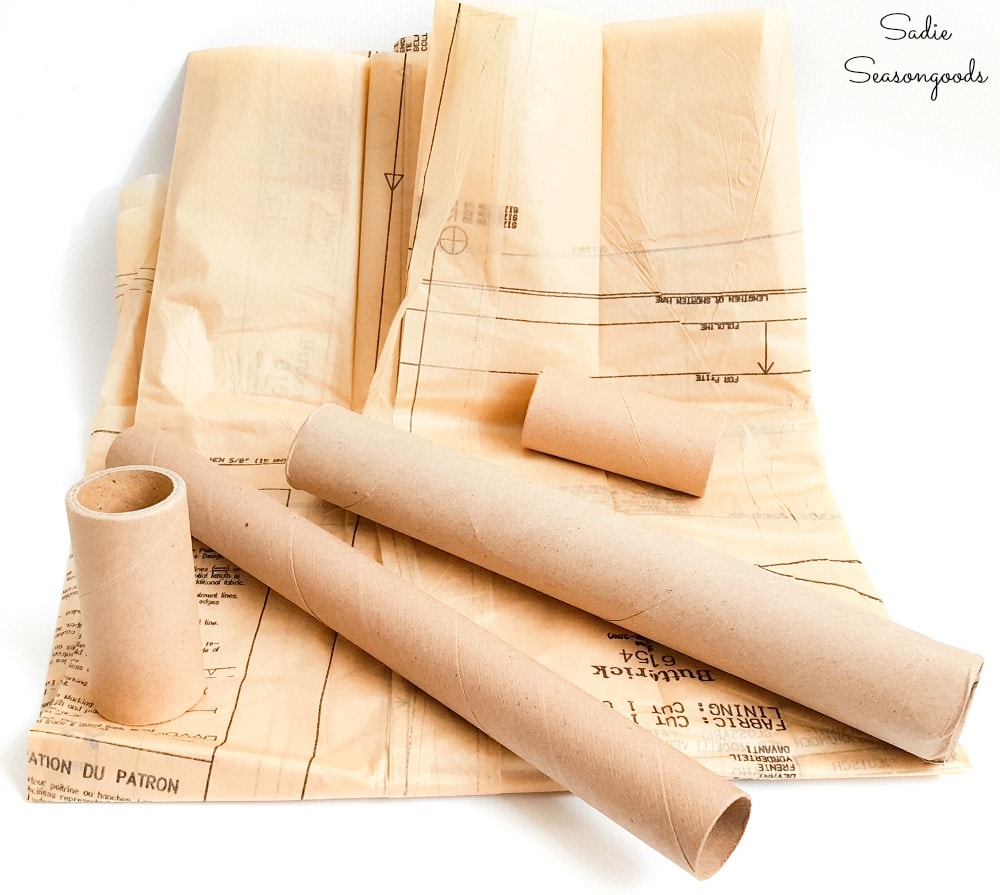 I also nabbed some red and white baker's twine, which would add just a touch of festive color to my eco friendly Christmas crackers.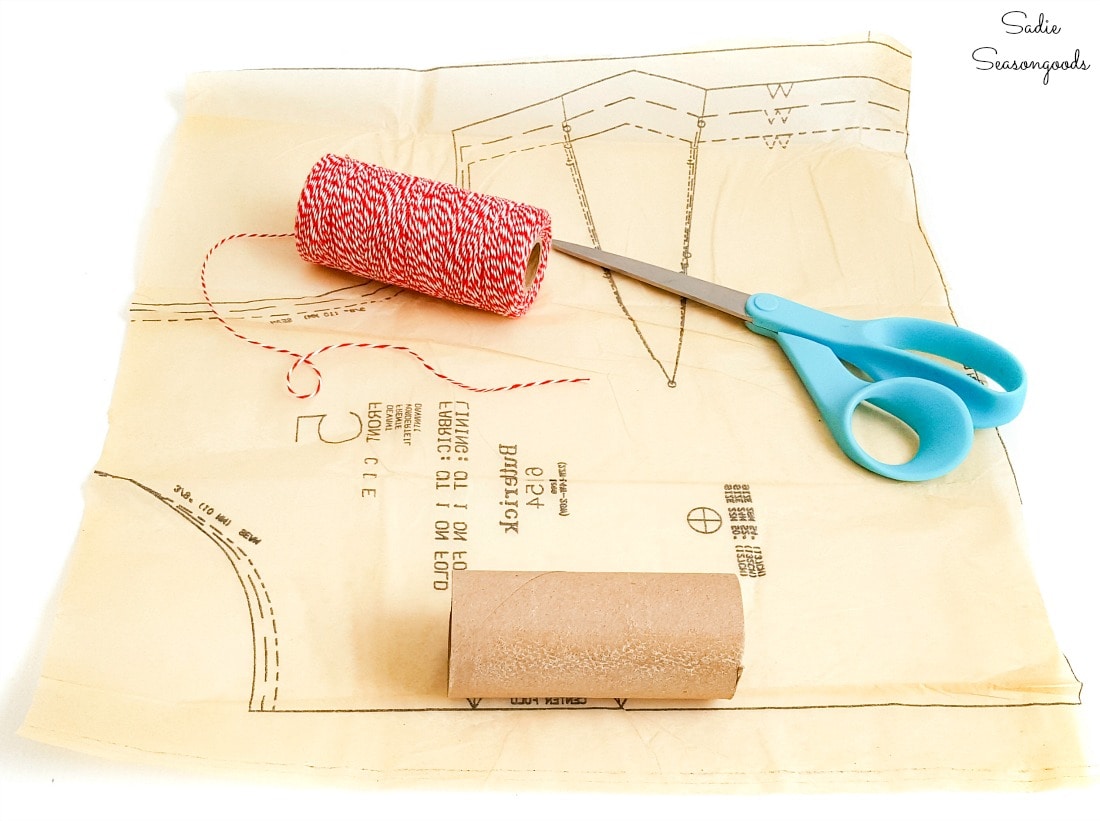 First, I cut out a rectangle of pattern paper, rolled my cardboard tube in it, and twisted ends of the tissue that went past the end of the tube.
Kind of like the wrapper from a piece of hard candy.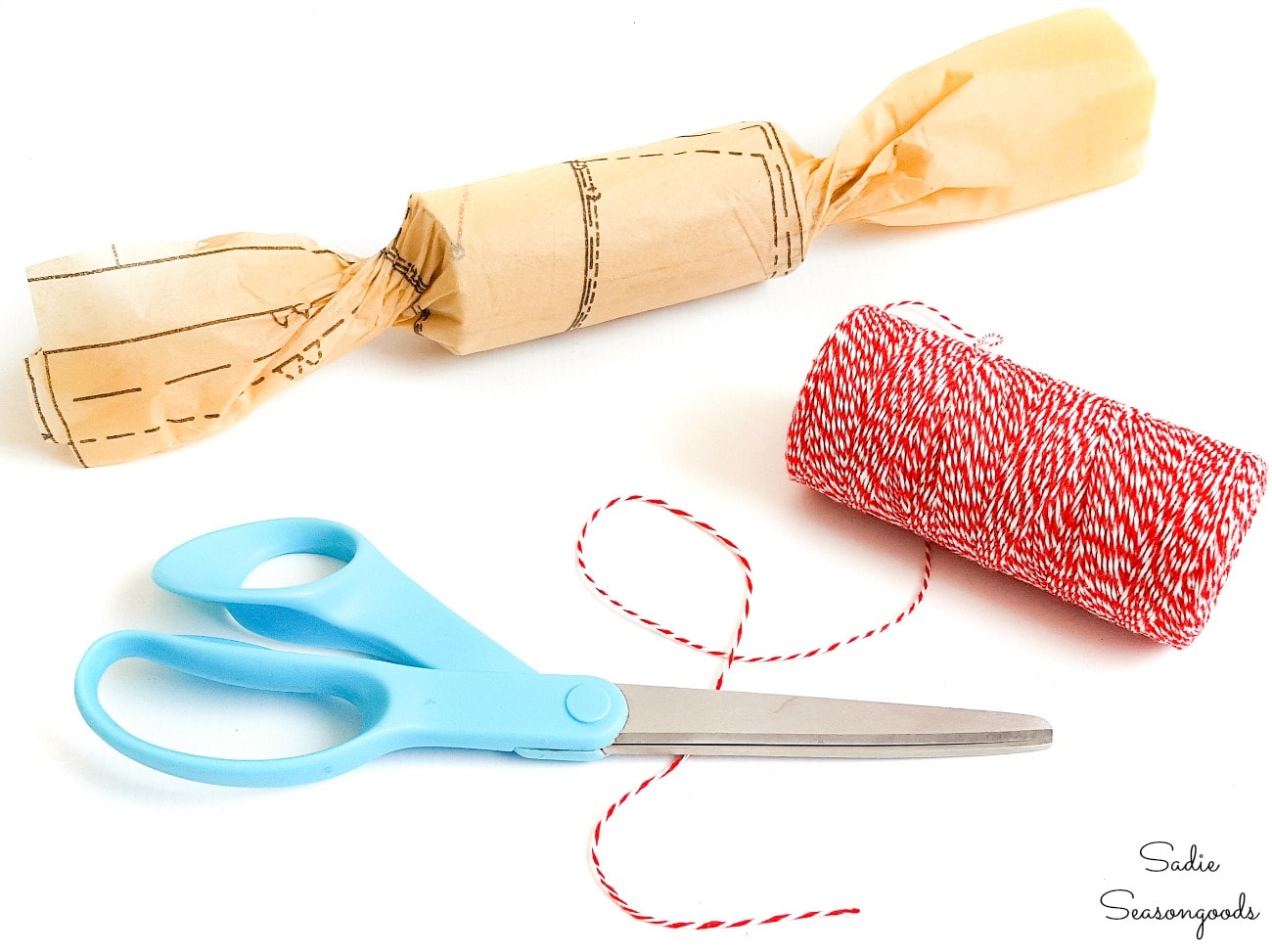 Finally, I used the red and white baker's twine to tie off the ends before trimming off excess sewing pattern paper.
Next, I decided to pair up a plain brown gift bag with the sewing pattern paper. To do this, I gathered a rubber stamp (a Christmas tree, in my case- but anything Christmas-y would do) and white ink.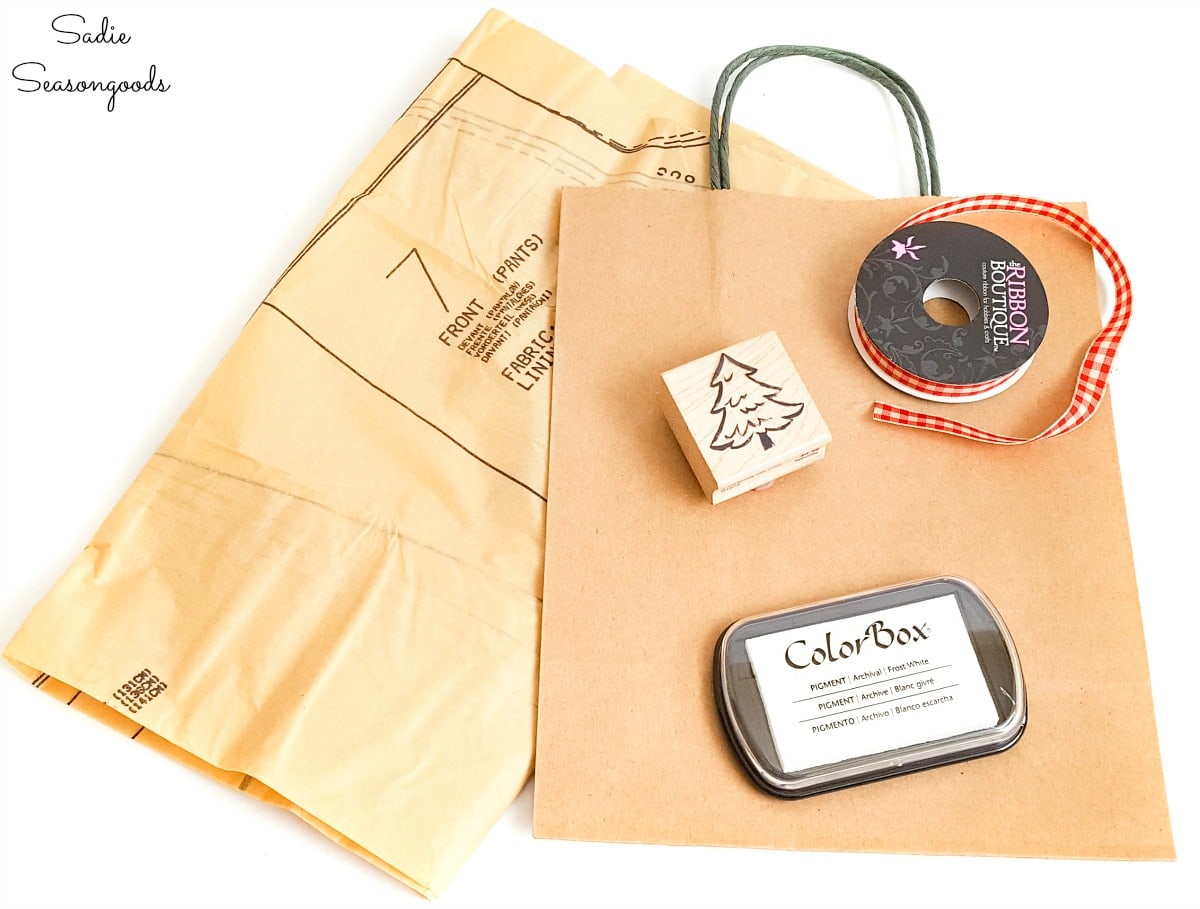 In retrospect, I should have selected a different color of stamping pad – brown, dark green, or black.
Then, I simply stamped trees across the kraft paper gift bag. The possibilities for decorating these are endless!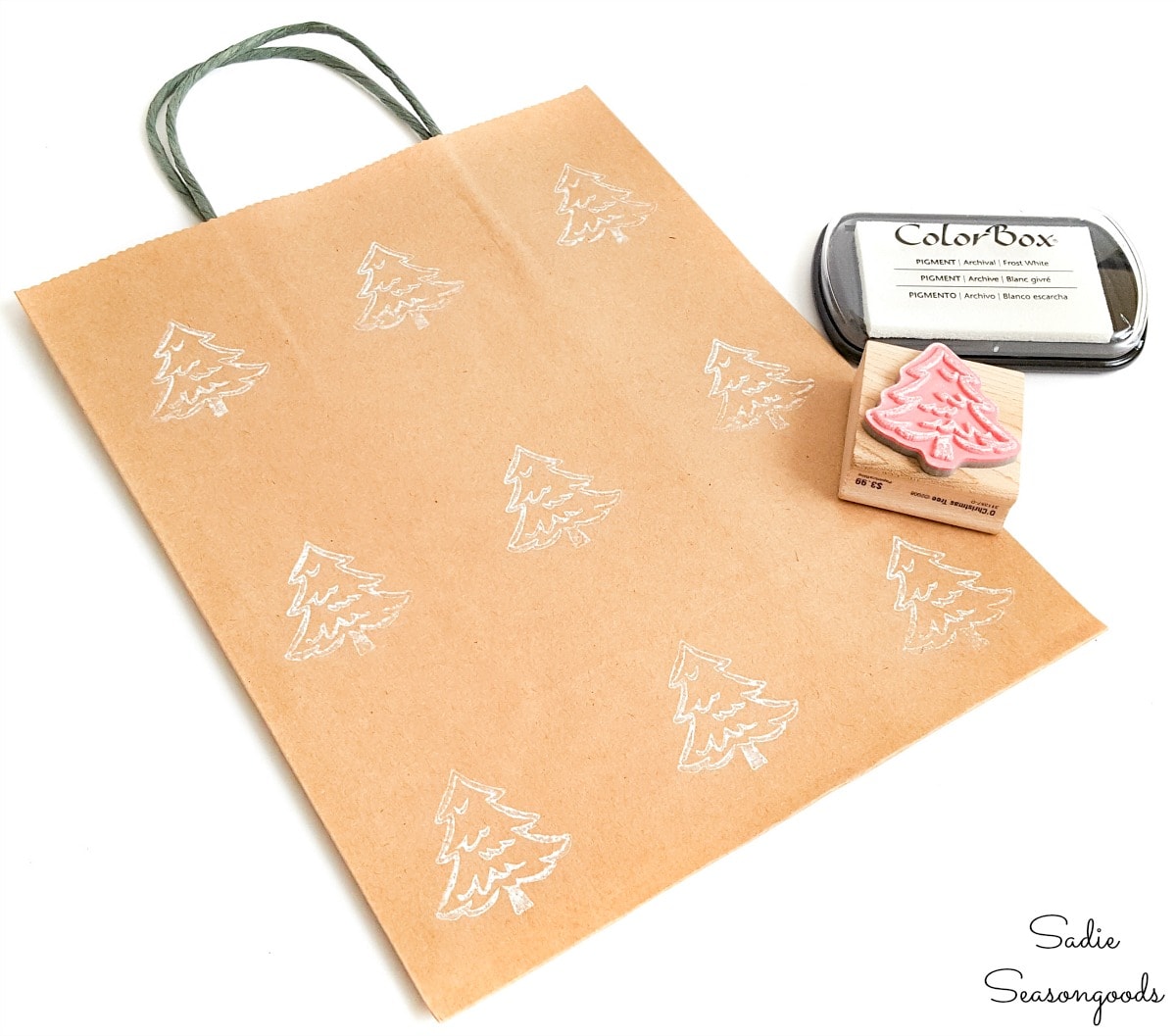 For the last version of my sustainable gift wrapping, I used the sewing pattern paper as actual gift wrap around boxes.
Ready to see the final versions of each one?
Sustainable Gift Wrapping with Vintage Sewing Patterns
First up, the eco friendly Christmas crackers!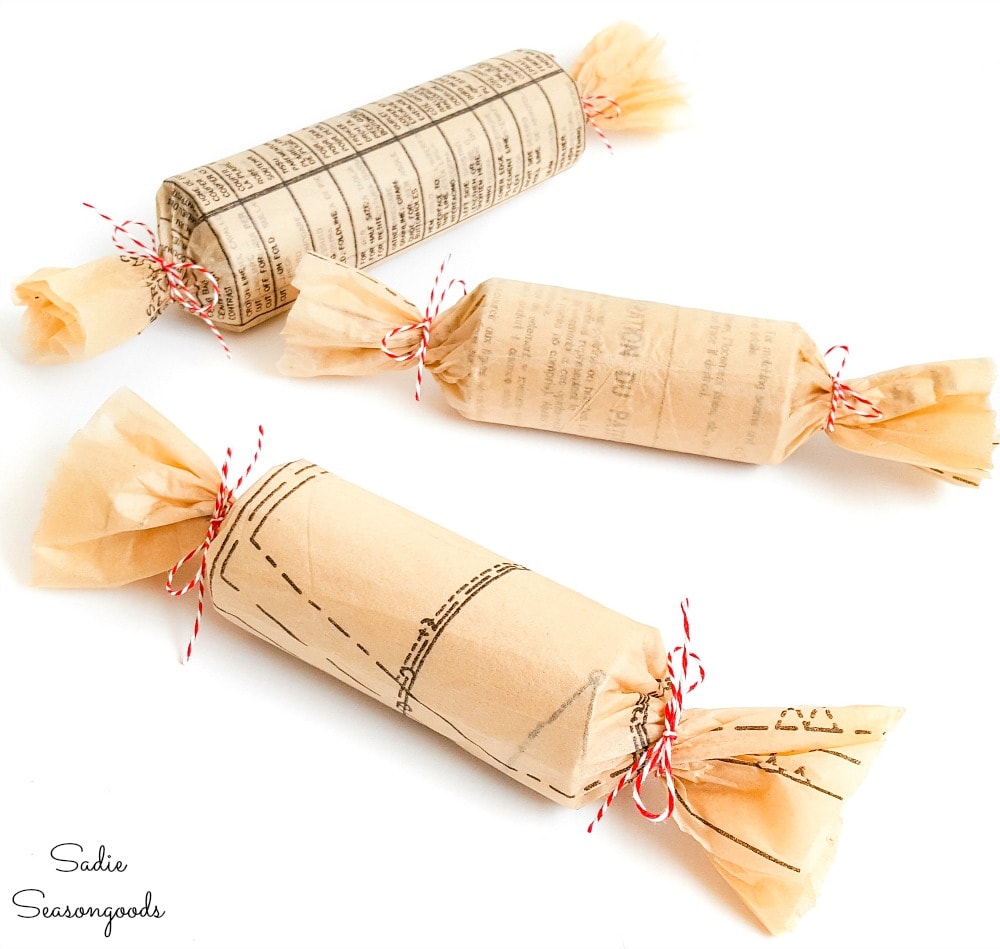 Of course, they won't "pop" when you open them (like a real Christmas cracker). But this idea for Christmas gift wrap with sewing pattern paper is perfect for small trinket gifts or stocking stuffers!
Next up, one of my eco friendly gift bags. After the ink dried on the bag, I used the sewing pattern paper and plain white tissue to stuff it with.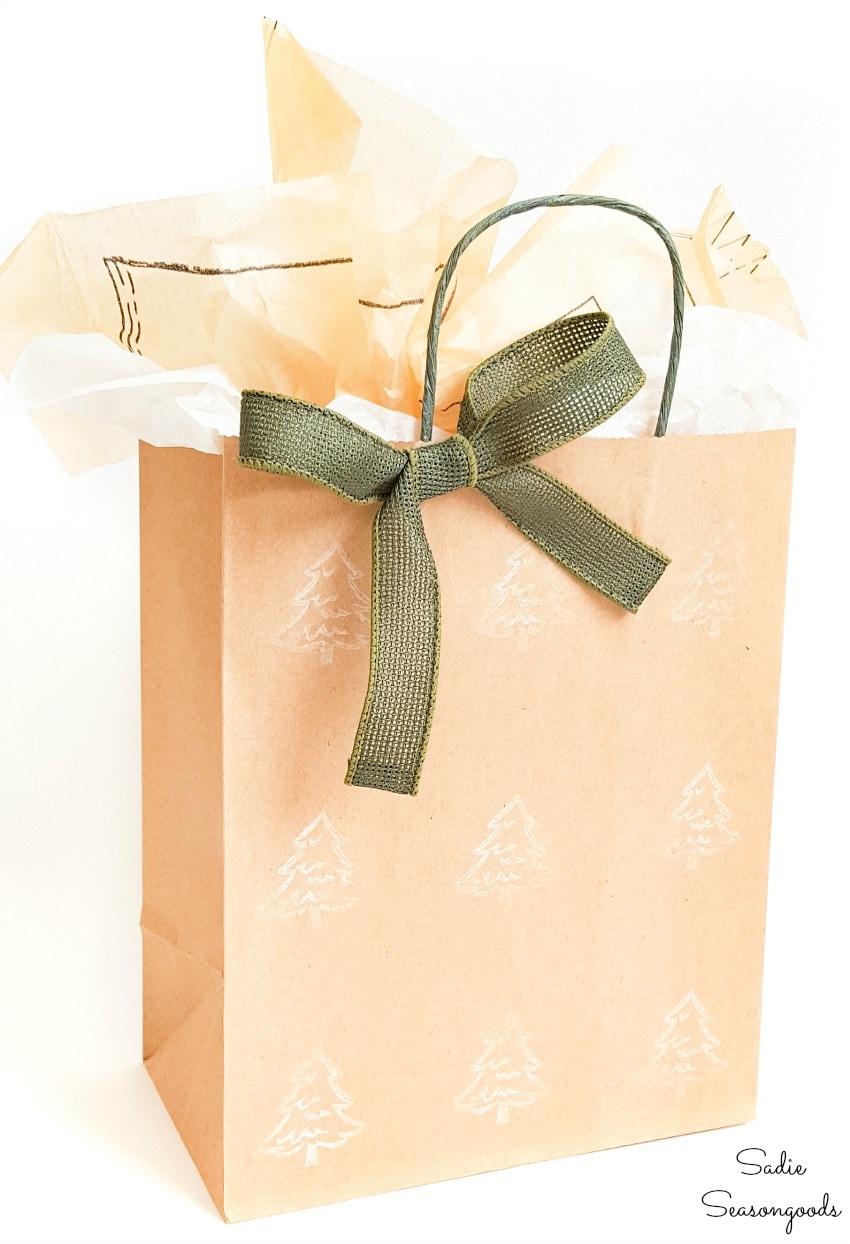 A reusable ribbon or fabric bow added a nice (and much-needed) pop of color to the gift bag.
Last but not least, my final idea for sustainable gift wrapping with the vintage sewing patterns: as eco friendly wrapping paper!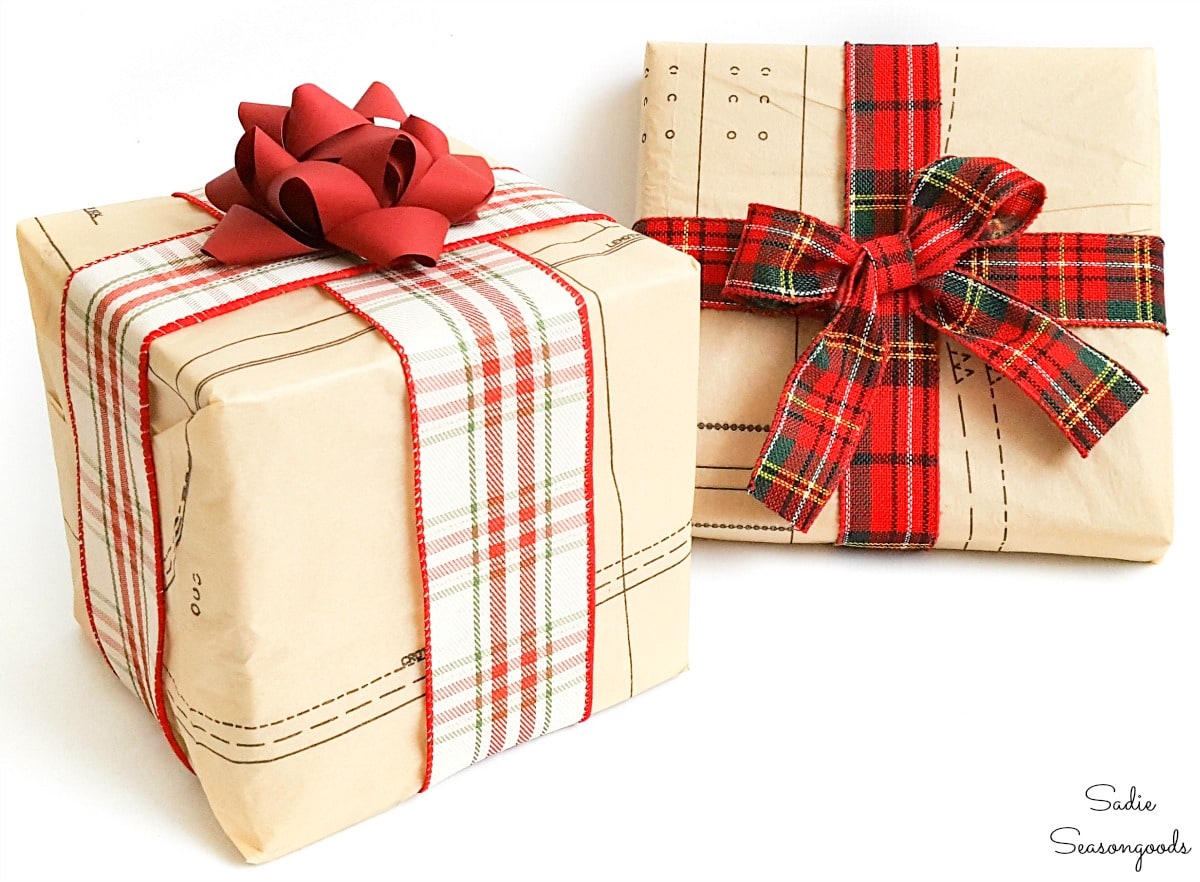 My boxes were already brown/beige, which worked well under the sewing pattern tissue. Other colors may require a double layer of pattern paper, but you'll get plenty of it in a single packet- so no worries there!
Each one was different – but wonderful – and simply perfect to place under our Christmas tree.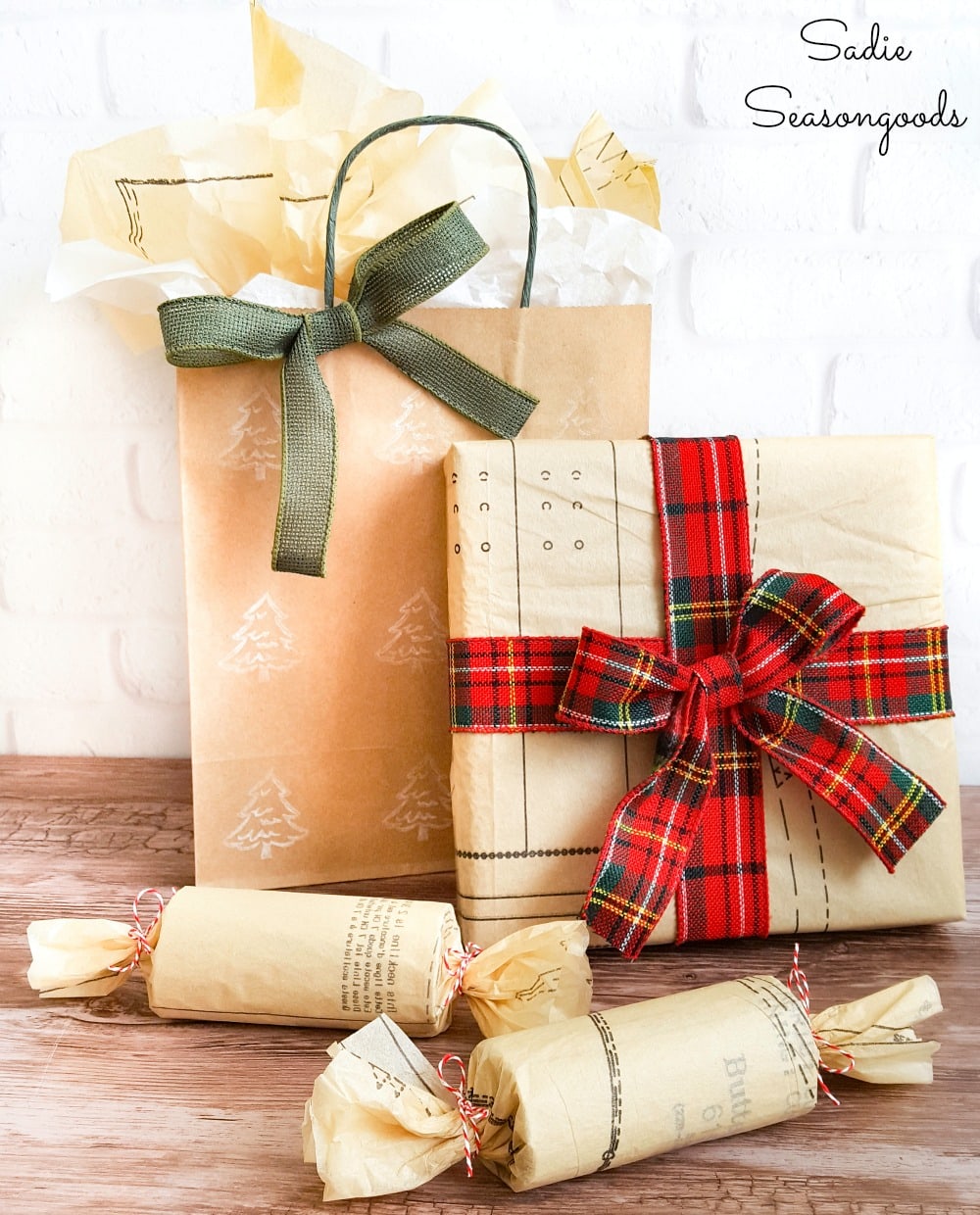 Let's not forget my other idea for eco friendly gift bags using a reusable grocery bag!
It is truly a gift within a gift…cheaper than the paper gift bags, and reusable all year long.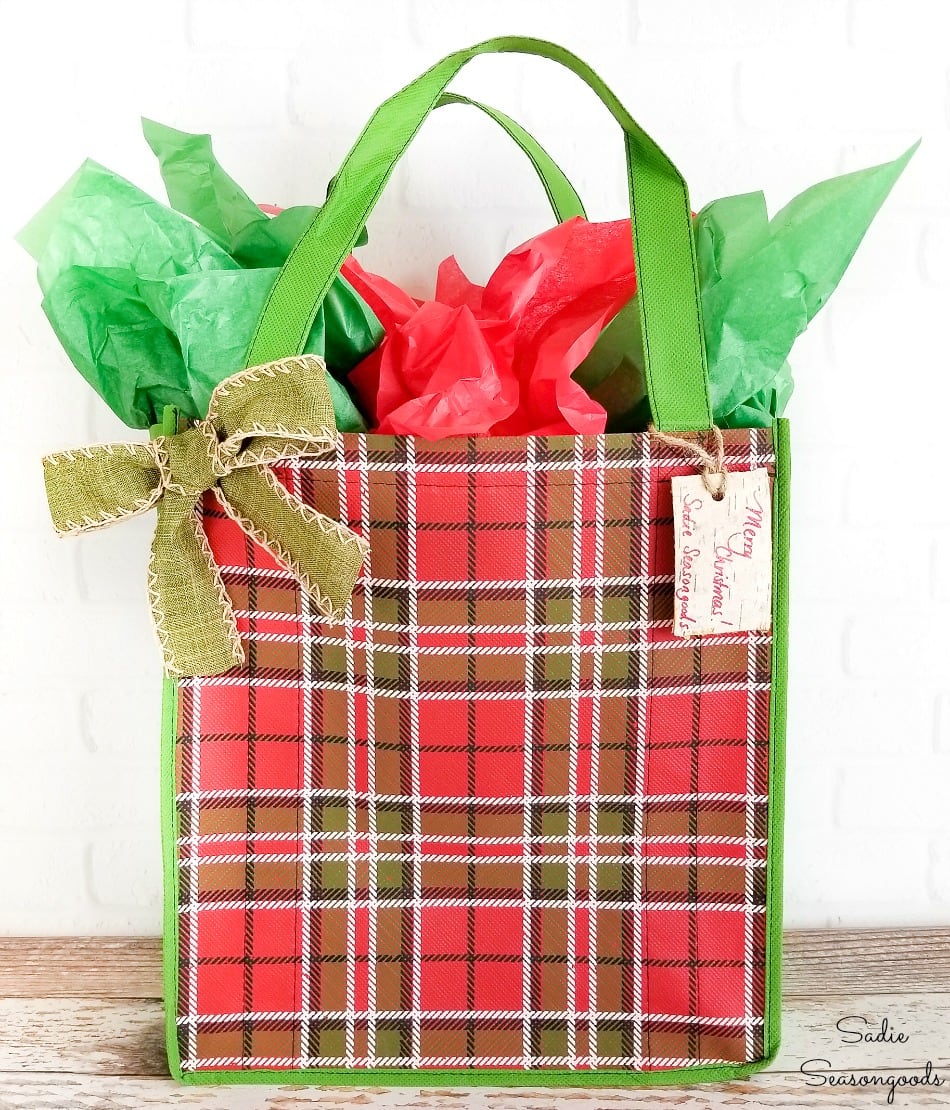 Especially if your supermarket offers holiday-themed market bags at Christmas time.
If you enjoyed these upcycling ideas for Christmas gift wrap, then you may also be interested in some upcycled and DIY gift ideas, as well!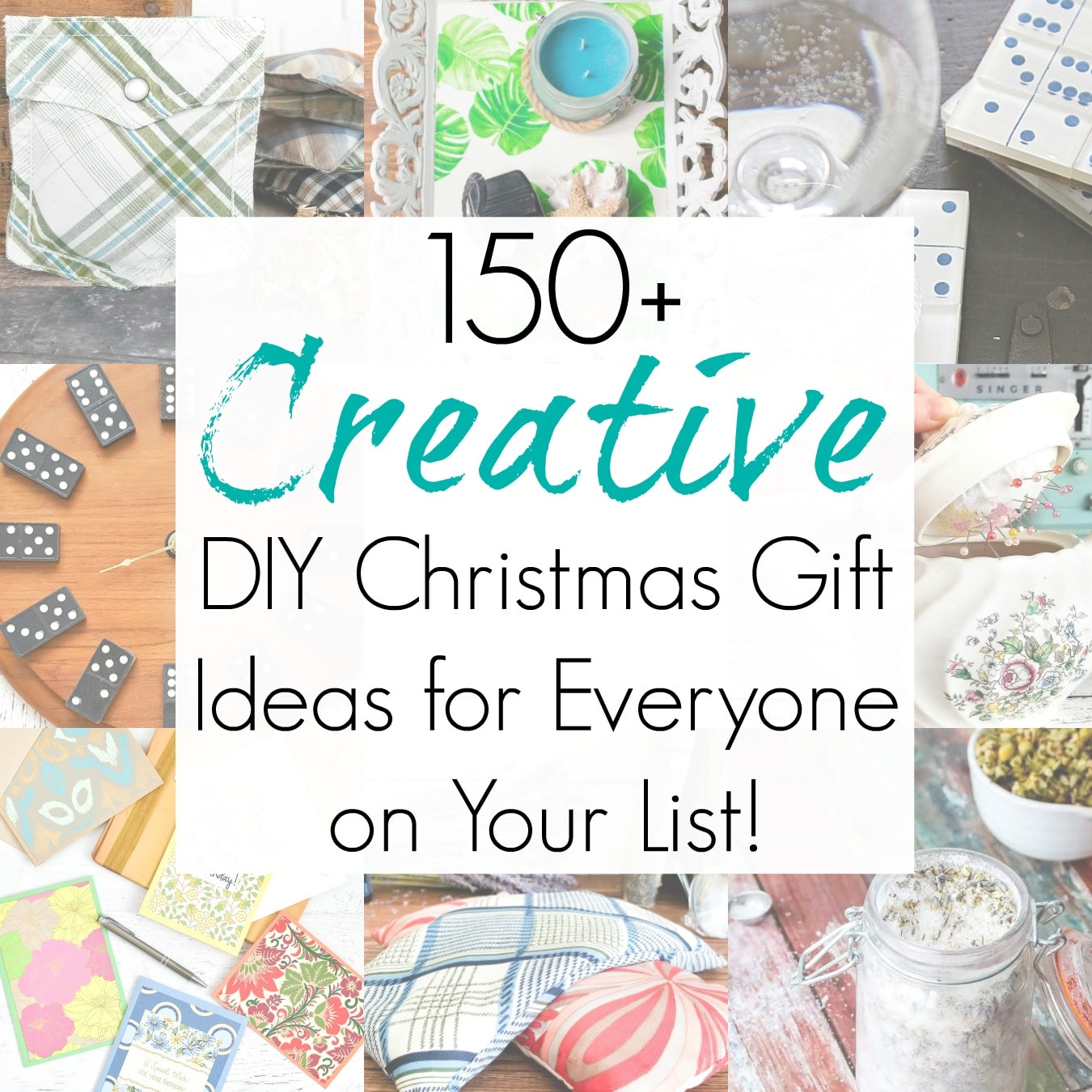 Plus, don't forget that my book, "Crafting with Flannel", has an entire Christmas chapter…including a few sustainable wrapping ideas, as well! You can purchase my book online from Amazon, Target, Barnes & Noble, and Walmart.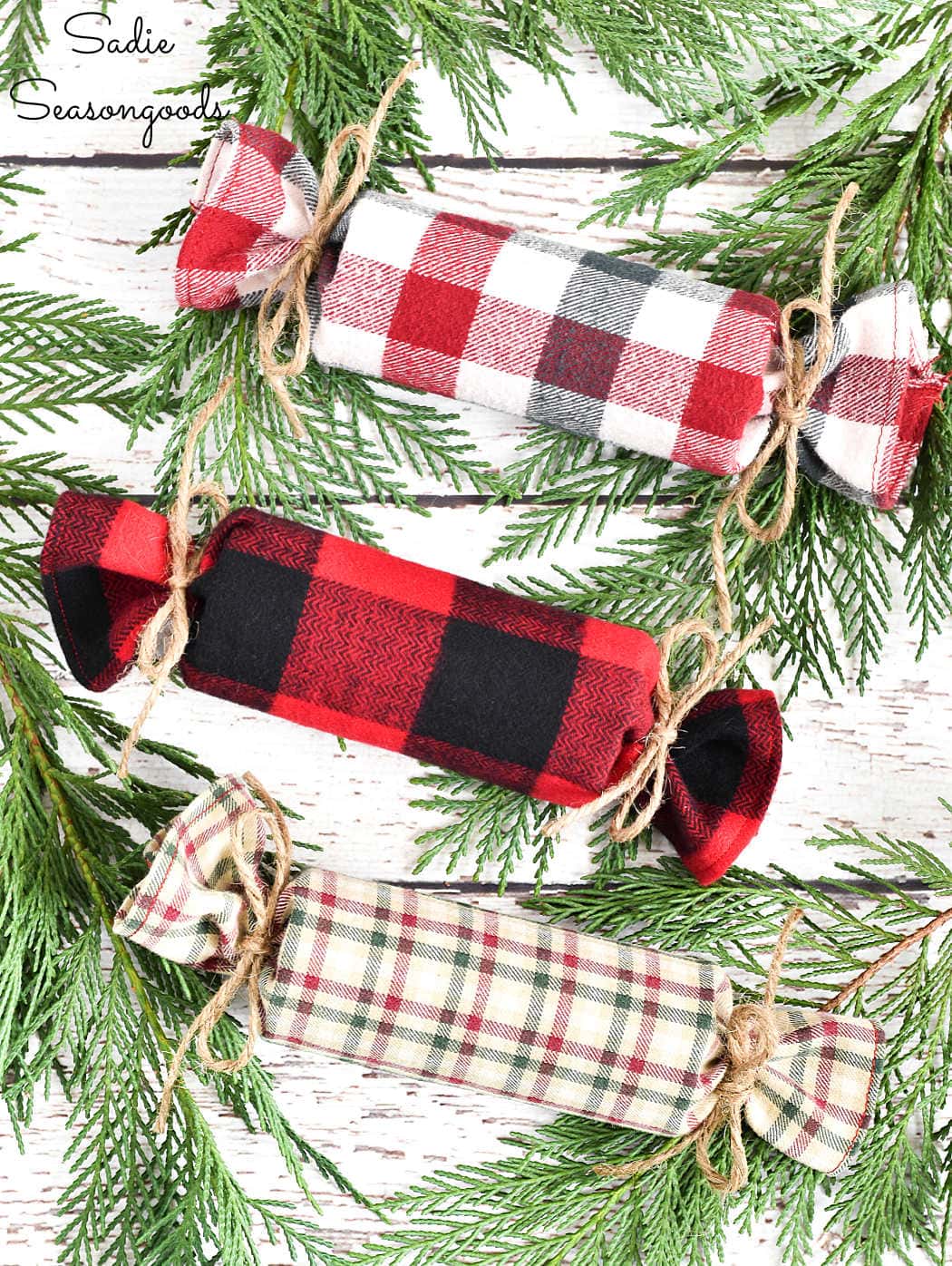 Craft on!
S
Join me on Social Media:

PIN ME!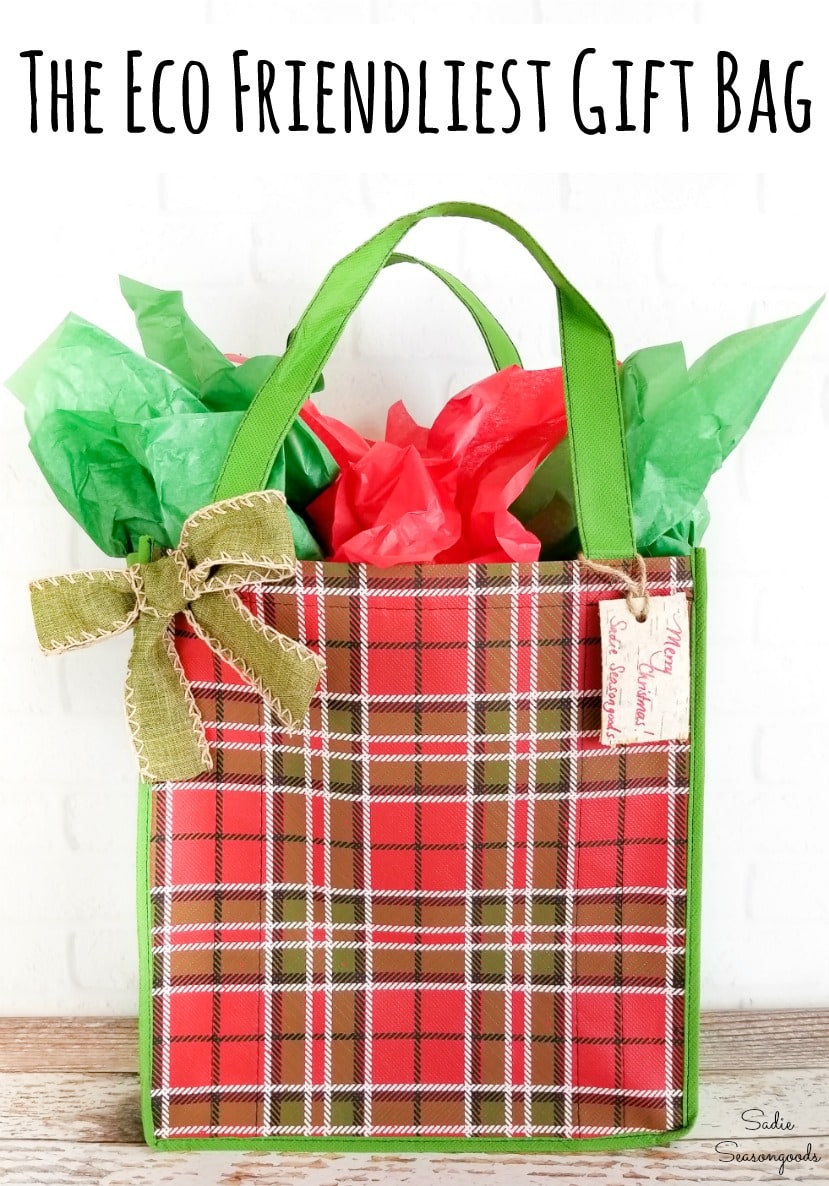 Sarah Ramberg is the owner of Sadie Seasongoods, a website that celebrates all things secondhand. From upcycling ideas and thrifted decor to vintage-centric travel itineraries, Sadie Seasongoods is a one-stop shop for anyone who loves thrifting and approachable repurposing ideas. Sarah is also the author of "Crafting with Flannel" and has been featured in numerous media outlets and magazines.