Any time I'm in a secondhand shop, I always peruse the linens section. Every now and then, I'll happen across some embroidered linens such as vintage tablecloths or vintage napkins. I just have SUCH a weakness for those beautifully hand-embroidered pieces.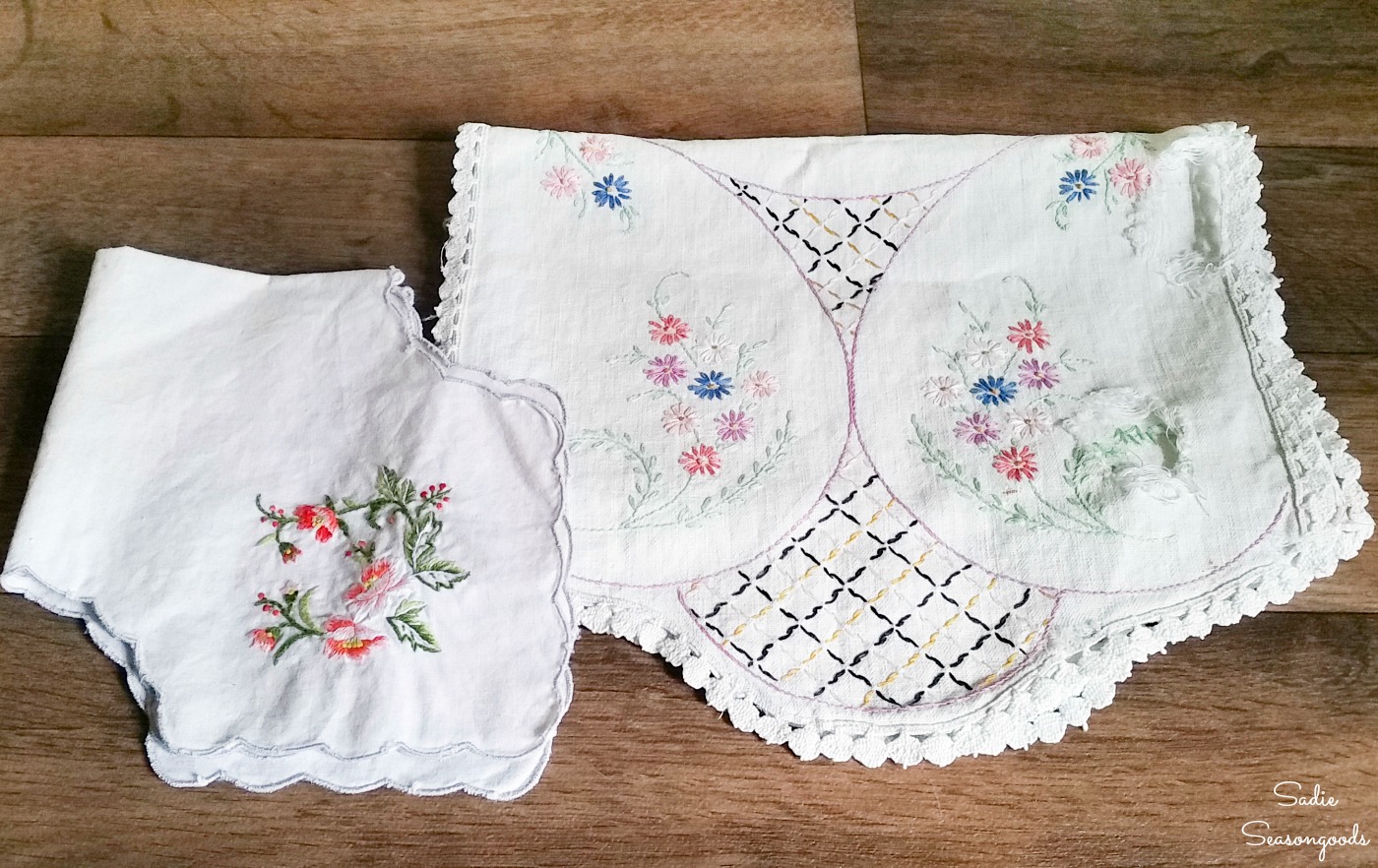 But many of the embroidered linens that I've collected have not aged well. Whether they have holes or stains, a lot of them are damaged in one way or another.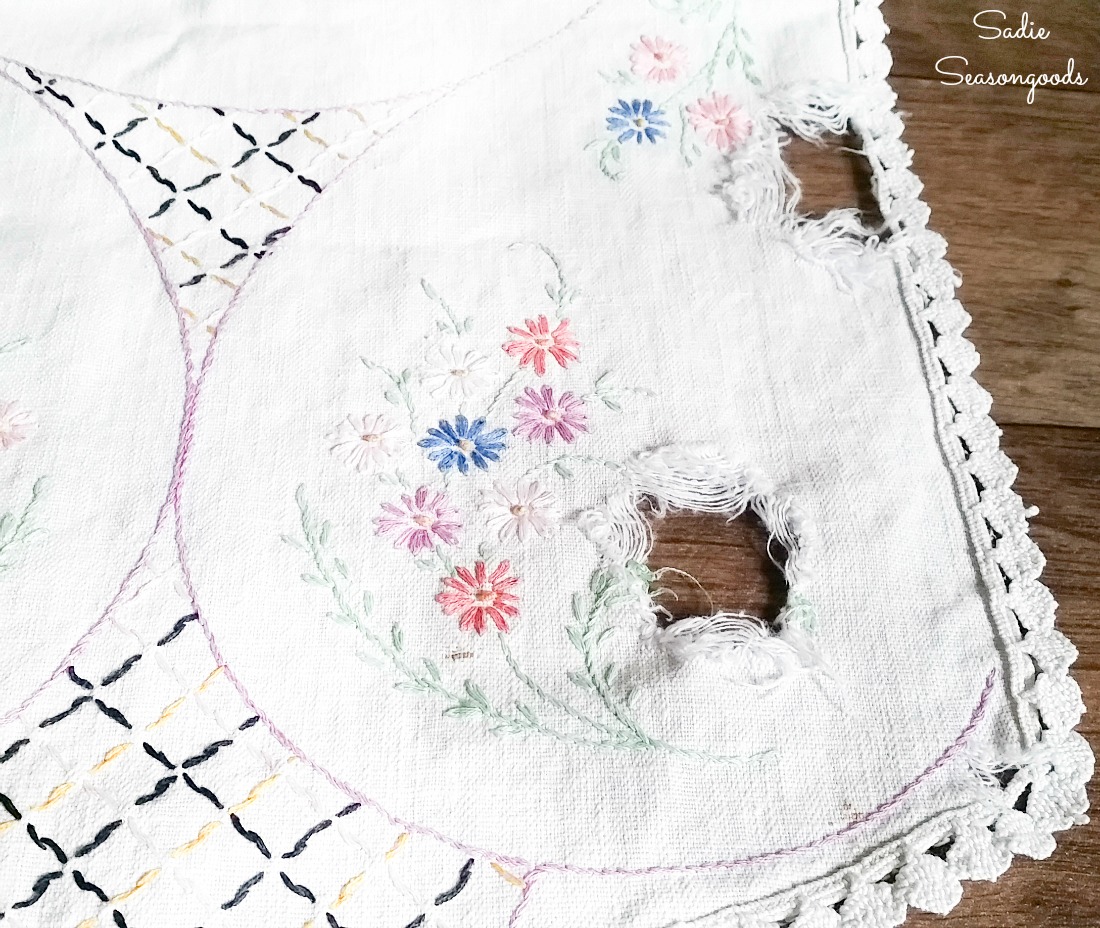 Even with those flaws, though, I still feel compelled to purchase them even if they simply get stowed away in a plastic bin for who-knows-how-long. Because, really, what am I going to do with something moth-eaten and threadbare?
Well, I've finally figured out a way to salvage some of the pretty embroidery while avoiding the blemishes by making some DIY Corner Bookmarks! Think of them as little page pockets that a book page corner can be slipped into.
And yes, I even made a version of this project for my book, "Crafting with Flannel", too!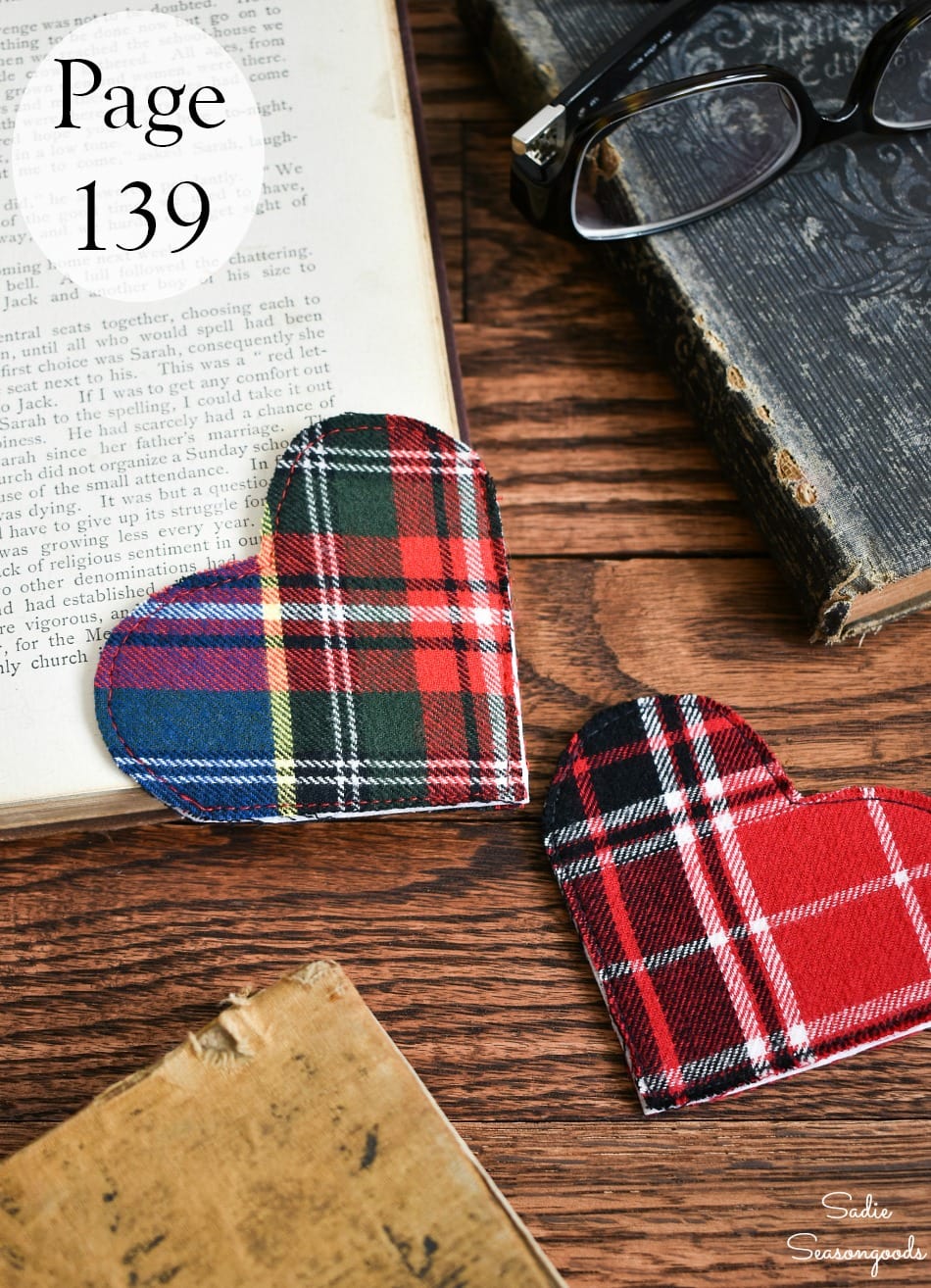 But back to the damaged vintage linens…
This post contains affiliate links for your crafting convenience. As an Amazon Affiliate, I earn from qualifying purchases. All blue, bold, and underlined text is a clickable link, either to a product or to a related post.
Making a Fabric Bookmark with Vintage Embroidery
The secret to making the DIY corner bookmarks is the 90° right angle at the bottom, which fits a book page just perfectly.
So, to create my pattern/template, I used a piece of paper so that the right angle part was done for me! I also gathered a ruler, a pencil, and some craft scissors, as well.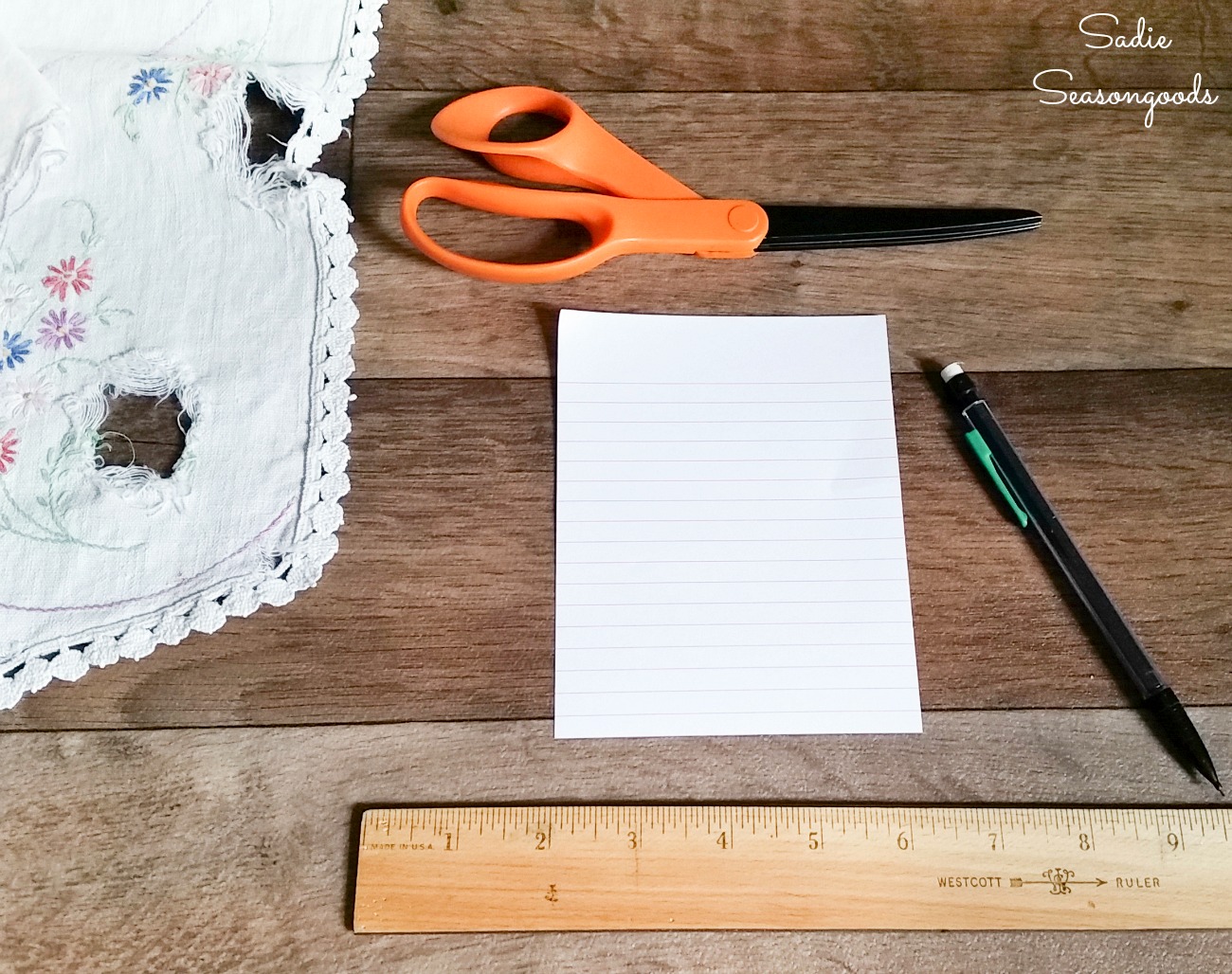 With my piece of embroidered linen laid out in front of me, I placed the sheet of paper over the embroidered section I wanted to salvage, right next to a large hole.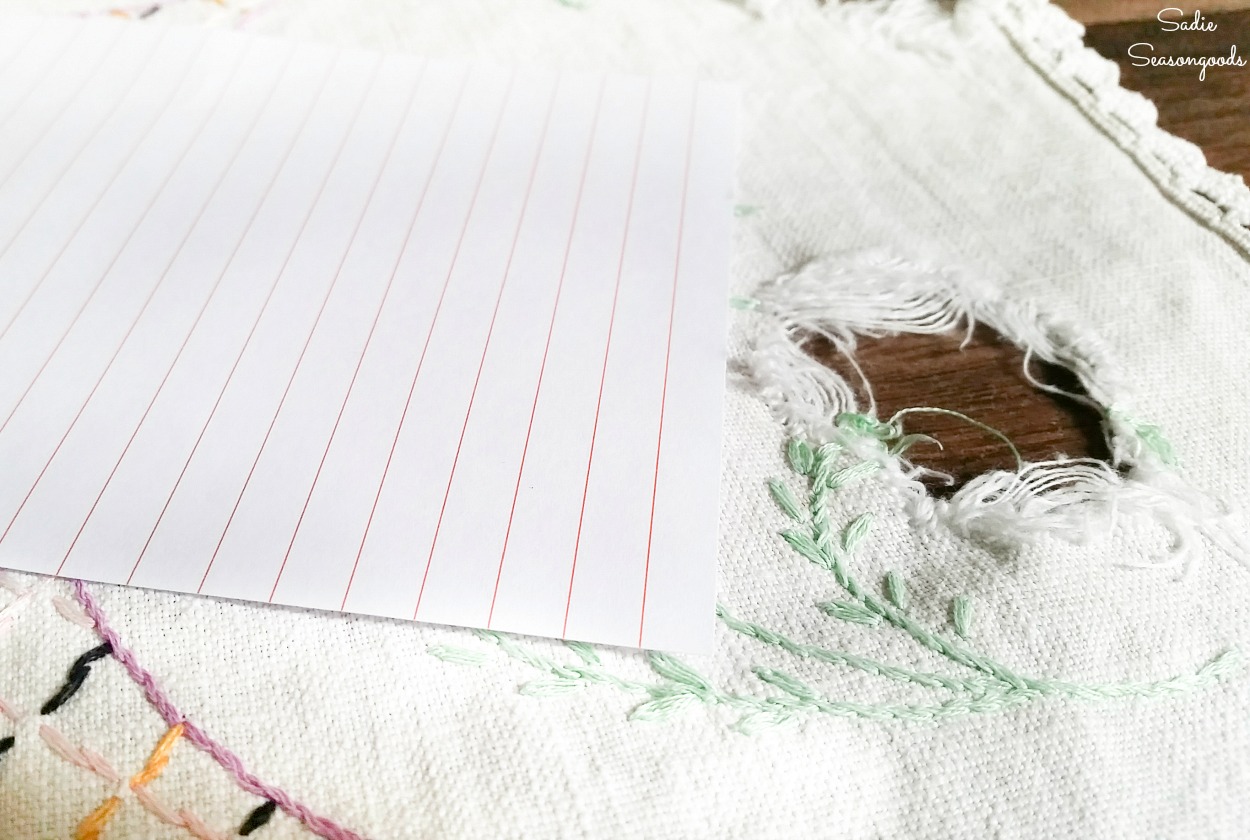 I could feel the embroidery under my piece of paper and marked the edges of the paper to denote the size of the fabric bookmark that I wanted.
Using my ruler, I adjusted my markings ever so slightly to make them even (in this case, 3⅛" up from the corner), and then sketched the rounded tops of a heart.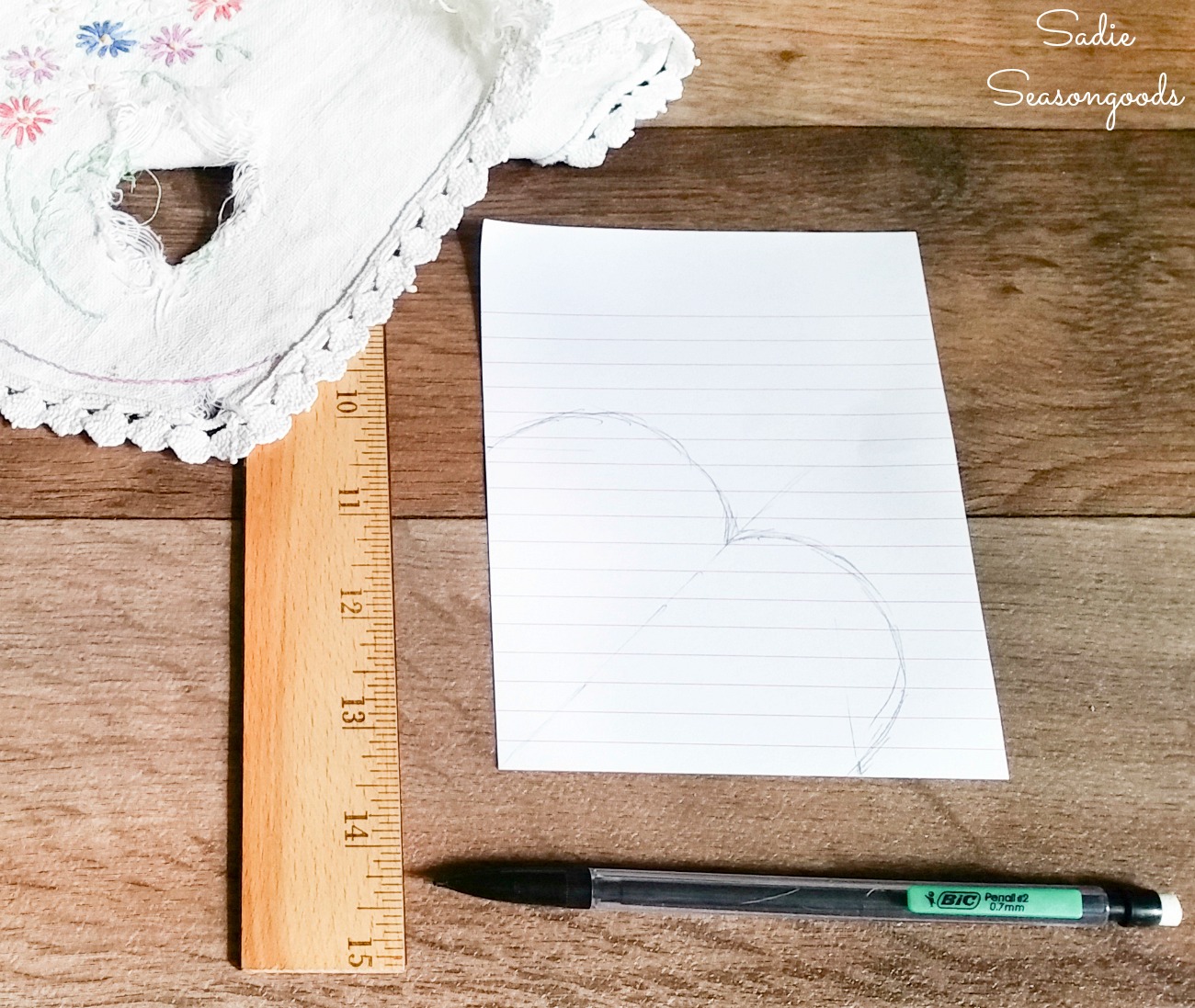 Then, I cut out my heart shape and rounded the corners just a tad.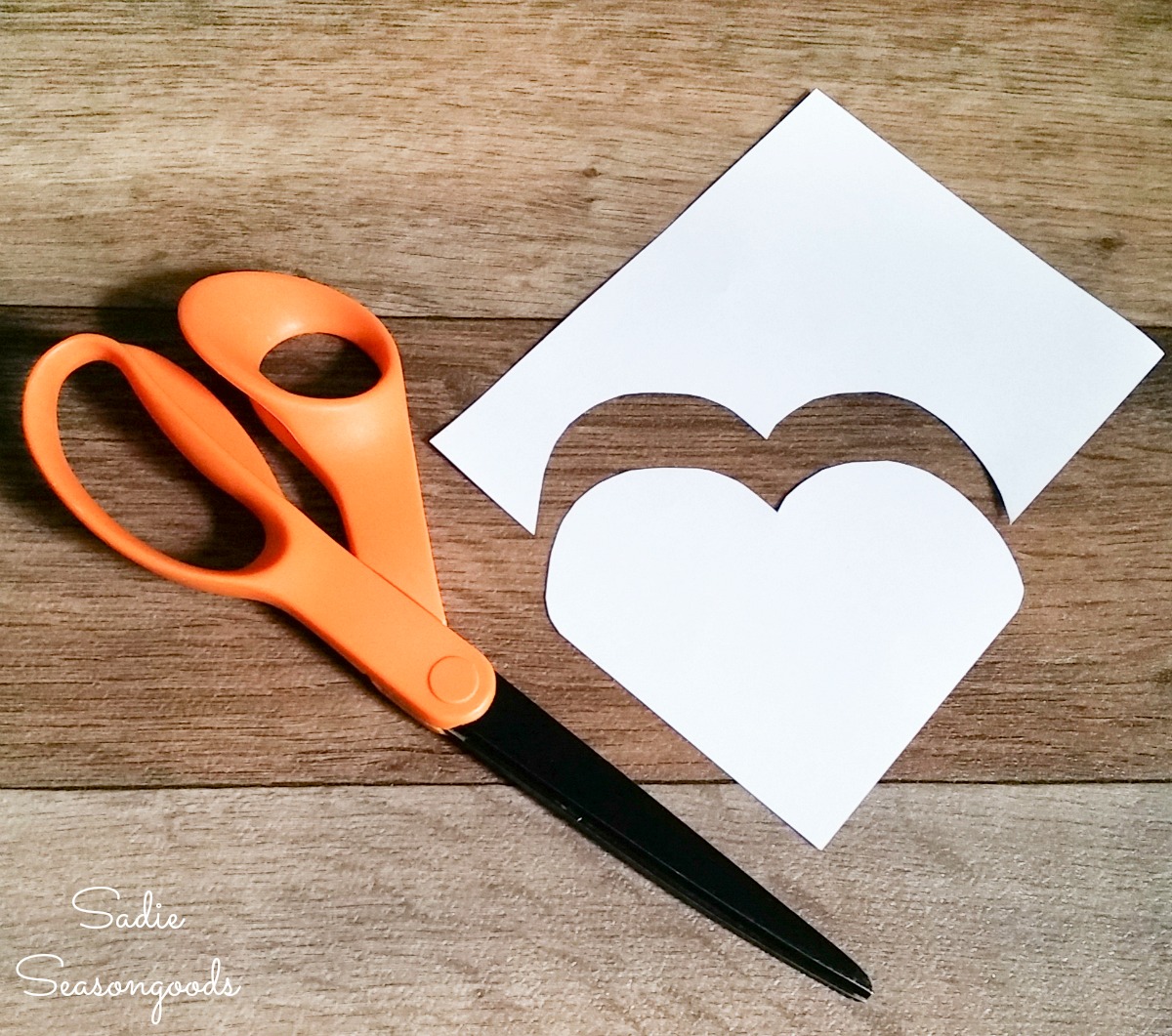 Working with Damaged Embroidered Linens
Next, I pinned it to my vintage embroidery, again, right next to the large hole.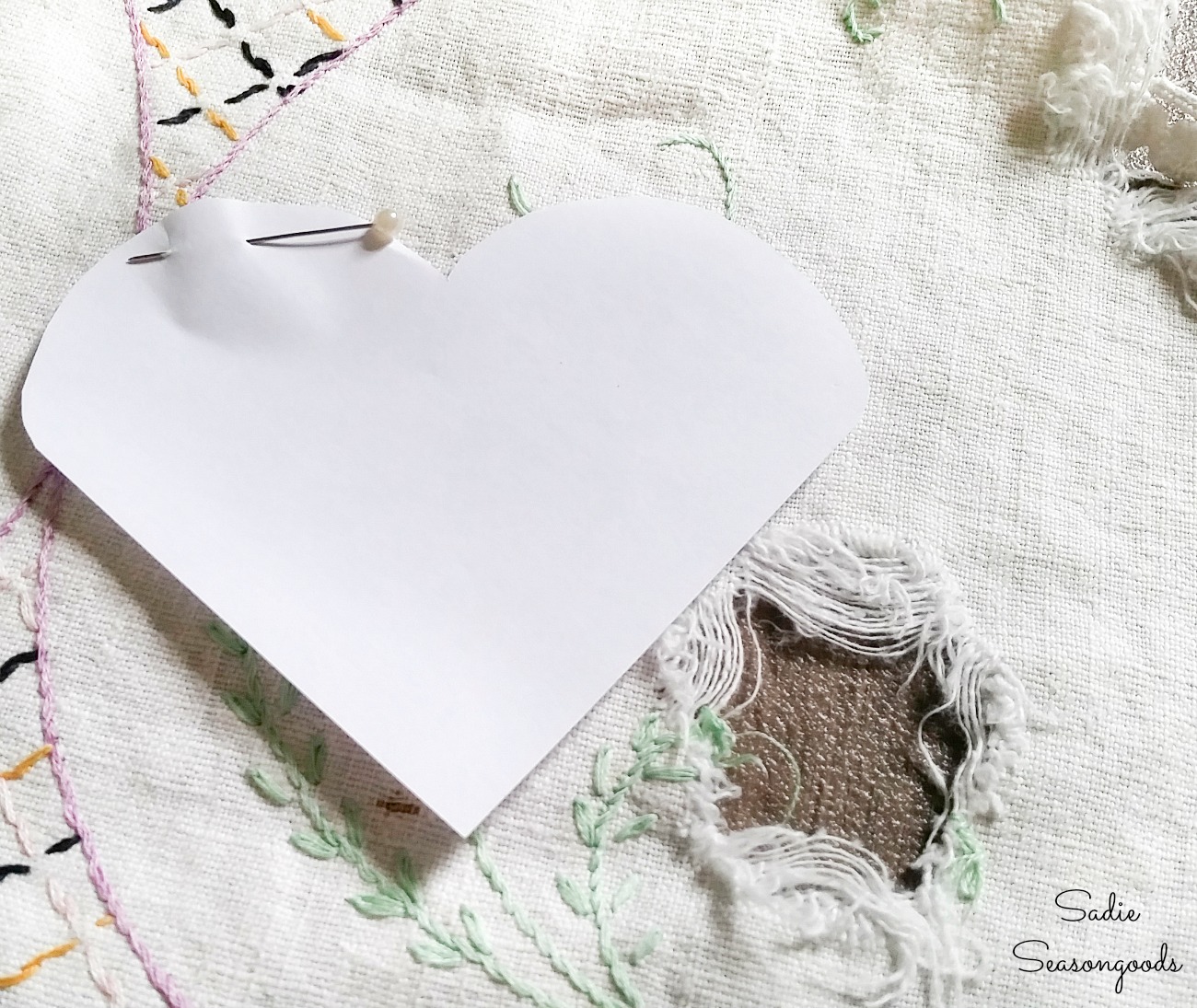 I used my paper pattern in two places on the vintage embroidery and cut out two individual hearts.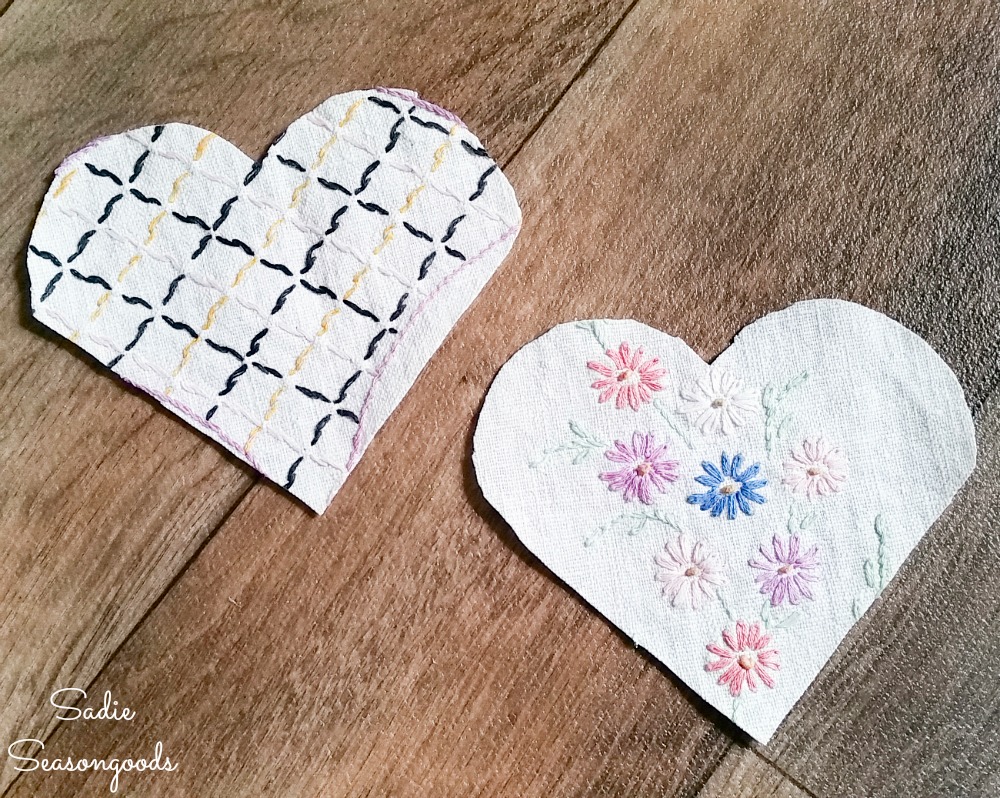 To add body to the the fabric bookmark, I pinned my hearts to some firm interfacing or fabric stabilizer and cut out matching hearts.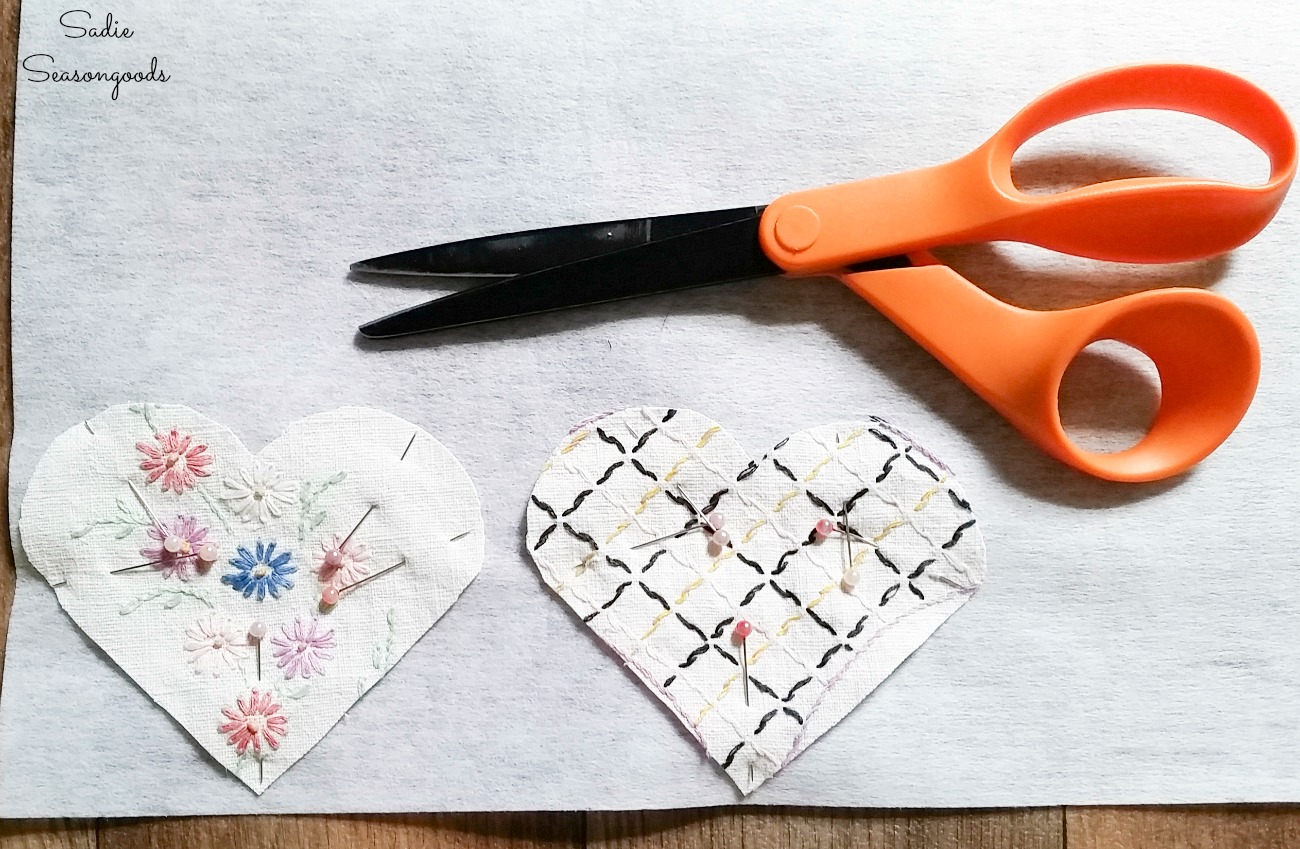 I stitched each heart to its matching interfacing on my sewing machine. Then, I put the two hearts together, with the interfacing sides facing each other, and pinned them together.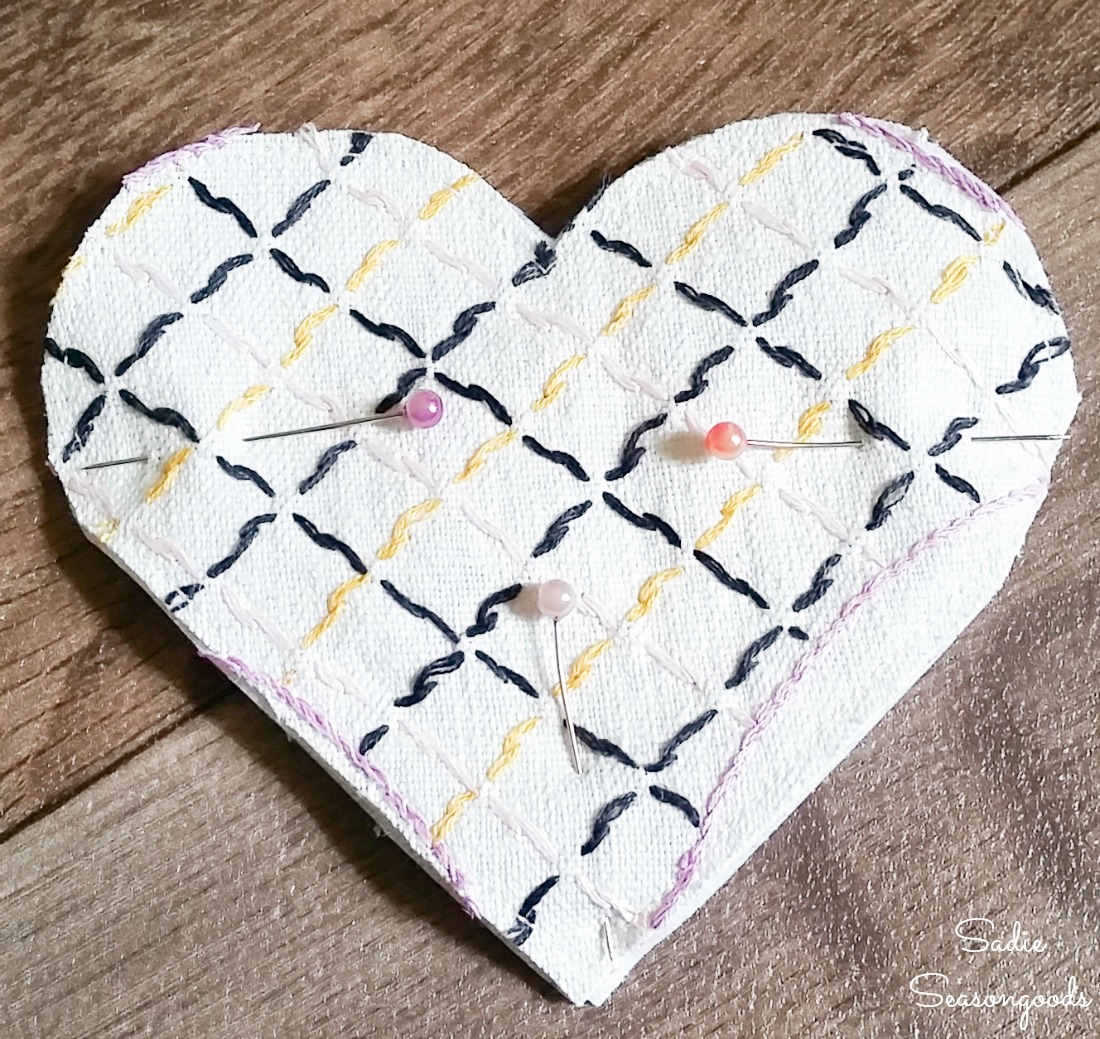 Lastly, I headed back to my sewing machine for the remaining step.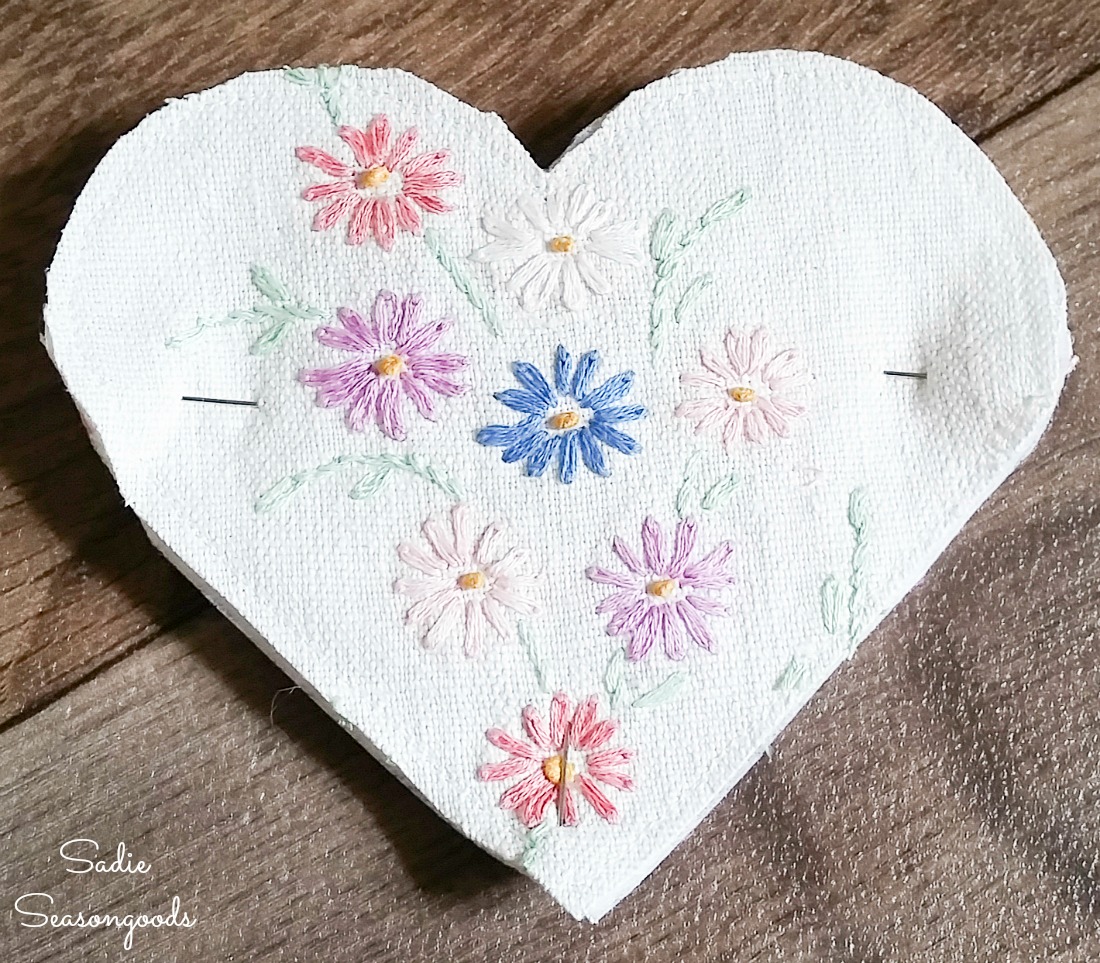 This time, though, I only stitched the two halves together along the straight edges. This created a wide-mouthed pocket that I could then slip a book page corner into.
DIY Corner Bookmark from Embroidered Linens
When all was said and done, I had a DIY corner bookmark that was adorably sweet. And it worked like a charm on a book page!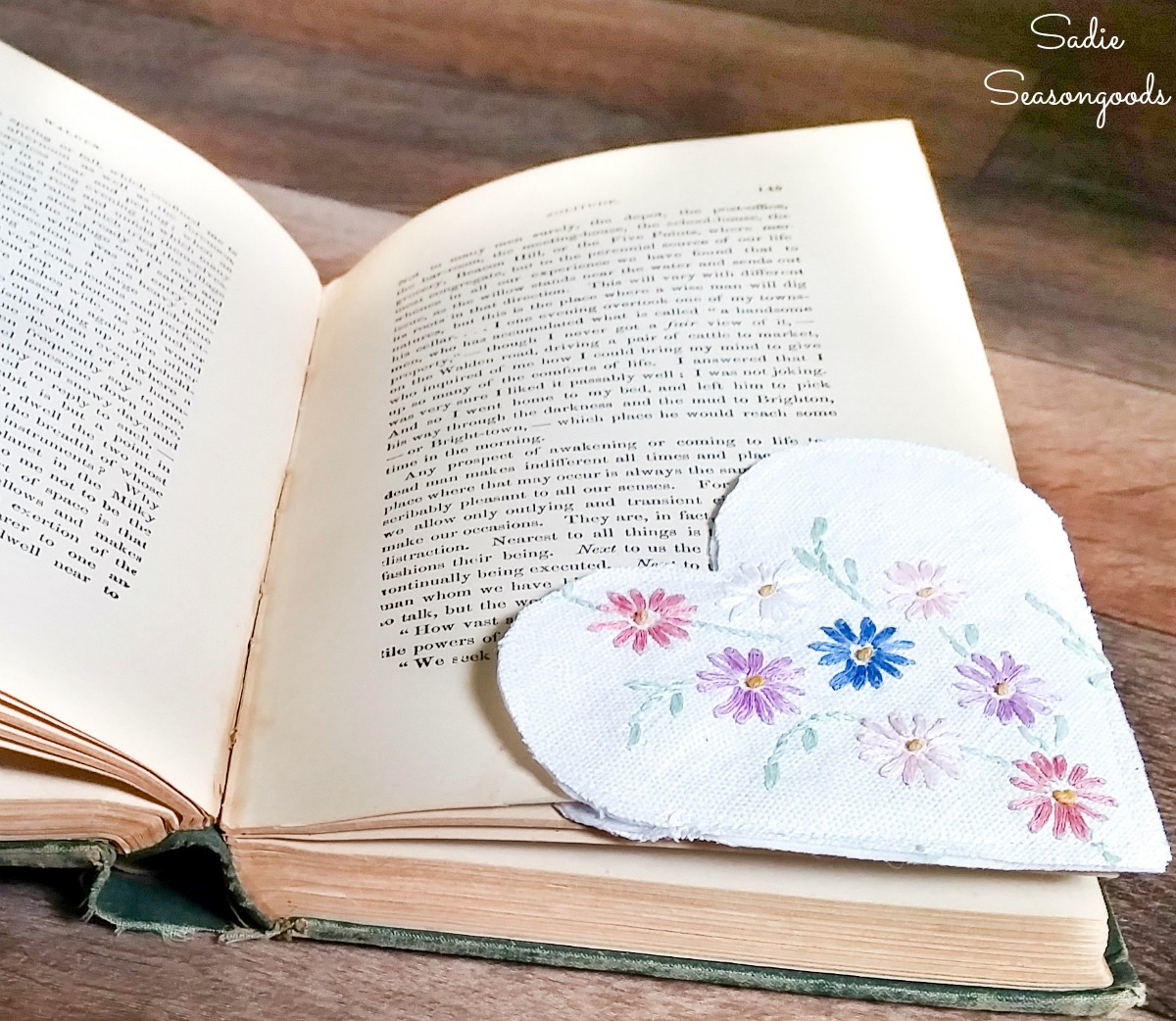 I know it may seem like a lot of work for a bookmark- I mean, we've all used receipts, gum wrappers, and expired coupons as bookmarks, right?
But for those of us that want to salvage pretty embroidery, it's definitely a worthwhile effort.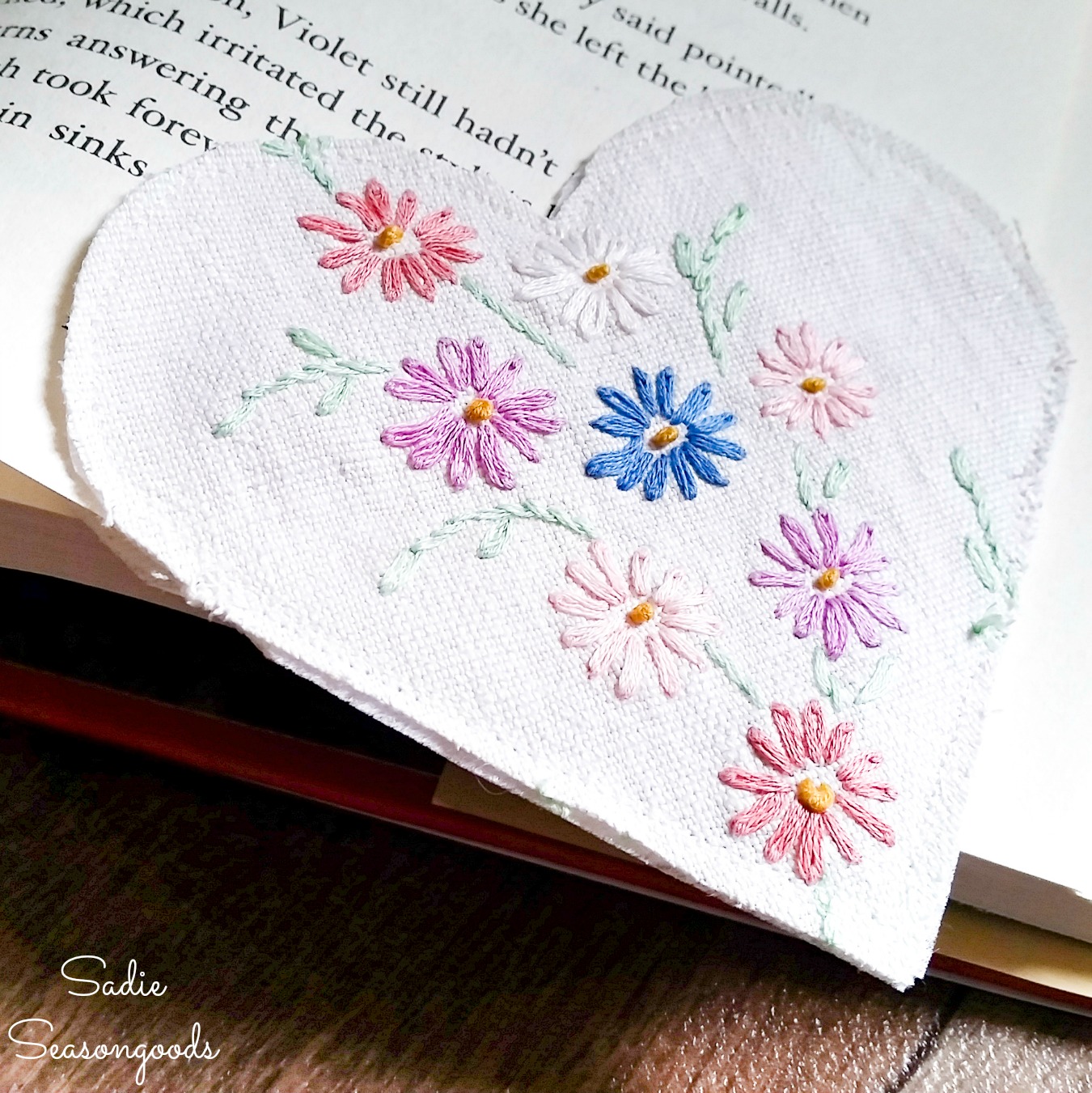 If you enjoyed this upcycling idea using vintage linens, then you'll love this shabby chic wall decor I made with lace doilies!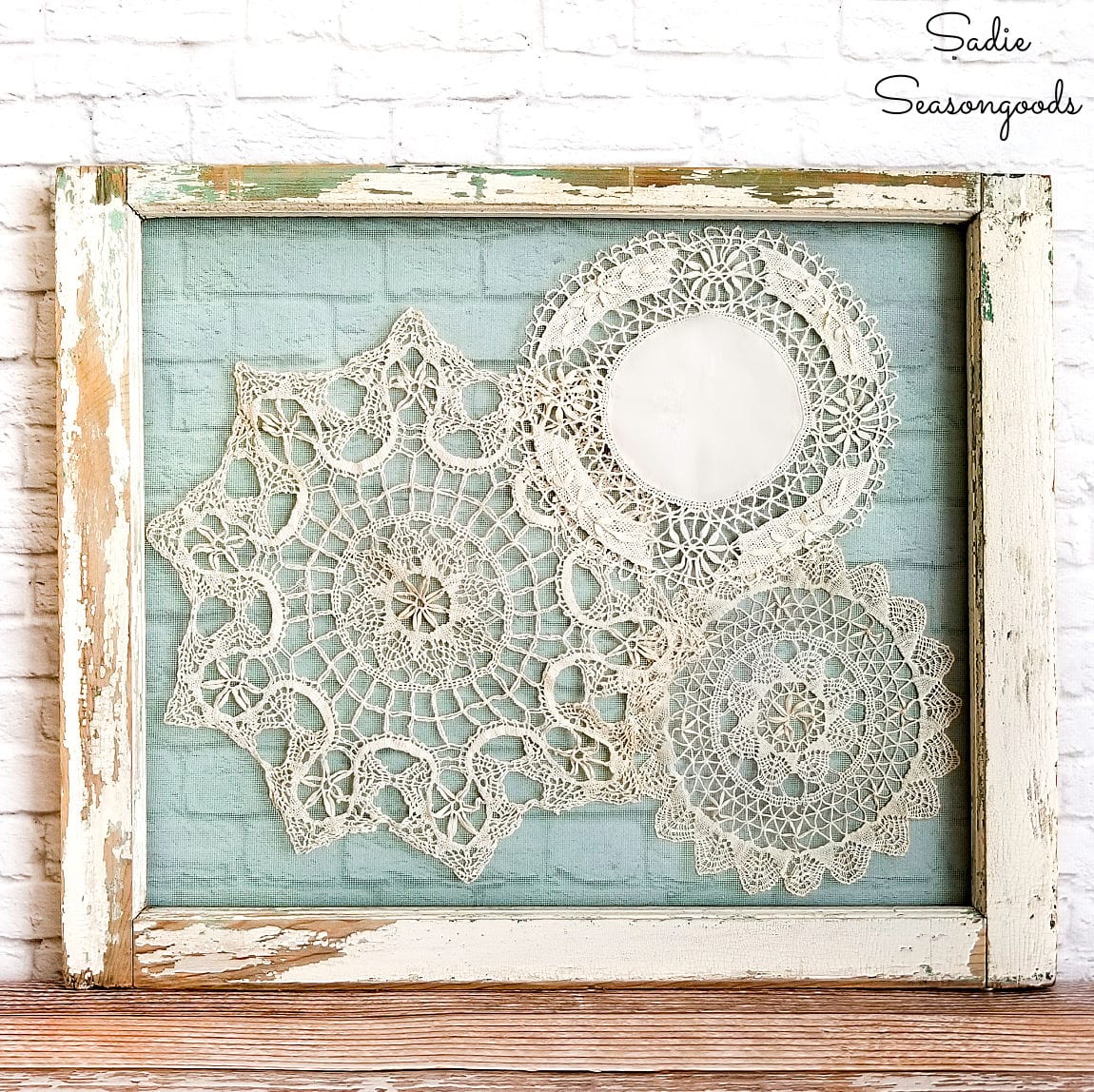 And for even more inspiration for projects with vintage linens, perhaps some of these repurposing projects will spark your interest!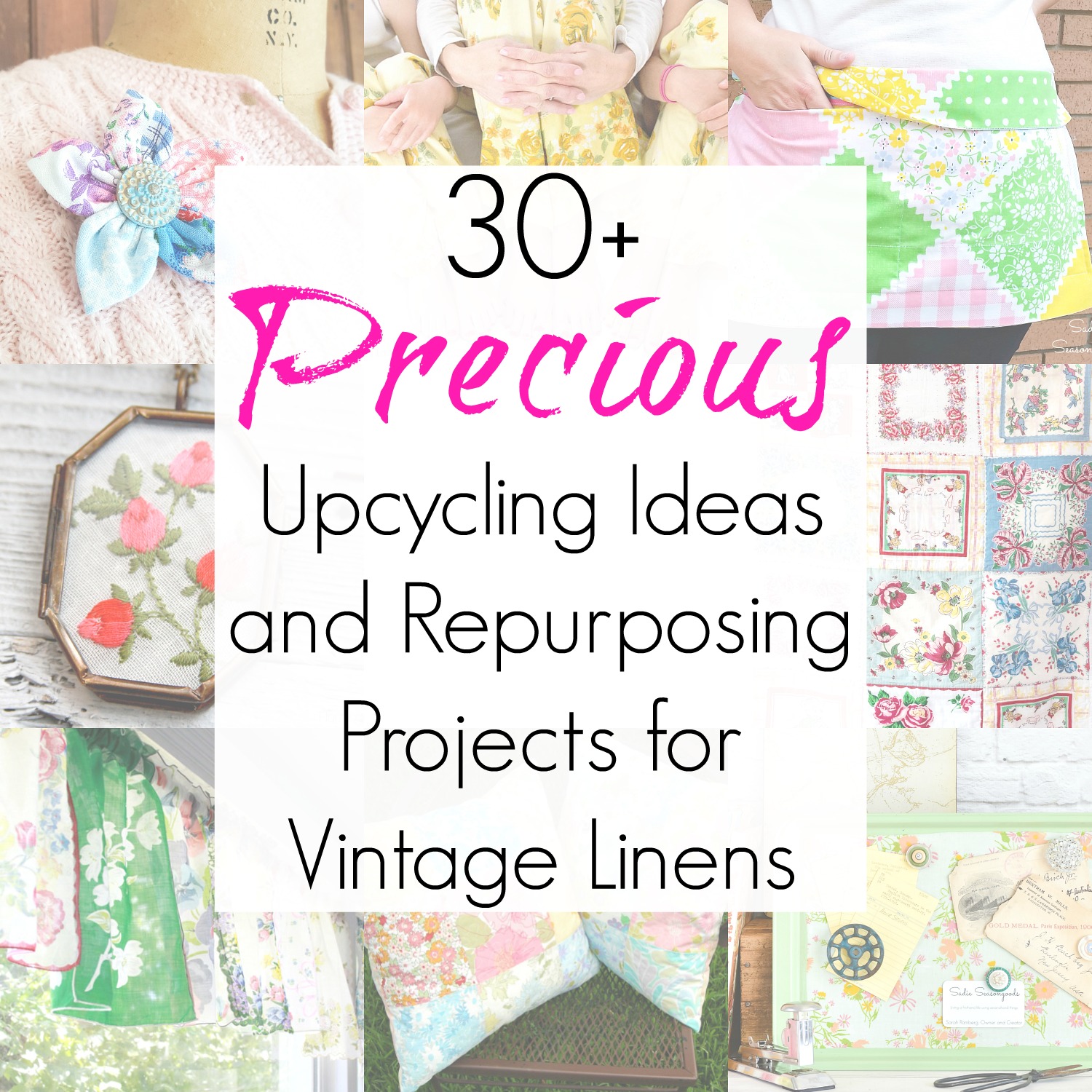 Craft on!
S
Want to be notified when I publish my next upcycling project tutorial?
Subscribe to Blog via Email
Join me on Social Media:



PIN ME!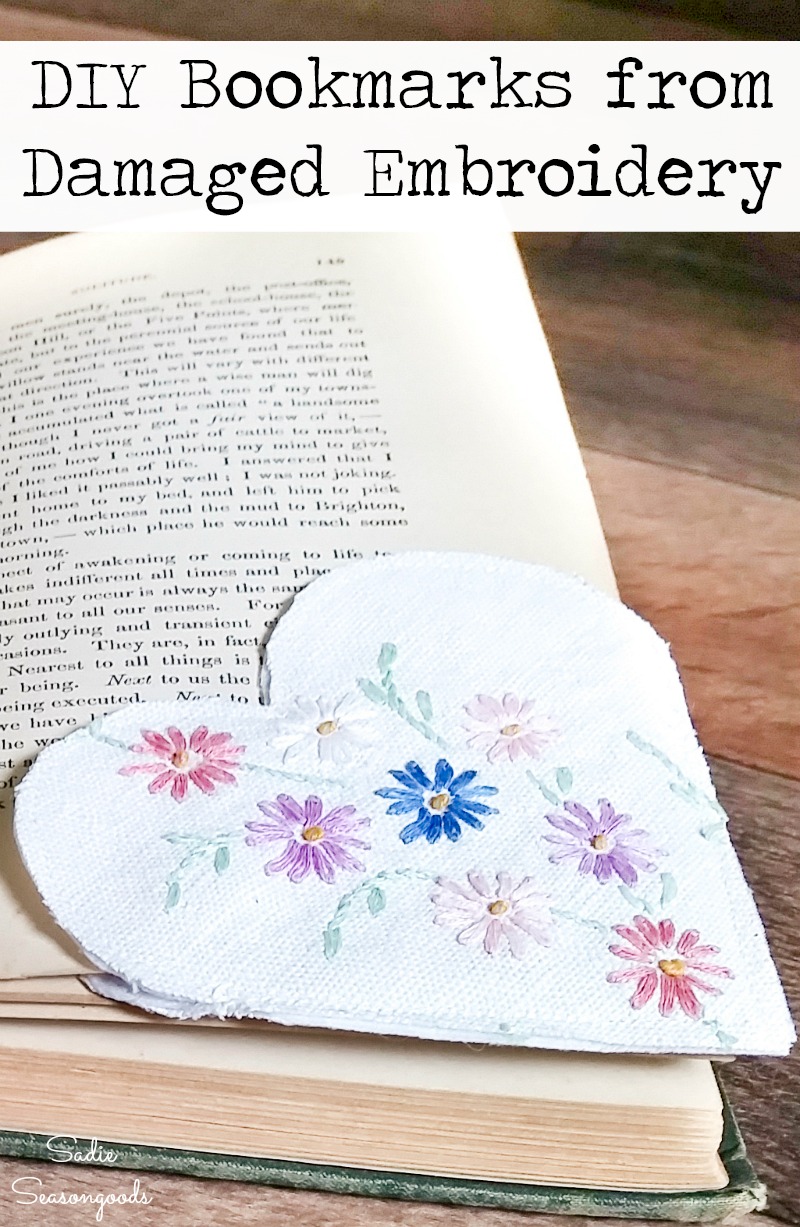 Sarah Ramberg is the owner of Sadie Seasongoods, a website that celebrates all things secondhand. From upcycling ideas and thrifted decor to vintage-centric travel itineraries, Sadie Seasongoods is a one-stop shop for anyone who loves thrifting and approachable repurposing ideas. Sarah is also the author of "Crafting with Flannel" and has been featured in numerous media outlets and magazines.