When you can't find the craft product you need (or are dreaming of), you sometimes have to make your own. And that's what happened when I was working on an harvest wreath and I couldn't find any plaid ribbon. So, I started to mull over the idea of making my own wired ribbon with an upcycled shirt.
Because in my mind, I envisioned some plaid ribbon in a harvest orange color, with a small plaid design. But It didn't seem to exist at the craft store! But this men's shirt was perfect for my upcycling idea.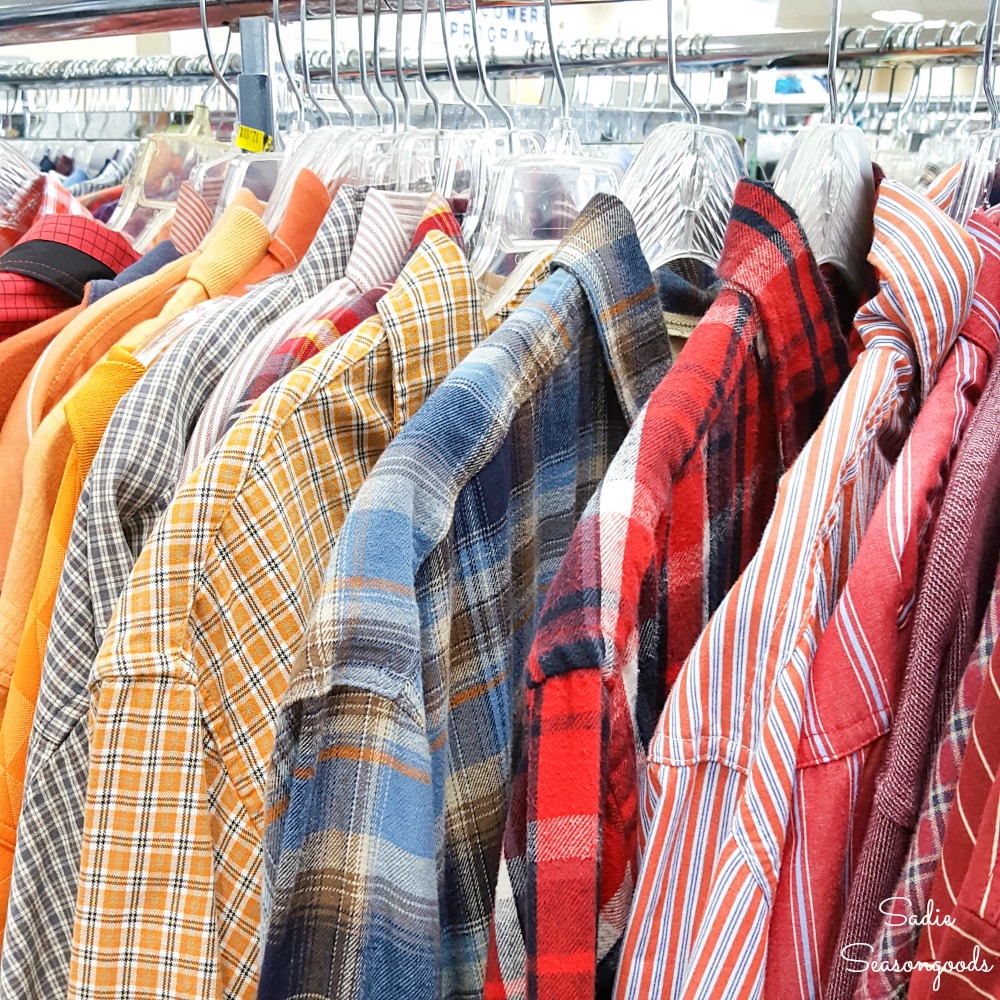 I ended up buying two shirts because I couldn't decide which one I liked best.
My husband took a liking to the blue one (it WAS his size, after all), so I decided to make the plaid ribbon of my dreams from the orange shirt!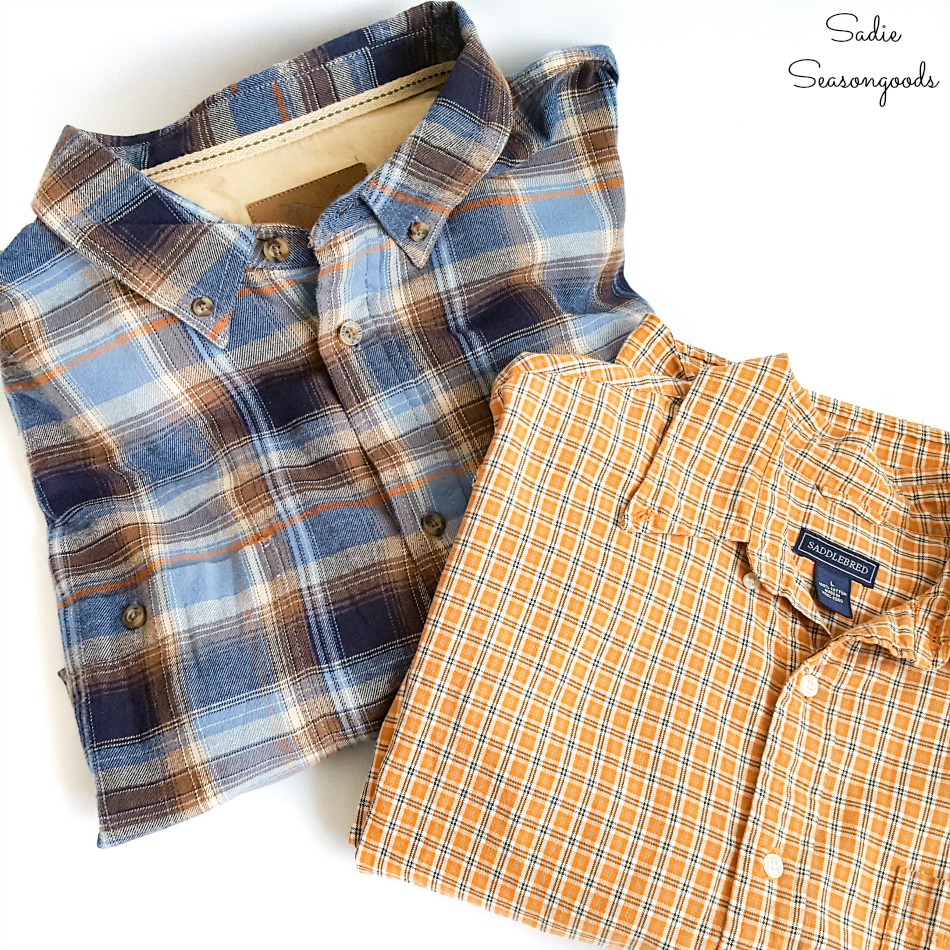 Which means I'm actually crafting with a NON-FLANNEL shirt for a change!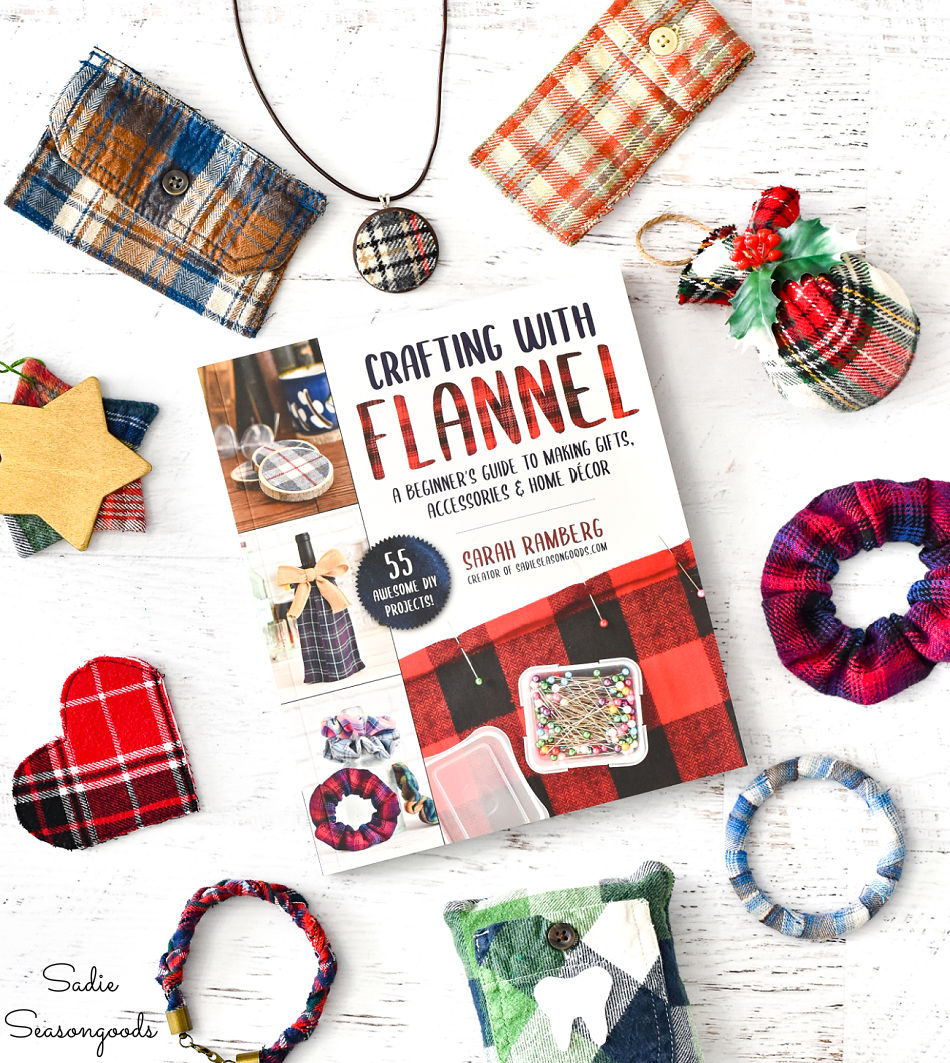 Who knew that was even possible? Ha! But, I've digressed too much- let's get to it!
This post contains affiliate links for your crafting convenience. As an Amazon Affiliate, I earn from qualifying purchases. All blue, bold, and underlined text is a clickable link, either to a product or to a related post.
Making the Plaid Ribbon from an Upcycled Shirt
To make the plaid ribbon I wanted for my autumn wreath, I needed to cut the thrift store shirt into strips of fabric.
I used my fabric-only scissors and cut out all the large/long blocks of fabric from the shirt that I could.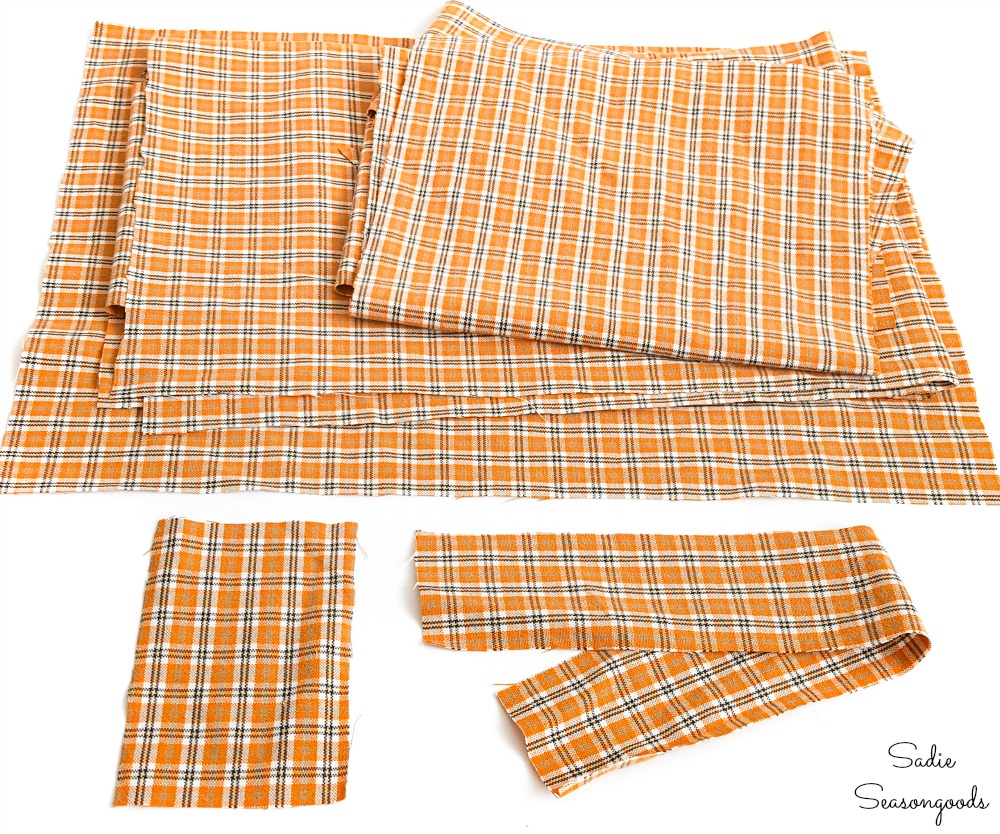 Plaid shirts make it easy to cut the same width in order to match up the pattern.
Next, I pinned the strips of fabric end-to-end and stitched them together into one long, continuous piece of plaid ribbon.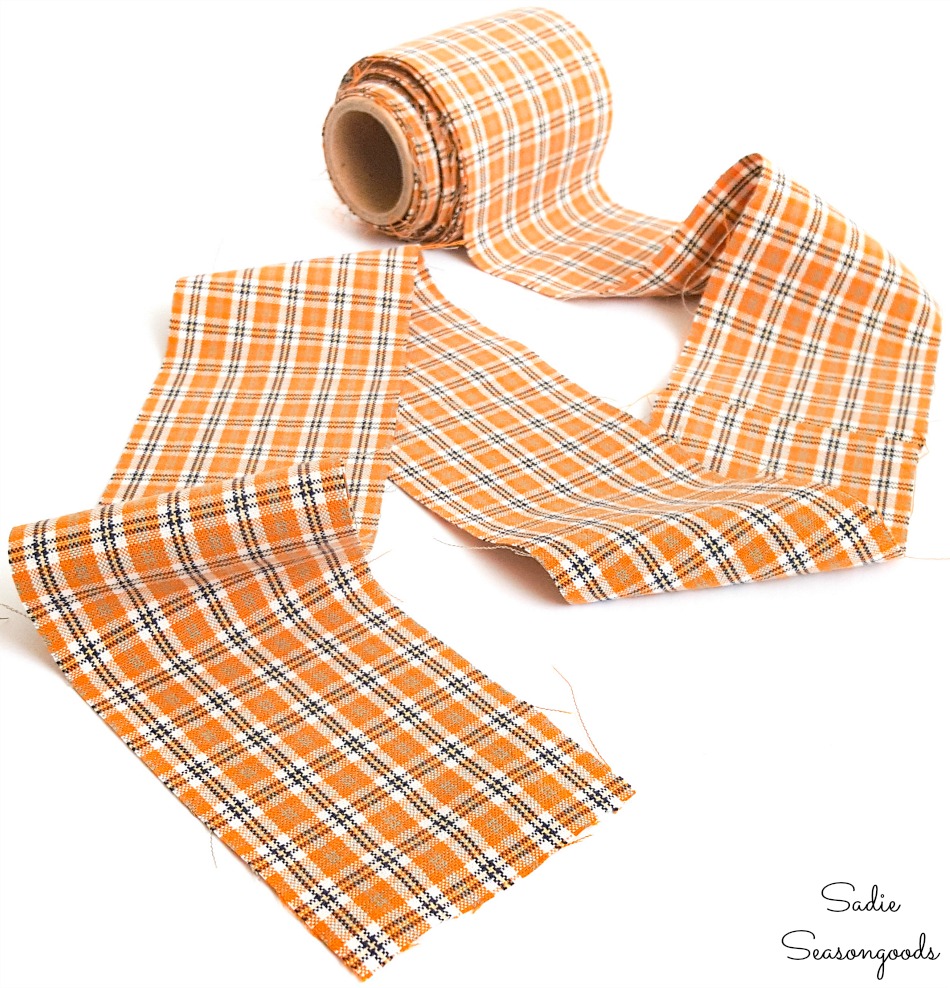 Then, I was presented with the real challenge or making wired ribbon by adding the wire! But it was easier than I had feared.
I simply strung along some nicely-weighted jewelry wire as I hemmed the raw edges, making sure to keep the wire under the fold as I went along.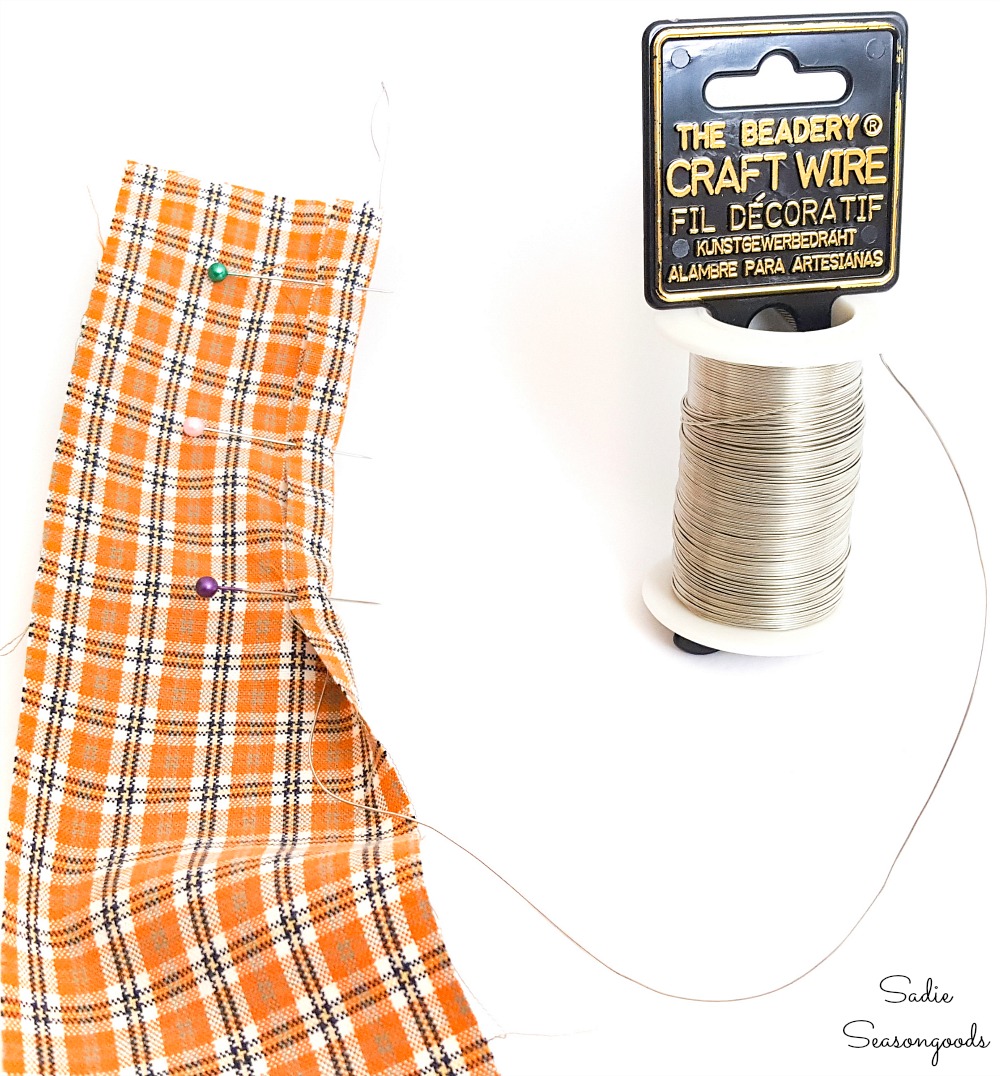 And after carefully stitching in the wire, the plaid ribbon was done. I now had the DIY wired ribbon that I needed for a harvest wreath!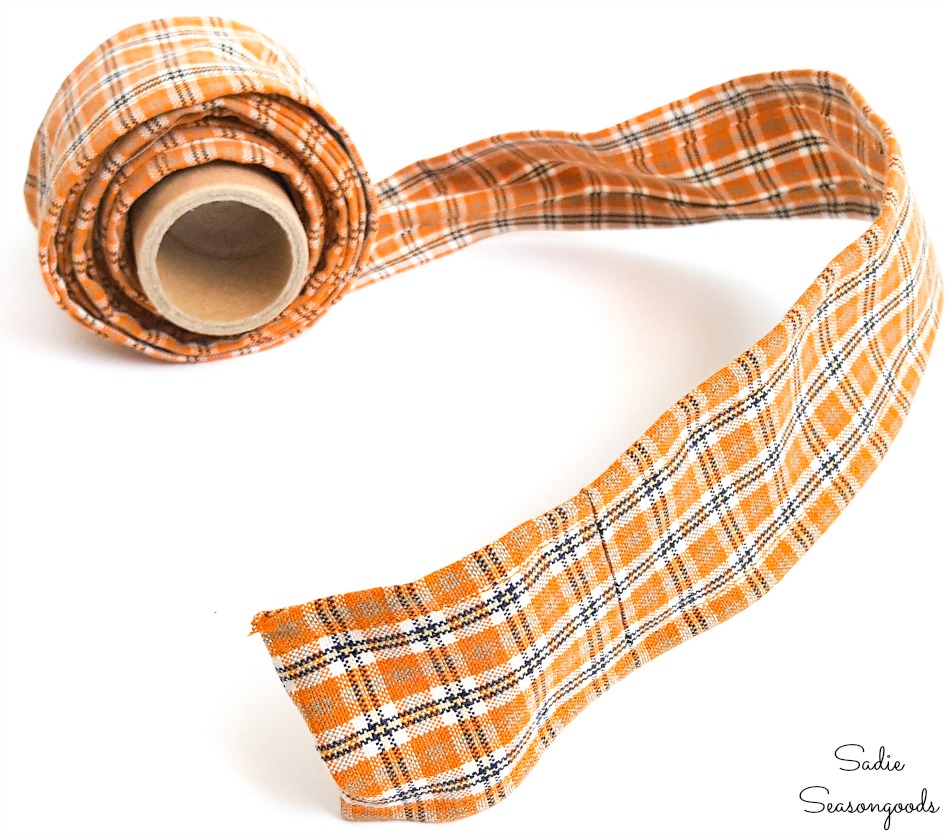 I watched some bow-making tutorials on YouTube before attempting to make a wreath bow from the wired ribbon. When all was said and done, I had a nice fat bow to attach to the harvest wreath.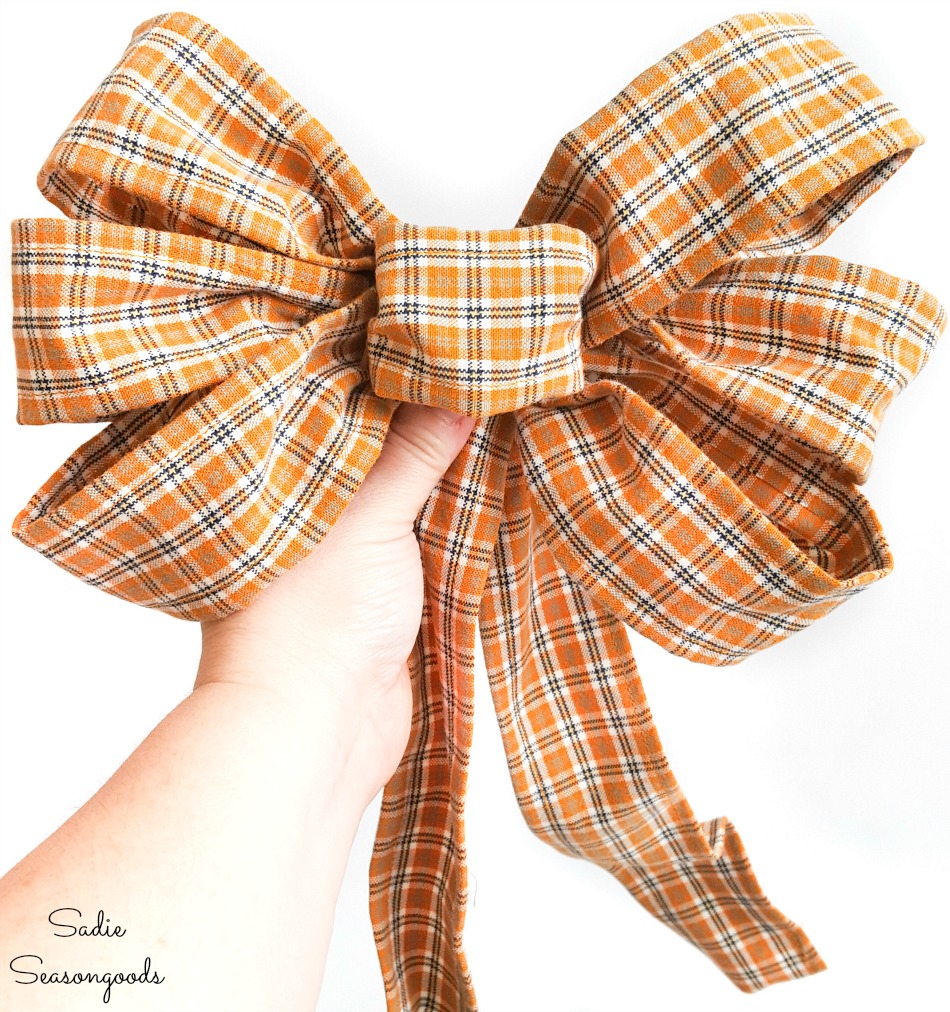 Harvest Wreath for Autumn Decor
With the plaid ribbon having been converted into a bow, I turned to the actual wreath itself. I decided on a grapevine wreath, but I wanted to add just little shimmer here and there.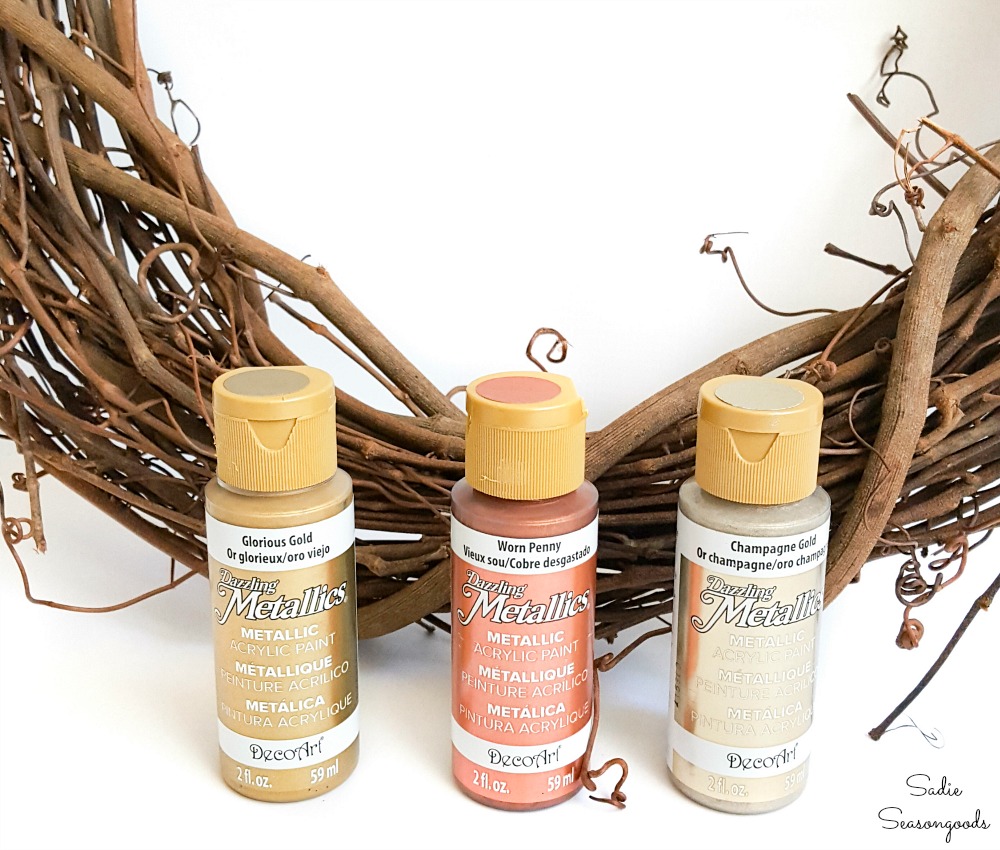 So, I dabbed a little autumn "magic" on the dark grapevine using metallic craft paints in copper and gold using a stencil brush.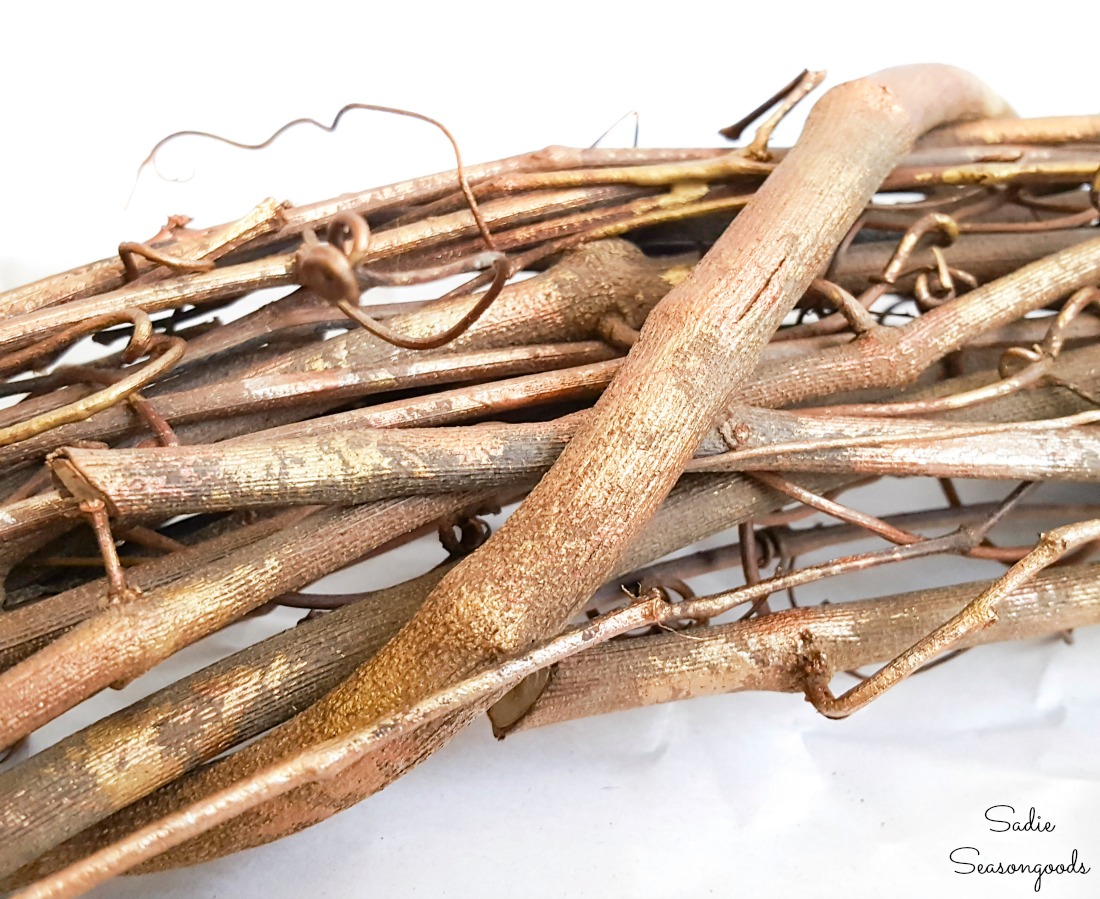 Next, I hot-glued a wheat stalk here and there in the bottom "corner" of my harvest wreath.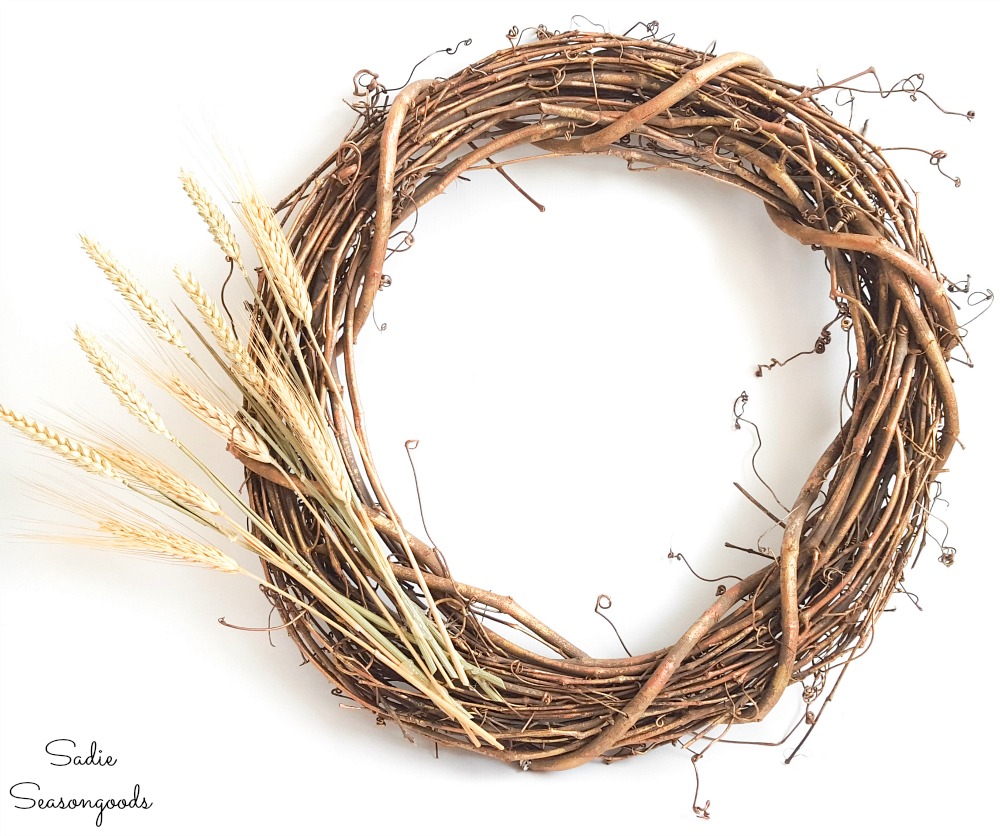 I also wanted to add some feathers to my autumn wreath, as well. BUT, the animal lover in me decided to forego feathers from a craft shop.
I can't bear to think about how they are harvested.
Instead, I did a little research and found an Eco-farm in West Virginia that sells the naturally molted feathers from their variety of free-range chickens! Aren't they so pretty??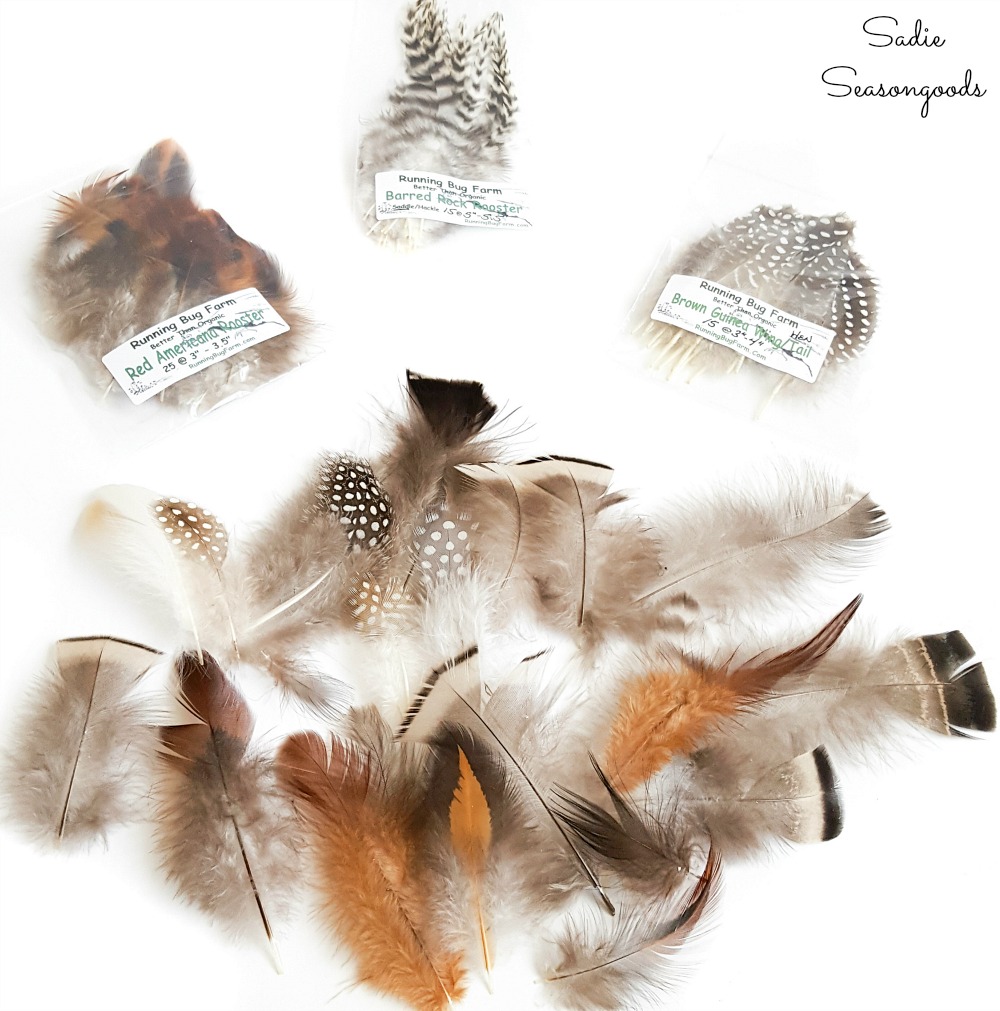 I'm just so excited that cruelty free feathers are available!
Bless his little heart, Cottonball was CONVINCED I bought the craft feathers for him and not my harvest wreath.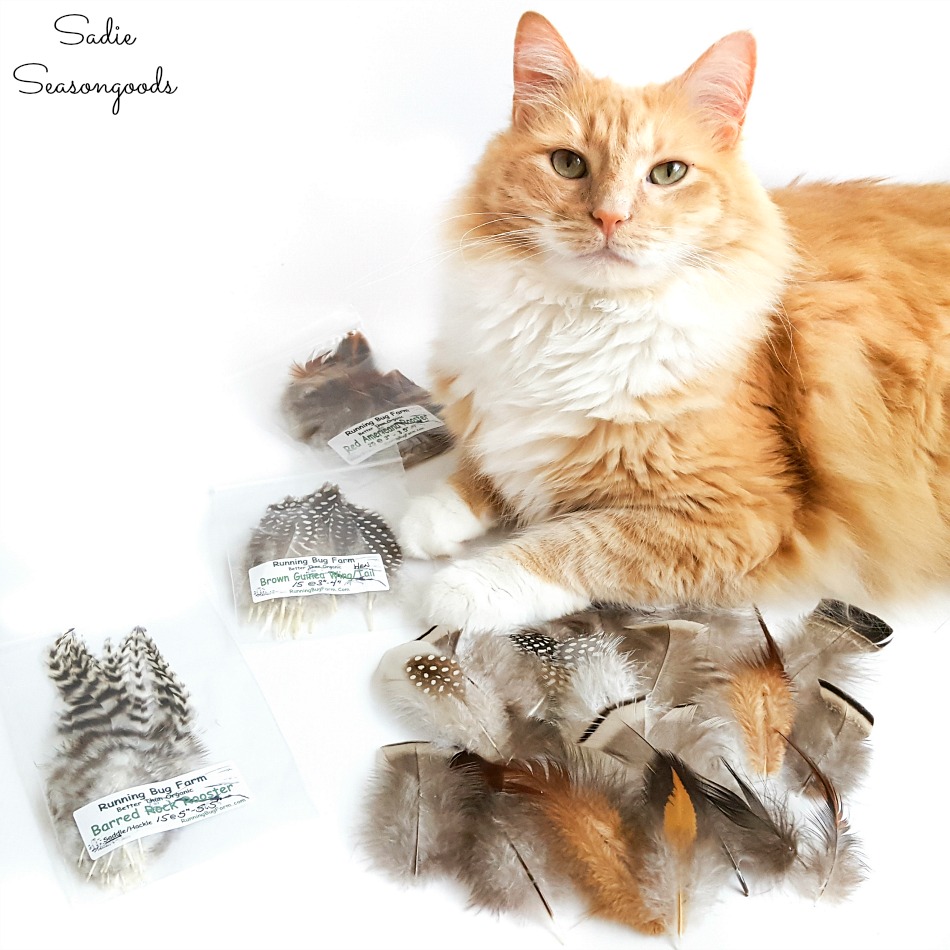 After I added in the craft feathers, I attached my bow made from plaid ribbon to the wreath. Ready to see how it all came together?
Plaid Ribbon from an Upcycled Shirt
I absolutely LOVE how it turned out! The plaid ribbon from an upcycled shirt was better than anything I saw at the craft store, that's for sure.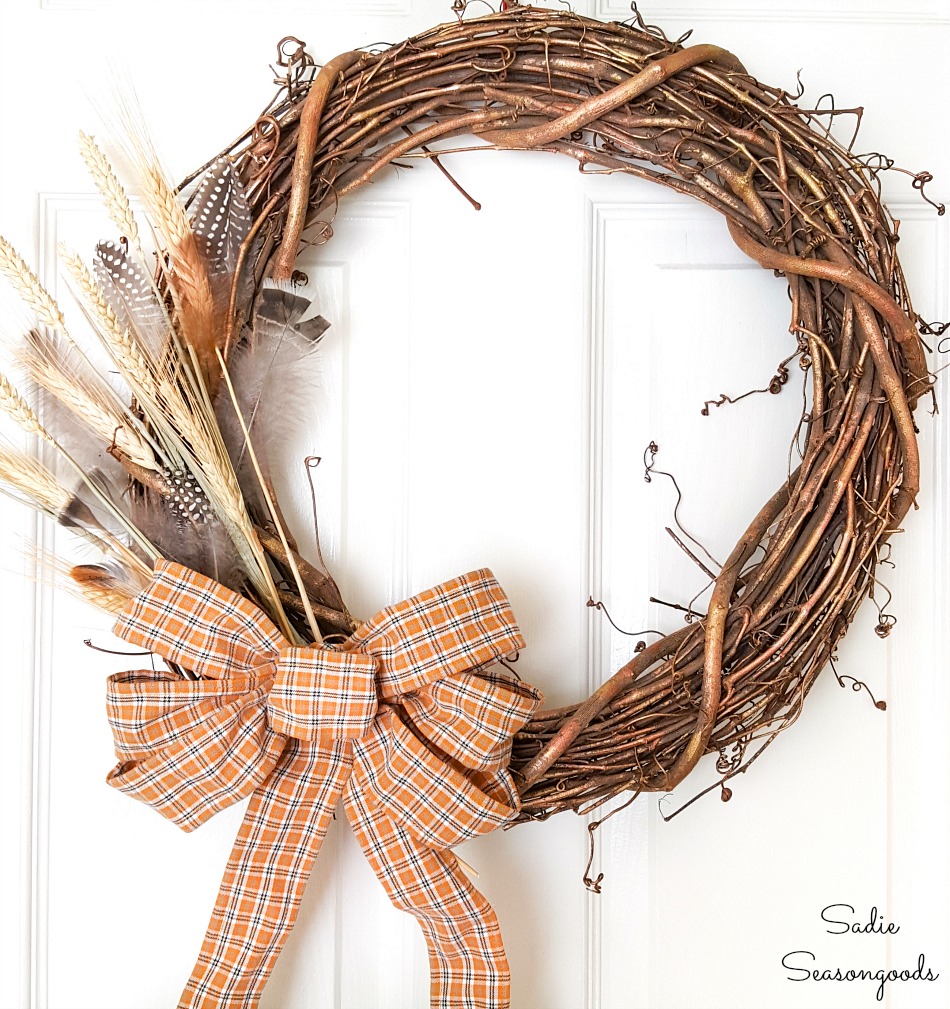 All in all, making the wired ribbon was definitely more complicated than buying some at the craft store. BUT, if I can do it, then anyone can.
And it opens up a world of possibility! Especially if you don't have oodles of craft stores to choose from OR simply can't find the perfect design.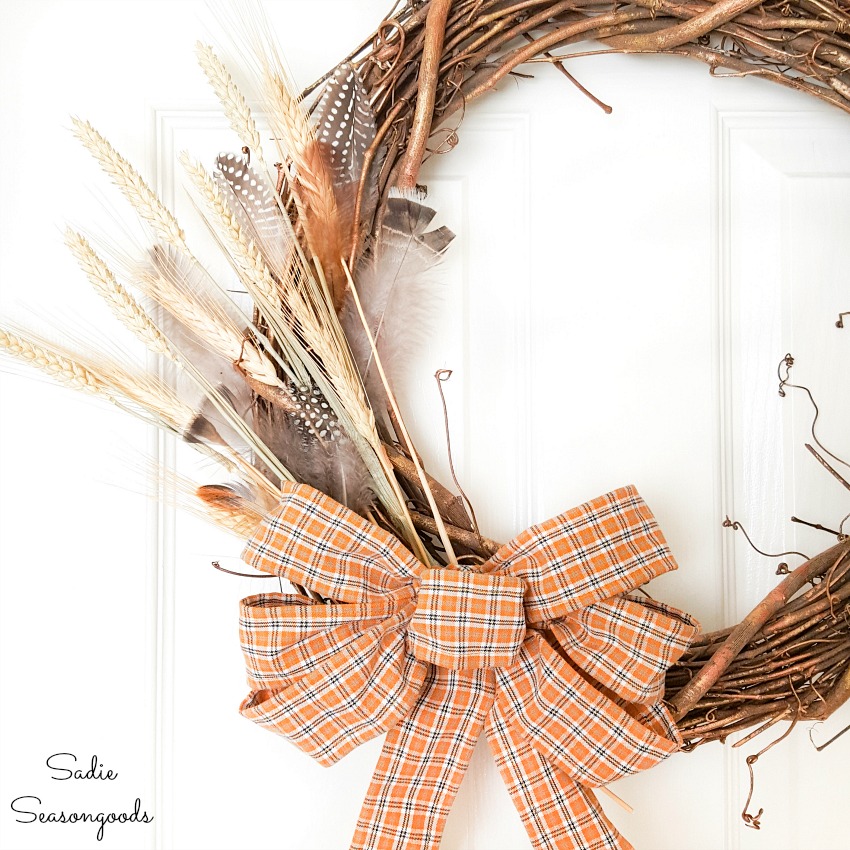 Speaking of plaid shirts and fall projects, my first book, "Crafting with Flannel" is now available! And there's an entire chapter devoted to my favorite season.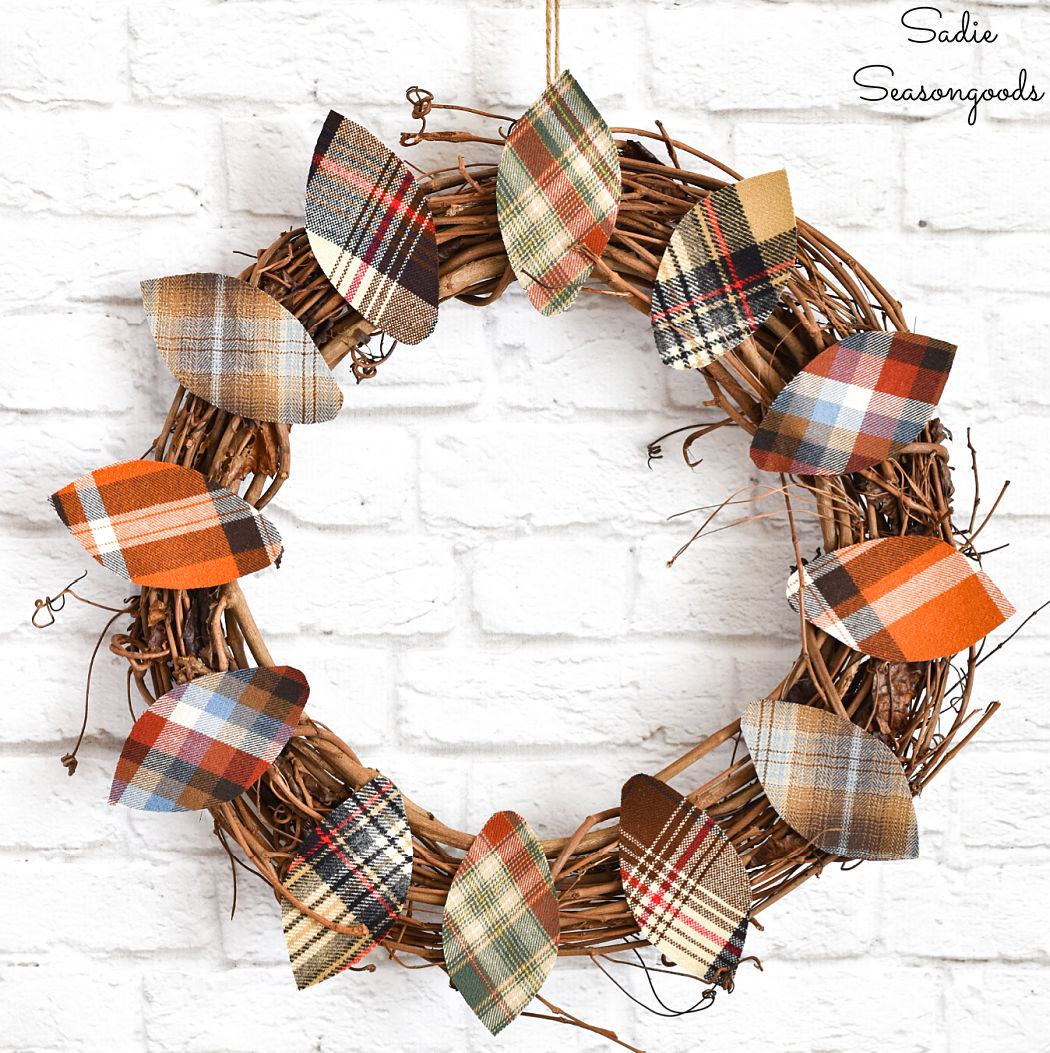 If you enjoyed this upcycling idea for autumn decorations, then you'll love this wooden keepsake box that I made that doubles as pumpkin decor!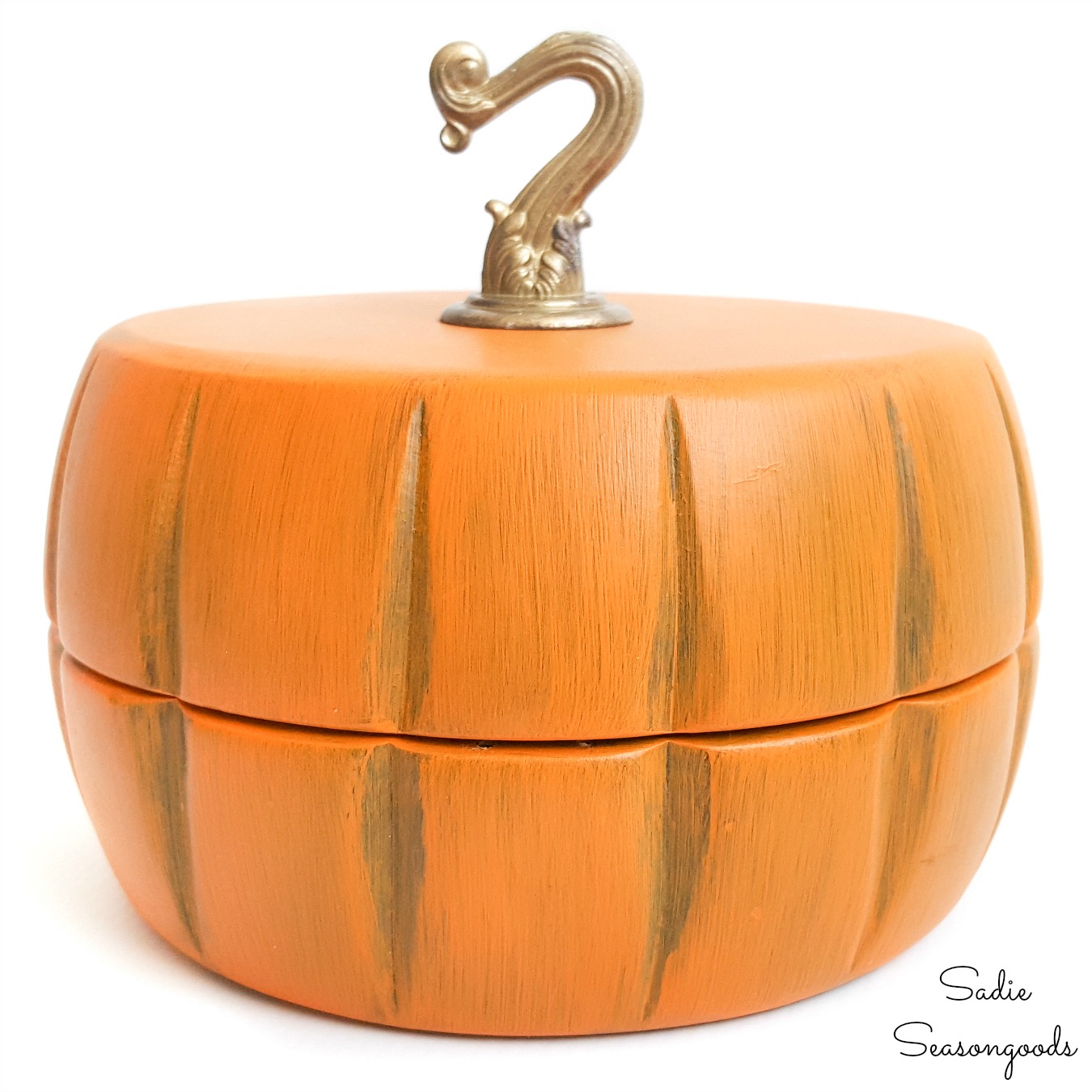 Craft on!
S
Want to be notified when I publish my next upcycling project tutorial?
Subscribe to Blog via Email
Join me on Social Media:



PIN ME!