I think we can all agree that "fanny packs" are immensely handy, especially for travel or while at a festival or fair. BUT, it's also agreeable that they aren't particularly attractive and have a punchline stigma attached to them. So, when I was meandering through the purse section of a local thrift store the other day, I had a touch of inspiration from a small purse at a thrift store. I could easily transform it into a hip purse.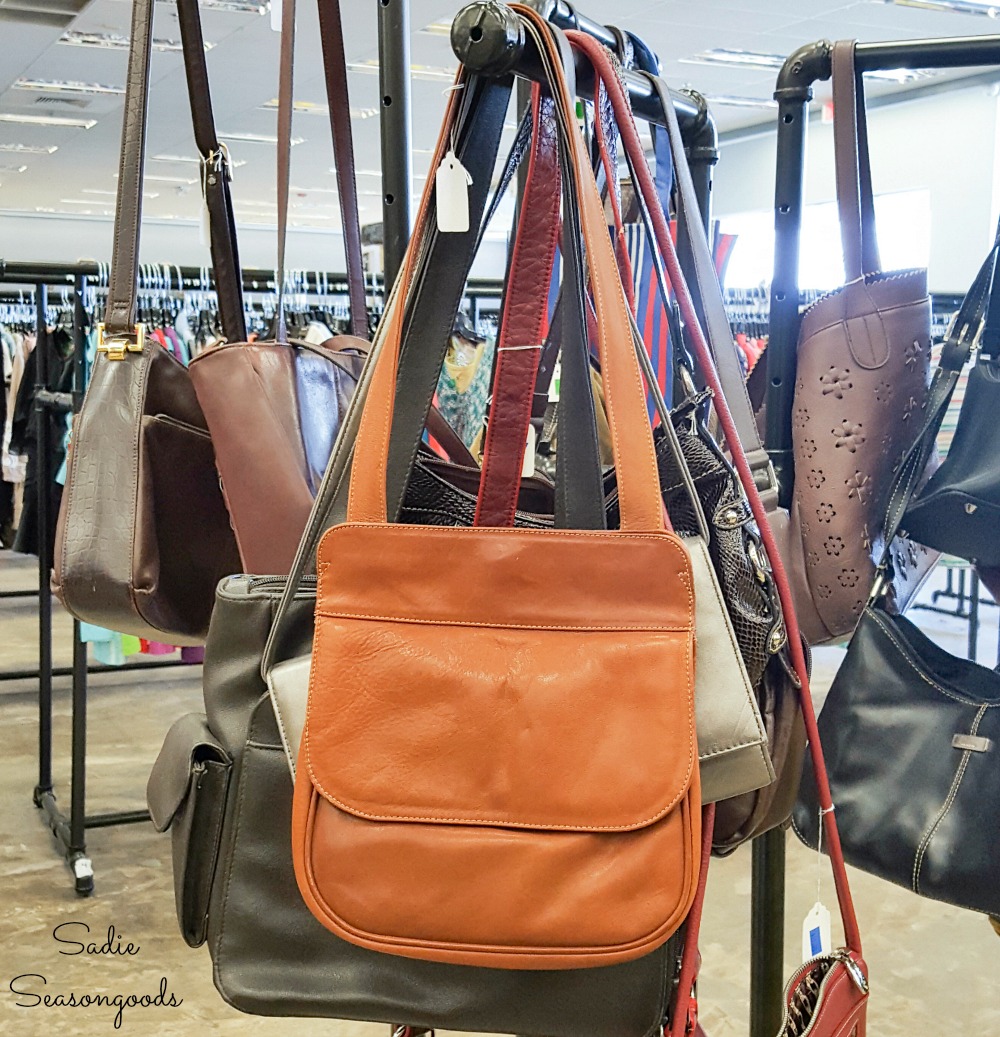 The purse itself was not overly big, but was strangely flat- thus limiting what it could hold (think along the lines of an overgrown wallet).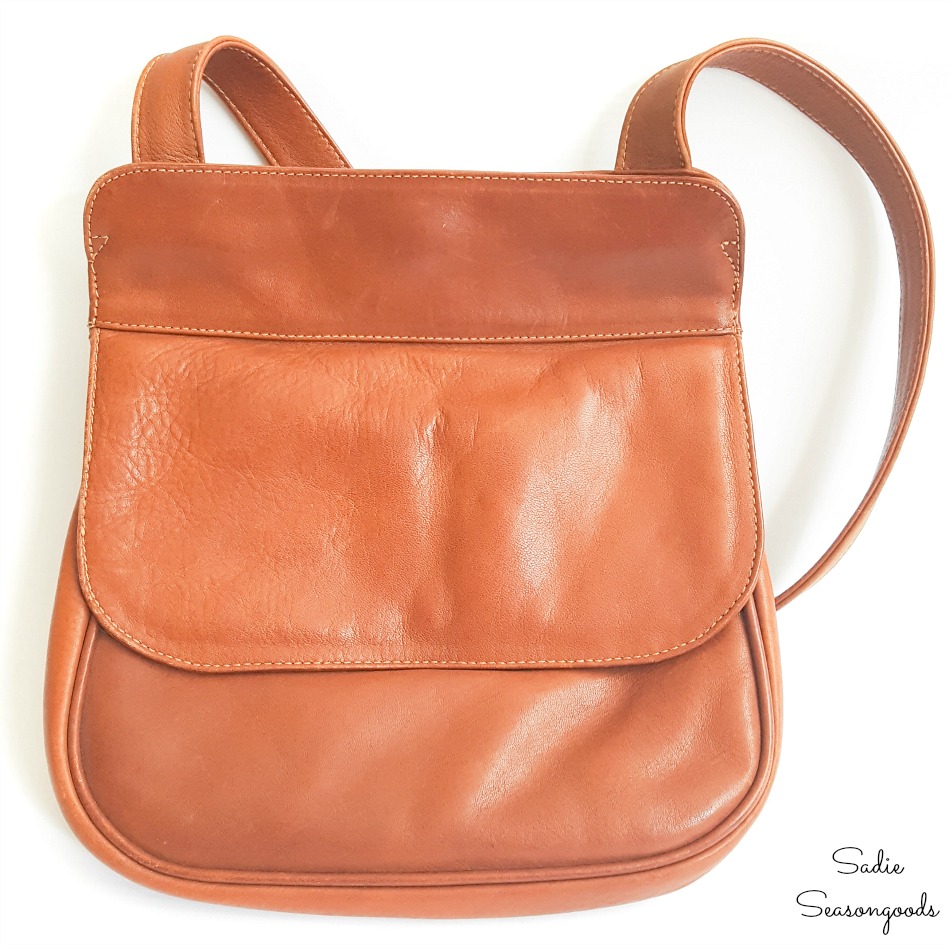 And then there was the handle/strap…which was too short to comfortably wear over the shoulder, and too long to hang from my hands. It reminded me of a saddlebag on a horse or bike.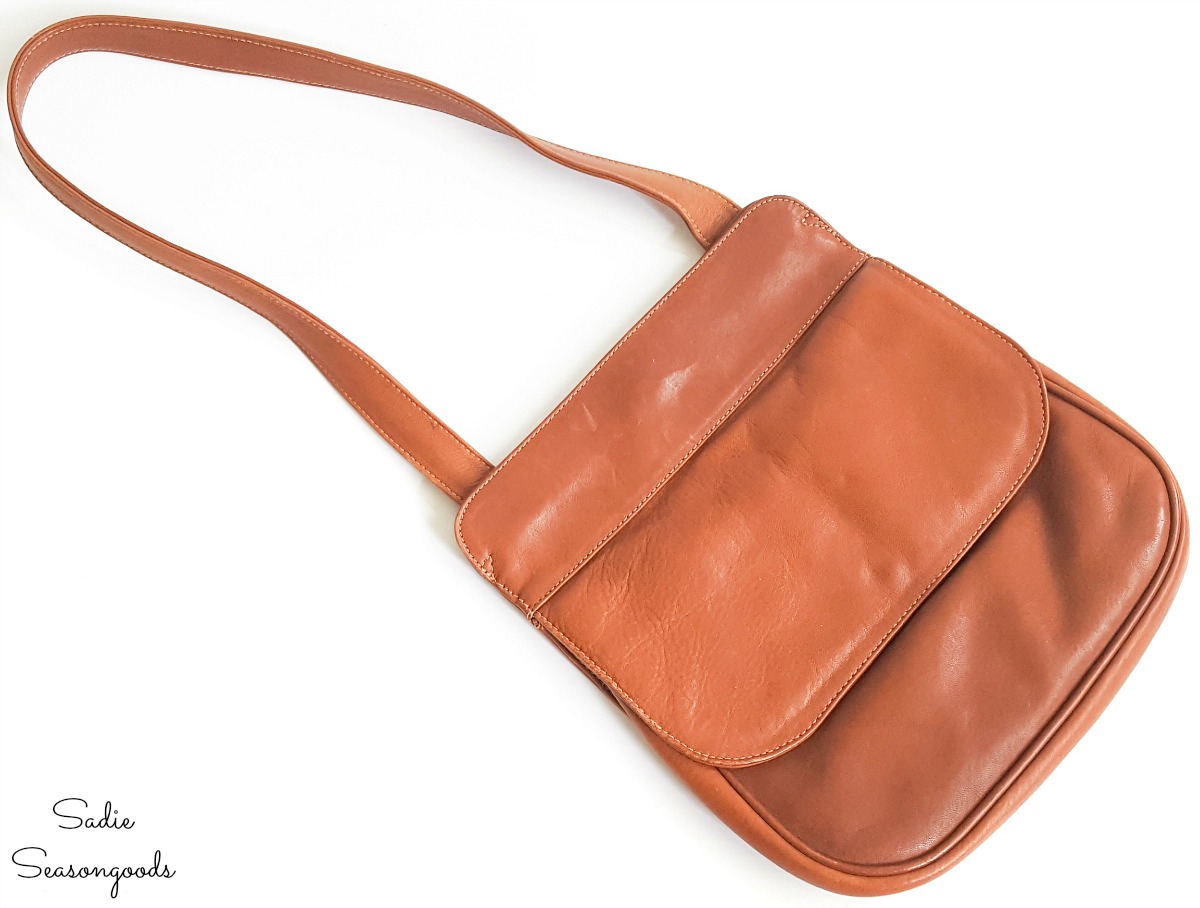 And that's when I thought to myself, "This is the perfect purse to refashion as a hip purse", which you could say is fanny pack's cooler, more sophisticated cousin.
My plan? To cut the leather strap and turn it into two small, secured loops for a belt to slip through! The hands-free function of a fanny pack (aka, a hip bag) but in a smarter-looking (and interchangeable) package.
This post contains affiliate links for your crafting convenience. As an Amazon Affiliate, I earn from qualifying purchases. All blue, bold, and underlined text is a clickable link, either to a product or to a related post.
Simple Leather Work on a Small Handbag
So, before I begin, this is what I'm going for when it comes to refashioning a small handbag as a hip purse.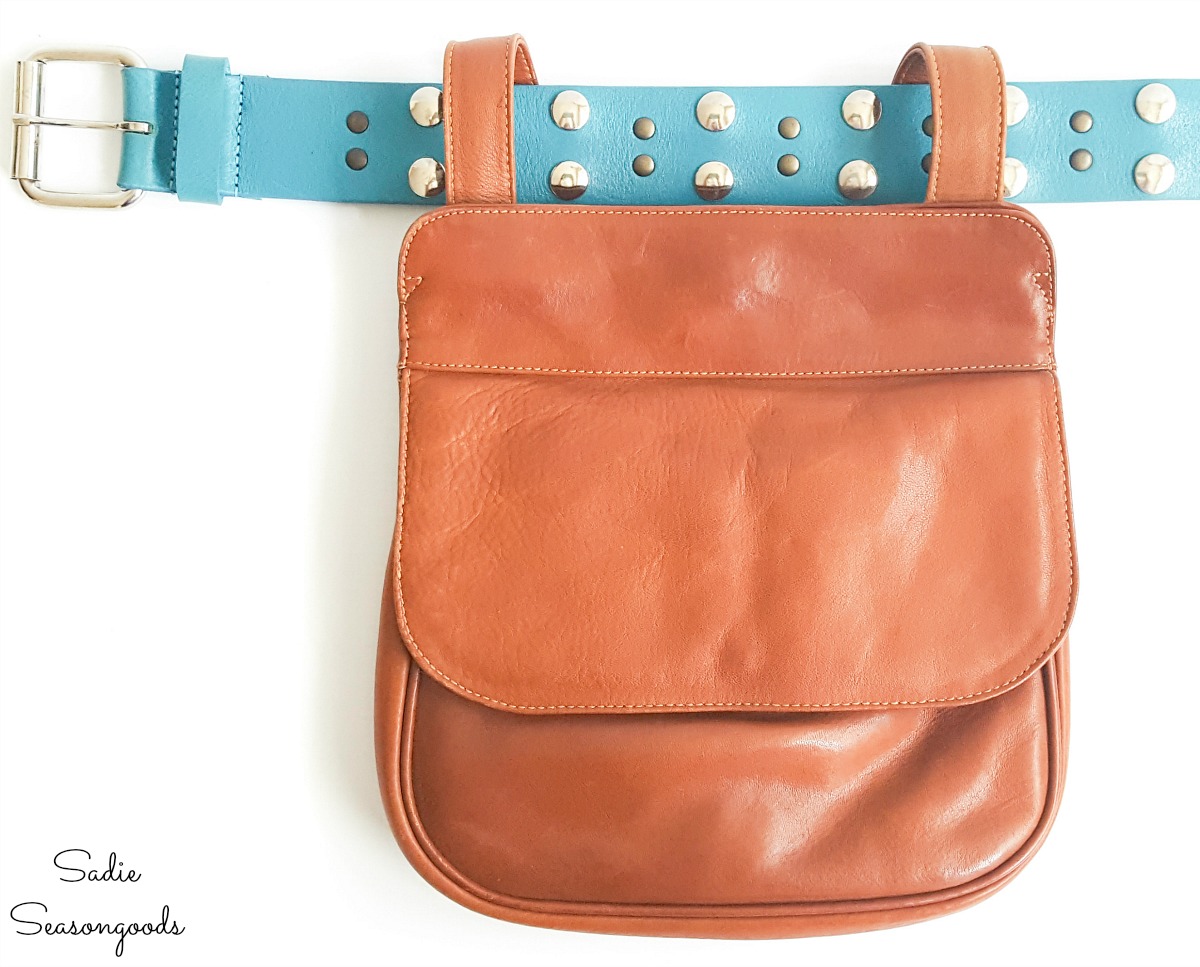 First things first, I used my heavy-duty craft scissors to snip the strap at the top, creating two roughly-equal flaps.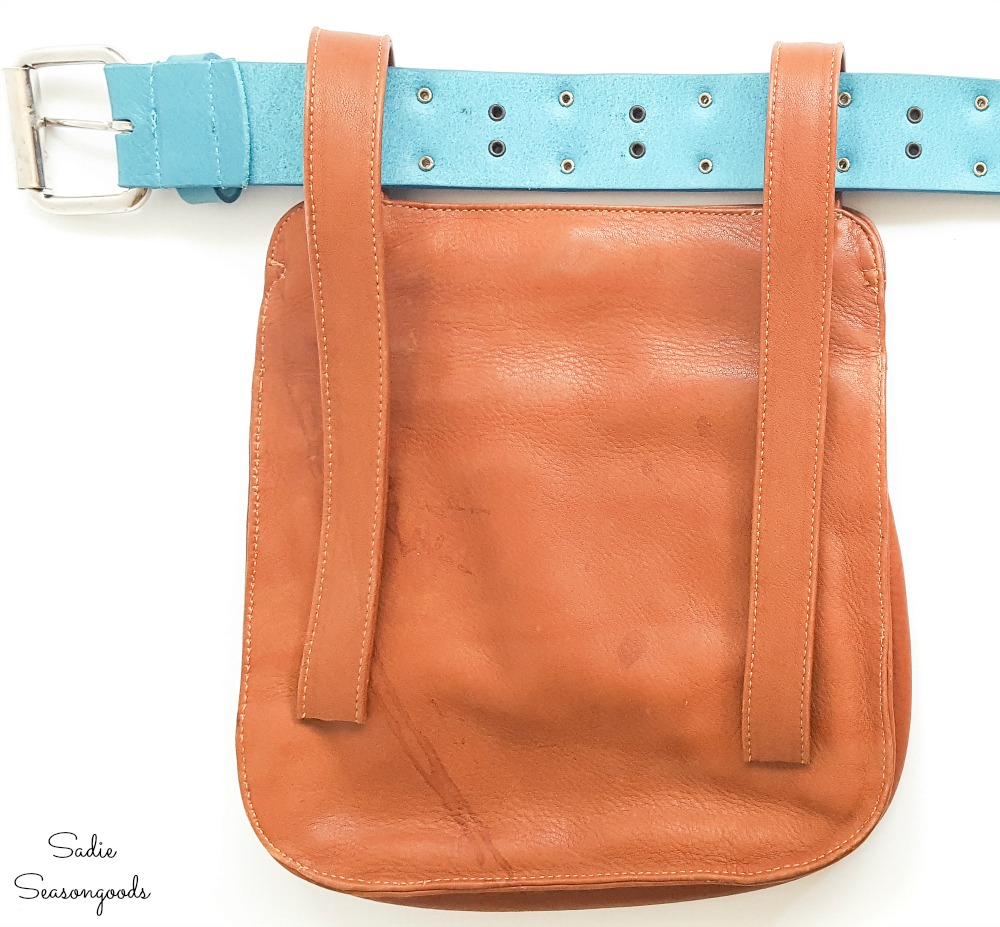 Next, I trimmed the flaps shorter using my wide turquoise belt as a stand in for the widest belt I could imagine wearing.
Once they were trimmed and of equal length, I punched a hole through each flap using my leather punch, approximately 1" up from the raw edge.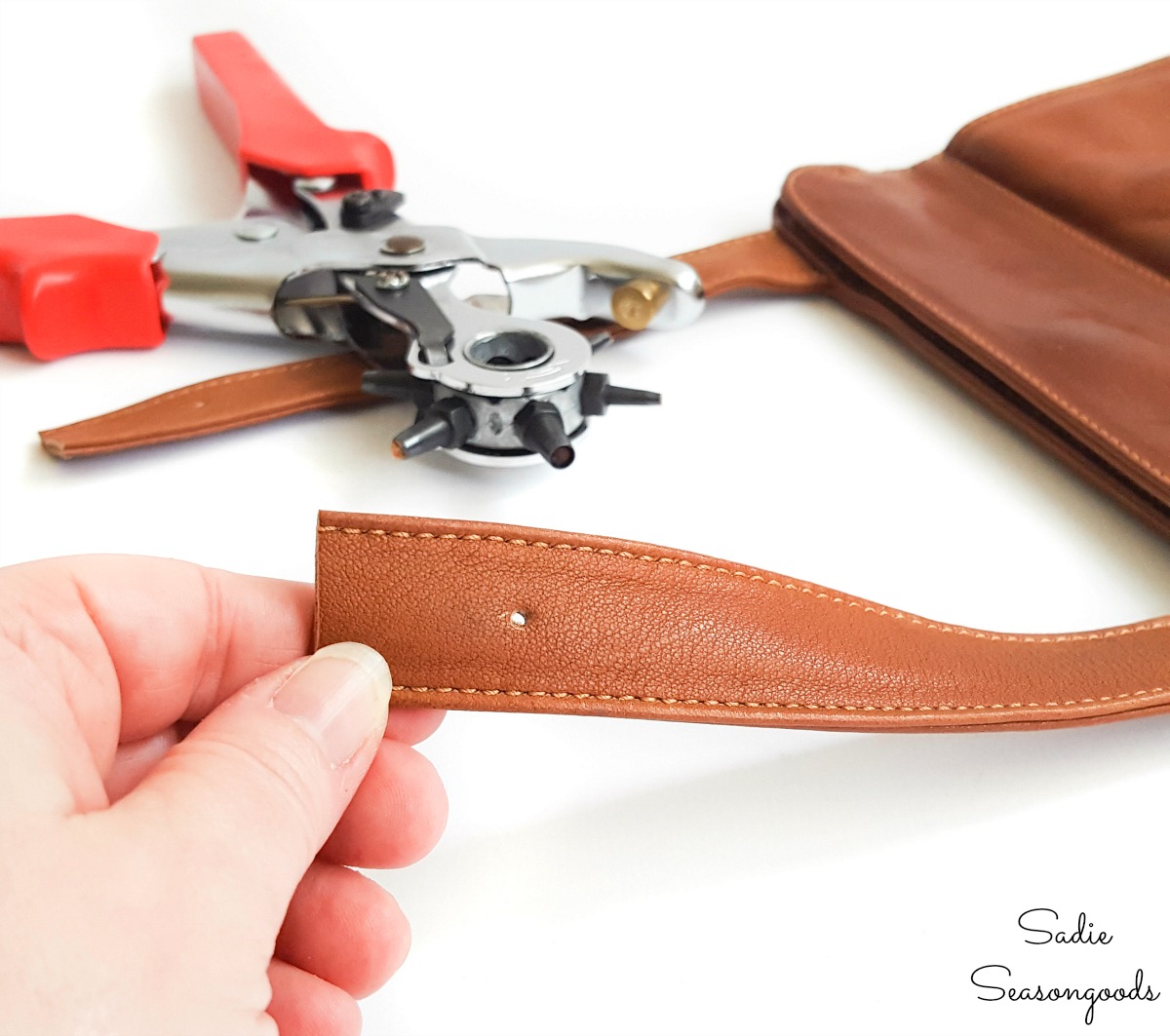 Finishing Up a Hip Purse or Hip Pouch
Then, I marked and punched coordinating holes on the back of the actual bag portion of my small purse.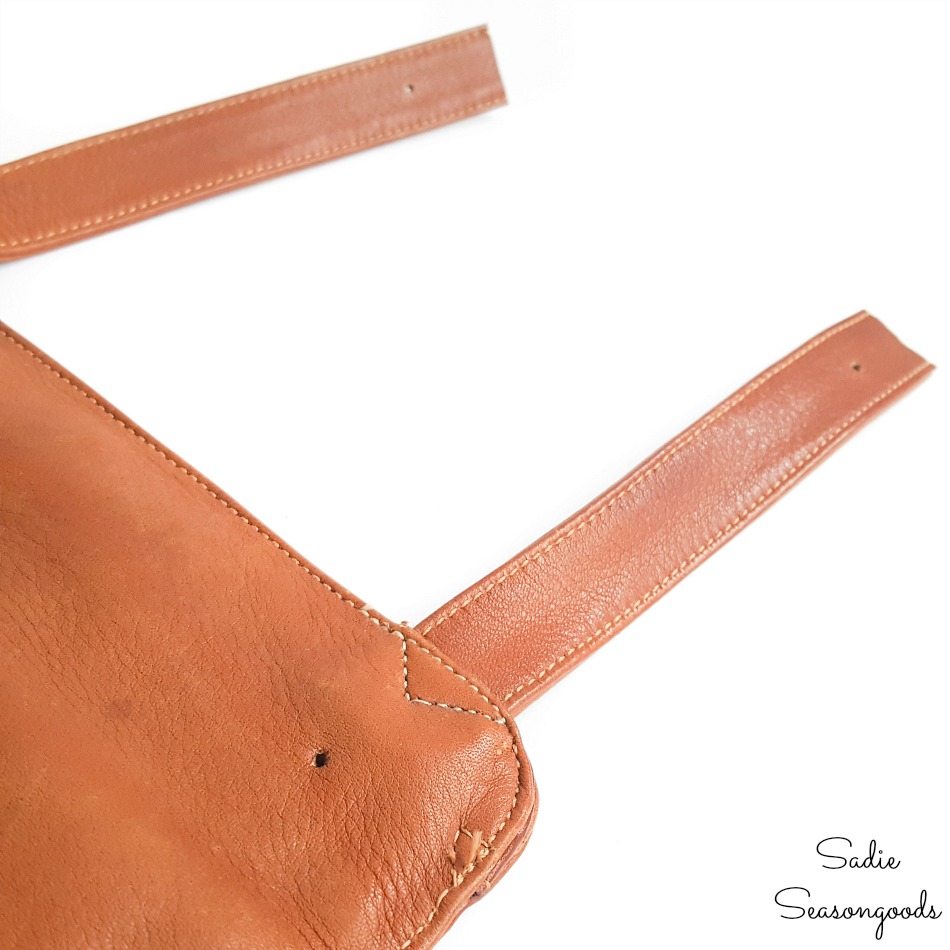 These holes just go through the pack panel and fabric lining, so the front lining and leather panel remained intact. Sorry for not thinking of taking a better photo, but it'll make sense in a moment.
Now I just needed to secure my strap flaps to the back of the purse, thus creating permanent loops for slipping a belt through!
Because I already have leather working tools, I used some rapid rivets to make the loops from the straps.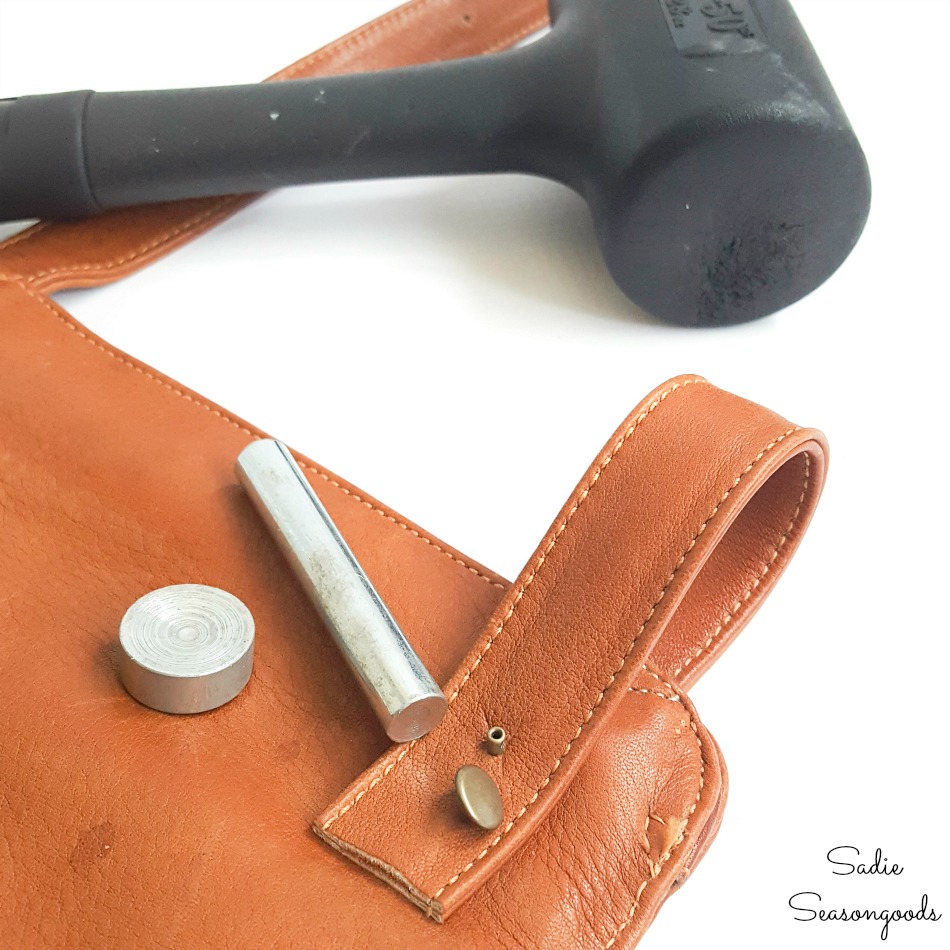 They snap together with just your fingers, but then you secure them permanently with a rivet setter.
However, you could just as easily punch two holes and sew the flaps to the back of the purse, securely knotting inside. And if you don't have a leather punch or hand punch kit, you could use an awl, or even a small nail with a piece of scrap wood underneath.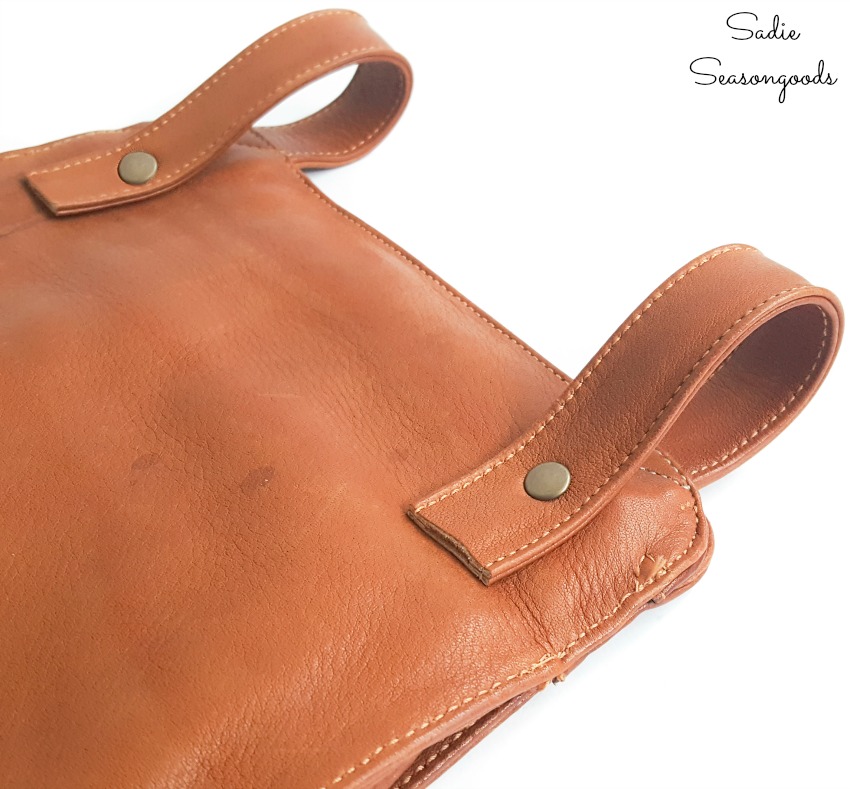 Either way, it's definitely possible to create this project without any leather working tools whatsoever!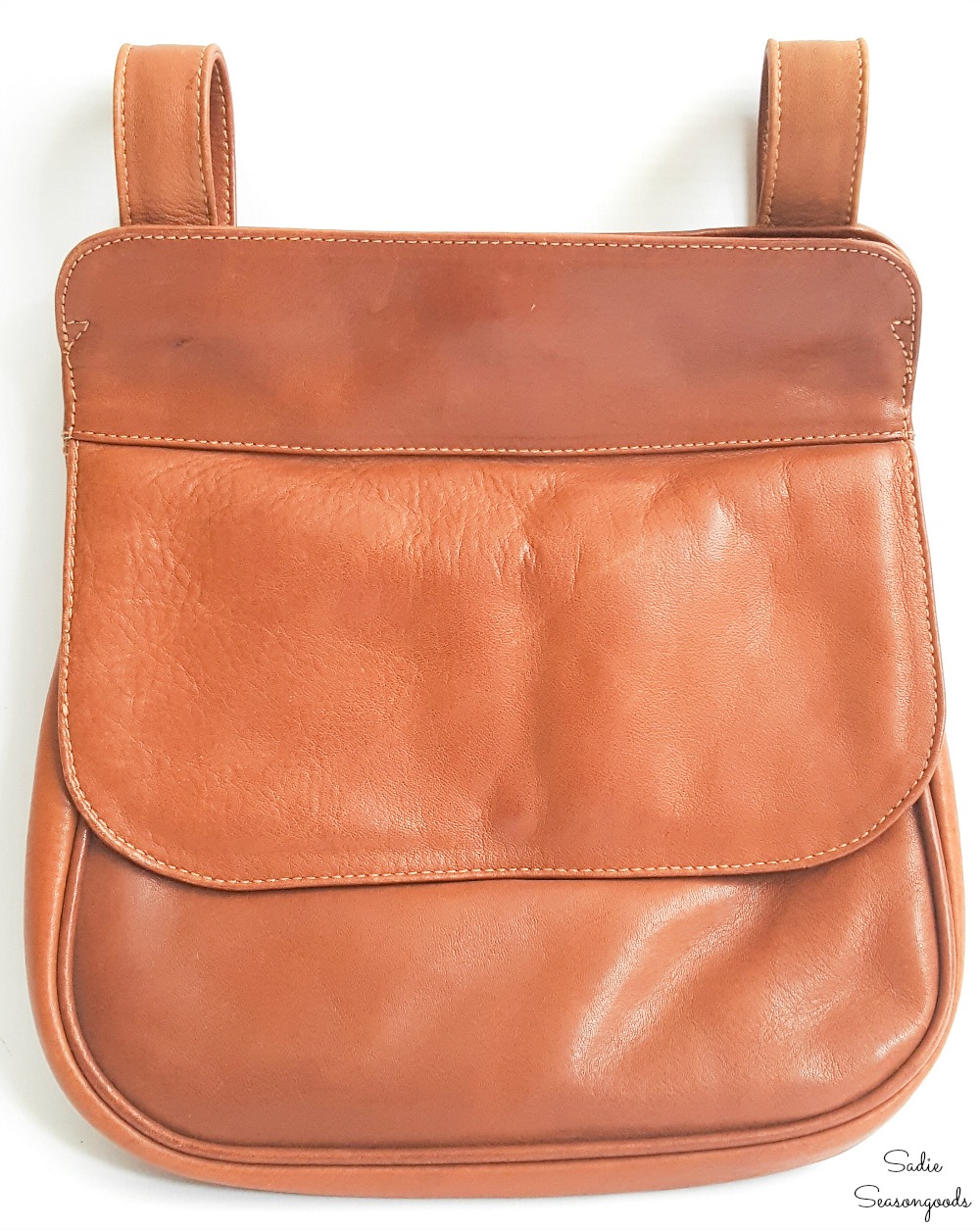 Ready to see the hip purse in action?
Hip Purse from a Small Leather Handbag
It doesn't even look that different, but instead of being a traditional handbag, it's now a hip purse!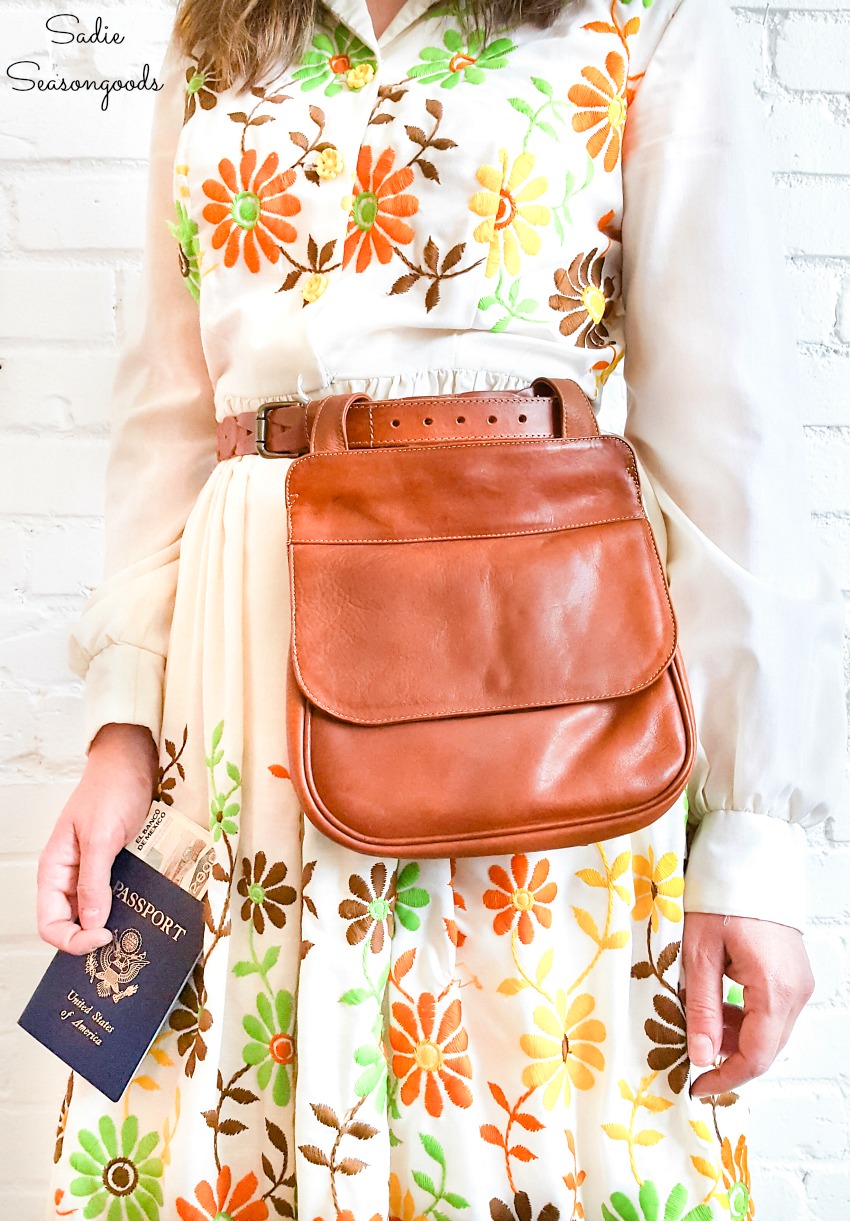 Whether you call it a hip purse or anti-theft purse, it really is a fun way to upcycle a handbag. Perfect for hands-free shopping and/or travel safety for your money and ID.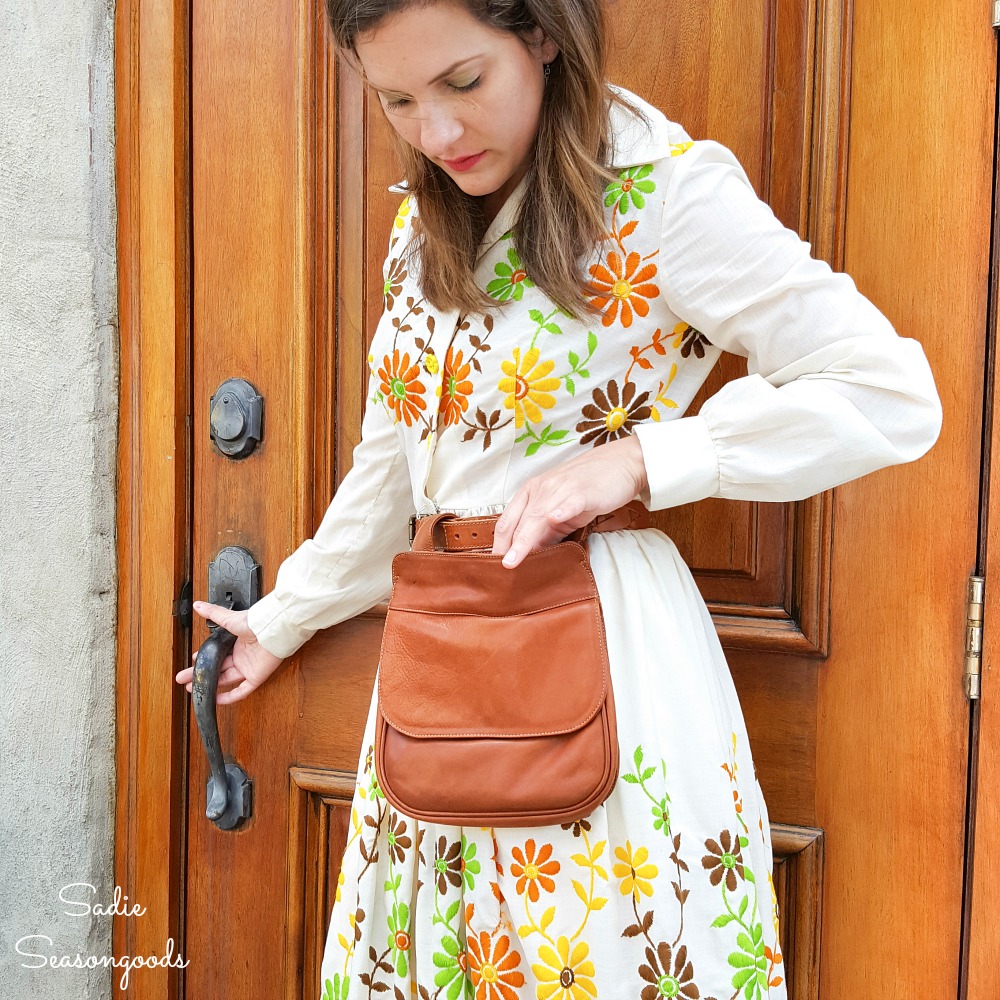 Can you tell that my friend, Carla Sue Vintage/Kate DiNatale Vintage, and I had fun with our little photo shoot?
And, let's face it, a hip purse like this is perfect for traveling. You can keep your money, ID, and passport safe and close to your person!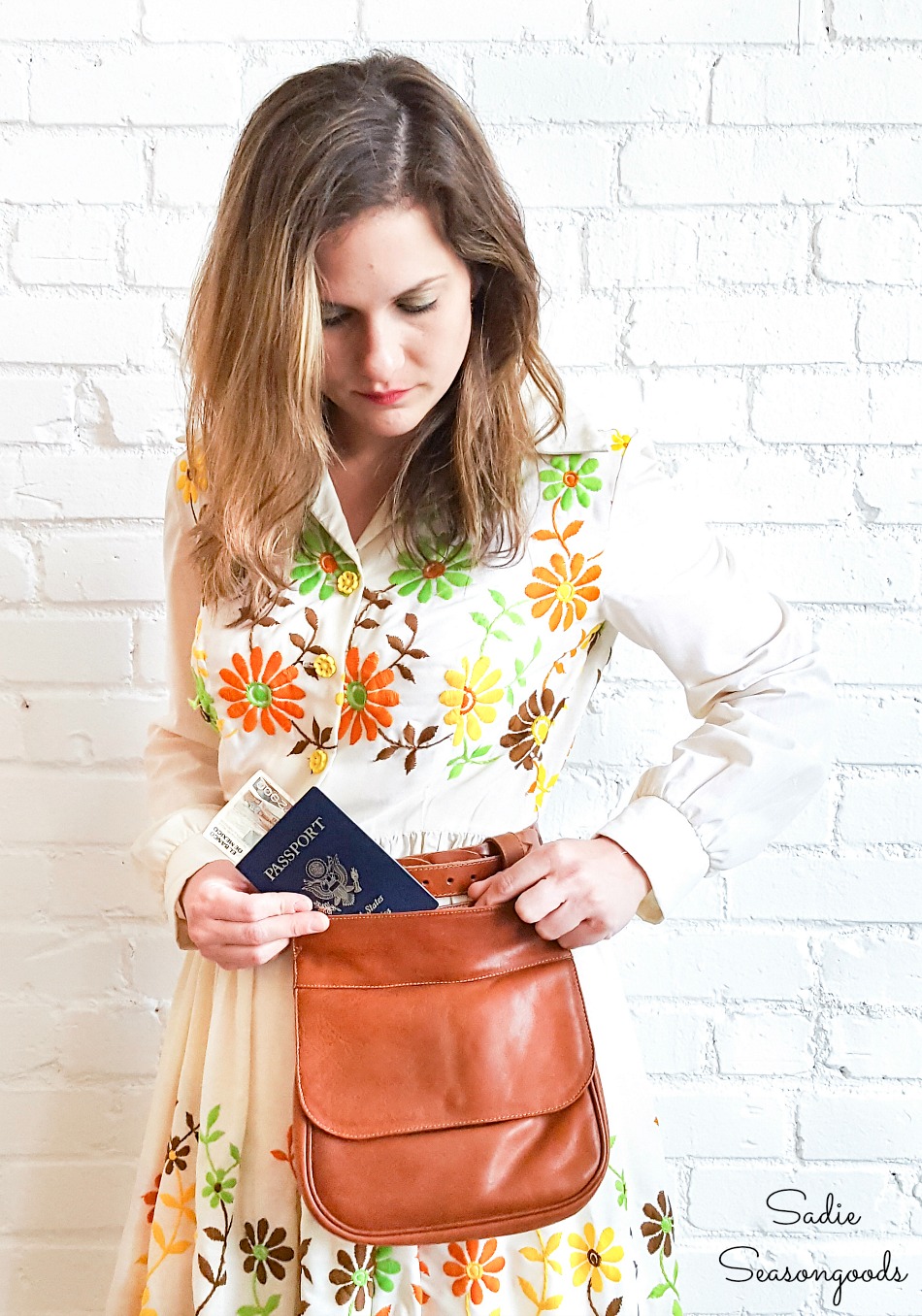 It's also ideal when you want to go hands-free shopping at an art show, antiques festival, or other outdoor fair, as well!
If you enjoyed this upcycling idea for a hip purse, then you may also enjoyed these braided bracelets from vintage handkerchiefs, too!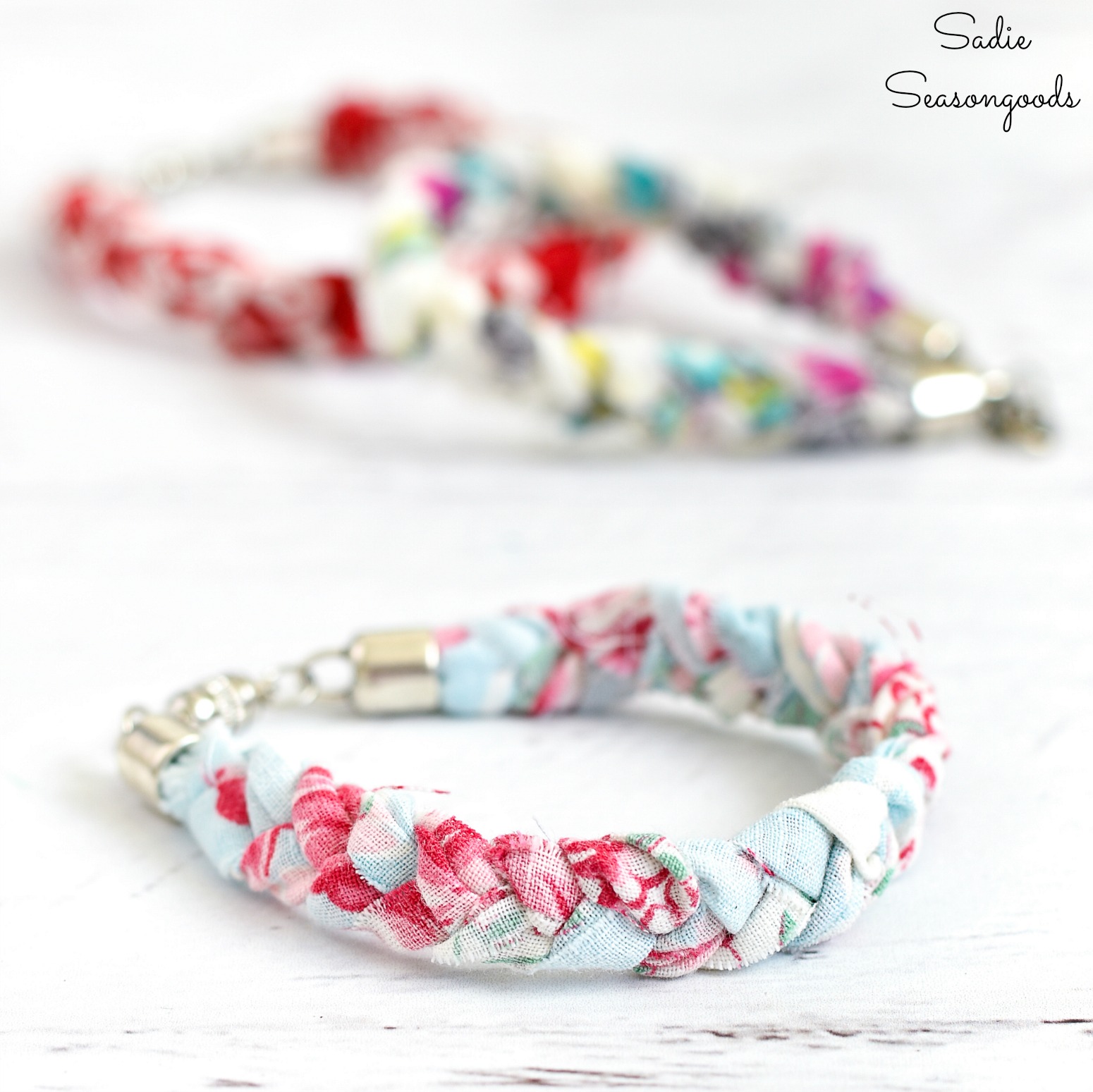 Craft on!
S
Join me on Social Media:

PIN ME!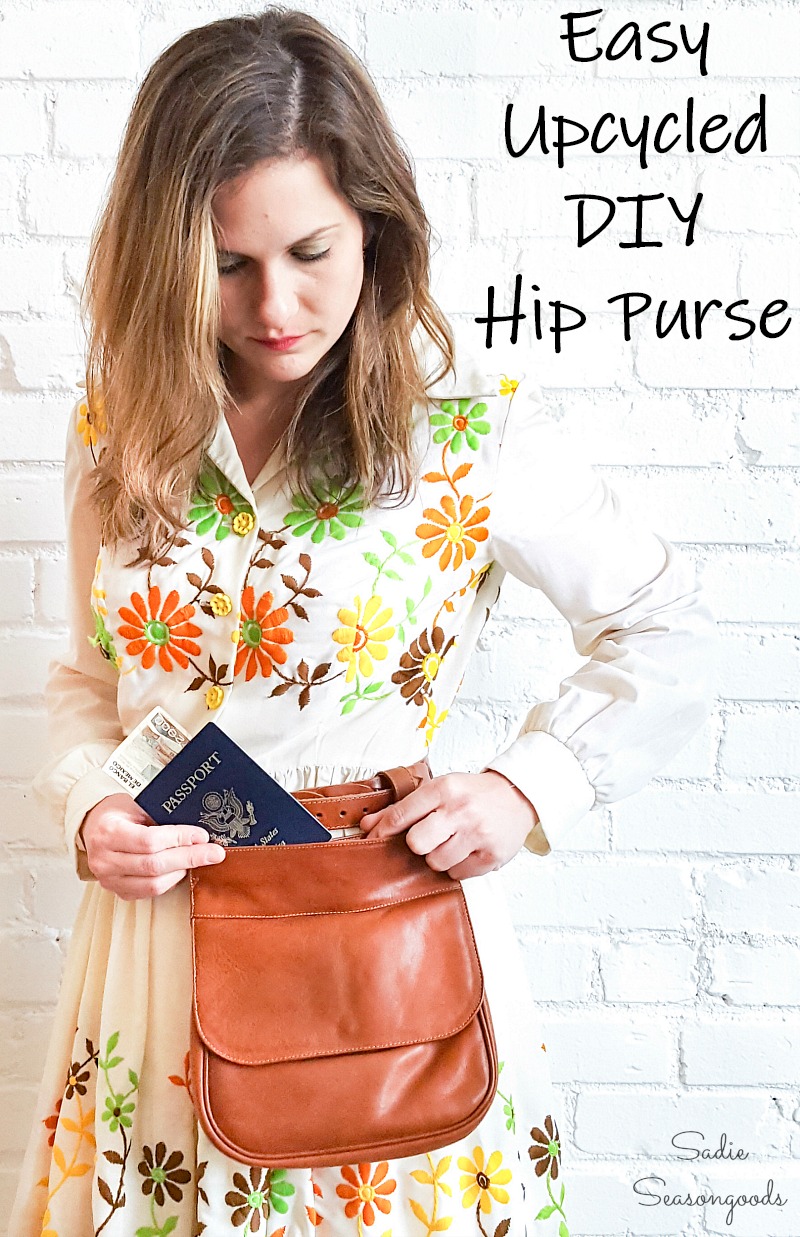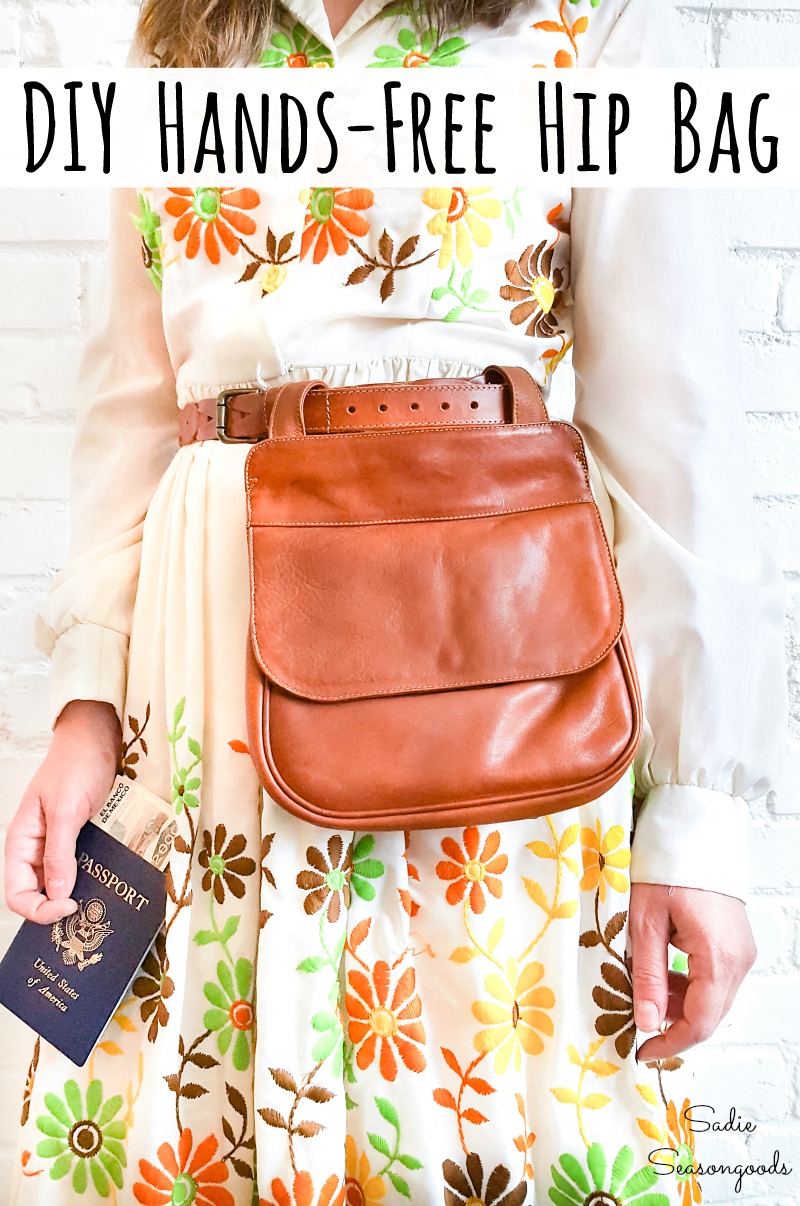 Sarah Ramberg is the owner of Sadie Seasongoods, a website that celebrates all things secondhand. From upcycling ideas and thrifted decor to vintage-centric travel itineraries, Sadie Seasongoods is a one-stop shop for anyone who loves thrifting and approachable repurposing ideas. Sarah is also the author of "Crafting with Flannel" and has been featured in numerous media outlets and magazines.