I love finding broken things at thrift stores because they are positively perfect for any number of upcycling ideas. And this clock box was no exception, since it was missing the clock! So, I decided to repurpose it into a power outage kit filled with supplies. AND it would double as an emergency lantern, as well.

See what I mean, though? It's useless right now, but has so much potential.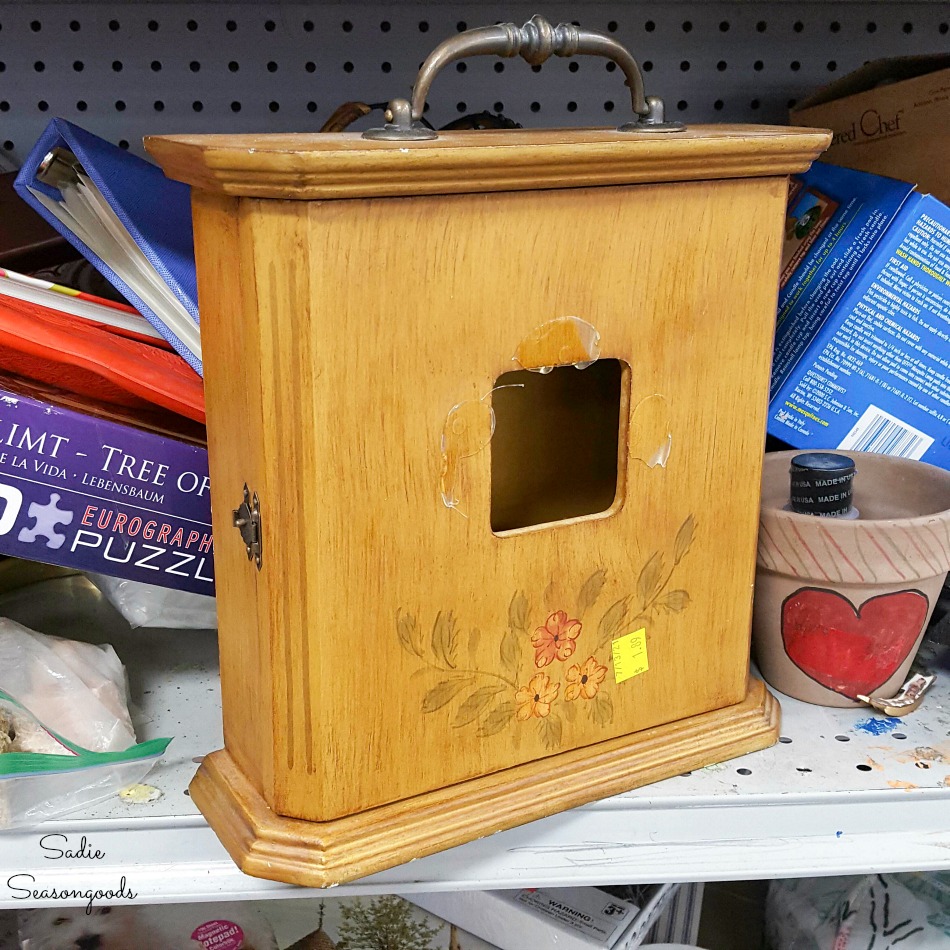 And it would be PERFECT for a blackout kit because it's like a little cabinet with room for power outage supplies.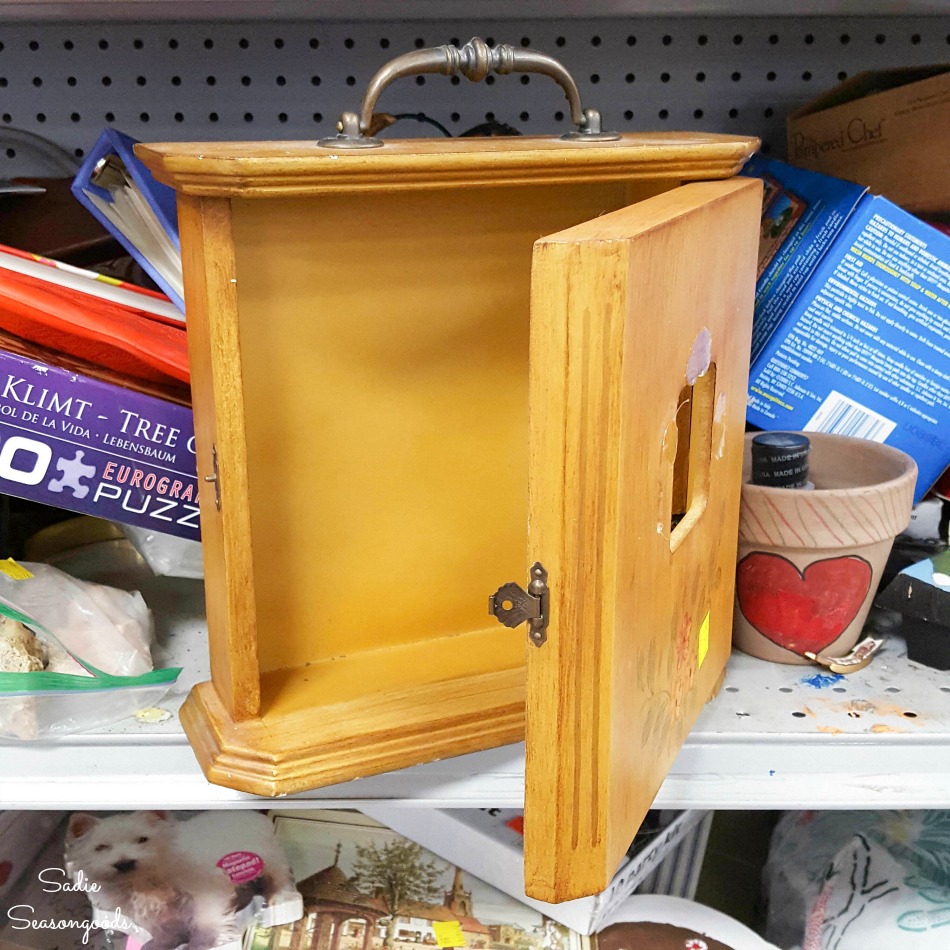 For whatever reason, I couldn't stop seeing it as an old-fashioned, vintage lantern. Like like an old railroad lantern that a conductor would hold in an old movie.
All I needed to do was give it a quick paint job and add a light. And once I filled it with power outage supplies it would be both decorative and functional!
This post contains affiliate links for your crafting convenience. As an Amazon Affiliate, I earn from qualifying purchases. All blue, bold, and underlined text is a clickable link, either to a product or to a related post.
Creating an Power Outage Kit for a Blackout
Since I wanted the blackout kit to double as an emergency lamp, I needed to add some battery-operated lighting.
And an LED closet light (sometimes called a push light) was the perfect way to do so.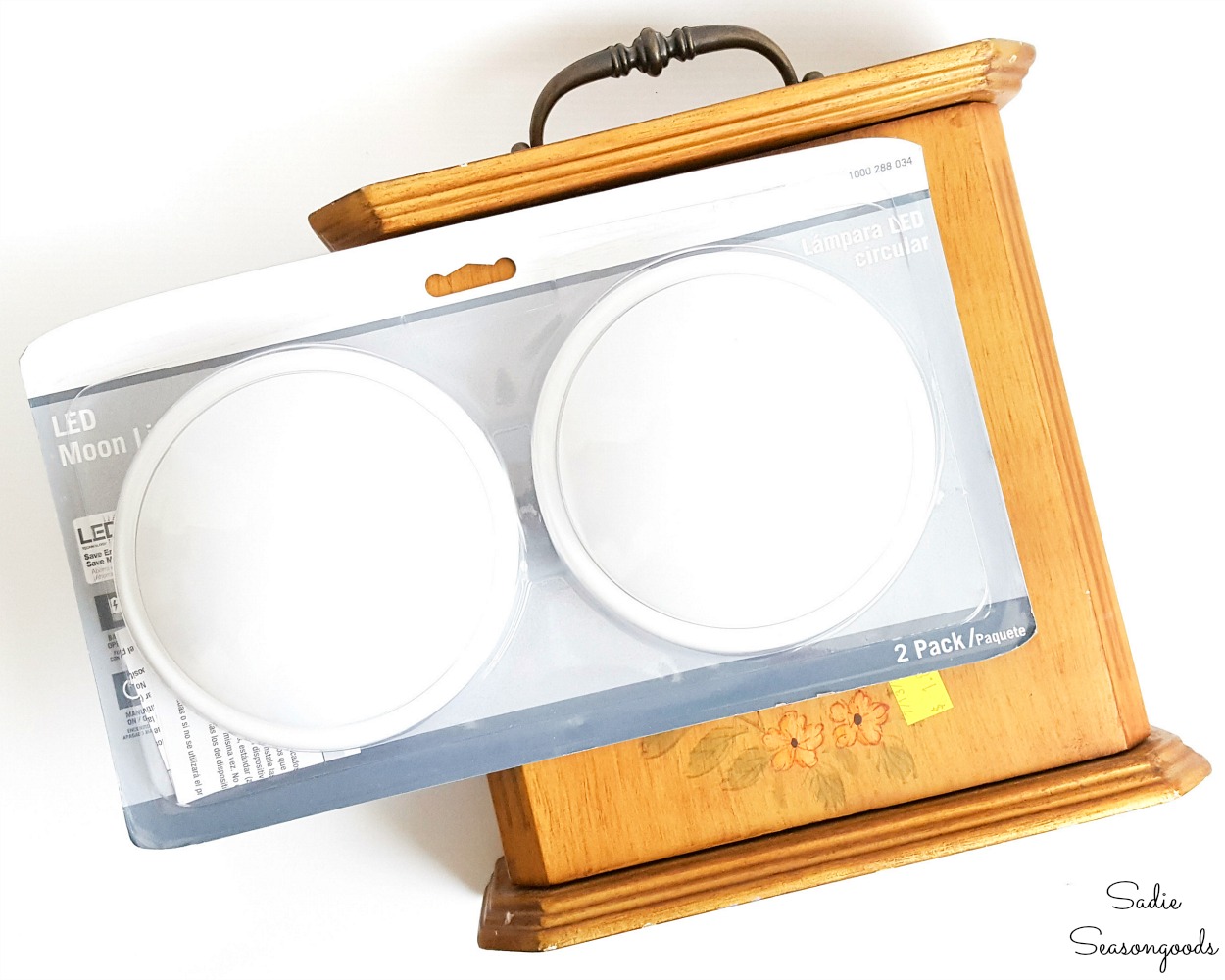 First, though, I needed a way to attach it while still being able to access the battery panel.
I had two options: (1) cut a larger hole on the front of the cabinet, or (2) use strips of Velcro on the light and the cabinet.
Because we had the tools, I traced the battery panel on the clock box over the existing hole and Jon cut it out with our jigsaw.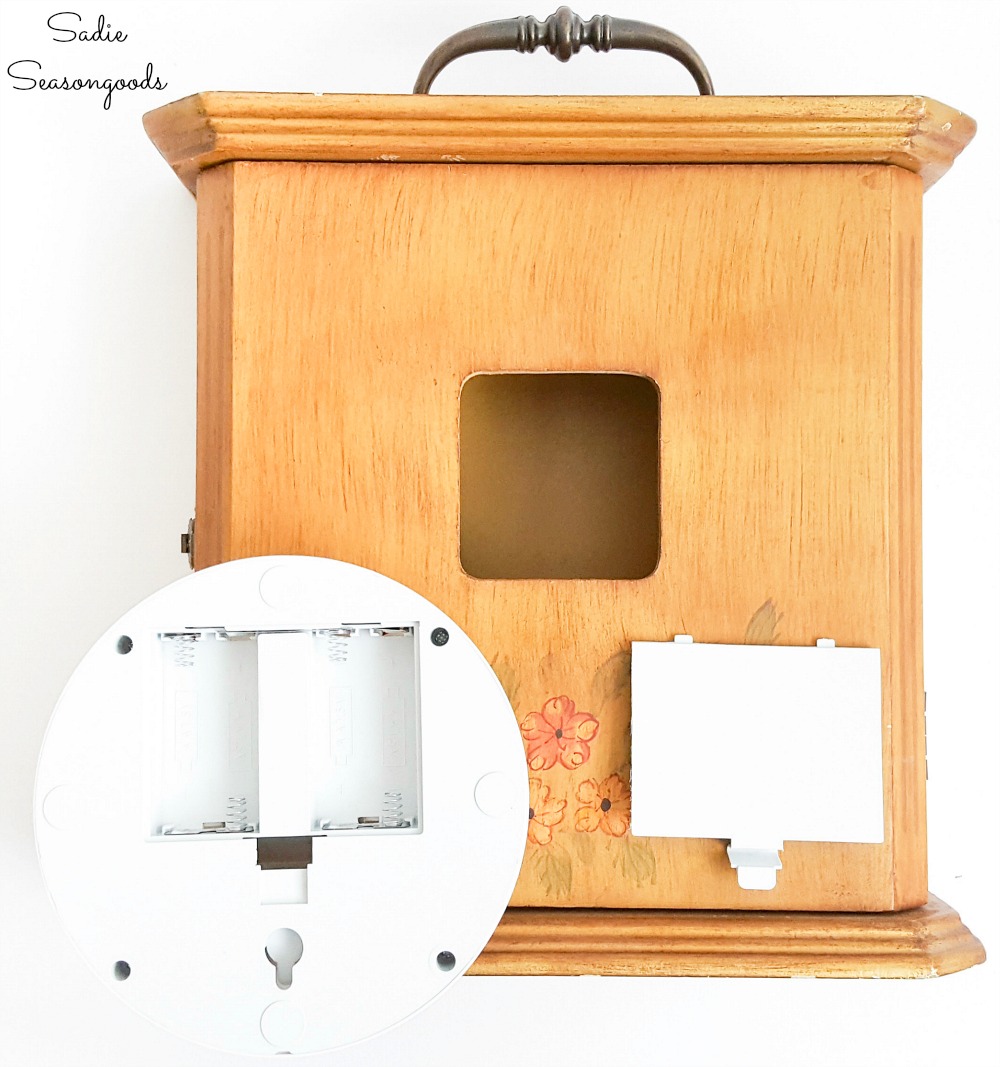 There! Now I would be able to access the batteries on my emergency lantern whenever I needed to.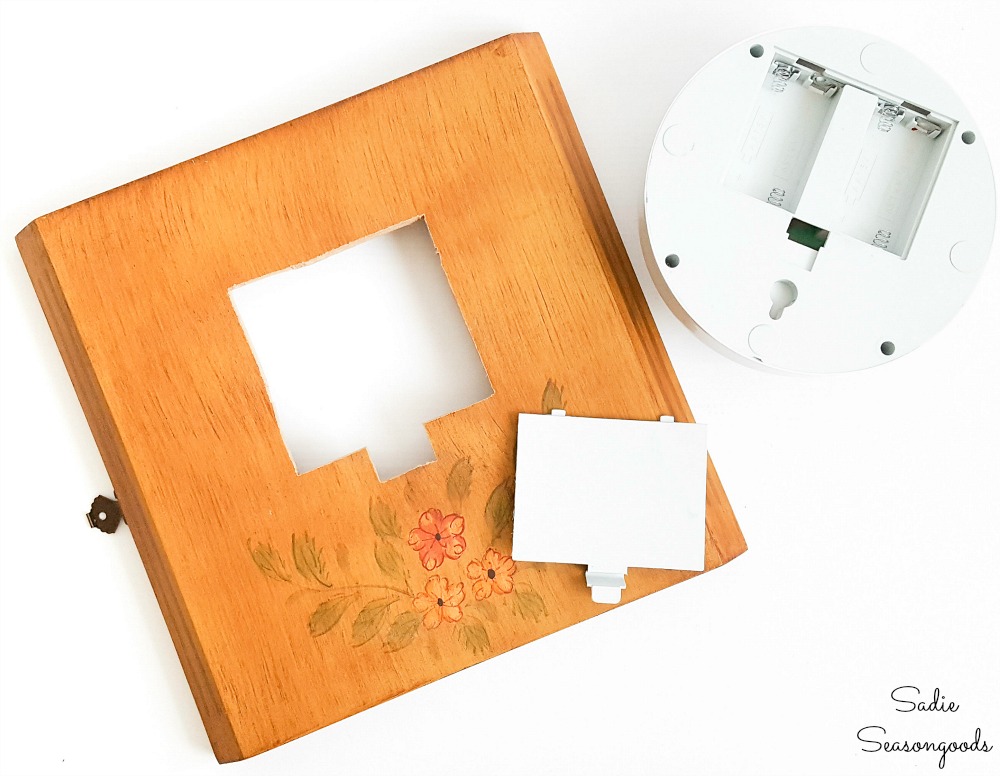 But I know not everyone has a garage full of tools! If you don't, you could skip that step and simply use sticky Velcro strips!
Next, I gave the clock box a makeover. I used a semi-gloss black paint to replicate the look of a vintage lantern.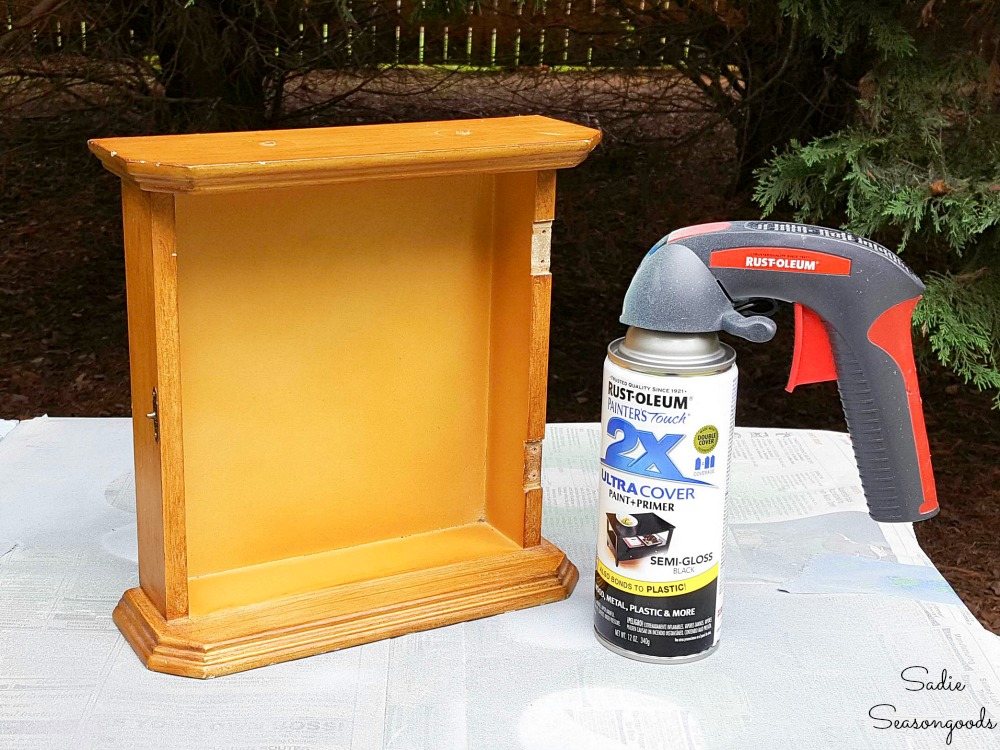 My blackout kit was really coming together now!
Blackout Kit with Emergency Lantern
Then, I decided to spray paint the white rim of the LED push light. I carefully covered the center light with foil and spray-painted the rim a dark pewter color to set against the black.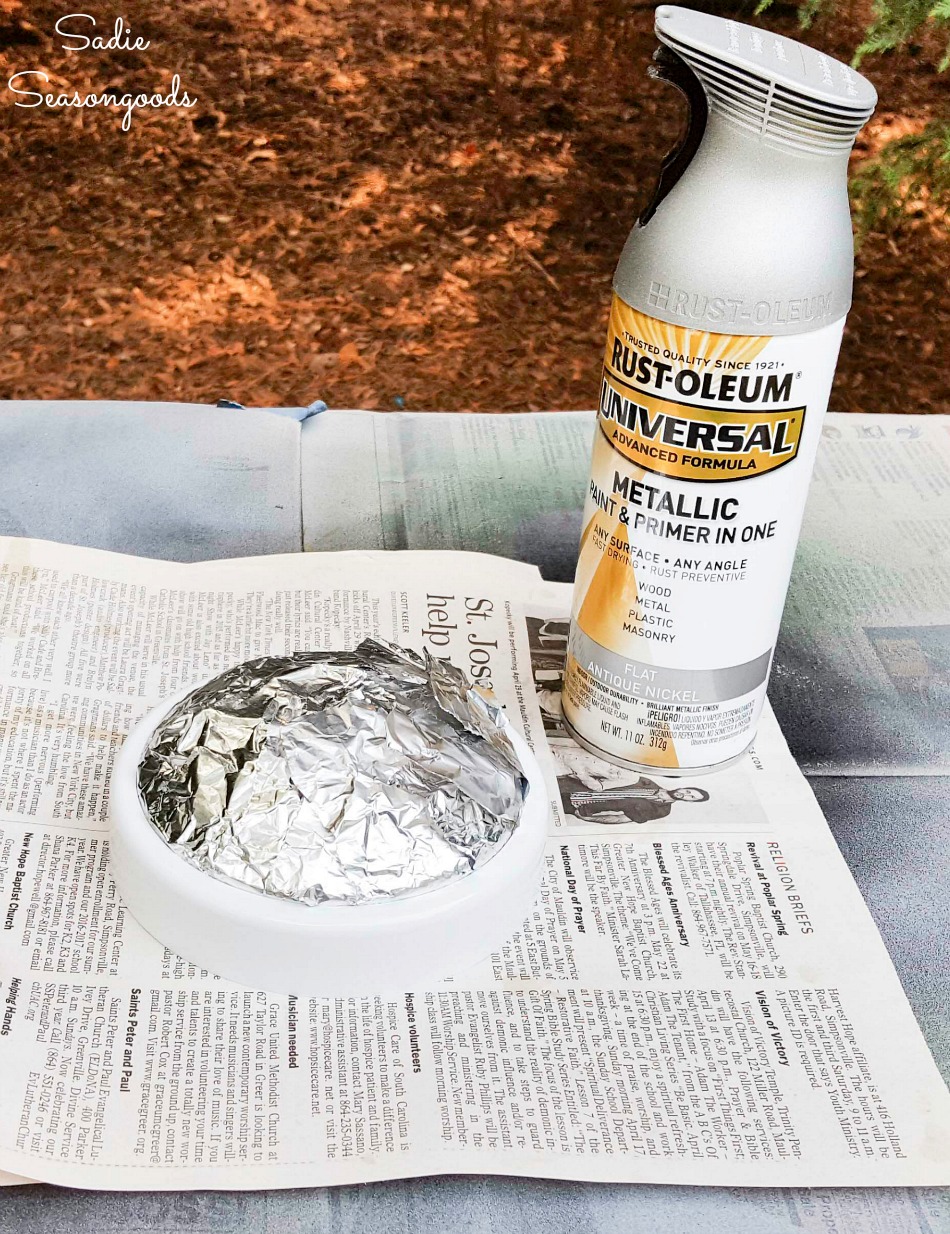 Once the paint was dry, I super-glued the LED push light to the door of the blackout kit. I made sure to line up the back battery panel cover with the hole we had cut out!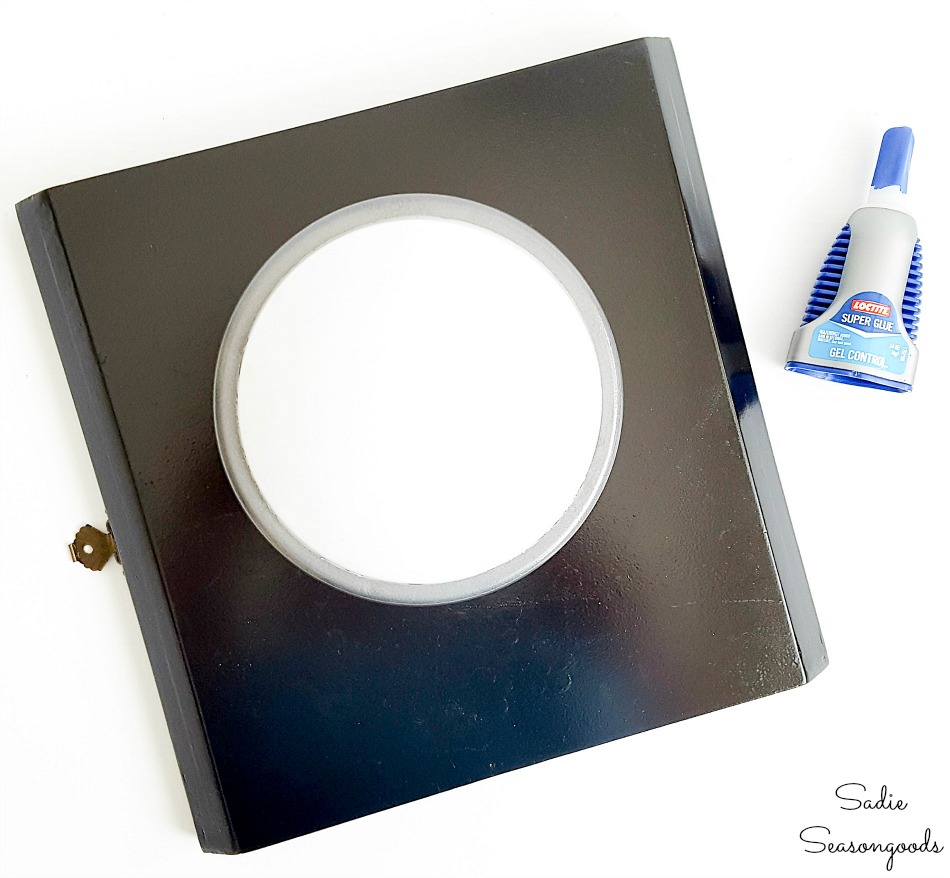 Finally, I reattached the door and handle to my power outage kit and it was good to go! Complete with an emergency lantern.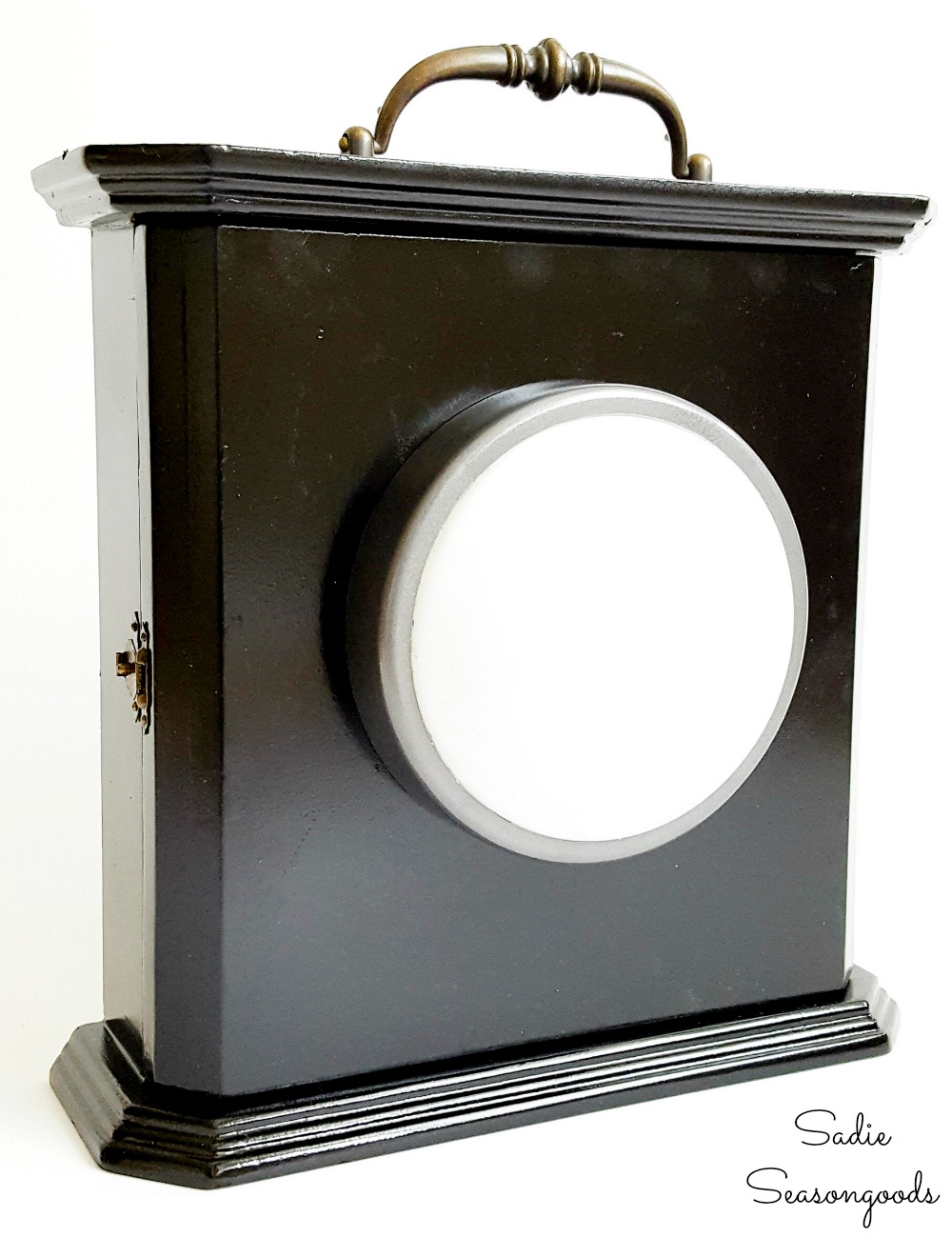 And inside the blackout kit, I added some power outage supplies. My supplies included a solar-powered hand crank radio (that doubles as a cell phone charger!), my favorite LED tea lights, glow sticks, and matches.
So, if there's a power loss, I'll have all my supplies in kit that doubles as an emergency lantern.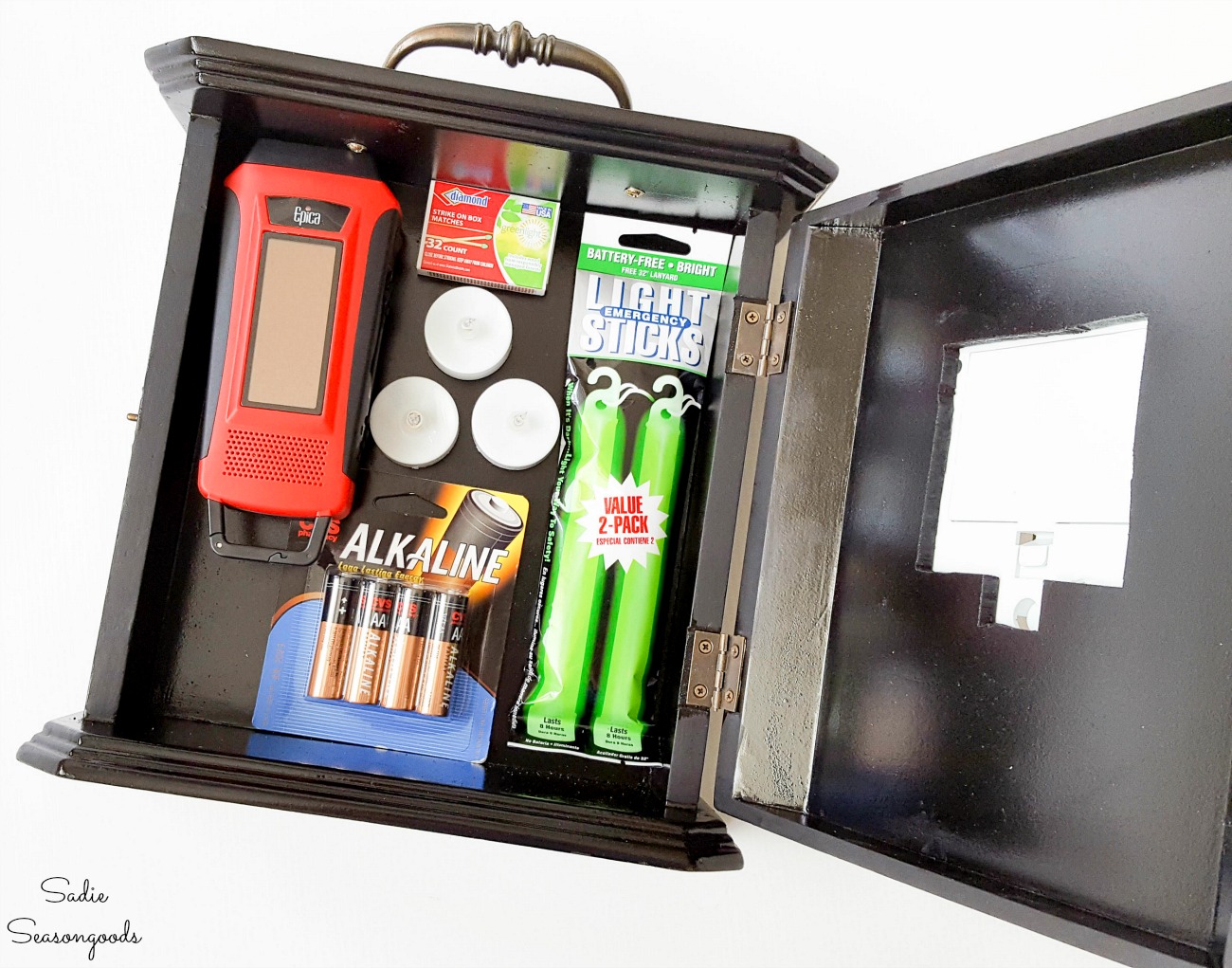 Power Outage Kit from a Clock Box
It actually looks cute enough to leave out all the time. I could style it with my vintage cameras for a fun vignette!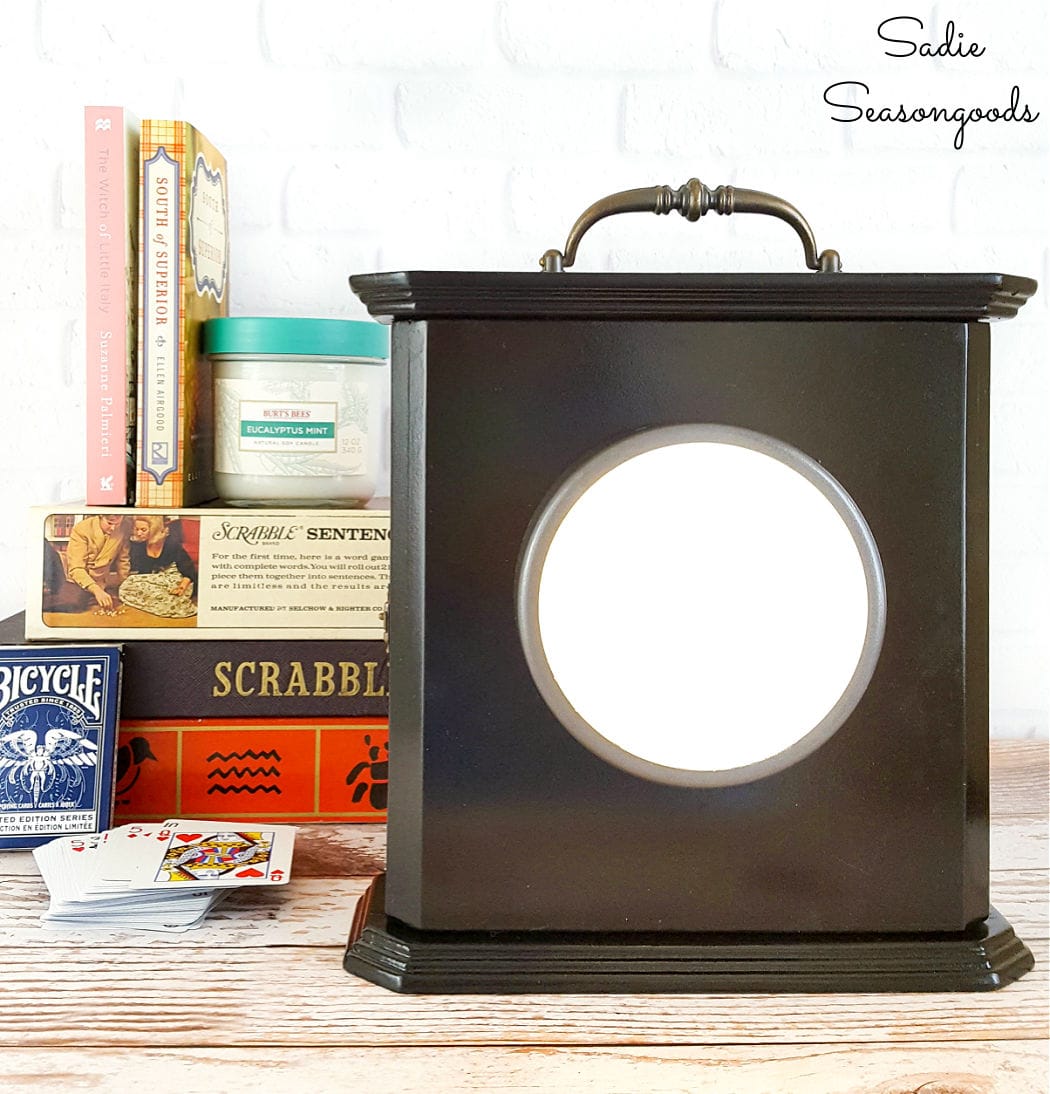 I swear, a power outage kit and emergency lantern never looked so good…
And y'all, I totally turned off all the lights in our house one night and carried my power outage kit around with the "lantern" on. It was awesome! You could totally use this as part of a Halloween costume, too.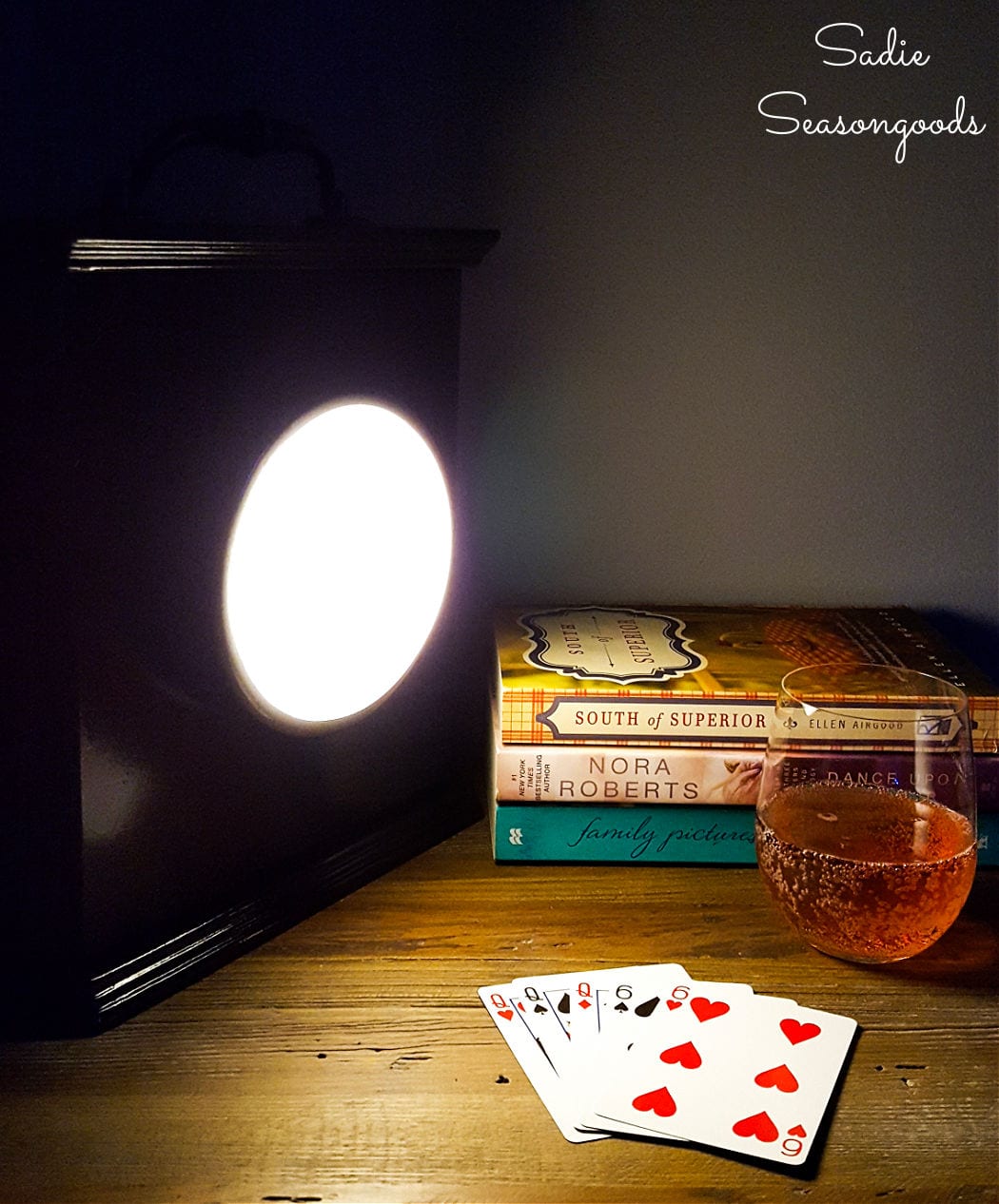 And all from an unfortunate looking clock box from the thrift store! I just love to give broken things new life, don't you?
If you enjoyed this upcycling idea for keeping supplies organized and on hand, then you'll also love this sewing caddy with needle cushion, as well!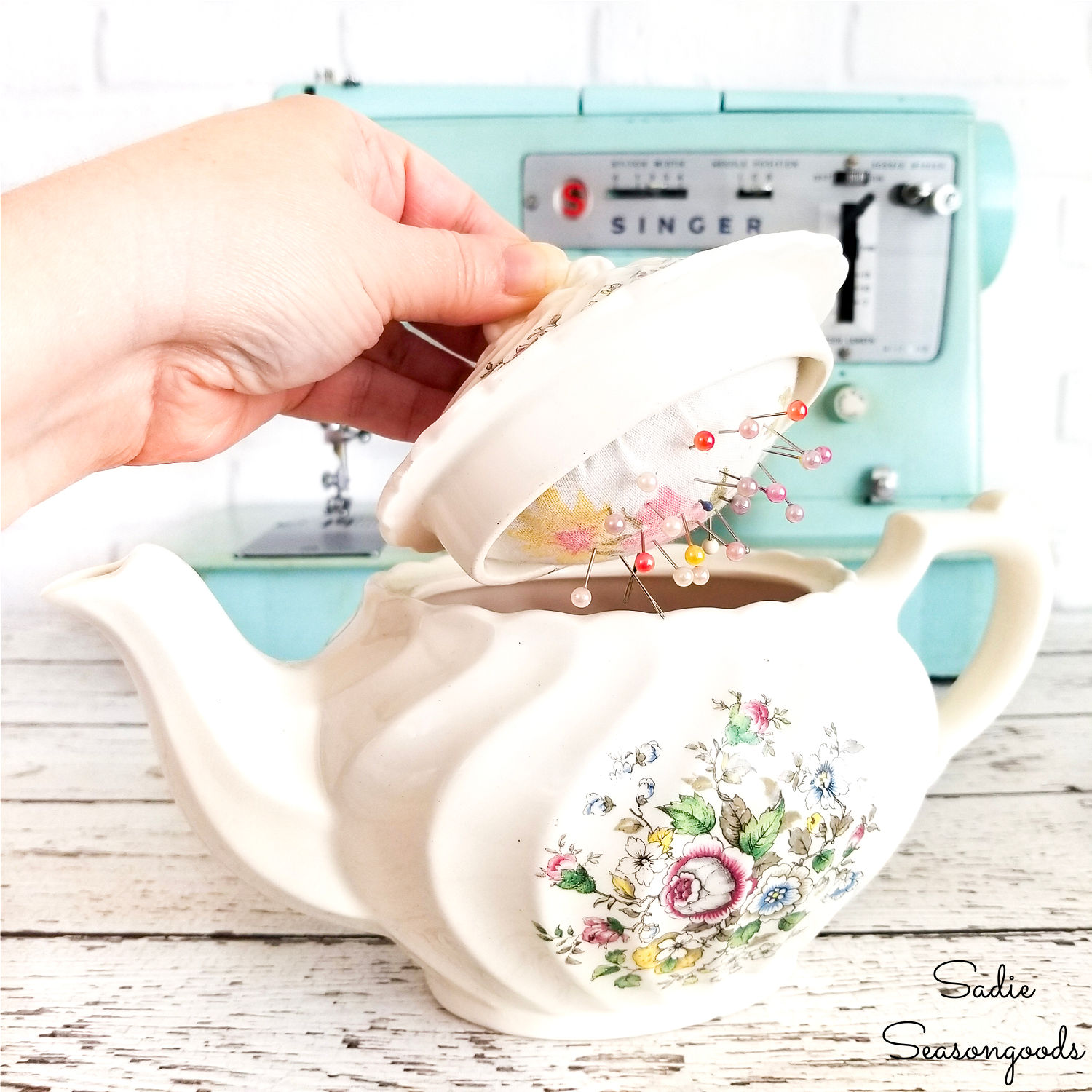 Craft on!
S
Want to be notified when I publish my next upcycling project tutorial?
Subscribe to Blog via Email
Join me on Social Media:

PIN ME!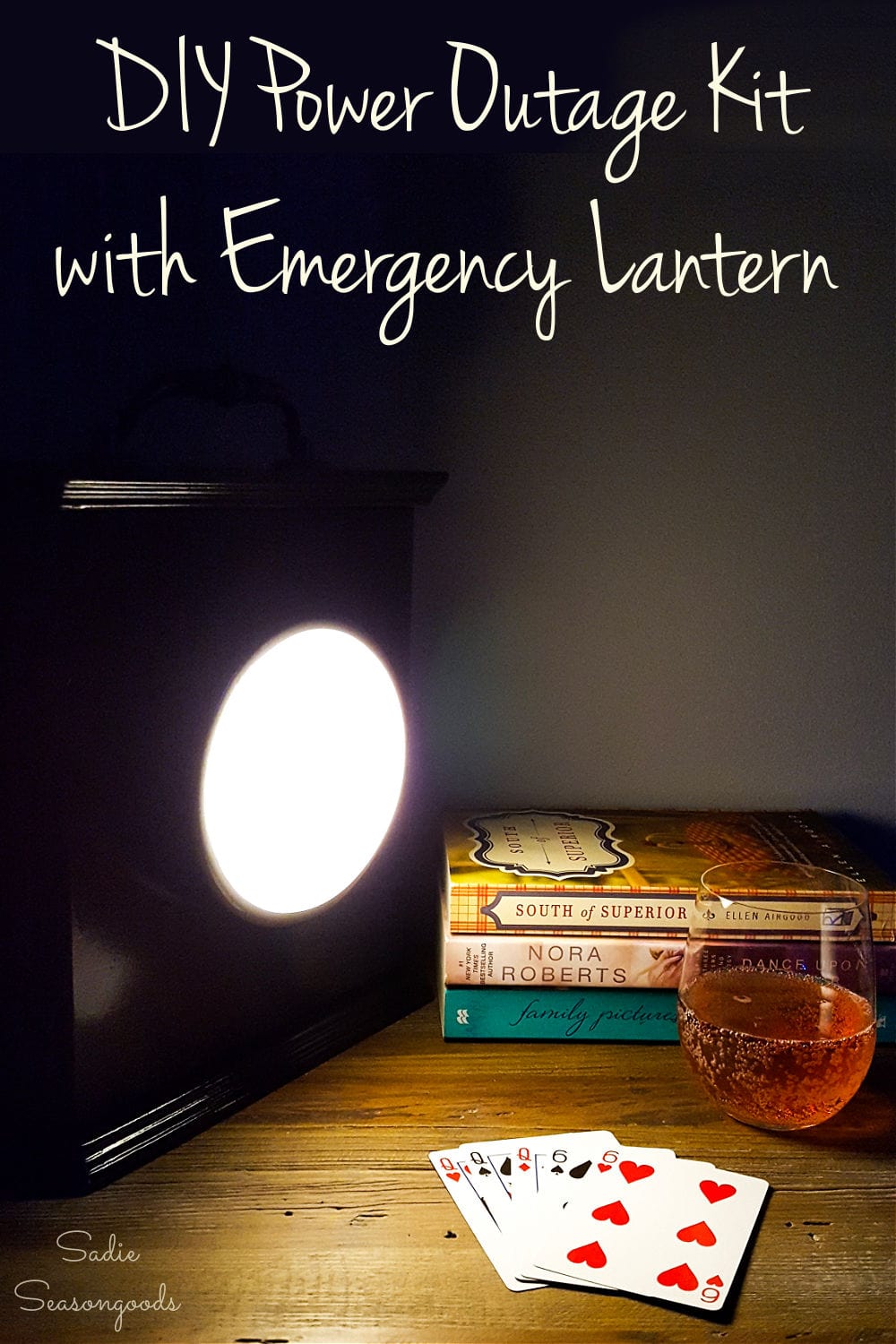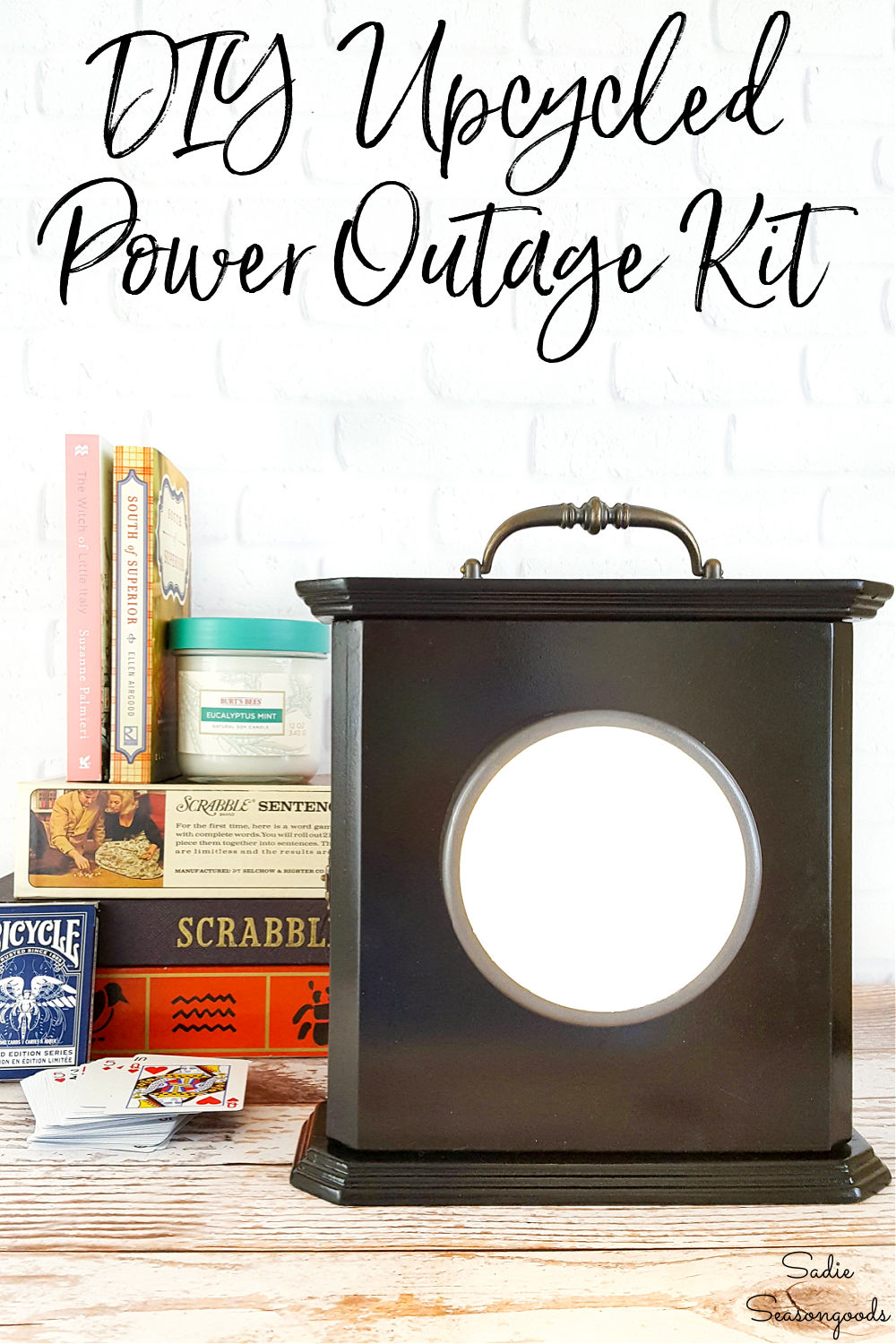 Sarah Ramberg is the owner of Sadie Seasongoods, a website that celebrates all things secondhand. From upcycling ideas and thrifted decor to vintage-centric travel itineraries, Sadie Seasongoods is a one-stop shop for anyone who loves thrifting and approachable repurposing ideas. Sarah is also the author of "Crafting with Flannel" and has been featured in numerous media outlets and magazines.