Again with the light fixtures, Sadie? Yes, you may all be thinking that…but, I promise this'll be the last one for a while! I was immediately drawn to this geometric pendant light while thrifting the other day. I just loved the shape and didn't care if the light portion worked or not. All I could see was the potential for a plant cloche that had an eclectic, modern style to it.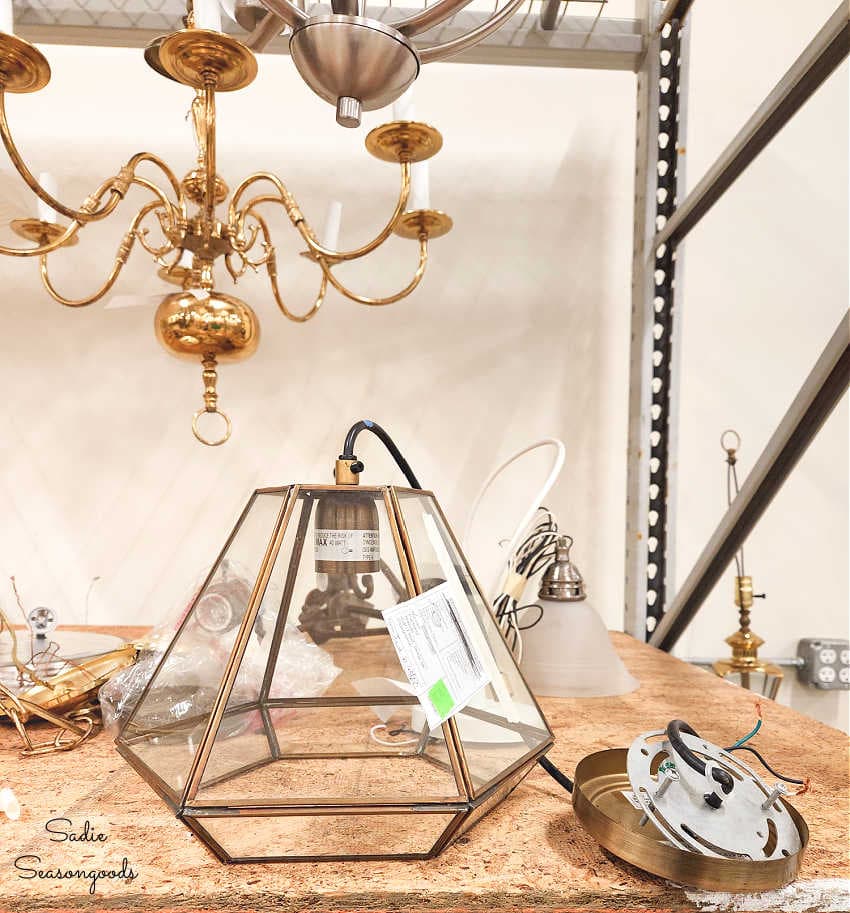 I was, of course, instantly reminded of this light fixture project of mine from many years ago…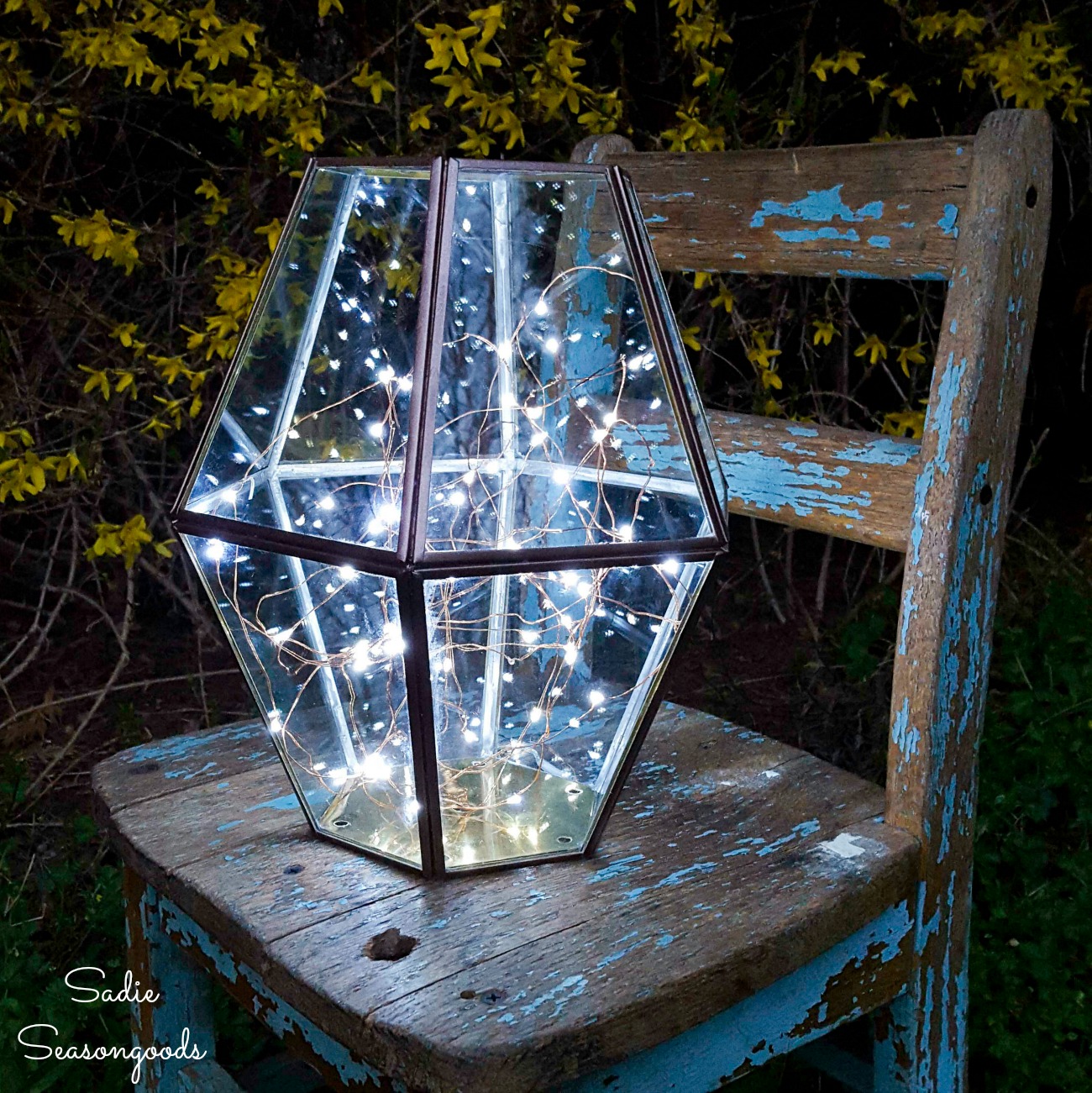 But this newer hexagon light fixture was definitely more contemporary and seriously perfect for repurposing into a cloche of some sort.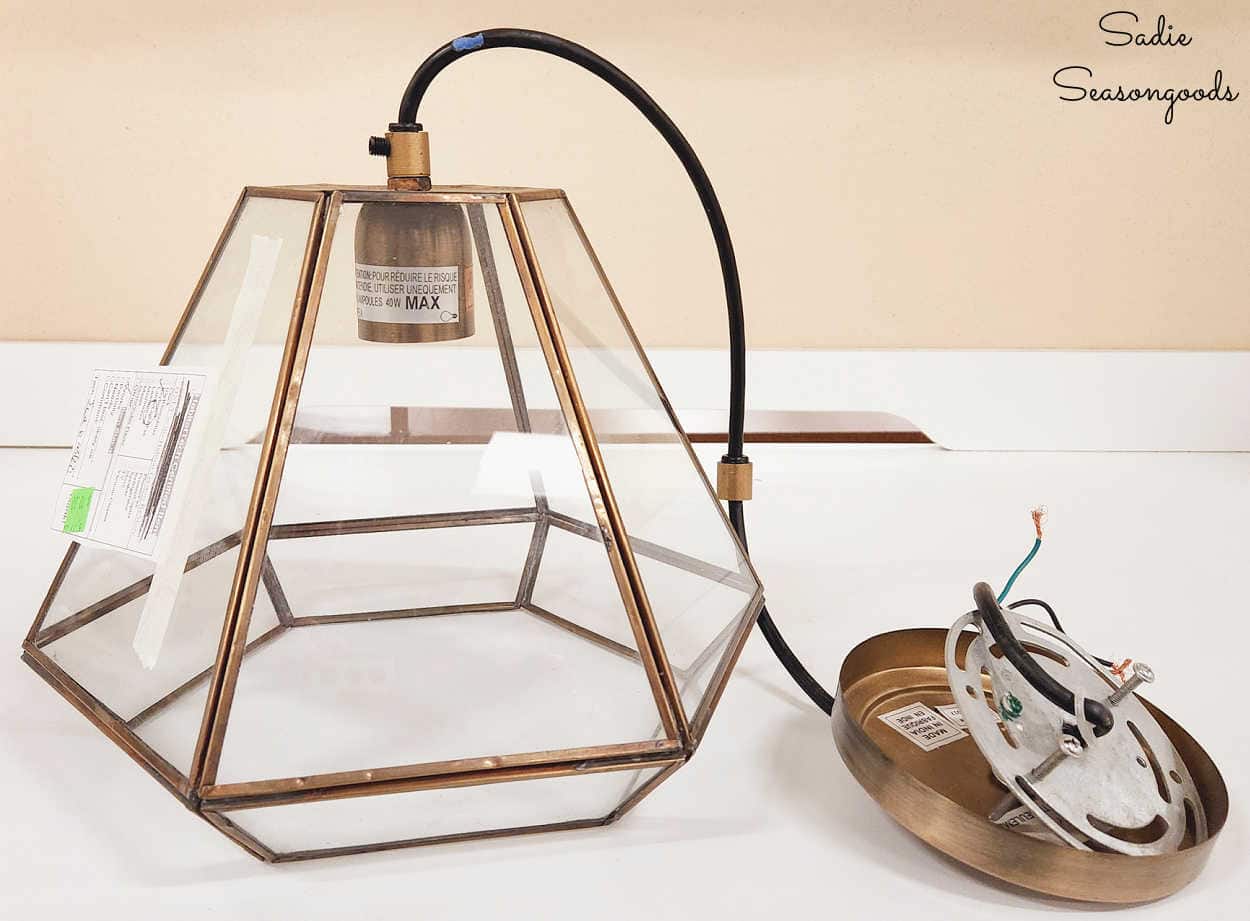 And if my suspicions were correct, it'd be a fairly simple project, too. Care to find out if I was right?
This post contains affiliate links for your crafting convenience. As an Amazon Affiliate, I earn from qualifying purchases.
Repurposing a Geometric Pendant Light
First things first, it needed to be disassembled. In other words, I needed to separate the electrical socket components from the pendant light shade.
And with the help of a pair of locking pliers and wrench, we were able to loosen the nut and slide all the wiring beebobs out of the glass shade. It was easy to to do, but the right tools were key!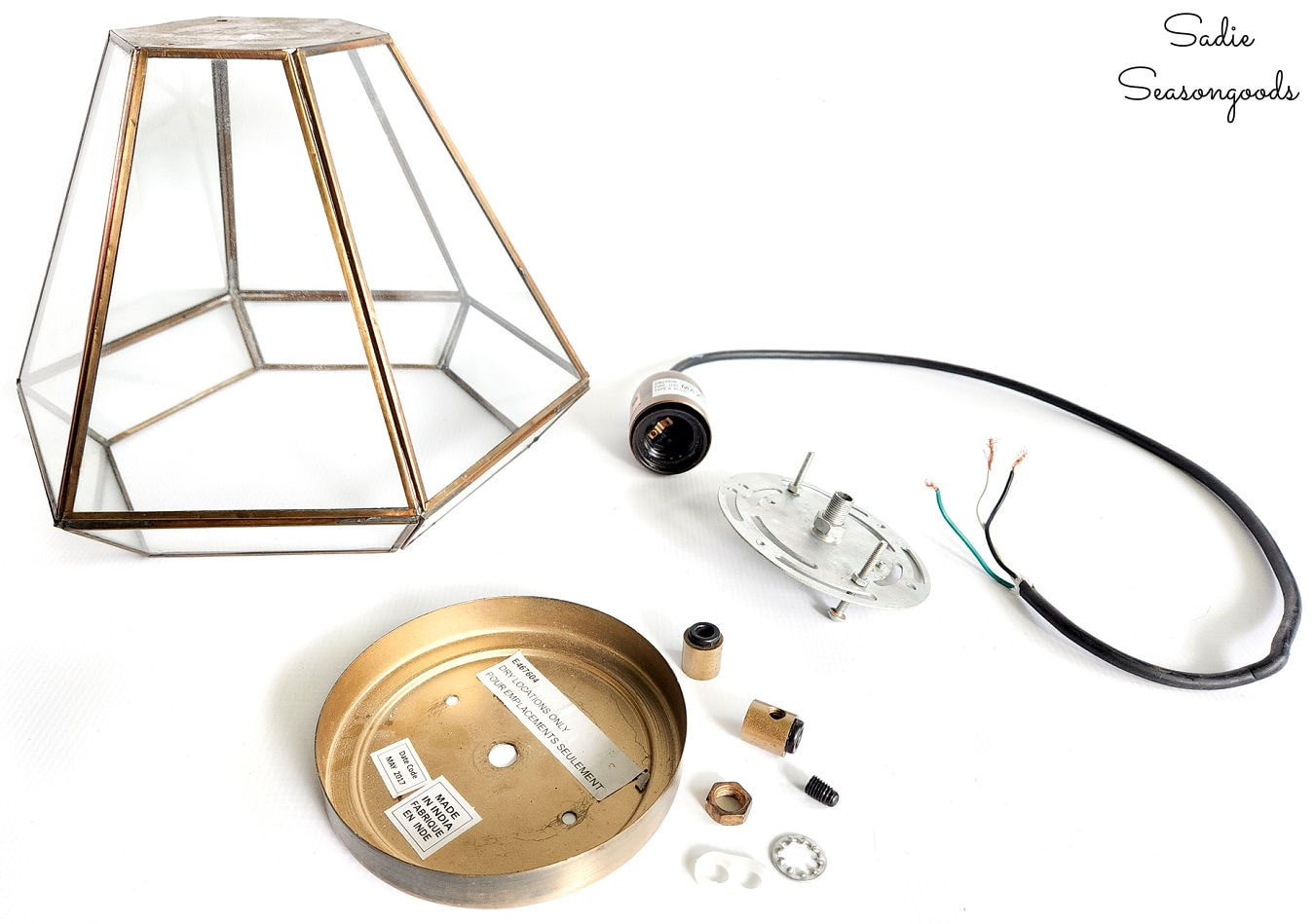 Once that was done, I was left with a future cloche…and some holes that would need to be filled or covered somehow!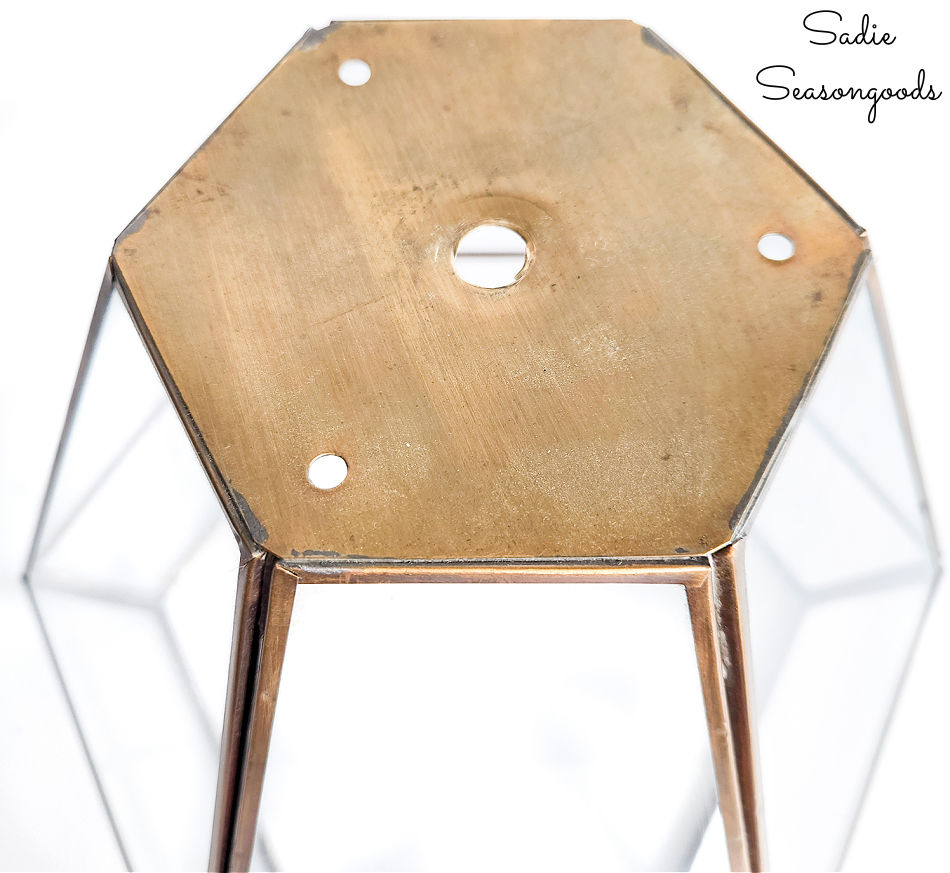 So, here was my plan. First, I'd add a finial to the center hole (securing it with a small bolt underneath) to use as a handle. I already had a vintage finial that I'd purchased years ago (from this online vintage shop) for a lamp but never used…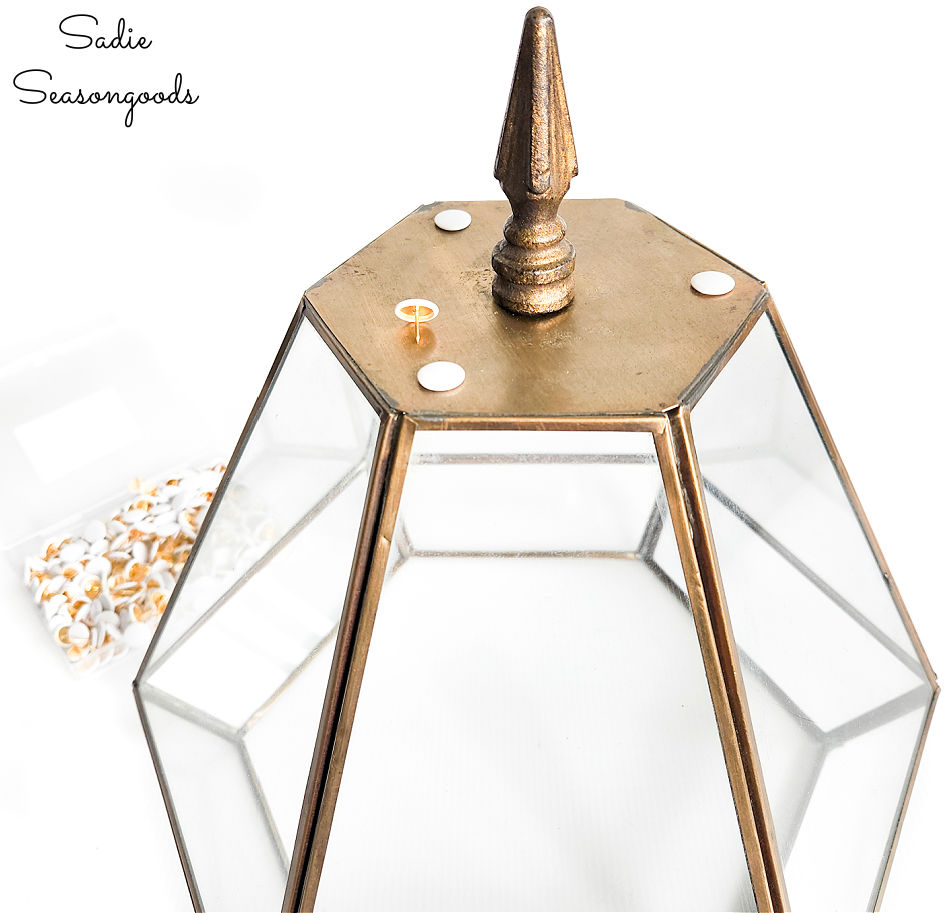 And for those other, smaller holes? Thumbtacks left over from this project!
So, I brought my finial to a local hardware store and they helped me find a small bolt and a couple of washers that fit it perfectly.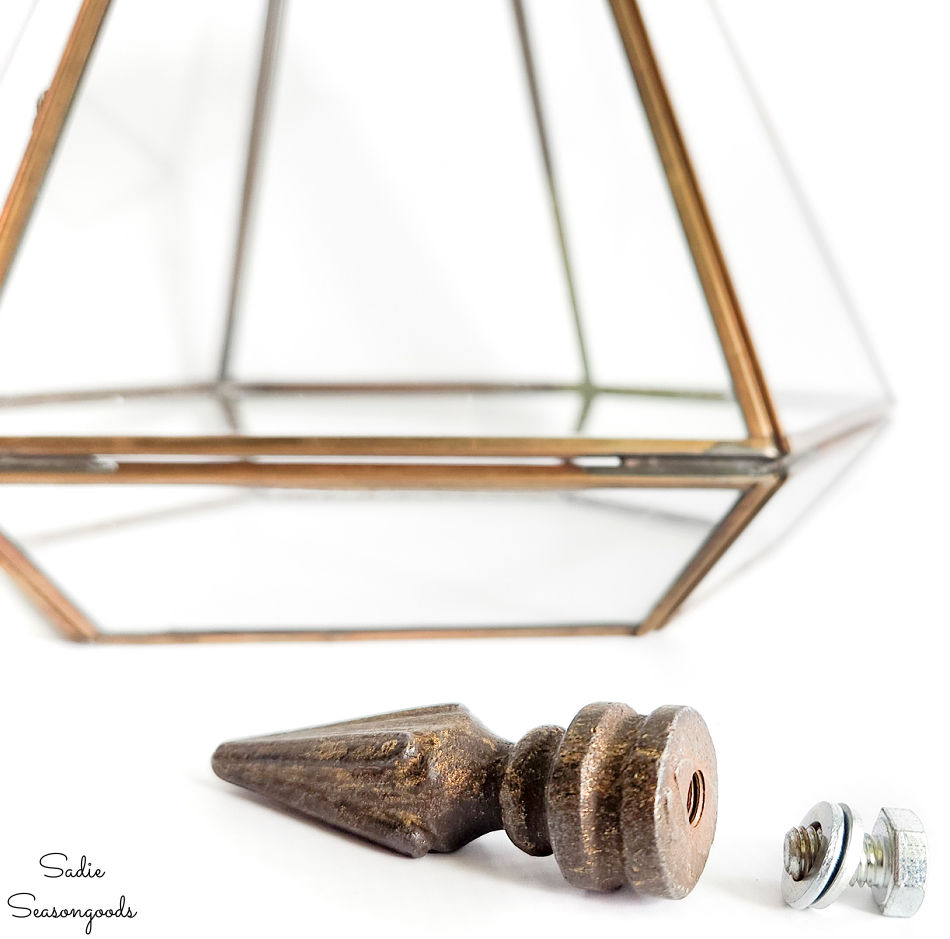 Now I could secure my finial-knob to the top of my cloche!
Conversion to a Plant Cloche
Next, I had to tackle the thumbtacks. I planned to snip off the actual pin portion in the end, but kept them intact for a while first.
Why? Because I needed to paint the white caps!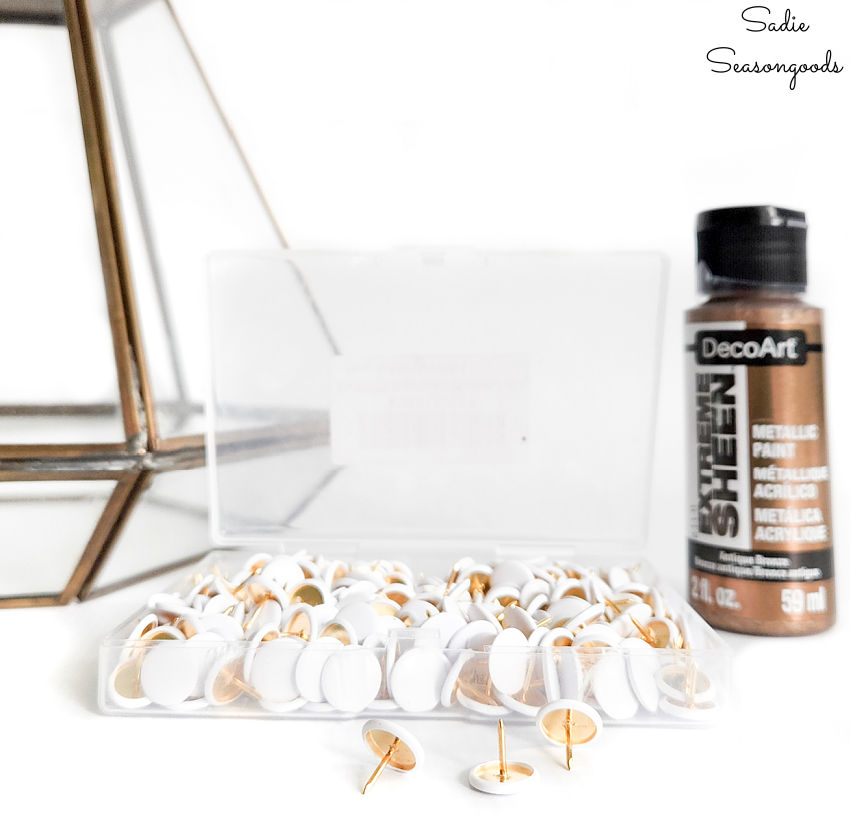 To do so, I stuck a white thumbtack into the eraser of a mechanical pencil. Just bear with me, I swear it'll make sense in a moment.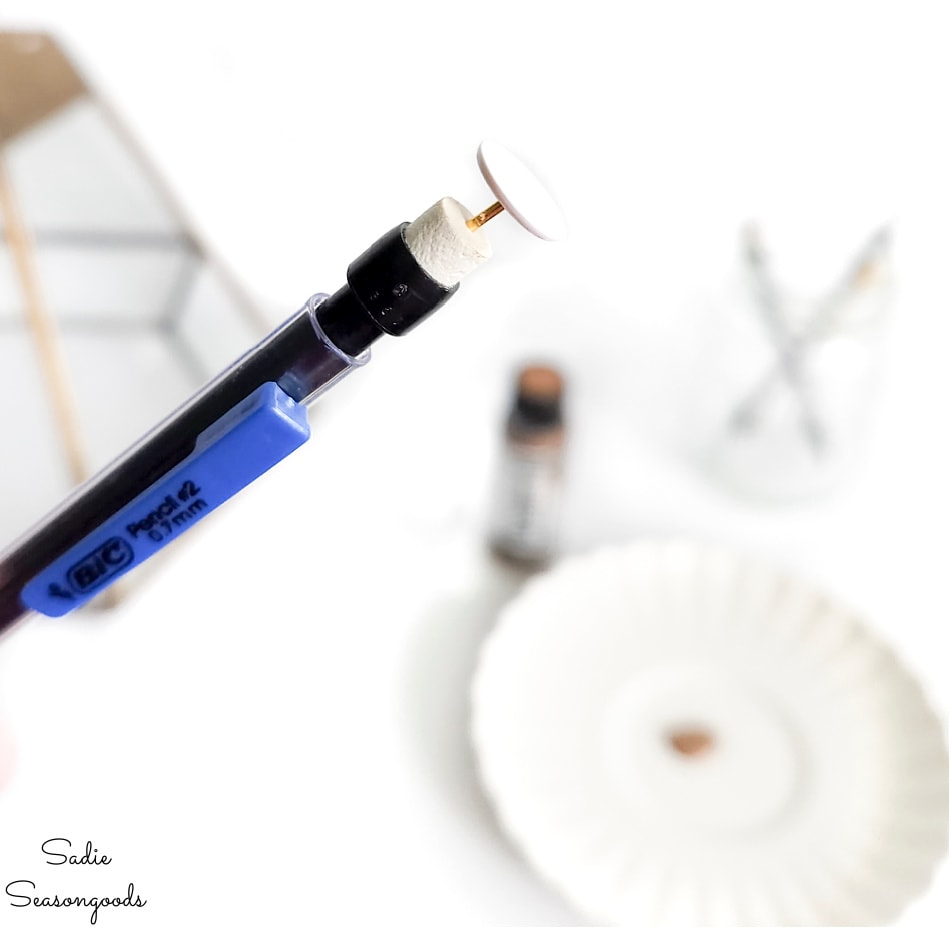 Then, I squirted a touch of this craft paint onto a dish before carefully dipping the thumbtack cap into the small puddle of paint. I made sure to immerse the thumb tack head just over the sides but not beyond that.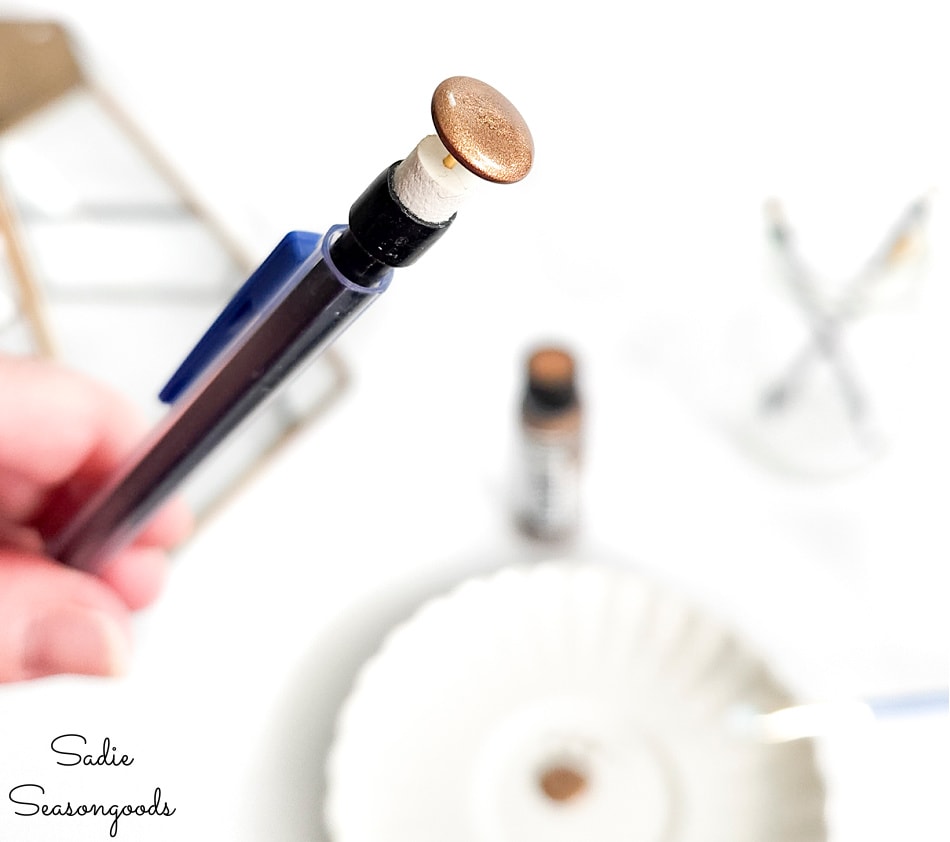 Next, I used a small paint brush to smooth out the paint, pop bubbles, or correct any other flaws in the surface of the paint after dipping.
From there, I simply placed my pencils (aka, tack holders!) in a jar and allowed the paint to dry before brushing on a basic topcoat!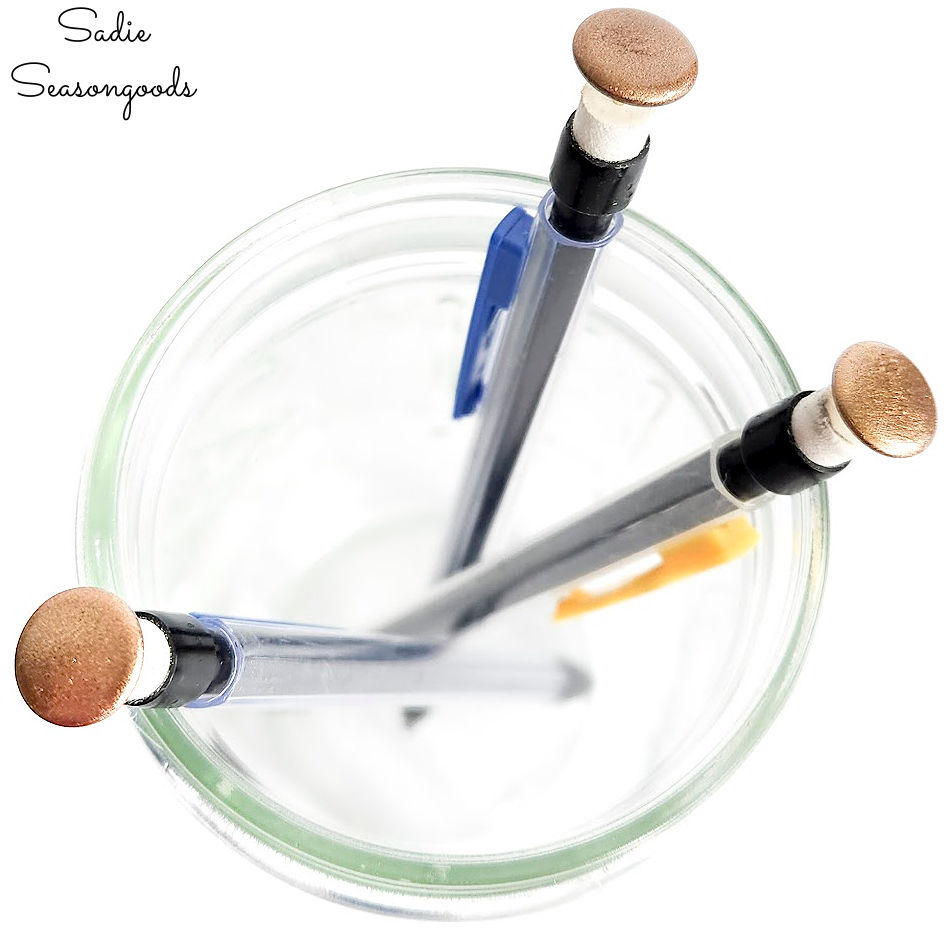 After the topcoat had fully dried, I used dainty wire cutters to snip off the pin from each painted tack. Then, I glued them over the holes with a bit of superglue.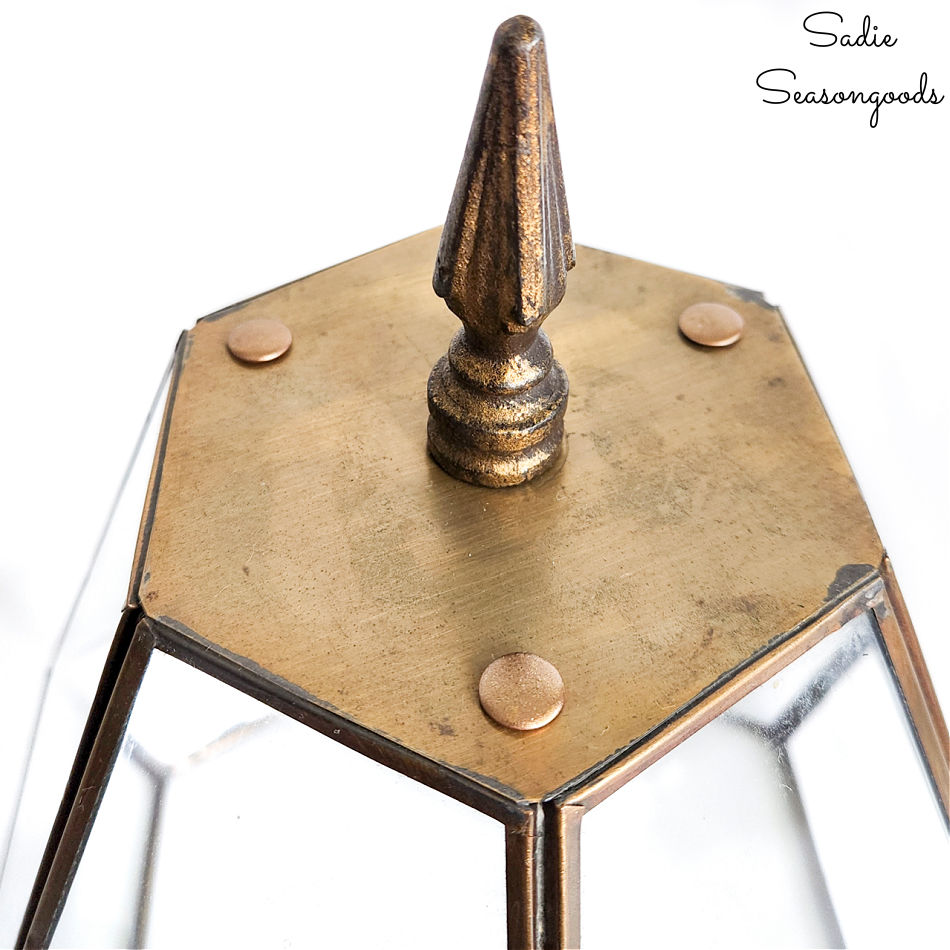 I also brushed some of the same bronze craft paint to the bolt before securing the finial to the top of my plant cloche. And that was it, my plant cloche was done!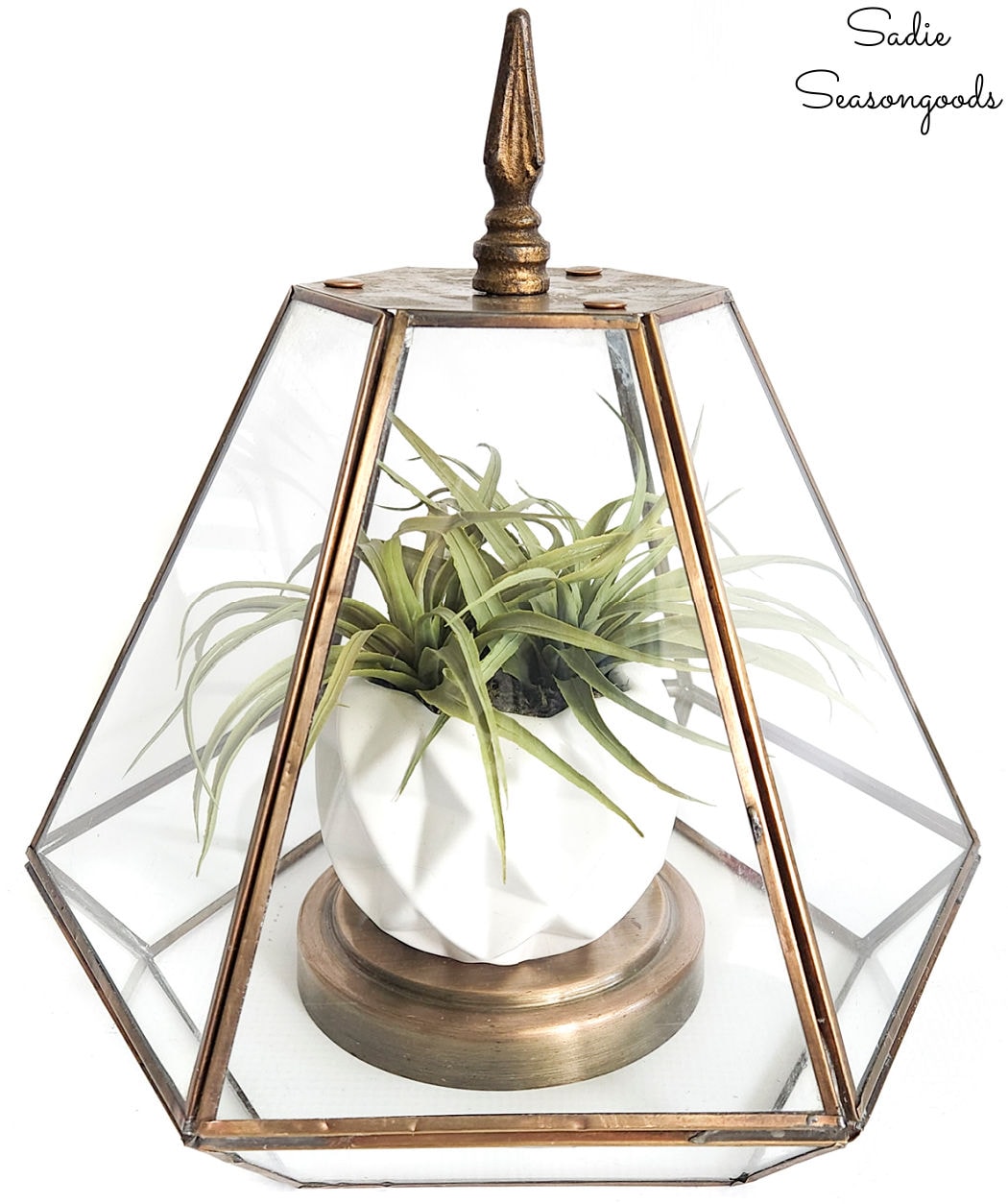 Plant Cloche from a Geometric Pendant Light
How FANTASTIC is that? I am seriously in love with how the plant cloche turned out. It looks absolutely smashing in our home!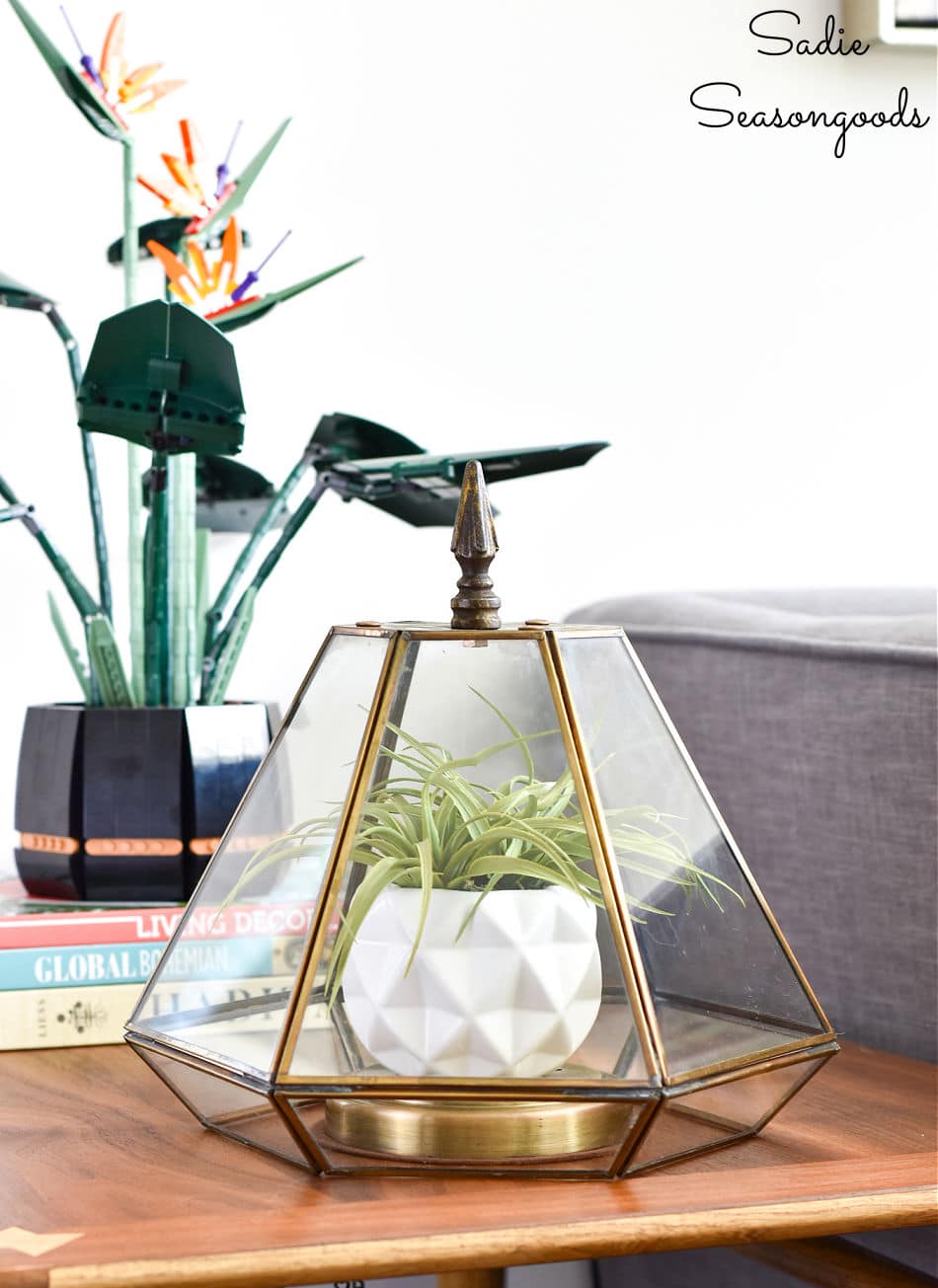 Also, that bird of paradise plant you see behind my geometric cloche? IT'S A LEGO SET!
As I had hoped, the pendant light was easy to transform with minimal effort. You may have also noticed that I also ended up repurposing the ceiling cap from the light fixture as a base for my plant.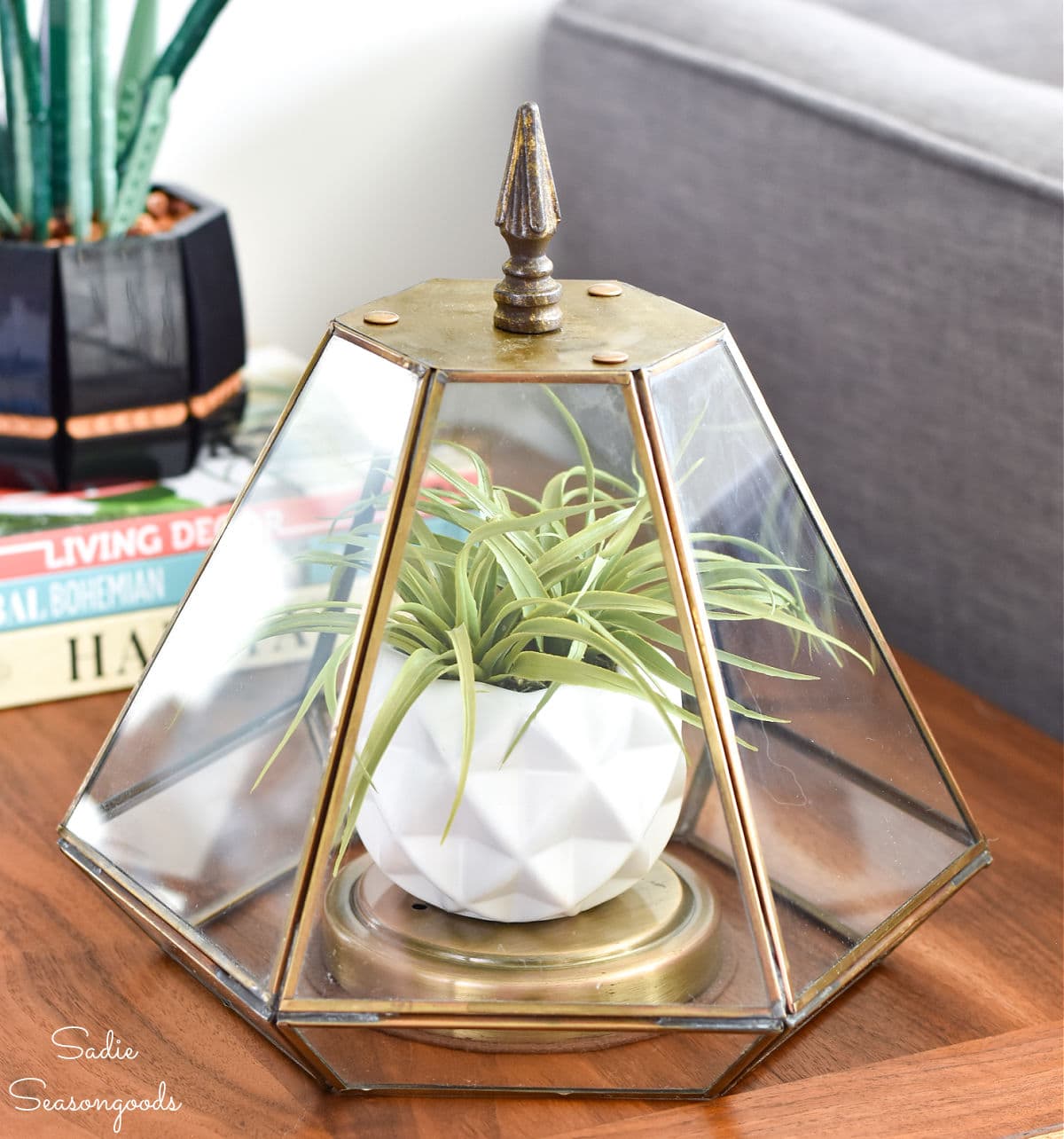 Perfect for a smaller plant that needs a lift! I cut out a slightly larger circle of felt to place underneath it to protect our table. But, I was tickled to have ended up reusing that part of the fixture, too!
Today is ALSO the second Wednesday of the month, which means it's Thrift Store Decor Day! Check out what my blogging galpals have been up to: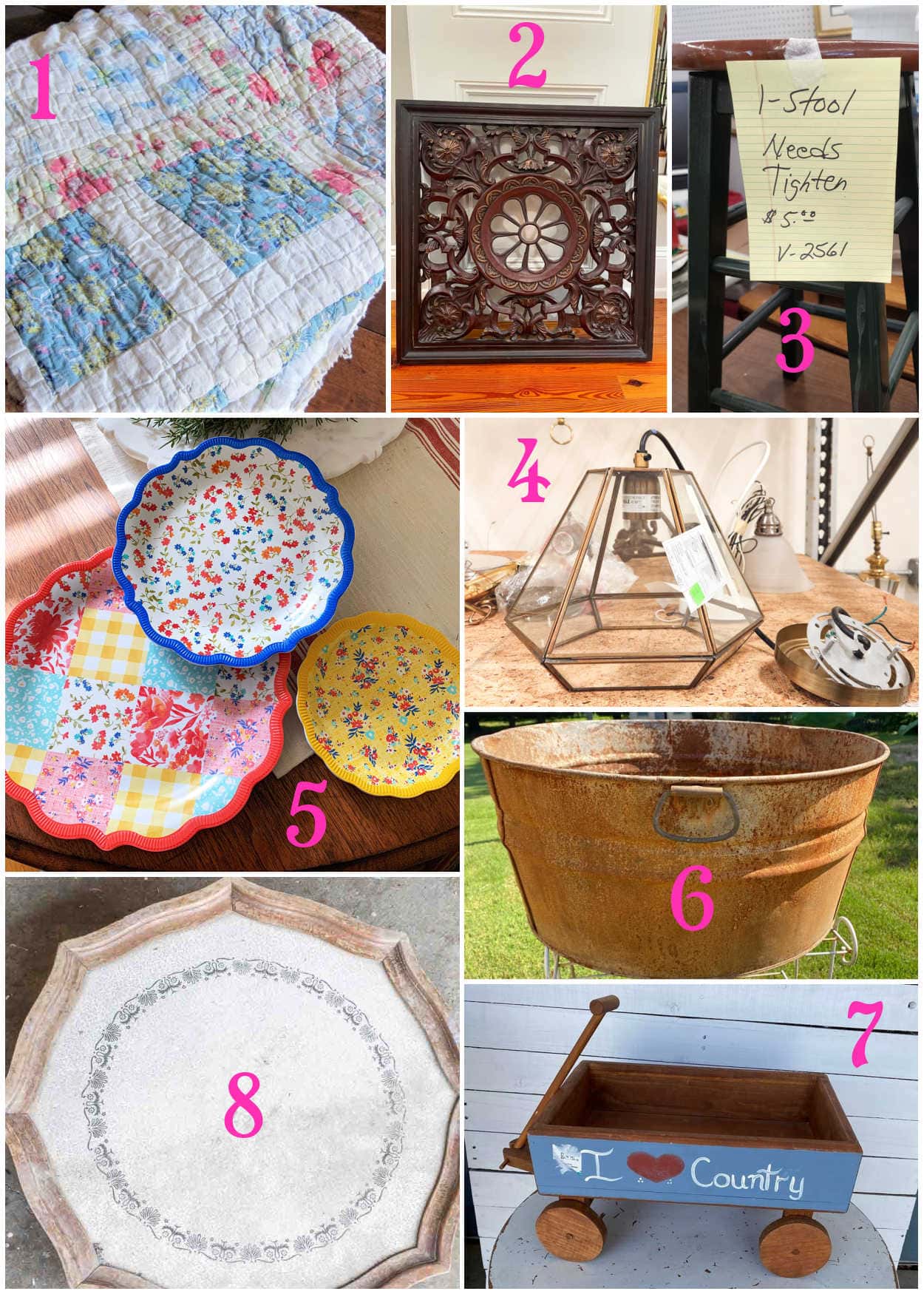 1. Quilt and Pom Pom Fringe DIY Pumpkin – Petticoat Junktion
2. Medallion Wall Art Makeover – Our Southern Home
3. Navy Blue Bar Stools with Rub On Transfer – My Repurposed Life
4. Plant Cloche from a Geometric Pendant Light – Sadie Seasongoods (that's me!)
5. DIY Tiered Tray from Dinner Plates – House of Hawthornes
6. Galvanized Tub Shelves – Shop at Blu
7. Goodwill Wooden Wagon Makeover – Organized Clutter
8. Creative Thrift Store Makeover Ideas – Reinvented Delaware
And if you enjoyed this upcycling idea for a plant cloche, then you may also enjoy the botanical makeover I gave to these bookends, as well!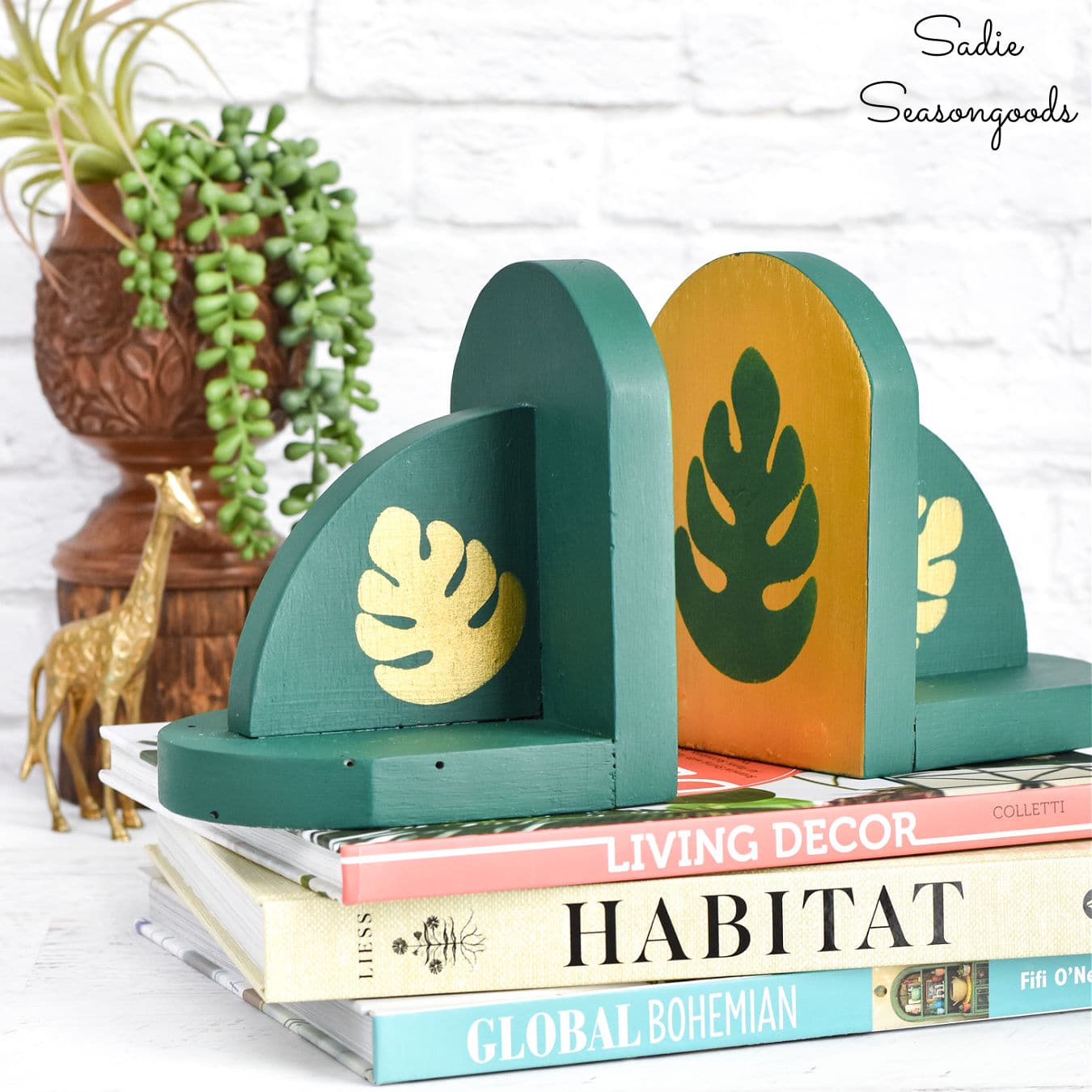 Craft on!
S
Want to be notified when I publish my next upcycling project tutorial?
Subscribe to Blog via Email
Join Me on Social Media:

PIN ME!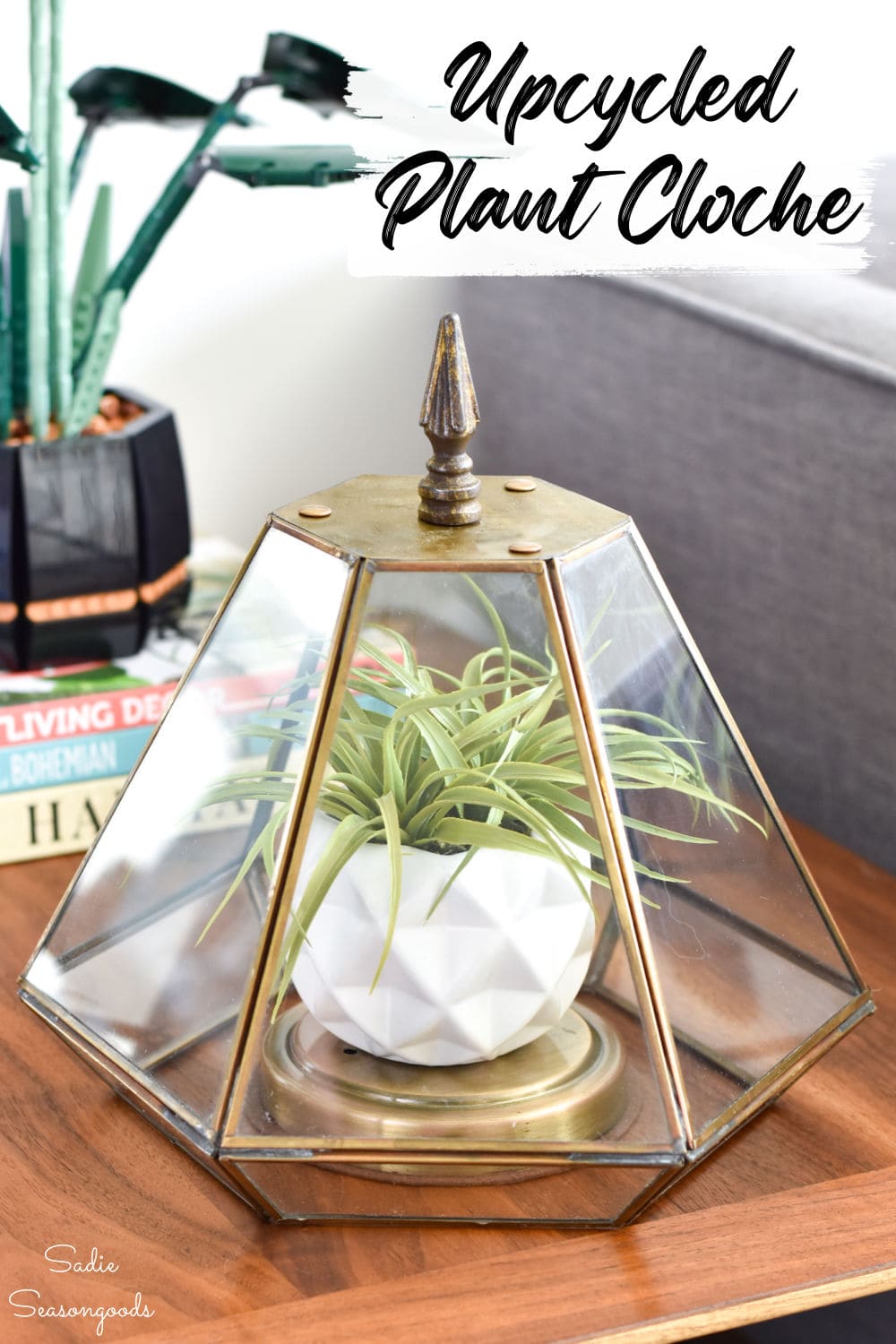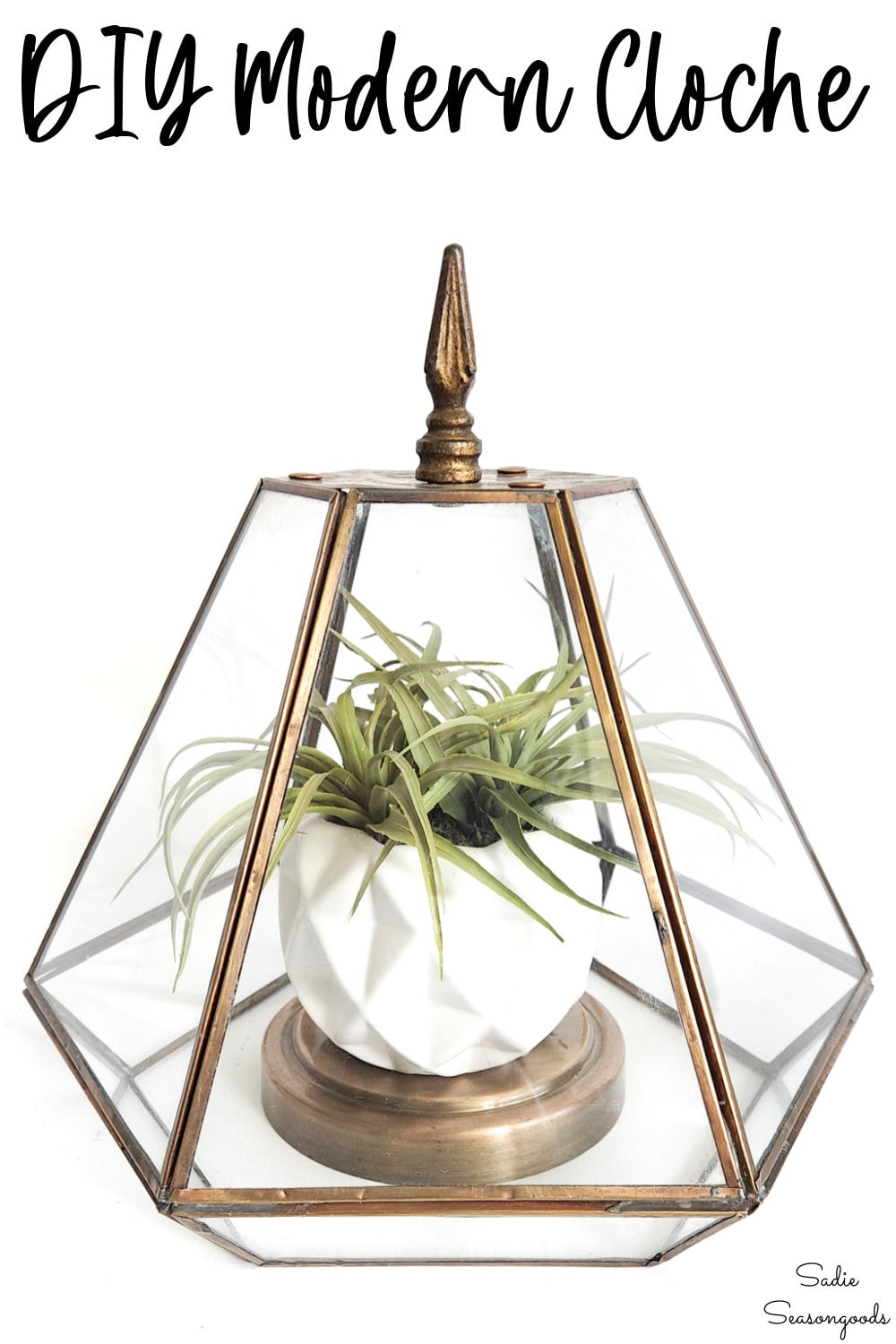 Sarah Ramberg is the owner of Sadie Seasongoods, a website that celebrates all things secondhand. From upcycling ideas and thrifted decor to vintage-centric travel itineraries, Sadie Seasongoods is a one-stop shop for anyone who loves thrifting and approachable repurposing ideas. Sarah is also the author of "Crafting with Flannel" and has been featured in numerous media outlets and magazines.