With my burgeoning love of sewing comes a need for storage for sewing supplies. And one of the things I wanted to have was a cute, functional pin cushion that had one additional feature- secrecy. That may sound crazy, but with a cat as curious as Cottonball, a secret pincushion is not all that far-fetched. So, I decided to make a DIY pincushion in a vintage teapot.
Why a vintage teapot? Well, they're positively ADORABLE. But also because it would double as a sewing caddy to hold some of my sewing supplies.
I found this vintage teapot at the thrift store; it had a couple of chips which made it perfect for this upcycling idea.
Now, I'm sure you've seen the countless pincushion ideas that use the body of the teapot as the holder for the pincushion. I guess they toss the lids? Well, I'm turning that idea upside-down – literally! Because I wanted to make my DIY pincushion inside the lid.
That way, I can flip the lid upside-down in the teapot whenever I'm working on a project. But when I'm done, I can flip it again so that the teapot is closed and my secret pincushion is safely hidden away! This post contains affiliate links for your crafting convenience. As an Amazon Associate, I earn from qualifying purchases.
Upcycling a Vintage Teapot into a Sewing Caddy and DIY Pincushion
First, I needed to create the pincushion to fit inside the lid. So, I grabbed some scrap cardboard and traced the inner lip on the cardboard.
I cut out the egg/oval shape and trimmed it down ever so slightly.
I wanted it to barely fit inside the opening, so I trimmed the edges until it went inside on its own (no pushing from me).
Next, I gathered a swatch of vintage fabric (from a thrifted pillowcase) and laid it out with the right-side facing down.
I took a wad of fiberfill–a softball-sized clump- and placed it on the fabric, directly over the pattern area that I wanted to show as my pin cushion. Then, I balanced my cardboard oval on top of the fiberfill.
Carefully and with plenty of massaging/finessing, I pulled the corners of the fabric up and carefully pushed and prodded it into place. When I was happy with everything, I quickly ironed the fabric.
Then, I wrapped a rubber band around the excess fabric against the cardboard oval as tightly as possible.
It kind of looks like an octopus now…
When I was satisfied with the tautness of the fabric, the evenness of the fiberfill, and the centered-ness of the flower pattern, I trimmed off most of the excess pillowcase fabric.
Then, I dotted the inside rim and concave center of the teapot lid with my favorite super glue and carefully pushed the pin cushion into place.
DIY Pincushion and Sewing Caddy with a Vintage Teapot
And you know what? I'm pretty darn pleased with how it turned out!
When I'm sewing, I can place the upside-down lid on top of the vintage teapot. And when I'm done, I just turn it back around and close it normally. Plus, the body of the teapot holds lots of sewing supplies / sewing tools!
Wouldn't this be a fun little starter gift for a new seamstress? Come to think of it, most of my crafty friends would love a sewing caddy with DIY pincushion like this!
If you enjoyed this upcycling idea for storing your sewing equipment and supplies, then you may also be interested in this collection of craft storage ideas, as well!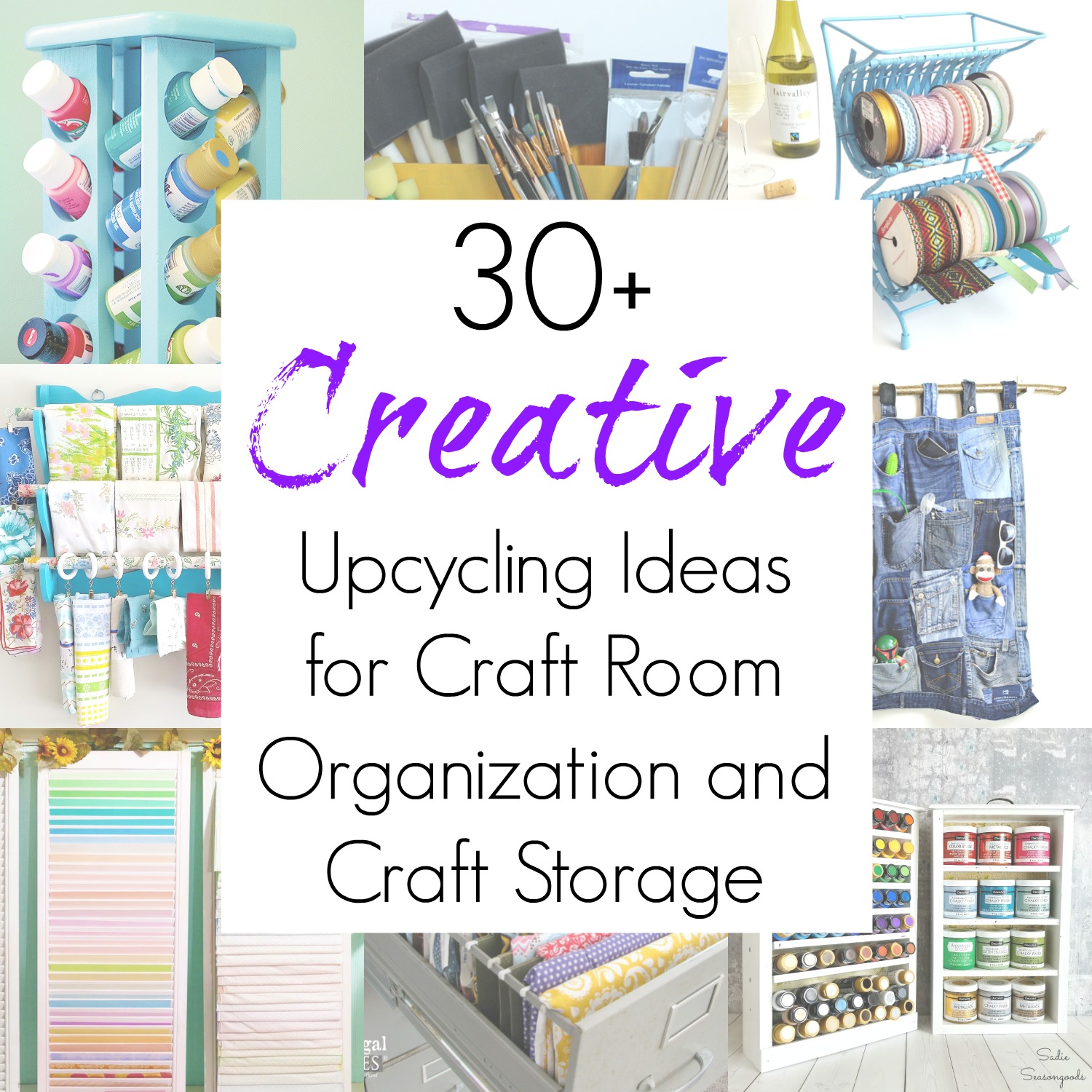 Craft on!
S
Want to be notified when I publish my next upcycling project tutorial?
Subscribe to Blog via Email
Join me on Social Media: