With my burgeoning love of sewing comes a need for storage for sewing supplies. And one of the things I wanted to have was a cute, functional pin cushion that had one additional feature- secrecy. That may sound crazy, but with a cat as curious as Cottonball, a secret pincushion is not all that far-fetched. And I decided that a vintage teapot would be the perfect thing to upcycle into a DIY pin cushion that could hide in plain sight.
Why a vintage teapot? Well, they're positively ADORABLE. But also because it would double as a sewing caddy to hold some of my sewing supplies.
I found this vintage teapot at the thrift store. It had a couple of chips which made it perfect for this upcycling idea.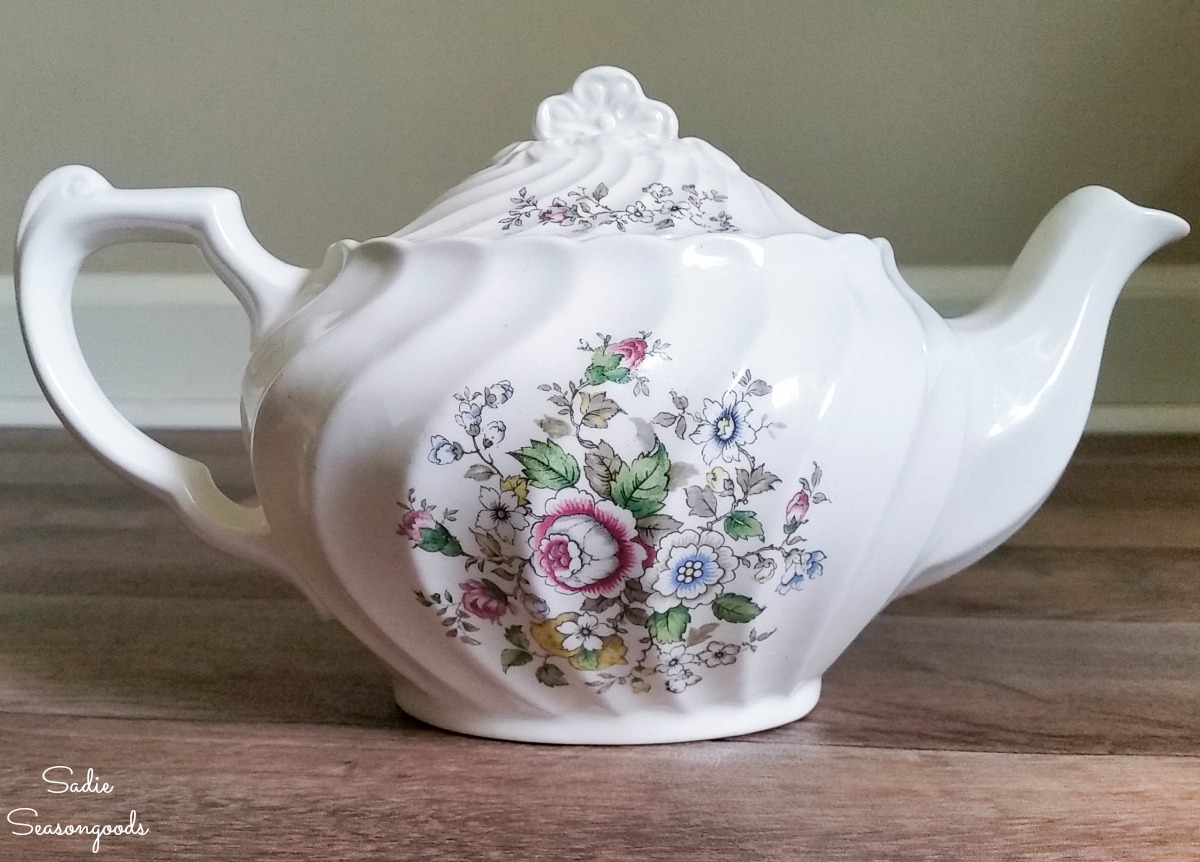 Now, I'm sure you've seen the countless pincushion ideas that use the body of the teapot as the holder for the pincushion. I guess they toss the lids?
Well, I'm turning that idea upside-down – literally! Because I wanted to make a needle cushion inside the lid.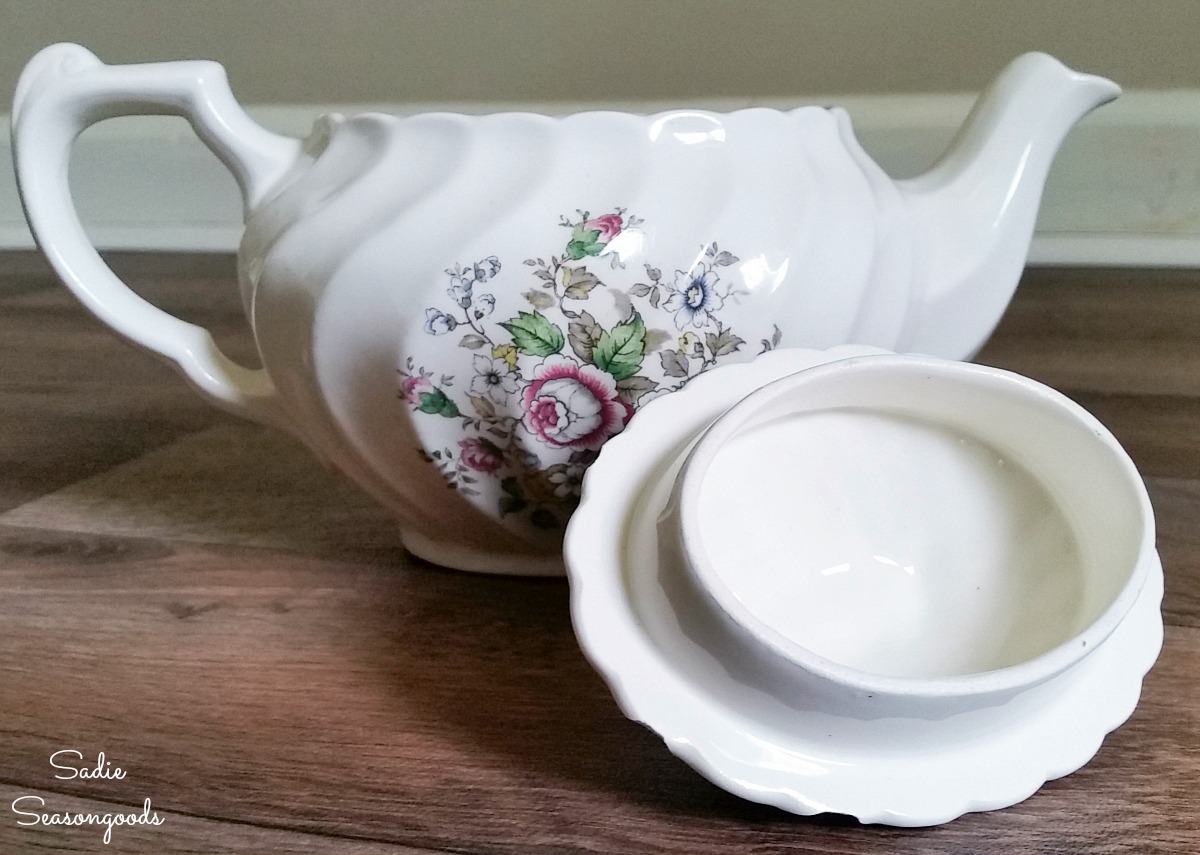 That way, I can flip the lid upside-down in the vintage teapot whenever I'm working on a project. But when I'm done, I can flip it again so that the teapot is closed and my needle cushion is safely hidden away!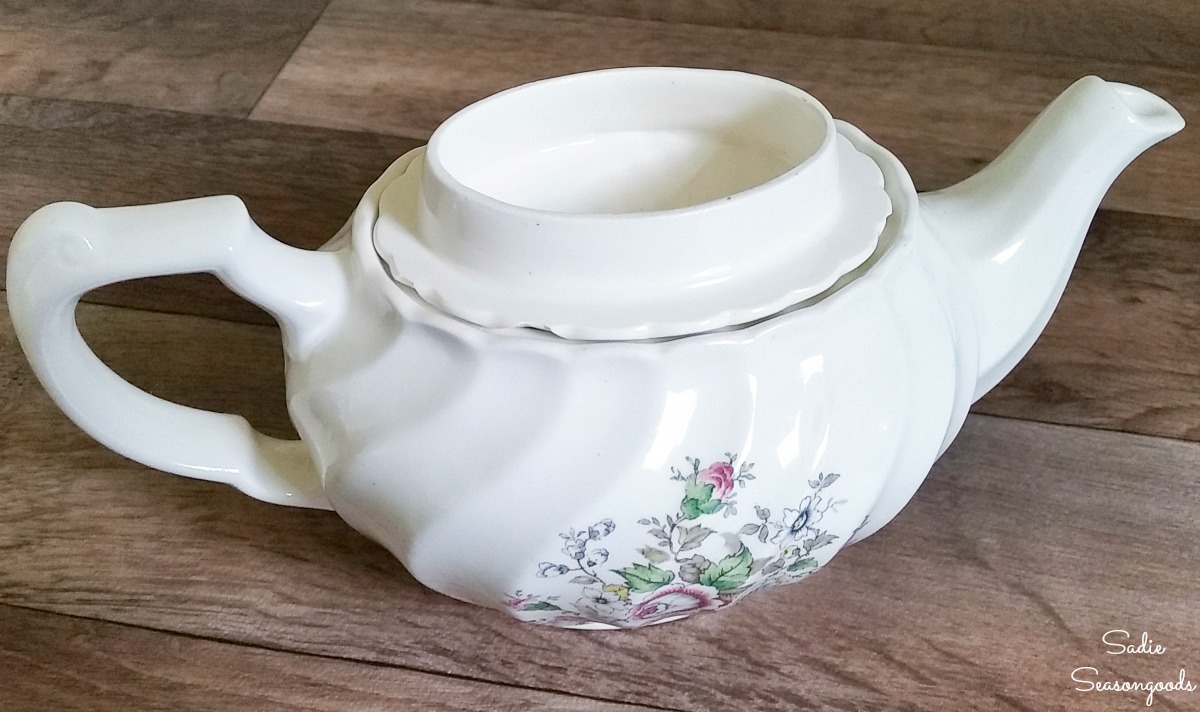 This post contains affiliate links for your crafting convenience. As an Amazon Associate, I earn from qualifying purchases. All blue, bold, and underlined text is a clickable link, either to a product or to a related post.
Sizing a Pin Cushion for the Lid of a Vintage Teapot
Before I did anything else, I needed to determine the size of needle cushion that would fit comfortably inside the lid.
So, I grabbed some scrap cardboard and traced the inner lip of the lid on the cardboard.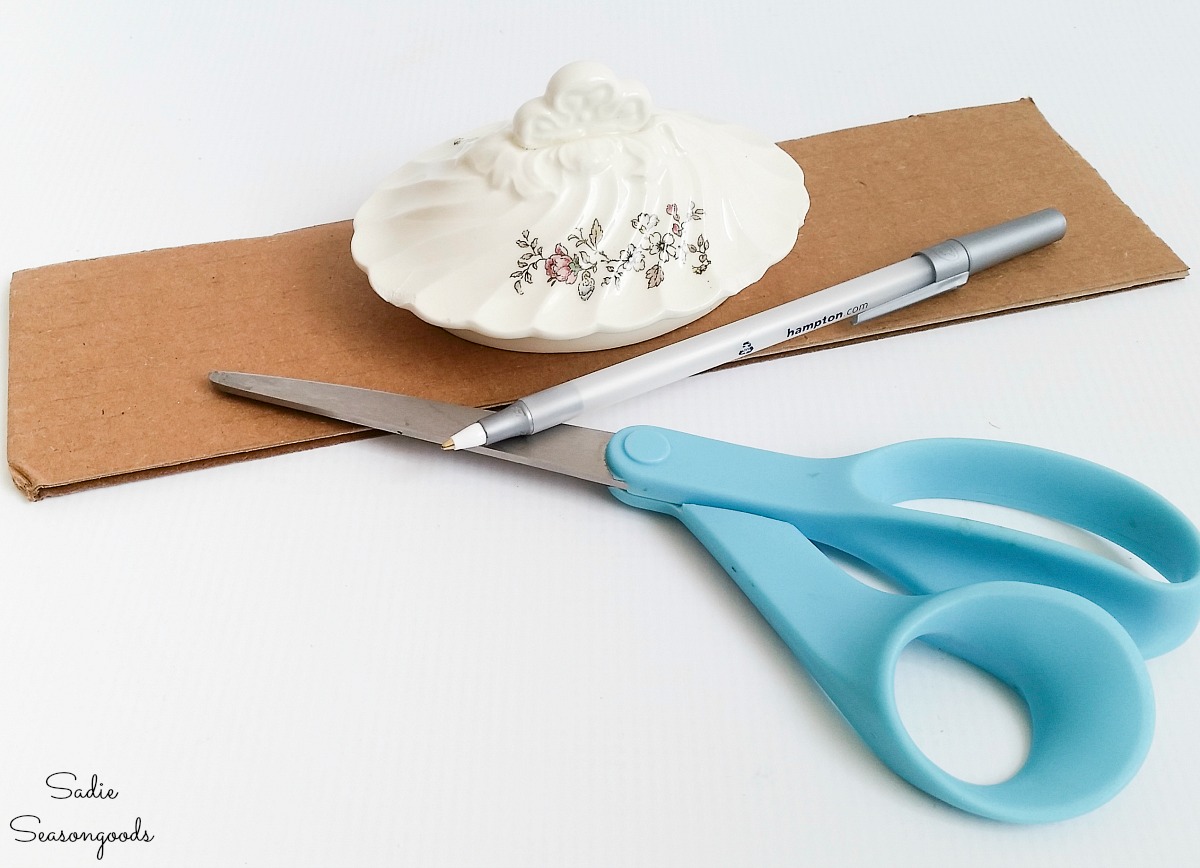 First, I cut out my cardboard tracing, knowing that it would initially be too large for the lid.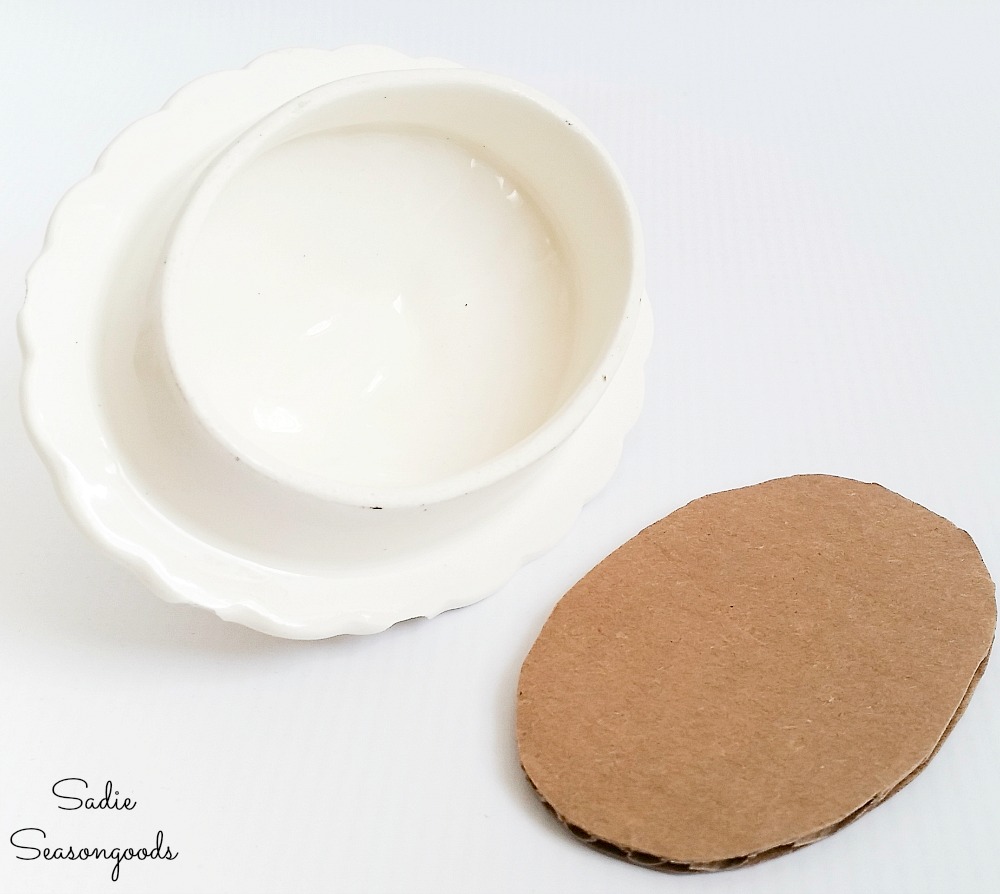 I wanted it to barely fit inside the opening, so I trimmed the edges until it went inside on its own (no pushing from me).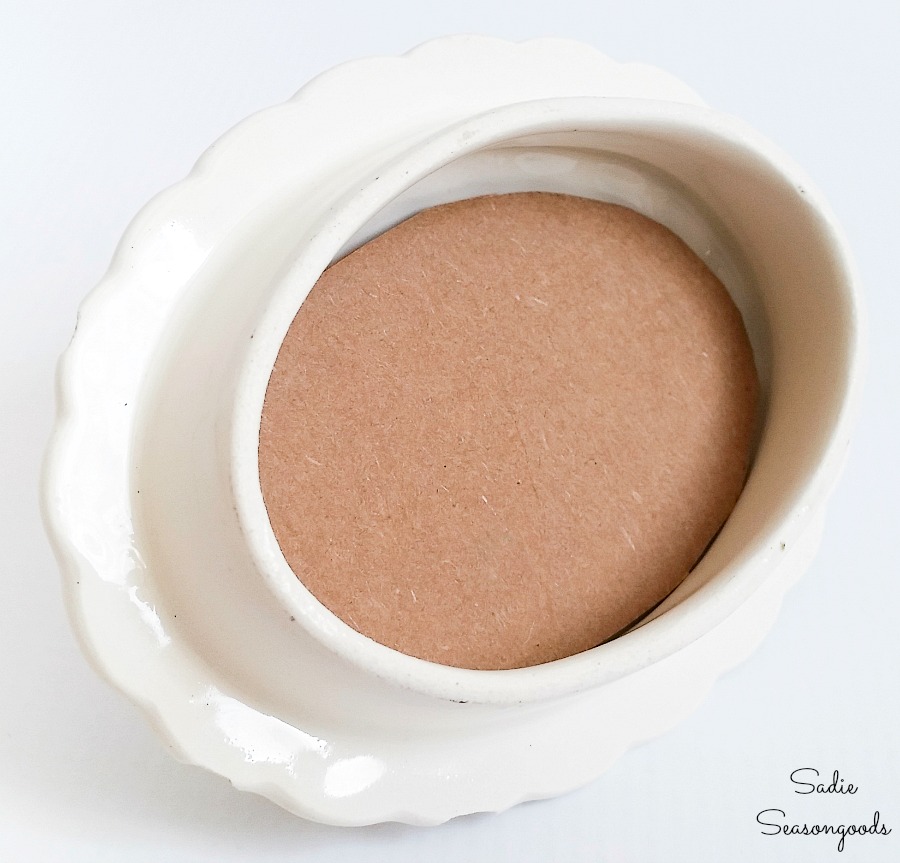 Now that I had the cardboard base for the needle cushion, I was ready to stuff it!
Finishing a Needle Cushion or DIY Pin Cushion
Next, I gathered a swatch of vintage fabric (from a thrifted pillowcase) and laid it out with the right-side facing down.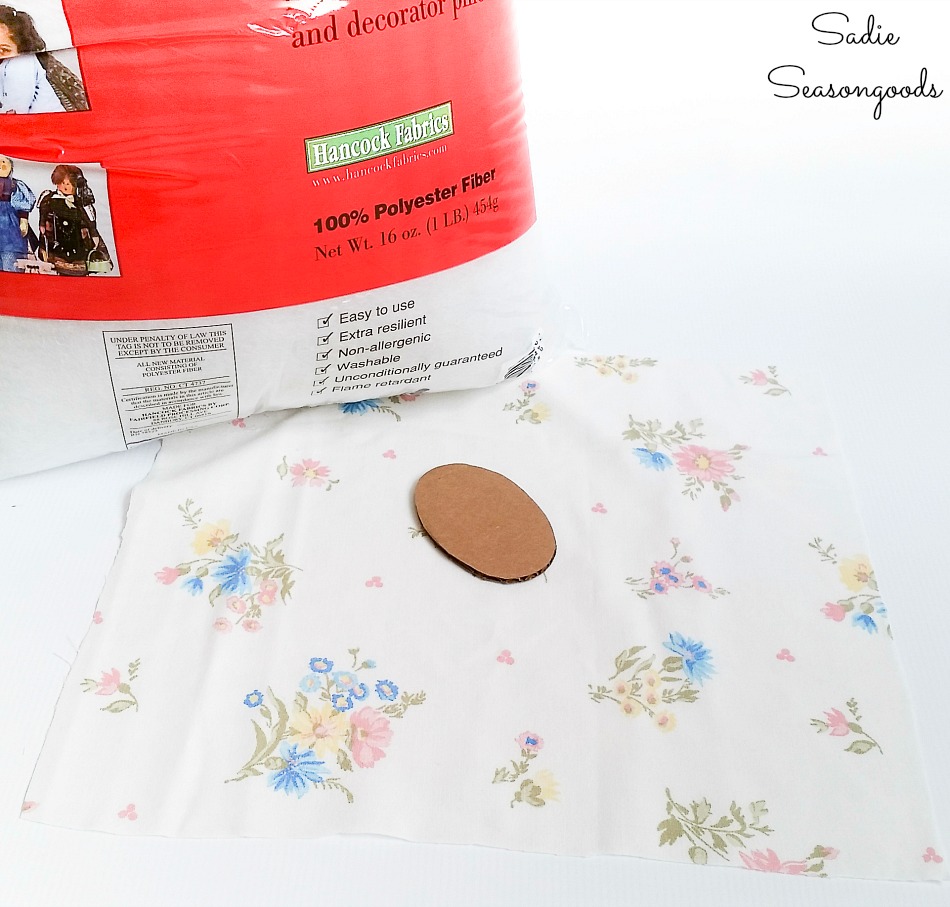 I took a wad of fiberfill–a softball-sized clump- and placed it on the fabric, directly over the pattern area that I wanted to show as my pin cushion.
Then, I balanced my cardboard oval on top of the fiberfill.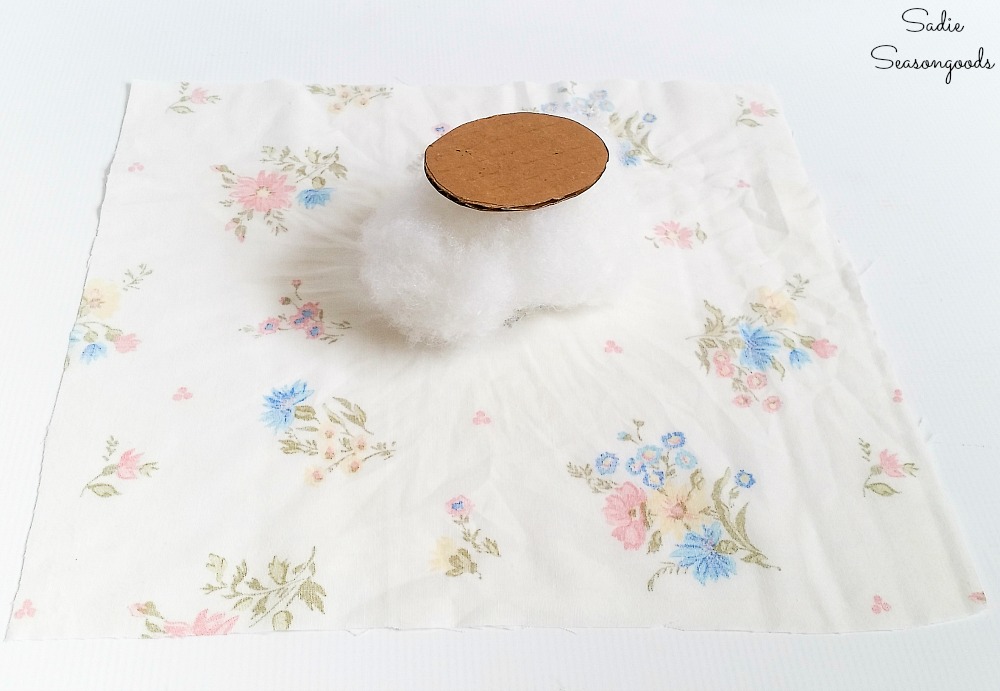 Carefully and with plenty of massaging/finessing, I pulled the corners of the fabric up and carefully pushed and prodded it into place.
The pictures don't indicate it, but I also ironed the fabric swatch before finishing up!
Then, I wrapped a rubber band around the excess fabric against the cardboard oval as tightly as possible.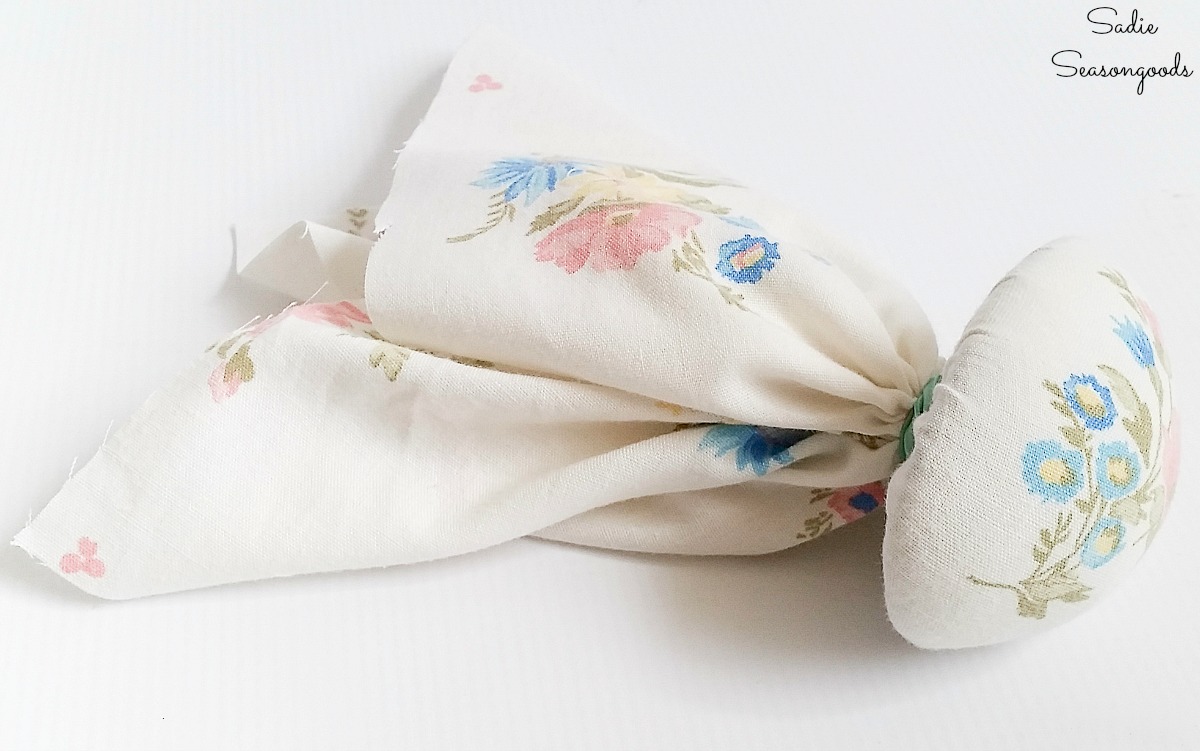 I tugged the fabric tails to make the needle cushion taut and adjusted it to center the pattern. Then, I trimmed off most of the excess fabric underneath the base.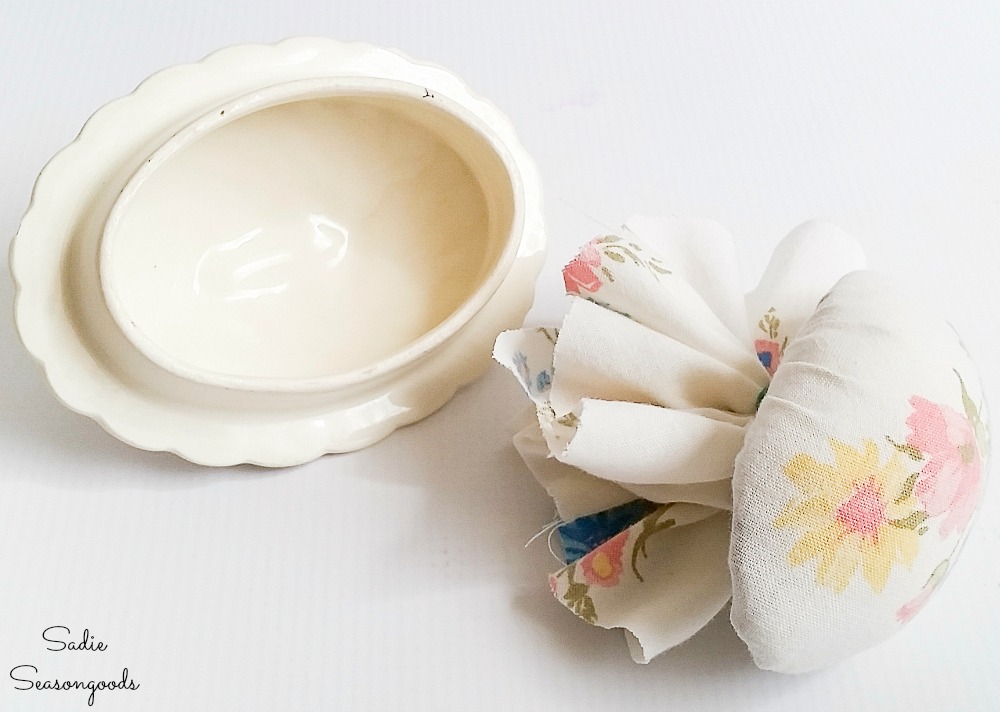 Finally, I dotted the inside rim and concave center of the teapot lid with my favorite super glue and carefully pushed the pin cushion into place.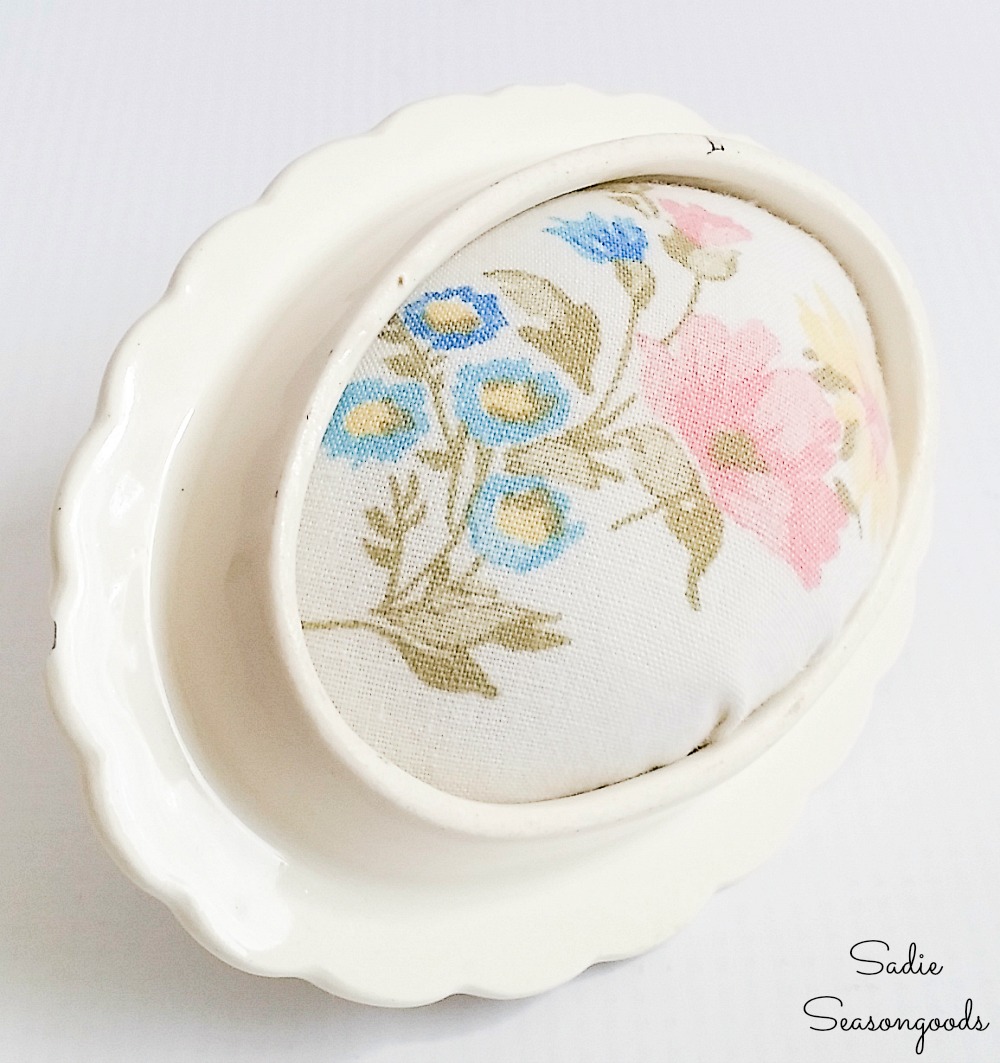 My crazy little idea to create a DIY pincushion in the lid of a vintage teapot WORKED OUT PERFECTLY!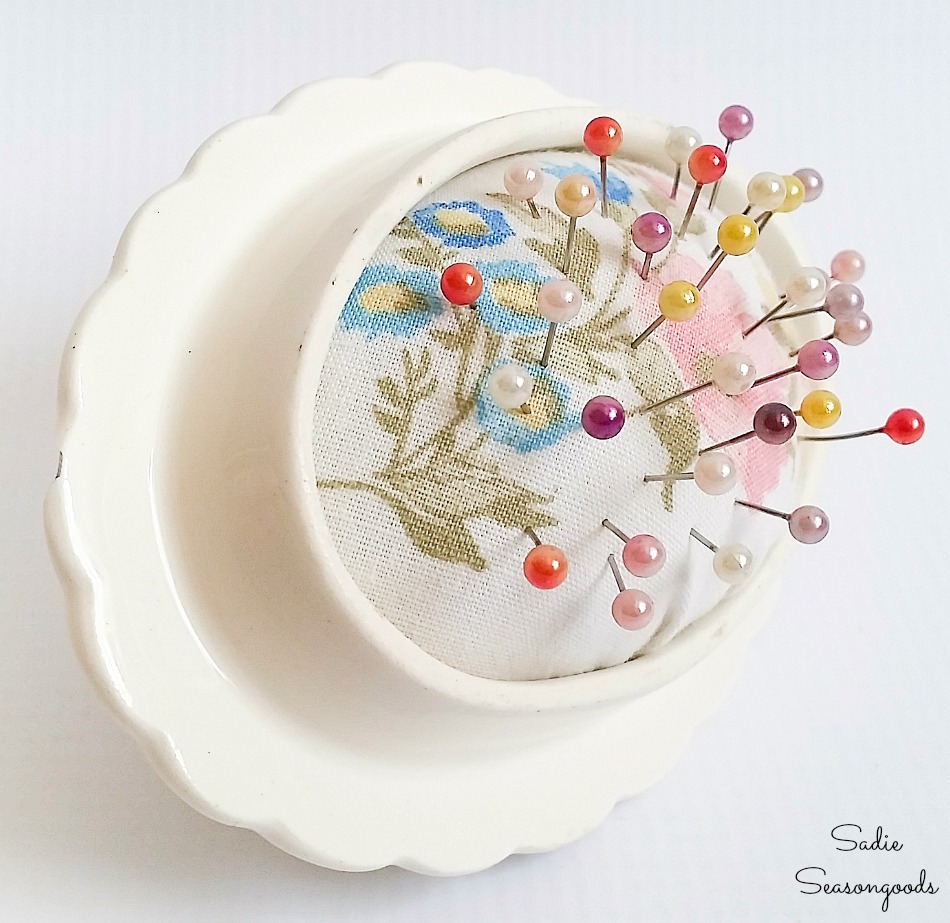 DIY Pin Cushion in a Vintage Teapot
I'm absolutely thrilled with the result. Isn't it delightful?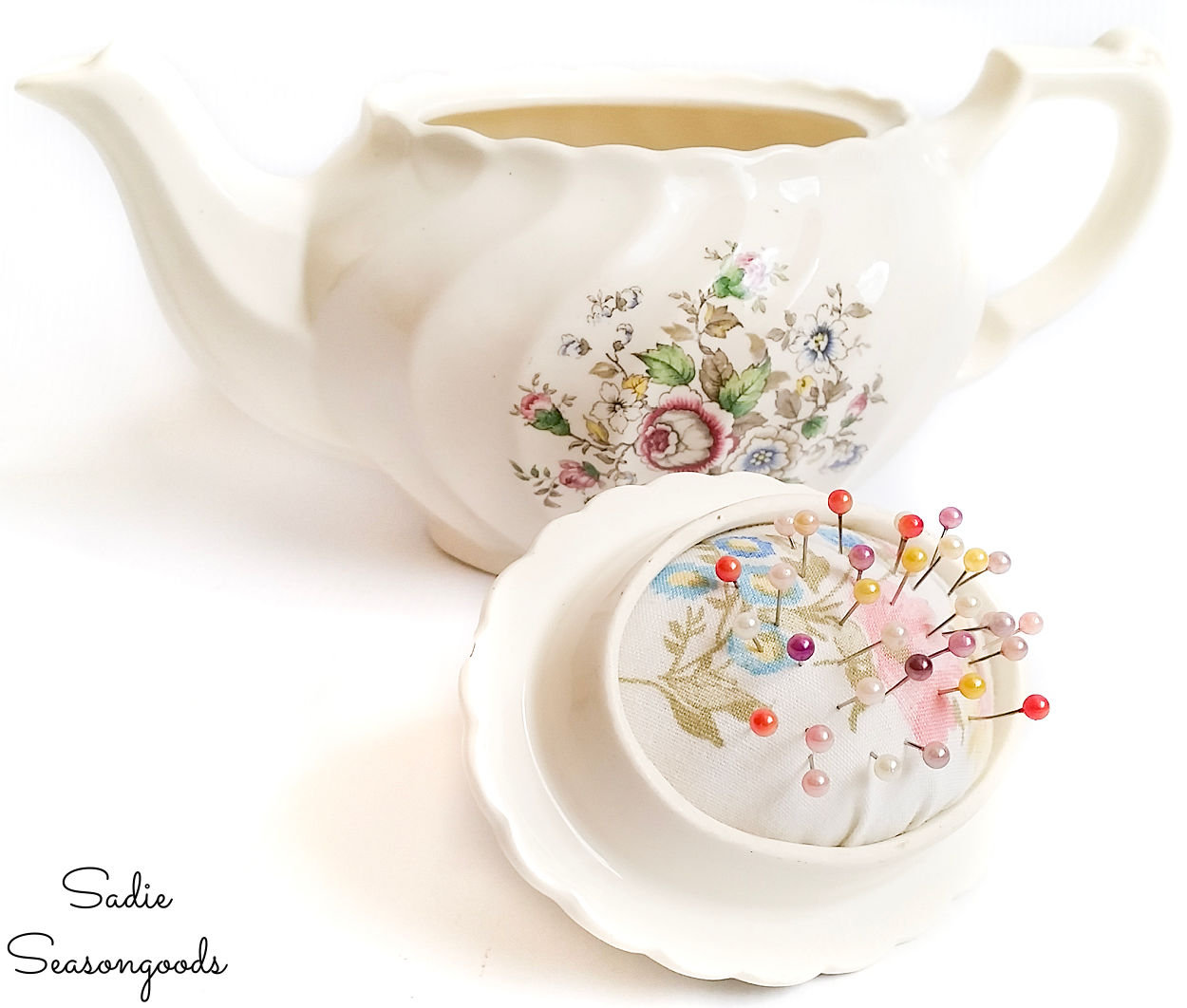 When I'm working on a sewing project, I will keep the pin cushion like this. Nice and steady with easy access to straight pins and needles.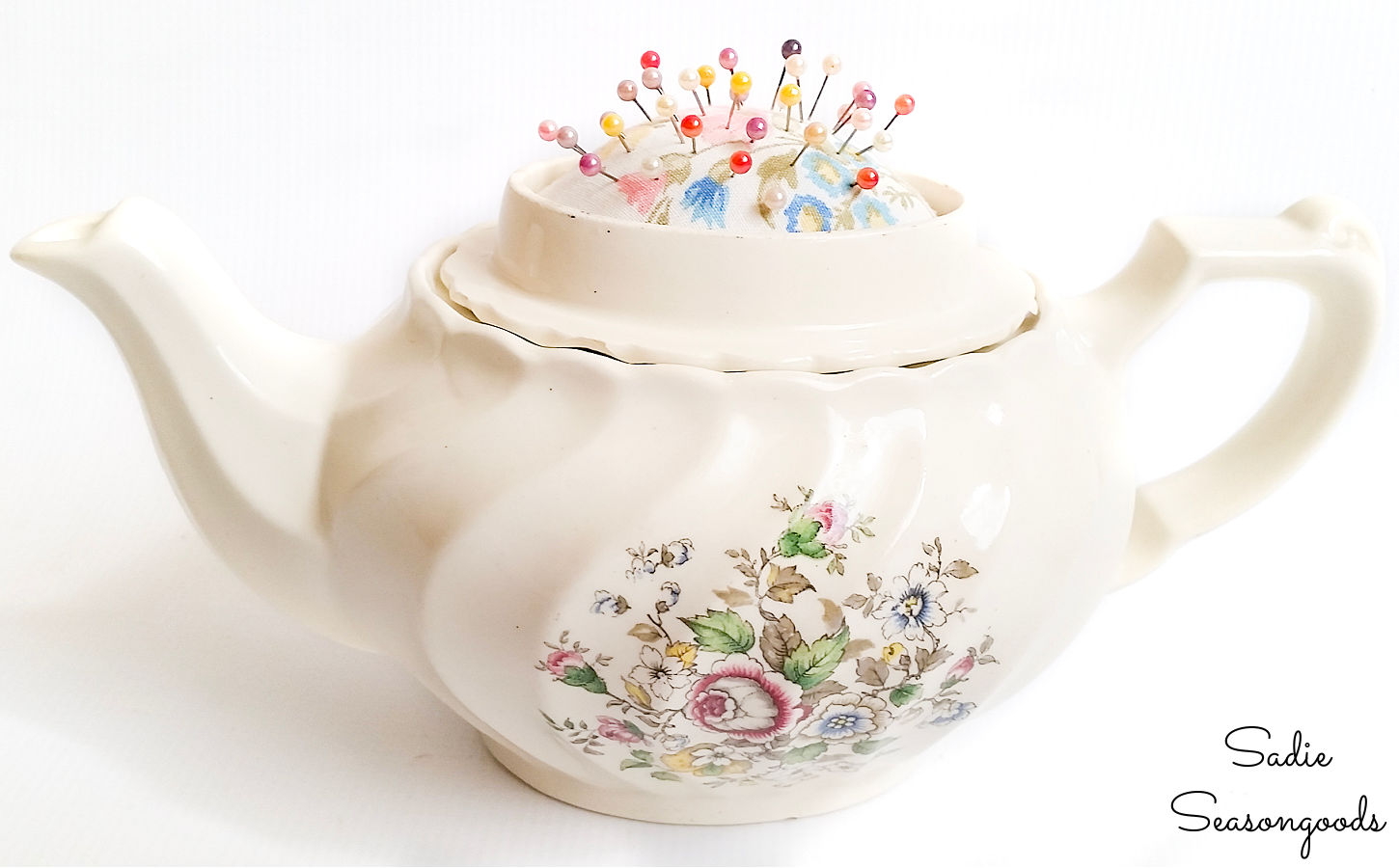 But when I'm done sewing, I'll replace the lid and hid the pin cushion from curious kitty paws.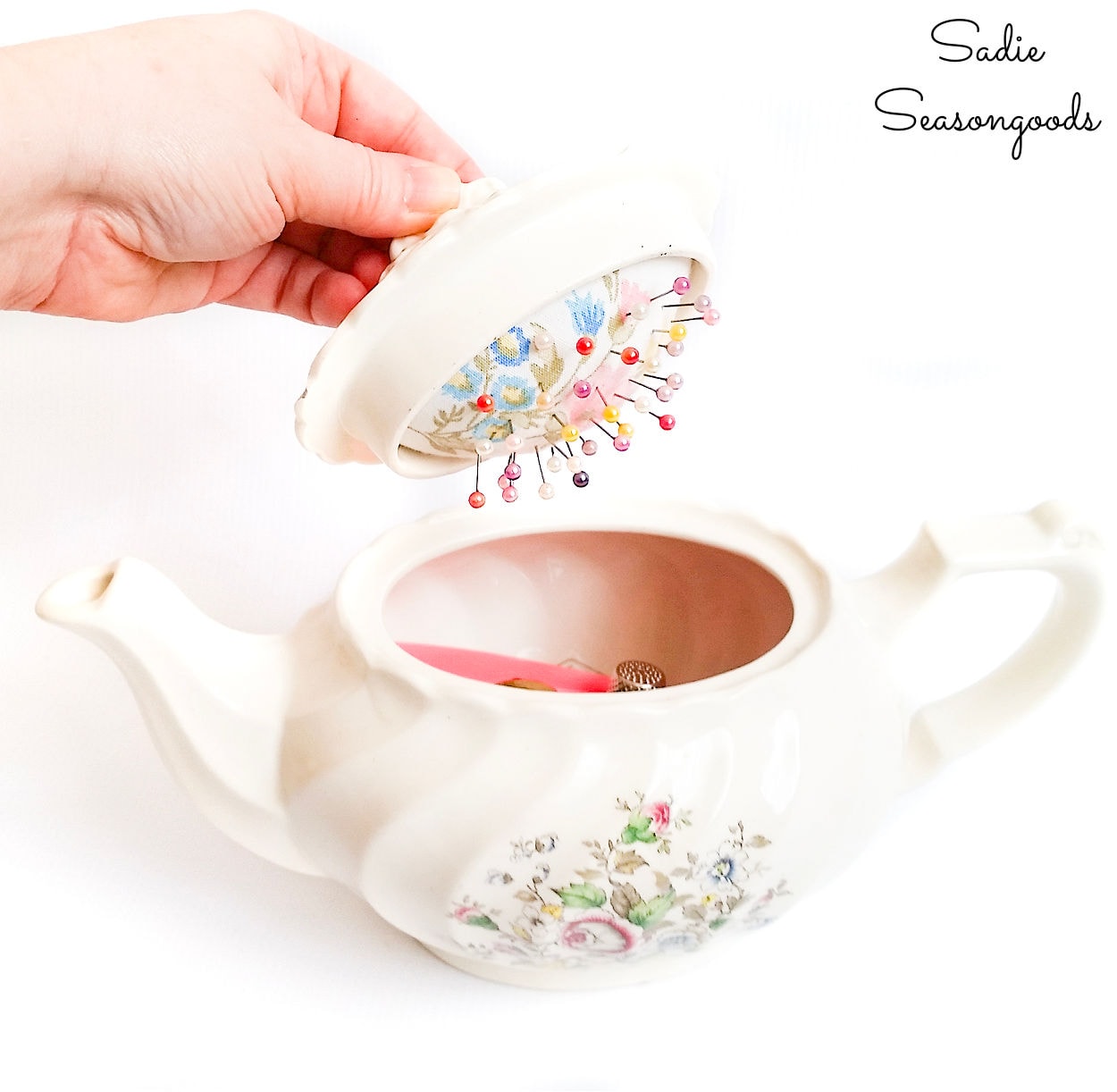 AND I will be keeping some of my sewing supplies in the body of the vintage teapot! Which means this entire project would be PERFECT as sewing gifts, right?
A sewing caddy and needle cushion that is functional AND decorative.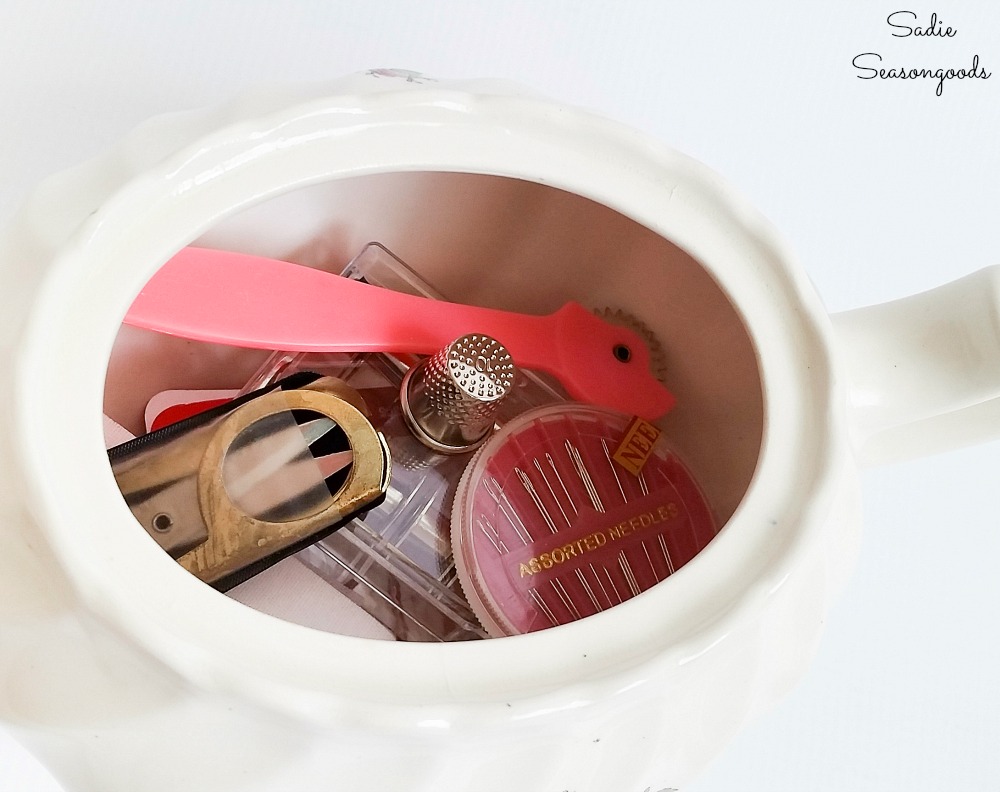 Plus, this upcycling idea could be used with things other than a vintage teapot. A covered sugar bowl is perfect, too.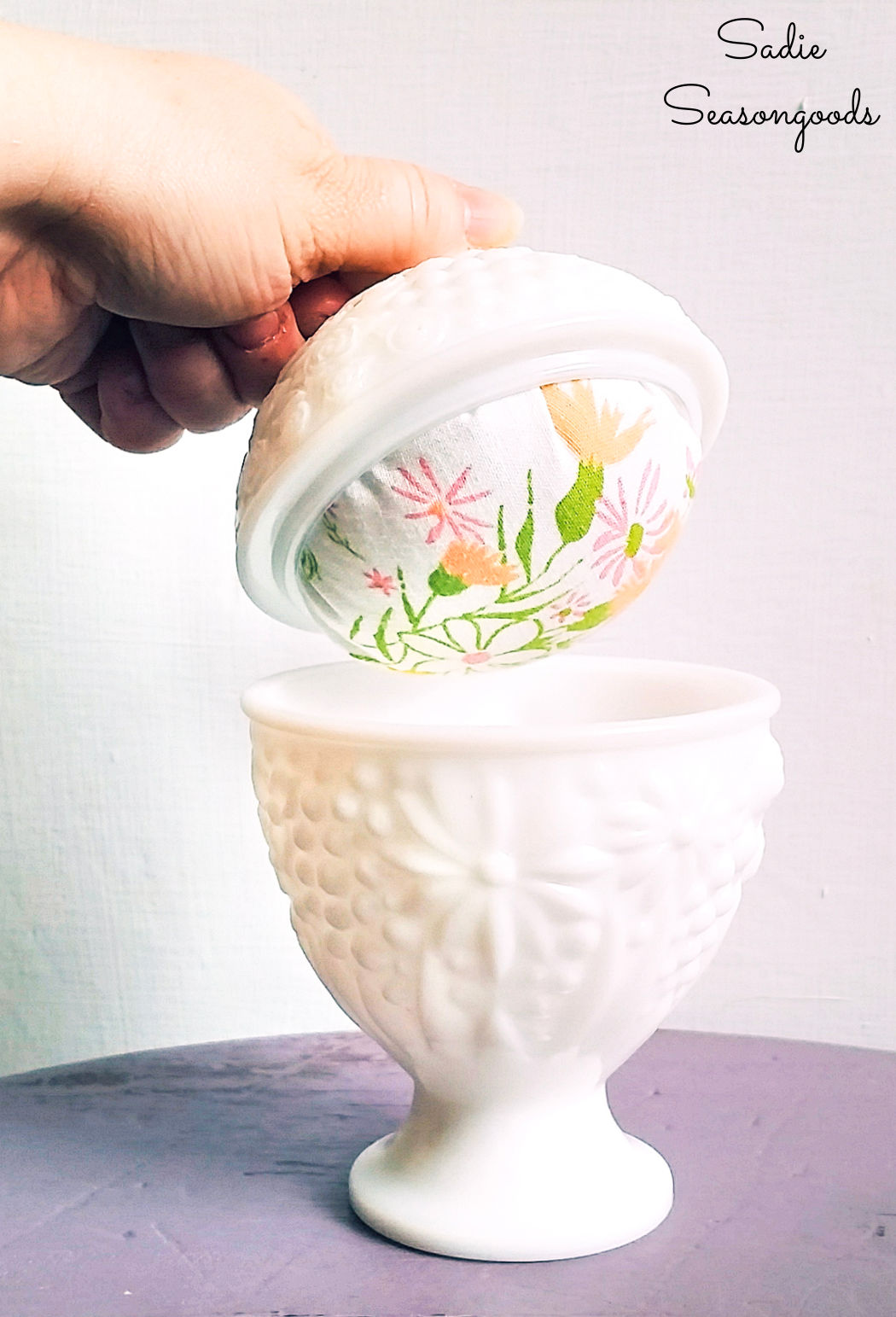 Either way, I absolutely love my sewing caddy and needle cushion. Not only is it adorable, but I can breathe easily knowing that Cottonball can't get to those dangerous pins and needles.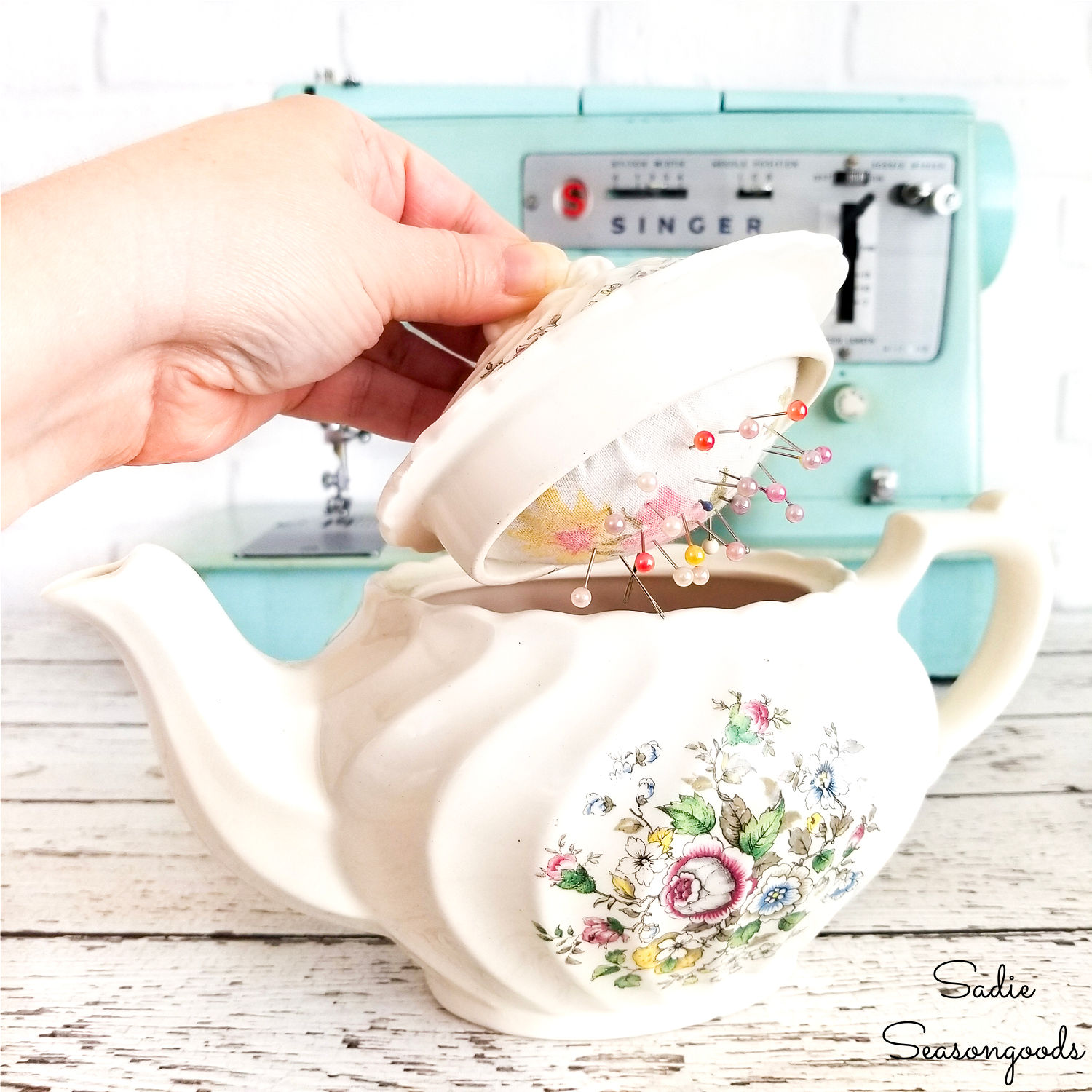 And make sure you check out this other version I made for my blogging friend, The Refashionista, too! She was a sewist who upcycled thrift store clothing into AMAZING new pieces.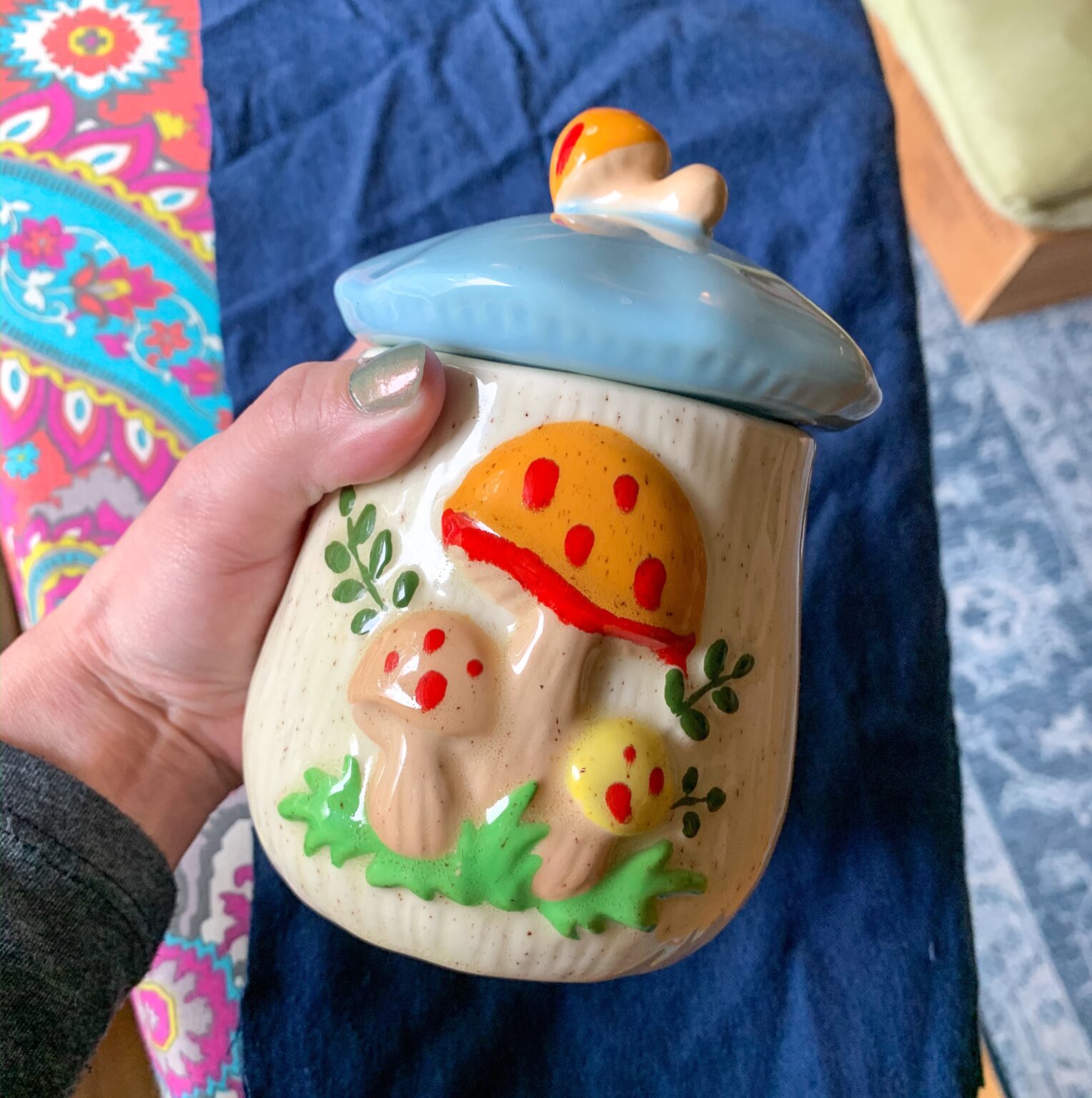 I'm also excited to announce that my first book is now available! If you enjoy upcycling clothing and simple sewing projects, then you will love my book on flannel crafts!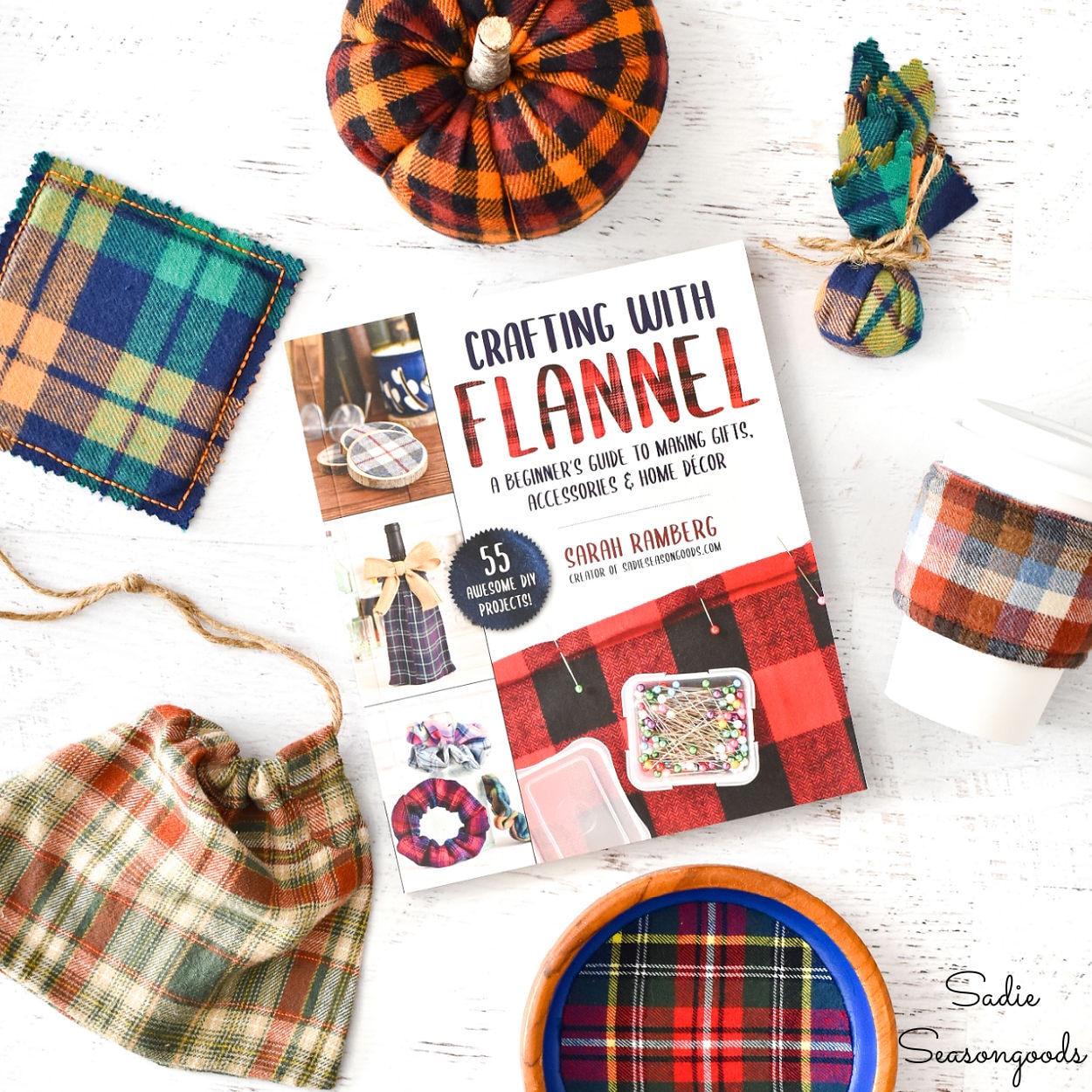 If you enjoyed this upcycling idea for a vintage treasure, then you'll also love this idea for shabby chic wall decor!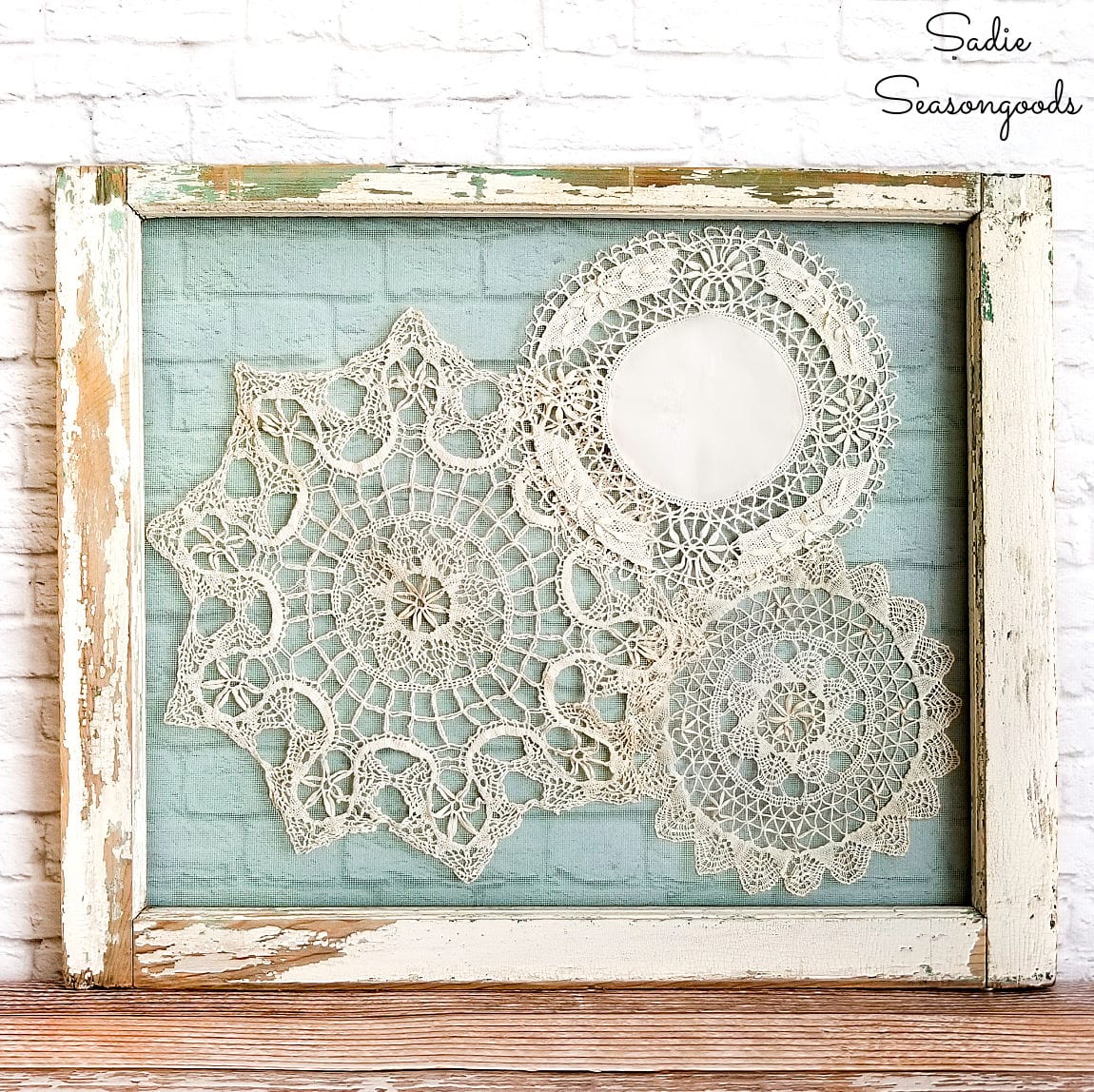 Craft on!
S
Join me on Social Media:

PIN ME!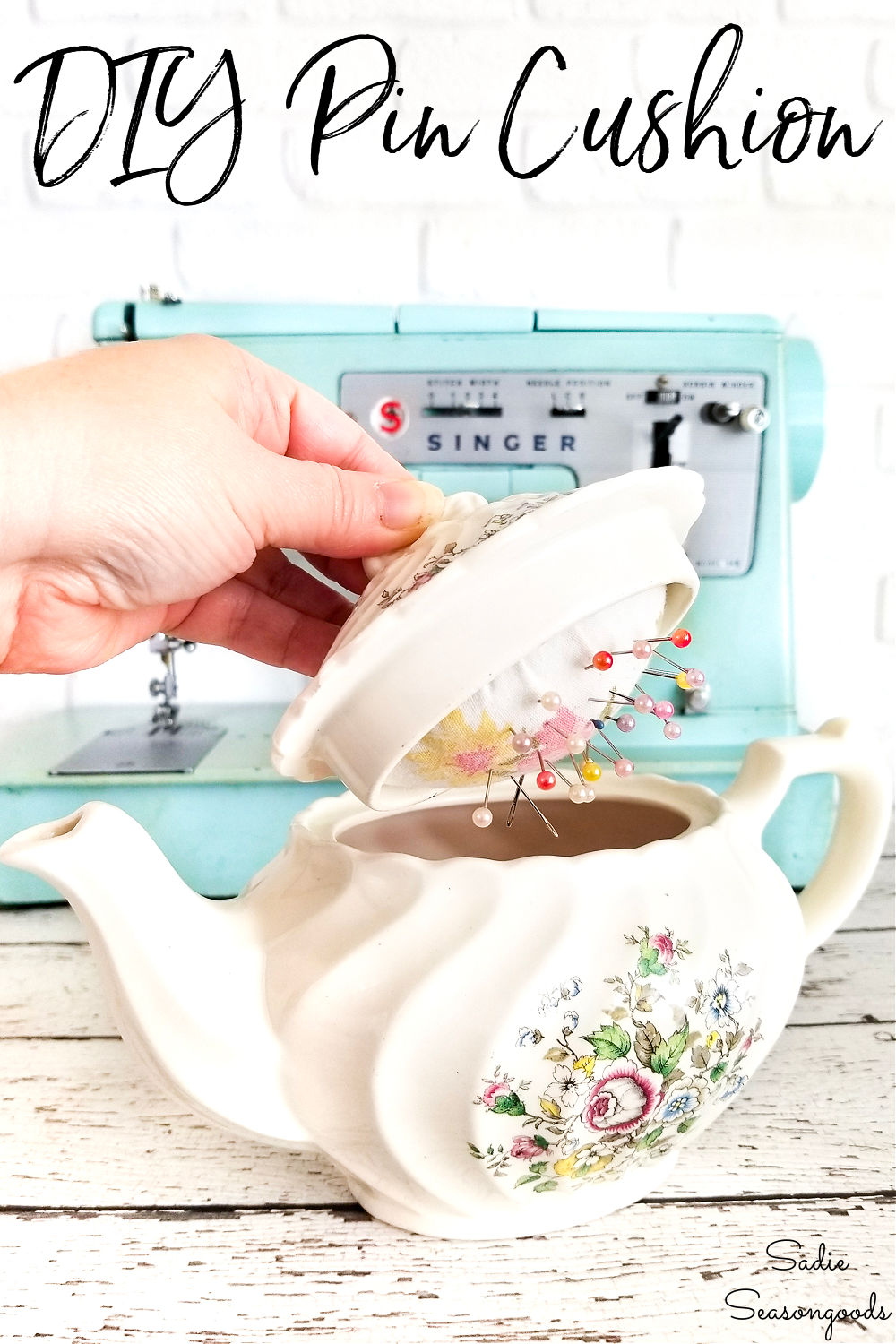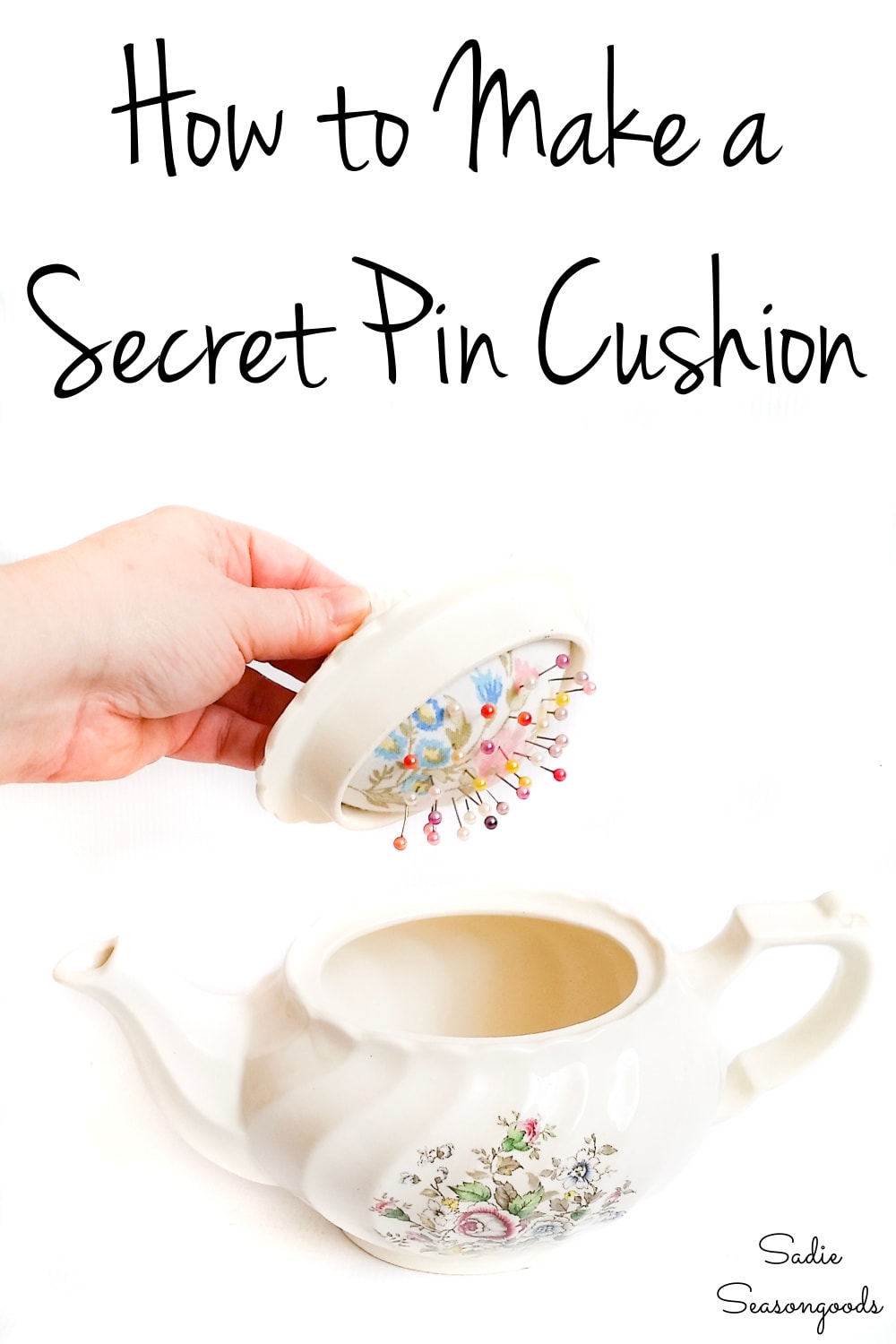 Sarah Ramberg is the owner of Sadie Seasongoods, a website that celebrates all things secondhand. From upcycling ideas and thrifted decor to vintage-centric travel itineraries, Sadie Seasongoods is a one-stop shop for anyone who loves thrifting and approachable repurposing ideas. Sarah is also the author of "Crafting with Flannel" and has been featured in numerous media outlets and magazines.