I have to admit- scratching posts for the cats are hit-or-miss in this house. But I had an antique cheese grater that I didn't know what else to do with. It was COMPLETELY dull to the touch so I knew it would be safe for upcycling into a DIY cat toy of some sort. And the more I looked at it, the more I saw a DIY cat scratcher that I could hang from a doorknob.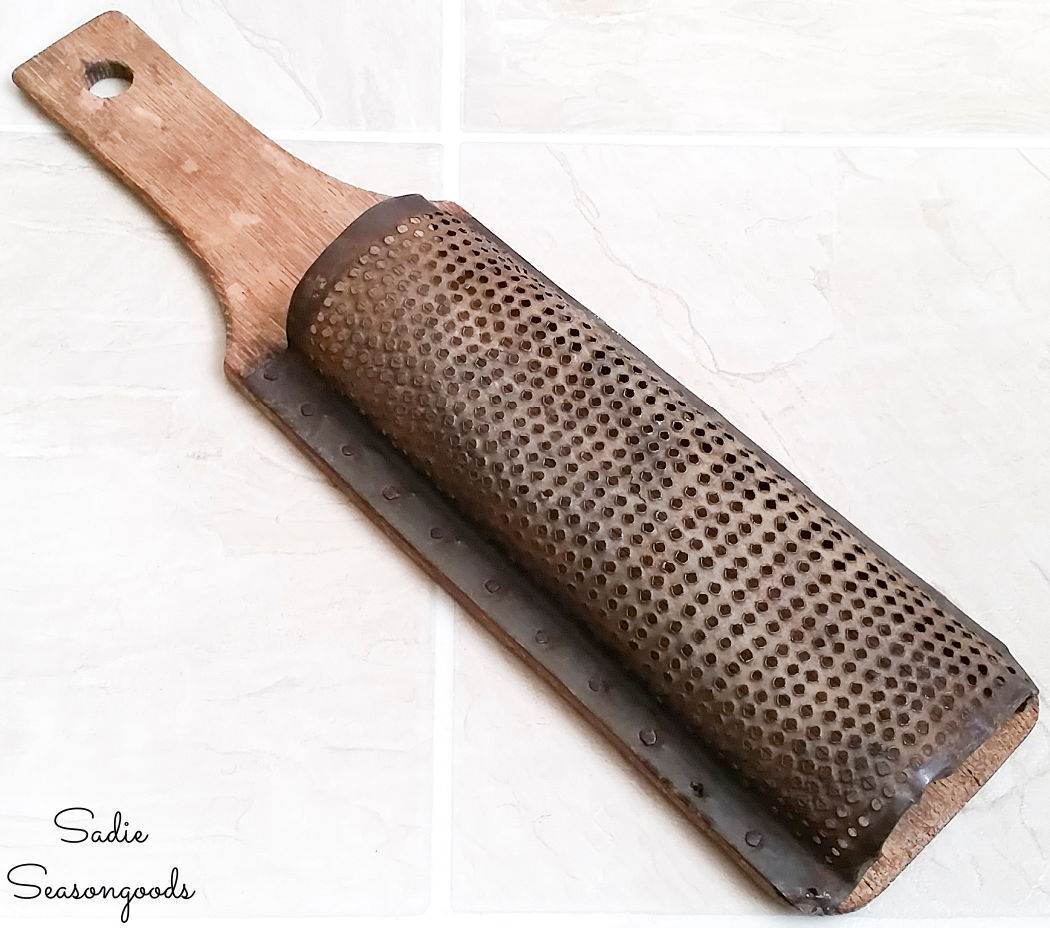 I'm usually a little afraid of vintage graters because I am typically averse to sharp things….especially sharp OLD things that look like a prop from Texas Chainsaw Massacre. But this one had been used so much that it was now just bumpy.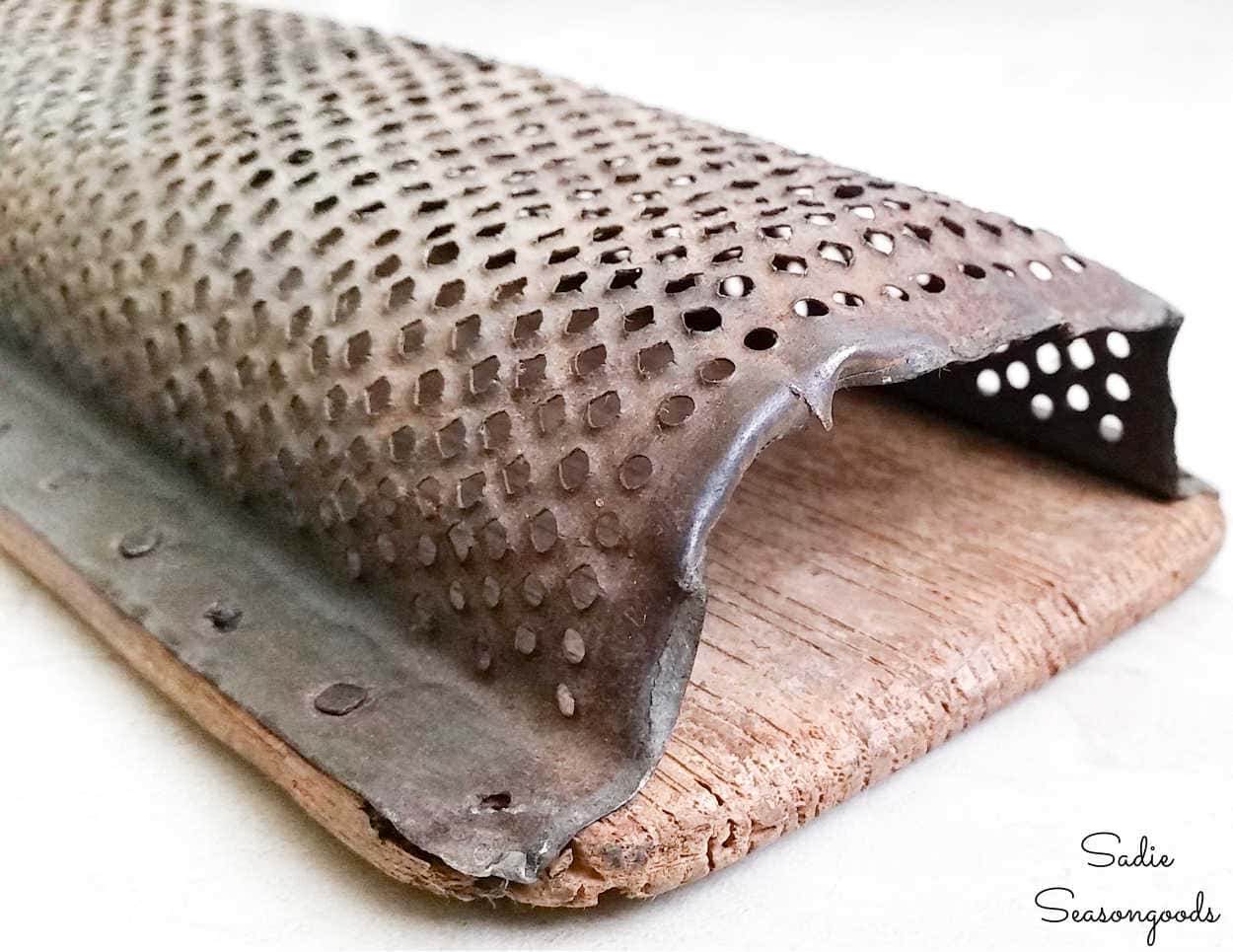 So I gathered my repurposing thoughts and decided to move forward with it as a hanging cat scratcher!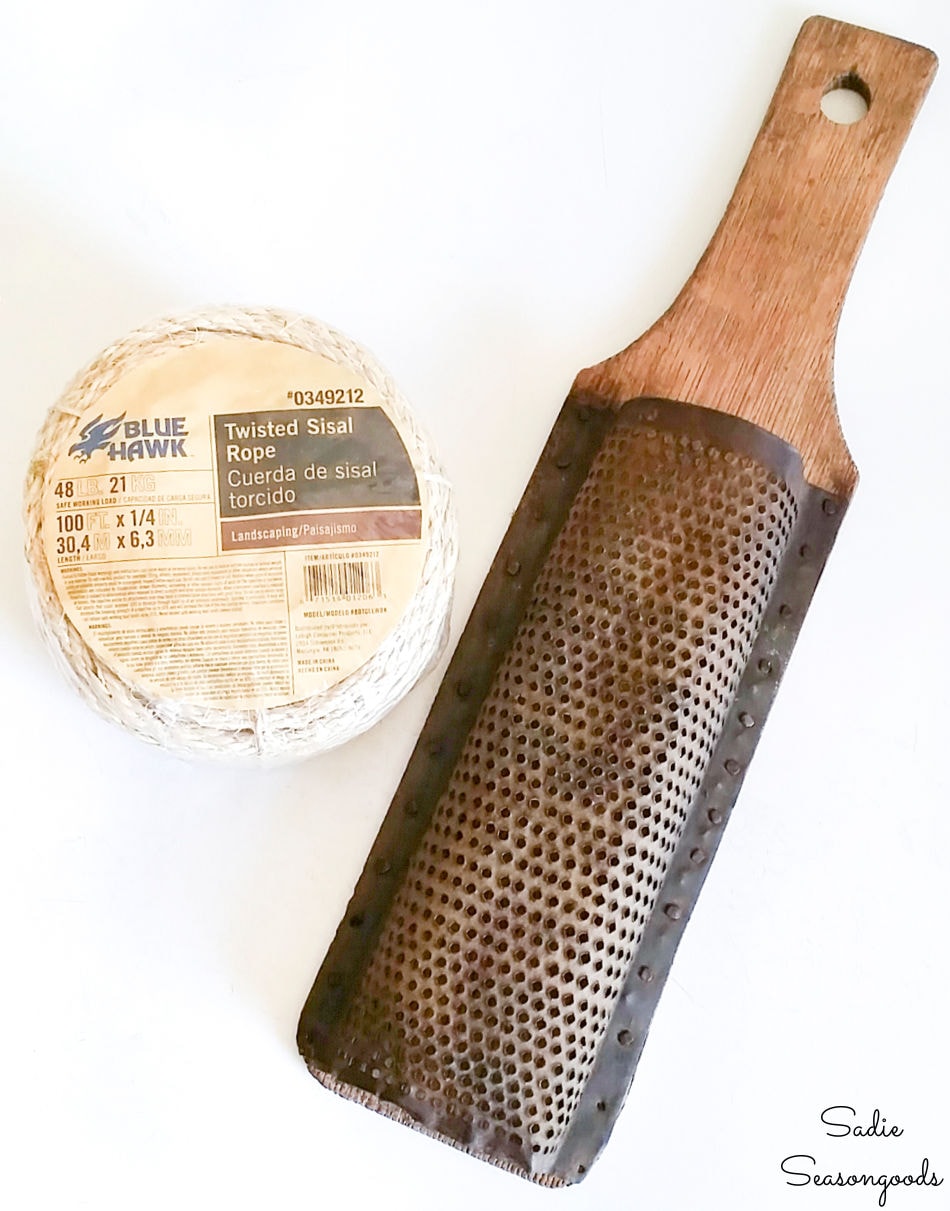 This post contains affiliate links for your crafting convenience. As an Amazon Affiliate, I earn from qualifying purchases.
Covering the Antique Cheese Grater
I loved the fact that the dull grater was like a "basket" of sorts, and decided to turn it into a holder. But the bottom was open and needed to be covered. Well, ALL OF IT needed to be covered, but I needed to also cover up the bottom.
First, I looked through my vast collection of fabric remnants and found some stiff canvas that I had gotten for super cheap.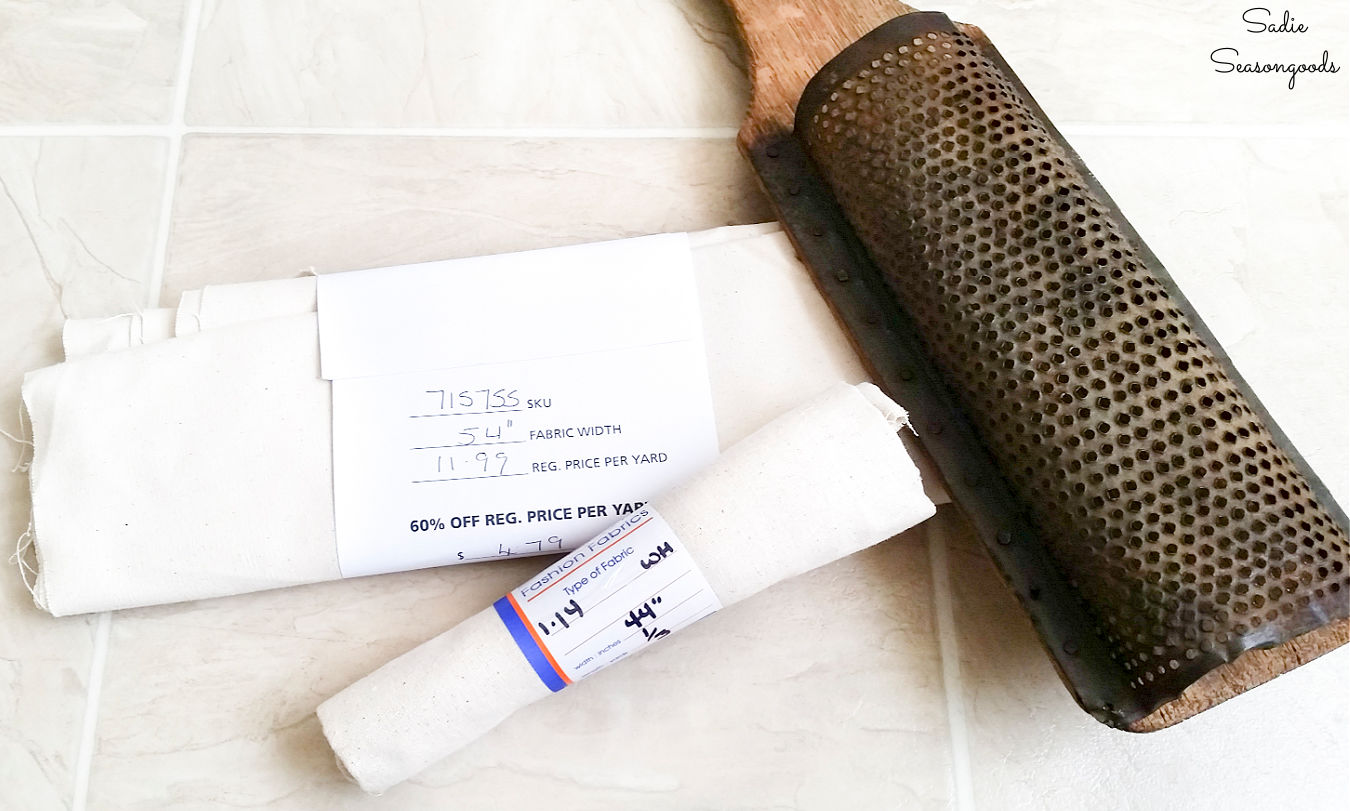 So, I cut out a trapezoid-shaped piece of canvas and constructed a makeshift "diaper" of sorts. I know that sounds really weird, and while I really don't know anything about diapers, I'm pretty sure this was, at the very least, diaper-esque.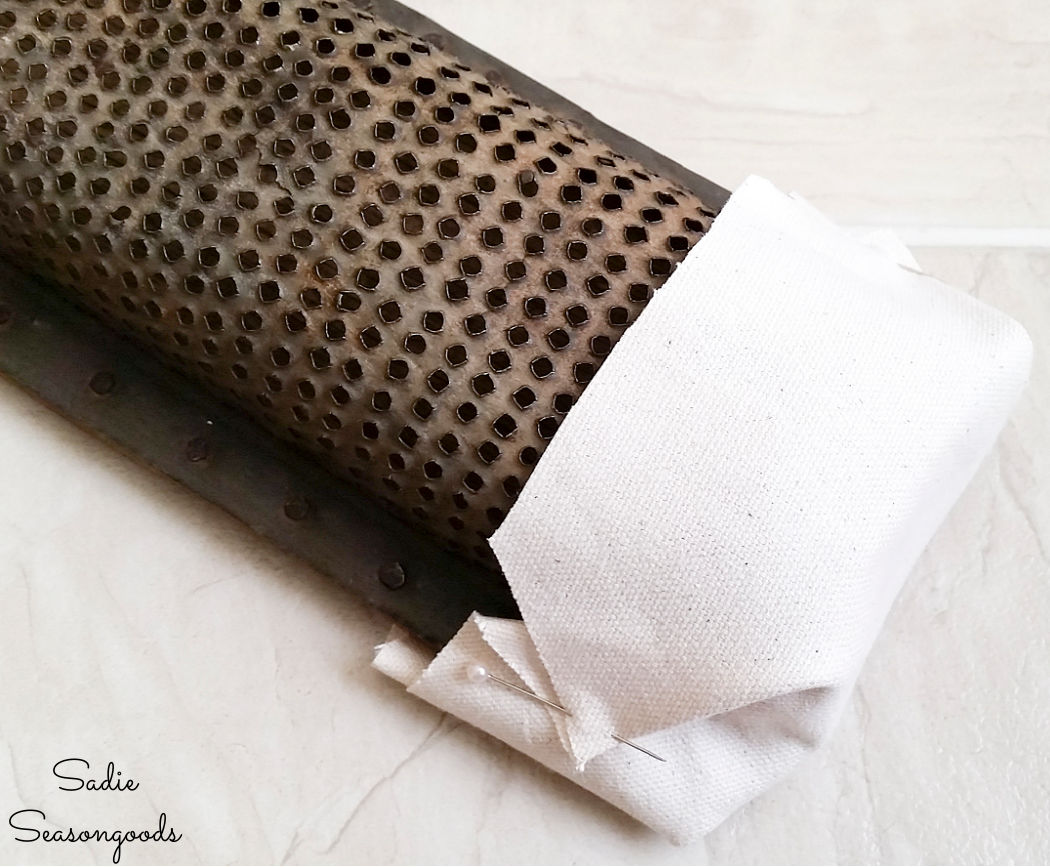 And because I really didn't want to permanently commit this vintage piece and ruin it with any glue, I used a curved needle to sew the canvas to the holes of the antique cheese grater.
Basically, I stitched the canvas "diaper" to itself snugly to keep it in place.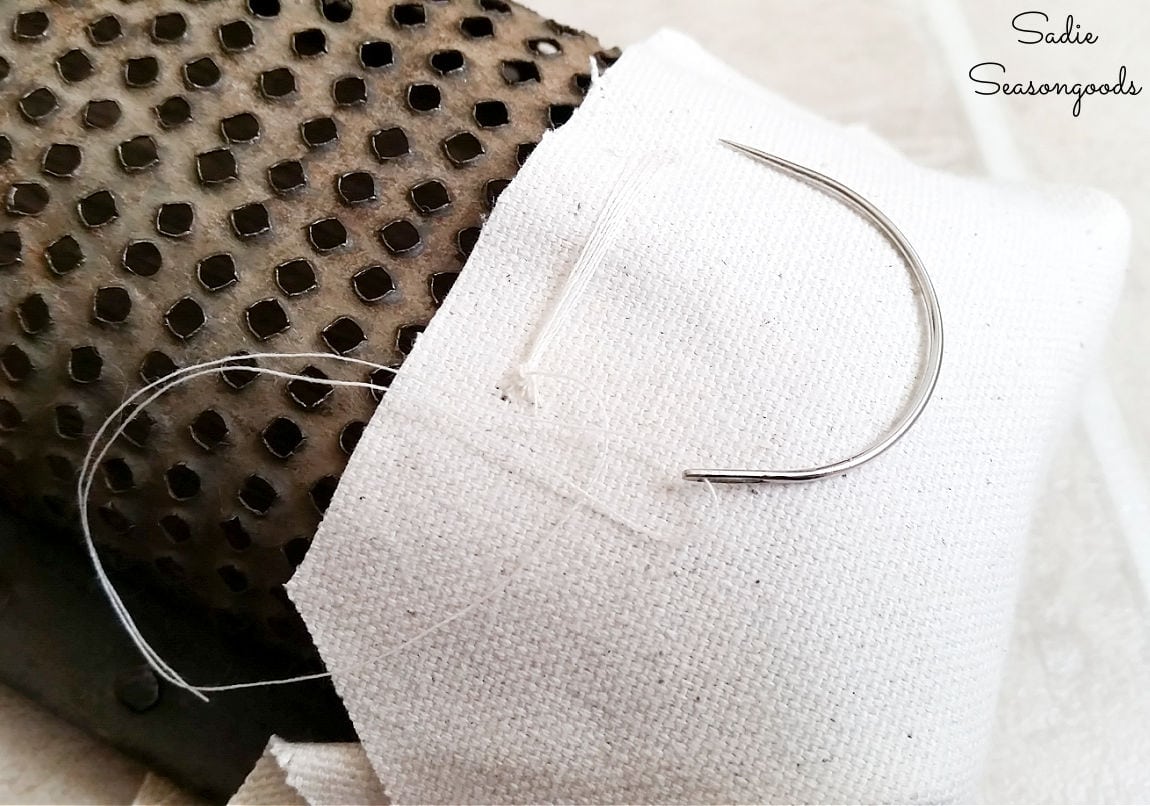 Even though the grater was super dull, I still wanted to cover it up with fabric before turning it into a hanging cat scratcher. I'm a pretty protective cat-mom, after all.
Next, using the same canvas remnant, I cut out a long strip and hemmed the raw edges on my sewing machine.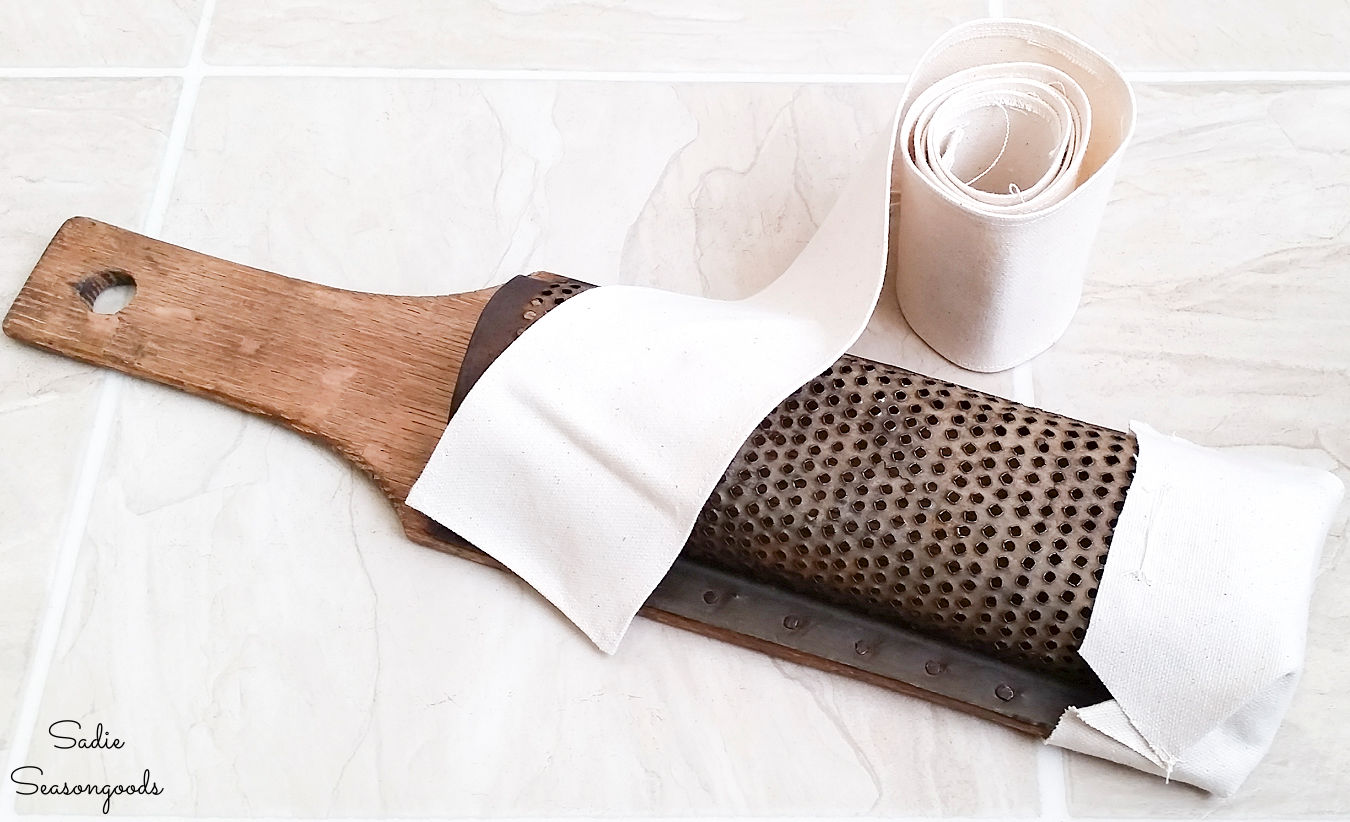 Finishing the DIY Cat Scratcher
Next, I wrapped the canvas around the antique cheese grater like an Ace bandage. I overlapped it as I went and stitched it to itself to hold it in place. Again, no glue was used.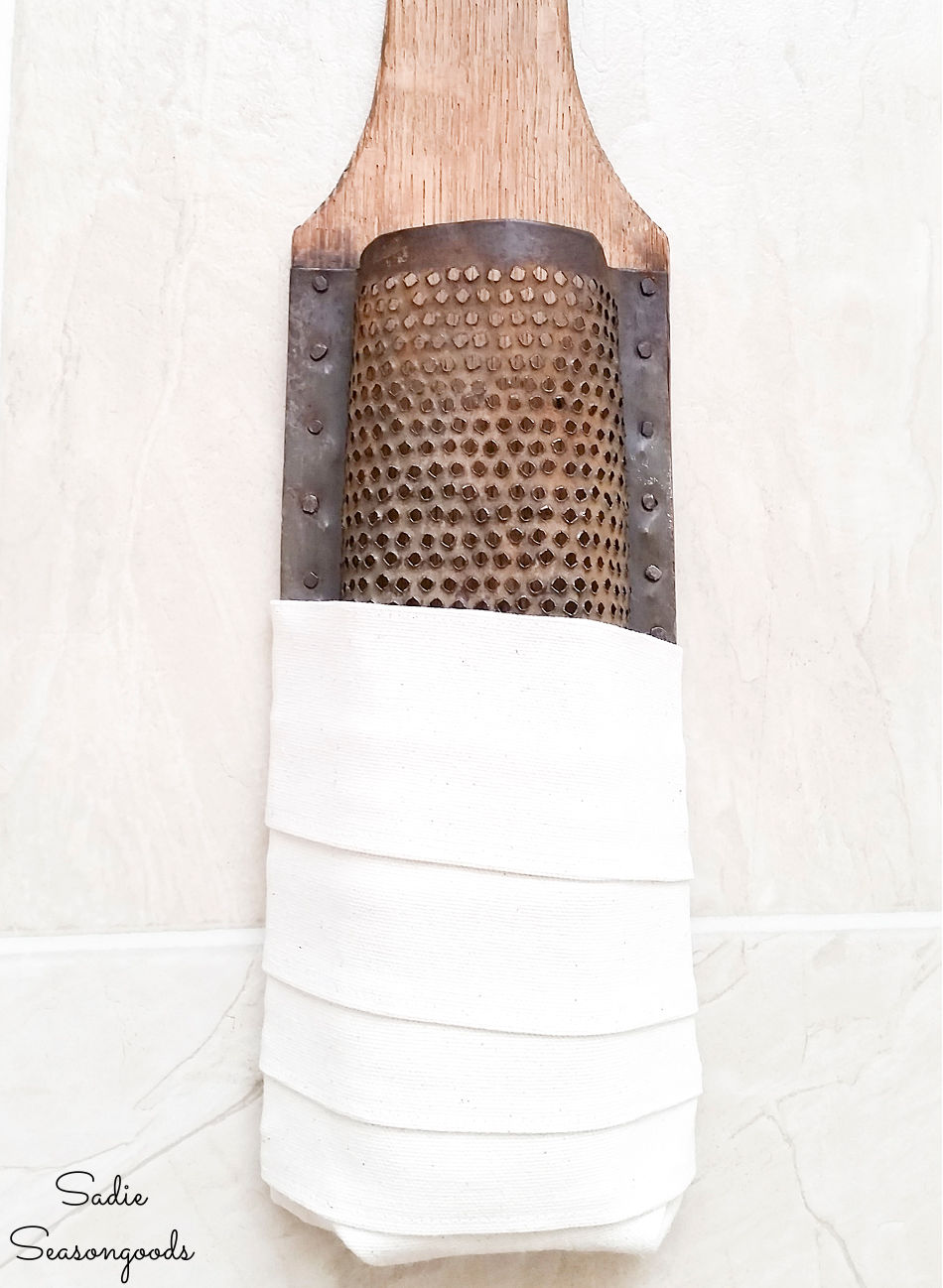 Once the antique cheese grater was completely covered, it was time to add the sisal rope (i.e., the stuff that cats love to scratch on)! For this part, I did break out the fabric glue– but just to glue the rope to the canvas.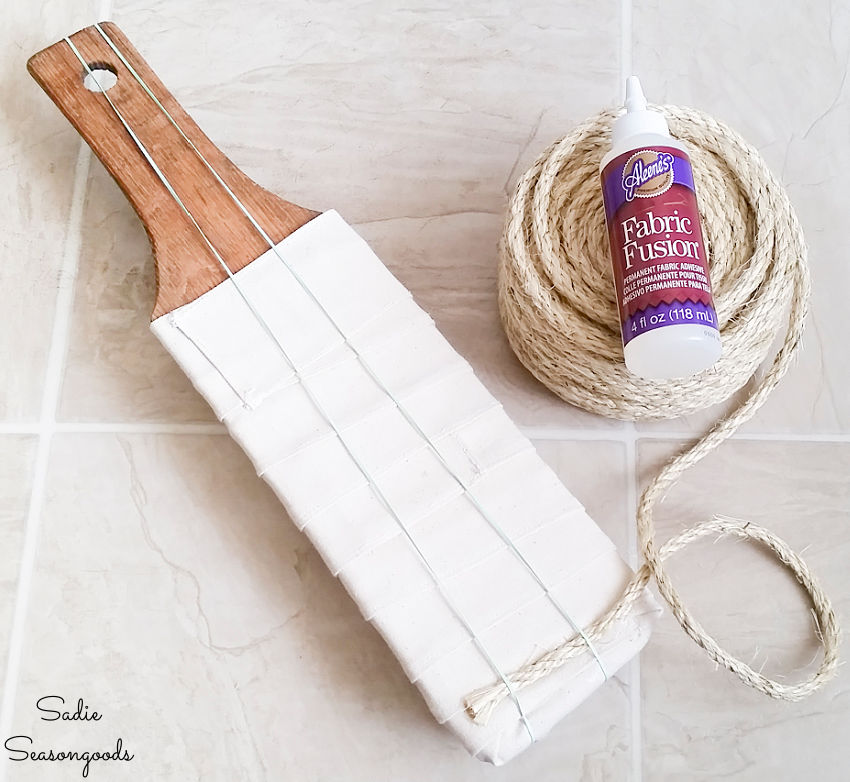 First, I glued one end of the rope across the back of the hanging cat scratcher, and used super stretchy rubber bands to hold it in place.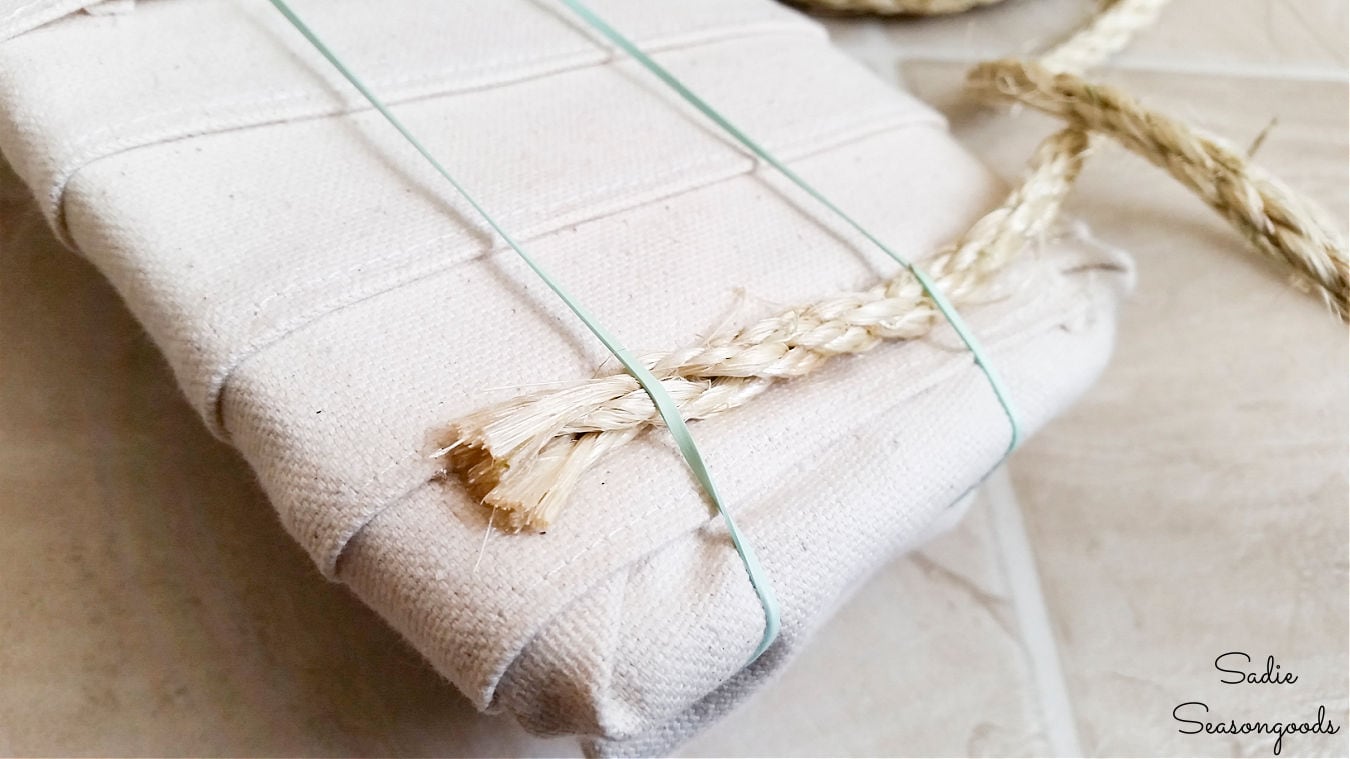 Once the end had dried, I simply wrapped the rope tightly around and around. I added a bead of glue each time to the front, and every other layer to the back.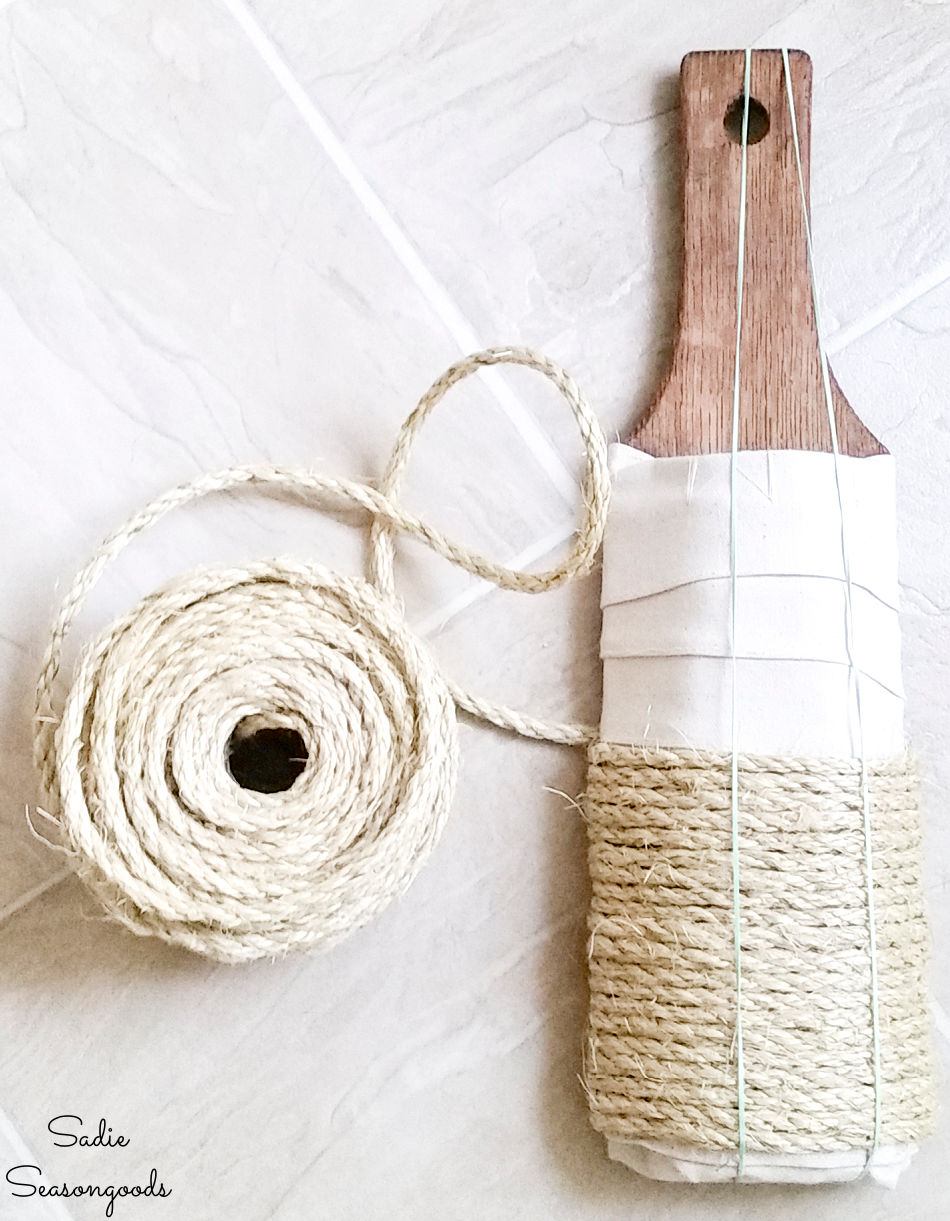 DIY Cat Scratcher from an Antique Cheese Grater
When I was done wrapping and gluing, I threaded some rope through the hole on the handle, and hung it from a door knob. Hard to believe this DIY cat scratcher is made from an antique cheese grater, eh?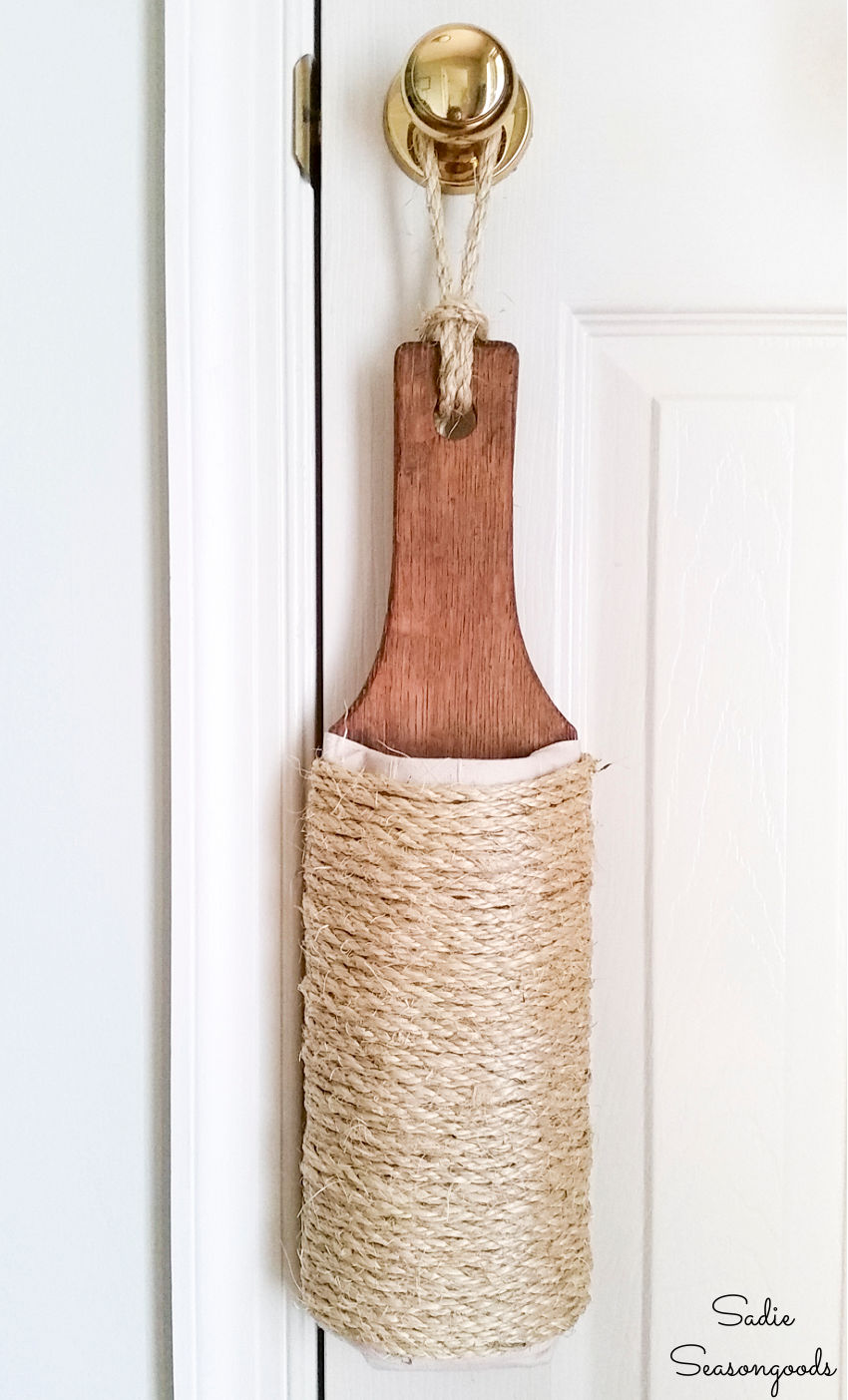 But, wait- that's not all! (said in an infomercial voice)
Since I had covered up the bottom with canvas, I could add a cat toy to it and entice the kitties to actually use their new hanging scratcher.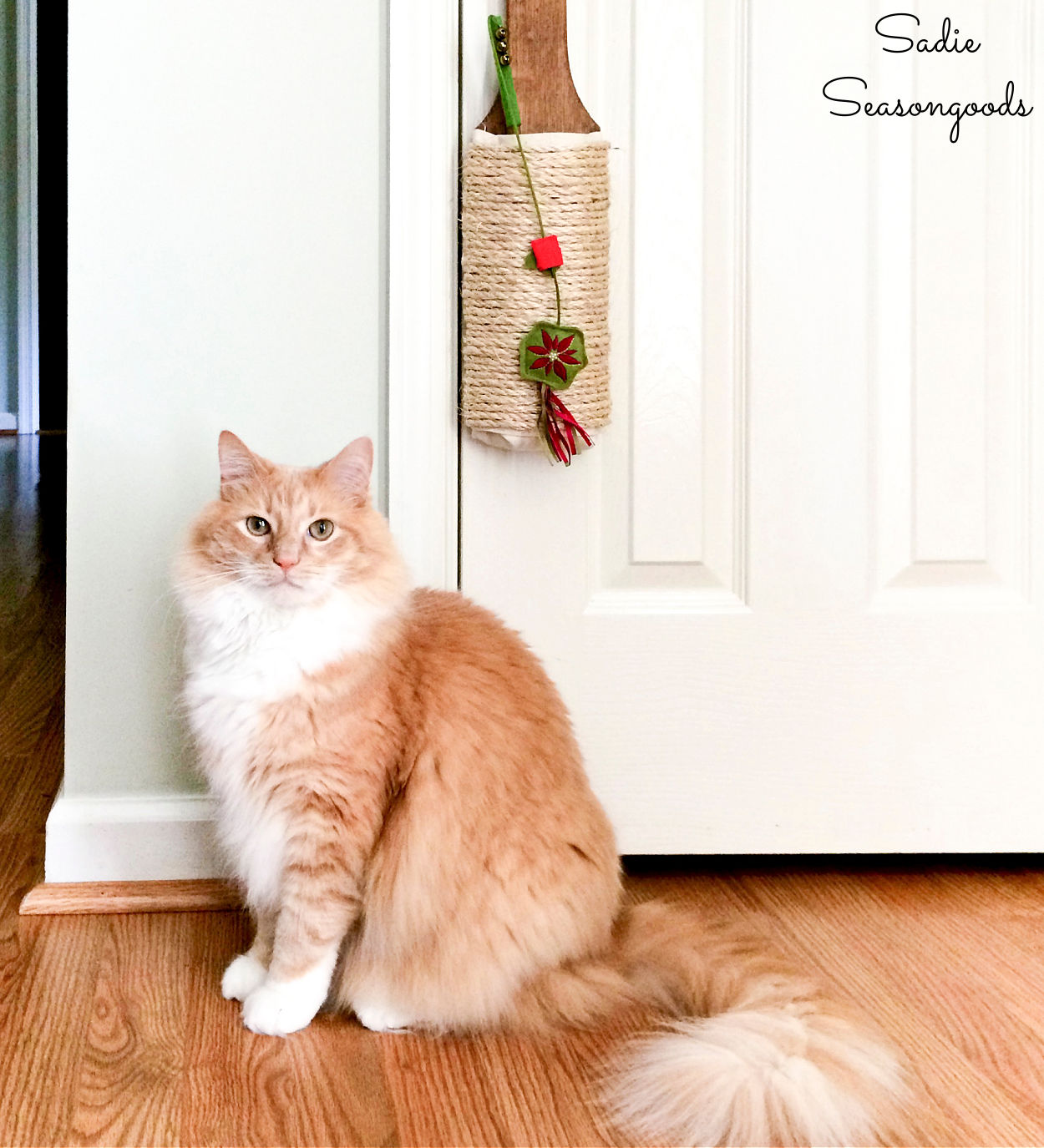 Plus, since nothing is permanently attached to the wood or metal, it's still a perfectly good vintage piece underneath the canvas and sisal rope.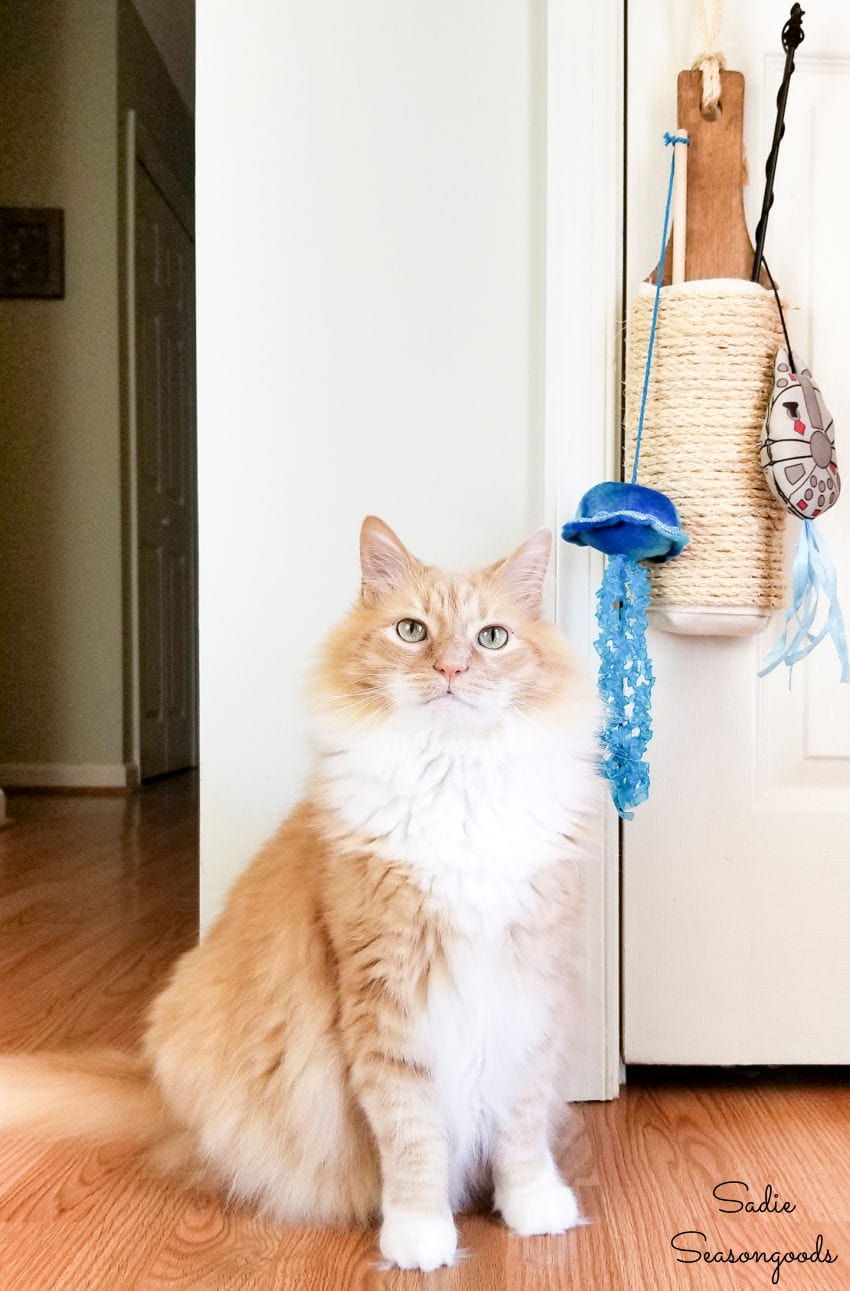 I hope you enjoyed this unusual (but effective) upcycling idea for a hanging cat scratcher! I certainly had fun making it for Cottonball, that's for sure.
And if you enjoyed this upcycling idea for a DIY cat toy / handmade cat toys, then you'll love this cat cave I made by upcycling an old t-shirt!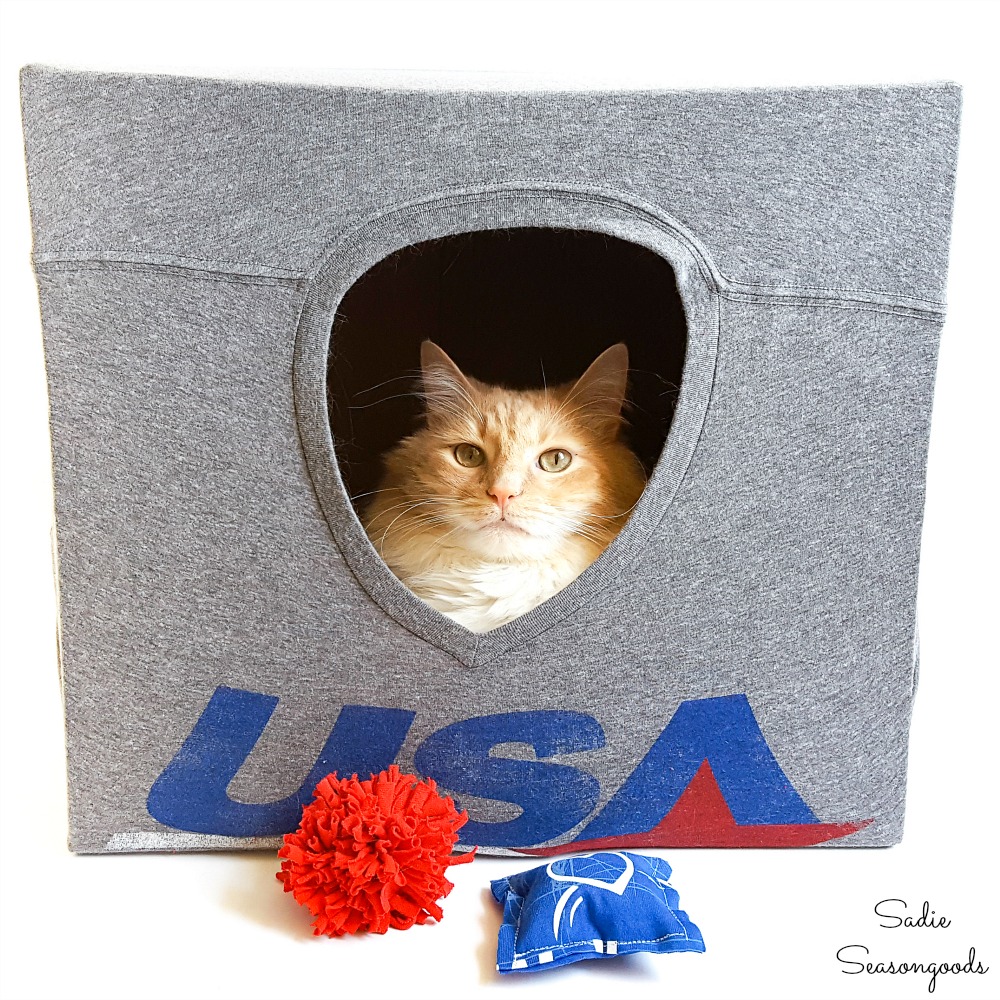 Craft on!
S
Want to be notified when I publish my next upcycling project tutorial?
Subscribe to Blog via Email
Join me on Social Media:



PIN ME!