Your old t-shirts (or perhaps a favorite tee that has a stain or no longer fits) are absolutely IDEAL for upcycling into a DIY Cat cave and a few simple cat toys. I love using repurposed clothing in projects, but I rarely recycle t-shirts. But for this pet tent and kitty toy projects, the jersey knit fabric of t-shirts is positively ideal.
It's not my first time upcycling things for our kitties, either. Remember this hanging cat scratcher that I made?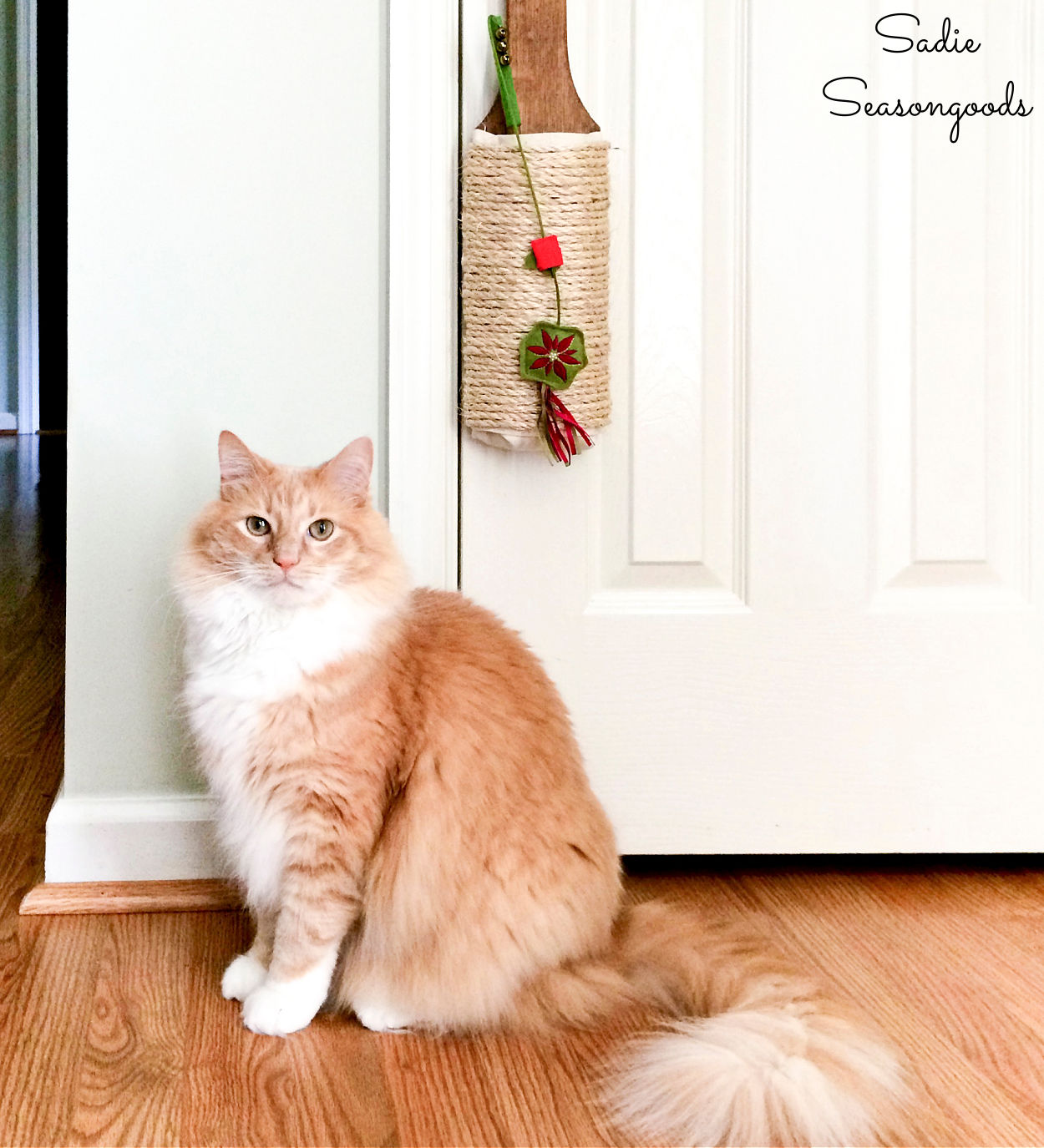 But back to the task at hand- a DIY cat cave (and toys) from T-shirts!
This post contains affiliate links for your crafting convenience. As an Amazon Affiliate, I earn from qualifying purchases. All blue, bold, and underlined text is a clickable link, either to a product or to a related post.
DIY Cat Cave or Pet Tent
This all started when the the clothing company Tipsy Elves sent an email to Cottonball.
Yes, it came through my inbox but was addressed to Cottonball.
They wanted to send him one of their USA t-shirts to create a DIY cat cave!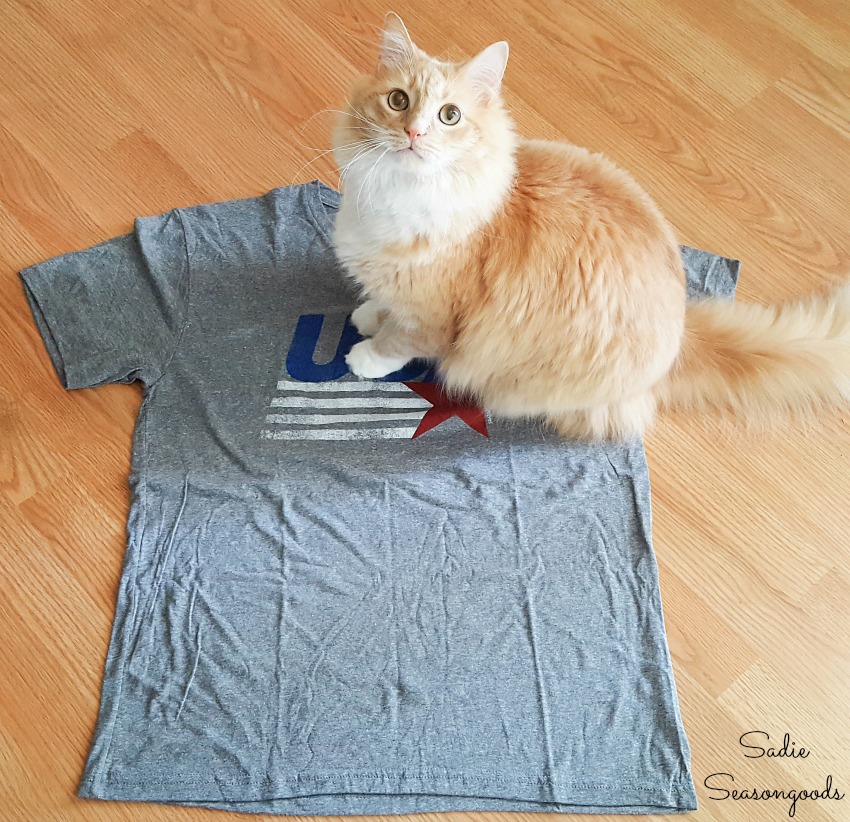 The only other craft "ingredient" that I needed was a cardboard box.
Because neither of our kitties would be considered "dainty", I used a larger moving box for the cat tent. Before getting started, I tucked in the flaps of the box so I had one side that was completely open.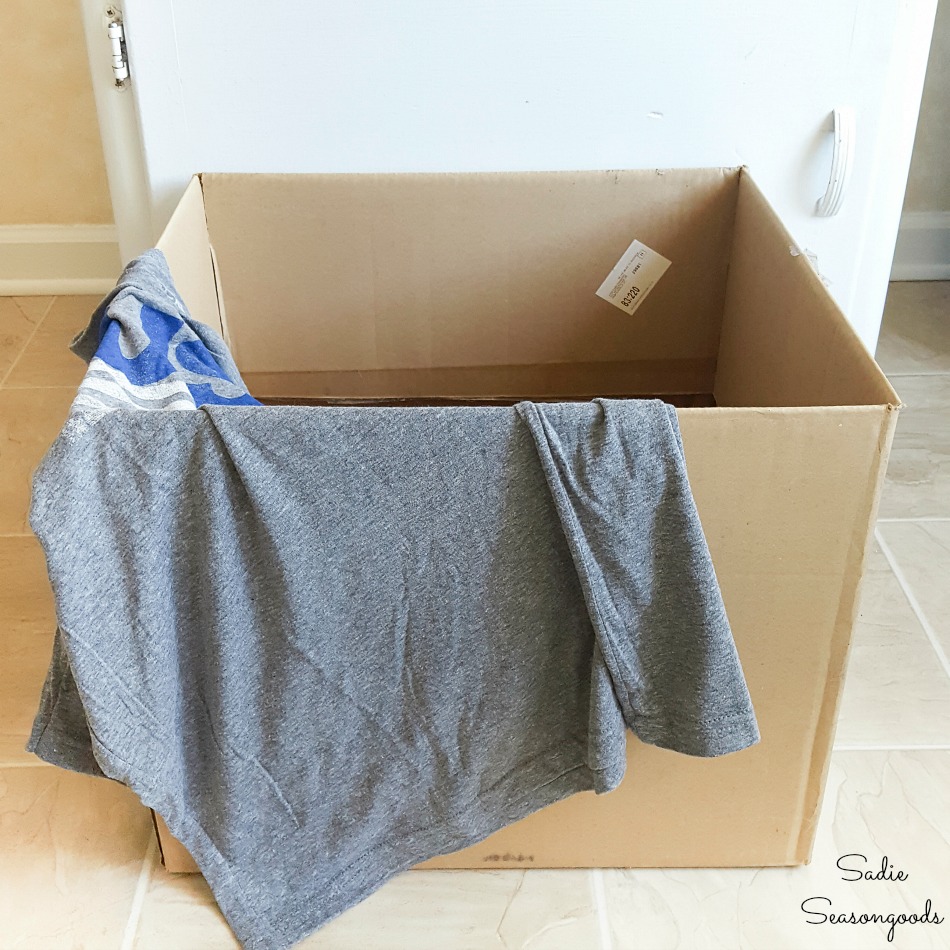 After watching this video on making a DIY Cat Cave, I gave it a go with my t-shirt and box.
And guess what? It totally worked. In about two minutes' time, I had a DIY cat cave!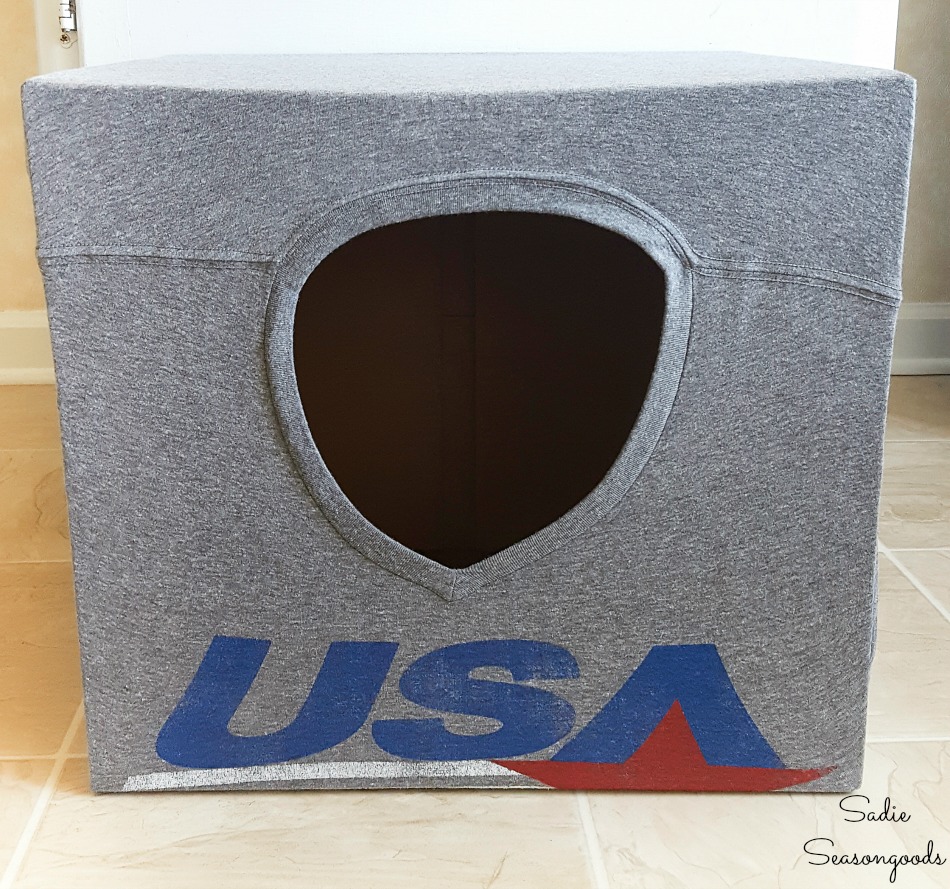 But would Cottonball use it?
Like most cats, he likes to make decisions himself- so I knew I couldn't force him to like it.
But I worried over nothing! He embraced the cat tent with little hesitation.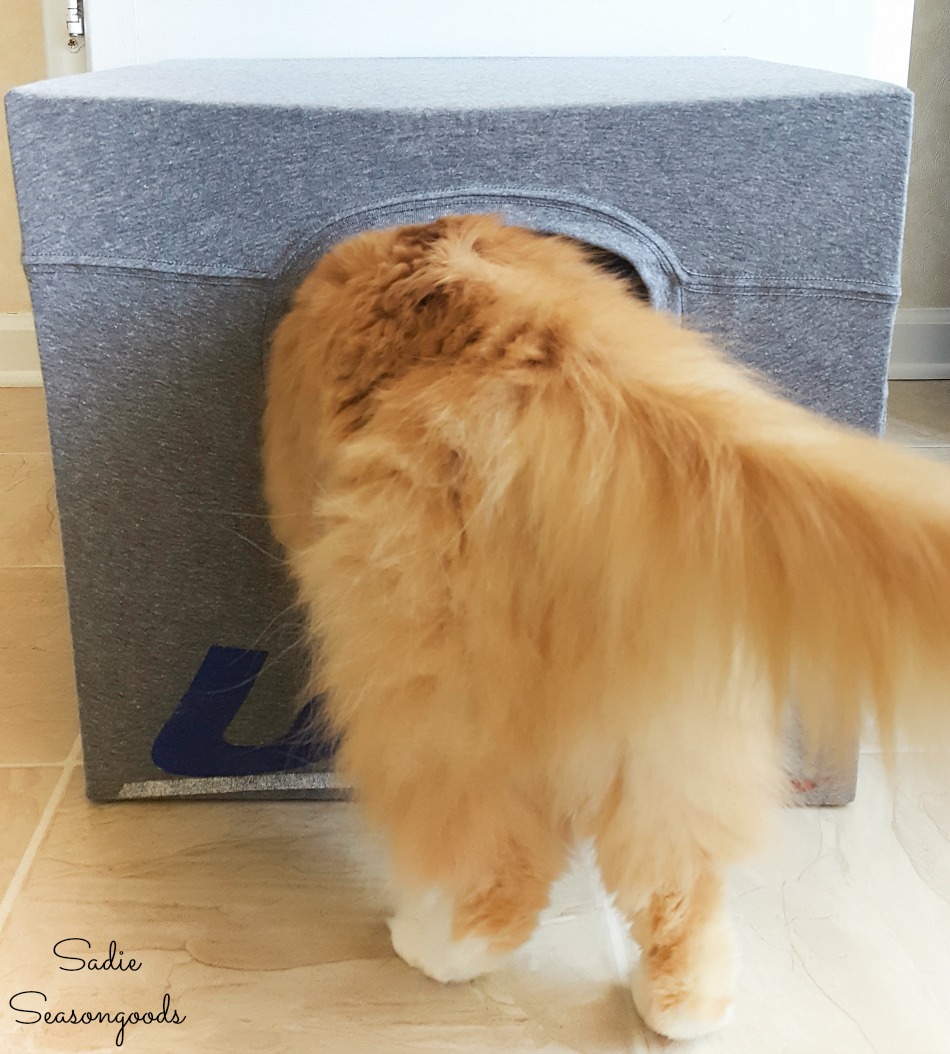 I'd say that the DIY cat cave from an upcycled t-shirt was a complete and total success in our household, wouldn't you?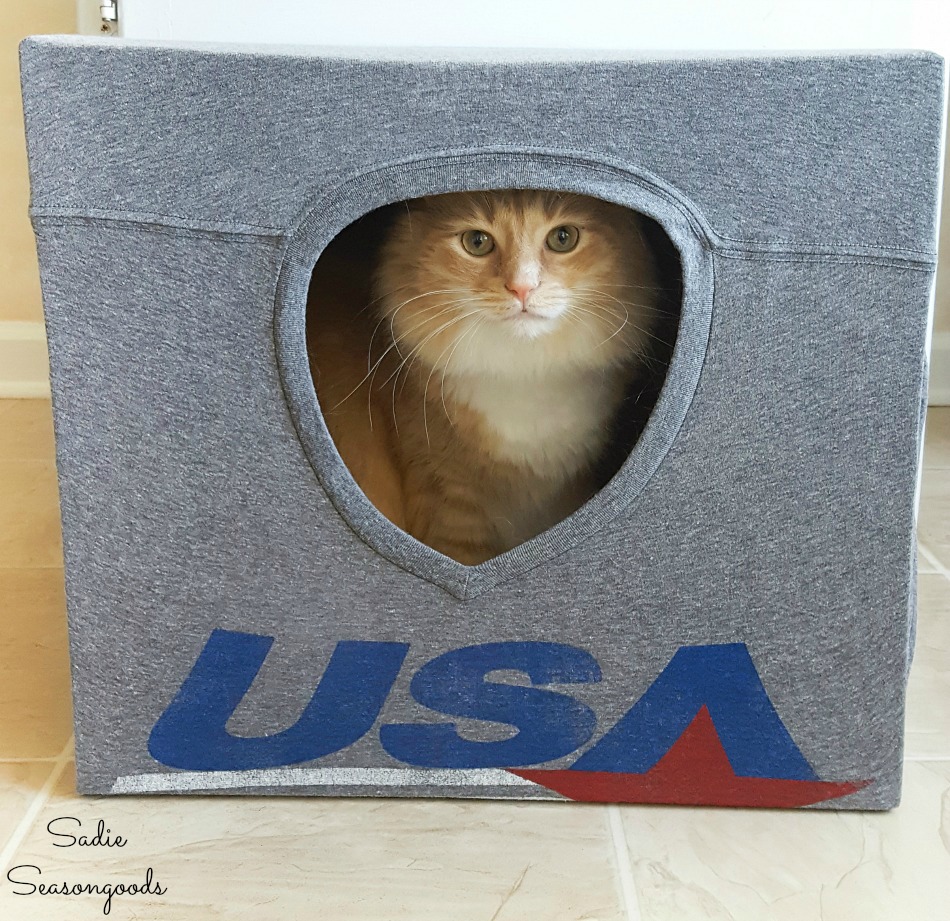 Once the DIY cat cave was complete, I decided to repurpose a few thrift store t-shirts into handmade cat toys!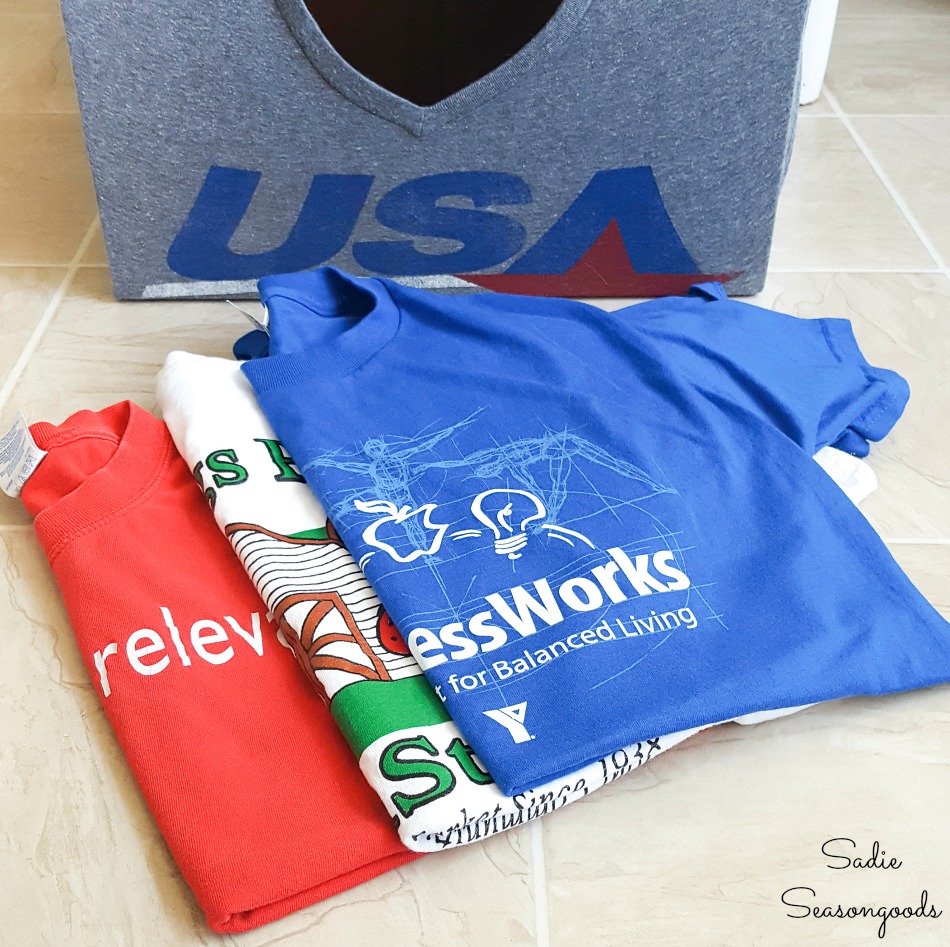 Recycling T-Shirts as Handmade Cat Toys
First, I snipped off the bottom hem and then cut the shirt across just under the sleeves.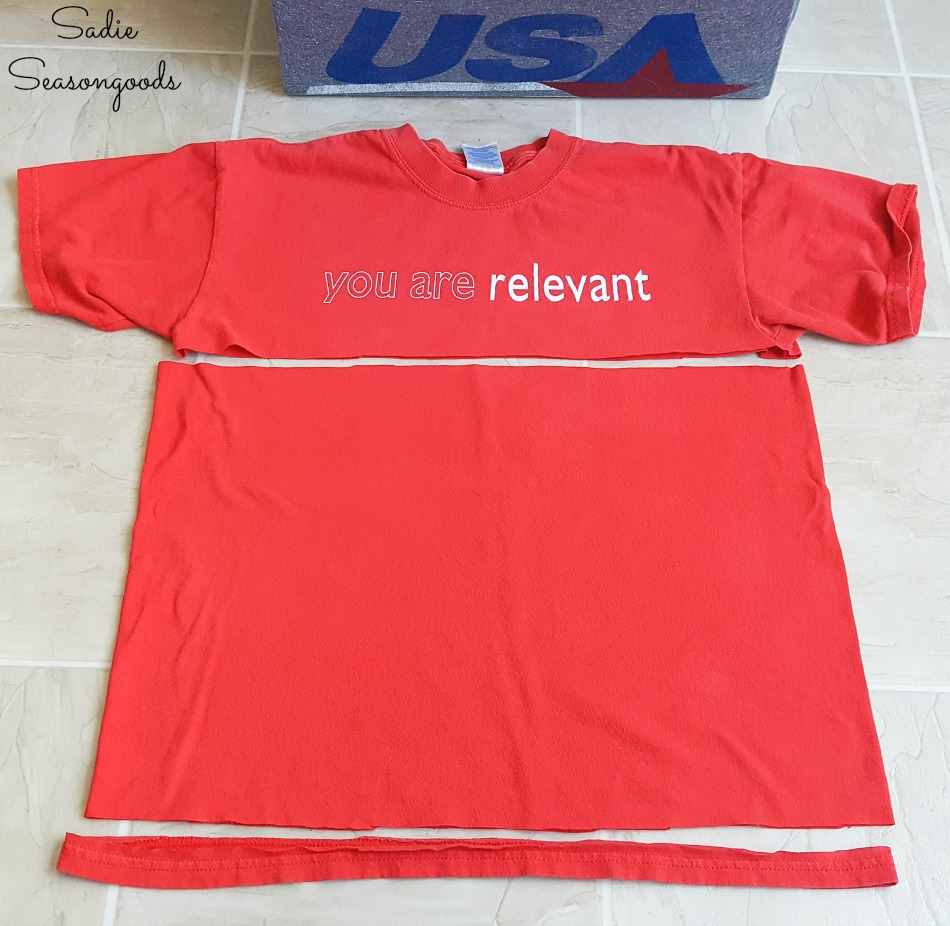 Then, it was time for the tedious part: cutting the remaining t-shirt fabric into one long strip to create "yarn".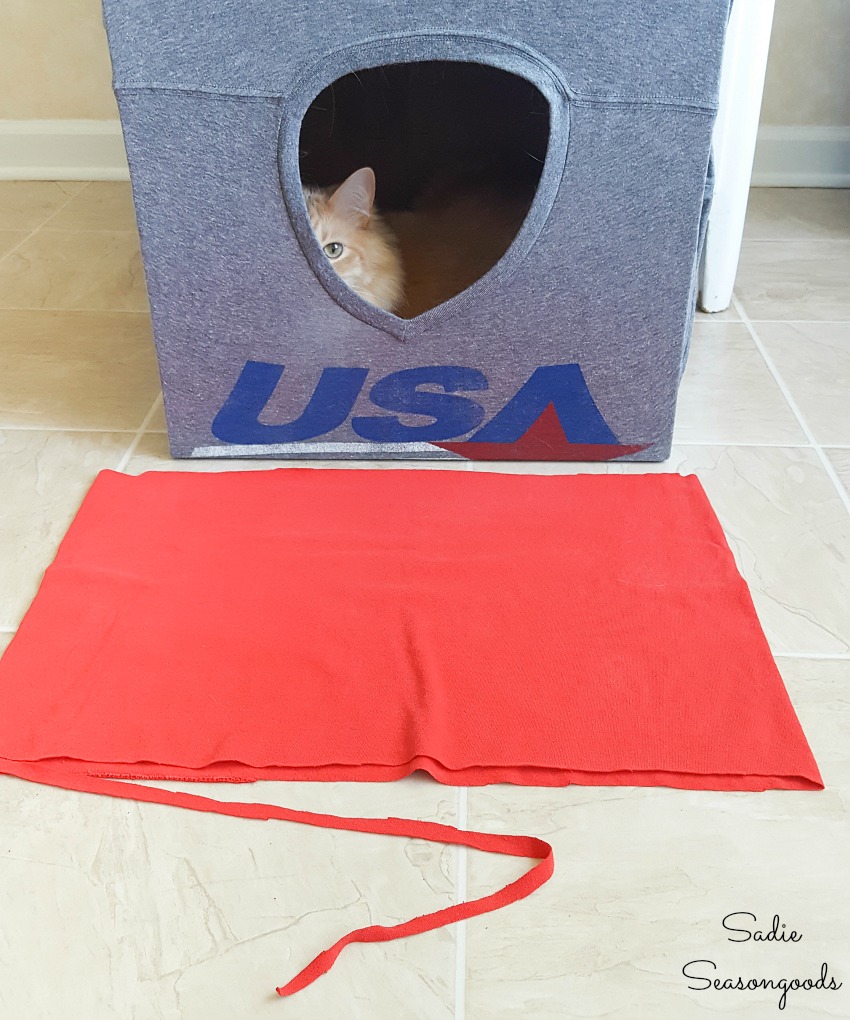 After a few minutes of cutting, I had my t-shirt yarn, which I proceeded to pull through my hands to give it that curled-edge look that jersey fabric gets.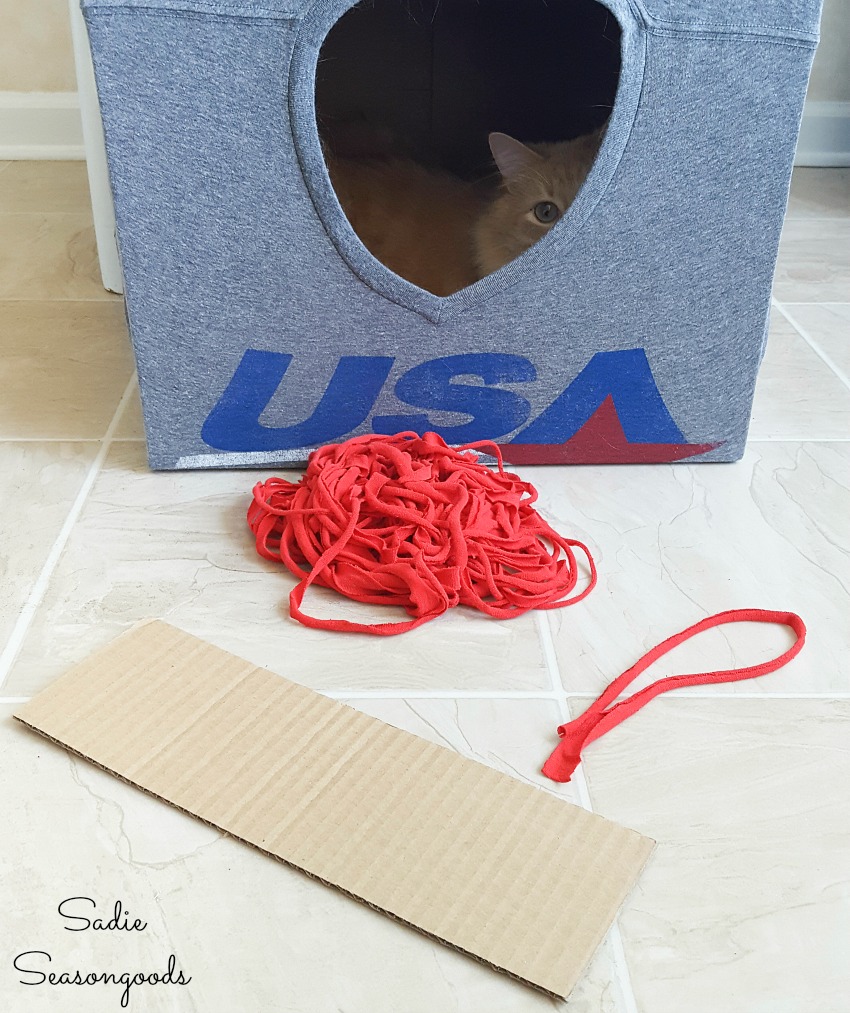 And you-know-who supervised me from the DIY cat cave the entire time!
Next, it was time to make a pom-pom! I wrapped my jersey yarn around a piece of cardboard, snipping off a bit at the end to tie around the middle.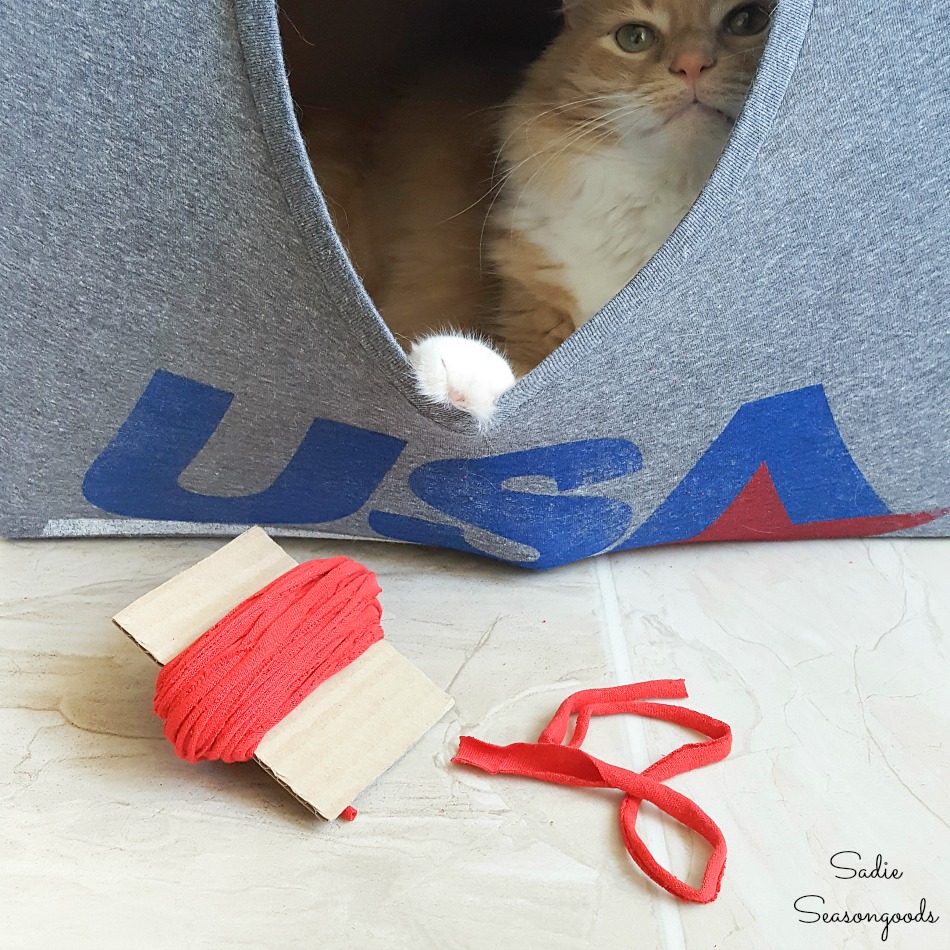 After that, I slid the wrapped "yarn" off the cardboard, and tied my extra piece tightly around the middle, wrapping it twice. Finally, I snipped through all the loops and trimmed the ends all the way around, I had a cat toy!
And yes, Cottonball noticed it RIGHT away.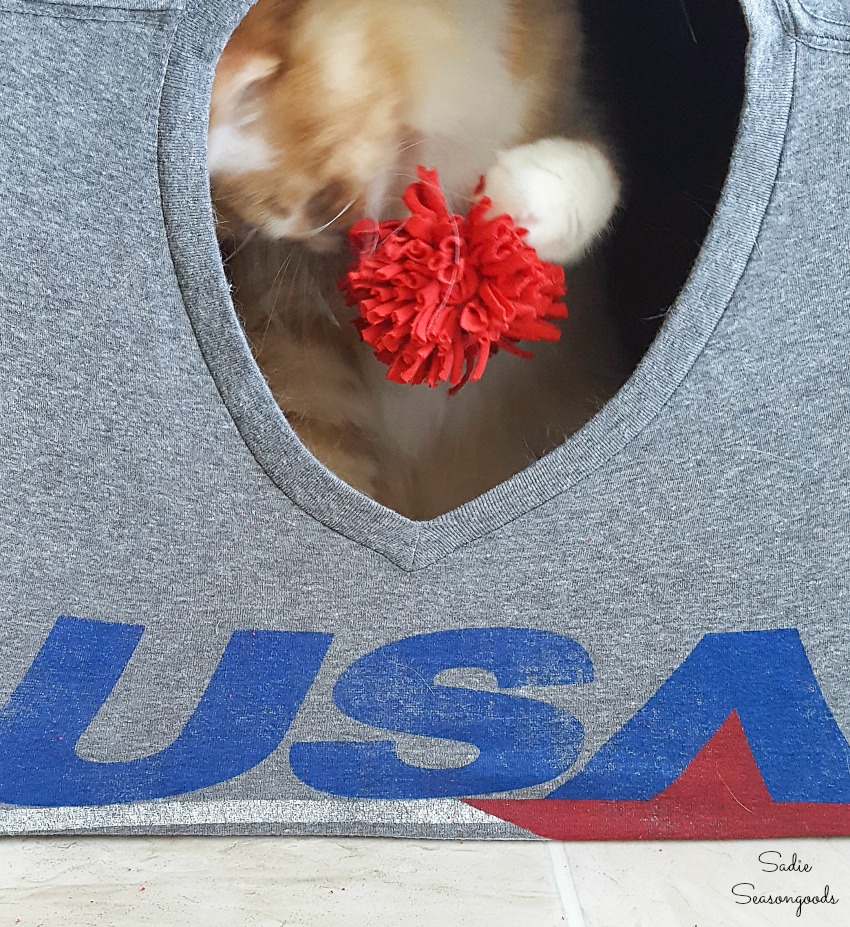 To make a second cat toy, I cut out two matching fabric squares. After sewing the edges together along three sides, I gathered a handful of fiberfill and some catnip.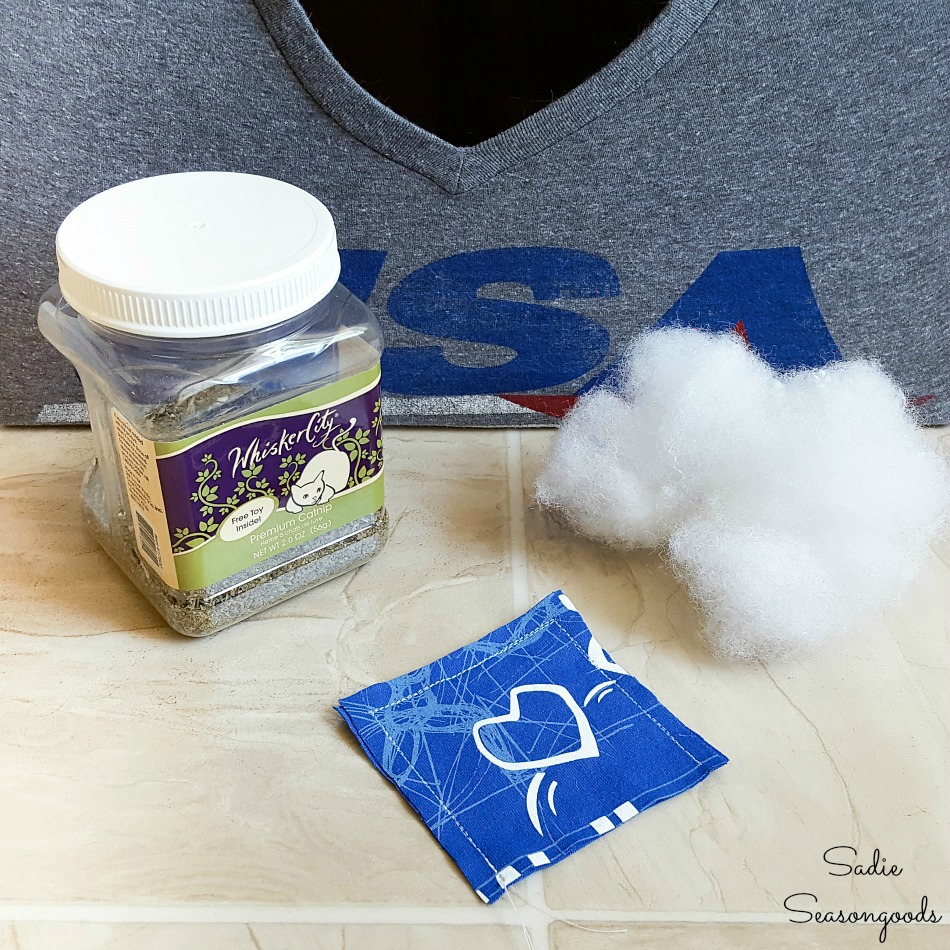 Then, I simply stuffed the almost-finished toy with fill and nip, pinned it close, and sewed along the open edge.
Repurposing T-Shirts into a DIY Cat Cave and Handmade Cat Toys
And just like that, I had made a DIY cat cave and two different cat toys by repurposing tshirts!
Wouldn't it be "pawsome" to use your old t shirts for this? Cats love free toys the best, anyway…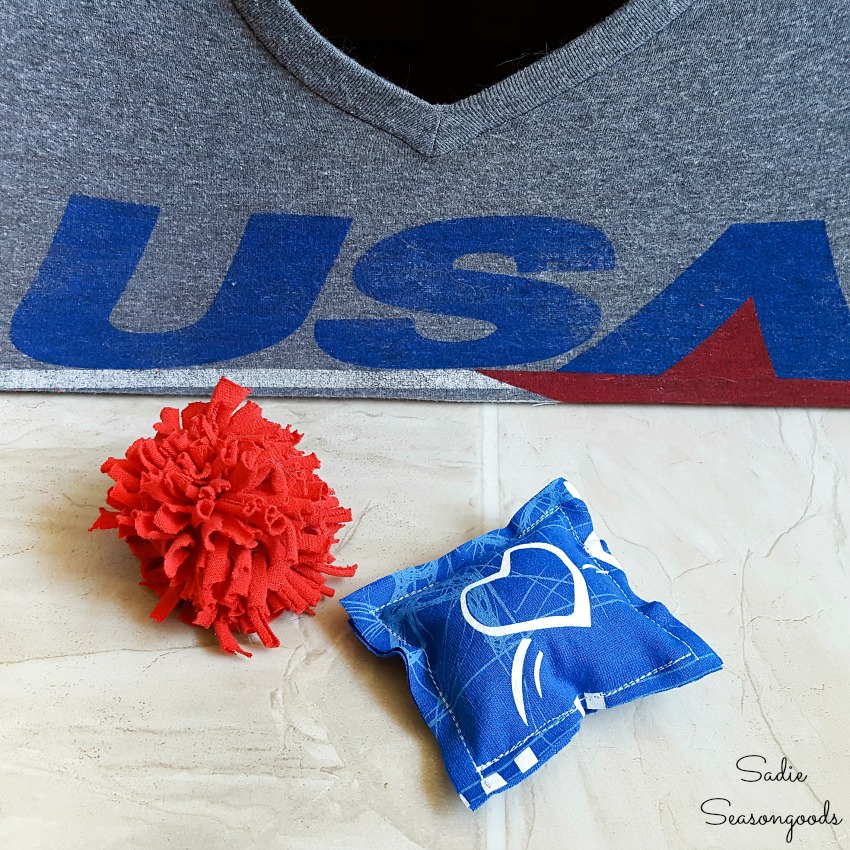 Luckily for me, I have a playful kitty that enjoys posing in the cat cave like a little model cat.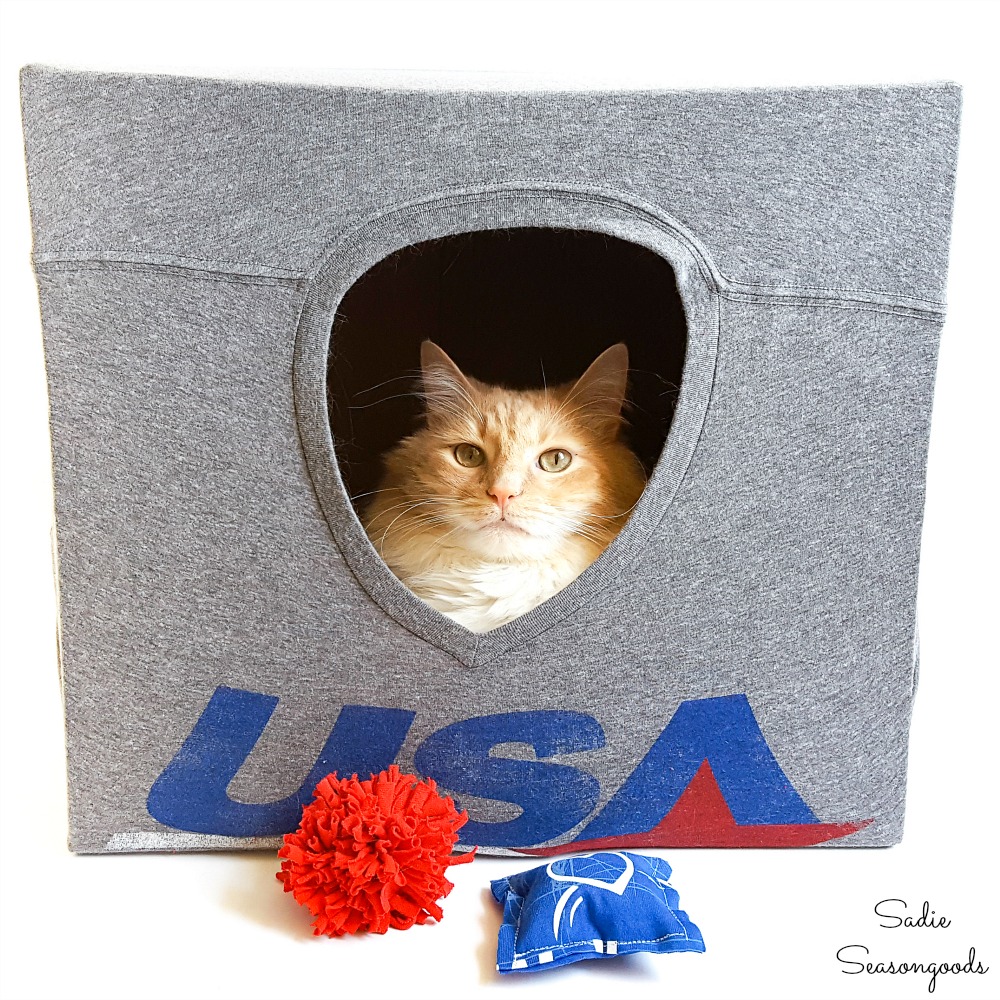 Our new favorite game is to toss the cat toys into the cat cave and then he runs after them.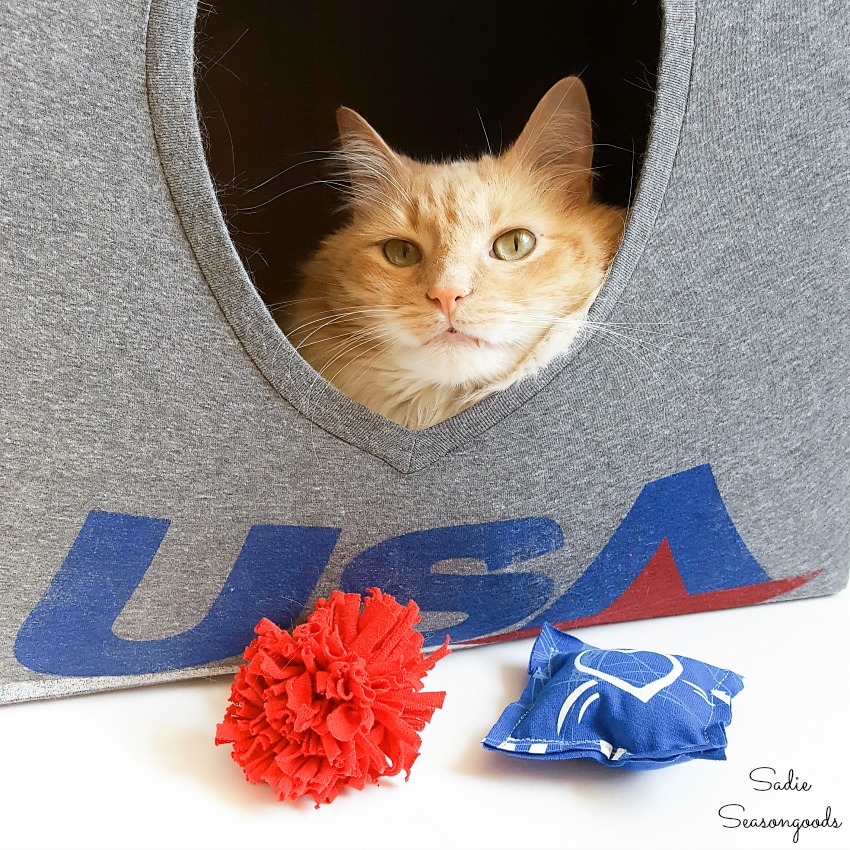 If you enjoyed this upcycling idea with old t-shirts, then you may also be interested in these reusable produce bags made from kids t-shirts, as well!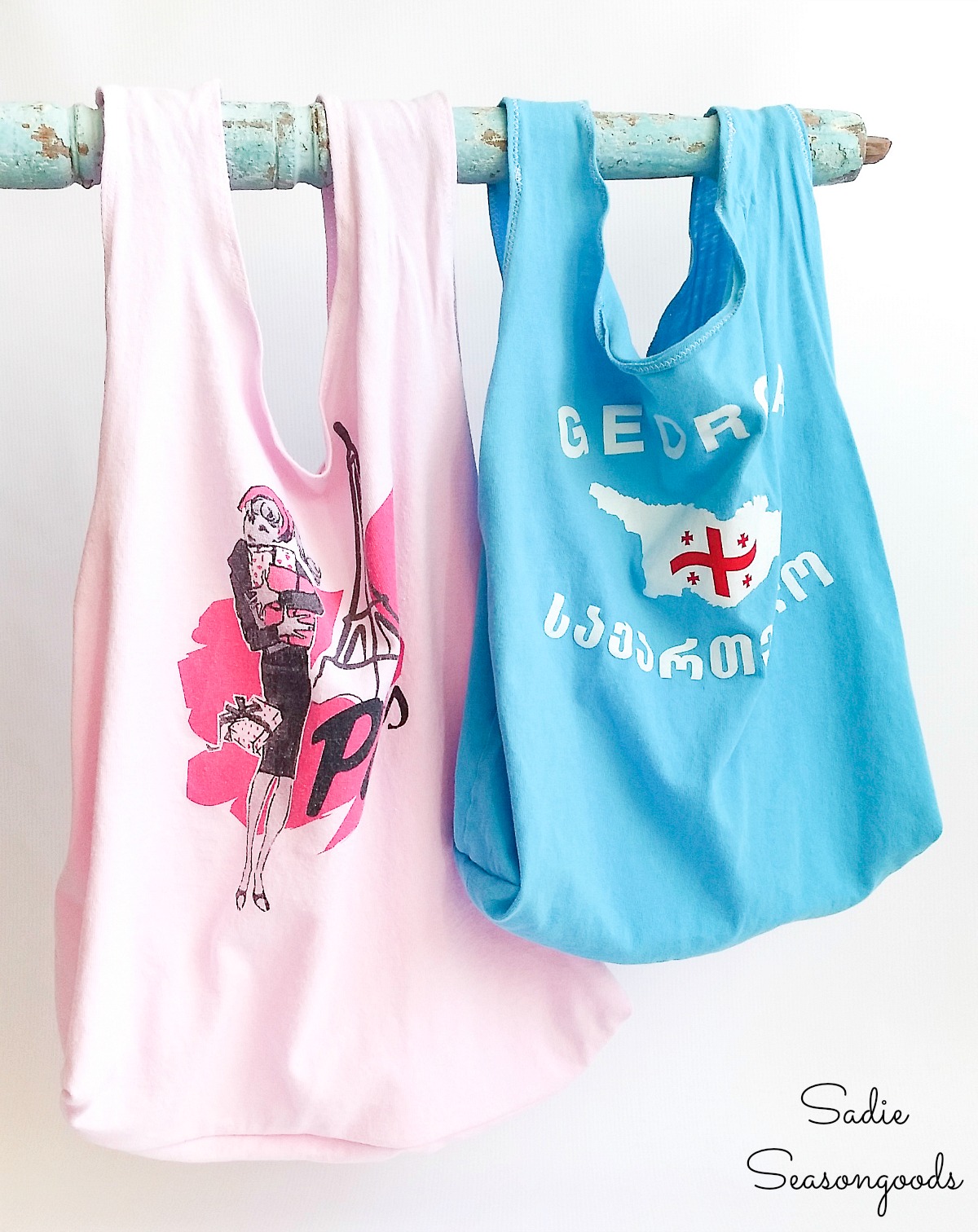 Craft on!
S
Want to be notified when I publish my next upcycling project tutorial?
Subscribe to Blog via Email
Join me on Social Media:

PIN ME!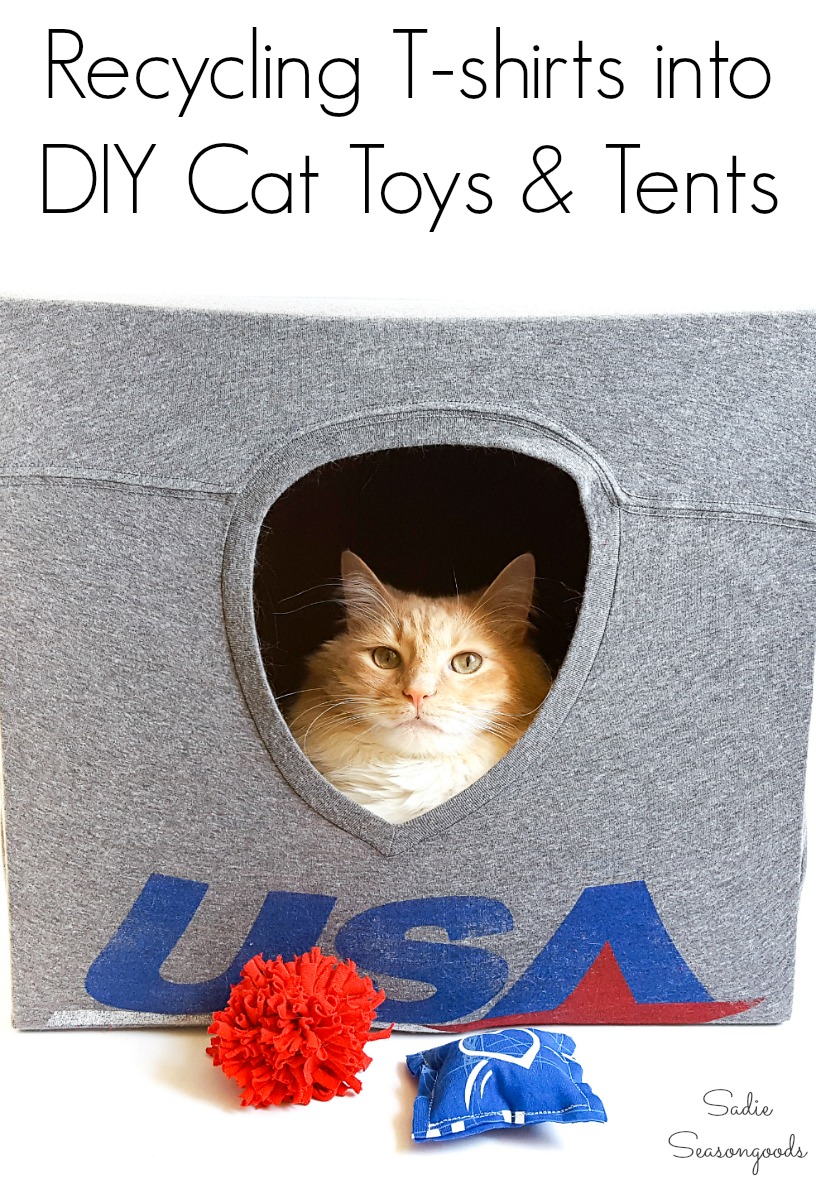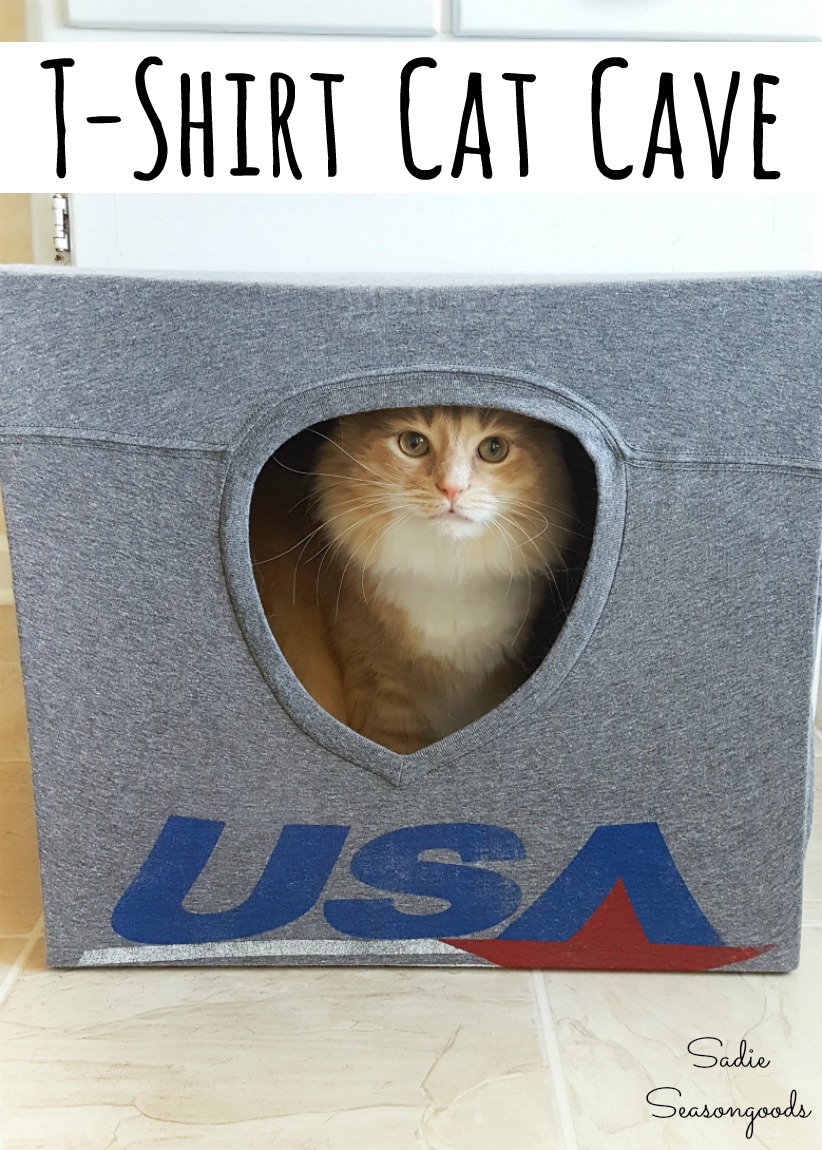 Sarah Ramberg is the owner of Sadie Seasongoods, a website that celebrates all things secondhand. From upcycling ideas and thrifted decor to vintage-centric travel itineraries, Sadie Seasongoods is a one-stop shop for anyone who loves thrifting and approachable repurposing ideas. Sarah is also the author of "Crafting with Flannel" and has been featured in numerous media outlets and magazines.