A friend of mine found this wooden gun rack at a thrift store and figured I could upcycle it into something fun for my blog. And she was right! I mulled over different upcycling ideas before it occurred to me that it could become a fabric organizer for scrap fabric. And transforming it into my vision wouldn't be hard at all!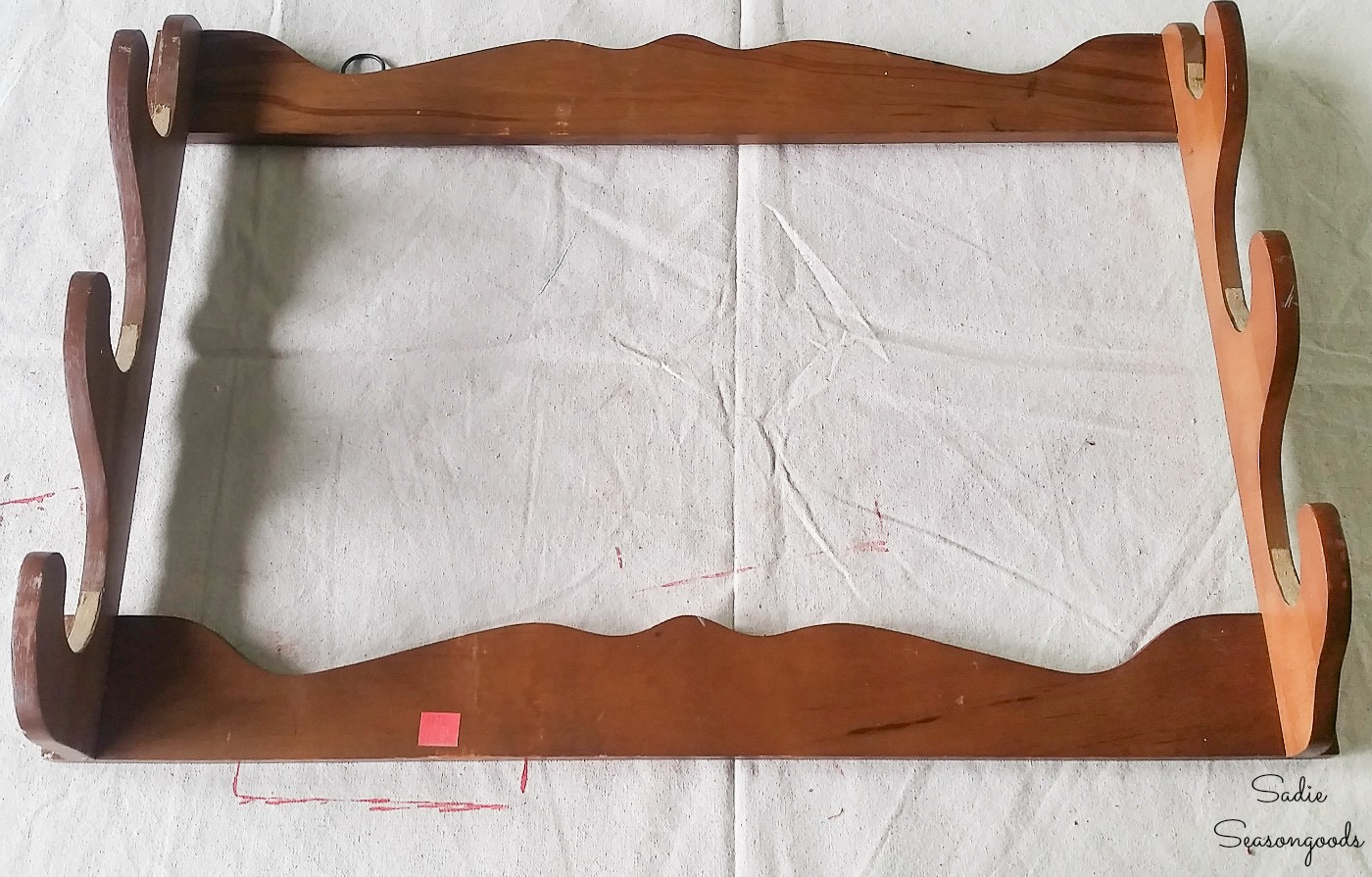 All I needed to do was create some bars to lay across the gun holders. Would it really be that simple? There's only one way to find out…
This post contains affiliate links for your crafting convenience. As an Amazon Affiliate, I earn from qualifying purchases. All blue, bold, and underlined text is a clickable link, either to a product or to a related post.
Sewing Room Storage Ideas with a Hanging Gun Rack
First, I painted the wooden gun rack in a bright turquoise. Then, I assembled some 1″ wooden dowels to cut down to size to become the racks or bars for my fabric organizer.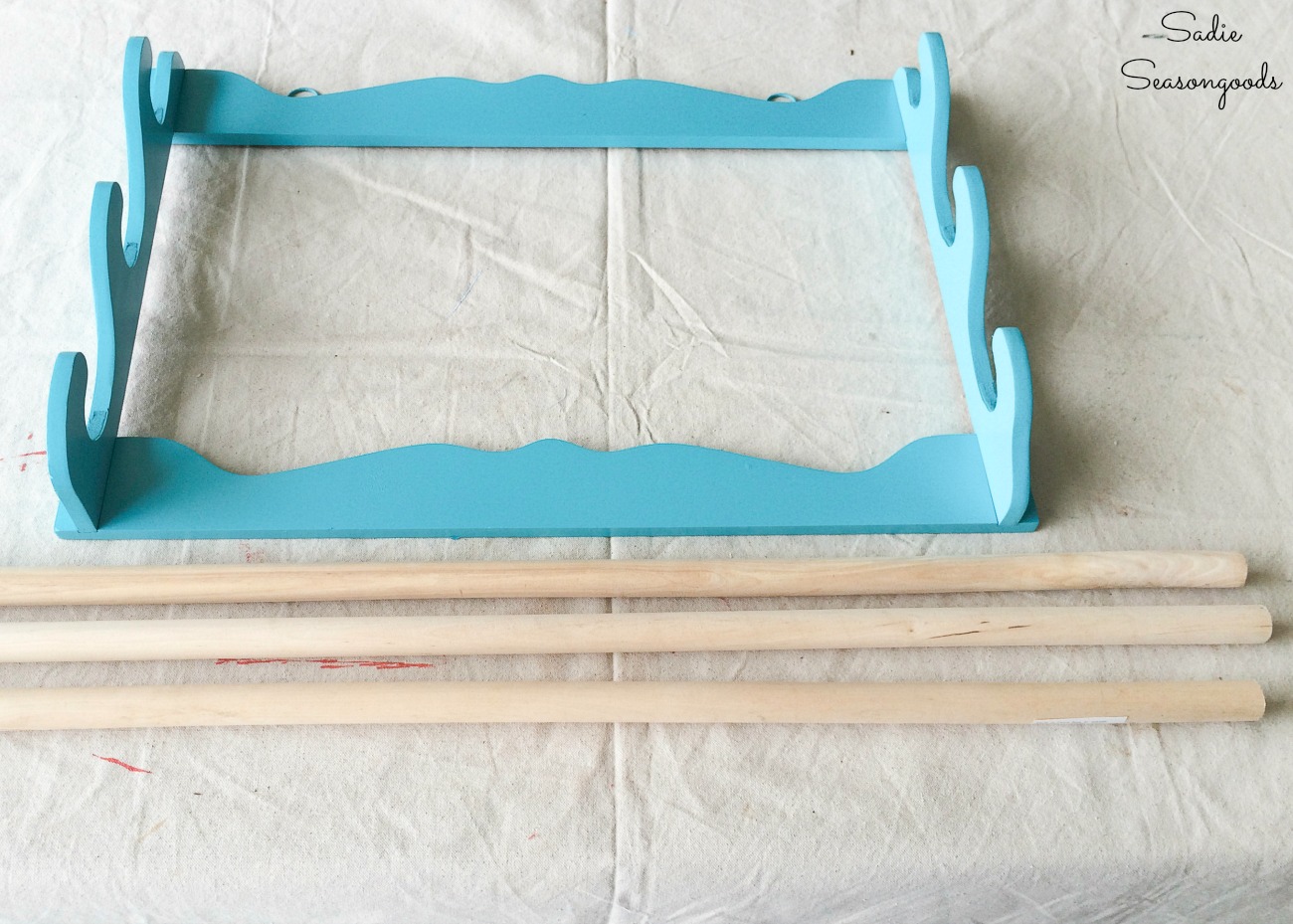 But when I laid the dowels in the slots to figure out how much to trim off, I was reminded that this rack was mean to hold shotguns, and everything was askew.
In other words, the slot for the stock was deeper/lower than the slot for the barrel. Whoops!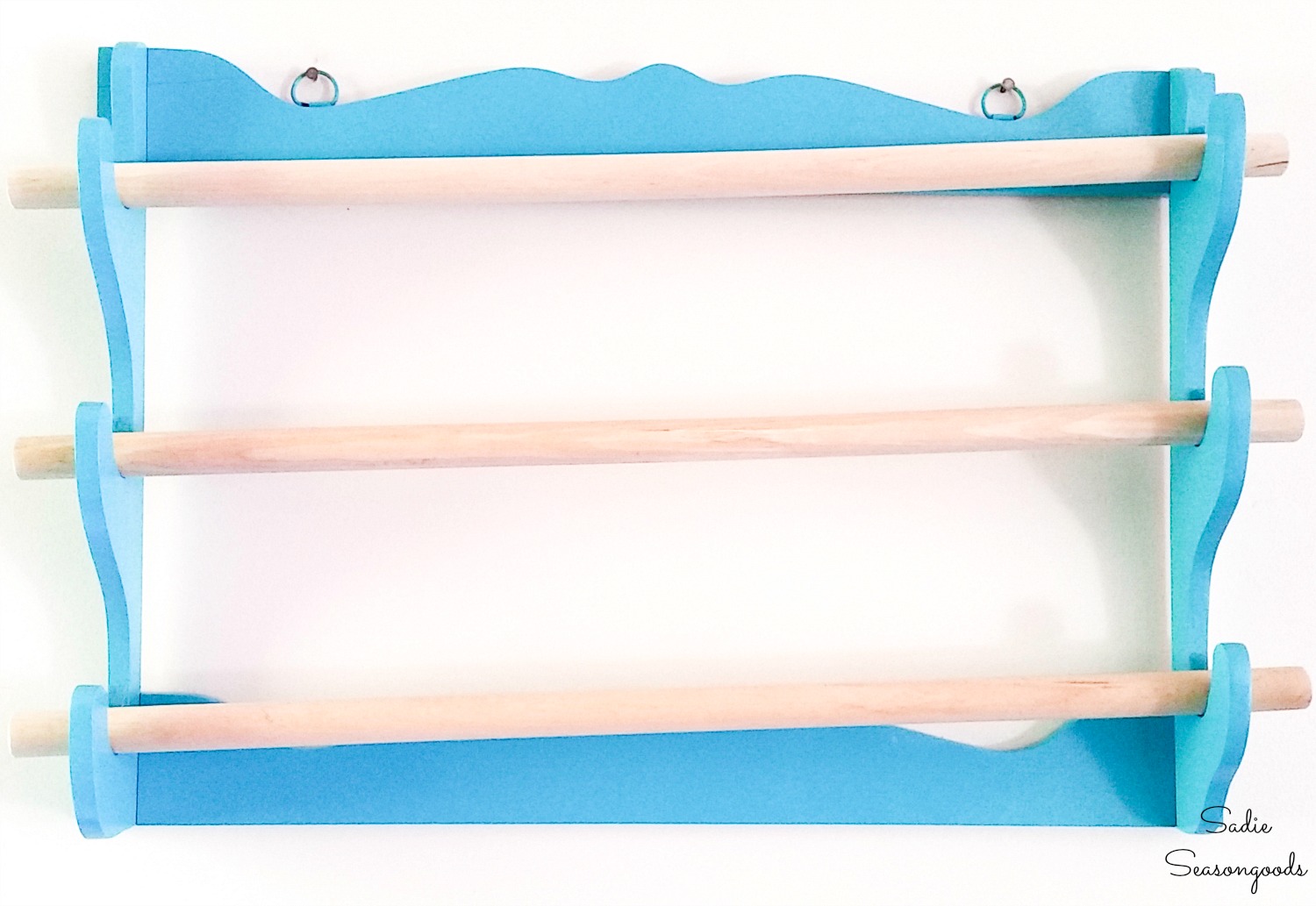 I guesstimated that there was a one-inch deficit on the left side…and my dowels were one-inch in diameter. The slots were about ⅜" wide, so we sliced off little dowel "coins" with our newest power tool.
I had to trim the wooden dowels for my fabric organizer anyway, so why not use the scraps as risers in the wooden gun rack?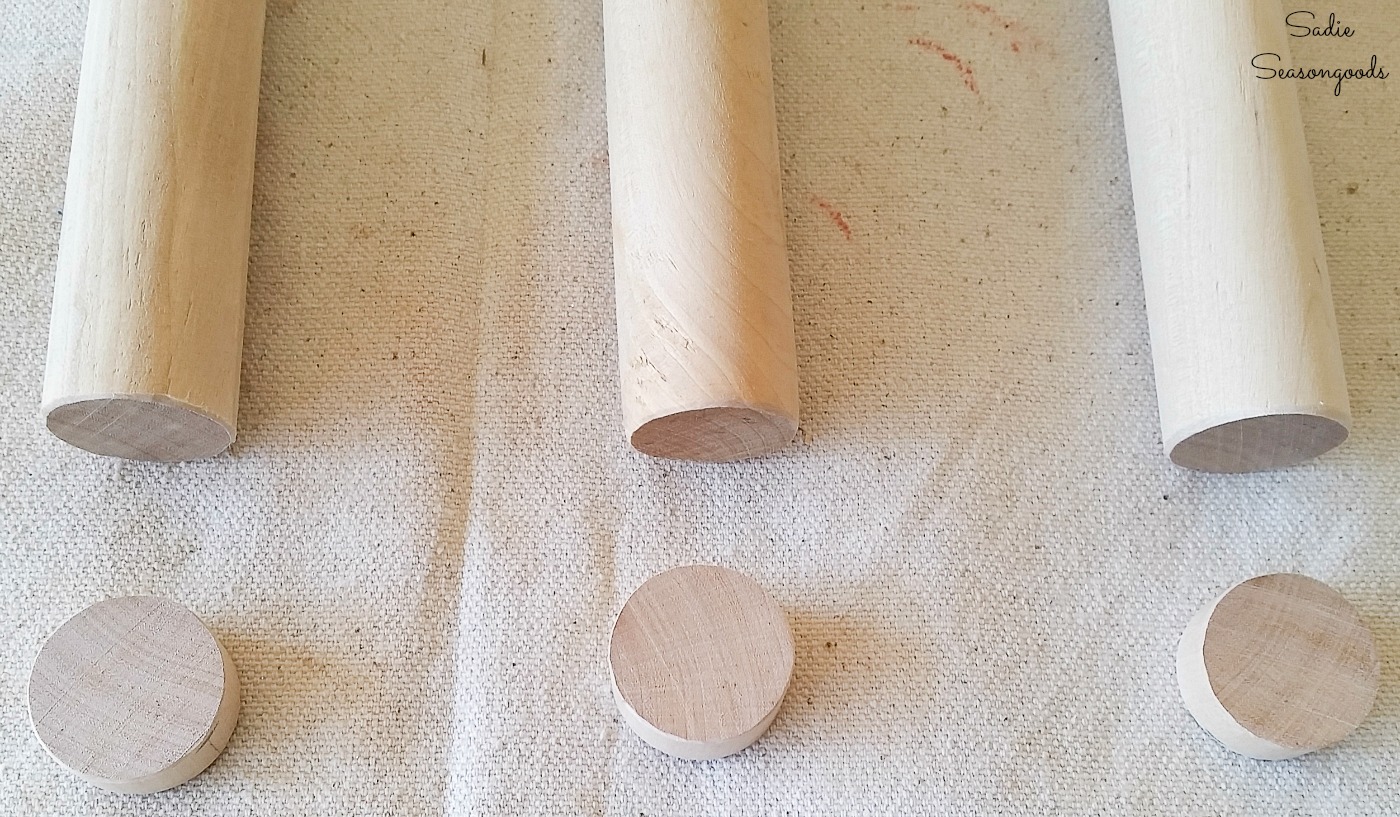 After sanding down the edges of the risers, I painted them to match the hanging gun rack.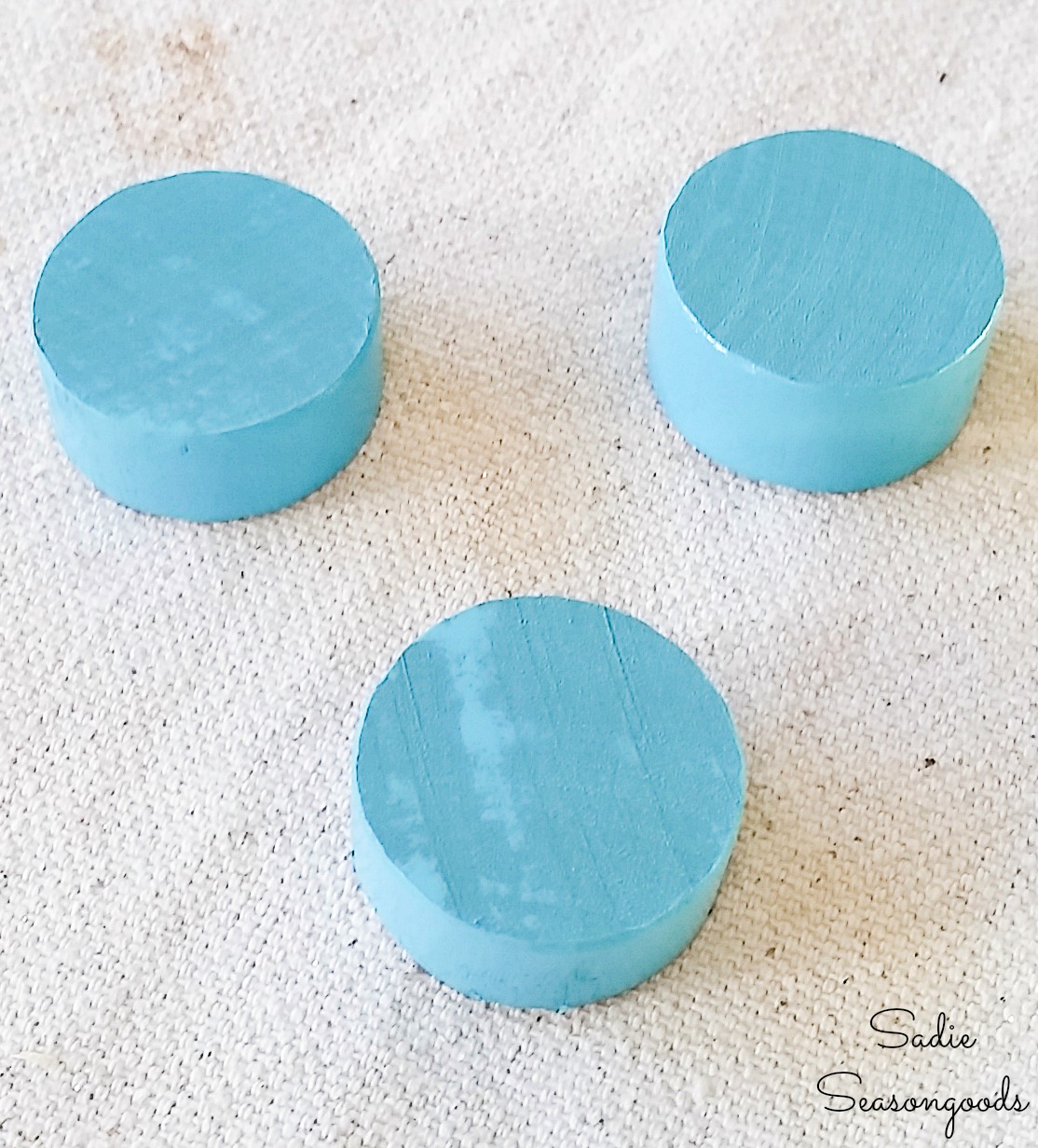 Then, I used wood glue to attach them inside the lower slots. The fabric organizer was coming together nicely!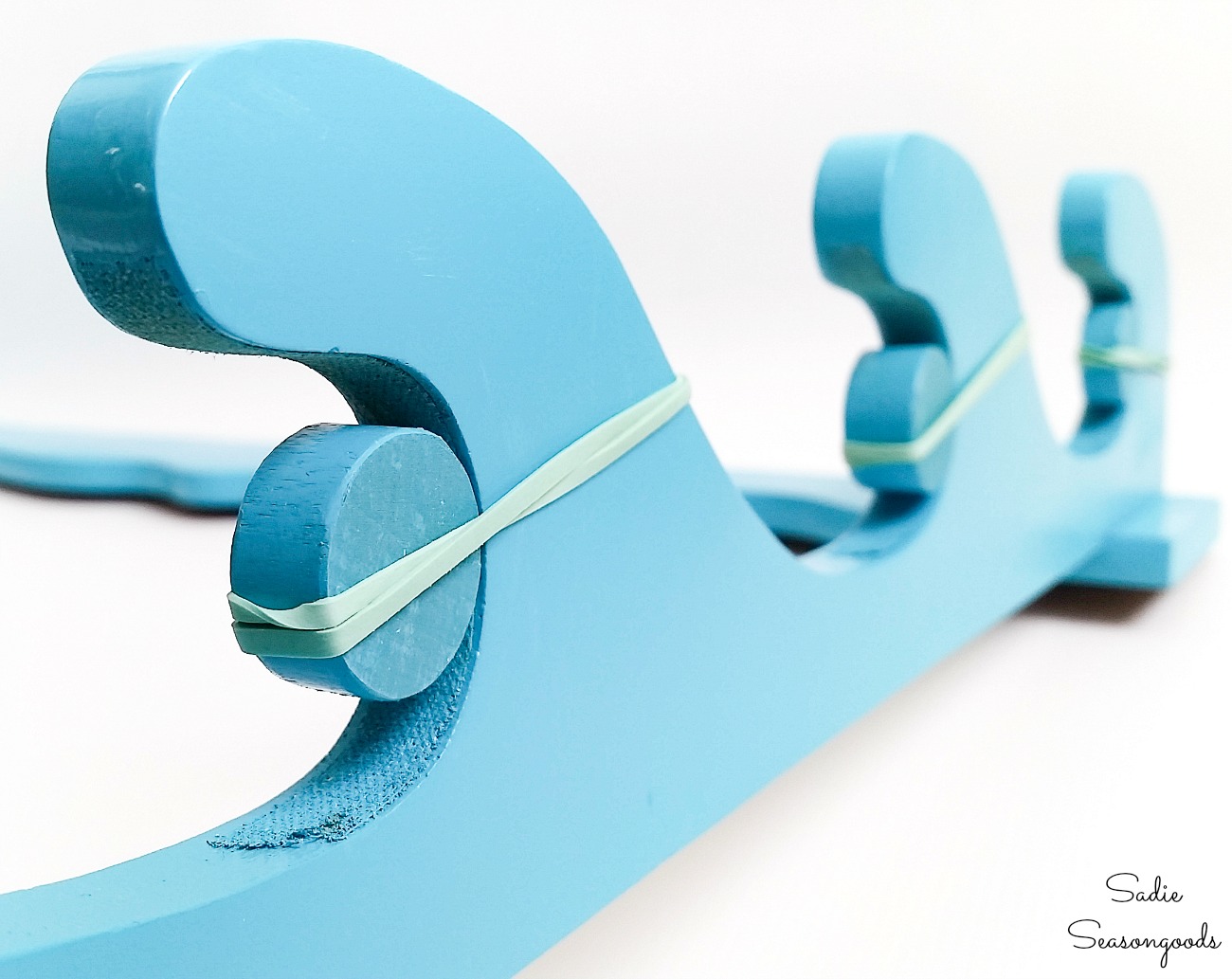 I used rubber bands to hold the risers in place as the wood glue dried and set. They worked perfectly in this capacity.
Wooden Gun Rack as a Fabric Organizer
Next, I turned my attention to the wooden dowels.
I had originally planned to paint the dowels white, but after painting the risers, I discovered just how porous and thirsty dowels are.
Instead of dealing with a potentially botched paint job, I changed up the plan and used Mod Podge to decoupage fabric to give them some flair.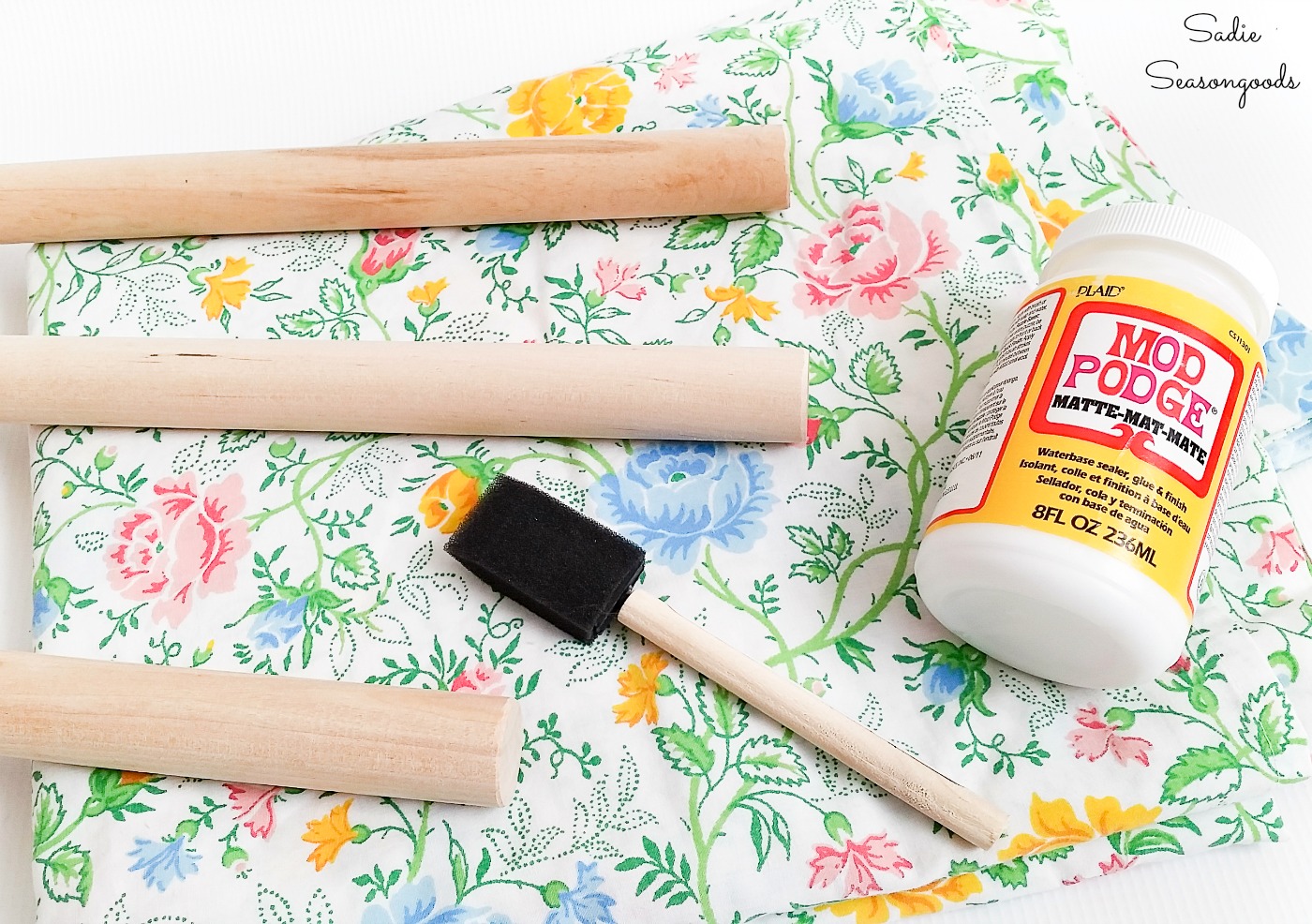 The decoupaged wooden dowels really popped against the wooden gun rack. And the risers evened out the wooden dowels to make my fabric organizer look perfect!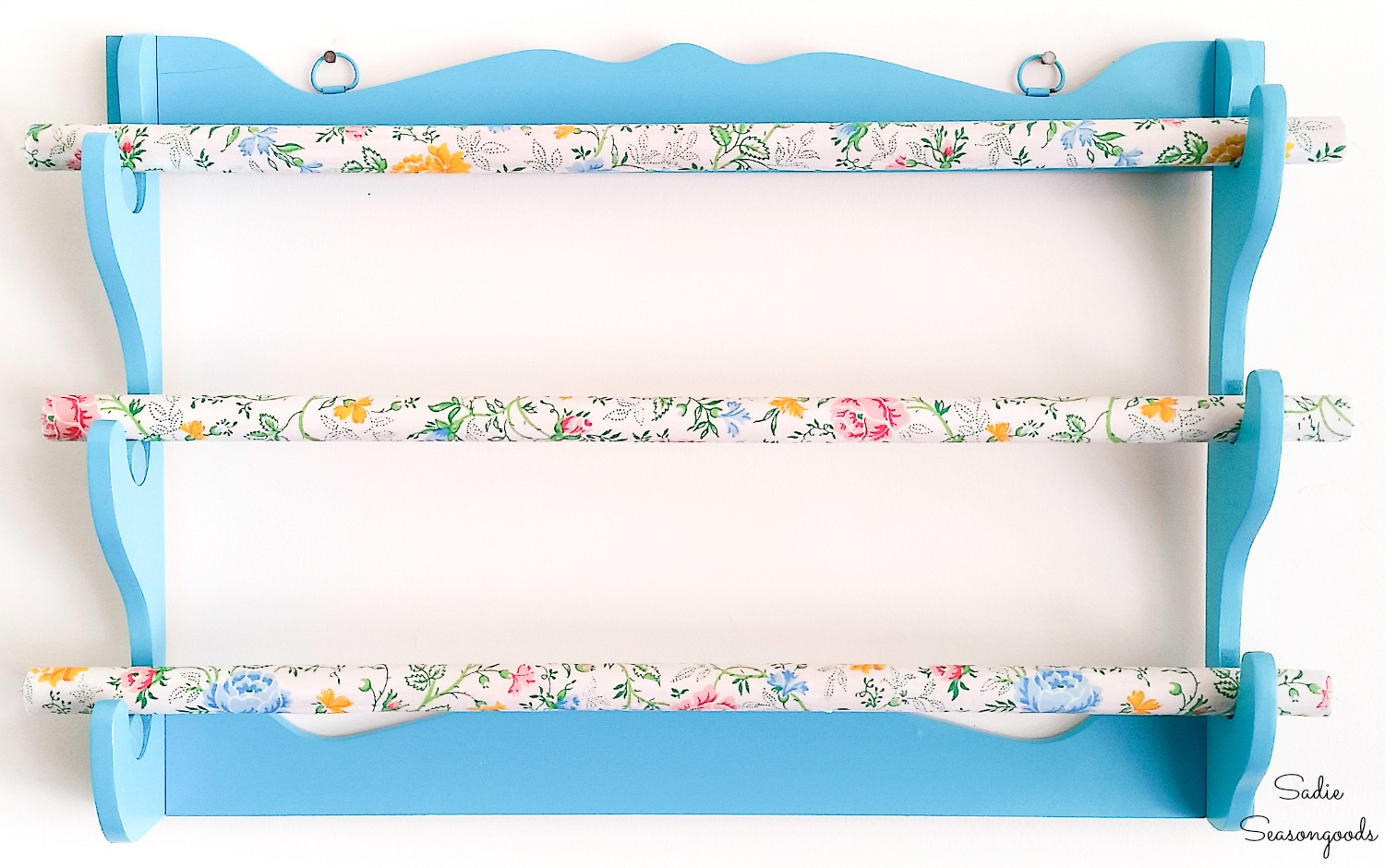 Then, I added large white cup hooks to the ends of each wooden dowel so that I could hang some scrap fabric from them. I was determined to make this into the ultimate fabric organizer for sewing room storage!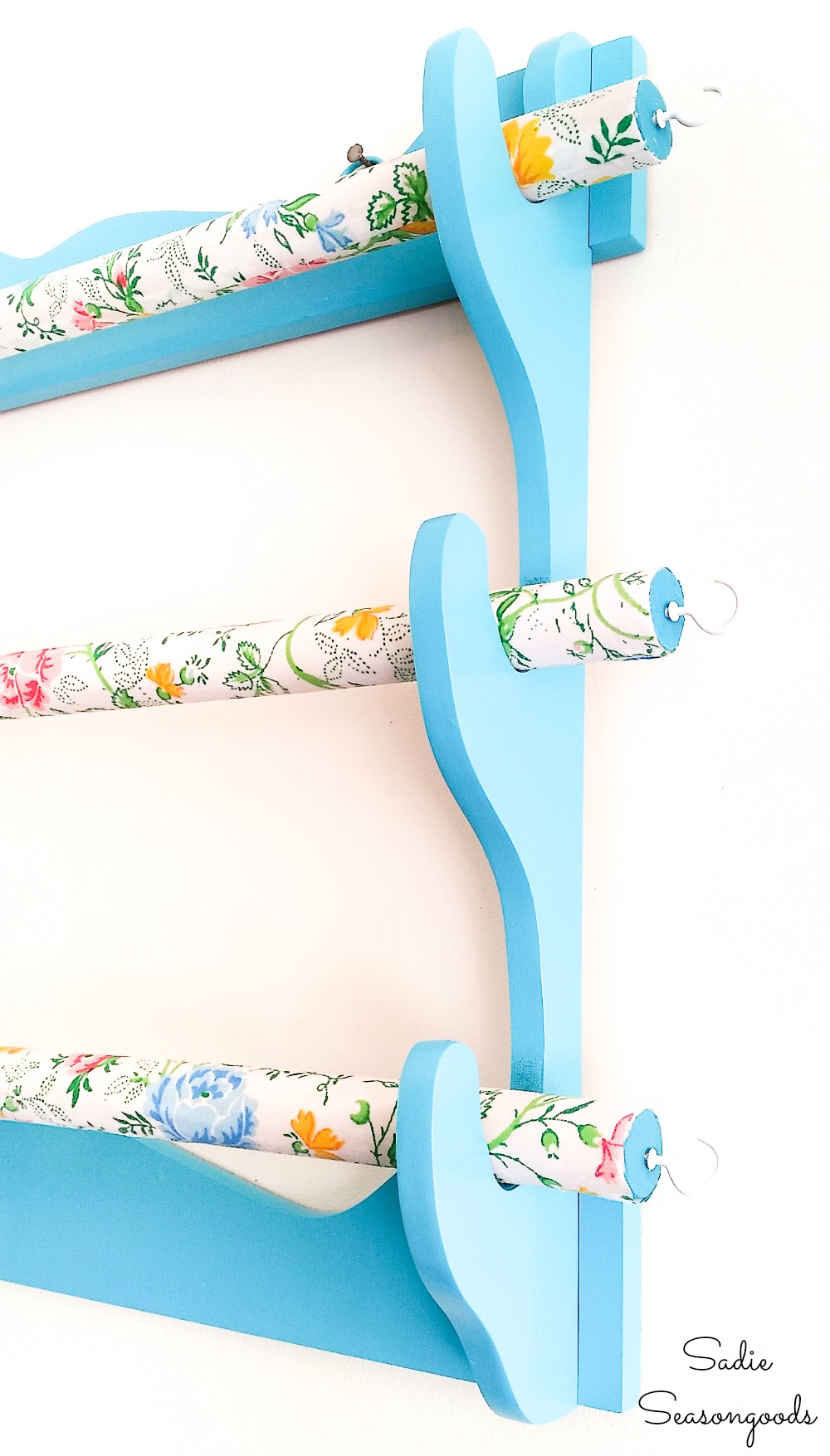 Lastly, I slid some curtain ring clips on the bottom dowel in my fabric organizer, too.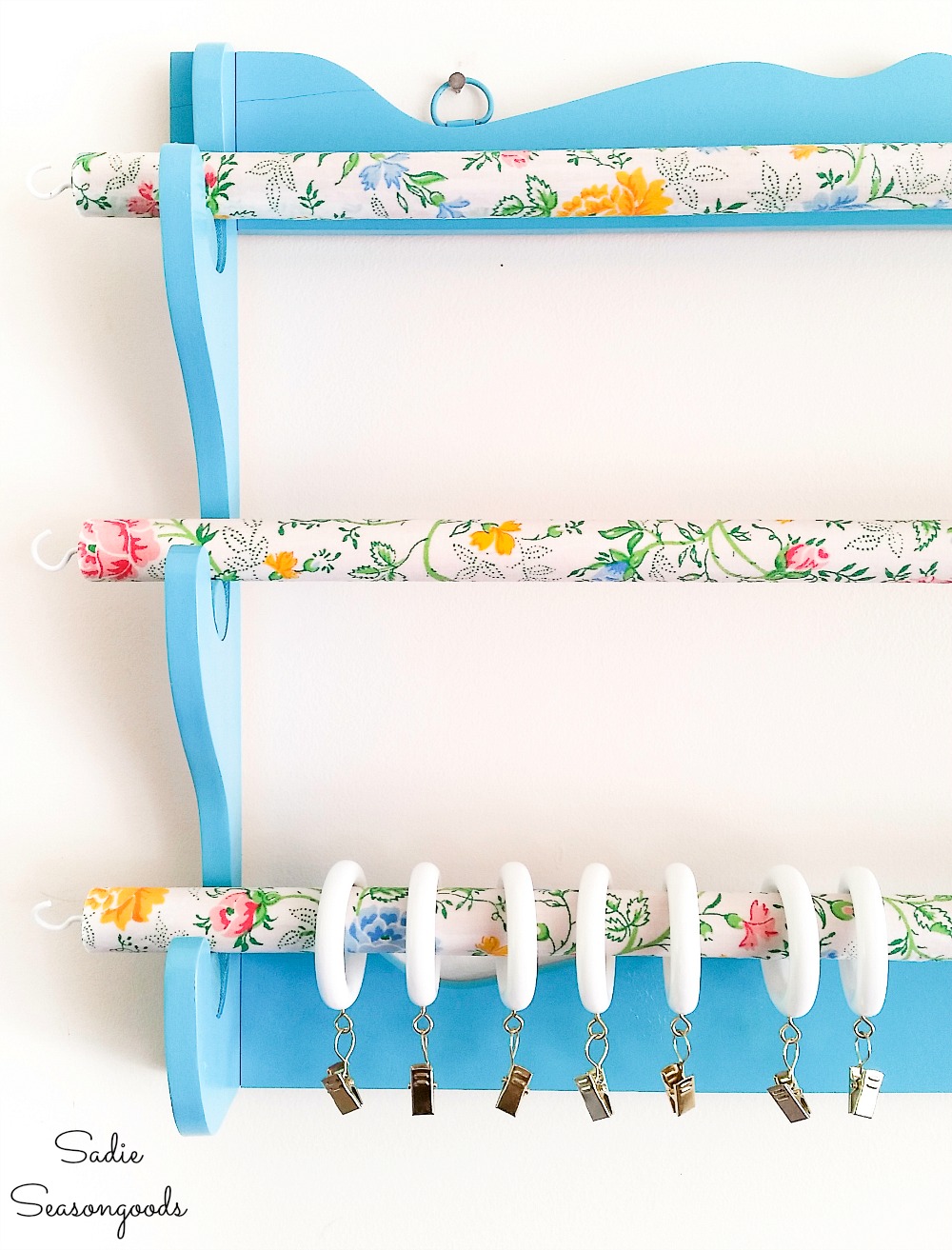 Now I just needed to fill it up with my fabric scraps!
Fabric Organizer for Scrap Fabric with a Wooden Gun Rack
How perfect is that? A space-saving fabric organizer for a sewing room or craft room. Would you even know it was originally a wooden gun rack?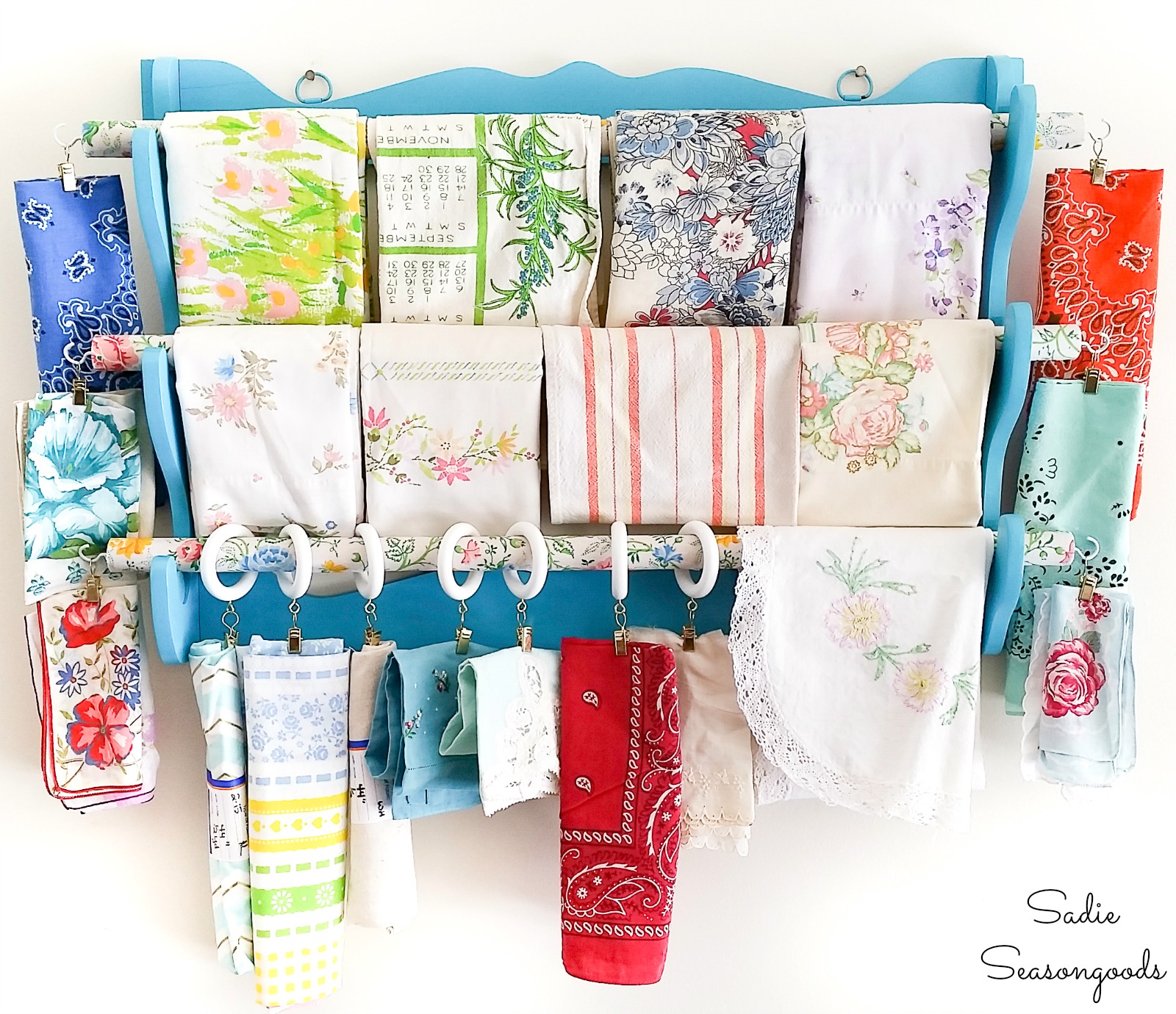 Reducing my fabric storage in large cumbersome bins is a real space saver for a smaller sewing room, isn't it? A wooden gun rack as a fabric organizer for scrap fabric is a great use of wall space for sewing room storage, that's for sure.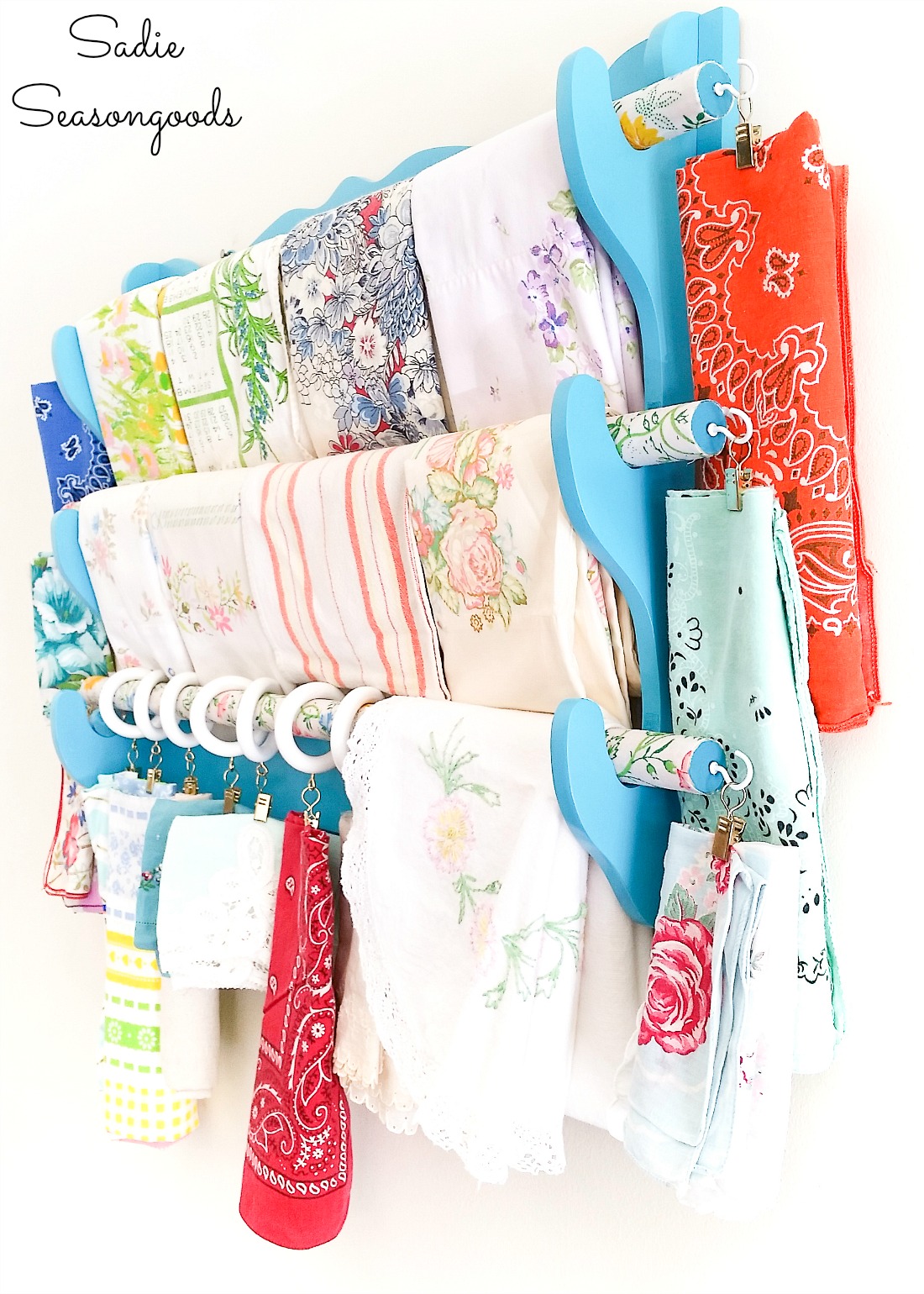 Not only is my fabric organizer handy, but it looks gorgeous. AND it'll remind me which fabrics I have when I'm brainstorming projects. A triple whammy repurpose!
I'm also very excited to announce that my first book is now available! If you love working with flannel or fabric crafts in general (sewing and non-sewing), then you will LOVE "Crafting with Flannel"!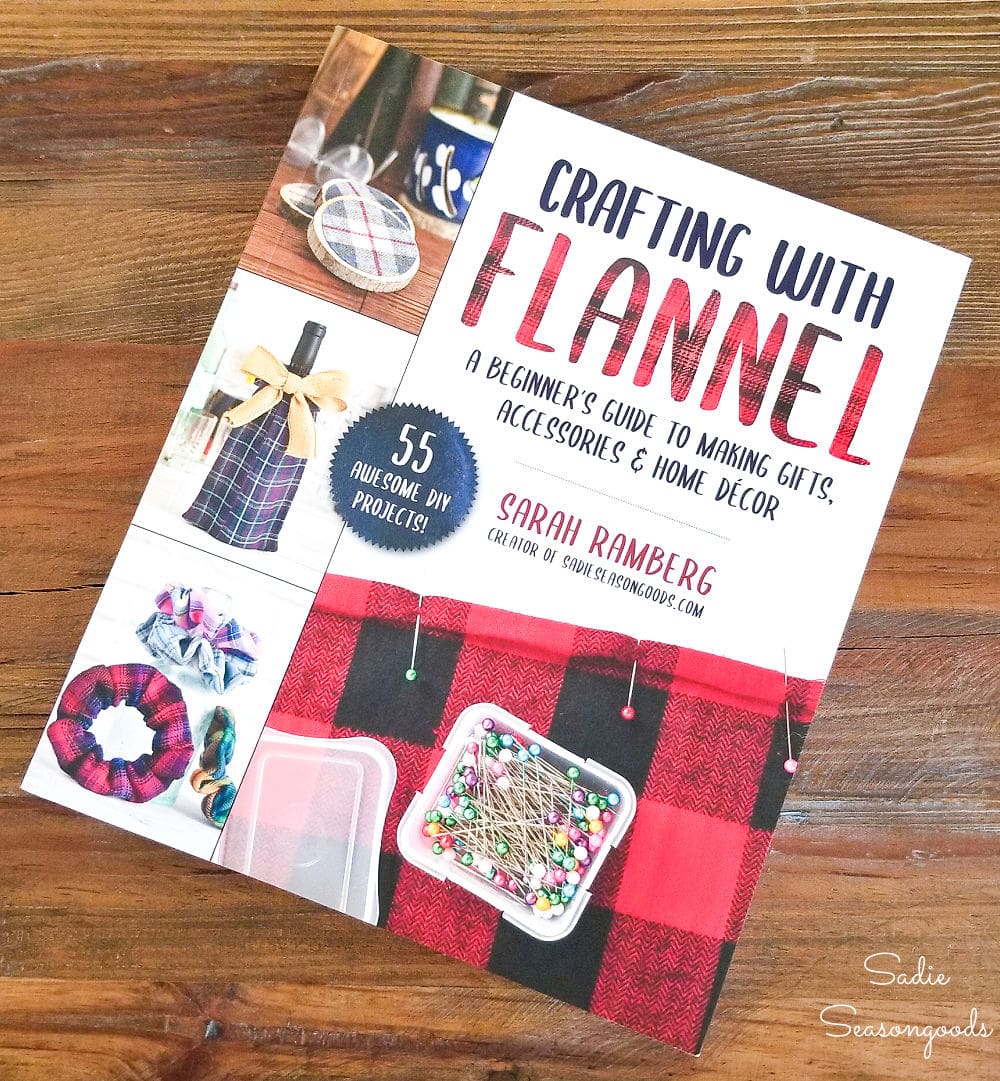 And if you enjoyed this upcycling idea for sewing storage, then you'll love this pin cushion and sewing caddy from a vintage teapot!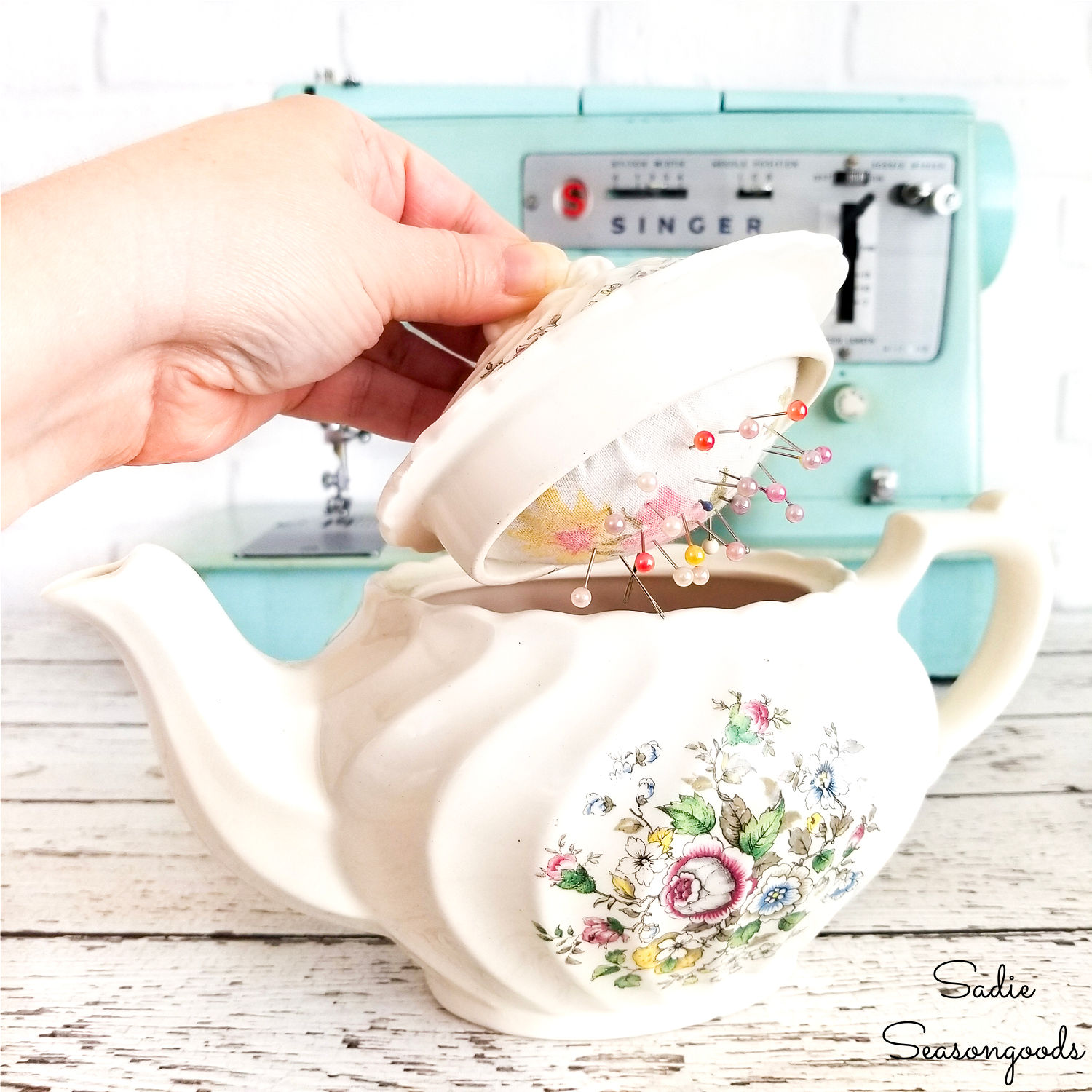 Craft on!
S
Join me on Social Media:

PIN ME!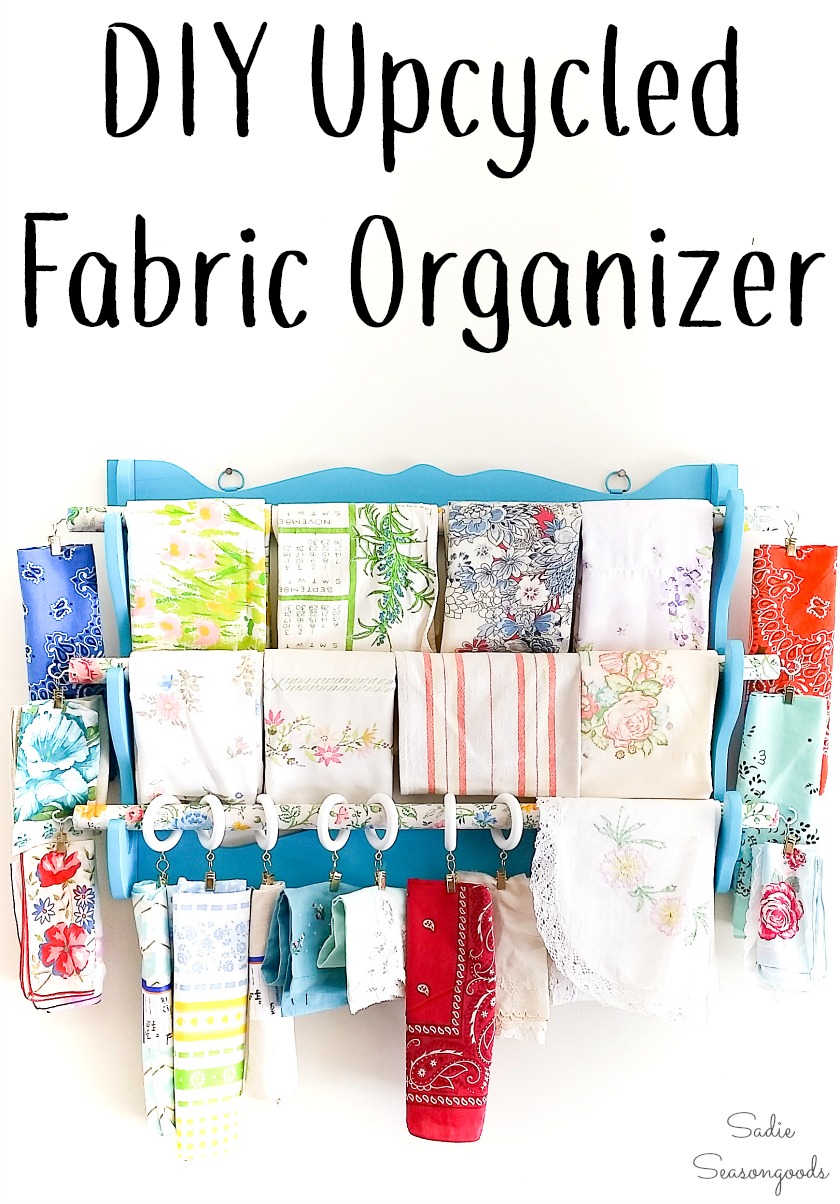 Sarah Ramberg is the owner of Sadie Seasongoods, a website that celebrates all things secondhand. From upcycling ideas and thrifted decor to vintage-centric travel itineraries, Sadie Seasongoods is a one-stop shop for anyone who loves thrifting and approachable repurposing ideas. Sarah is also the author of "Crafting with Flannel" and has been featured in numerous media outlets and magazines.