Thanks to boho chic decor, vintage rattan furniture has made a resurgence in popularity. I scooped up this wine rack as quickly as I saw it because of the shape. It was OBVIOUSLY meant to become a Christmas tree, right? I immediately had a vision of retro Christmas decor in my mind and wanted to bring it to life!
But, I started to panic about painting it. Bloggers get hate mail all the time from people who think they shouldn't have painted a certain piece.
But the price was written on it in Sharpie – apparently I had shopped at one of *those* thrift stores that think Sharpie is ok.
That made me stop fretting about it. Hate mail or not, it had already been ruined with marker. And with that in mind, I started to transform it into a retro Christmas tree.
This post contains affiliate links for your crafting convenience. As an Amazon Affiliate, I earn from qualifying purchases.
Upcycling a Wine Rack into Retro Christmas Decor
Bringing my vision to life was going to be easy. First, I needed a bunch of ¼" cup hooks – twenty of them, to be exact.
Because the wine rack was made of rattan (and not, for instance, a hard wood), I planned on screwing a cup hook into the top of each circular rung.
My dainty child-size hands came in, well…handy for this! The wine rack rungs were just big enough for a bottle of wine, but perhaps not a normal-sized adult hand.
After I finished adding cup hooks to each rung, it was time to start spray painting. Before I did anything else, though, I wrapped the legs with painter's tape to keep them a natural brown.
It was going to become a retro Christmas tree after all!
I started with a light coat of primer first. I had inadvertently chosen a can of paint that didn't already have primer in it.
AND the rattan was pretty shiny-smooth, so I knew starting with primer was a smart step.
Next, I finished with a dark green that would be perfect for my retro Christmas decor.
Retro Christmas Tree from Vintage Rattan Furniture
Once the paint dried, I carefully removed the painter's tape from the base and admired my little tree. It had a very retro and boho decor look to it.
The best part was hanging my Shiny Brite ornaments on all those little cup hooks! I decorated both sides and just fell in love.
Now, I suppose I could have tied my vintage ornaments to the rungs with green thread, but the cup hooks worked like a charm.
And after seeing it all put together like this, I was so glad I added them before the spray paint so that they blended in.
What do you think of my retro Christmas tree from vintage rattan furniture? Did I make the right decision to paint it?
I couldn't be happier with how it turned out. But, a natural color with white and silver ornaments would have also been pretty, too.
If you enjoyed this upcycling idea for retro Christmas decor, then you'll love how I fixed up this vintage toy truck!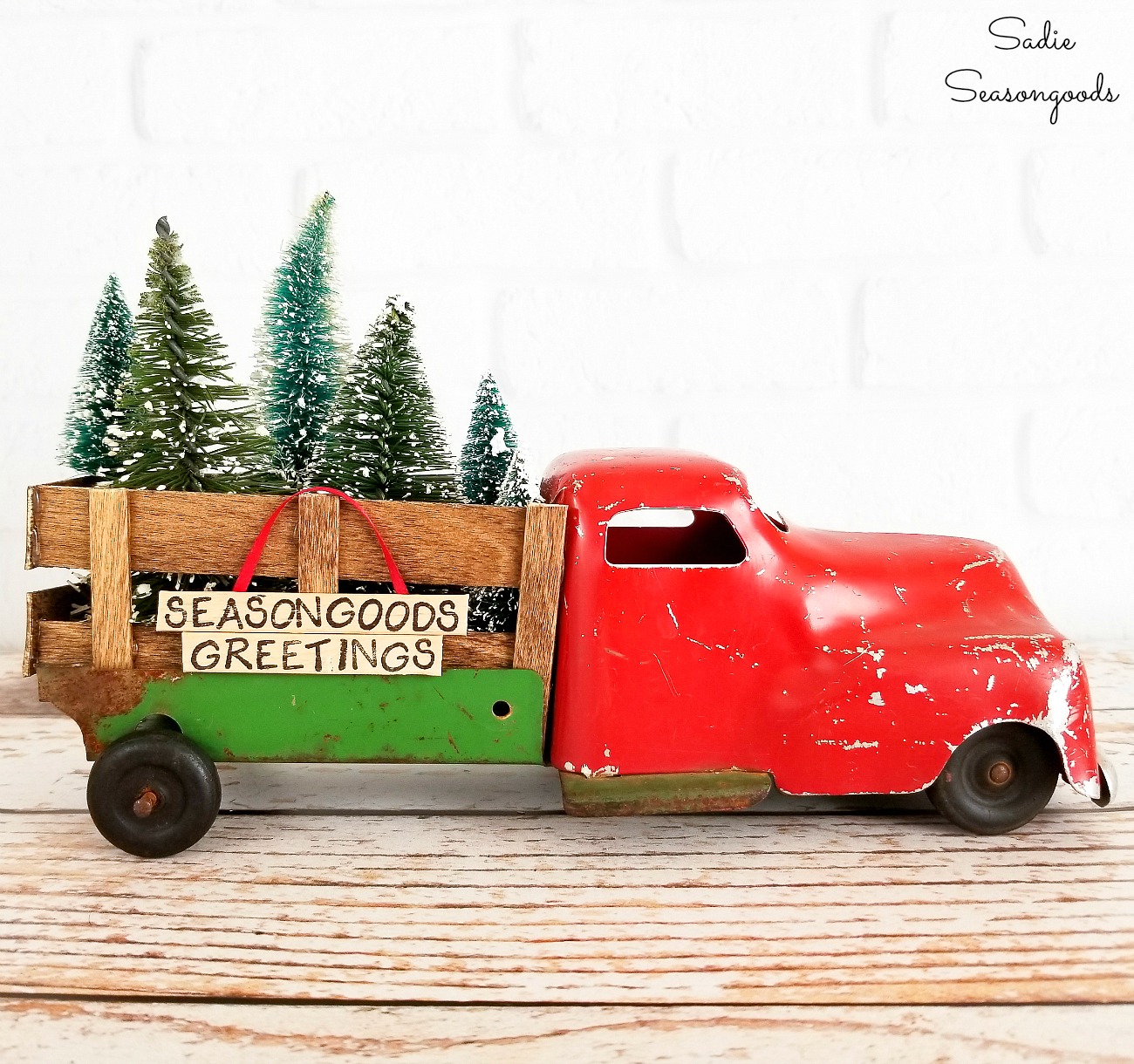 Craft on!
S
Want to be notified when I publish my next upcycling project tutorial?
Subscribe to Blog via Email
Join me on Social Media: