Country kitchen decor isn't really my style, but I can't help admitting that vintage seed packets are little works of art that would work PERFECTLY in that capacity. I kept buying little seed envelopes and decided to temporarily frame some as an ode to a country kitchen or farmhouse kitchen. Albeit, not MODERN farmhouse kitchen, but the classic retro kitchen of days gone by.

I mean, aren't these the most adorable little art canvases you've ever seen? Definitely worthy of display, if you ask me…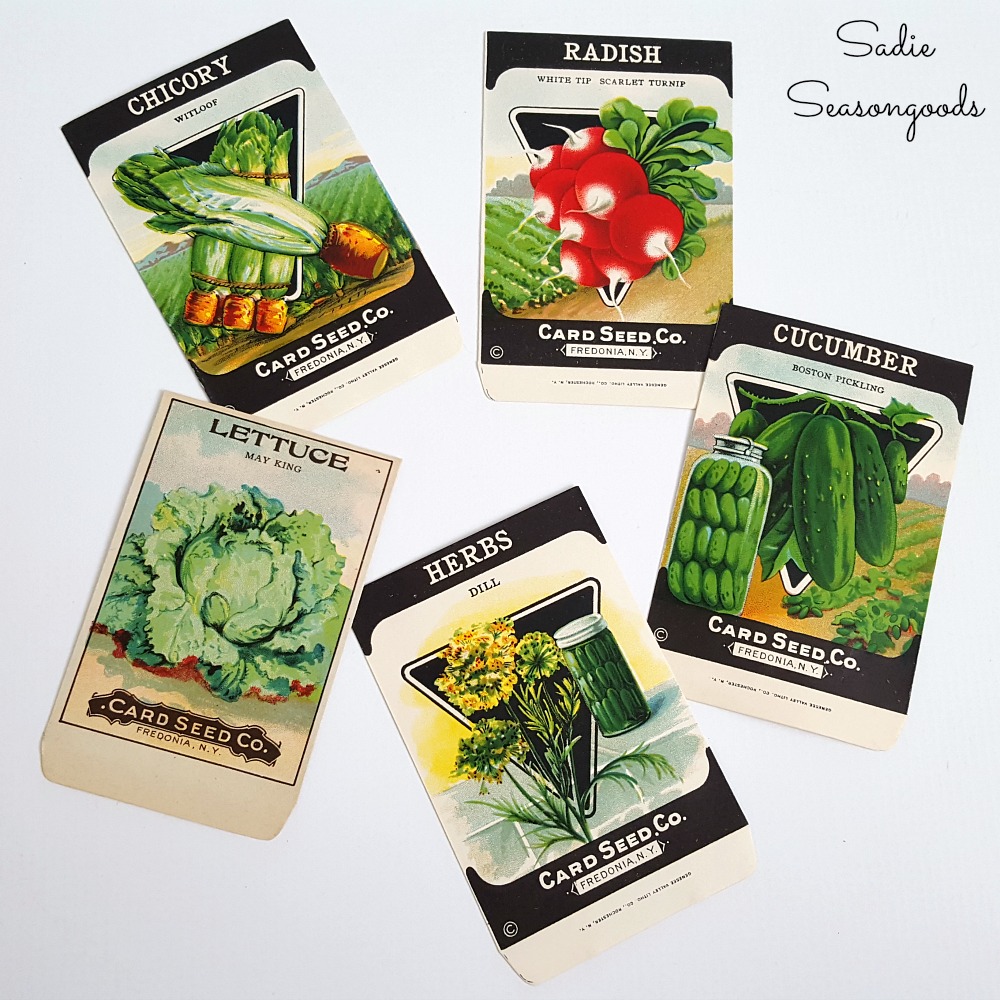 The vision I had in mind was inspired by the the antique kitchen in our summer cottage in St. Joseph, Michigan (the cottage that my Great-grandmother Seasongood built!). Green, yellow, and white in color with a very vintage feel. I just needed a few things to bring my vision to life, including some old picture frames from the thrift store.
And in my stash of thrifted bed linens, I knew I had a yellow and white gingham fitted sheet from one of our many Junkin' Journey trips. Gingham just seems to be the perfect fabric for a country kitchen, doesn't it?
And with all the upcycling ingredients in hand, I was ready to get to work on my idea for country kitchen decor This post contains affiliate links for your crafting convenience.
Creating Decor for a Country Kitchen or Farmhouse Kitchen
Just like I had done with my vintage sewing pattern art, I dismantled picture frames I had purchased at the thrift store and cut out a rectangle of bed sheet fabric slightly larger than the frame's cardboard backing. Using Mod Podge, I then fused the fabric around the cardboard, folding over the ends.
After that had dried, I laid out the seed packets on the fabric covered cardboard in the design that I wanted.
Then, I dug out my vintage photo corners- thankfully, though, you can find new ones on sites like Amazon (such as these). I love using photo corners with my seed packets because while they are held securely in place, there's nothing attached directly to the delicate packet- so, no permanent damage!
I was already planning on gluing the photo corners to the fabric when I ran into an issue…How would I keep the photo corners and seed packets aligned with each other, straight, and evenly placed during the process without taping them down??
And then it struck me- MAGNETS!
So, I placed magnets underneath my cardboard and then on top of my seed packets- they held together firmly, but I could still make adjustments to my seed packets to keep them even, straight, and aligned.
How great is that?? With the magnets holding the seed packets in place, I used my hot glue gun to secure the photo corners around each seed packet. My country kitchen decor was coming along nicely…
Decorating a Country Kitchen with Vintage Seed Packets
With the vintage seed packets held in place temporarily but securely, I was ready to assemble them in the picture frames.
The magnets worked like a charm, the seed packets were centered and straight, and the frames received a makeover in a Spring green. These look like they were custom made for my summer cottage's country kitchen.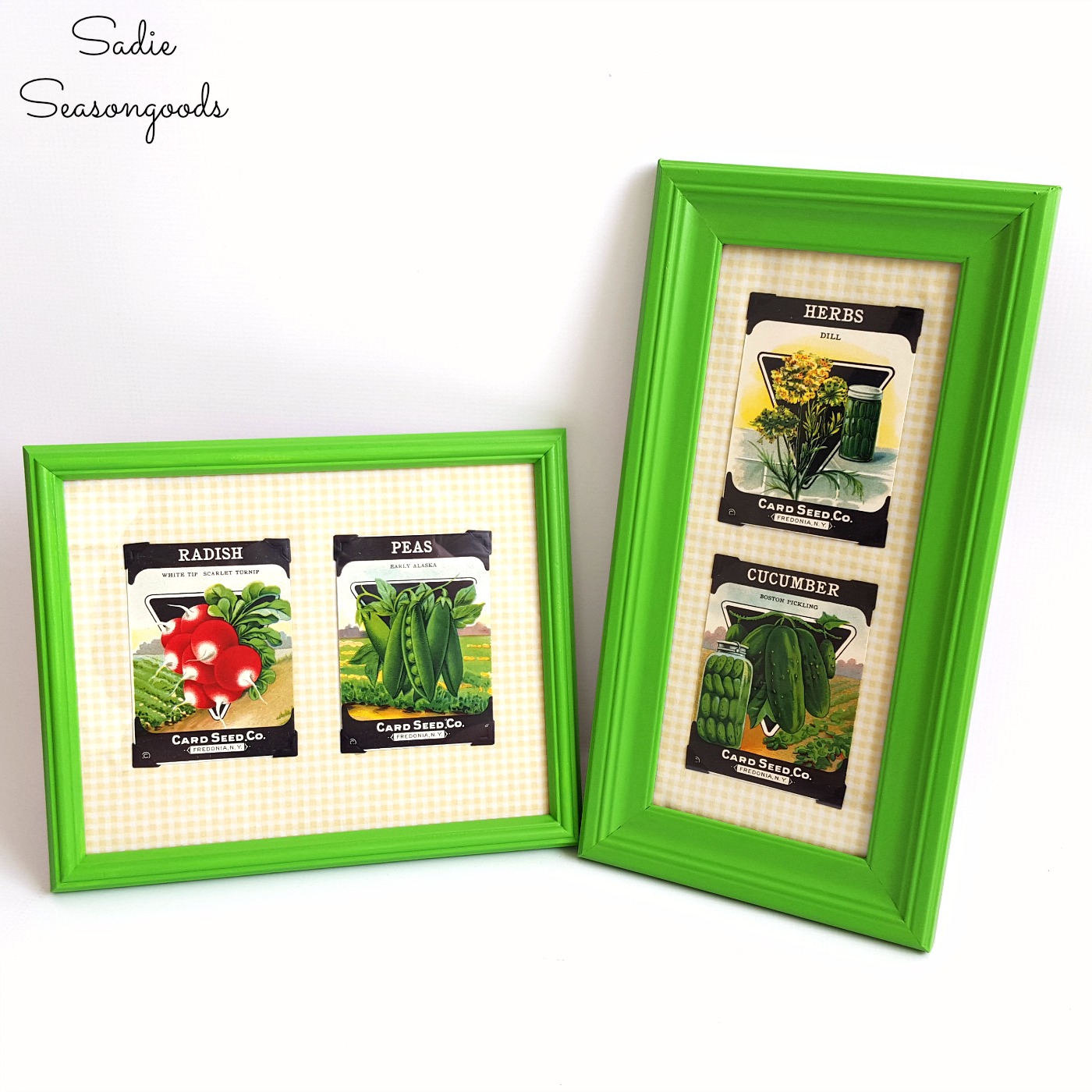 Even if country kitchen / farmhouse kitchen isn't your style or if the green paint is too "snappy" for you, the magnet trick might come in handy for anything you're framing! Especially if you want to frame vintage postcards, labels, or other other paper ephemera in a similar fashion: showcased by temporary.
Interested in even more picture frame ideas for upcycling and repurposing projects? Please check out this amazing collection here before you go!
Craft on!
S
Want to be notified when I publish my next upcycling project tutorial?
Subscribe to Blog via Email
Join me on Social Media: