Counted cross stitch is something I find a LOT of at thrift stores. And while there are modern versions of cross stitch that have become very popular (with sassy sayings), the older ones get tossed and donated all the time. When I found this 1980s cross stitch with its country decor style, I immediately thought that the logo looked like a reusable shopping bag that I'd find at the grocery store.
But, of course, it WASN'T a reusable grocery bag.
That's when I thought, "Why not transform it into a reusable bag?". I had a feeling it would be pretty easy to do.
And when I found this jute tote bag with someone else's name embroidered on it, it seemed like destiny to marry the two together.
I would upcycle the counted cross stitch into something that would cover the embroidery on the market bag. And if all went as planned, I'd have a delightfully cute reusable bag to use at the farmer's market and grocery store!
This post contains affiliate links for your crafting convenience. As an Amazon Affiliate, I earn from qualifying purchases.
Upcycling a Counted Cross Stitch on a Reusable Shopping Bag
First, I removed the the counted cross stitch from the frame to see what I was working with, size-wise. I assumed it would fit well on my jute tote bag, but I wouldn't know for sure until it had been unframed.
It's probably hard to discern in the photos, the Aida cloth of the counted cross stitch had discolored over time. The perimeter (where the blue mat had framed the actual cross stitch design) was quite yellow compared to the rest.
So, I used that fade line to carefully cut out the cross stitch graphic. After that, I planned to use coordinating grosgrain ribbon as a border for the counted cross stitch when attached to the jute tote bag.
The grosgrain ribbon would also conceal and protect the cut or raw edges of the Aida cloth, as well. Double duty!
At that point, I realized that fabric tape would come in handy. Not only to act as a fray-stopper for the Aida cloth, but also to help keep the border ribbon in place while pinning and stitching.
I wasn't patient enough to stop everything and head to the fabric store, so I grabbed some double-sided tape instead, which worked just as well!
After taping down my ribbon, I stitched it to the counted cross stitch with my sewing machine. When that was said and done, I pinned the entire panel to the front of the reusable shopping bag.
Bye-bye, Chatsworth embroidery! You are all covered up.
And yes, I used my secret pincushion teapot a LOT with this upcycling project. Honestly, I use it every time I sew!
After the panel was perfectly centered and pinned in place, I hand-stitched it to the jute tote bag. Because the bag was already constructed, it was a lot easier to hand stitch it than wrestle it into my sewing machine.
Ready to see my reusable shopping bag when I was all finished?
Reusable Shopping Bag or Market Bag with a Counted Cross Stitch
Just like that, I had an adorable reusable bag or market tote with the perfect design for a farmer's market or grocery run!
Eco friendly bags are one of the easiest ways I know of to use less plastic. And I'm always looking to cut down on my plastic waste.
And a reusable shopping bag that has been emblazoned by upcycling a counted cross stitch from the thrift store? Even better because it's SO personalized and one-of-a-kind!
You know I'm going to be looking for more food and farm related cross stitch pieces now! I want to add more market bags like this to my collection!
And if you enjoyed this upcycling idea from the thrift store, then you'll love this windmill decor that I made from ceiling fan blades!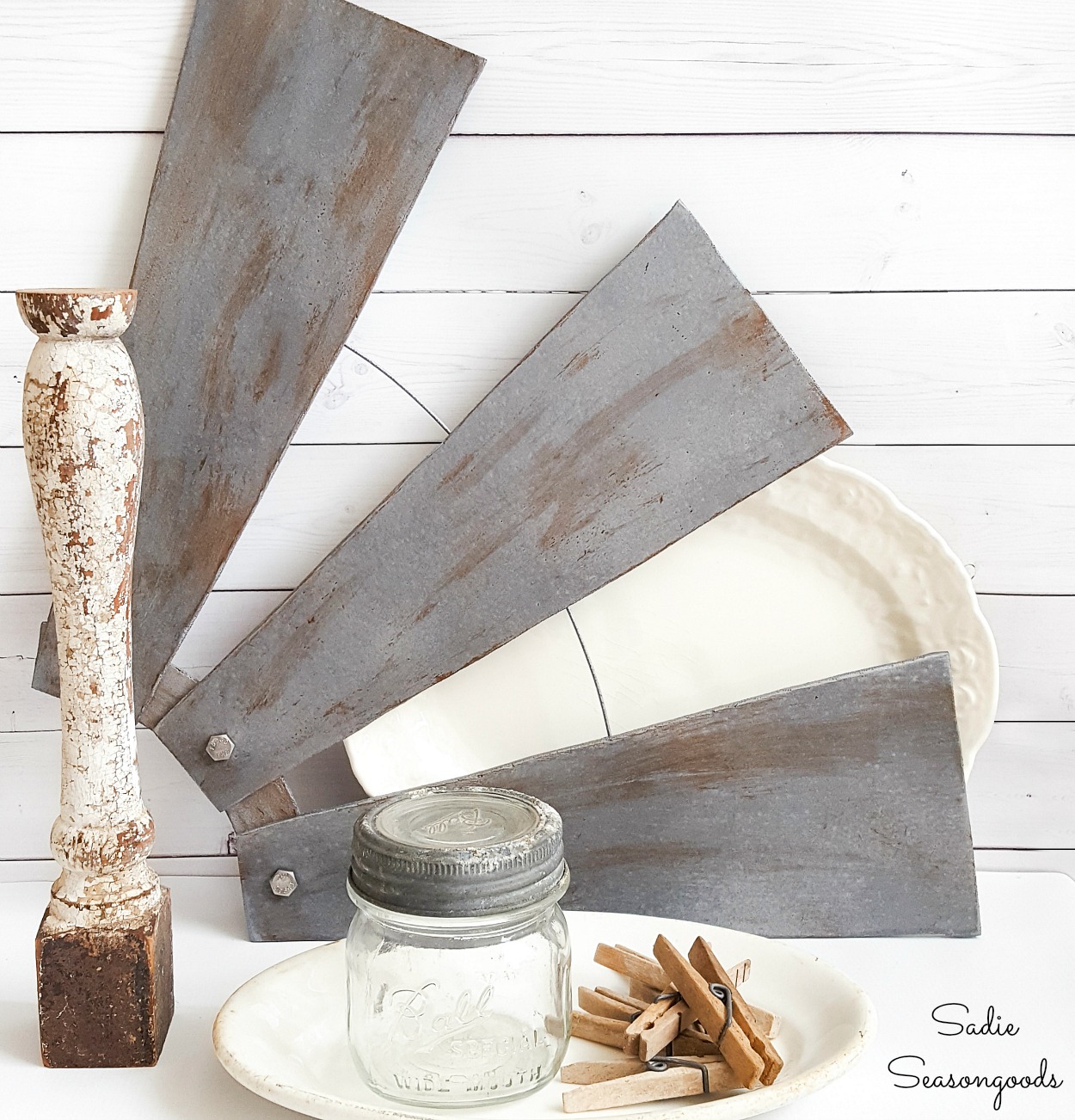 Craft on!
S
Want to be notified when I publish my next upcycling project tutorial?
Subscribe to Blog via Email
Join me on Social Media: