I have to admit- on certain junk or antique pieces, I like the look of rust more than actually dealing with rust. Sometimes, the chipping and the flaking of real rust is too much for me to deal with – especially indoors. So, when I had a chance to try out the Rust Effect Paint by Modern Masters, I jumped at the chance! Right off the bat, I knew I wanted to try it on the plastic pumpkins and pumpkin candy buckets that crowd the thrift store shelves.
Come Fall, these jack-o-lantern buckets are EVERYWHERE…which makes them perfect for upcycling.
I had a feeling that those plastic pumpkins would look pretty darn good with a rust patina. I just didn't know how to achieve that on my own.
Basically, this opportunity was a match made in DIY heaven.
This post is sponsored by Rust-oleum, who provided a Rust Finish Metal Effects Kit by Modern Masters at no charge to me. All opinions are my own; this post also contains affiliate links for your crafting convenience. As an Amazon Associate, I earn from qualifying purchases.
Using Rust Effect Paint on Plastic Pumpkins
There are several steps to getting the rust patina using this kit, but none of them take very long. AND there's no special painting technique required. Let's consider this one of my "Product Test Drive" posts, so long as I make it very clear that this kit was provided to me free of charge.
The first step is applying the primer (this is the same kit as mine, but in smaller quantities), which is a rust-brown color on its own. The "rougher" your surface is, the better this stuff adheres.
It dries pretty quickly so I brushed on two coats on the plastic pumpkins, as mentioned in the instructions.
Next, I added two coats of the iron paint, which also dried quickly. This gave the plastic pumpkins an almost chalkboard paint look.
NOW came the most exciting step – spritzing on the rust activator! I had painted the primer and iron paint inside my home, but moved everything outside for this step.
Following the instructions in the kit, I spritzed on a light layer…waited a few minutes, and spritzed on a second layer.
At the time that I worked on "rustifying" my plastic pumpkins, it was SUPER humid out. So, I let the rust activator work for 48 hours to fully achieve a rust patina.
And almost magically, the plastic pumpkins looked all kinds of rusty and old!
Even though the rust finish didn't rub off or easily chip, I went ahead and spritzed on the sealer, as recommended.
As far as the Rust Finish Metal Effects Kit was concerned, I was done! But the plastic pumpkins / pumpkin candy buckets needed one more thing. So, I used black craft paint to re-paint the jack-o-lantern face!
Rust Patina on Plastic Pumpkins / Pumpkin Candy Buckets
That was it- I had achieved a wonderful rust patina on the plastic pumpkins. And while there were several steps required, the finish was SO realistic. And any level of crafter can do this, so I'd call it a rousing success.
The rust effect paint worked like an absolute charm on these plastic pumpkins. They are perfect for primitive Halloween decor or rustic Halloween decor now.
You might say that these jack-o-lanterns are now… JUNK-O-LANTERNS!
A couple of Product Test Drive thoughts to consider:
Spraying a smooth plastic surface with regular flat grey primer made a HUGE difference in how easily the rust primer could be brushed on, but this was not included in the kit and added yet another step to the process.
Do not use a sponge brush for the primer or iron paint steps- use a chip brush!
Humidity matters! On humid days, the oxidizing finish takes a LONG time to process- so if you're able to complete that step on a dry, crisp day, I definitely recommend it.
What would you try this rust finish kit on?
If you enjoyed this upcycling idea for plastic pumpkins, then you'll love these bandana pumpkins, too!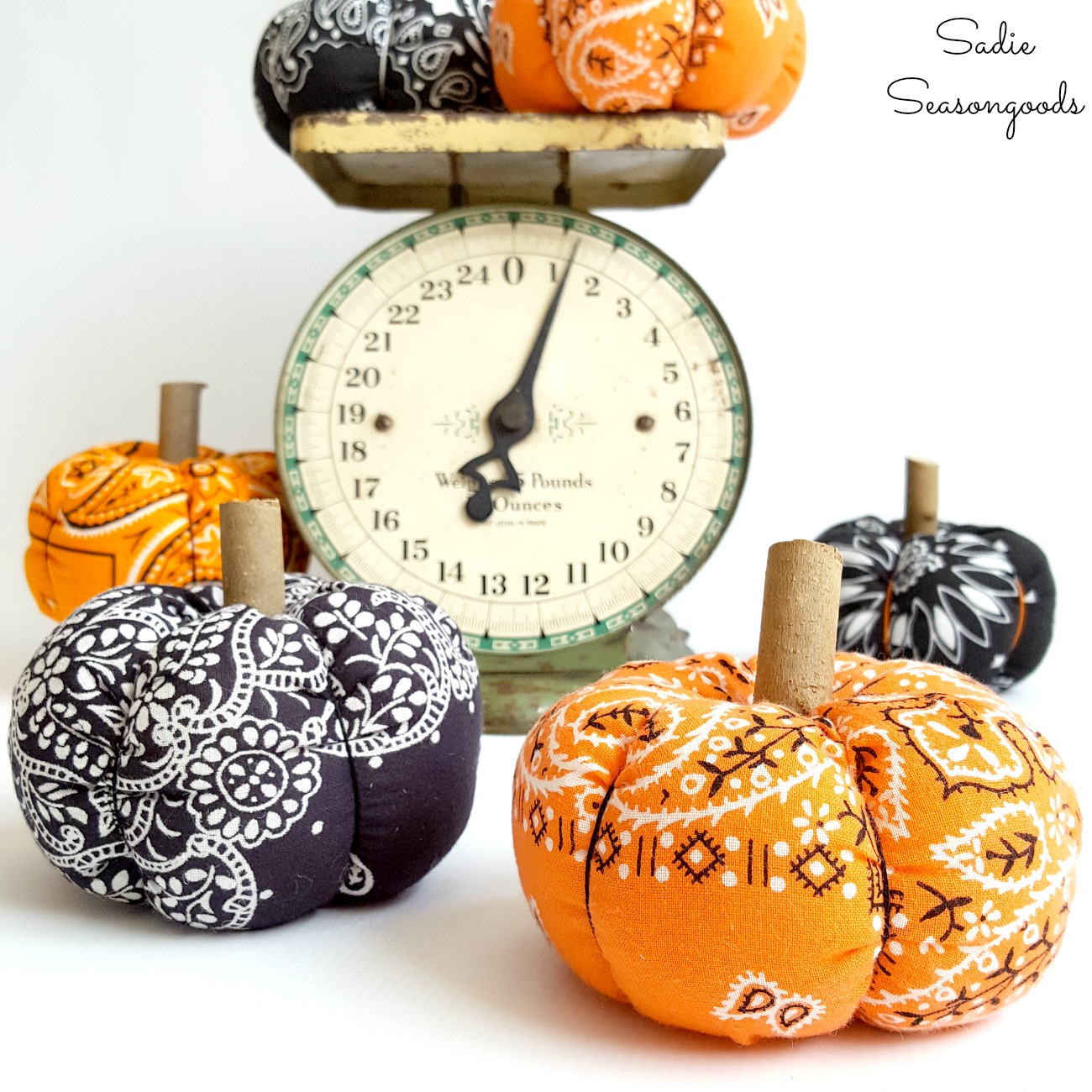 Craft on!
S
Want to be notified when I publish my next upcycling project tutorial?
Subscribe to Blog via Email
Join me on Social Media: