Our guest bathroom is a cute little room, but without a window, is only illuminated by artificial light. As a result- and I'm not sure why I never noticed this before- our existing shower curtain was doing nothing to brighten the room. But instead of running out to the store for a new one, I decided to upcycle one of my vintage sheets into a floral shower curtain.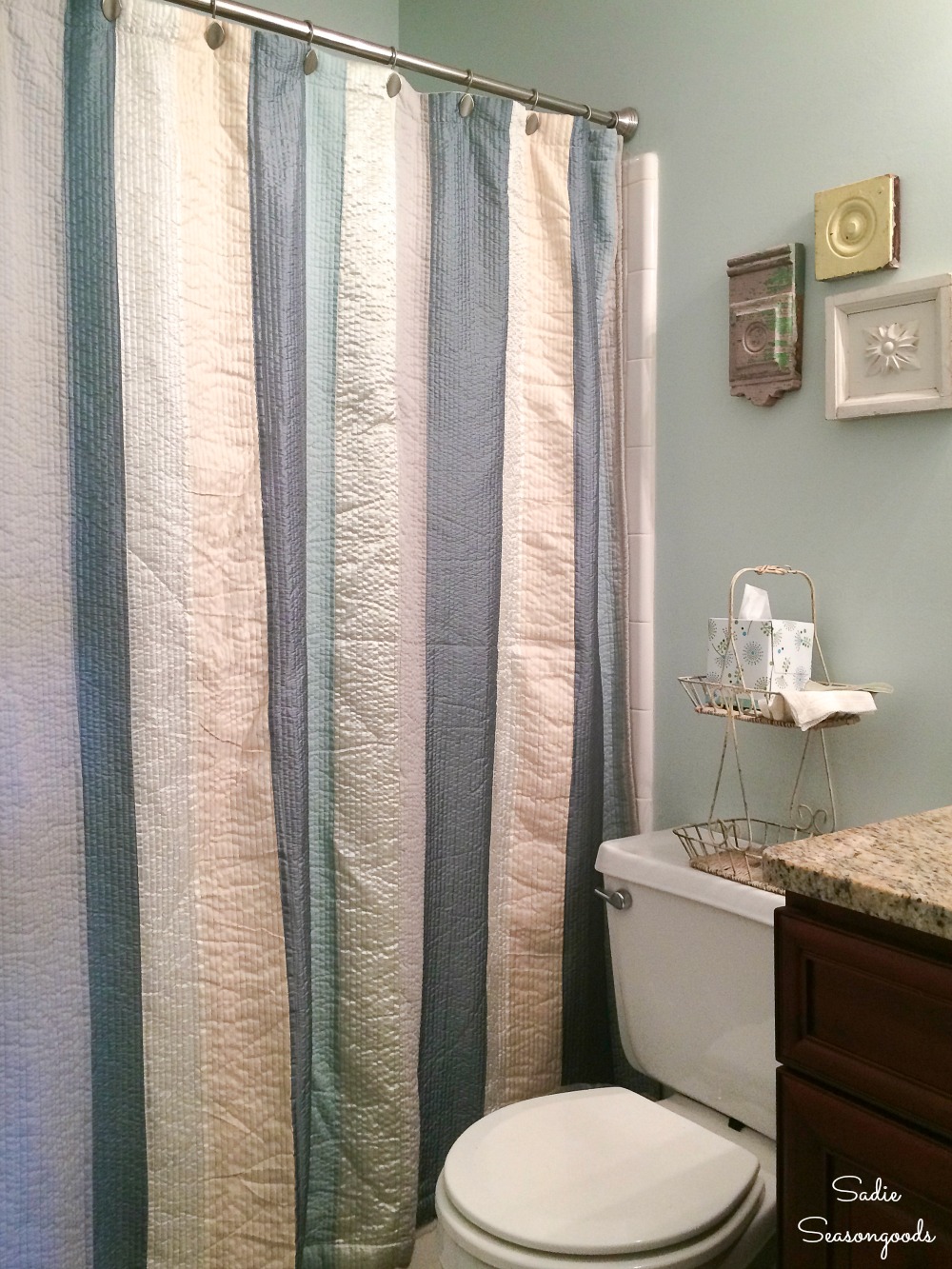 Vintage sheets are such an amazing amount of fabric for the price, aren't they? Long and wide, and when found at the thrift store, they're usually just a couple of dollars.
I selected a couple of options from my collection of vintage bed sheets and draped them over the rod. We hemmed and hawed but finally settled on this one to turn into a DIY shower curtain.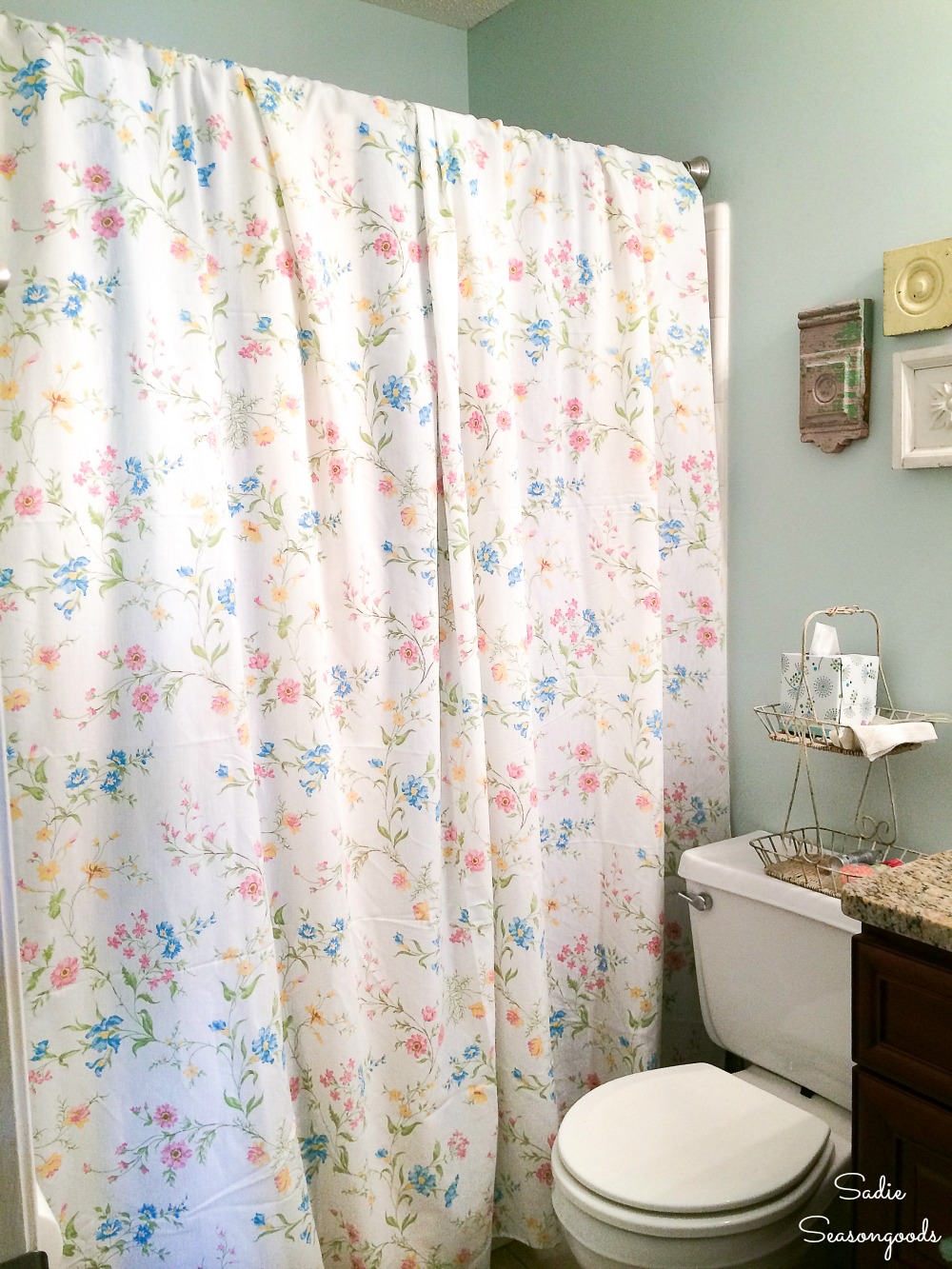 Here's hoping that it really brightens the room and works well in our cottage style bathroom.
This post contains affiliate links for your crafting convenience. As an Amazon Affiliate, I earn from qualifying purchases. All blue, bold, and underlined text is a clickable link, either to a product or to a related post.
How to Make a Shower Curtain from Vintage Sheets
Before I begin, allow me to be perfectly honest. I took the easiest route imaginable to create a DIY shower curtain. Believe it or not but I used the old one as a template before laundering it and giving it away.
First, I laid out a vintage sheet on the floor, right-side facing up. Then, I placed the existing shower curtain on top of the vintage sheet.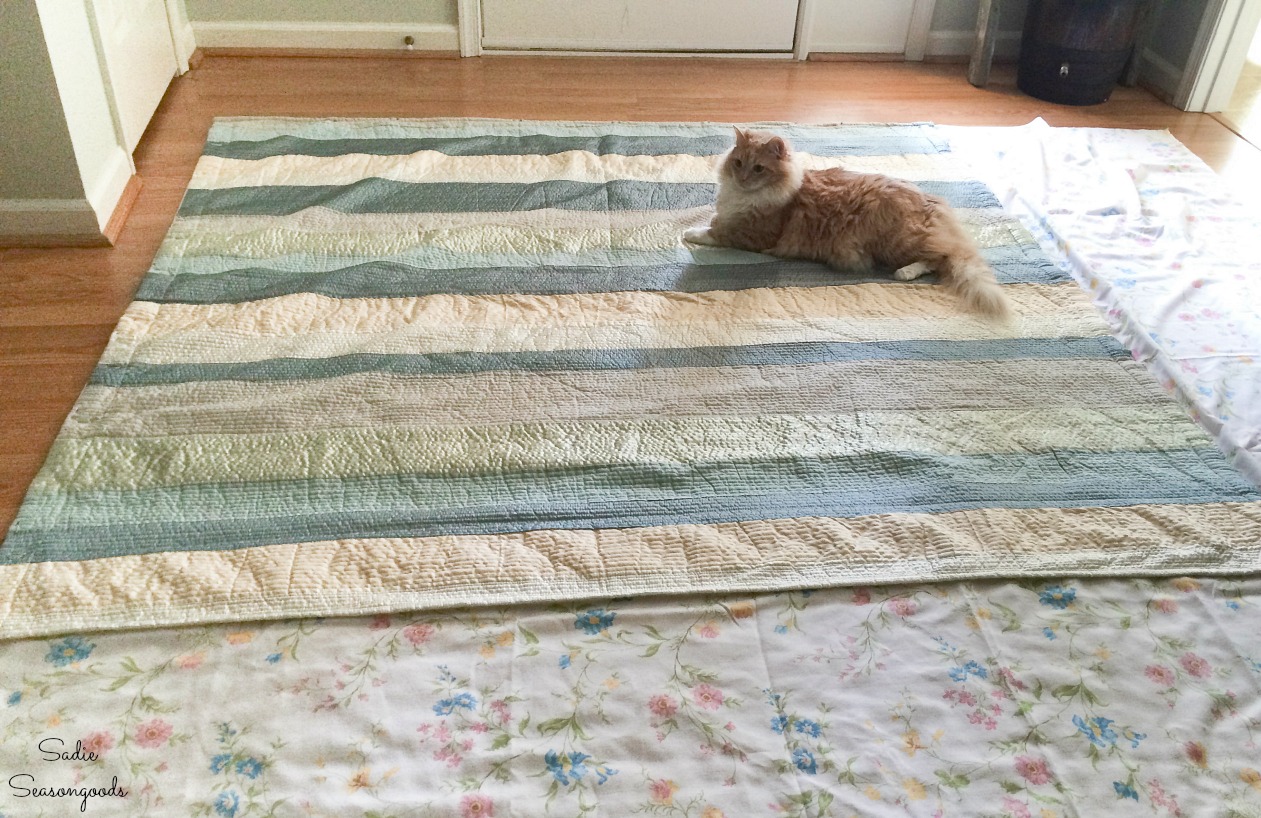 I used the top of the sheet as the would-be top of my shower curtain and safety pinned the existing curtain to the sheet.
Then, I trimmed down the side and across the bottom of the sheet, leaving enough of a margin to incorporate a ¼ – ½" double-fold hem on the side and a 1" double-fold hem across the bottom.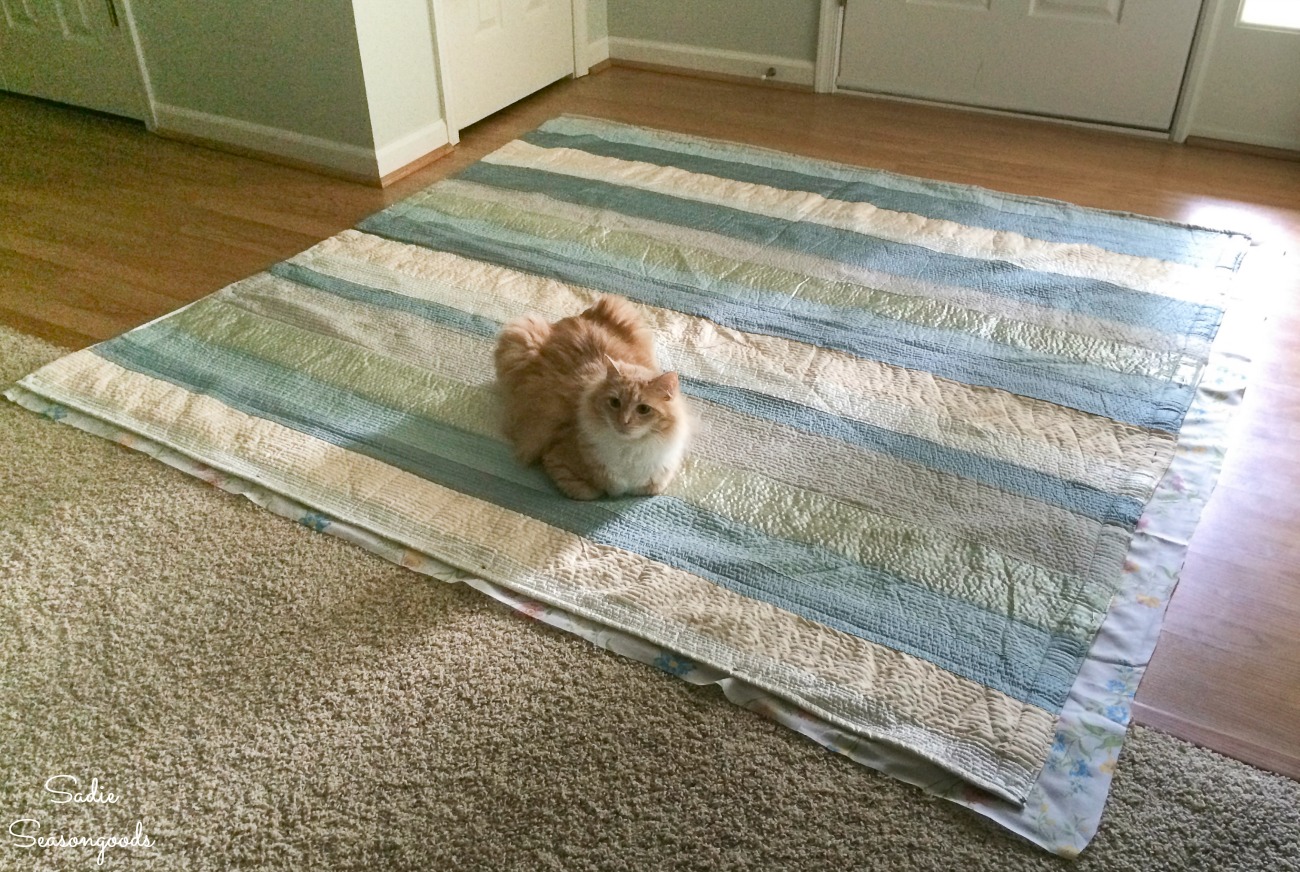 Next, folded the hems and stitched them on my sewing machine with a basic straight stitch.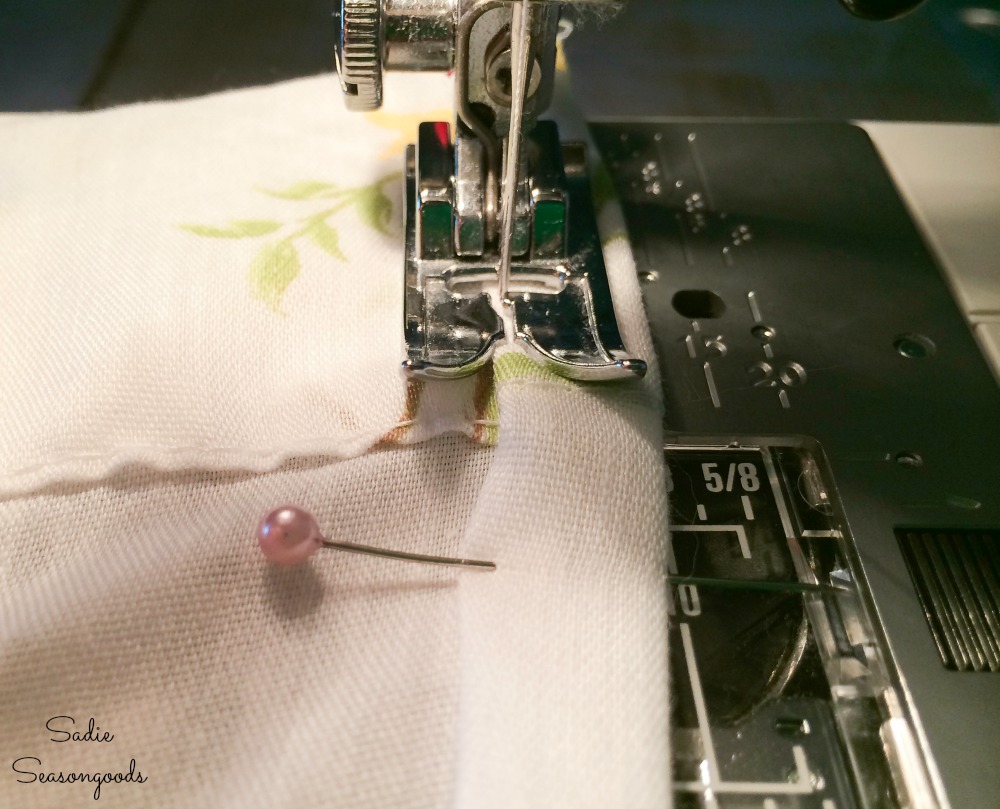 Then. Came. The. Scary. Part. At least for me… buttonholes.
I could have used grommets, but I wanted to face the challenge of buttonholes. So, I practiced on scraps of the sheet that remained after I trimmed it. When I felt quasi-comfortable with making them on my floral shower curtain, I set out to mark my sheet where each buttonhole would go.
And again, I used the old shower curtain as my guide:
End buttonholes were ¾" in from the edge;

Buttonholes started ⅝" from the top edge;

Buttonholes were ¾" long; and

Buttonholes were spaced 5 ½" apart.
Whew, it was a lot to measure and a lot to keep straight. But using those measurements, I took a fabric pencil and drew buttonhole lines all along the top of my floral shower curtain.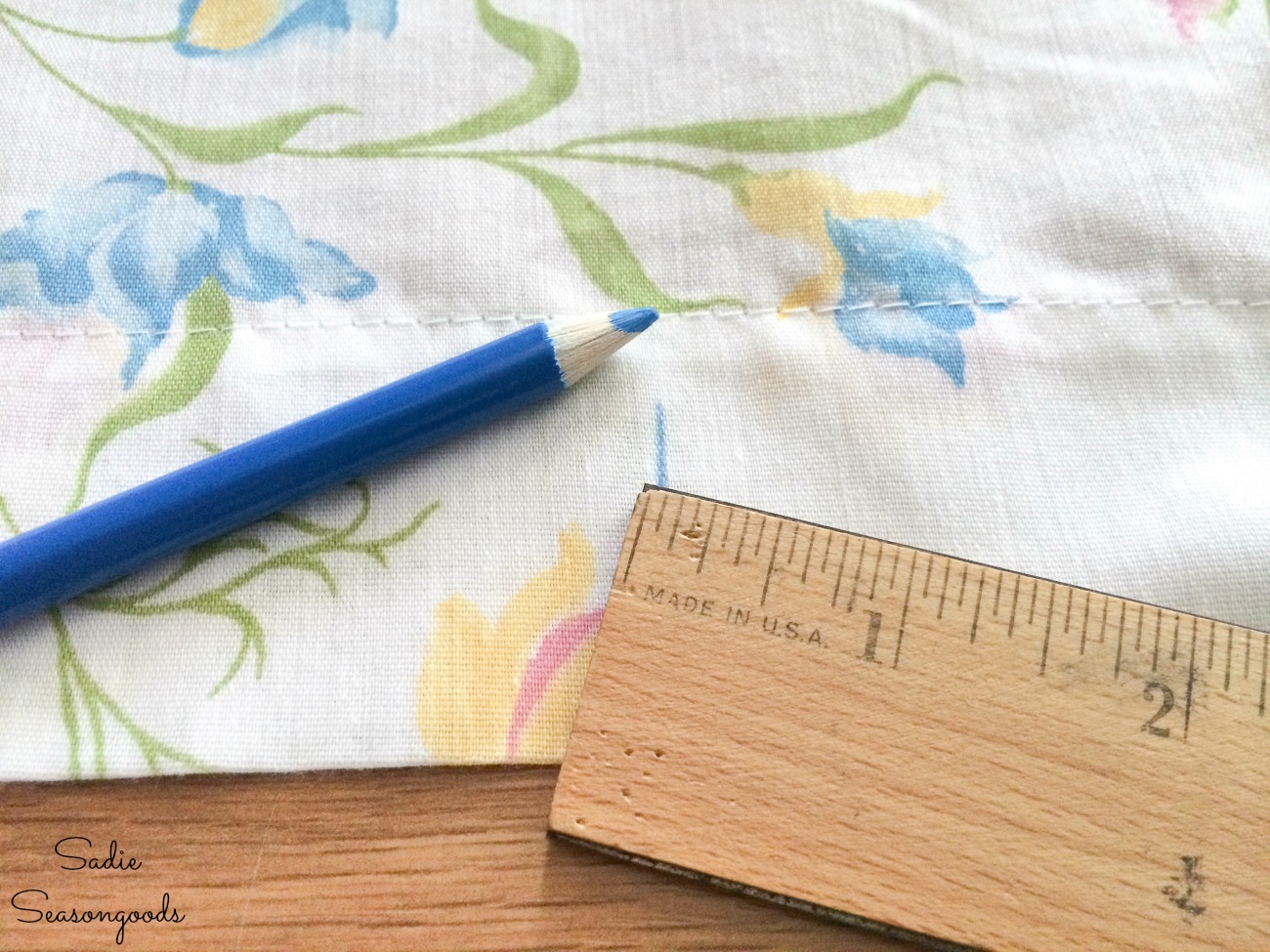 But I did it!!! Maybe it wasn't the perfect buttonhole, but it was close enough for me.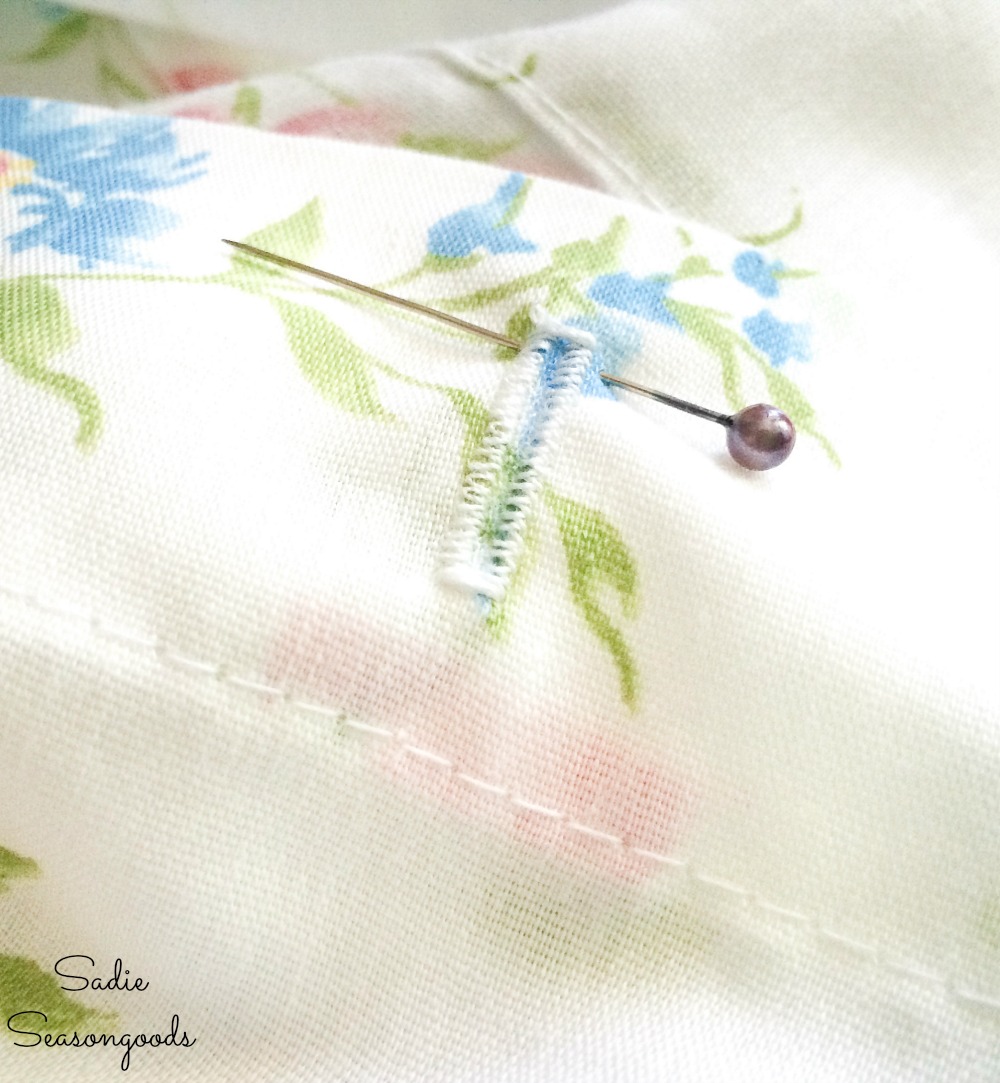 Lastly and with the straight pin in place, I used my seam ripper to split the buttonhole open.
Who knew you could actually use the seam ripper for a good reason instead of a bad one?!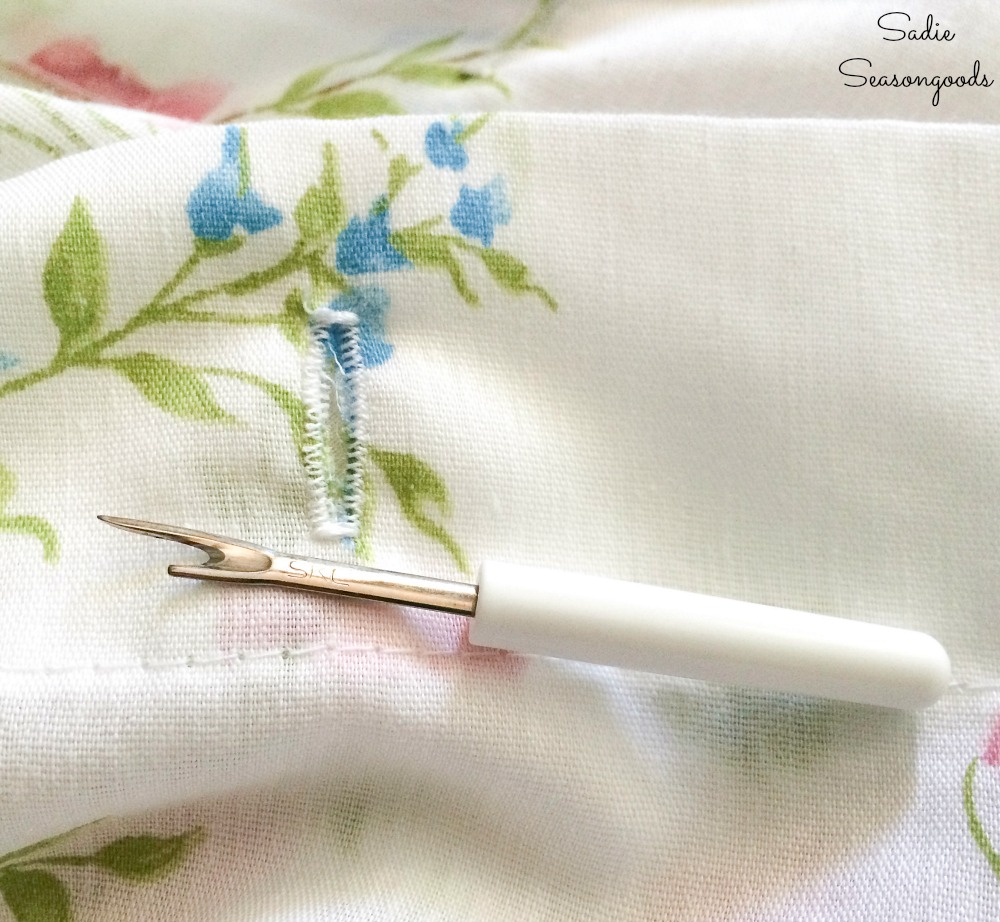 Floral Shower Curtain from Vintage Sheets for a Cottage Style Bathroom
After the last buttonhole was split and all threads were snipped, I hung the shower curtain in our cottage bathroom with the plastic liner.
Of course, Cottonball sensed "change" and had to assist. And I realized that it needed to be ironed before being photographed again!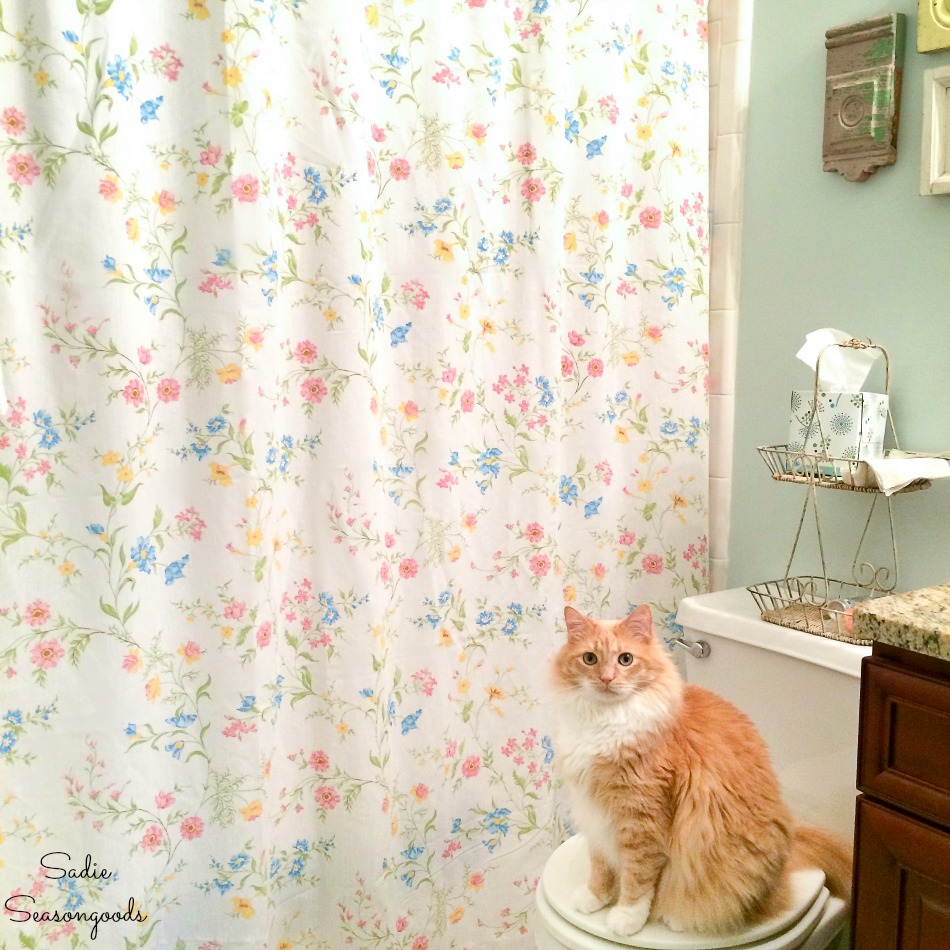 But there it is, in all it's pretty glory. I seriously LOVE my floral shower curtain that was made from one of my vintage sheets.
I was afraid it would be too "girly" but he's just so astounded by how much brighter the room is. Definitely a winning project for our cottage style bathroom!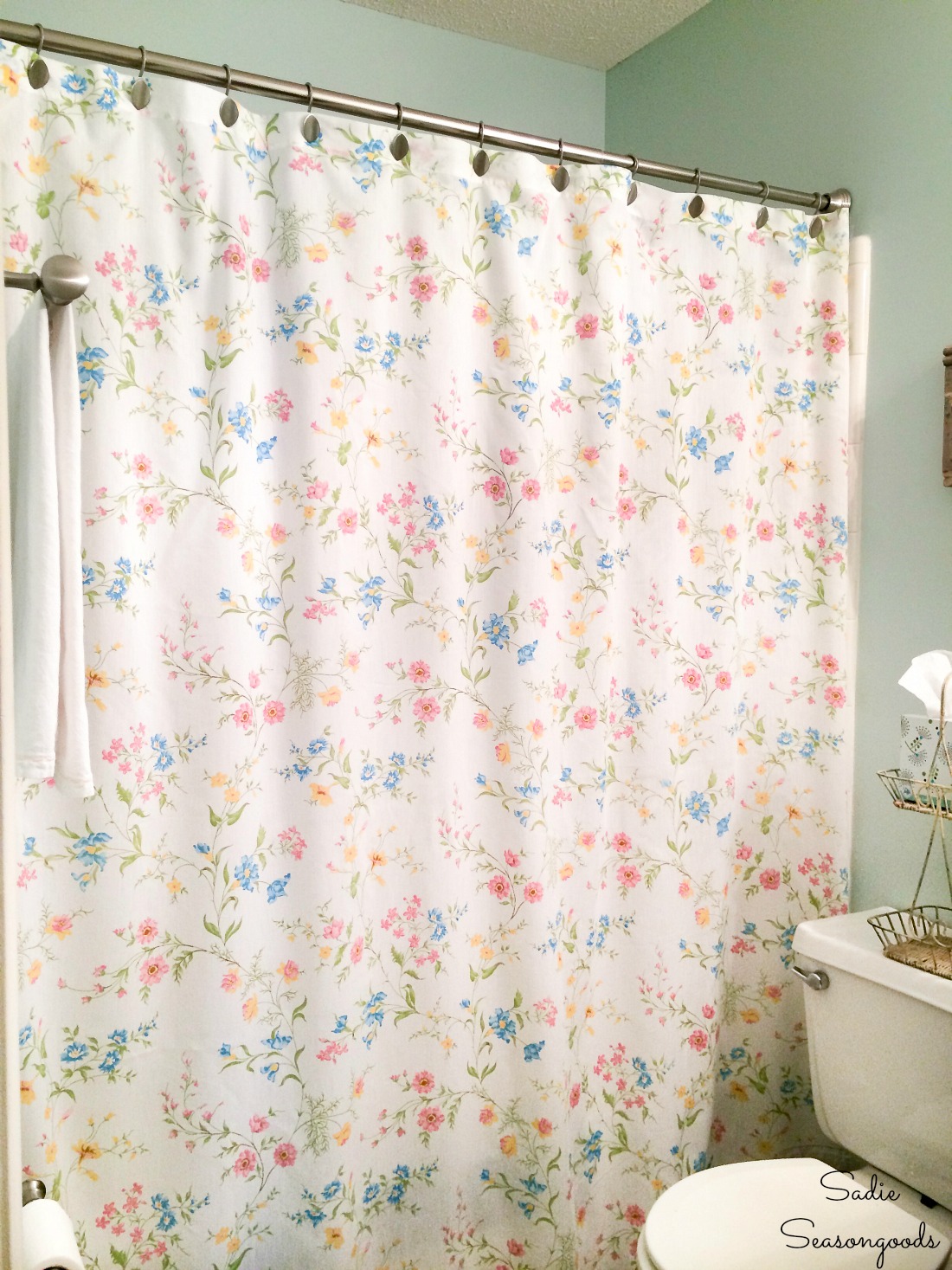 Now, if only our master bathroom wasn't a walk-in shower, I'd probably make another one right away. Especially since I've mastered (or, "mediocre'd") the buttonhole.
And if you enjoyed this upcycling idea for a vintage sheet, then you may also be interested in this collection of repurposing ideas for vintage linens!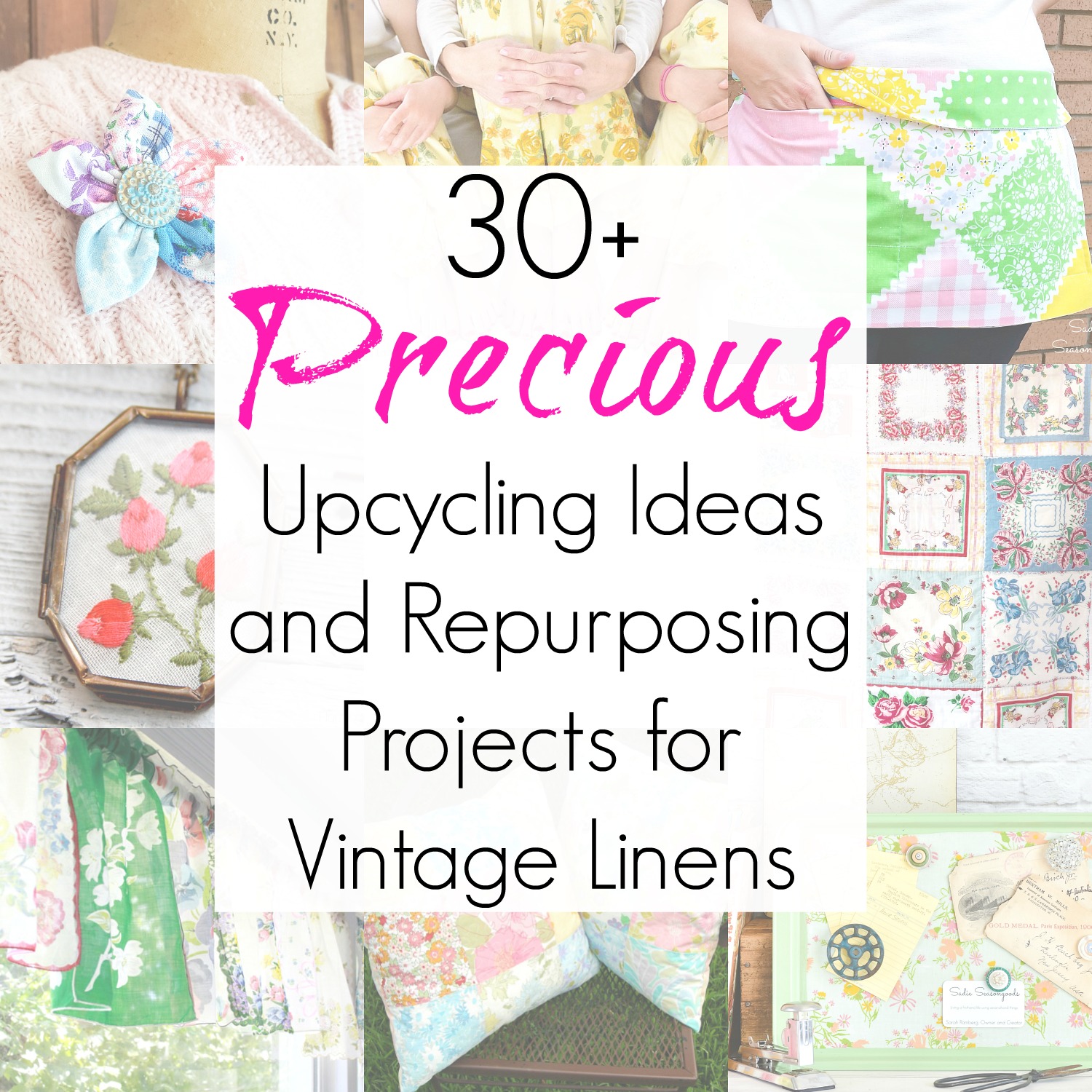 Craft on!
S
Want to be notified when I publish my next upcycling project tutorial?
Subscribe to Blog via Email
Join me on Social Media:



PIN ME!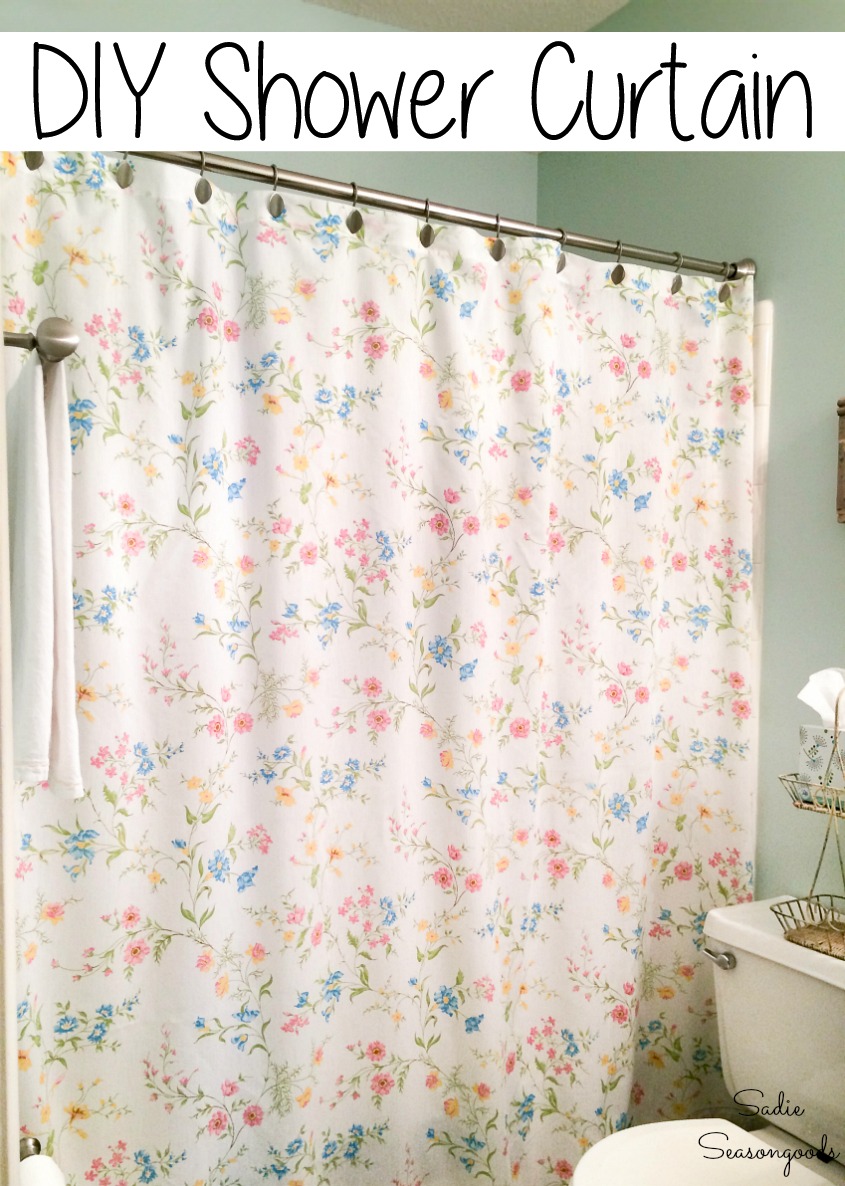 Sarah Ramberg is the owner of Sadie Seasongoods, a website that celebrates all things secondhand. From upcycling ideas and thrifted decor to vintage-centric travel itineraries, Sadie Seasongoods is a one-stop shop for anyone who loves thrifting and approachable repurposing ideas. Sarah is also the author of "Crafting with Flannel" and has been featured in numerous media outlets and magazines.