Using unique and unexpected items as planters is always in style at this time of year. Whether it comes from a flea market, a thrift store, or the storage shed out back, I always ask the same question: What can I plant in this? And if you're on the hunt for some inspiration for a few planters with personality, then you've come to the right place.
Upcycled Bench Planter
An old bench from the thrift store or your neighbor's yard sale can be converted into a garden bed! The seat and cushion are replaced by a raised garden bed that looks absolutely smashing when filled with beautiful flowers.
Hanging Colander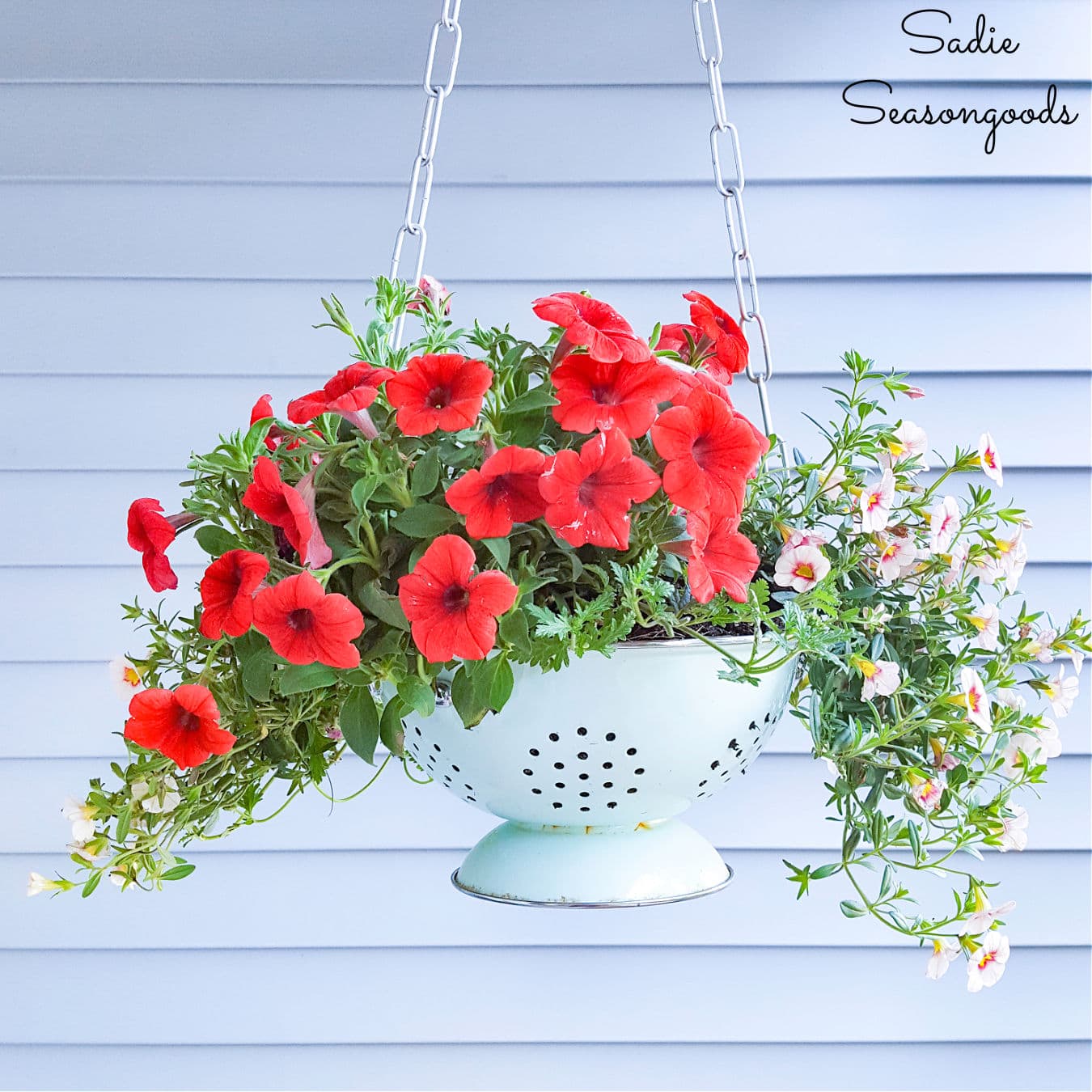 An old colander from your kitchen is absolutely ideal as a planter, isn't it? The straining holes act as built in drainage and the handles make it easy to hang from your front porch. The key to success is using the enameled versions which are sturdier but not too heavy to hang.
Planters from Old Toys
That old toy truck that your kids or grands no longer play with? Plant it with annuals for the most charming little planter around! Such a lovely retirement for a toy that played so hard for all those years.
From Bird Feeder to Planter
Bird feeders can get pretty dirty after awhile, becoming dangerous for birds to use. But you can extend the life of that old feeder by using it as a quirky planter for your showiest spillers instead.
Fun with Funnels
An old, rusty funnel is unexpected in the garden but works brilliantly as a flower pot. Plus, the larger ones can really add height to your junk garden for extra interest and whimsy.
Magazine Rack Planters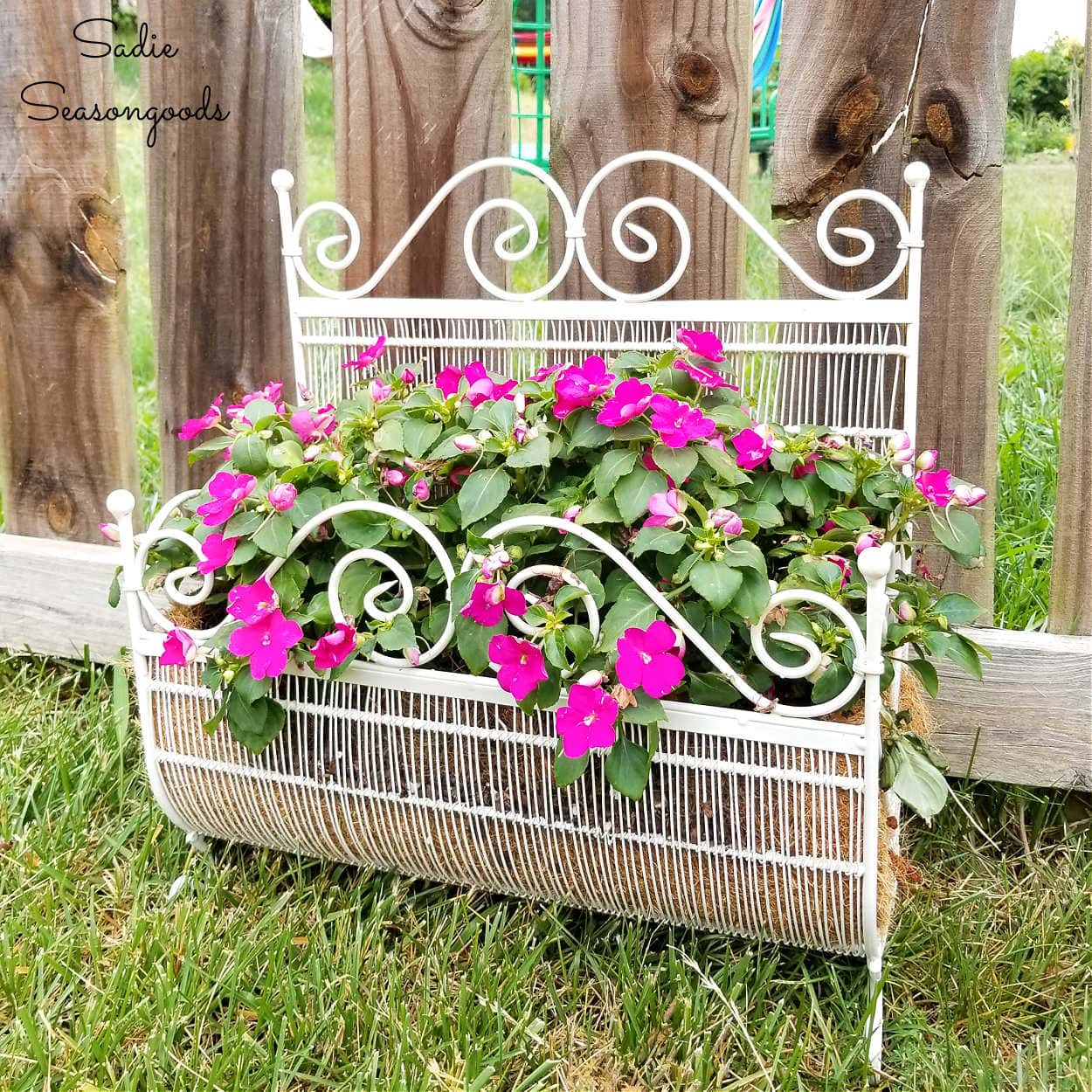 Depending on the shape, a magazine rack can be easily transformed into a planter. This one, made of metal, just needed some coco liner to keep the soil and flowers in place. And it looks FABULOUS on the front porch all summer long!
Drawer Flower Box
Perfect for your fence, this DIY flower box is actually made from an old dresser drawer! And the addition of a salvaged window frame gives it extra personality (and something to climb on if your plants demand it).
Hanging Chandelier Planter
Maybe you've done some recent lighting improvements, or maybe you see one at a thrift store. Either way, an outdated chandelier can become a darling planter to hang outside your home!
Metal Bucket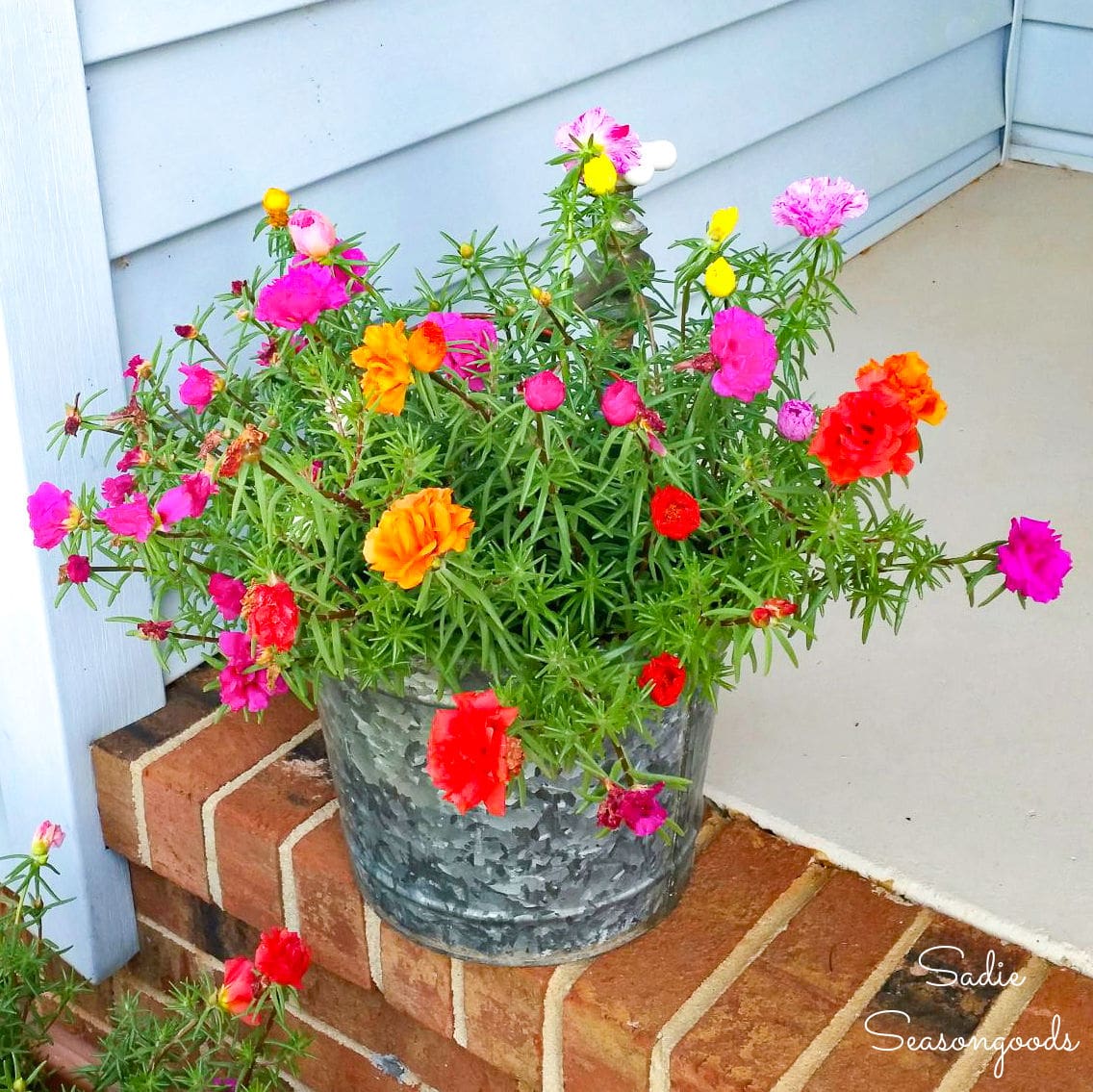 An old bucket can be rusty, dented, or missing a handle- and it'll STILL be delightful as a porch planter this summer. Filled with rocks and soil, this one is about as eye-catching as it gets.
Decorative Mailbox
Whether it was perched on a post at the curb or hung next to your front door, an old mailbox is a quirky item to turn into a planter. And unlike its original purpose, a planted mailbox will even deliver on Sundays.
Concrete Birdbath Planter
If you have a pedestal birdbath, then perhaps consider using it as planter instead! The bowl becomes lovely and lush when filled with flowers or greenery; this succulent version is an absolute stunner in any yard or garden.
Hanging Scale
You never know what you'll find at a flea market, but if it happens to be a hanging scale, then grab it for your gardening needs. Look how amazing it can be when spilling over with blooms!
Rusty Wagon
If you think an old wagon is too shallow to become a planter, you may want to reconsider that notion. Plus, it adds some childlike whimsy to your outdoor space.
Planters from Dutch Shoes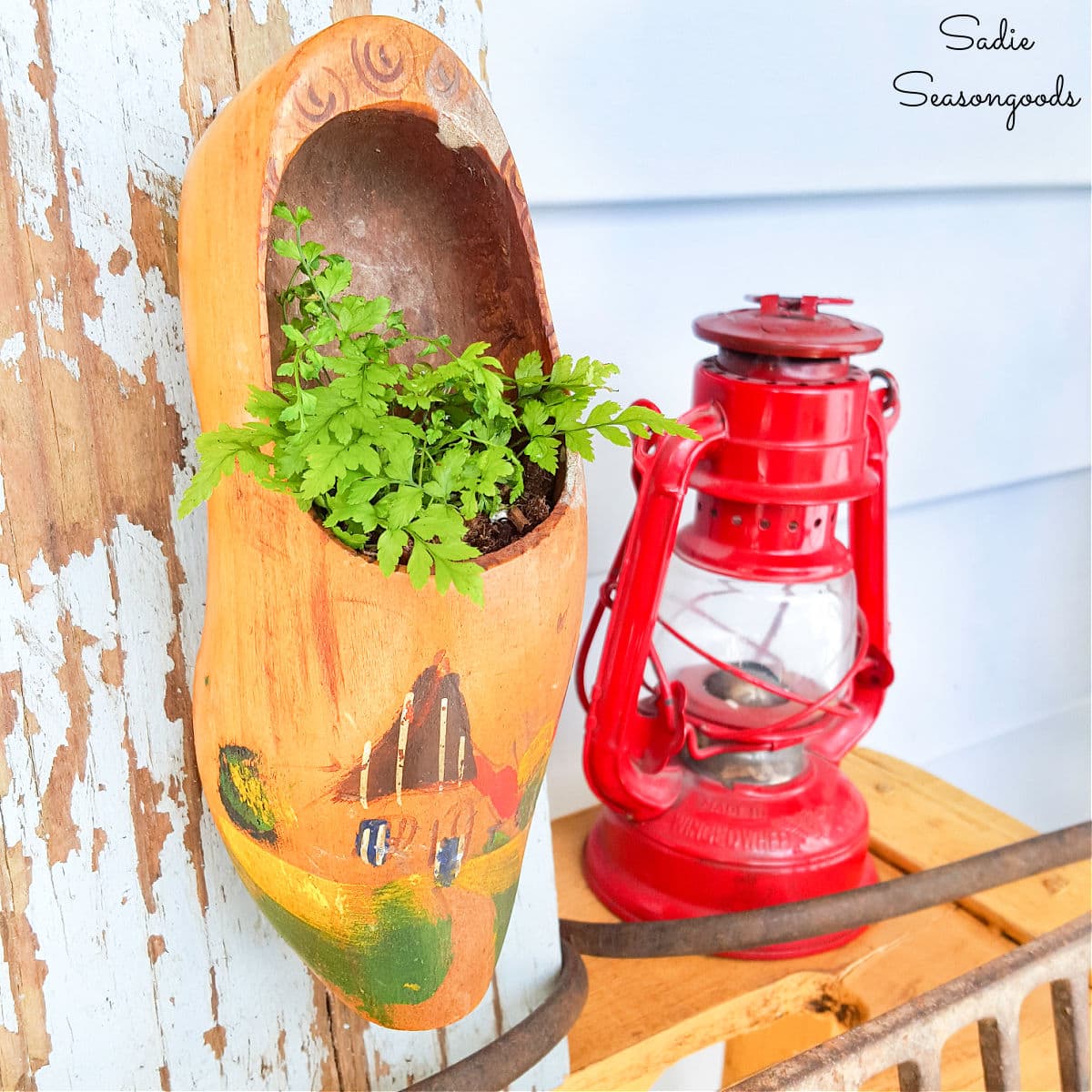 Small but mighty cute, old wooden shoes are wonderfully whimsical as small planters! Drilling holes in the toe allows for needed drainage, and they're easy to hang on boards or trellises, too.
I don't know about you, but it's time to get planting! And a reminder that quirky planters can be just about anything- and they may be hiding in plain sight.
Craft on!
S
Want to be notified when I publish my next upcycling project tutorial?
Subscribe to Blog via Email
Join me on Social Media:

PIN ME!
Sarah Ramberg is the owner of Sadie Seasongoods, a website that celebrates all things secondhand. From upcycling ideas and thrifted decor to vintage-centric travel itineraries, Sadie Seasongoods is a one-stop shop for anyone who loves thrifting and approachable repurposing ideas. Sarah is also the author of "Crafting with Flannel" and has been featured in numerous media outlets and magazines.