I think we can all agree that my mind works in mysterious ways- sometimes it's a great thing (when a project works out!) and sometimes it's bothersome (when a project fails). But once again, there I was in a thrift store, looking at everything through Sadie-colored glasses. And one of the things I spotted was this countertop wine rack that was unexciting but full of potential. As I studied the small wine rack, my mind started to see it as a DIY ribbon holder.
Because those curved bottle holders looked ideal for spools of craft ribbon!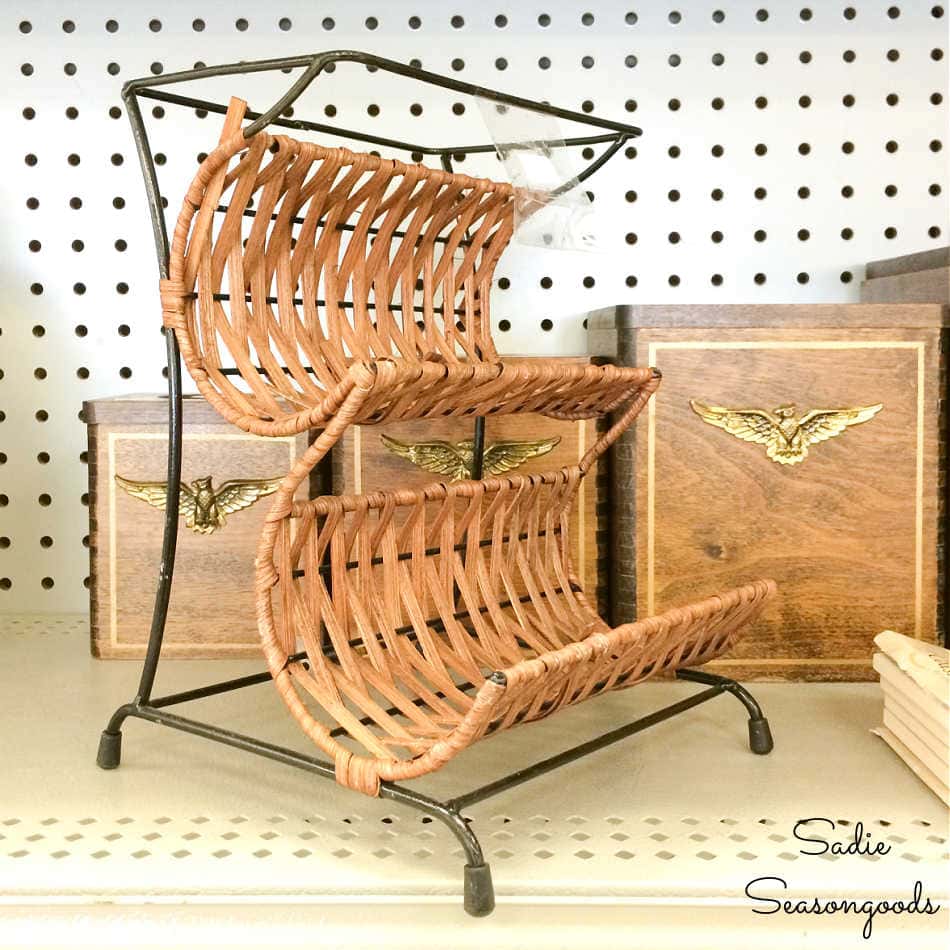 And yes, I ogled those wooden canisters, too. Here's a fun upcycling idea if you ever find single canisters while thrifting!
Anyway, back to the countertop wine rack.
When I returned home, I gave it a quick, imperfect dusting and tested my upcycling hypothesis. Would the bottle holders work as a ribbon rack for my craft room organizing needs?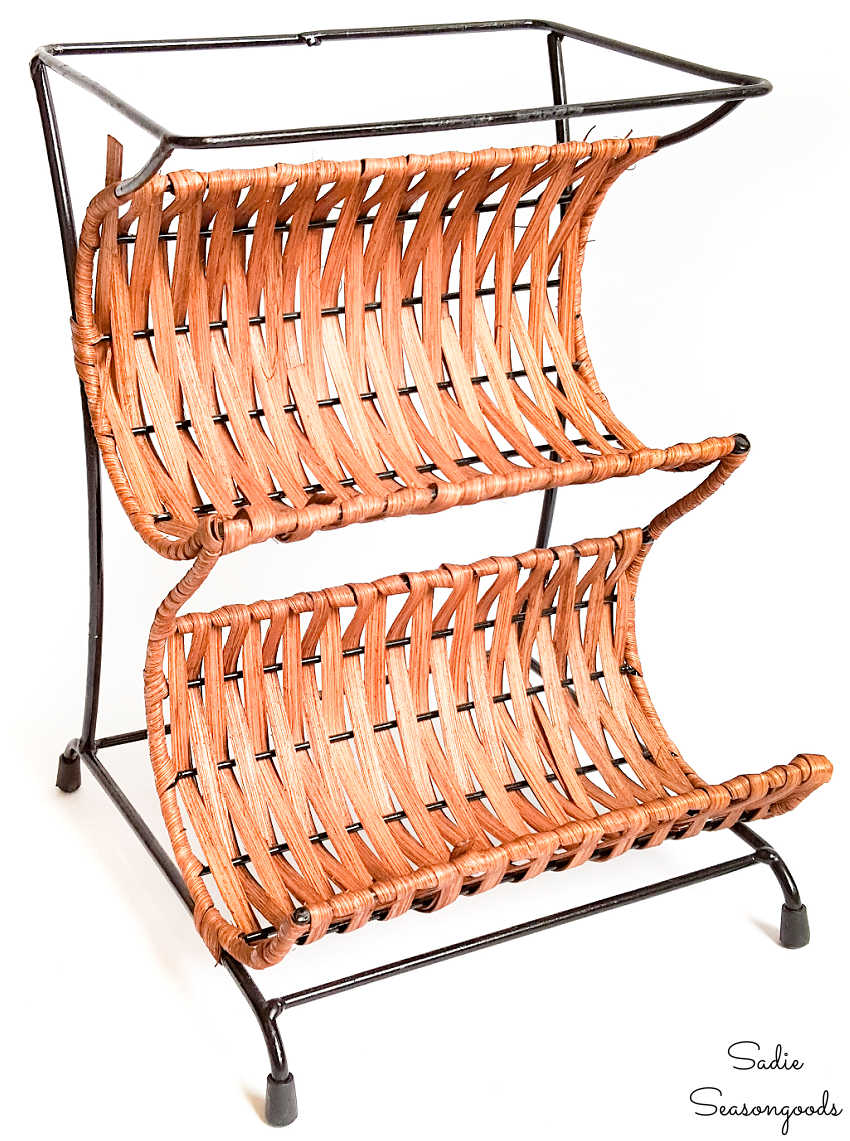 And guess what? I was RIGHT! The countertop wine rack held spools of craft ribbon perfectly, like a ribbon cradle. This would be PERFECT for organizing my craft room!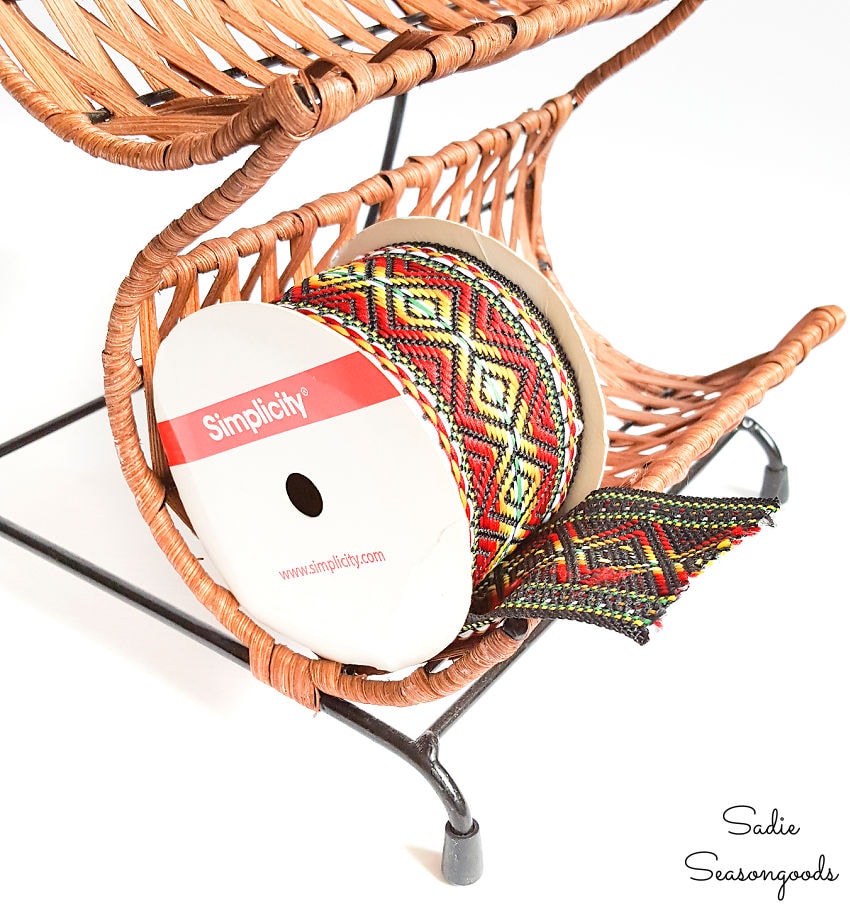 Now, long-time friends and readers might remember that craft ribbon storage is a path I've been on before! But over the years, I've accumulated more spools (I mean, who hasn't?) AND a bunch of those spools have a smaller hole in the middle.
In other words, I can't store them all with my previous project!
But now, with this wine bottle holder, none of that mattered. I could transform it into ribbon rack with very little effort at all.
This post contains affiliate links for your crafting convenience. As an Amazon Affiliate, I earn from qualifying purchases. All blue, bold, and underlined text is a clickable link, either to a product or to a related post.
DIY Ribbon Holder for Craft Room Storage
So, truth be told, I could have just set my spools in the countertop wine rack and call it a day- no shame in that game!
But c'mon…I at least had to paint it, right?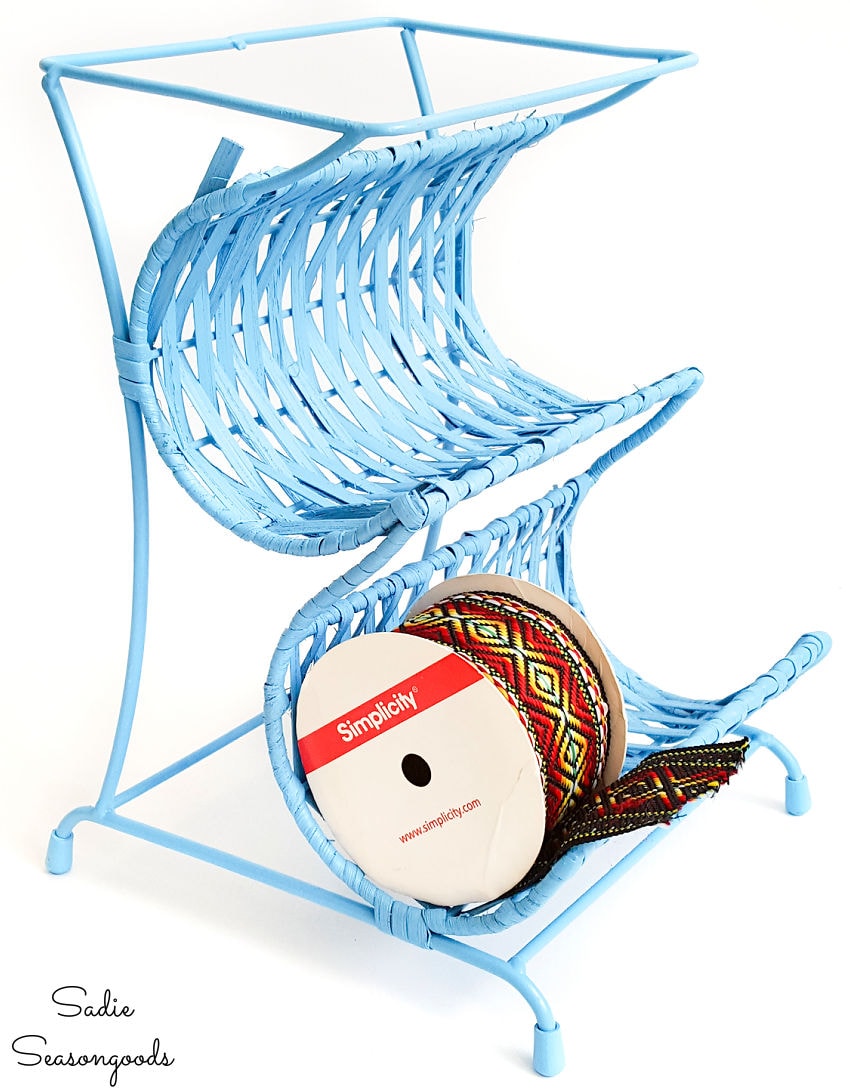 I don't think I'll ever outgrow my love of turquoise. Blame it on being a December baby…
But I digress. I used spray paint to give the countertop wine rack a makeover. Then, I decided to improve my DIY ribbon holder with one additional thing.
First, I gathered a couple of things: Heavy gauge jewelry wire and wire cutters.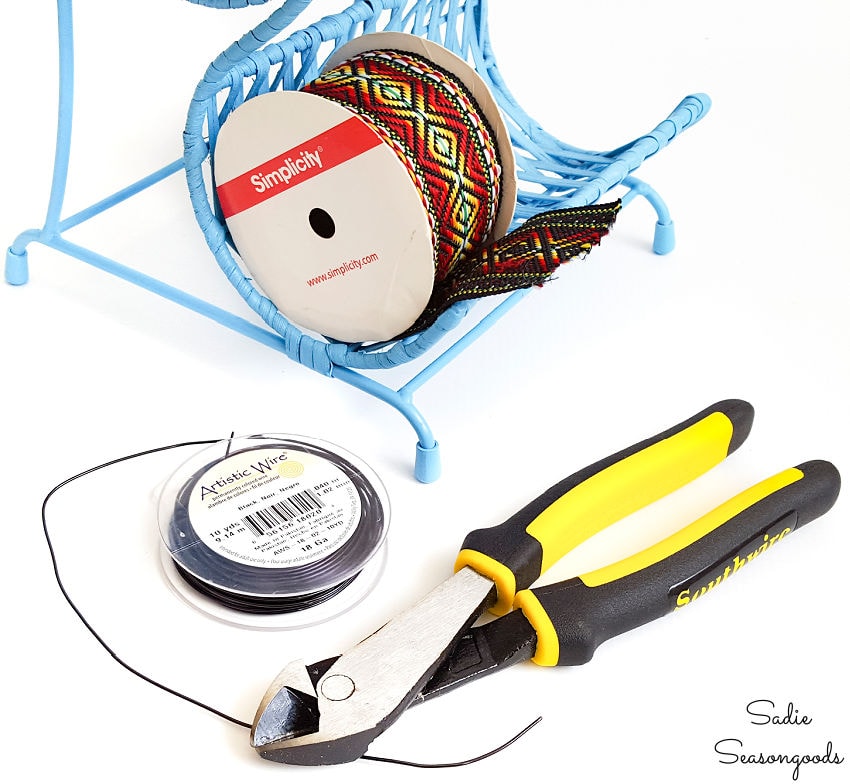 I wanted the craft ribbon spools to stay in place, but also allow me to pull the tail of one spool in order to cut off whatever I wanted.
So, I snipped a long piece of wire and threaded it through the holes on my spools. Then, I simply crimped the ends of the wire over the back of the countertop wine rack.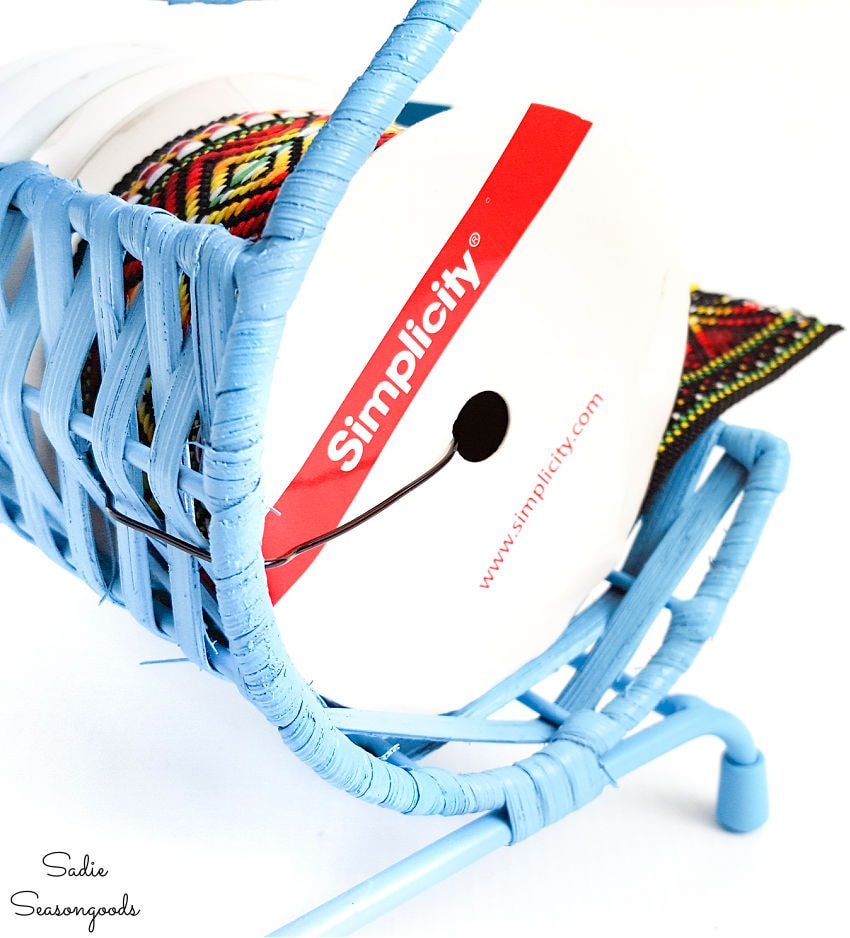 Now, the spools of ribbon can spin when I need to snip off a length. But they don't come flying off the DIY ribbon holder when I pull the tail!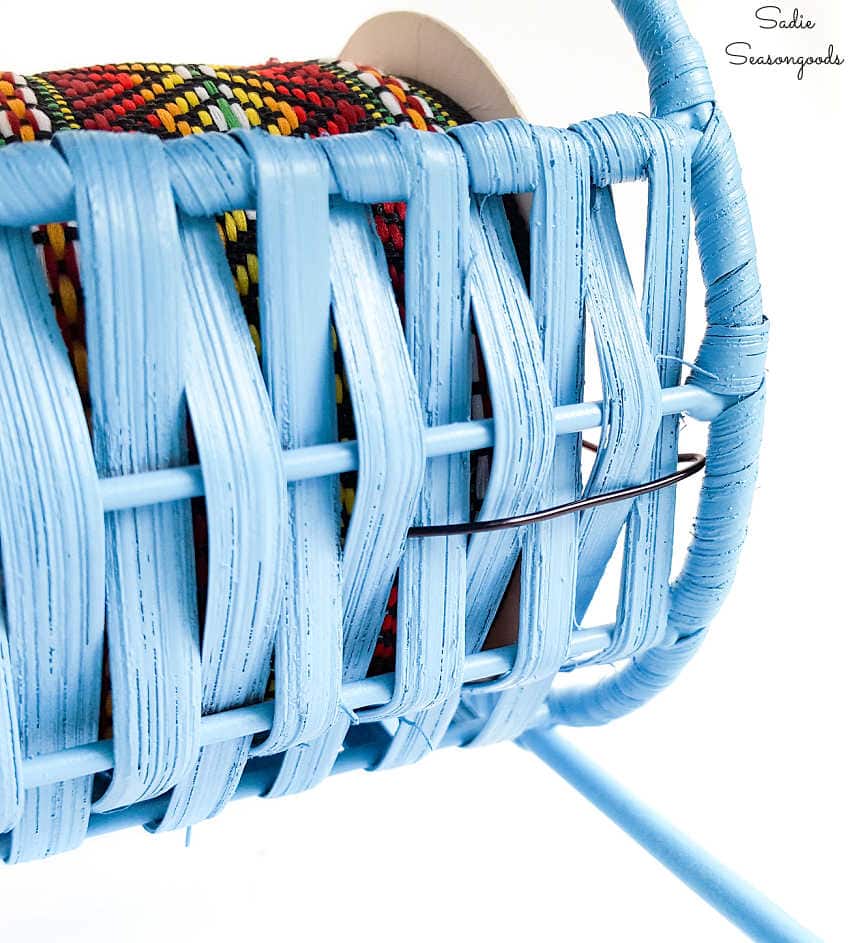 And just like that, my ribbon spool holder was ready to be placed in my craft room! Talk about an easy repurpose project that anyone can do, right?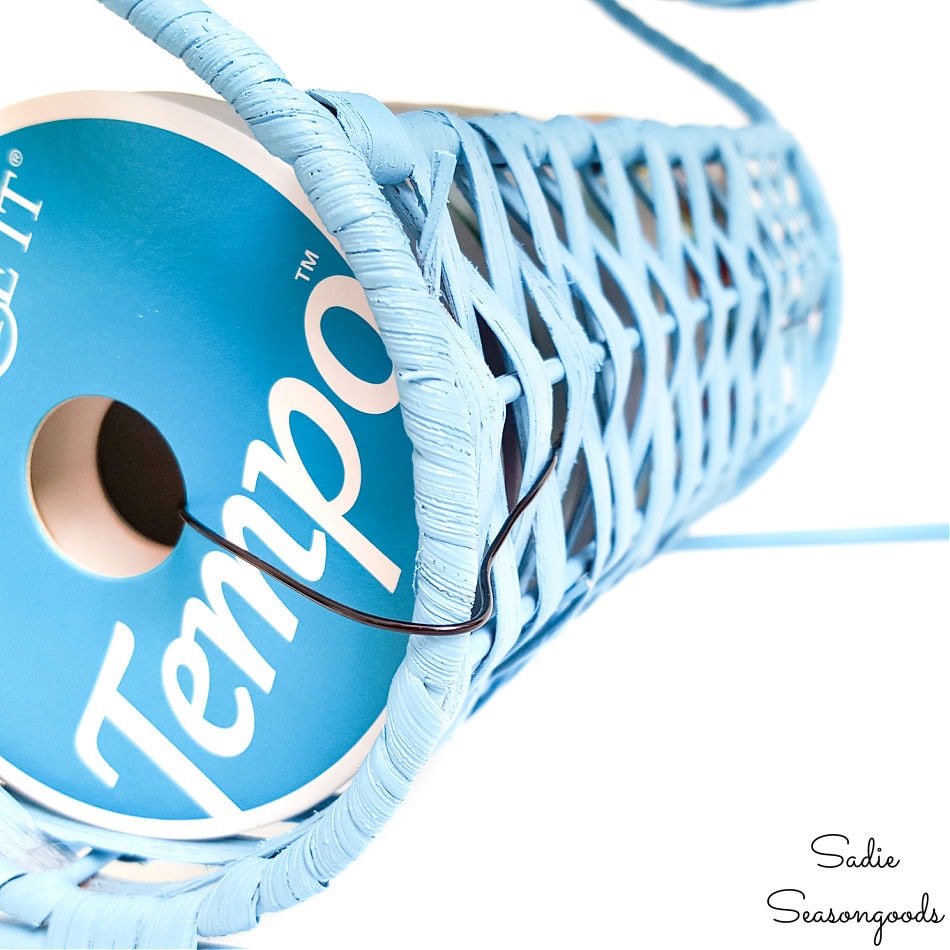 DIY Ribbon Holder from a Countertop Wine Rack
Now the ribbon spools are secure, stay in place, but easy to swap out when a spool is emptied! How's that for utilitarian craft room storage?
And you know what, the DIY ribbon holder is kind of cute now, too!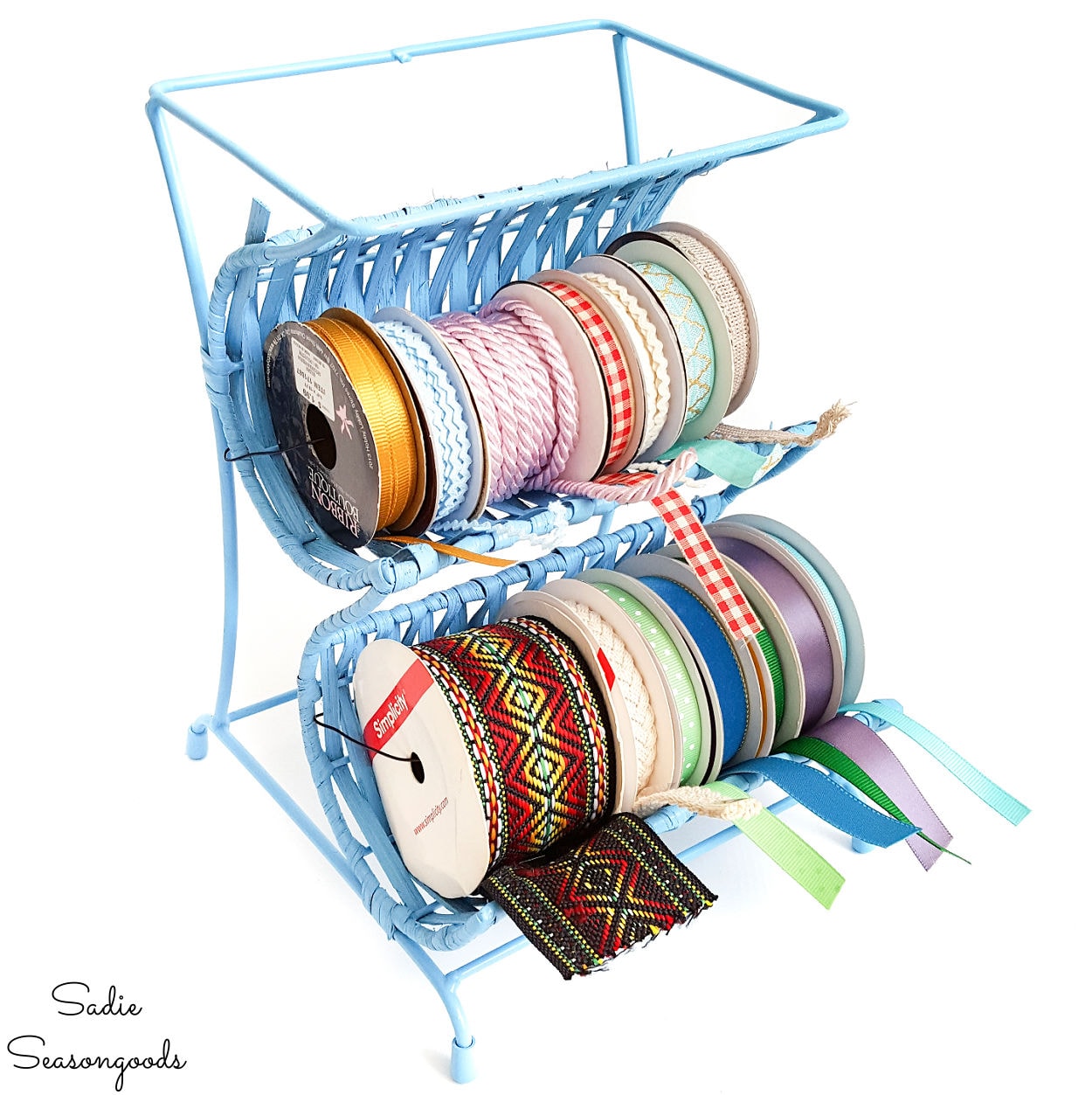 I'm pretty sure I could hang a small pair of scissors from the top of my ribbon rack if I wanted to, also. Just to make it even better for craft room organizing!
Now I can finally say that some of my craft ribbon stash is TRULY getting organized; with a countertop wine rack from the thrift store. Who would have ever guessed?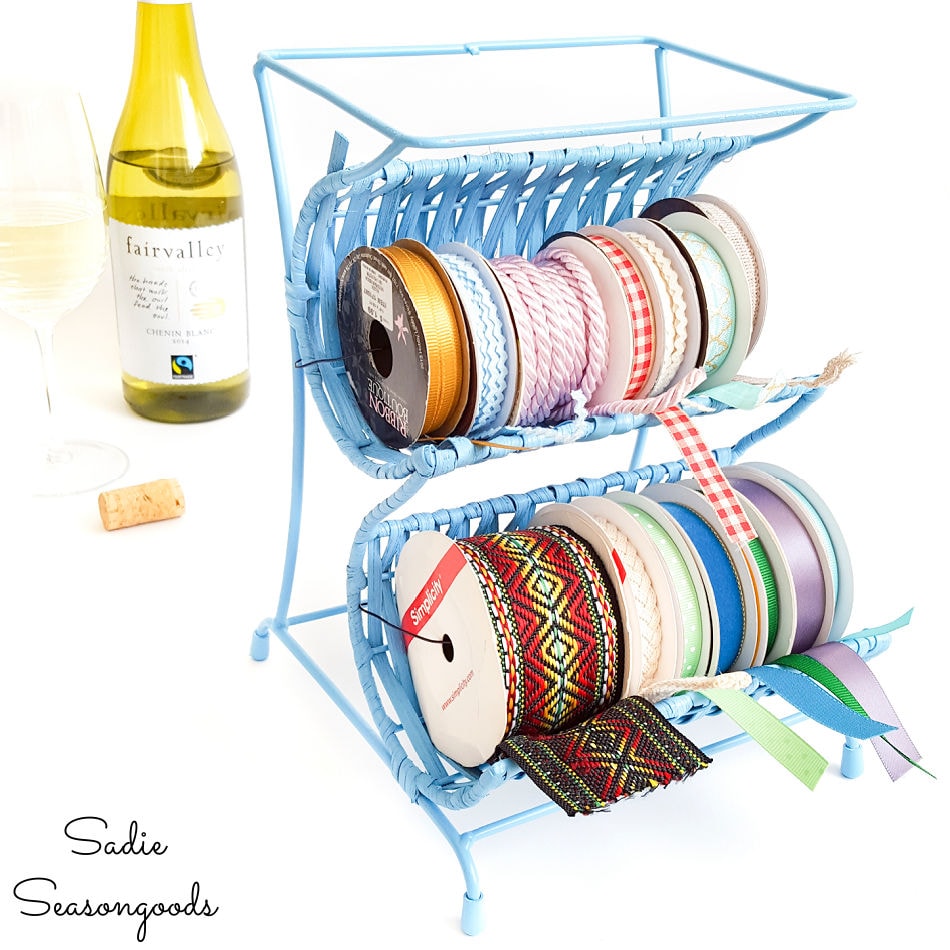 And if you enjoyed this upcycling idea for a ribbon rack, then you'll also love this ribbon organizer with wooden candlesticks!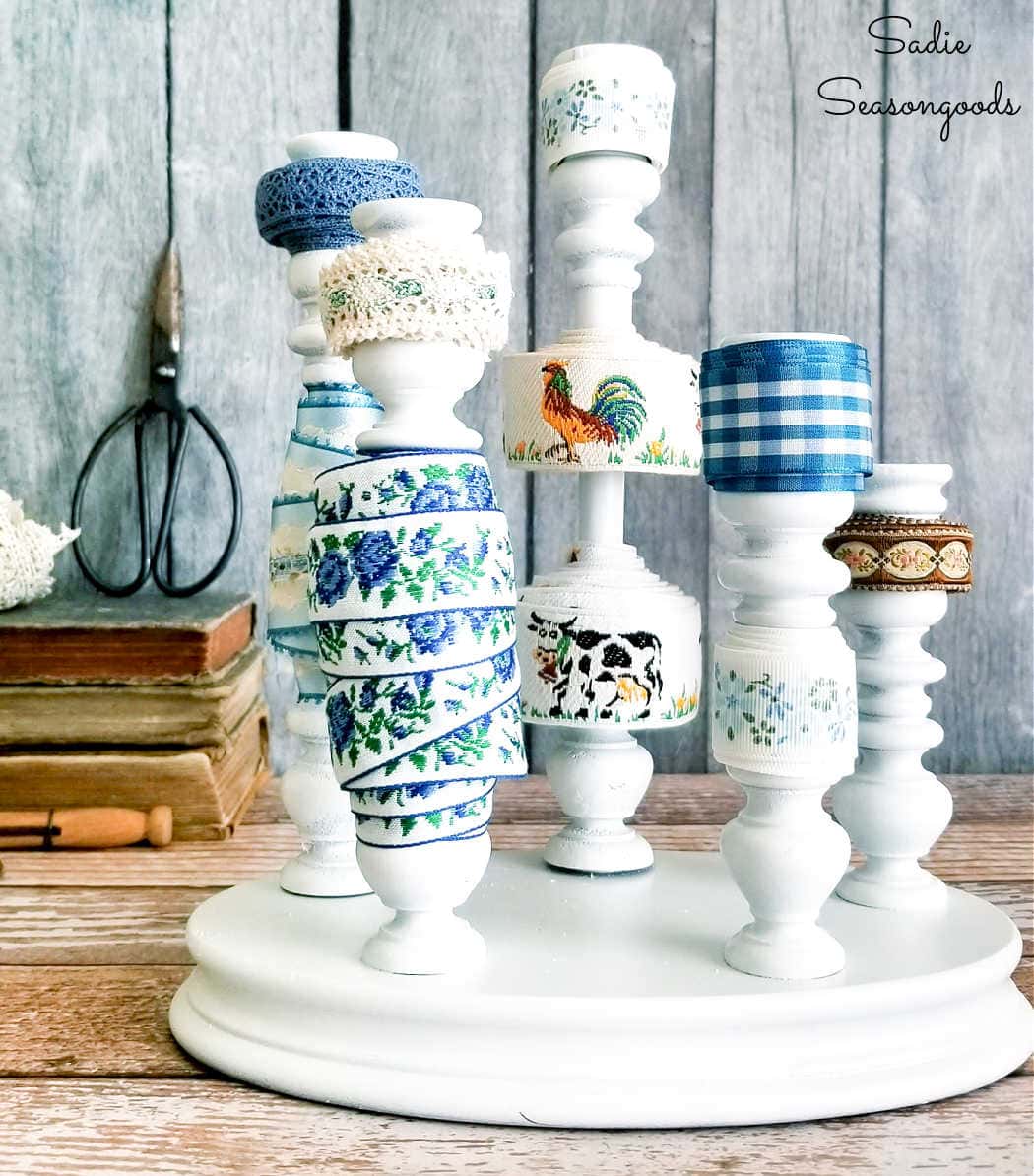 And for even more upcycling ideas for craft room organization, check out this collection of projects before you go!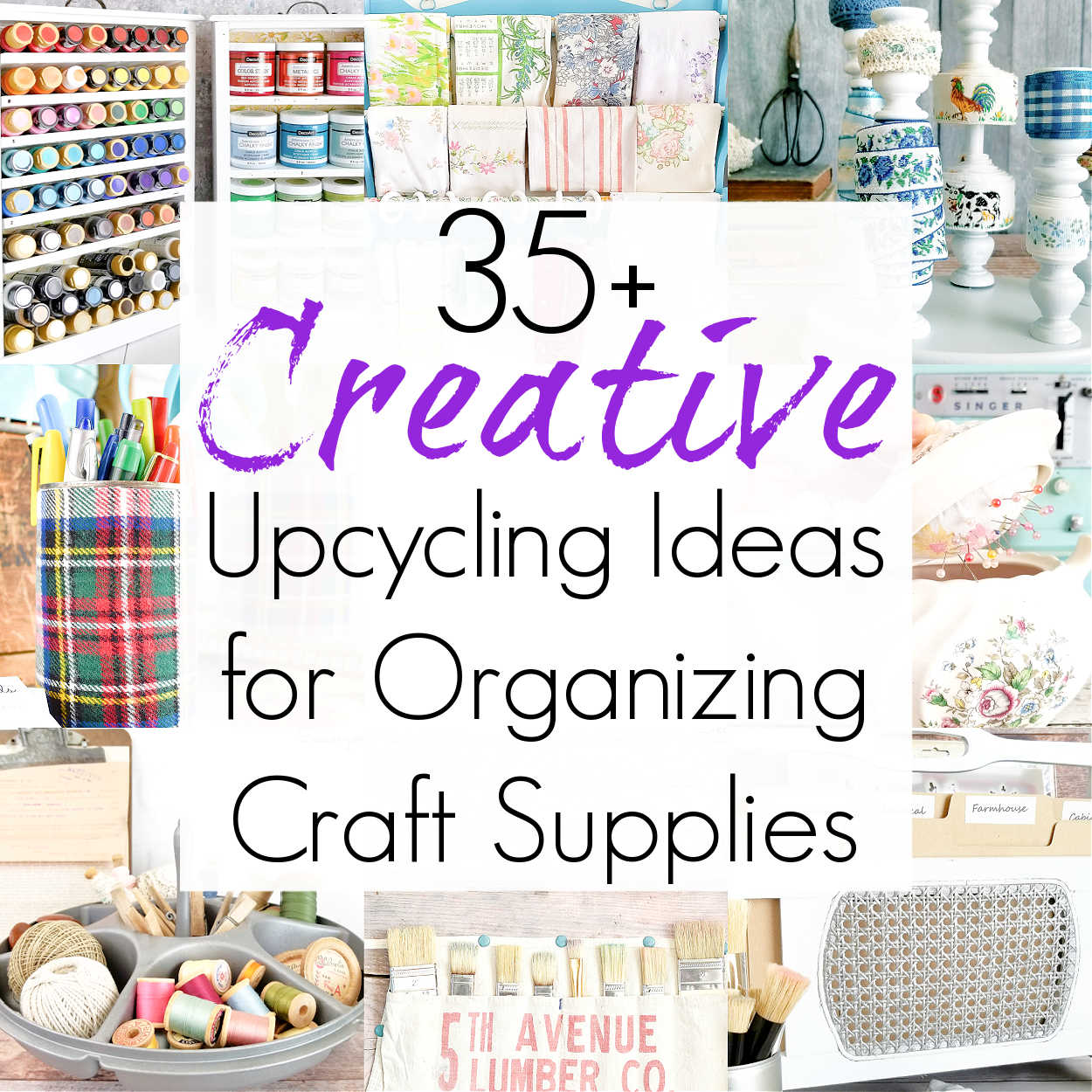 Craft on!
S
Want to be notified when I publish my next upcycling project tutorial?
Subscribe to Blog via Email
Join me on Social Media:



PIN ME!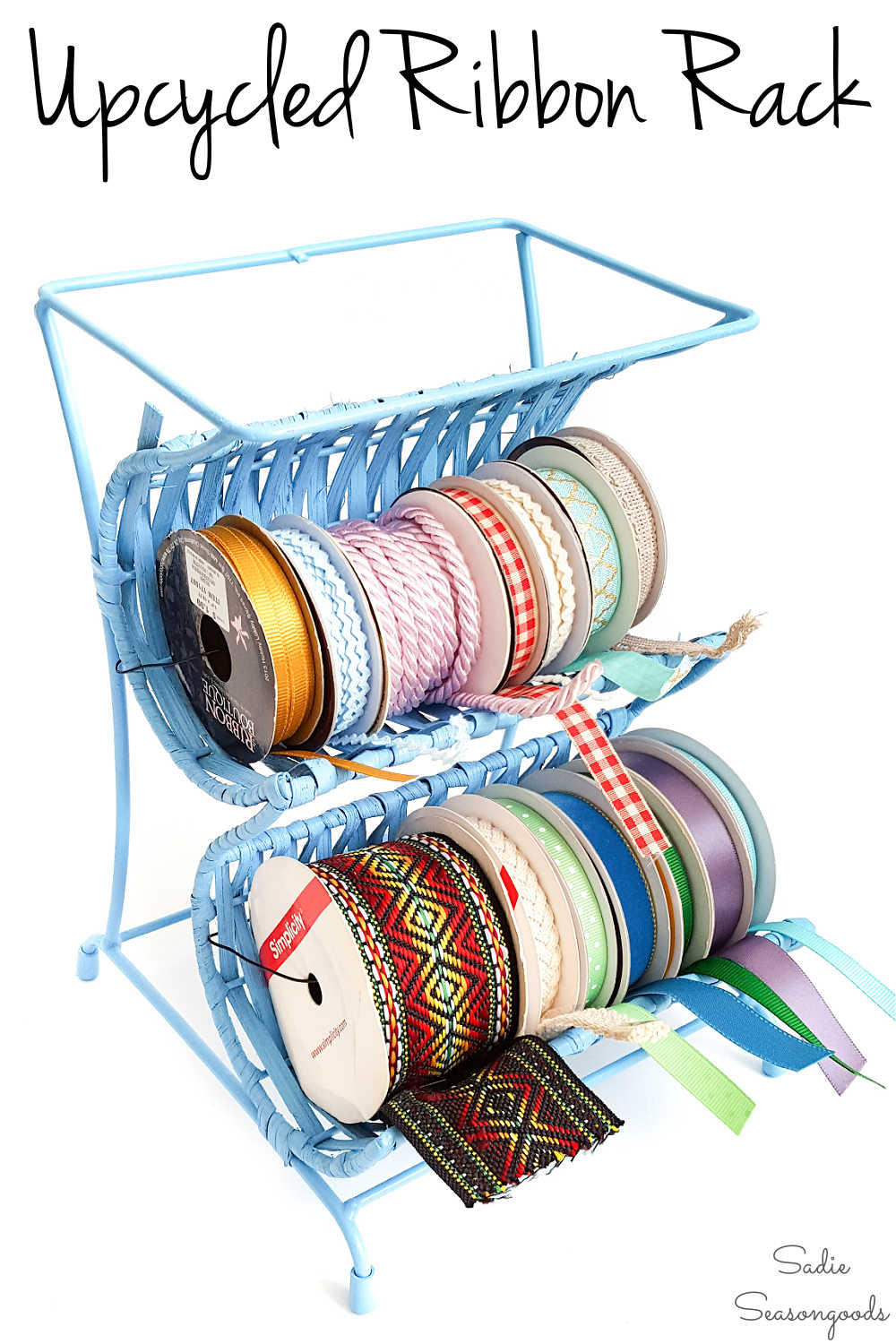 Sarah Ramberg is the owner of Sadie Seasongoods, a website that celebrates all things secondhand. From upcycling ideas and thrifted decor to vintage-centric travel itineraries, Sadie Seasongoods is a one-stop shop for anyone who loves thrifting and approachable repurposing ideas. Sarah is also the author of "Crafting with Flannel" and has been featured in numerous media outlets and magazines.