How many times have I found something interesting at a thrift store…brought it home…repurposed it for my blog…and then realized I didn't know what to call it? I'll answer that for you- LOTS AND LOTS OF TIMES. And so we have this thrift store find: it's a wooden candlestick – no wait, candlesticks – on a single base. But without arms so it's not a candelabra. Regardless of proper name, though, I knew right away I wanted it to become a ribbon organizer.
There I was in the thrift store…muttering to myself like the crazy upcycler that I am…talking through project possibilities for this wooden candlestick. For whatever reason, the candlesticks themselves reminded me of spindles…which led me to think of bobbins…which led me to think of ribbon and lace.
I drew up a romantic vision in my head of a ribbon organizer for my messy collection of lace and trim- and set to work creating it in person. BUT, I also wanted it to spin. So I needed to transform it into a Lazy Susan- something I had never done before.
This post contains some affiliate links for your convenience.
Lazy Susan Hardware on a Wooden Candlestick for Ribbon Storage
Adding lazy Susan hardware is easier than you may think.
First, I went to a craft store and purchased a wooden oval plaque that was slightly smaller than my candlestick base. Then, I purchased a Lazy Susan bearing or lazy Susan hardware.
Next, I stained the oval plaque (i.e., the base for my lazy Susan and ribbon holder) to decently match the wooden candlestick.
After I sealed the stain, I attached the lazy Susan hardware to both the wooden candlestick and the wooden oval. And that was it – now I had wooden candle holders that could spin and be upcycled into ribbon storage!
Here's a close up of the lazy Susan hardware at work!
Ribbon Organizer / Ribbon Holder from Wooden Candle Holders
Now all I needed to do was wind my lace ribbon around each stick. But first, I wrapped a few rubber bands on the candlesticks to help the ribbon stay put. If you ever shop at Whole Foods, then you'll recognize my collection of green bands!
Finally, I simply wound some lace ribbon (from my grandmother's stash) around the stick and carefully pinned it in place.
And then, I added more and more ribbon to the wooden candlestick / candle holders. It really works perfectly as a ribbon organizer or ribbon storage!
How fun is that?! Much better than wadding up snippets of lace ribbon and trim in a baggie or box. And it spins- smooth as butter!
2019 Update – After nearly 4 years of keeping this as is, I recently decided to switch it up! I removed the lazy Susan hardware (salvaging it for a new project) AND I painted the wooden candle holders white!
How cool is that?? It's so pretty that I use it as both ribbon storage AND decor. AND I'm pretty sure I'm going to turn other things into Lazy Susans while I'm at it. What can I say? This project has my mind a-spinning…
If you enjoyed this upcycling idea for ribbon storage, then you may also be interested in this idea for Craft Paint Storage.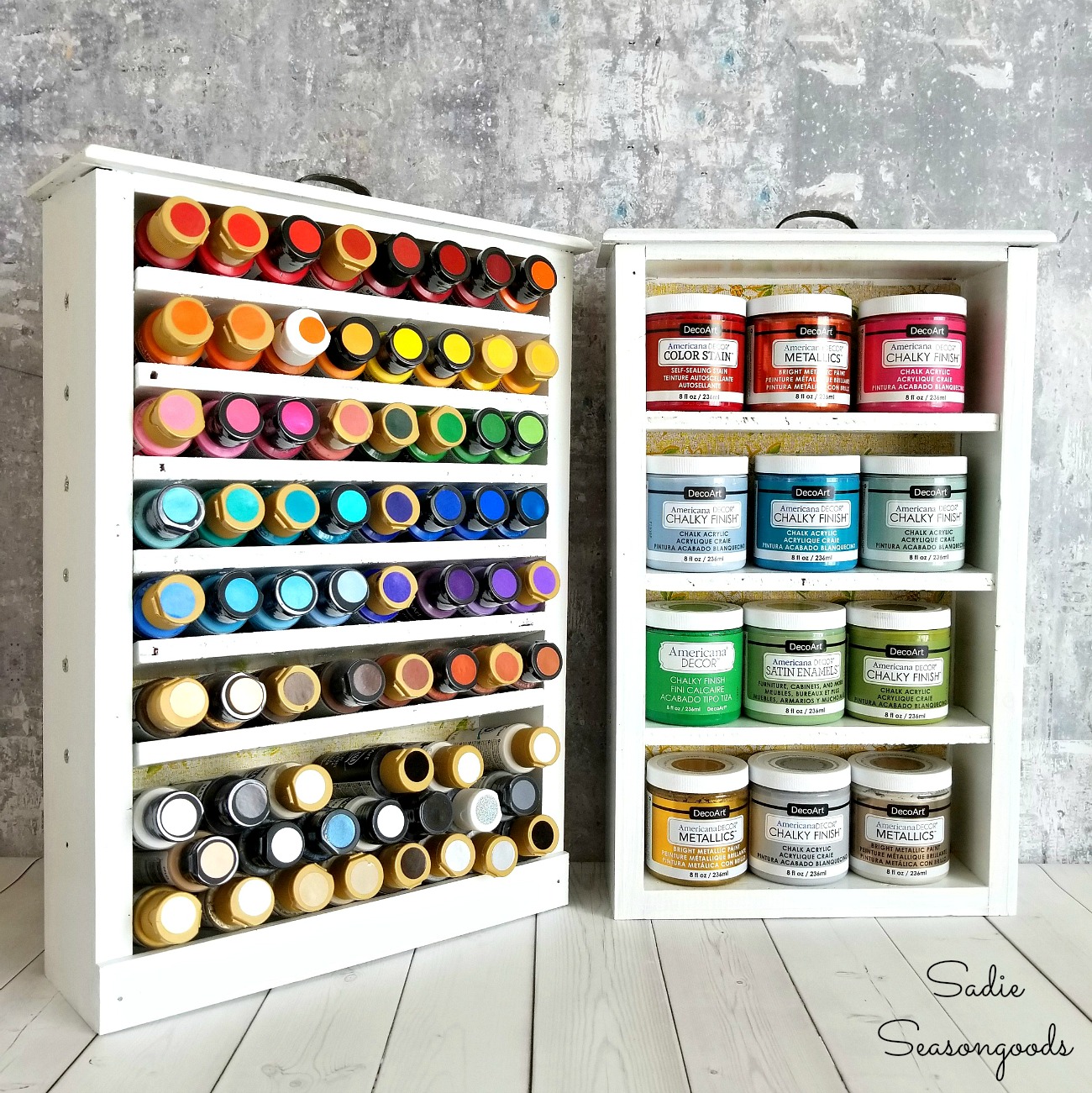 As well as this upcycling idea for paint brush storage, too!
Craft on!
S
Want to be notified when I publish my next upcycling project tutorial?
Subscribe to Blog via Email
Join me on Social Media: